Travel
Where to Stay in Japan: 2021 Insider's Guide
Are you heading off to Japan? First of all, I'm super excited for you and definitely jealous too! Japan is a magical country steeped in history, natural beauty, and a truly unique culture. You're going to love it!
If you haven't yet decided where in Japan to go and stay, then we're here to help. I'm going to cover all the top places to stay in Japan and what staying in Japan is really like!
Keep reading friends.
Quick Answers: Where is the Best Place to Stay in Japan?
Kyoto– Overall Best Place to Stay in Japan
Nara – Best Place to Stay in Japan For Families 
Hakone – Most Romantic Place to Stay in Japan 
Tokyo – Coolest Place to Stay in Japan
Kamakura – Where to Stay in Japan on a Budget
Miyajima – One of the Most Unique Places to Stay in Japan
Hokkaido – Where to Stay in Japan for Adventure 
Fuji Five Lakes – Where to Stay in Japan to See Mount Fuji and Nature
Map of Where to Stay in Japan
Kyoto– Overall Best Place to Stay in Japan
Kyoto is the historical and cultural center of Japan. It is where you will find most of the most famous sites in all of Japan. A trip to Japan isn't complete without wandering around the famous sites of Kyoto and checking these fabulous sites off your bucket list.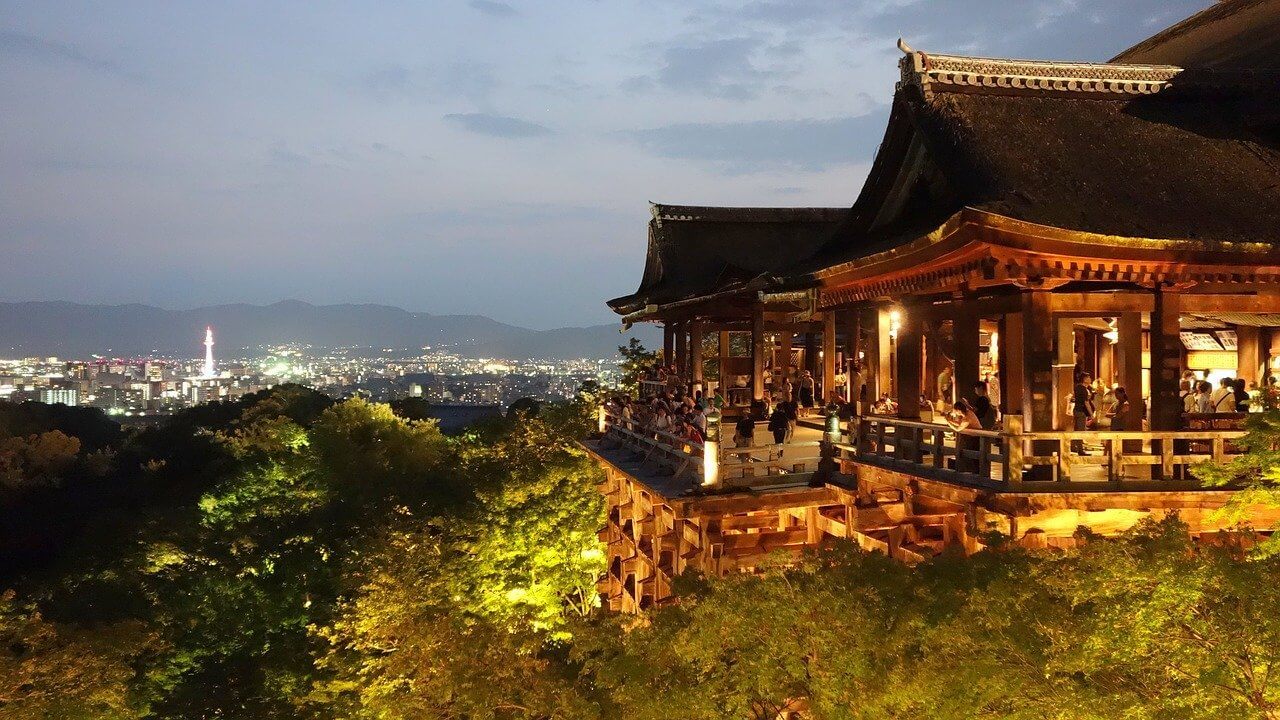 Kyoto is the best city in Japan to visit. It's best to rent a bicycle so you can easily get to all the sites but public transportation is also amazing. Make sure you spend quality time at the Arashiyama Bamboo Forest and at the lovely gardens at the Okochi Sanso. Those are located in the West part of the city in the Arashiyama district.
Then head off to Northern Higashiyama to the Nansen-ji temple with an incredible zen rock garden with great views! Southern Higashiyama offers one of Kyoto's most famous landmarks— Kiyomizu-dera. Make sure you go early in the day though as it can get super busy.
Alright, I could go on and on about the pilgrimage site of Chion-in or the golden pavilion at Kinkaku-ji, or the Gion Geisha district, or the Nishiki Market, but it's time for us to go over the lodging in Japan, Kyoto options.
Best Places to Stay in Kyoto
Choosing where to stay in Kyoto can feel overwhelming. The city is is packed with incredible neighborhoods and districts. You can't go wrong with your choice of staying in Northern Kyoto or Southern, or anywhere in between. When visiting Kyoto, you won't be short of quality places to stay.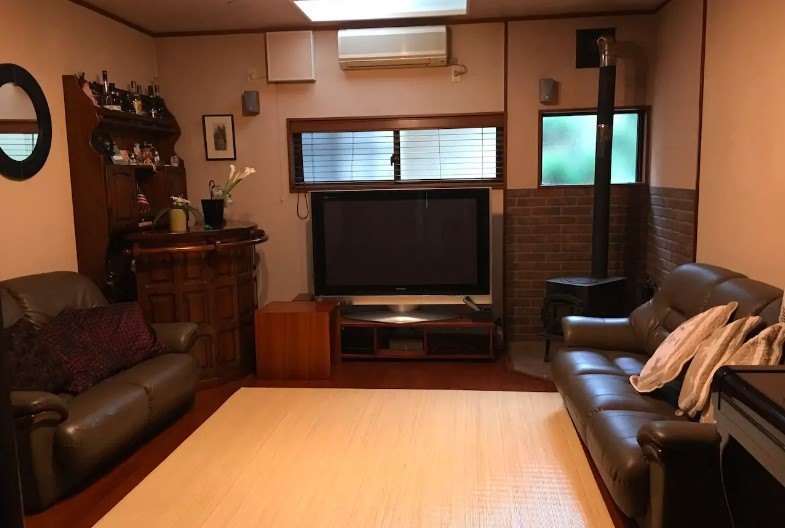 Best Airbnb in Kyoto – Kyoto Takao Home Spa
This Airbnb is one perhaps even of the best places to stay in Japan. It's run like a bed and breakfast, located in a scenic spot full of maple trees and surrounded by nature, situated in the northwest of Kyoto city. You'll feel properly immersed in Japanese culture here.
Best Hostel in Kyoto – Friends Kyo
I've already said that the best city to stay in Japan is Kyoto, and this is a contender for best hostel in Japan. Friends Kyo is located in the historic Gion district. It's just a quick five-minute walk to fun shopping and clubbing districts too. Moreover, there is a cozy lounge, a library, and a rooftop garden perfect for catching a sunset! A free laundry service is provided too.
Best Hotel in Kyoto – Super Hotel Kyoto Shijokawaramachi
Super Hotel Kyoto Shijokawaramachi is located in the Nakagyo Ward district, and is a great location if you're on a food or shopping trip! It's close to a bus stop, a train station and the free buffet breakfast is absolutely delicious. While rooms are small, the location is fantastic and the rooms are pristine clean. Being just a five-minute walk from the Nishiki Market is perfect for late night snacks too. Yum!
Nara – Best Place to Stay in Japan For Families
Nara is the best city to stay in Japan when you're traveling with your family. Nara is known for its deer park, where domesticated deer nuzzle you and eat treats from your hands.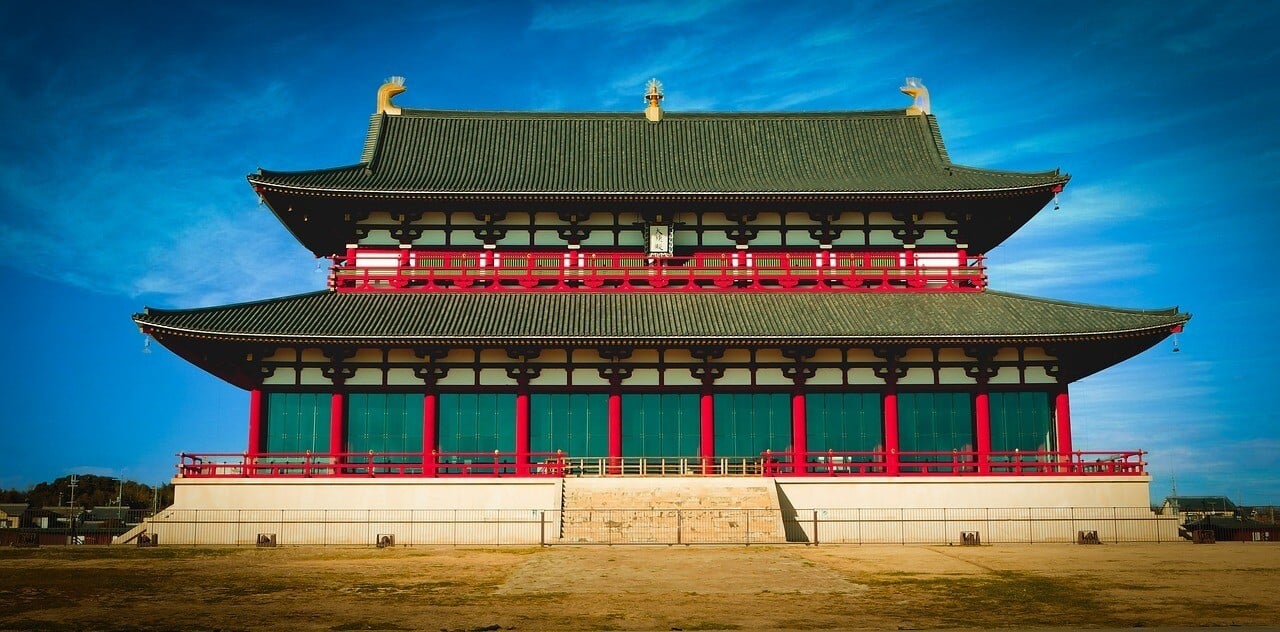 Plus walking around the Koufax-ji temple complex with tons of pagodas makes for a great afternoon activity. Basically, Nara is packed with wonderful temples and beautiful gardens. Since it is a smaller city, it is much less overwhelming than the big cities in Japan like Tokyo and Kyoto. You and your family will find Nara much easier to navigate. That's one of the big reasons why Nara is the best city in Japan to stay in when traveling with young ones in tow!
Best Places to Stay in Nara
Nara is a beautiful city to stay in with your family. I love the great accommodation options that make staying with a family easy as pie! Let's get to covering the best Airbnbs, guesthouses, and hotels in Nara.
Best Airbnb in Nara – Buddhist Temple in Yoshino
Talk about a once in a lifetime experience for you and your family— don't just stay at any old Airbnb in Japan when you could stay at a Buddhist Temple! This one bedroom and one bathroom guesthouse actually has four beds in it so you can comfortably stay with your family. Staying at the Seikokuji Temple in the East part of the Yoshino district in Nara is a truly incredible experience! You'll be surrounded by mountains and fresh air, and you'll get to take part in special temple experiences like sutra copying and meditation if you wish!
Best Guesthouse in Nara – The Deer Park Inn
The Deer Park Inn is a wonderful guesthouse inside the Nara World Heritage Area. It has a relaxing, mountain lodge atmosphere as many of the private rooms enjoy sweeping views of the park and the forest. You and your family will love being surrounded by nature and history, and being close to the sweet, roaming deer!
Best Hotel in Nara – Setre Naramachi
Setre Naramachi offers more spacious rooms than a lot of other hotels in Japan. You and your family won't be squashed like sardines in these superior rooms. Plus, each room comes with a fridge, wardrobe, and TV. Also, you'll be close to Nara Park and to all the important tourist attractions. This brand new building has a gorgeous architectural design and a relaxing rooftop terrace to enjoy!
Travel with peace of mind. Travel WITH a security belt.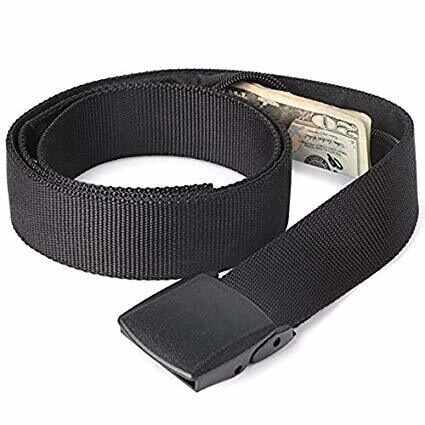 Custom-designed BY the Broke Backpacker FOR broke backpacking, the Active Roots Security Belt will keep your valuables safe no matter where you go.
It looks exactly like a normal belt except for a SECRET interior pocket perfectly designed to hide a wad of cash or a passport copy. Never get caught with your pants down again! (Unless you want to.)
Check on Amazon
Hakone – Most Romantic Place to Stay in Japan
Hakone is best described as a spa getaway town that sits on an absolutely stunning lake. You will enjoy plentiful romantic vibes and even views of Mount Fuji on clear days.
At Hakone, you'll get to see the renowned Torii Gate. The red Torii Gate is part of the Hakone Shinto shrine and it overlooks Lake Ashi. You can also take a tour of Lake Ashi by boat which makes for quite the romantic ride, if I do say so myself!
As a mountainous town, known for its incredible hot springs resorts, called onsen, and natural ambiance, you and your significant other are sure to make magical memories in Hakone!
Best Places to Stay in Hakone
As a spa and resort town there are some dazzling spots to stay at. If you are staying in Japan for some time then try staying at a hot spring resort! Check it off in style with my three options below.
Best Airbnb in Hakone – Tatami Room in Old Style Japanese House
Stay in couples paradise in this cultural gem of an Airbnb. When staying in Japan, you're going to want to experience true Japanese culture and this is the place to do it! It's a lovely traditional room within walking distance of the gorgeous Odawara Castle. Also, it is within walking distance to the beach.
Best Guest House in Hakone – Irori Guest House Tenmaku
The Irori Guest House is a lovely place to stay in a traditional Japanese styled guest house. Coming with a shared lounge and a bar, you'll feel well taken care of at the Irori. Plus, you'll also have access to the shared kitchen so you can whip up whatever you desire. Moreover, you'll be just 200 meters from the Hakone Open-Air Museum and just over one kilometer away from the Hakone Gora Park.
Best Hotel in Hakone – Hakone Lake Hotel
Okay, okay. I know this is a little bit on the pricey side of hotels. It's nothing ridiculous though when you consider the area you're staying in, and the incredible amenities. You will truly be in couples paradise at the Hakone Lake Hotel. Set in nature, you'll have direct access to natural hot spring baths and nearly unparalleled nature views.
Tokyo – Coolest Place to Stay in Japan
Oh Tokyo! The city where you can do absolutely anything and everything. Tokyo is home to restaurants where you can dance with cyborgs or you can hang out with animals at pet cafes. You can also ride in a real-life Mario Kart in Akihabara! Take the Tokyo streets by storm in this real world Mario Kart experience. You even get to dress up as the characters, as they do provide costumes.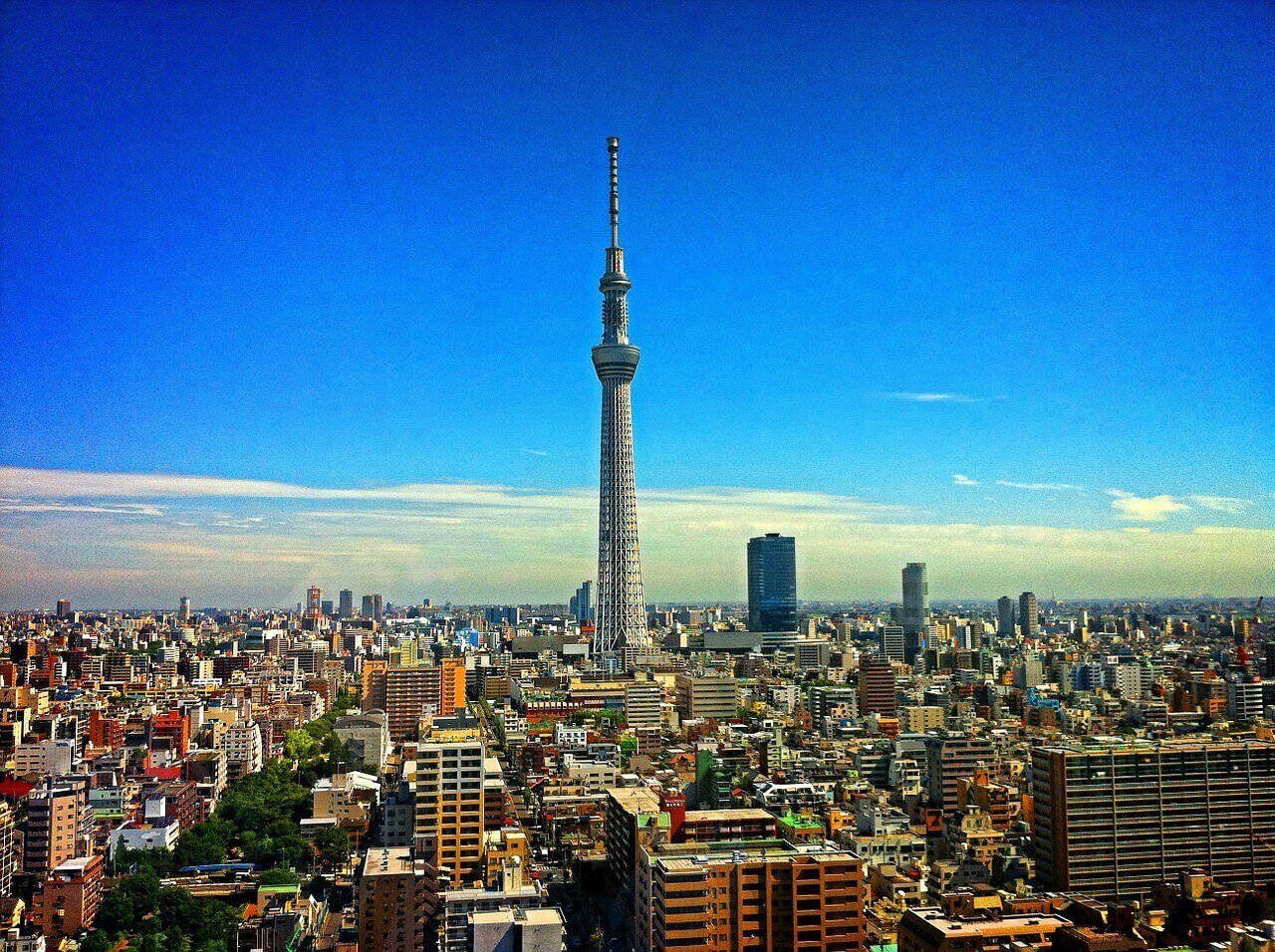 That's right, folks— Tokyo has it all. There are so many different districts to visit that it can feel overwhelming. You can walk around Giza for upscale shopping and incredible sushi or you can visit Asakusa to get a hefty dose of history and culture. Nakameguro is the hipster neighborhood, and Akihabara is where all the anime and gaming happens. Obviously, there are many more neighborhoods but these are the ones not to miss.
Best Places to Stay in Tokyo
Tokyo is the best city in Japan to get a vibe for the uber modern, unique, wild, and creative side of Japan. There are incredible places to stay in all of the Tokyo districts! Most hostels are located in East Tokyo, whereas the Airbnbs and hotels are spread around the city.
Best Airbnb in Tokyo – Authentic Japanese Room
Coming in at an incredible bargain price, this Tokyo Airbnb is worth every penny. It's for a private room in a house, with one bedroom and a shared bathroom. It's styled in the traditional Japanese style. If you're looking for a peaceful and comfortable stay in a more quiet neighborhood, that still has plenty of restaurants and shops around it— this is the Airbnb for you!
Best Hostel in Tokyo – Hostel Bedgasm
"Bedgasm" hostel delivers a truly wonderful Tokyo hostel experience . It's a five story building, with a fun rooftop to hang out on. There is also a bar that offers each guest a free drink every night. Located just between Asakusa and Ueno, you'll be right in the heart of the action!
Best Hotel in Tokyo – Ueno First City Hotel
Ueno First City Hotel is just a quick one minute walk from the subway station, and close to lots of tourist attractions like the Ueno Zoo and the Tokyo National Museum. You get great value for your money at this simple, straight forward hotel! Hey, I could have recommended many fancier stays but I wanted to keep it under $100 a night for you all!
Kamakura – Where to Stay in Japan on a Budget
Kamakura is a lovely coastal town that has an abundance of gardens and temples. It's also home to the Great Buddha, Daibutsu. This seaside Japanese city is actually just a bit south of Tokyo. You can do it as a day trip from Tokyo but it's better to spend some quality time there to soak up the peaceful vibes and to save some bucks!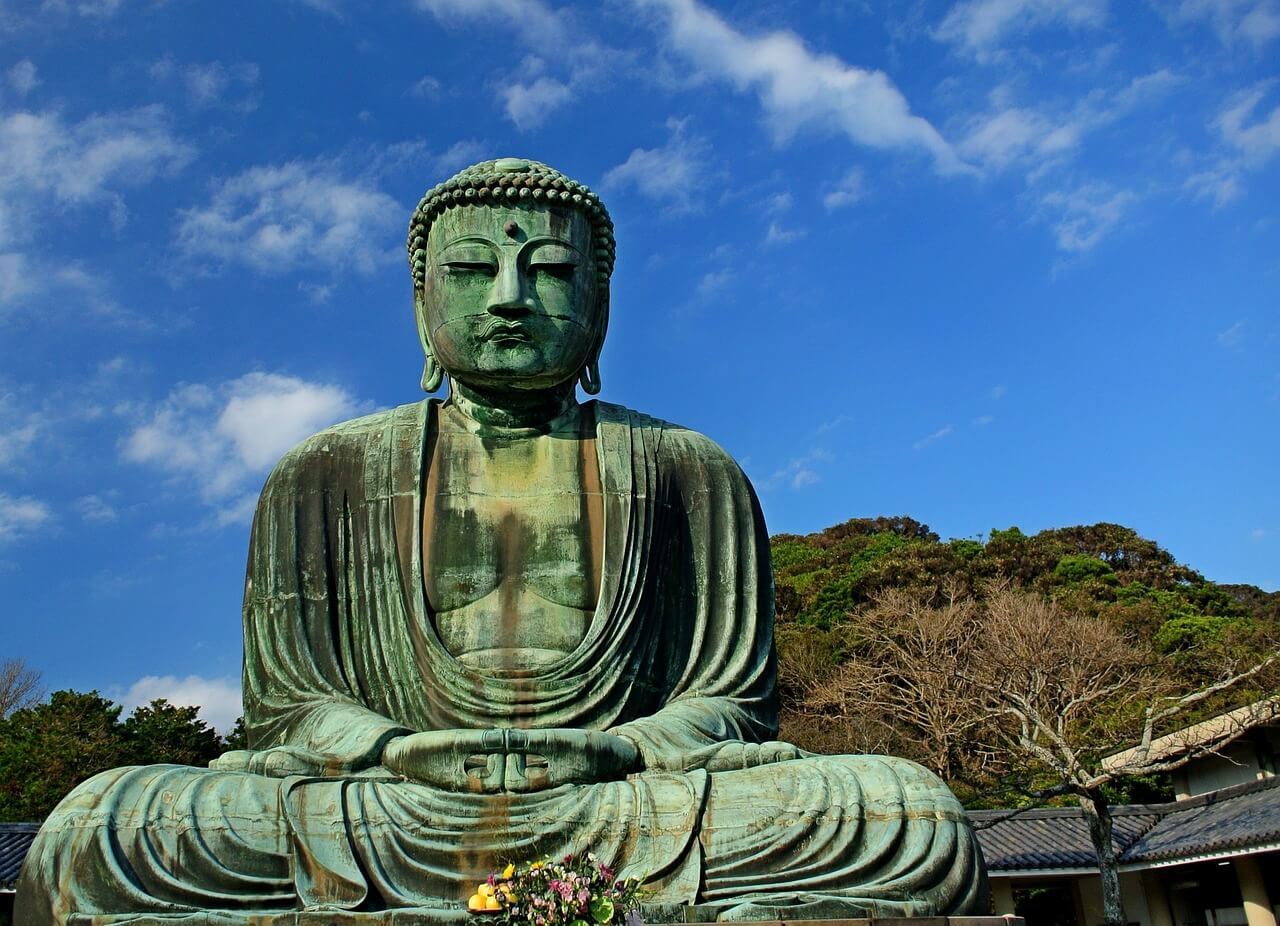 What I love about Kamakura the most, besides the opportunity to save some dough, is the dozens of Buddhist Zen temples and Shinto shrines that are so incredibly tranquil. Also, if you were in need of a little adrenaline rush, Yuigahama Beach is a fun place to go surfing. Even if you just needed some time relaxing on the sand, Yuigahama Beach is the place to do it.
Best Places to Stay in Kamakura
The small town of Kamakura is the absolute opposite of Tokyo. There are not dozens of different districts to choose between. Basically, you'll want to stay close to the beach so you can enjoy better views and being close to the water. But closer to the water means a little bit pricer, so it all depends on how tight your budget is!
Best Airbnb in Kamakura – Welcoming Traditional Home
Relax in style at this Kamakura Airbnb that offers guests two bedrooms and two beds plus two floor mattresses. This traditional style Japanese home in Kamakura can fit 4 guests. It's beautifully styled and is sure to impress guests. Plus, it comes at an incredibly affordable price. You won't be breaking the bank with this Airbnb, especially if you're splitting the room rate with your travel companions.
Best Hostel in Kamakura – Iza Kamakura Hostel and Bar
The Iza Kamakura Hostel is the perfect hostel in Kamakura in terms of location, price, and atmosphere. You'll be just two minutes from the train station, and you'll love being so close to all the local attractions – afterall, it's just a short walk to the beach! They do have a small restaurant where they offer reasonably priced meals. Great bang for your buck!
Best Hotel in Kamakura – Shibafu
Shibafu is a guesthouse styled hotel with a garden, lounge, bar, and restaurant. It's a lovely property with great facilities that put you close to all of Kamakura's attractions like the Great Buddha and the Gokuaku-ji Temple. You're also just 7 minutes walk to the beach. Bring a lunchbox and enjoy daily picnics on the beach.
Miyajima – One of the Most Unique Places to Stay in Japan
It feels like you could practically visit anywhere in Japan and find unique things to do and see. We've already talked about cyborg dancing in Tokyo, but what about the Zao Fox Village at the base of Mt. Zao? Or even the cat island at Tashirojima? That's right, Japan has an absurd abundance of the bizarre.
That being said, I think that if you want to do more than just snap an Instagram photo or two, staying in Miyajima is the best place to stay for a truly unique experience. This is a sacred island that lies off the coast of Hiroshima. It is home to the Itsukushima Shinto Shrine with a giant orange "floating" torii gate. Miyajima actually is Japanese for "shrine island," and is often referred to as the Island of the Gods.
It's one of the most scenic spots in all of Japan and promises guests a unique and memorable experience. You'll love hiking Mount Misen or exploring the beautiful Virgin Forest. Make sure to stop by Miyajima Brewery for a pint! As a side note, it's worth mentioning that Itsukushima is the official name for Miyajima. So if you're doing some of your own Googling, you'll have to search for both Itsukushima and Miyajima.
Best Places to Stay in Miyajima
As a small island, Miyajima actually doesn't have that many accomodation options at all! So, I was very careful when making my recommendations as hotels can run up to $400 per night.
Best Airbnb in Miyajima – Spirit Guest House
This Airbnb is a two bedroom traditional style Japanese home complete with paper sliding walls and a small garden courtyard. Up to six guests can fit in this home. You'll love soaking up the calm atmosphere and spending time in the garden. This is no ordinary house or Airbnb! You'll truly feel like you've stepped into an authentic cultural experience.
Best Hostel in Miyajima – Omotenashi Hostel Miyajima
So, it turns out that there are absolutely no hostels on the island of Miyajima as of February 2020. That being said, there is a hostel located super duper close to the ferry port, right on the coast across from the island itself. You can practically see the island from the windows of this hostel! Enjoy budget friendly prices, a common lounge, and even a karaoke box! Just hop on the ferry to reach the island in less than 20 minutes/
Best Hotel in Miyajima – Hotel Kikunoya
Just a quick seven minute walk to the famous Itsukushima Shrine, you'll love the location of this hotel! Plus, it's very close to the seaside. It's a modern style hotel that offers travelers the choice between Western and Japanese-style rooms. A Japanese breakfast set is available for purchase, as are delicious dinners. There's even a free shuttle to the ferry port.
Hokkaido – Where to Stay in Japan for Adventure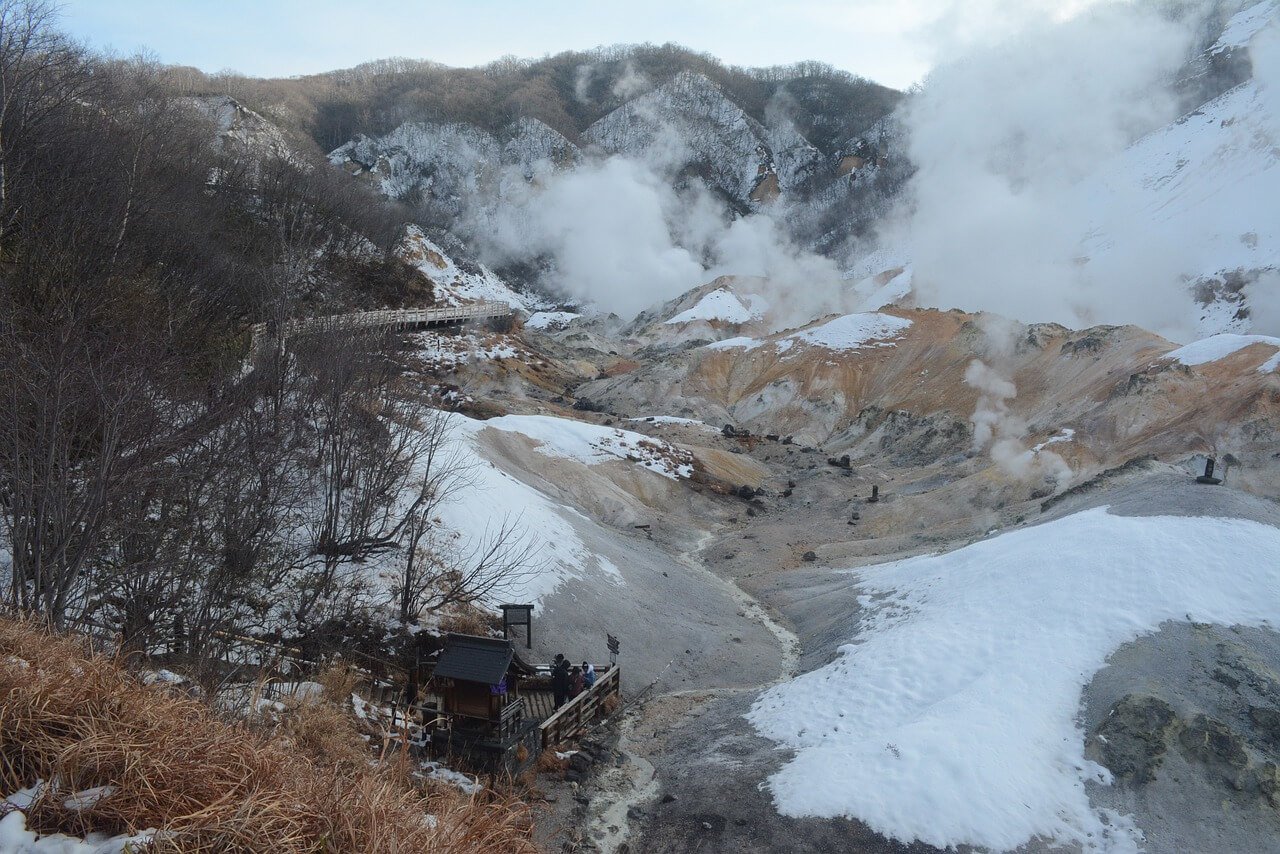 If you want an adventure in Japan, then check out Hokkaido – it really stole my heart and I think it will do the same for you too. Hokkaido resides in the northernmost part of Japan's main islands and is 37 times larger than Tokyo.
It's known for volcanoes, skiing, natural hot springs, and quiet hikes. The immense Daisetsuzan Natural Park has the steaming Mount Anahi volcano, and the Sikorsky-Toya National Parks are home to the divine geothermal hot springs. There are plenty of fun ski resorts on Hokkaido, which means that deciding where to stay is more than difficult.
Best Places to Stay in Hokkaido
Hokkaido is a huge island. Because it lies so far north, make sure to pack warm clothing even in the summer months. There are some great cities in Hokkaido worth staying in, like Sapporo which was the first urban city in Hokkaido, or Sapporo with it's incredibly famous dishes like Sapporo Ramen and Genghis Khan. On the other hand, I love staying in the seaside towns like Otaru, Abashiri, and Shiretoko offer incredible seafood and sweeping ocean views.
Best Airbnb in Hokkaido – Otaru Ocean View Condo
This Airbnb is for a one bedroom with two beds and one bathroom condominium. It has a relaxing balcony that overlooks the harbor. You'll love being in the heart of Otaru, very close to the canal walk and all the sightseeing spots in the area. Additionally, this clean and spacious Airbnb sits close to the Otaru sushi street!
Best Hostel in Hokkaido – Untapped Hostel in Sapporo
Surround yourself with new friends at Untapped Hostel. It's filled with other backpackers and has a fun vibe. Moreover it's actually located near Hokkaido University, so you'll be fully immersed with other young people. There are three unique dorms, with capsule-like beds. There is also an onsite restaurant that serves delicious, homemade Japanese cuisine.
Best Hotel in Hokkaido – Hotel Potmum Sapporo
Hotel Potmum Sapporo has such a gorgeous and highly urban vibe! It's a very artsy place, with high ceilings, fireplaces, and soft lighting. The decor is positively magazine worthy! It is an affordably priced hotel that will keep your wallet happy. Plus, there is a shared kitchen to use so you can whip up a meal if you're craving some good ol' home cooking! Some rooms do have their own kitchenettes and fridges too, while all rooms have an eclectic kettle.
Fuji Five Lakes – Where to Stay in Japan to See Mount Fuji and Nature
Fuji Five Lakes is actually a region at the base of Mount Fuji itself. There are, surprise surprise, five lakes: Shoji, Yamanaka, Motosu, Kawaguchi, and Saiko. Nestled in the center of all of the lakes is Fujiyoshida city, which has an amusement park and hot springs with traditional wooden bathhouses. There's also a trail that goes up Mount Fuji called the Yoshida Trail.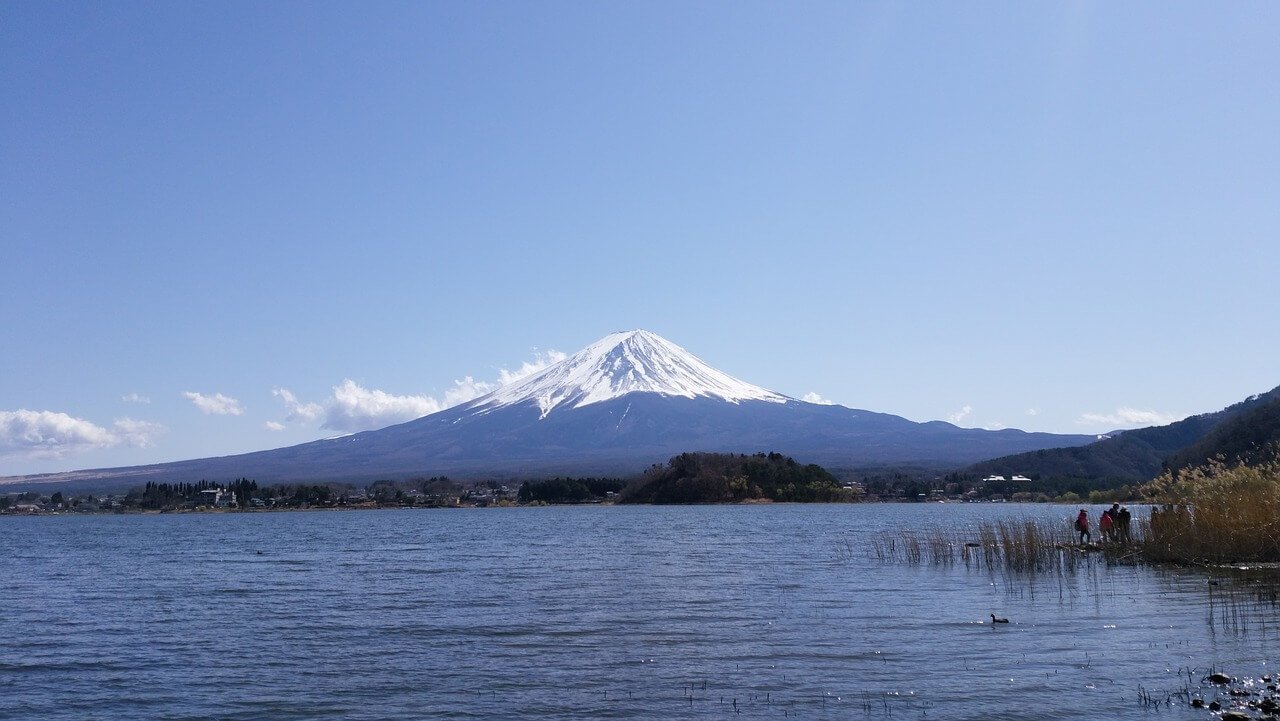 If you are trying to decide where you should stay to get access to Mount Fuji and to also really sink your teeth into the abundant natural beauty that Japan has to offer, Fuji Five Lakes region is for you.
Want to save the world?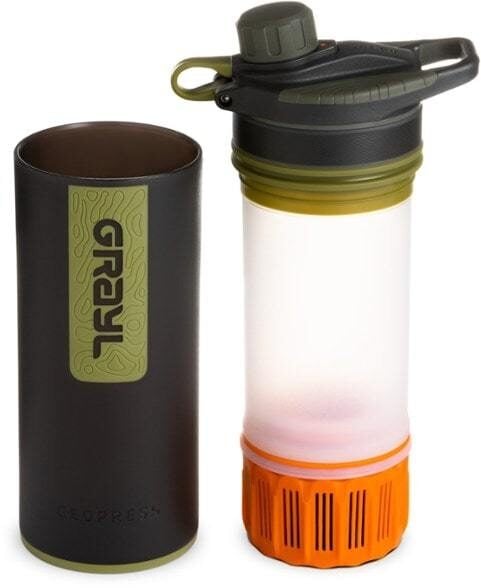 Single-use plastic bottles are a huge threat to Marine Life – Be a part of the solution and travel with a filter water bottle.
The GRAYL GEOPRESS water bottle is the ONLY all-in-one filter water bottle setup you'll need. Whether you need to purify the water from a hostel sink in Kathmandu or a stream trickle in the Andes, the Geopress has got you covered.
Read our full review of the GRAYL GEOPRESS!
Best Places to Stay in Fuji Five Lakes
While there are accommodation options sprinkled throughout the Fuji Five Lakes region, I find it easiest to stay right inside Fujiyoshida city. That way, you have easy access to convenience stores, transportation, restaurants, and whatever else you might need! Plus, you can still enjoy beautiful views of Mt. Fuji!
Best Airbnb in Fuji Five Lakes – Spectacular View of Mt. Fuji Tiny House
This Airbnb is located in Fujiyoshida city. Enjoy your own private panoramic view of Mt. Fuji from this tiny house! It has one bedroom and one bathroom, but up to four guests can squeeze in there. What's so special, besides the unparalleled view, is that there is a king-sized mattress to make for a tranquil night's sleep!
Best Hostel in Fuji Five Lakes – Hostel Fujisan You
Hostel Fujisan You is located right in the heart of Fujiyoshida city. It's a new hostel, so everything is truly sparkling clean. The staff provides guests with homemade bread, cereal, coffee, tea, and milk in the morning. It's a great hostel filled with incredibly kind staff.
Best Hotel in Fuji Five Lakes – Bself Fuji Onsen Villa
Treat yourself to a night or two in paradise at this gorgeous hotel! There is a private hot onsen bath for guests to use and enjoy. The location is also phenomenal! So close to many shops and restaurants, all within just a few minutes walk. It's a convenient location to access all the top tourist spots!
The Top Places to Stay in Japan
You can probably now tell that Japan is chock full of incredible cities and great accommodation options. It was so hard to write this piece, and to sift through all the beautiful cities packed with wonders, history, culture, and more than a handful of unique oddities! Below, I want to cover the absolute top places to stay in Japan.
Best Airbnb in Japan – Spectacular View of Mt. Fuji – Fuji Five Lakes
This tiny house is yours for the taking in the Fuji Five Lakes Region in the heart of the city of Fujiyoshida city. Sitting by the window and soaking up private views of Mt. Fuji day-in and day-out is unforgettable. Just don't get stuck spending the entire day out there gawking at the mountain! Go out and hike it!
Best Hostel in Japan – Hostel Bedgasm – Tokyo
This hostel is one for the books! With a name like "Bedgasm" one would hope that it offers a really unique and cool experience. You'll love wandering around the nearby areas of Asakusa and Ueno. And when you feel like just chilling, head on up to the rooftop and relax in the hammock! Downstairs, there is a bar that offers guests a free drink each night. Why thank you, Bedgasm.
Best Hotel in Japan – Hotel Potmum Sapporo – Hokkaido
Hotel Potmum Sapporo is one of those magazine worthy hotels that look more than ready for your hipster instagram photo shoot. With bookcases, high ceilings, urban decor, you're going to be snapping a photo or too here. Plus, it's actually a very affordable priced hotel. Trust me, that's not the case with these chic hotels in Japan!
Books to Read While Travelling Japan
The Backpacker Bible – Get it for free! Learn how to ditch your desk and travel the world on just $10 a day whilst building a life of long-term travel with an online income. To inspire and help the next generation of Broke Backpackers, you can now grab 'How to Travel the World on $10 a Day' for free! Get your copy here.
Lonely Planet Japan Travel Guide – It's always worth having a Lonely Planet packed away, plenty of useful info on routes and where to go.
A Geek in Japan: Discovering the Land of Manga, Anime, ZEN, and the Tea Ceremony – Comprehensive and well informed, the book covers a wide array of topics with numerous photographs, providing a lively digest of the society and the unusual culture of Japan.
Kaffka on the Shore – When you talk about Japanese literature, Murakami is the first name that comes to mind. A master craftsman of words, this guy is one of the coolest writers in the genre of magical realism. This book is an elegant and dreamlike masterpiece.
The Tale of Genji  – Lady Murasaki's great 11th century novel, this is a beautifully crafted story of love, betrayal and death at the Imperial Court.
Final Thoughts on Where to Stay in Japan
Are you ready to pack your bags and head off to Japan? Have you figured out exactly where to go now? I hope that my guide of where to stay in Japan and all the top places to stay in Japan was helpful! From Mt. Fuji to real life Mario Kart Racing in Tokyo the incredible Floating Torii Gates in Miyajima, there is so much to do and see in Japan! Now, go get exploring friends!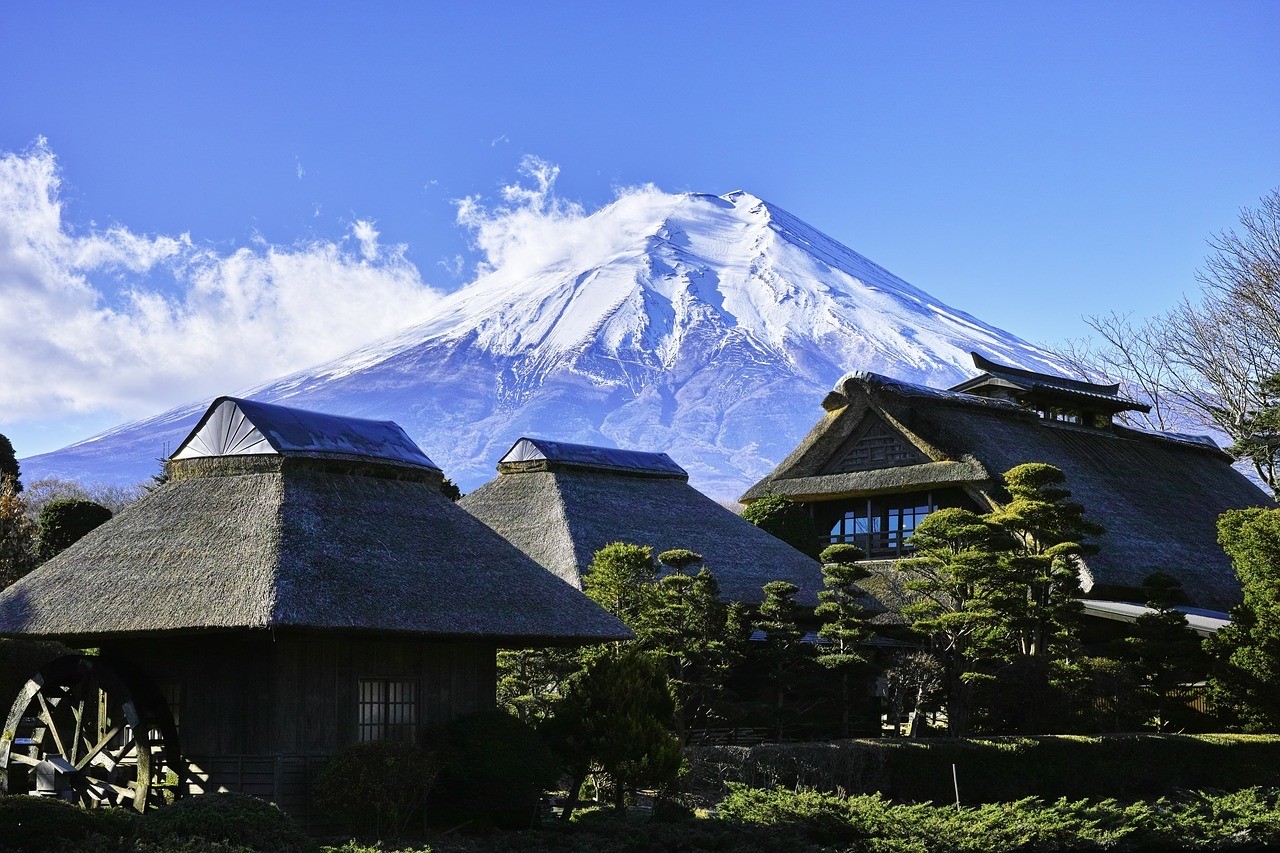 Don't Forget Travel Insurance for Japan
And don't forget to take out Travel Insurance for your trip! I have been using World Nomads for some time now and made a few claims over the years. They're easy to use, professional and relatively affordable. They may also let you buy or extend a policy once you've started your trip and are already abroad which is super handy.

---
Find out how YOU can support the site.
We're a big site with a big team and this job isn't always easy. But we do it because we love it – we love providing epic and free content. We love the knowledge that our content keeps you adventuring. We don't ask for money, but if you'd like to find out how you can help the site in more organic ways, click the button below.
Thank you for your support 🙂
And for transparency's sake, please know that some of the links in our content are affiliate links. That means that if you book your accommodation, buy your gear, or sort your insurance through our link, we earn a small commission (at no extra cost to you). That said, we only link to the gear we trust and never recommend services we don't believe are up to scratch. Again, thank you!