Travel
Where to Stay in Amsterdam in 2021!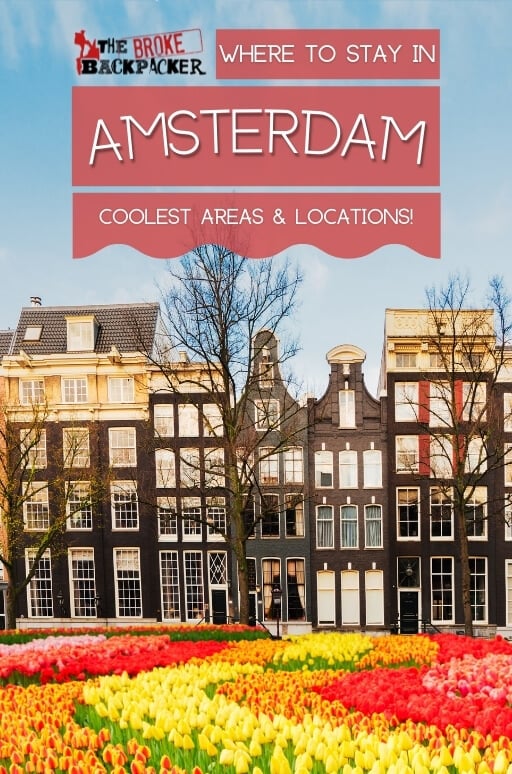 Once you ride a bike down Amsterdam's narrow alleys, whizzing past beautiful houses, green parks, and waterway canals, you'll never want to leave this magical city.
Amsterdam offers amazing food, culture, and local life. From the Royal Palace at Dam Square to the famous 'coffee shops', it's an interesting place to visit! That said, it can also be an expensive, crowded tourist trap.
Picking the right place in Amsterdam can be stressful, and if you're not trying to mingle with the crazy drunk tourists and stag parties, there are certain neighborhoods to avoid.
We created this insider guide on where to stay in Amsterdam and broke down the best neighborhoods, hostels, hotels, and apartments for you to find the best place in Amsterdam to stay based on your interests.
Whether you want to stay in a boutique hotel in a central location close to the best restaurants, near the local life, or you want to stay somewhere on a budget, read on to learn more about our picks for the best places to stay in Amsterdam!
Looking for a specific place to stay? These are our top picks for places to stay in Amsterdam, organised by the coolest backpacker hostels, nicest hotels, and swankiest city apartments!
Best Hotel in Amsterdam: Hotel Weber
Located near Leidse Square, this boutique hotel is in a prime position close to many places of interest. Rooms are en-suite and you'll find the fridge stocked with goodies for breakfast.
Fresh bread is brought to your room each morning too! Rooms also have a TV, Wi-Fi, a safe, a phone, and a coffee maker.
Best Airbnb in Amsterdam: Studio with Garden near Westerpark
This modern and comfortable apartment has a double bed in the main living area with huge glass sliding doors opening to a private garden space. There's also a kitchenette and separate bathroom and toilet.
Although perhaps a bit white-walled on the interior design, there are a lot of homey touches here that make it a perfect city apartment in Amsterdam right by Westerpark. By the park is the city-living dream!
Amazing Houseboat in Amsterdam: First-Class Houseboat Studio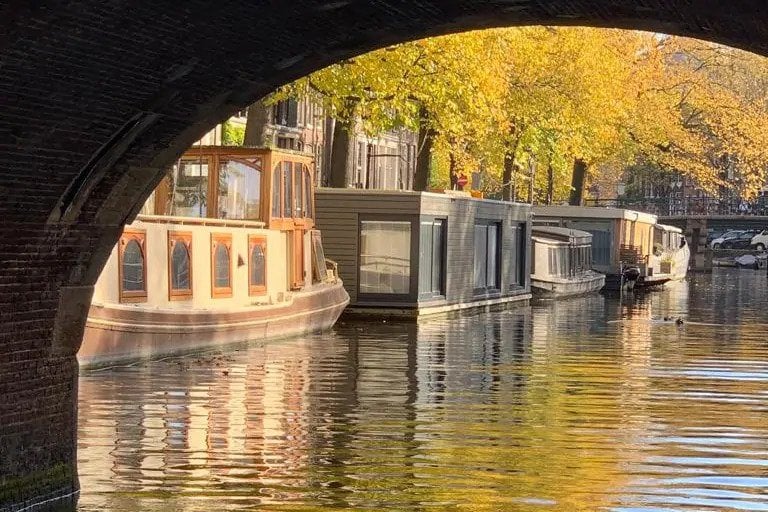 For a quirky place to stay in Amsterdam, what could be better than renting your very own private houseboat? This cool Airbnb is a houseboat on the outside and a studio apartment with modern trimmings on the inside. The huge sliding windows provide incredible views over the water while the shades still allow privacy.
Featuring a small kitchenette and bathroom, this is a dope pad (and a very unique Amsterdam accommodation) to spend a few blissful days gently bobbing on the water.
Best Hostel in Amsterdam: Cityhub Amsterdam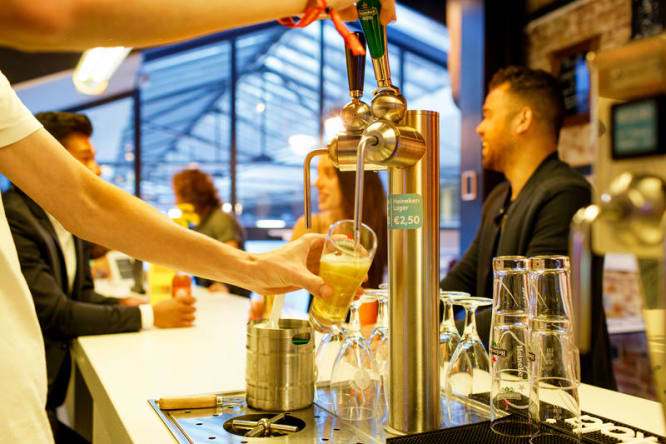 Located just south of Westerpark is the super modern and 'techy' Cityhub Amsterdam. Why so 'techy'? Because instead of a traditional dorm room – you get your own private pod/cabin and it looks more like a spaceship than a bed!
Cityhub is a unique mix of the classic social vibes of old-school hostels, mixed with a new innovative experience – that's probably why the ratings are so high!
You can also check out the best VRBOs in Amsterdam!
Amsterdam Neighborhood Guide
FIRST VISIT TO AMSTERDAM
FIRST VISIT TO AMSTERDAM
Westerpark
Westerpark is close enough to the city centre to make exploring a breeze, yet just far enough away to offer a more chilled out stay making it the best place to stay in Amsterdam for first-time visitors.
ON A BUDGET
ON A BUDGET
Oud Zuid
A major tourist area yet with lower accommodation prices than other parts of the city centre, Out Zuid is one of the best places to stay in Amsterdam on a budget.
NIGHTLIFE
NIGHTLIFE
De Pijp
Although Leidseplein in the city centre is Amsterdam's major area for nightlife, De Pijp (in South Amsterdam) is a trendy part of the city whose nightlife can rival that of the centre.
COOLEST PLACE TO STAY
COOLEST PLACE TO STAY
Jordaan
Jordaan is close to the heart of Amsterdam but the traditional village-like vibe makes it feel a whole lot farther away.
FOR FAMILIES
FOR FAMILIES
Plantage
A predominantly residential area with a Jewish heritage, Plantage is the best Amsterdam neighbourhood for families.
The Dutch capital is split into a number of neighbourhoods; while many major attractions are in a fairly concentrated area that doesn't mean that you should overlook other parts of the city. There are hidden gems everywhere!
On the fringe of the city centre is the best part of Amsterdam to stay for escaping the tourist crowds and mingling with locals. You'll find cool cocktail bars, independent shops, bohemian clubs, cool architecture, laid-back cafes, and more. You can easily jump on the metro right to Amsterdam central station or rent a bike too.
Centrum is the pulsating heart and soul of Amsterdam and home to many major attractions and landmarks as well as a lively nightlife and an abundance of restaurants. It also attracts huge numbers of tourists. No trip to Amsterdam is complete without spending time here! It's also where you'll find Amsterdam Centraal station
Amsterdam city centre area is broken down further into smaller areas. The old centre is where you'll find medieval streets and De Wallen, Amsterdam's famous Red Light District and heaps of coffee shops. De Pijp is a cool spot for nightlife, terrific restaurants, an arty ambience, and a hipster vibe.
Jordaan has managed to retain a village-like feeling while being home to several famous sights and within easy reach of the heart of Amsterdam, and Plantage has many museums and a strong Jewish heritage. The canal ring is a posh area lined by canal houses and fantastic nightlife. Westerpark is another popular area close to the centre.
Oud Zuid (South) is a quieter part of Amsterdam, with more of an up-market atmosphere. Oud-West is simultaneously relaxed and lively—you'll find plenty to see and do but the vibe is cool, calm, and collected.
Oud Oost (East) has a down-to-earth and working-class feel about it and is great for people who like to fully immerse themselves in the local way of life in Amsterdam. There are large parks and it's considered to be a bit more off the beaten track.
Noord (North) has seen many developments over recent years, transforming it from a major shipping area to a place that's full of life, with cultural, leisure, and entertainment venues. Spaarndammerbuurt is an up-and-coming neighbourhood and the island of Marken is charming, with traditional homes and a feeling of nostalgia.
So with so many options, read on to find out exactly where is the best place in Amsterdam to stay.
5 Best Neighborhoods to Stay in Amsterdam
Although it might seem like Amsterdam has many neighbourhoods to choose between, the city centre is fairly compact and easy to navigate by public transport. This means that you'll never be too far away from the action, even if you decide to stay in one of the city's quieter areas.
Note that while the old centre has heaps to see and do, this isn't generally the best Amsterdam neighbourhood to stay in unless you particularly want to be close to the Red Light District.
1. Westerpark Neighborhood – Best Area of Amsterdam for a First Time Stay
Westerpark is close enough to the city centre to make exploring a breeze, yet just far enough away to offer a more chilled-out holiday in Amsterdam.
It's our pick for the best area to stay when planning a first-time visit to Amsterdam because it is conveniently located for hitting the sightseeing hotspots, you're close enough to the nightlife without being put off by The Red Light District, and there's a good choice of accommodation, shops, restaurants, and attractions right at your fingertips in this central location.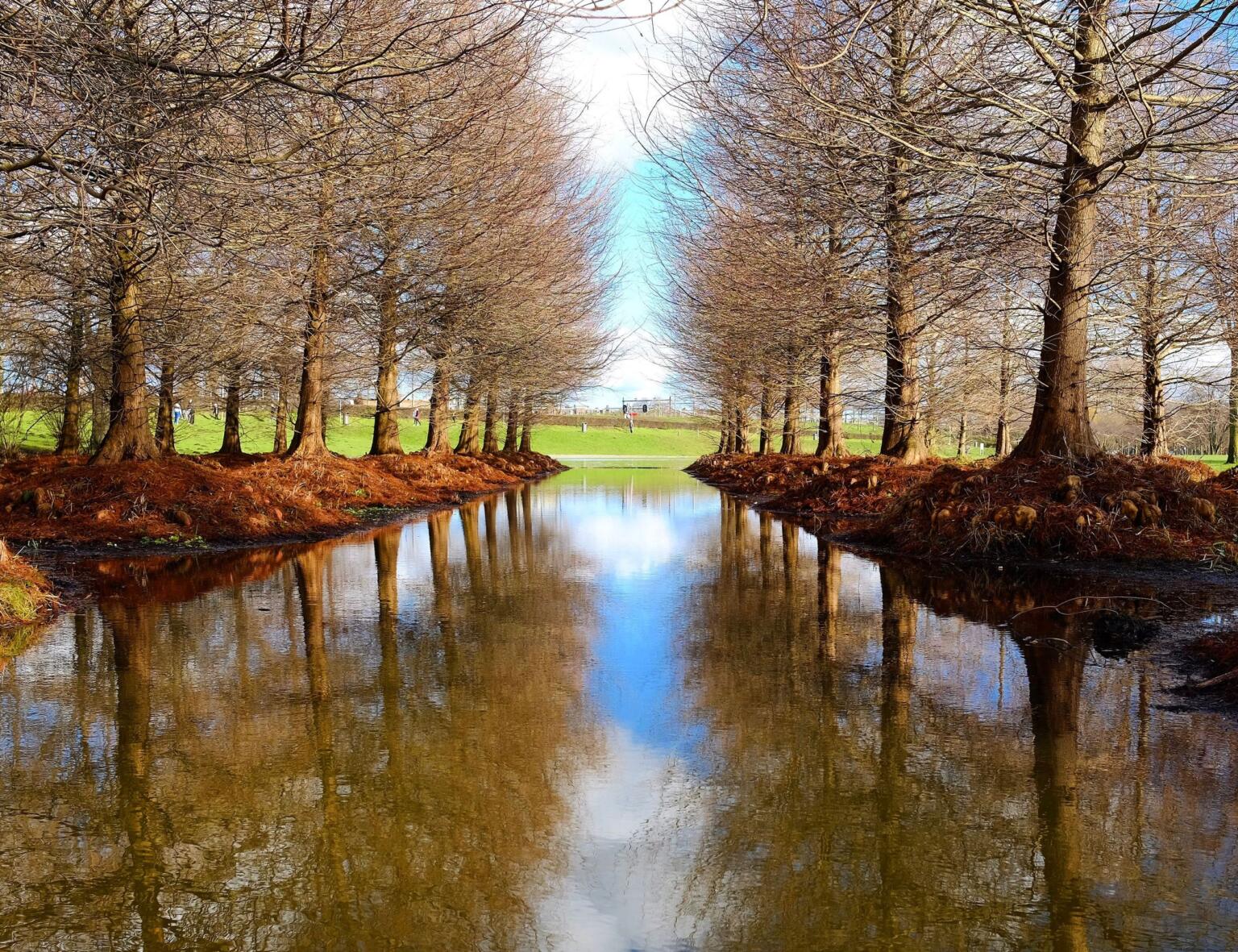 Best Studio Apartment in Westerpark: Studio with Garden near Westerpark
This modern and comfortable apartment has a double bed in the main living area with huge glass sliding doors opening to a private garden space. There's also a kitchenette and private bathroom.
Although perhaps a bit white-walled on the interior design, there are a lot of homey touches here that make it a perfect city apartment in Amsterdam right by the park. The central location by the park is the city-living dream!
Bright Bed & Breakfast in Westerpark: Room with a View
This simple and bright bed and breakfast near Westerpark is perfect for a solo traveller. It's digital nomad-friendly, with a workspace in the room and a beautiful view over the city so that you don't feel cooped up if you're inside working through the day. Take a stroll through the park or take advantage of the bike rental on offer.
Best Hostel in Westerpark: Dutchies Hostel
Friendly and sociable with a youthful vibe and tons of cool wall art, Dutchies Hostel has mixed and female-only dorms. There are several common areas, suitable for socialising, chilling, and working, plus a shared kitchen and an outdoor smoking area. Bikes are available to rent and Wi-Fi is free.
Best Hotel in Westerpark: WestCord Art Hotel (With Swimming Pool)
Though not the grandest of hotels in Amsterdam, this three-star accommodation still sits right next to the green Westerpark while being just a 15-minute walk from the city centre. The modern and funky rooms are en-suite with a TV, coffee machine, wardrobe, and minibar. The swimming pool is a major draw, with sunbathing areas and a bar on the terrace. There's an onsite restaurant too. The art display is sure to catch your eye.
Top Things to Do in Westerpark
Chill out in the area's namesake park: Westerpark. Pack a picnic in the summer months, watch an array of cultural activities, and enjoy being outdoors. You can even swim in the pool on sunny days, and kids are sure to love the small petting zoo.
Visit the monthly craft and arts market at Westerpark, held on the first Sunday of each month.
Go window shopping along some of the best shopping streets in the country: the Haarlemmerstraat and Haarlemmerdijk.
Satisfy your appetite in the neighbourhoods many excellent restaurants and large food centres like Market Canteen.
Admire the artistic works at Museum Het Schip.
Relax at Het Stenen Hoofd, an urban beach that's popular with locals.
Get your gaming head on and go retro at Ton Ton Club, a cool arcade with classic machines.
Sample local beers at De Prael brewery and Troost.
Watch a show at Amsterdam Theater.
2. Oud Zuid (South) – Where to Stay in Amsterdam on a Budget
A major tourist area yet with lower accommodation prices than other parts of the city centre, this is the best area to stay in Amsterdam on a tight travel budget.
It's actually a district made up of several neighbourhoods, Oud Zuid (South) is also home to the Van Gogh museum and The Rijksmuseum in museum square (wonder why they called it that!!)
Private Apartment in Oud Zuid (South): Cosy Canal-View Studio Suite
 A fully-equipped studio apartment with a private entrance and a small balcony overlooking the canal. Recently renovated, there are a lot of charming touches that you won't find at other Airbnb apartments in Amsterdam. It's the perfect spot for going on a museum-mish and a wonderfully put together home-for-the-weekend.
Warm Studio Space in Oud Zuid (South): Sweet Studio
Super close to Amsterdam's major museums and several attractions too, it's also near to Vondelpark making it a supreme choice for joggers! There's a heavenly king-sized bed, a TV right across for late-night movie marathons, and the kitchen comes with everything you'll need to cook up a storm. You can also hire a bike just around the corner!
Best Hostel in Oud Zuid (South): Hostel Van Gogh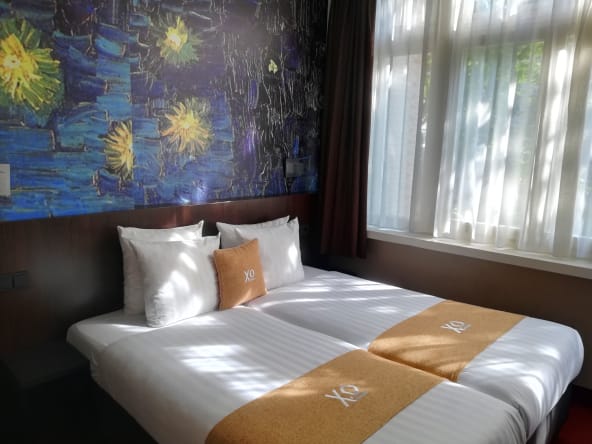 There are mixed and ladies-only dorms plus private rooms in different sizes. The beds are comfy for a good night's sleep and each room has its own bathroom.
Modern and secure and with keycard access, the hostel offers bike rentals, free maps, and free Wi-Fi. The Van Gogh museum is a short stroll away.
Best Hotel in Oud Zuid (South): Hotel Verdi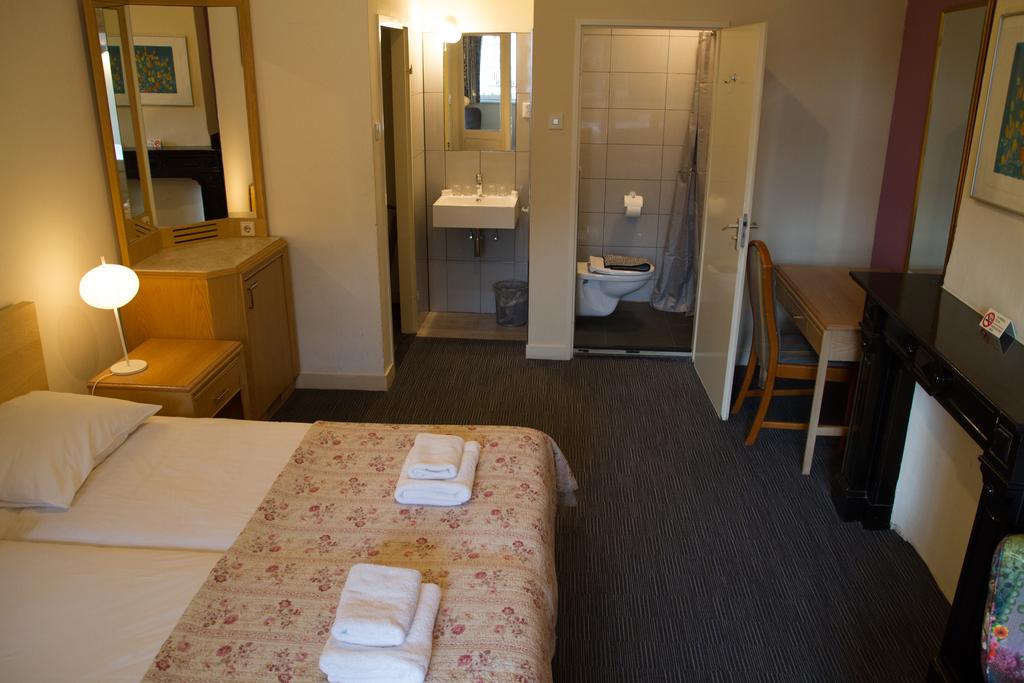 A budget Amsterdam hotel in a central location, Hotel Verdi has rooms for two and four; some are en-suite and some share bathrooms. Rooms are cosy, breakfast is included in the price, and Wi-Fi is available in common areas. There's a garden where you can relax and bikes are available to rent.
Top Things to do in Oud Zuid
Marvel at the artistic gems in the famous Rijksmuseum and Van Gogh Museum.
Discover more about the diamond trade in the Netherlands at the Diamond Museum.
Visit a host of other interesting museums at Museum Square.
Taste Dutch beers at The Heineken Experience and House of Bols.
Take a bottle of wine to relax in the sunshine at Vondelpark or pick a spot on the grass at Amsterdamse Bos and admire the many flowers.
Follow the locals and head to the beach at Strand Zuid.
Peek inside the windmill of Molen van Sloten, the only windmill in South Amsterdam to be open to tourists.
Browse and buy along the bustling Beethovenstraat, one of the city's most popular shopping streets.
Watch arty films at Rialto Cinema.
Enjoy a classical concert at Concertgebouw.
Sample a wide range of global cuisine in the area's many restaurants.
3. De Pijp – Best Part of Amsterdam to Stay for Nightlife
Although Leidseplein in the city centre is Amsterdam's major area for nightlife, De Pijp (in South Amsterdam) is a trendy part of the city whose nightlife can rival that of Amsterdam city centre. Here you'll really get to know one of the best party cities in Europe.
It's within easy reach for a few nights out in the heart of Amsterdam, but once you're tired of tourist crowds and the Red Light District, De Pijp is the best area in Amsterdam to stay for a great night out.
Additionally, De Pijp is also known for its great food scene, ideal for starting your night or for beating a hangover. A cool area with a youthful and bohemian vibe yet still close to the city's main madness, backpackers in Amsterdam will be glad they chose to stay in De Pijp over the centre.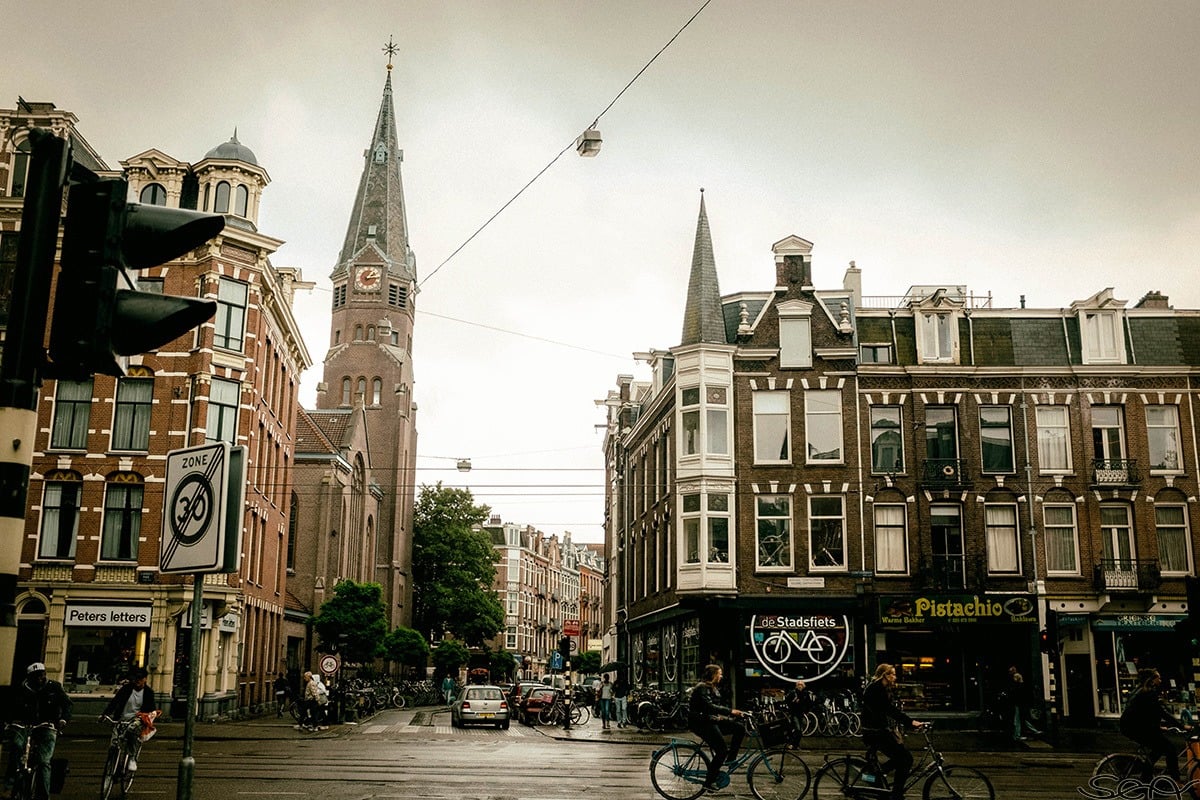 Beautiful Loft Space in De Pijp: Heavenly Hideaway in the Pijp
Presumably named after its glowing white ambience, this is a gorgeous space complete with its own rooftop terrace. Due to its location on the 4th floor, and its mezzanine-style bed, it's not suited for mobility-impaired folk. Everyone else though is going to soak up this gorgeous apartment with its chic vintage stylings – there's even a hammock chair inside!
Stylish Apartment in De Pijp: Apartment at the Heineken Square
Right in the centre of De Pijp neighbourhood – close to some of Amsterdam's coolest bars and restaurants – this roomy apartment has a cosy yet low-key vibe. With a fantastic view right over Marie Heineken Square, cooking up a brekky in the kitchenette and enjoying it with the morning city views is always a treat. Bonus points for the bike rentals right next door!
Stylish Hostel near De Pijp: Cocomama
Cocomama is just across the canal from the De Pijp neighbourhood. This location is close to the attractions of De Pijp and a reasonable walk from the city centre. The interior is homey, quiet and inviting. The space is conducive to relaxing, reading and making great conversation – the perfect foil to your crazy nights out.
Best Hotel in De Pijp: The Arcade Hotel Amsterdam
You don't even need to go out to have fun as this hotel has its own lively bar! With single, double, twin, and quad rooms, it's a top hotel in De Pijp for all.
Rooms have a private bathroom as well as a TV and Wi-Fi. Relax on the terrace or rent a bike to explore Amsterdam from this lovely boutique hotel.
Top Things to Do in De Pijp
Experience the vibrant nightlife of the Latin Quarter.
Hunt for bargains and stock up on souvenirs at the biggest daily market in the Netherlands: Albert Cuypmarkt. With more than 250 stalls, the laid-back market has everything from snacks and fresh produce to clothes, home wares, and trinkets.
Eat your way around the world at restaurants that sell Thai, Indian, Chinese, Turkish, Moroccan, Vietnamese, Spanish, and Pakistani cuisine, to name just a few.
Take a tour of the Heineken Experience and sample locally produced beer by the internationally known brand.
Admire the decorative and detailed architecture around P.L. Takstraat.
Dine al fresco with a picnic at Sarphatipark.
Take kids to Kinderboerderij de Pijp.
Chill at a café on Marie Heinekenplein.
Sip a cocktail and admire the views from the Twenty-Third Bar located, as the name suggests on the 23rd floor.
4. Jordaan – The Coolest Place to Stay in Amsterdam
Jordaan is close to the heart of Amsterdam but the traditional village-like vibe makes it feel a whole lot farther away.
If you're looking for where to stay in Amsterdam for couples, Jordaan is a good bet. It's a quaint and authentic part of Amsterdam that has plenty to see and do. Traditionally a working-class part of town, today Jordaan is one of the coolest neighbourhoods in Amsterdam and a damn cool area to stay.
Art galleries, the local music scene, unusual restaurants, and vintage stores all add to the area's appeal. As accommodation here is fairly limited, the area also has more of an exclusive feel. Many of Amsterdam's top attractions are in this area as well.
Fantastic Canal Studio in Jordaan: Luxurious Canal House Studio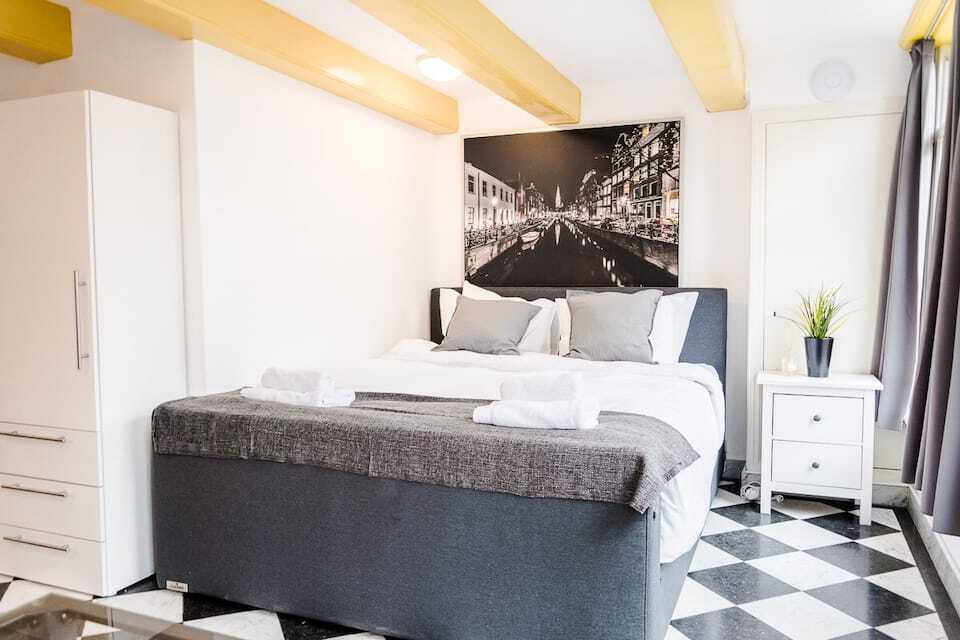 Combining the atmosphere of an 18th-century canal house with modern furnishing of a 21st-century studio pad, this gorgeous Amsterdam Airbnb is an easy walking distance to many of the coolest attractions and neighbourhoods (plus the tram stop is right outside). Recently renovated – and with elevator access (a rarity in Amsterdam) – this bright and beautiful place to stay is perfect for experiencing a modern take on Amsterdam's classic 'grachtenpand' (canal house).
Large Apartment in Jordaan: Amsterdam Center Entire Apartment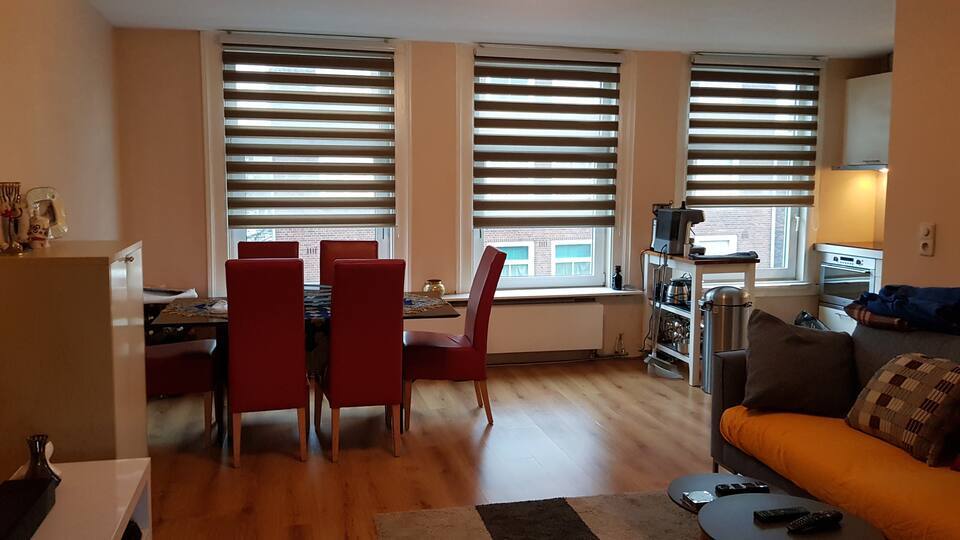 A two-room flat with a very spacious feel and an espresso machine that just doesn't quit! There's a basic home theatre setup (TV and stereo soundbar) for chilling out after a day exploring Amsterdam's sights. In a convenient spot with convenient amenities and just a touch more space, it's a great choice for couples staying in Jordaan.
Best Hostel in Jordaan: Shelter Jordan
A friendly Christian hostel in Jordaan, this is a great place for people who want a restful and safe stay away from the drink and drugs scene.
The single-gender dorms are located on different floors and breakfast is included in the price. There's an onsite restaurant and you can rent bikes and mingle and use free Wi-Fi in the common room. They also organise group trips to places like The Anne Frank house, the Royal Palace and Dam Square.
Best Hotel in Jordaan: Hotel Il Fiore
The en suite rooms have free toiletries, a hairdryer, free Wi-Fi, TV, tea and coffee making facilities, and a separate seating area. There's an onsite Italian restaurant and bicycles are available for rent. It's close by to the poignant Anne Frank house.
Top Things to Do in Jordaan
Wander the historic streets and soak up the enchanting vibe.
Visit the world-famous Anne Frank House, once the home of the famous child wartime diarist.
Hit up the shops of Westerstraat, Rozengracht, and Elandsgracht, hunt for quirky finds on in the shops of Hazenstraat, and shop in colourful markets like Westerstraat and Noordermarkt.
Stroll alongside the small canals.
Get to grips with tasty traditional Dutch food.
Watch a performance at Theater Amsterdam.
See the church of Noorderkerk.
Drink in diverse rock, metal, and alternative bars as well as trendy watering holes.
Enjoy unique museums like the Pianola Museum and the Woonbootmuseum.
Discover the area's many charming gardens, many of which are hidden from sight.
Admire the artworks in the modern Galerie Buuf.
5. Plantage – Where to Stay in Amsterdam for Families
A predominantly residential area with a Jewish heritage, Plantage is the best place to stay in Amsterdam for families.
As well as being calm and quiet, there are several family-friendly attractions close to hand as well as important and interesting historic attractions. It's around a 20-minute walk from the heart of Amsterdam, but the metro makes travelling to and from the city centre a breeze. If it's a family weekend trip to Amsterdam that gravitates more towards art and cheese than sex and drugs, then this is the place for you.
Awesome Family Unit in Plantage: Quiet Apartment Perfect for Families
Sleeping up to four people (a huge bonus amongst the compact apartments of Amsterdam), this is a quiet place to stay in a quiet neighbourhood and perfect for a family holiday! It's got a view of Wertheimpark – Amsterdam's oldest park – and the host's cats even wander through the garden from time to time for a pat. Also, as a final extra cherry on top, the floors are heated!
Gorgeous Top-Floor Apartment in Plantage: Bright, Spacious, and Green Home
A downright gorgeous specimen with a high ceiling and exposed beams it's filled with the greeny of vibrant houseplants.  This 4th and top floor apartment fills with light due to its large angled windows, and there's even a stunning view of the canal. It's just a 'dam' beautiful place to stay in Amsterdam!
Best Hostel in Plantage: Generator Amsterdam
A welcoming, attractive, and cheap hostel in Amsterdam, guests can choose from one of the private rooms or a bed in a dormitory (ladies-only or mixed). There's a café onsite as well as a separate bar/lounge for relaxing and another chilled-out common space.
A small store sells the essentials and other features include bike rentals, free Wi-Fi, a tour desk, laundry facilities, and round-the-clock security.
Best Hotel in Plantage: Wittenberg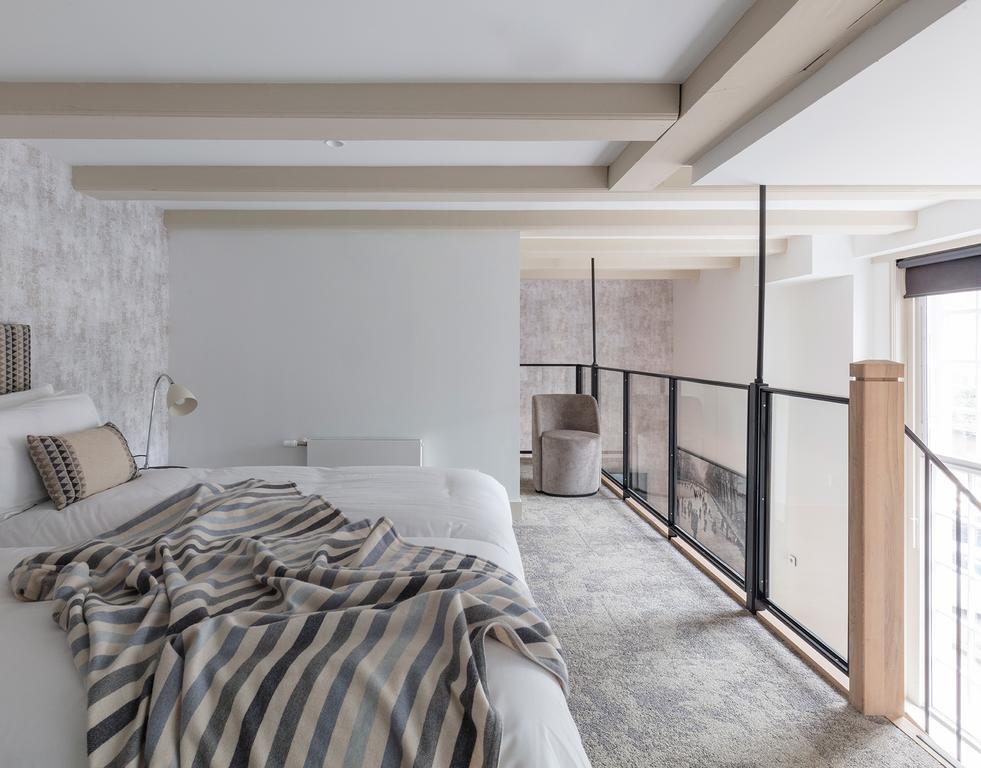 Fresh, airy, clean, modern and comfortable are just a few words to describe Wittenberg. There are various apartments and studios available to rent and the building has an elevator.
Reception is open 24 hours. You can benefit from free Wi-Fi, luggage storage, and bike hire facilities at this lovely boutique hotel.
Top Things to Do in Plantage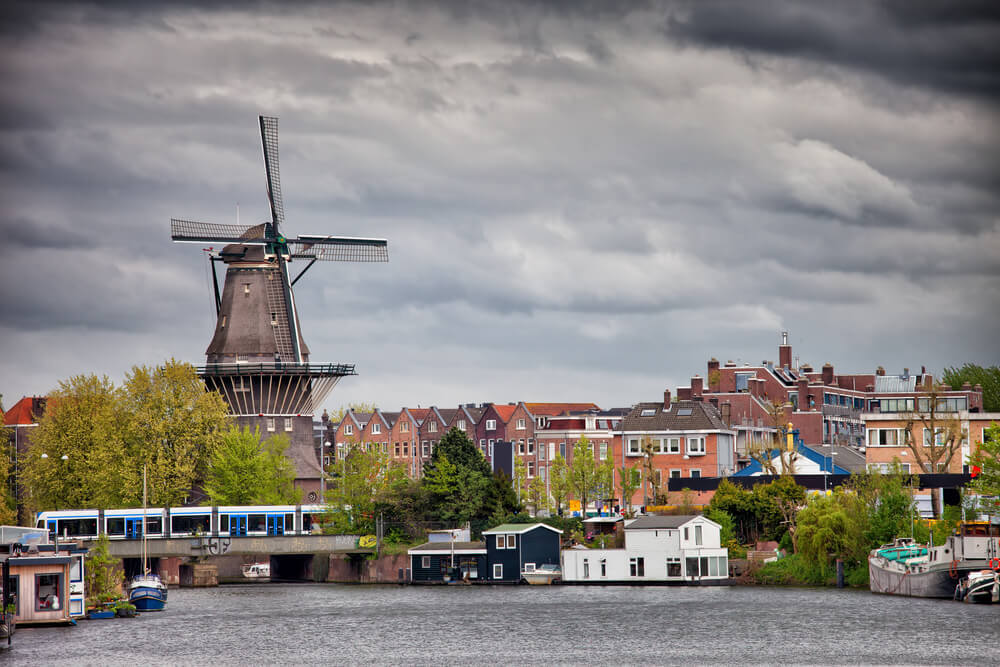 Observe a large selection of creatures in Artis Royal Zoo, stroll through the lush botanic gardens, and learn more about the stars and sky at the planetarium.
Marvel at Russian arts and treasures at the Hermitage Amsterdam.
Visit Hortus Botanicus, the world's oldest botanic garden.
Snap a picture of De Gooyer Windmill.
Pick up vintage items and unusual goods at the large and historic flea market of Waterloopleinmarkt.
Learn more about Jewish history and heritage at the Jewish History Museum, the National Holocaust Museum, the Portuguese Synagogue, and Hollandsche Schowburg.
Step back to the times of the Netherland during the period of Nazi occupation at Verzetsmuseum the Resistance Museum.
Relax in the scenic park of Wertheimpark.
Buy tickets for a performance at the Dutch National Opera and Ballet.
Try to conquer the different escape room experiences.
FAQ's on Where to Stay in Amsterdam
Choosing where to stay in a new city you've never been to can be really confusing and frustrating. To help you make the right decision, we've answered the most commonly asked questions on Amsterdam and its neighbourhoods, so you can plan your trip without any issues.
Final thoughts on which area to stay in Amsterdam
Amsterdam is often famed for its coffee shops and Red Light District, which is honestly a shame because this city has so much more to offer than legal marijuana and hookers! It is a year-round destination so it is always a good time to visit Amsterdam.
I love Amsterdam and think its architecture and water canals make it one of the dreamiest cities in the world, but it can be expensive, crowded, and – frankly – dirty in some areas. We created this guide to help you navigate out of the tourist traps and find out where to stay in Amsterdam based on your style.
To recap, our favourite hostel is Amigo Hostel Amsterdam. For more privacy, we recommend Hotel Weber! When in doubt, choose to stay in Westerpark, which is close enough to the city centre to make exploring a breeze, yet just far enough away to offer a more chilled out visit to Amsterdam.
If you stay outside the centre, you can experience a more local (and affordable) Amsterdam. The public transportation is great in Amsterdam anyway, so it's easy to get around! Amsterdam Centraal train station is connected to the extensive metro line.
And don't forget to take out Travel Insurance for your trip! I have been using World Nomads for some time now and made a few claims over the years. They're easy to use, professional and relatively affordable. They may also let you buy or extend a policy once you've started your trip and are already abroad which is super handy.
Getting an estimate from World Nomads is simple – just click the button or image below, fill out the necessary info, and you're on your way!

If you're still worried about the safety of visiting tourists, then read our dedicated guide on staying safe in Amsterdam.
Otherwise, that's it! Enjoy your trip to Amsterdam, and if we missed any of your favourite places to stay, let us know if we missed anything in the comments below!
Do you own an awesome hostel, hotel or apartment? Want to be featured in our list? Email [email protected] to find out how.
---
Find out how YOU can support the site.
We're a big site with a big team and this job isn't always easy. But we do it because we love it – we love providing epic and free content. We love the knowledge that our content keeps you adventuring. We don't ask for money, but if you'd like to find out how you can help the site in more organic ways, click the button below.
Thank you for your support 🙂
And for transparency's sake, please know that some of the links in our content are affiliate links. That means that if you book your accommodation, buy your gear, or sort your insurance through our link, we earn a small commission (at no extra cost to you). That said, we only link to the gear we trust and never recommend services we don't believe are up to scratch. Again, thank you!