We all could use a little bit of Costa Rica in our lives right now…. If you've stumbled upon our post here, then we sure hope you're heading off soon. If that's the case then— lucky you!
Costa Rica is a gorgeous Central American country that has coastlines on both the Caribbean and the Pacific Ocean. When you think of it, you probably draw images to mind of luscious rainforests, pristine beaches, and epic volcanoes. That's right! When staying in Costa Rica, expect a perfect blend of relaxation and adventure. What is not quite as fun as hiking a volcano or hanging out with monkeys, is figuring out where to stay in Costa Rica. With so many incredible places and so many choices of lodging in Costa Rica, it can be a headache trying to decide where to stay and where to go!
So we called in our travel experts and created this wicked guide of all the best areas to stay. Wondering where should I stay in Costa Rica? Then, read on readers! The answers to all your questions are below!
Quick Answers: Where is the Best Place to Stay in Costa Rica?
Tamarindo – Overall Best Place to Stay in Costa Rica 
Drake Bay – Best Place to Stay in Costa Rica For Families 
Puerto Viejo – Most Romantic Place to Stay in Costa Rica for Couples 
MonteVerde – Coolest Place to Stay in Costa Rica
San José – Where to Stay in Costa Rica on a Budget
Montezuma – One of the Most Unique Places to Stay in Costa Rica
Arenal Volcano – Where to Stay in Costa Rica for Adventure
Jacó – Where to Stay in Costa Rica on the Beach
Map of Where to Stay in Costa Rica
Backpacking Costa Rica can be a real blast. But only if you know where to stay. Doing some research before you start your trip can really pay off. To help you out a bit, check out the following epic places to stay in Costa Rica.
Tamarindo – Overall Best Place to Stay in Costa Rica
Tamarindo is an incredible Costa Rican beach town that is packed with all that you could love about Costa Rica! Situated in the Guanacaste Province, on Costa Rica's Pacific coast, Tamarindo has plenty of incredible places to offer. It has beautiful beaches, a wild nightlife, and is actually a huge hub for surfers. What's more, is that Tamarindo is sandwiched right in between two national parks! That means that there are plentiful mountains and nature right at your fingertips, or should I say right around the next bend of the road!
Head on over to Playa Grande beach for leatherback turtle sightings, or enjoy a day taking surf lessons at Playa Avellana or Playa Tamarindo, or head on over to Playa Ventanas to see the iconic "rock windows!" There are many great hostels in Tamarindo as well, making it possible to see the area on a budget. Additionally, you shouldn't miss out on visiting the Tamarindo Wildlife Refuge which protects tons of animals, from howler monkeys to crocodiles.
Best Places to Stay in Tamarindo
When staying in Tamarindo, arguably the best city in Costa Rica, you're going to want to stay as close to the beach as possible! It doesn't matter which beach, as long as you're close to the shore you are sure to have a blast!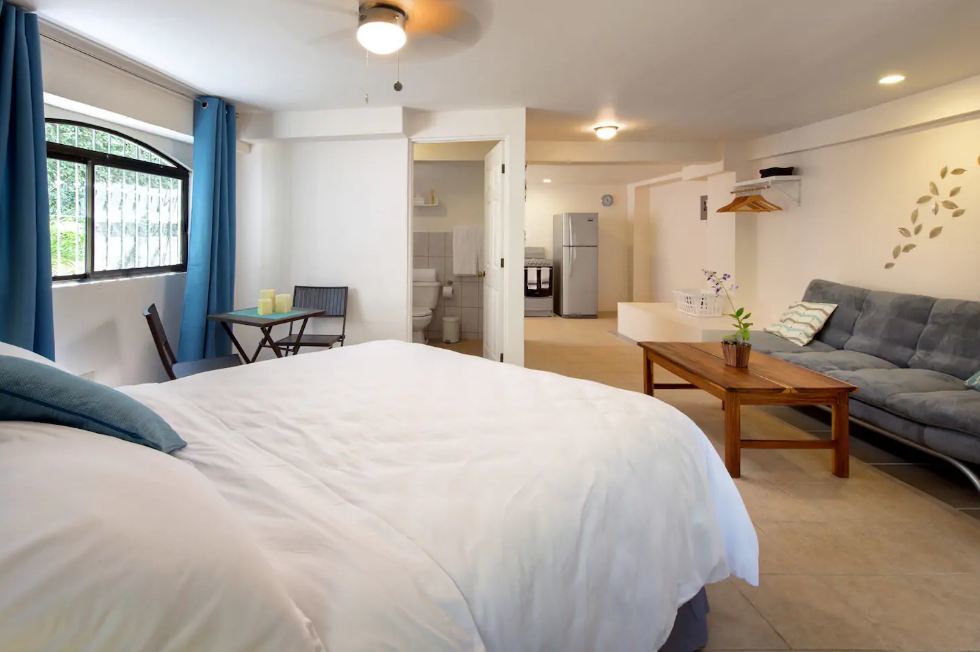 Best Airbnb in Tamarindo: Casa de Arroz
Rent this darling studio apartment for a steal! You'll be just three blocks from the beach and one block from the nightlife! This is the absolute perfect spot for your Costa Rica vacation. This Airbnb's yard is also known to be home to iguanas, hummingbirds, and even the occasional monkey! The apartment has a fully equipped kitchen, cozy couches, and plenty of space to move around.
Best Hostel in Tamarindo: Tamarindo Backpackers
At this delightful boutique surf hostel, you'll be staying in style. Relax in the jacuzzi pool, or curl up with a good book in a sun chair and you'll feel right at home. The hostel has their own private surf instructor and plenty of surfboards to rent. You'll be staying just a three minute walk from one of the absolute best surfing beaches in all of Costa Rica! Surfs up, friends!
Best Hotel in Tamarindo: Surf Ranch Tamarindo
With a name like Surf Ranch Tamarindo, your stomach might drop in fear of sky-high prices. Never fear! The Surf Ranch Tamarindo offers reasonably priced rooms, plus a huge— and free— continental breakfast! And best of all, you'll be sitting right opposite from Grande Beach!
Drake Bay – Best Place to Stay in Costa Rica For Families
Drake Bay, also called Bahía Drake, sits on the coast in the southwest of Costa Rica. This is hands down the best city in Costa Rica to visit when traveling with your family! It is a remote village, not a crazy tourist hub and therefore one of the safest areas in Costa Rica. That means that you and your family won't be fighting for a place to put your beach towel down! The main beach of Drake Bay is called Playa Colorada, which has a handful of restaurants and warm, peaceful water!
Definitely don't miss out on exploring Corcovado National Park where you can see all four of the monkey species that are native to Costa Rica, as well as the huge Baird's Tapir! There is also great snorkeling and scuba diving available from the shores of Drake Bay, where you can see gorgeous coral reefs and brightly colored schools of fish!
The kids will love actually getting to and from Drake Bay, as the best option to get to Drake Bay is actually to take a boat taxi from Sierpe. The hour long boat ride such great fun!
Best Places to Stay in Drake Bay
Keeping in mind that Drake Bay is a remote coastal city, lodging is sparse. That definitely means that you'll have plenty of privacy and won't have to fight the crowds. Book well in advance to make sure you get the right accommodation choice for you and your family.
Best Airbnb in Drake Bay: Pacheco Tours
With three beds and a private bathroom, this personal cabin perched on a hill overlooking Drake Bay is a dream come true for you and your family. You'll be just a 200 meter walk down to the ocean and will love sitting out on the balcony watching the views below. You might even spot a macaw or two! Plus, you'll be just a few minutes walk from a few little restaurants and eateries so you definitely won't feel like you're in the middle of nowhere!
Best Guest House in Drake Bay: Cabina Sun Shine
For bargain basement prices, you and your family will have a family room with a sea view. There will be two beds and a sofa bed available, plus breakfast is included for the whole family! Bask in the magnificent sea views and the unforgettable sunset views right off of your front porch. The staff will pick you up and drop you off at the harbor and are happy to take you to all the pick up points for excursions. There is also a restaurant on site with great food and cocktails,
Best Hotel in Drake Bay: Hotel El Congo
Hotel El Congo is located just a few steps away from Colorada and has a top-notch on site restaurant. This hotel is known for their spacious family rooms that come with all the bells and whistles, from air conditioning to in-room refrigerators! There is also a supermarket just across the street if you need to pick up any sundry items on your trip!
Travel with peace of mind. Travel WITH a security belt.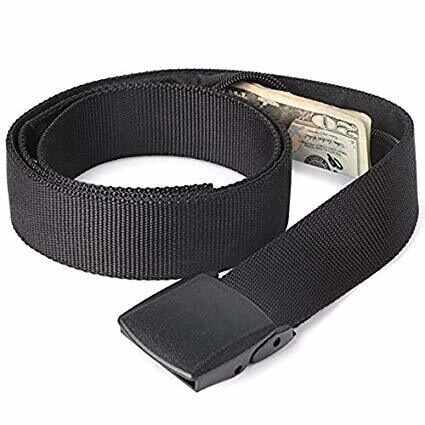 Custom-designed BY the Broke Backpacker FOR broke backpacking, the Active Roots Security Belt will keep your valuables safe no matter where you go.
It looks exactly like a normal belt except for a SECRET interior pocket perfectly designed to hide a wad of cash or a passport copy. Never get caught with your pants down again! (Unless you want to.)
Check on Amazon
Puerto Viejo – Most Romantic Place to Stay in Costa Rica for Couples
When trying to choose the most romantic place to stay in Costa Rica, I sure had my job cut out for me. There are so many romantic towns and beaches in Costa Rica that positively make me swoon! However, Puerto Viejo stole my heart and I'm sure you can see why!
Puerto Viejo de Talamanca sits in the southeast of Costa Rica. It's right on the gorgeous Caribbean coast and is renowned for its black sand beach, and epic surf break at Salsa Brava! There are also abundant rainforests and mangroves in the area— so you and your sweetheart will love exploring the land and the sea! Plus, there is a Wildlife Refuge center and even a jaguar rescue center in the area that is absolutely incredible to tour!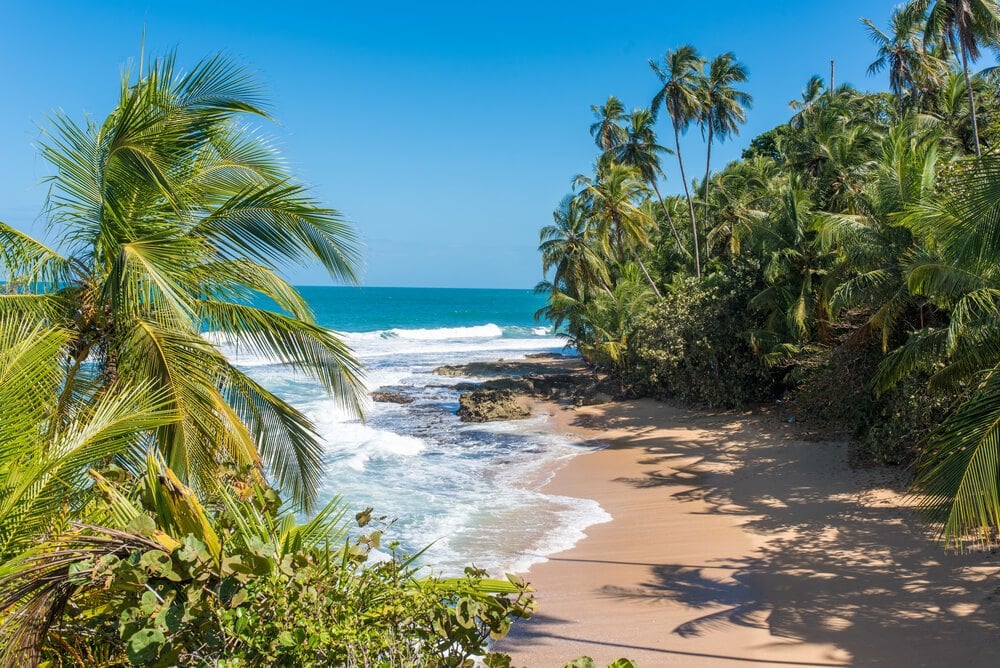 Overall, you and your significant other will love the laid back attitude and the relaxed atmosphere of this cute Central American place. Soaking up the sun is definitely a priority here! If you're traveling on a budget, check out Puerto Viejo's affordable hostels.
Also, make sure to note that there is more than one Puerto Viejo in Costa Rica, so if you're searching around for more accommodation options yourself, definitely search using the full name: Puerto Viejo de Talamanca – Central America is big!
Best Places to Stay in Puerto Viejo:
While staying closer to the national parks in the area is an exciting option to consider, when traveling on a romantic getaway, I always think it's better to stay close to the beach! What's better than a morning coffee with sand between your toes?
Best Airbnb in Puerto Viejo: Dazzling Beach Apartment
This Airbnb is one for the books! It's a two-bedroom home that is eco-styled with tons of wood and natural decor. Plus, getting to relax in the hammock on the balcony is the recipe for true relaxation. Inside the house is a wonderful kitchen in which free drinking water is provided. You'll be within easy walking distance of the beach, and all the shops and restaurants in Puerto Viejo!
Best Hostel in Puerto Viejo: Hostel Bikini
Hostel Bikini is a cozy hostel nestled right on the Main Street of Puerto viejo. Offering both dorm rooms and private rooms, you and your significant other can decide whether you want some extra privacy or to save some dough! It's a cute hostel that has a beautiful outside garden with their own coconut and mango trees!
Best Hotel in Puerto Viejo: Villas La Paz
Alright lovebirds, it's time to crack open the piggy bank! If you're able to splurge a little bit, then Villas La Paz is for you! This beautiful hotel offers private villas and a beautiful pool! There's also a tranquil garden to enjoy.  Also, for the sake of being exact—you'll be just a 2,700 feet walk from the beach! You are sure to make beautiful memories at Villas La Paz.
Monteverde – Coolest Place to Stay in Costa Rica
Monteverde is a small town in Puntarenas, snuggled in nice and tight in the Cordillera de Tilaran mountain range. World-renowned for its cloud forests, when staying in Costa Rica staying in Monteverde is a must! Monteverde is a little bit of a tourist hotspot, so be aware that this small misty town is filled with lots of foreign visitors too! Don't let that deter you, because there are so many things to do in Monteverde that you absolutely need to check off your Costa Rica bucket list! From flying down a zip-line course to trekking in a forest canopy to horseback riding, there are lots of different ways to explore the cloud forests.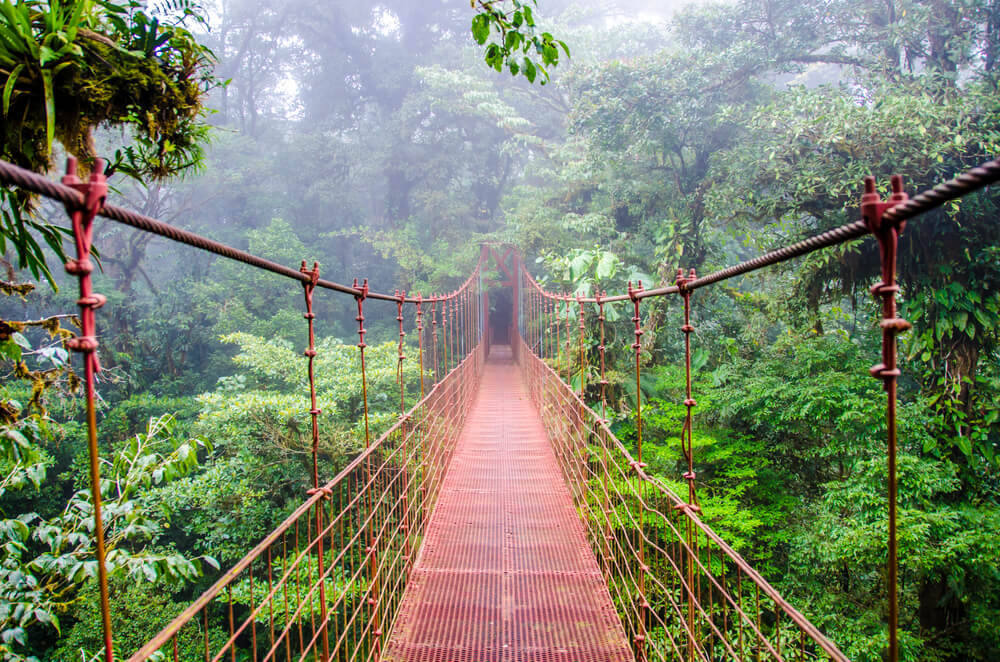 Is this green oasis calling your name? Can you see why it's the coolest place to stay in Costa Rica? Witness incredible biodiversity and spot the Resplendent Quetzal, or explore the cloud forest by night and seek out armadillos and sloths! If animals aren't your thing, Monteverde is an incredible place to see chocolate and coffee being made. You can actually take a hands-on chocolate making class. Better yet, why not immerse yourself in nature and stay in one of these epic treehouses nearby!
Best Places to Stay in Monteverde
Since Monteverde is a small mountain village, you can't go wrong deciding which part of the town to stay in because you'll always be close to all you need!
Best Airbnb in Monteverde: Kapetsowa Container Loft
Oh my goodness gracious! You need to book this Airbnb! It has to be one of the absolute most unique Airbnbs out there— and at an affordable price! Stay in a  glass loft that is perched over the Monteverde reserve. Experience both privacy and unparalleled views in this gorgeous glass loft!
Best Hostel in Monteverde: Monteverde Backpackers
Monteverde Backpackers is definitely one of the best hostels in Monteverde! With a great social atmosphere, bright and beautiful murals, and the option between dorm rooms and private rooms, you'll love the options available at Monteverde Backpackers. There's free breakfast each morning is excellent too!
Best Hotel in Monteverde: Hotel Claro de Luna
Hotel Claro de Luna is a beautiful hotel that offers guests a tranquil stay. It's set amidst abundant trees and greenery. Plus, it's not sitting right in the heart of town, so you have guaranteed peace and quiet! Situated just over two miles from the Monteverde Cloud Forest, you'll love eating at the delectable onsite restaurant. And free parking is an added bonus!
San José – Where to Stay in Costa Rica on a Budget
As the capital city of Costa Rica, San José, it is packed with history. Curiously enough, it sits nearly smack-dab in the middle of the country and is also the largest city in the country. Since it's right in the middle, consider San José your central hub— the perfect spot to explore all the other top places to stay in Costa Rica! But San José shouldn't be overlooked, especially by our budget traveling friends out there. From taking a tour of the National Theatre of Costa Rica to visiting the Museo del Jade, there are so many things to do and see that are unique to just the capital city!
If you're looking for free things to do in San José, make sure to enjoy the parks. San José has lots of beautiful parks that are filled with tropical plants, statues, gazebos, and statues! You might even catch some free performances. Additionally, each day there is a free two to three hour long walking tour of the city. You'll get to stroll the city streets and get a great introduction to San José— for free!
Plus, the historic city center is very compact— that means that it is easy to get around on foot! It definitely has some of the cheapest accommodation options in the country. Moreover, the price of food is very low as well. When looking to avoid cracking open that beloved piggy bank, staying in San José is definitely the way to go!
Best Places to Stay in San José
When staying in San Jose— the best city to stay in Costa Rica on a budget— it's best to stay as centrally located as possible. Stay close to the National Theatre and to the Central Park to ensure an easy travel experience!
Best Airbnb in San José: Comfortable Room
This Airbnb is run more like a bed and breakfast, so enjoy a cozy, private room with lots of common areas to enjoy— from a backyard to a dining area. The location is right in the heart of the city, close to the central market and to plenty of restaurants. You'll be just a seven minutes walk from the National Theater of Costa Rica! Also, The continental breakfast sure makes mornings easy as pie.
Best Hostel in San José: Hostel Del Paseo
Hostel Del Paseo is truly an incredible option for streaming your lodging in Costa Rica budget to the maximum! You won't be far from the downtown area, situated in the Paseo Colon district. You'll be within walking distance of everything you need! This hostel has several common areas, from a billiards table to ping pong table, to plentiful couches and TVs!
Best Hotel in San José: Hotel Kekoldi
This hotel is a shining star of Costa Rica accommodation for budget travelers out there. It's nestled right in the San Jose city center and offers mega-budget friendly room rates! The rooms are clean and have comfortable beds and offer complimentary breakfasts for their guests.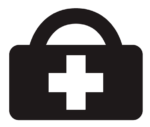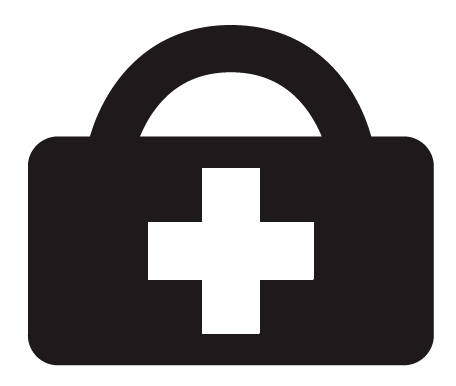 Wondering if Costa Rica is safe to visit? It's ok to be a little concerned; we're to help.
We've written an entire series on safety, including this post on Costa Rica, which is there to answer any questions. Check it out before you hit the road.
Montezuma – One of the Most Unique Places to Stay in Costa Rica
Montezuma sits on the southern shore of Costa Rica on the Nicoya Peninsula. It's renowned for an incredibly long stretch of soft, white sand beach simply called Playa Montezuma. To the north, there is a beautiful walking trail that meanders through the jungle and will bring you to the popular surf spot: Playa Grande. It's worth staying here for a couple of nights in one of the awesome Playa Grande Hostels. Sitting just behind the beach is the Romelia Wildlife Reserve and a turtle sanctuary! If you're lucky, you might even get to witness turtle eggs hatching! No matter what, you're sure to spot groups of capuchin monkeys in the forest— so cute!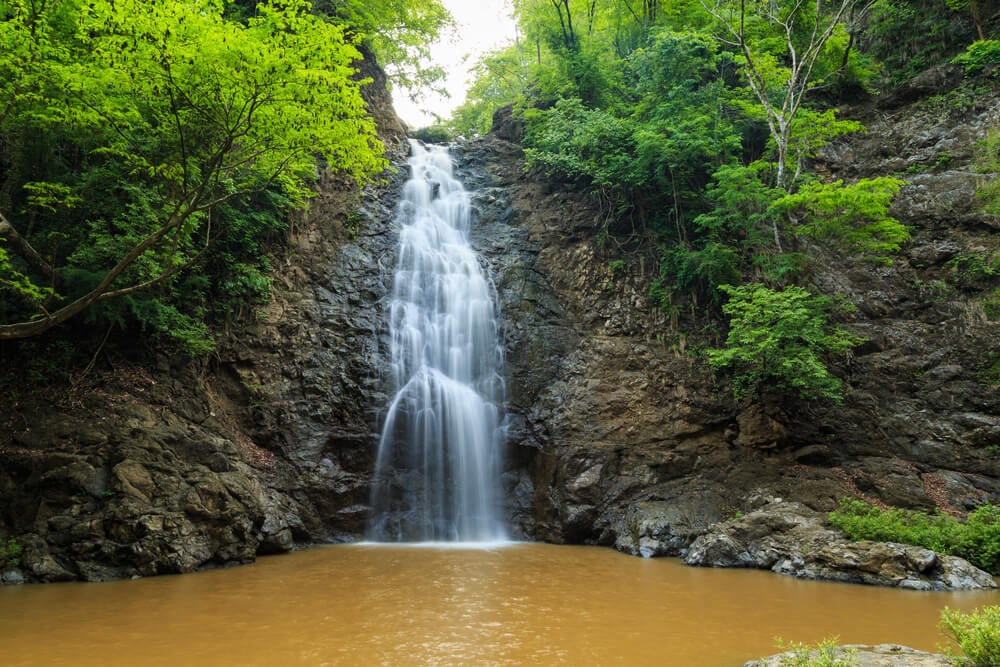 Visiting the Montezuma Waterfall is a must too! You can soak up the waterfall spray and the relaxing ambiance while taking a dip in the natural pools.
Additionally, what makes Montezuma the most unique place to stay in Costa Rica, is its bohemian vibes and abundance of artists living there! Expect Caribbean flair and colors and incredible street art! Plus, at the Saturday morning farmer's markets, you can pick up great handmade art and will likely hear some great local music.
Best Places to Stay in Montezuma
If you're a beach lover, staying nearly anywhere in Montezuma will put a smile on your face as most accommodation options will put you within easy walking distance of the beach!
Best Airbnb in Montezuma: Treetop Studio
This treetop studio apartment is absolutely jaw-dropping! From the studio itself, right outside the windows,  you'll see colorful birds and tons of monkeys! Situated right at the end of a quiet residential street, you'll be just a one-kilometer walk to the city center Montezuma. There is a bus stop super close if you don't want to walk. That being said, the beach is just a 300 meter walk away! And since you won't be staying in the city center, you can expect a more tranquil beach experience.
Best Hostel in Montezuma: Luz en El Cielo Eco Hostel
El Cielo Eco Hostel is a truly memorable hostel, nestled right in the jungle with the city center of Montezuma just around the bend of the road. You'll be close to the beach, and to the jungle! Moreover, this hostel has been newly renovated with plenty of exciting bells and whistles— from lockers to personal fans to USB charger ports! The locally sourced eco-breakfast is positively divine, too!
Best Hotel in Montezuma: Hotel Nya
Hotel Nya is a stunning modern hotel that offers guests a truly comfortable stay. The facilities are state of the art and all the amenities are truly top-notch! If you're willing to indulge in a little bit more expensive of a stay, Hotel Nya is for you!
Arenal Volcano – Where to Stay in Costa Rica for Adventure
With a name like Arenal Volcano, it sure does sound the place to stay in Costa Rica for adventure, right?! Arenal Volcano is an active volcano in the northwest of Costa Rica. Sitting just 90 kilometers from San Jose, getting to Arenal Volcano is easy as pie.
Arenal Volcano sits at the heart of the Arenal Volcano National Park and you are free to wander around the park as you like! Of course, you can book a guide, but if you're more interested in grabbing life by the horns— go ahead and hike by yourself (with a map and plenty of supplies of course!). Make sure to pack accordingly for your Costa Rica trip, especially when planning such adventures!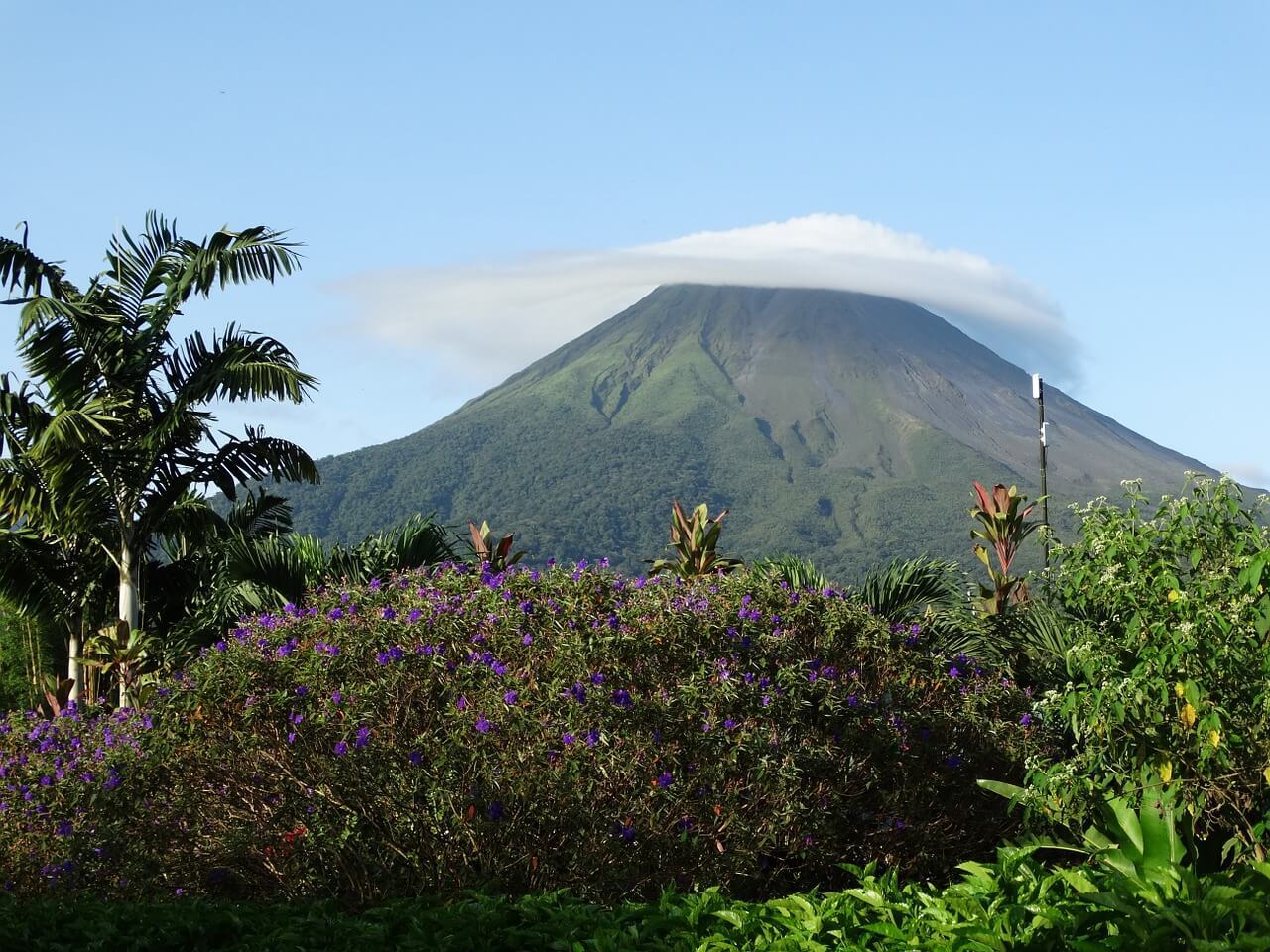 After zip-lining through the forest canopy or taking an aerial tram to an incredible observation point, you can also soak in the Arenal Volcano hot springs and enjoy a therapeutic bath in the jungle. Sign me up!
If you need another dose of adventure you can head over to the little farming town of La Fortuna just nearby and hike to La Fortuna Waterfall! You can also go spelunking in the Venando Caves or walk across the Arenal Hanging Bridges. What did I say? This area is packed with adventure activities!
Best Places to Stay in Arenal Volcano
Arenal Volcano is the backdrop of the town of Fortuna. It's a cute, charming, little town that is only a few streets wide with just a handful of restaurants and shops. Fortuna is the best launching spot for the rest of your adventures!
Best Airbnb in Arenal Volcano: Cabana with Arenal View!
This cabin is a private property one-bedroom home with three beds and one bathroom. It's well-stocked with everything you need from a smart TV to a hairdryer to a refrigerator! You'll be just a quick 15-minute walk to La Fortuna, so you will be immersed in nature while not being in too remote of a location. Also, you'll be situated just 700meters from the Hot Springs Resort and Spa.
Best Hostel in Arenal Volcano: Arenal Backpackers Resort
If Arenal Backpackers Resort would let me move in— I would stay there forever! This is a hostel that really doesn't feel like a hostel. While there are wickedly affordable dorm rooms, this hostel does feel more like a hotel. They really have earned the right to put the word "resort" in their name! It's a beautiful property with abundant gardens and a drool-worthy pool! Plus the views of the volcano are amazing from this hostel.
Best Hotel in Arenal Volcano: Volcano Lodge and Thermal Experience
Immersed in luscious tropical gardens, this hotel is positively dreamy. It's super modern with crisp, clean rooms and tiled floors. There is free parking and complimentary breakfast served daily. There is also an outdoor pool to enjoy! This hotel really goes above and beyond to promise guests all they could wish for during their stay.
Want to save the world?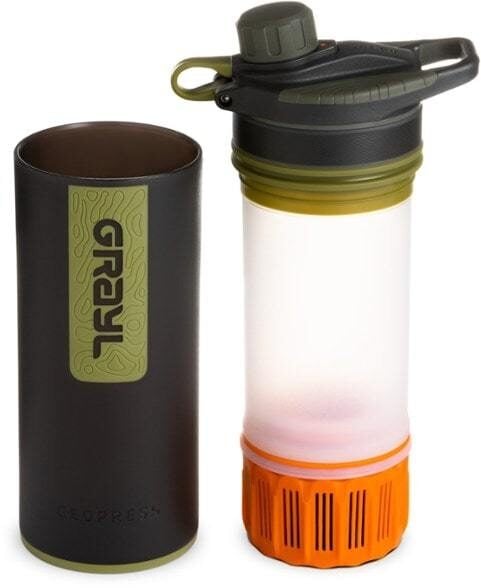 Single-use plastic bottles are a huge threat to Marine Life – Be a part of the solution and travel with a filter water bottle.
The GRAYL GEOPRESS water bottle is the ONLY all-in-one filter water bottle setup you'll need. Whether you need to purify the water from a hostel sink in Kathmandu or a stream trickle in the Andes, the Geopress has got you covered.
Read our full review of the GRAYL GEOPRESS!
Jacó – Where to Stay in Costa Rica on the Beach
As Costa Rica's most visited beach, you simply can't miss out on staying in Jacó! Located on the Pacific coast of Costa Rica, just southwest of San José, Jacó is known for its epic surfing spots and raucous nightlife! Plus, it's also a gateway to fantastic national parks, such as the Carrara National Park with its abundant scarlet macaws or the Pura Vida Park that will lead you through a meandering path in the rainforest to the Bijagual Waterfall!
If you're interested in everything from kayaking to hiking to fishing to horseback riding to surfing, then Jacó is for you! Hit up the big waves at Hermosa Beach or take in the interesting gray-sand beach of Jacó Beach too! When traveling to Costa Rica, you sure don't want to miss out on all that Jacó has to offer.
Best Places to Stay in Jacó
When you're staying at arguably the best beach town in Costa Rica, you're going to obviously want to stay close to those amazing beaches.  And make sure to note that if you stay a little further away from the center of town, that doesn't always mean you're far away from the beach!
Best Airbnb in Jacó: New Yellow House
This one bedroom one bathroom apartment is a fantastic find! Both the town and the beach are just 650 meters from your doorstep! That right, all the best restaurants, clubs, and casinos are within easy walking distance of this Airbnb. There is also a barbeque area and a small pool that guests are able to enjoy. You'll have everything you need in this Airbnb from hot water to air conditioning!
Best Hostel in Jacó: Room2Board Hostel and Surf School
Room2Board is mere steps away from the beach and has a super cool atmosphere! With ridiculously affordable priced dorm rooms available, you'll love saving a few dollars and enjoying the party vibes at this cool hostel. There are yoga classes offered daily as well as surf lessons available. This is definitely one of Jaco's best hostels!
Best Hotel in Jacó: Hotel Terraza del Pacifico
Hotel Terraza del Pacifico is a stellar beachfront hotel situated right on Playa Hermosa Beach. And if you don't feel like getting salty water, you can always enjoy the two hotel pools here! There are 61 different rooms, including private villas available. While I wouldn't describe this hotel as budget-friendly, it certainly won't make you cringe when you see the prices either!
Top Places To Stay in Costa Rica
With so many incredible places to stay in Costa Rica, it's hard to narrow it down to just three top places to stay! That being said, we're sure that you will love these astounding options in the best cities to stay in Costa Rica!
Best Airbnb in Costa Rica – Kapetsowa Container Loft – Monteverde
This Airbnb looks like it is straight out of a magazine! It is a truly unique Airbnb that offers guests an unforgettable experience. You'll be in a glass-box loft perched over the mountainside. With an incredible amount of privacy, you'll be able to soak up the gorgeous views of Monteverde every single second of the day!
Best Hostel in Costa Rica – Luz en El Cielo Eco Hostel – Montezuma
This is no ordinary hostel! Luz en el Cielo is your home away from home in the jungle. Expect a peaceful stay in a classy hostel that has lots of beautiful eco touches. Complimentary local breakfast is included in the price of a room or a dorm bed. It's no ordinary breakfast either! It's a bio-organic breakfast that includes incredible from small, local farms. How awesome is that?!
Best Hotel in Costa Rica – Hotel Terraza del Pacifico – Jacó
Hotel Terraza del Pacifico is a beachfront hotel in Jacó. It's a beautiful hotel that has two large outdoor pools with plenty of sunbeds. It's a tiny bit outside of the city center of Jacó, but it is indeed located right on the beachfront of Playa Hermosa Beach! And nearly all of the rooms have sea views! From the pools to the gardens to the delectable breakfast overlooking the sea, you're sure to have an incredible stay at this hotel! Plus, there are lots of different sized rooms to choose from, from more affordable standard rooms to private villas!
Books to Read While Visiting Costa Rica
These are some of my favorite travel reads and books set in Costa Rica which you should consider picking up before you begin your backpacking adventure…
The Backpacker Bible – Get it for free! Learn how to ditch your desk and travel the world on just $10 a day whilst building a life of long-term travel with an online income. To inspire and help the next generation of Broke Backpackers, you can now grab 'How to Travel the World on $10 a Day' for free! Get your copy here.
Contemporary Costa Rican Poetry: This is the first Spanish/English bilingual anthology of contemporary Costa Rican poetry ever published. It contains a careful selection of poetry published since 1990, and includes Costa Rica's finest poets and most representative current trends.
Lonely Planet Costa Rica: Relevant, up-to-date advice and tips for backpacking Costa Rica.
The Ticos: Culture and Social Change in Costa Rica: Written with the perspective of more than half a century of first-hand observation, this unparalleled social and cultural history describes how Costa Rica's economy, government, education and health-care systems, family structures, religion, and other institutions have evolved.
The Birds of Costa Rica: Love birds? Costa Rica is packed with more species than many places on earth combined. This field guide will certainly help you make sense of the bird populations in Costa Rica.
Final Thoughts on Where to Stay in Costa Rica
Costa Rica is an incredible country to visit filled with spectacular biodiversity, pristine beaches, and colossal adventure opportunities!
Whether you're looking to relax on the white sands in Jacó, go for a hike in the cloud forests in the Arenal Volcano area, or check out all the street art in San José, you're sure to have an awesome trip to Costa Rica! Especially when you stay in one of our Airbnbs, hostels, or hotels in Costa Rica that we hand-selected to meet all your travel needs!
Do you own or run a kick-ass hostel? Want to be featured on this list? Get in touch at [email protected]
Don't Forget Travel Insurance for Costa Rica
Shoutout from Will – The OG Broke Backpacker: Have fun on your backpacking adventure, but please do get insurance – take it from someone who has racked up tens of thousands of bucks on an insurance claim before: you may need it.
And don't forget to take out Travel Insurance for your trip! I have been using World Nomads for some time now and made a few claims over the years. They're easy to use, professional and relatively affordable. They may also let you buy or extend a policy once you've started your trip and are already abroad which is super handy.
Getting an estimate from World Nomads is simple – just click the button or image below, fill out the necessary info, and you're on your way!

---
Find out how YOU can support the site.
We're a big site with a big team and this job isn't always easy. But we do it because we love it – we love providing epic and free content. We love the knowledge that our content keeps you adventuring. We don't ask for money, but if you'd like to find out how you can help the site in more organic ways, click the button below.
Thank you for your support 🙂
And for transparency's sake, please know that some of the links in our content are affiliate links. That means that if you book your accommodation, buy your gear, or sort your insurance through our link, we earn a small commission (at no extra cost to you). That said, we only link to the gear we trust and never recommend services we don't believe are up to scratch. Again, thank you!