Travel
THE BEST Backpacking Songs for Your Playlists in 2021
Hitting the road is always an adventure and all true adventures require a thumping soundtrack; you know the one. The one that gets your heart flowing with the journey when that opening refrain kicks in. The soundtrack that reminds you why you're doing what you're doing and why you love it.
The best backpacking songs keep us company on those lonely nights on the road and, when you're back home and thinking about the good ol' days, slapping those tunes on take us back to them. Whether you are scaling mountains, hacking through the jungle, drunkenly hanging on to the back of a Tuk Tuk, or diving off cliffs into shark-infested waters, it's important to have the right songs for exploring the world.
Here are 10 kick-ass artists (and 21 backpacking songs) from various parts of our awesome planet whom I guarantee will make your travelling experience infinitely better!
The Best Backpacking Songs for Exploring the World!
Whether they're songs about exploring, cruisey blue skies, the majesty of the journey, or just dope songs for hiking too, here are some tunes that never escape my playlists before I hit the road. Prepare to repeat track!
MGMT
MGMT are an American duo who play chilled out psychedelic rock music with some real funky synth hooks tied in. They've released a ton of fun, trippy music videos where they dance around in classic backpacker locations; think mountains, forests and beaches and you're pretty much spot on.
Why they are great for travelling: Their music is bursting with good vibes, perfect for chilling out at the end of the night when everyone is recounting the day's madness.
2 songs you must listen to: "Time to Pretend" and "Kids"
Bart&Baker
Bart&Baker are two French DJs dressed in classy tuxedos and top hats who mix old records with new to create that oh-so-distinct Parisian-esque electro-swing – nothing gets me tapping and swaying and wishing I knew hot to partner dance like electro-swing! Some of their tracks contain songs from as far back as the 1920s that have been remixed to have a dance/house meets swing sound which you can't help but feel classy when listening to.
Why they are great for travelling: If you play a little Bart&Baker whilst putting the miles behind you on a long scenic bus ride, you really will start to feel like you have your own personal on-the-road-again theme!
2 songs you must listen to: "Starlight" and "Istanbul (Not Constantinople)"
Hallucinogen
Hallucinogen showcases the work of English electronic musician Simon Posford who specialises in psychedelic trance music… i.e. psytrance! Hallucinogen's first album, 'Twisted', is considered one of the most influential in its genre. If you're interested in psychedelic inspired electro than look no further: Simon Posford was there when it all began.
Also, check out his other two projects "Shpongle" and "Younger Brother", both unique, awesome and sure to project you to a higher spiritual plane!
Why they are great for travelling: If during your travels you do plan on attending any raves of the mind-expanding nature, this is the kind of music that will be playing. It's perfect for such events – you'll know why when you get there. 😉
2 songs you must listen to: "LSD" (still seen as the defining sound for goa trance) and "Gamma Goblins Part 2".
Xavier Rudd
Australian singer-songwriter Xavier Rudd combines dreamy riffs and an eloquent style with a true appreciation of the world's culture and songs that take you to it. His tracks make for some of the best songs for backpacking and it shows simply by the sheer number of travellers I've met enamoured with his music.
Why they are great for travelling: Xavier Rudd's tracks fill you with that feeling of the journey. Not of the grand adventure and epic bone-crushing journeys, but of the majesty of seeing things that leave you with a placid state of awe. Freedom.
2 Songs you must listen to: "Follow the Sun" and "Spirit Bird"
Talking Heads
Talking Heads are an American rock band with a new wave style combining elements such as punk, world music and funk. Talking Heads are fun and easy to listen to. The superb lyrics sung by David Byrne are extremely catchy and you will struggle not to sing along, headphones in, even when you're strolling down the busiest streets of India with a thousand eyes on you.
Why they are great for travelling: No matter how exhausted from the previous days adventures you might be feeling, talking heads will fill you with energy and wake you up. Perfect for getting ready for the day or a night out stomping.
2 Songs you must listen to: "Burning Down The House" and "This Must Be The Place"
The Birthday Massacre
Despite the somewhat macabre sounding name, The Birthday Massacre actually play some of the most eerily beautiful songs I've ever heard. They are a Canadian synth-rock band with elements of goth and new wave and are well known for their unique ambient sound and soft female vocals.
Why they are great for travelling: This band is undeniably meant to be listened to at night. Find somewhere quiet with a great view of the night sky and lie back with a few close friends to take in those moody-peaceful vibes.
2 songs you must listen to: "The Night Loop" and "Kill The Lights"
Nahko and Medicine for the People
Another quintessential travel band with anthem songs for backpackers. Genres be damned, Nahko and Medicine for the People is a true sense of global fusion with styles and instruments from all over the globe featured across their discography. The frontman Nahko Bear's personal history alone is super interesting and well worth a read for anyone interested in the fuel for the often socially incisive lyrics that all inspire one simple tenet: music is medicine for the people.
Why they are great for travelling: A band that truly embraces the world, both the beauty and all the uglies that make it beautiful. Whenever it's time to leave somewhere loved to find a new place, I find myself slipping them on my headphones before I embark.
2 songs to listen to: "Vultures of Culture" and "Mr Washington"
Afro Celt Sound System
Afro Celt Sound System is a musical group that fuses modern electronic dance rhythm with traditional Irish Celtic and West African music to create a unique world sound. Featuring a wide range of guest artists, their music is inspiring to listen to and always makes me want to grab my pack, head out and explore. It's a big beautiful world with a lot of special music.
Why they are great for travelling: This music seems to have been intentionally written as a soundtrack for exploring echoing caves, trekking through blood-red deserts, and scaling frozen peaks.  Check them out and you'll see what I mean.
2 songs you must listen to:  "Mojave" and "Dark Moon, High Tide"
Emancipator
I needed something in here for the lovers of downtempo beats. Emancipator is a producer and DJ that really knows how to tie a beat together. From spacey loops to tracks that build into chilling crescendos, these tracks will chill you out no matter what plane your mind is at.
Why they are great for travelling: Emancipator is someone I put on whenever I'm hanging with the chillers (smokes ablaze) and got stuck DJing but don't really don't want to DJ. Slap him on shuffle and let Emancipator do all the work.
2 songs you must listen to:  "Soon it Will be Cold Enough to Build Fires" and "Time for Space"
Infected Mushroom
Infected Mushroom are an Israeli duo best described as "psytrance/electronica/psychedelic/indie". Hands down, this is one of my favourite bands of all time, they have a seemingly endless supply of superb songs that always get my backpacking adventure spirits high, with a sound that changes and evolves over each album. At times their music is all trippy eeriness, at others, it explodes into hardcore-dubstep-rave insanity!
Why they are great for travelling: The raw energy of their tracks makes them fantastic for partying as well as walking when you need to get somewhere really (really) fast. If you do get into them (which you should), you'll find their seemingly limitless number of albums and EPs, gives you plenty of listening material, perfect for when you are on the move or gearing up for a rave.
2 songs you must listen to: "Rise Up" and "Bass Nipple"
And one more because, man, it's infected mushroom: "Elation Station"
Want to save the world?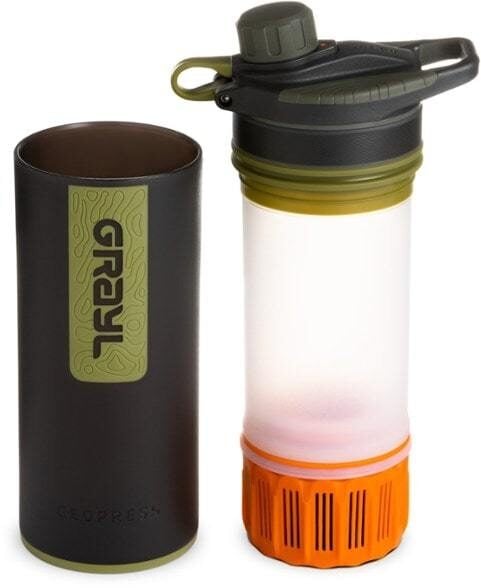 Single-use plastic bottles are a huge threat to Marine Life – Be a part of the solution and travel with a filter water bottle.
The GRAYL GEOPRESS water bottle is the ONLY all-in-one filter water bottle setup you'll need. Whether you need to purify the water from a hostel sink in Kathmandu or a stream trickle in the Andes, the Geopress has got you covered.
Read our full review of the GRAYL GEOPRESS!
The Best Backpacking Songs Continued…
That's my list – short but sweet! But it's a far cry from all the best backpacking songs to create that ultimate adventure playlist.
This is the part where I implore you to comment down below. If there's one thing Shazam and years of travel have taught me, you are going to find some seriously awesome tunes from your fellow street buskers! So leave your recommendations and your top tunes for the road down below because I want to see this turned into the most epic round-up out there!
Music is good.
---
Alex Hatton has recently returned from a stint around Laos, Thailand and Vietnam. His special backpacking skills include crashing mopeds, falling off cliffs and passing out at raves. When he's not travelling, he spends his time writing a digitally illustrated sci-fi fantasy book about dragons and aliens, shouting in a dance punk band called 'CrimeScene,Yeah!' and talking to trees (man). If you wanna get in touch, you can reach him at [email protected]
Support the site and learn how to travel the world on $10 a day – check out The Broke Backpacker's bible!
---
Find out how YOU can support the site.
We're a big site with a big team and this job isn't always easy. But we do it because we love it – we love providing epic and free content. We love the knowledge that our content keeps you adventuring. We don't ask for money, but if you'd like to find out how you can help the site in more organic ways, click the button below.
Thank you for your support 🙂
And for transparency's sake, please know that some of the links in our content are affiliate links. That means that if you book your accommodation, buy your gear, or sort your insurance through our link, we earn a small commission (at no extra cost to you). That said, we only link to the gear we trust and never recommend services we don't believe are up to scratch. Again, thank you!