Pet
The 12 Best Dog Toys for Boredom – OH Blog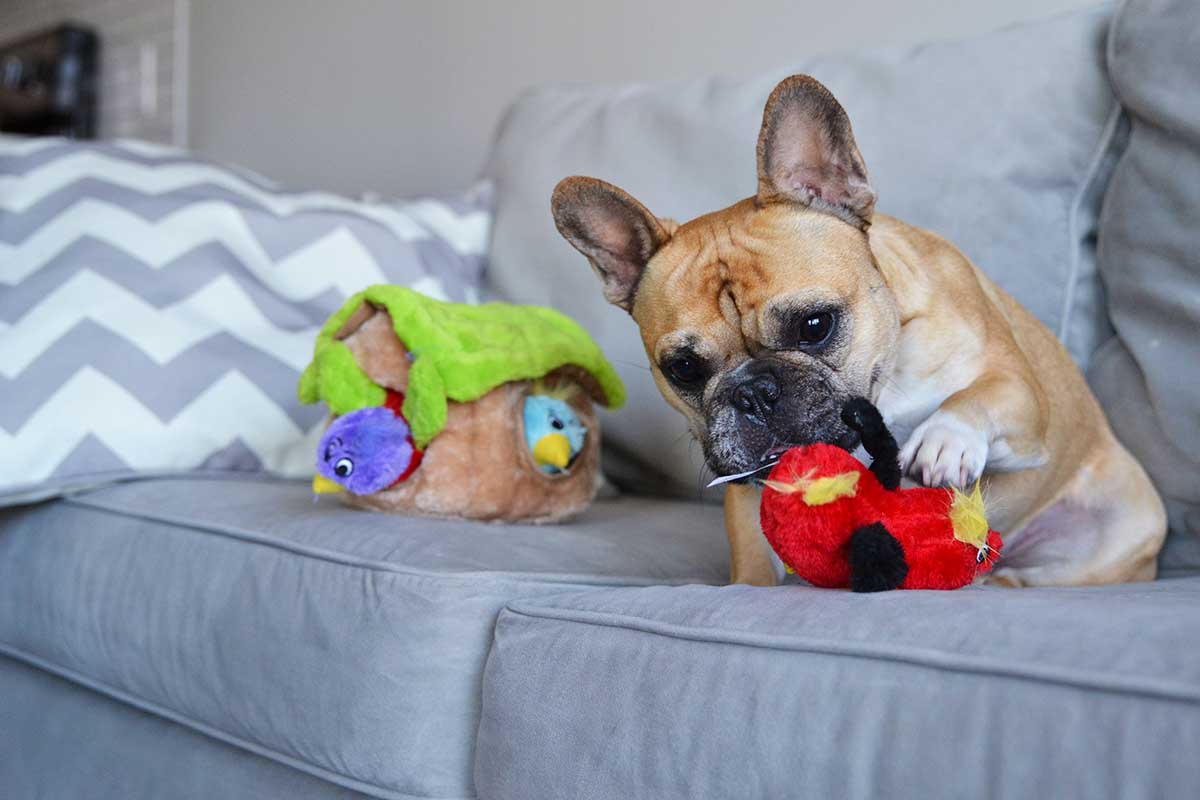 When you become a first-time dog owner, you quickly learn that there's a lot more to caring for a pet than meets the eye. There's a lot more responsibility involved beyond the dog training, feeding, walkies, and vet visits. Plus, dogs get bored. And when they get bored, they display some pretty undesirable behaviors out of frustration. It is essential that your pooch gets both physical and mental stimulation. So, what are some of the best dog toys for boredom?
Luckily, there are a lot of interactive dog toys out there that can help combat doggie boredom (and the behavioral issues that come with it). We've broken down some of our favorite boredom-busting puzzle games, plush dog toys, and treat-dispensing dog toys below.
Before getting into how to exercise your dog's mind, let's take a look at some of the common signs of boredom.
How do I know when my dog is bored?
Some of the telltale signs of boredom in dogs include:
chewing/destruction of property
whining
restlessness
excessive digging
excessive barking
These are similar to signs of separation anxiety. In general, a bored dog is not going to be on its best behavior. In a paper published in the peer-reviewed journal Animal Behavior, biologist Charollete C. Burn of the University of London explains that "understimulation can harm neural, cognitive and behavioural flexibility."
In essence, our pets require physical and mental stimulation just like we do in order to fully function.
12 Best Dog Toys for Boredom
Now for the fun stuff: toys for boredom-busting playtime! Here are the best dog toys for boredom from squeakers to snuffle mats to treat dispensers, dog chews, and interactive puzzles. Your furry friend will thank you.
1. Triple Jack
The Triple Jack interactive dog toy by Outward Hound is the ultimate squeaky toy for bored dogs who love chew toys. It makes three different kinds of sounds that are sure to engage your pup. The Triple Jack dog toy grunts, squeaks, and squawks depending on which color peg your chewer bites down on.
Speaking of chewers, each durable rubber peg has a different enticing ribbed texture that's tough yet gentle on your dog's teeth and gums. Its unique shape creates an unpredictable bounce that keeps your dog intrigued and ready to play over and over again!
2. Puzzle Cube
Next up is a 2-1 dog toy that's bound to challenge your pup's problem-solving skills: the Puzzle Cube. Made from an outer rubber TPE cage and two removable squeaky tennis balls, this dog puzzle toy is designed to stimulate your pup's hunting skills while also providing them with a fun squeaky challenge. The two squeaky dog balls, once released, can be used in games of toss, catch, and fetch for hours of fun!
Note that this toy is not suitable for aggressive chewers.
3. Tennis Maze Craze
There are multiple ways to play with the Tennis Maze Craze puzzle toy. Did you know your dog gets more tired after just 15 minutes of brain games than a 30-minute walk around the neighborhood? Watch your dog pounce, tilt and paw to try & get the tennis ball out. After your dog learns how to get the ball out, treat them to a game of fetch!
See if your pup can figure out which two tunnels let the ball out in this brand new way to puzzle & play!
Tip: You can also put tasty treats or kibble inside the tunnels for a delicious surprise.
4. Hide-a-Bee
While the Outward Hound Hide-A-Squirrel is a household staple, we make other fun varieties, too! They also come in different sizes to accommodate small dogs and large dog breeds.
Our hide and seek plush dog puzzle was designed specifically to eliminate boredom, encourage positive play, and feed your dog's natural hunting instincts. 2-in-1 interactive play means double the fun with options to play fetch or hide and seek to keep your dog mentally stimulated.
The Hide A Bee dog puzzle is an easy way to get your busy buddy engaged for hours of fun! Just fill the beehive with 3 stuffed squeaky bees, toss it, and let your dog's natural hunting instincts kick in!
5. Hide-a-Bird
Perhaps your pup's prey drive is triggered by birds instead of buzzing bees. The Hide-a-Bird is just the ticket for your smart dog. The stuffed plush texture of the Hide-A-Bird dog toy is easy on the teeth, making it a great choice for teething puppies and adult dogs alike.
6. Hide-a-Rainbow
Throw some magic into the mix with the Hide-a-Rainbow! Stuff the magical rainbow with the star, cloud, and unicorn squeaky toys and watch your pup try and get them out. You can even use the rainbow for a game of tug of war! It's the perfect indoor dog toy to brighten up your dog's day.
7. Dog Smart by Nina Ottosson
The Dog Smart by Nina Ottosson is a level 1 interactive dog puzzle toy that will prepare your pup for more challenging difficulty levels of games with simple one-step actions. The interactive dog treat puzzle provides your pup with a fun and rewarding game that can help redirect destructive behavior while supporting their mental wellbeing.
This interactive dog puzzle features 9 hidden compartments that are covered by 9 removable dog bone pieces. Hide your pup's favorite treats, peanut butter, or dog food in the compartments and elevate the bone for an easier grab or leave them flush with the board for increased difficulty. Watch as your dog learns to nudge and paw away the bones to reveal the reward!
Nina's Tip: You can DIY doggie ice cream or popsicles by using the Dog Smart as a mold! Plus, frozen treats will keep them at the puzzle for longer.
8. Treat Maze
Once your pup has mastered level 1, you can move on to a level 2 dog game. The Treat Maze is a level 2 brightly colored, interactive dog puzzle that's designed to keep dogs engaged and satisfied while preventing any destructive behavior due to boredom.
9. Dog Tornado
Exercise your dog's mind with the interactive level 2 Dog Tornado puzzle toy. This engaging dog treat dispenser provides a fun physical & mental challenge. Your pup will need to learn how to combine multiple steps to retrieve the hidden treat. With 12 hidden compartments and three dog bone covers you can vary the difficulty level of this stimulating dog puzzle to keep your furry friend excited and satisfied!
10. Dog Brick
As one of our most popular intermediate level 2 designs, the Dog Brick interactive puzzle includes additional obstacles and combinations of steps that will keep your dog focused and mentally stimulated as they search and sniff out the tasty treats!
11. Wobble Bowl
The Wobble Bowl puzzle toy is great for dogs that need to slow their eating pace or need an outlet for extra energy. Use the Wobble Bowl as a puzzle game to provide fun physical and mental stimulation, or use it as a slow feeder to slow your dog's eating pace to prevent conditions like bloat and indigestion.
12. Challenge Slider
When your dog is bored of beginner-level puzzles, up the ante with the Nina Ottosson Challenge Slider. Place your dog's favorite treats in any or all of the 24 compartments in the removable tray, slide it back into the game to hide the treats, and encourage your pup to seek them out.
Where to Find the Best Interactive Dog Toys
These dog toys will promote the mental wellbeing of your dog by keeping them active and engaged while sniffing, nudging, and pawing for hidden treats! You can find all of these dog toys for boredom on the Boredom Busters triangle rack display at your local Pet Supplies Plus!
Select an item below to shop the best dog toys for boredom:
Our rope toys, chewy toys, dishwasher-safe slow feeders, dog gear, and games can also be found on our website and on Amazon.