Travel
Our FAVORITE Places in 2021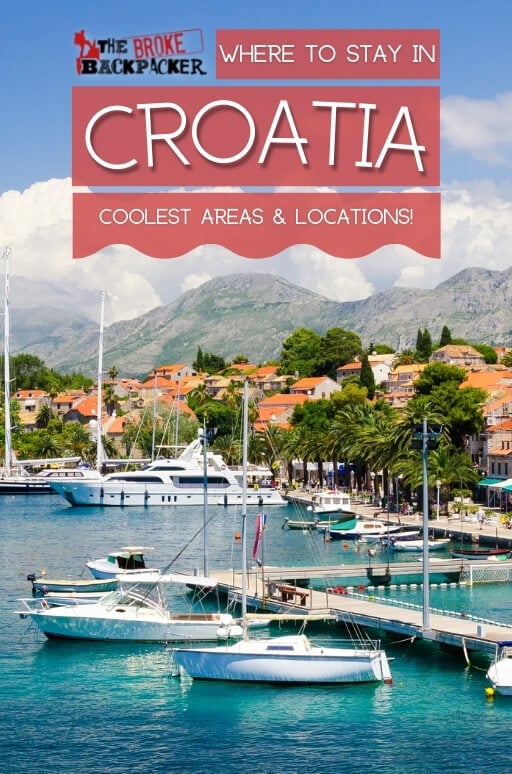 The fact that Croatia is blowing up as one of the hottest backpacker destinations in Europe shouldn't come as a surprise. The country offers the perfect blend of picture-perfect beaches, island vibes, beautiful ancient architecture, tasty food (and booze), and dreamy cities. There really is something to entice every traveler.
However, the rapid influx of foreign visitors has brought several predictable problems to the surface: there are now an overwhelming amount of accommodation options to be found… and some of them are ridiculously overpriced or downright offensive in quality (without sounding too pretentious, right?).
Don't stress, though. We've created this guide on where to stay in Croatia to help you out. Whether you are looking to hit up the islands, medieval old towns, or bar hop in the big cities, this guide covers everything you need to know about where to stay in this truly epic country.
Map of Where to Stay in Croatia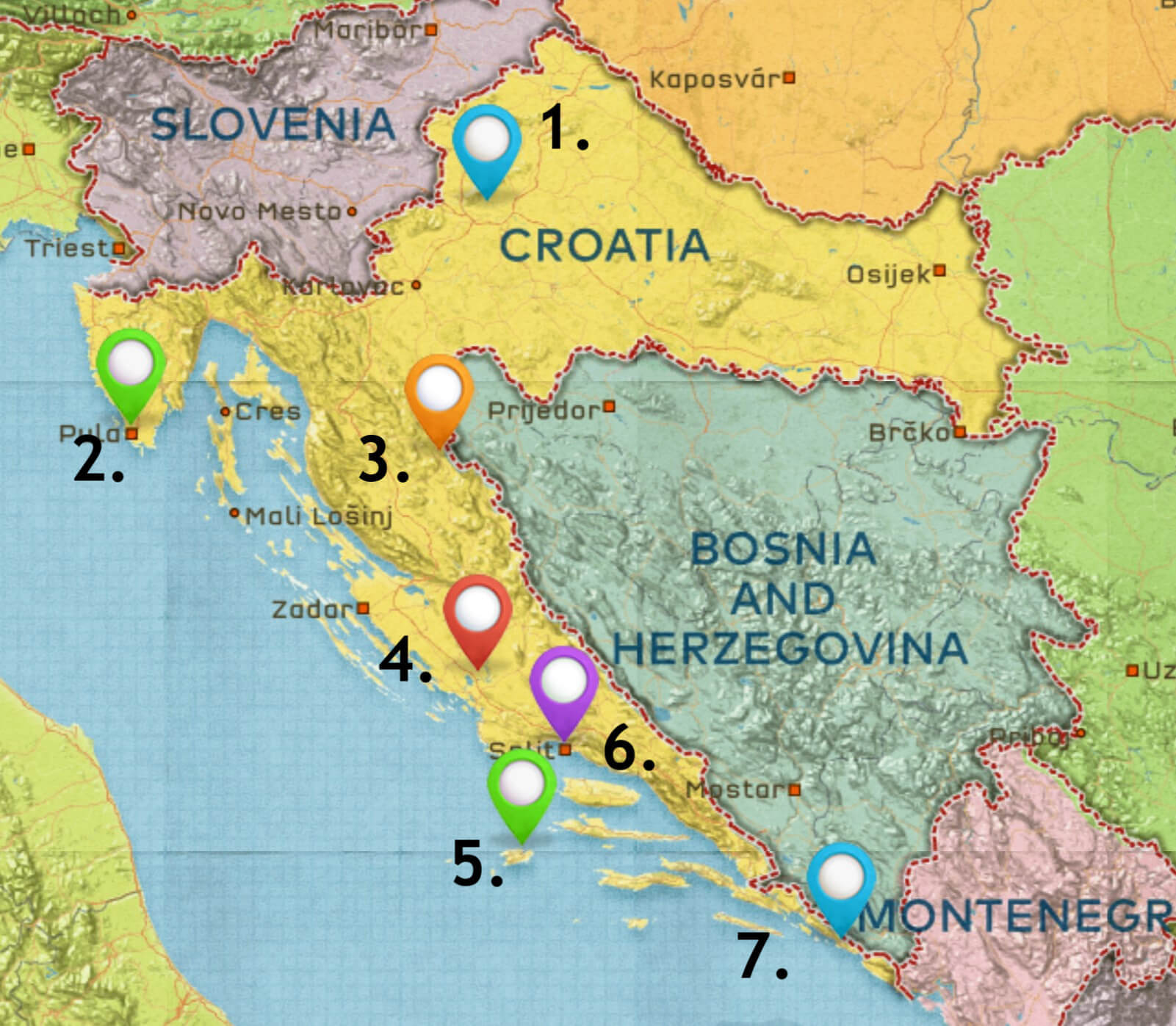 Split – The Overall Best Place to Stay in Croatia
What merits the best place to stay in any country is always a matter of personal preference. For Croatia, it was a toss-up between two cities: Dubrovnik and Split.
Split won this honor for several reasons. The city has a bit of everything and is the main jump-off point to many of the major Croatian islands found off the Adriatic coastline. The Old Town is one of the most beautiful and best-preserved that you will find anywhere in Europe. If you dig epic Roman ruins, cobblestone streets, and beautiful coastal sunsets, Split is a must-visit city.
Be sure to climb the stairs of the Saint Domnius Catherdral for some of the best views of the city!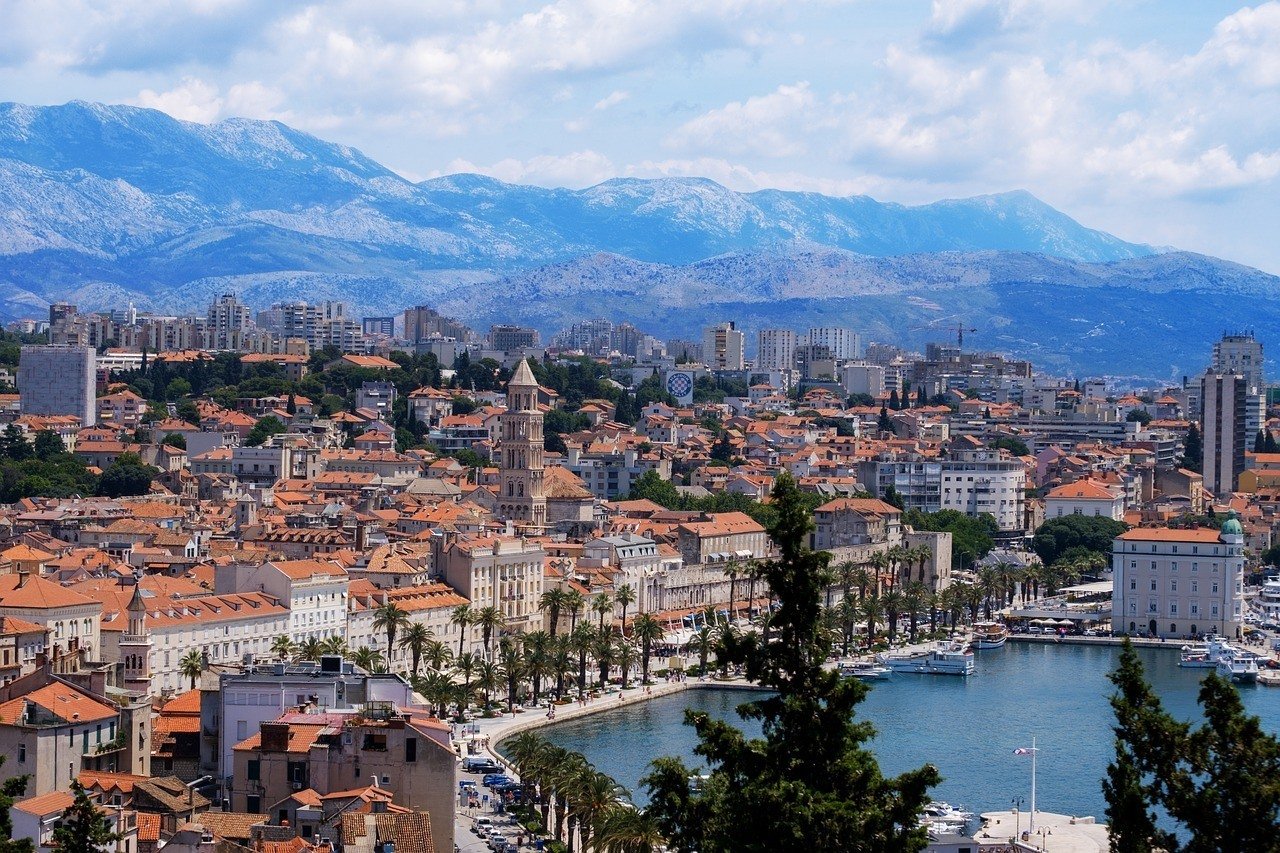 Due to its popularity, Split offers the widest range of accommodation options of any Croatian city I visited. It's all here: hostels, dope Airbnbs, and glitzy hotels catering to even the fanciest Russian oligarch. Croatia accommodation is never going to be cheap, but going the Airbnb or hostel route is probably the best budget option in a town like Split.
If you are planning on going to some of the islands, you will most likely need to stay in Split for a couple of nights (which is well worth it regardless).
The Best Places to Stay in Split
While Old Town is absurdly beautiful, you can stay just outside for a fraction of the cost. Split is a very walkable city and my following recommendations still keep you within easy walking distance of Old Town and the port area.
Best Airbnb in Split: Apartment HMM
Though I found this place pretty last minute it turned out to be one of the best places I stayed in all of Croatia. The apartment itself is small, but it has everything you need and everything inside is brand new. For couples, this place is pretty damn romantic (plus the owners leave you a couple of bottles of local wine).
Best Hostel in Split: Grand Hostel LerO
The Grand Hostel LerO offers the best bang for your buck, both in terms of quality and location. It isn't the cheapest hostel in Split, but for budget backpackers who don't want to sleep in a total dive, it's pretty classy. Be sure to hike up the adjacent Marjan Hill for awesome sunset views.
Best Hotel in Split: Split Inn Apartments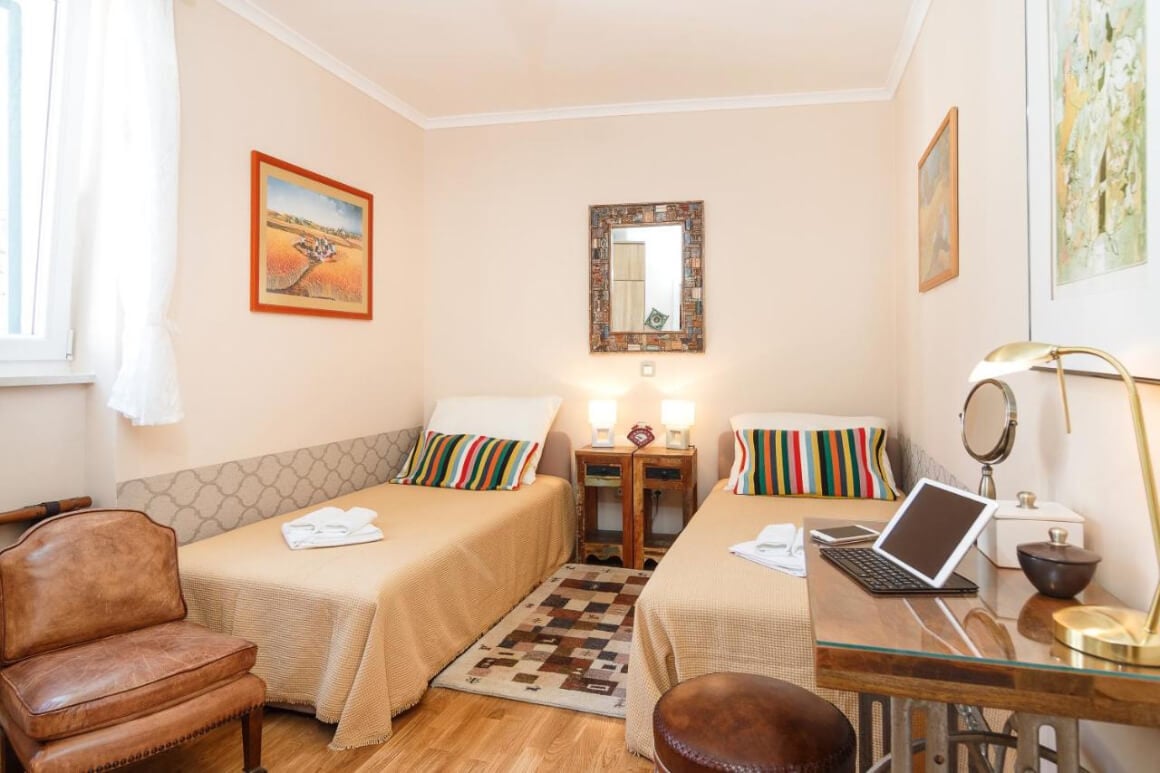 I like the Split Inn Apartments as a sort of hybrid apartment-hotel room option. The rooms themselves are very tastefully put together and the location of the place is in the middle of everything. You won't have a full-on kitchen set up, but there is a kettle for making coffee and a fridge to keep your beer cold.
Korencia – The Best Place to Stay for Families in Croatia
Croatia is famous for its stunning waterfalls and national parks, and the best of the lot lies just beyond the small town of Korenica. Plitvice Lakes National Park is a truly magical place, despite the storm of tourists who seek to visit nearly every day of the year. The national park is a great place for families with kids because most of the "must-see" parts of the park have meandering boardwalks, making it easy for your little explorers to take in the gorgeous waterfalls.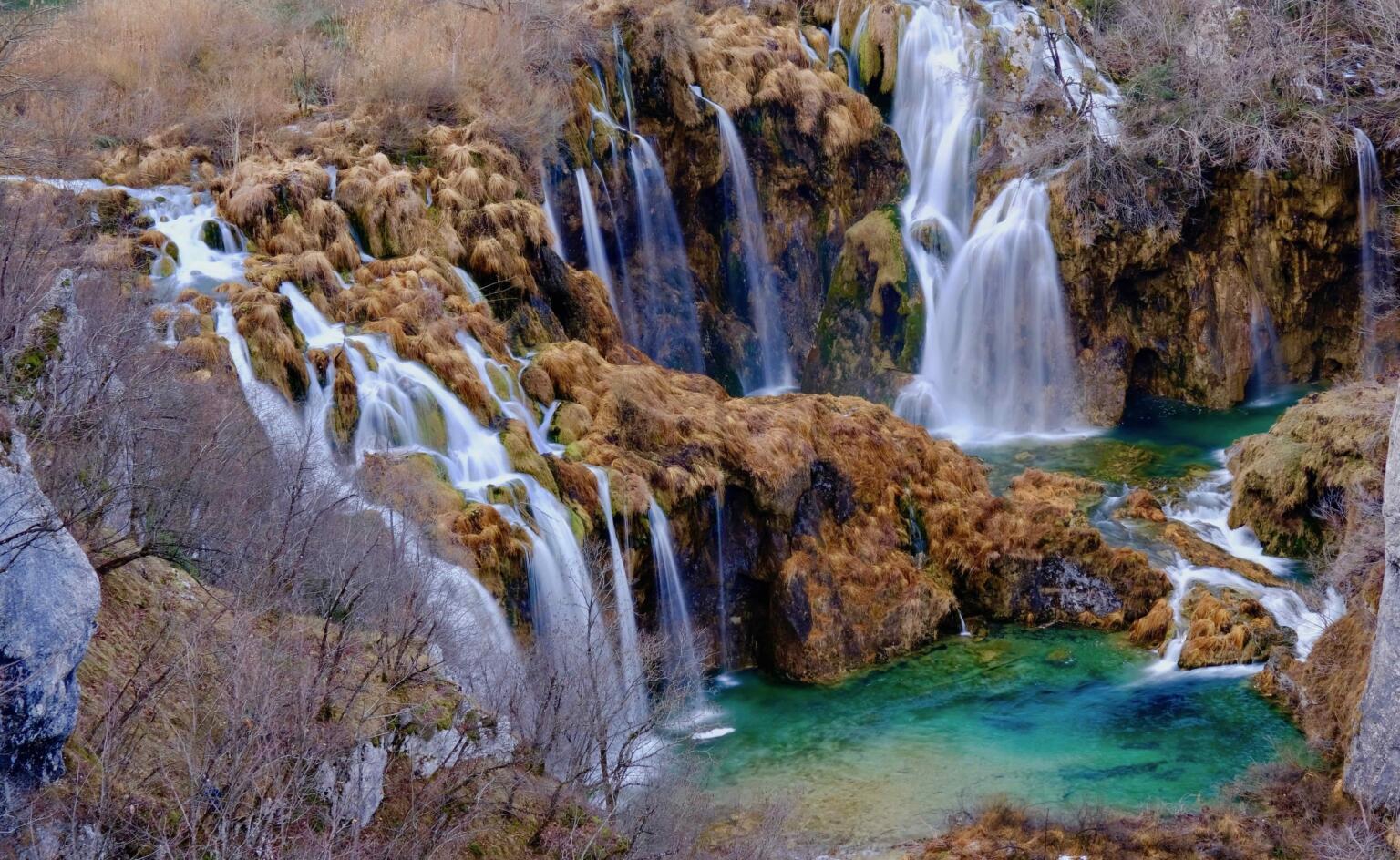 If you visit in the winter, be sure to bring warm clothes! It was about -8 degrees C when I visited recently.
For families wanting to explore the national park, basing yourself in Korenica is the obvious choice. Here you have access to grocery stores, restaurants, bakeries, and multiple fine accommodation options.
Best Places to Stay in Korenica
Being a small town, Korenica has a surprising number of places to stay. In the summer, many places book out months in advance, so be sure to give yourself plenty of time to make a booking if you plan on visiting during the busy season. Note that Korenica is a roughly five-minute drive to the national park entrance.
Best Airbnb in Korenica: Apartment "Phoenix" No. 12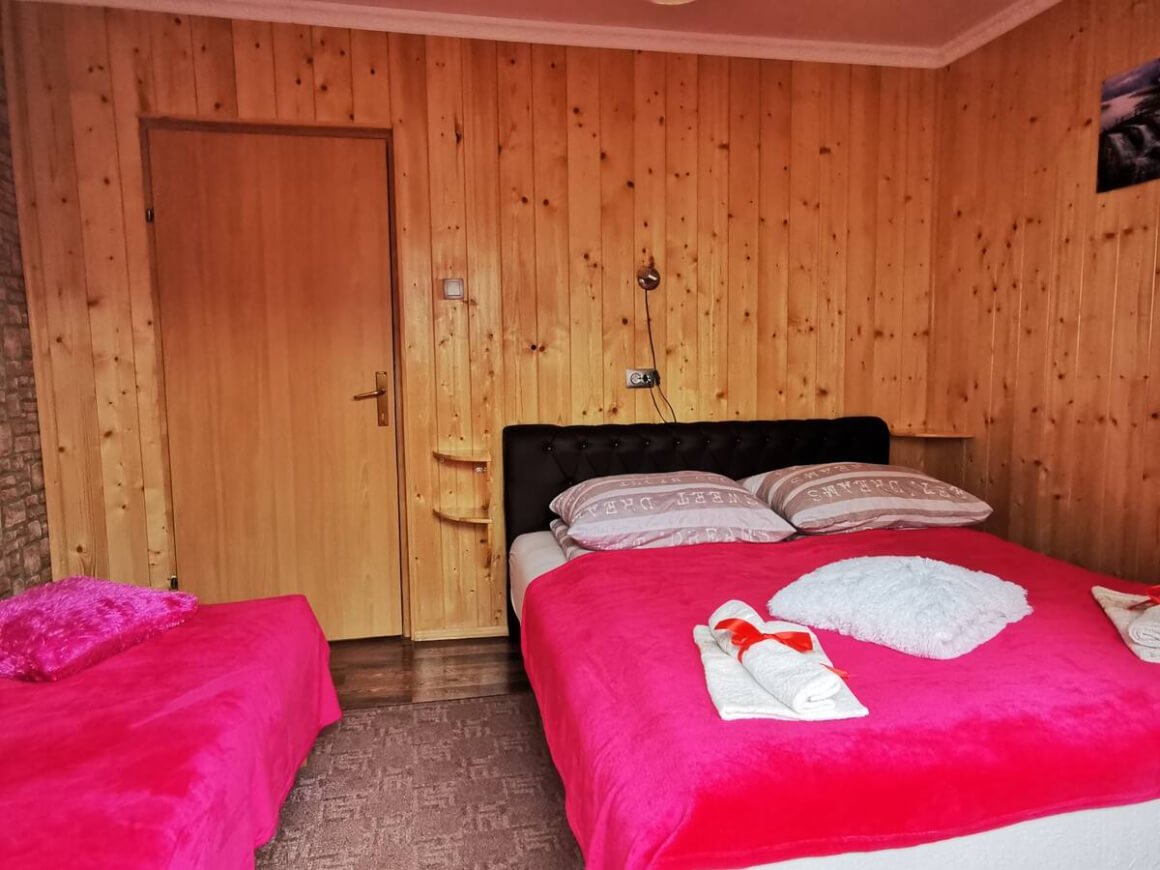 Our Airbnb in Korenica was awesome. When we walked in we were surprised by how big and well outfitted the place was. The two bedrooms are plenty comfortable, the heat works well in winter, and if you have kids who don't want to share the same room, one can sleep on the couch in the living room. This apartment is within walking distance of everything in town. Hopefully, the neighborhood kids won't be setting off absurd amounts of fireworks during your stay as they were when we visited.
Best Guest House in Korenica: Guest House Rustico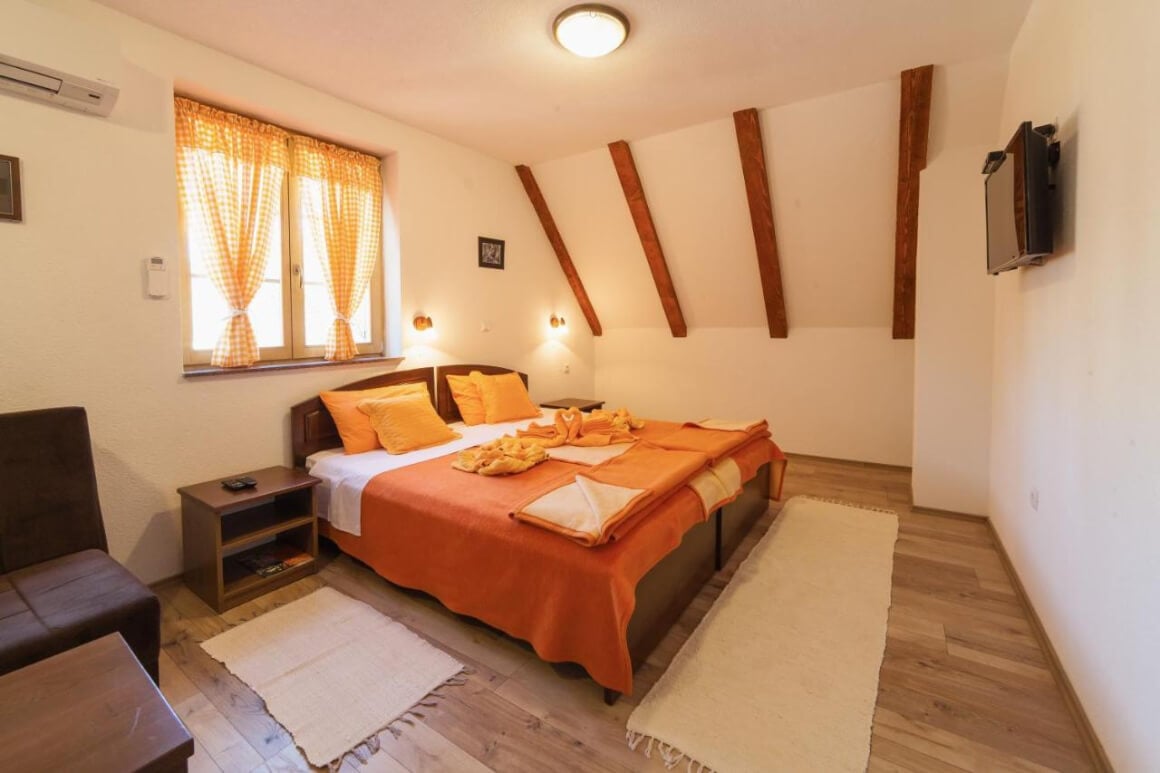 Clean, affordable, charming…this is Guest House Rustico. It's not actually in the town of Korenica but rather a couple of miles outside. Trust me, by staying outside of Korenica you are not missing anything. Plus, once you get beyond the city lights, the star viewing is incredible.
Best Hotel in Korenica: B and B Villa Angy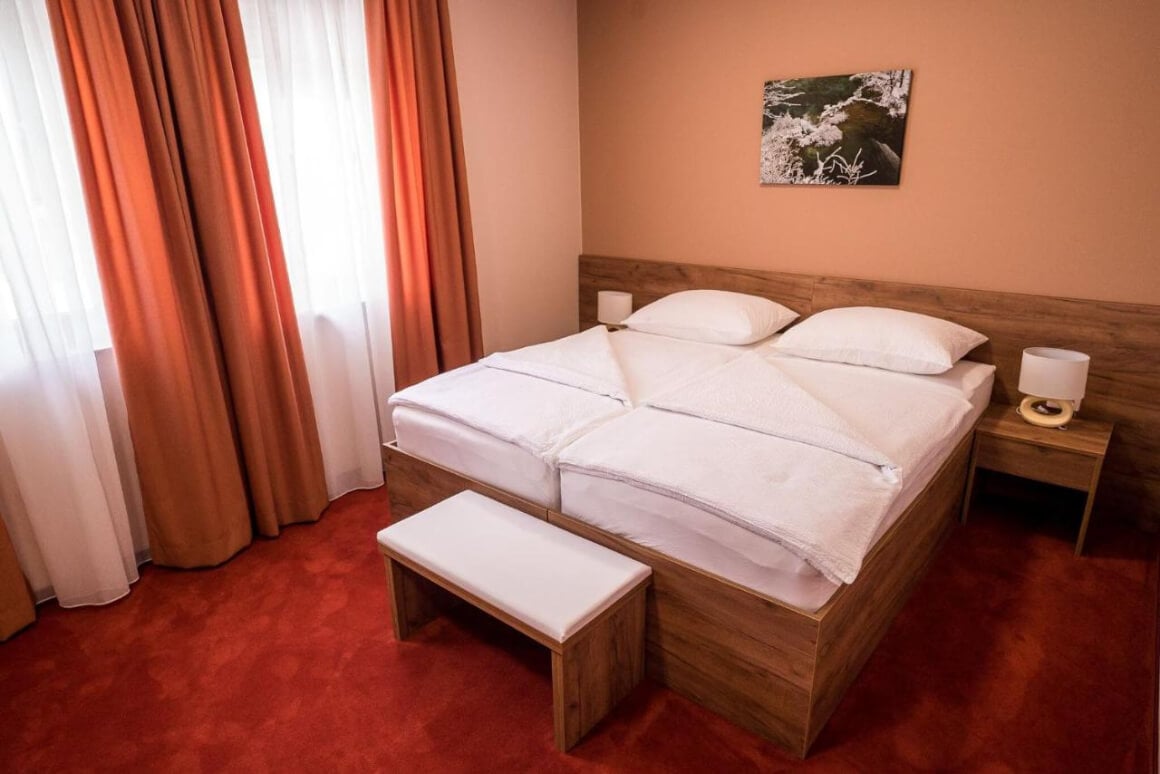 Apart from a few uninspiring "big box" hotels in Korenica, there are few proper hotels. Villa Angy is a guest house-hotel hybrid with plenty of charm. The red carpet inside the rooms is a little weird, but apart from that, this place has everything you need. It's worth noting that the food is exceptionally good. For families, you'll want to go with the large apartment room.
Travel with peace of mind. Travel WITH a security belt.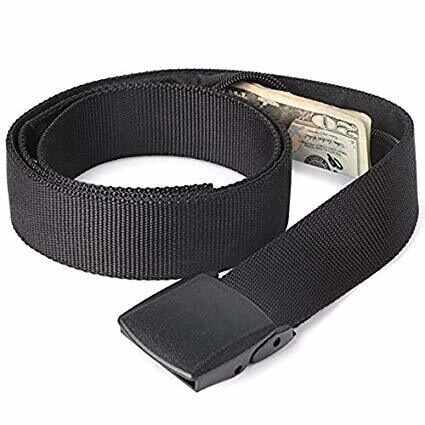 Custom-designed BY the Broke Backpacker FOR broke backpacking, the Active Roots Security Belt will keep your valuables safe no matter where you go.
It looks exactly like a normal belt except for a SECRET interior pocket perfectly designed to hide a wad of cash or a passport copy. Never get caught with your pants down again! (Unless you want to.)
Check on Amazon
Dubrovnik – The Best Place to Stay for Couples in Croatia
Dubrovnik, Croatia is just one of those places, and staying in Dubrovnik is an experience unto itself. Whether you are a Game of Thrones fan or not, there is no denying it: Dubrovnik is pretty darn dreamy. The walled-off Old Town is loaded with historical treasures, cafes, and marbled streets, making it super easy on the eyes.
I spent hours with my wife roaming the streets at night taking photographs and drinking hot wine as the street lights bathed us in their dim flickering glow. It was perfect.
You can catch one of the most epic sunsets of your life up Mount Srd, the best hike near Dubrovnik. And the apple pie served at the cable car cafe is well worth the extortionate price!
If you are prepared to pay a pretty penny, taking a stroll around the top of the citadel walls is a solid option as well. Throw in the epic beaches to the north or south and you, my friend, have yourself one perfect destination to share with your partner.
Visiting Dubrovnik in the summer means you'll be battling with crowds, but choosing the right place to stay will ensure that you have a peaceful, romantic place to go back to at the end of the day.
Some of the top places to stay in Croatia are right here in the actual Dubrovnik Old Town. There are many quiet side streets off the main square street where you can easily escape the hordes of buffet-scented cruise ship people.
Best Places to Stay in Dubrovnik
Say it with me now: Where should I stay in Croatia at least once?—Dubrovnik Old Town. Like Split, if you don't stay in the actual Old Town area you will save money. If you stay more in the commercial center, however, you will need to bus it/take a taxi as the Old Town is a bit of a distance away.
Best Airbnb in Dubrovnik: Old Town Apartment
Holy hell there are a TON of Airbnb's in Dubrovnik. That was my first thought when I started planning this portion of the trip. The actual Airbnb apartment I stayed in is no longer listed on Airbnb but this selection is in the same building and has a very similar vibe. Spoil yourself and your partner and enjoy a few nights in one of the most romantic cities you two will ever stay in.
Best Hostel in Dubrovnik: Hostel Angelina Southern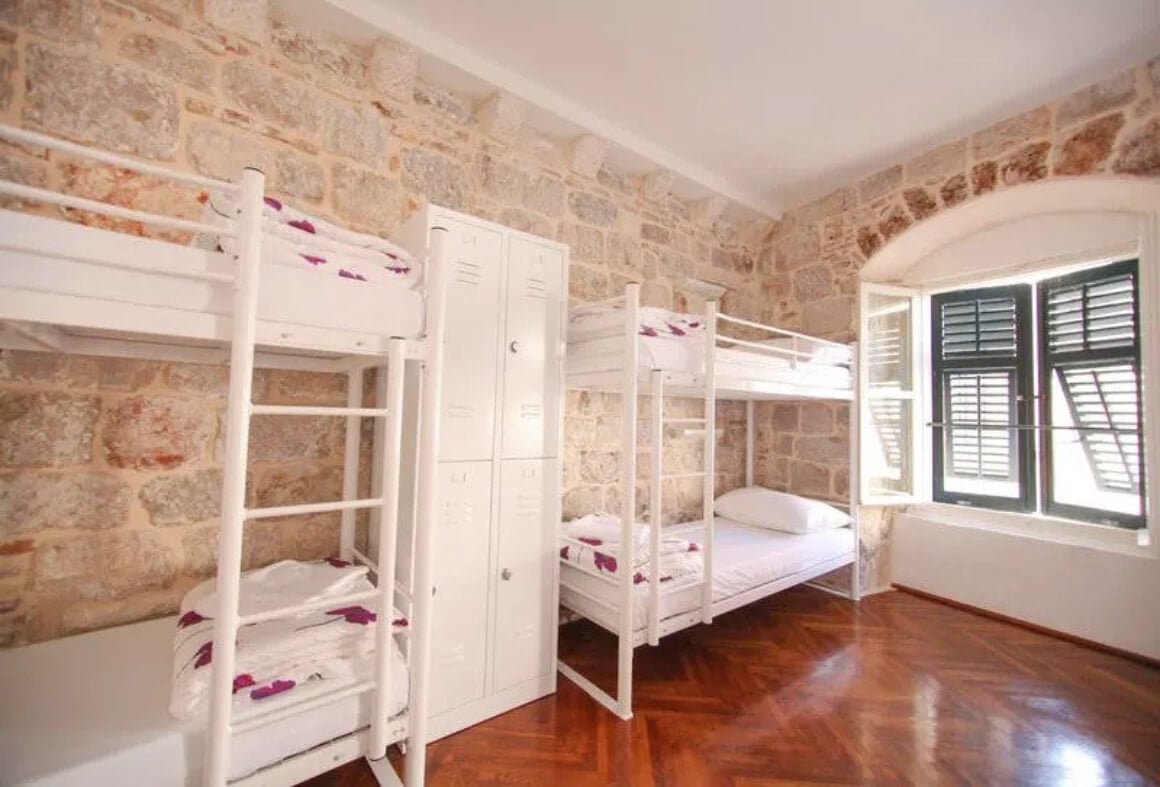 Located in a fabulous 400-year-old building in the heart of Old Town, Hostel Angelina is easily the best hostel in Dubrovnik. If you are a couple keen on achieving a balance between a happening hostel scene and a private space to hibernate in, Hostel Angelina offers a large 3-bed private room that will give you the best of both worlds. Book this one well in advance as the private rooms go quickly.
Best Hotel in Dubrovnik: Hotel Dubrovnik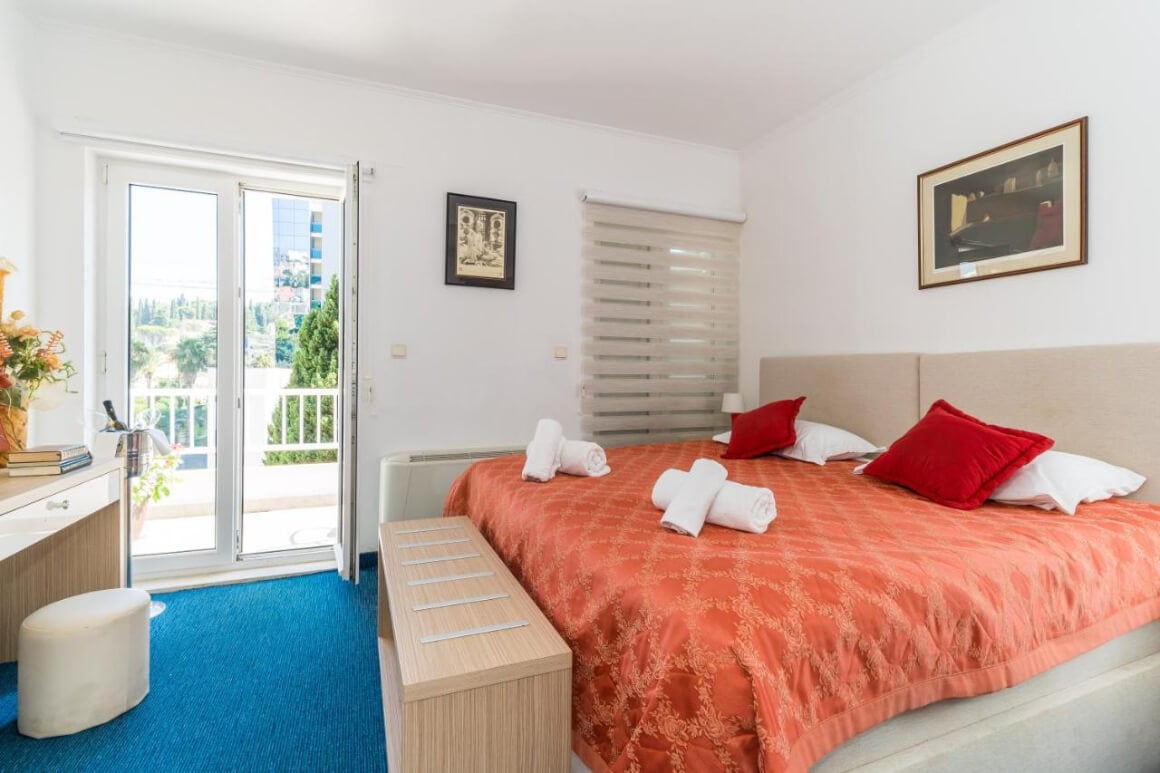 Generally speaking, hotels in Croatia are on the more pricy end of the accommodation spectrum. Of the many hotels in Dubrovnik, this place offers the best value. Hotel Dubrovnik is the place to stay if your primary goal is to be at the beach. Breakfast is included and the beach is 250 feet away. A bottle of rose will be waiting for you in the room too FYI.
Zagreb – The Coolest Place to Stay in Croatia
While Dubrovnik was a close contender for the coolest place to stay category, it's slightly too curated of a place to have that authentic cool vibe if you know what I mean. Zagreb is Croatia's gritty capital and as in most capital cities in Europe, there is always some tattooed, coffee-soaked hipster enclave to be found if you know where to look.
In and around Martieva Street is a good place to start if you want to get stuck right into wine bars, coffee shops, and organic food restaurants. The Old Town area of Zagreb is also super iconic and full of architectural masterpieces like St. Mark's Church and my personal non-masterpiece favorite, the Museum of Broken Relationships (we back-peddled from the last section haven't we?).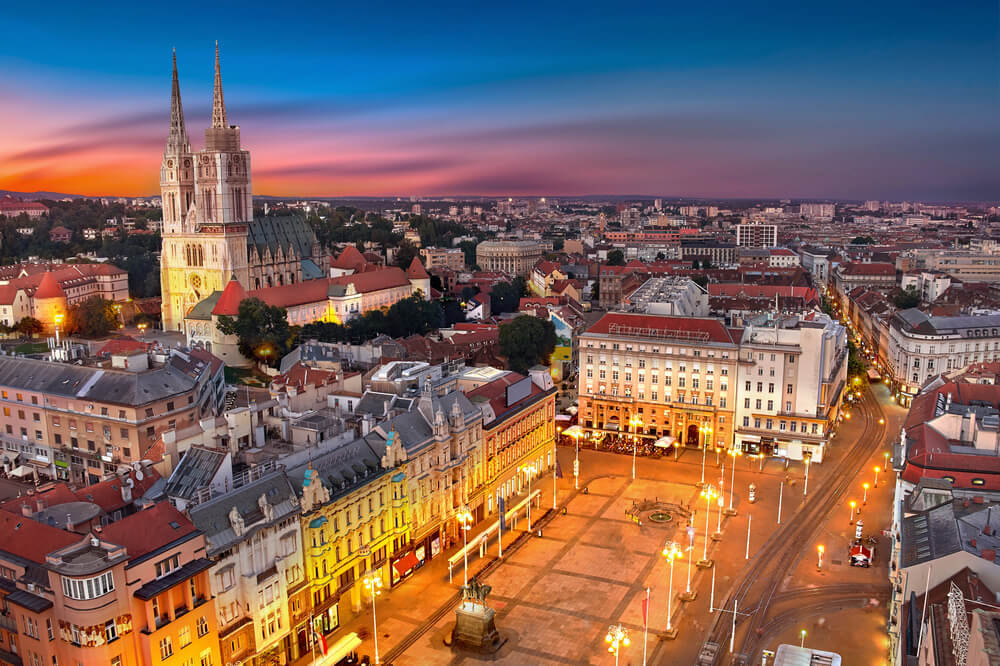 Unlike most of the South Coast (which certainly is one of the best areas to stay in Croatia), Zagreb offers some very affordable accommodation options, and lodging in Zagreb is plentiful.
If you have been traveling in the south of Croatia for many days and you require a rough shake back into reality, Zagreb is the place to scratch that itch.
Best Places to Stay in Zagreb
Lower Town is a lively and historic district that makes up half of central Zagreb. It is characterized by its grand streets and avenues, its spacious green parks, and its stunning Austro-Hungarian architecture. In and around Old Town was the part of town I enjoyed staying in the most. 
Best Airbnb in Zagreb: Rakuscha Apartment
Sleeping up to four guests, this apartment is ideal for couples or groups deciding where to stay in Zagreb. It's stylish and modern throughout and features open-plan design. The apartment has one double bedroom and a sofa bed, as well as wifi and a flatscreen TV. It's just 15 minutes from the Old Town, so you can easily get around and explore.
Best Hostel in Zagreb: Hostel Bureau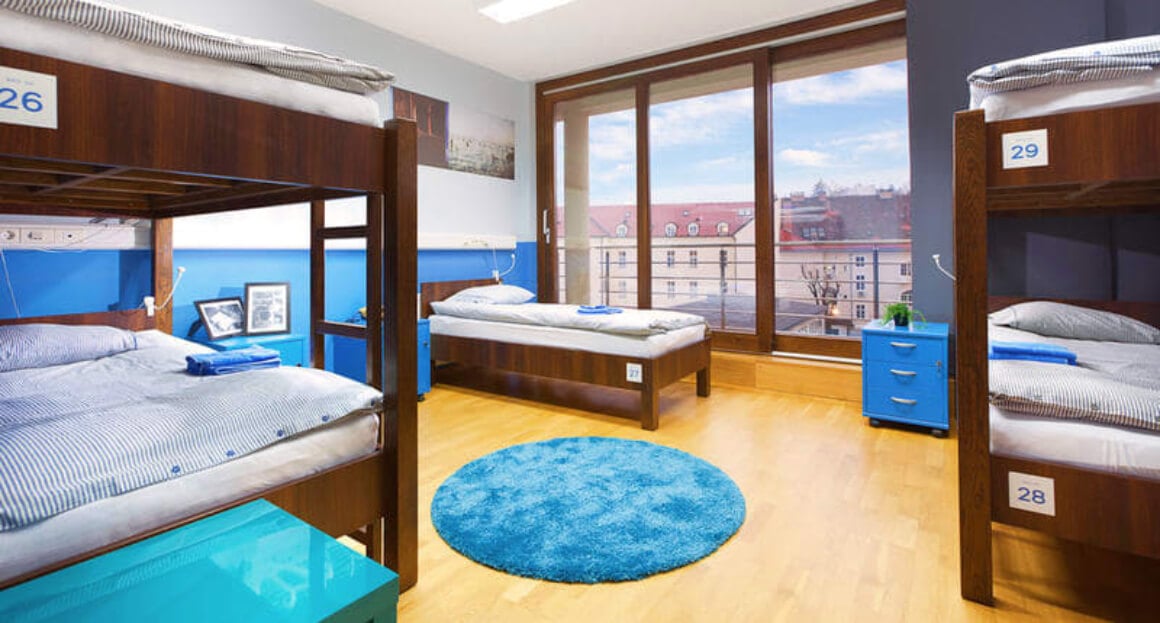 This centrally located hostel sits just three minutes from Zagreb's main square in a quiet residential area. It's been recently renovated and features all-modern amenities, as well as 24 hour service. Guests can enjoy a games room, free wifi, and comfortable beds.
Best Hotel in Zagreb: DTA Zagreb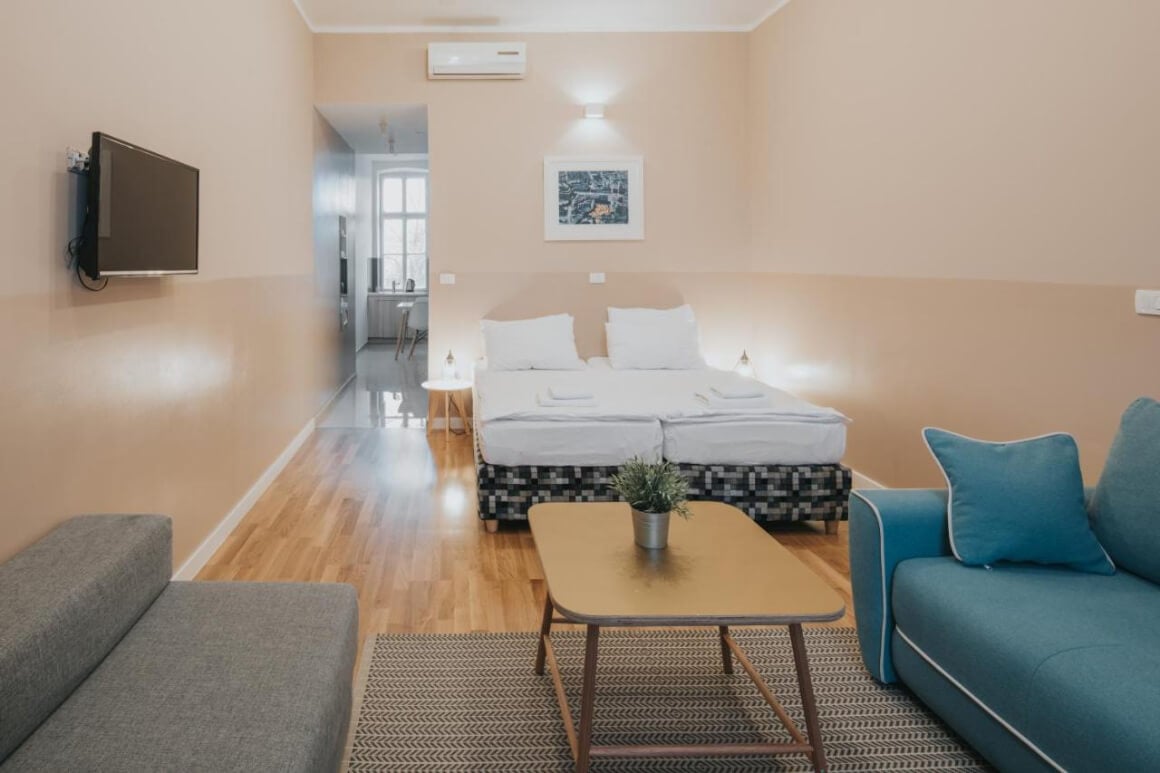 Awesome location, great prices, and a modern vibe; pretty much everything most travelers need to feel comfortable in a new city. This place is a steal of a deal considering how close to everything it is.
Zagreb – Where to Stay in Croatia On a Budget
Alas, Zagreb has made my list again. Capital cities generally offer every type of accommodation range and Zagreb is no different.
You may have gathered by now: Southern Croatia and the islands found off the coast are the most expensive places to visit in Croatia. Zagreb is a great place to just be, get some work done, or simply walk about and explore.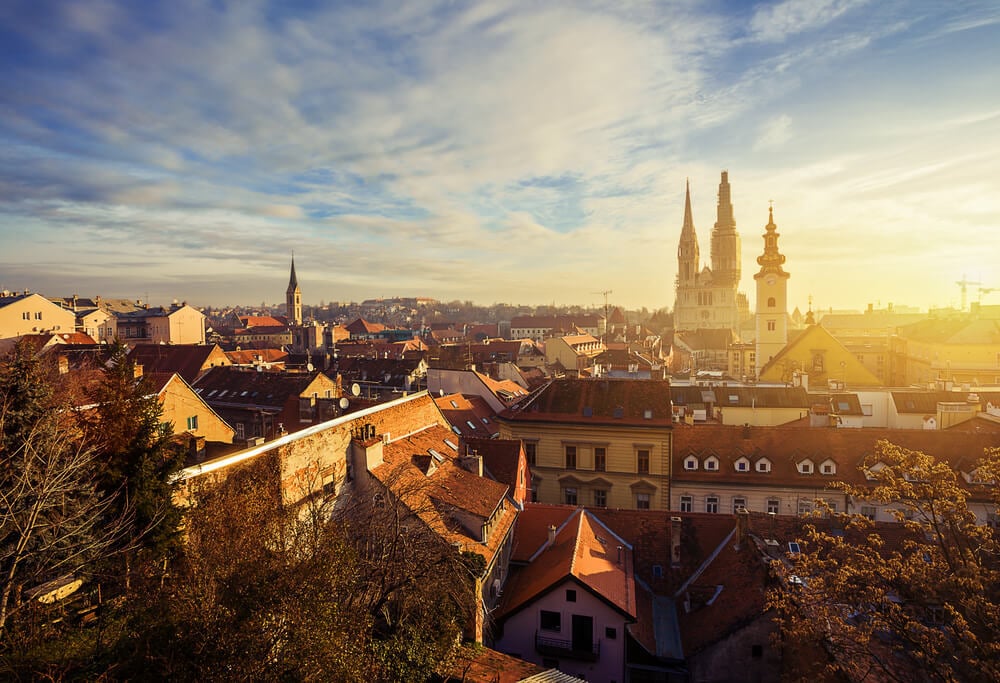 If you are visiting Croatia on a tight budget, it's easy to find cheap groceries so you can cook your meals.
There are also plenty of historical attractions that don't cost anything to see. Be sure to hit up the above-mentioned Old Town for a taste of gorgeous old-world architecture.
While your first thought may be that a European capital city is going to be very expensive, due to the plethora of accommodation options, it is not too difficult to find a cheap place to lay your head.
Best Places to Stay in Zagreb On A Budget
All of the below recommendations are under $30/night! As mentioned Zagreb is a cool city no matter where you stay. As a general rule, the farther you stay away from Old Town/ the Main Square area, the cheaper accommodation will be. The best area for budget travelers that is both cheap and convenient is the area around the bus station.
Best Cheap Airbnb in Zagreb: Apartment Nicola Tesla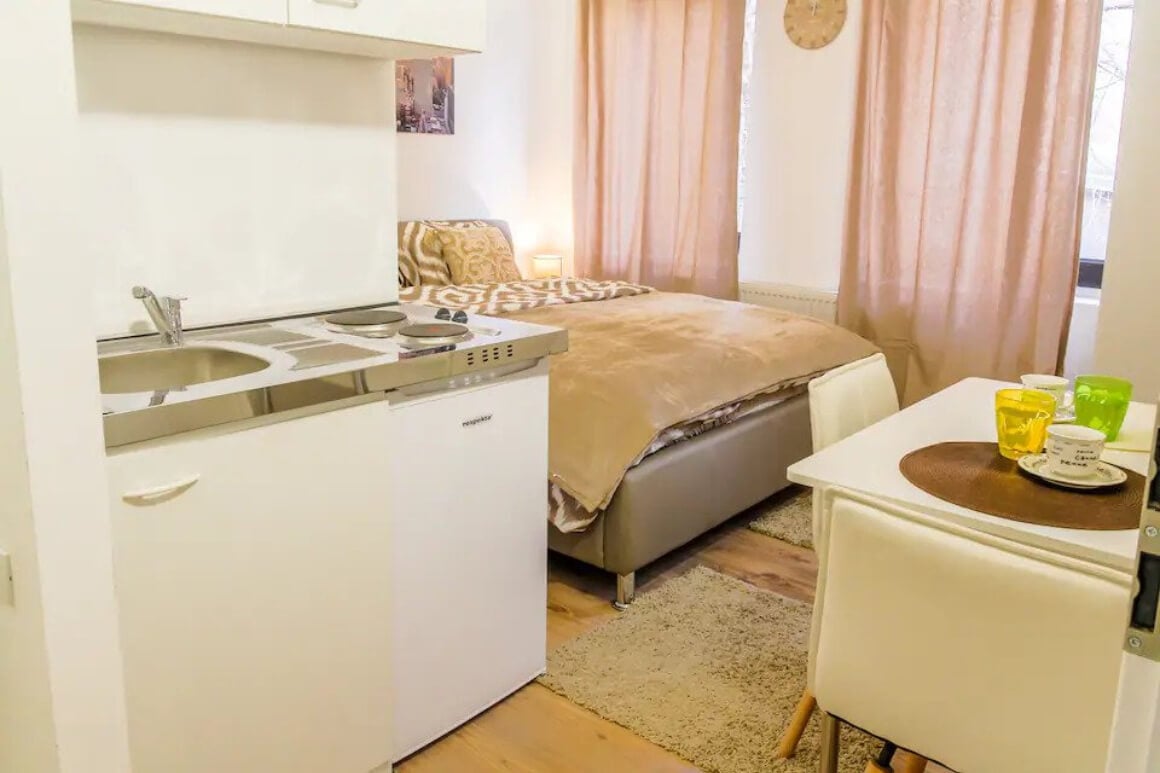 Besides being named after one of the greatest engineers in history, this Zagreb Airbnb is right next to the main square and within walking distance of Old Town, shops, and just about everything else. Airbnb's this cheap don't stay vacant for long, so be sure to be on your booking game when it becomes available.
Best Cheap Hostel in Zagreb: Hostel Chic Zagreb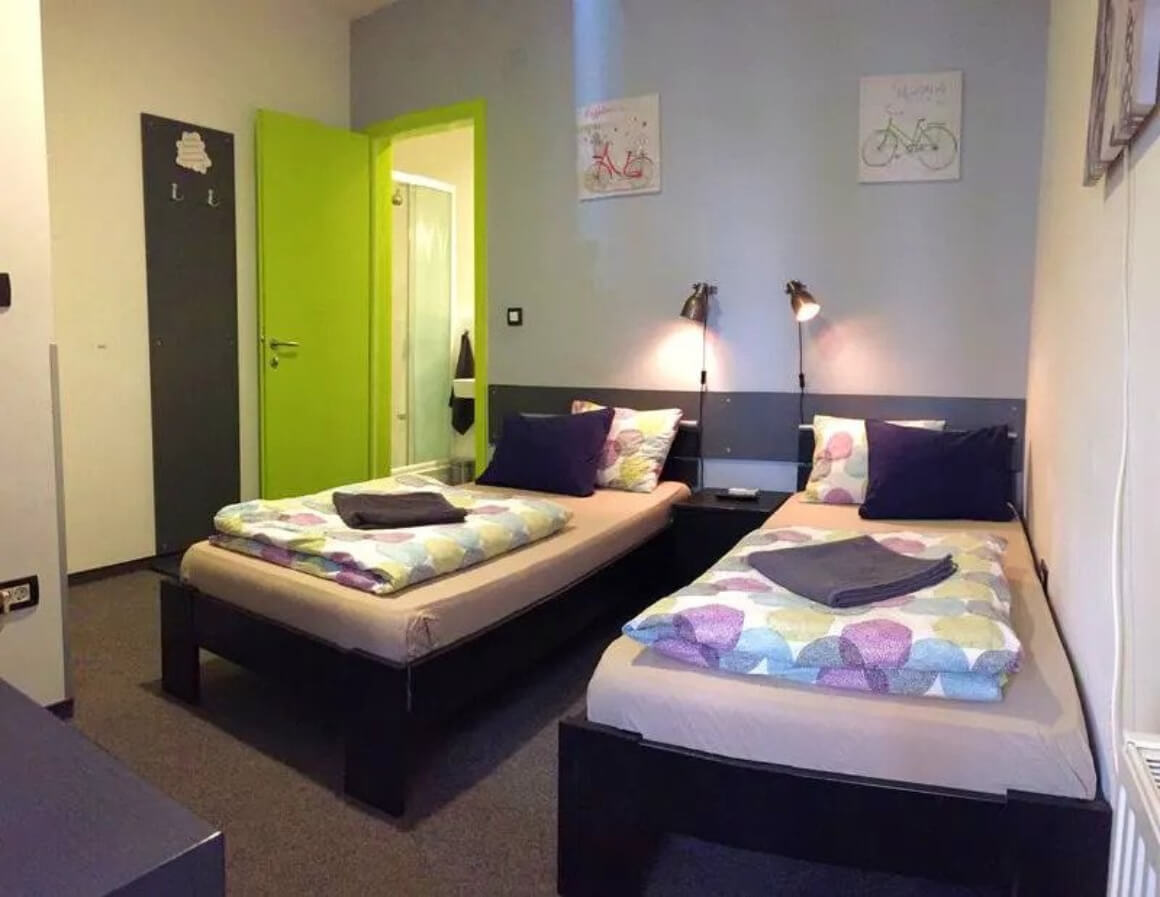 For $15 you can score yourself a bed in a clean, comfy 8 person dorm room. The 6 person dorm only costs a few bucks more if you want to narrow your odds of being stuck in a room with a snorer. Fine location next to the train station. Bring your food to cook in the modest, but usable kitchen. overall, it's one of the coolest hostels in Zagreb.
Best Cheap Hotel in Zagreb: Houzzz21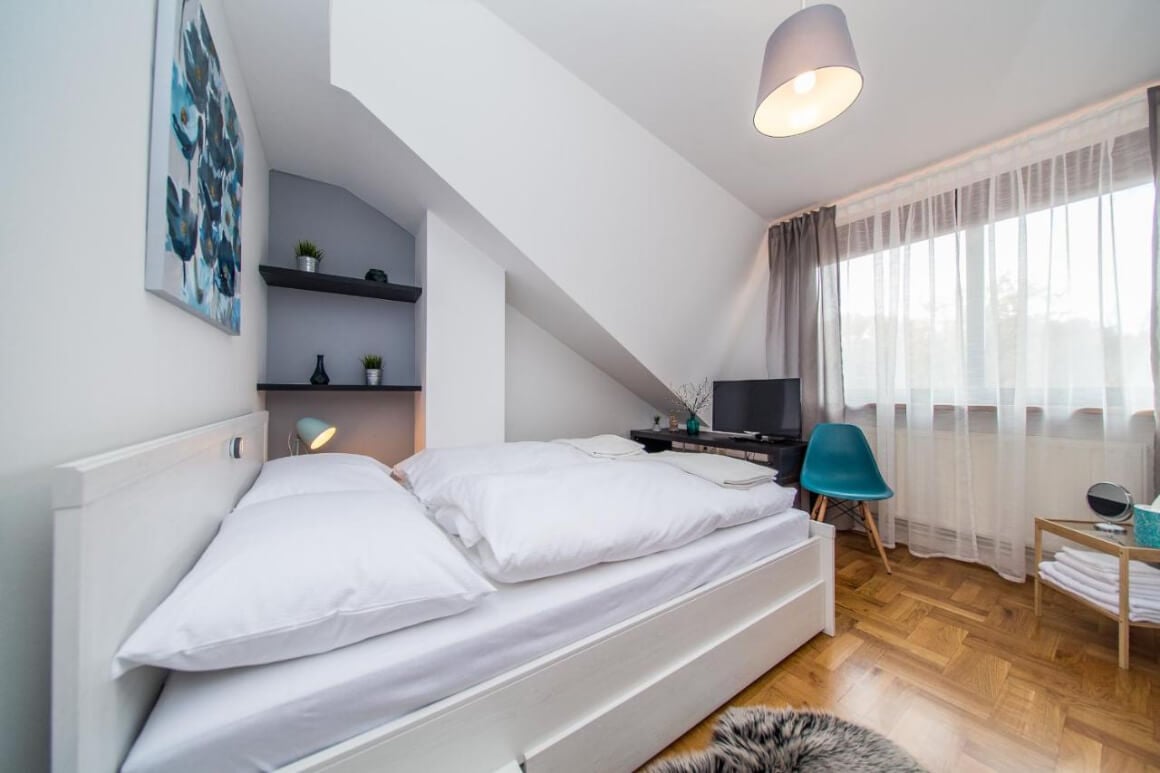 This Zagreb guest house offers a variety of rooms, ranging from simple doubles to larger suites with kitchens. The accommodation is contemporary and bright throughout, and offers free wifi. Top city attractions are all within easy reach of the guest house, as well as a variety of restaurants.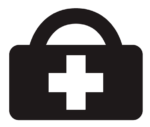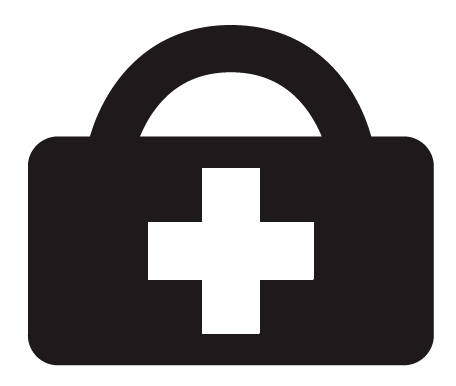 Croatia is a very fun place and one could easily get carried away while visiting. It's important to remember that no country is perfect though.
Read our safety guide for safety guide for Croatia before planning your trip so you will be extra prepared when you arrive.
Vis Island – The Most Unique Place to Stay in Croatia
Vis is not the most off-the-beaten-path destination in Croatia, but of all the islands, it is one that fewer people spend the night on. Most folks just come to visit for the day and are on the last ferry back to Split before dinner time. Especially if you visit Vis in the winter, you will find a sleepy island with plenty to explore and few other travelers to share it with.
The best part about Vis is that it is small, yet big enough to merit a few days of hiking and exploring. There is limited public transport, so the best way to get around is either by renting a small scooter or by hitchhiking.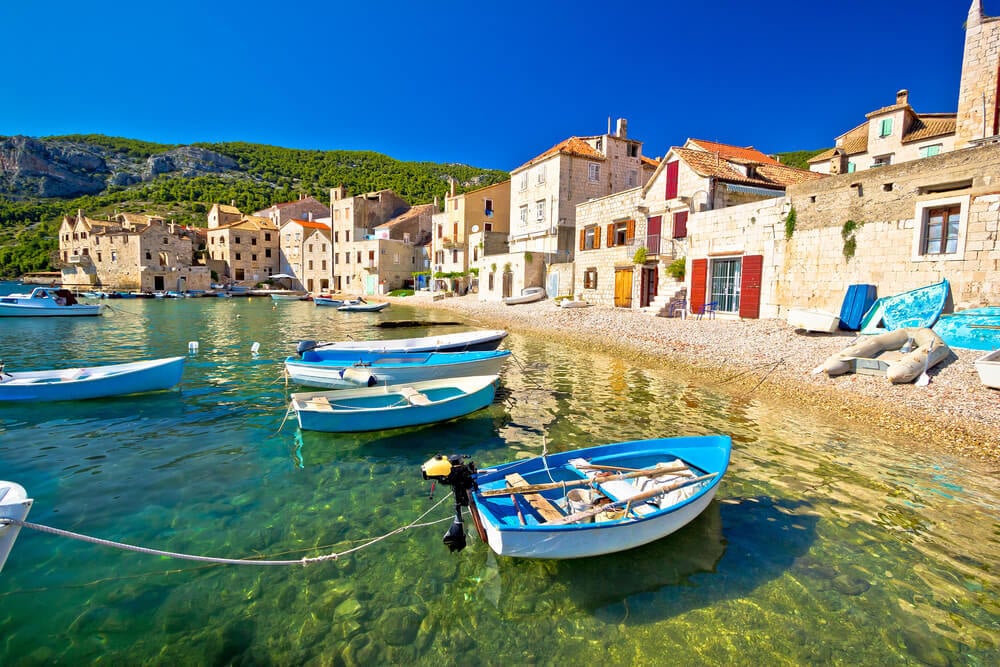 Check out the cave where the former leader of Yugoslavia, Josip Broz Tito hid out during World War 2. Visit the tiny stone chapel atop the barren Mt. Hum or relax on Stiniva Beach (after hiking down to it).
Vis still very much has its authentic Adriatic vibe and its residents even speak a different language than official Croatian. If drinking pricey cocktails, spending lots of money, and rubbing elbows with Russian yachties does not sound like your idea of a good time, skip the other islands and head to Vis.
Best Places to Stay in Vis
The apartments and hotels around the ferry port area are easily accessed without having a vehicle. If you plan on bringing or renting a means of transport on Vis, you can choose to stay in a more rural area, though I recommend staying reasonably close to the port so you have easy access to food, bars, and other activities.
Best Airbnb in Vis: Corner Of Joy Seaview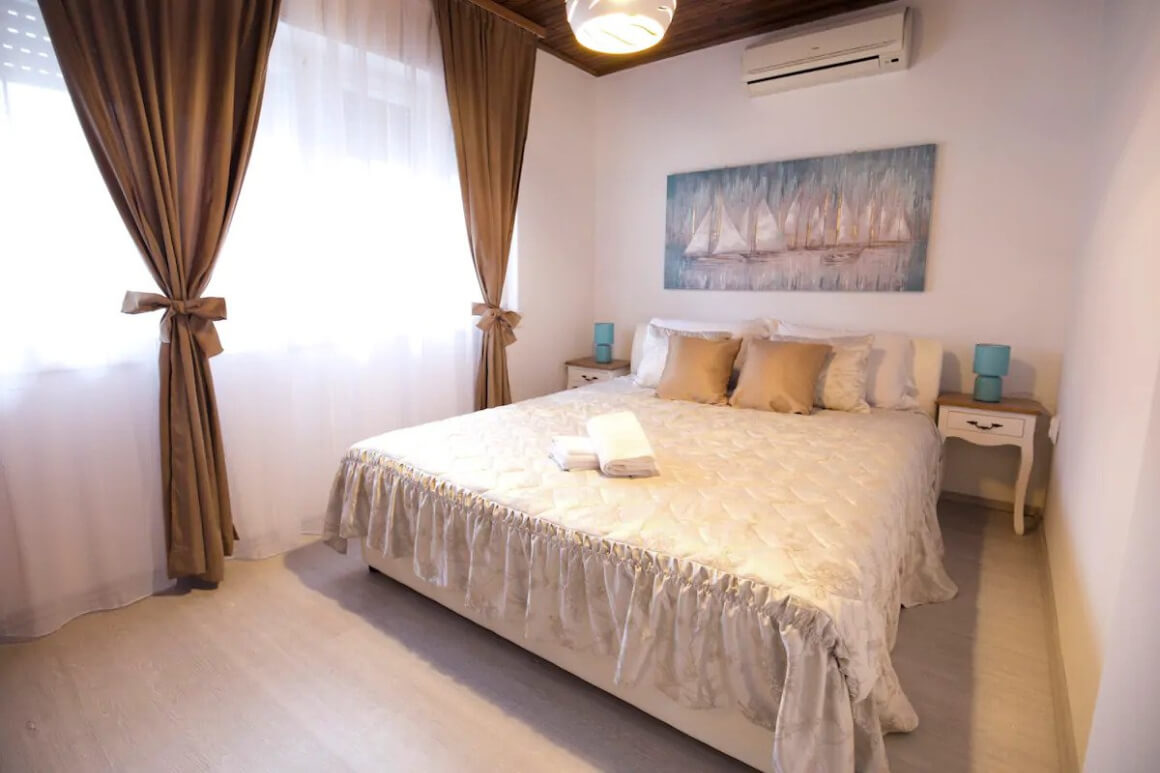 This small but quite comfortable flat is where we spent Christmas. You are not toes-in-the-sand-close to the sea, but close enough for a decent view of the port. This place is up on a small hill away from the "hustle" of the ferry terminal area, which I appreciated. You can reach restaurants and the supermarket in just a couple of minutes. Balcony Rosè at sunset? Hell yes.
Best Guest House in Vis: Apartments and Rooms Vis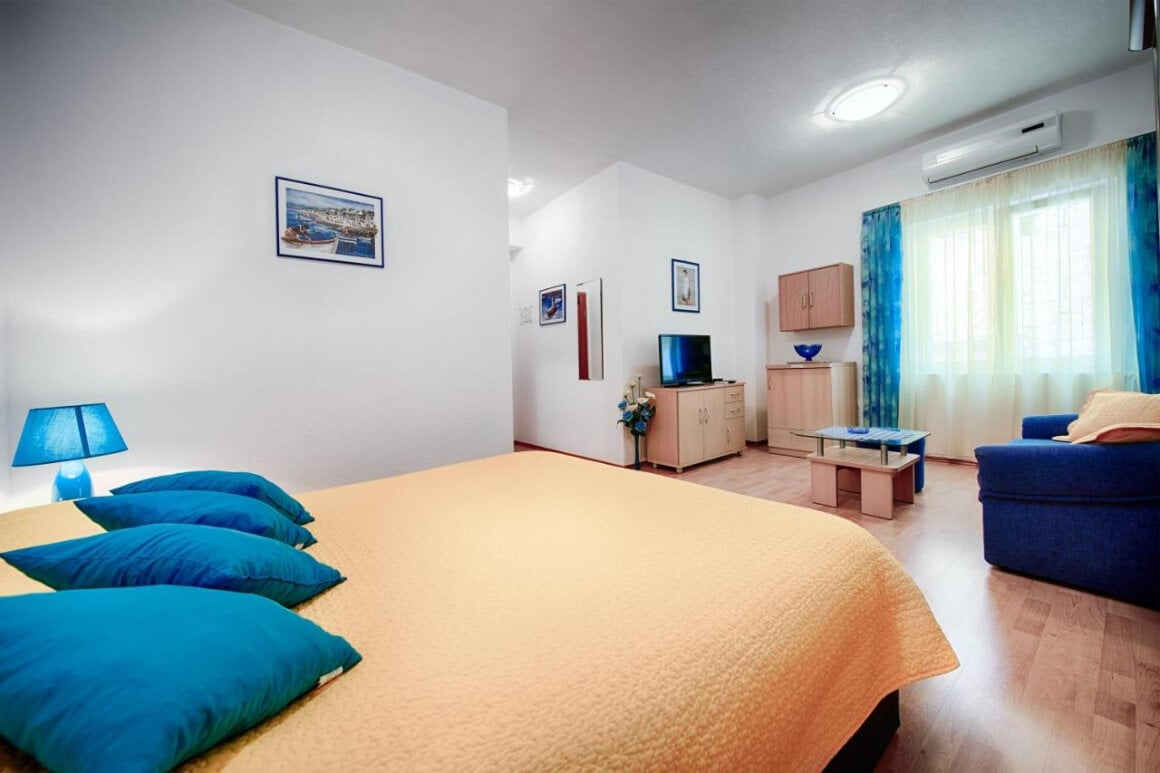 Sorry guys, there are no hostels on Vis! There are however a few decent gust houses that won't break the bank. The very uncreatively named Apartments and Rooms Vis is situated right near the Ferry Port and only a five-minute walk to the closest beach. Bear in mind that in the wintertime, many of the shops are closed so it isn't a crazy idea to do your grocery shopping in Split before making the ferry crossing.
Best Hotel in Vis: Bella Vista Suites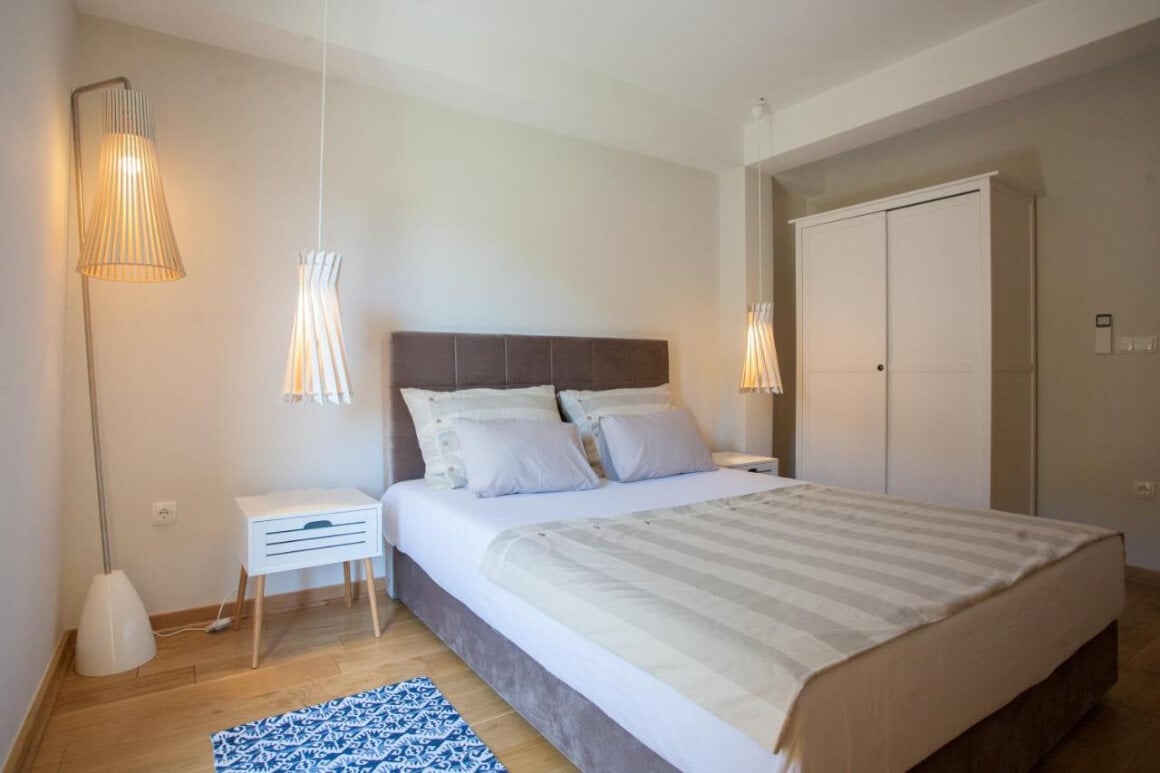 The Bella Vista Suites guest house is one of the best places to stay in Vis. They offer a pool, free wifi, and a bike hire so you can easily explore the city. Rooms are simply furnished with everything you'll need for a comfortable stay, and are full of natural light. Beaches, restaurants, and Fort George are all within easy walking distance.
Skradin – The Best Place to Stay in Croatia for Adventure
The town of Skradin itself is nothing too special. What makes it an awesome adventure base is its proximity to Krka National Park (epic waterfalls) and the Dinaric Alps (where Croatia's tallest peak lives). Skradin sits on the Krka River (flows into the national park) and though most definitely a small town, you can find a few bars, cafes, and other small shops in Skradin.
If you base yourself here for a day or two you can hit up the national park and climb Mount Dinara without having to commute back to Split each time. The drive from Skradin to Mt. Dinara is a little less than 2 hours one way, so start early if you plan of reaching the summit and driving back in a day.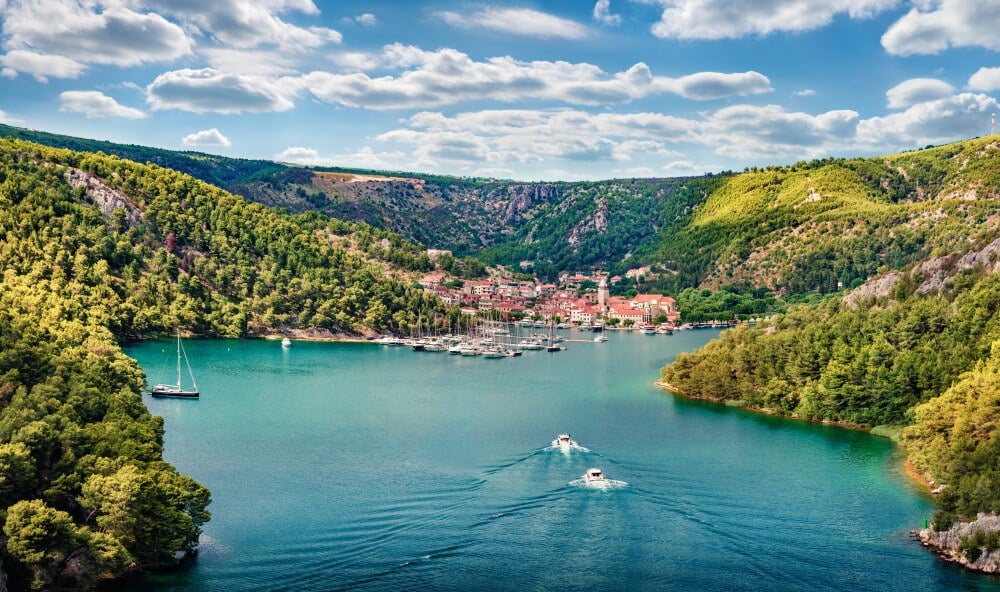 You can also opt to sleep closer to Mount Dinara if you plan to hike it, though there are not many accommodation options out that way save for a few random hotels and Airbnb's in the middle of nowhere near Knin (which might be a good thing for you).
During the summer, the national park will be busy, so you may decide that a half-day is enough for you to see what you want to do in the park. If you leave Split in the late morning, you can spend all afternoon at the park before returning to your place in Skradin.
Best Places to Stay in Skradin
Accommodation options that make the most sense are the guesthouses and Airbnbs. I appreciated that I saw no evidence of chain hotels. Need to be close to goods and services? Opt to stay in town.
Best Airbnb in Skradin: Vila Marija 1
This Airbnb is basic and tidy, but if you are looking for a cheap place in town to crash, look no further. The owner is super nice and brought us a massive plate of cookies when we checked in. There is a convenient bar/cafe located directly downstairs when you need to pop in for a drink or a morning coffee. By boat, the national park is 20 minutes away from the flat. The wifi was a bit slow but functional.
Best Guesthouse in Skradin: Guest Accommodation Zura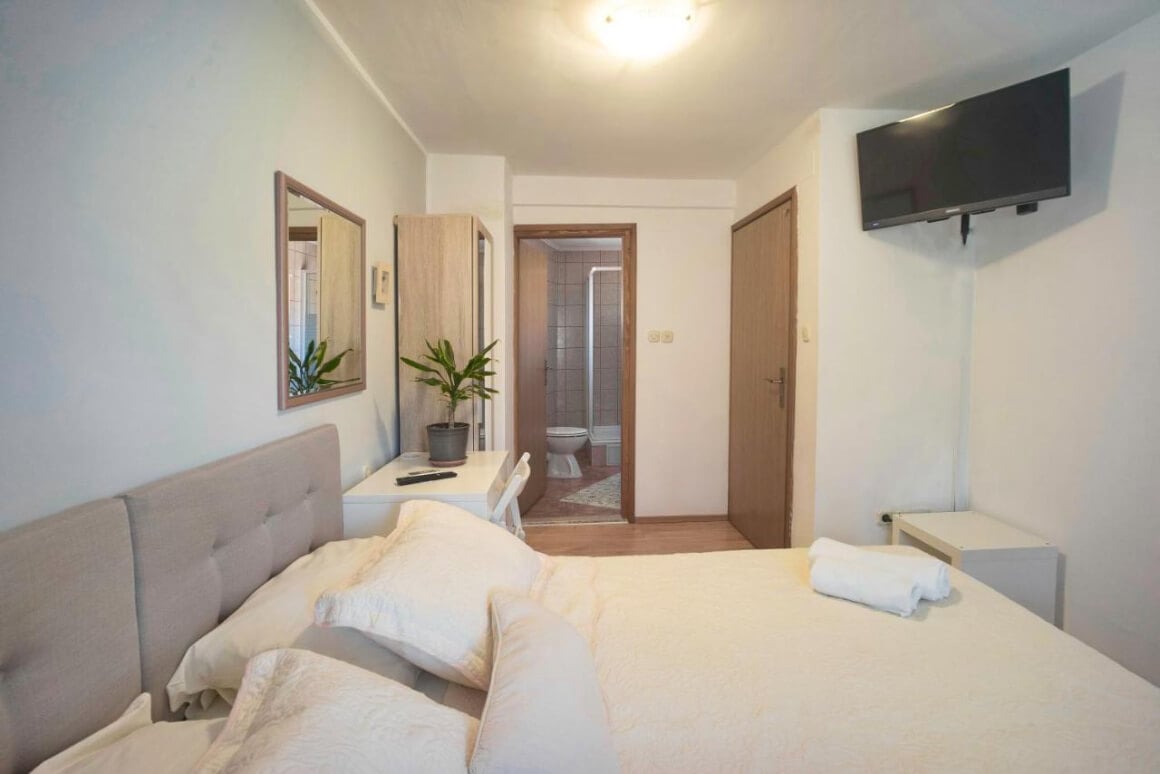 Once again, a Croatian town void of any hostel scene. Guesthouses are plentiful, however. Guest Accommodation Zura is a no-frills spot offering clean rooms close to the town center. Some rooms even have small kitchenettes so you can do a spot of cooking or at least make coffee. All rooms have wifi and AC (which you will need during the summer).
Best Hotel in Skradin: Guesthouse Miranda Krka NP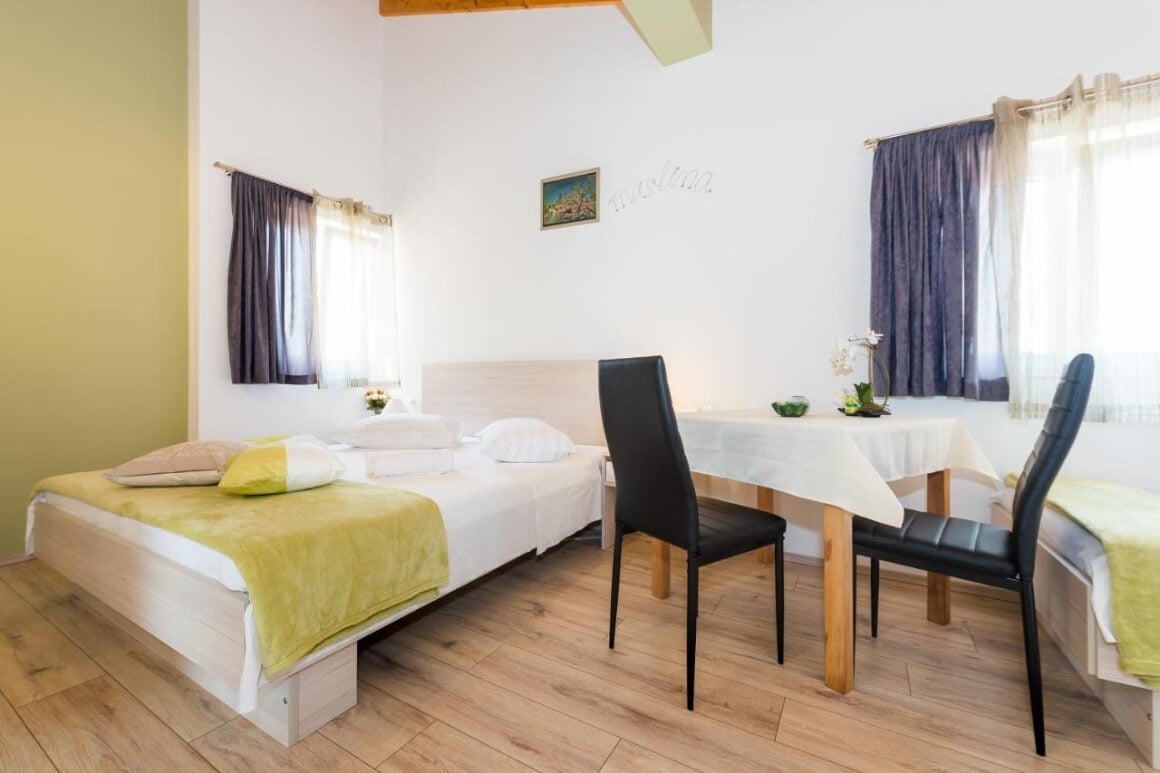 More of a guesthouse than a traditional hotel, Guesthouse Miranda is the spot to be if you want to be close to the famous waterfalls within the national park. The hotel is roughly 3 miles from the Skradin town center so bear that in mind when booking. My honest opinion is that you won't be missing much by not staying in the actual town.
Want to save the world?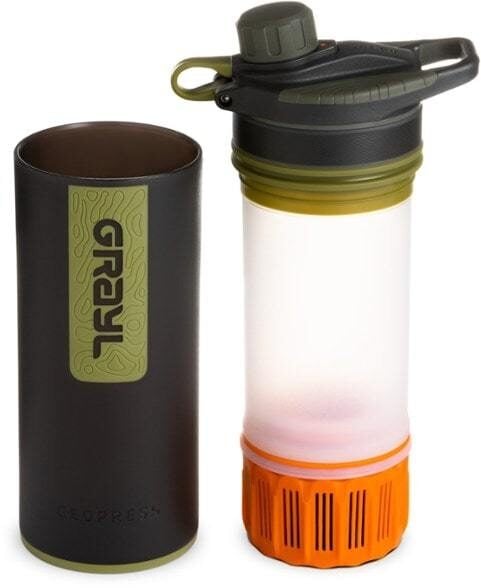 Single-use plastic bottles are a huge threat to Marine Life – Be a part of the solution and travel with a filter water bottle.
The GRAYL GEOPRESS water bottle is the ONLY all-in-one filter water bottle setup you'll need. Whether you need to purify the water from a hostel sink in Kathmandu or a stream trickle in the Andes, the Geopress has got you covered.
Read our full review of the GRAYL GEOPRESS!
Pula – Best Place to Stay in Croatia for Roman History Nerds
Like many other places in Croatia, Pula has quite the storied past. Pula has been occupied, besieged, pillaged, flattened, and rebuilt many times over the centuries. The Romans, Ostrogoths, and Venetians, as well as the Allied Forces during World War II, have each occupied and governed the city. Incredibly, through all of this turmoil and change, much of the stunning Roman ruins remain intact.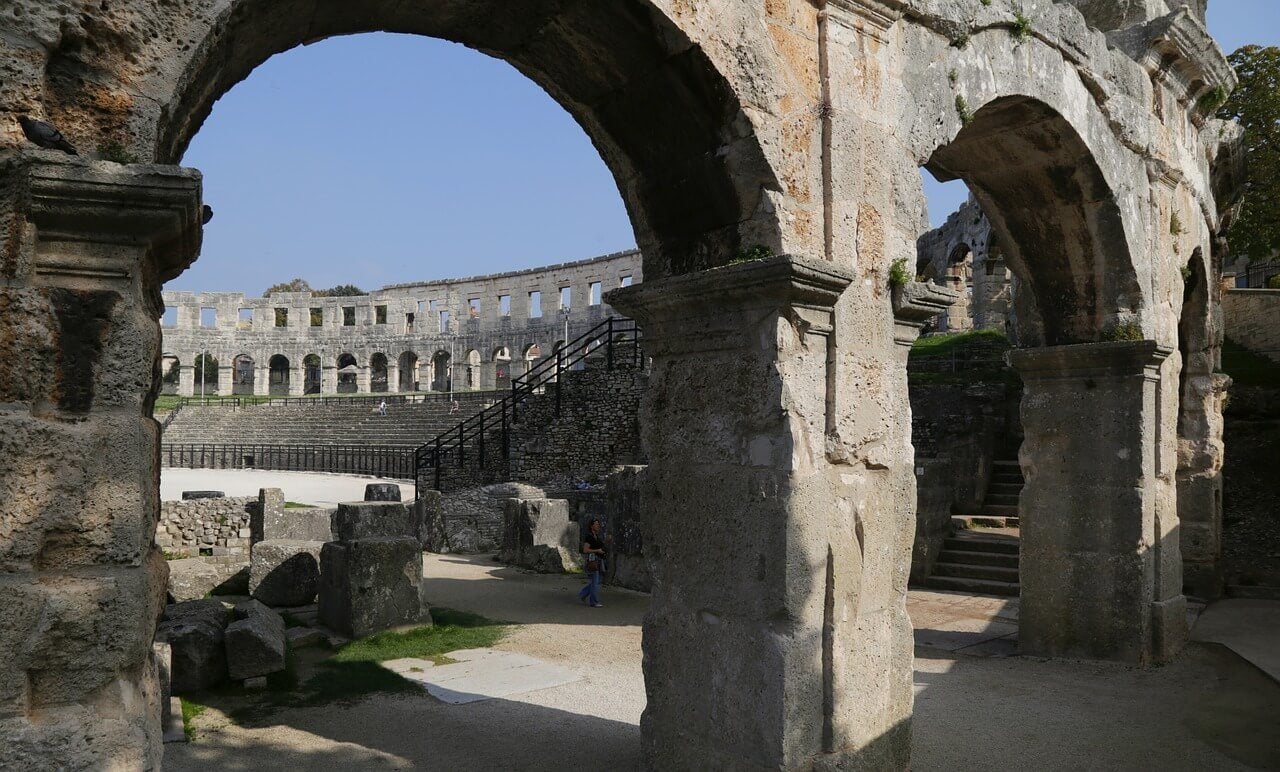 Pula is home to one of the best-preserved Roman-built gladiator arenas to be found anywhere on earth. The Arena is the only remaining Roman amphitheater to have four side towers and with all three Roman architectural orders entirely preserved. It was constructed in 27 BC – 68 AD and is among the world's six largest surviving Roman arenas.
If that doesn't tickle your Roman history fancy, nothing will. The Arena is not the only Roman-era highlight to be found in Pula. The Temple of Augustus and the Arch of Sergii are also worth a look.
As Dubrovnik and Split are the popular coastal towns in the south, it's Zadar and Pula which are popular in the north. Tourist traffic picks up here in the summer, so you'll need to be strategic when selecting where to stay in Pula.
Best Places to Stay in Pula
Pula is somewhat sprawling so you need to be a bit strategic regarding where you intend on staying based on what you want to do. Obviously, budget is a factor as well. Since so many of the attractions of Pula are in or around Old Town, it makes the most sense to sleep there.
Best Airbnb in Pula: Ancora City Apartment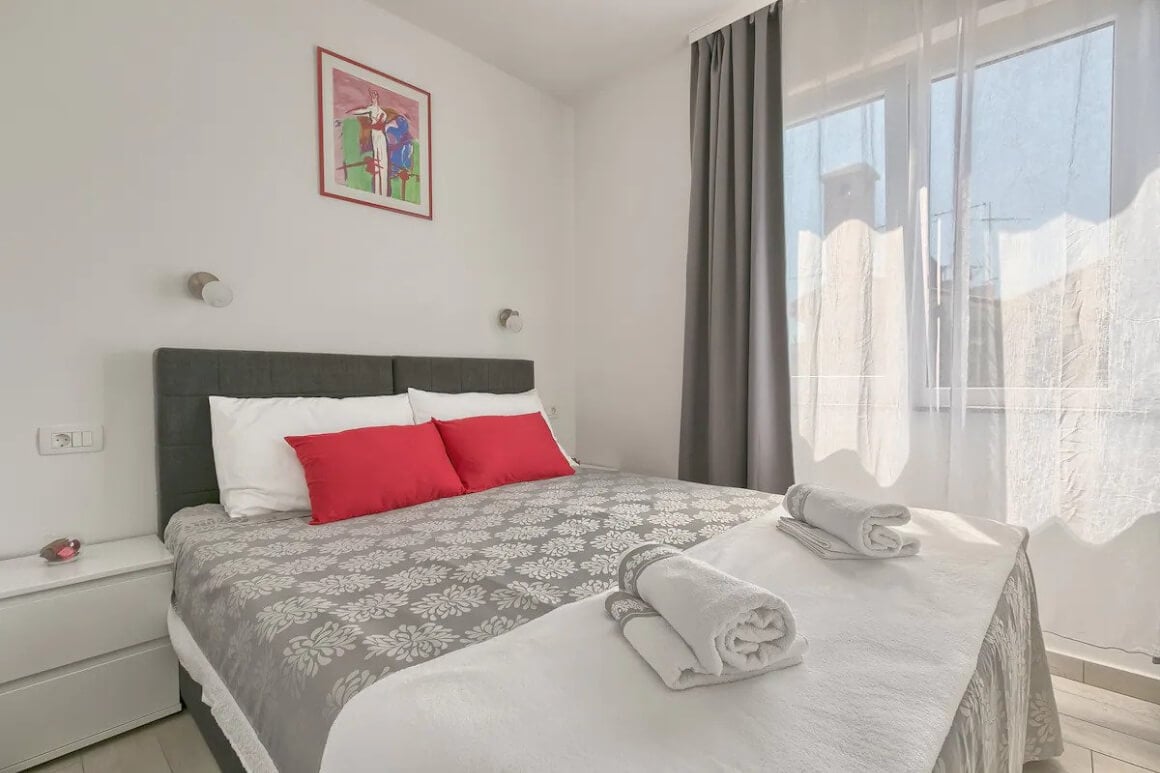 Perfect place for a couple, a small family, or a group of three-four friends. The rooftop terrace is the place to knock back a glass or two of chilled Croatian wine after a day of wandering around the splendors of the former Roman empire. If you want my honest opinion, this Airbnb is worth the price.
Best Hostel in Pula: Crazy House Hostel Pula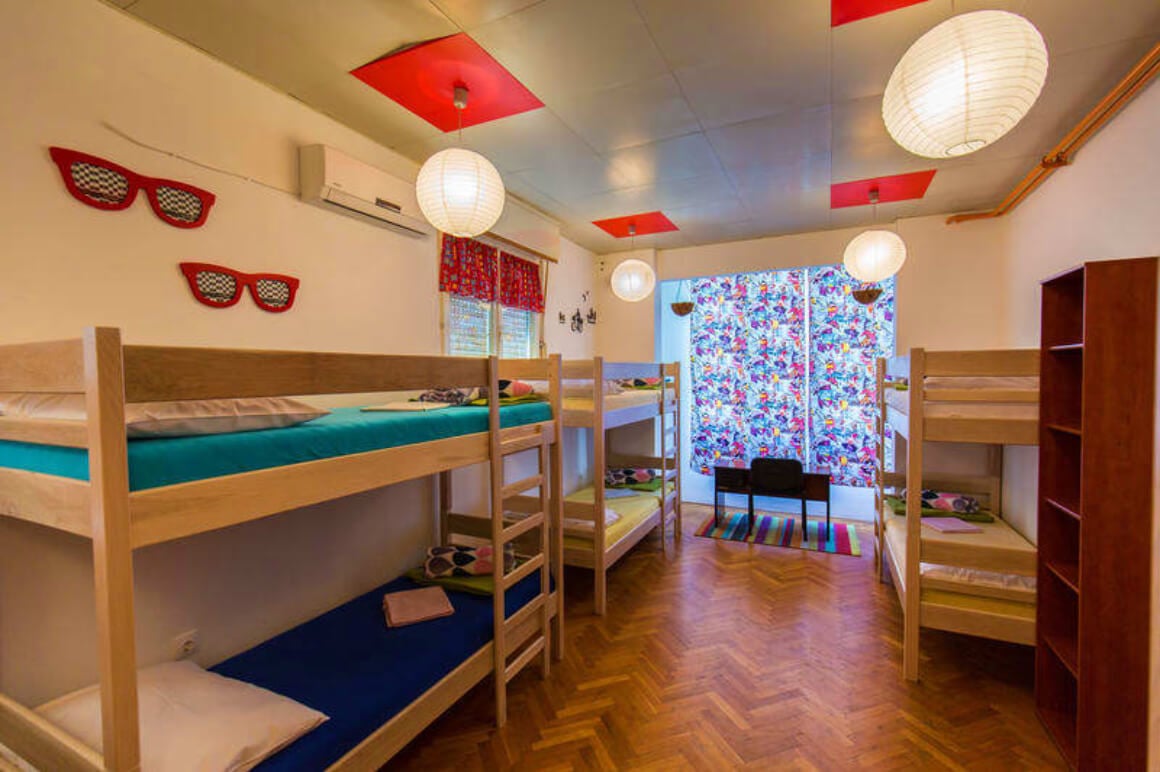 Alright, we are back on the proper hostel train. Crazy House is a fun backpackers hostel in Pula located in the heart of the best part of town. Dorms go for roughly $25 during peak season. Getting your Roman history rocks off is easy as the famous arena is only a three-minute walk away.
Best Hotel in Pula: Pula City Center Accommodation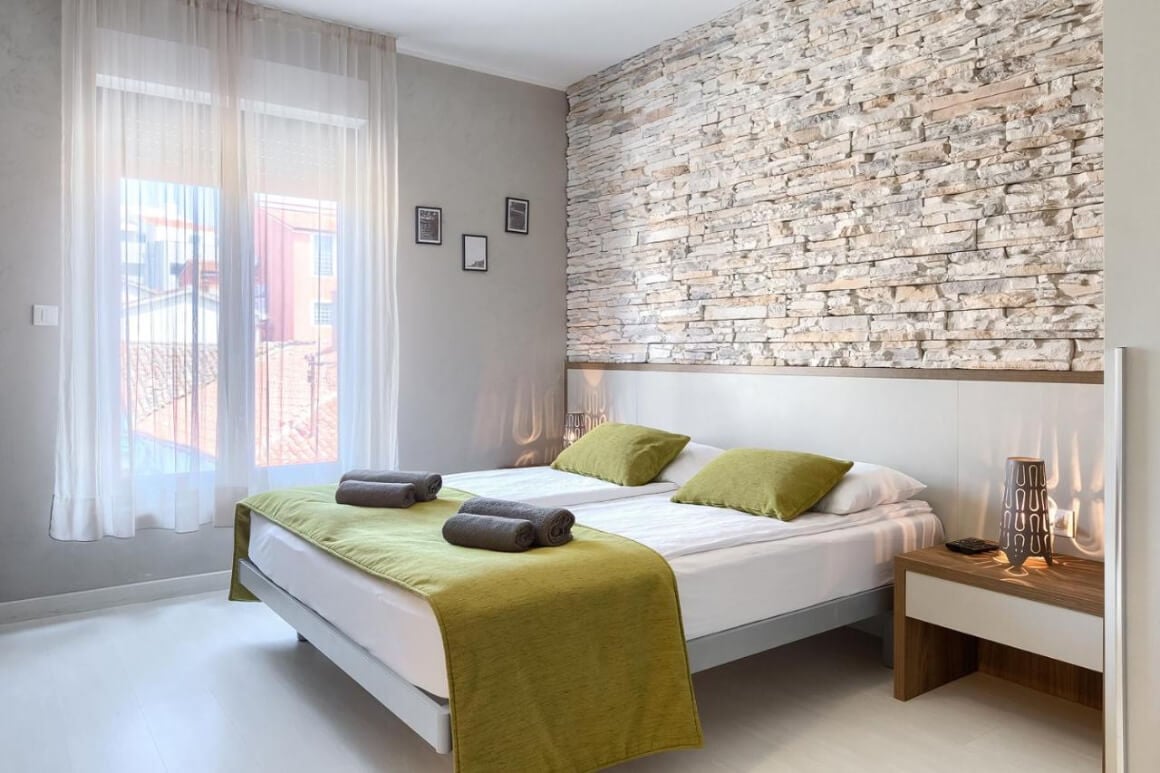 A great option for those traveling by car as you can utilize the free on-site parking. The rooms themselves are modern and clean, though they should have the exterior architect/designer stop building stuff as the building is pretty ugly. All of the important sites including the beach are walkable from this hotel.
Top Places to Stay in Croatia
Where you decide to sleep on any given travel adventure makes a difference both to how you rest in between busy days and how you come to experience a city or place. Why sleep just anywhere when you could be sleeping in the best places in town?
Here is a refresher of my top picks for the best places to stay in Croatia:
Best Airbnb in Croatia: Ancora City Apartment – Pula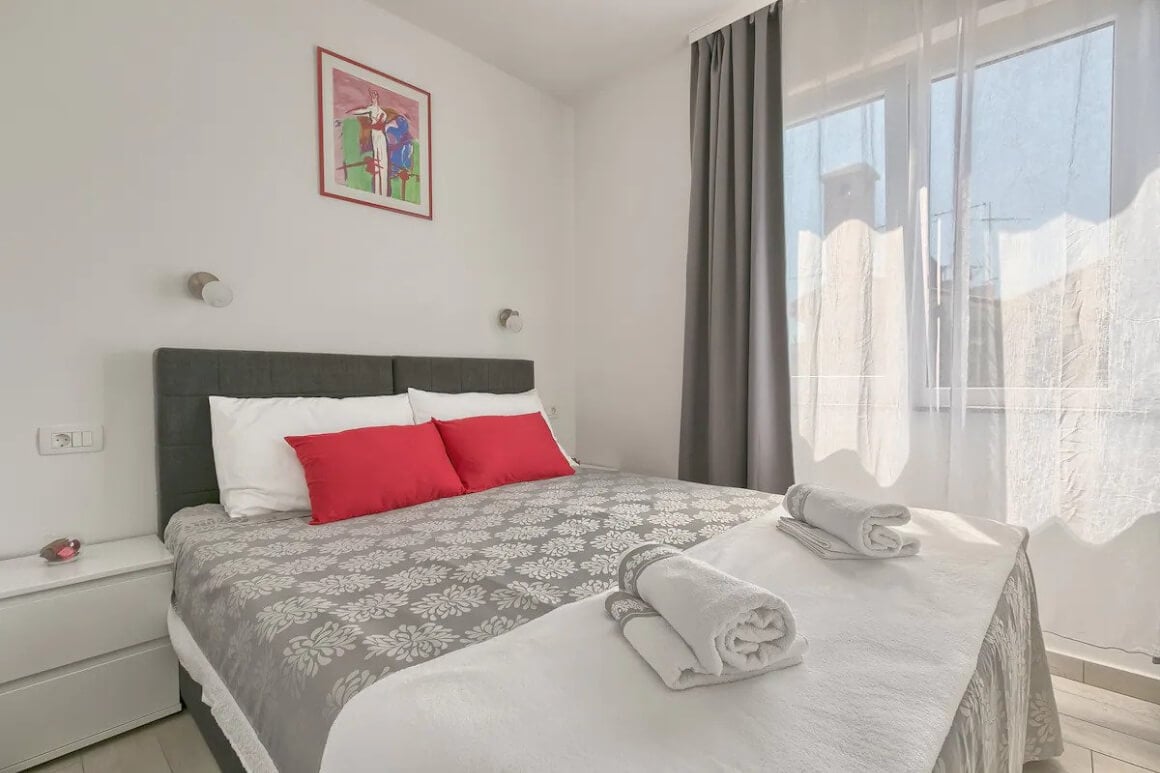 Perfect place for a couple, a small family, or a group of three-four friends. The rooftop terrace is the place to knock back a glass or two of chilled Croatian wine after a day of wandering around the splendors of the former Roman empire. If you want my honest opinion, this Airbnb is worth the price.
Best Hostel in Croatia: Hostel Angelina Southern – Dubrovnik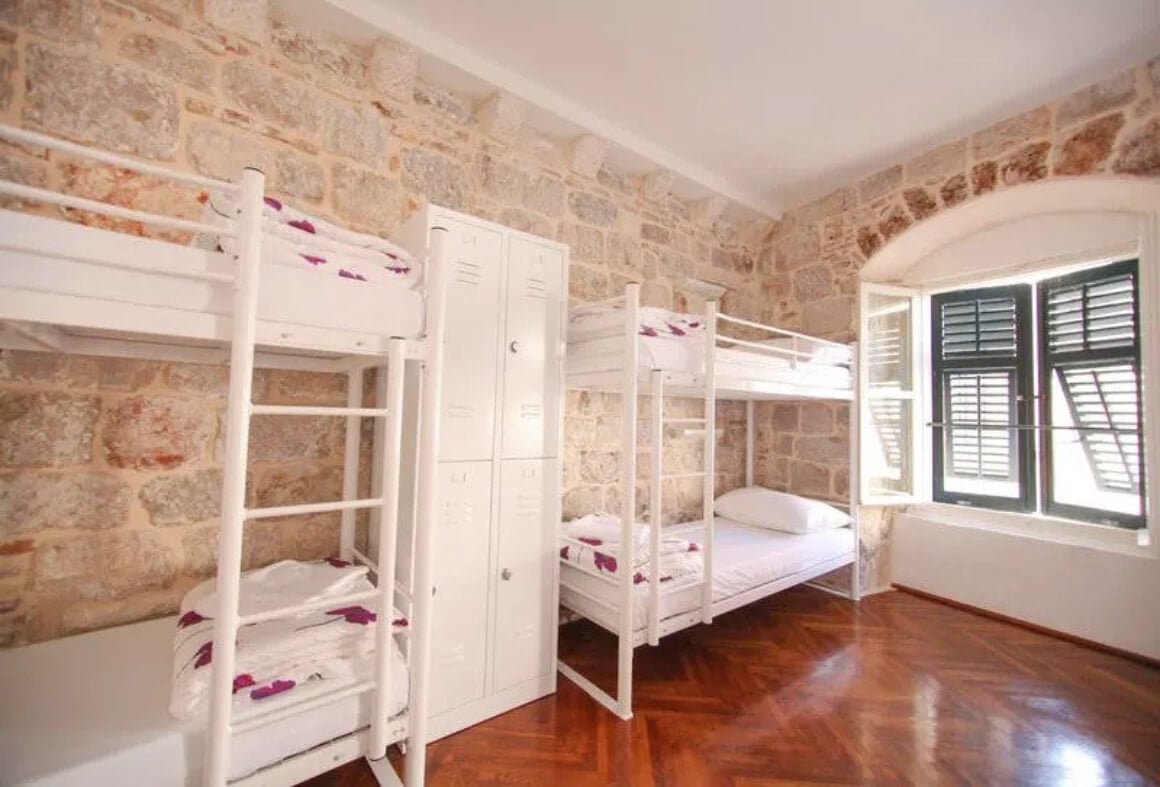 Hostel Angelina has the perfect blend of atmosphere, location, and character. For travelers looking for more than the average dorm room sleeping experience, Hostel Angelina merits a visit.
Not convinced of this one? Here are some more amazing hostels in Croatia!
Best Hotel in Croatia: Split Inn Apartments – Split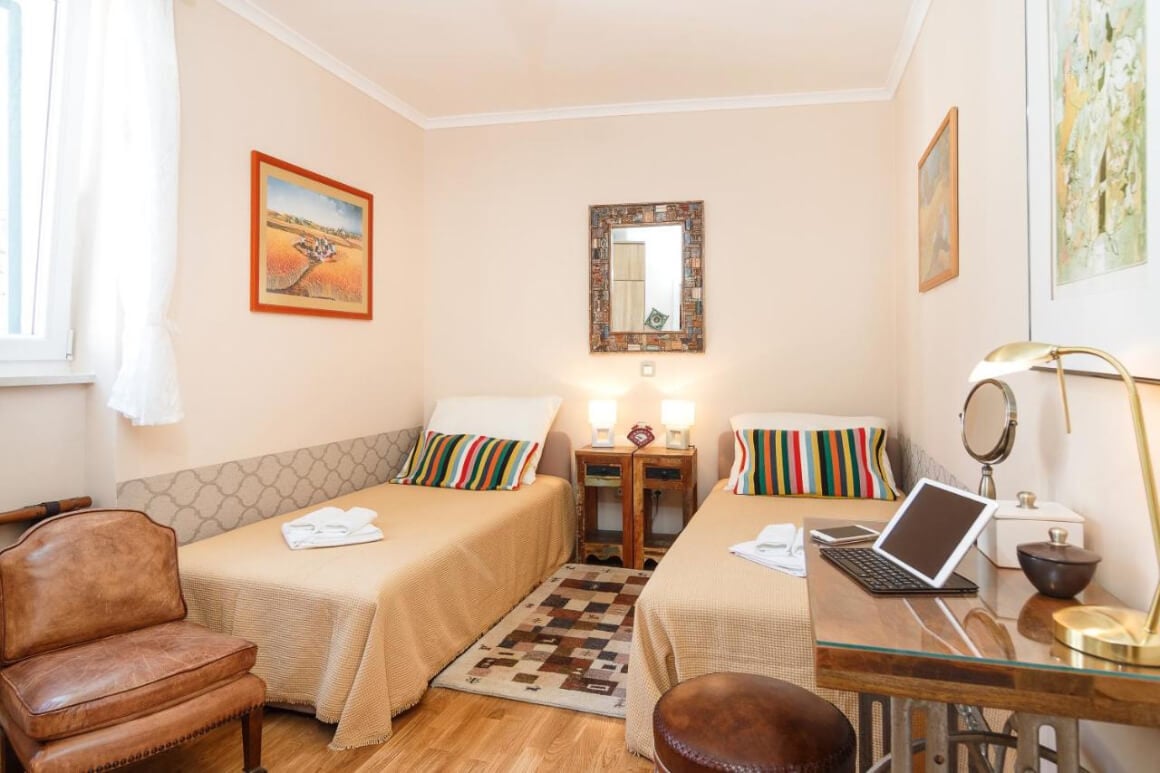 Admittedly, I tend to stay at hotels the least while traveling. That said, the hotel-apartment hybrid vibe of Split Inn Apartments means that this place can hold its own against all of the sexy Airbnb flats in the city. Plus you are a stone's throw away from the Old Town. It doesn't get any more central than this.
Books to Read Whilst Visiting in Croatia
Here are some of my favorite books books set in Croatia: 
The Backpacker Bible – Get it for free! Learn how to ditch your desk and travel the world on just $10 a day whilst building a life of long-term travel with an online income. To inspire and help the next generation of Broke Backpackers, you can now grab 'How to Travel the World on $10 a Day' for free! Get your copy here. 
The Hitman's Guide to Housecleaning: With some 66 hits under his belt, Tomislav, or Toxic, has a flawless record as hitman for the Croatian mafia in New York. That is, until he kills the wrong guy and is forced to flee the States, leaving behind the life he knows and loves. 
Cafe Europa: Life After Communism: In this brilliant work of political reportage, filtered through her own experience, we see that Europe remains a divided continent. In the place of the fallen Berlin Wall, there is a chasm between East and West, consisting of the different way people continue to live and understand the world.
A Traveller's History of Croatia: A Traveller's History of Croatia offers tourists and travellers an inside look at how the country's cultural fusion of Mediterranean, Central European, and Balkan influences has given to a tumultuous past.
Croatia: A Nation Forged in War: From the ashes of former Yugoslavia an independent Croatian state has arisen, the fulfillment, in the words of President Franjo Tudjman, of the Croats' "thousand-year-old dream of independence.
Our Man in Iraq: "Robert Perisic depicts, with acerbic wit, a class of urban elites who are trying to reconcile their nineties rebellion with the reality of present-day Croatia. . . . The characters' snide remarks could easily sound cynical but the novel has a levity informed by the sense of social fluidity that comes with democracy." —The New Yorker
Croatia Lonely Planet: Lonely Plant usually has something helpful to contribute to any adventure.
Final Thoughts on Where To Stay in Croatia
Croatia's cities, islands, and countryside are among some of the most visually and culturally appealing locations one can visit in Europe. From the white marble streets of Dubrovnik to the art-smattered hipster dens of Zagreb, some of the top places to stay in Croatia are now at your fingertips.
I enjoyed the vastly different spaces I slept in throughout my trip. On the coast, things are fancier, newer and generally cost more. The interior of the country felt forgotten about and offers a glimpse of what non-touristy/post-Yugoslavia Croatia really feels like.
Wherever you plan to go on your trip, you have a tidy list of the best places to stay in Croatia. You're welcome!
If I had to pick one single favorite place, seriously stay in that Jacuzzi flat in Zadar— as that amigos is Croatia accommodation at its finest. Even the saltiest backpacker deserves a little epic rooftop jacuzzi action now and then.
Do you own or run a kick-ass hostel? Want to be featured on this list? Get in touch at [email protected]
Don't Forget Travel Insurance for Croatia
And don't forget to take out Travel Insurance for your trip! I have been using World Nomads for some time now and made a few claims over the years. They're easy to use, professional and relatively affordable. They may also let you buy or extend a policy once you've started your trip and are already abroad which is super handy.
Getting an estimate from World Nomads is simple – just click the button or image below, fill out the necessary info, and you're on your way!

---
Find out how YOU can support the site.
We're a big site with a big team and this job isn't always easy. But we do it because we love it – we love providing epic and free content. We love the knowledge that our content keeps you adventuring. We don't ask for money, but if you'd like to find out how you can help the site in more organic ways, click the button below.
Thank you for your support 🙂
And for transparency's sake, please know that some of the links in our content are affiliate links. That means that if you book your accommodation, buy your gear, or sort your insurance through our link, we earn a small commission (at no extra cost to you). That said, we only link to the gear we trust and never recommend services we don't believe are up to scratch. Again, thank you!