Travel
Nashville Travel Guide (Tips + MORE for 2021)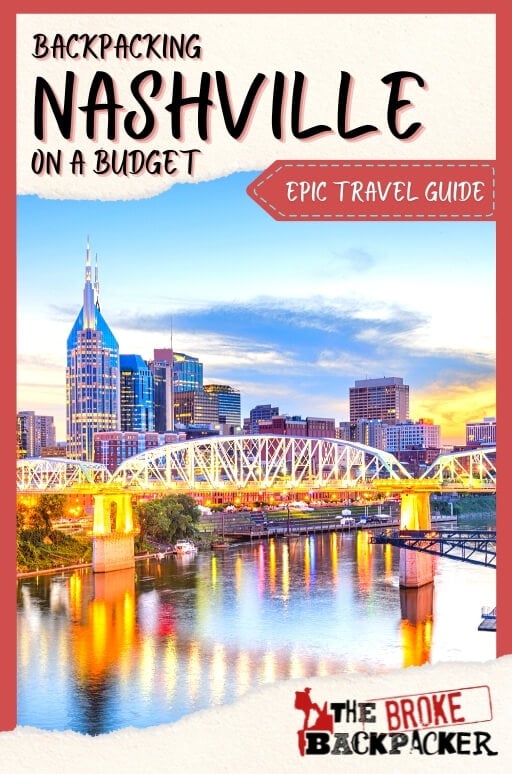 In this Nashville travel guide, I'm going to cover all of the best travel tips and budget hacks for your next trip to Music City.
If you love live music and partying like a rock star, then you'd better get your ass to Nashville. While it's a city best known as the "Country Music Capital of the World," the capital of Tennessee attracts much more than country music. On any given night out in Music City, you're just as likely to find live hip hop, rock, or electronic music as you are country.
Of course, country music is definitely still a cornerstone of local Nashville culture. With sights such as the Country Music Hall of Fame and the Johnny Cash Museum, Nashville is the perfect place to learn all about this famous style of American music.
We'll touch on Country music and all music for that matter in this comprehensive Nashville travel guide.
In the last decade, Nashville has become one of the trendiest and best places to visit in the United States. The music industry isn't the only player in town these days, as Nashville is now home to substantial tech, automotive, health care, and tourism industries as well.
This new boom has made Nashville one of the fastest growing cities in the country.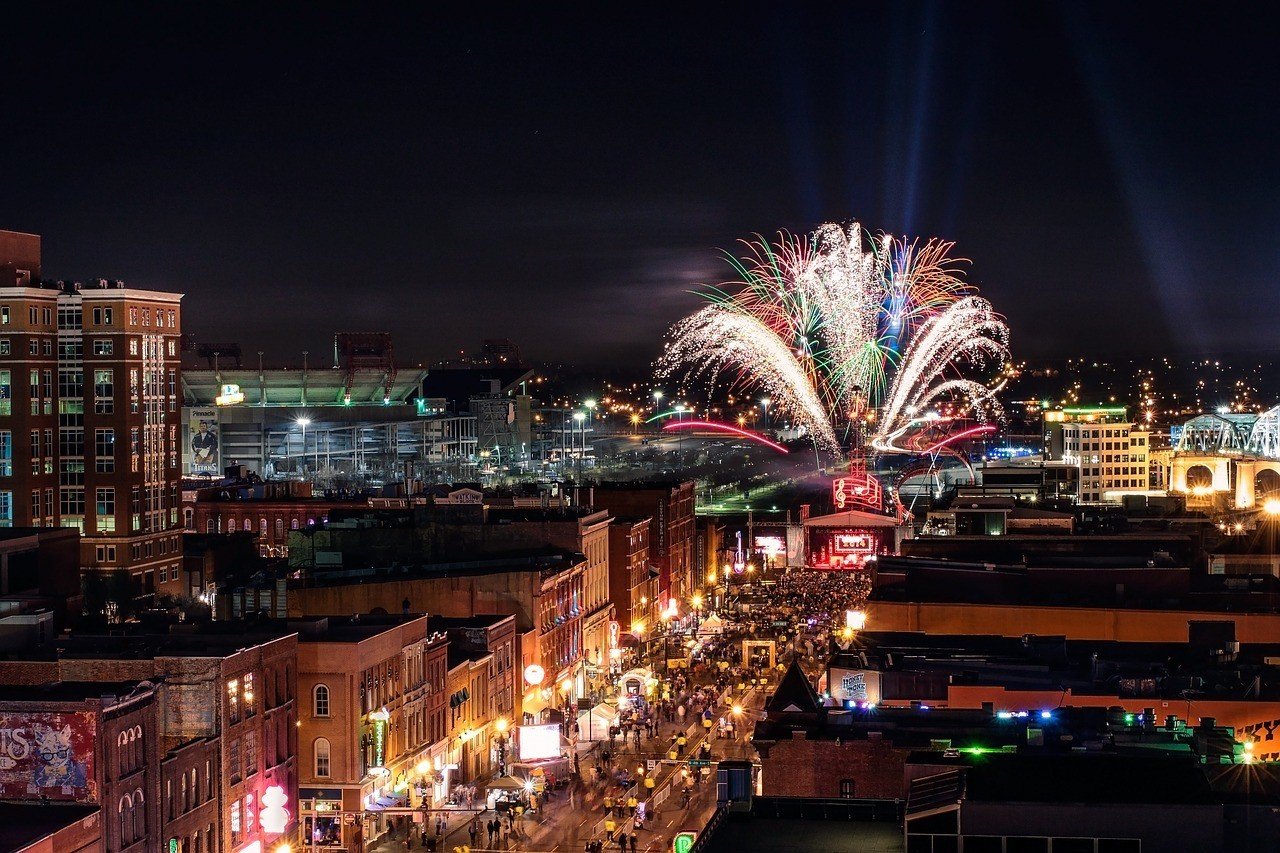 If you're planning to visit Nashville, you should also dive into the city's awesome sport and culinary scenes. Get ready to set your taste buds ablaze with some hot chicken before you cool down with a beer at a beloved hockey team.
And yes, with so many musicians and venues in town, it should come as no surprise that Nashville is a city that likes to get down. Whether you're "honky-tonking" up Broadway, sampling a flight in a craft brewery, or slamming down whiskey drinks in a dive bar in East Nashville, you're bound to have a good time in Music City.
In this Nashville travel guide, we'll take a look at the best things to do, plan out an awesome weekend itinerary, and share some insider tips about how to stretch your budget in Nashville TN.
If you're ready to plan a Music City getaway, let's rock!
1. Hear live music
Without a doubt, the best thing to do in Nashville TN is to get out there and see some live music. I mean, the place is called Music City for a reason! No matter what night of the week it is, you can find plenty of shows going on in Nashville.
Nashville venues come in all shapes and sizes and you can find live music from just about every genre under the sun. Check the calendar for upcoming concerts and plan your trip around seeing shows.
2. Learn about country music
It's not all about country music in Nashville these days, but there's no denying its importance in the city's history and culture. You've got plenty of options to learn all about this famous genre of music, including the Country Music Hall of Fame and the Johnny Cash Museum. Surely, no Nashville itinerary is complete without immersing yourself in tragic country ballads?
3. Take a walking tour
The best way to get to know a new city is on a walking tour. Nashville is a great city to explore on foot, so lace up your walking shoes, grab your camera, and check out the highlights of Music City.
Those who prefer a DIY approach can follow one of two self-guided walking tours. Follow the link for a detailed description of both options. If you'd rather meet some people and hear about the city from locals, sign up for a Really Entertaining Tour. It's not just a clever name, as these tours are a ton of fun.
4. Tennessee State Capitol and Museum
Seeing as how you're in the capital city and all, you might as well learn a bit about Tennessee when you travel to Nashville. Head to the Tennessee State Capitol building first, and then check out the Tennessee State Museum in its nice new home.
Best of all, both are absolutely free! Great for those trying to visit Nashville on the cheap.
5. Grand Ole Opry
One quintessential Nashville attraction that you just have to visit is the Grand Ole Opry. It's been called the "home of American music" and is one of the most popular things to do in Nashville. This is the oldest continuous radio program in the US, dating all the way back to 1925.
You have several options for visiting the Grand Ole Opry. There are shows every Friday and Saturday night, as well as Tuesday nights from March to December. They also run a variety of tours if you want to learn more and get backstage.
6. Eat hot chicken!
When in Nashville, one must eat hot chicken. There's a lot of delicious food in the city, but this is definitely Nashville's signature dish. If you want to sample the best food that Nashville has to offer, consider embarking on a food tour to find the best hot chicken in town!
Some of the best places for Nashville hot chicken include Hattie B's and Prince's. A word of warning – even the medium flavor will light you up. Unless you're a masochist, I would advise against ordering above that.
7. See a game
If you're a sports fan, you should definitely add seeing a game to your list of things to do in Nashville. The city is home to two different professional sports teams – the Nashville Predators (NHL) and the Tennessee Titans (NFL). People are passionate about their sports and the games are a lot of fun to attend.
In addition to the pro teams, you can also watch the Nashville Sounds (minor league baseball) or check out some of the nearby college teams.
8. Visit the Hermitage
History buffs will want to check out the Hermitage, which is the former home of Andrew Jackson. The 7th President of the United States retired here after his time in office and actually died here in 1845. Take a tour of his mansion and learn all about the "People's President."
9. Get outdoors
If the weather is nice, you should definitely spend some time outdoors when you travel to Nashville. The city is home to over 100 parks, so it's not hard to find a green space to enjoy.
One of the best choices for getting outdoors in Nashville is Centennial Park. This large city park is home to a replica of the Parthenon, so you can experience a little bit of Greece in Middle Tennessee!
10. Indulge in the nightlife
I've said it before and I'll say it again – Nashville knows how to party. The city is full of awesome breweries, dive bars, cocktail lounges, speakeasies – you name it.
It's super touristy, but doing the honky-tonk bar crawl up Broadway can be a lot of fun. After several whiskey drinks, you just might want to get up and dance on the bar at Coyote Ugly. Go ahead, I won't judge.
Best Free Things to do in Nashville
This wouldn't be a good Nashville travel guide if we didn't tell you about some of the best free things to do in the city. Broke Backpackers everywhere will be happy to learn that there are quite a few things you can do that cost absolutely nothing in Music City!
TN Capitol and Museum: As I mentioned above, the Tennessee State Capitol building and museum are both totally free to visit. Visiting both will take up half a day, so you can then take your daily budget and blow it all on hot chicken and booze.
Take a free walking tour: Explore Music City with a local guide on one of the awesome free walking tours. Of course, you should remember that guides work for tips, so don't be a cheapass!
Local parks: A walk in the park is beneficial in so many ways. Breathe some fresh air, get some exercise, and don't spend any money!
Free concerts: Not all concerts in Nashville have a huge cover charge. It's easy to find live music for free, especially during the week. Of course, you should always buy drinks and tip your bartenders/the band, but at least you got in the door for free!
For some other free/budget things to do in Nashville, check out this post.
Nashville off the Beaten Track
Most tourists who travel to Nashville barely get out of downtown. To be honest, there's more than enough to do there to keep you busy for a couple of days. You really don't need to go anywhere else, but here are some options for those looking to experience a more local side of Nashville:
East Nashville: Those looking for a more laid-back, artsy vibe can head across the Cumberland River from downtown to check out the Five Points neighborhood of East Nashville. Stroll around here for a few hours to take in the street art, peruse the quirky shops, or grab a drink in one of the many cool bars where you'll find far more locals than drunk bachelorette parties.
Hop on a bike: The extensive park system in Nashville is mostly all connected via a greenway, so you can hop on a bike downtown and ride out to peaceful green spaces on the outskirts of town.
Radnor Lake State Park: If you've got a car or don't mind the hour-ish bike ride, Radnor Lake is a great place to escape the touristy downtown scene. In addition to the small and scenic lake, this park boasts several different hiking trails.
Where to Stay in Nashville
Nashville isn't a huge city, so you don't have to spend as much time thinking about where to stay in Nashville as you would in places like New York or LA. Where you stay in Nashville will mostly depend on your budget and whether you have a car.
If you're hoping to visit Nashville on a budget, then you'll probably want to book a dorm bed in one of the hostels. One is Downtown and the other is in Midtown. They're both run by the same crew and have solid reviews from other backpackers.
Staying in either hostel is affordable and much more fun than staying in some dingy motel room on the outskirts of town. Nashville also has some awesome cabins and treehouses on offer as well as vacation rentals for a memorable stay.
While you can find private rooms for the same price as a dorm bed, you'll waste a lot of time and money traveling to and from the city center. Best to stick with the hostels if you're traveling solo.
Nashville Downtown Hostel is located on the Cumberland River right in the heart of Downtown Nashville. This hostel is definitely your best option!
They have space for 300 guests, so it's a great place to meet people. This hostel includes chill-out areas, pool & foosball tables, instruments you can jam on (this is Music City, after all), a fully stocked kitchen, and laundry services.
If you want some privacy then check out our epic guide to the best Airbnbs in Nashville.
Nashville accommodation travel hacks
Sorry, guys, but I don't have much for you here. There are only two hostels in Nashville and they're both run by the same people. If you're a backpacker looking to visit Music City on a budget and meet people, your best bet is definitely booking one of these places.
That being said, it's always worth it to jump on Couchsurfing if you have an account. You might find a place to crash, and if not you might be able to link up with some cool locals who will take you out.
If you can't find a CS host and you're not into sleeping in a dorm room, take a look at Airbnb. There are plenty of people renting out their spare rooms or even their pull-out couch for a reasonable rate.
3-Day Nashville Itinerary
With 3 days in Nashville, you can cover some serious ground. That's just enough time to hit a lot of Music City's highlights during the day and then rock out and party down at night. Here's a Nashville weekend itinerary to help you make the most of your trip.
Day One in Nashville: A Very Tennessee Day
Since you're in the capital of Tennessee, you might as well spend some time getting to know this famous southern state. On day 1 of this Nashville travel guide, check into your accommodation and then head over to the Tennessee State Capitol.
It's only open from Monday-Friday, so that's why I'm including it as your first stop on this Nashville weekend itinerary.
This historic landmark was designed in the Greek Revival style by architect William Strickland. Unfortunately, he died before the building was complete. According to his wishes, he was actually buried in the north facade of the building.
There are free building tours every hour except noon from 9AM-3PM, so be sure to sign up for one to make the most of your trip there. It's one of the oldest capitol buildings in the country and a fascinating place to visit.
While you're over here, you might as well check out the Tennessee State Museum. To get there, just walk from the Capitol through the park.
Great news for Broke Backpackers everywhere – the museum is also totally free! They've got several excellent permanent exhibitions here, including one on the first peoples of Tennessee and one on the Civil War and reconstruction.
Along the way, you may want to make a brief detour to take a stroll through the Nashville Farmer's Market. If you're feeling hungry, you've got lots of choices for lunch here.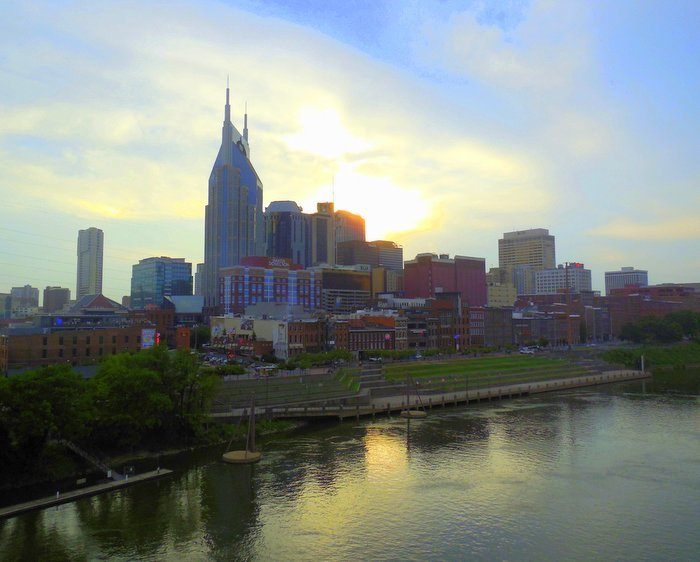 Just across the street from the museum is an area known as Germantown. If you're feeling that afternoon slump, take a break and get your quick caffeine fix at one of the many coffee shops.
If you're a sport's fan, you may want to check and see if either the Nashville Sounds (minor league baseball) or Predators (NHL) have a home game.
The Sounds play between April and September and have home games very regularly, while the Preds are the opposite, with games between September and April. Chances are one of them will be home while you're in town.
Nashville also has a pro football team – the Tennessee Titans – but they only have eight home games a year and they're usually on Sundays. If they happen to be in town on the same weekend as you, I recommend going to the stadium to at least check out the tailgate.
Titan fans sure know how to party, so you'll have a good time even if you don't buy a ticket for the game!
Alright, kids, back to business. It's your first night in Nashville, which means it's time to set your taste buds on fire with some hot chicken.
I'm not going to proclaim to be a hot chicken expert, but I know that both Hattie B's and Prince's are top-notch choices for the fiery fowl.
I said it before and I'll say it again – even the medium is fucking hot. Unless you want to spend the next two days on the toilet, I wouldn't recommend going any levels above that for your first time!
You won't be the only person wanting some hot chicken on a Friday night, so expect to wait a while. If you go to the Hattie B's Midtown location, I suggest putting your order in and then heading next door to the Broadway Brewhouse to try their famous Bushwackers – a delicious frozen drink that's kind of like a Mudslide, but way better.
With some hot chicken and a Bushwacker or two in you, I'd say you're ready to party Nashvegas style. It's kind of a tourist zoo and not exactly my cup of tea, but I'm still going to point you in the direction of Broadway for your first night out on the town. Go get liquored up, ride mechanical bulls, and dance on tables. You won't be the only one doing it!
Day Two in Nashville: Exploring Downtown
On day 2 of this Nashville travel guide, it's time to hit the streets and see what Nashville has to offer. As I mentioned in the top things to do section, you can follow one of these excellent self-guided city tours.
Both tours start at Bridgestone Arena downtown, home to the Nashville Predators. While you're there, you might as well drop into the visitor center, which has a bunch of free maps and brochures that can help you plan your trip.
Each walking tour takes you to twenty different sites and historic districts. Whichever one you choose to follow will give you a great introduction to Music City. Be sure to take your time so you can read all the descriptions and really take it all in.
Along the way, there are plenty of places you can stop for a bite to eat or a cup of coffee. It being Music City and all, you might also want to drop into Ernest Tubb Record Shop to pick up some new tunes to bring home.
In the afternoon, you should definitely check out either the Country Music Hall of Fame or the Johnny Cash Museum. The former is much larger and has a lot more to see, so you'll need to budget a couple of hours if you go that route. It's worth it to pay the extra two bucks to get the audio guide in this huge museum.
Next up, be sure to take a stroll through the Music City Walk of Fame Park in the Nashville Music Garden. The star-studded pavement here honors music legends who have contributed to Nashville's musical history.
You have plenty of options for where to eat dinner downtown. Please skip out on the chain restaurants such as Hard Rock or Margaritaville.
You didn't come to Nashville to eat a shitty $20 burger, people. For local spots, you can try somewhere like Martin's Bar-B-Que Joint, known for its pit-fired whole hog.
Another good choice is Acme Feed & Seed. This multi-level restaurant and bar has a rooftop patio, creative cuisine, tasty cocktails, and live music. It's the perfect place to grab dinner and drinks and start the night.
On your second night in Nashville, get out there and see some live music! How you choose to spend your night depends on your budget and music taste. Between May and October, you can catch a show at the awesome Ascend Amphitheatre. It's one of my favorite outdoor music venues in the US.
Other options for live music in and around downtown range from the iconic Ryman Auditorium to bars like Bourbon Street Blues & Boogie and 3rd & Lindsley. In Music City, you shouldn't have a hard time finding somewhere you'll enjoy.
Day Three in Nashville: Sunday Funday
Chances are you stayed out until 3 AM rocking out, so go ahead and sleep in on your last day in Nashville. If you're looking for a Sunday brunch, well so are all of the other hungover people in Music City.
In my humble opinion, brunch is for suckers; just get a quick, greasy breakfast somewhere, pound a coffee, and start your day.
If it's a nice day, head over to Centennial Park. This large green oasis in the city has plenty of walking paths, gardens, and even a full-scale replica of the Parthenon, complete with a statue of Athena. It's the reason for Nashville's nickname, "The Athens of the South."
You can easily spend a few hours just enjoying the park. Those who want to see a bit more of Nashville have a few options. You can walk around the famous Vanderbilt University campus, for example. There are plenty of places to grab lunch around here, or possibly a Bloody Mary if you need one…
Another option is to explore the Belmont Mansion. This historic mansion was built as a summer home for a very wealthy cotton heiress and her husband. Those interested in history, architecture, and art will enjoy taking a tour of this beautiful property.
For your last night in Nashville, it's time to go out for some classic Southern food. Several of my local friends told me to include Arnold's in this Nashville travel guide, so that's where I'm going to send you.
They've been serving up the classic "Meat & 3" in Music City for over 30 years. That is, you choose a meat dish and then three sides. A solid dinner of soul food is just what you need after a big weekend in Nashville.
If you're not in too big of a food coma and you still have some energy to burn, the world is your oyster. Even on a Sunday night, people are out and about seeing live music and raging in Nashville.
Take your pick from the countless breweries, dive bars, and music venues if you've got one more night on the town in ya.
How Much does Travelling Nashville Cost?
When it comes to American cities, Nashville offers great bang for your buck. It's much easier to do Nashville on the cheap than it other American cities like San Francisco or Chicago.
The city has a couple of options for backpacker accommodations, cheap public transportation, and plenty of free activities you can take advantage of.
It's possible to get by in Nashville with a daily budget of just $50-60, but in order to do that, you need to find a friend's couch or a host on Couchsurfing. This would also limit what you can see and do in the city, as you wouldn't really be able to do much in terms of sightseeing.
A more realistic estimate for a Nashville budget is $90-100 a day. With this budget, you can book a dorm bed in a hostel or an apartment with some friends, pay for one big-ticket item each day, and go big on at least one of your night's out. After all, you didn't come all the way to Music City to sit around your room!
Below I have provided a closer look at what you can expect to pay for things when you travel to Nashville!
Daily Costs in Nashville
Nashville Daily Budget

| Expense | Broke Backpacker | Frugal Traveller | Creature of Comfort |
| --- | --- | --- | --- |
| Accommodation | $40 | $60 | $140 |
| Meal | $8 | $12 | $20 |
| Transport | $2.50 (intercity bus) | $6 | $15 (Taxi) |
| Nightlife | $20 | $28 | $60 |
| Activities | free (walking and free stuff) | $15 | $50 |
Nashville Budget Travel Tips
While Nashville is a pretty affordable city compared to other cities in the US, it's still easy to burn through your money.
Here are some travel tips for visiting Nashville on a budget:
Stay in a hostel: Thanks to the development of Nashville as a major tourist destination, the city is now home to a few backpacker-friendly hostels. Skip out on the bland chain hotels and save a ton of money by booking a dorm bed instead.
Hop on the bus, Gus: Sure, ride-sharing companies are operating in Nashville, but you can save more money for music and booze by riding the bus instead. Since a day pass only costs $3.25, it's great for your budget.
Take advantage of free activities: Give yourself a walking tour of downtown, hang out in the city's beautiful parks, and even catch some free concerts. You can keep yourself entertained without emptying your wallet in Nashville.
Be a Happy Hour Hero: Going out to an after-hours party is fun, but also expensive. Find the best Happy Hour deals to ensure you get a buzz on without a massive tab.
Fill your water bottle: Bringing a water bottle with you when you travel is a great way to save money and the Earth. Pack a travel water bottle and save money every day!
Want to save the world?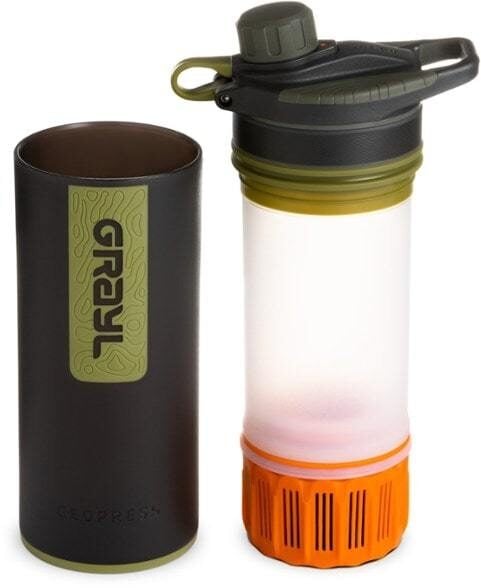 Single-use plastic bottles are a huge threat to Marine Life – Be a part of the solution and travel with a filter water bottle.
The GRAYL GEOPRESS water bottle is the ONLY all-in-one filter water bottle setup you'll need. Whether you need to purify the water from a hostel sink in Kathmandu or a stream trickle in the Andes, the Geopress has got you covered.
Read our full review of the GRAYL GEOPRESS!
Best Time to Visit Nashville
Nashville is a great destination year-round, but the best time to visit is between April and October. While it can get pretty hot and muggy in the middle of the summer, there's a lot going on in the city. Plus, you can always cool down indoors at an air-conditioned place.
Winter isn't terribly cold in Nashville, but it's not exactly pleasant enough to spend a lot of time outside. That being said, the holiday season is quite festive in Nashville. Christmas and New Year's are both pretty fun times to be in the city.
Getting in and out of Nashville
Most travelers will probably arrive at Nashville International Airport (BNA). You can find direct flights to Nashville from several cities across the US. For international destinations, you can fly to and from places like London, Toronto, and Cancun.
The airport is about a 15-20 minute drive from the city center. If you're balling on a budget, you can catch a bus for just $1.70. Just make sure you have the cash to pay your fare.
You could also catch a bus to/from Nashville using Greyhound or Megabus. A word of warning – riding the Greyhound in Tennessee is a very, shall we say, interesting experience.
If you book the Megabus early, you can score super cheap fares to or from a few other major cities like Chicago or Atlanta. I much prefer Megabus, as it tends to cater to students and travelers versus crackheads.
How to get around Nashville
Nashville isn't exactly killing it in the public transportation department. There are several bus routes running, but these might not be of much use to you as a traveler.
Google Maps knows the bus routes in Nashville, so be sure to check that to see if you can catch one. It costs $1.70 per ride or $3.25 for a day pass.
You can pretty much walk everywhere downtown. Nashville is a pretty compact city, so you don't need to cover a ton of ground to see the sights. There are a few places in town where you can rent bikes if you'd like to cycle instead.
Rideshare apps are super popular in Nashville. Make sure you download Uber and Lyft on your phone to make it easy to catch a quick ride when you need one.
What To Eat in Nashville
When it comes to eating out in Nashville, you've got to go for the trifecta of hot chicken, BBQ, and Southern soul food. Here are recommendations for all three – Hattie B's, Martin's Bar-B-Que Joint, and Arnold's.
There are tons of other restaurants in Nashville cooking up all kinds of cuisine if you need to try something else. Just please don't come all the way here and eat shitty fast food or in garbage chain restaurants.
When in doubt, ask a local where they like to go. I asked over a dozen Nashville-based friends, and here's a list of places they gave me for this Nashville travel guide:
Brown's Diner (American)
Taqueria del Sol (Mexican)
5 Points Pizza
Five Daughters and Jeni Ice Cream
Siam Cafe (Thai)
Athens (Greek)
Vihn Long (Vietnamese)
Avo (Veg)
Graze (Veg)
Le Skewer (Mediterranean)
Acme Feed & Seed (American/BBQ)
The Southern (BBQ)
Fin and Pearl (Seafood)
Southern Steak and Oyster
Puckett's (Southern)
Sunflower Cafe (Veg)
Wild Cow (Veg)
Woodlands Vegetarian Indian (Veg)
Southern C (Veg)
It's not hard to find a good cup of coffee in Nashville. There are plenty of excellent cafes to get your caffeine fix and work on writing that hit tune that'll make you a star in Music City.
If you're into craft beer, there are plenty of places you'll want to check out in Nashville as well. Three spots that come highly recommended are Bearded Iris, Black Abby, and Wise Acre.
Nightlife in Nashville
In a city full of musicians, it should come as no surprise that there are countless places to wet your whistle. In addition to the infamous honky-tonks, Nashville has craft breweries, speak-easies, cocktail lounges, dive bars, and everything in between.
Much of the nightlife in Nashville is centered around Broadway. This street is full of said honky-tonk bars and it draws quite the crowd, especially from Thursday-Saturday. Bar hopping along Broadway is a favorite pastime of tourists who visit Nashville; locals, not so much.
For a more local scene, you can head out in areas like East Nashville, the Gulch, or Midtown. Once again, I asked my local friends to recommend some bars and music venues for this Nashville travel guide. Here's what they gave me:
Exit Inn
Station Inn
3rd and Lindsley
Grimey's
Donks
Basement East
Rudy's Jazz Room
Melrose Pool Hall
Spring Water
Twin Kegs
Blackstone
When I lived just down the road in Murfreesboro, I was kind of down and out, to be honest (thanks a lot, economic crisis!). The only saving grace of my time spent there was being able to go out in Nashville on the weekends with a bunch of awesome people to see music.
Since I moved to China to teach English many years ago, I still miss Nashville's live music scene. This place deserves its nickname – it has one of the best music scenes in the world. Even if all you do in Nashville is stay out until 3 AM every night partying and seeing music, it will be a successful trip.
Safety in Nashville
Nashville is one of the safest big cities in the US. You don't need to be nearly as concerned when out and about here as you would be in places like my hometown of Detroit or bigger cities like LA.
With the rapid development and resulting gentrification, many areas that were once thought of as dangerous are now totally fine.
Your biggest concern should be petty crimes, like pick-pocketing, or getting too drunk and losing your shit at a bar.
One thing I will mention is that people are notoriously bad drivers in Nashville, so be careful if you rent a car. I just read a story that said the crash rate in Nashville was ten times higher than the population growth last year. So yeah, it's probably best to stay off the road there.
Travel with peace of mind. Travel WITH a security belt.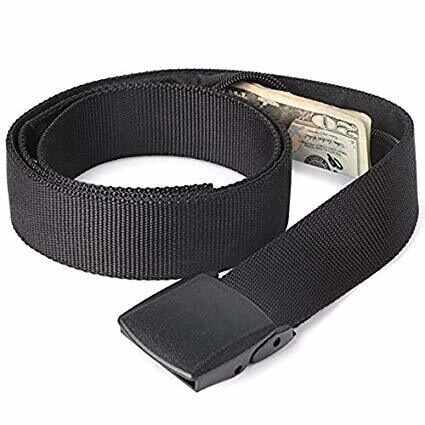 Custom-designed BY the Broke Backpacker FOR broke backpacking, the Active Roots Security Belt will keep your valuables safe no matter where you go.
It looks exactly like a normal belt except for a SECRET interior pocket perfectly designed to hide a wad of cash or a passport copy. Never get caught with your pants down again! (Unless you want to.)
Check on Amazon
Travel Insurance for Nashville
Traveling without insurance would be risky so do consider getting good backpacker insurance sorted before you head off on an adventure.
I have been using World nomads for some time now and made a few claims over the years. They're easy to use, professional and relatively affordable. They may also let you buy or extend a policy once you've started your trip and are already abroad which is super handy.
If there's one insurance company I trust, it's World Nomads. To find out why I use World Nomads, check out my World Nomads Insurance review.
Getting an estimate from World Nomads is simple – just click the button or image below, fill out the necessary info, and you're on your way!

Books to read on Nashville
Moon Nashville Travel Guide – This is the best print Nashville travel guide out there, so pick it up to read on your flight over.
The Nashville Guide: Experience Local – I gave you lots of solid tips from locals in this guide, and you can find even more in this book.
100 Things to Do in Nashville Before You Die – If you didn't find enough things to do in this Nashville travel guide, then pick up this book with 100 of them.
The Backpacker Bible – Get it for free! Learn how to ditch your desk and travel the world on just $10 a day whilst building a life of long-term travel with an online income. To inspire and help the next generation of Broke Backpackers, you can now grab 'How to Travel the World on $10 a Day' for free! Get your copy here.
Make money whilst traveling in Nashville
Make Money Online whilst Backpacking Nashville
Keen to live the digital nomad dream while traveling the world?
Who the hell isn't?
Teaching English online is a great way to earn a consistent income on the road. Depending on your qualifications, you can work remotely from your laptop and make a positive impact on the world! It's a win-win!
Check out this detailed article for everything you need to know to start teaching English online.
Being a Responsible Traveler in Nashville
Reduce your plastic footprint: Perhaps the best thing you can do for our planet is to make sure you do NOT add to the plastic problem all over the world. Don't buy one-use water bottles, the plastic ends up in landfill or in the ocean. Instead, pack a tough travel water bottle.
Go and watch A Plastic Ocean on Netflix – it'll change how you view the plastic problem in the world; you need to understand what we are up against. If you think it doesn't matter, get off my fucking site.
Don't pick up single use plastic bags, you're a backpacker – take your daypack if you need to go to the shop or run errands.
Bear in mind, that many animal products in countries you travel through will not be ethically farmed and won't be of the highest quality. I'm a carnivore but when I'm on the road, I only eat chicken. Mass-farming of cows etc leads to the rainforest being cut down – which is obviously a huge problem.
Need more guidance? – Check out our post on how to be a responsible backpacker.
This Nashville travel guide will bring you ample opportunities to participate in debauchery, and it is very important to have fun, let loose, and get a bit wild at times. Most backpacking trips I have been on across the world have included at least a few mornings where I wake up knowing I went too far.
There are some things that will put you in the category of a straight up jackass if you do them. Being super loud and obnoxious in a tiny hostel at 3 AM is a classic rookie backpacker mistake.
Everyone in the hostel will hate you when you wake them up. Show your fellow travelers respect whilst visiting Nashville and anywhere else for that matter!
Want to learn how to travel the world on $10 a day? Check out the Broke Backpacker's Bible for FREE!
---
Find out how YOU can support the site.
We're a big site with a big team and this job isn't always easy. But we do it because we love it – we love providing epic and free content. We love the knowledge that our content keeps you adventuring. We don't ask for money, but if you'd like to find out how you can help the site in more organic ways, click the button below.
Thank you for your support 🙂
And for transparency's sake, please know that some of the links in our content are affiliate links. That means that if you book your accommodation, buy your gear, or sort your insurance through our link, we earn a small commission (at no extra cost to you). That said, we only link to the gear we trust and never recommend services we don't believe are up to scratch. Again, thank you!