Travel
MUST READ! Is Sri Lanka Safe to Visit in 2021?
Sri Lanka is an adventurous island that's just ripe for exploring. One the most laid back South Asian nations, this island is filled with goodies: stunning beaches, jungles teeming with gorgeous wildlife, and the train journeys, man! The food is pretty damn on-point too (get yourself a kottu).
There is, as with any country, another side to the story: the weather can be unpredictable, monsoon season can wash out roads, swimming and surfing can be unsafe, and remnants of Sri Lanka's bloody civil war still on occasion rear their ugly head.
Naturally, there's a lot to potentially consider with a country that has emerged from such a devasting conflict in the last decade. That's why we have created this guide to staying safe in Sri Lanka! It always pays to know the beast and, truthfully, Sri Lanka is hardly one – it's chill.
This guide will serve as a light unpack of the political situation in Sri Lanka and will be providing in-depth tips for everyone from families to solo or female travellers in this absolute jewel of a country. Let's dive in and figure out if Sri Lanka is safe to travel to right now!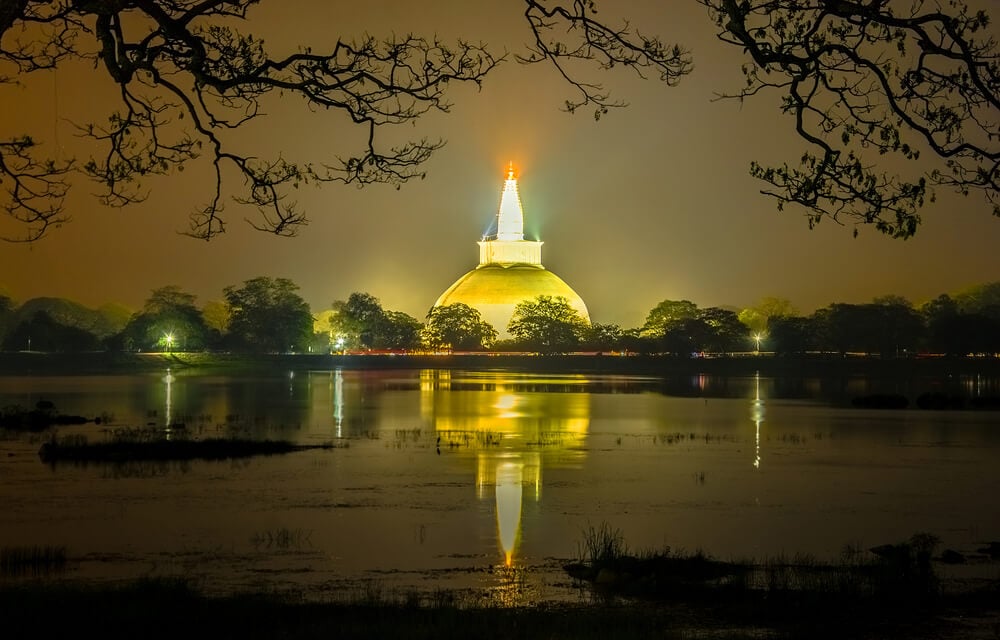 How Safe is Sri Lanka? (Our take.)
Sri Lanka is the perfect introduction to the South Asian chaotic-goodness. Things are a lot more chill than further up north and the chaos is suitably dialled down. Not only that, there's a ton of protected wildlife areas and mind-blowing mountains, more than 1300 kilometres of coastline and tropical beaches, a buzzing tourism and backpacker scene, and a wealth of historic and religious sites to explore.
Of course, there are some concerns surrounding the safety of Sri Lanka – specifically with the recent events of 2019 (coming up soon). That doesn't mean you shouldn't go, however: this country is still fantastic and the people are beautiful.
There are still intricacies and nuances: this is still South Asia. Buses will knock you flat (and probably dead) if you don't watch out, the manner and nature of the culture and people will take some adjustment for newbies, and you may occasionally find yourself paying more than you should have for that tea and roti. But, to be completely honest, that's just part and parcel of travelling in this region of the world.
Though there are places throughout the country that are safer to visit, Sri Lanka is still a popular tourist destination and has been attracting record numbers of tourists year-on-year. It's beautiful and, though not ideal, Sri Lanka is still a safe country to travel. So let's get into the details of this tropical island nation…
Is Sri Lanka Safe to Visit? (The facts.)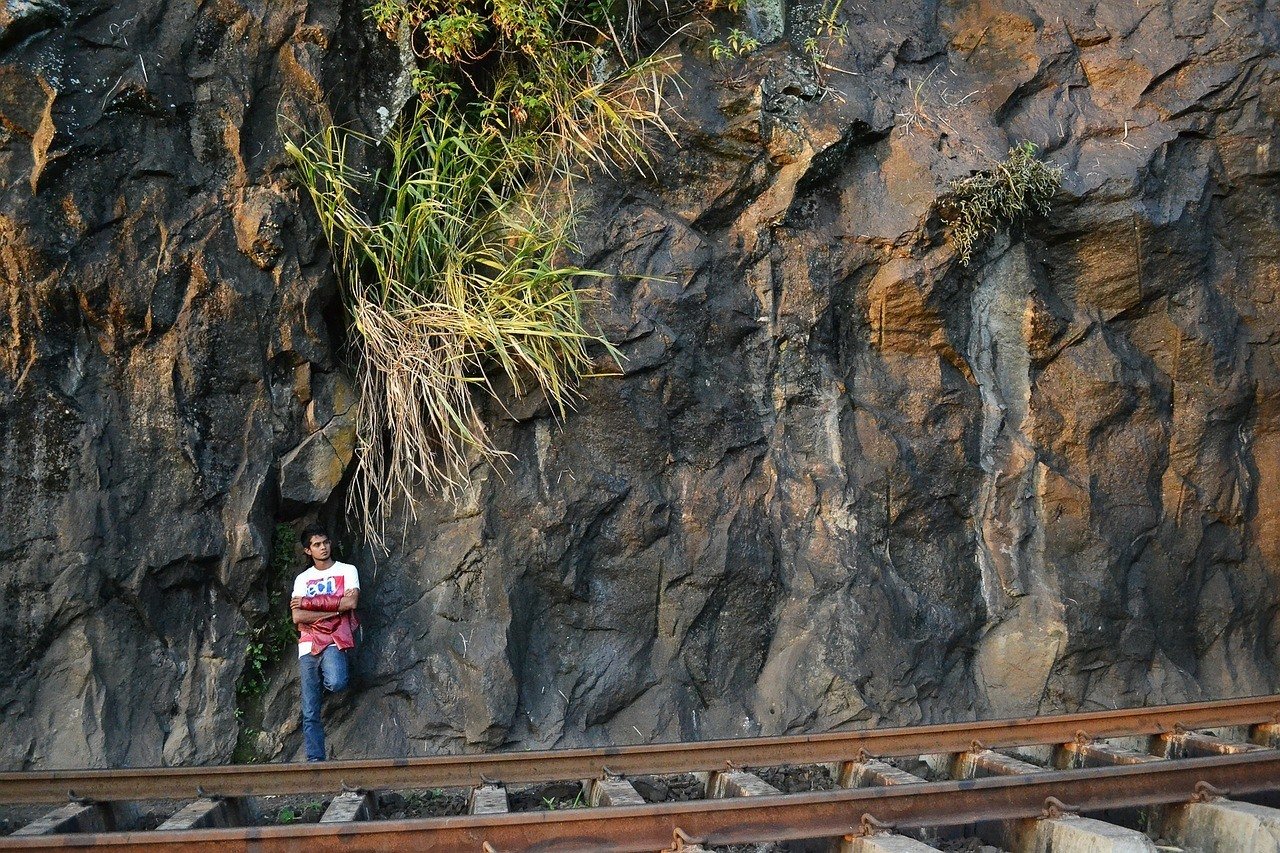 Sri Lanka was first visited by the Chinese Buddhist monk Fa-Hien in the 1410s. The country has been attracting people ever since, from the Portuguese to the Dutch to the British, all of which colonised it due to its prosperous environment for agriculture and left their traces (and scars) within the country.
Sri Lanka is marked by an ethnic and cultural divide between the Tamils mostly populating the north of the country and the Sinhalese people (Sinhala). As of 2019, Sri Lanka boasts a population of more than 21,300,000 with the Sinhalese making up almost 75% of this number
Tourism in Sri Lanka began several decades back but the three-decade-long Sri Lankan civil war interfered with this growth. Tourism bolstered and the number began to sharply increase upon the culmination of the war in 2009. But then the terrorist attack of April 2019 (the Easter bombings) occurred and this threw another fairly-sized pothole in the road of Sri Lanka's growth.
After the attacks, tourism saw a sharp decline which is now, thankfully, beginning to repair. This is further complemented by the fact that, as of yet, the attacks have been an isolated incident.
Though there are some levels of crime, the same as anywhere, but tourism is an extremely valuable industry for Sri Lanka both at an economic level and at the level of locals living in Sri Lanka. Travellers are treated well and Sri Lanka is a safe place to visit for tourists.
Although the terrorist attacks did target tourism locations (including hotels), they were not an attack against tourists. They were an attack against Sri Lanka's forefront industry and, so far, nothing similar has been repeated.
Is it Safe to Visit Sri Lanka Right Now?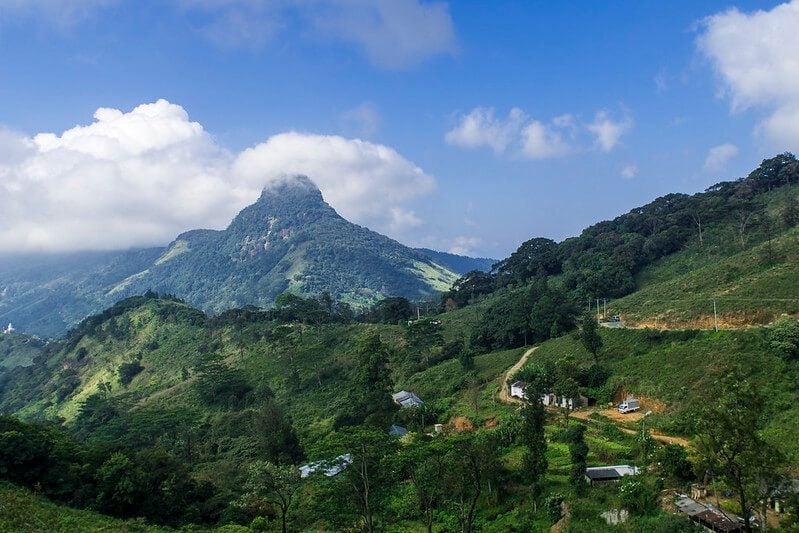 Right now, Sri Lanka is safe to visit.
With the end of Sri Lanka's Civil War in 2009, the country has been a lot calmer and a lot more open to tourism. The terrorist attacks of 2019 did alter things slightly, but this image is now beginning to revert back.
The attacks have resulted in increased security, however. Presence is felt at airports, hotels, an abundance of checkpoints on roads, and increased presence at any large gatherings of people (including religious festivals).
Visitors may notice an increased military presence in the north of the island nation. It's in this area in particular where war damage was more extreme; minefields still pose a minor risk but clearing of these leftovers is an active task. You're pretty unlikely to go wandering into any stray mines; chances are there'll be a sign, or more likely security officer, telling you to turn around.
Apart from the political and social upheaval, nature is something worth considering on a trip to Sri Lanka. The monsoon rains (there are two monsoon seasons) do sometimes cause flooding in areas of the country and localised landslides can cause temporary road closures.
On a final note, visiting Sri Lanka as a tourist is a very safe affair. It has what could be called 'The South Asia Effect', though to a much lesser degree than in India. You're very unlikely to be physically harmed or assaulted but people will try and scrape a little bit of extra cash out of you if the opportunity arises.
Pssst! Did you know that Sri Lanka is home to some of the best yoga retreats in the world? Check out our Best Yoga Retreats in Sri Lanka guide for more info!
Sri Lanka Travel Insurance
It might be a renegade tuk-tuk, rowdy leopard, or even just a questionable roti that gets ya, but things do go wrong on the road. One $10,000 medical bill later and you'll have some things worth regretting.
Always consider getting insured before you travel.
Members of The Broke Backpacker team have been using World Nomads for some time now and made a few claims over the years. They're an easy to use and professional provider that the team swears by.
If there's one insurance company The Broke Backpacker trusts to cover them while roaming the planet's furthest reaches, it's World Nomads. To find out why we recommend World Nomads, check out the World Nomads Insurance review.
Getting an estimate from World Nomads is simple – just click the button or image below, fill out the necessary info, and you're on your way!

18 Top Safety Tips for Traveling to Sri Lanka
Verdant tea plantations, spectacular train rides through cloud-soaked hills, searching for relics of Buddha, or carving waves on some beautiful beaches – there are plenty of reasons to head to Sri Lanka for your travels.
Travelling safely in Sri Lanka is as much about not doing anything (too) stupid (still gotta have some fun) as it is about simply being aware – both of yourself and surroundings as well as the cultural nuances of the island. Most of this is basic knowledge for safe travels.
Even though Sri Lanka is safe, you can always be safer! To keep yourself even safer, here are some wonderful safety travel tips to bear in mind on your trip to Sri Lanka…
Sri Lanka Safety Tips for Travelling Smooth
Keep away from demonstrations or political gatherings – You know how these things can turn anywhere in the world.
Don't use any shoddy-looking ATMs in Sri Lanka – There are plenty of nice ones inside booths with air-con and accompanying jingles.
Don't walk around looking rich – Looking like a target is just silly. Having a security money belt is perfect for concealing cash on you.
Look after your valuables at your accommodation – Thefts can happen even within accommodation premises. Keep your goods locked up!
Don't stray off paths when hiking – Generally, it's a bad idea, but it's dependent on your area. The weather can turn quickly in Sri Lanka's hill country and the Knuckles Mountain Range is not to be trifled with.
Be warned that drugs are illegal – That doesn't mean they aren't a known secret or common, however.
Watch out for the ganja – On that note, the most commonly bought ganja (referred to as KG) is heavily messed with (chemicals and the like) and will be unkind to your body in the medium to long-term.
Same-sex relations are kind of illegal – Yeah, semi-illegal (sort of). Tourists are generally given a free pass, however, just don't be flaunting it too much; keep it low-key.
Don't go sunbathing topless or nude – There are places you'll get away with it but it's mega-disrespectful and not worth the extra attention.
Cover up Buddhist tattoos and leave t-shirts with Buddhist iconography at home – This one tourists usually aren't given a get-out-of-jail-free card on. No selfies with your back to Buddha either and covering up, knees and shoulders in particular, at religious sites is expected.
Be culturally sensitive – Having your good bits hanging out, being a drunken knob in public, or just generally rude – it's not cool. Sri Lankan's are reserved people; just because no one says that your offending them, doesn't mean you aren't.
Stray dogs are the norm – Generally, South Asia rules apply, however: all bark, no bite. Some just need a little love.
Avoid being bitten by mosquitoes – Dengue fever is legitimately a concern.
Take care when swimming in Sri Lanka – Riptides and the swell can get big; people have drowned.
Be aware of the weather – Rains can cause flooding which may mess with your itinerary in Sri Lanka.
Watch out for nature! – Full disclosure: there are wild elephants, crocodiles, and other fantastic beasts. Don't do anything monumentally stupid for the photo-op.
Don't ride the elephants – If an elephant has chains on its feet and a hawker asking for money to ride it, it's an absolute disgrace. Be a responsible tourist and do not support elephant abuse in the tourism industry. Do not be part of the problem.
Learn some lingo – A lot of people speak in English, but that doesn't mean you shouldn't make an effort with a few Sinhalese phrases. Hari hari, owoo lak nehe (ok ok, no problem) always goes over well.
Some General Safety Tips from the OG Broke Backpacker
Keeping your money safe in Sri Lanka
If there's anything super annoying about travelling anywhere in the world, it's the prospect of losing your money. It may be your own fault, it may be the work of a pickpocket, but either way, it'll leave you with less cash to get around with and it's a pain in the ass.
Having no money could mean losing out on accommodation and good food, and it may even end up cutting a trip short; it's not fun – that's for sure. There is, however, a foolproof solution to this: wear a money belt.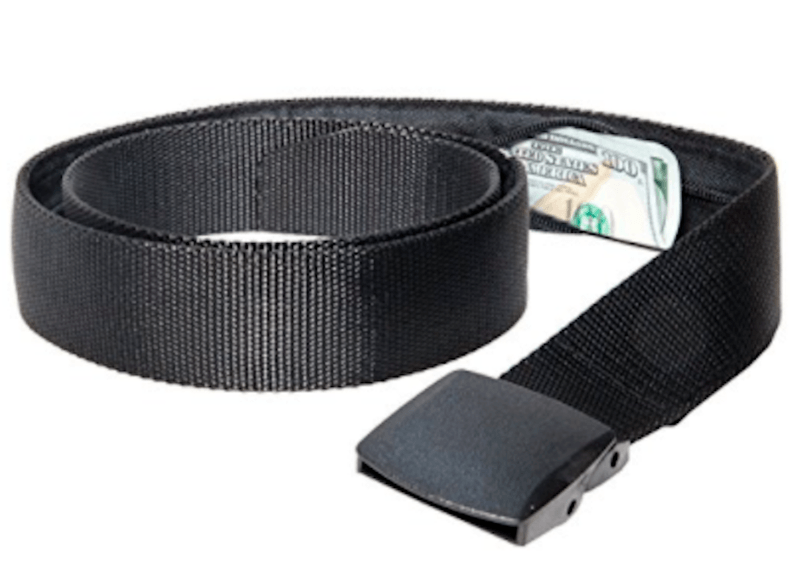 One quick Google and you'll be faced with many different money belts to choose from. We're not even going to suggest that you do that; having to make a decision on the often pricey money belts will make your head spin.
We can help you out with a very solid option though, and that's the Active Roots Security Belt.
It's got a lot of great selling points. To start, it's very simple – it looks like a belt and lacks the (sometimes unnecessary) bells and whistles of other money belts in the world. It's sleek, it's sexy. and best of all, no one knows you're stashing your money in it!
That said, there are other alternatives to wearing a security belt. You could get a full-size money belt more in the bum bag fashion.
Is Sri Lanka safe to travel alone?
Solo travel is the best. You get to do you, there's no one to stop you doing you, and chances are you'll have some pretty dope adventures too! Sri Lanka is no different.
With so much to discover in Sri Lanka here from its tropical beaches and glorious mountains to its friendly people and mouth-watering kottu, it's an awesome place to travel alone. Solo travel is common in Sri Lanka and a perfect warm-up for the rest of South Asia.
The backpacking route in Sri Lanka is well-hoofed and you'll easily be able to escape your measly problems and see the country in your own time and on your own terms. Just make sure that you keep these travel tips for Sri Lanka in mind and, most of all, allow yourself ample time to enjoy the country. Don't rush – travel slow and travel cheap
Here are some excellent travel tips for travelling alone in Sri Lanka to help you out Also, don't forget to call your mum! She worries, ya know?
Travelling to Sri Lanka Alone – Tips and Pointers
Travel on public transport. It's cheap and on the right rides, you'll be meeting plenty of other solo backpackers. Psst – the Kandy to Ella train– is super famous, super beautiful, and always has some travellers on it.
Find yourself a good hostel in Sri Lanka. There are heaps and generally, you'll find a good crowd too.
Ask a local about their insider knowledge. No one is better than a local for tips on what areas are sweet to check out, what areas might be better avoided, and what's good to do and see (and eat). Always ask ask ask!
Be discreet with flashy things like your phone. As a solo traveller, you're more likely to be going around with your eyes on your phone, looking at maps and recommendations of things to do; this means you'll be more vulnerable and also just prone to missing out on the cool things happening around you.
Be prepared to get hounded a bit more by touts and tuk-tuk drivers. Travelling alone in Sri Lanka hauling your bag just makes it a given. Stay patient, stick some headphones in, and learn how to politely say no in the local lingo. ('Nehe, machan' works – 'No, friend'.)
Don't get so messy you don't know what's up. There are no shortage of parties in Sri Lanka but keep your wits about you.
Keep track of your money, cards, passport, and everything. Organisation and smart placement is key (i.e. don't keep everything in one place).
Wearing clothes that make you look touristy is silly. Flash, top-brand backpacking gear just makes it obvious and a lack of outfit in a temple is a straight-up no-no.
Know your emergency numbers. It's 118/119 for police and emergency, 110 for the ambulance or firies, and 011-2421052 for the tourist police. Save 'em!
Keep people up to date with what you're getting up to.
That includes the people back home!
Know your limits! If you're hiking, swimming, surfing, or exploring, don't push yourself. Traveller burn-out is real and a real pain in the ass so be good to yourself.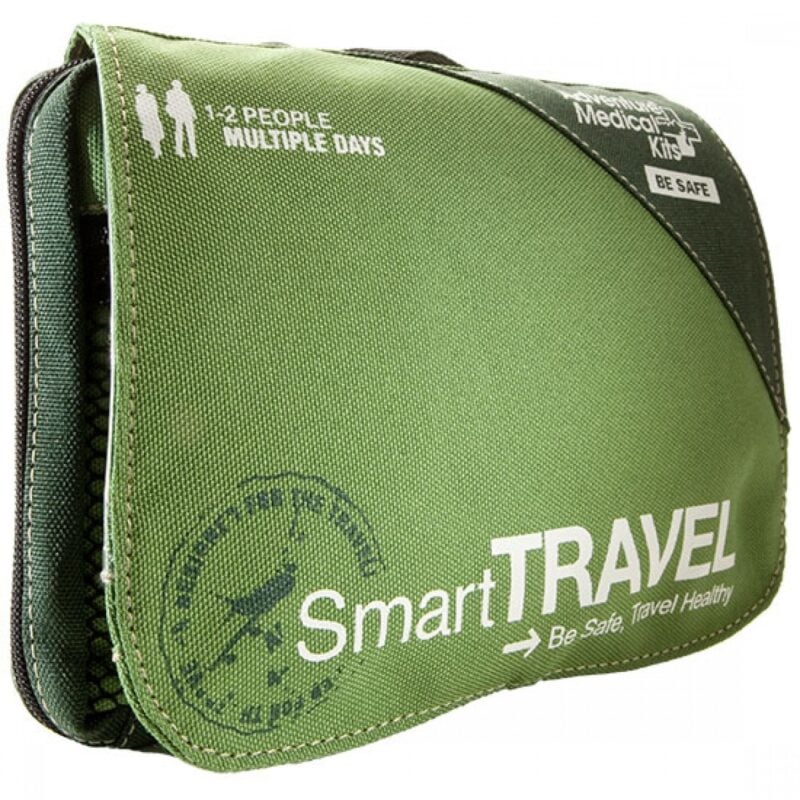 Be prepared for what life throws at you on the road. Pick up an AMK Travel Medical Kit before you head out on your next adventure.
View on REI View on Amazon
Is Sri Lanka safe for women?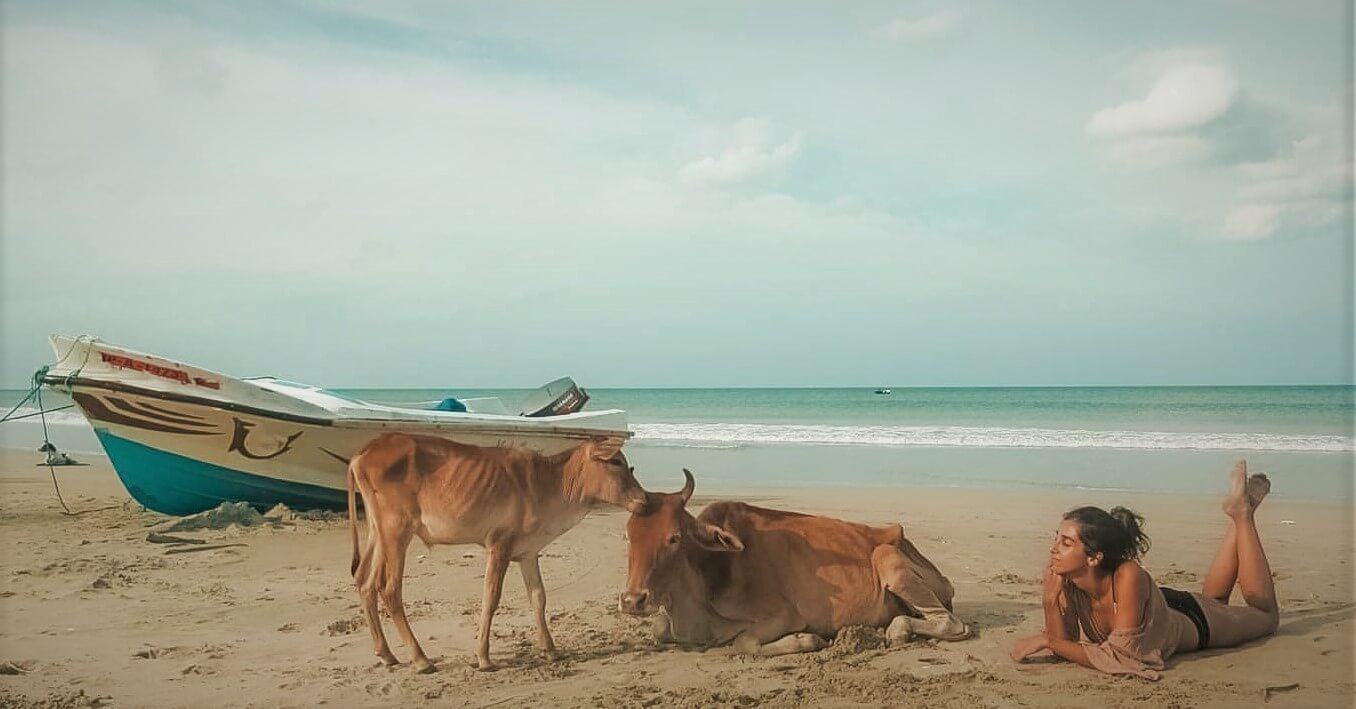 Sri Lanka may not have a perfect reputation in the world for females or even female travellers to the country, but that doesn't mean that this beautiful country shouldn't be on your bucket list. There's nothing here that means you should miss out on if you're thinking about it.
Sri Lanka is a stunning gem of an island nation. Women who travel alone shouldn't avoid it; in fact, one quick Google will show you that there are so many women who have successfully travelled solo around the country.
Of course, there are going to be things about travelling to Sri Lanka as a female that jar you and potentially scare you. It's South Asia Lite – expect some uncomfortable stares, strange moments, and even completely inappropriate propositions. There is the potential for worse harassment but staying safe in Sri Lanka as a female is extremely viable provided you stay smart and perceptive.
When travelling anywhere in the world as a woman, there are always extra variables to consider. Travelling Sri Lanka as a woman is no different. Keeping that in mind, here are some tips for female tourists in Sri Lanka. To stress one last time, however, in the grander scheme of things, Sri Lanks is quite safe for women.
Travelling to Sri Lanka as a Woman
The more you cover-up, the better. While there are liberal attitudes in the capital Colombo, and plenty more areas on Sri Lanka's tourist beaches accustomed to Western swimwear, ultimately it is still a very conservative country. The more skin you show, the more you can expect uncomfortable stares.
On the touristy areas of the South Coast and also particularly in Arugam Bay, swim in what you're comfortable with. However, still apply discretion, especially outside these areas or even walking in town. For example, and interestingly, Arugam Bay is a heavily Muslim area, so even in these places, you can expect an air of some judgement from some people.
Get used to people asking, "Are you married?" It will happen a lot if you're travelling by yourself around Sri Lanka as a female. How you want to answer is your call but it's a common question.
If you're travelling with a man, sometimes locals will default to him for executive decisions. Yes, it sucks but you can't rewrite the culture.
Be careful on packed buses and trains as it is a prime location for groping (though not necessarily common).
Don't travel around by yourself at night on public transport and don't try and walk around late at night by yourself. Similarly, don't give too much trust to the tuk-tuk drivers.
Going on a tour is definitely a good idea to see Sri Lanka without having to worry about anything. You can visit Sri Lanka safely and see some amazing stuff too! Do your research though: there have been reports of attacks by tour guides.
Don't leave your drinks unattended; age-old wisdom.
Always say "no" when you feel uncomfortable. No ambiguity – just straight to the point. If you're feeling unsafe, find another traveller, a local lady, or just start screaming at the top of your lungs.
Join other travel groups online for female travellers or team up with other travellers (girls or otherwise) that you meet on the road.
Stock up your tampons and contraceptive pill before you travel to Sri Lanka; they're around but sometimes way harder to find than they should be.
Is Sri Lanka safe to travel for families?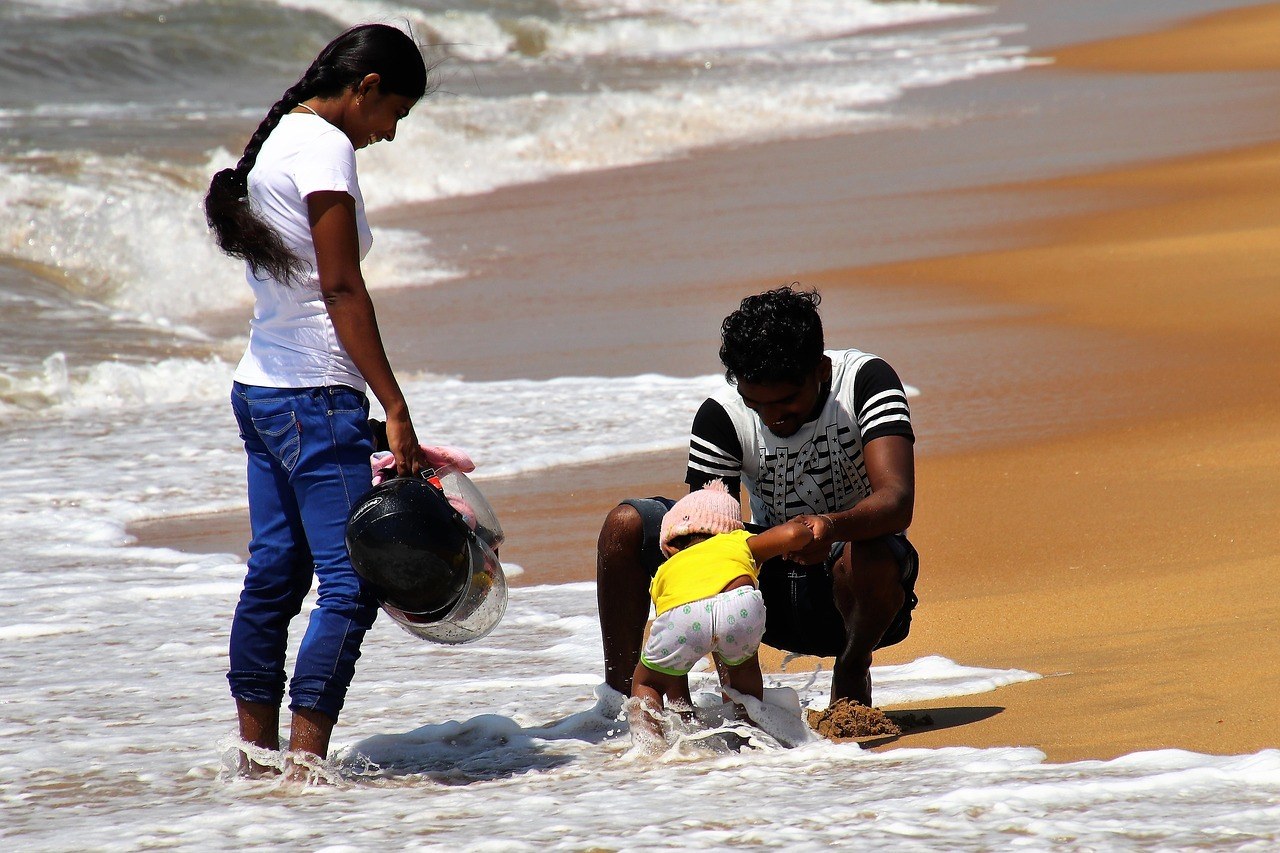 Sri Lanka offers up a pretty hefty portion of adventure and excitement for families. Sri Lanka is not only safe to travel for families but it's a wonderful destination with a lot for the kids to enjoy.
There are tonnes of beaches that are great for the kids. You'll find some on the west coast and heaps on the south coast. Just be very watchful of your kids in the waves; standard beach rules apply.
The train journeys, especially Kandy to Ella, are a top recommendation for families travelling with kids in Sri Lanka. Not only is it a breath-taking ride, but it's teeming with local life and unlike any experience, they would have had before.
Sri Lanka, in general, is a pretty laid back country when it comes to children. Locals here have an easygoing affinity with children and the respect for family values runs high. Expect some wonderful moments full of whimsy!
Obviously, you shouldn't go expecting there to be facilities set up for children everywhere you go; that goes as much for changing rooms as it does for child-sized meals. You'll also need to be careful with food as Sri Lankans love their spicy. Mid to high-end restaurants or restaurants in Sri Lanka's tourist spots will be more prepared for Western family dining.
Hotels and guesthouses usually come equipped with family-ready rooms, but don't always go expecting stuff like kids clubs or even cots.
Also, make sure that everyone is up to date with their vaccines and that everybody stays covered up against mosquitoes. Similarly, the 'love the stray pooches' rule doesn't strictly apply to children, sadly. Diseases are still a thing.
It's not really a good idea to go with a pram or stroller since the pavements aren't always up to scratch in Sri Lanka; it's much better to take a sling or carrier with you for convenience more than anything else.
All in all Sri Lanka is a lovely place to go with your family – and it's going to be a memorable adventure. Oh, but one more thing, keep dem hands clean!
Is it safe to drive in Sri Lanka? Getting around Sri Lanka
Driving in Sri Lanka isn't always straightforward. There are some tricky roads going on here, so it's no surprise that some travellers to the country opt for a local driver or taxi instead.
However, that doesn't mean you can't self-drive your way around; it's relatively safe to drive in Sri Lanka and for those who like to see a country at your own pace, it's a wonderful way.
Road conditions have improved in recent years. Bar some more modern highways between certain areas, they tend to be windy and definitely chaotic but they certainly are more than drivable. Old village roads often take a noticeable drop in quality, however.
It's still Asia. You'll need to watch out for erratic driving and locals pulling some pretty crazy stunts, as well as animals and pedestrians on the roads. It isn't so much dangerous to drive in Sri Lanka but rather there's a different style and expectation on how to drive.
There are also security checkpoints and roadblocks in place all across the country. These will be manned by police or military personnel and you can expect to be stopped. Generally, they'll just want to check your licencing and make sure that you have all the proper documentation so keep it handy.
Another thing to be aware of is just watching out for buses, trucks and other cars, particularly overtaking on bends in the road where you would think it would be insane to even try to overtake. There's a different hierarchy on the roads and buses are at the top of the food chain. Horns are the common (and respectful) form of communication so listen well and use yours liberally.
To drive in Sri Lanka all you'll need is an international driving license and a Sri Lankan recognition permit – you can pick up the latter in Colombo. Speaking of, driving in the cities is considerably more hectic. Colombo is pretty much always a mess and Kandy isn't much fun either. Once you're outside the urban areas, it becomes a lot more fun though.
For those of you who want to ride a motorbike, you should be very careful. It would be super easy to get splattered by a bus if you're not appealing to the hierarchy. Those experienced with motorbike travel, particularly in developing countries, will find it's still a spectacular journey despite the chaos (or because of it).
Overall, driving in Sri Lanka is safe provided you have the experience for roads (and rules) such as these. If you don't, then it is a good country to learn but you will need to learn (and relearn). There's a different culture of driving. For those that aren't confident driving in Sri Lanka, there are a wealth of other options for getting around.
Yo! You can also rent tuk-tuks in Sri Lanka and it's the best! Once your past the learning curve of driving a tuk-tuk yourself, it's an awesome way to see the country.
If you're interested, check out tuktukrental.com and, when it's time to book, enter the code brokebackpacker for a discount!
Is Uber safe in Sri Lanka?
There is Uber in Sri Lanka but it isn't everywhere. Predominantly, it's in the capital Colombo and it's highly, highly recommended you use it there. You'll often get a price cheaper than through negotiating with an unmetered taxi or tuk-tuk and you'll be sidestepping the potential of getting scammed too.
You may find Uber in other urban areas outside of Colombo but it's much rarer, You may also be able to convince an Uber driver to drive you long-distance but that's also fairly unlikely.
When utilising Uber in Sri Lanka, make sure photos, licence plates, names, and all the other details match. Overall, Uber is safe in Sri Lanka though.
Final verdict: it ain't everywhere but when it is, make sure you utilise Uber in Sri Lanka! (There's also UberEats in Colombo.)
Sleep safe! Choose your hotel, hostel or Airbnb ahead of time so you're not last-minute booking a less-secure place.
Check out our hostel guide for the best budget options in Sri Lanka. We've also got a hostel guide for Kandy and for staying in Colombo, the capital.
Are taxis safe in Sri Lanka?
Taxis and tuk-tuks rule the tourist transport services in Sri Lanka and they are everywhere! It doesn't matter where you are and how far from civilisation you may be, a magic tuk-tuk always manages to show up.
Taxis are generally safe in Sri Lanka but you are dealing with the standard taxi/tuk-tuk shenanigans. Haggle hard before you hit the road and keep an eye on your map and GPS, particularly in Colombo.
For female travellers, try to avoid being alone in taxis at night; assaults and harassment have been known to occur. Again, this goes double in Colombo (you may be noticing a theme).
Make sure that when you ride in a taxi that you have the right amount of money to hand over and not big bills. Handing over 1000 rups for a 230 rup ride is always going to be an exasperating experience for both you and the driver. Most taxi rides SHOULD cost around 60 to 100 rupees per kilometre but this is heavily contingent on a lot of variables including what area you're in and how good at negotiating you are.
Booking a taxi in Sri Lanka is a pretty easy affair. Either go through your accommodation or head into the main hub of any tourist area and try and haggle a better price yourself (sharing a taxi with other travellers is an excellent way to mitigate these costs).
Is public transportation in Sri Lanka safe?
The public transport in Sri Lanka is pretty famous. We've all seen those train rides and they are simply divine!
When it comes to the towns, however, most places are easy to get around and compact enough to walk around by yourself. In larger towns and cities, a good way to get around is by jumping on a bus.
The public buses in Sri Lanka, however, aren't exactly the nicest way to get around but they are the most fun. They're a super cheap local affair but a long-drop from the quality of buses in the West.
When it comes to travelling further afield on a bus, that's easily done: around 80% of Sri Lanka's roads are suitable for intercity buses. When it comes to those, you should know that there are actually many, many different types of long-distance buses.
While you'll see a lot of different model and colour buses in Sri Lanka, you can either aim for the cheap local buses without the premium trimmings or the fancier coach-style buses. The latter are considerably more expensive but also considerably more comfortable with all the added trimmings.
Booking the fancy buses can be done through pretty much any accommodation but for the local affair, you'll need to go local. Many towns have bus stations which is your first point of call and the best way to catch a bus anywhere is to ask, ask, and ask some more! People will help you out.
The other option, of course, are the trains. And that's a damn good option!
Trains are super fun in Sri Lanka with some truly majestic rides. Price-wise they're comparable to buses but a long-distance ride on unreserved seating can often actually come in cheaper. The reserved-classes (first-class in particular) will run you a lot more, however.
Regardless, they're an awesome way to see the country. Sweeping vistas, local faces, and the snack-men just keep on patrolling. Visiting Sri Lanka and not catching the train would absolutely be missing out on something special.
Oh, and the public transport in Sri Lanka runs on their own time – it's called Sri Lankan time. There is a schedule, and they'll do their best to keep it, but when travelling in Sri Lanka, be prepared to breathe and let go of your schedule. It's not how the island works.
The public transport in Sri Lanka is safe, but crashes have occurred. It's also worth noting that half the fun of the train is hanging out the door, which you should definitely do because it's amazing… but do be safe.
Need to travel to Sri Lanka on the cheap?
Use Bookaway to find the best deals on bus, plane, train, and ferry tickets. 
It's easy to use and saves you time and money. Once you've arrived, why not use what you've saved to treat yourself to a cold beer and a bite to eat?
Book your transport on Bookaway now to guarantee your seat and for the right price.
Is the food in Sri Lanka safe?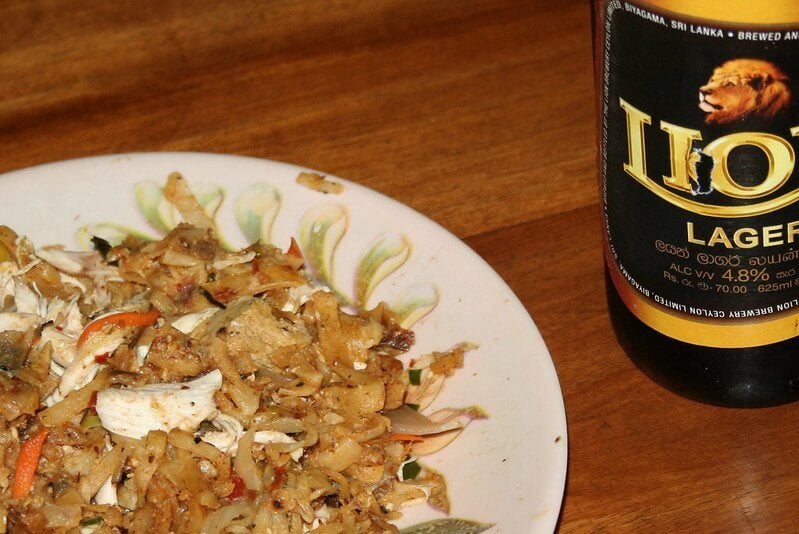 The food in Sri Lanka is dope! Perhaps not the most heavily varied (depending on how nuanced you are with curry) bu still simply da bomb. Curries, roti, kottu, street snacks, fresh fish, coconuts galore, and tasty fresh bread (ok, you win this round, colonialism).
Oooh, and Sri Lankan tea – tasty, milky, and sweet as you. Just perfect.
Whilst there are plenty of dishes to enjoy in Sri Lanka, not everyone's going to be used to the ingredients and spices being used. You can possibly expect some funny tums if your palate is not suitably worldly and refined.
Furthermore, like any developing country, Sri Lanka and its food should come with a little bit of a warning. Cleanliness is key! We all know that getting a bit of traveller's gut is one of the best ways to ruin a trip, so here are some tips on how to eat your way safely around Sri Lanka…
Eating Safety in Sri Lanka
Go to places that are busy, especially local places that are busy with actual locals. Locals know their food better than anyone so if you see somewhere that's packed out, it's a winner!
Street food and snack-merchants on the train is always a shot in the dark. Nine times out of ten you'll probably come away happily satiated but there is always an inherent risk involved.
Avoid ice cubes and icy drinks in general – especially outside the tourist areas. Chances are it won't be filtered except for in the tourist-accommodated spots.
Hit up places that have a high turnover that seems to be cooking things freshly. This goes for street stalls and restaurants. If you're a curry buffet-lover, catch them earlier in the day – don't wait!
Wash your hands, sanitise your hands, and then wash your hands again – super important!
Sri Lankan food can be very, very spicy. If you're not used to this, ask for it to not be spicy. It'll probably still be a bit spicy but at least a lot less spicy.
Can you drink the water in Sri Lanka?
For the most part, no you cannot drink the water in Sri Lanka and it is not safe to do so.
However, there are certain areas where the water is sourced from a much cleaner location and travellers do drink it. Generally, these are travellers with harder constitutions. To avoid any risks, just don't drink the water in Sri Lanka.
In hotels, you will often find filtered water on offer, which is great – and safe to drink. It's much better for the environment if you take along a reusable bottle, like the Grayl Geopress.
Don't add to the world's plastic problem and take a reusable bottle; you could even bring some water purification tablets, or skip the hassle with a filtered water bottle!
Want to save the world?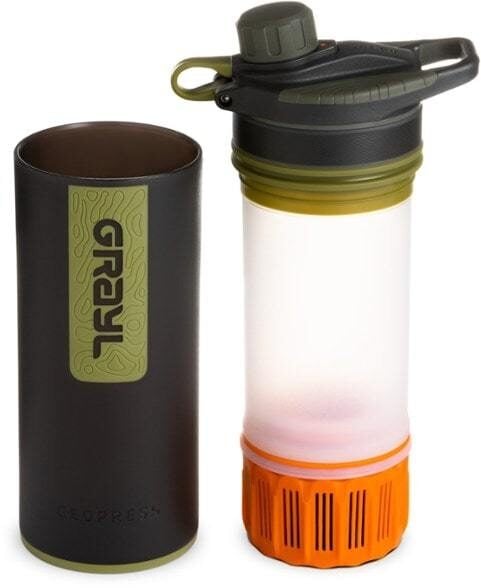 Single-use plastic bottles are a huge threat to Marine Life – Be a part of the solution and travel with a filter water bottle.
The GRAYL GEOPRESS water bottle is the ONLY all-in-one filter water bottle setup you'll need. Whether you need to purify the water from a hostel sink in Kathmandu or a stream trickle in the Andes, the Geopress has got you covered.
Read our full review of the GRAYL GEOPRESS!
Is Sri Lanka safe to live in?
Life in Sri Lanka is going to be very different from where you come from (presumably); living in Sri Lanka is, likewise, going to be different to going on holiday there.
There are all sorts of perks to living in Sri Lanka – things like beautiful nature, friendly people, wonderful weather, beach living, a rich culture running at a slower tempo, and even how much more affordable it will be for you there – but it comes at a cost.
The public transport and driving in Sri Lanka are still developing country standards. This will take some adjustment. Many expats living in Sri Lanka opt for the freedom and speed of a motorbike instead.
It also gets hot and it gets humid. The hill country offers much more mediated weather (with an increase to all-round yearly rainfall), but elsewhere, you're going to have to train your body for heat. And especially humidity; humidity is a real killer (metaphorically).
Many expats base themself on the south coast, Kandy, and Colombo. While Colombo has a lot of services and amenities appealing to expats, and a higher concentration of liberal attitudes, it's not strictly a nice city to live in by any stretch of the imagination. For living in Sri Lanka, you may be better suited to engaging with its astounding nature.
Living in Sri Lanka will be an adjustment to a very different standard of living, however, there is a payoff. The people are good and the style of life is wonderful. Learning some Sinhala will also go leaps and bounds for connecting with the locals; they really appreciate the effort.
How is healthcare in Sri Lanka?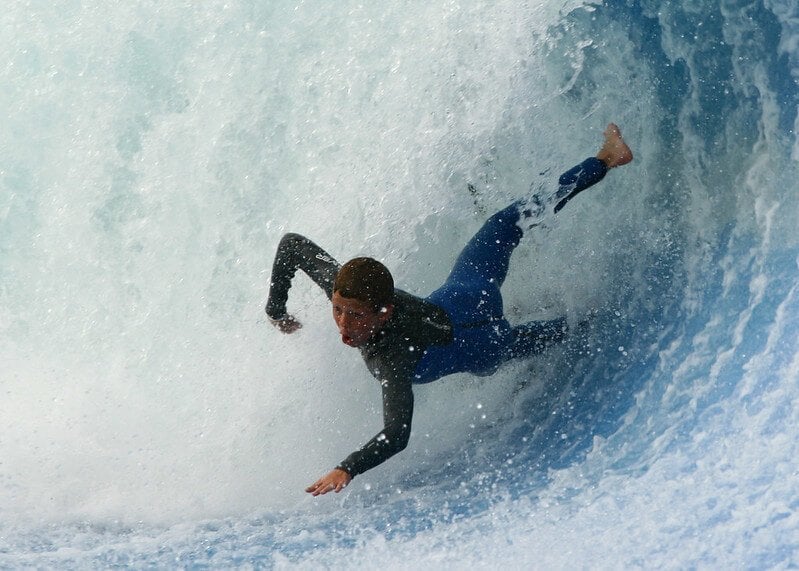 Sri Lanka actually has some fairly decent healthcare going on but, as with many developing countries, the quality of healthcare in Sri Lanka depends very much on where you are in the country. For example, particularly outside of Colombo and Kandy, standards will lower.
Things aren't well-stocked or staffed everywhere in the country, though you will notice this in more rural areas. Medical care is free for Sri Lankans but for visitors to the country, it is best to go to private hospitals if you have health insurance (which you definitely should).
This is not just for your own comfort, but also to reduce the strain on Sri Lanka's public services.
If you are in an emergency and need specialised care, you must make sure you have medical travel insurance; a severe injury or illness may mean either repatriation or treatment in a neighbouring country, most likely India.
Private hospitals will also require proof of insurance before they even start treating you. In Colombo you can expect some good clinics which have been opened up to serve expat communities; these also feature English-speaking staff and a superior level of care and quality. One example is Nawaloka Hospital in Colombo which has English-speaking doctors and a good reputation.
Your embassy, however, will also have a good list of recommended medical facilities.
If you're in other parts of Sri Lanka, ask the staff at your hotel or guesthouse for the best places to get treatment locally, at least until transportation to a more urban area is possible.
Pharmacies are everywhere and a lot of different medication can be bought over the counter without a prescription. However, when you do, make sure the medication is sealed and that it hasn't gone past its use-by date.
In general, healthcare in Sri Lanka is ok. Most people are within three miles of some sort of healthcare facility, but the services aren't always up to scratch. It's always best to seek medical advice rather than self-diagnosis, however, so we always recommend going to a reputable facility if you're worried – and preferably in Colombo or Kandy.
FAQ about Staying Safe in Sri Lanka
Here are some quick answers to common questions about safety in Sri Lanka.
Final Thoughts on the Safety of Sri Lanka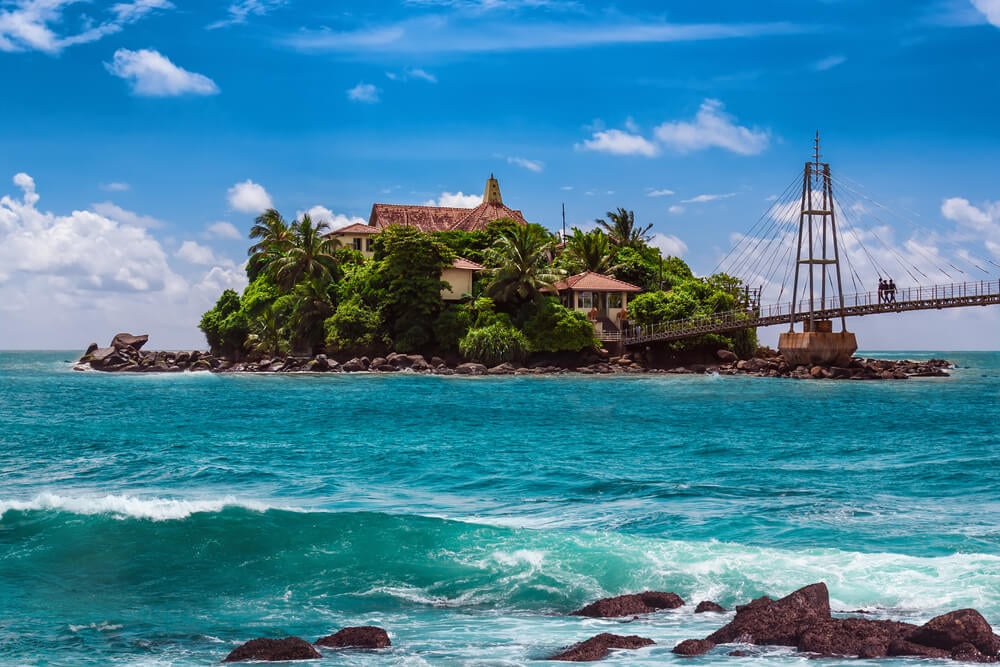 There is no real reason to not go to Sri Lanka right now. In fact, there's every reason – it's gorgeous!
You may be worried about the isolated terrorist attacks or the remnants of the civil war but the fact that it's such an isolated incident shouldn't keep you away. Not only is that stuff far from the tourists in Sri Lanka, but it's also far from the Sri Lankans. For the last decade, the people of Sri Lanka have consistently moved towards a state of peace.
There will be a few things to worry about, but that's only natural for any developing country. People are very unlikely to hurt you; generally, they're just trying to make a few extra rupee if possible. And that isn't everyone, regardless.
Backpacking in Sri Lanka is chill comparative to the rest of South Asia. It still pays to be clean, but Sri Lanka is cleaner as a whole. Female tourists still need to stay smart and safe in Sri Lanka, but it's nothing in comparison to India. If anything, it'ss a spectacular warm-up to travel in developing countries and right now, Sri Lanka is safe to travel to.
The island is a little slice of paradise filled with good people, good food, and sights to leave you in wonder. Sri Lanka is safe (however, with the caveats of developing countries) and is definitely worth visiting.
And remember to consider travel insurance for your trip? You can get a quote from World Nomads by clicking on the link below!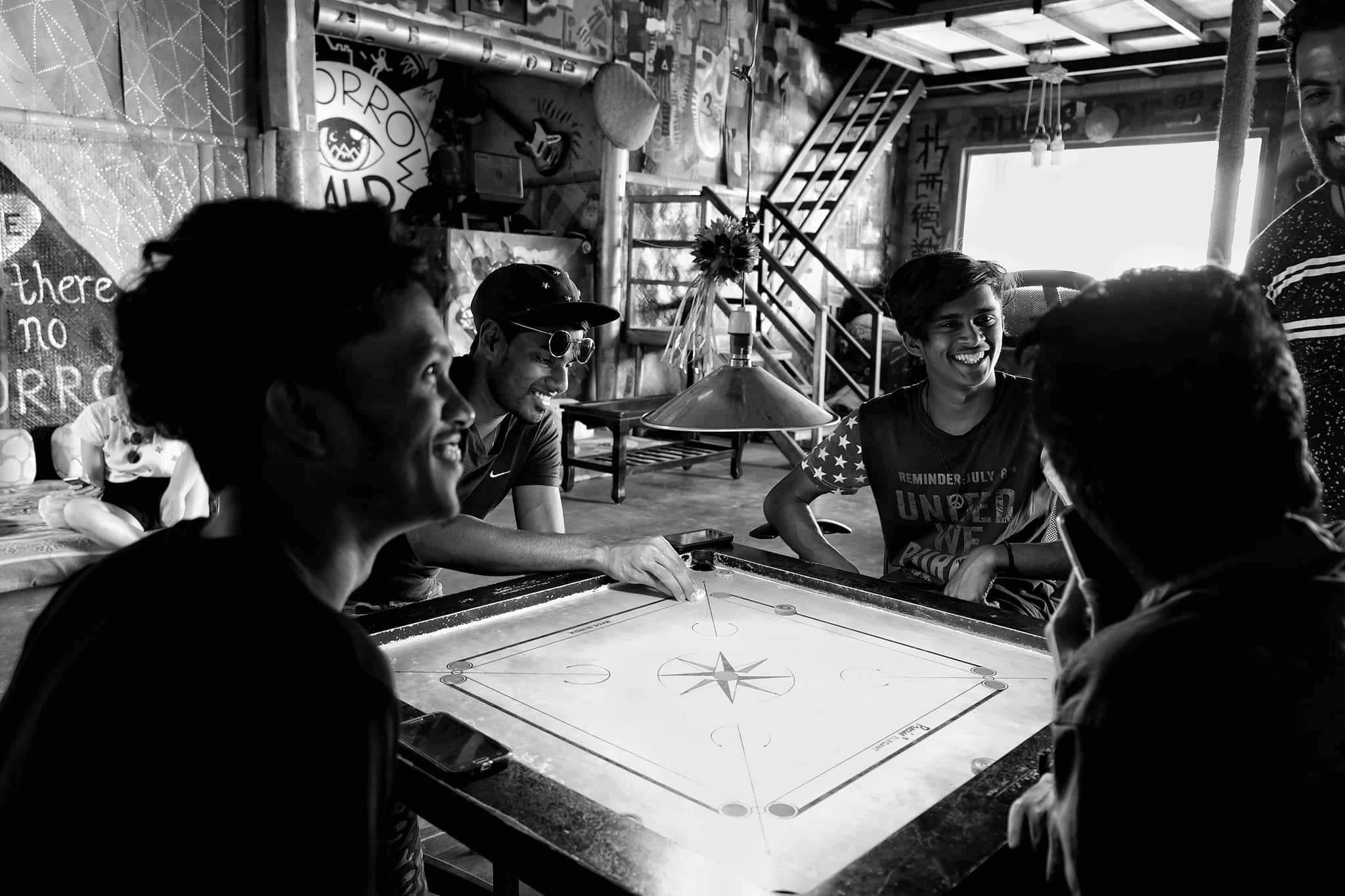 Disclaimer: Safety conditions change all over the world on a daily basis. We do our best to advise but this info may already be out of date. Do your own research. Enjoy your travels!
---
Find out how YOU can support the site.
We're a big site with a big team and this job isn't always easy. But we do it because we love it – we love providing epic and free content. We love the knowledge that our content keeps you adventuring. We don't ask for money, but if you'd like to find out how you can help the site in more organic ways, click the button below.
Thank you for your support 🙂
And for transparency's sake, please know that some of the links in our content are affiliate links. That means that if you book your accommodation, buy your gear, or sort your insurance through our link, we earn a small commission (at no extra cost to you). That said, we only link to the gear we trust and never recommend services we don't believe are up to scratch. Again, thank you!