Travel
MUST READ! Is Dubai Safe to Visit in 2021?
Sparkling skyscrapers in the desert marked by an equally glimmering coastline and boasting the world's tallest building: the Burj Khalifa. Dubai is definitely a cool place to visit. It's a city of the future with many nationalities calling it home.
But beneath the veneer of shiny malls and luxury hotels, there are a lot of rules in Dubai. Local laws and customs forbid many things that you wouldn't consider crimes at home, and a lot of tourists get caught out, fined, arrested,  or even deported.
So "Is Dubai safe?" Well, it's not because of its crime, but because of the law. We've decided to put together this epic insider's guide to staying safe in Dubai, and staying on the right side of the law too!
In it, we are going to be covering a whole load of different topics in our handy guide, from whether or not it's safe to drive in Dubai to whether the food is safe… Answering the question "Is Dubai safe for women?" for the travelling ladies Whatever your concerns may be, we're here to help you figure it all out and help you travel smart.
How Safe is Dubai? (Our take)
Dubai, whatever you might think of it, is still pretty cool. The fact that humans have managed to build gleaming skyscrapers on a stretch of desert coastline is enough to attract curious city lovers to see what it's all about. Since the discovery of oil in the 1960s, the city has been on the rise.
Dubai actually has a really low crime rate. Violent crime is rare. You may get some petty theft and bag snatching in crowded areas but besides this, Dubai is safe to travel to.
It's the law itself that you're going to want to protect yourself from. It's an interpretation of Sharia law, which makes petty things like cross-dressing illegal. And don't even think about kissing in public; you could get arrested. There's a whole host of intricacies you'll need to stay on top of in order to backpack Dubai safely.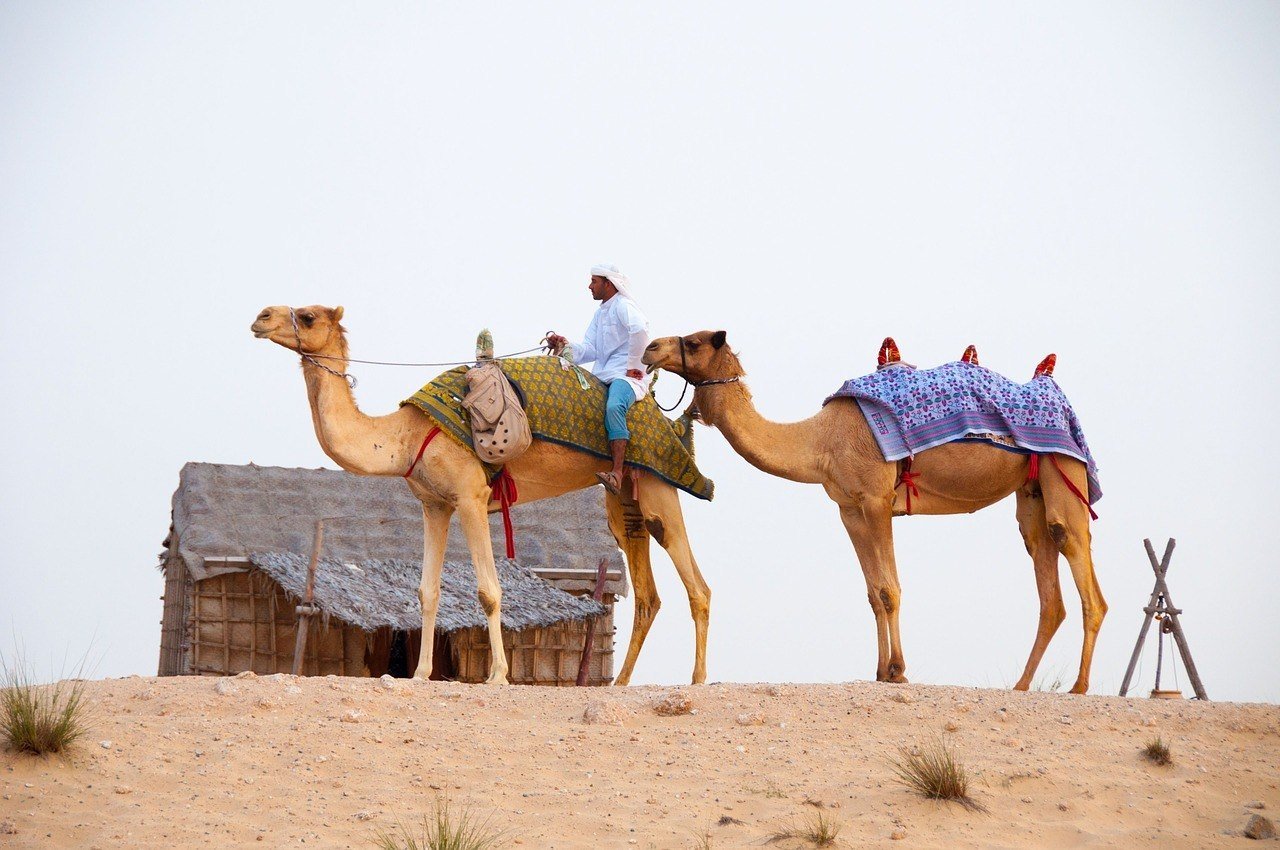 There's also a threat of conflict, due to its position on the Arabian Peninsula and just how near Dubai is to the Middle East and Yemen.
Simple stuff like swimming in the Gulf can also be dangerous: there are strong currents here. Even confident swimmers are at risk of being swept away. Also, the desert heat is sweltering.
Is Dubai Safe to Visit? (The facts.)
Dubai itself claims to be "the most visited city in the world", and it's not far off.
In 2017, Dubai saw 15.9 million international visitors. That's a crazy increase from 2013 when it welcomed over 12 million. Tourism is very important in Dubai. The government takes a big interest in making the country seem like a clean, safe place to visit.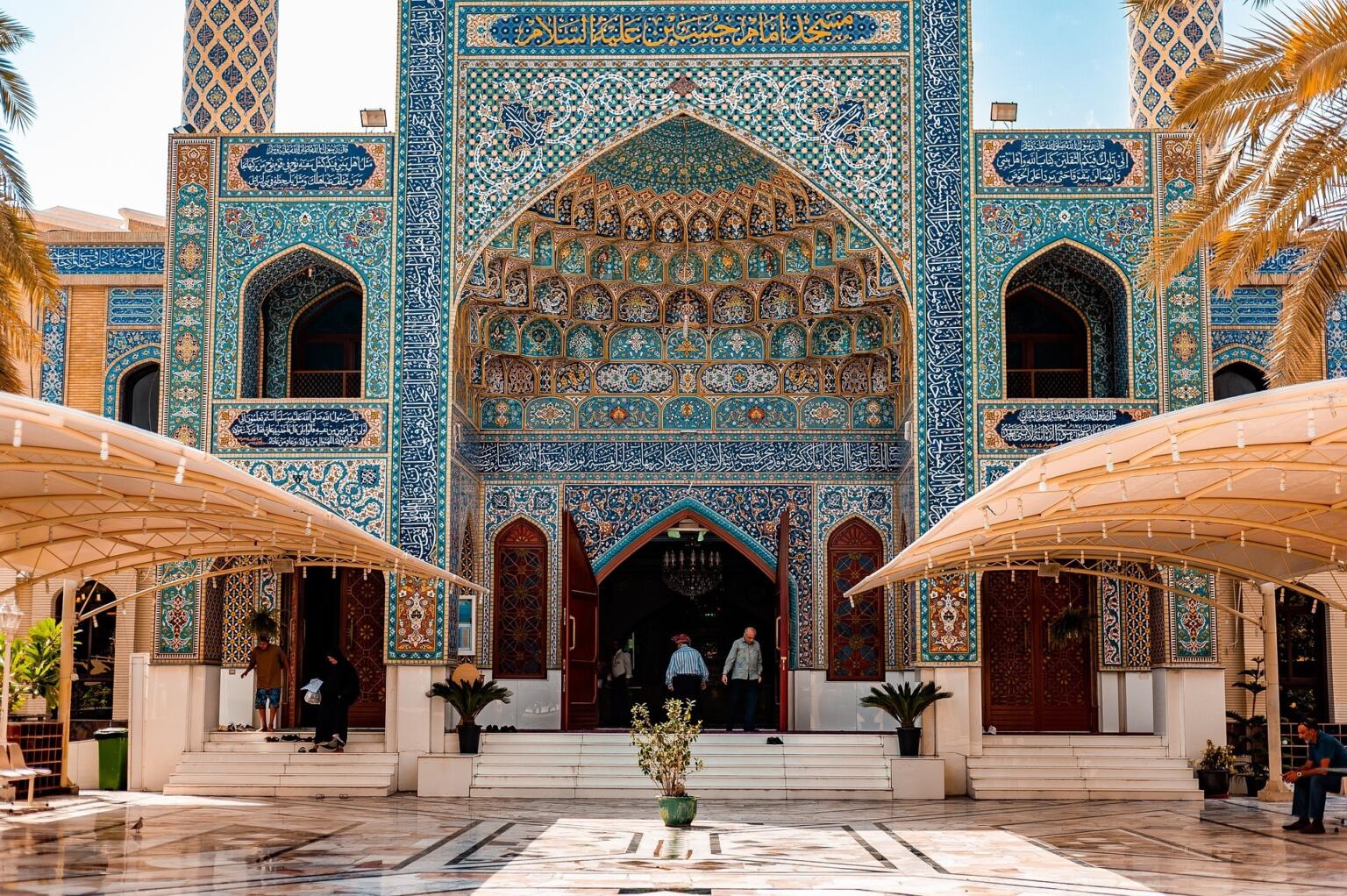 Also, the UAE as a whole rank on 2018's Global Peace Index at 53 out of 163 countries. Dubai Police Force is actually equipped with some pretty high tech stuff and there's CCTV all over the place. This combination means they're actually pretty effective at catching crimes.
But like everywhere in the world, crime does exist and in Dubai, it's mainly pickpockets. That said, however, they're still the least of your concerns for a safe visit to Dubai.
Like I said, respecting the local laws and customs when you're in Dubai is where you're going to have to be careful and really toe the line.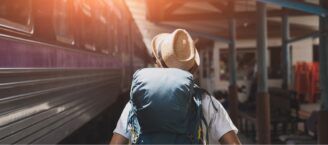 Unlock the The Broke Backpacker's GREATEST Travel Secrets
Sign up for The Broke Backpacker Newsletter to receive weekly tips on how to travel on a budget + a FREE copy of The Backpacker Bible!
Is it Safe to Visit Dubai Right Now?
Dubai makes up one of the seven United Arab Emirates, and it's surprisingly diverse. There are 12 times as many foreign residents as local citizens and they comprise a massive number of the workforce too.
But it's still an Islamic country – many foreigners often find themselves the wrong side of the law for things you wouldn't think twice about doing at home. For example, a man touching another man on the hip (accidentally) or someone bigging up an anti-foxhunting charity on Facebook. Needless to say, this isn't the usual stuff that lands you in jail in your home country and innocuous mistakes such as these stand as the real opposition to your safety in Dubai.
Some Dubai citizens recognise that their laws don't keep up with modern-day society, but this doesn't stop them from being real and acted upon.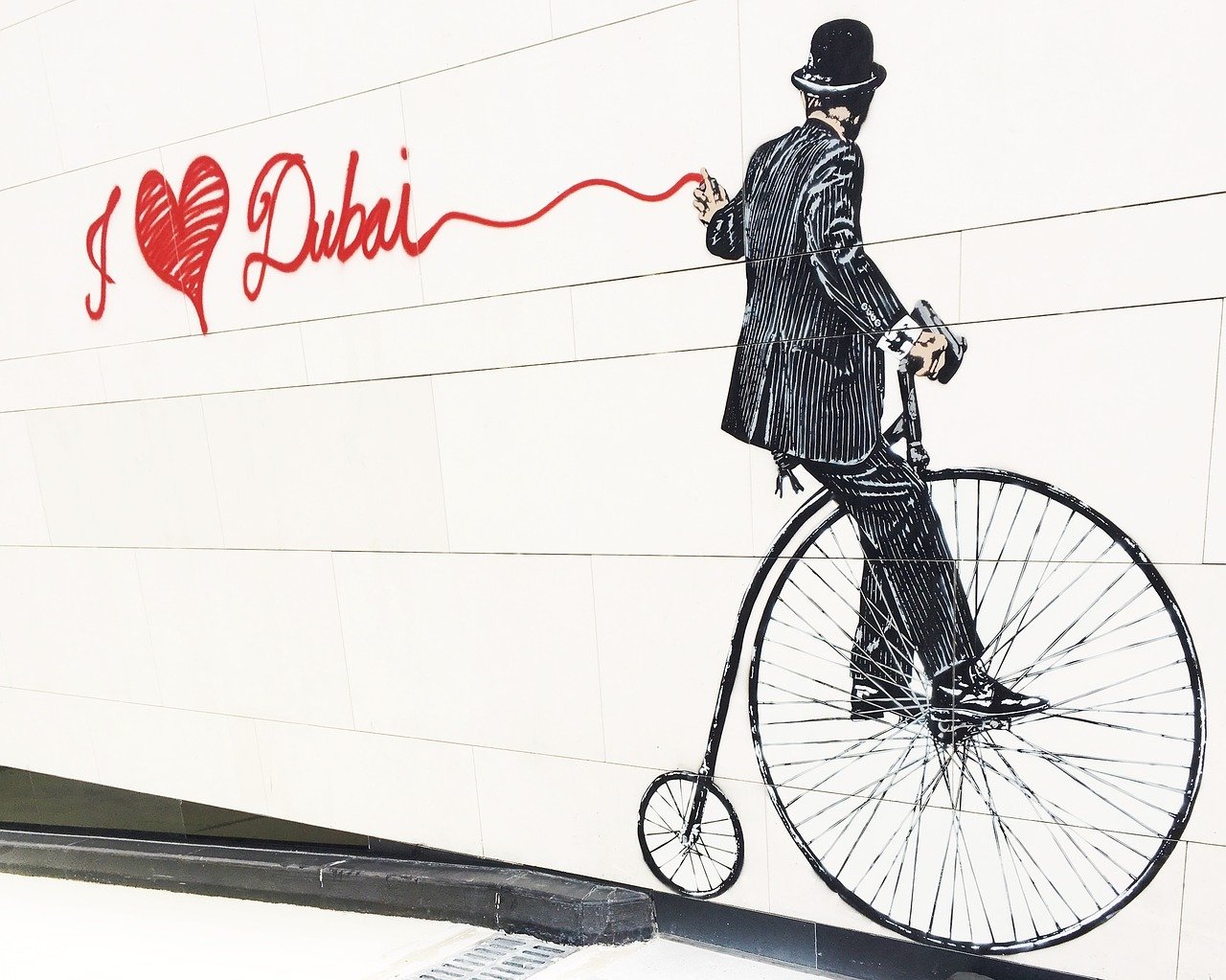 Because of things going on in the Middle East, terrorists have been threatening the Gulf region. So it pays to be vigilant and to keep an eye on local news reports, for any change in the Middle East peace process. This can cause disturbances in the city.
In 2018 Yemen launched missiles into Saudi Arabia. There have also been claims that the country might also target the UAE.
Also, since June 2017 there have been no diplomatic relations with Qatar. Be careful what you say on Facebook. Sympathising with Qatar will not be taken well (with a high possibility of arrest and/or prison).
So whilst Dubai is safe to visit from a technical, it's not a very liberal one and extremely complicated that. Consider thin ice, in a sense.
Dubai Travel Insurance
Do you need Travel Insurance for your trip? Even if you're only going for a few days, that's more than enough time to get  smote by wrathful angels. Have fun in Dubai, but take it from us, overseas medical care and canceled flights can be seriously expensive – insurance can, therefore, be a life-saver.
Travel mishaps can and do happen and it is well worth thinking about insurance before you leave home.
We have used World Nomads for years now and I have personally made several claims. Why not get a quote from them yourself?
Do be sure to read the terms and conditions to make sure that the policy covers your needs.
Getting an estimate from World Nomads is simple – just click the button or image below, fill out the necessary info, and you're on your way!

Wondering how big your travel budget for Dubai should be? The city is known for its over-the-top restaurants, lifestyles, and attractions, but that doesn't mean the city isn't visitable for backpackers. There are plenty of ways to keep money in your bank account while exploring Dubai! 
20 Top Tips for Travelling Safely to Dubai
Dubai is a very cool and safe place to visit. All that city to explore with cocktail bars and infinity pools at your fingertips, excursions out into the desert, and islands to discover just off the coast. There's a lot going for it and a lot of amazing places to visit in Dubai.
As we said, Dubai comes packed with a whole lot of rules. Maybe that's what makes it so safe to visit, maybe not. But this city really is strict on everybody who finds themselves there, including tourists. At the end of the day, to stay safe in Dubai and out of the eyes of the law, I'd recommend not breaking any of the extensive rules that are in place here: the best solution for a trouble-free trip!
So here are our travel tips for Dubai!
Dubai Safety Tips for Travelling Smooth
Be conscious of Ramadan – Read up on the do's and don't's of Ramadan before travelling to Dubai.
Keep away from any drugs – Serious consequences with almost zero tolerance.
Even drugs in your bloodstream count as "possession" – A very literal interpretation, but still, the zero-tolerance applies.
Airports have top security – Even if there are trace amounts of anything in your bag (from a past trip) you could be arrested.
Speaking of which, no pornography and no pork products – Both are illegal.
Low crime doesn't mean no crime – It may be safe, but you should still be mindful of your belongings and surroundings. Be smart and use a money belt when in Dubai.
Alcohol must be drunk in licensed venues – Hotels, restaurants, bars, etc… Anywhere else and you could face arrest.
You cannot be drunk in public – Tourists have been arrested because of this.
Get the approval of banned substances before you go – Some medication might contain "drugs" so you must get pre-approval.
Don't swear in English or gesture obscenely – Again, you could go to prison, especially when talking to officials or police. This includes online behaviour too.
Sex outside of marriage is illegal – If the UAE authorities find out, you might get arrested or deported.
Don't share a hotel room – Or just say you're married or related.
If you find out you're pregnant in Dubai and you're not married – You could get arrested and you won't even be allowed to register the birth.
Don't bother telling anybody that you're gay – It's illegal. Don't show in public. Here's an excellent post summing up visiting Dubai as a gay traveller.
Photographers, be careful – You can't snap government buildings, military installations, anybody (without permission), airplanes.
Don't criticise or ridicule the UAE – Online or otherwise. Not just the government, but UAE organisations. People have been detained and prosecuted under this law.
Only swim at approved beaches – Take heed of red flags and warning signs.
The desert is hot – In the height of the heat, not everything will be open.
Don't accept "lifts" from strangers – It's just not a good idea.
With all these laws to think about, keep a cool head – if you find yourself in trouble, being agitated or arguing won't help you or your situation. It'll probably make it worse.
Some General Safety Tips from the OG Broke Backpacker
Keeping your money safe in Dubai
It's pretty annoying anywhere in the world to lose money and although staying safe in Dubai is pretty easy (minus the laundry list of archaic rules), that doesn't mean that you will find a complete absence of a crime in this city. In fact, there are instances of pickpockets and bag snatchers who want to make money from unsuspecting tourists… so don't be one and use a money belt!
Travel with peace of mind. Travel WITH a security belt.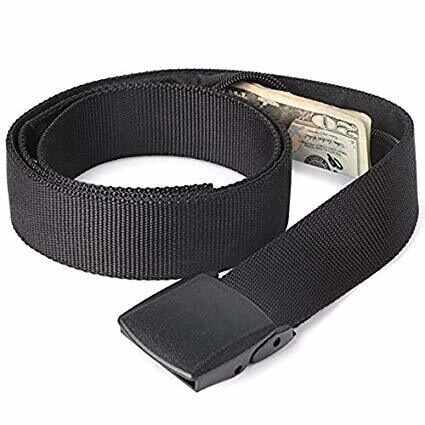 Custom-designed BY the Broke Backpacker FOR broke backpacking, the Active Roots Security Belt will keep your valuables safe no matter where you go.
It looks exactly like a normal belt except for a SECRET interior pocket perfectly designed to hide a wad of cash or a passport copy. Never get caught with your pants down again! (Unless you want to.)
Check on Amazon
Is Dubai safe to travel alone?
Doing things on your own terms, following planning a trip to Dubai your way, challenging yourself whilst you see the world, properly getting into different cultures, and learning a thing or two about yourself: these are just some of the reasons why we think solo travel is as great as it is.
But, like everything in life, there can be some downsides. One of those is the solo travel blues: a cocktail of one part loneliness, one part jaded cynicism, and one part needing a smoke and a lay. Ironically, that's not allowed in Dubai.
All the same, Dubai has a ton of things to do and is a crazy interesting city and most importantly, Dubai is safe to travel alone! Keep your nose clean and you'll have a great time!  Here are some pointers to do it like a pro.
Travelling to Dubai Alone – Tips and Pointers
Book yourself a budget-friendly accommodation in Dubai. If you're backpacking Dubai on a budget, there are hostels, however, make sure you do some research. You're going to want to stay in a social hostel, so read reviews and pick a hostel that suits you.
There also are 3-star hotels in Downtown Dubai, if you can afford it. There, you can stay amongst a ton of restaurants, busy streets, and keep yourself active and interested in the city.
Another option for solo travellers in Dubai is Airbnb. This is a good way to meet and interact with locals. You could also opt for a homestay, which will be a different way to see the city away from all the skyscrapers and luxury hotels.
Book yourself on an organised tour and make some friends. Dubai is generally a social city, but if you're by yourself it can be pretty isolating. Booking a tour is a super good way to meet fellow travellers and make new friends.
Get yourself a Dubai SIM card at the airport. This way, you can use Google Maps and not get too lost whilst exploring the city. Not going off-grid will help if you find yourself in trouble; people will know where you are, where you're staying in Dubai, and what you're up to.
Men need to think about how they dress, too. You'll need to be covering up at least to the knee and your upper arms should be covered. You'll get respect for being respectful.
Take your time. Don't feel like you have to do everything the guide book tells you to. Take some time off and don't get burned out by whizzing around the city trying to tick everything off.
Know what to pack for Dubai. You don't want to be lugging around a lot of excess baggage in any city anywhere in the world really – and definitely not in the heat of Dubai.
Don't be afraid to head out into the city at night! There are live music events or head to a bar – a good place to get chatting to fellow travellers and ex-pat.
Dubai is definitely safe for solo travellers, however, it's not always the most social place. You may find yourself going to a lot of effort to try to make friends or even just get chatting to somebody.
Homestays might make the experience of a trip to Dubai a lot more interesting, but the most important thing is to remember the rules!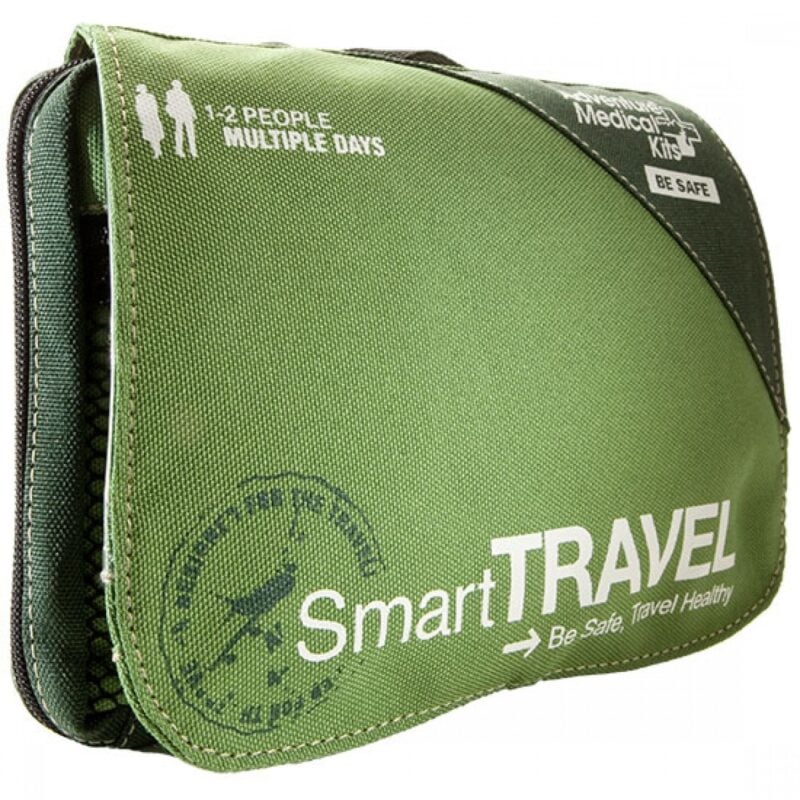 Be prepared for what life throws at you on the road. Pick up an AMK Travel Medical Kit before you head out on your next adventure.
View on REI View on Amazon
Is Dubai safe for women?
Surprisingly, Dubai is safe for women travellers. In fact, it's one of the safest Middle Eastern cities for women. A lot of females do go by themselves to Dubai either for travel or work… It's definitely one of the more liberal cities you're going to find in this region.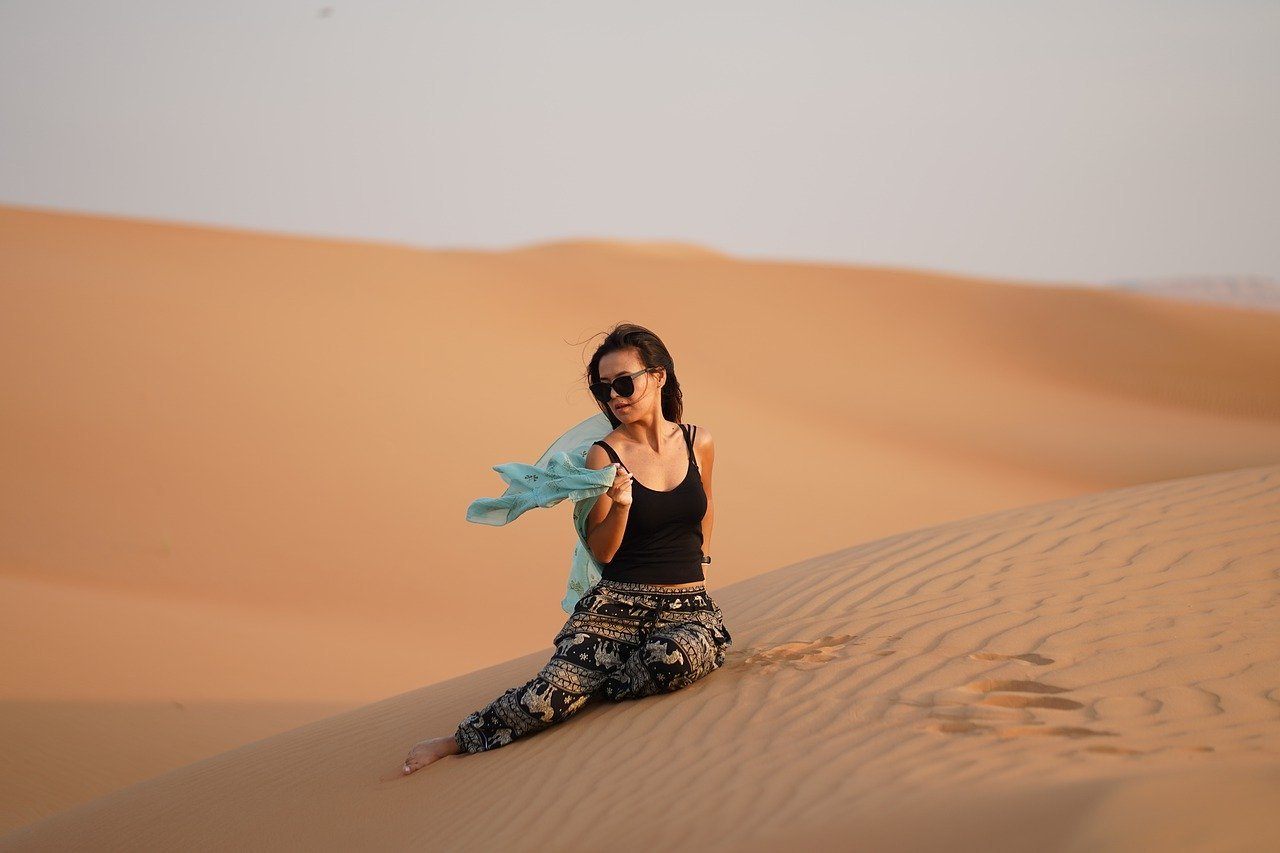 That said, being a woman anywhere in the world is going to come with added risk and, of course, that goes for Dubai too. Though this city may boast a pretty low crime rate in general, it's not always going to be safe 100% of the time.
There are definitely some things to keep in mind when you're travelling to Dubai as a solo female traveller but Dubai is one of the more liberal cities in the UAE. In general, you're going to be safe here.
However, still, apply basic travel safety precautions. That means being careful walking around at night, watching your drink when you're out in bars, asking the right people for help, etc. Some other unique precautions applicable to Dubai are – not looking men in the eye, not talking to taxi drivers, and in some instances, lying about being married.
At the end of the day, women do go to Dubai by themselves. There are a lot of tours you can take and plenty of other stuff you could be getting up to in this city. So we say go and like always: trust your gut. Here are our tips to help you out.
Travelling to Dubai as a Woman – Tips and Pointers
Attacks and sexual assaults are pretty rare, but they do happen. Be careful if you're heading out by yourself in places where there's not a lot of people.
If you are sexually assaulted or raped, the burden of proof is on the victim.  For example, in Dubai in 2013 a Norwegian woman who reported her rape to police was convicted of sex outside marriage and illegal consumption of alcohol.
Don't leave your drink unattended. And don't accept drinks from strangers. Drink spiking happens here, too.
Men in the Emirates and that goes for Dubai, often turn to foreign women for sexual encounters. Emirati women are supposed to be virgins until marriage, so Western women are seen as "the alternative". Expect some attention.
It might be helpful to wear a wedding ring – even if you're not married. And another thing you may want to do is wear dark glasses as even eye contact could be seen as flirting. When you're walking around, walk confidently and try your best not to look lost even if you are.
Avoid walking around at night by yourself. Dubai may be generally safe, but best to be extra careful especially in quieter areas of the city or deserted streets. Some women get mistaken for sex workers.
If you need to get around at night, get a taxi. Use a reputable taxi company and when you do get in, sit in the backseat and don't be too chatty with the driver. This can be misconstrued.
Pink Taxis is a good service for women and families. The drivers are all women who wear pink headscarves. Also, this company is super cool because these drivers do tours as well!
You might see other female tourists wearing shorts and t-shirts. But don't do what they do – you should dress modestly. That means covering your legs and upper arms. You'll get a warmer welcome from Emirati people for being respectful to their way of life, too.
On public transport, you should sit in the women-only section. This is usually at the front. Similarly, if you're eating out by yourself, some establishments have family sections where you can choose to sit.
If you need any help, – it's probably best to ask another woman. Female contact could be seen as flirting, especially Western female contact.
Is Dubai safe to travel to for families?
Dubai is really quite safe for families. You might think it's all skyscrapers and deserts, but there's a lot to do with your children here.
You can keep cool in the summer with loads of beautiful public beaches in Dubai, and those resorts come complete with kids' clubs to keep the rugrats entertained. For those who are a little more adventurous, you can try out sandboarding or even go on an overnight desert safari.
Having kids in tow shouldn't mean you're put off going on a trip to Dubai. But there are of course ways to make your travels safer.
In the hottest months of the year, temperatures hit the roof, so you're going to want to stay out of the sun and keep in the shade as much as possible. The heat can be dangerous, but there are huts and places along the beach to rest up & hydrate. Picking the right time to visit Dubai is essential!
You can take your kids to the more high-end restaurants, but it's probably going to be a little stressful keeping them under control! Food courts in malls are going to be filled with all the food they're going to want anyway. Top tip: BookMunch Cafe is a fun place for kids.
Most hotels have child-friendly facilities. We suggest reading reviews by other parents to see which one best suits your needs.
Don't expect cars to have car seats though, bring your own if you need one. Pushchairs are ok too, especially around malls, but you won't be walking a lot. There's not a lot of pavements and it's too hot. Plus, kids under five ride free on public transport anyway.
If a child is travelling with someone that has a different surname, you'll need to have an authorised letter and a copy of the birth certificate.
Children can usually dress how they want, but teenagers will have to adhere to the same standards as adults – dress modestly.
To conclude, children in the whole of the UAE are pretty central to society. You're probably going to be more accepted and respected than a solo traveller.
Is it safe to drive in Dubai? Getting around Dubai.
Dubai's roads are big, fast, and chaotic. That doesn't particularly lend itself to being a safe place to drive.
Inside the city itself, traffic is mad, especially during rush hour. Also, forget about driving on Friday afternoons. The highways are huge 8 lane monstrosities and there are traffic lights everywhere, which adds to the madness.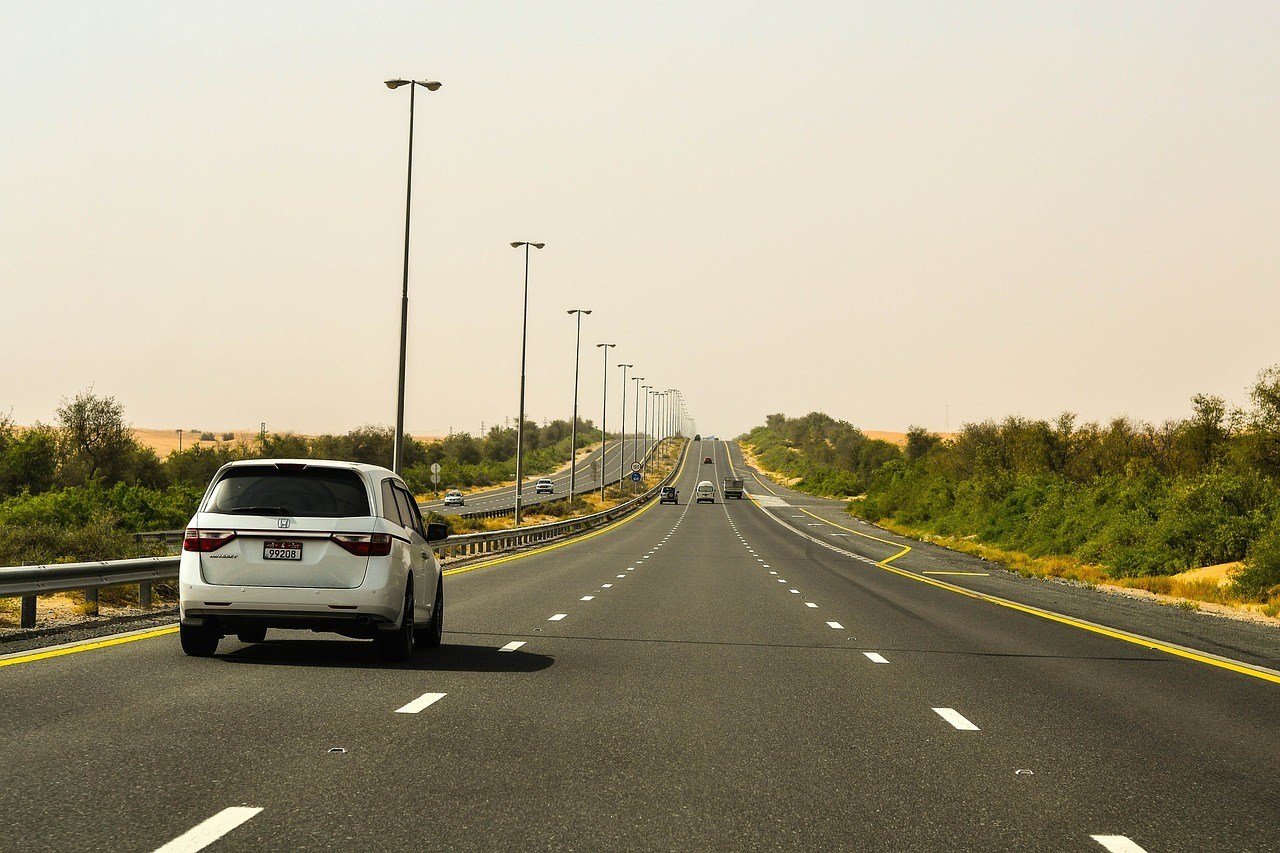 Basically, because fuel is cheap, driving is cheap, so a lot of people drive. And the way some people drive is pretty crazy: erratic, unsafe driving. Don't ever assume that any other driver is even aware of your presence.
As you probably would have guessed, there is zero-tolerance on drink driving. In fact, if you're caught with even trace amounts of alcohol in your system it could mean any combination of a fine, prison time or deportation.
Also, it might be frustrating driving in Dubai, but any offensive gestures at other drivers can mean prison time. Seriously, this has actually happened.
All in all, it's really not worth driving in Dubai: it's not safe at all. Although travelling may be safe, Dubai is dangerous if you're planning on crossing it by car.
It's not safe to drive in Dubai. So please, don't even bother.
Is Uber safe in Dubai?
Yes, Uber is safe in Dubai. It's also much cheaper than taxis. Uber has to be safe in Dubai – its government makes sure it is.
The usual Uber benefits apply here: knowing the car that will turn up, reading driver's reviews, tracking your journey, not needing cash, not needing any language, etc. Play the Uber game well, and getting around those 8-lane monstrosities will be a snap!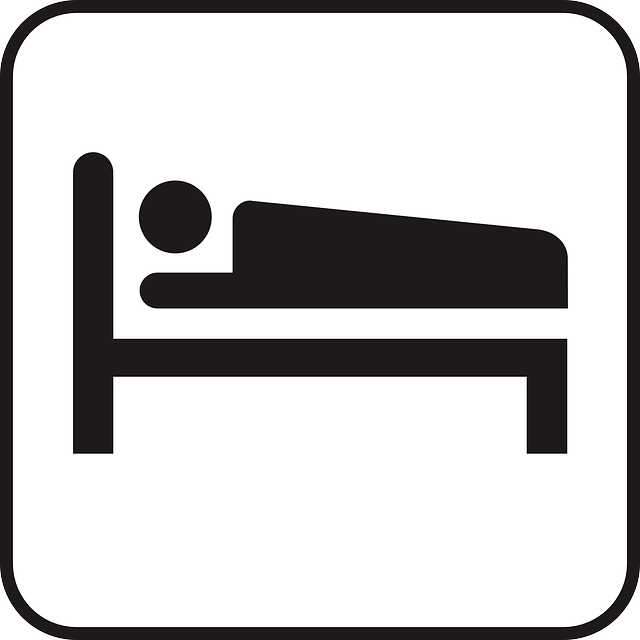 Sleep safe! Choose your 
hotel
, 
hostel
 or 
Airbnb
 ahead of time so you're not last-minute booking a less-secure place.
Read our Neighborhood Guide for our favorite accommodations in Dubai by area.
Check out our Hostel Guide for the best budget options.
Are taxis safe in Dubai?
Taxis are everywhere in Dubai, and since it's a pretty sprawling city, you'll probably need to use them at some point.
Spotting a government licensed taxi is easy. They're cream-coloured and they look like taxis. They run by the meter and they're pretty cost-effective. You're safe to hail them in the street, pick one up outside a mall or a hotel, or call a radio taxi.
There are also private taxi companies. They're fine to use, too, but just have different coloured roofs. Just make sure, as with other taxis, that you can see the driver's ID at the back of the taxi. Take a picture of it and show it to the police if anything happens.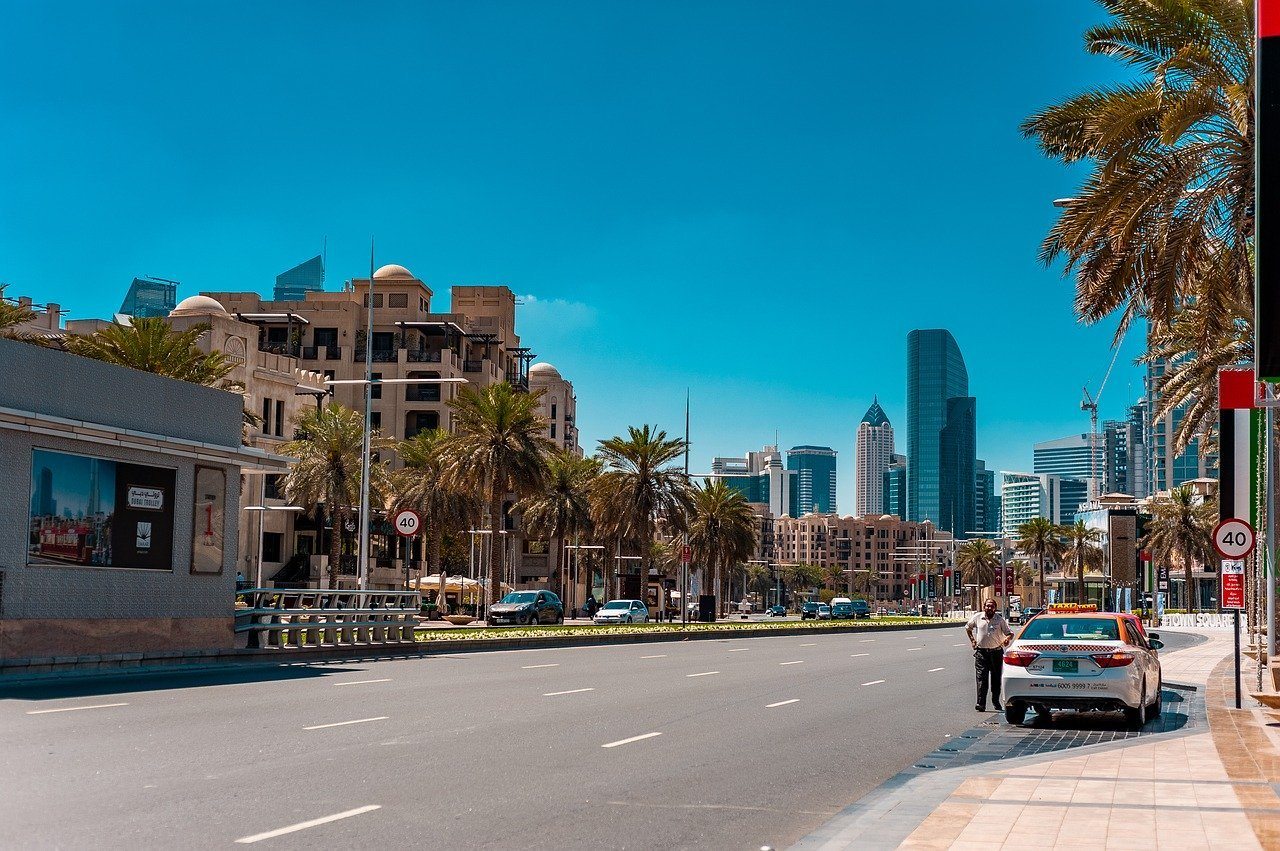 A taxi-hailing app does exist and is called Smart Taxi App. It basically works like Uber, but gets you the nearest taxi instead, which is helpful because in Dubai some destinations aren't easy to find. Navigation is done more by landmark than address, so smartphone GPS helps a lot.
Like we said earlier, Pink Taxis have female drivers and are family and female-friendly. If you're unable to get this service (and you're a woman), always remember to sit in the backseat of a regular taxi. If you're having trouble getting a taxi at all, head to a hotel, and they'll get one for you.
Basically taxis, especially for tourists, are safe in Dubai. Also, it's just safer (and easier) to go around with a local driver rather than driving yourself in all that madness!
Is public transportation in Dubai safe?
The public transport in Dubai is safe, and you're going to want to use it. As we mentioned before, it gets super hot in Dubai. Walking is not an option.
First things first: get yourself a Nol Card. This is an IC card for all public transport in Dubai ('Nol' means 'fare' in Arabic). All you do is tap it and go.
Buses run on 125 routes all over the city and they're relied upon by every day, working people of Dubai. They're mercifully equipped with air-con… even the bus stops have air-con! However, they're also slow and crowded and it can be tricky to figure out just what stop you're supposed to be getting off at. Last;y, they only accept Nol Cards – there's no cash.
Then there's the metro, which is ultra-modern. There are only two lines: the Red Line, which runs from Dubai International Airport to Jebel Ali and the Green Line, which goes from Dubai Airport Free Zone to Dubai Creek. The metro is easy to use. It's in Arabic and English, and what's more: it's driverless. The first of its kind in the world.
Men should be careful not to go into the female-only sections of the metro, or they'll be fined. Also, there is no eating, no drinking, no chewing gum allowed on the metro in Dubai.
There's also a monorail. It's a small line, but it's still there. It runs for 5.5 kilometres and starts from near the Palm Jumeirah and goes all the way to Dubai Marina. 
There's even a tram too! This has 11 stops on a small line around the Dubai Marina. It also connects with a few monorail stations too. In 2020 there will be another 4 kilometres added to the tram line.
And then we have sea travel. Safety isn't always the best on tourist boats so make sure you wear a lifejacket. Also, the Gulf is a bit of a politically sensitive area, so be extra careful.
All in all, public transport in Dubai is safe and the best option to avoid the heat.
Keep everything on you in transit!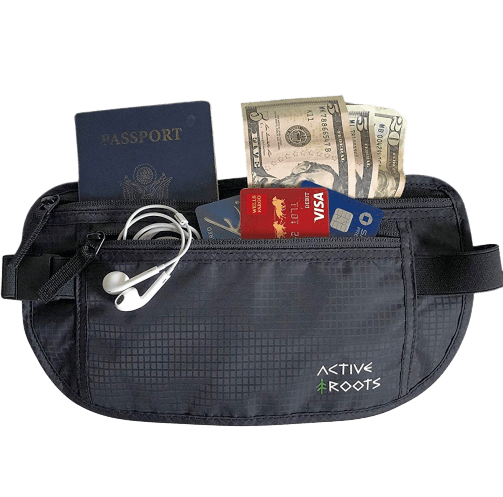 When moving from place to place, you shouldn't store travel documents in a bag, even if it's under your seat or overhead.
A full-sized money belt that stays tucked under your clothes keeps your documents and cash organized during your travels and assures nothing critical gets left behind or stolen.
Is the food in Dubai safe?
Food is amazing in Dubai, and it's not Emirati cuisine we're talking about. You can eat almost anything in Dubai: from Filipino cuisine, Afghan restaurants, Iranian, to a lot of high-end establishments too. Vegans and vegetarians, don't worry: you're catered for too!
Aside from all the international, chain and fast food options you're going to have in Dubai, there's a load of local deliciousness you can try out in this city. You can tuck into tabbouleh, bite into chunks of fluffy flatbread, gorge yourself on shwarma or anything else that's probably super tasty.
But like anywhere in the world, use your common sense. If somewhere looks a little dirty, avoid it. If somewhere isn't busy at all, then maybe don't go there either. Needless to say, if it's both these things – steer clear. Other than that, an actual world of food awaits in Dubai!
Dubai Municipality has apparently been working towards an increased level of food hygiene in the city. But in a place that's so hot, there are issues with food safety that spring up. So let's have a look to see how you can keep your stomach safe when in Dubai.
Eating Safety in Dubai
Keep away from raw salads that come with shwarmas. This is important especially in more 'local' places that aren't in shiny malls. These probably won't have been washed with clean water and might give you a bit of illness.
Find some local food in places like Old Quarter like Deira and Bur Durbai. Don't avoid them, because this is where you'll get some seriously tasty food, but do pick and choose wisely. The more locals you see in a restaurant, the more likely it'll be tasty; the less likely it'll give you a bad stomach.
Make sure that what you're eating has been cooked through. Especially things like eggs and chicken. It's basic stuff, but this can be pretty bad for you and can even be outright dangerous.
Be careful in hotels, these are hotbeds for bad stomachs. Even at 5-star hotels. The main culprit is the infamous hotel buffet. It might look tasty, but it could have been sitting around for longer than you think.
Don't go crazy when you first arrive. Ease yourself into what the locals are eating. Trust us – your stomach just won't be used to it.
Camel isn't a weird thing to eat here. It's a pretty normal part of Emirati cuisine, so don't be disgusted by it, go for it and try it, in moderation (if you want to, that is).
Don't try local food if you're scared of doing so. Malls feature all your favourite chains from back home.
Super basic, but wash your hands. If you really want to eliminate germs, use hand sanitiser.
Can you drink the water in Dubai?
Whilst the water itself is safe to drink (there are a ton of desalination plants along the coast for that reason), by the time it gets to the tap we wouldn't recommend it. Badly maintained pipelines mean there are a lot of chances for it to get contaminated along the way.
A refillable travel bottle and some water purification tablets will do the trick. Read our in-depth review of the best travel water bottles if you decide to do so. If you prefer boiling and filtering your water, we'd recommend the GRAYL GEOPRESS.
Want to save the world?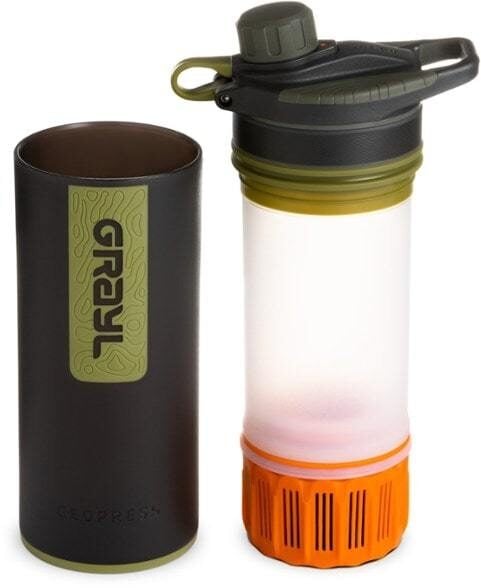 Single-use plastic bottles are a huge threat to Marine Life – Be a part of the solution and travel with a filter water bottle.
The GRAYL GEOPRESS water bottle is the ONLY all-in-one filter water bottle setup you'll need. Whether you need to purify the water from a hostel sink in Kathmandu or a stream trickle in the Andes, the Geopress has got you covered.
Read our full review of the GRAYL GEOPRESS!
Is Dubai safe to live in?
A lot of non-Emirati people live in Dubai. The UAE is home to over 200 different nationalities, with a lot of ex-pats living in Dubai safely. The country as a whole is actually home to the highest percentage of immigrants in the world.
People make their homes here from across the globe. There are a lot of cool places in Dubai to live in. You can head to Mirdif, which is a suburban sort of place with its own shops and schools.
There's also Al Garhoud. This place is close to a lot of Old Dubai establishments, including Irish Village – an actual pub with a beer garden. Jumeirah is right on the beach if you like being near the beach. There's also International City, which is a cheaper place to live. The name lends itself to, well, international people.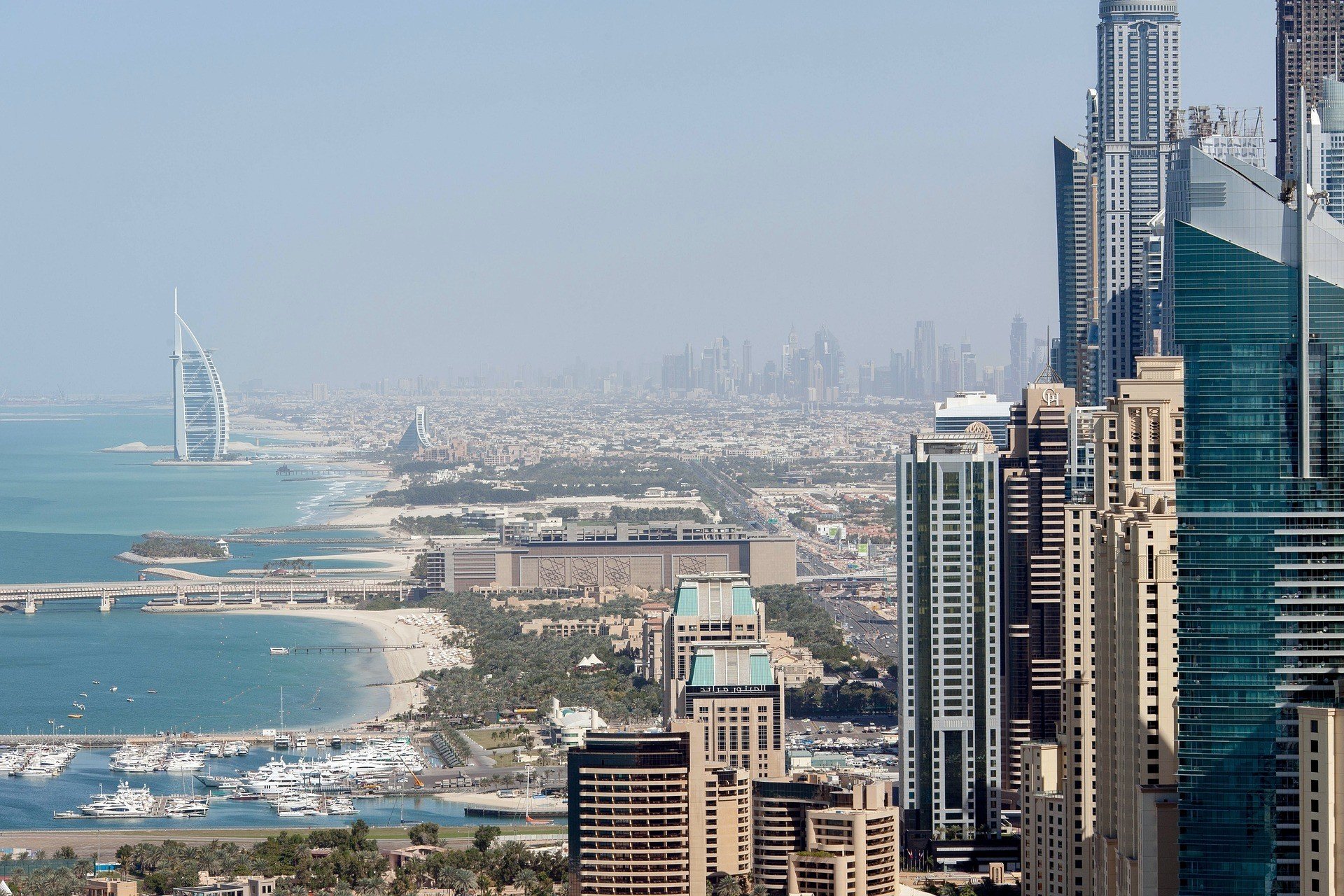 There's a lot of stuff to enjoy and a lot of decent places to live in Dubai. However, there are limitations too.
Aside from the extreme heat, there's laws and society in general. You will probably have to edit yourself and the way you dress to fit in.
Also, you will need a liquor license to drink alcohol at your house. This is pretty mad if you're from a Western country. You'll also need a permit to even drink in a licensed venue.
You won't need to learn much Arabic as most people can speak English. You can if you want  – and it'll probably open up another world for you – but it's not necessary (though it can be fun to learn a new language!)
Dubai life is not laid-back. It's a busy, fast-paced city that's not very relaxing. High stress and low downtime…
But if that sounds like you, you'll love it. It's an adventurous, high octane, business-minded sort of place to base yourself for a while. And if you've bagged yourself a job here already, chances are you'll be earning a good amount of cash.
How is healthcare in Dubai?
Healthcare in Dubai is up there with the rest of the developed world; it's pretty good. It's free for citizens, but not visitors.
Dubai itself actually boasts Healthcare City, which is a hospital complex with pretty advanced private healthcare and a training area, too. The healthcare is so good in Dubai that an estimated 12 million people visit per year on the grounds of medical tourism.
You will need travel insurance or you might get refused treatment if you don't have proof of that. Well, that or enough money.
If you need to see a doctor, just ask at your hotel and they'll be able to point you in the right direction. It's easy to come by well qualified, English-speaking doctors who'll be able to suss out what's wrong with you.
Emergency care is free for everybody, but only at public hospitals. If you call Health Call they will send out a doctor to where you are – it's a 24-hour service.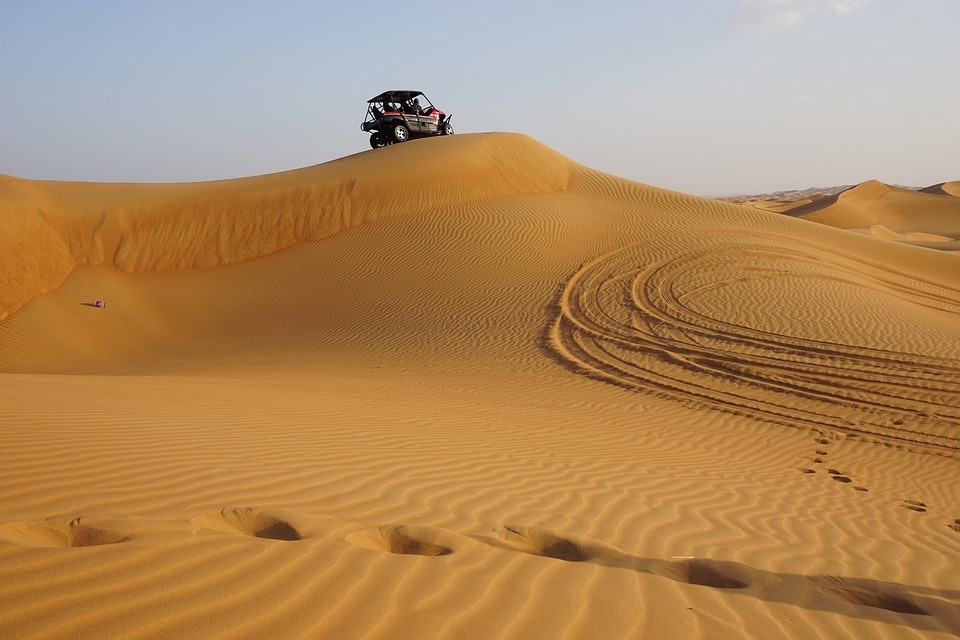 Dubai Hospital is a government-run hospital with emergency facilities that run round the clock, therefore, it's one of the BEST in the whole UAE.
If you need medical supplies, pharmacies are all over the place, even in shopping malls. You'll be able to get a lot of different medications – even antibiotics can be bought over the counter.
In conclusion, healthcare is good in Dubai.
FAQ about Staying Safe in Dubai
Here are some quick answers to common questions about safety in Dubai.
Final thoughts on safety in Dubai
Usually, when we're talking about how safe a country is, we mean pickpockets, robbery, and violence but all of this is almost nonexistent in Dubai. It does happen, but it's not what you should be the most worried about when you visit here.
Of course, don't walk around like nothing could happen – because it could – but ultimately, that's not the main concern for your safety in Dubai. The main thing that affects how safe Dubai is… is just how strict rules are.
Think of some things you wouldn't think would be an issue at all – like kissing in public, or even just flipping someone off who's annoyed you. These are punishable crimes in Dubai with fines, prison time, or deporting you from the country. Also, don't even think about criticising the government as it's illegal, too.
But it's all about smart travel, and that doesn't just mean being vigilant in areas where pickpockets may strike or making sure you don't stay for too long in the insane heat that roasts Dubai on the daily. It also means being sensitive to the way a country is governed. Just because you don't agree with it, doesn't make it not a law.
And have you thought about getting Travel Insurance for your trip? You can get a quote from World Nomads by clicking on the link below.
Disclaimer: Safety conditions change all over the world on a daily basis. We do our best to advise but this info may already be out of date. Do your own research. Enjoy your travels!
---
Find out how YOU can support the site.
We're a big site with a big team and this job isn't always easy. But we do it because we love it – we love providing epic and free content. We love the knowledge that our content keeps you adventuring. We don't ask for money, but if you'd like to find out how you can help the site in more organic ways, click the button below.
Thank you for your support 🙂
And for transparency's sake, please know that some of the links in our content are affiliate links. That means that if you book your accommodation, buy your gear, or sort your insurance through our link, we earn a small commission (at no extra cost to you). That said, we only link to the gear we trust and never recommend services we don't believe are up to scratch. Again, thank you!
Support the site and learn how to travel the world on $10 a day – check out The Broke Backpacker's bible!