Travel
MUST READ! Is Cartagena Safe to Visit in 2021?
Cartagena is a dizzying, feverish pearl of a city perched on Colombia's Caribbean coastline. Awash with colour, and overflowing with dance, music, culture and food, Cartagena is a perfect mix of all things Latin with all things Caribbean.
Historically, this is a colonial-era city with some fascinating tales to tell. Not one to surrender to nostalgia though, there are now towering skyscrapers illuminating the cityscape over at the new development of Bocagrande. Here you will also find the city's best beaches, upscale shopping opportunities and a slew of fancy, contemporary hotels to base yourself in for your trip.
However, Cartagena has not always had the best reputation. Whilst much of its chequered past is behind it, there are still issues to be aware of. To be blunt, you really do need to take care in Cartagena…
But Cartagena is ok to visit? Absolutely YES as long as you do take due care. This is why we have created this very handy and very in-depth guide to staying safe in Cartagena. It's filled with all the tips and information you'll need in order to keep yourself secure in this awesome city.
How Safe is Cartagena? (Our take)
Cartagena today is actually pretty safe – in fact, it's one of the safer places in Colombia.
There's plenty of police officers on the street and the city is seeing improvements to the crime rate and general security. Most tourists who visit Cartagena have a trouble-free time.
However, it is important to know that you cannot simply wander around Cartagena like it is some sort of holiday camp. It is still after all, a Colombian city. This is a country where crime rates remain relatively high and criminal groups and gangs are still active, but it depends on which of Cartagena's neighborhoods you're staying in.
Pickpocketing, bag snatching, break-ins, mugging and assault all happen in this city daily. And yes, tourists are targeted.
It is not uncommon for scams and petty theft to affect tourists and, most of the time and these are the main issues that visitors to the city will face.
Another thing that may spook some people when they backpack through Cartagena are the aggressive tactics used by unofficial vendors selling things on the street. They may be touting low budget souvenirs, they may be pushing drugs or even prostitutes; knowing how to deal with this sort of issue can be the difference between a stress-free and a stressful trip.
Sleep safe! Choose your hotel, hostel or Airbnb ahead of time so you're not last-minute booking a less-secure place.
Read our Neighborhood Guide for our favorite accommodations in Cartagena by area.
Check out our Hostel Guide for the best budget options.
Is Cartagena Safe to Visit Right Now?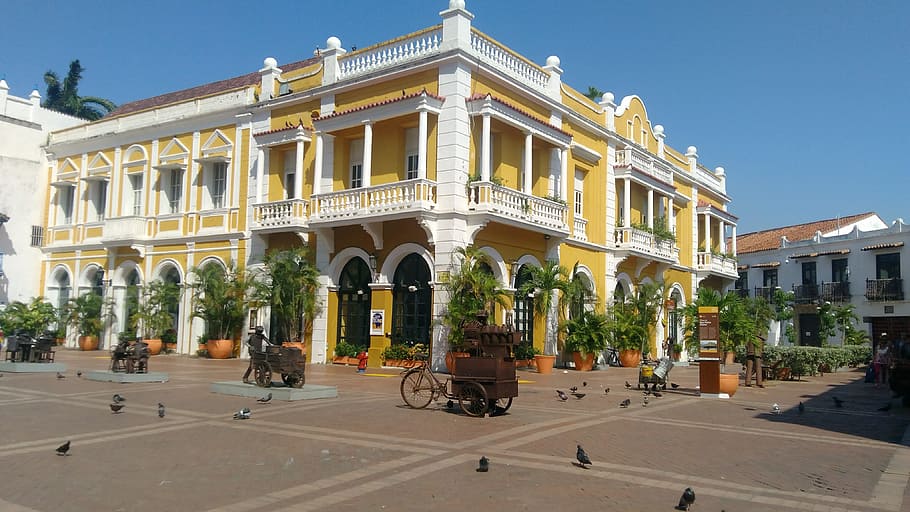 Cartagena has a population of almost 1,000,000 and is the fifth-largest urban area in Colombia. Unlike Medellin, Cartagena has historically been more of a safe and popular destination – even with Colombian tourists.
Tourism to this coastal city continues to rise, regardless of any government warnings or issues that may be facing Colombia at the moment. And while tourists and backpackers are increasingly choosing Colombia as their backpacking destination, crime is gradually declining – but it remains an issue.
The illegal drug trade still affects the country although this is felt less keenly in Cartagena than in other municipalities and regions of the country.
Protests and strikes often affect Colombia and ongoing issues mean that these are likely to continue. Additional security measures by authorities, because of these protests, mean that there is an increase in police presence and curfews can come into play at short notice.
Many areas of Cartagena are safe, but it is within the walled city – La Candelaria – that is both the most touristy and the riskiest to tourists. Pickpockets, petty criminals and pushy vendors continue to operate in this part of the city and being alert is key.
Away from the human side of things, when it comes to nature there are various seasonal and occasional risks to your safety in Cartagena.
The city, like much of Colombia, can be affected by earthquakes. These can rock the city and, in a place where there are many old buildings, the damage could potentially occur.
With tourists comes hassle from hawkers and beach vendors. They wouldn't be here without tourists, so as tourist numbers increase, so do opportunist vendors attempting to take advantage of tourists.
Currently, Cartagena is safer than it has been in recent years. However, it is definitely still the kind of place where you need to be smart. Common sense, and being alert still pays off.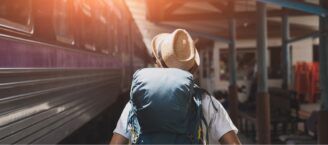 Unlock the The Broke Backpacker's GREATEST Travel Secrets
Sign up for The Broke Backpacker Newsletter to receive weekly tips on how to travel on a budget + a FREE copy of The Backpacker Bible!
Cartagena Travel Insurance
Do you need Travel Insurance for your trip? Even if you're only going for a few days, that's more than enough time to get br smote by wrathful angels. Have fun in Cartagena, but take it from us, overseas medical care and canceled flights can be seriously expensive – insurance can, therefore, be a life-saver.
Travel mishaps can and do happen and it is well worth thinking about insurance before you leave home.
We have used World Nomads for years now and I have personally made several claims. Why not get a quote from them yourself?
Do be sure to read the terms and conditions to make sure that the policy covers your needs.
Getting an estimate from World Nomads is simple – just click the button or image below, fill out the necessary info, and you're on your way!

Safest Places in Cartagena
When choosing where you'll be staying in Cartagena, a bit of research and caution is essential. You don't want to end up in a sketchy area and ruin your trip. To help you out, we've listed the safest areas to visit in Cartagena below.
Bocagrande
This strip of seaside skyscrapers is Cartagena's modern heart, a beach resort with a cosmopolitan backdrop of international hotels and a host of restaurants serving food from all over the world. It's known to be the home of many expats and families, while also offering a completely different vibe than Cartagena's cirt centre.
One of the most expensive areas in the entire country, let alone Cartagena itself, this area is home to gated communities and wealthy Colombians. This also makes it one of the safest places in Cartagena, since there are CCTV cameras and security guards everywhere.
This is the best place to stay in Cartagena if you like modern luxuries, shopping and and unwinding at the beach.
Safe and wealthy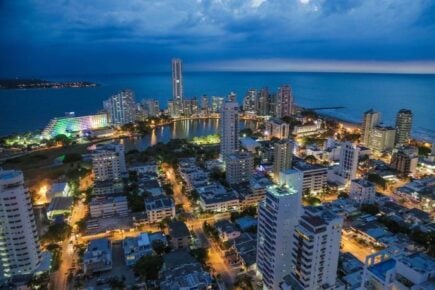 Safe and wealthy
Bocagrande
A very wealthy but also very secure area, Bocagrande is one of the best places to stay for those that are concerned about their safety in Cartagena. With a pretty luxurious but laid-back vibe, you can find rich locals, expats and lots of visiting families in Bocagrande.
San Diego
Just to the north of Centro, and still inside the environs of the old walled city, is the area of San Diego.
With as much history and many historic buildings as its southern neighbor, but with fewer tourists, this atmospheric district is where students come from the nearby art college of Bellas Artes to meet up and have fun. Fewer tourists mean less pickpocketing and pretty crimes. You should still keep your eyes open when wandering through San Diego though.
You'll also find some of the best food in Cartagena around the lively Plaza de San Diego, complete with historic church and street performers. This area is the place to come if you want the open-air museum feel of Centro but with less of the tourist numbers.
A fun student hub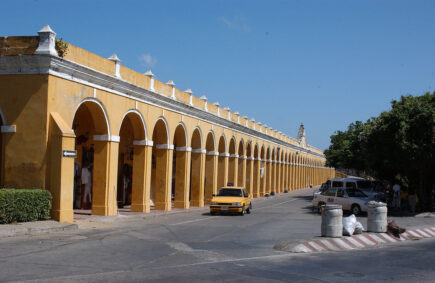 A fun student hub
San Diego
San Diego is a great place if you want to enjoy the Cartagena's Centro vibes, but without the busy streets and masses of tourists. Hang out with young students, walk through the charming streets and enjoy a delicious meal in one of the amazing restaurants in San Diego.
Centro
Centro is the undisputed center point of Cartagena's tourism industry, and for a good reason. The streets here are pristine, vibrant, and filled with relics of the past hundreds of years. You can easily get lost among the charming streets taking pictures all day, it's that beautiful. While you have to keep an eye on your belongings, Centro is still considered fairly safe since there are lots of street police present.
With the influx of tourists, obviously the Centro Historico can get very busy. However, because of that, you'll be spoilt for choice in terms of luxury and boutique hotels, and there are a whole host of cafes and restaurants to dine in. It's a great place to explore for a couple of days but can also get very hectic and overwhelming if you visit during the high season. However, it's definitely worth the experience!
Safe and wealthy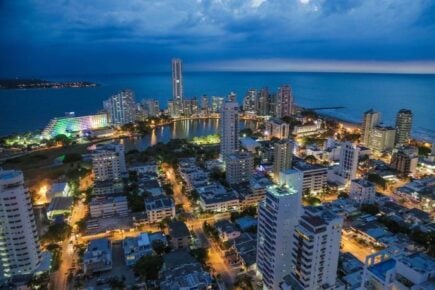 Safe and wealthy
Bocagrande
A very wealthy but also very secure area, Bocagrande is one of the best places to stay for those that are concerned about their safety in Cartagena. With a pretty luxurious but laid-back vibe, you can find rich locals, expats and lots of visiting families in Bocagrande.
Places to avoid in Cartagena
Cartagena isn't necessarily known to be the safest place to visit. That means you'll have to take extra caution, especially in certain areas with a higher crime rate. To help you out,  we've listed the most sketchy areas and places to avoid in Cartagena below. 
El Paraiso
Sector La Magdalena
La Maria
Olaya and El Pozon
It's important to know that all of the places we've just listed CAN be visited. They just have a higher crime rate than others. Also, they don't have many things to offer anyway, but if you want to see all of Cartagena, we'd highly suggest doing this during the day. Keep your eyes open and stay aware of your surroundings if you find yourself in these cities and you should be perfectly fine.
23 Top Safety Tips for Traveling to Cartagena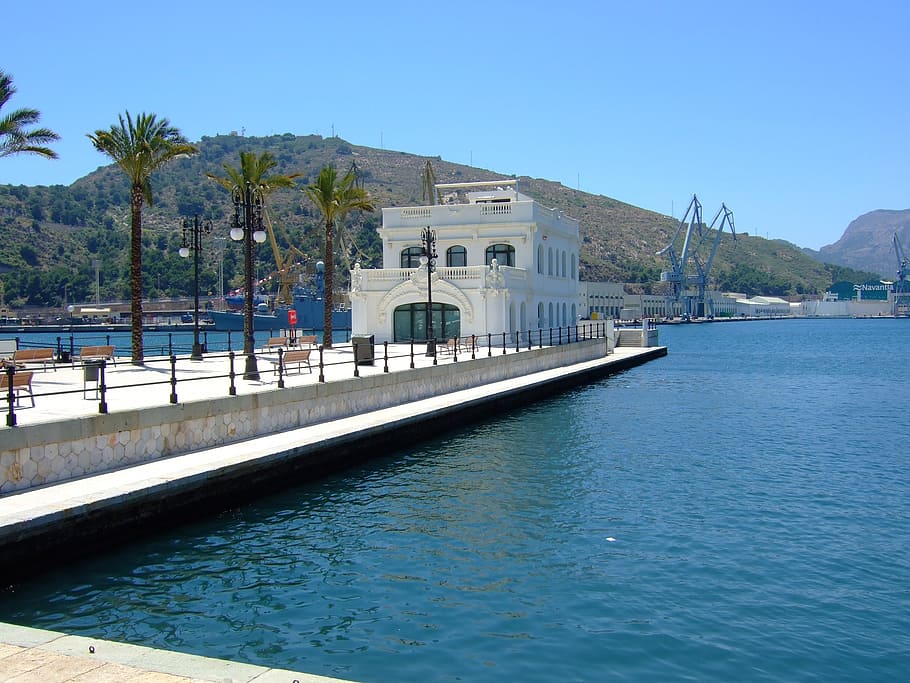 Cartagena may be one of the safer cities to visit in Colombia, but that still does mean this place is a Disneyland. To help you navigate the potential pitfalls of a visit to this Caribbean city, we have put together this list of tips, information, and do's and don'ts for when you decide to make the leap and visit Cartagena.
Limit the cash you carry with you – The more you have, the more you can lose (consider a money belt, too)
Don't walk around using your phone EVER – This does not only mean you are distracted but don't forget: your smartphone is super expensive and worth a lot of money to a potential thief who could simply snatch it off you and be gone in seconds
Try to look confident as you walk – Looking less lost, more like you know where you're going, could keep scammers at bay
Don't dress too much like a tourist – Being careful with how you dress, not having an SLR around your neck, and taking cues from how locals dress will help you to blend in a little more
Don't wear expensive jewellery – Whether gold, silver or jewellery or even if it's not real, anything ostentatious may lead to you being targeted
On public transport keep belongings close and be aware of surroundings – Pickpockets do operate on busy buses and around public transport hubs
Carry a copy of your passport – A copy will suffice for ID, which you need to have on you by law, but leave the real thing in a safe place and never hand it over to untrustworthy people
Be careful of taxi scams – We have a lot more on this later
Keep your cool – There are countless hawkers, vendors and touts in the walled city who can really test your patience; politely decline any offers and always keep a cool head to avoid trouble
Watch out when withdrawing money – It's best to use ATMs inside banks, and when doing so be discreet about it
Beware of Cartagena's beaches – Leaving bags and valuables unattended will likely mean that they go missing
Pay attention to warnings and local advice for water safety – The currents and riptides just offshore can be strong, so it's important to know where you can swim safely and where you should refrain from doing so
Avoid Vendors of Illegal Goods & Services – This means drug dealers and pimps. You risk arrest and they have been known to set tourists up or rob them even at gunpoint.
Mind The Police – They target young backpackers looking for drugs so they can "fine" them. They may also simply try to rob you – if they empty your wallet for a search, watch them CLOSELY, and count the money afterwards.
Protect yourself from the heat – And the sun. It can be very hot in Cartagena, so keeping hydrated, using sunscreen and covering up is a given
Choose accommodation with 24 hour security – Not only is this actually more secure, but it will give you peace of mind and means there will be someone on hand to help you if you need it
Don't take pictures of government buildings/military installations – I mean why?
Be Careful With Drugs – Small amounts of cocaine and weed are decriminalised but still be careful. Overdoses are common as are been sold fake stuff.
Learn some Spanish – Many people speak English, but even a few phrases will go a long way
Do not resist if someone tries to mug you – Though not as common as in other Colombian cities, muggers often resort to violence if things don't go their way; it's not worth it
Keep up to date with local news and events – In terms of weather or protests, this can help you plan your trip accordingly
Watch out for food, drinks and cigarettes – Scopolomise spiking is VERY common in Colombia and tourists are targeted. Keep an eye on your food and drink; do not accept these from strangers, nor cigarettes, as these things can be drugged and will leave you open to robbery and other crimes
Go to the police if you have an issue – Many are dishonest, but they will still try to do their job if you need help
As should be the case for pretty much any destination in the world, if it's something that you don't do at home, then you shouldn't be doing it in Cartagena. Though it's generally a safe destination, there are still some things to watch out for, and being sensible and alert when exploring the city should be the way you do things here. Keep our tips in mind and you should be totally fine in Cartagena.
Some General Safety Tips from the OG Broke Backpacker
Is Cartagena safe to travel alone?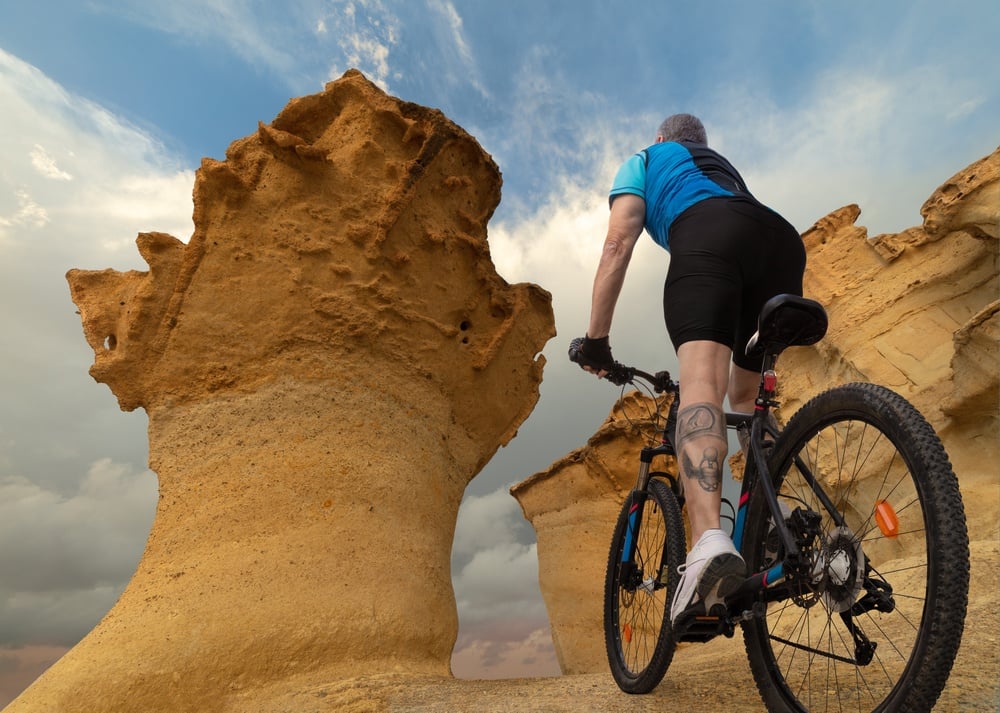 Solo travel is great. No matter where you are in the world, you will be rewarded by the freedom of solo travel as you get to do what you want, when you want.
However it can be a challenge; especially in Cartagena, solo travel can be a challenge.To help you keep on the straight and narrow, here are our top tips for solo travellers in Cartagena.
Solo backpackers are a target for criminals in Colombia. Sorry to have to tell you but we learned the hard way…
Book into sociable accommodation, but remember only to stay in places where you are going to be happy. Make sure you read the reviews!
Don't get completely wasted. Being drunk by yourself in a place you don't know means you are going to be at a much higher risk of putting yourself in a dangerous situation. Alternatively, try to join something like a bar crawl offered by your hostel, find some like-minded people to go out with, or limit the amount you drink.
Try out couchsurfing. This is a good way to meet locals and to make friends, but you should always make sure that the reviews and references are good, and take care that the person you meet is the person they say they are.
Ask advice from locals, either at your accommodation, online, or someone trustworthy you meet when you're out. They will know the safe areas to walk around the city, some cool things to see, do and eat, and will be able to offer you a local perspective of Cartagena away from what the guidebook tells you.
Don't carry all your valuables together in one place. This means not having all your bank cards in one wallet, or all your cash in one place. Split things like this up, consider having a second bank account (just in case), or an emergency credit card.
Be careful of over-friendly strangers. While people can be friendly in Cartagena, chances are when you are a lone gringo you will be approached by people you will not have your best interests at heart. Politely decline any offers.
Do research into guides, tour companies and other people who are offering their services like that. It is overwhelming, and annoying, when people in the street are besieging you with offers of touring this or guiding you to that, but know that it is much safer to book through your accommodation via a recommended, reputable guide or company.
Don't leave people out of the loop. Not only will this worry your friends and family back home, but it is better for your safety (and mental health) if you keep people back home updated; let them know when you're not feeling good.
Similarly, know when to take a break. It can seem all too easy to think life is a never-ending tick list of "awesome things to do" and such, but it is your experience, and having burn-out when you are travelling is not good for you at all.
Stick to travelling during the daylight hours. This is a good idea for anybody, but especially if you are by yourself it can be risky and overwhelming to turn up by yourself somewhere after dark.
Travel light. There is nothing worse than arriving somewhere with multiple, heavy bags and then having to navigate from A to B with all of that luggage in tow. Not only that, but it can make you quite vulnerable; walking around a city with a huge backpack on will just make you stick out like a tourist.
Know your emergency numbers. Have them saved on your phone (with a symbol or number in front so they appear first in your contacts) and on a piece of paper in case your phone runs out of juice.
With that in mind, make sure that your phone always has a good amount of battery charge.
Solo travel is great in Cartagena; there are plenty of places where you can meet other travellers, from cafes and bars, to the very social (and very good) hostels and guesthouses that are dotted around this city. You should be totally fine as long as you make sure that you explore the city sensibly, be kind to yourself, and don't go off grid.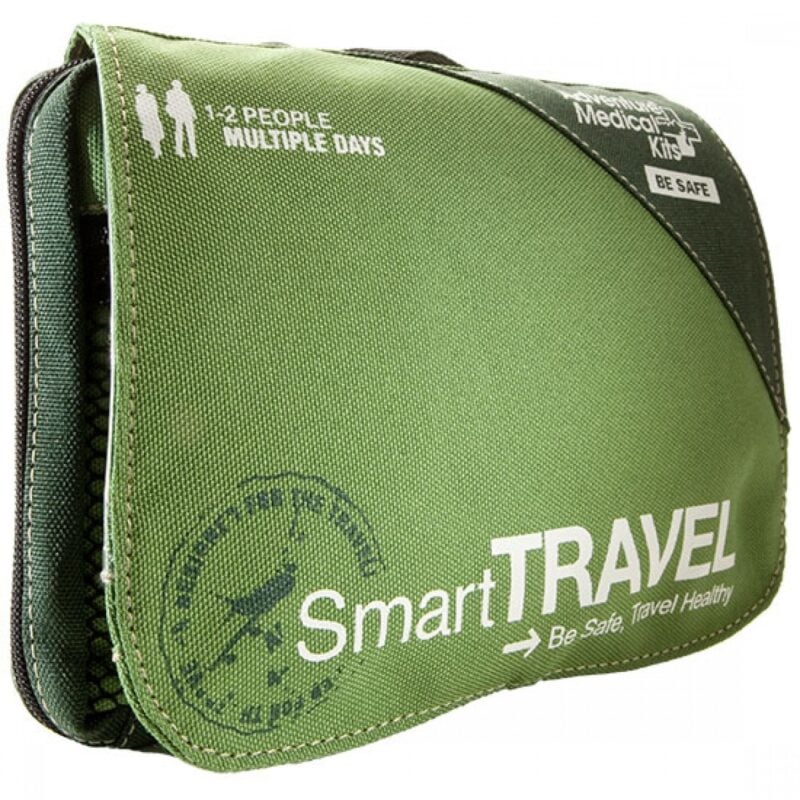 Be prepared for what life throws at you on the road. Pick up an AMK Travel Medical Kit before you head out on your next adventure.
View on REI View on Amazon
Is Cartagena safe for solo female travellers?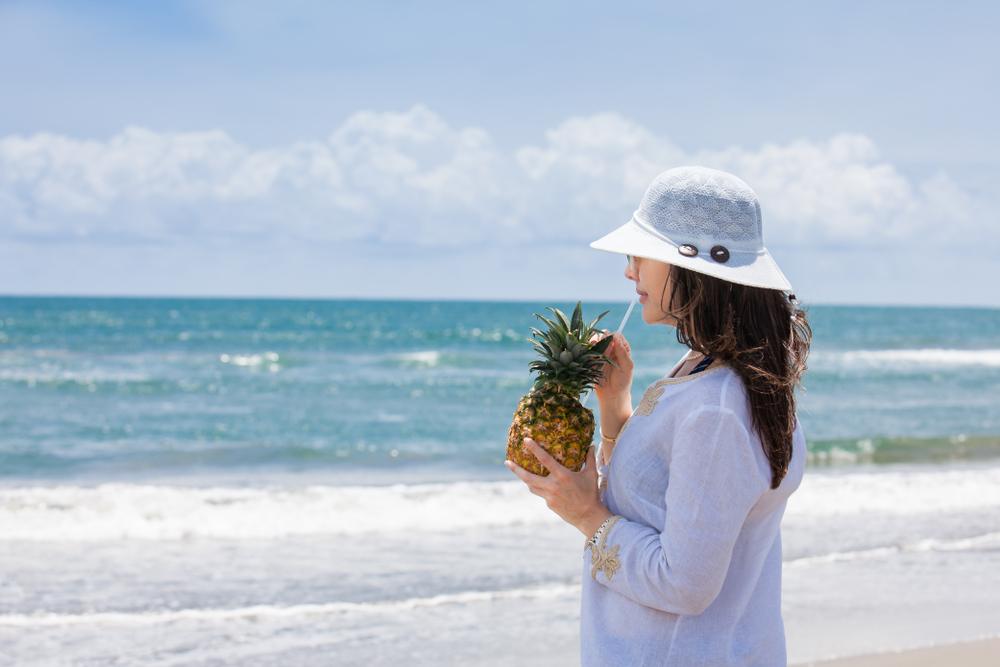 Cartagena is an awesome destination for solo female travellers. With good accommodation, other people to meet, plenty of places to socialise and explore, the city has a friendly, welcoming vibe.
However, it is not always 100% safe for women to travel by themselves. Sometimes there can be some hassle, places you shouldn't go wandering by yourself, and some other issues you should know about to keep yourself safe; so here are the best tips for solo female travellers in Cartagena.
Book yourself into a popular hostel. There are a great many hostels in Cartagena to choose from, some of which are perfect for solo female travellers.
Try out a class or other group activity. From dance classes and yoga to cooking classes, there are a lot of different activities on offer in Cartagena that you can get involved with and make for a great way to meet like-minded people.
Keep your phone charged. Not only can your phone be an absolute lifeline, but it can really help you if you ever feel lost in a part of town that you don't recognise.
Beware of blindly following Google Maps – or any other maps app; they could lead you along a short cut that takes you into an area of the city that isn't so safe.
Know that there will be some level of catcalling and harassment. It does happen in Cartagena. Though most people are kind and welcoming, it is possible that men could whistle or call out at you. Howeveogor annoying or upsetting, it is best to ignore this kind of attention and move on.
If something more serious does start to happen, and you get worried, then you should make a fuss in public. This should be enough to scare the would-be harasser away. Find a nearby trustworthy looking person, lady or family and tell them; they will more than likely help you out.
Do not walk around by yourself after dark. No matter how short the distance, it just simply is not worth putting yourself at risk. Instead, go with other people or take a taxi.
Tell people about your travel plans. Keep someone in the loop with where you are going and what you are doing on any given day.
Do not accept drinks from strangers. If somebody buys you a drink when you are out, it is ok to politely decline. Likewise, do not ever leave your drink unattended.
Blend in with your clothing. Although local women don't exactly dress modestly, it is still often good to err on the side of caution.
Don't linger out of politeness. If you feel as though you are in an uncomfortable situation, or someone is making you feel uncomfortable, don't feel that you have to stick around; make excuses and leave.
Meet up with other local ladies. Head online to find out meet-ups that are happening, or join Facebook groups like Host A Sister to see if anyone's in your area; check out Facebook group Girls Love Travel to ask for advice on Cartagena and other travel destinations too.
Many women make their way to Cartagena by themselves and have a trouble-free time. For the most part, it is generally quite safe, though – like a lot of destinations around the world – walking around by yourself, particularly at night, can be a little risky. The best bet is to check-in to an awesome social hostel in Cartagena, meet some fellow travellers and explore the city together.
More on Safety in Cartagena
We've covered the main safety concerns already, but there are a few more things to know. Read on for more detailed information on how to have a safe trip to Cartagena. 
Is Cartagena safe to travel for families?
In short, families are going to have an awesome time in Cartagena. Though it may seem like more of a cruise stop, or even a backpacker hang-out, Cartagena is also a great place for families!
Colombian society is very family oriented and this Caribbean city is no different. People are particularly warm and welcoming to you if you have your children with you when you visit.
Away from all the backpacker hostels of the old town, family-friendly hotels in Cartagena are located in the modern area of Bocagrande. This area can, at times, feel like an entirely different city to the one to be found in Getsemani or La Candelaria.
Exploring the city with your children in tow will be an interesting experience for all of you. Simply finding a local square early in the morning is a great way to soak up some colourful local ambience and atmosphere.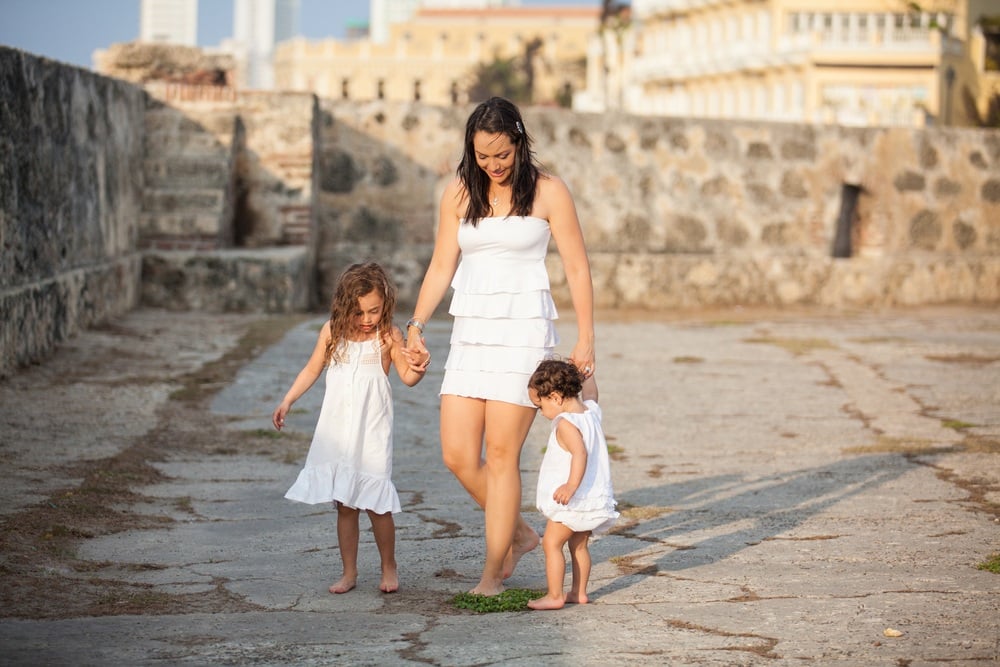 One of the main things you are going to have to consider though is the climate. Being in the Caribbean, Cartagena is a hot, humid place, the sort of place where clothes-changes throughout the day are necessary.
Keeping hydrated is key, as is sunscreen and sunhats for you and your children. Avoiding being out in the sun, on the beach or the streets, at midday or early afternoon, is essential to not getting overheated.
Culture in Colombia often means that things happen late, including restaurant opening times; lunch times begin at around 1 p.m., with dinner at around 9 p.m. It might be worth sleeping in the hottest hours – as many locals do – and coming out again when it's cooled down in the evening.
All in all, Cartagena is a fine destination for you and your family. People may think you are crazy for going to Colombia with your children, but chances are you are going to have a ball in Cartagena.
Is it safe to drive in Cartagena?
Driving in Cartagena is a mixed bag. Unless you want to explore further afield, it is not really worth driving yourself around the city.
People in Cartagena tend to drive quite aggressively and erratically. Though not a huge challenge, you will have to be comfortable with driving defensively. Note that driving standards will probably not be as high as they are in your home country.
Drivers use their horns a lot, which is something you will have to get used to. Being a Caribbean city, people are also a little more laid-back compared to somewhere like Medellin. Still, working your way around in the city in your own vehicle can be hair-raising at times.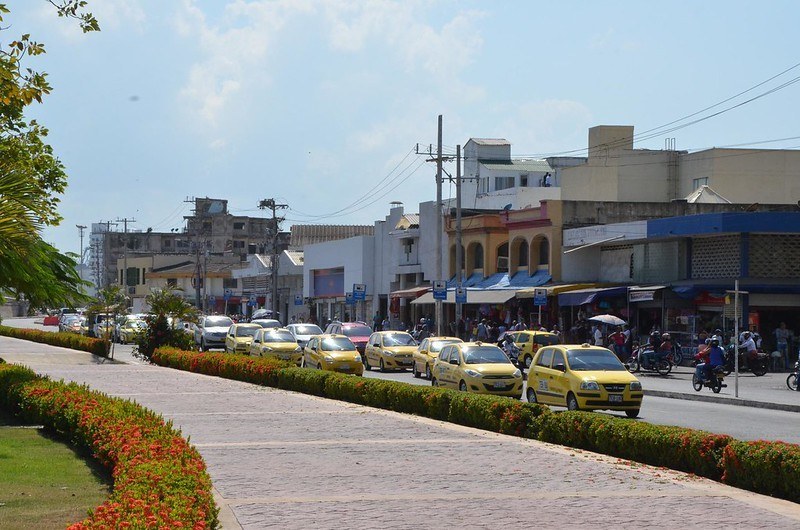 Rain in Cartagena can very much affect the speed of traffic in the city. After or during a downpour, roads are quick to flood and everyone starts driving slowly.
Driving at night is not a good idea at all. Not only is it easier to get lost, but it's harder to see hazards in the road and you will put yourself at more risk – especially if you are going on a road trip outside the city. Aim to be back in Cartagena before sunset.
When parking, do not leave anything on show. Even a map or a book may mean, to opportunist thieves, that there are valuable things hidden elsewhere in the car. Park in a secure area, always.
In conclusion, driving in Cartagena is generally safe, but it is definitely for people who are confident drivers and who know what they're doing when it comes to driving abroad. Therefore, the experience of driving somewhere like Colombia will help.
Is Uber safe in Cartagena?
Uber has a complex history in Colombia and has had some controversy surrounding it in the past.
While in some places, like the capital city Bogota, Uber drivers have been attacked, in Cartagena there don't seem to be the same issues and is free for you to use.
There are no shortage of taxis in Cartagena. But using Uber means that you can hail a taxi easily, without risk of scam, having to worry about language, having the right change on you or having to take money out of an ATM.
A good tip would be to sit up front with the driver, so it does not look as obvious that the car is an Uber, just in case there are any Uber-haters in the vicinity.
Are taxis safe in Cartagena?
There are a lot of taxis in Cartagena and using them is one of the easiest ways to get around the city.
They are however, some of the most expensive taxis in the whole of Colombia and the prices can begin to stack up. Next t0 that, there is also the legitimate worry that taxi drivers could be taking advantage of tourists.
First and foremost, it is essential that you get into a licensed cab. In Cartagena, the taxis are yellow and you can spot a licensed one by checking out their license plate; it should have the words "Servico Publico" printed somewhere on it.
You can use a taxi-hailing app called EasyTaxi. This Uber-like service means you can hail a taxi via the app, pay through the app, track your journey and see reviews of drivers before you book. Remember that you should always set the price before you take a journey. The taxis here do not run on the meter and therefore taxi drivers do have a habit of making up prices and overcharging foreign visitors.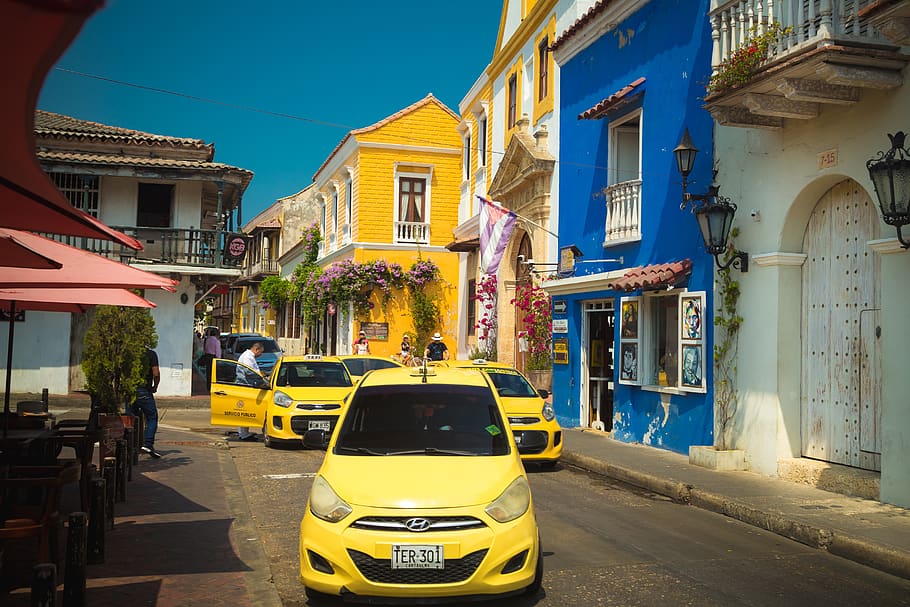 Before you get into a cab, you should tell the driver where you are going and ask how much the fare will be. Do not get in until you've established a price that suits both of you – if you are not happy with the offered price, negotiate or find another cab.
At the end of the day, taxi drivers in Cartagena are used to tourists and will not be afraid to rip you off. Occasionally you will not have to be worried about having to spend an extra few thousand pesos to just get going. But you should ask where possible to see the official fare card; it is technically illegal for a licensed cab to overcharge.
Is public transportation in Cartagena safe?
The public transport in Cartagena is limited, and not that well developed when compared to other Colombian cities. It lacks a metro system, so you will be relying wholly on buses.
First off, there are the collectivos, also called busetas in Cartagena. These ubiquitous vans and minibusses drive along set routes throughout the city, and can usually be identified by rapid beeping horns and pointing fingers from the driver.
If you want to use one of these "collective taxis", hail it down along its route. Note that they are usually uncomfortable, packed full of other people, and a little bit crazy in terms of driving. Still they can also be a great option for saving some money, especially if you haven't got loads of luggage. It will also be a proper local experience.
Hail one down and you'll be asked for money by the guy running the show – these are sparrings. Routes are labelled on the fronts or on the windshield. There are no designated stops. Don't worry if the sparring takes your money and you don't have change yet; you'll get it eventually (they are surprisingly efficient – and helpful too).
The main public transport system, however, in Cartagena is called the TransCaribe. This opened in 2016 and is basically an alternative to a metro or tram system. It consists of a number of bus-only routes that connect a network of lines and stops around the city, allowing smooth, traffic-free lanes.
The buses are large, red and green, modern affairs, which regularly every 15 to 30 minutes throughout Cartegena. It is actually quite affordable, too
The TransCaribe stations, and the buses themselves, can get very busy, with pushing and shoving being the norm at peak times. Therefore, make sure to leave plenty of time for your journey and keep your belongings close to you.
Though limited, public transportation in Cartagena is generally safe. Watch your belongings and surroundings on buses, especially late at night, and be careful around transit hubs – especially the inter-city variety.
Is the food in Cartagena safe?
Food in Cartagena is a delight. A mix of the Caribbean and Latin flavours, there's a whole lot of seafood on offer, plus some ubiquitous Latin American favourites featuring rice and beans, with fresh fruit and sweet treats in abundance.
Go with an appetite to explore the culinary delights, of course, but you should also be wary as not all eateries are going to be equal in their hygiene or quality. To help you figure it all out, here are some top insider tips for eating in Cartagena.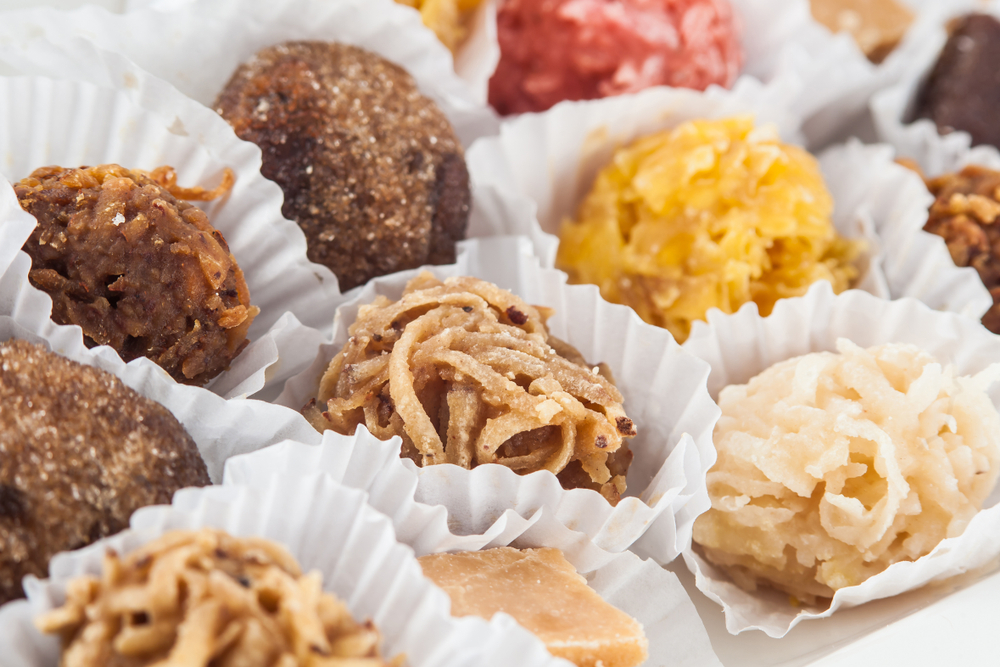 Do not be afraid to go local. There are so many places where you can sit at a small restaurant and enjoy some classic homemade recipes. Consider asking for some local advice as chances are everyone will have a recommendation.
If you are already out and about with nobody to ask, make a beeline for somewhere that is busy with locals (not tourists). Not only does this mean that the food will most likely be good, but it will also mean that the food will have been cooked fresh and ready for someone to devour it quickly, rather than having been sat around for ages.
Totally try out street food. It is one of the best things to do in Cartagena. You will be missing out on something special if you do not indulge in some of the street stalls and vendors that are dotted around the city.
When buying fruit (or vegetables), it is generally a good idea to not purchase anything that has been pre-peeled and chopped up for you; it may not have been washed properly and could give you an upset stomach.
Beware the gringo menu. In tourist areas, or otherwise, it is possible that you end up paying a little extra for the privilege of being able to see an English menu. It is a good rule of thumb to avoid any tourist-oriented restaurant.
Some Spanish would be helpful; not only will you be able to avoid the gringo menu, but you will also be able to walk into any local joint and ask questions about what it is they're serving up.
Watch out for seafood. While on the whole, it can be quite good, be sure that what you're eating is fresh. If it smells or tastes weird, don't eat it. Food poisoning from seafood and shellfish is not nice at all.
One thing that you might want to avoid completely is sopa de mondongo. This "soup" is filled with all manner of things that you will not be used to eating, including cow's udder, tripe and intenstines – offal, in a word. If you have ordered the comida corriente (set lunch) ask what soup comes with it; if it's sopa de mondongo, you may want to give it a miss.
Just in case, you may want to bring along a supply of anti-diarrhoea medication and rehydration sachets. Not that the food is unsafe in Cartagena, but just that a change in diet can actually lead to a bad stomach.
Wash your hands. It is a simple thing to do, but after exploring the city all day and having the grime of traffic and dirt all over your hands – and who knows what germs and bacteria – sitting down to eat a meal without having washed your hands is just not smart.
There you have it – some great pointers for enjoying the food that is on offer in Cartagena. If in doubt, simply ask around for the best places to eat at; there will be no shortage of recommendations from the locals who are working in the hostel or hotel you'll be staying at.
Can you drink the water in Cartagena?
There are mixed reports regarding whether or not you can drink the water in Cartagena. We drank the tap water there and we're still alive. Whilst it came out of the tap's kind of warm, it never made us ill.
We would still stay on the side of caution and recommend not drinking the water in Cartagena.
Stick to bottled water, or filter water yourself – either with a refillable bottle with an in-built filtration system, or purification tablets, or boil water yourself (over 1 minute of vigorous boiling will do).
Want to save the world?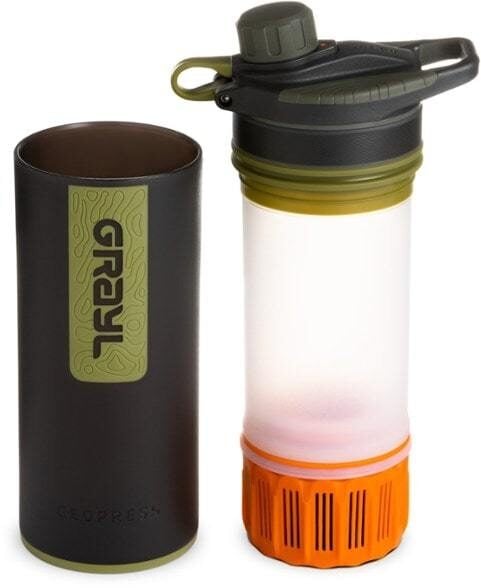 Single-use plastic bottles are a huge threat to Marine Life – Be a part of the solution and travel with a filter water bottle.
The GRAYL GEOPRESS water bottle is the ONLY all-in-one filter water bottle setup you'll need. Whether you need to purify the water from a hostel sink in Kathmandu or a stream trickle in the Andes, the Geopress has got you covered.
Read our full review of the GRAYL GEOPRESS!
Is Cartagena safe to live?
The thought of living in Cartagena is pretty dreamy. You get to live on the Caribbean sea, with good, warm weather year-round, a good choice of food to eat, a vibrant culture – plus it is relatively safe compared to other Colombian cities.
There are certainly some things to think about if you are considering a move to Cartagena. The weather is one of those things; although it sounds good, it is generally very humid and temperatures are almost always above 30 degrees. You will have to get used to being hot and sweaty year-round.
Transport and infrastructure can also be an issue in Cartagena and takes some getting used to. If you come from somewhere with a good transport system, this could be an irritating fact of life.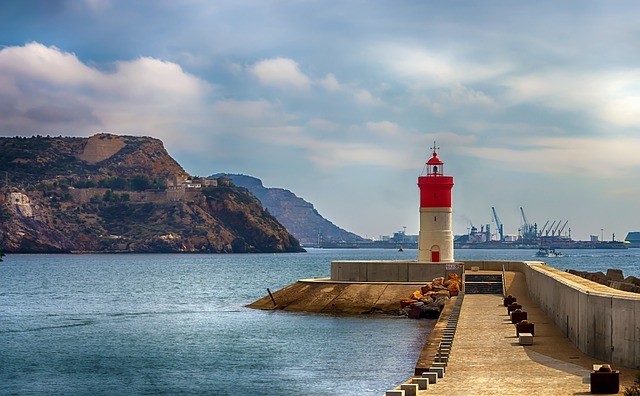 With the increasing numbers of tourists, you will also have to get used to the fact that certain areas of the city will be – at certain times of the year – overrun with tourists and everything related to them, including touts and vendors. Everyone is trying to get a piece of the tourism pie.
This also reveals the inequality that you will see in Cartagena. Poverty is, unfortunately, part of life in Cartagena, and – like it or not – you will be part of this. It's an expensive city to live in compared to other places in Colombia, which can make poverty all the more affecting.
Speaking Spanish is a must. Without speaking the local language, you will be left on the fringes of the city having to rely on English menus and ex-pats for company.
While it is much safer than other places in Colombia, without a crazy list of things to worry about in terms of living there, it will still be a big leap compared to what you are probably used to. Research, speaking to ex-pats, finding good neighbourhoods to live in are essential.
Is it safe to rent an Airbnb in Cartagena?
It's definitely safe to rent an Airbnb in Cartagena, but you'll have to choose the right area, obviously. With the reliable rating and review system, you won't just get to choose from awesome homes, but you can also read about the place you're about to book in full detail. With the previous guest reviews, you'll know exactly what to expect. 
But keep in mind that hosts can also review their guests. This normally guarantees a very respectful and easy visit from both sides. 
Is Cartagena LGBTQ+ friendly? 
Luckily, Cartagena is known to be one of the most gay-friendly cities in Colombia. There's a vibrant Pride Parade happening every August and loads of locals are openly joining in. Most people are very open-minded and friendly, so even if you show public affection between you and your partner, you won't have to fear any trouble.
Of course, there's always one or the other closed-minded idiot that will leave a rude comment. Your best bet is to simply ignore it and move on – most likely someone around you will have your back anyway. 
That being said, the gay nightlife in Cartagena hasn't fully developed yet. There are some gay venues, but definitely not as much as in other Colombian travel destinations. However, that's just the case for now and will hopefully change in the future! 
FAQs on Safety in Cartagena 
Planning a safe trip to Cartagena can get quite overwhelming. That's why we've listed and answered the most frequently asked questions on safety in Cartagena. 
So, is Cartagena Safe?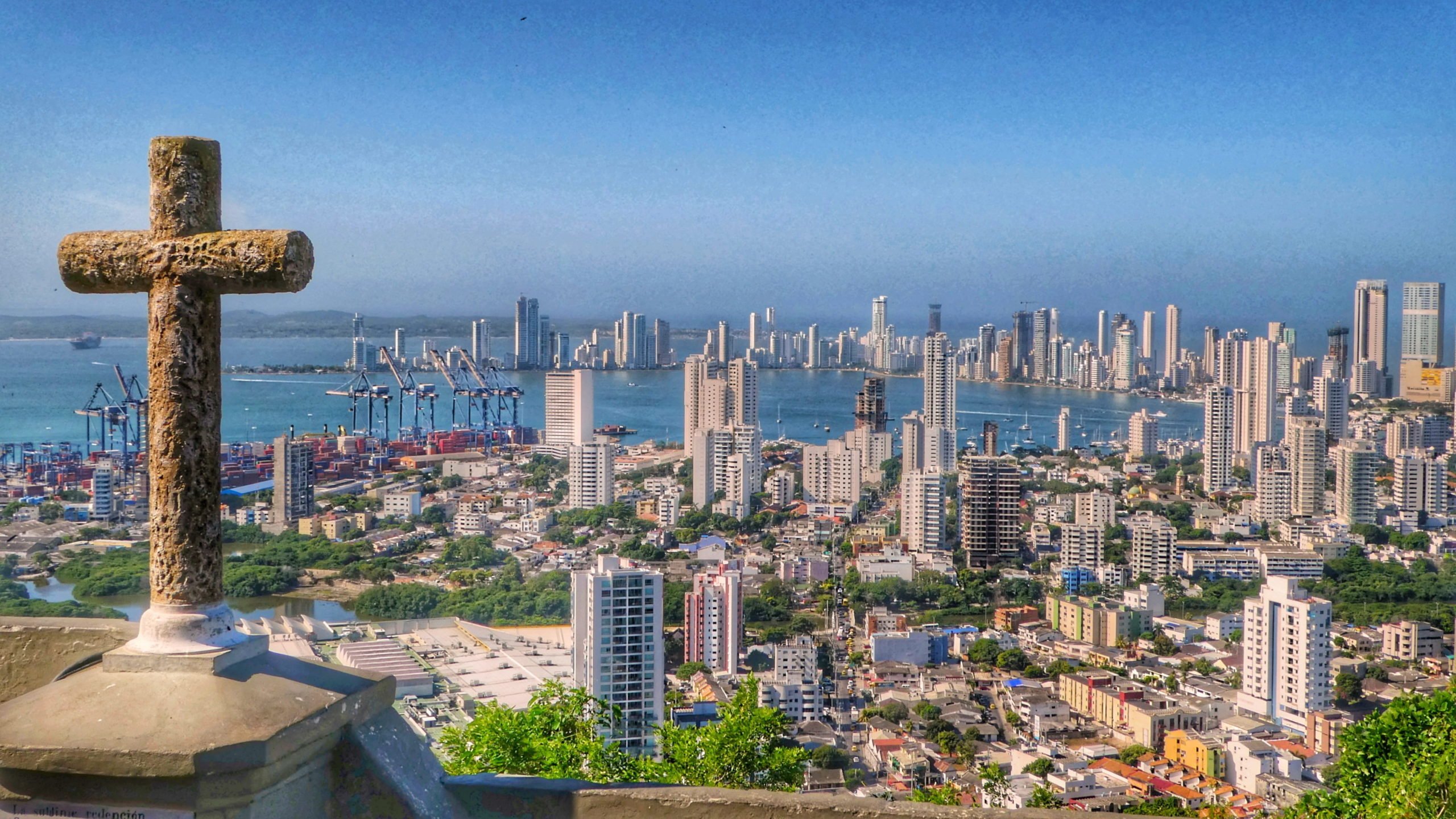 Cartagena can be very safe, unless you're looking for trouble. Use your common sense and stick t our travel tips and you'll be perfectly fine!
Colombia has had its fair share of issues in the recent past, but the country seems to have come out of the other side and is again a destination. Nowhere is this more evident than in Cartagena; with beaches, historic old town, big-name hotels, boutique guesthouses, and a slew of restaurants and bars, it's a fun city to explore. Safer than other cities in the country though it is, common sense still pays off here.
Insurance is always a good idea, so make sure you get a good plan before heading off on a trip to Cartagena!
Yay For Transparency! Safety conditions change all over the world on a daily basis. We do our best to advise but this info may already be out of date. Do your own research. Enjoy your travels!
---
Find out how YOU can support the site.
We're a big site with a big team and this job isn't always easy. But we do it because we love it – we love providing epic and free content. We love the knowledge that our content keeps you adventuring. We don't ask for money, but if you'd like to find out how you can help the site in more organic ways, click the button below.
Thank you for your support 🙂
And for transparency's sake, please know that some of the links in our content are affiliate links. That means that if you book your accommodation, buy your gear, or sort your insurance through our link, we earn a small commission (at no extra cost to you). That said, we only link to the gear we trust and never recommend services we don't believe are up to scratch. Again, thank you!