Travel
MUST READ • 15 Best Outdoor Clothing Brands (2022)
The secret to traveling light, efficiently, and comfortably is to invest in a few high-quality, versatile outdoor clothing brands.
Less is more when it comes to travel! The best outdoor clothing brands will last you for years, for life on the road, on the trails, and even at home.
I'll review my favorite outdoor clothing brands and pieces below, but just to give you a bit of inspiration and dutiful advice: do NOT skimp out on hiking shoes, merino wool socks, or a reliable down jacket. If you spend a lot of time in the rain or mountains, then a quality shell is just as important.
By investing in durable, quality outdoor clothing, and often include excellent warranties. is a worthy purchase for life on the road and the trails.
Technical outdoor clothing brands are generally pricey, but absolutely essential for extreme sports, such as alpine climbing pictured above, but even if you don't plan to climb a mountain anytime soon, outdoor gear is equally imperative for adventure travel.
The last thing you want to deal with is a leaky rain jacket while trekking Nepal, or blistering feet on a sunrise hike in Bali. Even urban travel can call for a couple of outdoor clothing pieces, like a versatile and warm jacket and pants that work in every activity.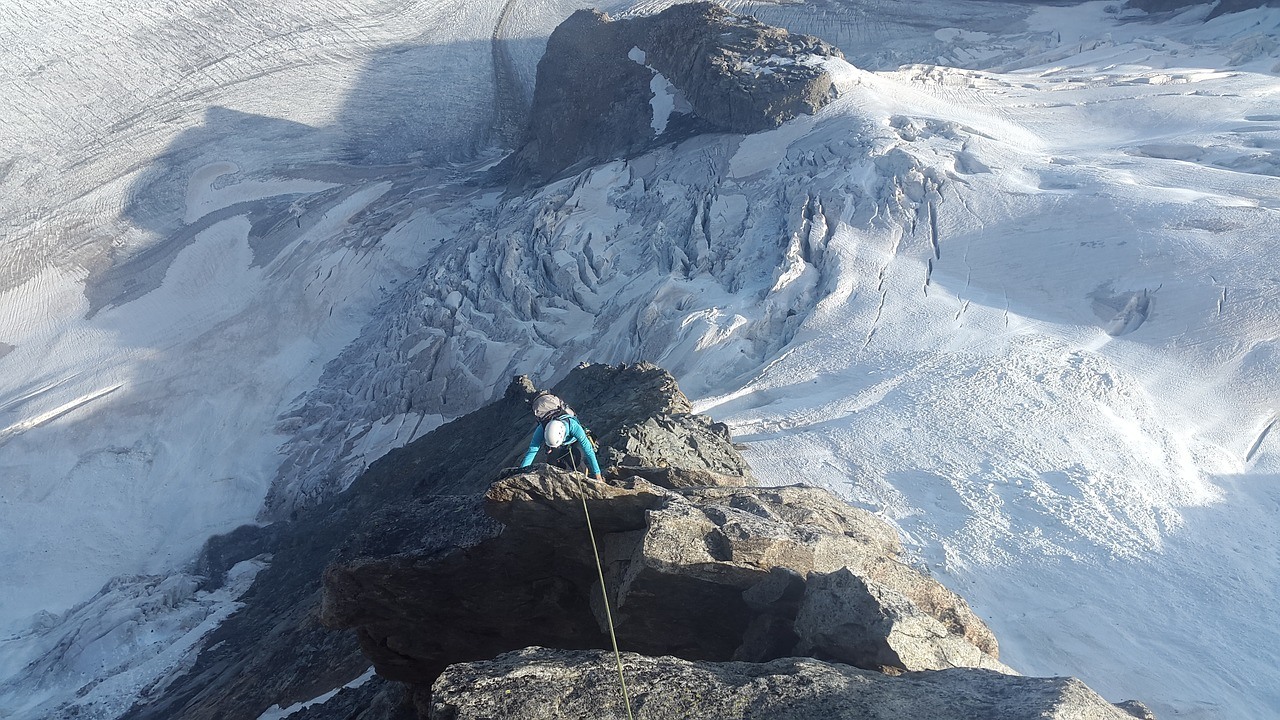 Because technical brands are finally fashionable, there's no need to invest in a ton of clothing and gear, just those few cornerstone pieces. (I mean, walk down the streets of SF, and you'll count more Patagonia down vests than suits and ties.)
So, whether you plan to go backpacking in Central America, brace the winds of Patagonia, take on the brutal climates of Africa, party your way through South East Asia, or go trekking throughout the US, my favorite outdoor clothing brands will have your back (on your back ;).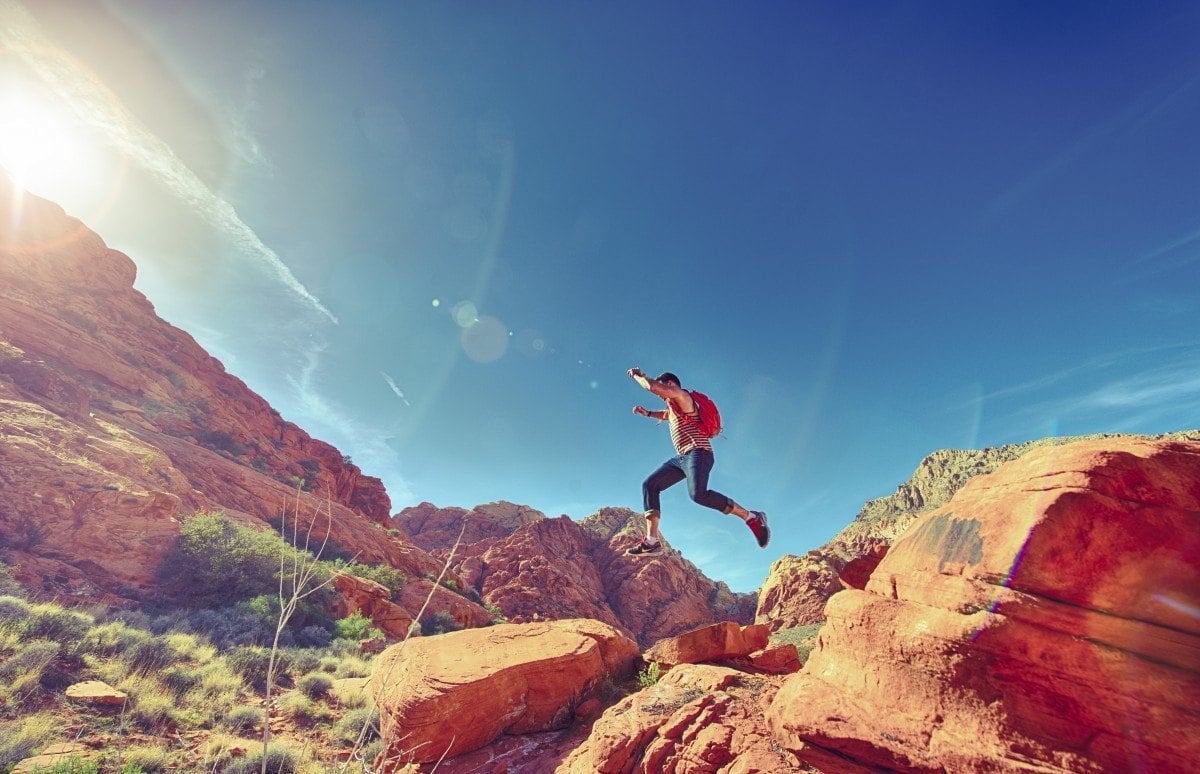 Why should you trust my review? Because I remember the first time I bought $15 socks and an expensive winter jacket. To say I was STICKER SHOCKed is an underestimate, but after spending a lot of time camping and climbing outdoors, and traveling to over 30 countries, I am fully converted to the value of durable and high-quality outdoor clothing.
Finally, I know that shopping for outdoor gear can be daunting because of the number of options and prices. Anyone who has spent 3 hours in REI understands. After years of trial-and-error, I'm proud to present my in-depth guide chalked full of my favorite outdoor clothing brands.
There are only 10 pieces I pack every time, and I've listed my favorite outdoor clothing brands to help get you started.
Top Outdoor Clothing Brands
I've broken down my favorite outdoor clothing brands into sections. First, I cover my two go-to's for base layers. Next up are my most recommended brands for layering – think your outerwear, winter jackets, down vests, and rain shells.
Next, I cover the best outdoor clothing brands for the easiest going day to day travel. These brands are great for hikes, urban travel, and active movement, like climbing, running, and yoga.
Finally, I give you a couple of options for the more conscious spender. None of the clothing brands on this list are "cheap" because you're going to have to invest a bit to get quality, technical gear. That said, all of these brands are worthy of being on this list.
Best Outdoor Clothing Brands for Base Layers
Icebreaker – To cover your Merino Wool Base Layers
Icebreaker is one of my favorite outdoor clothing brands. They cover all the bases, literally.
Base layers are going to be one of your most important outdoor clothing investments. These are the clothes that go under your outerwear, but can also be worn as stand-alone outfits.
Merino wool is made from sheep's wool; it blends moisture control, performance, insulation, and sustainability – no synthetics like polyester aka plastic! While cotton socks get disgustingly sweaty after one work-out or walk out on the city, merino wool socks can last you for days without a wash.
100% merino wool socks run at $13+ and tops can cost $60+ easily. Base layer bottoms cost over $100. I hope I haven't scared you away yet because I know the buy-in is pricy, but it is also invaluable, especially if you plan to hike, spend nights in cold temperature, or sweat a lot.
Now, Icebreaker is a merino wool company and one I feel proud to support. The brand started selling wool tees in the 90s, but now New Zealand's biggest technical apparel maker makes merino gear of all sorts at the highest ethical and sustainable standards.
Don't skimp out on merino wool socks. They also come with a life-long warranty, so take care not to lose them as Icebreaker will replace socks with holes!
I am also a huge fan of their base layer tops for all types of travel and trekking. I rarely take off my Icebreaker light zip up when I'm out camping. In addition to providing warmth, a base layer gives you much-needed protection from the searing sun. Even if the weather is quite warm, I still recommend wearing your base layer top to help prevent sunburn.
To summarize, in order, get a pair of short socks + long socks for hiking, half-zip light jacket (it's stylish too), base layer tee – it will wick sweat and smell for days on end – and eventually merino wool leggings for warmth… No need to buy them not all at once; this is a collection you build up slowly.
Smartwool – Alternative Best Clothing Brand for Merino Wool
Smartwool has it going on! This is another one of my favorite outdoor clothing brands that focus on merino wool.
Quick story: I went on a 15-day hike with 2 long sleeve shirts. One was merino wool and the other a synthetic moisture-wicking athletic shirt. The synthetic (albeit not cheap) top was smelly and wet after 2 days. I wore my merino wool long sleeve in the sun and cold for the other 12 days and it never smelled. Guess which one I bring on every hiking and travel trip from here on out?
I'm a big fan of Smartwool's leggings, which happen to fit my body better than Icebreaker, but this is subjective! Go ahead and treat yourself to the most comfortable merino wool boxers, dudes. You won't need to travel with more than 3-4.
My boyfriend also lives in their stylish long sleeve merino wool shirt for travel, climbing, work-outs, and hanging out at home. Finally, they have some casual sweaters and more technical gear for snow sports.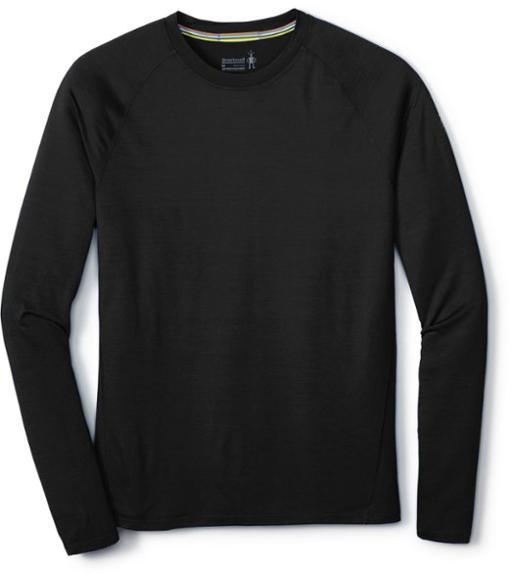 Best Outdoor Clothing Brands for Outerwear
Patagonia – leading the way in green fashion and tech fashion
Named after one of the world's most pristine environments, Patagonia is an iconic, sustainable logo known for its ethical and environmentally conscious focus. They were the first company to have a green print (before that was a thing). They donate their time and services to environmental causes, and their tax cuts plus at least 1 percent of their sales to help hundreds of grassroots organizations all over the world.
Patagonia began as an alpine clothing brand, but have since expanded into more casual technical wear, bathing suits, and more. Anything outdoors and you're covered, but they have a particular emphasis on cold and wet-weather apparel.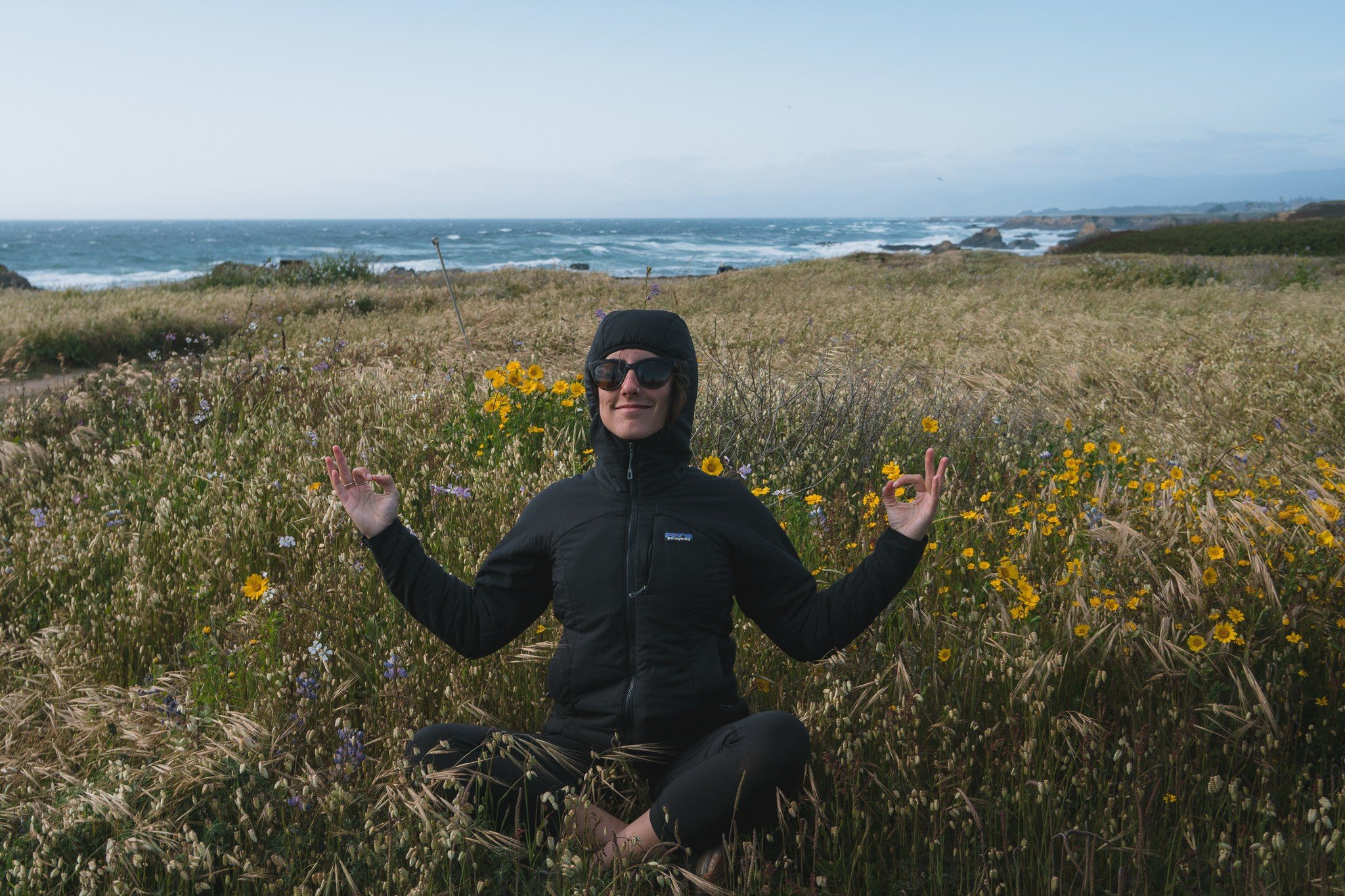 The Broke Backpacker team and I agree that the Patagonia Down Sweater Hoodie is a staple for travel, the chilly nights at camp, and early morning starts on the trail. This insulation provides you with the ability to lock in your body heat, even when temperatures fall to freezing or below.
Their fleece jackets are iconic, and the Patagonia Better Sweater is my go-to casual and warm jacket when it is not quite cold enough to throw on the down jacket. You can also hike in the fleece without getting overheated. The only con is that it doesn't pack down as well for travel as a down jacket does.
I think Patagonia is excellent for any outdoor enthusiast. I don't think they make the most cutting edge alpine and climbing jackets and shells but still, they manage to do a good job.
Any traveler will be more than happy with their standard, and it doesn't hurt that their apparel is fashionable! I have been living in my Patagonia down jacket and fleece jacket for years, and recommend them to anybody.
The North Face – The Most Popular Outdoor Clothing Brand
It would be a shame to not mention the best known outdoor clothing brand out there: The North Face. The thing is, I've never owned a piece of their clothing, so I can't review them wholeheartedly, but no doubt you've already seen people sporting this outerwear brand before. I would put them in the same camp as Patagonia, and I just happen to lean towards Patagonia, but the choice is yours.
They have a long history of providing alpine climbers with durable and warm gear. Whether you need a rain jacket for skiing or pants for yoga, The North Face has got you covered. This brand is also pretty moderately priced given its quality.
Arcteryx – For the Mountaineer who made it to the top (Best Rain Gear too)
If you've made it to the top of a mountain, you deserve some Arcteryx gear, and if you've made it to the top monetarily, you can probably afford them too ;). Arcteryx is the Gucci of outdoor clothing brands, but unlike Gucci, they make some of the best hardcore outdoor clothing in the world.
The original Alpha SV Jacket moved the industry from baggy GORE-TEX jackets to today's slim profiles.
Arc'teryx gear is built for outdoor extremes, from fast and light (FL) climbing gear to blizzard-ready severe weather (SV) shells. If you are going to be handling extreme temperatures and adventures, then Arc'teryx is a worthy investment.
Writer and traveler, Chris, here at the Broke Backpacker, says his Arc'teryx  Beta AR jacket is irreplaceable. It's a hardshell rain jacket that handles any rain, wind, and snow you can encounter. A rain shell is a key to a successful layering system as they function as a sort of warmth seal in addition to acting as a barrier to the elements, specifically rain and wind.
Cheap rain jackets just do not cut it in the wilderness. They leak, get clammy, and will result in your other layers getting wet. Stylish, expensive, and most importantly top-notch quality, Arcteryx has it going on.
Outdoor Research – One of the Best and Affordable Cold Weather Clothing Brands
Based out of Seattle, Outdoor Research is one of my go-to outdoor clothing brands. They cover just about everything, including alpine pursuits, paddling, rock and ice climbing, backpacking, etc.
They're not as expensive as say, Arc'teryx, nor as affordable as REI. They provide some decent mid-level down jacket options that help you save a bit of money. The Transcendent Hoody down jacket will serve you well in mild wintery conditions or as just a casual travel down jacket. Look on Amazon, as they sometimes sell these down jackets ridiculously cheap.
Whatever your sport or activity – if it's in the great outdoors, you can bet your bottom dollar that Outdoor Research will have clothing for it.
Best Outdoor Clothing Brands for Casual Wear
Kuhl – Best outdoor clothing brand for pants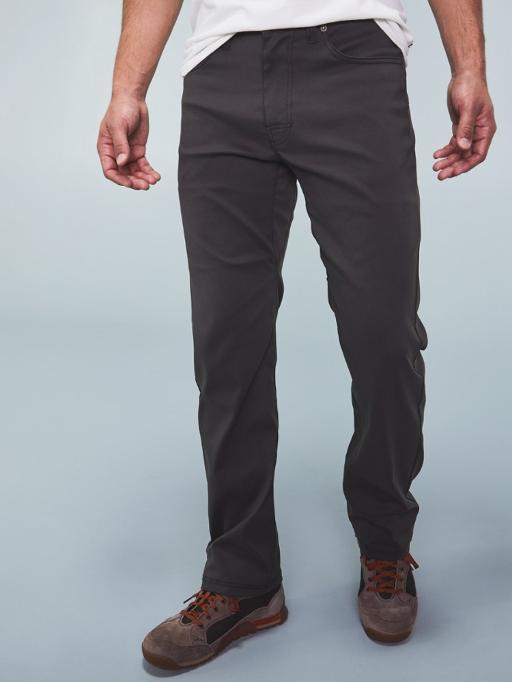 I'll keep this section short and sweet. Kuhl has made a name for itself because of its selection of pants. They have a pair for every travel and activity. If you want a pair of versatile, stylish, and durable pants, look no further.
Prana – Best outdoor clothing brand for active and loungewear
They create sustainable, fashionable clothing for travel, climbing, and yoga. Their apparel is designed to handle action and movement and still be stylish!
My go-to travel pants and leggings are Prana! This is another company I feel awesome for supporting.
They are conscious about everything, from the organic cotton and hemp to sew their clothing, to the beaches where plastic bottles are harvested, to the chemicals that need to be managed upstream, to the safety and well-being of the people assembling their clothing.
Best Outdoor Clothing Brands on a Budget
Columbia Outdoor Clothing Brand: For the Backpacker on a Budget
Portland-based Columbia has staked its reputation on affordable, high-quality outerwear. No, they're not the best, but they are affordable and get the job done. Recently, the brand has made a push into the fashion space as well. If you're not looking to summit mountains, and you're not counting ounces as you pack for your trip, then Columbia is a great choice.
REI Clothing – Best outdoor clothing brand for casual shirts
REI is not just an outdoor gear store, but a brand too! REI isn't cheap, but it is often much more affordable than the other brands on this list, and their clothing and gear now rival the best outdoor brands. (For example, the REI Half Dome backpacking tent is one of my favorite spacious backpacking tents, and my most recommended for first-timers not ready for Big Agnes or MSR backpacking tent.)
Rei makes any type of apparel you need, from technical button-ups to t-shirts to socks. I've been wearing my REI down vest for 6 years now and it has never let me down! Their REI Down Jacket Magma 850 is now the best REI down jacket available.
It's not as lightweight, small to pack, or warm as previously mentioned brands, but a lot cheaper. Moreover, if you're not ready to splurge on merino wool, the REI Lightweight Base Layer Bottoms are my next best recommendation.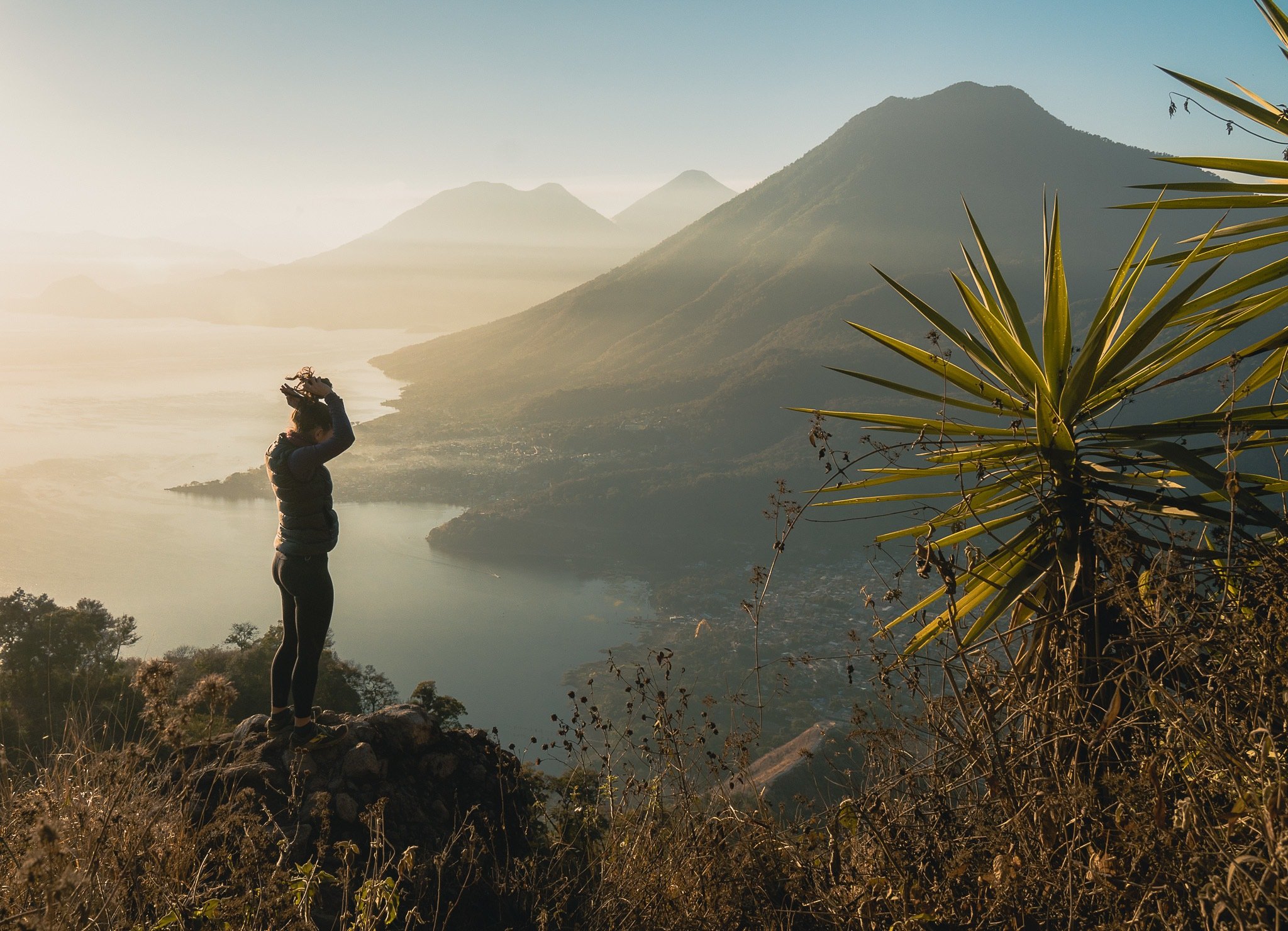 Best Outdoor Brands for Accessories – Shoes, Packs, and Beyond
Perhaps the single most important piece of clothing you pack is your hiking boots. If you are hiking at elevation or into the mountains, then splurge on quality hiking boots. That said, I can't tell you which are the best shoes for you, how they fit you is the most important. If you're not sure where to start, then I highly recommend Sportiva and Iowa (reviewed below), as well as shoe brand Salomon and Keen's shoes for hiking and travel.
Tip – Make sure to break in hiking boots before you hit the road.
If you don't plan to hike in 3-4 season weather, then hiking boots are overkill and take up a lot of space in your bag. Settle for travel shoes, or just go minimal and rock the river sandal or minimal shoe look.
Sportiva Shoes – For all your climbing needs (on and off the rock)
Sportiva is another awesome rock-climbing brand, especially known for rock climbing shoes, but I'm also a huge fan of their hiking boots for women, especially for narrow feet.
If you plan to hike in 4-season weather and do any technical climbing – say you're going on a trip with Epic Backpackers to Pakistan – then consider Sportiva's mountain boots. While expensive, tour leader Chris says they are crucial. I can attest as he was the only one out of 13 people with dry feet at the end of a hike in the snow.
Lowa – Best Outdoor Brand for Hiking Shoes
Lowa makes some hardy hiking and work boots. If you want a pair of durable boots you can put some miles on, then look no further. Because of said hardiness, you also need to break them in good. Make sure to break in your boots before a hike. I highly recommend the Lowa Renegade GTX. Also, check out my review of the best hiking boots.
Want to save the world?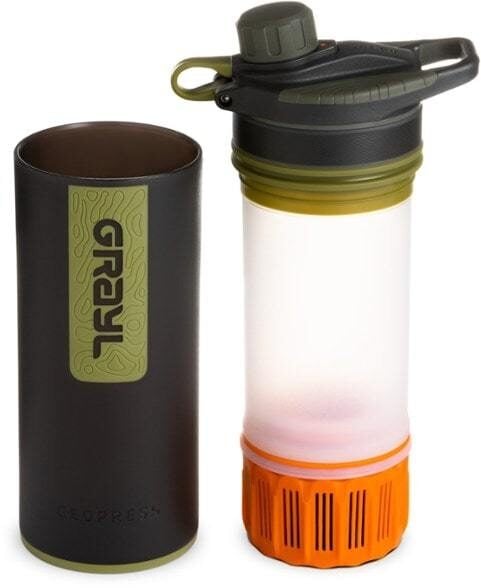 Single-use plastic bottles are a huge threat to Marine Life – Be a part of the solution and travel with a filter water bottle.
The GRAYL GEOPRESS water bottle is the ONLY all-in-one filter water bottle setup you'll need. Whether you need to purify the water from a hostel sink in Kathmandu or a stream trickle in the Andes, the Geopress has got you covered.
Read our full review of the GRAYL GEOPRESS!
Black Diamond – Best for Climbing and Snowsports
While not known as being part of the best hiking clothing brands, Black Diamond is the best for mountain hardware and just about anything to do with rock climbing. They are my go-to for cold-weather and active athletics accessories – things like winter gloves, gaiters, Black Diamond FLZ trekking poles (see our highlighted review), and head torches.
Gaiters are essential for 4-season hiking, as they help to keep stones, mud, water, and snow out of your hiking boots. We recommend the Black Diamond GTX Front Point. Another accessory would be their Black Diamond Half Dome Helmet. While not necessary for your average hike, it's crucial for technical climbing.
Buff Lightweight Merino – The most functional clothing piece you'll own
This tiny piece of fabric may not seem useful or necessary, but once you have integrated a Buff into your gear kit, there is no going back. They have so many practical applications from serving as a dust mask to keeping the sun off of your neck to providing extra warmth during any blistering cold and windy conditions. Plus, you could use it as a mask to rob a bank.
Tip – Some of their options are not merino wool, but if you read my section on base layers, then you know I'm going to recommend you choose a merino wool option, as they don't have to be washed nearly as often.
Osprey Backpacks – For all your non-clothing needs
Focusing predominantly on backpacks, they've dominated the hiking backpack scene, as well as travel bags, commuters, and more. We are HUGE fans of Osprey at the Broke Backpacker. I wouldn't hike with another bag; I use Osprey's Ariel 65 and Osprey Kyte 46 for all of my outdoor adventures.
In addition to backpacks, Osprey offers a range of bag-related accessories, including bag covers and toiletries packs. While this article is focused on outdoor clothing brands, grabbing the right backpack is just as important!
FAQ about the Best Outdoor Clothing Brands
Still have some questions? No problem! We've listed and answered the most commonly asked questions below. Here's what people usually want to know:
Final Thoughts on the Best Outdoor Clothing Brands
I tried to keep this list short and sweet, so you're not too overwhelmed by the number of options!
That said, I feel that I have provided a great selection from the best outdoor clothing brands in the world. I focused primarily on outdoor clothing brands than transfer well to travel, not necessarily the most technical gear for extreme outdoor sports.
If I missed your favorite outdoor travel brand, let me know in the comments below!
---
Find out how YOU can support the site.
We're a big site with a big team and this job isn't always easy. But we do it because we love it – we love providing epic and free content. We love the knowledge that our content keeps you adventuring. We don't ask for money, but if you'd like to find out how you can help the site in more organic ways, click the button below.
Thank you for your support 🙂
And for transparency's sake, please know that some of the links in our content are affiliate links. That means that if you book your accommodation, buy your gear, or sort your insurance through our link, we earn a small commission (at no extra cost to you). That said, we only link to the gear we trust and never recommend services we don't believe are up to scratch. Again, thank you!