Travel
Is Playa Del Carmen Safe? (2021 • Safety Guide)
Playa del Carmen is one of the top spots on the Riveria Maya in the Mexican state of Quintana Roo. What was once a small fishing village has rapidly developed into a trendy place for package holidays and backpacking adventures alike – and there's a good reason for that.
Boasting beautiful blue sea, good beaches, a laid-back atmosphere and a reputation as being safe, it's a popular place where visitors can soak up some sun, lounge around with drinks and enjoy the relaxed vibe – and, with plenty of vibrant marine life to see, go scuba diving.
Despite being worlds away from the hazards of Mexico City, the gleaming reputation for the safety of Playa del Carmen has been tarnished with a recent spate of violent crime. Naturally, visitors to this city will be wondering whether or not it actually is safe to visit at all…
That is the point of this epic guide we have created. In it, we will be sharing all our tips and information and helping you to assess the safety of Playa del Carmen with the help of our insider knowledge and specially dedicated research.
How Safe is Playa del Carmen? (Our take)
Quintana Roo is the Mexican state where Playa del Carmen is located. This is where you'll find some of the most popular destinations that Mexico has to offer including Tulum, Cancun and Cozumel.
Playa del Carmen is one of the rising stars in Mexico's roster of Yucatan Peninsula spots, but being in a country that is plagued by gang violence and drug trafficking may trouble some of those who are thinking of travelling there.
While Playa del Carmen does actually escape much of the crime and violence that comes to mind when many think of Mexico, there are still issues in this otherwise dreamy seaside city.
Petty crime, as with many resort towns around the world, is not unheard of. Thefts from beaches do occur, robbery of tourists has happened, and turf wars between gangs have been reported.
However, statistically Playa del Carmen is one of the safest
Is Playa del Carmen Safe to Visit Right Now?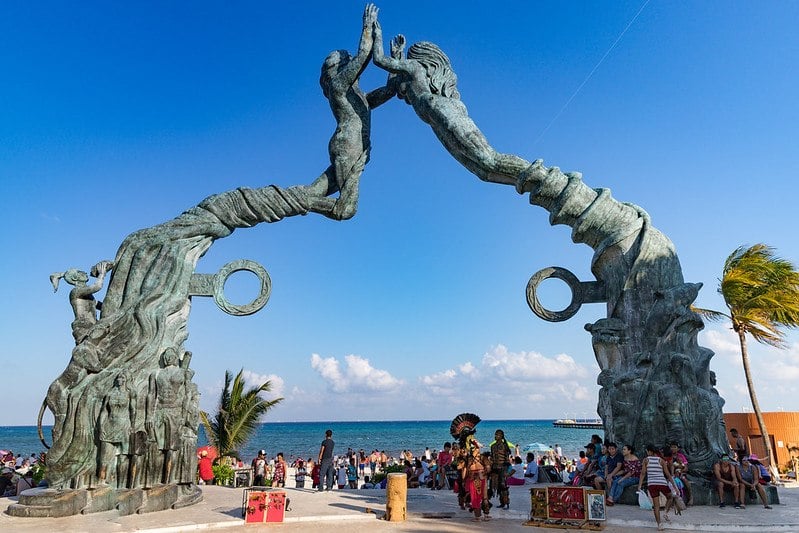 Mexico has a mixed reputation for safety. At the moment, tourism is too important to the Mexican government to not protect assets like Tulum, Cancun and, of course, Playa del Carmen.
As a result, these areas have been spared the high amounts of drug-related violence that other cities and regions of Mexico have seen.
It is important to note that tourists, so far, have not been the targets. Being in the vicinity of such an incident, however, can still mean that you are affected.
For example, the number of homicides in the first quarter of 2019 was six times higher than the first quarter in 2018, and accounted for one-third of all murders in the state of Quintana Roo during the same period.
Despite reports of crime on the rise, the effect has been played down by the local government and tourist numbers remain on the rise. Police has been increased in all parts of the city as well.
Much of the violence that you hear about in Mexico, however, is concentrated in certain, specific areas outside of the tourist districts. In terms of the whole country, Quintana Roo is statistically safer than the rest of the country.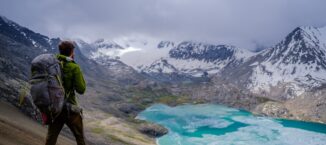 Do You Want to Travel FOREVER??
Then pop your email address in below and we'll send you a FREE copy of 'How to Travel the World on $10 a Day!'
Aside from these threats of violence, the natural world is another timely issue that can pose a threat to potential visitors to Playa del Carmen.
From June to November, the hurricane season batters the Atlantic Coast; tropical storms do occur and can cause widespread devastation, landslides, and cancellation of transport.
Earthquakes can also hit Mexico, with tremors regularly being felt in neighbouring states. It's a good idea to know what to do in an emergency situation.
All of these aspects put together, we'd still consider Playa del Carmen as one of the safest places to visit in Mexico right now.
Safest Places in Playa del Carmen 
Some places in Playa del Carmen are safer than others. To make sure you're having a successful trip, we've listed the safest, and the not-so-good areas below. 
Playacar
Playacar is one of the safest neighborhoods in Playa del Carmen, thanks to the massive resorts, luxurious mansions (which come with security guards and CCTV cameras), and stunning condos. It's also surrounded by beautiful beaches and lots of nature. Therefore it's the ideal area if you're visiting with your family. 
While Playacar might not be the cheapest neighborhood, you do get quite a lot of bang for your buck. The sea is very safe thanks to super weak currents, there are plenty of cultural attractions around and you have lots of restaurants to choose from. It's located just south of the city centre, so you can easily get into other parts of the city as well. 
The Safest Area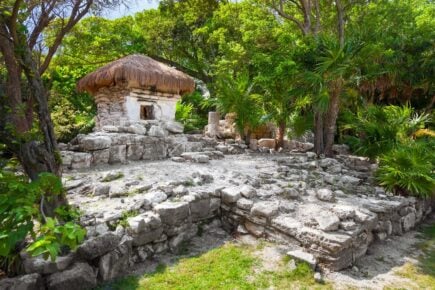 The Safest Area
Playacar
Playacar is a large and luxurious neighbourhood south of the city centre. It is best known for its glamorous resorts and vacation condos, as well as its stunning beach and natural surroundings.
Gonzalo Guerrero
For a bit more action, but still quite a bit of safety, you can stay in Gonzalo Guerrero. The nightlife district offers some of the best clubs and restaurants in the city. Whether you want to dance the night away, sip seaside cocktails, down shots of tequila or drink cool craft beers, this central neighbourhood is bursting with fun and excitement all day and all night.
Since Gonzalo Guerrero is located between two calmer neighborhoods (Centro and Luis Donaldo Colosio), you can enjoy a great balance between partying adventure and having a safe and quiet place to rest your head. 
The nightlife district
The nightlife district
Gonzalo Guerrero
For a wild and lively night out, there's no better place to stay than the Gonzalo Guerrero neighbourhood. Set at the centre of the city, the Gonzalo Guerrero district sits tucked between cheap and cheerful Centro and calm and cool Luis Donaldo Colosio.
Centro 
We can't forget about this iconic neighborhood. As you might've suspected, centro is the heart of the city. It's a buzzing neighborhood with lots of attractions to explore and numerous super affordable accommodations. Being located in the city centre comes with a lot of perks as well. You can easily access all other parts of Playa del Carmen, like the party district, the tourist hotspot La Quinta (5th Avenue) and the artistic Luis Donaldo Colosio district.
Ideal for budget travellers
Ideal for budget travellers
Centro
Centro is a busy and buzzing neighbourhood situated at the heart of Playa del Carmen. This part of the city is known for its spicy, savoury and succulent food, along with its unique attractions and affordable accommodation options.
Places to avoid in Playa del Carmen 
As in almost every city, there are areas that are better avoided than visited if you want to have a safe trip. Same goes for Playa del Carmen. While the crime rate is relatively low compared to other Mexican regions, it always pays off to be cautious. 
Luckily, there are no set neighborhoods or areas that are particularly known to be sketchy. However, there are some places you can avoid during your visit to add another level of safety. 
Side streets – ESPECIALLY at night, little side streets and alleyways are not the safest. There is a problem with drug traffic in Playa del Carmen and you don't want to be in the wrong place at the wrong time. It's super easy to avoid them anyway. 
Public transport stations – again, at night there turn into a little gathering point for sketchy people. Take a taxi instead of the bus and wait inside the bar or restaurant until it's at the front door, just to be sure. 
Anywhere without tourists – if you find yourself completely alone in a neighborhood, you're probably in the wrong area. If possible, use google maps or maps.me to get back to the busy tourists streets.
Playa del Carmen Travel Insurance
Have you sorted your Travel Insurance? Even if you're going on a short trip, it is always a good idea to travel with insurance. Have fun while visiting Mexico, but take it from someone who has racked up $1000's on insurance claims, it is a good idea to get it sorted before you leave home!
The unthinkable can and does happen so it is better to be insured!
We personally use World Nomads to insure all of our adventures. Why not get a quote for yourself?
Do be sure to read the terms and conditions to make sure they are the right provider for your trip.
To find out why we recommend World Nomads, check out our World Nomads Insurance review.
If you want to shop around a little, then read up on competing companies and what they can offer. There are lots of insurances out there, so don't feel limited.
21 Top Safety Tips for Traveling to Playa del Carmen
Staying in Playa del Carmen is generally safe, and lots of people do go there with no worries at all. However, it is important to note that it's not always 100% safe. Though crime against tourists is rare, it's good to know how to minimize the risk. Here are our top tips for staying safe in Playa del Carmen.
Stay aware of your surroundings – Pickpocketing and bag snatching are only a minor risk, but it's still a good idea to not let your guard down
Don't resist if someone tries to mug you – Though less common than the above, it is imperative that you do not resist, as muggings can be violent. It's not worth it.
Try to dress down – Basically don't look like a target.
Avoid walking around with a lot of cash – Get yourself a moneybelt instead!
Don't leave items unattended on the beach – Even "hidden" in a pair of shoes; doing so with your smartphone could mean it ends up going missing.
Keep an eye on your suitcases – Leaving them unattended in hotel lobbies and transport hubs puts them at risk of being stolen.
Report crimes to the state prosecutor's office – That's the Agencia del Ministerio Publico; there can't be a formal investigation without reporting it – in person.
Be careful of drinking too much – And likewise, be careful of tainted alcohol, which can be very dangerous.
Avoid recreational drugs entirely – Penalties are harsh (up to 25 year imprisonment) and you will get mixed up with the wrong sort of people
Be aware of scam artists – As a tourist, you will be more of a target. People may come up to you with all sorts of requests or boasts; it's best to ignore them
Keep your belongings close to you on public transport – This goes for buses mainly (we have a whole section on this later).
Respect wildlife – Crocodiles and sharks do exist in the waters of Mexico; sightings have been reported in this area, so it's best to just follow local advice.
Carry around copies of your passport and FMM form – It's required by law, but a copy will be fine; carrying around the real thing puts it at risk of theft
Cover up against mosquitoes – Zika virus and Chikungunya virus are present in this region.
Monitor the weather – Especially during hurricane season (June –  November) and follow local authorities' advice.
Don't leave important documents and valuables lying around in your room – Use a safe in a hotel room, a locker in a hostel.
Don't walk around in isolated areas – Quiet places away from crowds and other tourists could be risky.
Brush up on your Spanish – Some simple phrases will go a long way, though many people will speak English.
Get a sim card for your travels – This can help keep you get around and keep in touch with people.
Don't accept drinks from strangers – Even if they seem very friendly, their offer of a drink could be spiked, followed by robbery or assault
Keep an eye on your credit card at all times – Don't let it leave your sight; credit card fraud can occur and will leave you with bills piling up for things you didn't buy
Playa del Carmen is a safe place, and you should have a great experience on your trip. Unless you are putting yourself into unsafe situations, you are likely to have a trouble-free time during your vacation.
Some General Safety Tips from the OG Broke Backpacker
Is Playa del Carmen safe to travel alone?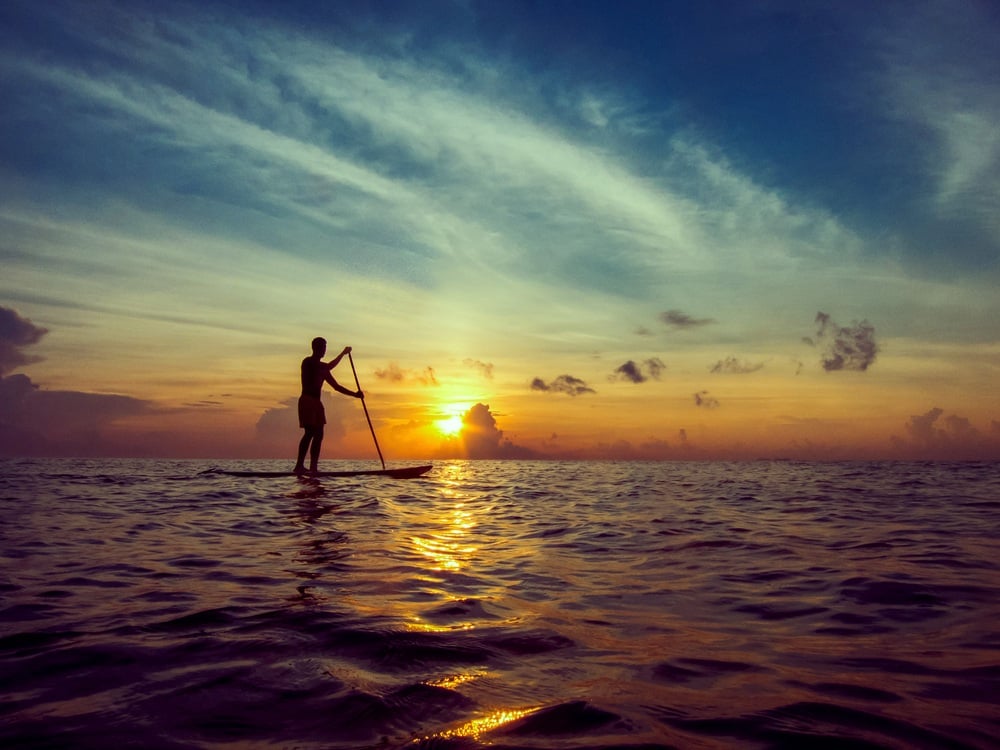 Solo travel can be an amazing experience – and heading to Mexico to live your best life on the Caribbean Sea is a pretty cool prospect.
Of course, you will be by yourself and you may be more worried than if you were travelling with a bunch of friends. We're here to tell you it's fine – and we want you to have the best time, so here are some pointers for travelling solo to Playa del Carmen.
Hostels are a great way for you to get to know other travellers in any destination, but just make sure that you do your research.
Location matters. Sometimes cheaper does not always mean better. We would recommend trying an hotel, if a hostel doesn't sound good to you. Hotels are often in safe, busy areas, and sometimes even have discounted rates for solo travellers.
Spend the day at a beach club. These are places where you can chill around a pool in a secure environment, and are often a good way to get chatting to fellow travellers too.
Joining a bar crawl is another good way to get to know other people. There is a lot of clubbing, drinking and dancing to be done in Playa del Carmen, but it could be a daunting prospect if you are by yourself.
Alternatively, if you're not into drinking, you could hang out in one of the town's coffee shops. This is a great way to get to know locals as well.
Book yourself on a tour or activity. Something like cooking classes, a history tour or a food tour, or even Spanish language classes, is a good way to meet likeminded people and get more in touch with the culture of Mexico.
Don't take anything unnecessary to the beach. If you are by yourself, there will be no one to look after your belongings. You may even want to consider a dry bag so you can simply take your phone, sunglasses and wallet with you when you go for a splash around in the sea – simple.
If you are out by yourself, don't get completely drunk. Being totally wasted just means that you are going to be more likely to put yourself into an unsafe situation.
Don't cut yourself off completely. Isolating yourself from others by not using social media or keeping in touch with anyone is not a good idea. It could be bad for your mental health and, generally, it is safer if somebody knows where you are and what you're doing.
Ask for local advice from your hotel concierge or the staff at your hostel. They will be able to tell you about safe areas that you can explore, areas that aren't so safe, plus they may know of some hidden gems that you could put on your to-do list.
Remember that it's ok not to do every single thing that you have "planned" to do. Part of travelling is sometimes just sitting back and taking stock, so make time to do just that.
Travel light. Not only is it really un-fun to travel around with heavy bags, but it will also single you out as a potential target. It can also limit you, as simply having lots of stuff with you can make you feel cluttered.
Know your emergency numbers and have them saved on your phone (ideally with a symbol saved before the name so that they appear at the top of your contacts list). You should also have these written on a piece of paper, just in case your phone decides to run out of battery.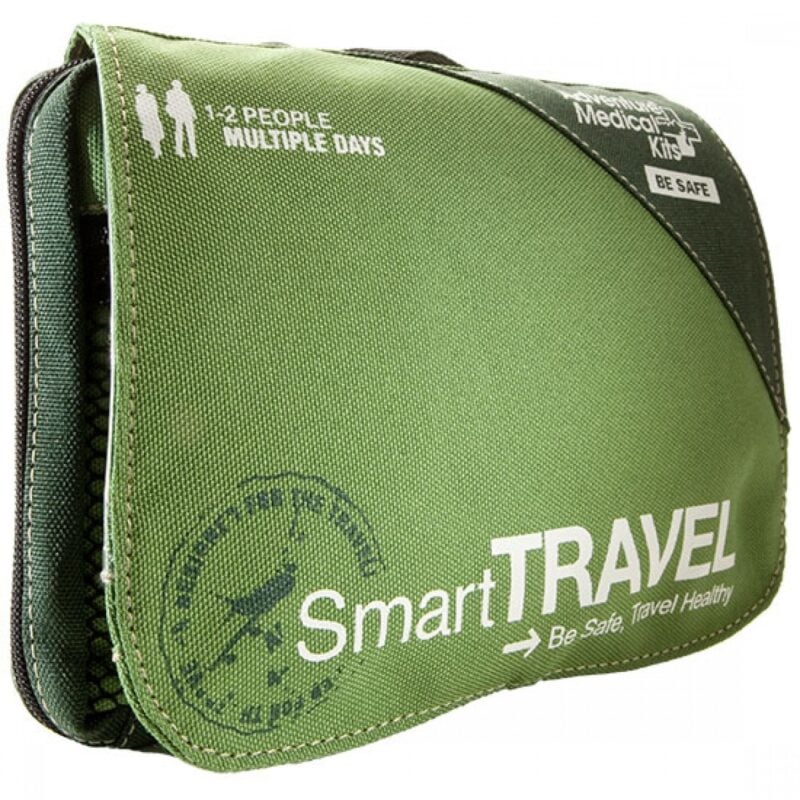 Be prepared for what life throws at you on the road. Pick up an AMK Travel Medical Kit before you head out on your next adventure.
View on REI View on Amazon
Is Playa del Carmen safe for solo female travellers?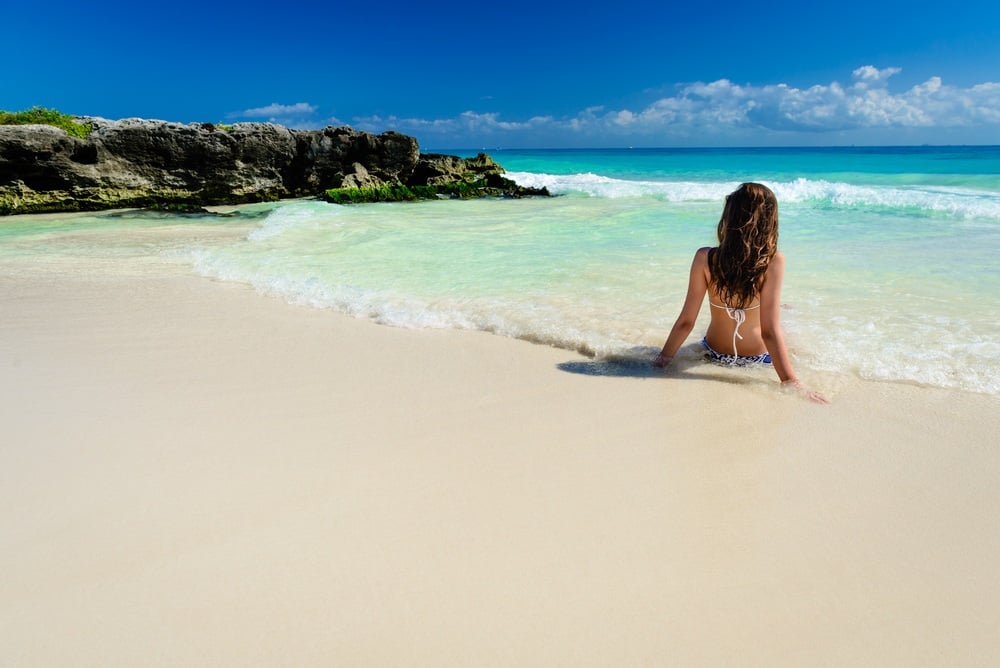 Being a solo female traveller is a lot of fun – you get to do what you want, when you want, and learn all about yourself and the world as you go. However, not only can it be a challenge, but other people will be concerned about you on your trip, and that can end up worrying you!
That said, here are some tips for solo female travellers in Playa del Carmen…
Book yourself into female-friendly accommodation. Read reviews written by other women, get a feel for the accommodation (is it secure? does it have female-only dorms? are the staff nice?), and choose according to your preference.
Don't always be on a budget when it comes to accommodation, however; if you skimp out on things, you could end up in a weird Airbnb in an odd part of town, or a sketchy hotel that nobody else seems to be staying at.
Get connected to other solo female travellers online. There are plenty of groups where you can plan meet-ups, ask for advice and generally become a part of a global community. Specific to the area, there's Facebook groups Ladies of Playa del Carmen and Expats  & Locals in Playa del Carmen, for a start, which advertise various events that you could attend.
When you're by yourself, stick to safe neighbourhoods. This means not wandering around too much off the beaten track into places you have no prior knowledge of, or quieter, isolated areas.
Do not leave your food and drink unattended. Drink spiking in bars and restaurants can and does occur, so it is best to keep an eye on your drink (especially) at all times when you are at a bar.
Take care on public transport. If you are a woman by yourself travelling, it is a good idea to find yourself a spot on a bus next to a local lady – or a family – for peace of mind and security. You should always keep your belongings close to you or out of sight.
Keep your personal details to yourself. You don't need to be telling people your whole life story.
Take a taxi at night time. Even if you think it's just a quick 15-minute stroll from your nightspot to your accommodation, it is just not worth the risk to walk it by yourself.
Keep people updated with your travel. Leave your itinerary with people back home, or consider messaging your plans to them – even sharing them in a Google Doc (if your parents can handle that!). When your plans change, tell people, and generally keep in touch with people back home. Having a chat with someone you know can help stave off the homesickness and keeps them happy, too!
Join a group tour. It is certainly not a cop-out to join a tour if you are by yourself. In fact, it makes sense: you get to learn about the place you're visiting, meet other people on the tour, and do so while keeping safe.
Know that it is ok to say "no" if you feel uncomfortable. Remove yourself from the situation if something doesn't feel right; you don't need to be polite if you feel you are at risk.
Try to blend in with what you wear. Mexico is still a relatively conservative country and, depending on where you are (i.e. away from the beach), you will probably want to lessen the hassle you get from guys by taking cues from what local women are wearing and trying to match it.
As long as you remember that Playa del Carmen is not Disneyland, and you can't just throw caution to the wind and do whatever you feel like (common sense still matters), then chances are you'll have a totally trouble-free time here.
More on Safety in Playa del Carmen
We've covered the main safety concerns already, but there is loads more to know. Read on for more detailed information on how to have a safe trip to Playa del Carmen.  
Is Playa del Carmen safe to travel for families?
Playa del Carmen is safe for families. It's easy to travel, it's easy to stay, and it's easy to have fun here. There's a family-friendly atmosphere no matter where you go.
Active families with older children or teens will enjoy getting out and about snorkelling, getting to explore archaeological sites, bike riding, swimming in cenotes and island excursions.
When it comes to thinking about safety for children in Playa del Carmen, the environment will be the biggest threat. Mosquito-borne diseases (namely, Zika virus and dengue fever) can be an issue, for example.
Make sure everyone keeps hydrated. It gets hot, especially when you're out on the beach all day.
Speaking of the sun, it can be more powerful than you realize, so try not to stay in the sun for long periods, taking regular breaks in the shade, wearing strong SPF sunscreen and covering up with sunhats and T-shirts.
Another thing to make sure you are aware of: If you are travelling as a single parent with a child (under 18), you need a signed consent form or a notarised note from the other parent or legal guardian.
Is it safe to drive in Playa del Carmen?
It is not necessary to drive in Playa del Carmen, as basically everything is in easy reach (or a taxi ride away).
However, if you want to travel further afield, then it can be done. Driving in Playa del Carmen is safe, for the most part, but you will have to prepare yourself for some pretty reckless driving.
Driving can be a good way to reach some of the more remote beaches that the public buses just cannot reach and basically gives you more freedom and flexibility.
It would be a good idea to take a paper map with you, as well as GPS on your smartphone or a satnav; signs can be hard to follow, particularly on Yucatan's non-tolled roads. You should not rely only on satnav or Google Maps, as both can be incorrect – but more than that, sometimes there isn't always signal.
Toll roads are in much better condition than the more remote roads, and these connect the big cities of the region. These aren't going to be the most scenic routes, but they will be easier to use and safer in general.
You need to watch out for things that could damage your car; speedbumps can be found on highways and seemingly in random places, to control traffic; stop signs ("ALTO") can also come out of the blue.
Is Uber safe in Playa del Carmen?
Unfortunately, there is no Uber in Playa del Carmen. It was decided, by the government and taxi unions, that Uber would not be allowed to operate in Playa del Carmen; this is also the case in other areas on the Yucatan Peninsula.
Sleep safe! Choose your hotel, hostel or Airbnb ahead of time so you're not last-minute booking a less-secure place.
Read our Neighborhood Guide for our favorite accommodations in Playa del Carmen by area.
Check out our Hostel Guide for the best budget options.
Are taxis safe in Playa del Carmen?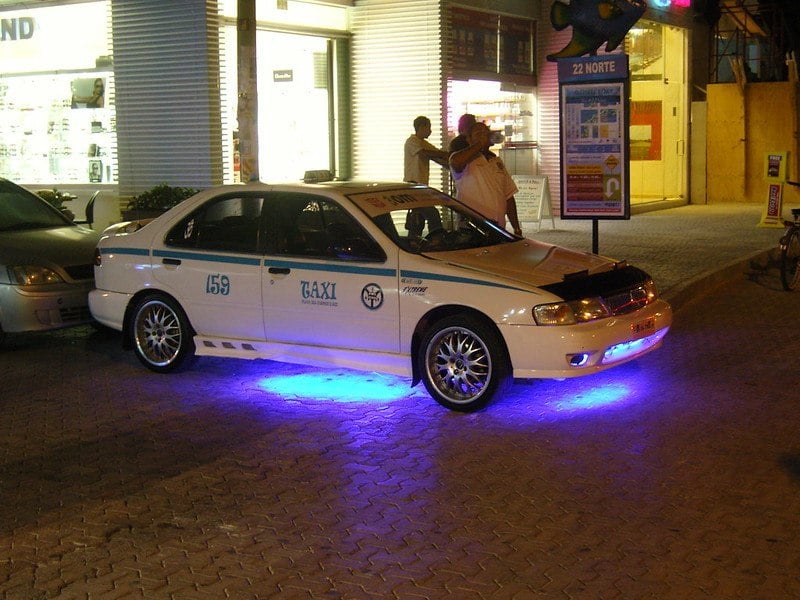 Taxis in Playa del Carmen are fairly cheap, easy to use, and safe. However, it pays to know just how to go about catching a cab in Playa del Carmen so that you stay as safe as possible.
Playa del Carmen's taxis are plentiful. They are mostly clean, comfortable and well looked after. The only threat they pose is overcharging.
They do not use meters but instead have a set pre-determined rate depending on where you are travelling to and from. You can check out a chart to ensure that you are getting priced the correct fare.
It is ok to hail a taxi on the street in Playa del Carmen. In fact, you pay more for a taxi that you pick up from a taxi stand in Playa del Carmen – not much more, however.
A tip for staying safe in taxis in Playa del Carmen is not to get into a cab that already has someone else riding in it, and likewise to not allow your driver to pick up another person while you are riding in their taxi.
It is also not a good idea to sit in the front seat, especially if you are by yourself. If you are not sure about getting a taxi, you should ask your accommodation to arrange one for you.
Is public transportation in Playa del Carmen safe?
Public transport in Playa del Carmen is mainly safe and centred around three methods of getting around: collectives, ferries and buses.
Collectivos are a common sight across all of Latin America. If you are not familiar with them, these vans (usually old Fords and Chevrolets) are a local way to get around, traveling between small towns and local neighborhoods. They can be referred to as combi when the van in question is a Volkswagon.
This is the kind of public transport that leaves when it's full, stops whenever people want to get on or off, can be cramped, but is ultimately very cost-effective (it's around 20-45 pesos per ride).
You should have change to hand over to the drivers – avoid using a big bill.
However, you should note that this is not the kind of transport that you should be taking if you have loads of luggage. As we said, they are cramped, and it's not the sort of service that will patiently wait for you to get your bags on and off.
Buses in Playa del Carmen are known as camiones or auto-bus. Usually caught from fixed bus stops called paradas, they're basically collectivos. Chances are, you won't need to use them too much as they go to local neighbourhoods.
A good option for tourists and visitors to Playa del Carmen, however, is the ADO Bus company.
Rather than the small collectivos and camiones, these are modern coaches with a spacious luggage trunk and a site where you can book tickets online. They also have air-conditioning, and are generally quite affordable.
Aside from land transport, there are also ferries which you may come into contact with whilst you are on your Playa del Carmen trip.
Ferries connecting Playa del Carmen to Cozumel cost around 200 pesos, one way, making a day trip to the island relatively affordable (costing around $20 for a ride there and back).
Is the food in Playa del Carmen safe?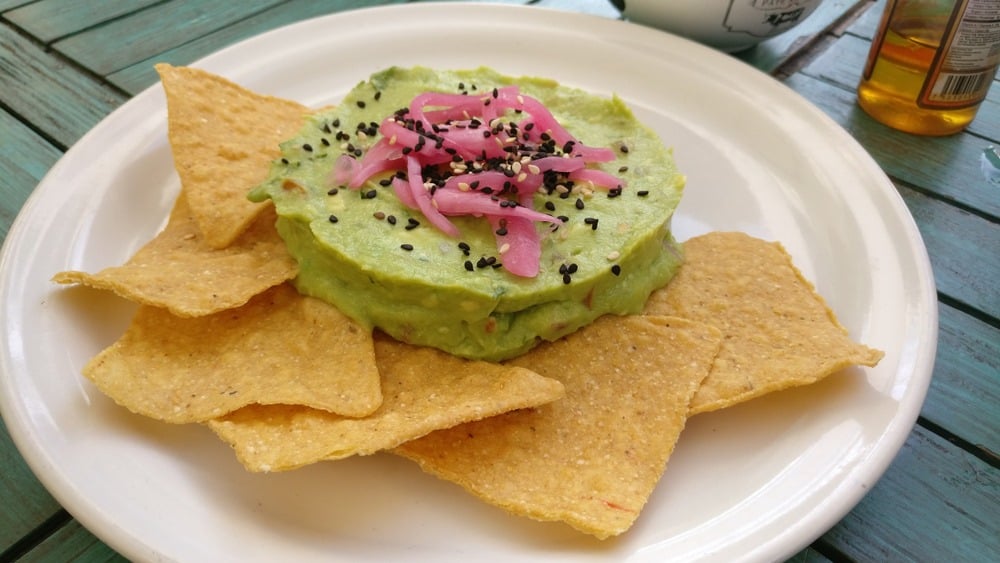 Food in Mexico is amazing – there's no two ways about it – and in Playa del Carmen, it's no different.
To help you navigate this culinary wonderland, we've put together this guide to the food in Playa del Carmen…
Make sure the fruit and vegetables you buy can be peeled, washed and cooked yourself. There is no way to guarantee that chopped, peeled fruit has been washed in a hygienic way.
Don't go crazy on the fruit smoothies. Often, you will not know how the fruit has been prepared and will include ice cubes (which are also not a good idea).
Hotel food can be very hit or miss – and not just in terms of taste. Make sure to read reviews of your hotel before you go.
Stick to freshly made, ideally freshly cooked food. Going to places like food trucks and stalls where you can see things being cooked at a high temperature before your very eyes is a good place to start.
Go where the locals go. Places that are busy with locals are busy for a reason.
Avoid places with extensive English signage and especially if touts are trying to get you in. Those are basic tourist traps.
Wash your hands! Scrub your hands – or use hand sanitiser – before you eat, especially if you plan on eating something with your hands.
As long as you don't go too hard too quickly (a change in diet, regardless of hygiene practices, make easily lead to an upset stomach), you'll be more than fine in Playa del Carmen – you'll be in food heaven.
Can you drink the water in Playa del Carmen?
In a word, no: you can not drink the water in Playa del Carmen. The tap water is not safe to drink here. Unfortunately, the best advice would be to stick to bottled water – and avoid ice cubes in drinks, making sure to ask for them without ice.
Boiling water for at least one minute, vigorously, can be a good way to purify water, but it is not a foolproof option.
Want to save the world?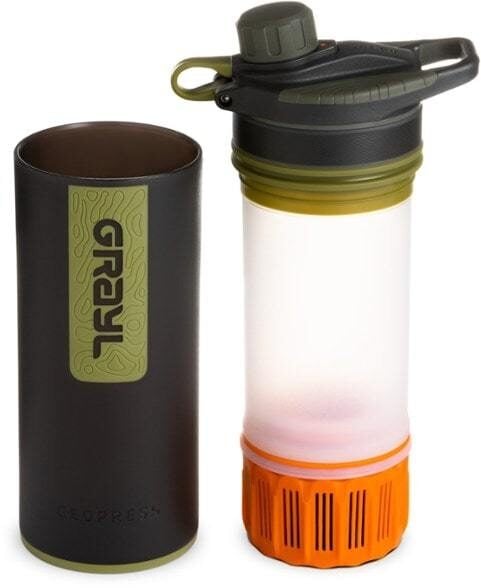 Single-use plastic bottles are a huge threat to Marine Life – Be a part of the solution and travel with a filter water bottle.
The GRAYL GEOPRESS water bottle is the ONLY all-in-one filter water bottle setup you'll need. Whether you need to purify the water from a hostel sink in Kathmandu or a stream trickle in the Andes, the Geopress has got you covered.
Read our full review of the GRAYL GEOPRESS!
Is Playa del Carmen safe to live?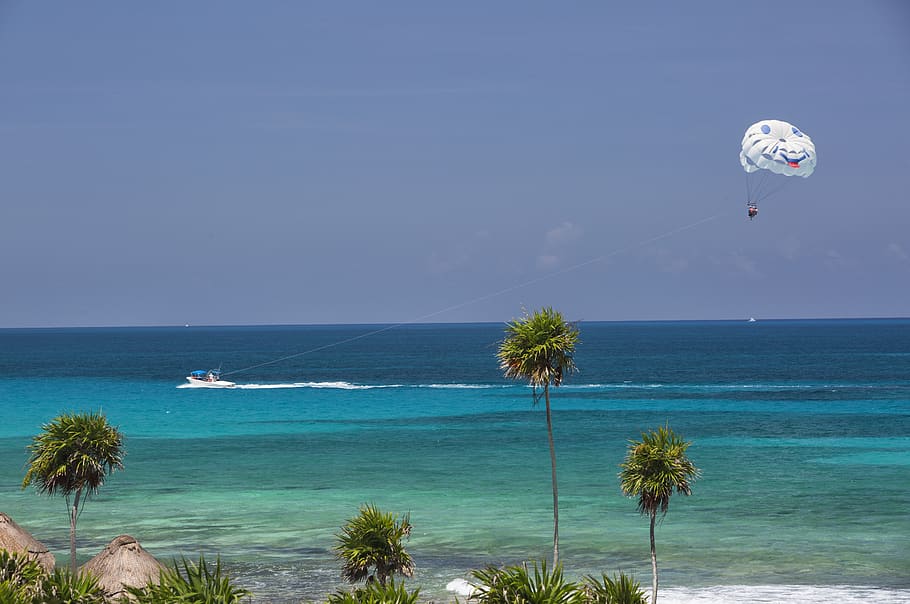 How is living in Playa Del Carmen then? Playa del Carmen can seem like a very inviting place to live, especially if you are in thinking about doing so when you are in the cold depths of winter in your home country.
It's so safe that it has become a popular spot for travellers, tourists and expatriates alike, more diverse than neighbouring Cancun.
However, living somewhere will always be different to just visiting. There is naturally a higher chance of one of the risky things about this place happening if you are staying here for a long time.
You will potentially have to deal with things like hurricanes, which can hit Playa del Carmen between June and September. However, the last major one was Hurricane Wilma in 2005, which means that this adverse weather won't greatly affect your life in the town.
Even though there has been a recent spike in some crime, Playa del Carmen still remains safe, with a relatively low crime rate compared to the rest of Mexico.
Is it safe to rent an Airbnb in Playa del Carmen? 
It is definitely safe to rent an Airbnb in Playa del Carmen. In fact, you'll actually get breathtaking luxury for a very low price here. Playa del Carmen offers some of the best Airbnb homes in the region, so you'll definitely be in for a treat. With the secure booking system, ratings and reviews from previous guests, you can also check exactly what each accommodation is like. This will add another level of safety to your trip. 
Is Playa del Carmen LGBTQ+ friendly? 
We've got good news! Playa del Carmen is a great destination for members of the LGBTQ+ community. There are plenty of gay bars, hotels and clubs that you can choose from, and locals are generally very friendly and open-minded. Of course, you'll always come across one or the other closed-minded idiot, but we can happily say that Playa del Carmen is very safe for LGBTQ+ members.
FAQs on Playa del Carmen's Safety
Planning a safe trip to Playa del Carmen can get quite overwhelming. That's why we've listed and answered the most frequently asked questions on safety in Playa del Carmen.
So, is Playa del Carmen Safe?
Playa del Carmen may have seen a steady increase in crime of late, but it remains one of the safest – and most popular – destinations in all of Mexico. Aside from putting yourself into danger by not heeding local advice on offshore currents, wandering around by yourself in a sketchy neighbourhood, or partying too hard and getting so drunk that you make bad judgement calls, Playa del Carmen is totally safe.
And have you thought about getting Travel Insurance for your trip? You can get a quote from World Nomads by clicking on the link below.
Disclaimer: Safety conditions change all over the world on a daily basis. We do our best to advise but this info may already be out of date. Do your own research. Enjoy your travels!
---
Find out how YOU can support the site.
We're a big site with a big team and this job isn't always easy. But we do it because we love it – we love providing epic and free content. We love the knowledge that our content keeps you adventuring. We don't ask for money, but if you'd like to find out how you can help the site in more organic ways, click the button below.
Thank you for your support 🙂
And for transparency's sake, please know that some of the links in our content are affiliate links. That means that if you book your accommodation, buy your gear, or sort your insurance through our link, we earn a small commission (at no extra cost to you). That said, we only link to the gear we trust and never recommend services we don't believe are up to scratch. Again, thank you!