Travel
Is Bali Safe? (INSIDER Tips for 2021)
Volcanoes, emerald green rice terraces, sparkling beaches, and some of the most unique temple architecture you've ever seen; Bali is Indonesia's most famous island. Long travelled by Westerners, far-flung Bali is a surprisingly comfortable place to visit.
But Bali is not always a paradise – the threat of volcanoes, tsunamis, earthquakes, and even bombings are very real. Combine these with sometimes out-of-control tourists on holiday and you'll probably be wondering, "is Bali safe?"
Of course, that's something we can definitely understand. That is why we have created this epic insider's guide for staying safe in Bali. 
We are going to be covering a vast amount of topics in our guide. From whether it's safe to visit Bali right now (what with all those ongoing eruptions), to whether or not you can safely eat Balinese food – and just about everything in between – we've got you covered.
So you may be curious about travelling to Bali with your children, or you may be thinking about visiting Bali as a solo female traveller. Whatever your worry, we'll be addressing all these concerns and more in our epic guide.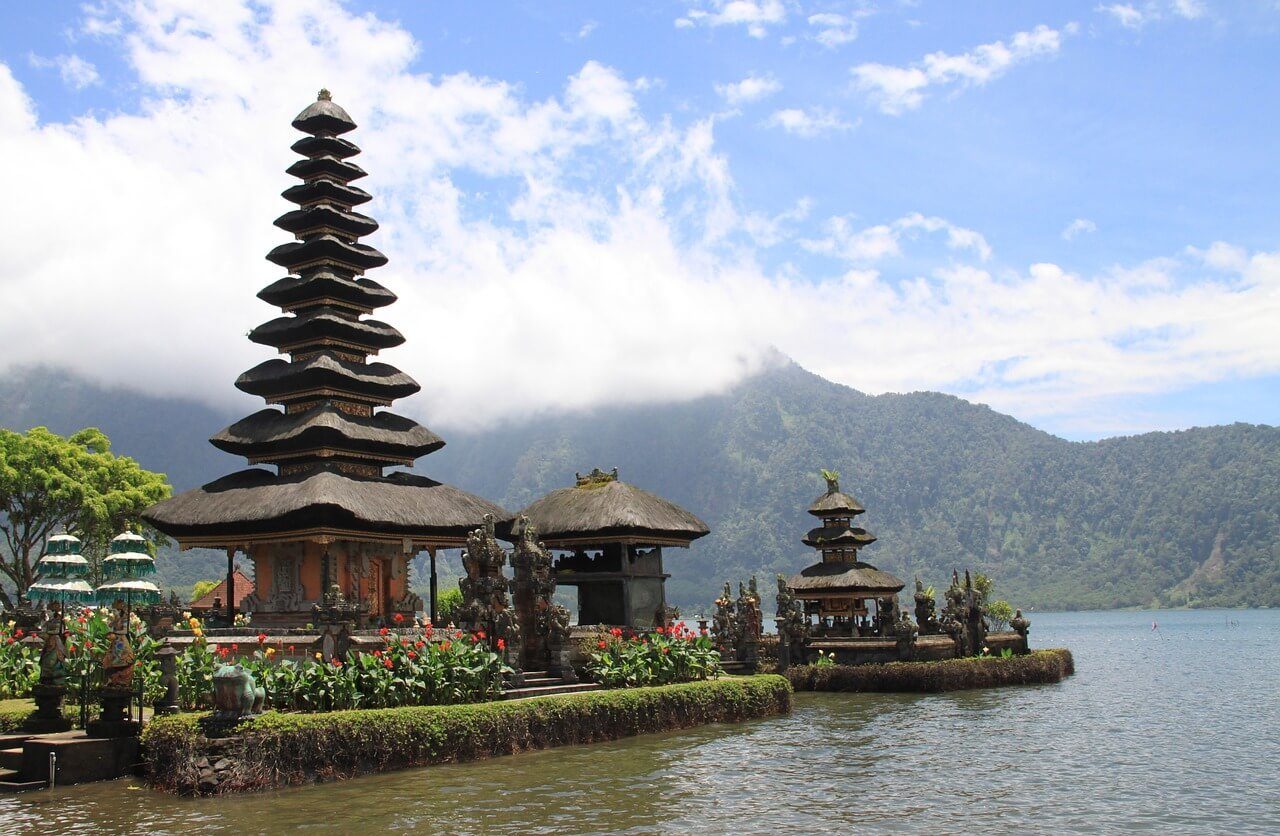 How Safe is Bali? (Our take)
Bali is backpacker central and may appear overrun nowadays, but that doesn't mean it shouldn't be on your radar. This Indonesian island boasts its own unique culture and some pretty amazing natural beauty to discover.
And, on the whole, Bali is pretty safe but that's not to say it's 100% safe (few places in the world actually are).
Nature plays a big role when it comes to safety in Bali. This is a prime volcano country and the island boasts no less than three active ones. Modern technology allows scientists to predict when an eruption may happen, but, that being said, there's nothing they can do to stop them.
Earthquakes can be brutal and the sea current is not to be underestimated. The natural side of Bali alone is enough to spook any traveller.
Then there's the human element e.g. pickpockets, scammers, and one's own drunken stupidity. Bali has a history of illegal distillation and a bad batch can really ruin your day.
But at the end of the day, we have no problem saying that Bali is very safe.
Is it Safe to Visit Bali Right Now?
Bali is safe to visit. And whilst petty crime does pose a little bit of a problem, there were 'only' a total of 3,347 criminal cases recorded. That's 1 case per 1,700 tourists and that's a number that down from the year before. Violent crime itself is relatively low as well.
Petty crime is the main thing you should be worried about and most of it happens around Canggu and Seminyak. It's more the natural side of Bali that may give you problems.
Eruptions happen frequently here – the latest eruption of Mount Agung began in December 2018 and it hasn't really stopped.
There's actually a warning from the UK government advising against "all travel" within 4 kilometres of the volcano's crater. Even the locals are on high alert. It's been spewing ash pretty much continuously, coating nearby villages. When it erupted in 2017, all flights out of the country were grounded.
Indonesia is on the Ring of Fire, an area of very high seismic activity. There was an earthquake on Lombok in September 2018, a tsunami in Sulawesi in the same month, and Western Java and South Sumatra suffered a devastating tsunami (due to an offshore submarine volcano) in December 2018.
Needless to say, it's important to understand that seismic events happen pretty much all the time here – sometimes they're minor, sometimes very major.
That being said, it's still business as usual in Bali. Nature can definitely interrupt tourism and life here, but so far nothing has devasted it outright. People still visit Bali in droves and the island is prepared for the worst. People still go on with their lives and tourist still have an amazing time in Bali.
It's safe to visit Bali right now, but just be aware of the current geologic activity and what to do in case of an emergency.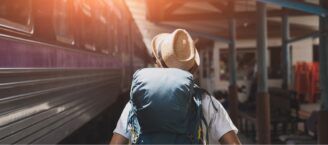 Unlock the The Broke Backpacker's GREATEST Travel Secrets
Sign up for The Broke Backpacker Newsletter to receive weekly tips on how to travel on a budget + a FREE copy of The Backpacker Bible!
Safest Places in Bali 
While the island is actually pretty safe and there's hardly any violent crime, there are a few areas that can add another level of security to your trip if you decide to stay there. We've listed them below. 
Sanur 
Sanur is the teacher and family area in Bali. It's a very laid back, calm and friendly region. The beach is white, the sea doesn't pose too many dangers and locals are incredibly kind. You can find lots of expats and schools in Sanur, but not a lot of action. Also, since it's located in the far South of the island, you'll have to travel quite a bit to get to the touristy areas like Seminyak and Canggu. Nevertheless, Sanur is one of the safest, if not THE safest area in Bali. 
Best for Families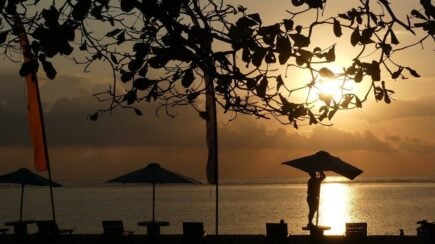 Best for Families
Sanur
As one of the most family-friendly areas in Bali, you can enjoy lots of safety, stunning sunrises, a 5km promenade, and beautiful white-sand beaches.
Ubud
Ubud is the yoga centre of Bali. Located right in central Bali, you won't be near the beach, but you'll get stunning jungle vibes instead. The Ubud community is very alternative, friendly and chill. If you're into yoga, ecstatic dances, energy and breathwork, this is the right spot. Ubud also offers the best cafes in Bali, with different coffee experiences and workshops. The only danger in Ubud are naughty monkeys that might steal your belongings if you don't keep them inside. Since there are no night clubs or parties, you won't even have to worry about drunk idiots on their bikes. 
Cultural and Artistic Centre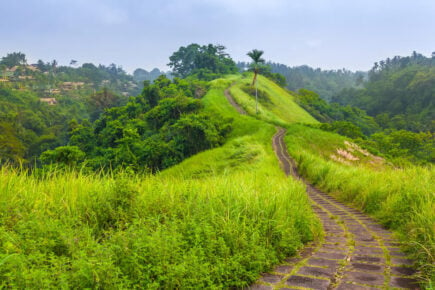 Cultural and Artistic Centre
Ubud
Endless rice paddies, incredible yoga classes and retreats, breathwork and amazing coffee – that's what you can expect to find in laid-back, hippie centre Ubud.
Uluwatu 
Uluwatu is located close to Sanur in the South of Bali. It's the surfer capital and generally very laid back. The sun can be brutal down here, but the water is clear and beaches are white. There are lots of amazing restaurants and cafes, which make the ideal spot to take a break between your surf sessions. Since there are less tourists than in Canggu or Seminyak, you won't have to deal with much pickpocketing or petty theft. That being said, you should still keep an eye on your belongings. And you definitely shouldn't forget your sunscreen. 
Ideal for Surfers
Ideal for Surfers
Uluwatu
As a quiet yet popular spot, you can enjoy Bali at its most organic and rustic. Enjoy amazing waves, white beaches, breath-taking scenery and fascinating culture.
Places to avoid in Bali 
There aren't any "dangerous" places in Bali. The general rule is: the more tourists, the more pickpocketing and petty theft. While Bali saw an increase of those crimes during the pandemic times, things seem to calm down a lot now that tourism is picking up. However, you should still watch out in these areas: 
The main road in Seminyak – you'll find most night clubs in Seminyak which means that there will be lots of drunk idiots on the street that think they should still ride on their bikes. Be careful on the street after dark and especially during the weekend. if possible, get a taxi (or a gojek) to get back home. 
Batu Bolong – this area is located in Canggu and famous for the "Old Man's" bar. Batu Bolong is also one of the busiest areas in Canggu which means that petty crime occurs quite often. Make sure not to leave anything valuable in your bike and maybe even consider to take your helmet with you. 
Sunset Road – Sunset Road is the main road in Bali that starts in Seminyak and leads all the way down to the airport and Sanur. Since there are no traffic rules in Bali, this street can be very tricky and dangerous for inexperienced drivers. Imagine a mini highway with lots of trucks and bikes that don't follow any rules.
Bali Travel Insurance
Do you need Travel Insurance for your trip? Even if you're only going for a few days, that's more than enough time to get smote by wrathful angels. Have fun in Bali, but take it from us, overseas medical care and canceled flights can be seriously expensive – insurance can, therefore, be a life-saver.
Travel mishaps can and do happen and it is well worth thinking about insurance before you leave home.
We have used World Nomads for years now and I have personally made several claims. Why not get a quote from them yourself?
Do be sure to read the terms and conditions to make sure that the policy covers your needs.
Getting an estimate from World Nomads is simple – just click the button or image below, fill out the necessary info, and you're on your way!

19 Top Safety Tips for Traveling to Bali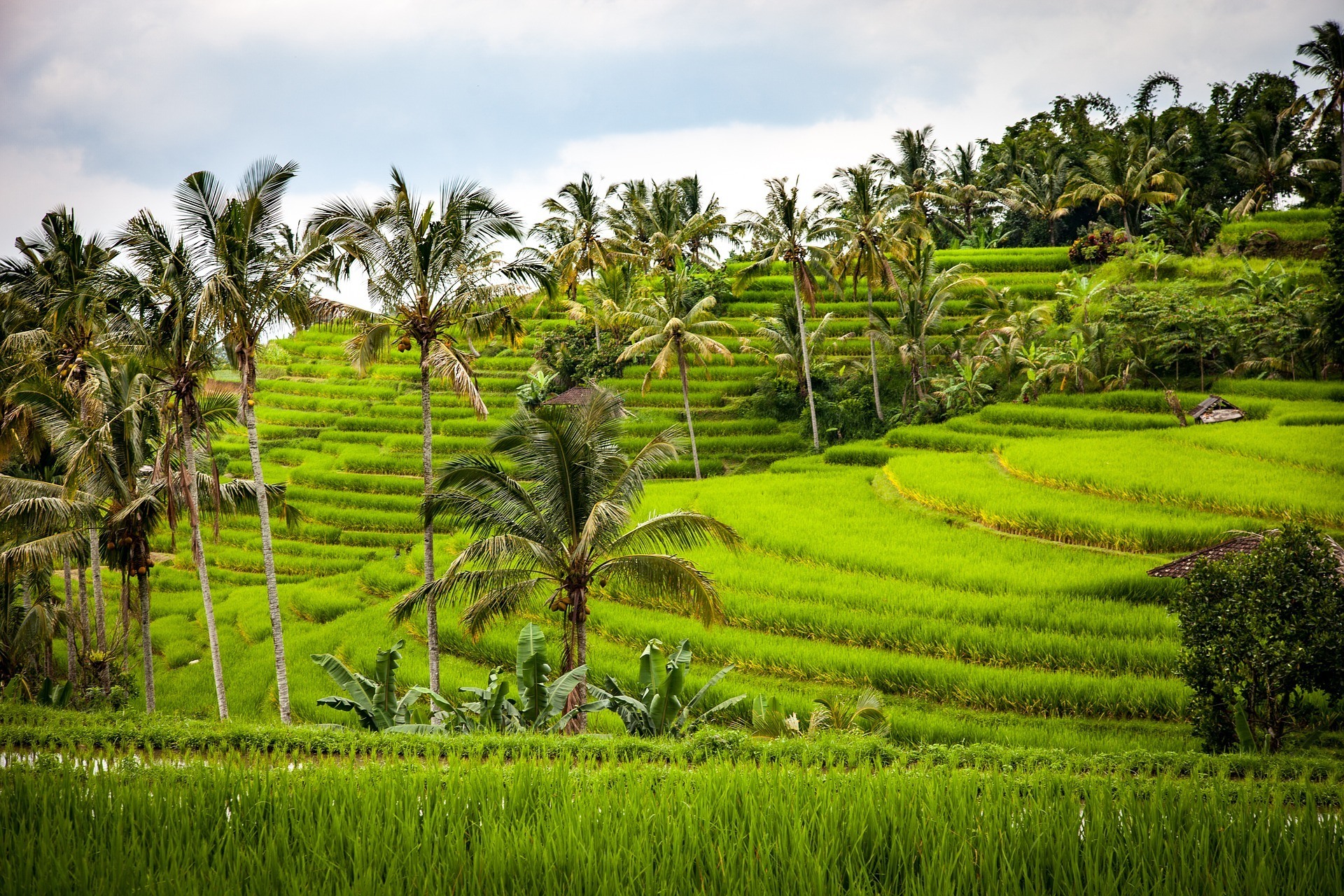 Generally, Bali is safe, especially for Southeast Asia. A long history of tourism, stretching all the way back to the 1920s, has made Bali something of a veteran of exotic travel.
Even so, that can't guard it against natural disasters, and, at the same time, that doesn't stop a few pickpockets from operating here and there. So it's important to have a few smart travel tips in mind when it comes to staying safe in Bali.
Be aware of earthquakes – not just keeping up to date with them, but knowing what to do in a disaster situation helps. A lot.
Same with volcanic eruptions and tsunamis – know your disaster drills, people.
Clue yourself up on the recent political situation – Indonesia can be a political powder keg. Keep up to date with current events.
STAY AWAY FROM DRUGS – getting caught with these can be SERIOUS. Trafficking carries with it the death penalty.
The police can be adamant – they occasionally carry out raids on bars and clubs popular with foreigners, sweeping for drugs. They've even been known to pose as dealers and then conduct "sting" operations, especially in Kuta.
Watch out for counterfeit alcohol – people have actually died from drinking alcohol contaminated with methanol. Be careful of alcohol that seems too cheap to be true.
Keep an eye on your belongings – especially in tourist areas. This is where most pickpocketing and bag snatching occurs.
And your credit card – cloning happens, so DON'T let your card out of your sight. Keep it in a money belt with some emergency cash.
There are a number of phony charity programs – if there's an orphanage that's frequented a lot by tourists, then it could be fake. These are sometimes scams and set up to separate you from your cash. Do your research.
Some touts in popular areas can be aggressive – but if you don't WANT anything, just IGNORE. That's the best way to go.
Be wary of other scams and cons directed at tourists – from overcharging to rigged money changers…don't be a sucker.
Respect local customs – things like dressing appropriately at local temples is pretty much mandatory.
Be aware of Nyepi (Balinese New Year) – this is a celebration of silence – there are no lights, no noise, no entertainment, barely any electricity, no flights. Be aware and respect it.
Careful during the rainy season – flooding can occur between October and April.
Protect against pesky mosquitoes – they're more than JUST pesky here; some carry dengue fever.
Watch out for street dogs – rabies is possible in Bali, so just watch out who you're petting.
Monkeys AREN'T fun – they're crazy and can be REALLY aggressive. Some may even have rabies. Don't indulge them. If you're bitten, like at the Monkey Forest, go to the nearest clinic.
Don't swim against your better judgement – rip tides and strong currents are dangerous. Pay attention to RED FLAGS, which mean DANGER!
Pollution is a bit of a problem – especially water pollution. After heavy rain, swim away from streams. Be sure to clean up after yourself and help in the fight against litter; some of the beaches here aren't as pristine as they once were.
Be careful around cliffs – people fall over these when visiting places like Nusa Penida and Uluwatu, and more often than you'd think. Be careful when driving and taking photos when the edge is near.
Stay aware, travel smart, and be responsible when you're turning up in Bali's nightlife, and you should be fine!
Some General Safety Tips from the OG Broke Backpacker
Is Bali safe to travel alone?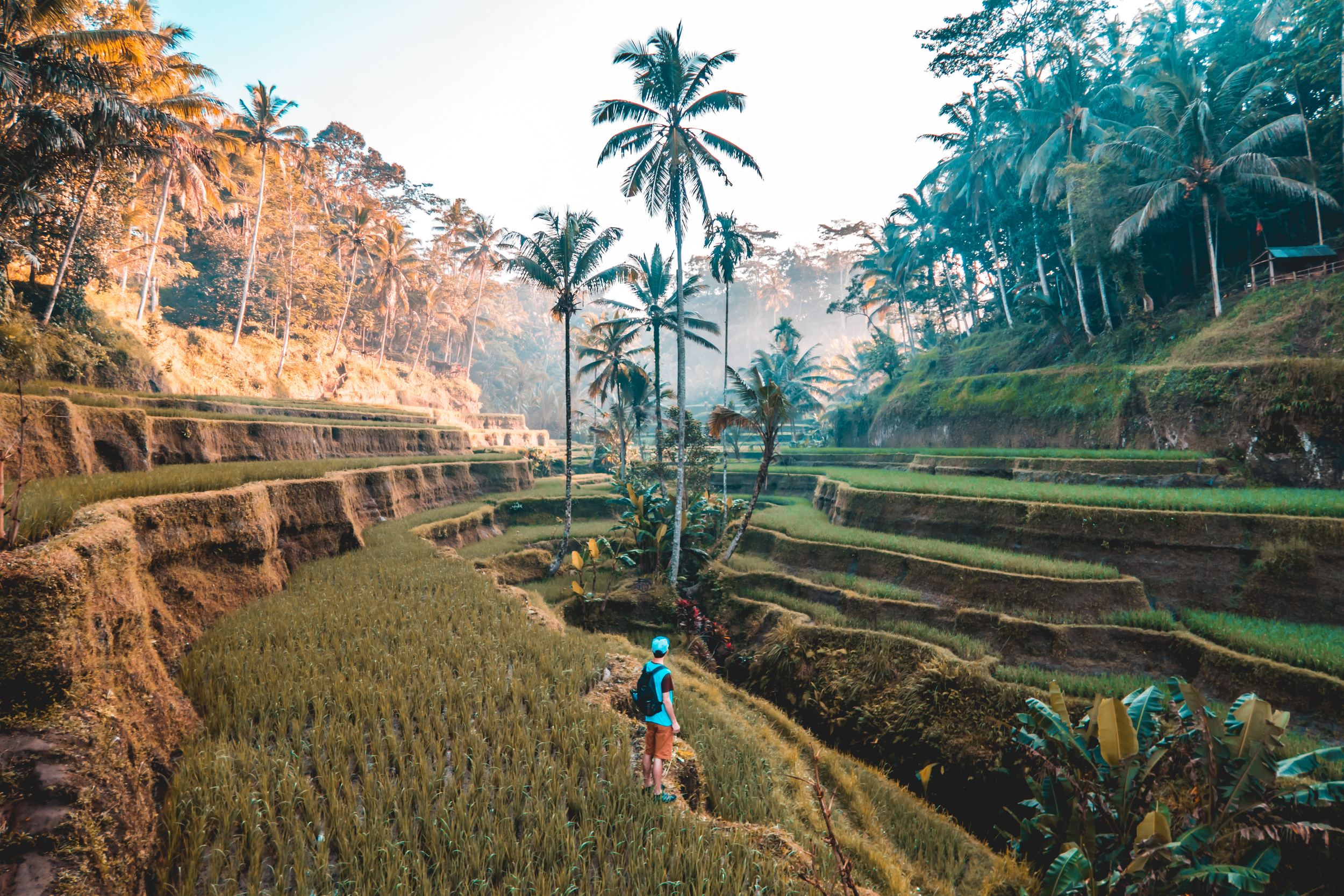 We think solo travel is AWESOME – you get to basically see the world at your own pace, without anybody but yourself to answer to, plus you get to challenge yourself and get outside your comfort zone.
It's cool, but it can sometimes be a bit lonely (not to be a downer).
In Bali, thankfully you're going to find a whole lot of other travellers – some likeminded, some maybe not so much – to meet and mingle with. And guess what? Bali is safe to travel alone, too.
Heading out on a tour? Great idea. These are a perfect way to see the island and to take a break from planning all your own adventures (it does get exhausting – trust us). They're also a good opportunity to meet some fellow travellers also backpacking around Bali. 
And if you do head out on a tour, make sure to use a reputable company. Do your research, read reviews, and only make sure to use someone, or a company, that has a lot of good reviews. That's the best way to not only stay safe but bag yourself an awesome tour, too.
Drink spiking happens, so keep an eye on your drink. And even if people seem friendly and want to buy you a drink, just politely decline.
And whilst we're on that note, don't get crazy drunk. It's fine to drink, of course, but getting completely wasted isn't going to be the best way to stay safe whilst you're traveling by yourself in Bali.
You can get a pre-paid sim card at every phone shop – this a good way to keep in touch with your friends and family at home. It pays that people back home know where you are, as well.
On that note, tell people where you're going. If you get into trouble, again: it's better that SOMEONE knows where you are than NO ONE.
Since you're by yourself, you may find yourself MORE of a target for street vendors and scammers. The best course of action, as always, is to IGNORE anything that's overly aggressive or suspicious. 
And, of course, don't push yourself too much. You need a day or two here and there to just chill the hell out. Trying to do every little thing in the guidebook is only going to end up stressing you out. Where's the fun in that?
Bali is, all said and done, a top destination for solo travellers. There are a ton of different people to meet, a whole lot of incredible hostels to stay in, and a huge selection of adventures to have for yourself on this Indonesian island.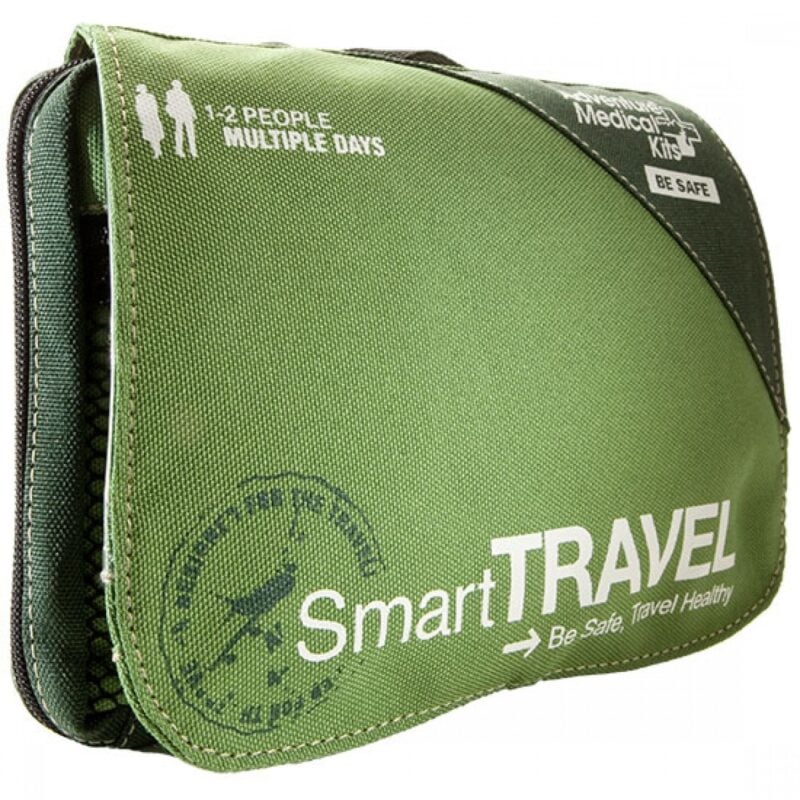 Be prepared for what life throws at you on the road. Pick up an AMK Travel Medical Kit before you head out on your next adventure.
View on REI View on Amazon
Is Bali safe for solo female travelers?
Bali is a welcoming, friendly place that is actually SUPER popular with solo female travellers from all over the world. They're drawn by the beauty and culture of the island, as well as simply being independent.
Bali is safe for solo travellers in general. However, like most areas in the world, simply being a woman makes travel riskier.
To help you on your journey, here are a few safety tips to travelling intelligently around Bali as a solo female traveller.
Pick yourself well-reviewed accommodation. One of the first steps to staying safe in Bali is actually having somewhere safe and secure to return to every day.
Common sense. We've all got it, but when you're on your own it's more important than ever to trust your gut – if a situation seems a bit off, it probably is; if a person seems shady, they probably are.
If you do find yourself somewhere that doesn't feel 100% right, remove yourself. That's a good way to stay safe: by simply avoiding a potentially dodgy situation before it gets actually dodgy.
Dress appropriately for the situation. We know, Bali is heavily touristed, but that doesn't mean that this island is a liberal haven. There are plenty of rural villages, markets and religious sites that still require you to NOT show your shoulders or anything above your knees. Go loose rather than tight-fitting, and pack breathable clothing for Bali (plus a big-ass hat).
As a woman by yourself, you'll be more of a target for bag snatchers. Make sure you keep it close to you, or better yet, use a bag with a cross strap.
Watch out for dickheads in clubs and bars. You'll see these a mile off as they are definitely NOT locals. Drunk, possibly in a singlet and short-shorts, and overly insistent. Avoid these travellers if not for your own safety, then for your sanity.
Keep your doors and windows locked at night. You might want them open, to let the tropical breeze blow in, but it's not a good idea. Robberies and dodgy people getting into your room. Better safe than sorry.
Don't go walking alone at night. Down quiet streets, beaches, alleyways, etc. Make sure you have a few mates with you if you want to wander around freely after dark.
Arriving at Denpasar International Airport can feel a bit overwhelming. There are a lot of taxi touts and men lounging around groups. Stay safe by arranging transport beforehand or getting yourself a licensed cab. 
Ignore any cat-calls. It's the best way to stop it from developing into a situation. Especially in Kuta at night time, the levels of harassment can actually be pretty high.
Put yourself out there with group activities. A yoga class, hiking tour, cooking class, surf lesson, something you're interested in. Perfect for meeting fellow travellers and maybe making some friends, too.
Bali is a well-trodden destination that shouldn't pose too much of a challenge to experienced solo female travellers. In fact, it's a fine option for first-timers. If you want to spend your time delving into the culture, food, and meeting other fun travellers, it's a GREAT option.
More about Safety in Bali 
We've covered the main aspects of Bali's safety already, but there is loads more to know. Read on for more detailed information on how to stay safe when visiting Bali. 
Is Bali safe to travel for families?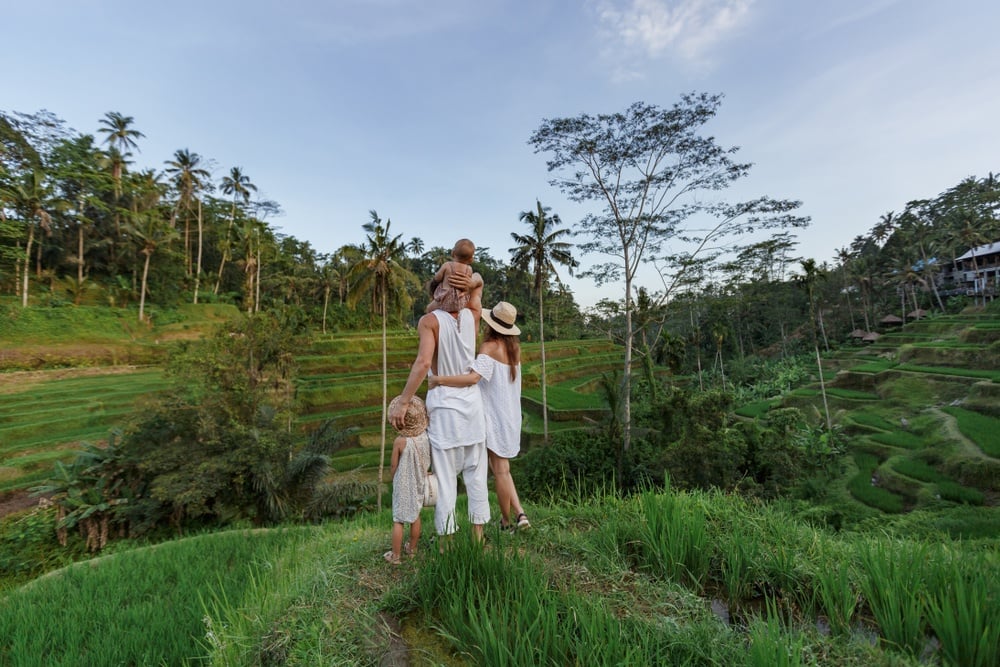 Bali is very safe for families! Locals absolutely LOVE children without an exception.
However, the sea can be dangerous, so make sure to keep a watch on your children at all times.
And, whilst you're on the beach, be aware of sun safety. Your little ones will be very affected by the heat, so keeping them slathered in suncream, covered up, wearing a sun-hat, and in the shade intermittently is going to be the best bet.
Similarly, keep 'em protected against mosquitoes with repellent, by covering up in the evening, and burning coils at night.
DO watch out for animals! Dogs might seem friendly, and so might monkeys, but both can be aggressive and potentially very dangerous, especially for small children.
But generally, since you won't be out partying, Bali will be much less hectic and much more relaxing. You'll be able to participate in some amazing, wholesome family activities, and, all the while, you're going to be pretty safe in Bali.
Is it safe to drive in Bali?
Balinese road safety isn't exactly ideal, so…you might want to reconsider renting a car in Bali.
Erratic drivers, hazards (i.e. dogs) in the road, potholes, and not to mention some truly awful traffic means it might not just be worth it.
Hiring a driver, on the other hand, is perfectly fine for a day tour – or longer if you feel like it. A local driver will know the roads, and how they work, MUCH better than you do.
More popular than a car is a motorbike. Of course, this is Southeast Asia after all. These provide a more convenient way to zip around – especially when the traffic is bad.
You're going to have to be aware of a few things when driving a scooter in Bali:
Traffic police will randomly stop you – be ready to pay bribes because that's what they'll want – most likely.
Be aware that navigating isn't exactly going to be the most straightforward experience. Some signs actually lead to nowhere. There's also the notoriously congested Madara Toll Road. Be ready to hear a lot of horns – it's the custom if you're overtaking.
If you want to overtake, do as the locals do and beep. Same thing if you're going around a blind corner.
There's also the obvious thing about WEARING A HELMET. Literally, why wouldn't you?
And we would definitely advise against driving at night. People don't tend to use the lights on their cars or bikes, there can be unseen hazards, and drivers can be drunk as well.
Oh and with that in mind, don't drive under the influence. That's just a good way to have an accident, get a fine, or both.
Riding a motorbike in Bali 
Bali is not a problem for travelers that are used to Asian traffic. However, since driving a scooter is the easiest and fastest way to get from A to B, you see a lot of inexperienced tourists on the street too.
The streets are often very hectic and chaotic, which can be overwhelming for some people. Driving carefully and with an average tempo on the far left side is the best way to stay safe.
If you don't want to drive yourself, you can use GOJEK or GRAB. These apps are like Uber, just in the Asian version.
As soon as you lose focus, you're likely to crash. Wearing a helmet is starting to become a mandatory requirement, and that's for a good reason. You always want to prepare for the worst-case, so you're better off safe than sorry.
There are scooter rentals everywhere in Bali. Recently, online rentals are starting to become more popular too. Legally, you'd need a proper license, but no one on the island really cares.
Whenever you rent a bike, check the brakes, engine, and mirrors, and takes photos of scratches and dents, so there's no chance for the rental to scam you.
Is Uber safe in Bali?
No Uber here – Bali is all about Grab and Gojek and it's pretty much the same thing.
You'll know who is picking you up and in what car, track your ride, pay in-app, and don't need any Bahasa to get to where you're going; easy. Grab or Gojek is safe in Bali.
However, there IS some tension surrounding Grab, as there was with Uber before it.
To avoid any hassle – because there might be some – try to use Grab discretely. This means not waiting in front of a busy taxi rank for your Grab to arrive.
Sometimes hotels don't allow Grab. Just walk a dozen feet away and arrange your ride from there instead.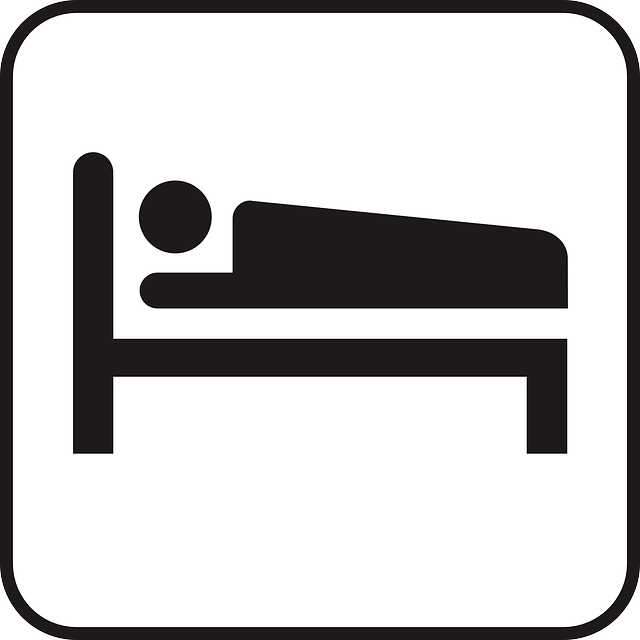 Sleep safe! Choose your 
hotel
, 
hostel
 or 
Airbnb
 ahead of time so you're not last-minute booking a less-secure place.
Read our Bali Neighborhood Guide for our favorite accommodations in Bali by area.
Check out our Bali Hostel Guide for the best budget options.
Are taxis safe in Bali?
In Bali, the taxis are essential when it comes to getting around the island. At some point during your travels, you will most likely need them. Firstly, to get from the airport to your accommodation and then to actually get around and see the sights of Bali.
Taxis are everywhere and, honestly, the taxis in Bali can be cheap. But they can be tricky.
Make sure the driver uses a meter and doesn't take long detours to rack it up.
The best way to avoid scammy taxi practices is to use a well established, well-reviewed taxi company. One example is Blue Bird Taxis because this company uses honest drivers. Their cars are light blue and feature a diamond shape with a bird in the middle…
In fact, Blue Bird has its own app. This means you can get a taxi from them with the same safety level as a ride-hailing app. Works for us.
You'll have to rely on local taxis in and around Ubud. With these local drivers, you'll have to agree on a price before you get in.
And – as always – don't forget to have small change on you; drivers can claim to have no change, which means losing your big bills. Small denominations, people.
Taxis depend very much on Bali's awful traffic. If it's bad, they'll take AGES.
Is public transportation in Bali safe?
Public transport isn't strong in Bali and you're likely to not even realize that it exists. The only thing you're going to find here is a few buses.
These come in mainly two types. There are tourist minibuses that ply the popular routes around the island and connect the most visited destinations. These can be booked through your accommodation.
Then there are public buses – these resemble the tourist minibuses – except their full of locals – or the larger mainliners that usually travel LONGER distances. Both will leave when they're full and will take a while to do so.
Since everyone is getting around via taxi or scooter, you probably won't end up on a bus anyway.
Keep everything on you in transit!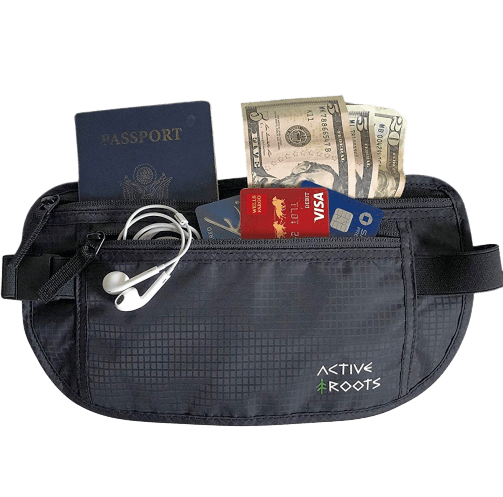 When moving from place to place, you shouldn't store travel documents in a bag, even if it's under your seat or overhead.
A full-sized money belt that stays tucked under your clothes keeps your documents and cash organized during your travels and assures nothing critical gets left behind or stolen.
Is the food in Bali safe?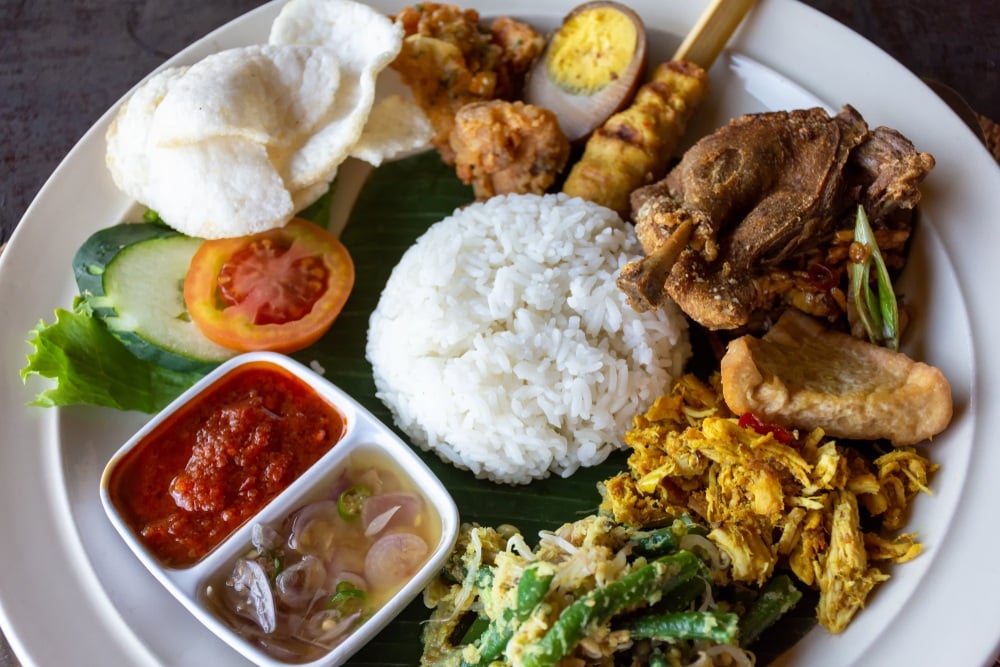 Balinese cuisine is a dream. There's bebek betutu (that's smoked duck), babi guling (stuffed and roasted suckling pig), plenty of pork satay (which you don't in many parts of mainly Muslim Indonesia) and a lot of good rice dishes to try out.
There's also plenty foreign-owned, and local, restaurants around that offer up a whole load of Western treats. You can find everything from coffee and cake, to BBQ ribs and Mexican tacos. But you might want to go easy on it – Bali Belly is definitely a thing.
Go easy on the food and drink. Touching down and immediately gorging on all of this exotic food is just going to result in a bad stomach. Most likely, you're not used to the food, so ease yourself in and don't get too greedy.
One way to avoid getting ill is to watch where you eat. A decent little piece of common sense is to eat at places that LOOK clean. The dirtier a place looks, the more likely it's going to make you ill.
That is unless there are a lot of people eating there. Basically, popular place = tasty food. And it's also going to be less likely to give you a bad stomach. People wouldn't keep going back to a place that made them ill.
Similarly, look online. If you're REALLY scared, then get on Google, TripAdvisor, food travel blogs that recommend certain restaurants and go to those places. It's the safest bet.
Since so much of Bali's food scene isn't ACTUALLY shacks or streetside stalls, you'll be fine at many establishments. Don't be afraid to duck into a clean and cool looking cafe or restaurant. You may find yourself a hidden gem.
On that note, wash your hands! You can't guarantee that whoever's making your food is going to have clean hands, but at least you can ensure your OWN hands are clean. So give 'em a scrub before eating.
If stuff looks like it's been lying around in the sun all day, we can only say AVOID.
You're in for a treat in Bali. Not only is the scenery great but, yes, even the food is amazing. There are a lot of famous eateries in Bali that you might want to consider trying that can whip up some pretty tasty, traditional Balinese morsels.
Can you drink the water in Bali?
That's a clear no. We would say that it's not safe to drink the water in Bali. Doing so puts you at risk of Bali Belly – and you don't want that.
Stick to bottled water, which is widely available pretty much across the whole island. And make sure you bring your own refillable bottle to cut down on plastic waste!
Want to save the world?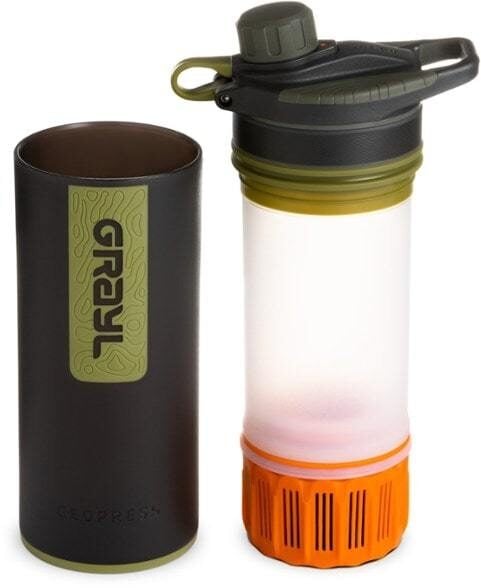 Single-use plastic bottles are a huge threat to Marine Life – Be a part of the solution and travel with a filter water bottle.
The GRAYL GEOPRESS water bottle is the ONLY all-in-one filter water bottle setup you'll need. Whether you need to purify the water from a hostel sink in Kathmandu or a stream trickle in the Andes, the Geopress has got you covered.
Read our full review of the GRAYL GEOPRESS!
Is Bali safe to live?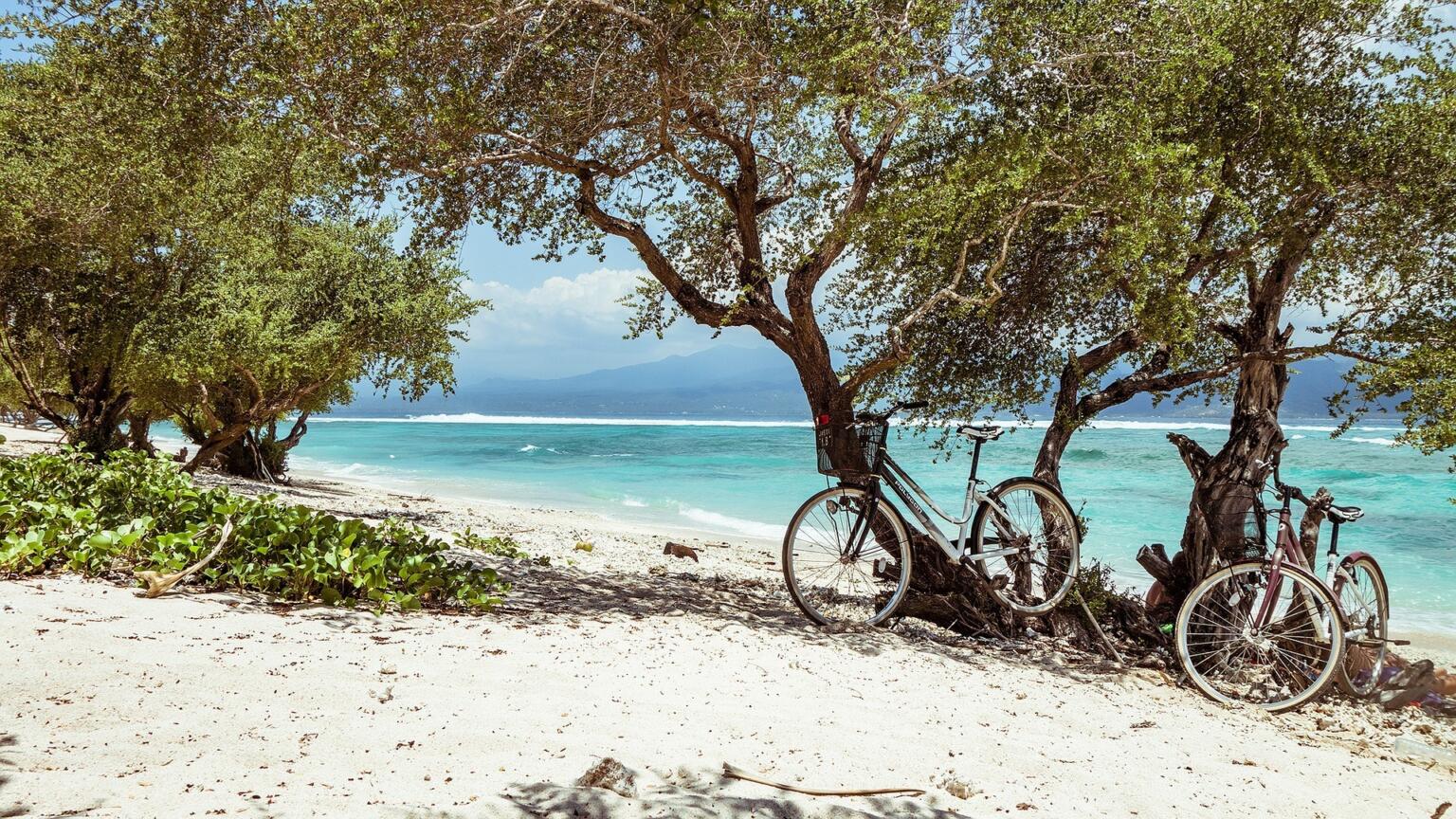 Bali is actually really safe to live in and a lot of people do live in Bali.
Many expats travel here for the hippie vibes of Ubud and stay to open a vegan cafe in Canggu. That's definitely the vibe going on here. And if that sounds like you, you'll find quite a few like-minded expats in Bali.
This island is a beautiful place, but it comes with the looming threat of natural disasters. This means being AWARE of nature, whilst also knowing what to do in the event of a natural disasters hitting the island.
You'll have to be aware of the weather too, which can be hectic. In the rainy season, flooding can be especially dangerous.
If you're planning on driving in Bali, all our tips above apply. Even walking around Bali can be dangerous: pavements are pretty much nonexistent and small if they do exist.
BUT…
Bali is a lot safer than other parts of Indonesia and other places in the world, for that matter.
How is healthcare in Bali?
Healthcare in Bali is not great. It is a developing country after all. If you get seriously sick, we'd recommend leaving Indonesia as fast as possible. The hospitals on the island simply aren't as modern and well equipped at elsewhere in the world.
On top of that, if you don't pay upfront, you won't receive any treatment, no matter if you're close to dying or just suffering from a dodgy stomach.
For private healthcare, check out BIMC Hospitals. This agency is well known throughout Bali for treating foreigners. It's a private hospital with a 24-hour clinic and a doctor that can even be called-out to wherever you're staying. Just note that they're incredibly expensive.
Serious patients will be airlifted to Singapore. So don't come to Bali without medical insurance. And make sure this insurance covers large sums and bacterial infections that are common in hospitals.
There are lots of pharmacies in Bali, which means you'll be able to get a hold of many meds, including antibiotics and other over the counter items.
Is it safe to rent an Airbnb in Bali? 
Yes, it's absolutely safe to rent an Airbnb in Bali. And it's not only that, but you'll also find the best and most unique Airbnbs in Bali. With the secure booking system, you can check reviews and ratings of each property, which makes choosing where to stay even easier. Most Airbnbs are held at a very high standard in Bali, so you'll definitely be in for a treat!
There's always safety in numbers, so if you want to feel extra safe, book a room in a hostel or co-living. We recommend Tribal Bali, the perfect place to live, work, play and stay in beautiful Bali! Bali's first custom-designed, purpose-built co-working hostel and the epic brainchild of Will Hatton, the OG Broke Backpacker. This is the place where backpacker babes, aspiring entrepreneurs, adventurous explorers and vagabond hustlers alike come together to work, eat, play and fall in love… well, at least with the absolutely fantastic coffee and beautiful views!
Mingle, share inspiration and find your tribe whilst working in the TREMENDOUSLY FUCKING HUGE co-working space and shooting a game of pool on Tribal's electric pink billiards table. There's a gigantic pool as well so it's always time for a refreshing dip to break up the day's hustle, brainstorming, work, and games… 
With epic food, legendary coffee, awesome cocktails (Tribal Tonics are the best signature cocktails you've ever had in a hostel – I guarantee you that!) and a dedicated co-working space, this is the place where you want to be when visiting Bali. If you love the site and want to support Will, swing on by next time you're in Bali 😉
FAQs on Bali's Safety
Planning a safe trip to the island of gods can get very overwhelming. To help you out, we've listed and answered the most frequently asked questions so you can have a safe trip to Bali.
So, is Bali safe?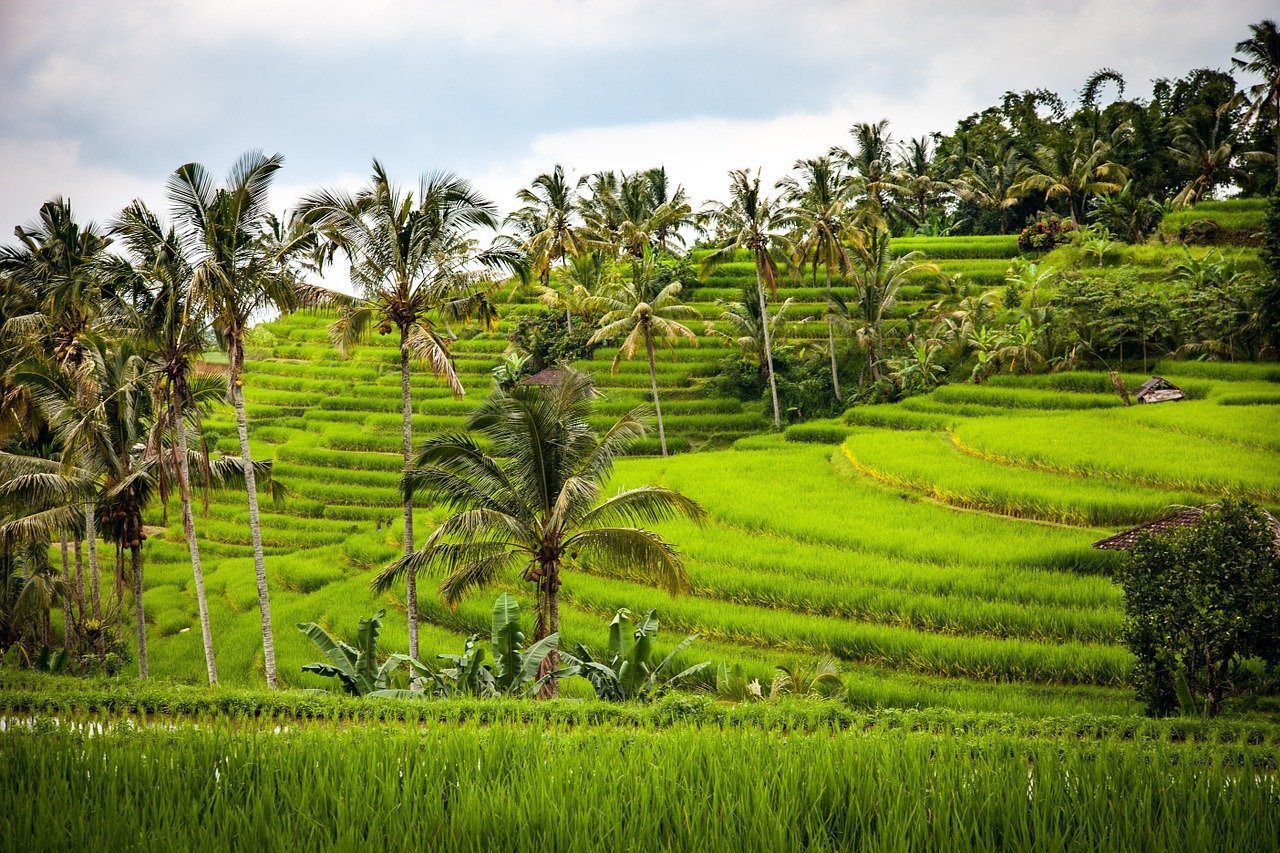 Yes, Bali is pretty safe to visit for all sorts of travellers. The island is so well-trodden and inhabited by such friendly and helpful people, that it's one of the safest places in Southeast Asia to travel around.
Of course, there's always going to be something to watch out for, and that goes for certain areas of Bali more than others. Kuta, Seminyak and Canggu are more sketchy after dark than Ubud, or Jimbaran, for example. That's just how it is.
A neighborhood's safety comes down to what it's frequented for. Seminyak is basically party central – it's a den of vice for basically anyone looking to get completely wasted, tourists and locals alike. If you want to have a good time in Bali, by all means, either head there, to Kuta or Legian – just watch out for anybody getting too rowdy, or anything beginning to get a bit too sketchy. Travel smart, even when partying.
Most of Bali is very peaceful and you're bound to be fine while exploring the island. That said, ride your motorbike with care, don't swim in dangerous water, and know about seismic activity. Doing so will save your ass if anything big happens.
And have you thought about getting Travel Insurance for your trip? You can get a quote from World Nomads by clicking on the link below.
Want to learn how to travel the world on $10 a day? Check out the Broke Backpacker's Bible…
Disclaimer: Safety conditions change all over the world on a daily basis. We do our best to advise but this info may already be out of date. Do your own research. Enjoy your travels!
---
Find out how YOU can support the site.
We're a big site with a big team and this job isn't always easy. But we do it because we love it – we love providing epic and free content. We love the knowledge that our content keeps you adventuring. We don't ask for money, but if you'd like to find out how you can help the site in more organic ways, click the button below.
Thank you for your support 🙂
And for transparency's sake, please know that some of the links in our content are affiliate links. That means that if you book your accommodation, buy your gear, or sort your insurance through our link, we earn a small commission (at no extra cost to you). That said, we only link to the gear we trust and never recommend services we don't believe are up to scratch. Again, thank you!