Travel
How To Visit Yellowstone on a Budget – MUST READ!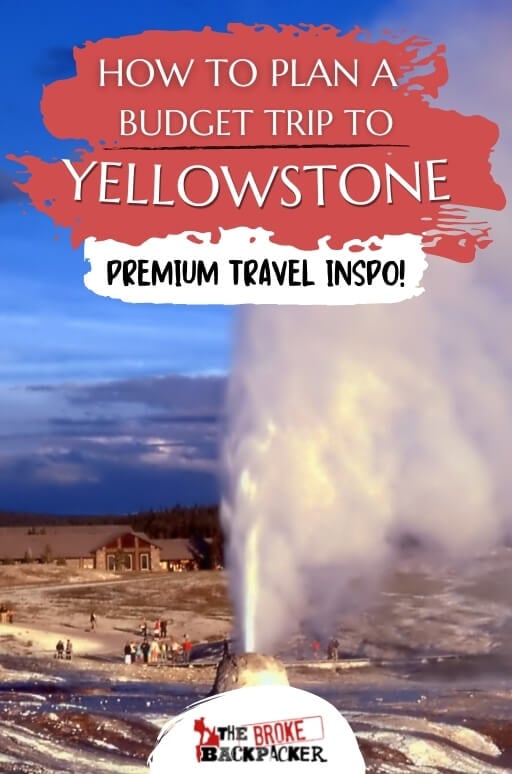 Yellowstone National Park is as great as the great outdoors gets. This stunning UNESCO World Heritage Site is famous across the entire world. From geysers and hot springs to canyons and hikes, this is a must visit for every adventure traveller.
Unfortunately the park is not exactly cheap to visit. Yellowstone visitor numbers are controlled, but this hasn't stopped the annual rise in prices. Even though nature and fresh air are free, it still seems to be harder than ever to visit Yellowstone National Park on a budget.
Which is where we come in! It's not easy to visit the park on a budget – but it's definitely not impossible. Combining personal experience with hints and tips from locals and travel experts, we've compiled this small guide to visiting Yellowstone on a budget. Accommodation and dining doesn't have to cost you through the nose, and we've got some tricks to help you save cash.
So let's jump right in!
Where to Stay in Yellowstone
Staying inside Yellowstone park itself is notoriously expensive, so we have some hints and tips for how you can save cash. Overall, you're better off staying in a spot that's just outside the park and making visits into the park. You'll need a car to get around Yellowstone anyway so it really isn't that much extra hassle to drive a few extra miles each way. You'll be rewarded with affordable room rates, cheap restaurants and secluded spaces.
Still some areas are more expensive than others. West Yellowstone is the most popular destination – especially for those without a car since there are lots of tour operators in the town.
This makes it one of the more expensive places to stay. So where should you stay near Yellowstone National Park on a budget?
Gardiner
Just across the border in Montana, Gardiner is only a couple of minutes drive away from Yellowstone National Park. This is one of the larger towns on the outskirts – but doesn't come with the same tourist crowds as West Yellowstone. This makes it a fantastic place for finding good deals on accommodation.
Whilst there aren't many attractions in the town itself, it is particularly popular with those focused on checking out the attractions in the north of the park. Mammoth Hot Springs is on the road into the park – and should be the first stop on your itinerary.
Gardiner has maintained an Old West atmosphere to this day and is known for friendly locals. There's plenty of wildlife in the area, meaning you don't even have to venture into the park. This can save you from a visit into the park – which charges per entry. 
The Yellowstone River runs right by the town and offers some great hikes in its own right. Whilst the restaurants are mostly locally owned, they offer a surprising variety of cuisines. In many ways, Gardiner just feels like the park itself but without the extortionate costs and massive crowds.
Cooke City
As you can tell, the northern end of the park tends to be the cheapest. Cooke City is also across the border along the road in Montana – but on the eastern side. In many ways it offers much the same as Gardiner, but it's a little bit bigger with more shops and restaurants on offer. Cooke City is a great budget option if you still want to enjoy plenty of tourist amenities.
There are two creeks that run through the town offering some laid-back walks. Whilst Cooke City is undeniably larger than Gardiner, it is still laid-back in atmosphere. Truly a city in name only! This makes it an excellent location for campers looking for somewhere to stay. Even if you'd rather stay in an organised campsite, these are far cheaper than those in the park itself.
Cooke City is a little bit further from the entrance to Yellowstone National Park – about an extra 20 minutes by car. Your first point of entry will be the Tower area. This is the most rustic part of the park, and a great spot for escaping the huge tourist crowds around the main sights.
Why Should You Travel to Yellowstone with a Water Bottle?
Whilst there's a lot that we can do when it comes to traveling responsibly, reducing your plastic consumption is one of the easiest and most impactful things you can do. Don't buy one-use water bottles, don't take plastic shopping bags, and forget straws. All of this just ends up in landfill or in the ocean.
If you'd like some more tips on how to save the world, be sure to watch the video below.
Camping in Yellowstone
There are a number of options for camping in and around Yellowstone National Park to suit a variety of budgets. As mentioned above, you're actually better off camping outside of the park itself. Cooke City offers the cheapest options year round, but you'll have to drive a little bit longer to get into the park. In the off-season, you'll find some excellent deals in the West Yellowstone campsites.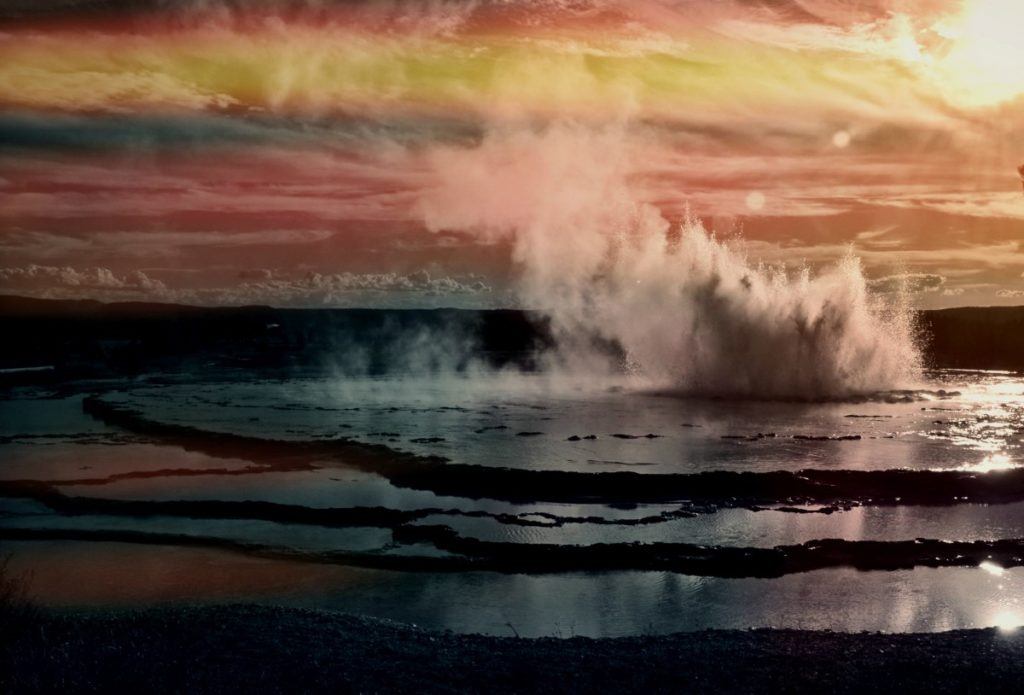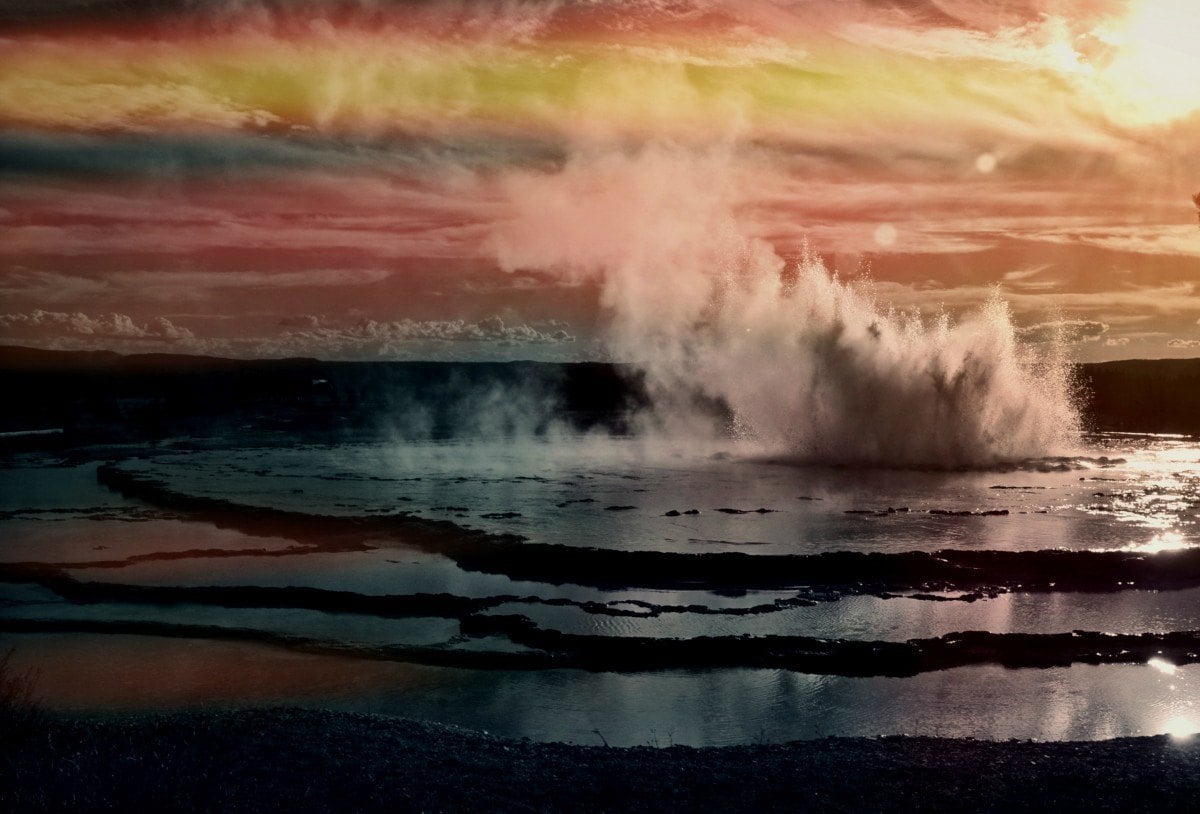 Within the park itself campsite rates can get quite pricey – but these sites are totally worth it. You'll find the facilities are incredibly high quality, with many of them also hosting social events for campers. This is the oldest national park in the United States – so they know what they're doing.
You can also opt for backcountry camping in the park – but you still have to buy a permit. Numbers are limited, and the amount of time you can stay is also restricted (to a maximum of 3 nights). This is obviously much cheaper, but we recommend you should already have camping experience.
If you do camp, bring a good high quality camping tent as it can get cold and rainy.
How to Get Around Yellowstone
Travelling by car is the most popular way to get around the park. There isn't any public transport within the park, but there is a great road network. The central ring loops around the best known attractions, and there's a second ring connecting visitors with northern destinations.
So what if you don't have a car or don't want to hitchhike? Hope isn't lost – but you'll need to be prepared to spend a little more money. There are some fantastic tours around the park departing from towns on the outskirts. West Yellowstone is home to more tours than others – but it is also one of the more expensive areas to stay in.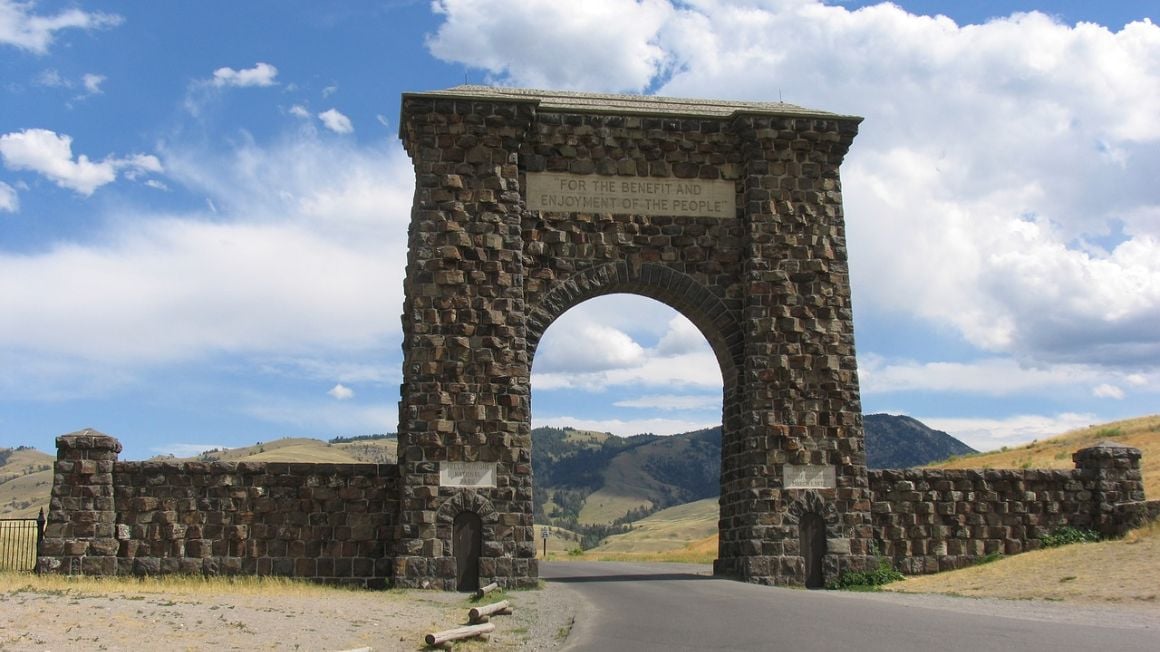 There is a third option – you can travel by bike! You'll need to do a lot of planning because the park is huge – but for experienced cyclists this is a really rewarding way to get around the park. Unfortunately it can be quite challenging – so we don't recommend this for novices. 
You also need to take extra care during the winter. Cycling isn't possible at all, and even driving can be difficult. Always check the forecast before you set off, and be prepared to have to turn back if conditions don't look favorable.
How To Eat at Yellowstone on a Budget
The cheapest option is to bring food with you (check out these backpacker meals) – although this isn't always possible if you're travelling a long distance to get here. Both Gardiner and Cooke City have some great stores where you can stock up on supplies even if you choose to camp. You'll also find all of the villages in the park itself come with convenience stores, but these are generally more expensive. You can also try dumpster diving.
What if you want to eat out a couple of times during your stay? There are some excellent options to cater to most tastes within the park. Breakfasts aren't actually that expensive (usually around $5-10), so if you want to prioritise one hot meal per day that is the best option for those on a budget.
Of course, many visitors like to treat themselves on one night during their trip. In this case, you'll find some of the best mid-range and upscale restaurants in and around Canyon. It's well worth budgeting for, with some of the best meat on offer in this part of the United States.
Yellowstone Highlights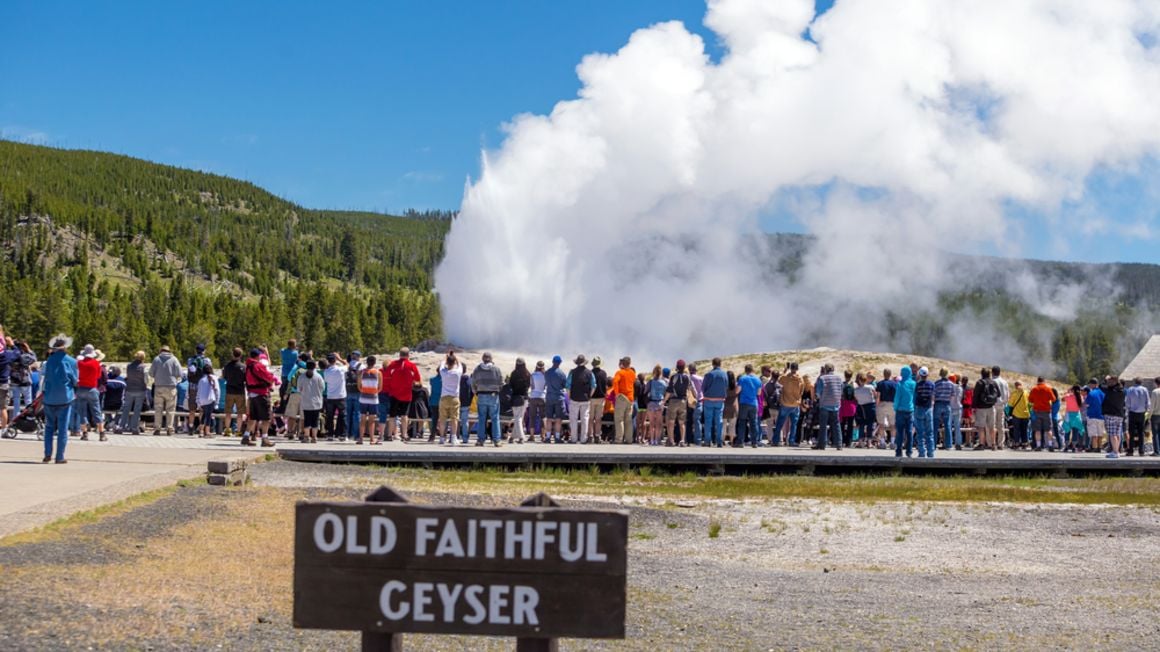 Old Faithful
An enduring symbol of the park, no trip to Yellowstone is complete without checking out this iconic geyser. It's one of the most regular in the park, so you can time your trip around it. Alongside the geyser itself you'll also find some fantastic geothermal attractions. There's also a small retail area, and one of the last remaining log hotels in the United States. Make sure you bring your camera and some cash for souvenirs.
Fishing Bridge
Fishing Bridge dates back to 1902 and gets its name from its historic use as a fishing site. The activity has been banned these days to allow the fish population to regrow – but you can still visit and admire the fish from the top. The Fishing Bridge Museum and Visitor centre nearby is an architectural artifact in its own right – serving as the framework for similar buildings across the United States. It's also where you can grab information about the park.
Mammoth
Mammoth is where you will find the park headquarters – perfect for grabbing information about the Yellowstone hikes. It is also where you can find the magical Mammoth Hot Springs. This natural wonder is known for its calcite terraces – naturally flat edges where the water runs down. The Gardner River is a short walk away and perfect for those interested in discovering local plant life. During certain seasons you can also spot eagles, ospreys and kingfishers along the river.
Tower
If you want to veer away from the main tourist routes, Tower has a much more off-road vibe. This is one of the best places in the park to spot wildlife – including elk, wolves and eagles. Natural attractions like the Petrified Tree give this area a unique landscape. You can also learn more about local wildlife at the Buffalo Ranch. They do a lot of work to prevent buffalo extinction so be sure to leave a generous donation.
Canyon
Stretching for 20 miles through the park, the Grand Canyon of Yellowstone is a must see geological attraction. You can actually complete a hike around the canyon in one day – though many visitors opt to split it between two days as it is quite a strenuous walk. Nearby, the Hayden Valley is a great spot for discovering wildlife (from the safety of your car) and Mt Washburn is a major volcanic formation that is perfect for those all important Instagram shots.
MATH TIME: The entry fee for Yellowstone National Park is $35. Meanwhile, the entry fee for the neighbouring Grand Teton National Park is another $35. That means that visiting TWO national parks alone (out of the 423 total in the USA) will run you a grand total of $70…

Or you can stuff that whole deal off and buy the 'America the Beautiful Pass' for $79.99. With it, you get unlimited access to ALL federally-managed land in the U.S.A for FREE – that's over 2000 recreational sites! Ain't that just beautiful?
BUY THE PASS
Top Tips For Yellowstone on a Budget
Stock up outside the park – whether its fuel for your car or yourself, you'll find everything is cheaper outside the park (even in the villages that are right on the boundary)
Speaking about the areas surrounding the park, it's also much cheaper to camp in these areas – if you've got a car it's well worth considering
Keep a small budget to treat yourself – this is a once in a lifetime destination, so be realistic about how much you're likely to spend on souvenirs and ice cream
Visiting multiple national parks in one year? An America The Beautiful Pass can save you a lot of money and is certainly a worthy investment in the era of the staycation
Plan, plan, plan! Accept that you likely won't get to see everything, but plan out your routes thoroughly before you arrive – you'll be surprised with how much you save
The most famous attractions are free so don't worry too much about hitting up the museums – most of the information found in them can be easily discovered online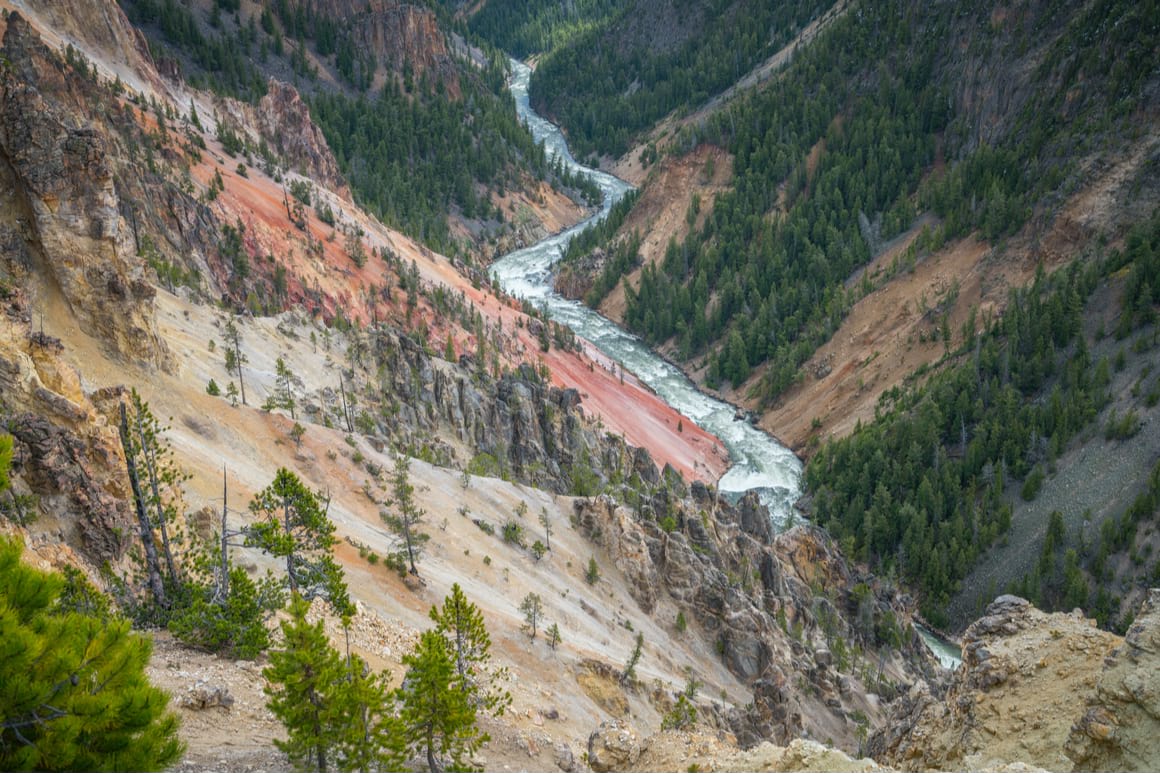 Final Thoughts
Yellowstone National Park is a truly stunning destination! Whether you're interested in hiking, photography or the awe-inspiring beauty of our planet – Yellowstone should be on your bucket list. It looks like staycations are going to be the most popular form of travel for a little while yet – so why not take this opportunity to explore one of the most beautiful corners of the United States?
There's no denying that prices in Yellowstone National Park are constantly going up and up and up. Accommodation and dining can wipe out your entire budget if you're not careful. It might be a UNESCO World Heritage Site, but this doesn't come without a cost.
Thankfully there are still some great ways to save money. Camping, picnics and cycling are fantastic ways to avoid the skyrocketing costs of visiting Yellowstone National Park. You'll also be pleased to discover that the best attractions are free – so once you've bought your park entry pass you're ready to go.
We hope this guide has helped you figure out how to save some money on your next trip to this stunning area of natural beauty. Have you already been? How did you save money? Let us know in the comments!
"Find out how YOU can support the site. We work hard to put out the best backpacker resources on the web, for free! It's all about helping out our tribe of awesome backpacker readers [that's you!]. Please visit the link to find out how you can help keep the site going ?
For the sake of transparency, some of the links in our content are affiliate links. This means that if you book your accommodation, buy a book or sort your insurance, we earn a small commission at no extra cost to you. I only link to stuff I've actually used and never endorse products or services that are not up to scratch. Thanks for your support.