Travel
How Safe is Myanmar to Visit? (2021 Guide)
Myanmar is an undiscovered gem of Southeast Asia. A cultural wonderland, a huge mix of ethnic groups, rich history, and stunning nature definitely make it a favourite of ours.
But it's not complete paradise. There has been an ongoing, 70-year-long ethnic civil war, the persecution of Rohingya Muslims, landmines, bandits, and the opium trade, to name the biggest. All of these issues may have you asking yourself, "is Myanmar safe at all?"
It's ok to be concerned about safety in Myanmar. This is exactly the reason why we have created this insider's guide on staying safe in Myanmar. 
There are a whole lot of things that we are going to be covering in our epic guide, from whether it's safe to visit Myanmar right now(fair question), if you should go there as a solo female traveller, to whether or not the food is safe or not. Our guide will have you covered.
So you may be wondering about the safety of Myanmar in general, or you may be wondering about the state of the healthcare in Myanmar – whatever your concerns may be, we are here to help you travel smart and stay safe so you can get the most out of your Myanmar voyage.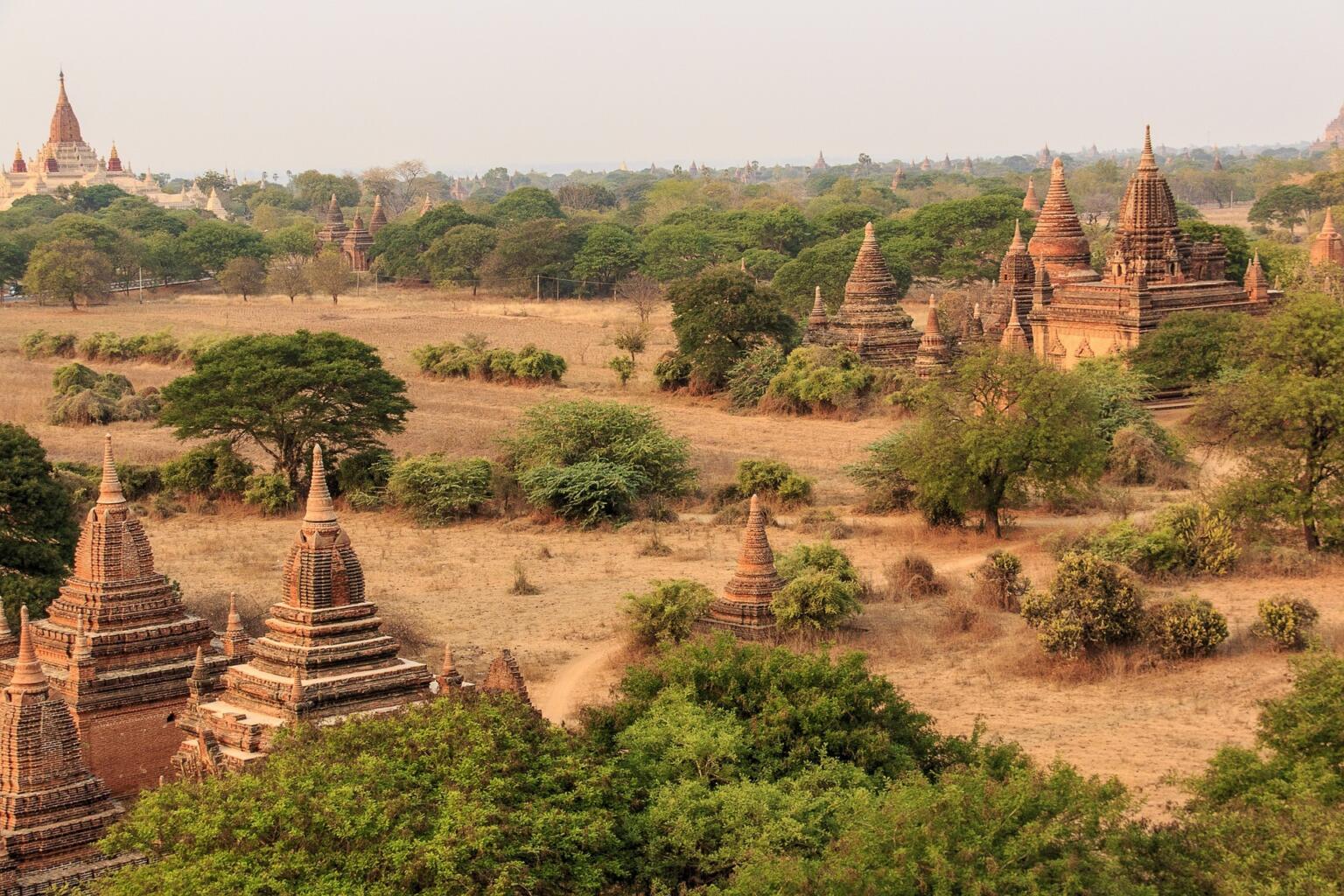 How Safe is Myanmar? (Our take)
Long an isolated, off-limits country, Myanmar (aka Burma) is now open for business.
And that's good news for you: the ancient temples of Bagan, crumbling colonial streets of Yangon, and the former royal capital of Mandalay are all available for you to visit.
And, despite a buffet of no-go areas present throughout the country, Myanmar IS safe. Myanmar may not appear safe at times, because of on-going ethnic "issues", but, as a tourist, these hardly affect you.
Petty theft is almost non-existent. Hassle levels are low. Crimes against tourists are actually super rare. Often, the worse that you'll have to deal with is the occasional overcharging, which is tourists should be used to by now.
People in Myanmar are very friendly and – in most places – refreshingly not jaded when it comes to tourists.
However, you do need to be responsible when you travel…
Is Myanmar Safe to Visit Right Now?
Many people arrive or visit Myanmar as a part of a tour, but independent travel is totally doable. Myanmar is definitely becoming a popular spot for backpackers.
Myanmar is not a model country though, let's be honest. Poverty and corruption are rife, the military still practically rule the country, and armed inter-ethnic conflicts continue. Myanmar is also the world's second-largest producer of opium after Afghanistan.
As of February 2021, the situation in Myanmar is a bit precarious. The Military Staged a coup and has imprisoned the lawfully elected government. It is not certain how the situation will play out, for at the time of writing there is rioting, civil unrest and martial law – not the best time to visit.
The grand majority of Myanmar is safe to visit right now, BUT certain parts of the country AREN'T. We've got a full section on that later.
Since independence from the UK in 1948, the internal conflicts in Myanmar have been ongoing as the world's longest civil war.
Border areas are tricky. Whilst the Indian border seems to be ok, anywhere between Myanmar and China, Thailand or Laos can be volatile. For example, the Karin and Mon States – on the Thai border – should be approached with caution.
Given the volatile nature of these areas, wandering off on your own or trekking by yourself is inadvisable. Not only are there snakes to deal with, but unexploded ordnance, mines and travelling into differently controlled areas can REALLY get you into serious trouble.
With all these things in mind, we can confidently say that visiting Myanmar is safe, especially once the political situation has improved. As of February 2021, we'd recommend waiting just a little bit longer to book your trip.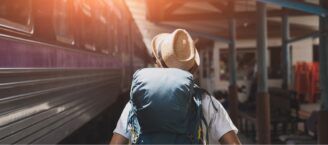 Unlock the The Broke Backpacker's GREATEST Travel Secrets
Sign up for The Broke Backpacker Newsletter to receive weekly tips on how to travel on a budget + a FREE copy of The Backpacker Bible!
Myanmar Travel Insurance
Do you need Travel Insurance for your trip? Even if you're only going for a few days, that's more than enough time to get smote by wrathful angels. Have fun in Myanmar, but take it from us, overseas medical care and canceled flights can be seriously expensive – insurance can, therefore, be a life-saver.
Travel mishaps can and do happen and it is well worth thinking about insurance before you leave home.
We have used World Nomads for years now and I have personally made several claims. Why not get a quote from them yourself?
Do be sure to read the terms and conditions to make sure that the policy covers your needs.
Getting an estimate from World Nomads is simple – just click the button or image below, fill out the necessary info, and you're on your way!

If you want to shop around a little, then read up on competing companies and what they can offer. There are lots of insurances out there, so don't feel limited.
Safest Places in Myanmar
When choosing where you'll be staying in Myanmar, a bit of research and caution is essential. You don't want to end up in a sketchy area and ruin your trip. To help you out, we've listed the safest areas to visit in Myanmar below.
Yangon
Many travellers backpacking Myanmar will start their route in Yangon, arriving on a cheap flight from Bangkok or Kuala Lumpur. It's an incredibly busy place and can definitely be a culture shock, but it's totally worth the experience. 
One thing we have to note though: watch your belongings! Yangon is known for pickpocketing and petty theft. As long as you keep your eyes open and your valuables close by, visiting the city is pretty safe. But as we mentioned – it's busy! 
Exploring the city is easy and it's a fun place to walk around although you may want to catch a cab for longer distances – taxis don't have a meter and you need to negotiate before getting in, it's always possible to score a discount. From Yangon, you can head East to the famed Golden Rock at Kyaiktiyo, West towards Mrauk U, or you can head north to Bagan or Inle.
Popular backpacker hub
Popular backpacker hub
Yangon
You should definitely spend at least a full day in the city: there's a huge amount of awesome things to do in Yangon and it's one of my favourite cities to wander around in the world. Although not the capital, Yangon is leading the way for cultural change in the country.
Mandalay
Mandalay is the second-largest city in Myanmar and an important economic and cultural hub. It's often considered to be the center of Burmese culture, which is why it's a popular destination for travelers who want to experience other cultures.
This is a city with a rich and intoxicating culture and history that can be incredibly rewarding for travelers. It's also a famously busy city, so don't let that dissuade you. Mandalay can seem intimidating at first, but once you arrive, you'll find incredible religious and cultural sites, friendly people, and an interesting mix of foods.
A culture heaven
A culture heaven
Mandalay
Mandalay is a busy, crowded city and it can be difficult to know where one neighborhood begins and the other ends. If you decide to visit this city, you will probably find yourself staying in the most central area.
Bagan
Bagan is one of the most ancient and archaeologically exciting places in the whole world. As a designated UNESCO World Heritage Site and the largest archaeological zone in the world, Bagan lies in the historic Mandalay Region of Myanmar. It goes without saying that this place is overflowing with history, so it's the best place to visit if you want to dive into the past.
But if you also want to see the modern side of this incredible region, look no further. There are loads of modernised areas with bustling streets and eclectic markets. The region has lots of vast open spaces as well, with the glorious countryside surrounding it. It's the best place to visit in Myanmar for your fill of culture as well as nature.
With its more laid-back vibe, it's also one of the safest regions to visit in Myanmar. That being said, it's still smart to keep your wits about you. It's better to be safe than sorry. 
Perfect for history lovers
Perfect for history lovers
Bagan
Bagan is one of South East Asia's most fascinating cities. Situated in the Mandalay region, alongside the beautiful Irrawaddy River, this city has so much to offer to tourists from all around the world with all kinds of interests!
Places to avoid in Myanmar
As we mentioned before, there are plenty of no-go areas in Myanmar. And to make sure you'll have a safe trip, we've listed the worst ones below. That being said, you should always keep your eyes open and stay aware of your surrounding no matter where you are.
The northern parts of Shan State, the state of Kachin above that, Southern Chin, and Rakhine State (home to Rohingya Muslims) are hectic to visit and sometimes totally off-limits.
Certain towns within these areas, like Hsi Paw in Shan are ok to travel to but, overall, the areas around them are generally not safe. The UK government advises "all but essential travel."
You can still attempt to visit these areas – just be sure to contact a local agency or expert and check what the situation is like first.
Border areas can be a bit tricky as well, especially when there's increased military. However, there's not much to see in that region anyway, so you definitely won't be missing out. 
It's important to know that Myanmar isn't the safest place, so a bit of caution and research before you start your travels will go a long way. If you want to increase your safety during your stay, read on for our insider travel tips. Stick to those and you won't have a single issue in Myanmar.
22 Top Safety Tips for Traveling to Myanmar
Myanmar is a land of wonders with a myriad of interesting sights. And just because there are zones which people say you should avoid, doesn't mean you should write the entire country off. You can go to Myanmar and have a safe, fun, and definitely memorable trip.
But it's important to travel smart. That means understanding the culture and social norms as much as the current situation.
Stay away from any kind of demonstration – It's not advised for foreigners to be a part of a political rally as anything can happen at anytime
Be careful when discussing politics with a local – you might think that you know about the Rohingya situation, for example, but a local could see it a whole other way.
Watch out for snakes – not just when trekking; lesser visited temples in Bagan are nice homes for slithery, dangerous snakes, like cobras.
Traffic can be MORE than a bit crazy – especially in Yangon. Take care when crossing, or even just walking along the road.
Don't take pictures of any government buildings – or police, or military personnel, for that matter.
When trekking, hike with a local guide – not just a Burmese person, but an actual local to the area. They'll know where not to go and be clued up on the local situation, too.
If you have a tattoo with an image of Buddha… – cover it up. People are actually deported for not showing respect.
Don't walk around flashing your wealth – crime stats are low, but it's best to be careful.
Pack a money belt – just in case. (You may not have to wear it.)
Mosquitoes will pester you – so cover up and use repellent. They can carry the zika virus, dengue fever, and Japanese encephalitis…
Careful in monsoon season – this runs from May to October. Floods and landslides can be pretty bad in this period. The weather could possibly turn into a full-blown cyclone as well.
And earthquakes too – it's not unheard of in Myanmar. Knowing what to do in the event of a bad one is a good idea.
Pollution can be a problem – especially around quarries, such as those outside Mandalay.
Avoid swimming and wading in freshwater rivers, lakes, ponds – the parasitic schistosomiasis, also known as snail fever, can be picked up in freshwater sources.
Learn some Burmese – also simply called 'Myanmar.' The language is not that hard either – it's all about emphasis, no tonal stuff here.
If you do have to use dollars somewhere, they HAVE to be pristine – getting an Indian Visa in Yangon, for example, requires US dollars. Pristine. Crisp. No stains, no wrinkles, no rips.
Don't feed the monkeys – they're used to snacks and go mad for them. They can be pretty vicious too.
Dogs can also be scary – groups of them can be aggressive. Some of them may have rabies, so keep away.
Swim in safe areas on the coast – there can be strong tides, which are bad news even for a confident swimmer.
Book accommodation ahead of time – foreigners can only stay in certain places, making it a bit hard to come by in high season.
Be careful walking around after dark – streetlights aren't ubiquitous and hazards can be numerous, especially in towns.
Don't be alarmed at red stains on the floor… – you'll see this everywhere. Thankfully, it ain't blood – people chew betel here, which takes on reddish color when chewed. It's basically a drug and when you're done, you spit it out.
Some General Safety Tips from the OG Broke Backpacker
Is Myanmar safe to travel alone?
We're all for solo travel because there's a lot you can get out of it. It's not just a challenge for yourself, which is when you grow the most as a person, but it's an amazing way to meet new people and see the world.
No matter where you travel though – be it Myanmar or Malta – it's always a good idea to be equipped with a few tips when it comes to travelling by yourself.
When you're by yourself, things CAN get lonely. (It's just bound to happen.) The best antidote to this is to socialize. Not only is it a good way to share travel tips, but you may also make a travel buddy or two.
The best place to meet people is a hostel of course. Find yourself one with good reviews.
That said, there aren't loads of hostels (Though there are quite a few good Mandalay hostels). Staying in a family-run guesthouse can be an amazing experience though. Feeling at home is much better than a much more impersonal hotel experience. Trust us.
Try and blend in. You'll notice that not many people wear trousers or shorts. Instead, they wear longyi, which is traditional Burmese attire. A wrap-around skirt sort of thing that both men and women wear. Feel free to wear it as well.
Getting yourself a local guide when you're going off the beaten track is a great idea. This will help you understand more about the area you're travelling through as well as Myanmar as a whole.
Picking up a sim card at the airport is a good idea. With this, you'll be able to use the data for maps, phone your accommodation ahead of time, book restaurants, and all sorts of other stuff. Most importantly though, you'll be able to keep in touch with your folks and friends back home.
Don't get crazy drunk. Busy places like Yangon are already difficult to navigate and getting blind drunk isn't going to help the situation much.
Don't push yourself too hard. You don't need to see every place and doing so is really going to wear you out. Give yourself days to chill.
Oh and Myanmar can get HOT. Look after yourself in the heat and drink plenty of water. If you're by yourself, getting heat stroke is not fun at all.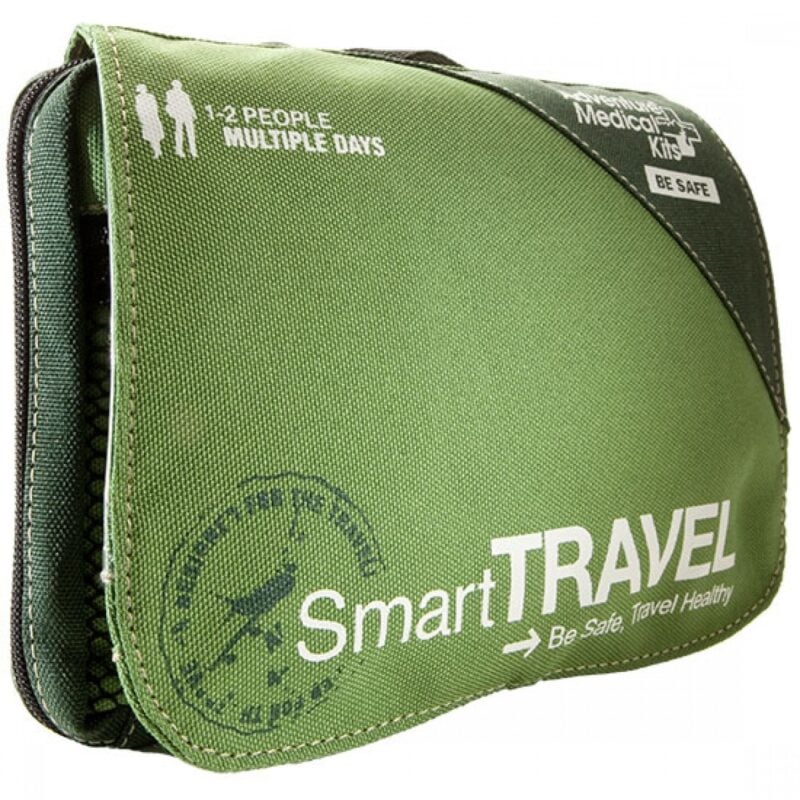 Be prepared for what life throws at you on the road. Pick up an AMK Travel Medical Kit before you head out on your next adventure.
View on REI View on Amazon
Is Myanmar safe for solo female travelers?
We'd say that Myanmar is absolutely safe for solo female travellers. It's going to be a trip to remember, that's for sure.
And honestly? There's not a lot of hassle or high levels of sexual harassment to watch out for in Myanmar. But because society is still developing, women are still faced with certain limitations. So it's definitely smart to know how to travel Myanmar like a pro…
Dressing appropriately is definitely something you should do. Either going for a longyi and some sort of blouse, or baggy trousers and a top that covers your shoulders. Tight leggings will stick out. Look at what the other women are wearing and follow suit. Chances are you'll get a lot more respect if you're dressed more like a local.
Make a few travel buddies. Staying somewhere that has good reviews from other female travellers is a smart move. Making friends with another woman travelling through Myanmar will allow you some company and be useful for bouncing stories and tips off of.
We wouldn't advise going out drinking alone. Not because it's unsafe but because you probably will get attention. Places like 19th Street (Yangon), or beer stations around the country are quite male-dominated and you may feel uncomfortable alone.
If you're travelling on a train, bus, or boat by yourself, we'd recommend sitting with other women. Women travelling alone can be seen as pretty odd by Burmese people – it's just not done. So making friends with some local ladies, or just chatting to other female tourists, is a good way to make yourself more comfortable.
Find yourself a tour if you're feeling a bit overwhelmed by it all. Even if it's just a walking tour of a town or city. This is a great way to meet people. Plus you'll also get to learn more about Myanmar. Win-win.
Don't touch monks! Myanmar is a deeply Buddhist country and monks are off-limits to women. Even if you're passing something to a monk, don't do it directly – just place it within his reach. That's just the way it is.
With this in mind, be aware that you can't go to certain stupas or religious sites. Women, for whatever reason, just aren't allowed in some holy places in Myanmar.
Stock up on sanitary products before you head out of Yangon or Mandalay. The likelihood is you aren't going to be finding them anywhere that's even remotely off the beaten track.
Of course, travelling alone may make you seem 'odd' by the local people. But you're a foreigner – you'll be odd anyway. And the easy antidote to that is to make some friends, take a tour, or simply to chatting to some local ladies. You'll have an amazing time.
More on Safety in Myanmar
We've covered the main safety concerns already, but there are a few more things to know. Read on for more detailed information on how to have a safe trip to Myanmar.
Is Myanmar safe to travel for families?
Travelling with children in Myanmar is not exactly straightforward and probably not that easy.
The main concern? HYGIENE.
Sanitation levels aren't always top-notch and definitely nowhere near Western standards. Because of this, we wouldn't really recommend taking small children on a trip to Myanmar.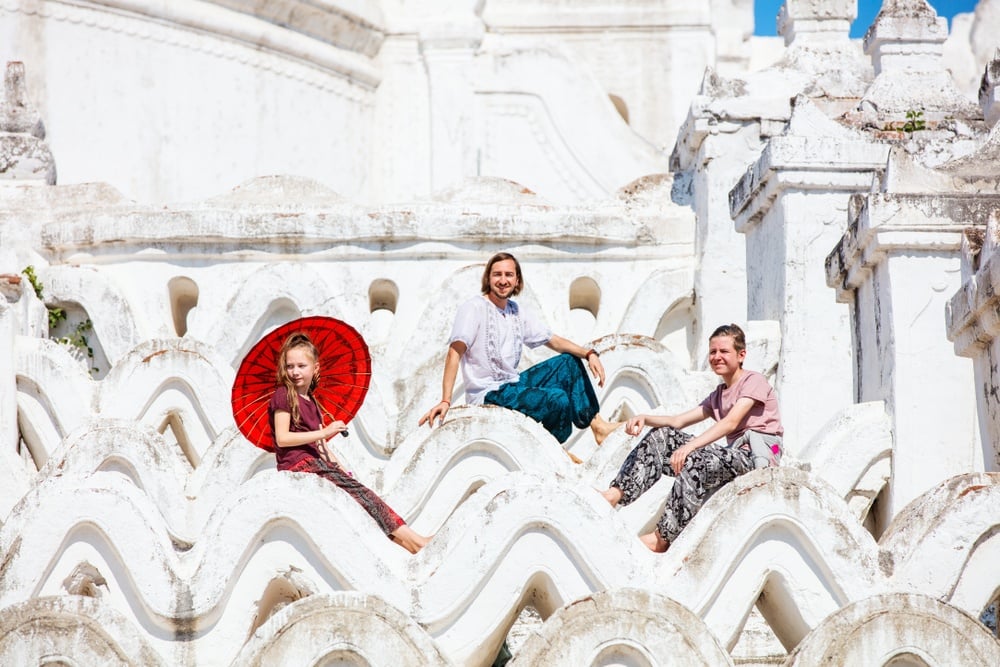 Cleanliness aside, here are some other things to consider when taking your family to Myanmar:
There are a growing number of family-friendly places to stay which boast amenities for children. But for the most part, accommodation here isn't really about families.
Whilst there is a loads of temples to see, especially in Bagan, it might also be easy for your kids to get quite quickly templed out. This might even happen to you, but for children, lack of interactive museums or anything like that might be a little boring.
Poverty, especially related to children, can be upsetting to see. There are kids begging, ladies with babies begging, children working. Just a word of warning.
Animals, as we spoke about earlier, can be pretty dangerous – some can be REALLY dangerous. Make sure your children know the dangers and keep an eye out yourself.
Keeping your children out of the sun and making sure they're hydrated is a must since Myanmar gets hot and the heat hits kids more acutely than it does adults.
When visiting Myanmar with children, we'd honestly recommend getting yourself on some sort of tour. At the very least, you should have some sort of transport organized for the entire trip. That way, there will be less to think about. 
In general, whilst it's not going to be the EASIEST place to travel with children, Myanmar is SAFE for children. What you'll need are a relaxed mindset and some pretty chilled parenting. Travelling to Myanmar with your kids is going to be a real adventure, but we think you're going to love it.
Is it safe to drive in Myanmar?
Driving in Myanmar is chaotic, not to mention difficult to organize, and we'd say that doing it on your own is dangerous and not worth the stress.
For one thing, you need to get permission from the government to hire a car. For another thing, we just wouldn't say it was safe.
The roads are not in great condition and cities are often just jam packed with cars. Neither have a lot of rules in place.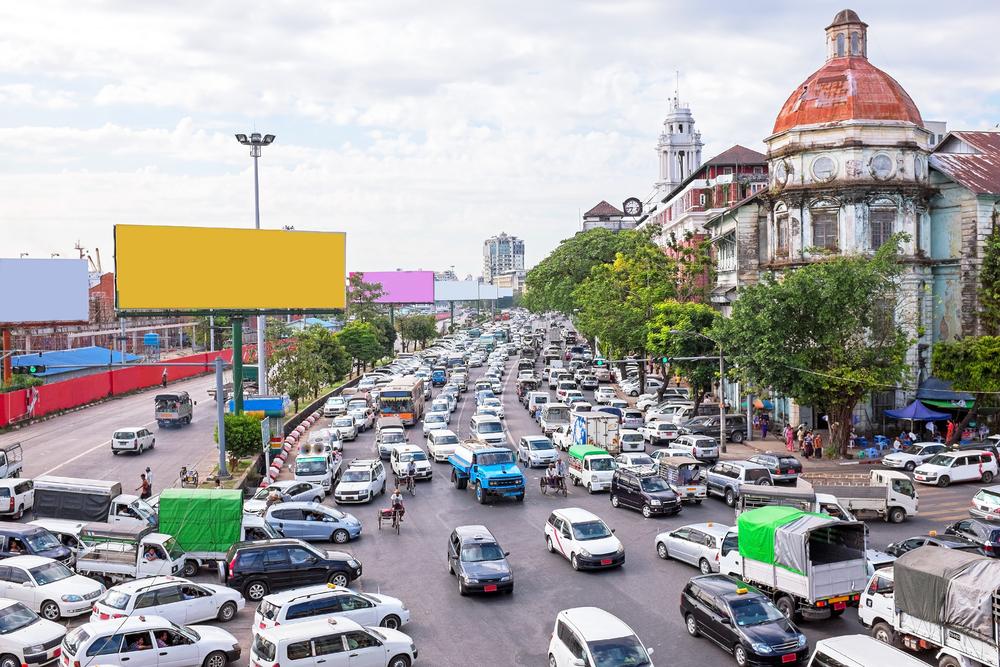 Though scenic, the road from Pyin Oo Lwin to Mandalay is not something you'd want to drive. The road itself is precarious with huge dropoffs and cliffs that make you hold your breath.
Drivers recklessly overtake each other as well and blanket the entire route with dust, which doesn't help the situation much. It's a thrill, alright, and it's just not something we'd EVER consider driving ourselves.
After night, we just wouldn't recommend driving in Myanmar AT ALL. Not knowing the roads, armed bandits, animals in the road. Just not worth it.
If you feel like you need to travel quickly, just hire a driver. Splitting the price of a private car between you and a few other travellers makes it pretty cost-effective, too.
Is Uber safe in Myanmar?
No Uber here.
There is Grab, however. It's reliable and cheap and a good way to get around Yangon. 
Just make sure you don't get charged twice. Drivers may demand cash even if you've paid credit on the app. A simple complaint to Grab should have your money swiftly winging itself back to you, though.
But generally, Grab is safe in Myanmar.
Are taxis safe in Myanmar?
The taxis are generally safe in Myanmar.
By that, we mean that sometimes the taxis can be a little old and sometimes the drivers can be speedy.
At Yangon International Airport you'll be able to get a taxi easily. Hop over to the taxi desk, say where you're going (give an address) and you'll get a receipt.
There are plenty of taxis in large cities. Hail one and they'll stop. They won't necessarily always let you get in – taxi drivers might refuse if your destination is too far out of town.
In addition, get ready to negotiate. Taxis aren't metered and drivers will set a price according to their whim. If it's too high, go lower. If haggling doesn't seem to be working, accept the price or move on.
You can also get taxis between major towns. This is basically a private car. The guys driving these taxis can range from perfectly fine to maniacs. Private taxis can be arranged through your accommodation. It's not guaranteed that you'll get an amazing driver.
You can also shop around. Nyaung Shwe, a popular spot on Inle Lake, has many taxi companies on its main street. It's a great option if you're travelling as a group since you don't pay per person, you pay for the trip. 
Is public transportation in Myanmar safe?
Yes, public transport in Myanmar is safe.
For train geeks and people who just like train journeys alike, the trains in Myanmar are awesome. They aren't exactly top of the range but for the experience alone, these really are a great way to get around the country.
The famous loop train line that runs from central to northern Yangon and back again is actually a fun day out. Buy your ticket, sit back, and watch locals hop on and off.
You can also get buses around cities. Yangon has the best system and boasts a regular fleet plus the Yangon BRT (Bus Rapid Transit), which is a good way to get around. The buses are air-conditioned, which is a lifesaver when it's boiling. Both of these are safe.
Long distance buses are another way of getting around the country and these range in quality. From luxury night coaches that serve free refreshments and have TVs in the headrests, to not so good buses that have one TV that plays the same Burmese music videos and soaps on loop (if you're lucky). Riding a bus is always an experience, though.
The best thing to do? Research. Companies vary and asking your guesthouse which company they're using will at least prepare you.
There are also boats that you can use. The famous Ayeyarwady River, amongst others, allows ample opportunity to get your skipper on. From standard government boats to ultra luxury colonial-feeling cruises, there are a number of ways to get around.
Look 'em up and see where you can go. Mandalay to Bagan (or the other way round) is a popular route, for example.
In conclusion, public transportation in Myanmar is safe. That's that.
Keep everything on you in transit!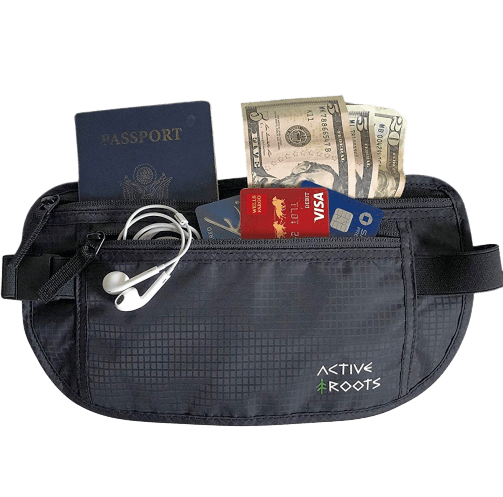 When moving from place to place, you shouldn't store travel documents in a bag, even if it's under your seat or overhead.
A full-sized money belt that stays tucked under your clothes keeps your documents and cash organized during your travels and assures nothing critical gets left behind or stolen.
Is the food in Myanmar safe?
Burmese food has an unfairly bad reputation. In reality, there's plenty on offer that's going to have most foodies floored and we mean that in a good way. From the peanut zing and soft textures of shan noodles to the crunch and bite of lahpet thoke (tea leaf salad), all the way to BBQ'd meats – it's all tasty!
You should get sucked into everything, including the street food – don't be scared. A lot of places look ropey as hell, but, the thing is, everyone eats in them, from locals to other tourists. So sit down with your si beer (draught beer) and a bowl of peanuts and wait…
Food tends to sit around all day. The same stuff that gets cooked up for lunch is often what's on the menu for dinner. Just for the sake of your stomach, we'd say steer clear of street food in the evenings.
With this in mind, food is often oily. But that's a good thing: a nice layer of oil in dishes like curries usually keeps insects away.
Try and look for busy stalls to eat at, especially on notorious 19th Street in Yangon. The busier the place, the better and more likely cleaner it is. You may be tempted to sit somewhere that's completely not busy, but that's a) no fun b) could be an indicator that the food makes people ill.
Don't get too freaked out by the grilled meat. It starts out raw and ends up VERY WELL cooked. This will kill most germs that will give you a dodgy tummy.
If you're prone to a bad stomach or you're just not used to Southeast Asian food (and the way it's cooked), the best way to proceed would be to do some research. Go to places that are tried and tested or are talked about a lot.
As a general rule of thumb, we would say eat seafood by the sea, and regular food in the mountains. Seafood can give you the worst tummy trouble (food poisoning can be dangerous) and the best way to combat this is to simply ensure it's fresh.
If you're scared of curries, head to Chinese restaurants. The food here is cooked hot and fast and will be fine for you to eat.
Make sure to WASH YOUR HANDS. Take hand sanitiser with you. These seem like no-brainers.
Don't be worried about sitting down at streetside stalls. These are on many corners or on the street and seem to be permanent fixtures. You can literally watch your food being cooked just a few feet away.
Refresh yourself with cane sugar juice from the markets. It's cane sugar, put through a steam-roller type device. They're perfectly safe and a good energy boost.
Whilst it may not always LOOK safe, the food in Myanmar is safe to eat. You WILL be missing out if you don't sit down at a beer station and try some of the food that's on offer. Ease yourself in, don't go too mad, and your stomach and tastebuds will thank you.
Can you drink the water in Myanmar?
No. Not really. Not at all, actually.
You CAN'T drink the water in Myanmar.
Stick to bottled water and make sure the seal hasn't been broken. If you find a source of purified water, be sure to fill up your own water bottle to the brim – you never know when the next one will come.
Want to save the world?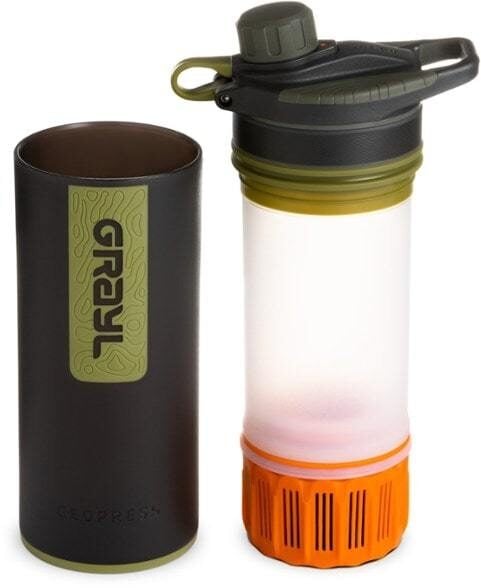 Single-use plastic bottles are a huge threat to Marine Life – Be a part of the solution and travel with a filter water bottle.
The GRAYL GEOPRESS water bottle is the ONLY all-in-one filter water bottle setup you'll need. Whether you need to purify the water from a hostel sink in Kathmandu or a stream trickle in the Andes, the Geopress has got you covered.
Read our full review of the GRAYL GEOPRESS!
Is Myanmar safe to live?
Myanmar is safe to live in and a lot of foreigners from all over the world do. On the whole, Myanmar is definitely an adventurous place to live.
You'll often get the feeling you've stepped back in time. People are friendly, there are charming daily markets, and a load of nature to explore on your days off.
Yangon will probably be the best place to base yourself. That's down to the other foreigners working and living here, the embassies, and the amount of things you can actually do in the city.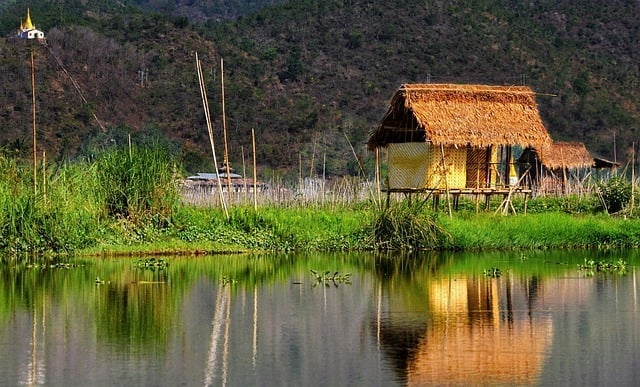 Let's reiterate: it's totaly safe to live in Myanmar on a day to day level. You can walk around the cities at night without fear.
What's not so great is the government. You'll have to be ok with living in a country run by a government accused of very recent atrocities and where a pretty brutal military often has the final say. You'll also have to come to grips living in a country where civil war continues in many of its states.
It is a very good idea to do your research on Burmese society and history before you go. Knowing more can't be a bad thing.
Of course, get on Facebook groups, Google groups (like Yangon Expat Connections), and make friends with expats and locals alike.
At the end of the day, Myanmar is a developing country. Being fine with everything that comes with that is key.
Is it safe to rent an Airbnb in Myanmar?
Unfortunately, Airbnbs can only be found in the major cities in Myanmar. The government restricts the places where tourists can live a lot, so don't expect too many options. 
However, if you do score an Airbnb, you can expect super friendly hosts and great hospitality. Renting an Airbnb is perfectly safe, as long as you read the reviews. Staying at an Airbnb during your trip will also open up new possibilities and options to experience the country.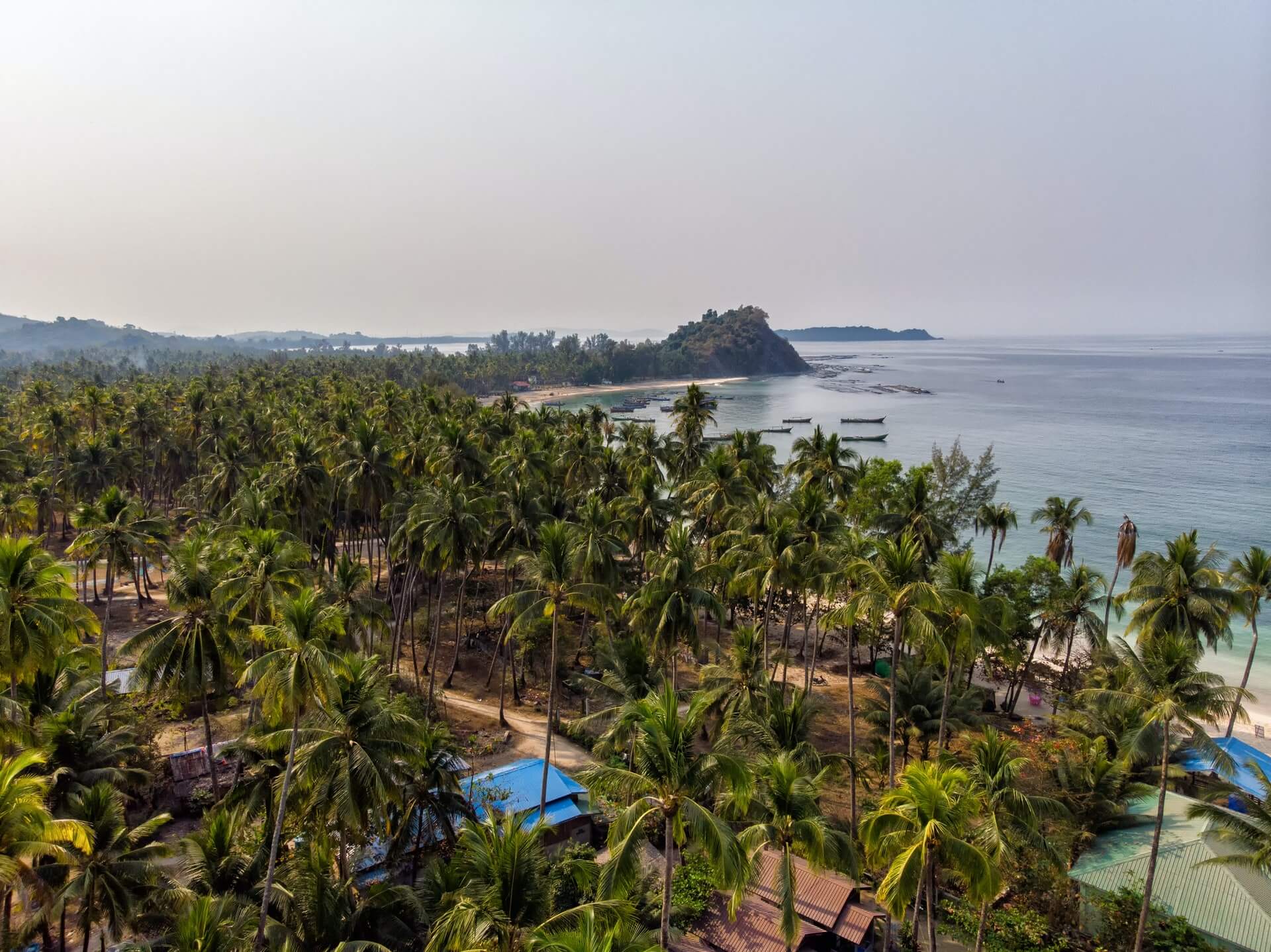 The local hosts are known to take great care of their guests and give the absolute best recommendations of what to do and what to see. Local knowledge always goes a long way, so be sure to reach out to your hosts if you're unsure about how to fill up your Myanmar itinerary!
Is Myanmar LGBTQ+ friendly? 
Myanmar is a bit of a tricky destination for LGBTQ+ travellers. While tourists are generally respected, gay locals are facing way more discrimination and oppression. If you're staying in bigger cities like Yangon, you'll find a couple of gay bars and a small gay community. In the more rural areas, this will be harder, if not impossible to find. 
Keep in mind that Myanmar is a very conservative and religious country with around 89% of the population practising Buddhism. Public affection is a rare sight, no matter what kind of relationship you're in. Unless you're okay with keeping yourself and your partner on the low while travelling through the country, you might not have a super pleasant trip. However, as long as you respect the local culture, you won't have to face any issues.
FAQ about Staying Safe in Myanmar
Here are some quick answers to common questions about safety in Myanmar.
So, is Myanmar Safe?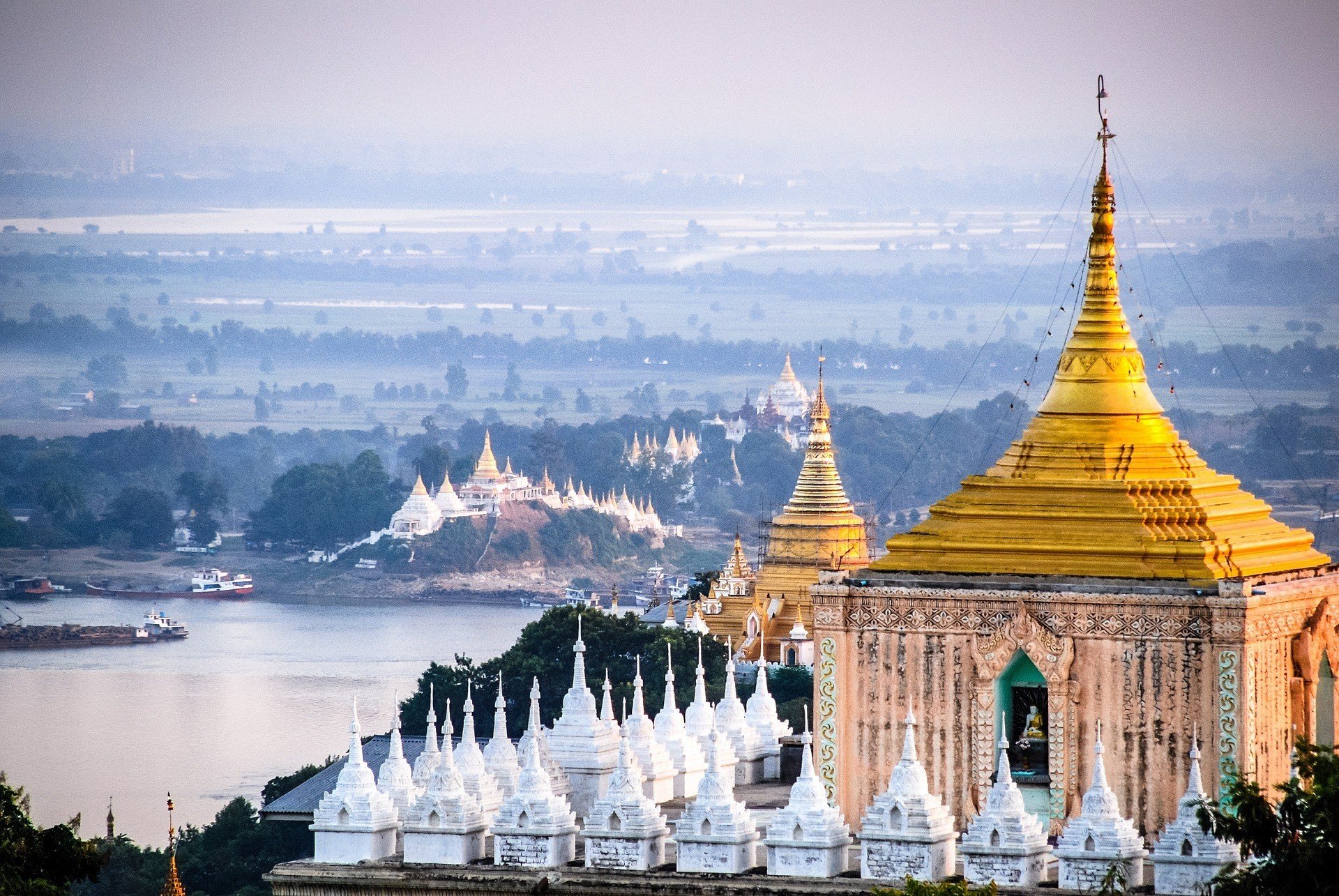 Myanmar is a strange case. It can be safe if you come prepared and at the right time. Its military, the Tatmadaw, are fighting against and oppressing ethnic groups all over the country. There's practically a genocide happening against the Rohingya people, which has been widely condemned across the globe.
Violent crime against tourists and even petty theft are virtually unheard of. You can walk around safely at pretty much any time of the day.
Myanmar is an awesome place to explore, and a lot of the time you will feel like you're actually discovering Myanmar rather than being on a backpacking conveyor belt. There are tons of place that have yet to become overrun and Burmese people are super, super nice.
The biggest issue is coming to grips with the politics and current events of Myanmar. It may feel weird to be in a country where so much conflict is going on, but you can overcome this dilemma by giving back to local people. By staying in guesthouses, hiring guides, and working with communities, you can help out in a small way. And that makes it worth it.
And have you thought about getting Travel Insurance for your trip? You can get a quote from World Nomads by clicking on the link below.
Disclaimer: Safety conditions change all over the world on a daily basis. We do our best to advise but this info may already be out of date. Do your own research. Enjoy your travels!
---
Find out how YOU can support the site.
We're a big site with a big team and this job isn't always easy. But we do it because we love it – we love providing epic and free content. We love the knowledge that our content keeps you adventuring. We don't ask for money, but if you'd like to find out how you can help the site in more organic ways, click the button below.
Thank you for your support 🙂
And for transparency's sake, please know that some of the links in our content are affiliate links. That means that if you book your accommodation, buy your gear, or sort your insurance through our link, we earn a small commission (at no extra cost to you). That said, we only link to the gear we trust and never recommend services we don't believe are up to scratch. Again, thank you!