Travel
Hormuz – The Rainbow Island of Iran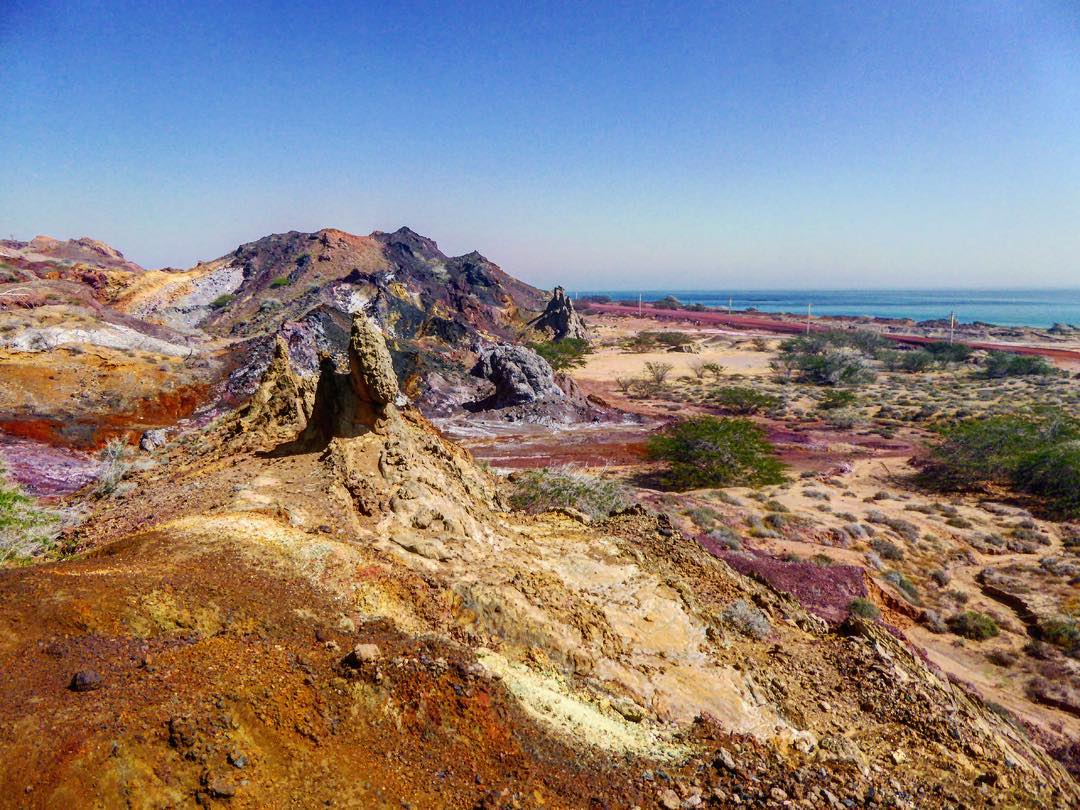 For practicalities on visiting Hormuz island and things to do in Hormuz, scroll to the end of this post. 
Hormuz island is officially my favourite place in the world. I first visited this magical rainbow coloured gem in 2016 when I was hitchhiking across Iran. I had met my Persian Princess and we had fallen in love. It was on this awesome island, whilst camping out beneath the stars, that we made the commitment to try and stay together, despite the incredible cultural, financial and passport-related challenges that lay ahead…
Photos from our recent adventure to Hormuz in 2018
Do You Want to Travel FOREVER??
Then pop your email address in below and we'll send you a FREE copy of 'How to Travel the World on $10 a Day!' – make travel your LIFE.
The Story from our first visit to Hormuz in 2016
I awoke with a jolt, the ferry pulling into the small harbour of Hormuz island, as the local Iranian passengers begin preparing to disembark, some unfurling umbrellas to fend off the scorching rays of the sun.
Within moments, the ferry is empty, the locals scrambling across the concrete jetty in search of shade. I grab my pack and the huge pop-up tent I had been gifted by an Iranian couchsurfer and follow Nina, my adventure buddy, into the small town of Hormuz.
The town is tiny, a collection of simple buildings and two or three shops selling basic supplies. We stock up on food and water and pull out a map; whilst the town is nice, this is not why we are here.
Hormuz island is a special place, this is a geological wonderland…
Soon, a local Hormuz man approaches and asks me and Nina if we need a ride. The roads are red, unpaved, similar to something out of Mad Max (the greatest movie of all time), and our new friend, Hajji, leads us to his vehicle.
It is pimped out, we jump in and he smiles at me, speaking very little English, as I point at my map, showing him the place I think I want to go. We hit the road, red dust spewing into the air as we leave the small town and head out into the sun-scorched, rainbow landscapes of Hormuz.
It is the single most exhilarating drive of my life.
On all sides, mountains of red, purple, yellow and blue explode into the sky like impossible rocky mushrooms.
Bands of colour zig and zag in impossible patterns, local fishermen pull in their catch of the day as the sun bounces low over the water, sizzling sands beginning to cool as the heat of the day recedes.
Hajji drops us in a spot I am not going to reveal and we follow a rocky track, our packs upon our backs until we reach a stunning golden beach of multicoloured sands.
Patches of silver sparkle like glitter as the waves rush in and I cannot help myself, I dump my stuff and run to the water, wading into the cool refreshing waves of the Persian Gulf.
I run back to Nina, spinning her around, her hijab flying free, there is nobody else on this beach, we have it all to ourselves.
The sun begins to set and I pitch the tent, gather firewood and build a small stone fireplace to block out the worst of the wind. We sit on the sand, sharing a bottle, and cook dinner with the use of sticks… which frequently catch fire.
The moon appears from behind a pillar of rock, illuminating the scene.
There is a purple tint to the air, the sky is an electric blue punctuated with pinpricks of light, a million stars.
A full moon, a perfect beach, a hot Iranian chick, dinner sizzling away, dazzling sands… It was all very romantic.
We sleep on the sand, a single sleeping bag thrown over the top of us.
The next day, the exploring begins…
The Island of Hormuz – A Backpacking Guide
To get to Hormuz, you will need to take a ferry from Bander Abbas or Qeshm – both of these places have airports and Bander Abbas also has rail-links to much of Iran.
It is possible to see much of the island of Hormuz in just one day by car but this is definitely not the way to go.
I strongly recommend bringing a tent to Hormuz island and camping for at least a few days; there are a few spots, some on the beaches and some in the valleys where you can camp out. I camped in Hormuz a week on both occasions and could have easily stayed longer.
There are a couple of shops on the island where you can buy basic supplies and, crucially, gas canisters for cooking stoves. It is well worth bringing a stove with you – especially if you are on a budget as your main cost in Hormuz is likely to be transfers to and from your campsite.
There are now some homestays and basic rooms where you can stay in the village. After a long night of partying on my birthday, me and Nina wanted a proper afternoon's sleep (it's too hot on the beach during the day to survive in a tent) so we went to Ashpazkhune Jafari (Khondegh) – you can contact them here on Instagram or by using this number – 0098-9179393720
They have A.C Rooms available from $11 – $15 – we stayed in the 'honeymoon suite'.
If you camp; it is essential that you take all of your rubbish with you, this is a truly special place – do not trash it.
Hormuz island gets unbelievably hot during midday; this is a good time to either hole up in some shade or to pop into town to eat lunch; I only ever found one place called "Sofre khune Khale", along the seafront, that serves food. In 2018, we found several other places serving food.
Ideally, the best time to visit Hormuz is in winter.
Whilst camping, be sure to have essential supplies – namely water! – with you; it really is a bitch to walk into Hormuz town to get stuff.
Walking into town can take a very long time and there is sometimes hardly any traffic at all; when you do see a vehicle it is very easy to hitch a ride but you can't count on coming across one.
There is very little wood in Hormuz and you will struggle to collect enough to have a decent fire however some locals do sell wood – 15,000 for a big bundle that will last about 90 minutes – so ask around and you might be in luck.
Haji is reliable and although he speaks very little English he knows Hormuz island well and is able to sort you out with anything you need. He charges fair rates, you can reach him at 0098-9367651669  (you can also reach him on this number on the Telegram app). 
You will want to hire a driver to take you on a round the island tour – it's a big island and would take serious time to walk around. I recommend camping out and exploring for a few days but also definitely recommend splashing out on a day tour so that you can see the best of the island; Haji charges around $50 – $60 for a day and this is fair.
You should definitely visit the incredible River Art studio in town, run by my friend, the friendly and talented Dr. Ahmad Nadalian. This incredible initiative aims to provide free art training and education to all of the women upon the island, thus providing them with a wonderful opportunity to create art and earn some money on the side by selling handicrafts to tourists.
You can pick up a free map, super handy, of the island at the River Art Studio.
Hormuz is a tough place to eke out a living, please do consider buying some artworks or souvenirs from the ladies outside the Portuguese fort or at the art studio.
You can contact Dr. Ahmad Nadalian here: [email protected]
Hormuz is an amazing place… I wish you luck on your backpacking adventure across Iran!
Epic Backpacker Tours is Taking Bookings! • Experience EPIC
Solo Travel v.s. Group Tours in Iran
Traveling solo in Iran is a truly rewarding experience, but for some people, the country seems like a challenge to tackle alone. Iran is a country with heaps to see and do, but experiencing the best, lesser-known about places and communities not found on the typical tourist trail requires some local knowledge and insider connections. 
In March 2020, we are planning to run a brand new Epic Backpacker Tours trip in Iran to help adventurers get the most out of this spectacular country in a short amount of time.
If you have been following my blog for awhile, you probably know that in 2016, I met my wife Nina in Iran, and have been exploring every corner of the country ever since. 
Nina and my love of Iran, as well as our unique insider knowledge and contacts within the country, came together to devise this EPIC Iranian adventure itinerary that connects foreign backpackers with authentic adventure and cultural experiences. This Iran adventure itinerary is the product of years of on the ground research and is led by our expert guide, Pedro Ricardo Dias. Pedro has been leading adventures in Iran for years and knows this magical country extremely well… 
---
Thanks for reading – that was fun! 😀
We bring you epic FREE content!
Find out how YOU can help support us.
We're a big site with a big team and this job isn't always easy. But we do it because we love it – we love providing epic and free content. We love the knowledge that our content keeps you adventuring. We don't ask for money, but if you'd like to find out how you can help the site in more organic ways, click the button below.
Thank you for your support 🙂
And for transparency's sake, please know that some of the links in our content are affiliate links. That means that if you book your accommodation, buy your gear, or sort your insurance through our link, we earn a small commission (at no extra cost to you). That said, we only link to the gear we trust and never recommend services we don't believe are up to scratch. Again, thank you!
Bye for now, but not forever!
If you want MORE top-tier Broke Backpacker content like this, then sign up for our weekly newsletter below to get the latest and greatest!