Travel
Best Time to Visit Bali – MUST READ • 2021 Guide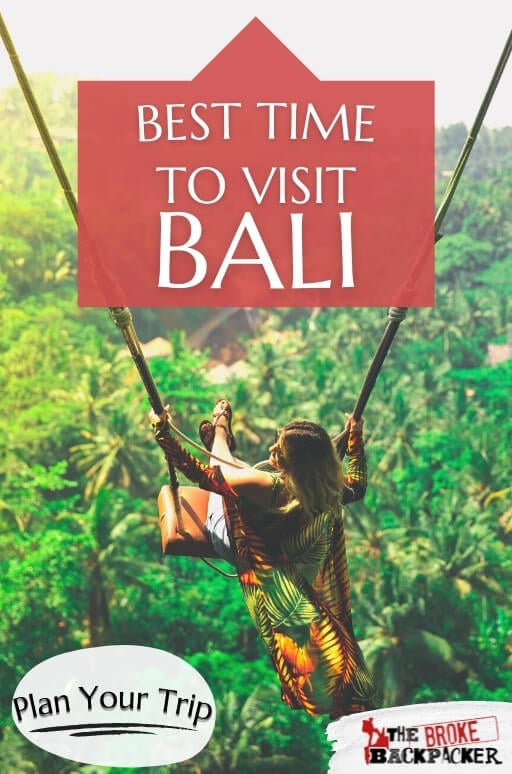 The tropical paradise of Bali in Indonesia is known for its idyllic beaches, exceptional surfing, and rich culture. This small island is blessed with incredible landscapes, from the peaceful terraced rice paddies to volcanic peaks and incredible beaches—it's no surprise that thousands of tourists flock here every year.
For such a small island, Bali packs a serious punch when it comes to things to see and do. Whether you're into surfing and snorkelling, yoga, temples, or simply relaxing on the beach, Bali has it all.
Depending on what you're heading to Bali to experience, certain times of year are undoubtedly better than others. However, choosing the best time to visit Bali can sometimes be a balancing act of cost, climate, and crowds.
To help you get the most out of your trip to Bali, we've put together this handy guide of what each time of year can offer.
Best Time To Visit Bali – February to June, September to November
Best Time To Go To Canggu – May to June, September to October
Best Time To Go To Ubud – June to October
Best Time To Go To Uluwatu – June to August
Best Time For Sightseeing – February, September to November
Cheapest Time To Visit Bali – March to April
When is the Best Time to Go to Bali?
Bali's tropical location means that the weather is lovely and warm for most of the year. There are essentially two distinct seasons here—the rainy season and the dry season, but even the 'dry' season can feature occasional rain.  Most backpackers visit Bali during the dry season as you would expect.
April to October is considered the dry season and offers sunny skies ideal for a beach holiday. Rainfall is at its highest between November and March and mostly falls in the form of short showers which clear up nicely. Occasionally you may experience rain that lingers for a few days at a time. 
The best time to visit Bali will depend heavily on the type of experience you wish to have. Diving is best enjoyed between April and October, while the best time to visit Bali for surfing is between April and September.
Wellness travel is good all year round, but April in Ubud is when you can enjoy the Bali Spirit Festival—the largest yoga, music and arts festival in Asia. Sightseeing and outdoor activities are best enjoyed during the dry season between May and September. 
Peak season in Bali is crowded and expensive, with Bali's accomodation bumping up their prices by up to 50%. If you wish to avoid this very touristy season, plan to travel outside of July and August, and December and January. If you wish to travel during peak season, book well in advance for everything; hotels, restaurants, wellness treatments etc.
February to April is considered low season and offers the most relaxed experience with fewer crowds. This is also the cheapest time to visit Bali in terms of hotel rates.  Check out our guide to Bali hostels and try to find a bargain.
The shoulder seasons offer a great balance between the good weather of peak season, and the lower tourist numbers and cheaper rates of low season. February to June, and September to November can offer this balance, but it's recommended to book well in advance to be safe. 
You'll find some good deals for low season travel, but don't expect the island to be tourist-free. The crowds are certainly much smaller than in peak season, but there's still enough of a vibe to make nightlife worthwhile. 
Best Time to Go to Canggu
Located about 20 minutes north of Seminyak, the hipster hub Canggu has seen a growth in popularity in recent years. This small seaside town is popular with expats who have relocated here but still features a strong traditional way of life, from the fisherman selling their catch on the beach to the quiet hillsides and rice paddies. 
The beaches in Canggu are dark grey or black, which often puts tourists off, but the surfing here is great and overall the beaches are cleaner than in other areas. 
The best time to visit Canggu for great weather is between June and August, when humidity and rainfall are at their lowest. That said, this is the peak season so you'll be paying higher rates for accommodation. 
Low season, between January and April, and October and November, is a good time to visit if you're on a budget. You'll be able to pick up some great deals on flights and accommodation at this time. However, it is the rainy season so expect sudden, short downpours. The rain doesn't impact too many activities on the island—other than volcano treks. Outside of that, it's business as usual. 
The sweet spot for a visit to Canggu is during the shoulder seasons—May to June, September to October—when humidity and rainfall are lower and crowds are fewer. There are some good deals on accommodation available at this time, and some great value last-minute deals for those able to travel on a whim. 
Best Time to Go to Ubud
The town of Ubud is located in the highlands of Bali, among terraced rice paddies and lush rainforests. This is the ideal place to explore the many ancient temples, museums, and galleries, and other cultural landmarks. 
The best time to visit Ubud is between June and October when the temperatures are mild and the humidity at its lowest. Because of the higher elevation, mornings and evenings can be cool, so it's best to pack something warm to stave off the chill.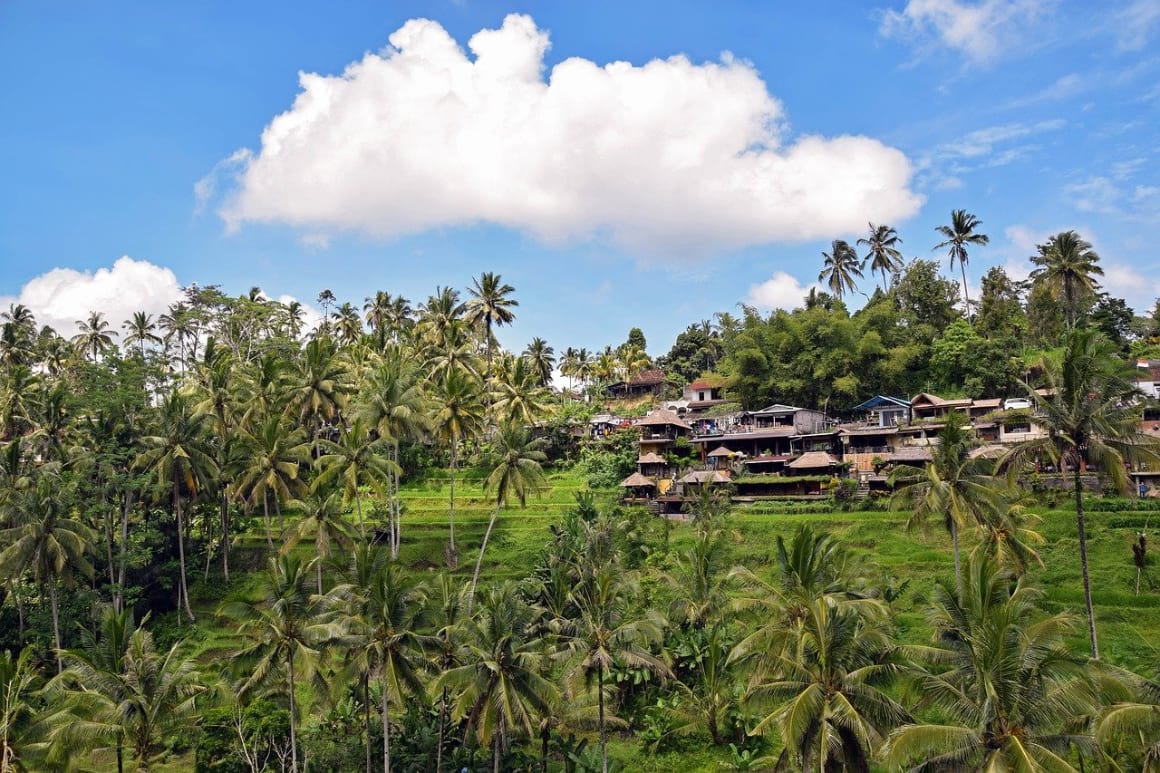 From November, temperatures increase, as does the humidity and rainfall. March is the hottest month of the year here, and is only compounded by the intense humidity. January is the wettest month, and heavy downpours and thunderstorms are common. 
Temperatures in Ubud are fairly stable all year round, with average maximums in the high 20s (Celsius). During high season, I would book your Ubud accommodation in advance to avoid disappointment.
Best Time to Go to Uluwatu
The popular surf spot of Uluwatu is a small clifftop town in the south-west of Bali. Offering exceptional beaches, dramatic views, and a relatively untouched feel, this idyllic corner of the island is a great year-round destination. 
Between March and May, Uluwatu experiences its best weather. You can expect sunny skies, minimal rainfall, and loads of activities to enjoy. Consequently, this time of year is busiest and prices of hotels and flights can skyrocket. If you're planning to visit at this time, it's best to book well in advance. 
Wind and rainfall pick up slightly between September and February, making this period less popular with tourists. However, it also means there are more travel deals to take advantage of. 
It's still lovely and hot for the most part, but the rain can be torrential at times. This may impact travel plans and can lead to water sports being cancelled. If you're keen on a relaxing, laid-back stay, this is a great time to visit. 
Between June and August, temperatures are mild and rainfall is infrequent. This is a great time to visit Uluwatu to avoid the large crowds and high pricing of peak season while still enjoying good weather. 
Best Time for Sightseeing in Bali
Sightseeing the highlights if Bali can be enjoyed at any time of year, although it's far more pleasant during the dry season. Between April and October, you'll experience less rainfall and less humidity—this is a great time to visit Bali for a sightseeing holiday as it has the best weather.
Unfortunately, this great weather also attracts loads of tourists, so expect larger crowds and longer waiting times at major sights and attractions. Not only is this the busiest time to visit Bali, but it's also the most expensive. 
Sightseeing over the shoulder seasons will reward you with fewer crowds and a much more relaxed experience. Prices are also not as elevated as during the peak season. Plan your stay for February, or between September and November, to benefit from these great sightseeing conditions. 
Of course, if you want to feel like you have the island all to yourself, you'll need to plan your trip for the low season between March and May. This is the quietest time of the year in terms of tourists and also the cheapest time to go to Bali. 
Sightseeing, while possible for the most part, will be heavily impacted by the sudden showers and thunderstorms. While the rain does clear up fairly quickly, it's very humid and uncomfortably hot. 
Best Time for Visiting Ubud
The temple-studded hillsides of Ubud are great to visit at any time of year. Temperatures are on average cooler in Ubud than at that coast due to the town's elevation.
Heading out to the temples to sightsee is best enjoyed over the drier periods. The rainy season can get torrential, making sightseeing fairly soggy and unpleasant.
Between June and October, rainfall is at its lowest, as is the humidity. If you're heading out for sightseeing, it's optimal to start early in the day to beat the heat and the crowds.
Activities such as hiking, cycling, and trawling markets are far more pleasant when the weather is drier, not just in terms of rainfall but humidity as well.
January and February are the rainiest months and can be less pleasant in terms of getting around—think muddy roads—and sightseeing. But there are plenty of yoga and meditation retreats that are perfect to visit at this time.
Cheapest Time to Go to Bali 
Cheapest Time To Go To Bali

| Expense | Oct – Feb | Mar – Jun | Jul – Sep |
| --- | --- | --- | --- |
| Hostel | $9 | $8 | $9 |
| One way flight to Bali from Sydney | $209 | $783 | $485 |
| Private hotel room | $336 | $219 | $392 |
| Pura Tanah Lot Temple entrance fee | $4 | $4 | $4 |
Bali is not exactly cheap but is still cheaper than most of "the west". Between February and April, the low season sets in which is the cheapest time to visit Bali. March and April are humid and rainy, making this time of year less attractive to tourists. 
To entice visitors, hotels often drop their prices and offer great value deals and packages. If you're prepared to hold out for some last-minute deals, you can sometimes save significantly on accommodation at this time. 
Grab your copy of the Backpacker Bible for Free!
Learn how to travel the world for less than $10 per day with the Backpacker Bible!
This book is the culmination of over 10 years of travel and living on a shoestring budget. It's full of valuable insider hacks that will help you unlock your full potential as a traveller.
It's also FREE at the moment! All you need to do is click the button below, provide the necessary information, and you'll be emailed the ebook.
I want it!
Busiest Time to Visit Bali
Bali is a popular destination with tourists all year round, but by far the busiest time to visit Bali is over July and August when the weather is at its finest. 
Hot days, low humidity, and minimal rainfall make a beach holiday in Bali ideal at this time. Outdoor activities are plentiful and pleasant, from hiking and cycling to water sports of all kinds. 
With tourists flocking here during this time, hotel prices can soar, making this not only the busiest time to visit Bali, but also the most expensive too. Bali's beaches get dead busy at this time.
While December is technically low season, the Christmas and New Year period sees a temporary return to peak season conditions, with many more tourists arriving on the island to escape the northern hemisphere winter. 
Weather in Bali
The island of Bali is located just south of the equator and experiences a warm tropical climate with high levels of humidity. Temperatures are fairly consistent all year round, averaging a high of around 26-27°C. 
There are two distinct seasonal periods in Bali: the rainy season, and the less rainy season—which we'll call the dry season—even though rain is still possible. 
The rainy season is from November to March and also includes more wind, which can cause rough conditions at sea. When sea conditions are too rough, most water sports are likely to be called off. Also, the beaches can get littered with debris washed ashore during storms. 
Showers during the rainy season are often short and clear quite quickly. It's very rare to have a few days of continuous rainfall. 
The dry season lasts from April to October, and is traditionally the peak season for travellers to visit the island. Evenings and early mornings during this season can be quite cool, so it's a good idea to bring a light jacket. 
Rain is not uncommon during the dry season but generally it's in the form of sudden showers, that pass as quickly as they arrive. 
Where is the Best Weather in Bali?
The weather in Bali is typically tropical, featuring hot and humid conditions for the most part. The seasons aren't distinctly different or predictable, and mostly only differ in the amount of rain received and the humidity experienced.
However, slight differences exist between the conditions in the coastal regions of the island, and those in the highland and mountains at the centre of the island. 
The dry months overall are best for outdoor sightseeing and activities, as well as most water sports. But the rainy season can still be very rewarding in terms of activities. The only activity that is not available during the rainy season is volcano trekking, and occasionally water sports are cancelled when the seas are too rough. 
Temperatures in the mountains tend to be somewhat cooler and wetter than in the lowlands. During the dry season, temperatures here are milder and more pleasant than at the coast, however, the rainy seasons can be torrential and extremely humid. 
Festivals in Bali
Experience some of the most vibrant local celebrations and festivals. From traditional Balinese observances to celebrations of food, art, and wellness, there's a celebration to suit every traveller.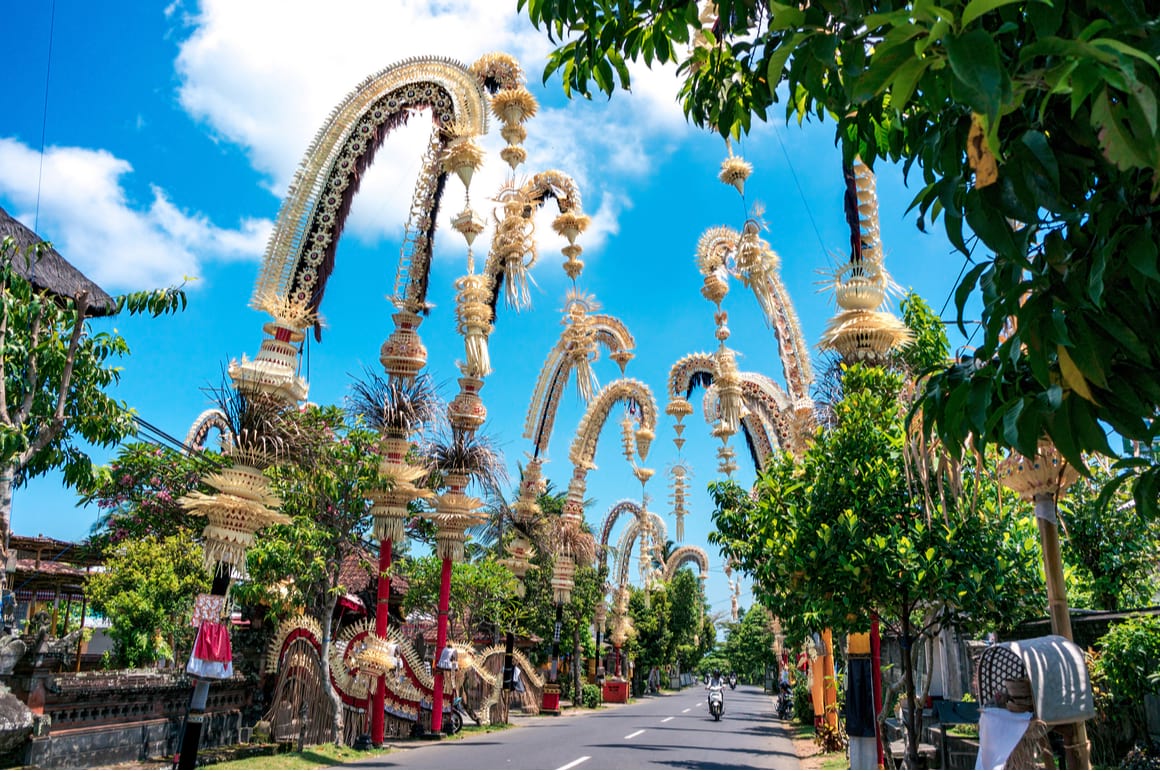 One of the best ways to experience local culture is to time your visit with one of these fascinating celebrations and events.
While most nations celebrate their New Year with loud parties and fireworks, it's a little different in Bali. New Year in Bali, follows the Balinese calendar but usually falls in March.
The days preceding Nyepi include street processions and a loud, festive evening the night before. Fire torches and fireworks light up the night to scare off any evil forces before the new year begins.
The next day is a day of stillness and silence in the hopes that any remaining evil spirits will think the island is uninhabited and not return. Everyone stays home, tourists stay in their hotels, and general inactivity takes over the island for the day. In some areas they even turn the internet off!
The Bali Spirit Festival is a seven-day wellness festival that takes place annually between April and March. Yoga lessons, dance, music, and arts are offered alongside holistic healing and spirituality workshops, attracting wellness tourists from around the world. 
Galungan is a traditional festival celebrating the victory of good over evil. The festival follows the 210-day pawukon calendar, and can sometimes occur twice a year. 
Over the 10 days of Galungan, smaller festivals are held and it is believed that the gods and ancestors descend to earth for the occasions. On the very last day of the festivities, the Balinese celebrate Kuningan—a day dedicated to prayer to honour the ancestors. 
For seven days in April, the mountain town of Ubud is fragrant with spices and delicious aromas that celebrate traditional Indonesian cuisine. Local and international chefs host talks and workshops, and attendees can sample authentic Balinese and international dishes. 
From traditional theatre to painting, and dancing to cuisine, this vibrant event erupts in full sound and colour for a month between June and July each year. Street parades, performances, and exhibitions are held throughout the month. Locals take great pride in exhibiting their talent and visitors can enjoy a complete immersion into local culture.
Every year, between July and August, the skies above southern Bali are dotted with colourful kites. These are not your average kites, they're enormous—some larger than 10m—and ornate, and fly impressively high. 
These brightly-coloured kites come in a variety of creative designs, including boats, dragons, and various animals. Once they're unleashed on the wind, the sky becomes a magical battlefield where they fight it out for the main cash prize. 
When to Visit Bali – A Month by Month Breakdown
There's never a bad time to visit Bali, but there are times that are better suited to certain experiences.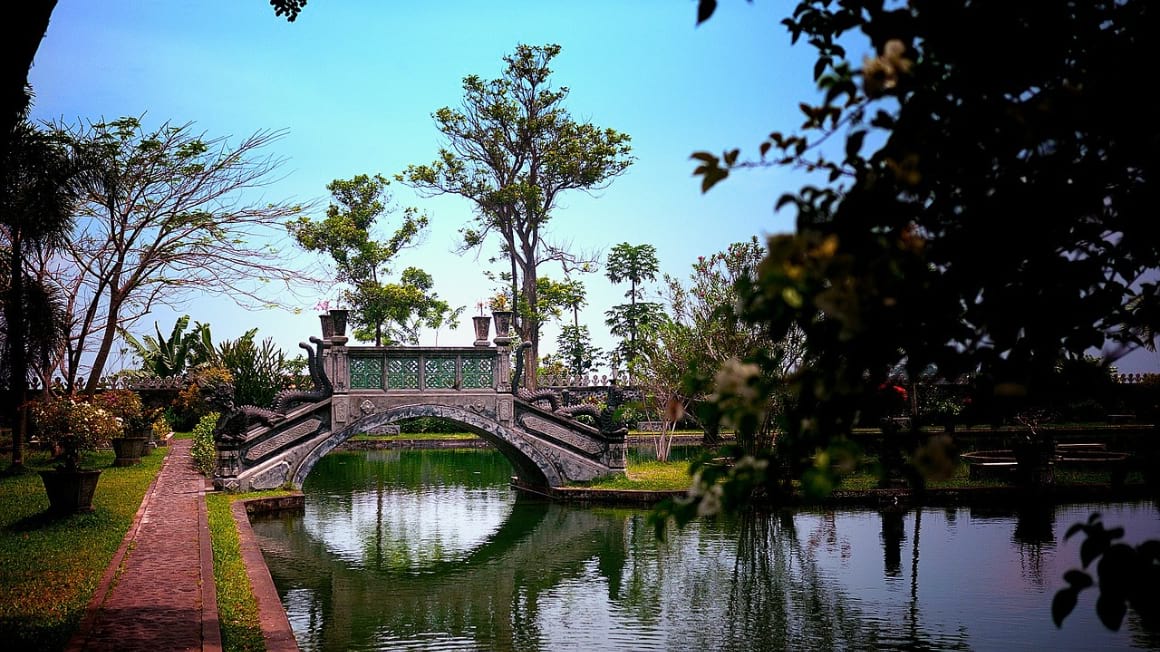 If you're still not settled on the best time to visit Bali, check out this month-by-month breakdown for the conditions that each month can offer in terms of climate, crowds, and costs. 
January in Bali
January in Bali sees many of the Christmas and New Year tourists departing, leaving the island much less crowded. It's the rainiest month of the year, and if you're heading inland to the highlands and mountains, things can get torrential. 
The rain usually falls as short showers overnight or in the late afternoon, clearing quickly. Average maximum temperatures hover around 30°C, but with the very high humidity, it feels much hotter and stickier. 
After around the first week, shoulder season conditions return, meaning fewer tourists and cheaper accommodation prices.
February in Bali
It's still pretty wet in Bali over February with high temperatures and humidity—much like January. Rain showers followed by the sun are common, and the temperatures are much as they were in January. 
As things head towards the low season, tourist numbers dwindle and the island feels less inundated with visitors. This also means that you are likely to pick up some really good deals on accommodation. 
March in Bali
The rains start to dissipate meaning the humidity comes down as well. March is hot and sunny, and as the month wears on the chance of rain gets less. 
This is the start of the low season so you can enjoy blissfully relaxed and crowd-free conditions on the island. Flights and accommodation are much cheaper now so, if you're travelling on a budget, this is your time.   
April in Bali
The weather is far more pleasant in April with humidity at its lowest, temperatures are a little higher, but without the humidity are much more bearable. There's little chance of rain but it's not impossible at this time. If it does rain, it's unlikely to disrupt travel plans and activities. 
There are slightly more tourists arriving in April, most of them likely to attend the Bali Spirit Festival, but prices remain low. This is a good time to do Yoga in Bali.
May in Bali
Visiting during May is highly recommended from a weather perspective. It's relatively dry, so the best time for trekking those volcanos and hiking. Temperatures are the same as in April, with average daytime highs in the high 20s. 
Tourist numbers are still low in May, but pick up slightly towards the end of the month as we head into the shoulder season of June. Prices are still reasonable and great deals can still be found. 
June in Bali
June offers great beach weather; loads of sun, minimal rain, and low humidity. Surfers and sun worshipers take advantage of these great conditions and reasonable prices, making the island increasingly busier than previous months.
This is the beginning of the busiest tourist season, so pricing will be much higher, and beaches and restaurants will be much fuller. 
July in Bali
Perfect beach weather dominates the month of July with sunny skies and minimal rain. Tourist season is in full swing so beaches will be packed, restaurants and hotels will be crowded, and the island will be buzzing with people. 
Accommodation won't come cheap, and if you haven't booked well in advance, options may be limited.  
August in Bali
Glorious sunny days and fantastic beach conditions continue through August. Humidity and rain are at their lowest, and the occasional gentle breeze keeps things comfortable. 
It's still peak season so accommodation prices will be much higher and the island is likely to feel crowded with tourists. Book everything as far in advance as possible—from accommodation to restaurant tables, and spa treatments. 
September in Bali
September is an ideal time to visit Bali. Most of the peak season tourists have departed and the weather is still great for hitting the now less crowded beaches.
There's a slight increase in the chance of rain, but nothing that will cause a significant impact on your stay. Accommodation will be easier to come by and often at a more reasonable rate than during peak season. 
October in Bali
The rainy season returns to the island, breaking up periods of great beach weather with the odd downpour. These passing showers tend to raise the humidity quite a bit, making the already hot temperatures feel unpleasant.  
The crowds continue to decrease, and it's now more likely that you'll be able to pick up some great deals on accommodation. 
November in Bali
The rains increase in their frequency and the humidity continues its climb. While daily showers are now more common, they are still fairly brief and clear up nicely, so they shouldn't cause major disruption to your plans. 
There are still times of lovely sunshine to enjoy at the beach or the pool. It's fairly quiet in terms of tourists and accommodation prices are at their cheapest. 
December in Bali
The first half of the month is relatively quiet but, as the Christmas and New Year period approaches, visitor numbers increase significantly. Peak season conditions return—expect crowded restaurants, booked out hotels, and full beaches. 
Rain is fairly common at this time, usually in the form of short showers which clear quickly returning to sunny skies. Occasionally the rain can linger for a few days of constant rainfall. 
FAQ About the Best Time to Visit Bali
When is the Best Time to Go to Uluwatu?
June to August offers the best balance. Temperatures are mild and rainfall is infrequent at this time. Peak season is between March and May and offers the best weather along with higher prices and more tourists. 
When is the Rainy Season in Bali?
Rain can be expected all year round in Bali, however, the rainy season occurs between October and March, with January and February getting the most rainfall.
When is the Coldest Month in Bali?
Bali's location just south of the equator means it is blessed with consistent temperatures all year round. Maximum temperatures average between 26°C and 28°C year-round.
When is the Worst Time to Visit Bali?
If you're on a budget or wishing to avoid crowds, the worst time to visit Bali is during the peak season between June and August and over the Christmas/New Year period. If you wish to avoid rain, the worst time to visit is over the rainy season between December and March.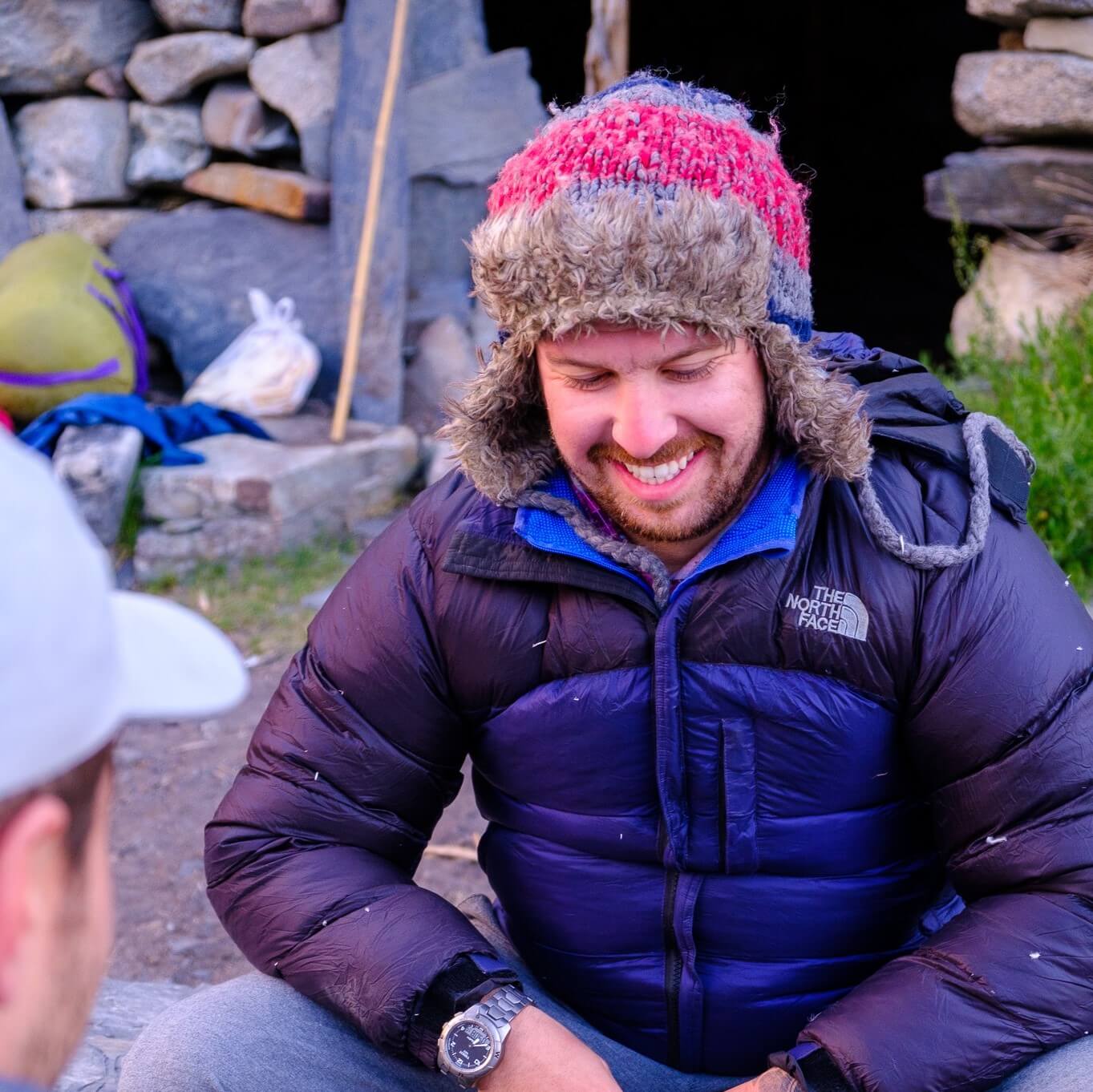 A Story on the Necessity of Travel Insurance
"Once upon a time, I almost lost my leg in a sweltering jungle… 
I battled a seriously nasty infection that snaked up past my knee and by the time I made it to a local hospital they wanted to amputate. I was delirious, unable to walk, and in a lot of pain but I managed to call my insurance provider – they moved me to a much better private hospital where the doctors were able to save my leg.  
I wracked up $15,000 in hospital bills, but these were completely covered by my travel insurance. Luckily, I still have my leg today, and whilst it is permanently damaged, I'm grateful every day it's still attached!
Moral of the story: consider getting travel insurance before you head out into the wilds, people!"
Final Thoughts on the Best Time to Visit Bali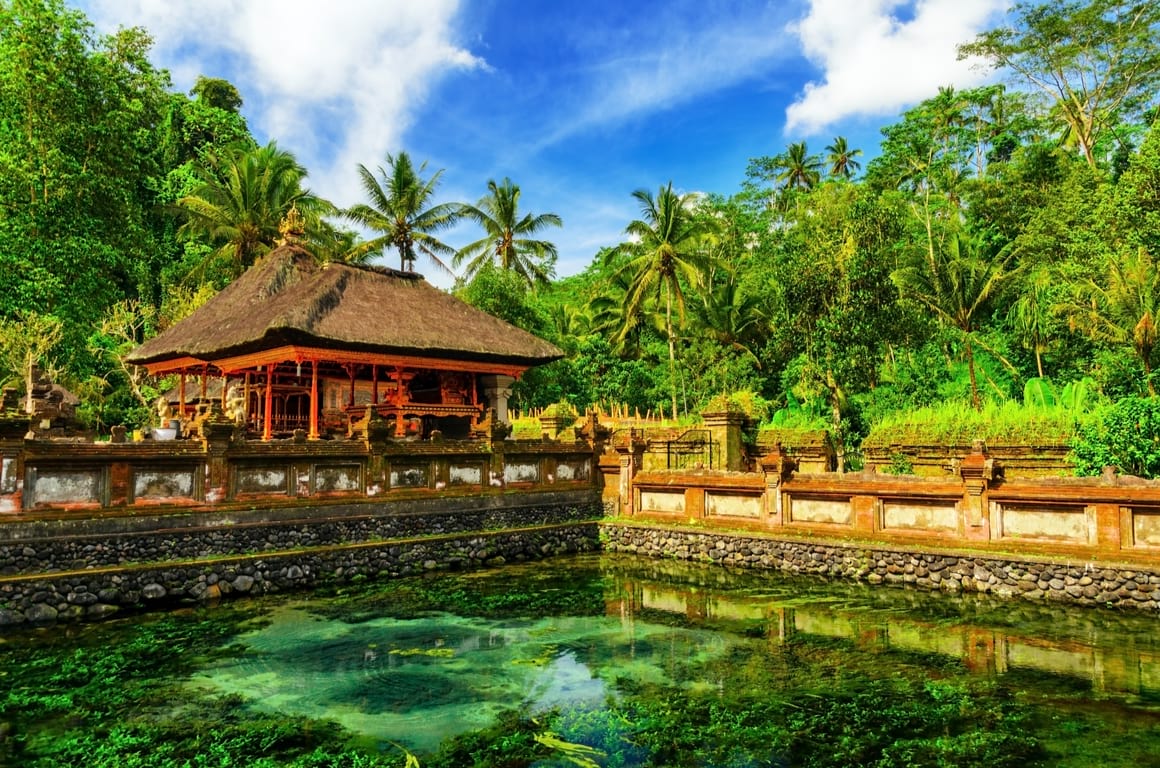 By now you've probably decided on the best time to visit Bali that suits your needs and have carefully weighed up all your options. 
Whether you plan to lie on the beach or by the pool, hike the volcanoes, or take to the ocean on a surfboard, Bali is the kind of destination that people return to time and time again. The thriving expat and digital nomad community are proof that Bali living is good living. 
Make sure to plan well in advance if you're headed to Bali during the peak season to avoid disappointment. If you're making the most of the low season, you'll likely find a host of very attractive last-minute deals on offer. 
Whenever you choose to visit Bali, we're certain you'll fall in love with the warm hospitality, colourful culture, and incredible beauty of this island. 
---
Find out how YOU can support the site.
We're a big site with a big team and this job isn't always easy. But we do it because we love it – we love providing epic and free content. We love the knowledge that our content keeps you adventuring. We don't ask for money, but if you'd like to find out how you can help the site in more organic ways, click the button below.
Thank you for your support 🙂
And for transparency's sake, please know that some of the links in our content are affiliate links. That means that if you book your accommodation, buy your gear, or sort your insurance through our link, we earn a small commission (at no extra cost to you). That said, we only link to the gear we trust and never recommend services we don't believe are up to scratch. Again, thank you!