Travel
Backpacking Southeast Asia Travel Guide (UPDATED FOR 2021!)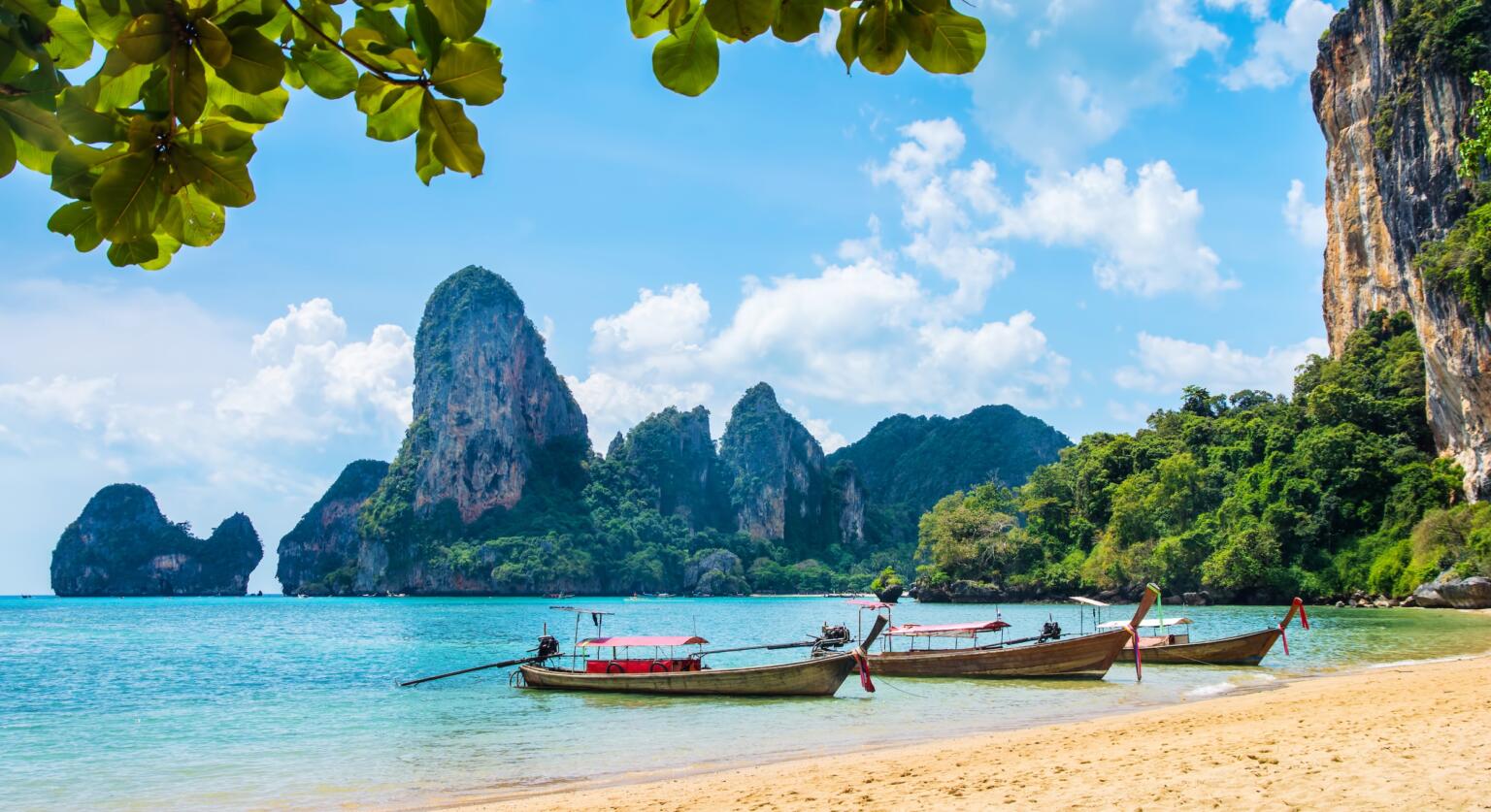 For many travelers, backpacking Southeast Asia is the ultimate highlight of their backpacking career. If you are coming from western civilization, exploring the countries of Southeast Asia is like being catapulted into an alternate reality. From the moment you set foot on the continent, you can feel the electricity in the air. Your senses explode from stimulation and you head out into the hustle and bustle in search of an ice cold beer…
If you're new to backpacking, Southeast Asia is a great place to start your travels – it's affordable, safe, diverse, friendly and beautiful.
I'm currently living in Bali and, all in, I've spent over three years backpacking around Southeast Asia over the last ten years of my travel career – I know, and love, this corner of the world extremely well.
How to plan a trip can be a daunting task but never fear – this Southeast Asia travel guide will give you a detailed low-down of where to go in Southeast Asia, travel itineraries and backpacking routes, tips and tricks for Southeast Asia budget travel, country profiles, and much more.
Fasten your seat belts and put on your motorcycle helmet: this is the ultimate backpacker's guide to traveling Southeast Asia in 2021!
Why Go Backpacking in Southeast Asia?
The chaotic symphony that is backpacking Southeast Asia is one of the most fun and powerfully rewarding experiences any backpacker can have. If you are looking to embark on the adventure of a lifetime, a journey backpacking through Southeast Asia will certainly fulfill that dream beyond your wildest imagination.
For newbie backpackers, or travelers just looking for a good time without the stress or hassle of worrying about complicated logistics, Southeast Asia is a paradise.
Generally speaking, backpacking in Southeast Asia is very cheap compared to traveling in other parts of the world. This guide will give a breakdown of the highlights and costs of each country in Southeast Asia so you can be armed with the right information in order to have a truly awesome experience on a budget.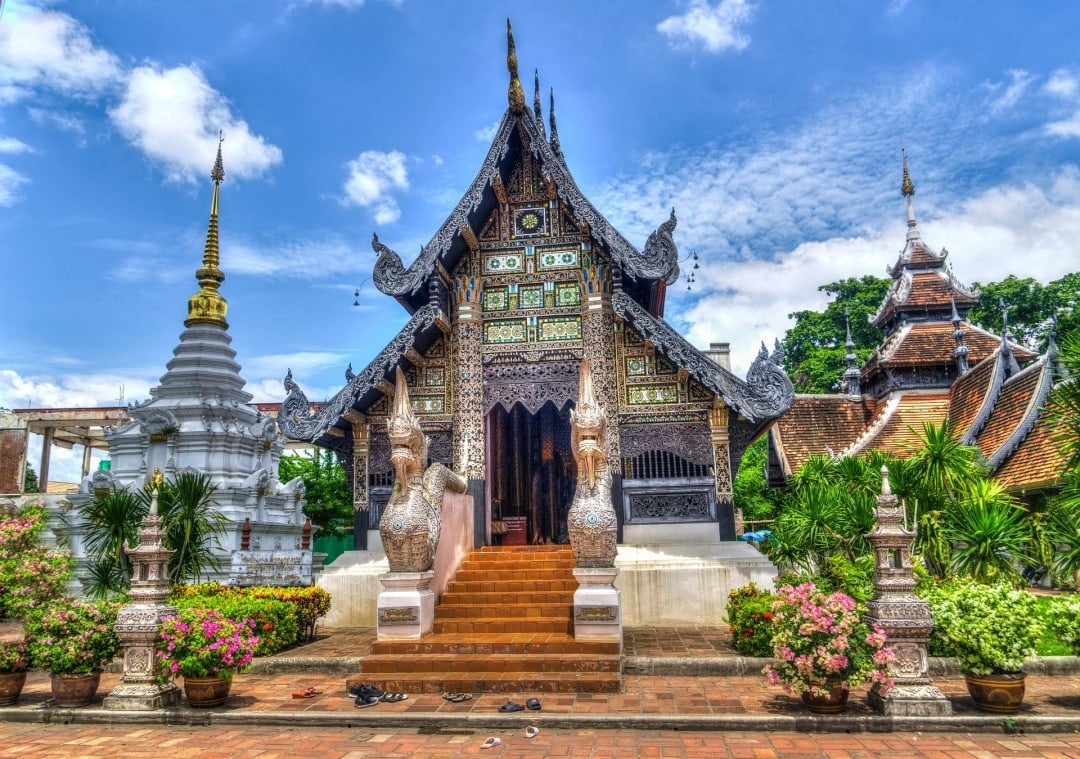 Southeast Asia is a fucking paradise for backpackers. There is an INFINITY of amazing experiences to be had.
Dive in and discover some of the world's best and cheapest scuba diving sites in Malaysia. Explore ancient temples and impressive monasteries in Myanmar. Take yoga classes in the morning and surf in the afternoons in Indonesia. Hike through dense jungles exploding with wildlife, raging rivers, and massive waterfalls in Laos. Explore Vietnam's countryside by motorbike.
Got your attention yet? Like I said, backpacking Southeast Asia is one hell of an adventure. You can be certain that it doesn't take long for the region to establish a permanent place in your backpacking heart.
Let's dive in and take a look at the best Southeast Asia travel itineraries and backpacking routes for your adventure…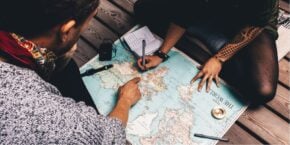 Heading off-grid? Download this guide as a PDF!
Sign up below and we'll email you access to the Broke Backpacker VIP area (hells yeah!) where you can download PDF versions of our guides.
Best Itineraries for Backpacking Southeast Asia
Let us be clear about one thing. Southeast Asia has so many things to do and see that it would be impossible to see it all in one lifetime let alone in just one backpacking trip. That said, you can sure get into a whole hell of a lot no matter what your time frame is.
Southeast Asia is a region that lives, breathes and even thrives on a certain degree of chaos. Backpacking in Southeast Asia requires one to adapt to that chaos and embrace the wonderful spontaneity that a backpacking adventure here presents.
You should not attempt to plan your trip to the last tuk-tuk ride. That said, having a general Southeast Asia travel itinerary in mind will help you pick a few regions and countries that are on your radar, whilst offering up the opportunity to visit some places that might not be.
Do you have two weeks? One month? Three months? Six months? Forever? No matter what your time frame is, the itineraries I have listed below have helpful travel routes for Southeast Asia to suit all schedules. Note that each itinerary can be combined with another, done in reverse, and customized based on what your interests and backpacking desires are. Let's dive in…
2-4 Weeks Backpacking Southeast Asia Itinerary: Banana Pancake Trail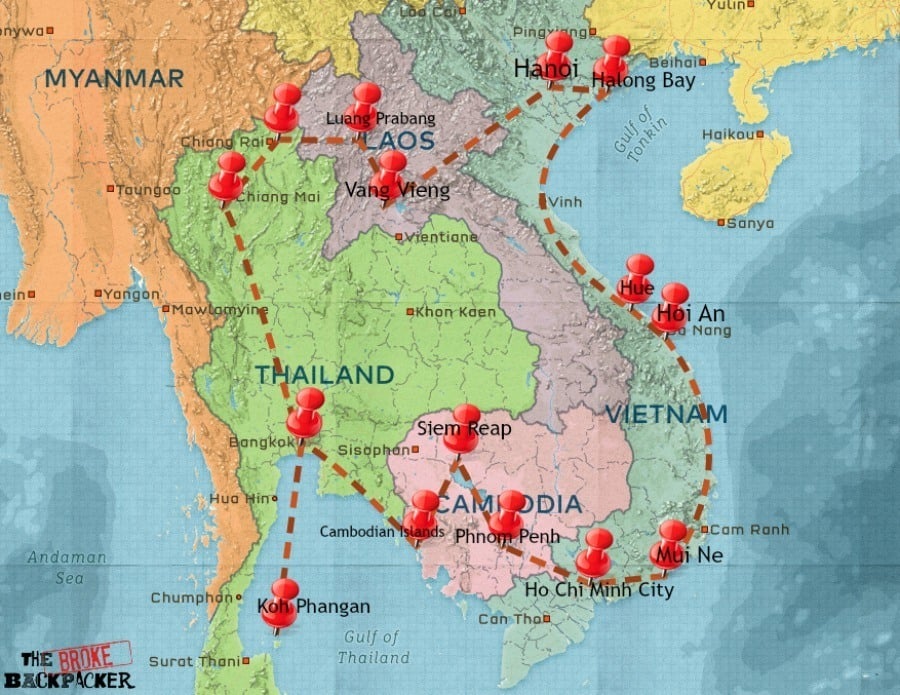 In two weeks, you would be hard-pressed to complete this entire itinerary. To be honest, it would probably be impossible and not very fun even if it was! If you only have a couple of weeks, my advice is to pick a country or two that you really want to visit and then explore the hell out of that country. If you are feeling ambitious and believe you can visit multiple countries in two weeks, I applaud you although that isn't really a travel style I enjoy or recommend.
One can really do heaps in just two weeks. The choices are endless. Within a two-week time frame, you have many options – providing you pick your area and don't lose too much time rushing around! A two-week itinerary should be planned out based on your own interests. What do you want to get out of your few weeks backpacking in Southeast Asia?
Do you want to get loose in Thailand's infamous party areas? Explore bustling cities in Malaysia? Watch the sunrise over ancient temples in Myanmar? Get your scuba diving certificate in Bali? Trek deep into epic jungles of Cambodia? The choice is your O worthy explorer!
Because in Southeast Asia, all of those activities and countless more are up for grabs. The choice of how you spend your 2 weeks backpacking is up to you! When low on time, I advise sticking to smaller countries  (Laos or Cambodia are good bets) where the transportation distances won't eat a big bite out of your precious backpacking time.
2 Week Itinerary Ideas
Thailand, Vietnam, Malaysia, Thailand, Laos, and Cambodia are all doable in two weeks individually. You will certainly only be scratching the surface, but you will leave with an even more intense hunger to return.
Start your trip visiting Bangkok and exploring the city for a few days. Now that you are satisfactorily overwhelmed, you can head to Cambodia to check out Angkor Wat. Note that Thailand has some spectacular temple ruins of its own at Ayathuya and Sukhothai.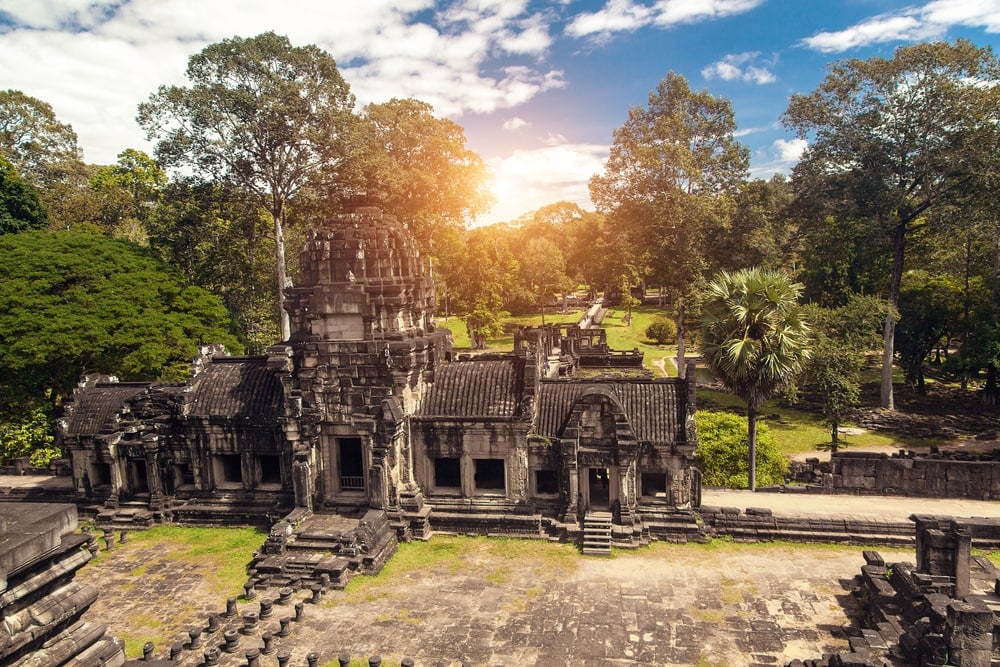 Either before or after Angkor Wat, you can travel to Chiang Mai in Northern Thailand and from Chiang Mai visit the hippie mountain town of Pai. This itinerary leaves room for you to absorb the highlights whilst giving you the freedom to get into things of interest along the way. Alternatively, you can go see Angkor Wat and then come back to Thailand to explore a few of the Thai islands further south for a good mix of partying and beach time.
With two weeks you could alternatively head on a satisfying scuba diving adventure. In Malaysia, you can mix in a UNESCO heritage city at Malacca before heading to Tioman and Kappas Islands for a week of diving.
3-Week Backpacking Southeast Asia Itinerary
Having three weeks gives you slightly more wiggle room as far as the number of destinations you can visit. I still recommend picking one or two countries maximum and exploring what they have to offer.
For example, you could combine Thailand and an adventure in Cambodia including a visit to Angkor Wat. Or you could have a culinary,  scuba diving and trekking bonanza, starting off in Malaysia and finishing in the Thai Islands before flying out of Bangkok.
Alternatively, you can explore a chunk of the Philippines or Indonesia in 3 weeks as well but note that transport links are not as great and journeys will eat into your time.
With three weeks, you can make pretty good rounds of a few islands in Indonesia. This itinerary is more surf, yoga, and trekking focused.
After 2 weeks exploring Bali, travel to the white sand islands of Lombok and the Gili Islands area, just a couple hours by boat away. Each of the three islands has a totally different vibe. *cough* And there are shrooms in the Gilis *cough*
Next, we head to Flores, where you can spend time diving, and arrange trips to Komodo National Park to see the infamous Komodo dragons.
For three weeks in the Philippines, fly to Puerto Princesa, and leave pretty quickly to get over to Port Barton. This area has several islands with good beaches and snorkelling.
Next head to El Nido, known for its island hopping. If you have the money, you can arrange an expensive boat ride to Tubbataha Reef Marine Park, known for its abundance of magical marine life.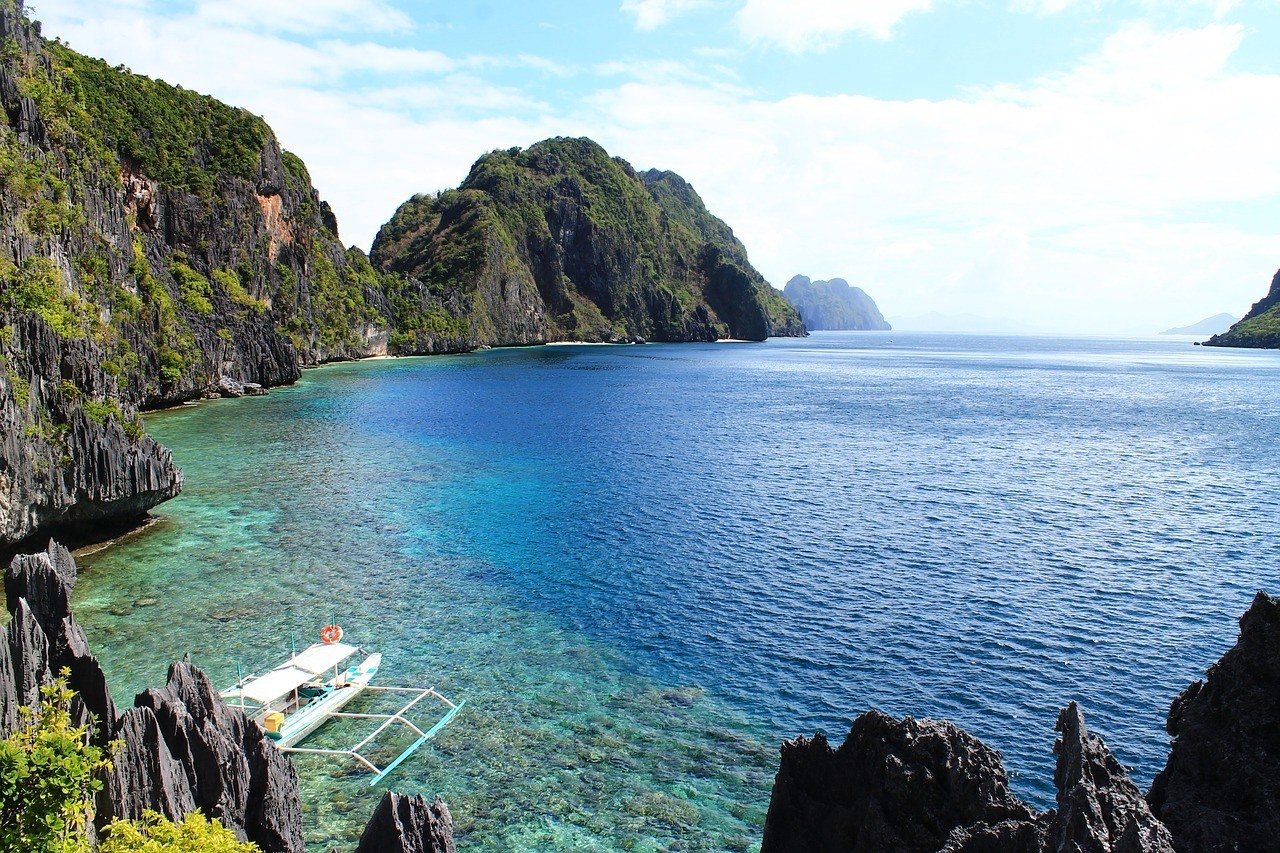 Take a ferry to Coron, which is famous for its WWII wreck diving. If you are a diver, take a day or two to explore the nearby Apo Reef as well. You can also check out other islands off the beaten path, like Culion Island and Busuanga Island. From what I've heard it's nothing but huts, beautiful beaches and diving.
Ferry again to Puerto Galera. I have heard this area decent local dive scene and is easy to reach from Manila. You can end your trip with a visit to Boracay if you have some time. It's a bit out of the way, but easy to reach from Puerto Galera. This is one of the most famous beaches in the Philippines due to its incredible sand.
1-Month Backpacking Southeast Asia Itinerary
Some would argue that Thailand – Southeast Asia's backpacking epicenter. Thailand is home to infamous full-moon parties, Bangkok ladyboys, mind-blowing cuisine, stunning beaches, and fine temples. This backpacking itinerary takes you through the heart of what put Southeast Asia on the map.
Explore the best of what Thailand has to offer (see the itinerary above) before heading to Laos. Take the slow boat from Chiang Mai to Luang Prabang. If you have time climb Climb Mount Phousi before heading out of town. Laos receives a fair amount of backpackers, however far-fewer than Thailand.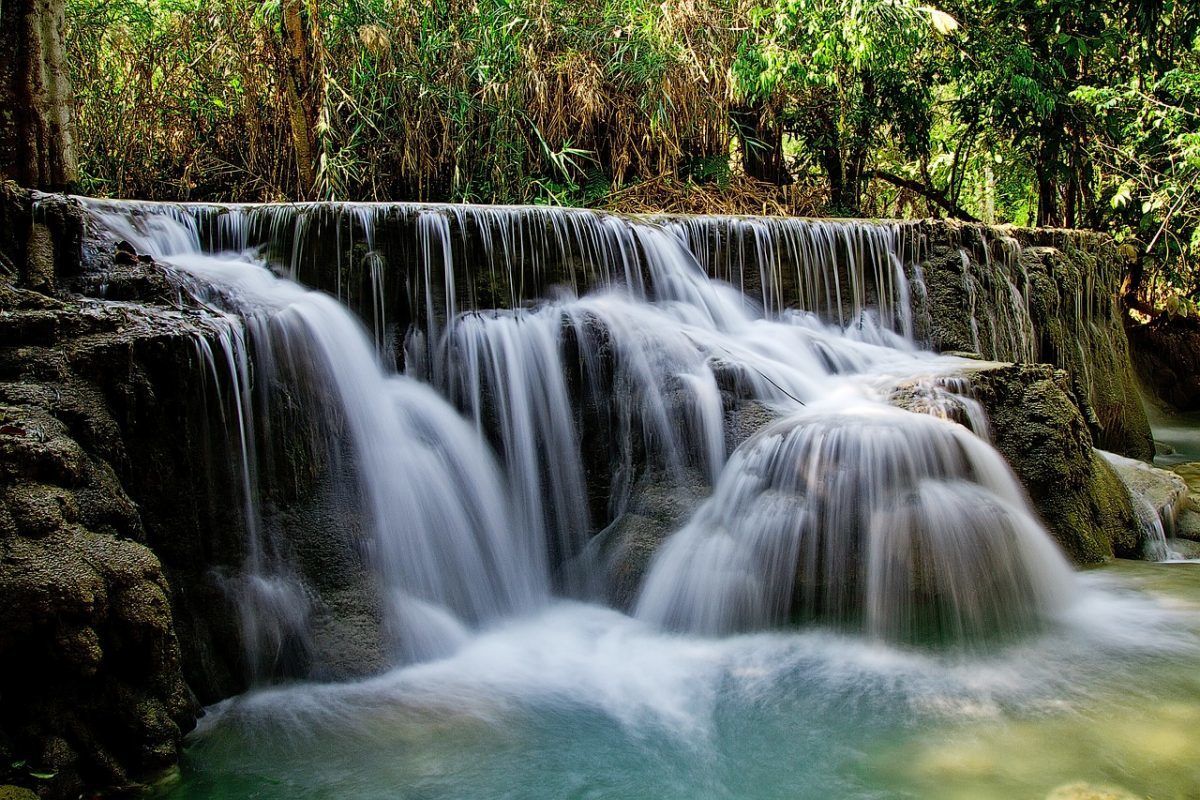 The main attraction to Laos is its unmatched natural beauty, kind people, and rock-bottom prices. If ever there was a super-cheap adventure packed with outdoor activities to be had, you will find it in Laos. Vang Vieng is the main backpacker playground in Laos; this is the place where you can smoke a joint and eat banana pancakes all day. Tad Lo Waterfall is definitely worth the visit as well.
Vietnam is the next stop on this route. Soak in the majestic views and cooler temperatures of the mountains in the north before heading south. Hire a motorcycle, explore the cities, go scuba diving or hop around the islands. Vietnam has some of the best street food in all of Southeast Asia, so prepare your belly for bliss. Visit Hanoi and explore this bustling metropolis before heading to Halong Bay and Cat Ba Island.
Finally, hit up Cambodia and Angkor Wat en route back to Thailand. Learn about Cambodia's sobering recent history whilst exploring some of the most impressive temples and beaches in all of Southeast Asia. You'll have to hustle a bit to pack everything in, and you might find it easier to skip a few destinations along the way to make room for the things that especially peak your interests.
2-Month Backpacking Southeast Asia Itinerary: Vietnam to Myanmar
This itinerary has you starting off in Southern Vietnam (though you could just as easily start in the north). Get lost exploring Ho Chi Minh City before heading out for more peaceful environs. Hit the beaches, go snorkelling or scuba diving, and visit the floating markets. As you make your way up the coast be sure to make stops at Mui Ne, Hoi An, and Hue before arriving at Halong Bay.
Then cruise north up the coast, exploring some of the most dramatic coastlines anywhere on earth. If you love motorcycles, then a road trip in Vietnam is the dream. Remember to always wear your helmet!
After two or three weeks in Vietnam, cross over to Laos. Then it is on to Thailand for a few days (or more) staying in either Chiang Mai or Bangkok before crossing the border to Myanmar. After checking out Yangon you can set off in search of more Myanmar magic. In Myanmar, must-see highlights include the monasteries around Hpa-an, the Saddar caves, Hsipaw for some great trekking adventures, the temples at Bagan of course, and Pindaya which is home to the cave of eight thousand Buddhas.
3-Month Backpacking Southeast Asia Itinerary: The Ultimate Circuit
So far, I have focused on the five countries making up the traditional Southeast Asia backpacking route. Now having 3 months to go backpacking in Southeast Asia means you have lots of flexibility about how you can plan your trip. There is, of course, no set Southeast Asia backpacking route and part of the fun of backpacking is doing what you want, when you want!
When backpacking across Southeast Asia, you'll meet cool people, forge new friendships, maybe have a fling or two and, of course, your plans will frequently change. Do not over plan, be flexible and go with the flow!
This is definitely easier if you have more time and with three months to travel in Southeast Asia, you can dig into a place for longer than just a day or two because you are not strapped by a short time frame.
Many travelers do start in Thailand and travel around from there. Cheap flights within Southeast Asia enable backpackers to fly to destinations like Indonesia, Borneo, or the Philippines without the lengthy (and expensive) process of boat travel.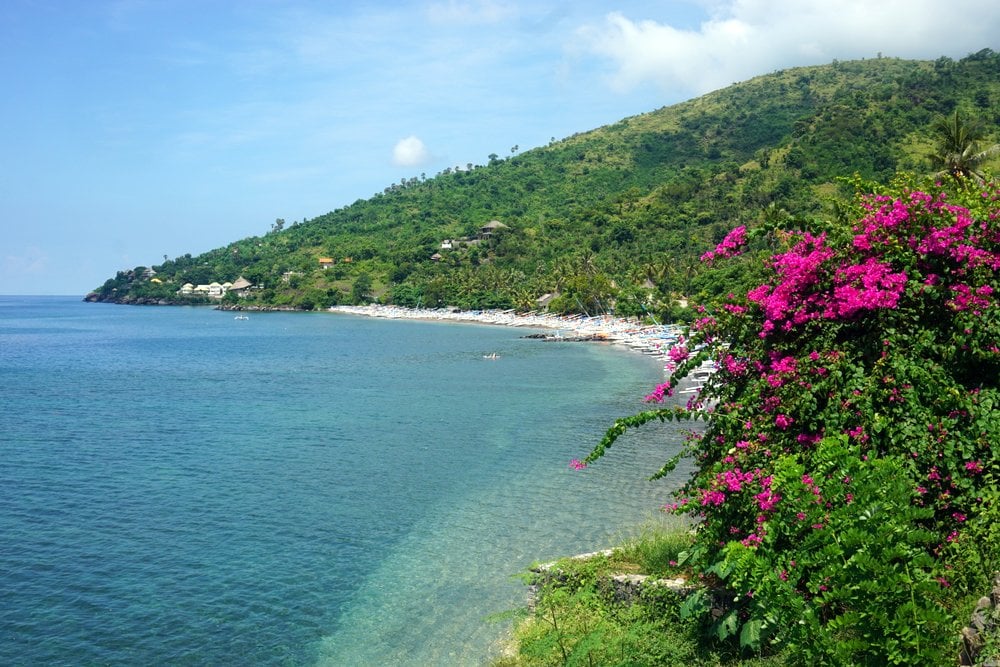 What to do with so much time? My advice is to get to know a few Southeast Asia destinations in depth. Love Laos? Stay for an extra few weeks? Want to learn how to scuba dive? Pick a diving hotspot and soak it in.
With three months you will definitely see some of the best places to visit in Southeast Asia and have time to get off the beaten track! With a little bit more time on your hands, now you can start thinking about exploring Malaysia via Southern Thailand or flying to other destinations that interest you.
3 Month Itinerary Ideas
Check out the aforementioned 1-month itinerary listed above. You can make the classic Southeast Asia circuit at a comfortable pace in a couple of months. With one month to spare, you can travel south to explore the Thai islands before crossing over into Northern Malaysia. Check out Langkawi Island before heading south. Staying in Penang is the best; it's one of my favorite cities in Southeast Asia, with some great hikes and diving to be had around Penang National Park.
Alternatively, you can travel to Bali or Manila from Bangkok and explore a totally new part of Southeast Asia. Philippine highlights include climbing Mt Pulag, Sagada's Crystal Cave and Olahbinan, Kalinga Jungle, El Nido for some climbing and partying, and Coron for epic scuba diving.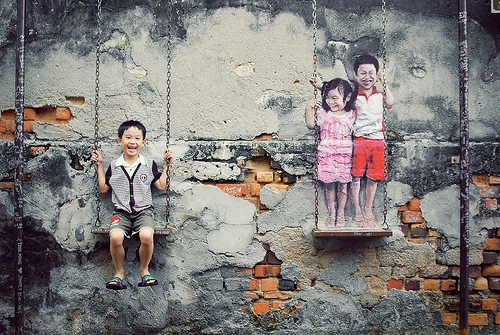 If you want to dedicate a couple month to Indonesia you won't be disappointed. Alongside the Bali to Flores route, you can also catch a flight to Sumatra. Here, visit the orangutan sanctuary in Bukit Lawang and the stunning Lake Toba.
Also on tap here is world-class diving at Pulau Weh. This tiny island is located at either the beginning or end of Indonesia, depending on which way you're looking at the map. You'll have to pass through the town of Banda Acehto to reach here, which is the only place in Indonesia that has Sharia Law in place. This definitely isn't the place to come party while backpacking Indonesia, but the juice is worth the squeeze if you get to Pulau Weh.
6+ Months Backpacking Southeast Asia Itinerary: The Longterm Backpacker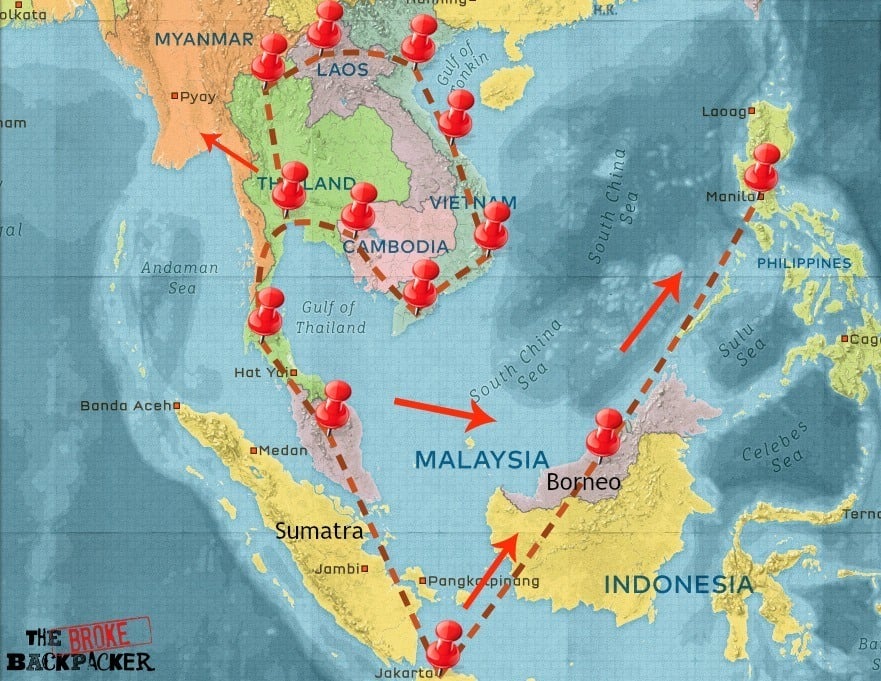 You will not be the first backpacker who loved backpacking Southeast Asia so much that you spent six months or more there. Lucky for you, with six months you have the opportunity to visit more off the beaten path Southeast Asia destinations, once you have seen the popular sights.
Thailand is super, super beautiful, though you can experience a lot of Thailand's best highlights in a month or less. Go trekking in Borneo! Get your ass to Indonesia and explore a few of the thousands of remote islands there! Hit up far-flung places in the Philippines! Look to my other Southeast Asia travel itineraries for the inspiration you need to get started and then follow your well-seasoned internal compass for what you really want to get into.
After you six months are up, don't be surprised if you end up spending another six backpacking around Southeast Asia! Let's now take a closer look at the individual countries you will be traveling to during your Southeast Asia backpacking adventure.
Places to Visit in Southeast Asia: Country Breakdown
Southeast Asia is a truly massive region. There are eleven countries that comprise Southeast Asian region and today we'll be covering nine of them. Each one is special and also radically different in its own ways. There is an epic backpacking adventure to be found within each country.
Each country that makes up Southeast Asia has something incredible to offer. The landscapes, people, culture, food, religion are all very unique to each individual country. Which countries are best to visit in Southeast Asia? Every country in Southeast Asia is god-damn epic!
One universal truth seems to be that if this is your first time backpacking through Southeast Asia, you will experience a series of cultures that is very unlike anything you have ever come into contact with (if you grew up in the west).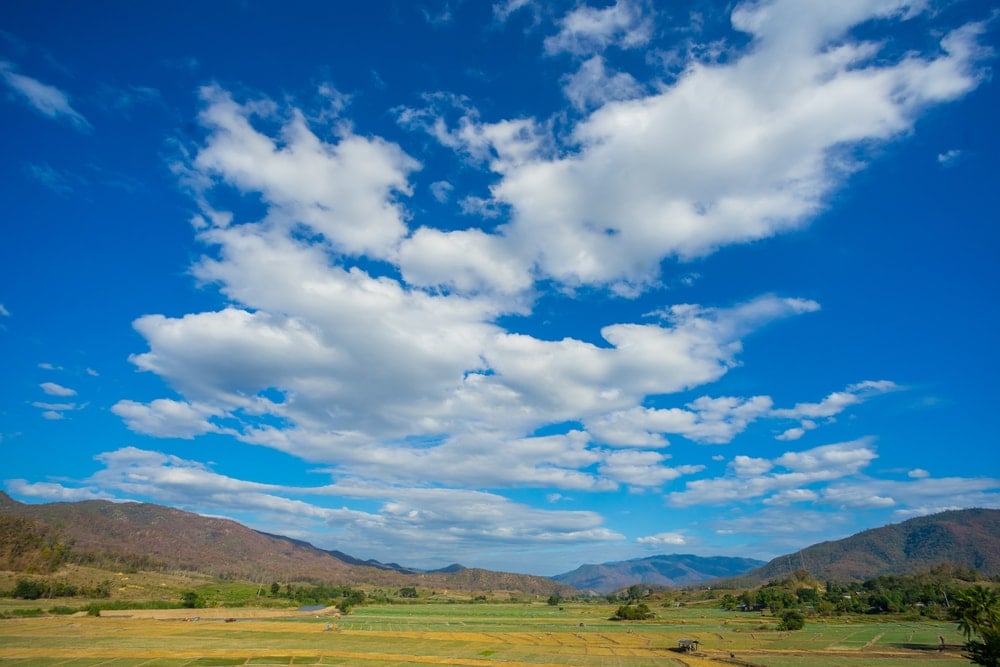 Given the options of where to go backpacking in Southeast Asia, the sky is the limit. Whatever you've heard there is much, much more to Southeast Asia than drinking buckets, crazy parties, motorbike traffic, and drunken Australians (sorry lads).
Southeast Asia is an incredibly cheap, diverse, beautiful, and spiritual land filled with adventure possibilities. If ever there was a backpackers paradise on earth, it is an easy argument to say that the place is called Southeast Asia and if you're a first-time traveler Southeast Asia is the perfect place to go traveling – it's affordable, safe, diverse and friendly.
Backpacking Thailand
For many first time backpackers, Thailand is the image at the forefront of their imaginations when it comes to destinations in Southeast Asia. Finding a Thailand backpacking route is easy, as many routes are well-established and there's plenty of backpackers on the ground to grab tips from.
Thailand truly is a special country packed with non-stop fun. Stunning natural beauty, world-class diving, killer street food, well-developed infrastructure, and super friendly people.
In addition to its natural splendour, Thailand boasts some of Southeast Asia's most dynamic cities, especially if you are wanting to settle in somewhere long term as a digital nomad. Both the town and surrounding area of Pai as well as the city of Chiang Mai rank high on the list for sure.
Thailand is rapidly becoming the digital nomad capital of the world. Thailand receives more visitors annually than any other Southeast Asia nation by a long-shot so if you're looking for an off the beaten path destination, this isn't it. Over 35 million people visited Thailand in 2017.
That said, backpacking Thailand is a total blast and a definite right of passage for first-time backpackers looking to sink their teeth into Southeast Asia. You'll undoubtedly meet heaps of cool travellers at Thailand's near-infinite backpacker hostels, and the resulting adventure will be grand!
What to Know Before Visiting Thailand
Don't miss out on…the North – this is the REAL Thailand! Both Chiang Mai and Pai are two of my favorite places of all-time.
You know what's overrated…the Full Moon Party on Koh Phangan – it's pretty sloppy here, not to mention hectic. The Eden Party is way better.
The coolest hostel is…S*Trips – The Poshtel. Awesome location right next to night bazaar and super slick interior.
The best food is found in…Bangkok. The city is just so goddamn big; you can find everything here.
Backpacking Vietnam
Over the last few decades, Vietnam has charged to the head of the line as a top destination for backpackers. Delicious cuisine, low prices, cheap places to stay, historical sights, and mind-boggling wonders are just a few of the draws that make up the charm in Vietnam.
Backpacking Vietnam offers an incredible opportunity to get off the beaten track… Explore dramatic mountains in the North, stop in for some corn wine, and a friendly chat with the locals before heading south to party the night away.
If you are wanting to explore Southeast Asia by motorbike, then Vietnam is the best place to go. The country is long and thin, so it's perfect for a road trip and bikes with Vietnamese plates can enter most other countries in Southeast Asia (this is pretty unique).
You can start your trip in Hanoi, the cultural capital of Vietnam, or Ho Chi Minh City, formerly Saigon and the economic engine of the country. Hanoi is a great place to base yourself as some of the country's greatest attractions, like Halong Bay and Ha Giang, are within striking distance.
Between Hanoi and Ho Chi Minh, you'll find lots: the gastronomic wonders of Hue, the best beaches in Vietnam, and a whole lot more. There's a lot to see and do here, my friends!
What to Know Before Visiting Vietnam
Don't miss out on…the Ha Giang Loop by motorbike. This one of the hidden gems of Vietnam and way better than Sapa.
Look out for…those bamboo pipes in the north – they're used for smoking local tobacco and hit HARD.
The coolest hostel is…Old Quarter View Hanoi – free beer every night and the hostel is still immaculate? What is this mythical place that you speak of?
The best food is found in…Hue – it's well known for its Central Vietnamese plates. Stay a few nights (and visit the Old City too).
Backpacking Laos
Laos is truly a special country in Southeast Asia and one that has managed to retain its easy-going identity in the era of mass-tourism. Wild jungles, river deltas, smiling locals, and amazing treks make Laos the backpacking paradise that it is.
Places in northern Laos, like the areas in and around Luang Prabang, experience cooler temperatures in the mountains and rainforest. While the south is more of the agricultural heart of the country. Each holds substantial significance for backpackers. Laos is the perfect country for backpackers wanting to experience Southeast Asia within a short time frame.
One can easily see the highlights and experience the country off the beaten path in 2 weeks to a month. Take it easy though. Laos is a country that is not to be rushed through. You will see when you get your boots on the ground that nothing happens quickly in Laos anyway… This is a land of chill.
What to Know Before Visiting Laos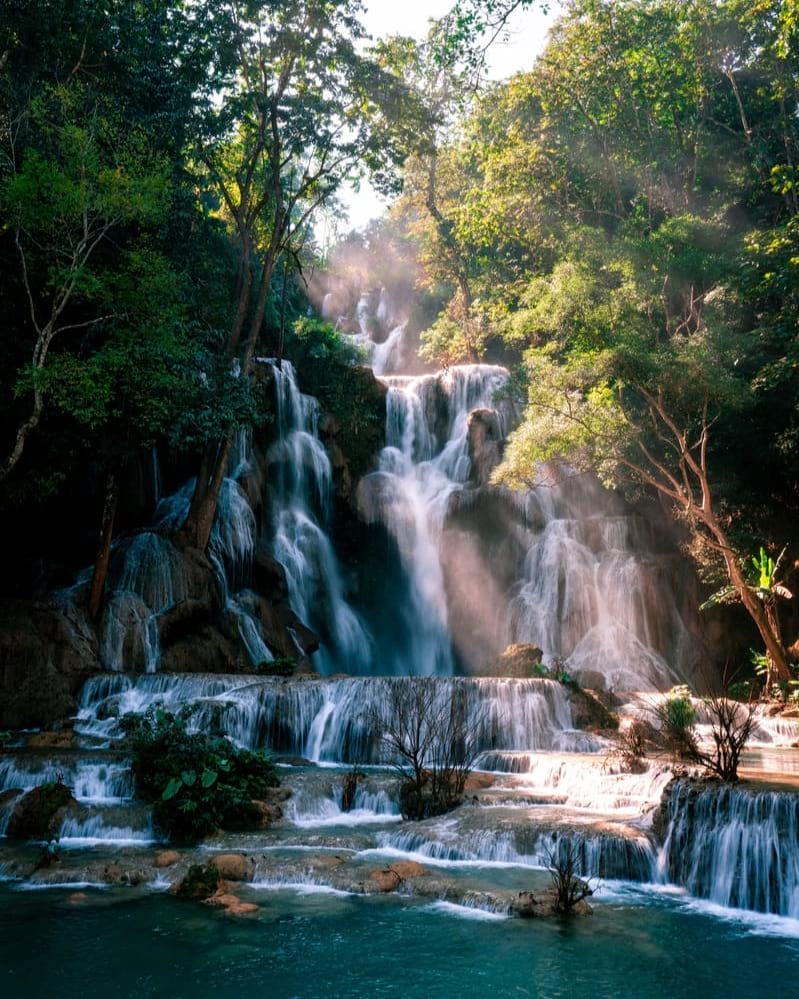 Don't miss out on…the mountains around Vang Vieng. Lots of people neglect exploring these in favor of tubing the river. The river party scene in Vang Vieng is diminishing anyways.
You know what's overrated…Luang Prabang. In recent years, it's become very touristy and a bit disingenuous. The nearby waterfalls are still cool though.
The coolest hostel is…Barn 1920s Hostel – as the name implies, this hostel is charming and rustic, not to mention very chill.
The best food is found…on the streets! The street food in Laos is absolutely top-notch.
Backpacking Cambodia
The temples at Angkor Wat are an obvious draw for those backpacking Cambodia and are truly impressive. Cambodia is a country rich in culture, beautiful beaches and islands, the Mekong River Delta, and bustling markets.
The nation of Cambodia is a country still pulling out of an extremely dark recent past. A staggering 1.5 – 3 million people were killed by the Khmer Rouge, led by tyrant Pol Pot. It happened only 35 – 40 years ago and is still very fresh and raw to the Cambodian people.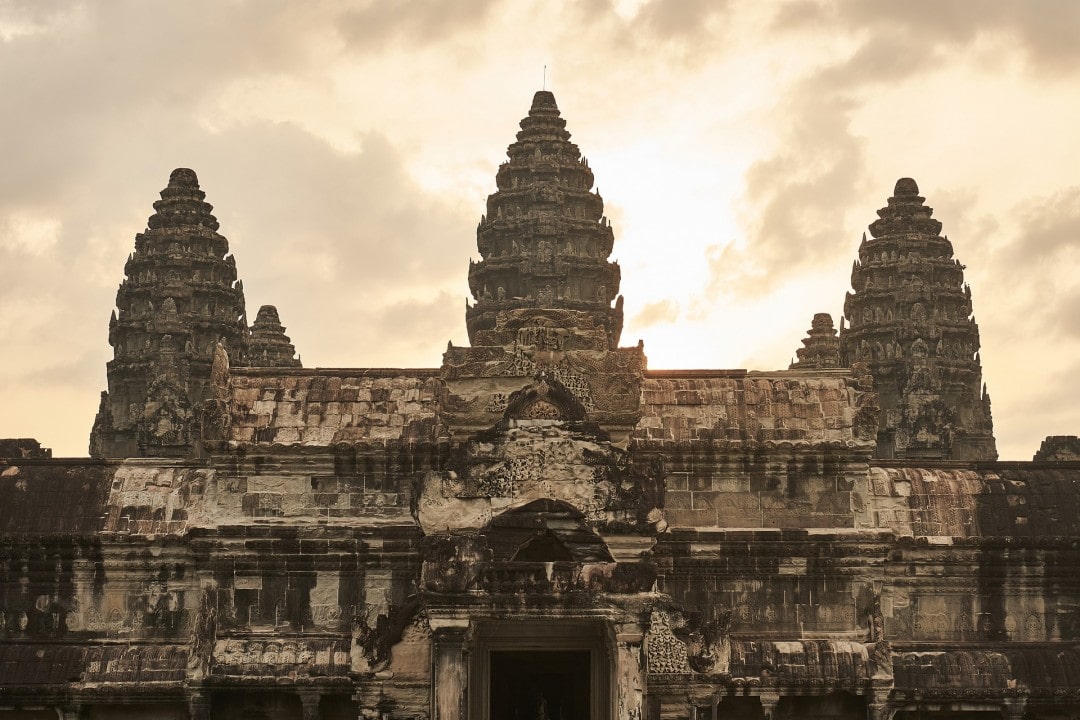 Despite the tragic history, the local Khmer people are some of the kindest humans in the world. The country is still recuperating, rebuilding and moving forward, however, corruption is hindering its rehabilitation.
Cambodia is one of my favorite Southeast Asian destinations to travel; I loved it so much that I ended up overstaying my visa. From the awesome backpacker accommodations, cheap prices, and epic off-the-beaten-track travels, Cambodia seriously has it all. See it for yourself and you'll fall in love too.
What to Know Before Visiting Cambodia
Don't miss out on…the Killing Fields and Tuol Sleng. One of the most sobering places in SE Asia and a refreshing change of pace.
Keep an eye out for…temples other than Angkor Wat. Cambodia is full of Khmer ruins, like Koh Ker.
The coolest hostel is…Mad Monkey – Koh Rong Samloem. MM Hostels are legendarily good, but this one is the best.
The best food is found in…the outdoor food market in Siem Reap. Most of the backpacker accommodation is conveniently located around here.
Backpacking Myanmar
In recent years, backpacker travel to Myanmar has exploded. The country has been opening its doors to foreigners for the first time and travelers are flooding in. There are some truly epic travel experiences to be had in Myanmar.
The temples at Bagan are unbelievably beautiful and are best explored by e-bike. Bring along a good tent and camp out so you can catch the sunrise over the temples.
I first visited Myanmar in 2013 and fell head over heels in love, it was one of the most rewarding countries I had ever traveled too and blew my mind.
Whilst Myanmar is one of the best backpacking adventures to be had in Southeast Asia, the current political situation there has put a dark cloud over the country. Because of the unspeakable actions of the government, Myanmar finds itself on my country blacklist for the time being.
What to Know Before Visiting Myanmar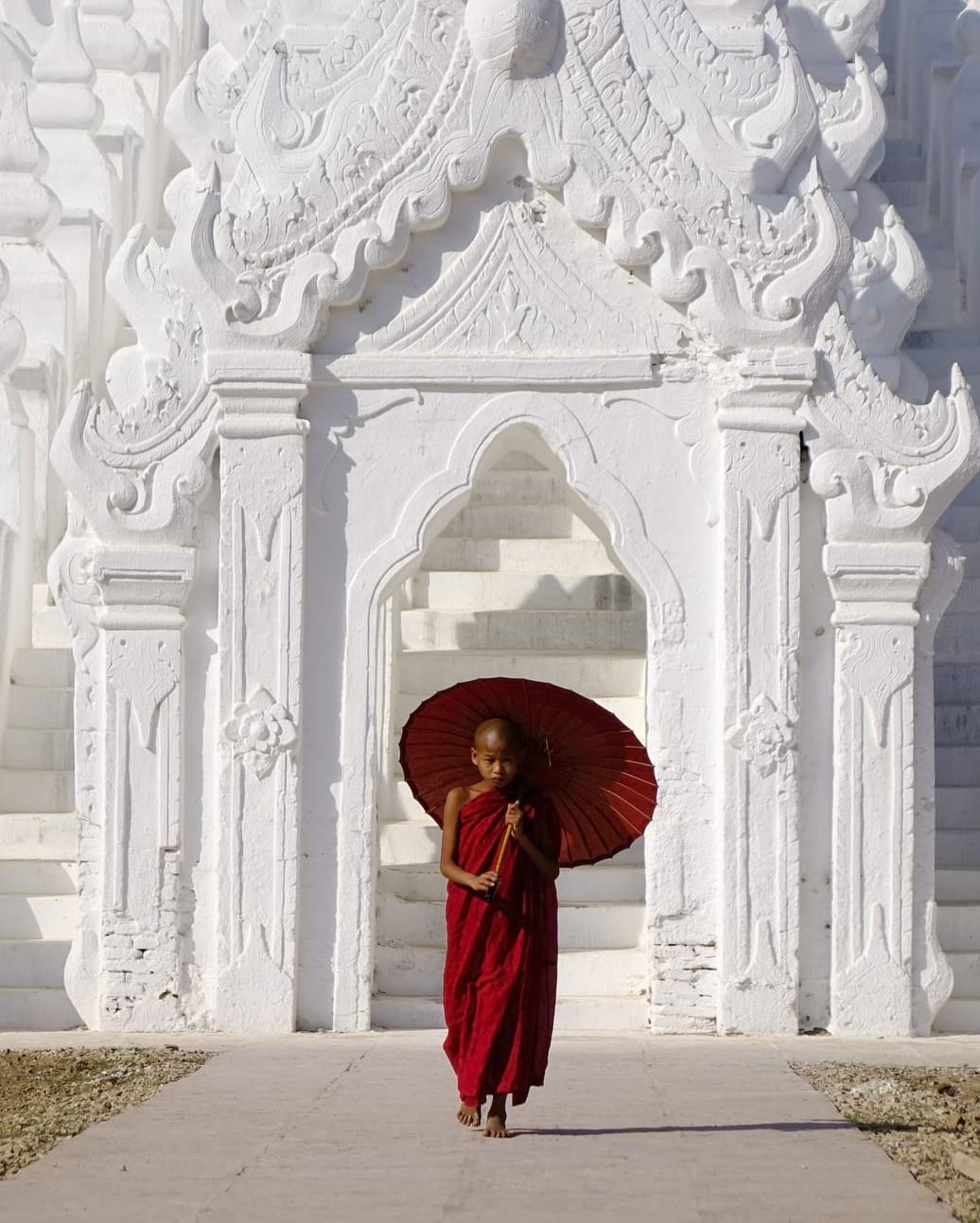 Don't miss out on…Bagan. There are touristy spots in Bagan, however, the scope of the area is immense. Riding an e-bike to a secret place and setting up for sunset is the way to go.
You know what's overrated…Inle Lake. Super beautiful, super touristy, and super expensive. Visit, then shoot through for some of the mad trekking in the nearby regions.
The coolest hostel is…Any of the Ostello Bellos.
The best food is found in…Mandalay. I actually love staying in Mandalay, and the aromas drifting from the nighttime street food market is a big reason why!
Backpacking Malaysia
I fucking love backpacking in Malaysia. Somehow, Malaysia has managed to stay below the radar of the general population of backpackers on the Southeast Asia backpacking circuit. To write off Malaysia as uninteresting would be a mistake! Malaysia should be your next backpacking destination!
For one, I found Malaysia to have some of the lowest prices in all of Southeast Asia. The country is extremely clean, the roads are in great shape, and the people speak decent English. Malaysia is also a majority Muslim country, which I found to be a stark contrast to the Buddhist majorities of the countries to the north.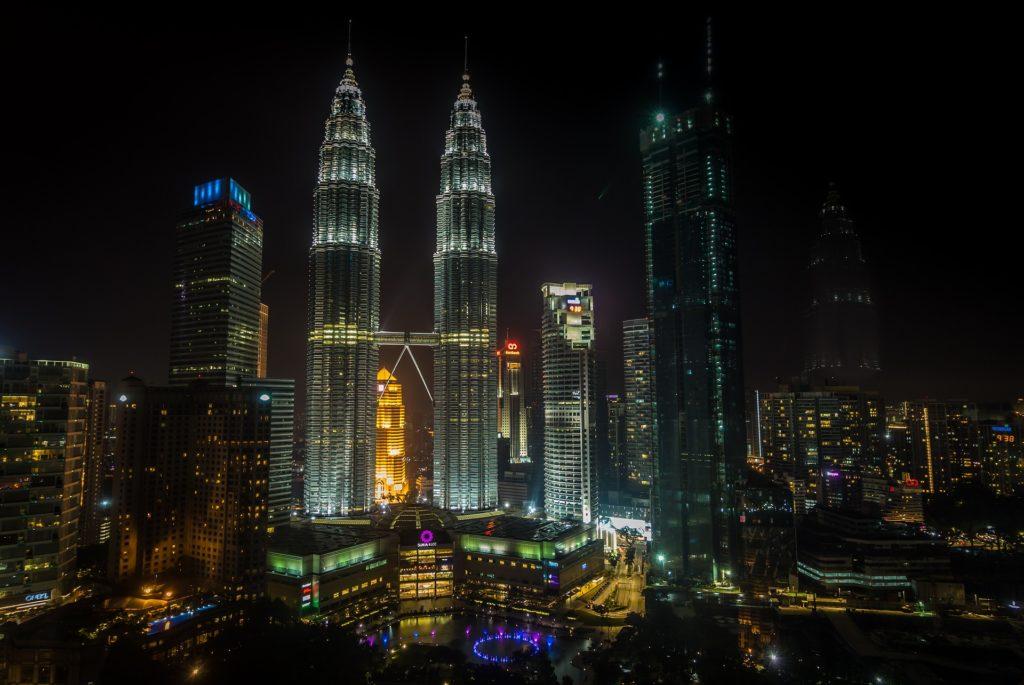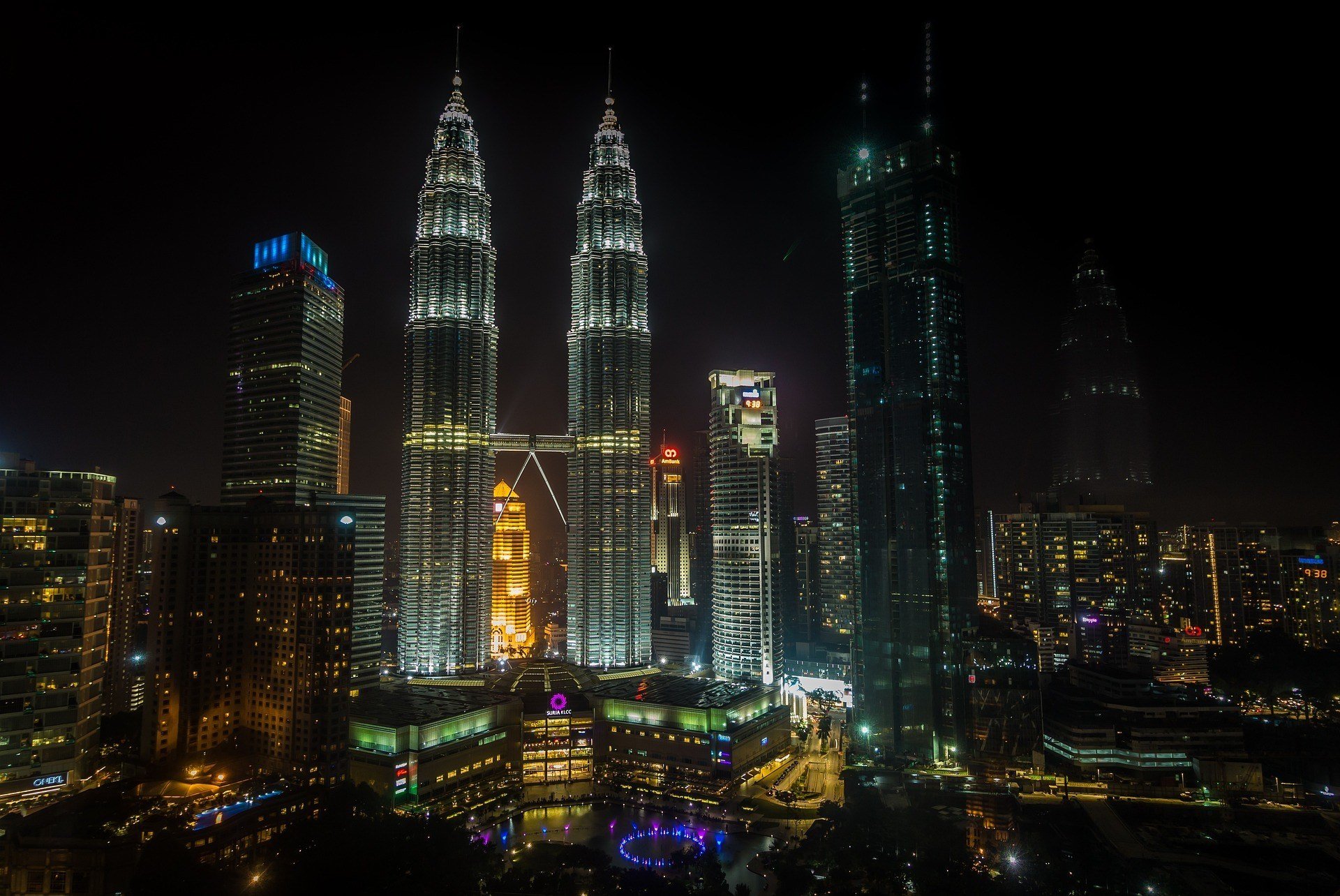 Tioman Island is one of Southeast Asia's best-kept secrets. Getting your PADI open water certificate is cheaper on Tioman than anywhere in Thailand. Also, the diving is better in my opinion. The coral reefs are not experiencing the same level of bleaching as they are in Thailand. I saw plenty of turtles, sharks, and more vibrant reef systems generally.
Malaysia is also home to one of the world's oldest rainforests at Taman Negara. Malaysia is perfect for some crazy adventures!
Then there is Malaysian Borneo. Parts of Borneo are surprisingly well developed. That said, there are giant swaths of the island that are still wild and teaming with rhinoceros, orangutans, and other rare wildlife. I look forward to my triumphant return to Malaysia someday soon!
What to Know Before Visiting Malaysia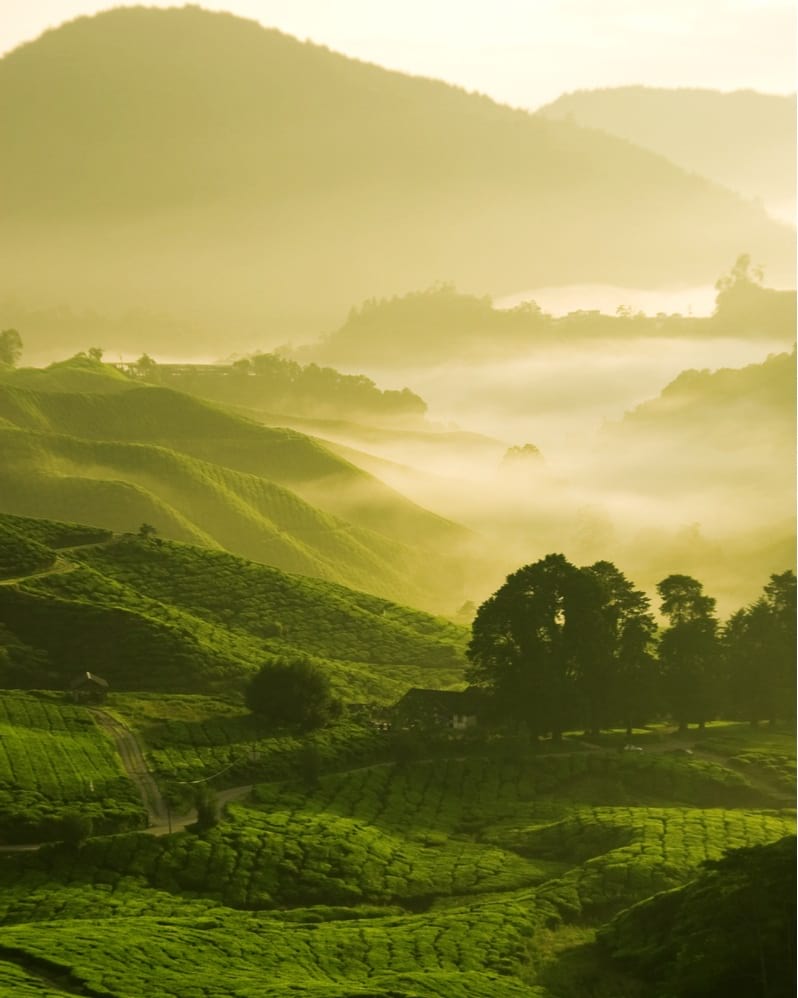 Don't miss out on…Borneo. It's such an overlooked destination but there's so much cool stuff going on here. Get a tattoo in Kuching!
Look out for…hidden speakeasies in Kuala Lumpur's Chinatown. They're VERY well disguised.
The coolest hostel is…Orchid Haven in Cameron Highlands. Cooking classes, a garden, free breakfast, and all of the peace you could want.
The best food is found in…Penang. Whilst ALL the food in Malaysia is good, Penang takes top honors.
Backpacking Singapore
Singapore is the smallest country to make our list. This tropical island city-state nation might be a blip on the map, but it is a regional economic and cultural powerhouse.
Backpacking Singapore has the reputation of being an expensive place to visit in Southeast Asia. Whilst Singapore is certainly more expensive when compared to its relatively cheap neighbors, there is still plenty to do for backpackers on a budget.
Some of the best street food in the world can be found amongst the food stalls of various markets. Singapore is a multi-cultural melting pot so it is possible to taste the influences of many different cultures in a single dish. Rub elbows with locals and chow down on some epically delicious cheap eats.
Visit Chinatown, explore Arab Street, and be sure to grab a curry in Little India. Just based on the neighborhood names alone, you can gather that many ethnic groups are represented across this city-country.
If you are visiting Singapore for longer, be sure to check out the nature reserves surrounding the city. Few people realize that just outside of Singapore's urban centers there are some great day hikes to be had in the surrounding jungle. There's also plenty of local life to be experienced beyond the neon landscape.
Singapore is a city that has something for every backpacker. Whether you are just passing through or coming to SEA specifically to backpack Singapore, you can be sure that there is always something awesome (and tasty) to get into here.
What to Know Before Visiting Singapore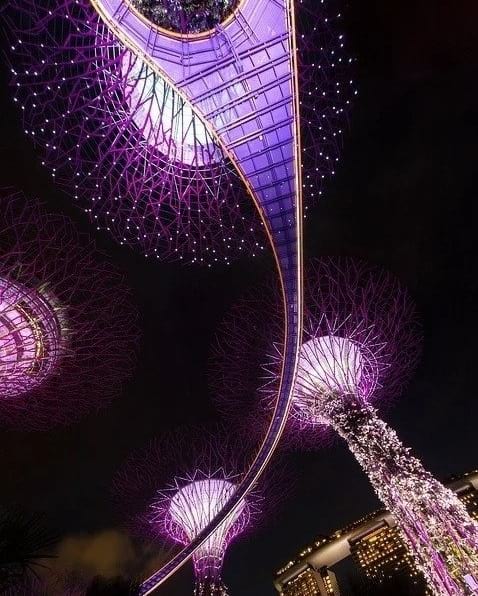 Don't miss out on…the hawker centres (cafeterias). When you're in Singapore, you EAT. The food is incredible.
You know what's overrated…Sentosa Island – it's just Disney World with a fake beach.
The coolest hostel is…Wink Capsule Hostel. Intimate without being cramped.
The best food is found in…Maxwell Food Centre. This is the most famous hawker centre in Singapore. In fact, the world's cheapest Michelin-star restaurant is here!
Backpacking Indonesia
As a vast archipelago nation composed of over 17,000 islands, Indonesia is one of the most fascinating countries in the world. The country is so big and so spread out that exploring it can feel overwhelming.
Backpacking Indonesia is an adventure like no other. For starters, you can climb active volcanoes, encounter orangutans in the jungle, visit ancient temples, and enjoy world-class diving. All along the way, you'll be welcomed in by some of the most friendly people out there while you enjoy the varied and delicious cuisine. Best of all,  you can easily backpack Indonesia on a budget.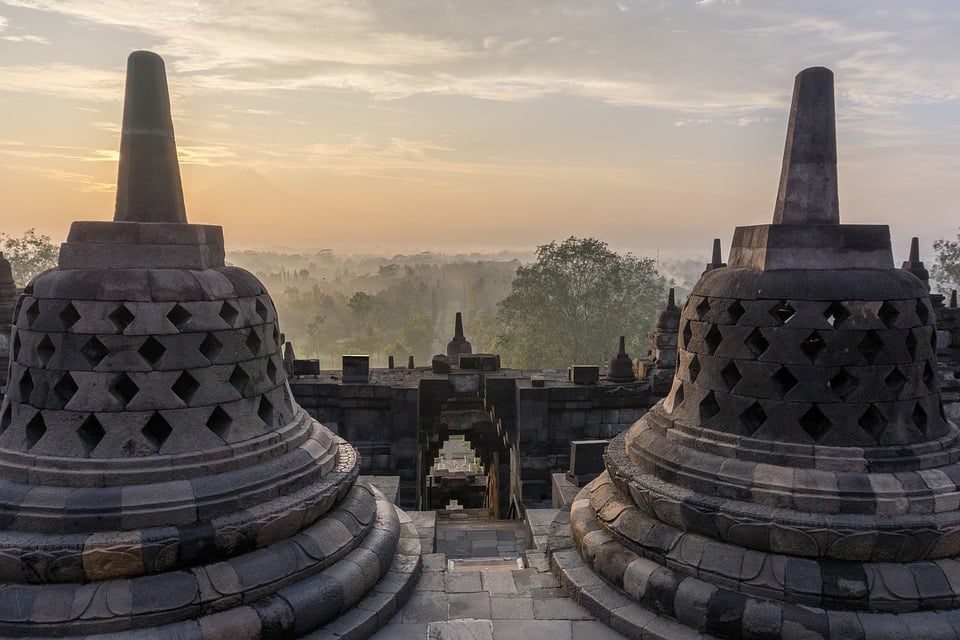 Bali is definitely the backpacker magnet of Indonesia and for good reason. Along with a blossoming digital nomad scene and tons of epic places to see, Bali is also surf and party central. If you are wanting to become a yoga teacher, there are countless programs being offered all across the island.
It's worth staying in Bali for some time, but be sure to visit some of the other islands as well. Though fun, I would argue that Bali is not at all what the rest of Indonesia feels like. The country is jam-packed with off the beaten path exploration potential. 17,000 islands bro! Get yourself out there and explore some of them and you will quickly fall in love with this massive island nation.
What to Know Before Visiting Indonesia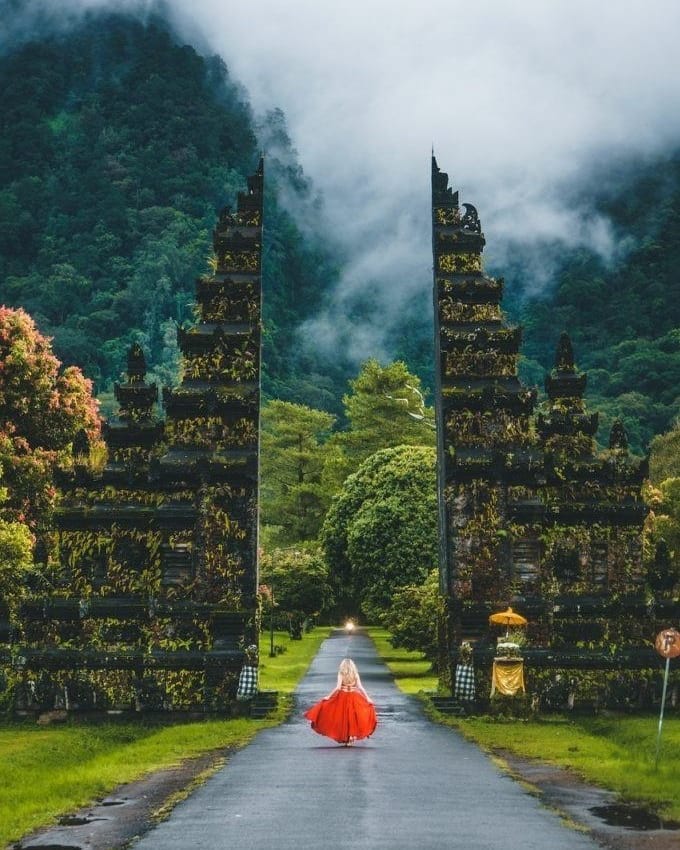 Don't miss out on…island hopping. Nusa Penida, Derawan, the Kai Islands, Wakatobi; these are some of the best, but there are 17,000 more to see.
You know what's overrated…Kuta, Bali. Avoid it like the plague.
The coolest hostel is…the soon to be opened Tribal Hostel of course! Read about my plans here.
The best food is found in…Bali. It may not always be "authentic" but it's always very high quality.
Backpacking The Philippines
Cheap beer, beautiful beaches, adrenaline-pumping activities and some of the most friendly, genuine, people in all of Asia; the Philippines truly captured my heart. I made some incredible friends in the Philippines and I have to say, it is one of the easiest countries in the world to travel around as the locals are so friendly. Getting around the Philippines as a backpacker and finding a sweet and cheap place to stay (and a sweet and cheap thing to eat) is breezy.
There are thousands of islands to choose from. This translates into world-class scuba diving, snorkeling, and fishing. If you have never tried spearfishing, you should absolutely give it a go. Spearfishing doesn't get much better than in the Philippines where the visibility is insanely good.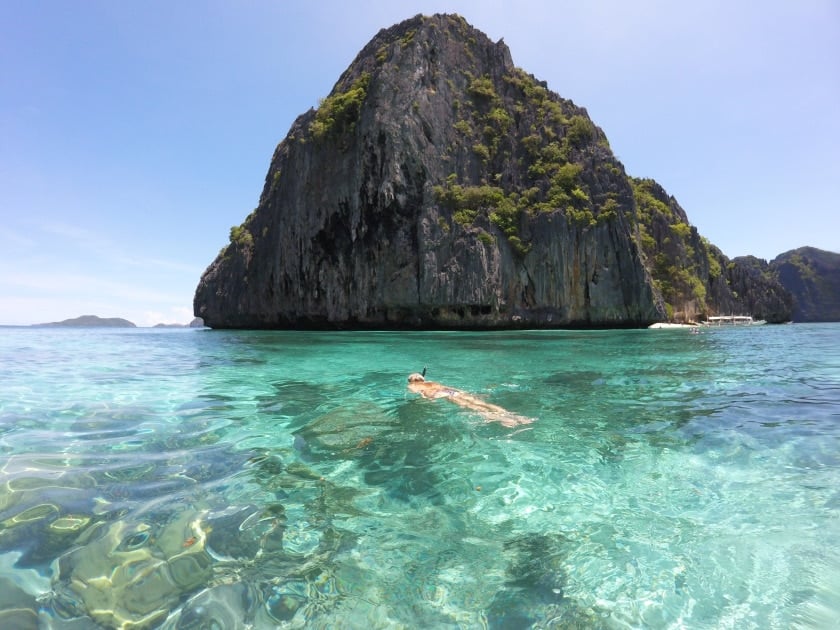 If you love trekking like me, then you will be pleased to find some epic hiking opportunities in the Philippines. Caves, rivers, mountains, you name it, one can find all the outdoor playgrounds here. There are heaps of adventure opportunities in The Philippines if you're equipped for the job!
There are endless trekking options in the Philippines: remote hill hikes and active volcanoes, gentle strolls, and multi-day backpacking trips. Some popular treks include Cordillera and its rice terraces + Mt. Pulag. Not too far from here you can reach Sagada and hike in the hills. Bohol and the Chocolate Hills are a great place to trek as well. The Philippines is home to 25 active volcanoes that can be climbed to the summit!
What to Know Before Visiting the Philippines
Don't miss out on…El Nido. It's utter paradise, the stuff of dreams and legends. Stay here forever if you can.
Look out for…crowds at Baguio. It's becoming one of the most popular places in The Philippines; let's hope it doesn't become TOO popular.
The coolest hostel is…Paglaom Hostel (Siargao). It's chilled, welcoming, offers surfboard rentals, and has a dedicated yoga space. Perfect for surfers.
The best food is found in…hard to say, really – there's just so much diversity. Suckling pig in Cebu, empanadas in Ilocos, bulalo in Tagaytay; nothing really beats adobo made by a local grandma though.
Off the Beaten Path Travel in Southeast Asia
Once you have your boots on the ground, the Southeast Asia backpackers circuit will be as obvious as the stars in the night sky. Backpackers generally don't venture too far off of the so-called Banana Pancake trail.
That said, if you are a keen and adventurous type, you should find no problem getting off the beaten path yourself. Many parts of Southeast Asia are untouched by backpackers to this day. Many regions are very wild and make for endless exploration opportunities.
Additionally, there are islands in Southeast Asia (think Indonesia) that are so damned remote few westerners have ever been to them. Have fun on the Banana Pancake Trail, but don't forget to dip out once in a while a truly explore.
Your Favourite Travel Blog Needs YOU!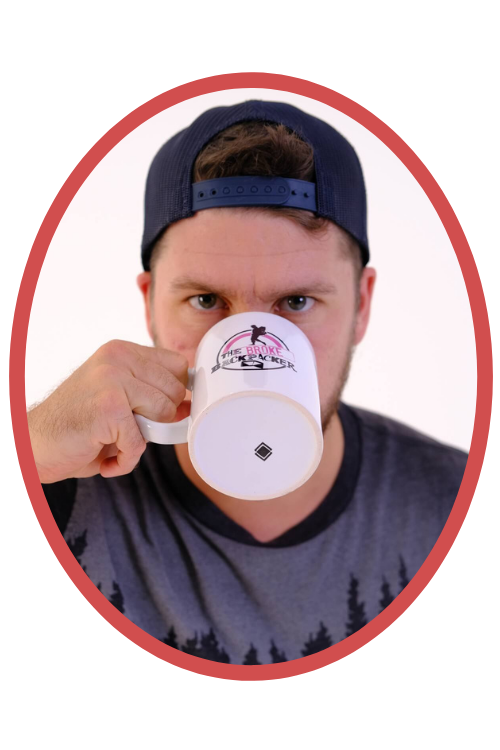 Ads SUCK. Nobody likes ads. So you know what we did?
We cut them from our site!
Instead, we're simply counting on YOU – our dedicated community of adventurers and renagades – to support the site. No Patreon and no ads: just you, The Broke Backpacker, and good vibes central. 😀
There's nothing you have to do; just keep browsing, use your adblocker guilt-free, and enjoy our EPIC content.  And if you want to learn about how you can help more, read our support the site page.
The Top Things to Do in Southeast Asia
Southeast Asia is an adventure playground. It is at once a backpacker paradise and a place teeming with awesome budget adventures. There will certainly never be a day where you are bored for lack of things to do in Southeast Asia. Let's dive in and take a look at some of the radical adventures that await you in Southeast Asia…
1. Jungle Trekking
There is some great jungle trekking in Myanmar, Northern Thailand, Malaysia, Laos, Vietnam; hell, in every country in SEA really! If you choose to go trekking make sure to go on a multi-day hike. Personally, I prefer the trekking in Laos or Myanmar.
2. Scuba Diving
Many backpackers fall in love with scuba diving whilst in Southeast Asia. Thailand, Malaysia, and Indonesia offer incredible diving opportunities in crystal clear waters with abundant marine life and plenty of wrecks for the underwater adventurer. The cheapest place to learn is the island of Kao Tao in Thailand and on the islands in Malaysia.
3. Motorcycle in Southeast Asia
Perhaps there is no better way to explore a country than by motorbike. Love every minute of it as it will be so much fun you won't know what to do.
4. Learn To Cook
Love the hell out of Southeast Asian cuisine? Me too! Taking a cooking class whilst visiting a Southeast Asian country will supercharge your cooking skills. You will be preparing delicious meals for years down the line that remind you of the good ol' days backpacking Southeast Asia.
5. Chase Waterfalls
In every country in Southeast Asia you will stumble upon waterfalls. Epic waterfalls. Each will be more impressive than the last and will have you dreaming of turquoise waters for years to come.
6. Go Caving
Southeast Asia is home to some truly impressive cave systems. If you have the chance, you must explore some of them!
7. Try as many different foods as possible
Love trying new things? There is something delicious, tasty, and bizarre to put in your mouth around every turn. I hope the words "no, I don't think I want to try that" never come out of your mouth. Exceptions are granted only if the food in question is an endangered or protected animal.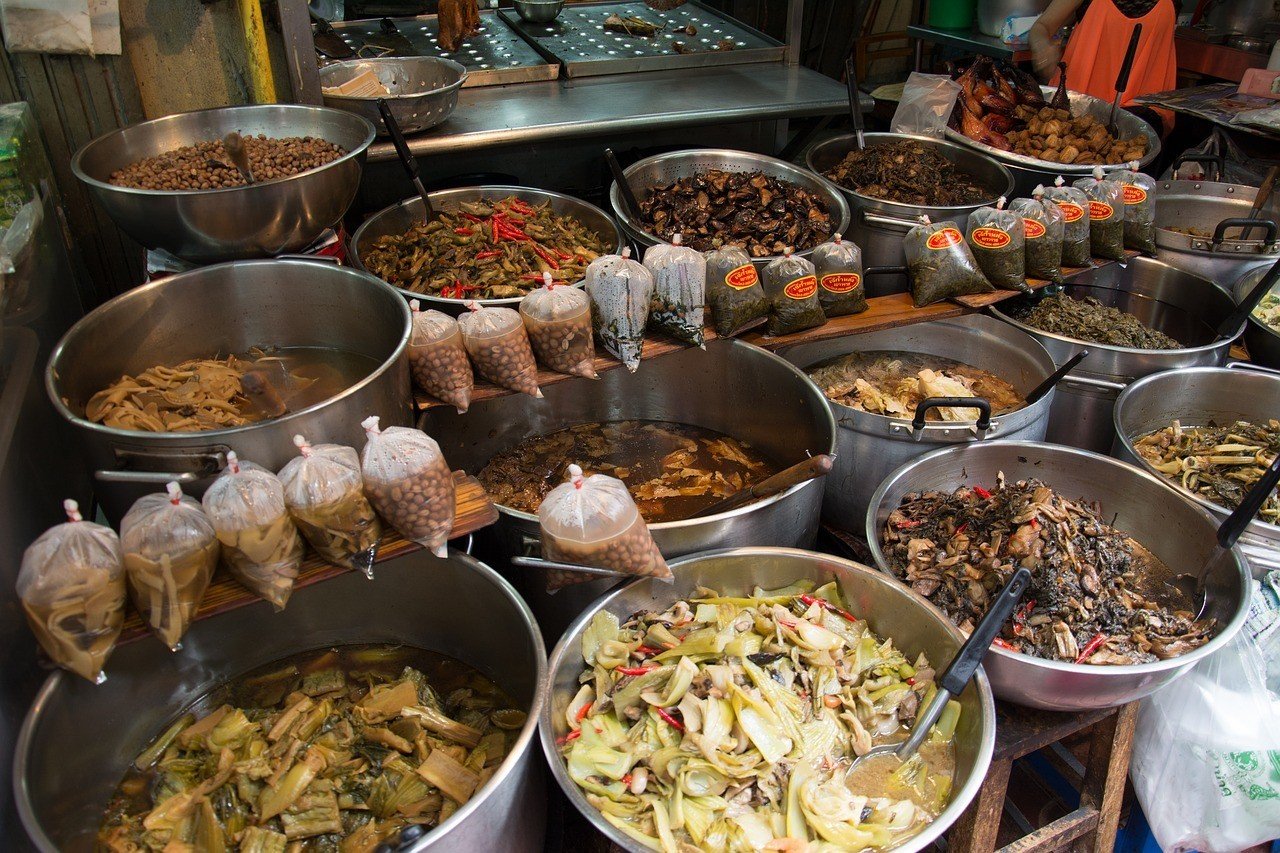 8. Attend a Cultural or Religious Festival
As I mentioned before, attending a festival in Southeast Asia will help you gain a better insight into understanding the culture in which you are already immersed.
9. Go climbing
Southeast Asia is full of karst mountains, which rise like pillars and towers from the ground. For the casual tourist, these spires make great photos; for climbers though, these are the stuff of dreams. Visit Railay, Cat Ba, and Kuala Lumpur for some grade-A routes.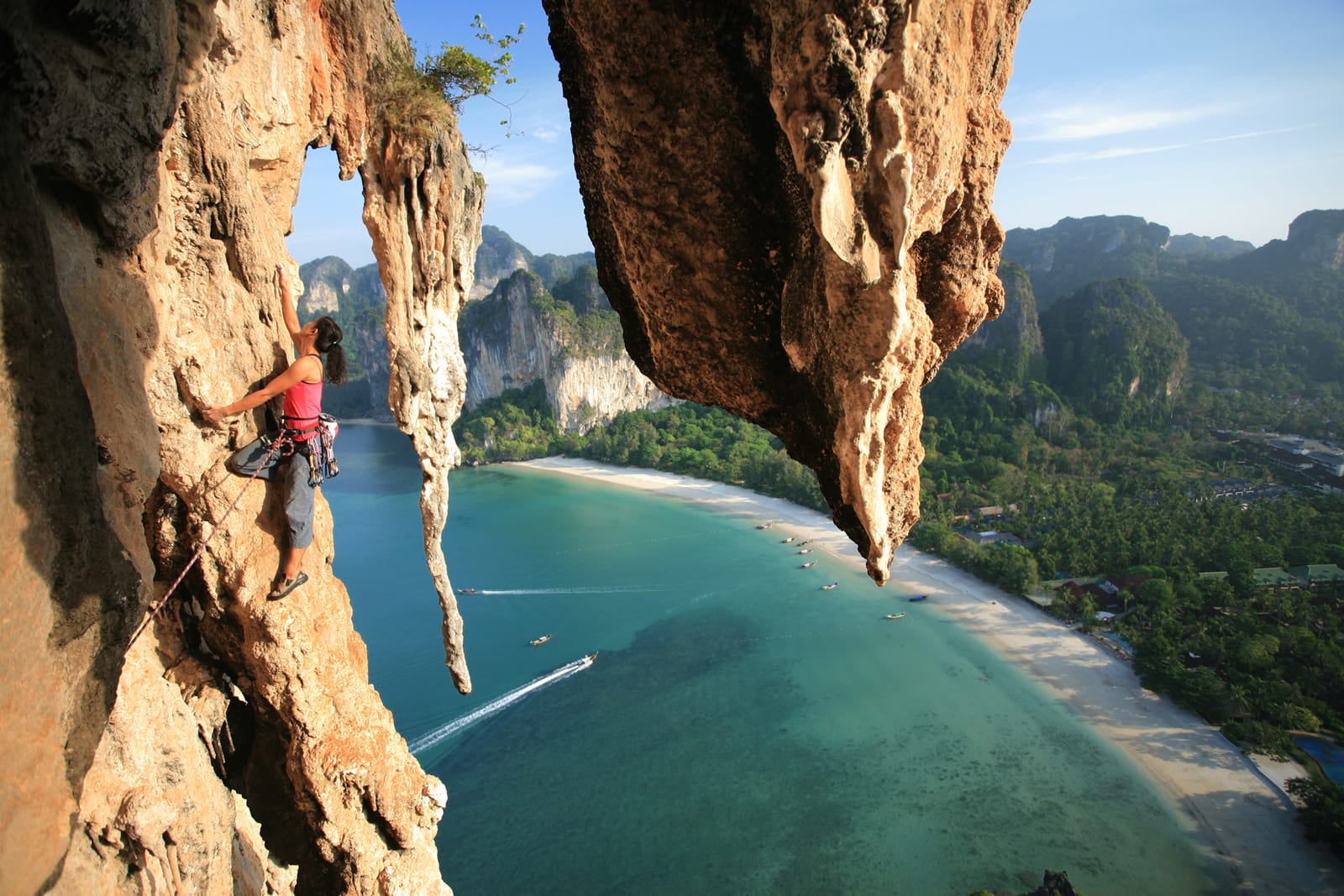 10. Island hopping
The Philippines has over 7,100 islands, Indonesia has 17,000. Combine these with all the other random islands scattered throughout Southeast Asia, and you have a shit ton of islands to live out your Robinson Crusoe adventures. Better get started now – it's going to take a while to visit them all.
Backpacker Accommodation in Southeast Asia
The most common place to stay while backpacking Southeast Asia is, of course, hostels. They're cheap, ubiquitous, and can be a helluva a lot of fun.
Never stayed in a hostel before? You're in luck!
Southeast Asia has some of the most well-known and well-regarded hostels in the world, which would impress even the most seasoned backpacker. For those, who are new to hosteling, Southeast Asia is a great place to start.
If you're going to be hitting the Banana Pancake Trail hard and for several months, you'll want to pack the right stuff with you. We all know that guy who steals towels from hostels and takes them wherever he goes; don't be that guy.
Whilst it's easier to find hostels in the well-trafficked parts of Southeast Asia, there are some real gems just slightly off the beaten path. One of the best hostels I ever stayed in was in the middle of nowhere Northern Vietnam.
I'd also like to take this moment to remind everyone that Tribal Hostel is opening at the end of 2020 in Bali! It too is slightly off the beaten path (on purpose) and will be a great way to escape the barbarous hordes of Kuta. Shameless promotion over.
As is always the case, camping would be the ultimate way to save cash while backpacking. Just make sure you take a sealed tent with you and do your best to check your site – there are some really dangerous snakes out there in the remote, jungle areas of SE Asia.
There is really never a need to stay in a hotel while backpacking Southeast Asia. If you need a private space, use Airbnb or book a local guesthouse instead.
The Best Places to Stay in Southeast Asia
Backpacking Southeast Asia Costs
Southeast Asia is the mecca for budget travel. Nowhere else on earth can you drink beer for under a dollar, find accommodation for little more than that, and eat out every day easily for under $10 USD.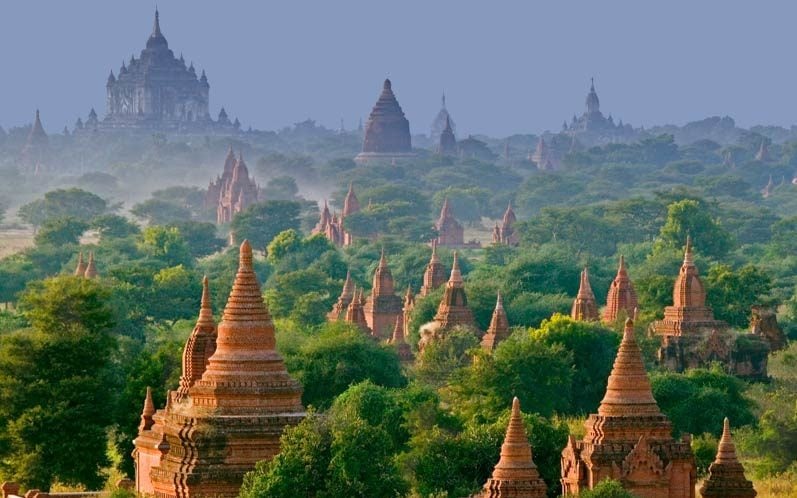 To give you an idea of the cost of backpacking Southeast Asia, here are some absolute shoestring travel budgets:
$20 – $30 / day: Vietnam, Laos, Cambodia
$25 – $35/ day: Thailand, Myanmar, Malaysia
$30 – $40 / day: Indonesia, Philippines
OR
$600 – $900 / month: Vietnam, Laos, Cambodia
$750 – $1050 / month: Thailand, Myanmar, Malaysia
$900 – $1200 / month: Indonesia, Philippines
As you can see, some countries in Southeast Asia are more expensive than others. For example, the cost of a trip to Thailand is not as dirt cheap as you might think. Generally speaking, any of the islands you visit whilst backpacking Southeast Asia will be more expensive than the mainland. Also, Singapore kind of stands as its own thing – you can expect a much higher cost of travel there than the rest of Southeast Asia.
Creating the right Southeast Asia budget for yourself is the key to a successful backpacking adventure. Traveling in Southeast Asia should never be super expensive. With a few budget travel hacks up your sleeve, you will save a ton of money and have the time of your life.
A Daily Budget in Southeast Asia
Here is a more in-depth breakdown of what you can expect to pay on a daily basis whilst backpacking Southeast Asia…
| Country | Dorm Bed | Local Meal | Bus Ride | Average Daily Cost |
| --- | --- | --- | --- | --- |
| Thailand | $4-10 | $1-3 | $2-10 | $20-50+ |
| Vietnam | $5-10 | $1-7 | $3-15 | $20-40 |
| Laos | $4-6 | $1-3 | $2.50 per hour | $20-35 |
| Cambodia | $3-8 | $1-4 | $2-7 | $20-40 |
| Myanmar | $10-20 | $2-6 | $3-10 | $20-50+ |
| Malaysia | $5-10 | $2-4 | $5-10 | $25-55 |
| Indonesia | $10-15 | $2-5 | $3-8 | $30-60 |
| The Philippines | $5-7 | $1-6 | $3-10 | $30-55+ |
See the budgets
Budget Tips for Visiting Southeast Asia
To keep your spending to an absolute minimum whilst traveling in Southeast Asia, I recommend sticking to these basic rules of budget adventuring….
Camp: With plenty of untouched beaches, forests, stunning countryside, and far-flung jungle, Southeast Asia can be a great place to pitch a tent for the night. Camping saves you money and can help you get off of the beaten path. Check out this post for a breakdown of the best tents to take backpacking.
Cook your own food: I took a small gas cooker with me to Southeast Asia and cooked a lot of my own meals whilst hitching and camping, I saved a fortune! Check out this post for info on the best backpacking stoves.
Couchsurf: Southeast Asian locals are awesome, so get to know some! Check out Couchsurfing to make some real friendships and see a country from the perspective of locals. When using Couchsurfing, be sure to send personalized messages to your potential host -make yourself stand out!
Haggle: Barter, negotiate, sit down for a tea, and philander hedonistically if necessary. A good haggling game is going to go a long way towards backpacking Southeast Asia on a budget.
Hitchhike: This is just your friendly neighborhood reminder that hitchhiking is the best, and it saves you cash!
Leave "The Bubble": Staying in the tourist bubbles always gets more expensive. Remember to leave the bubble and live the local life for truly cheap Southeast Asia travel.
To learn how to travel the world on $10 a day, check out the backpacker's bible.
Pack a travel water bottle: Save money and the planet every day! Filtered or not, a travel water bottle is always infinitely better than buying 2-3 plastic bottles a day.
Why Should You Travel to Southeast Asia with a Water Bottle?
Whilst there's a lot that we can do when it comes to traveling responsibly, reducing your plastic consumption is one of the easiest and most impactful things you can do. Don't buy one-use water bottles, don't take plastic shopping bags, and forget straws. All of this just ends up in landfill or in the ocean.
If you'd like some more tips on how to save the world, be sure to watch the video below.
When to Visit Southeast Asia
Due to the great distances involved when we are talking about ALL of Southeast Asia, the weather can really vary.
The peak tourist season in Thailand, Laos, Cambodia, and Vietnam is November to February when the weather is beautiful across the region, but there's a high chance you'll run into a ton of tourists. The really popular guesthouses fill up fast. This way you can find cheaper accommodation which is difficult to find during peak season.
The local people are a really friendly bunch and keen to help so if you have any problems don't be afraid to ask for directions from the locals. It is best to avoid northern areas of Thailand from February to April as the burning season starts and mountains will slowly be covered in smoke.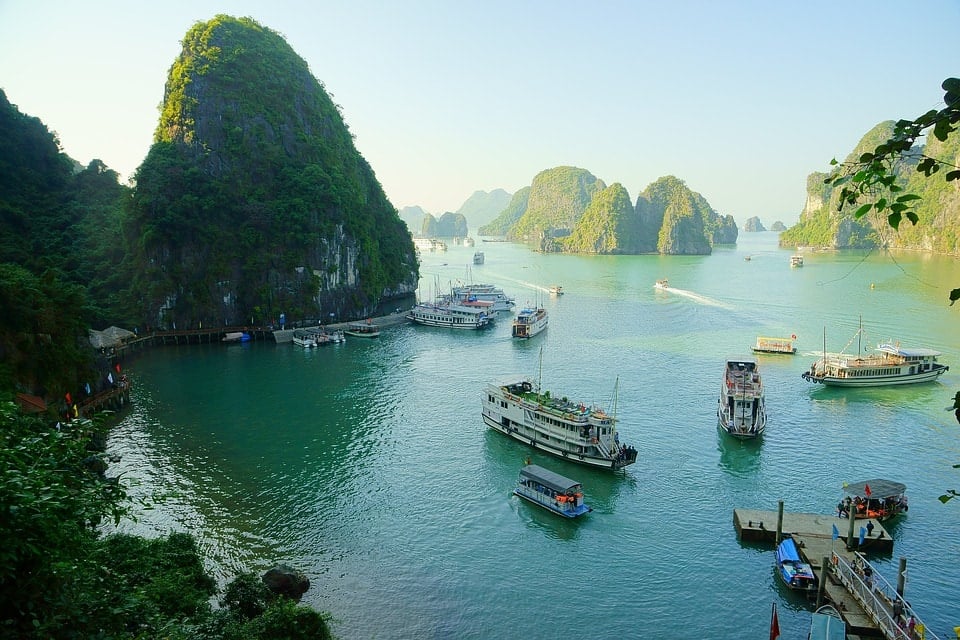 When we are talking about Indonesia for example, keep in mind that Indonesia is WAY farther south and nearer to the equator. The weather in Indonesia can be loosely applied to Malaysia as well.
Generally speaking, there are two seasons in Indonesia – the dry season and the rainy season. In most parts of the country, the dry season lasts from May to September. Of course, this is also the most popular time to visit. Consider visiting in either May or September if you want to try and avoid the massive summer crowd, especially on Bali.
Most of the rain in Indonesia falls from October to April, with some regional variations. Those looking to do some serious trekking or diving may want to try and plan a trip in the dry season. There's no need to let a little rain spoil your trip, though. Rain usually comes in quick downpours so just take a solid rain jacket; you'll still get to enjoy several hours of sunlight.
Best Time to Visit – Country Breakdown
Best Months to Travel: November-February, March-September (Southeast Coast)
What's the climate in Thailand like? 
Most of Thailand is dry and comfortable to visit from November-February. In March and April, the temps start to rise until they become horrible in June. The rains start in May.
The exception to this is the southeastern coast of Thailand (Koh Samui, Hat Yai, etc). The rains come a bit later here.
Best Months to Travel: November-April (North & South), February-July (Center)
What's the climate in Vietnam like? 
Vietnam is a weird one: the North and South have similar rainy seasons, but the center's is a bit later in the year. The absolute perfect time to visit the whole country would be in February and March.
Best Months to Travel: October-April
What's the climate in Cambodia and Laos like? 
Pretty straightforward with only two distinct seasons: a wet one and a dry one.
In the wet summer season, downpours can washout dirt roads, and the heat can be OPPRESSIVE. Be prepared for lots of lazy days of doing nothing if traveling to Cambodia or Laos during the summer season.
Best Months to Travel: October-March
What's the climate in Myanmar like? 
Typical Southeast Asia. The dry season in Myanmar actually runs until May but the temperatures at the end of the month are just WAY too much. June is unbearable to visit.
Visiting during March or October (shoulder months) are great times.
Best Months to Travel: November-February (West Coast), March-September (East Coast)
What's the climate in Malaysia like? 
Pretty hot and humid all year round but each coast has opposing rainy seasons. Stick to one coast depending on when you're visiting Malaysia.
Note the Cameron Highlands are temperate all year-round with a rainy season from September-December.
Best Months to Travel: May-September
What's the climate in Indonesia like? 
In most of the country, the wet, hot season runs from October to April. Around May, the rains start to subside, temps drop, and tourists return. Visit Indonesia in May before prices go up.
Northern parts of Indonesia, like Maluku and Raja Ampat, experience the wet season in OPPOSITE months. October-April is the best time to visit these.
Best Months to Travel: November-May
What's the climate in the Philippines like? 
Not quite as hot as continental Southeast Asia, which makes travel in April and May more viable. But June-August should definitely be avoided – this is typhoon season and storms can very dangerous. Most ferries and resorts shut down during this time.
Festivals in Southeast Asia
In addition to hedonistic parties, music festivals, and heady yoga gatherings, Southeast Asia is home to countless cultural and religious festivals. Getting the chance to be thrust right in the midst of one of these festivals is a chance to gain a deeper understanding of local people and the traditions important to their identity.
Below I have listed a few of the fantastic festivals (and totally weird) to be found throughout Southeast Asia…
Tet Nguyen Dan (Vietnam) – Tet, or Vietnamese New Year, is the most important celebration in Vietnamese culture. The word is a shortened form of Tet Nguyen Dan, which is Vietnamese for "Feast of the First Morning of the First Day"
Thaipusam Festival (Kuala Lumpur, Malaysia) – One of the world's biggest Hindu celebrations in Southeast Asia. Devout Hindus from across the region flock to KL to perform extreme acts of devotion. These acts include excessive body piercing and people who pull carts by means of embedded hooks in their skin.
Tattoo Festival at Wat Bang Phra (Thailand) – Want to get tattooed by a monk? This festival is for you. Connect with the spiritual side of the ancient art of tattooing and leave with a souvenir for life.
The Phuket Vegetarian Festival (Phuket, Thailand) – Don't let the name of this festival mislead you. On the 6th day of the festival, many attendees subject themselves to what I would term self-torture i.e. piercing their faces with painful-looking objects. These acts are intended to dispel evil spirits from the body.
Buddhist New Year – To ring in the new year, Buddhist communities throughout Southeast Asia eat, parade, and thoroughly douse each other (and you) with copious amounts of water.
Full Moon Parties (Thailand) – Love it or hate it, one of the most popular backpacker party in the world is the Full Moon Party. 20,000 people partying until sunrise on Haat Rin Beach, Koh Phangan.
The Bali Spirit Festival (Bali, Indonesia) – Massive yoga, music, and dance festival on the island of Bali. My friends who have attended this event said it was one of the best festivals of its kind that they had ever been to.
The Rainforest World Music Festival (Sarawak, Borneo, Malaysia) – Beautiful few days of traditional music on the magical island of Borneo.
What to Pack for Southeast Asia
An adventure backpacking in Southeast Asia means navigating a certain level of chaos. If this is your first backpacking trip, or even if you're a veteran, you gotta make sure you're equipped for the job! On every adventure, there are six things I never go traveling without:
Somewhere to hide your cash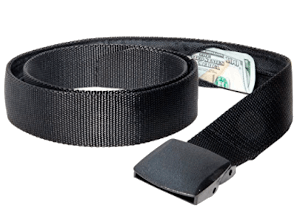 Somewhere to hide your cash
Active Roots Money Belt
This is a regular looking belt with a concealed pocket on the inside – you can hide up to twenty notes inside and wear it through airport scanners without it setting them off.
A travel water bottle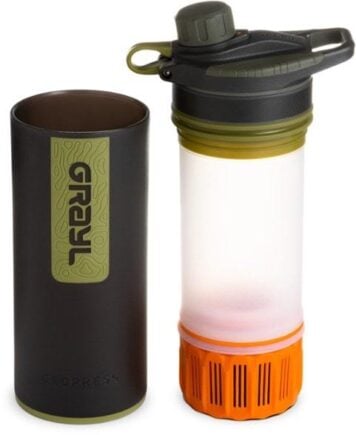 A travel water bottle
GRAYL Geopress Filtered Bottle
Having a filtered water bottle means you can drink from just about any source. The GRAYL Geopress is hands-down the most effective one we've ever used as well!
For those unexpected messes
For those unexpected messes
Active Roots Microfiber Towel
Hostel towels are scummy and take forever to dry. Microfibre towels dry quickly, are compact, lightweight, and can be used as a blanket or yoga mat if need be.
When the power goes out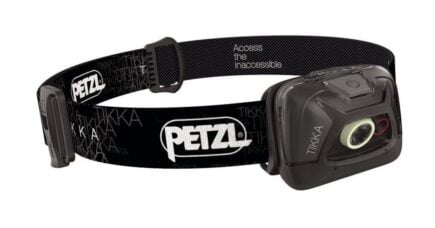 When the power goes out
Petzl Actik Core Headlamp
A decent head torch could save your life. If you want to explore caves, unlit temples, or simply find your way to the bathroom during a blackout, a headtorch is a must.
Sleep anywhere
Sleep anywhere
Active Roots Camping Hammock
Taking a tent backpacking is not always practical but hammocks are lightweight, cheap, strong, sexy (chicks dig hammocks), and allow you to pitch up for the night pretty much anywhere.
To stay a clean backpacker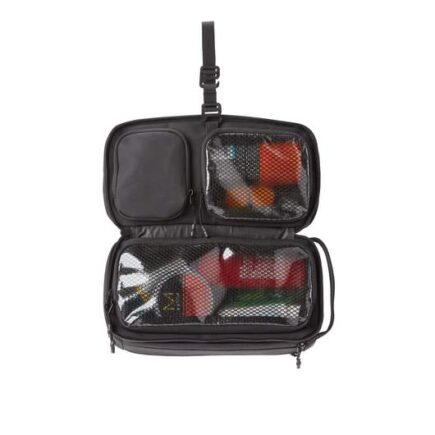 To stay a clean backpacker
Hanging Toiletry Bag
I always travel with a hanging toiletry bag as it's a super-efficient way to organize your bathroom stuff. Well worth having as it helps to have quick access to all your stuff.
For plenty more inspiration on what to pack, check out my full backpacking packing list.
Staying Safe in Southeast Asia
Is Southeast Asia Safe?
Every country on earth has a certain degree of crime and the associated shitty people. Southeast Asia is no different. Though violent attacks on backpackers are extremely rare, they can happen.
A common problem in Southeast Asian cities is the motorcycle bag snatch. Two dudes roll up on a motorbike and grab your purse or day bag and they ride off into the night (or day). I have heard reports of this gig being particularly rampant in the touristic areas of Phnom Penh.
Keep an eye on your stuff, especially when you are in the big cities and crowded bus stations. Be smart hiding your valuables and money when travelling and things will be chill. In general, Southeast Asia is one of the safest places in the world to go backpacking, so fear not!
Wear a helmet when you hop on a motorbike in Asia. Despite being an experienced driver, I've had a total of three crashes in Southeast Asia over the last ten years. On the one occasion, I wasn't wearing a helmet, I split my head open and had to go to the hospital. The local people are sick of scraping foreigners off the road and, trust me, you don't look cool for not wearing a helmet.
To stay safe, every backpacker should follow the common-sense rules of safe backpacking.  In general, being out late, drunk, and alone is a recipe for trouble anywhere in the world. If ever you run into the very rare hold-up situation give them what they want and don't resist. Your iPhone and wallet are never worth dying over, ever!
Check out our in-depth safety guides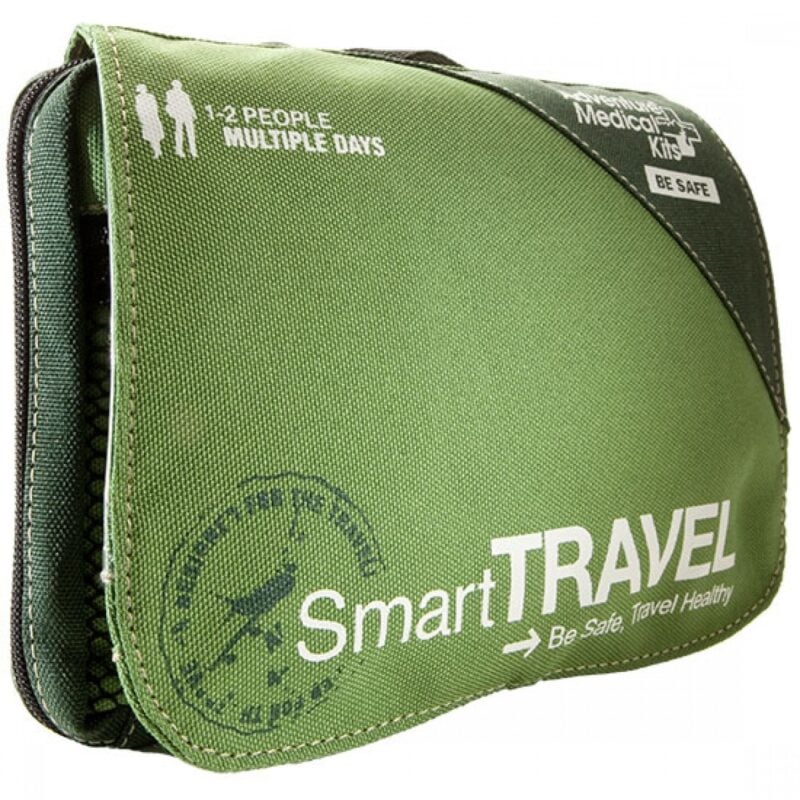 Be prepared for what life throws at you on the road. Pick up an AMK Travel Medical Kit before you head out on your next adventure.
View on REI View on Amazon
Sex, Drugs, and Rock n' Roll in Southeast Asia
Humans are humans; treat people you meet along the way with the same respect you would show your friends and family back home. You are not superior to anyone including the girls/guys walking the streets. Sex workers in Southeast Asia are people like you and me; they may enjoy what they do, or they may be on the darker side of it.
Regardless of your beliefs and thoughts on prostitution, remember this is another person with thoughts, feelings and a life outside of the sex industry too. You are not superior to these people, you just happen to be from a more privileged background.
Go to Asia and have the time of your life, do the things you've dreamed of but be respectful along the way. Traveling the world makes you an ambassador for your country, which is awesome. We can make a positive impact on people when we travel and get rid of any ugly stereotypes that may be associated with your country…
Staying Healthy in Southeast Asia
Being the jungle and all, there are a number of infectious diseases that you should be vaccinated against. Make sure you're up-to-date on your Hep A, B, colera, typhoid, polio, and other standard travel vaccines.
Rabies is not necessary but I always recommend getting a full immunization. Doing so means you only need to get a booster if potentially exposed, as opposed to a very painful shot in the belly. You DON'T want to take rabies lightly either – it's nasty stuff.
Malaria tablets and a Japanese encephalitis shot may also be necessary depending on where you're visiting in Southeast Asia. Japanese encephalitis is mostly prevalent in rural, agricultural areas where there is a lot of livestock. I am NOT a medical expert though so you should definitely consult a doctor about whether or not you need these.
It's also definitely worth noting that in most places in Southeast Asia, the water isn't fit for Western constitutions. Don't be a giardia-ridden joker, and don't be a plastic-using ponce. Be a savvy backpacker and pick yourself up a filtered water bottle!
Travel Insurance for Southeast Asia
Traveling without insurance would be risky so do consider getting good backpacker insurance sorted before you head off on an adventure.
I have been using World Nomads for some time now and made a few claims over the years. They're easy to use, professional and relatively affordable. They may also let you buy or extend a policy once you've started your trip and are already abroad which is super handy.
If there's one insurance company I trust, it's World Nomads. To find out why I use World Nomads, check out my World Nomads Insurance review.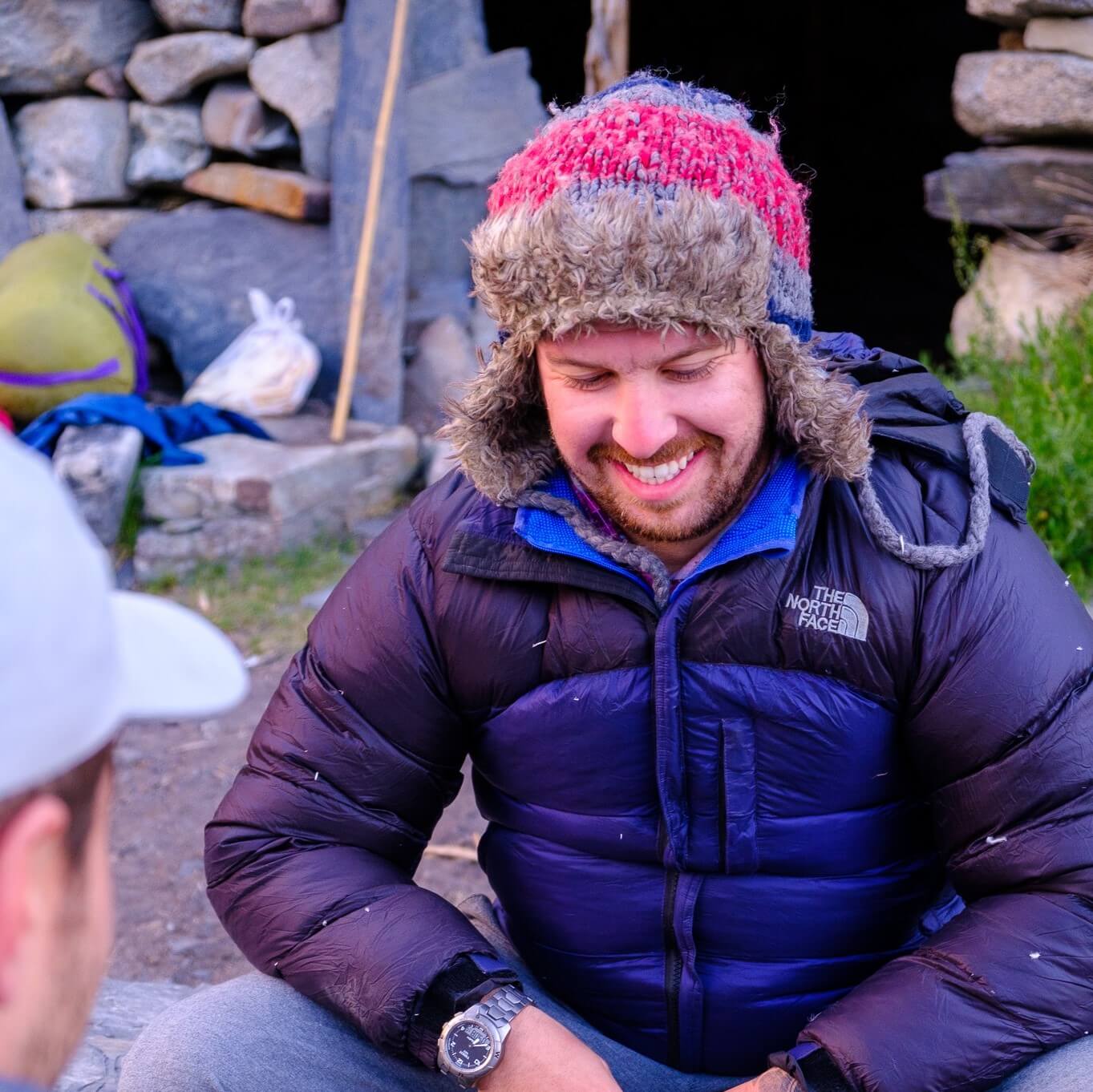 A message from Will, the OG Broke Backpacker
"Once upon a time, I almost lost my leg in a sweltering jungle… 
I battled a seriously nasty infection that snaked up past my knee and by the time I made it to a local hospital they wanted to amputate. I was delirious, unable to walk, and in a lot of pain but I managed to call my insurance provider – they moved me to a much better private hospital where the doctors were able to save my leg.  
I wracked up $15,000 in hospital bills, but these were completely covered by my travel insurance. Luckily, I still have my leg today, and whilst it is permanently damaged, I'm grateful every day it's still attached!
Moral of the story: consider getting travel insurance before you head out into the wilds, people!"
Traveling to Southeast Asia – Get In
As I said before Bangkok and Kuala Lumpur are Southeast Asia's two main international hubs; most backpackers start their journeys visiting and staying in either Kuala Lumpur or Bangkok for a spell. Budget flights throughout the region will almost certainly having you passing through one of those airports. If you are looking to do the classic Southeast Asia Loop or the Banana Pancake Trail, then starting off in Bangkok is the obvious choice. Flights into Vietnam through Hanoi and Ho Chi Minh City are getting increasingly less expensive as well, so keep an eye out if the prices keep falling.
Once you are in Bangkok or KL you can easily catch a budget flight to another country nearby if your plan is to go there. I suggest trying to book your local flights within Southeast Asia as far in advance (not too far) as possible. I know this can be difficult at times as plans change, but hey, if you book in advance it will be cheaper.
Visas and Entry Requirements for Southeast Asian Countries
Traveling to Southeast Asia During COVID Times
The Southeast Asian countries were among the first to shut their borders when the COVID pandemic hit. Since then, some countries have began reopening to tourists; others remain shut.
Thailand, Cambodia, and Vietnam have slowly begun to resume international flights and allow foreigners back into the country. Indonesia, the Philippines, Malaysia, and the rest remained closed. Even among those that are starting to reopen, "travel bubbles" within Southeast Asia are being formed, which only allows relatively free movement within themselves.
No Southeast country has returned to pre-COVID travel status. Every single one has different travel restrictions in place as well. If you're planning on backpacking in Southeast Asia while the coronavirus is still present, you'll need to do thorough research beforehand.
Need to travel Southeast Asia on the cheap?
Use Bookaway to find the best deals on bus, plane, train, and ferry tickets. 
It's easy to use and saves you time and money. Once you've arrived, why not use what you've saved to treat yourself to a cold beer and a bite to eat?
Book your transport on Bookaway now to guarantee your seat and for the right price.
How to Get Around Southeast Asia
The most popular and rewarding way of independent travel in Southeast Asia is to rent or buy a motorbike. It also helps if you can rent for longer periods of time. Most shops in Bali charge around $5 a day for a motorbike, but I was able to rent one for only $50 a month!
With a full tank of gas costing only around $1, you can cover a lot of ground without burning a hole in your wallet if you've got a long-term motorbike rental. Pair this with a proper motorcycle tent, and you'll hardly ever spend a dime!
Hitchhiking in Southeast Asia
Hitchhiking should not prove to be too difficult and in some countries, it is fairly easy to get picked up. You have to be persistent and make sure the locals understand where you need to go or you will end up getting dropped at a bus station. Check out our Hitchhiking 101 Guide for more info on the nitty-gritty nuances of hitchiking around the world.
Some locals decide to turn their car into a taxi cab the minute they spot a foreigner on the highway. I would never assume that the ride is free initially. Always ask to avoid having an awkward scenario in which the driver who picked you up is demanding an unexpected fee.
Due to the large number of backpackers riding motorbikes across Southeast Asia, it is possible and even easy to score a ride with some fellow travelers. Generally, hitchhiking in Southeast Asia is safe, though you still have to be smart and use good judgment.
Onwards Travel from Southeast Asia
Whether you are heading home or carrying on traveling, budget international flights are your best bet. Again Bangkok or KL is where you will find the lowest prices. You can even find ridiculously cheap flights to places like India, Australia, and New Zealand from Southeast Asia if you are continuing your travels there.
Many backpackers pop over to Australia or New Zealand for 6 months to a year on a working holiday visa, make some cash, and come right back to Southeast Asia for a second round of backpacking escapades.
Working and Living in Southeast Asia
Southeast Asia is THE most popular place for digital nomads to base themselves. Places like Chiang Mai, Bangkok, and Bali are thriving nomad hubs that attract people from all over the world. Kuala Lumpur and many large Vietnamese cities are quickly following suit.
Southeast Asia is a paradise for remote workers for many reasons:
The cost of living is very low.
Internet is ubiquitous and reliable.
Expat communities are strong.
Local economies are booming.
Visas relatively easy to organize.
Conferences and events are frequently organized.
There's a lot to do in your free time.
If you're a digital nomad, or even someone who wants to give the lifestyle a try, you can't go wrong living in Southeast Asia.
Teaching English is another way of living or extending your trip in Southeast Asia and people have been doing this for a long time. Though you won't always need one, having a TEFL certificate will increase your chances of scoring a gig.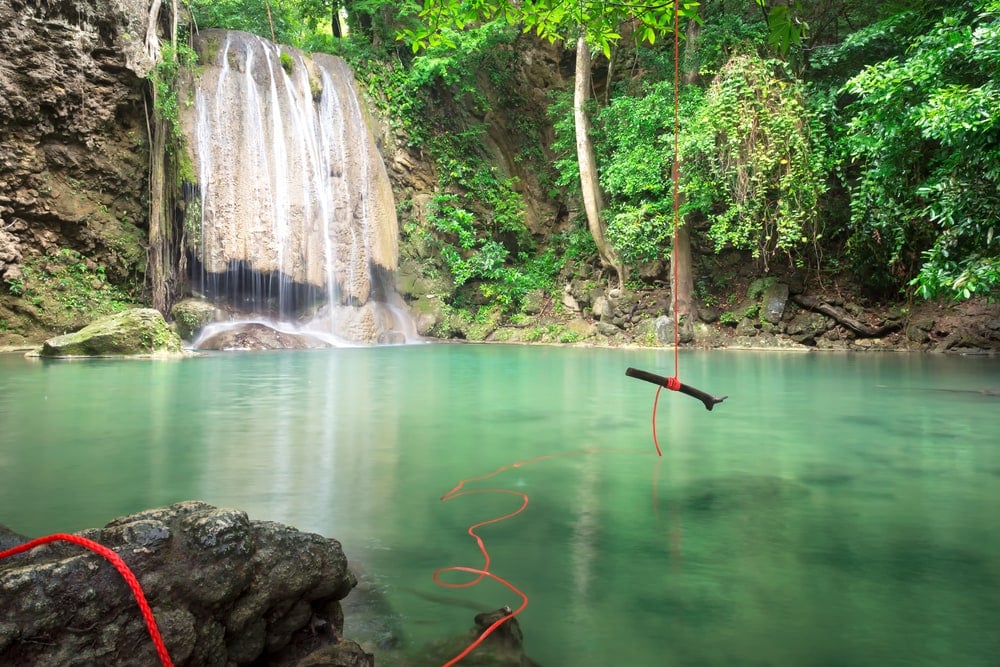 We suggest using MyTEFL to get accredited. Broke Backpacker readers get a 35% discount on TEFL courses with MyTEFL (simply enter the code BACKPKR).
For more information, read our in-depth report on teaching English abroad.
Make Money Online whilst Backpacking Southeast Asia
Keen to live the digital nomad dream while traveling the world?
Who the hell isn't?
Teaching English online is a great way to earn a consistent income on the road. Depending on your qualifications, you can work remotely from your laptop and make a positive impact on the world! It's a win-win!
Check out this detailed article for everything you need to know to start teaching English online.
Volunteer in Southeast Asia
Volunteering abroad is an amazing way to experience a culture whilst helping your host community. There are plenty of different volunteer projects in Southeast Asia including teaching, construction, agriculture and pretty much anything.
There are so many different volunteer opportunities in Southeast Asia to suit any skill set. You could support communities doing social work in Vietnam, help out on farms in Thailand, teach English in Cambodia, or volunteer in a hostel in Myanmar. Other opportunities include bartending, doing community work, and web development. Short-term volunteers should apply for a tourist visa before arriving, but you'll need the appropriate permit to stay longer depending on what country you're in. 
If you want to find volunteering opportunities in Southeast Asia, then we recommend that you Signup for Worldpackers –  a volunteer platform that connects local hosts directly with traveling volunteers. As a Broke Backpacker reader, you'll also get a special discount of $10 when you sign up. Just use the discount code BROKEBACKPACKER and your membership is discounted from $49 a year to only $39.
Volunteer programs run through reputable work exchange programs like Worldpackers are usually very well-managed and reputable. However, whenever you are volunteering, do stay vigilant especially when working with animals or children.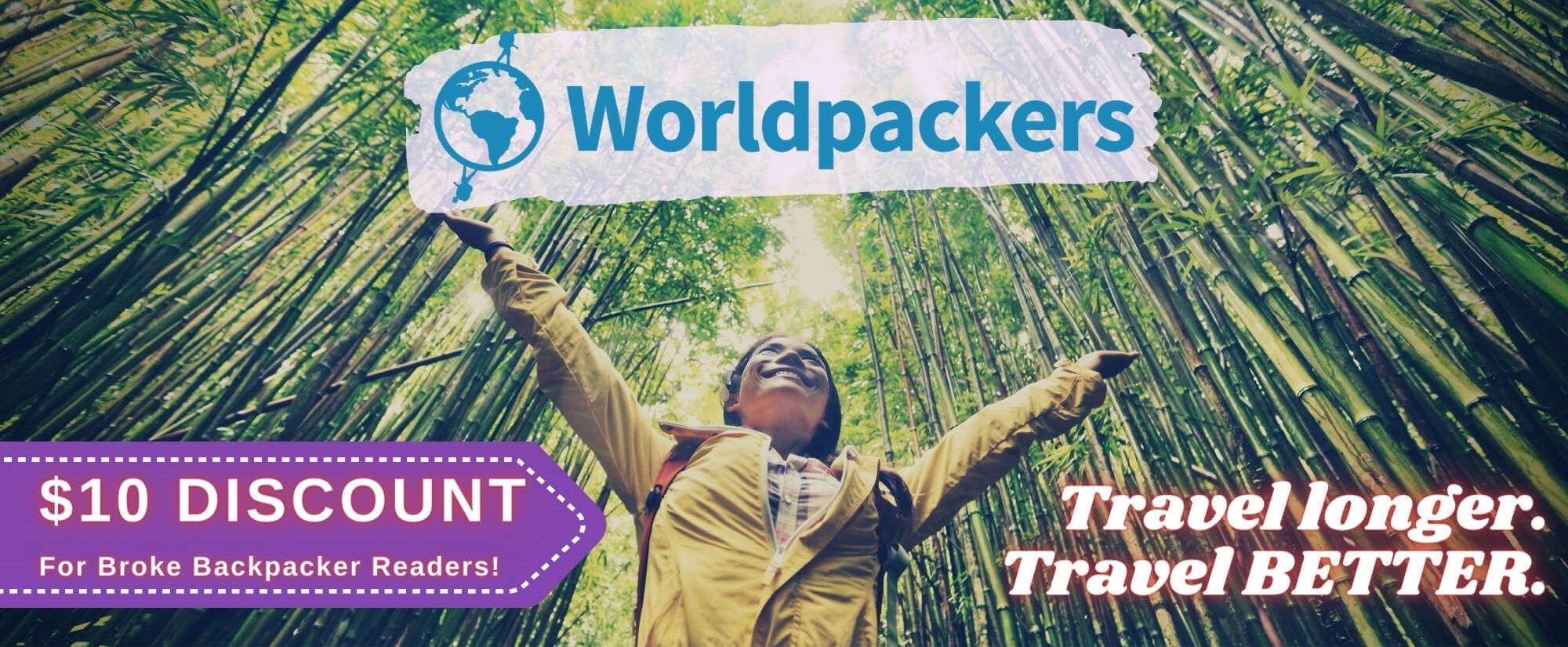 Worldpackers: connecting travellers with meaningful travel experiences.
What to Eat in Southeast Asia
There are people who go backpacking in Southeast Asia just for the food. For good reason to: it's fantastic! More than just delicious, it's also cheap and hugely varied depending on where you are.
You can definitely expect a lot of rice, noodles, and curry in Southeast Asia. Luckily though, no two of these are ever the same. For example, noodles in Vietnam are traditionally served in a broth (pho being the most famous). Thailand, on the other hand, usually prefers dry noodles.
This is just the tip of the gastronomic iceberg that is food in Southeast Asia and honestly, it's really difficult to lump everything into one category. I will simply say that countries like Malaysia, Singapore, and Thailand consistently rank among the most delicious in the world, every year.
Because of its tropical climate, the fruit in Southeast Asia is also ridiculously good. Borneo is practically the Garden of Eden where just about everything grows, and the local markets in all the major cities have incredible selections to choose from. Be prepared to eat lots of fruit on your backpacking trip, especially bananas when served with pancakes.
I definitely recommend eating at the local markets and street food stalls. The prices are super low and the food is just as good as anything you'd find in a restaurant. Just keep on an eye out for sanitation – make sure the food is fresh and things look clean (enough).
The Best Food in Southeast Asia
Below is a list of some of the most well-known dishes in Southeast Asia:
Banh Mi Thit (Vietnam) – The best sandwich in Asia.
Pho (Vietnam) – Noodles served in broth w/ extras.
Pad Thai (Thailand) – Dry noodles w/ peanut sauce and chilis.
Tom Yung Goong (Thailand) – Soup made with lemongrass, herbs, and shrimp.
Satay (Malaysia, Indonesia) – Grilled meat skewers.
Fish Amok (Cambodia) – Spicy fish coconut curry served in a banana leaf
Burmese Curry (Myanmar) – Local take on the dish that is famously good.
Shan-style noodles (Myanmar) – Thin-sliced, flat noodles.
Nasi Goreng (Indonesia) – Fried rice.
Chili crab (Singapore) – Singapore's claim to fame.
Larb/Laap (Laos, Cambodia) – Beef salad with lots of seasoning.
Tam Mak Houng (Laos) – Spicy green papaya salad.
Southeast Asian Culture
Ask the average joe what they know about the history of Southeast Asia and most will be able to think as far back as the Vietnam War, maybe the Japanese occupation of Thailand. Beyond that, Southeast Asia is kind of a mystery.
But the history of Southeast Asia is long, complex, varied, and extremely fascinating. Before the Europeans arrived – the French in Vietnam, English in Burma, and Dutch in Indonesia – there were great kingdoms: the Toungoo, Khmer, and Malaca Sultanate, to name a few. Through these channels, Buddhism, Islam, trade, and science all flowed.
It is quite difficult to talk about "Southeast Asian Culture" because it would be a generalization; there's just so many different aspects.
What travelers SHOULD know about Southeast Asia is that it is in fact way deeper than it seems. Thanks to a long history of colonization that dates back before the Europeans – Indians, Arabs, and the East Asians all settled in SE Asia – the region is enormously diverse. Food, religion, politics, customs, all of the things that SE Asia does so well, come in part from external sources.
Of course, the colors of people's personalities also changes from country to country. Thais are legendarily nice (and open to just about anything). Malaysians are incredibly diverse ethnically and thus incredibly tolerable. Cambodians are the most laidback people in Southeast Asia by far. All of these traits become more obvious as you spend time in each country.
Don't stay on the established Southeast Asian backpacking route if you want to get to know the locals. Koh San Road, Hanoi's Beer Street, Kuta, and all the other tourist hotspots are poot representations of the culture. The real Southeast Asia is found at the plastic tables on the street, inside the bike repair shops, and in the dusty corners of the region.
Best Books to Read While Backpacking Southeast Asia
These are some of my favorite travel reads and books set in Southeast Asia which you should consider picking up before you begin your Southeast Asia trip…
First They Killed My Father: From a childhood survivor of the Cambodian genocide under the regime of Pol Pot, this is a riveting narrative of war crimes and desperate actions, the unnerving strength of a small girl and her family, and their triumph of spirit.
Dispatches: Michael Herr's unsparing, unorthodox retellings of the day-to-day events during the Vietnam War take on the force of poetry, rendering clarity from one of the most incomprehensible and nightmarish events of our time. Surreal, terrifying, one of the best books on the war ever.
The Beach: We have all seen the movie. This classic backpacker epic is even better in print.
Catfish and Mandala: Catfish and Mandala is the story of an American odyssey—a solo bicycle voyage around the Pacific Rim to Vietnam—made by a young Vietnamese-American man in pursuit of both his adopted homeland and his forsaken fatherland.
The River of Lost Footsteps: What do we really know about Burma and its history? And what can Burma's past tell us about its present and even its future? For nearly two decades Western governments and a growing activist community have been frustrated in their attempts to bring about a freer and more democratic Burma (through sanctions and tourist boycotts?) only to see an apparent slide toward even harsher dictatorship.
Burma Days: George Orwell (1984) draws on his years of experience in India to tell this story of the waning days of British imperialism. A handful of Englishmen living in a settlement in Burma congregate in the European Club, drink whiskey, and argue over an impending order to admit a token Asian.
Grab your copy of the Backpacker Bible for Free!
Learn how to travel the world for less than $10 per day with the Backpacker Bible!
This book is the culmination of over 10 years of travel and living on a shoestring budget. It's full of valuable insider hacks that will help you unlock your full potential as a traveller.
It's also FREE at the moment! All you need to do is click the button below, provide the necessary information, and you'll be emailed the ebook.
I want it!
Must-Try Experiences in Southeast Asia
Trekking in Southeast Asia
Each country in Southeast Asia offers up trekking experiences that will stay with you for the rest of your life. Whether you prefer guided or independent trekking, there is ample hiking on hand for every backpacker to enjoy. Pack yourself the right adventure gear, and go do something crazy!
Taman Negara, Malaysia: Explore the oldest rainforest in the world and spend the night in a bungalow in the jungle (for free).
Kibungan Circuit, Philippines: A three-mountain circuit in the town of Kibungan in Benguet. The circuit, which takes anywhere from two to three days to complete, spans across the mountains of Tagpaya, Oten, and Tagpew.
Shan State, Myanmar: Shan state is a popular place to go trekking and there are some great hikes to be had around Kachin state as well. You will likely encounter no other travelers whilst trekking here.
Phongsali, Laos: If you want to get off-the-grid and go trekking in Laos, I recommend making the long journey to the northern town of Phongsali. Though tough to reach, it's equally rewarding for trekkers. While there isn't much to do in the actual town, there are plenty of opportunities to visit remote hill tribes through the Provincial Tourism Office.
Ring of Fire, Indonesia: While the beautiful beaches in Indonesia may be the major draw for tourists, there are also plenty of opportunities for adventures on land. Located in the Ring of Fire, Indonesia is home to well over 100 volcanoes. Trekking to the summit of some of these volcanoes is one experience you won't want to miss when backpacking Indonesia. In addition to the aforementioned Mt. Bromo and Mt. Rinjani, you can also scale Mt. Agung on Bali or Mt. Egon on Flores.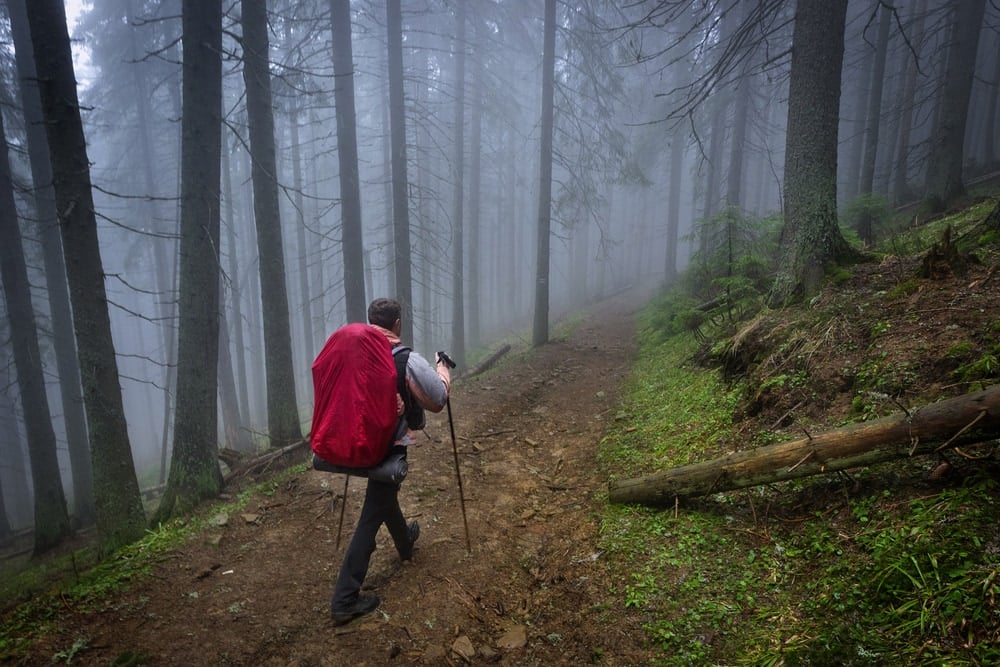 Scuba Diving in Southeast Asia
If you have been paying attention, you should be aware now that Southeast Asia is fucking paradise when it comes to scuba diving. Without a doubt, Southeast Asia is the cheapest place in the world to become a certified diver. That fact coupled with some of the best dive sites in the world make scuba diving a no-brainer whilst you are backpacking Southeast Asia.
If you want to go diving in Thailand, go for it! Though I must reinforce how great the diving is in Malaysia and Indonesia. The reef systems are in better shape and you won't have to contend with backpacker hordes (usually). The choice is up to you!
Check out our post on the best places to go diving in Bali for just a sample of the spectacular underwater sightseeing to be found in Southeast Asia.
Want to save the world?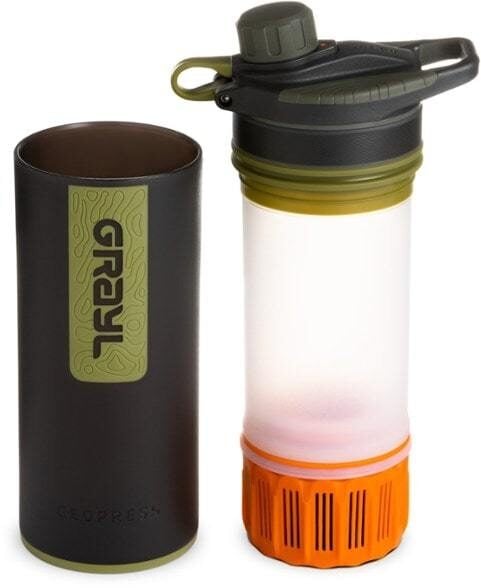 Single-use plastic bottles are a huge threat to Marine Life – Be a part of the solution and travel with a filter water bottle.
The GRAYL GEOPRESS water bottle is the ONLY all-in-one filter water bottle setup you'll need. Whether you need to purify the water from a hostel sink in Kathmandu or a stream trickle in the Andes, the Geopress has got you covered.
Read our full review of the GRAYL GEOPRESS!
Scuba Dive Southeast Asia on a Liveaboard Trip
Ok so there is scuba diving and then there is scuba diving on a liveaboard trip.
If you love scuba diving and want to spend a week or more on a boat exploring remote parts of Southeast Asia then a liveaboard trip might be perfect for you.
I honestly can't think of a better way to spend a week: diving by day, chilling on the boat at night. Of course, delicious food is served up round the clock too.
Sounds pretty god damned dreamy to me…
For more country-specific information for Liveaboard scuba diving trips in Southeast Asia check out these links:
Or read this guide on the best Liveaboard trips around the globe!
Surfing in Southeast Asia
Whilst it is possible to go surfing in a handful of other countries, Indonesia is hands down the surfing capital of Southeast Asia. If you are a beginner, Indonesia is a great place to learn. There are many surf schools and rental shops just waiting to get you into some surf.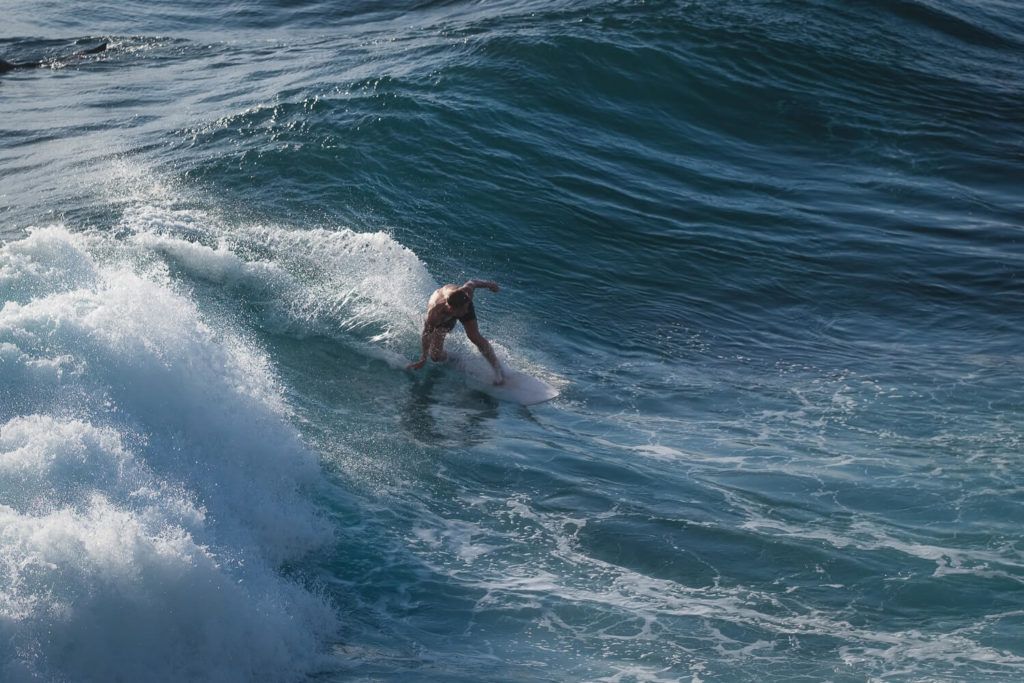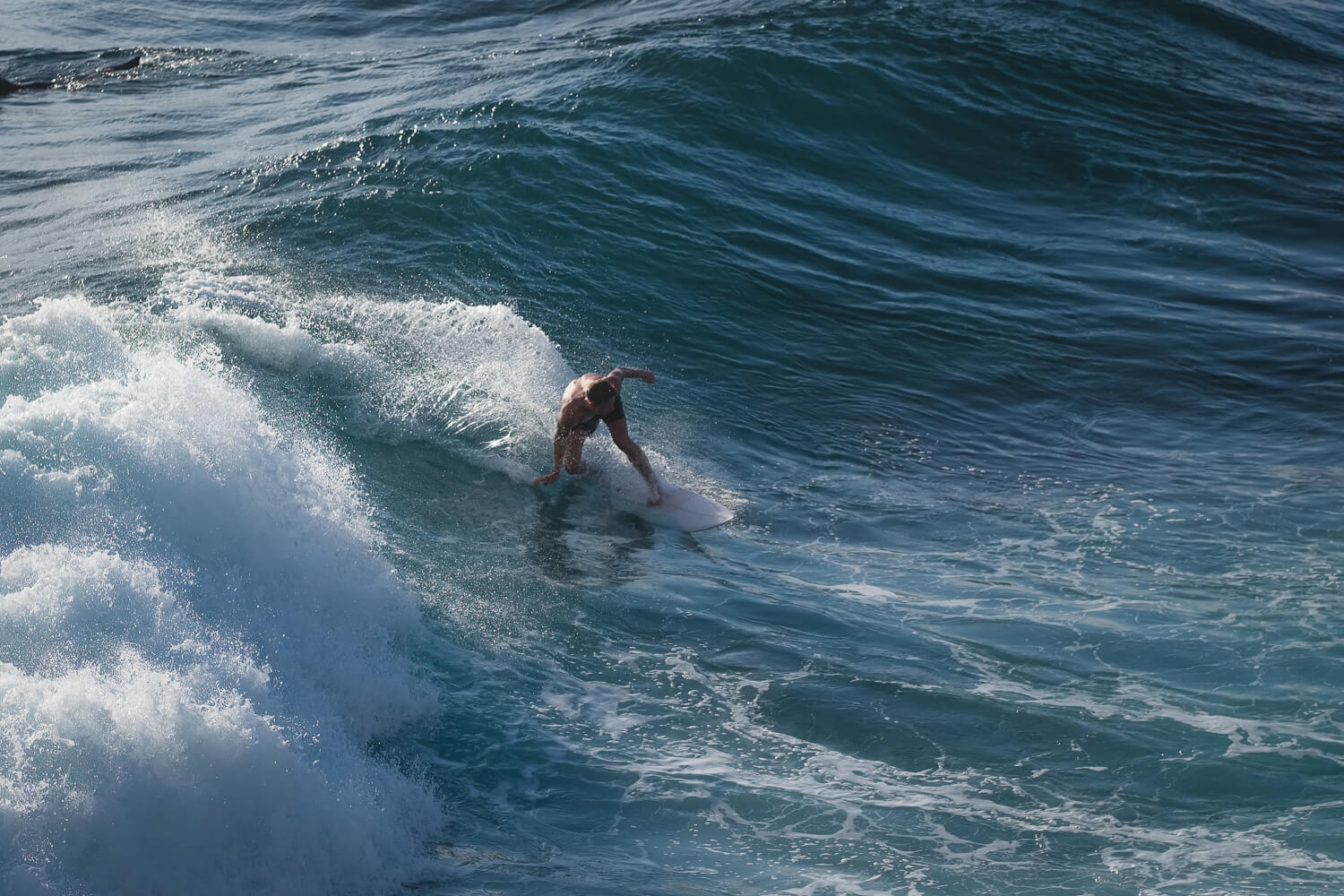 Best time to surf in Indonesia is during the dry season, which usually lasts between April and October. This is when consistent Indian Ocean groundswells hit the islands and the south and southwest coasts receive strong offshore winds.
The wet season is also referred to as the off-season. Between November and March, swells are less consistent. However, this is when many east coast breaks begin to fire. Plus, the off-season is less crowded.
Here is a list of some of the best surf breaks around the island of Bali:
Uluwatu – A world-class left-hand reef break that rarely goes flat, Uluwatu is one of Bali's iconic waves. There's endless swell in Uluwatu and heaps of other stuff to do for the non-surfers as well!
Canggu – Northwest of Kuta, Canggu is a beautiful place to go with a fun surf spot for all levels of surfers. Be advised that there are no lifeguards patrolling the beach.
Tuban – When Kuta Beach is packed, you can go surfing in Tuban, where the airport runway separates the two famous breaks known as Airports Left and Airports Right.
Bingin – Super hollow and shallow, Bingin works best at high tide and is recommended for advanced surfers.
Balangan – The long grinding waves of this left-hand reef break are more suitable for intermediate surfers.
Dreamland – A famous A-frame beach break that offers some fun rides that are just great if you wish to learn how to get barreled.
Joining an Organized Tour in Southeast Asia
For most countries, Southeast Asia included, solo travel is the name of the game. That said, if you are short on time, energy, or just want to be part of an awesome group of travelers you can opt to join an organized tour. Joining a tour is a great way to see a majority of the country quickly and without the effort that goes into planning a backpacking trip. However—not all tour operators are created equal—that is for sure.
G Adventures is a solid down-to-earth tour company catering to backpackers just like you, and their prices and itineraries reflect the interests of the backpacker crowd. You can score some pretty sweet deals on epic trips in Southeast Asia for a fraction of the price of what other tour operators charge.
Check out some of their awesome itineraries for Southeast Asia here.
Final Thoughts – Being a Responsible Backpacker in Southeast Asia
Writing your name in black marker on temples, chugging Chang beer while shirtless, swearing loudly and visiting unethical animal attractions? You, Sir, are a twat.
Luckily, most backpackers don't fall into this category but, when you're out and about and have had a few too many drinks, it can be easy to embarrass yourself.  It's easy to get carried away in South East Asia, everything is so damn cheap and so much fun.
By no means am I telling you not to drink, smoke, and party. Do it and love it. Just don't get so drunk you turn into an imbecile your mum would be ashamed of. If you can't handle drinking buckets, then stick to beer.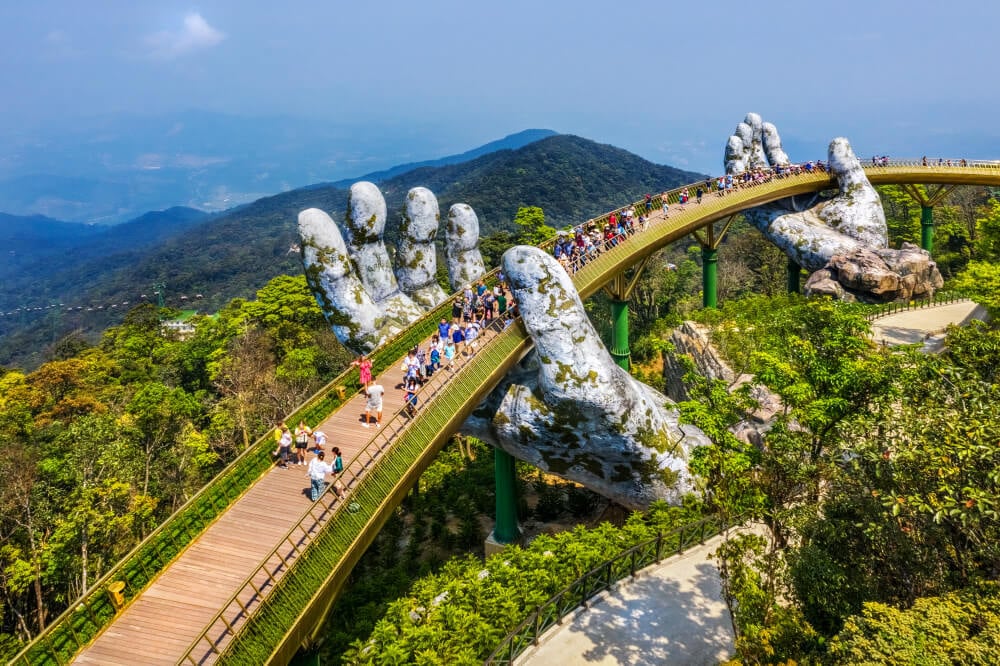 If you want to see Elephants, then go and see them but do your research first. Look up ethical animal sanctuaries such as The Elephant Jungle Sanctuary in Chiang Mai, who treat and care for animals properly.
Well amigos, there you have it. You are now fully prepared to have the adventure of a lifetime backpacking through Southeast Asia. I hope this guide has been helpful for you as you come to terms with your journey. Until we meet again, have one hell of a trip and enjoy every second of your time traveling through this magical backpacker heaven!
---
Find out how YOU can support the site.
We're a big site with a big team and this job isn't always easy. But we do it because we love it – we love providing epic and free content. We love the knowledge that our content keeps you adventuring. We don't ask for money, but if you'd like to find out how you can help the site in more organic ways, click the button below.
Thank you for your support 🙂
And for transparency's sake, please know that some of the links in our content are affiliate links. That means that if you book your accommodation, buy your gear, or sort your insurance through our link, we earn a small commission (at no extra cost to you). That said, we only link to the gear we trust and never recommend services we don't believe are up to scratch. Again, thank you!