Travel
9 Best Travel Toiletry Bags (for Your Next Trip in 2022)
Every single thing you pack should have a purpose (multiple ones at that), and having the BEST travel toiletry bag is essential for keeping your travel toiletries together.
Traveling efficiently starts with how you pack before your trip. While a travel toiletry bag might be an afterthought, true travelers know the key to packing is organization and functionality. You want to pack the essentials without packing too much.
Once you nail down your goldilocks-size packing list, you are on the road to success. Whether you're backpacking around the world or traveling for a weekend, a travel toiletry pouch is going to come in handy; after all, you obviously (we hope) be traveling with toiletries.
Whether you're in search of a bag that has more pockets than you can count, a slim and discrete toiletry kit, a clear makeup bag, or a rugged waterproof protector, we have got you covered in our reviews below!
After years of traveling, we know there is no such thing as a one-size-fits-all, and that's why we have several different styles included in this review.
Check out our list and reviews on the best travel toiletry bags. Which one will be right for you?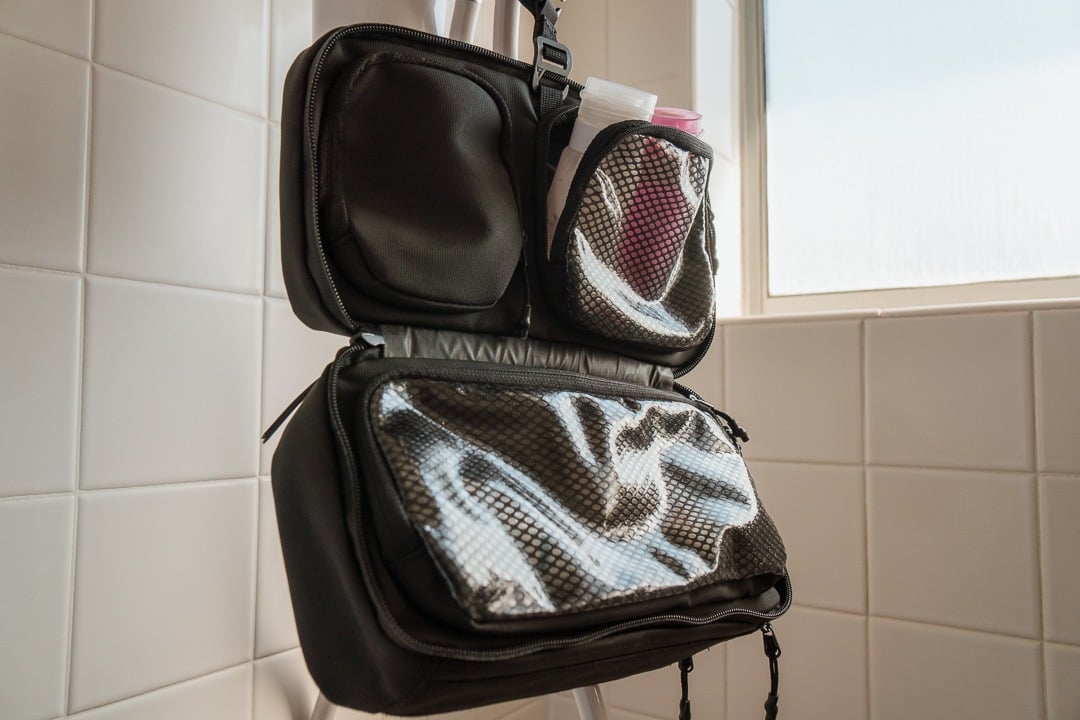 Quick Answer: What is the BEST Travel Toiletry Bag for You?
TOP PICK FOR THE BEST OVERALL TRAVEL TOILETRY BAG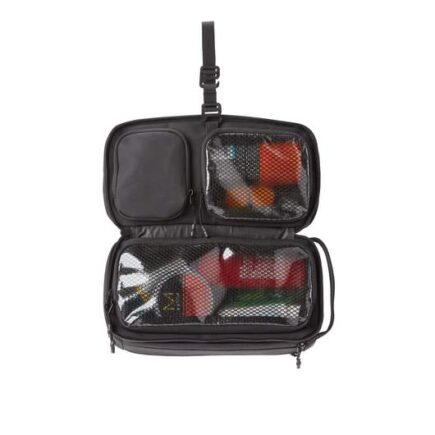 TOP PICK FOR THE BEST OVERALL TRAVEL TOILETRY BAG
Nomatic Toiletry Bag 2.0
Feature Highlights > Water and stain resistant
> Toothbrush pocket
2nd Pick FOR THE BEST OVERALL TRAVEL TOILETRY BAG
2nd Pick FOR THE BEST OVERALL TRAVEL TOILETRY BAG
REI Co-op Shower Roll – Small
Feature Highlights > Made of light, durable ripstop nylon
> Detachable clear pouch
> Detachable mirror
>
BEST TRAVEL TOILETRY BAG FOR ORGANIZATION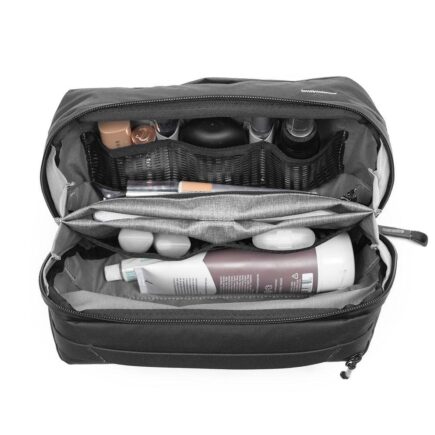 BEST TRAVEL TOILETRY BAG FOR ORGANIZATION
Peak Design Wash Bag
Feature Highlights > Made of light, durable, water-resistant material
> Great for organization
> Thoughtful design
MOST LIGHTWEIGHT TOILETRY BAG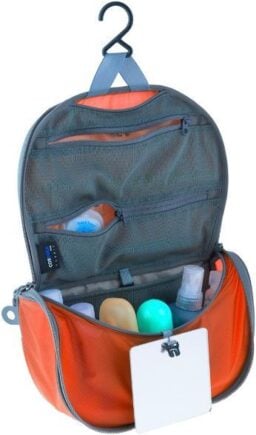 MOST LIGHTWEIGHT TOILETRY BAG
Sea to Summit Travel Bag
Feature Highlights > Super lightweight
> Plenty of pockets
> Has a hanger
MOUST RUGGED TOILETRY BAG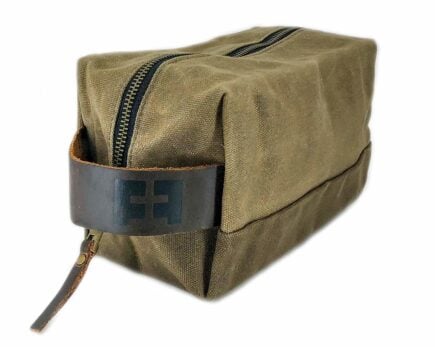 MOUST RUGGED TOILETRY BAG
Fat Felt Dopp Kit
Feature Highlights > Excellent Craftmanship
> Versatile
> Durable
BEST LUXURY TOILETRY BAG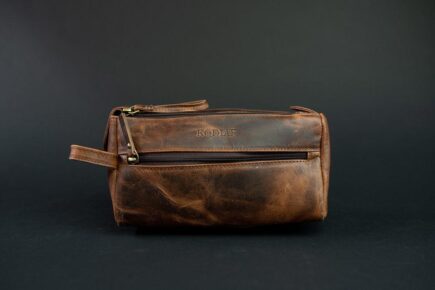 BEST LUXURY TOILETRY BAG
Kodiak Toiletry Bag
Feature Highlights > Brown Leather
> Simple Design
> Quality Materials
Why Use a Toiletry Bag for Travel?
A toiletry kit acts as a portable bathroom cabinet for your essential toiletries – shampoo, soap, deodorant, dental care, etc.
In many cases, these are just the basics, and you may also need to carry and organize your sunscreen, repellent, medication, and more.
We've likely all been there: the moment after you realize your travel toiletries have exploded in your suitcase… Well, a toiletry kit is your solution. A travel toiletry bag will help you organize all of your liquids and minimize exploding suitcase scenarios.
Organization is absolutely essential when you are living out of a suitcase. From compact to large toiletry bags to hanging travel bags, you'll soon find the one that works best for you.
What to Look for in a Travel Toiletry Bag
Not all toiletry bags are considered equal. We've done the work for you by compiling our favorite travel toiletry bags for this list, but there are different bags for different travel styles and uses. Consider the following before you buy one.
Materials and Durability
Your travel bathroom bag should be the right balance between durable and flexible. You want it to be able to fold into your backpack or suitcase while still withstanding any travel abuse.
Many travel kits are made from nylon and synthetic materials, and some from leather. I suggest looking for a toiletry bag with water-resistant or waterproof materials. Also, look at the sturdiness of zippers and internal/external pockets. You should always ask yourself, how long will this bag last? The same is true for travel bags, sleeping bags, and beyond!
We checked all of these bags' materials, the quality of the seams, and zippers too. Not all of the zippers were up to perfect standards – all reviews have noted if that is the case – but they were either more affordable or lightweight because of it.
Size and Capacity
Size is a matter of preference, but I suggest traveling as compact as possible. You should also keep your travel toiletries to a minimum; they can be heavy and take up a lot of space.
That said, you want a bag that can carry all that you need: travel-sized toiletries, a toothbrush, toothpaste, a razor, shampoo, conditioner, tissues, feminine hygiene products, condoms, cotton swabs, a hairbrush, hairpins and ties, sunscreen, etc. It definitely adds up quick!
Pockets and Organization
Getting a toiletry bag with organizational dividers and internal pockets will help you keep your things organized. Generally though, the more bells and whistles, the more expensive the bag. If you don't need anything super high tech, then there is no need to fork out the extra money, but having at least a couple of pockets will make your life easier.
Ability to Hang
This is the main feature I would look for in a toiletry bag. Hanging toiletry bags are especially useful in hostels and pubic bathrooms, where you can keep your products hung neatly from your bunk bed or shower.
Easy to Clean
Since you are storing liquids, the occasional spill or leak is inevitable. You want a toiletry bag that can be easily wiped down or washed.
The Best Toiletry Bags for Travel
Below are my top picks for toiletry bags. Each one has a short review that explains its pros, cons, and best features.
Best Travel Toiletry Bag
Nomatic Toiletry Bag 2.0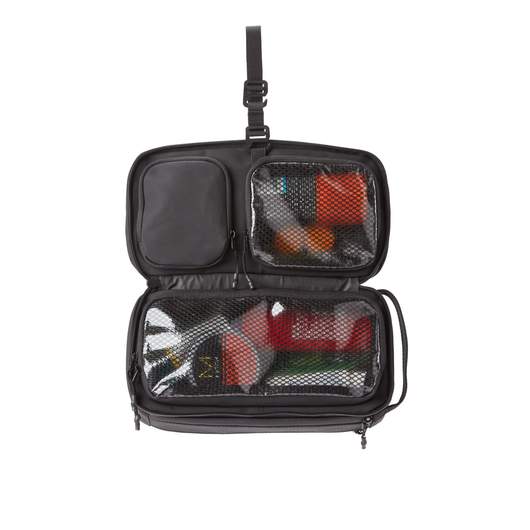 Lets' get the bad news out of the way, this bag not available in Europe so if you are reading this in Europe, scroll on.
Not all toiletry bags were created equal. This clean and durable offering from Nomatic sets the high standard, being made from a water and stain resistant fibre which gives it years of extra life and usability when compared to inferior products.
The bag is beautifully compartmentalised so there is a place for everything and you can keep your paracetamol separate for your shampoo. The external toothbrush pocket is also a great innovation which allows quick access and also keeps it separate meaning it won't drip onto everything else when wet.
You can easily find toiletry bags on Amazon for a fraction of the price of this but believe me, if you buy cheap you buy twice (or more). We wholly recommend investing in the Nomatic Toiletry Bag 2.0 which will last you for and miles years of travel.
Pros
Water and stain resistant
Lovely compartments
The toothbrush pocket is a huge win
Cons
Not available in Europe
Not exactly cheap
Doesn't roll up
Is the Nomatic Toiletry Bag 2.00 For Me?
There isn't much wrong with this bag to be honest. The only drawbacks are that it's perhaps not as stylish as the RER one (below) and of course, if you are reading this in Europe no the Nomatic is not for you!
2nd Best Travel Toiletry Bag
REI Co-op Shower Roll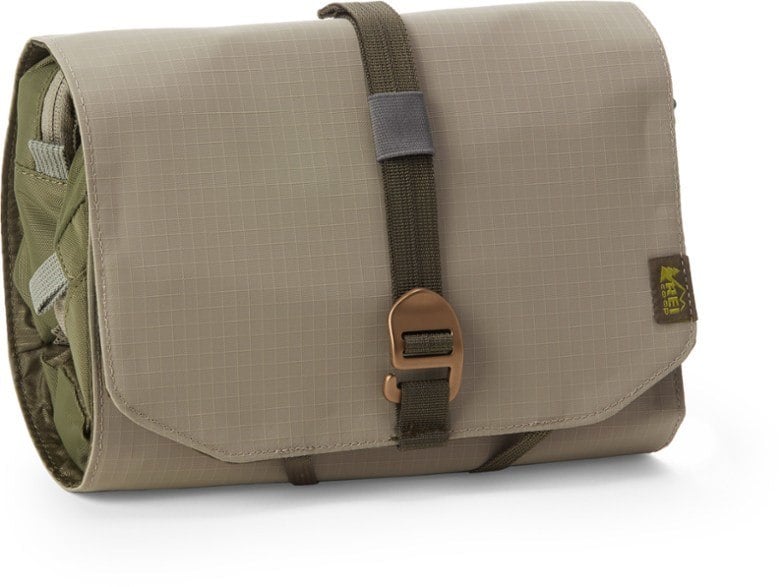 REI has been coming out with awesome products over the last few years, often at a lower cost than many of the famous brands they carry in-store. If you are just looking for an overall great travel toiletry bag, then their Shower Roll is an EXCELLENT choice!
This toiletry kit has a large mesh pocket and small stash pocket to organize your toiletries as well as a removable pocket at the bottom with a clear window. Having a detachable clear pouch is perfect for TSA checks or any of those moments where you don't want to take your entire toiletry kit into the bathroom.
The webbing strap that wraps around the bag doubles as a hanging strap too. I am also a fan of the detachable mirror.
Pros
Made of light, durable ripstop nylon
Detachable clear pouch
Detachable mirror
Cons
Not cheap, though not overly expensive
Marked as small, but not that small
Is the REI CO-OP Shower Roll for me?
Overall, this is a smartly designed and functional product that helps you organize your items. We give REI an A for material quality, sturdiness, and convenience and yet simplicity.
Best Luxury Toiletry Bag
Kodiak Leather Toiletry Bag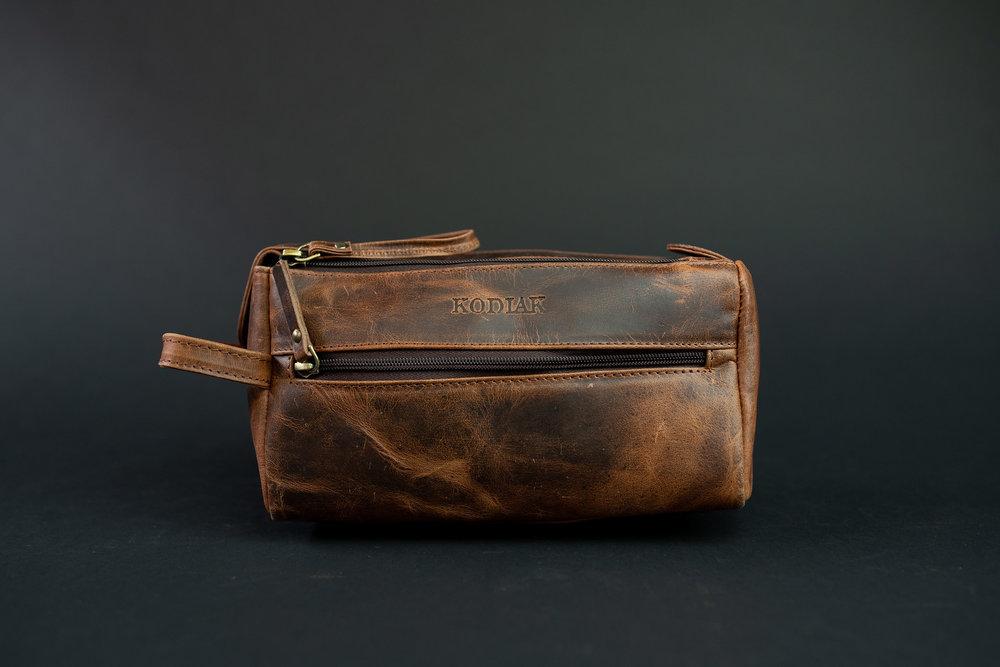 In case you need a toiletry bag that is a little bit special, then go for this handsome leather toiletry bag by Kodiak. The single biggest problem you face with most toiletry bags is that after a while, the daily exposure to shower steam, water splashes and stray toothpaste splodges take their toll and wear the bag to bits. Not with this one though, its made from robust, single grade water proof leather which will last pretty much forever.
Most toiletry bags on this list are functional but this one, is seriously stylish and rather masculine. Its a very simply design, using 1 main compartment with one zip pocket on interior side wall made from heavy duty nylon liner.
Its available in both walnut brown and light brown and makes a great gift to yourself.
Pros
Made of quality leather that will last forever
Simple design
A thing of beauty
Best Toiletry Bag for Organization
Peak Design Wash Bag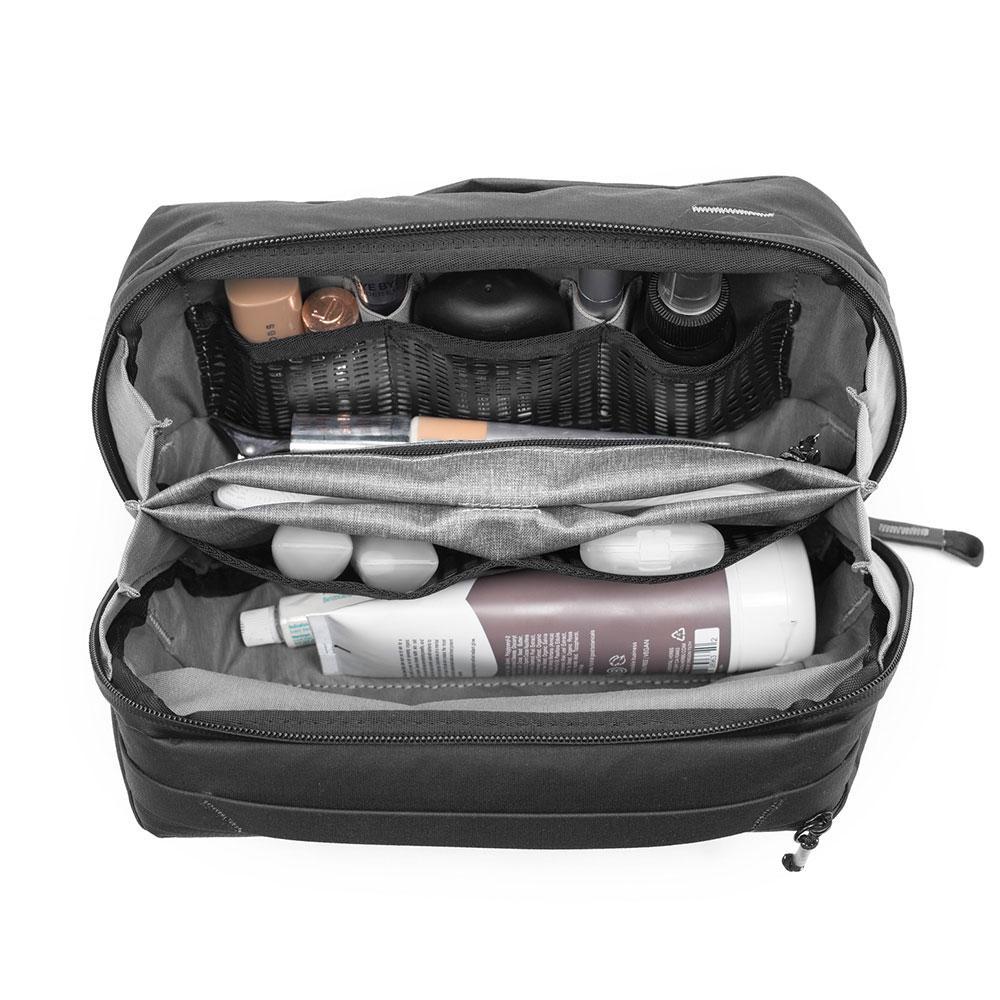 This is one of my favorite travel toiletry bags due to its organization and water-resistant material. It has a ton of pockets and thoughtfully designed dividers. The main internal compartment is divided into two, and it's big enough to hold a 12-ounce bottle or electric razor.
There is a magnetically-closed toothbrush pocket in the middle of the bag, so your toothbrush doesn't have to mingle with your other liquids. On the outside, there's a razor pocket where I keep my blade, tweezers, and other small tools.
I also like this Dopp kit because it's made out of tough, recycled 200-denier nylon. It's light, flexible, and durable. The main drawback is that this bag does NOT hang, however.
The internal mesh pockets are coated in silicone, so they are easier to wipe clean than traditional mesh pockets. As a bonus, all pockets turn inside out for cleaning.
While not specifically a ladies toiletry bag, it is one of the most thoughtfully designed bags in terms of organization, so it works well for make-up and other items.
Check out our full review of Peak Design's travel backpack, which this wash bag was designed to accompany!
Pros
Made of light, durable, water-resistant material
Great for organization
Thoughtful design
Is the Peak Design Wash Bag for me?
Get this if you want a water-resistant toiletry case with lots of pockets and thoughtful ways to organize your things. It doesn't hang, so buy this if you don't usually need or want to hang your bag.
Best Large Toiletry Bag (#1)
EBAGS Portage Toiletry Kit
The Portage Toiletry kit is a great choice if you tend to pack a lot of bottles. It sits flat and has a large space in the center section for bottles, with mesh pockets to hold your travel toiletries in place.
The bag opens in a U shape and has a few elastic bands to store your razor and make-up brushes. Zippers and zipper pull work well. Has a removable hanger hook, which is very useful.
The Portage toiletry kit comes in 3 different sizes too. Because this is a large toiletry bag, it's more appropriate road trips versus flying, when you have to be cognizant of travel-sized toiletries.
Pros
Large
U Shape Opening
Organization
Cons
Not good for air travel
Elastic top mesh pockets are low
Is the EBAGS Portage Toiletry Bag for me?
The interior has plenty of room and has a place for just about all of your toiletries. This is a great bag if you are traveling with a lot of cosmetics or carrying things for your family, but not for air travel.
Best Large Toiletry Bag (#2)
Lavievert Toiletry Bag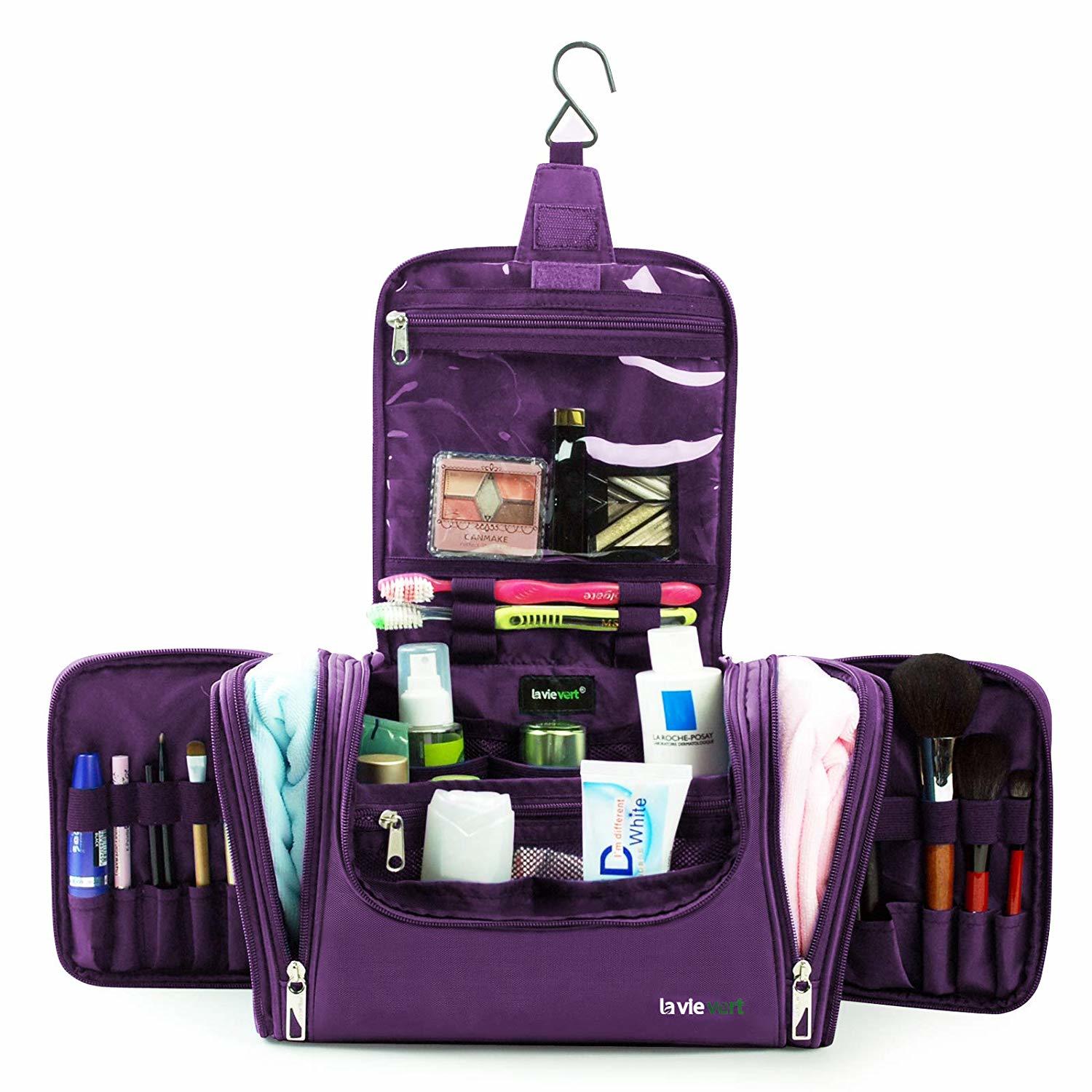 If you are looking for a family-sized, large toiletry bag, then the Lavievert may be the bag for you. It's water-resistant and durable to protect your cosmetics.
It's huge capacity and multi-pockets will allow you to bring your entire bathroom counter on the road… It can easily hold dental care, larger shampoo and conditioner bottles, and other toiletries you may need.
It includes zippered side pockets for extra storage and a hook and handles to hang it on a towel rack, shower rod, or doorknob.
Pros
Large
Affordable
Expandable side pockets
Cons
Not the best quality
The hanger is made of flexible plastic
Is the Lavievert Toiletry Bag for me?
The interior has plenty of room, with one large clear vinyl pocket with a zipper at the top, and a place for just about everything – from make-up brushes to toothpaste. This is a great bag if you are traveling with a lot of cosmetics or carrying things for your family.
Best Men's Travel Toiletry Bag
Vetelli Leather Toiletry Bag For Men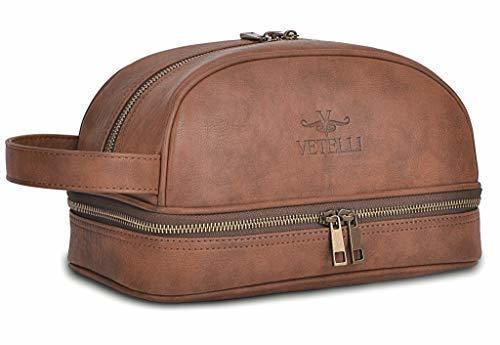 This (synthetic) leather, the vintage-styled bag is perfect for storing your travel toiletries! The main compartment works well for shaving accessories and basic bathroom supplies.
The bottom section reveals two mesh compartments for your smaller things and has a waterproof bottom to keep your things protected.
Overall, it's a nice and stylish bag that's quite functional as well. It's not genuine leather, so keep this in mind.
Pros
Nice vintage design
Affordable
Good organization
Cons
Zippers are not great
Synthetic leather
Is the Vetelli Leather Toiletry Bag for me?
The interior has plenty of room, with one large clear vinyl pocket with a zipper at the top, and a place for just about all of your travel toiletries – from make-up brushes to toothpaste. This is a great bag if you are traveling with a lot of cosmetics or carrying things for your family.
Most Lightweight Toiletry Bag
Sea to Summit Travel Bag
When it comes to lightweight backpacking gear, no one can beat Sea to Summit. They make the lightest sleeping pads, tents, and beyond!
This toiletry pouch is no different. If you are looking for the lightest hanging travel toiletry bag and travel organizer on the market, then this is the bag for you! It's crafted with strong and water-resistant Ultra-Sil fabric.
It includes multiple, thoughtfully placed mesh pockets and durable zippers to open and close the bag. To keep the weight down, they've kept this bag simple yet functional.
Pros
Super lightweight
Plenty of pockets
Has a hanger
Cons
Zipper catches often
Doesn't stand alone well
Is the Sea to Summit Lightweight Toiletry Bag for me?
The Sea to Summit small Travelling Light Hanging Toiletry Bag has multiple internal pockets for personalized organizing. The hanging design is extremely convenient to use too. Overall, it's a good size with plenty of features; most of all, it's the lightest toiletry bag you'll find!
Most Rugged Travel Toiletry Kit
Fat Felt Dopp Kit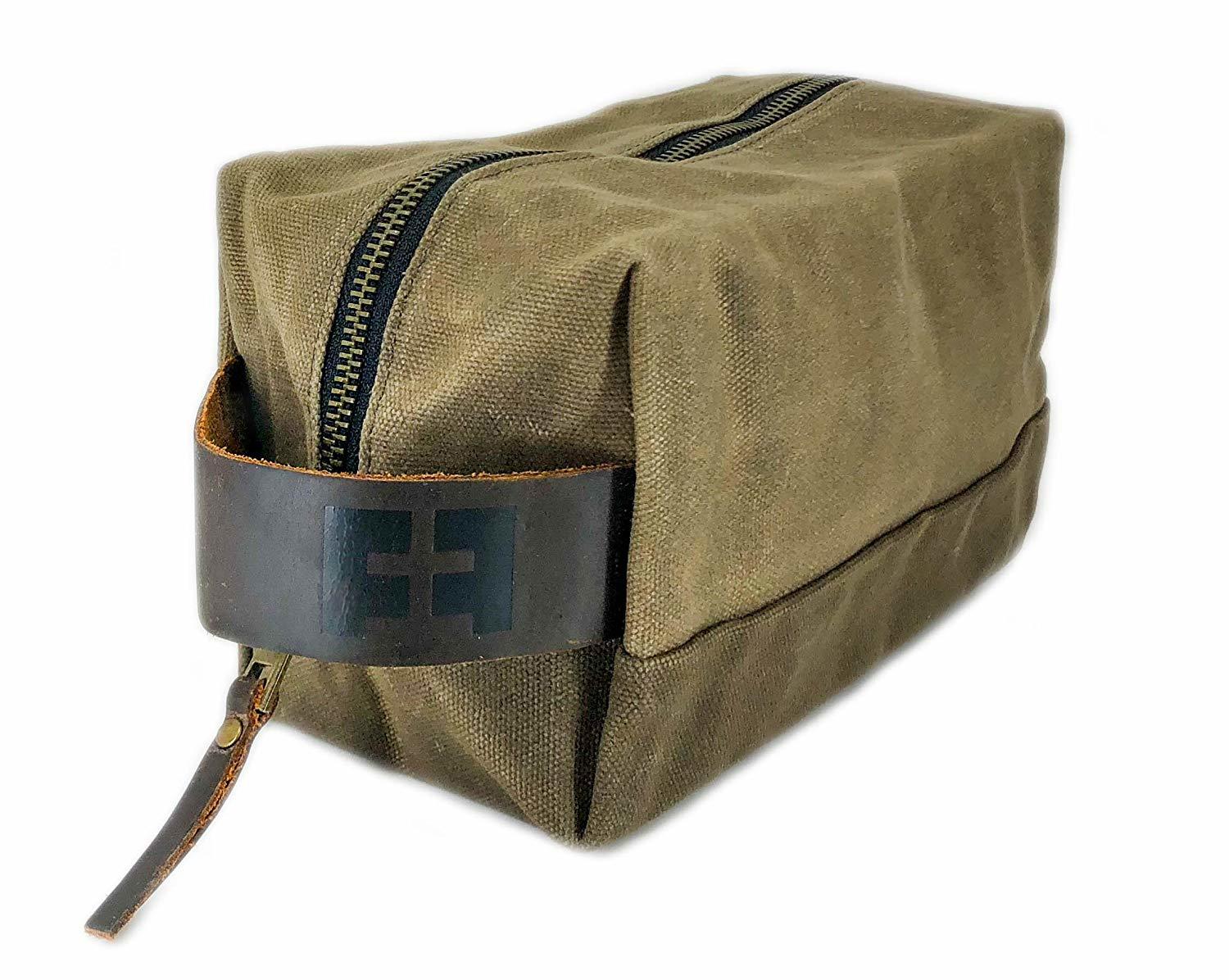 Not only is this a rugged and durable kit, but it's also a great travel kit for men (though as a girl I'm also a fan!). This bad boy is bomber built to handle abrasions with a hardy leather handle and heavy-duty waxed canvas.
They also use 100% natural wool for their felt (no chemicals!) While this is a travel toiletry kit, it's hardy enough to use for tools, bike repair tools, or an artist field bag. It's a versatile bag!
Pros
Excellent Craftmanship and style
Versatile
Durable
Cons
Doesn't' hang
Heavier than other bags on this list
Is the Fat Felt Dopp Kit for me?
The quality of this Dopp Kit is amazing. A high-quality canvas, durable and snag-proof design, a hardy zipper, and more will keep your travel toiletries protected!
Best Toiletry Kit for the Constant Traveler
Nomatic Toiletry Bag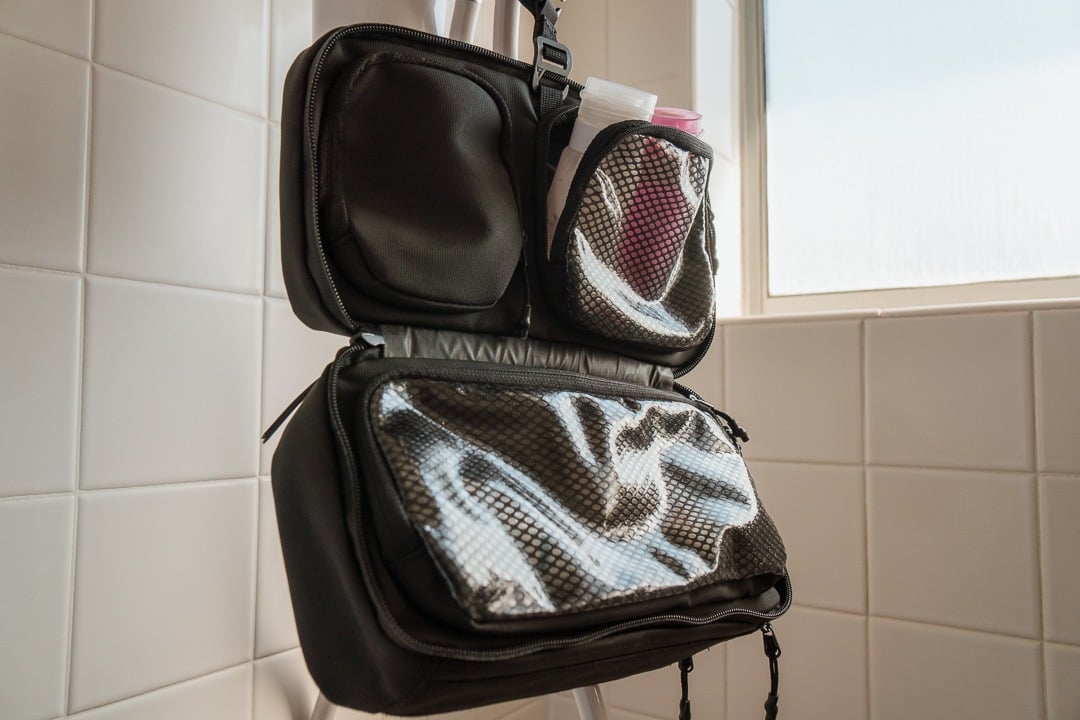 Nomatic makes some of the most FUNCTIONAL bags ever. It's true for all of their backpacks and luggage, and no different for their travel toiletry bag. They design items for the constant traveler, the nomad, and the people who live on the road.
Check out our full review on Nomatic's Travel bag. It's AWESOME!
They created two toiletry bags depending on your personal packing style. Their regular size is ideal for longer trips and the smaller one (Nomatic slim) is best for the minimalist packer.
They're made with water-resistant materials, can hang, include transparent waterproof pockets, and an exterior toothbrush pocket. The only thing we don't love about this bag is the price, but it may be worth the investment for you.
Pros
Great zippers
Waterproof and resistant
Thoughtful design
Cons
Expensive
Might not be big enough for some
Is the Nomatic Toiletry Bag for me?
Get this if you want a water-resistant toiletry bag if you are always on the road. You'll be pressed to find a higher-quality, more functional bag. That said, it might be overkill if you just need a bag to get the job done.
If you're not a nomad or constant business traveler, consider something a bit more affordable.
FAQ about the Best Travel Toiletry Bag
Still have some questions? No problem! We've listed and answered the most commonly asked questions below. Here's what people usually want to know:
Final Thoughts on the Best Travel Toiletry Bags
Whether you need a simple and stylish toiletry bag, a rugged men's travel toiletry bag, a hanging travel organizer, or a simple Dopp kit, we've reviewed and used dozens of bags, narrowing down our favorites in this review.
---
Find out how YOU can support the site.
We're a big site with a big team and this job isn't always easy. But we do it because we love it – we love providing epic and free content. We love the knowledge that our content keeps you adventuring. We don't ask for money, but if you'd like to find out how you can help the site in more organic ways, click the button below.
Thank you for your support 🙂
And for transparency's sake, please know that some of the links in our content are affiliate links. That means that if you book your accommodation, buy your gear, or sort your insurance through our link, we earn a small commission (at no extra cost to you). That said, we only link to the gear we trust and never recommend services we don't believe are up to scratch. Again, thank you!