Travel
8 Best Travel Cameras (2022 BARGAIN GUIDE)
Need a travel camera that is small and light? If you are looking for the best camera for travel photography, you are in luck!
In this post, I'm going to show you everything you need to know so that you can choose the best camera for your travels…
First, I'll show you the top 5 coolest travel cameras on the market. I picked one for each budget and for different types of travelers so you can easily identify which of these epic adventure cameras is best for you.
Then, I'll show you all of the important information that you need to know to take your travel photography to the next level. This is must-know information for anyone interested in taking stunning travel photos. 
As a professional travel photographer, I know a ton about cameras, and which camera is best for traveling. By the end of this article, you'll know exactly which travel camera is perfect for you!
Quick Answers: These are the Best Cameras for Travel in 2022 
Canon PowerShot G9X Mark II – Best Travel Camera Under $500
Fujifilm X-T20 – Top Travel Camera for Photography Enthusiasts
Olympus Tough! TG-5 – Best Waterproof Adventure Camera
Panasonic Lumix GH4 – Best Travel Camera for Video Recording
Sony Alpha A7R Mark II – Best Travel Camera for Professionals
Canon EOS 5D Mark III – Best Pro DSLR for Travel
Finding the Best Travel Camera for You
As a professional travel photographer, I've personally tested out over a dozen cameras on my own journey as a professional travel photographer over the last few years and I can help you pick a great travel camera for your style of travel and photography!
I know which cameras are awesome and which ones are appropriate for a certain photographer. I myself ended up with a Fujifilm X-T1 a year or so ago and most of my favorite travel photos are because of this gem.
Now, I'm going to help you find a great travel camera.
Before we get this ball rolling though, I want to make a brief disclaimer.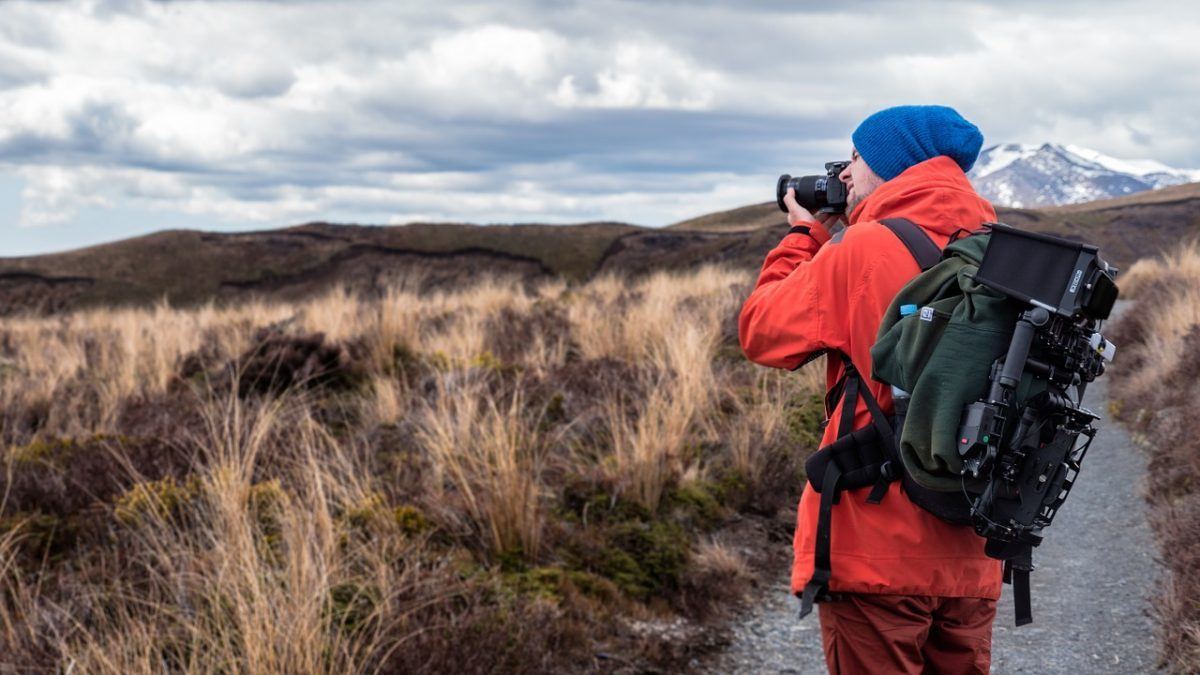 There is some technical jargon spread throughout this guide. If you come across something that's confusing, please bear in mind that the final third of this article will explain all of the ins and outs of travel photography as well as explain the technical aspects that we have touched on throughout the post.
I've included lots of extra resources for your benefit – this is a one-stop shop for camera newbies, enthusiasts, and veterans alike!
The following two sections are a brief introduction to some key concepts that you need to understand to get the most out of your travel photography… After that, we'll be diving into a detailed breakdown of the best cameras for traveling!
So without further ado: let's find the ultimate travel camera for you!
Point-and-Shoot vs Mirrorless vs DSLR
The hottest debate right now in the photographic world concerns mirrorless cameras vs DSLR cameras. Never before has there been a competition so fierce since Gore v. Bush.
Throughout this article, you're going to see a lot of examples of both mirrorless and DSLR cameras and we're going to be comparing them often.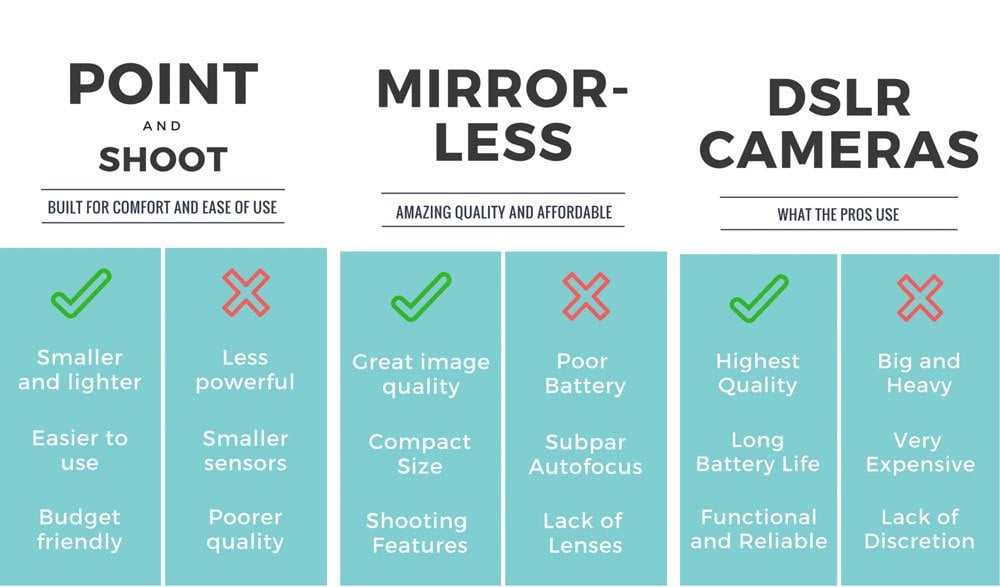 Point-and-shoot cameras, which are often neglected because of their unfairly perceived feebleness, will be dutifully and deservedly discussed as well as if you're looking for the best small camera for travel – a point and shoot is often the way to go.
The biggest difference between a mirrorless and DSLR camera is the lack of a physical mirror in the former.
Conventionally, a reflex mirror is used in a DSLR camera to enable the photographer to view a projection – via reflected light – of the scene that they want to shoot in a viewfinder (the thing you put your eye to).
Advanced sensor technology has enabled cameras to beam this preview onto an electronic screen or into an electronic viewfinder. This has eliminated the need to have a bulky mirror inside the camera body allowing for a more compact camera, which the public has dubbed mirrorless cameras. Point-and-shoots use the same sort of technology as mirrorless cameras.
With comparable sensors and lenses, mirrorless cameras offer the same image quality as DSLRs but in a much smaller package. There is, of course, way more to the mechanics of this system though. For the sake of brevity, I can not go deeper into the subject. Interested parties can refer to this article for more details.
Travel Camera Comparison Table
BEST TRAVEL CAMERA UNDER $500
BEST TRAVEL CAMERA UNDER $500
Canon PowerShot G9X Mark II
> Small, light
> Easy to use
> Quick
TOP TRAVEL CAMERA FOR PHOTOGRAPHY ENTHUSIASTS
TOP TRAVEL CAMERA FOR PHOTOGRAPHY ENTHUSIASTS
Fujifilm X-T20
> Great lenses
> Beautiful images
> Great lenses
BEST WATERPROOF ADVENTURE CAMERA
BEST WATERPROOF ADVENTURE CAMERA
Olympus Tough! TG-5
> Tough
> Competitive image quality
> Great video
BEST TRAVEL CAMERA FOR VIDEO RECORDING
BEST TRAVEL CAMERA FOR VIDEO RECORDING
Panasonic Lumix GH4
> The best video
> Great photos
> Well designed and built
BEST TRAVEL CAMERA FOR ASPIRING PROFESSIONALS
BEST TRAVEL CAMERA FOR ASPIRING PROFESSIONALS
Sony A7R Mark II
> Optimal image/video
> Highly adaptive
> Great for pros
BEST PRO DSLR FOR TRAVEL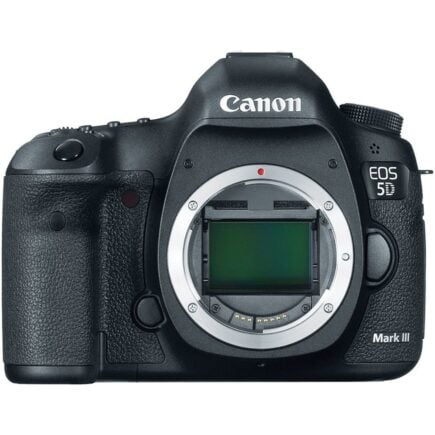 BEST PRO DSLR FOR TRAVEL
Canon EOS 5D Mark III
> Industry standard
> The best lenses
> Very well rounded
Consider these features when looking for a travel camera…
Size and Weight – Is the camera going to be big and heavy? How are you going to carry it? Is it small enough to fit in your pocket? The size and weight of a camera are HUGE considerations when it comes to traveling.
Sensor Size – Larger sensors can capture more light and record more data. This means that they are more adept in low light situations and manage noise more efficiently. Bigger sensors mean bigger cameras though.
Megapixels and File Formats – More megapixels means more resolution and larger file sizes. More resolution allows for better prints, more flexibility in post-processing, and, generally, greater sharpness. The ability to shoot in RAW is also beneficial. For now, all you need to know is that every camera in this guide can shoot RAW.
Lens Selections – If your camera can change lenses, then you have WAY more shooting options. Do you like landscape photos? Buy an ultra wide angle lens. Wildlife? Get a telephoto lens. The possibilities are endless.
Weather and waterproofing – Do you like to go outdoors a lot? Will your camera be exposed to the elements often? Weather and waterproofing will help keep your camera safe and functioning during harsh conditions. If you're going to be battling raging rivers and perilous peaks, you need a tough adventure camera for your travels.
Functionality – Is your camera easy to use? Is it a jumbled mess of buttons and dials? Do you want to control exposure or is AUTO ok? You need a camera that you can understand to get the most out of it.
Video Capabilities – Do you want the best recording resolution possible? Do you like to have control over every setting possible while filming? Almost every camera can record video but not all of them does it well.
Other Notable Hardware – Does your camera have image stabilization? An EVF? What about USB charging? These additions can make all the difference.
Do You Want to Travel FOREVER??
Then pop your email address in below and we'll send you a FREE copy of 'How to Travel the World on $10 a Day!' – make travel your LIFE.
Best Travel Camera Under $500
The camera for you if you want to start dipping your toes into travel photography
Specs
3.9 x 2.3 x 1.2 / 7.26 ozs
20.1 MP 1" CMOS Sensor
Built-in 10.2-30.6mm Lens (28-84mm FF equivalent)
No weather sealing
Up to 1080p video recording
The Canon G9X Mk.II is compact, takes good photos, and is very easy to use. Images from the G9X are rich in color and have accurate tones. Its internal processor is surprisingly fast allowing for uninterrupted continuous shooting. Lastly, autofocus is reliable in most situations.
Because of its small size and excellent performance the Canon PowerShot G9X Mark II is a cut above other point-and-shoot cameras and is our top choice for the best small camera for travel. It's one of the best budget compact cameras for travel and a great option for those who want a hassle-free photographic experience.
Pros
Want an easy-to-use camera that still takes beautiful photos.
Need a travel camera that is small and light.
Don't want to deal with buffering or slowdowns.
Cons
Like sharp, crisp images.
Want a good lens.
Need long battery life.
Why the Canon PowerShot G9X Mark II is One of the Best
Though smartphones have created some serious competition for the point-and-shoot camera market, smartphones are still inferior when it comes to photography.
Nothing really beats a real camera if you want to visually document your journey. No matter what camera you use, be it a cheap compact or a luxurious DSLR, they will always offer more quality and control than a smartphone.
For those who don't want to lug around a large DSLR or mirrorless, it's still worthwhile to have a point-and-shoot. The Canon PowerShot G9X Mark II is an excellent choice. This compact camera is one of the best budget travel cameras that you can buy.
The Canon G9X is remarkably small, takes good photos, and is very dependable. Its sensor is actually quite large given the camera's size and it produces some very pretty photos.
Colors are vivid and accurate. The G9X even performs well at higher ISOs, which is where image quality begins to drop overall.
The Canon G9X MK.II's controls are very simple and easy to use. Casual users could set this camera to full AUTO and almost never have to worry about changing any settings.
Social media addicts will be relieved to hear that the Canon G9X Mk.II also has very reliable WiFi and Bluetooth connectivity. Photo files can easily be transferred to your phone where they'll be ready to post online.
Where the Canon PowerShot G9X Mark II Falls Short
Image quality is (obviously) not as impressive in the Canon PowerShot G9X Mk.II as those from DSLRs and other mirrorless cameras.
The built-in lens is also somewhat poor compared to other point-and-shoots; the G9X's is shorter, slower, and a little softer. Buffering can take a while to clear after heavy use.
Finally, the rear display is difficult to see in bright light, which is a common occurrence in point-and-shoots.
Canon PowerShot G9X Mark II Budget Alternative
Want to get the best travel camera for under $300? The Canon PowerShot SX720 is around $250 and still takes good photos.
Canon PowerShot G9X Mark II Pro Tips
You can actually shoot photos in the RAW with the G9X Mk.II. RAW files contain more data and allow for more flexibility during post-processing.
The built-in WiFi and Bluetooth on the Canon PowerShot G9X Mk.II are pretty responsive. Link the camera to your phone or computer to upload photos immediately.
You can charge the G9X via a USB port. Bring a power bank when the battery begins to struggle.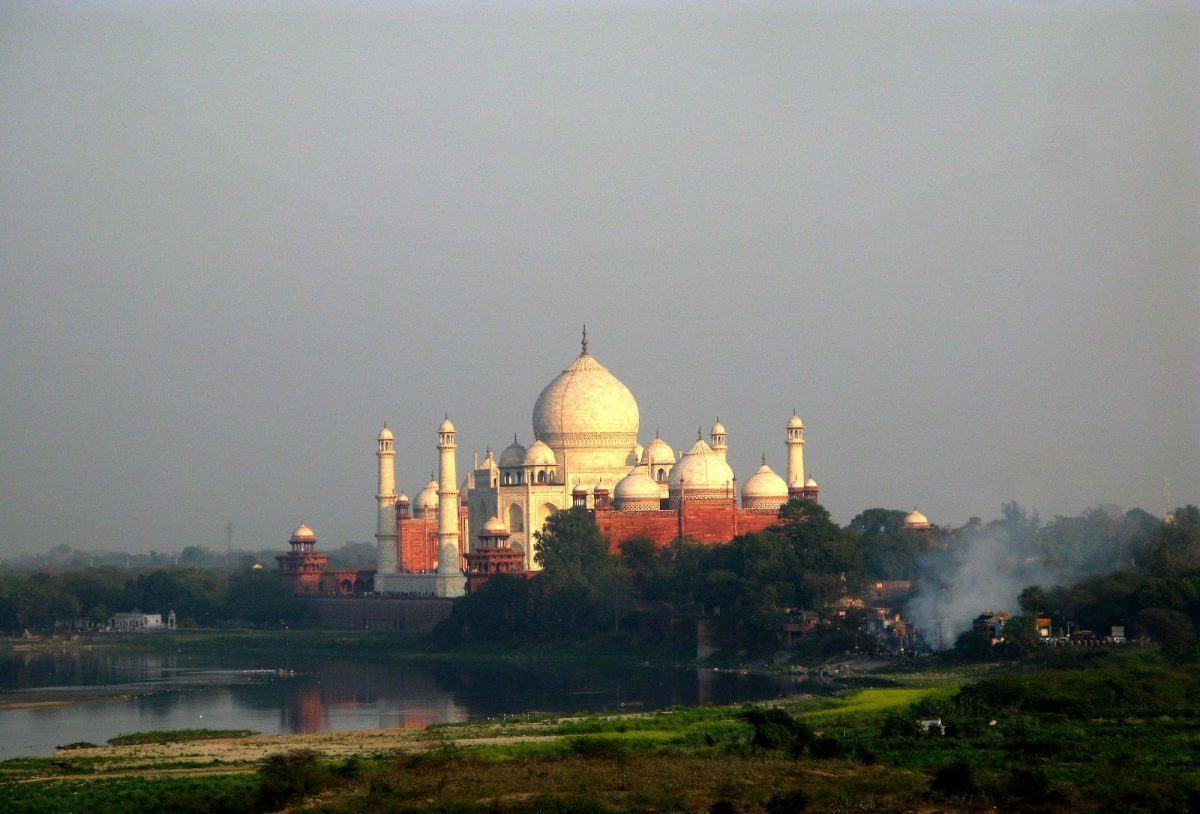 Is the Canon PowerShot G9X Mark II for You?
Do you want an upgrade over your smartphone's camera? Do you want one of the best point-and-shoots for travel?
Shortcomings aside, the Canon PowerShot G9X Mark II is an excellent choice, it's priced well and is a good camera for newbie – intermediate photographers.
For casual photographers, this respectable compact camera can take great photos and is a good camera for backpacking trips where space and weight matter!
Top Travel Camera for Photography Enthusiasts
A serious camera to get started with photography (for a reasonable price!)
Specs
4.7 x 3.3 x 1.6?
13.5 oz (body only)
24.3 MP APS-C X-Trans CMOS III Sensor
Fuji X-Mount – 20+ native lenses
No weatherproofing
Up to 4k video recording
If you're looking to get a little deeper into photography but still don't want to drop a couple of grand on a high-end camera, then I have the perfect solution for you.
Presenting: the Fujifilm X-T20. This bad boy is small, light, and takes absolutely gorgeous photos. The controls are very easy-to-use and, at around $900, the X-T20 won't break the bank.
This makes the X-T20 not only one of the best travel cameras for beginners but one of the best mirrorless travel cameras on the entire market. Very few other cameras are able to compete with Fujifilm's amazing package.
Pros
Want an outstanding lens selection.
Want optimal image quality without going full-frame.
Like intuitive controls.
Cons
Like long-lasting batteries.
Need weather sealing.
Want the best video recording technology.
Why the Fujifilm X-T20 is One of the Best
Fujifilm really has created one of the best cameras ever for travel photography.
Fujifilm's lens selection for the X-Mount is exceptional. There is a lens for nearly every type of photographer and every one of them is razor sharp – some of the sharpest in the business, arguably.
Fujifilm's X-Trans III sensor is a marvel as well, pushing the limits of an APS-C sensor to 24 Megapixels without sacrificing any quality. So good is the caliber of Fujifilm's images that the X-T20 can compete with some of the best cameras ever used for travel photography like the Canon EOS 5D and Nikon D850.
Most inspiring is that all of this technology is crammed into a body small enough to easily pack. You won't break your back carrying loads of gear, which happens often with larger DSLRs. While the bags of many full-frame shooters can weigh more than 50 lbs, most Fujifilm packs will never weigh half as much. Essentially, you're getting full-frame quality for half the weight.
Where the Fujifilm X-T20 Falls Short
To be fair, the X-T20 is not perfect.
Battery life could definitely be better. Though the X-T20 can film 4k videos, Fujifilm's have never been known for their cinematic prowess, either because of control or buffering issues. Noise can be a problem with the X-Trans at very high ISO levels. Finally, this body lacks weather sealing, which is what made the original X-T2 so popular with adventure photographers.
Regardless of it's few shortcomings, the Fuji X-T20 is still very attractive. The X-Mount system has been so successful, that it's even converting full-frame shooters. Many (reluctantly) realized that they can take superb images without using a larger sensor. Beginners and enthusiasts who want to get started in travel photography will find the X-T20 a great place to start.
Fujifilm X-T20 Upgrade
Want weatherproofing and better battery life via an external grip accessory? Check out the X-T20's precursor, the X-T2.
Fujifilm X-T20 Pro Tips
Fujifilm sensors are admired for the vivid colors that they produce, which makes the X-T20 is one of the best cameras for landscape photographers!
Batteries drain faster in colder temperatures. Hide them in an inside pocket of your jacket to combat this – your insulating body heat will extend their life.
Try to keep ISO below 3200 – image quality will start to suffer in the X-T20 beyond this number.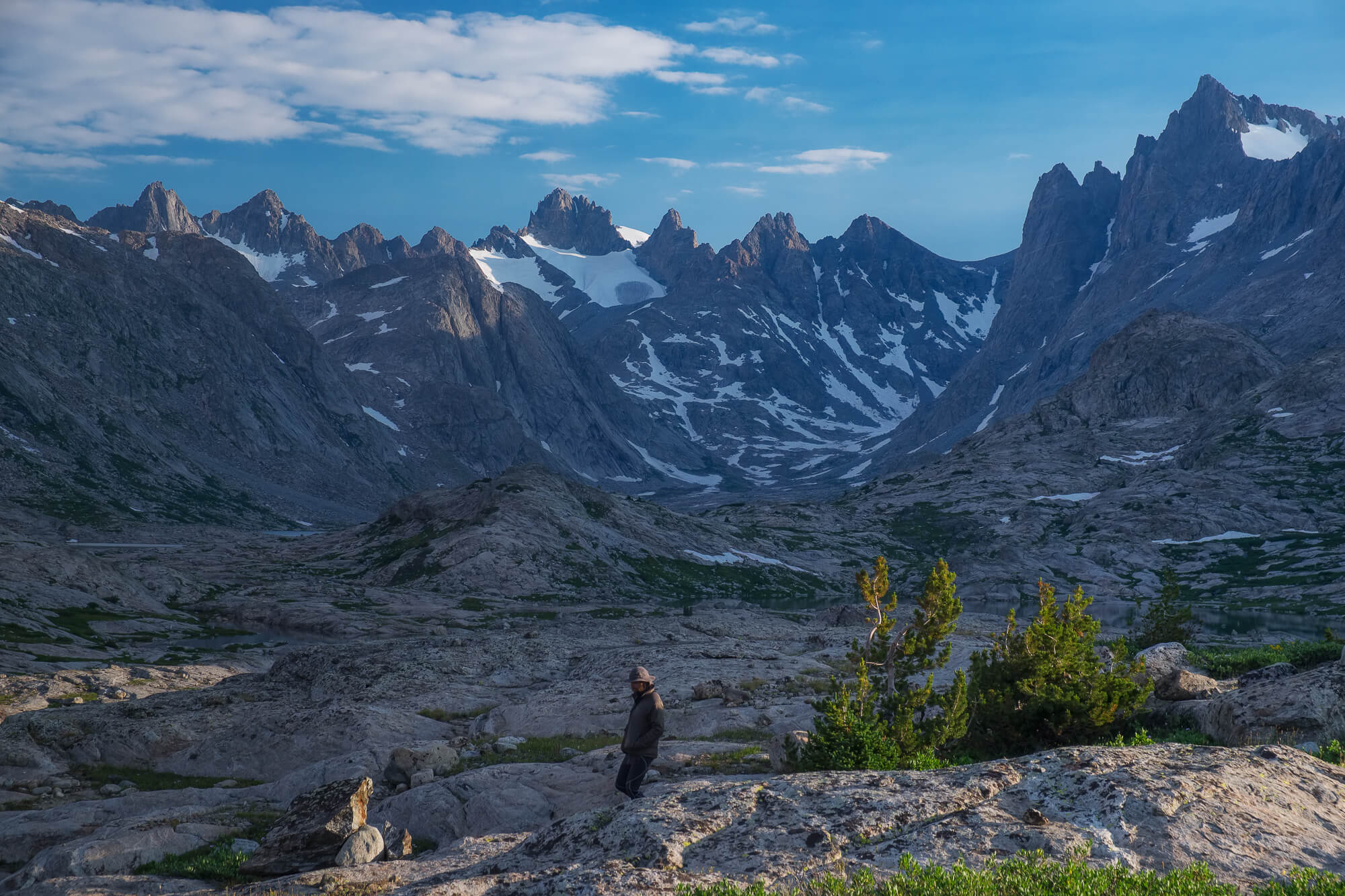 Is the Fujifilm X-T20 for You?
Do you want a camera that can take amazing photos without taking up too much space? Are you willing to sacrifice a few things like top video quality and long battery life? Get the Fujifilm X-T20! Seriously, it's one of the best compact travel cameras in the business and an amazing deal. Join the Fuji family!
Best Waterproof Adventure Camera
The all-around best waterproof and action camera on the market!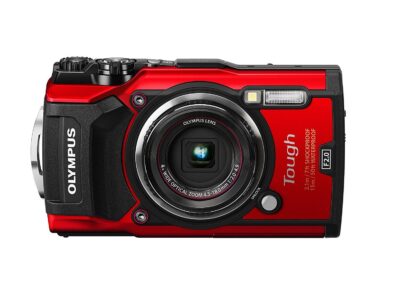 Specs
4.4 x 2.6 x 1.3" / 8.8 oz
12 MP 1/2.3" CMOS Sensor
Built-in 4.5-18mm lens (25-100mm FF equivalent)
Fully waterproof up to 50 ft, shockproof, freezeproof
Up to 4k video recording
The Olympus Tough! TG-5 is one of the best waterproof travel cameras out there. This armored camera is small, has good optics, and is packed full of fun features. Most importantly, the TG-5 is shockproof, freeze-proof, and – up to certain depth – waterproof. This means it can be dropped, tossed, submerged, buried, whatever and still function.
The TG-5 is an awesome tool to have and is shooting with it is very stress-free (since it's so hard to break!). Travel photographers will find this is the hardiest adventure camera on the market!
Check out our epic guide to more action cameras and GoPro alternatives.
Pros
Are worried about breaking your camera.
Want the best image quality from a rugged-style camera.
Would like some solid extra features like macro, 4k, and slow motion video.
Cons
Want to shoot at night or in low light.
Want optimal video recording.
Prefer a super easy-to-use camera.
Why the Olympus Tough! TG-5 is One of the Best
For many travelers, a good waterproof camera will be the most valuable item in their pack. Rugged cameras are built to last and are meant to survive in some very harsh conditions. Owners, whether clumsy, risky or just plain neurotic, should feel some respite knowing that it'd be pretty damn hard to break these adventure cameras.
The Olympus Tough! TG-5 is one of the best waterproof cameras currently on sale. Short of some very high end and expensive underwater cameras, the Olympus TG-5 has some of the finest image quality of its class. Multiple shooting modes, including Live Composite and an impressive macro mode, give shooters lots of creative options. There's even the ability to shoot in RAW format, which is a pleasant surprise.
In addition, the Olympus Tough! TG-5's processor is quite zippy and allows 20 fps continuous shooting, which is also commendable. Autofocus is relatively quick and accurate.
Video recording with the Olympus TG-5 is very notable. Users can film using either standard, High-speed (slow motion) or 4k modes. The second option is pretty cool; the third is outright shocking. Having 4k – though cropped – in a camera like this is honestly remarkable and totally worthwhile.
Where the Olympus Tough! TG-5 Falls Short
The Olympus Tough! TG-5really struggles in dimly lit situations, sometimes failing all-together. Increasing the ISO doesn't help much as image quality rapidly degrades. The tiny sensor just can't handle low light.
Secondly, Olympus cameras are infamous for having confusing menus and settings layouts – the TG-5 is no exception. Be prepared to scroll through lots of menu screens and frequently ask yourself "now why the hell would Olympus put this here?"
Olympus Tough! TG-5 Alternative
The Nikon COOLPIX AW130 is a great alternative and tough competition in the race for the "best waterproof travel camera." With the Nikon, you'll get a greater maximum waterproof depth at the sacrifice of image quality.
Olympus Tough! TG-5 Pro Tips
The Olympus TG-5 was built for divers. Underwater photography is a very different game though and you'll have to change your shooting technique up a little. Refer to this article for a couple of tips and tricks.
The seals around the battery housing will gather salt over time. Make sure you clean this area frequently as the seals will eventually be comprised from prolonged exposure effectively making the camera no longer waterproof.
Make sure you get a good wrist strap or flotation device for the Olympus TG-5. If the camera leaves you and is left in open water, it'll sink like a rock.
Is the Olympus Tough! TG-5 for You?
Are you someone who often breaks or damages their equipment? Do you need a point-and-shoot camera with a little extra protection? Then the Olympus Tough! TG-5 is the best compact travel camera for you! It's tough waterproof exterior will ensure that no matter how hard you treat it the Olympus Tough! TG-5 will keep going. Just don't get crazy.
Best Travel Camera for Video Recording
If you are trying to take next-level video for a decent price, the Panasonic GH4 is for you!
Specs
5.2 x 3.7 x 3.3" / 19.75 oz (body only)
16 MP MFT MOS Sensor
Micro Four Thirds Mount
Weatherproof
Up to 4k video recording
Back in 2014, the Panasonic GH4 made a lot of waves in the videographer world because it was one of the first mirrorless cameras to incorporate 4k recording technology. Today, the GH4 still remains one of the best travel video cameras out there!
The GH4's creates stunning videos thanks to its ability record in 4k resolution. It's plethora of accessible features and system settings allow for full filming customization as well. The body of the GH4 is very rugged and comfortable to grip. Finally, with the help of a huge array of Micro Four Thirds' lenses, this camera takes amazing photos as well. The GH4 has definitely aged very well and is still extremely useful.
Pros
Want some the best video recording tech in the biz.
Still want to take gorgeous photos.
Want terrific ergonomics and shooting features.
Cons
Still need something drastically smaller than a DSLR.
Want better low light performance.
Like a lot of processing power.
Why the Panasonic GH4 is One of the Best
The GH4 was one of the first mirrorless cameras to have 4k video recording. It's stellar performance quickly made it one of the best mirrorless cameras at the time.
Now, there are a lot of cameras in this post that have 4k. Not many of them have the amount of customization that the Panasonic GH4 has. Understanding the camera's many settings allows for a multitude of shooting styles. Videographers can set this camera up in a way to allow for flawless filmmaking. This makes the Panasonic GH4 one of the greatest travel cameras for vlogging!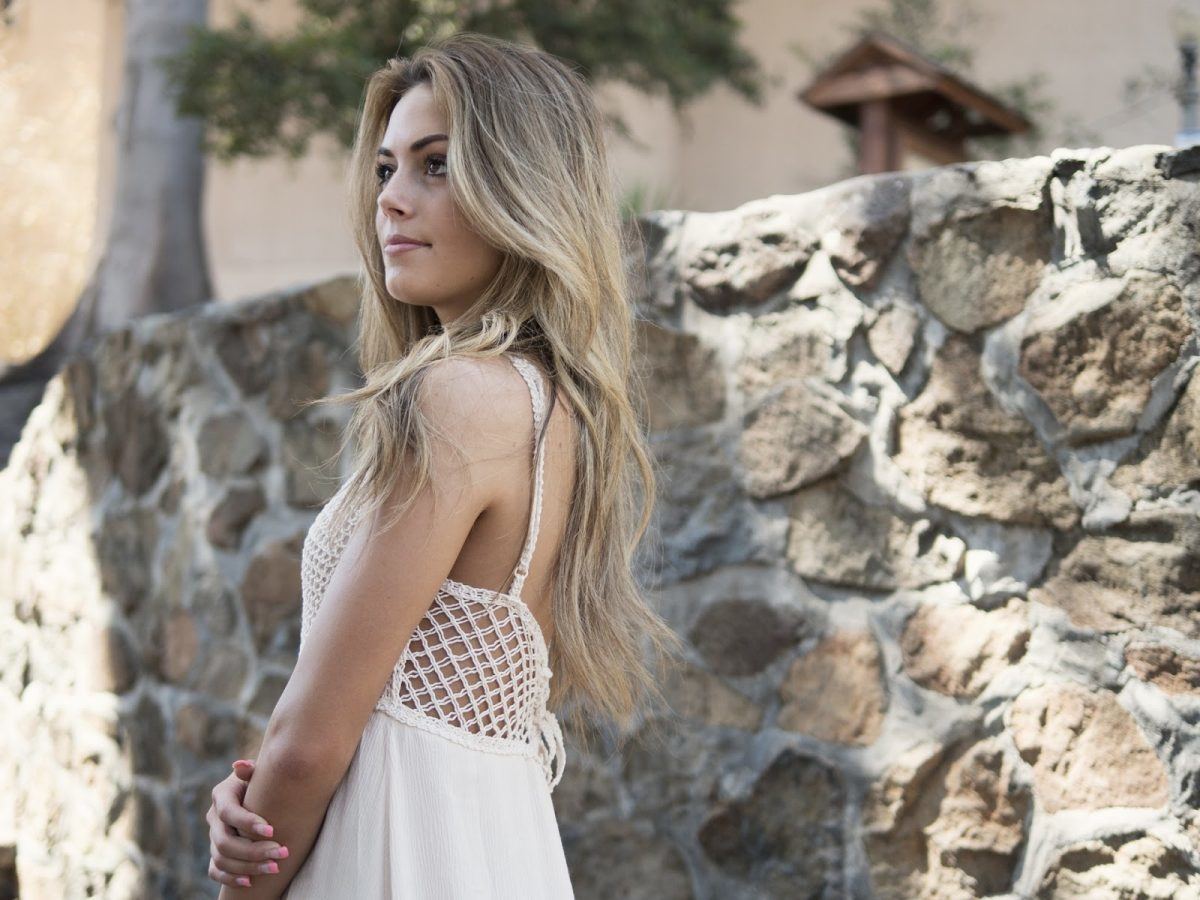 The Panasonic GH4 also has an absolutely enormous lens library to choose from courtesy of the Micro Four Thirds mount. Many of these lenses are of the highest quality because they are produced by optical giants like Leica and Voigtländer. Each lens will suit a particular style of shooting, down to the minutest detail; with them, you're sure to find the perfect set-up.
Video aside, the Panasonic GH4 still takes gorgeous pictures and can be used a more conventional camera.
Finally, the Panasonic GH4's body is weatherproof and relatively compact. Many adventurous photographers – those who venture out into the harsh and unforgiving wilderness – utilize this camera's robustness to get shit done.
Where the Panasonic GH4 Falls Short
The Panasonic GH4's small sensor size makes shooting in low light more difficult. Noise is noticeable at higher ISOs and depth of fields can be a problem when using drastically low apertures to compensate.
The GH4 isn't as compact as other mirrorless cameras though it's stiller smaller than most DSLRs. In addition, the GH4 has a stationary back screen that can't rotate, which is sometimes inconvenient. Many videographers want a vlogging camera with a flip screen for shooting at weird angles.
Panasonic GH4 Upgrade
Want image stabilization, which can make your videos even smoother? The latest model, the Panasonic GH5, has this tech!
Panasonic GH4 Pro Tips
The GH4 uses the Micro Four Thirds system, which means that it can uses lenses from other systems that use Micro Four Thirds, like Olympus and Black Magic. Use them and create the ultimate lens kit!
Because of its huge amount of customizable settings, there is a myriad of ways to shoot video with the GH4. Check this article for more details.
Shooters may create too much depth of field when recording with little light and a low aperture number. Position yourself farther away to compensate for this.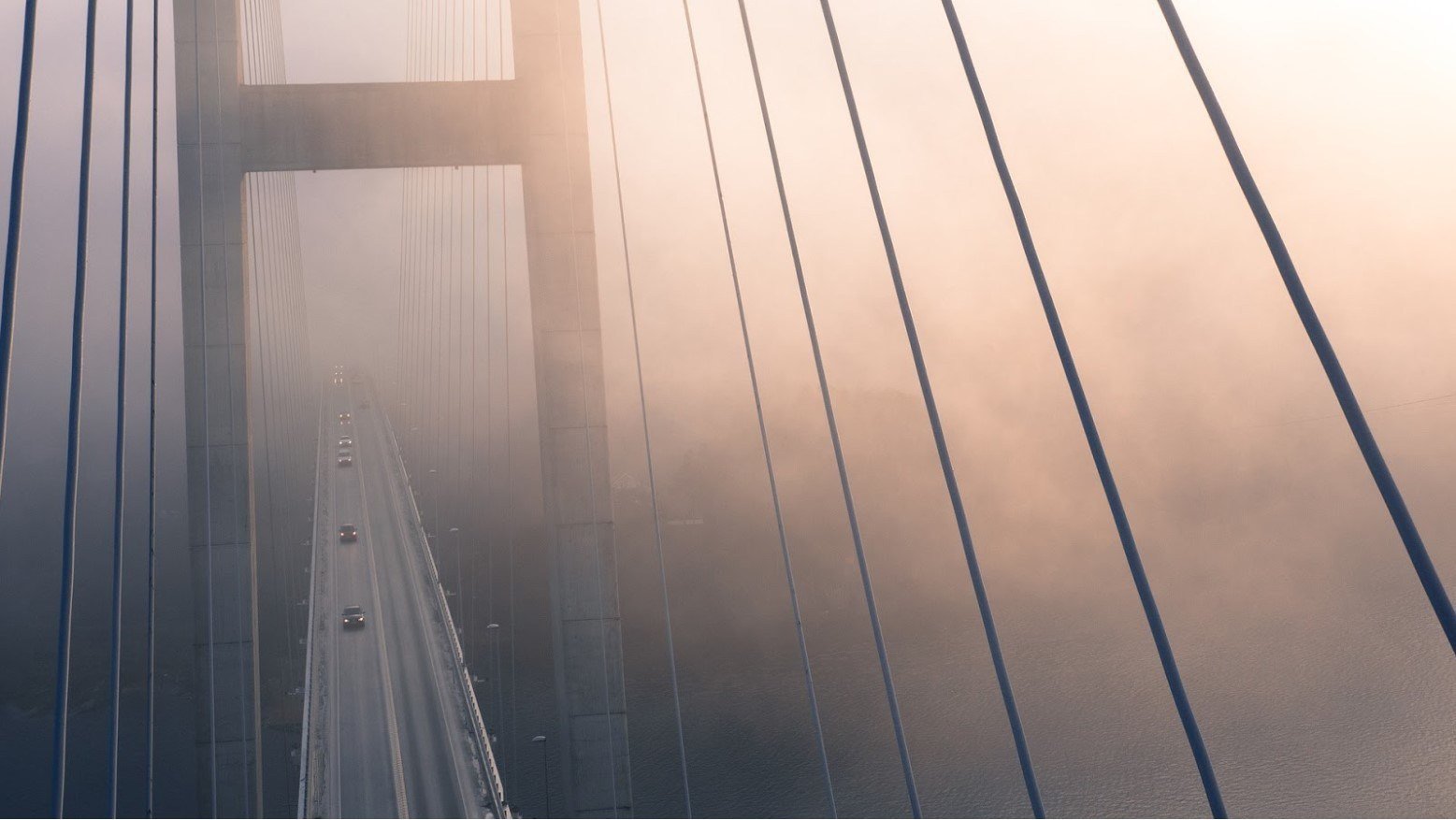 Is the Panasonic GH4 for You?
Do want one of the best video cameras for travel that is (relatively) compact? Would use also like the ability to shoot excellent photos? The Panasonic GH4 has everything that you need! With 4k video recording, you'll be making professional grade videos in no time. Join the revolution and get one of the best mirrorless video cameras yet!
The best present of all… is CONVENIENCE!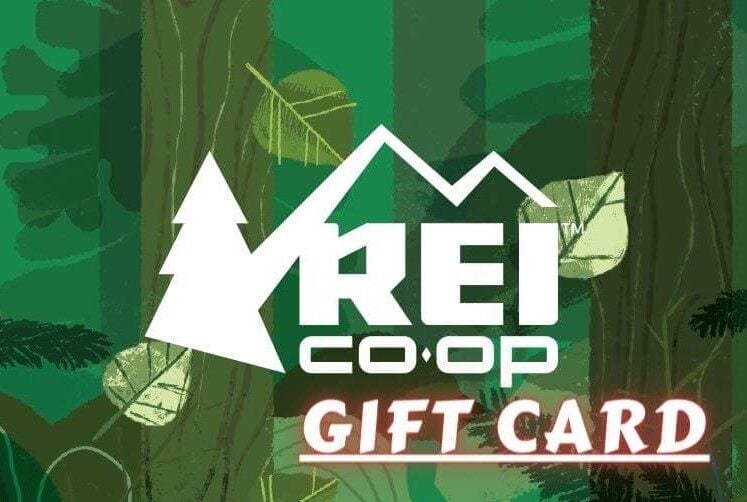 Now, you could spend a fat chunk of $$$ on the WRONG present for someone. Wrong size hiking boots, wrong fit backpack, wrong shape sleeping bag… As any adventurer will tell you, gear is a personal choice.
So give the adventurer in your life the gift of convenience: buy them an REI Co-op gift card! REI is The Broke Backpacker's retailer of choice for ALL things outdoors, and an REI gift card is the perfect present you can buy from them. And then you won't have to keep the receipt. 😉
Buy on REI!
Best Travel Camera for Aspiring Professionals
If you want a powerhouse that can do almost everything
Specs
5.0 x 3.8 x 2.4" / 22 oz (body only)
42.4 MP full-frame CMOS Sensor
Sony E-Mount – 20+ Native Lenses – Adapters allow for exponentially more non-native lenses
Weatherproof
Up to 4k video recording
Internal 5-axis image stabilization
This is the cream of the crop. The future, if you will.
The mirrorless camera that is seeking to knock out the dynasty that was created by full-frame DSLR giants like Canon and Nikon. This is the Sony A7R Mark II.
The Sony A7r Mark II may not only be the best mirrorless camera for travel but the best mirrorless camera, period.
Boasting a mind-boggling 42.4 Megapixel full-frame sensor and a cutting-edge autofocus system this camera can capture just about anything, regardless of lighting or conditions.
Most impressive is the ability to mount almost any non-native lens on the A7R Mk.II via a series of adapters. That luscious Canon glass – the kind that every photographer idolizes – is no longer exclusive. Sony is literally poaching the competition with its amazing flagship, the A7R Mk.II.
Pros
Want the highest possible image and video quality.
Would like the ability to mount non-native lenses.
Want to become a professional photographer.
Cons
Are on a budget.
Need lots of battery life.
Like to shoot rapidly.
Why the Sony A7R Mark II is One of the Best
What can be said about the Sony A7R Mark II except "extraordinary." This camera apparently has it all: an amazing sensor, top-notch focusing, the ability to mount nearly any lens possible, and a rugged body to go with it.
I could gush about the quality of images that the A7R Mk.II produces but that would be pointless – I will simply state that they are brilliant. Gorgeous colors, huge dynamic range, and a minute amount of noise are all noteworthy points.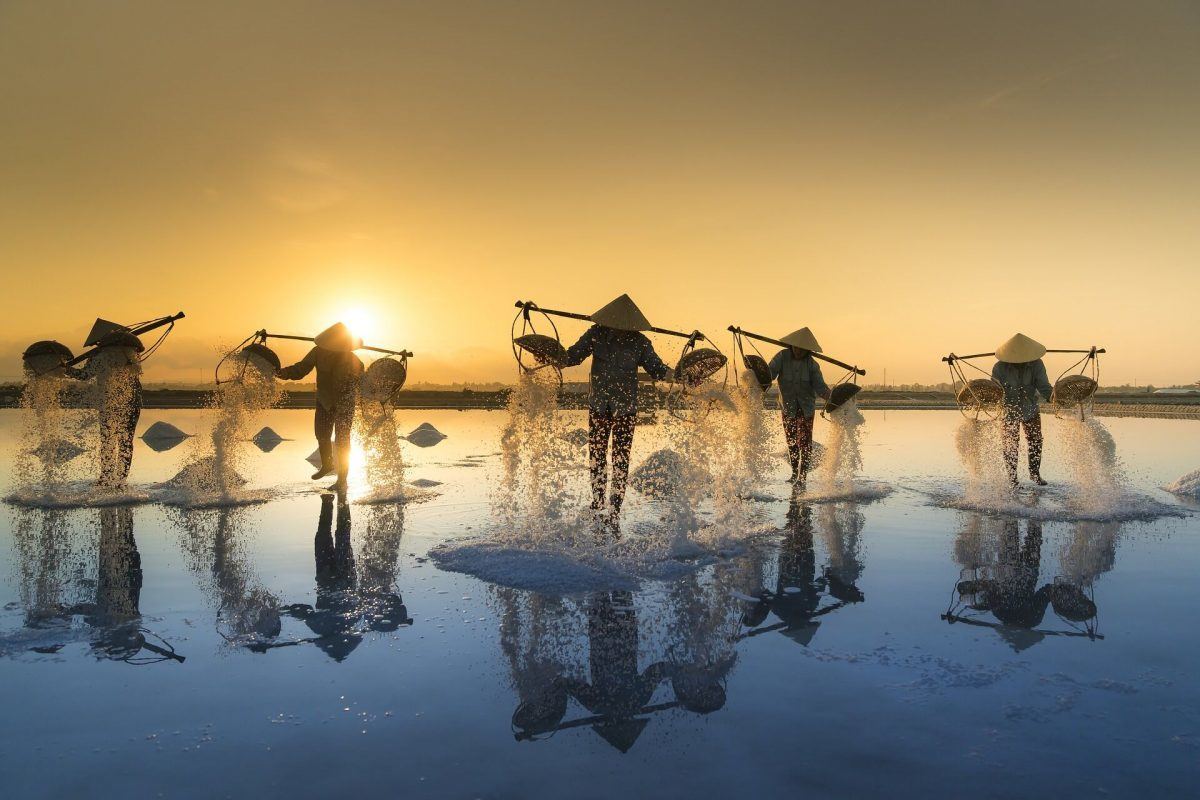 For a mirrorless camera, the A7R Mk.II's autofocus is ahead of its time. Where many mirrorless systems can be relatively sluggish, the A7R Mk.II excels and can compete with the most advanced DSLRs. Even non-native lenses when mounted on the A7R Mk.II snap to focus quite quickly, which is remarkable.
The fact that the A7R Mk.II can function with any lens via an adapter is a huge accomplishment. Many photographers have clung to reputable brands simply because the glass is so good. The ability to mix and match incompatible brands had been unheard of until the Sony Alpha series.
Now photographers can use any lens they want when using the Sony A7R Mk.II. The inclusion of an in-body image stabilizer also ensures maximum sharpness regardless of the adapted lens' possible lack of stabilization.
Where the Sony A7R Mark II Falls Short
The A7R Mk.II's battery life can be frustratingly bad. Performance can be slow in certain circumstances i.e. continuous shooting and buffering. Video – though possible in 4k – can be difficult to record thanks to some technical and ergonomic flaws.
Finally, the E-Mount lens library is fairly uninspiring, and those who resort to larger Canon/Nikon glass effectively negate the benefits of using such a small camera body in the first place.
Sony A7R Mark II Upgrade
Want to splurge even more? Sony A7R Mark III features greater processing power, better continuous shooting, a touch screen, and more!
Sony A7R Mark II Pro Tips
The A7R Mk.II can be charged via a USB port while in the field. Bring a power bank with you for those long shoots.
The A7R Mk.II can switch to an APS-C mode, which will add extra focal length at the cost of resolution. This feature is great for wildlife and distant subjects.
The extremely limited amount of noise that the A7R Mk.II produces allows photographers to worry less about ISO. Set ISO to AUTO and apply a minimum shutter speed to streamline shooting.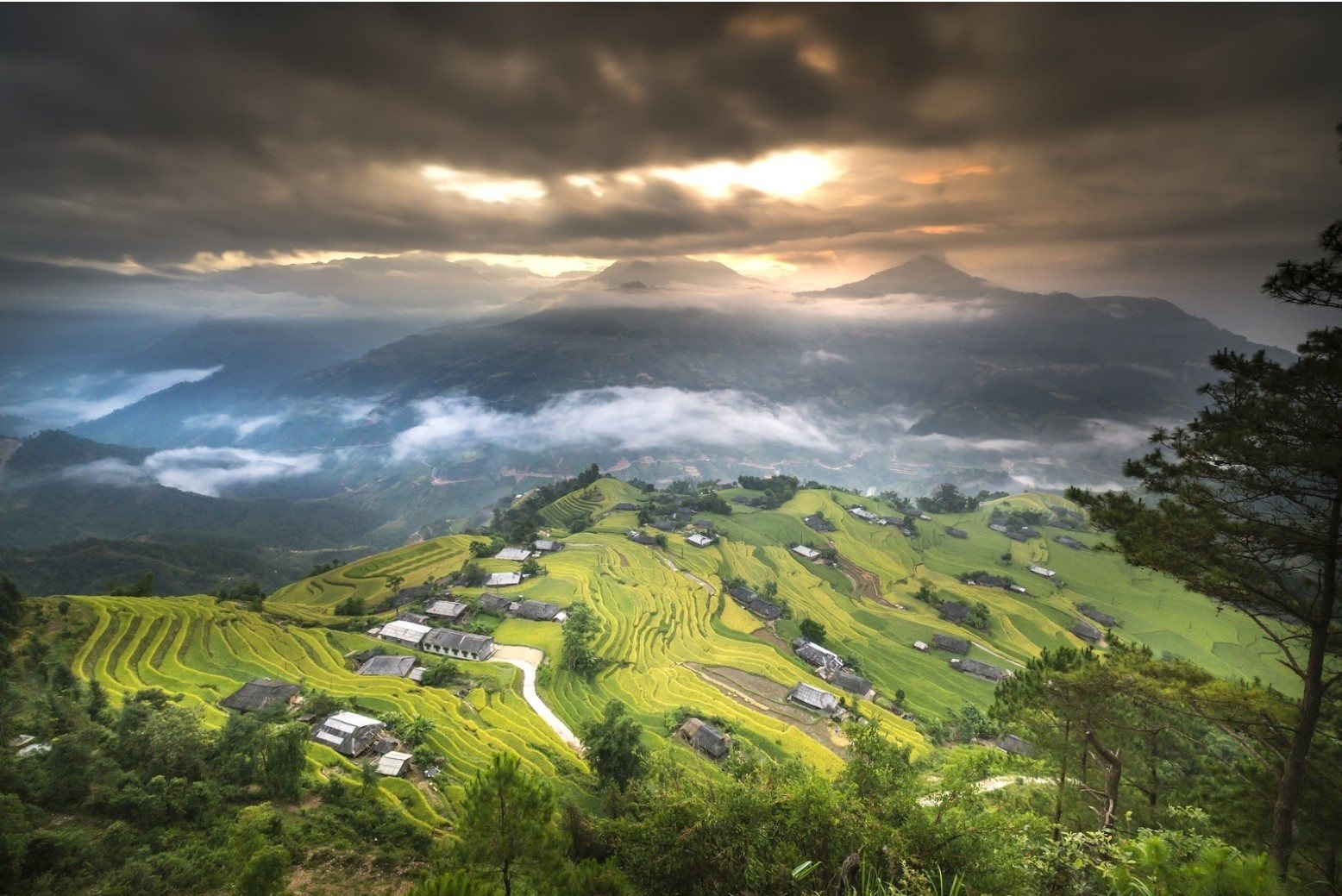 Is the Sony A7R Mark II for You?
Do want to have one of the best mirrorless travel cameras currently available? Are you willing to invest in a tool that will help take your photography to the next level? If so, then the Sony A7R Mark II is just about the best professional camera for travel that you can buy. Though it may struggle at times with battery life and processing speeds it will serve any travel photographer very well.
Best Pro DSLR for Travel
If you are looking to have that 'National Geographic' look… you've found your camera
Specs
6.0 x 4.6 x 3.0 / 1.89 lbs (body only)
22.3 MP full-frame CMOS Sensor
Canon EF Mount – 20+ native lenses
Weather resistant (not sealed)
4k video possible w/ extra firmware
For the last decade or so, the Canon EOS 5D series has been the king of cameras.
With a respectable 22.3 MP full-frame sensor, excellent controls, and being backed by one of, if not the most reputable lens libraries, the Canon EOS 5D Mark III is for many the go-to choice. The Canon 5D Mk.III excels in all fields of photography. For this reason, the Canon 5D Mk.III is the best DSLR camera for travel.
Pros
Want amazing images.
Would like a huge selection of cutting edge lenses.
Want just an all around great camera.
Cons
You want the absolute best full-frame sensor possible.
Are concerned about size and weight.
Are on a budget.
Why the Canon EOS 5D Mark III is One of the Best
The Canon EOS 5D Mark III has been so successful that its name often feels synonymous with the term "professional photography."
The Canon EOS 5D Mark III is probably the leading camera in the photographic industry. It can do just about anything. The 22.3 MP sensor produces some truly stunning photos that are noise-free even at the highest ISOs. Autofocus is very fast and reliable.
Video recording is also top quality in the Canon 5D Mk.III. For most of its existence, 1080p has been the highest resolution possible when recording with the 5D Mk.III. A new firmware has expanded upon this though and made 4k possible thus pushing the 5D Mk.III even further into the stratosphere.
The controls of the Canon 5D Mk.III are well placed and most settings are fully customizable. Users can set up their camera in whatever way suits them. Weather sealing and awesome battery life further cement the Canon 5D Mk.III as one of the most dependable cameras available.
Where the Canon 5D Mark III Falls Short
Honestly, I have a hard time finding much fault with the Canon 5D Mk.III. There's a reason it's one of the most popular cameras today: it simply works – amazingly well.
The biggest complaint that one can make about the Canon 5D Mk.III pertains more to the general nature of full-frame DSLRs themselves. full-frame DSLRs are big, heavy, and cumbersome. Even a partially complete pack including a camera body, a lens or two, and a couple of mandatory accessories can top out at over 30 lbs.
For travelers who often live out of a backpack and must be mindful of pack weight, this can be a problem. Interested photographers will have to measure the pros and cons and make their own decision but if you're looking for a compact backpacking camera, this probably isn't the best choice.
Canon EOS 5D Mark III Upgrade
Do you want an even more powerful camera? The Canon EOS 5D Mark IV is a part of the next generation of full-frame cameras and builds upon its forerunner in nearly every way.
Canon EOS 5D Mark III Pro Tips
RAW images that are taken with a full-frame sensor are more malleable in post-processing. Find a good editing program and learn how to use it.
Enable the Highlight Alert feature in the Canon 5D Mk.III. It'll let you know when an image has been blown out and has unrecoverable highlights.
The bigger the camera, the bigger the tripod. Make sure your tripod can support the weight of the Canon 5D Mk.III with a decent sized lens attached.
Is the Canon EOS 5D Mark III for You?
Do you want one of the best professional travel cameras of all time? Are you ready to bear the burden of this technological behemoth? Then join the party and get yourself a Canon EOS 5D Mark III. With spectacular in-body performance and arguably the best selection of lenses that money can buy, you're sure to find success. Welcome to the Canon life.
Best Mirrorless Camera Under $500
Specs
4.3 x 2.5 x 1.4" / 10 oz (body only)
24.3 MP APS-C CMOS Sensor
Sony E-Mount – 20+ Native Lenses – Adapters allow for exponentially more non-native lenses
No weatherproofing
Up to 1080p video recording
The Sony Alpha a5100 is a pint-sized powerhouse. Somehow, Sony managed to fit a staggering 24MP APS-C sensor into a body that is only a little larger than the average cell phone. Its startling size and performance make it both one of the best travel cameras for under $500 and perhaps the absolute best compact travel camera currently available. Novice photographers and those wanting to save a buck should instantly be drawn to the Sony Alpha a5100.
Be sure to read our in-depth review of the Sony a5100 here.
Pros
Want superb image quality in a tiny package.
Are a beginner in photography and want to improve your skills.
Want above average battery life for a mirrorless.
Cons
Become frustrated by multiple menus.
Like to use an Electronic Viewfinder.
Need to use hot shoe accessories.
Why the Sony Alpha a5100 is One of the Best
It really is astounding what Sony as done with the Alpha a5100. They've created a camera whose images could rival those of a much larger DSLR, yet it could still fit in your front pocket (depending on the lens). That's a big deal.
It's not just the 24MP APS-C sensor either – the Sony Alpha a5100 also has surprisingly nimble autofocusing, excellent noise control, and solid battery life. For many amateur photographers, these features are all that is needed to take great photos.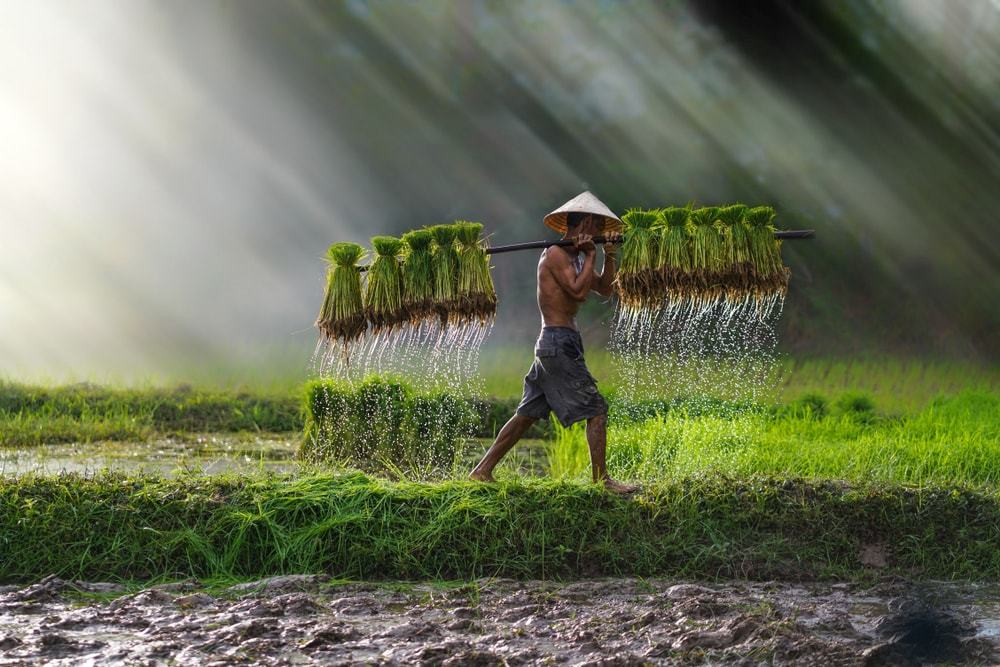 The body of the Sony a5100 is fairly blank – hell, the camera is nearly all sensor/mount and rear touchscreen – which can be a boon and a curse. Most settings can be found in one of the camera's extensive menus. Via these menus, you can change just about anything exposure-wise that a semi-professional camera can. This makes the Sony a5100 one of the best travel cameras for beginners who want to break into photography without breaking the bank.
Conversely, it can be really frustrating to scroll through multiple screens just to change something like shutter speed. Your attention will instantly be diverted from the scene if you intend on setting the exposure manually with this camera.
Where the Sony Alpha a5100 Falls Short
The inclusion of an over exaggerated sensor doesn't come without sacrifices as the Sony a5100 lacks a lot of important tech. For one: there is no EVF (Electronic Viewfinder), which makes sense because these take up a lot of space. Shooting via a rear screen on a bright day is notoriously difficult.
Also missing is a hot shoe, which means you won't be able to connect any external accessories. Unfortunately, using a larger flash will be impossible leaving you to deal with the a5100's own flash, which leaves a lot to be desired.
Sony Alpha a5100 Upgrade
Are you impressed by the a5100 and willing to spend a little extra cash? The Sony Alpha a6000 is a newer model and beats its predecessor in almost every measurable field.
Sony Alpha a5100 Pro Tips
Though it lacks the buttons and dials found on more premium cameras, the Sony a5100 still has fully adjustable exposure. Play around with the aperture, shutter speed, and ISO to really step up your photography game.
24 Megapixels renders a pretty big file. Make sure you have a large memory card and enough processing power on your computer to process these images.
There are a plethora of cool shooting modes in the a5100 including panorama and time lapse. Try them all out!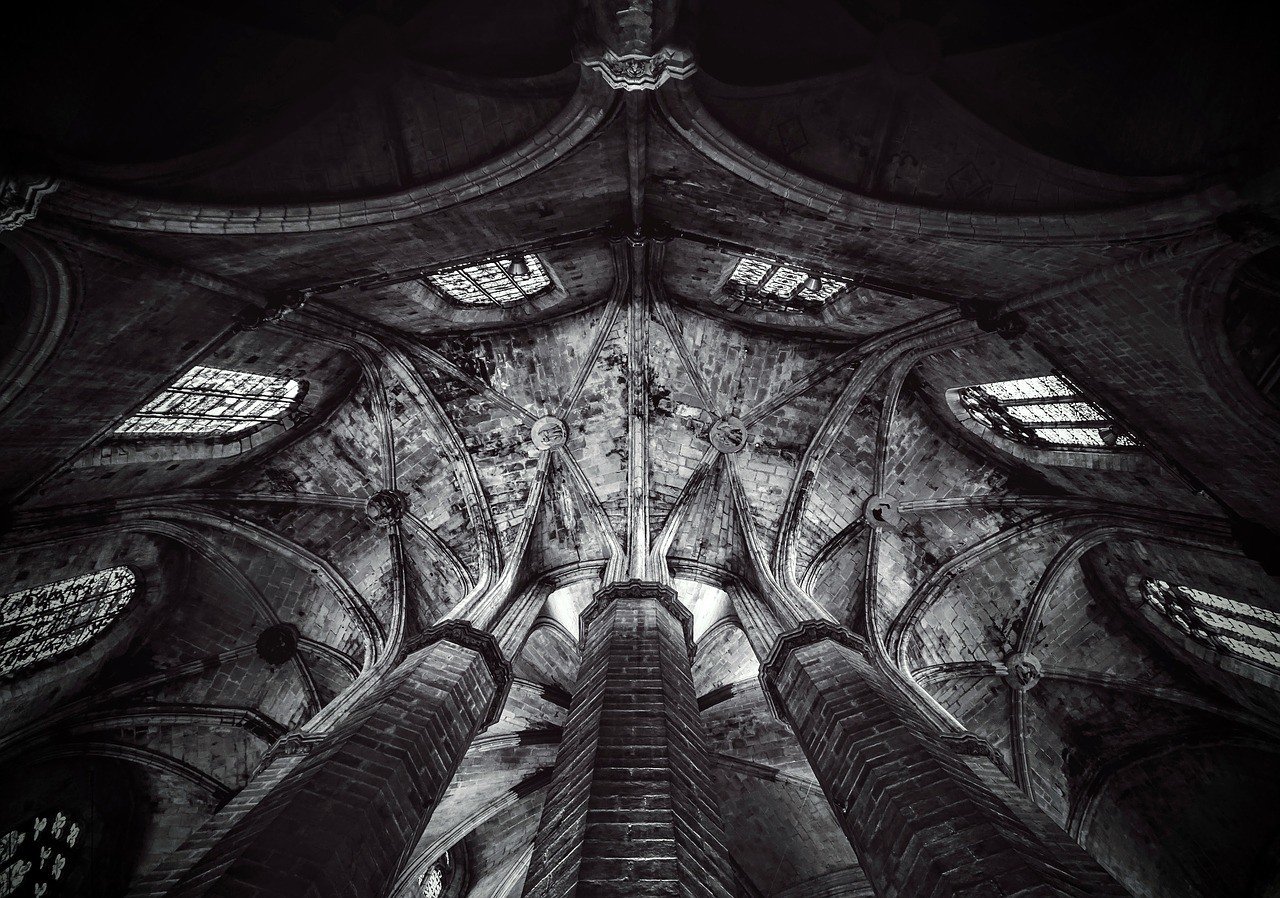 Is the Sony Alpha a5100 for You?
Are you looking for a compact camera that packs a punch? Are you ready to start learning the basics of photography but don't want to commit to a full DSLR? The Sony Alpha a5100 is for you then! This mighty mouse of a camera is small, inexpensive and takes gorgeous photos making it one of the best budget travel cameras available.
Best Bridge Travel Camera
Specs
5.4 x 3.9 x 5.1" / 1.83 lbs
20.9 MP 1" MOS Sensor
Built in 9.12-146mm Leica lens (25-400mm FF equivalent)
No weather sealing
Up to 4k video recording
Built-in Image Stabilization
The Panasonic Lumix FZ1000 is one of the best zoom cameras around! This camera takes surprisingly superb images mostly in part to its built-in long range Leica lens. The controls on the Lumix FZ1000 are very easy to use and make the experience of shooting a breeze. Best of all, the Lumix FZ1000 is currently the only "bridge camera" on the market that can shoot 4k videos, which makes it one of the best travel video cameras as well! At $600, you're sure to get lots of use out of the wholesome Panasonic Lumix FZ1000.
Check out our in-depth review of the Panasonic Lumix FZ1000 here.
Pros
Don't want to worry about changing lenses.
Want a lot of focal flexibility.
Want very easy controls.
Cons
Want maximum image quality.
Like to shoot in low light situations.
Are concerned about size and portability.
Why the Panasonic FZ1000 is One of the Best
The FZ1000 is considered a long zoom or "bridge" camera, which is essentially a hybrid of a point-and-shoot and a DSLR. The idea behind bridge cameras is to combine the most desirable traits from both systems – the accessibility of a point-and-shoot combined with the image quality of a DSLR. Many people find this system more enjoyable as they don't have to worry about changing lenses or fiddling with overly complicated settings.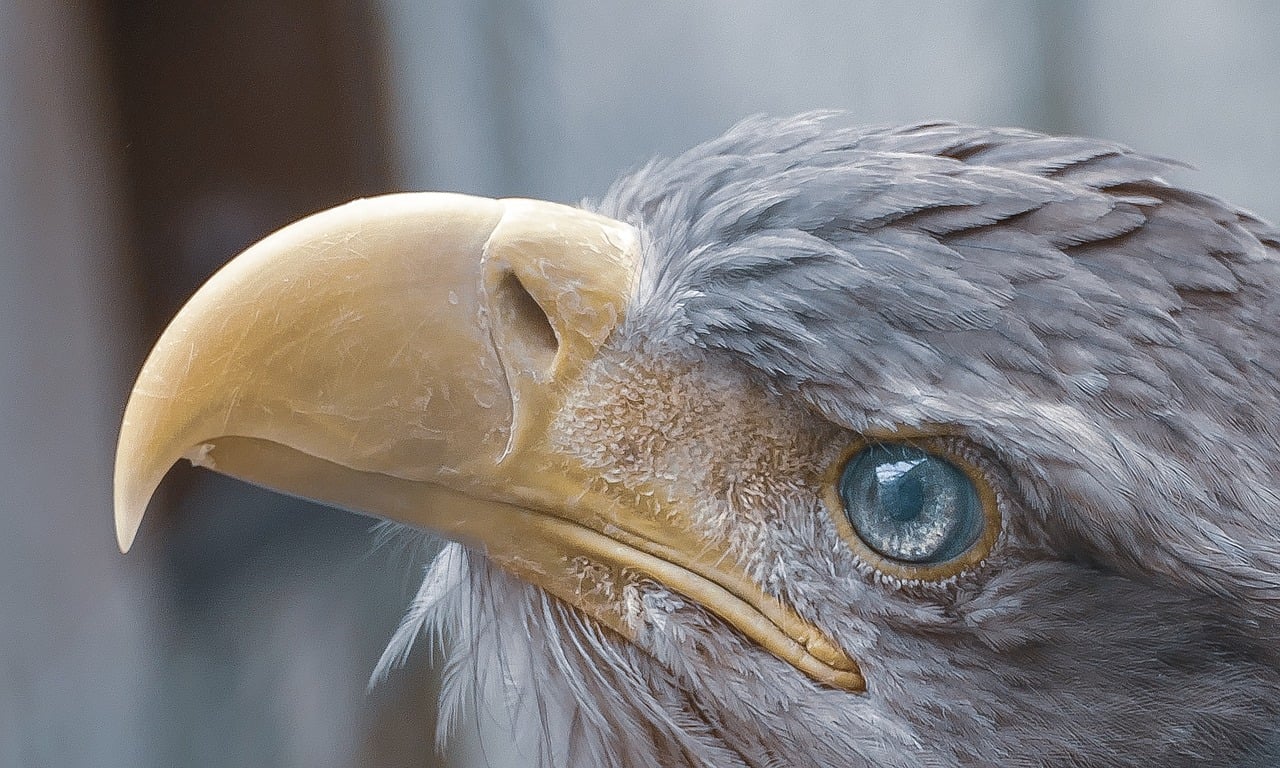 The Panasonic FZ1000 is one of the best long zoom cameras (or bridge cameras) out there. Aside from its inherent benefits, the FZ1000 consistently beats its opponents in several areas. The autofocus is superlative. The quality of the lens is top-notch (as Leica glass is legendary). Finally, the ability to film 4k is both extremely convenient and unheard of on a long zoom camera prior to the FZ1000.
The FZ1000's controls are very intuitive and make shooting extremely easy. This also makes the Panasonic Lumix FZ1000 one of the best cameras for beginners in travel photography who want to learn the basics.
Where the Panasonic Lumix FZ1000 Falls Short
There are some negatives to the Panasonic Lumix FZ1000, which are endemic to all bridge cameras, unfortunately. Though the Panasonic FZ1000 (or any long zoom camera for that matter) may have a great lens, it's small 1" sensor isn't able to produce the sharpest and most dynamic images. Image noise becomes a problem even in moderately lit conditions. Highlights and shadows may be unrecoverable when shooting in harsh lighting conditions.
Portability is also an issue as most long zoom cameras tend to lean towards their DSLR brethren in size and weight. This makes the Panasonic Lumix FZ1000 not the best compact travel camera. The FZ1000's body also lacks weather sealing, which may turn off many shooters who like to go outdoors.
Panasonic Lumix FZ1000 Alternative
Need a little extra range? The Nikon COOLPIX P900 has one of the longest and finest zooms of any travel camera but at the sacrifice of image quality.
Panasonic Lumix FZ1000 Pro Tips
Bridge cameras, like the Lumix FZ1000, have low apertures and small sensors meaning they suffer in low light situations. Use this camera outdoors to get the most out it.
The Panasonic Lumix FZ1000 has a built-in flash – use it! Even outdoor scenes can use a little extra light from time to time.
Make sure the image stabilization is turned on! This feature can mean make or break a photo when shooting handheld – especially in low light situations.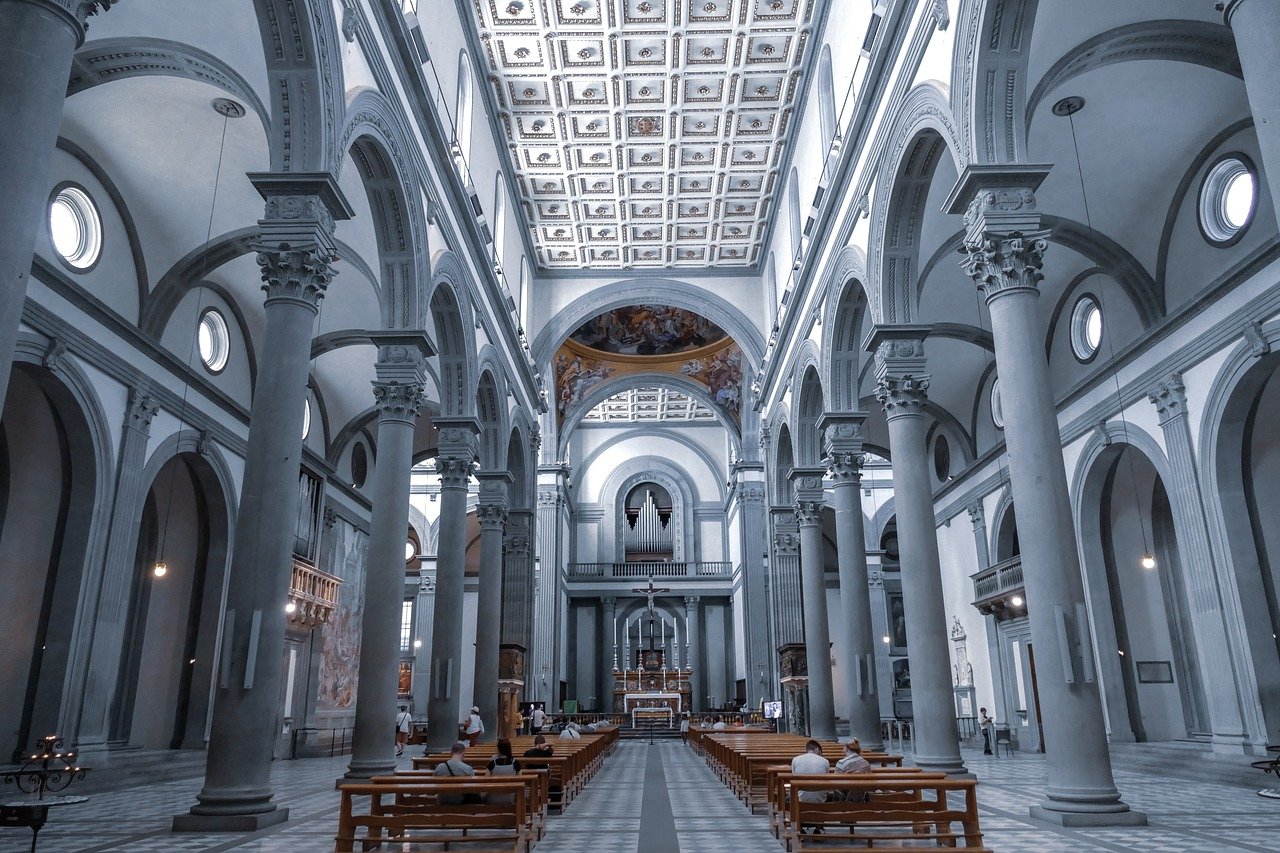 Is the Panasonic FZ1000 for You?
Do you want a very easy-to-use camera that can also take solid pictures? Do want the ability to capture a multitude of scenes without having to change lenses? Then the Panasonic FZ1000 is the camera for you! This "best-of-both-worlds" camera will meet most of your needs while traveling around the world and at a competitive price.
Why Should Travel Photographers Care About…
Size and Weight
Size and weight are one of if not the most important things that photographers need to consider when looking for the best travel camera. Seriously, this is an extremely important subject. A photographer's experience – and well being – could vary wildly depending on which camera he chooses and how big the whole system is.
For example, a photographer wants to have the absolute best camera for travel photography possible so he ends up buying a full-frame camera that weighs around 2 pounds. That's just the body though, so he ends buying a few lenses, each weighing around 2-3 more pounds. But what about lens filters? Gotta have those. Extra batteries? Of course. Remotes? Those are handy. The list of additional accessories goes on and on. Next thing you know, they've got more than 30 pounds of camera gear.
Moral of the story: shit gets heavy quick.
Photographers need to be mindful how much space their prospective travel camera is going to take up. Yes, that full-frame DSLR takes amazing photos but are you really willing to lug all that gear around? Conversely, a pocket-sized compact camera is super easy to carry but you're going to be ill-equipped during many photographic opportunities. Good luck shooting at night or any animals with that dinky point-and-shoot.
Those investing in a travel camera first need to think about how much they are willing to carry. Only afterward should they consider how good the photos may be.
A good resource when considering size and weight is CameraDecision. This website will help you compare cameras and their dimensions and allows a nice visual.
Make sure you have the right backpack for your camera kit – check out the best camera bags for travel in 2022!
Sensor Size
Choosing a travel camera with an appropriately sized sensor is a crucial decision. The size of the sensor, essentially, dictates three things: 1) low light performance  2) noise control and 3) dynamic range. Now, in almost every situation a larger sensor will assuredly mean a larger camera. As always, you'll have to weigh the benefits of having a larger sensor against the potential size and cumbersomeness of the camera.
Larger sensors are usually better in low light situations because they usually* have larger pixels.
If a sensor's pixel is larger, it can receive more "data" – e.g light – when taking a photo. This leaves less room for informational inconsistencies, which is commonly referred to as noise. Noise visually appears as a sort of graininess and is often considered unattractive outside of certain creative situations.
To put all of this into context, a larger sensor will be better equipped to register as much light as possible even when there is very little of it. In dimly lit situations, like at night or when you're indoors, a larger sensor will create a better, cleaner photo.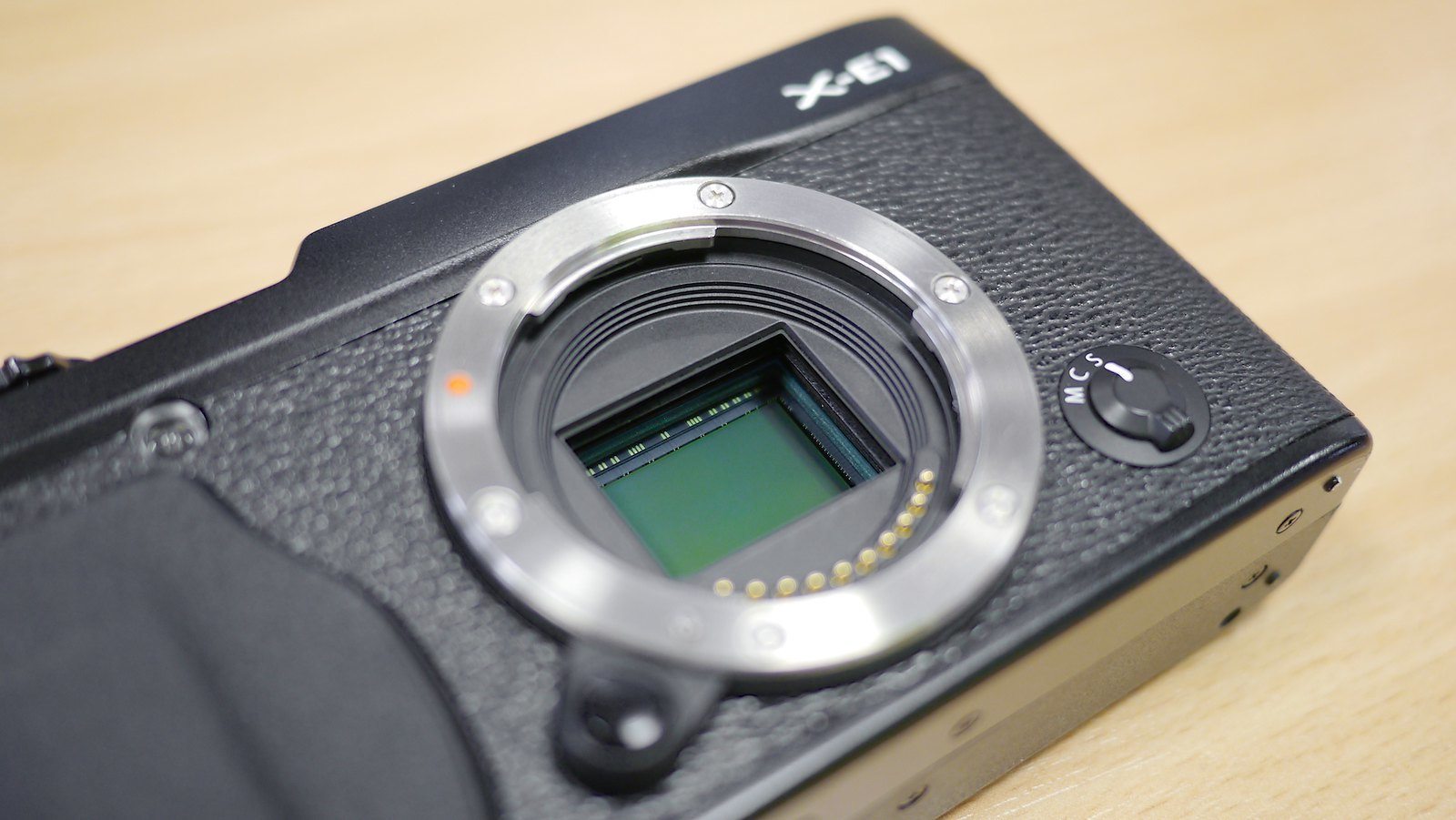 Finally, dynamic range is the extent of luminosity that your camera can record, from absolute white to black. Simply put: a sensor with better dynamic range will be able to create a better photo with highlights that aren't washed-out and shadows that aren't totally black.
Honestly, dynamic range is a complex and controversial subject, one that I encourage people to research. While it's true that greater dynamic range is often indicative of a better sensor, it's not the thing that "makes" a pretty picture. At the end of the day, good photographs come from good photographers.
* Sometimes larger sensors don't always have larger pixels but just more pixels e.g. more megapixels.
Megapixels and File Formats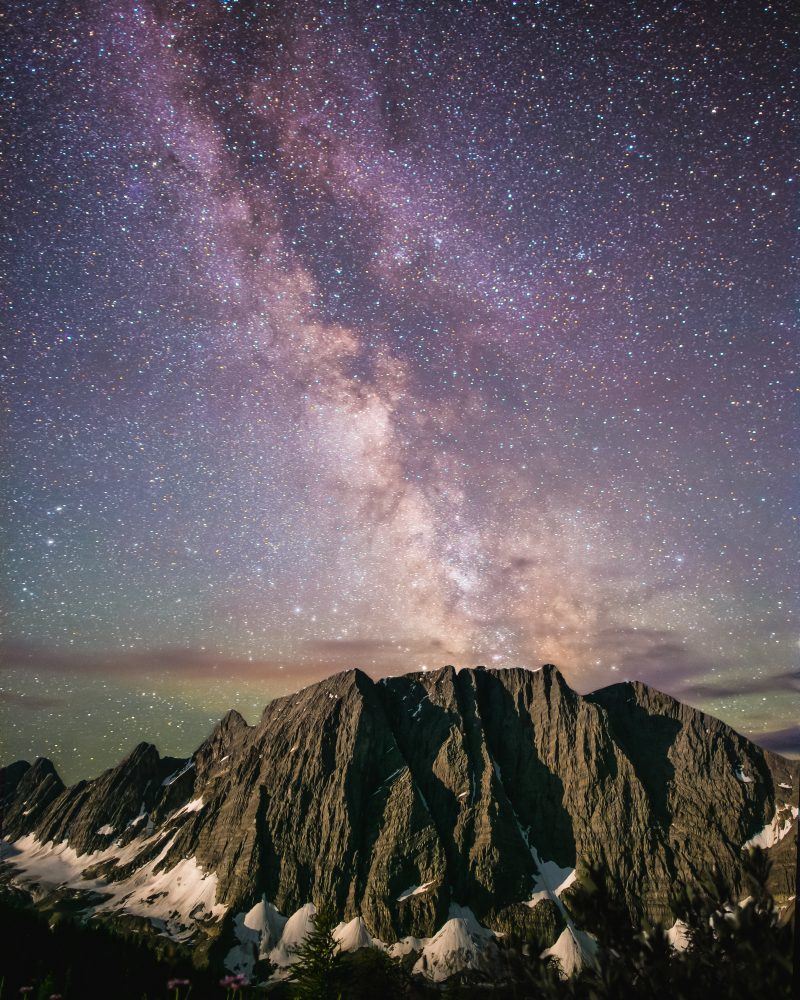 Ah yes, the eternal debate: do megapixels really matter? Many (misguided) photographers collect megapixels like they were gold bars and believe that more is better. Contrary to popular belief, megapixels actually have very little to do with the quality of the actual image. Image quality has more to do with sensor size, lens selection, and the skill of the photographer.
What megapixels do allow for is greater resolution, which comes in handy when you're looking to make prints of your photos. The more megapixels your camera has, the larger the prints. Pretty straightforward.
If you aren't planning on printing anything and just like to post on social media or the internet, 16MP will be fine. The average electronic file on the internet is usually around 2000 x 2000; 16 MP will yield a file that is around 4000×3000.
In post-processing, there are a couple of benefits to having more megapixels as well. Image sharpness is slightly better in larger files because of the increased resolution. With larger files, you are able to crop more without a loss of quality too. Photographers that use a Sony A7R Mk.II – with it's 42 MP sensor – are known to abandon narrower telephoto lenses altogether because they can just crop a photo and get a relatively similar effect.
Finally, the ability to shoot in the RAW (as they say) format is also crucial if you want to professionally edit your photos. RAW files have soooooo much more data than JPEGs and can be molded in so many ways. The topic of RAW vs JPEG is a long one, which I, unfortunately, don't have the time to get into. Instead, I'll refer you to this wonderful explanation by SLRLounge.
Want to take gorgeous photos at night? Make sure you have a good tripod while traveling!
Lens Selections
For many photographers – including myself – this is the main reason to invest in a certain camera company. Lenses are what literally create your image and a good one can make all the difference. A high-quality lens will make your image sharper, more vivid, and more enthralling.
Lenses come in so many different shapes and sizes, from fisheye to super telephoto to medium zooms and so on. Each one of them appeals to an individual shooting style and photographer as well. Do you like to photograph epic vistas? Grab wide angle lenses so you can get as much as possible in the photo. Do you like to take pictures of people? Invest in a quick lens with a low aperture so you can create some lovely "bokeh."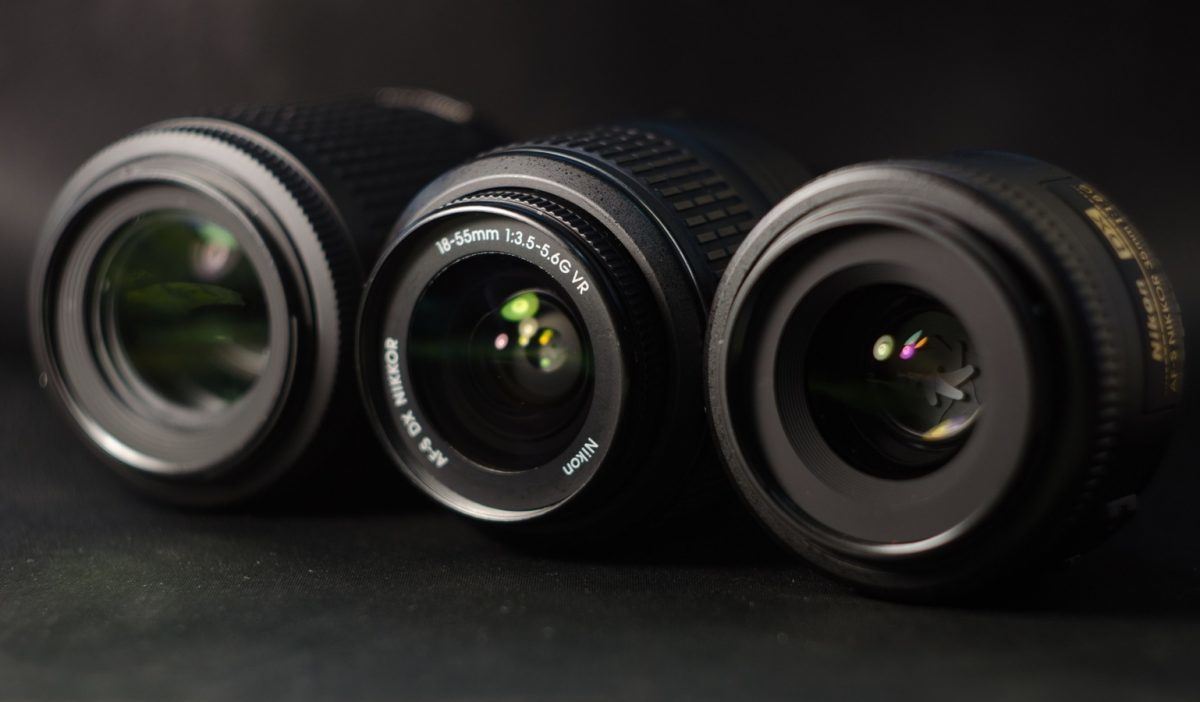 Regrettably, I can't tell you which lenses to buy – not in this article at least. What I can do is refer you to this informative guide and then give you this advice: if you want to take certain photos and of a certain quality, then you need to buy the proper lens. Investing in a lens is just as important as investing in a camera body.
Lenses add to your pack weight though and take up space – sometimes a lot of it. I'm going to tell you right now: you probably aren't going to have a lens for every situation unless you want your bag to weigh a ton. You need to choose only a couple that best suits you and your target pack weight.
Check out these additional articles for more on lenses!
Weather and Water Proofing
Various travel cameras offer various types of protection. Some, like the Sony A7R Mark II and the Panasonic GH4, have a specially designed body that is made of moisture-repellent materials – usually magnesium – that helps resist the elements. Others, like the GoPro HERO9 and the Olympus Tough! TG-5, are completely waterproof and have all of their essential components sealed.
Whether or not you need weather sealing is really dependent on what kind of photographer you are. Obviously, you're not going to need weather or water sealing in certain situations. Do you mostly take pictures of people and when the weather is nice? You're probably not going to need weather sealing. Even if you get caught in the occasional rainstorm, your travel camera will be fine.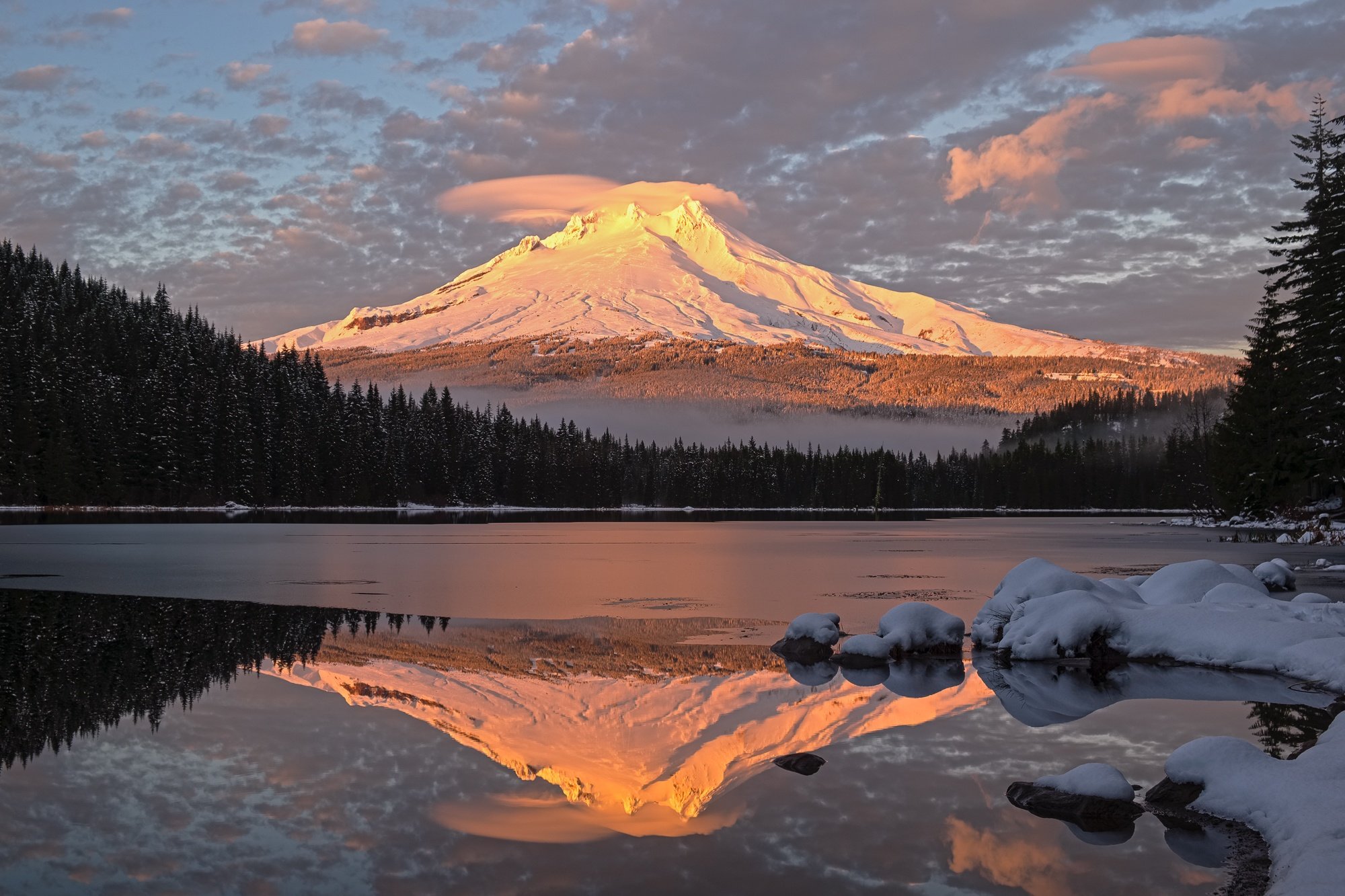 Do you go into the wilderness often and/or insist upon taking photos even the harshest of conditions? Weather sealing will probably be a benefit to you as your camera will be better suited to handle the extreme environs. Note that weatherproofing doesn't mean that your camera can actually be totally submerged in water. If you're actually beating the shit out of your camera, either from overuse or misuse, you'll probably want to invest the best waterproof travel camera that you can find; or just be more careful.
When using a waterproof travel camera, it's important to remember that a camera is only as waterproof as its lens. The point where the lens mounts onto the body is very vulnerable. A proper weatherproof lens will have a rubber seal to keep water out of the lens and sensor chamber. If you're using a lens that isn't weatherproof, then it kind of defeats the purpose.
Functionality
A camera is only as good as the photographer that wields it. In order to get the most out your travel camera, you need to be able to understand it and use it effectively. So, when looking for the best travel camera possible, you need to ask yourself two questions: how much control do I want and how intuitive will camera x be?
If you just want an easy-to-use camera, one where you won't have to worry about adjusting exposure or anything else that is overly complex, then invest in a good compact like the Sony Alpha a5100 or Panasonic Lumix FZ1000. You can dive deeper into the menus and settings of these cameras whenever you feel like it – don't feel like you're making an irreversible decision.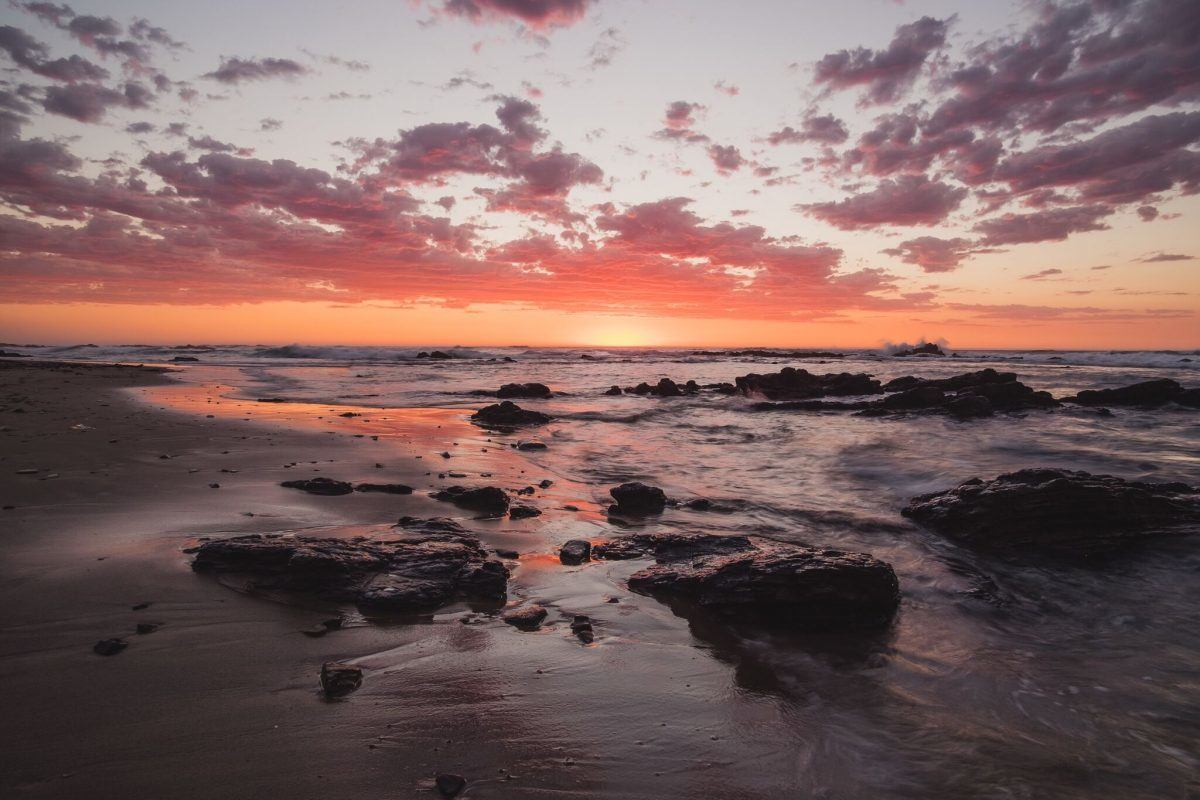 If you're someone who considers themselves an enthusiast or even an expert and you want the best travel camera available, make sure that its controls are straightforward and intuitive. There are so many amazing cameras out there that (for some reason) have the most absurd and unreasonable controls. Painful operations make for painful shooting sessions.
These days, more and more travel cameras are developing tech that really makes photography fun and, at the same time, efficient. Features like touchscreen focusing and focus peaking are really helpful and are kind of changing the way we shoot photographs. Regardless of your level of expertise, it will pay dividends if you learn how to use tools like these. Armed with the proper knowledge, you'll be a pro in no time.
Increase your camera's capabilities by investing in the right accessories!
Video Capabilities
Most modern travel cameras have video recording capabilities that are quite impressive. Gone are the days where you had to buy a separate camcorder just to film. So reliable is video in modern travel cameras that an increasing amount of talented videographers are using them for their professional endeavors.
Almost every travel camera offers at least HD video recording (1080p) but the most prestigious and desirable form of recording is 4k. 4k video is the highest technical level of video recording at the moment and the current industry standard. If you want the best travel camera for vlogging, then look for one with 4k recording.
Now, I mentioned earlier (in the GH4 post) that just because a camera can shoot in 4k video doesn't mean it's good at it. There is a number of other processes involved in shooting that make a great video – fps (frames per second), stabilization, and a smooth aperture to name a few. Like functionality, getting to know the recording features of a camera will enable a whole lot. Remember: a video is only as good as the videographer.
If we're being honest, I don't know a whole lot about the real intricacies of filming other than the basics, which I just mentioned. What I do know is that photographers should study the video capabilities of a camera just as much as they practice still photography – admittedly, I tend to gravitate towards the latter.
Other Notable Hardware
New camera technology is constantly being developed. It seems that every other a year a new travel camera is being released that looks unlike anything else before. When digital sensors became powerful enough to make mirrorless systems possible (and reliable) it ushered in a whole new era of travel photography. Hell, experts are even talking about experimental cameras that record odor and even work in the dark.
I'm getting ahead of myself though.
These days there are only a couple of technological innovations in photography that you should be aware of. They are as follows:
(Internal) image stabilization – A feature that was once found mostly in certain lenses but is now incorporated into the actual camera body. Internal image stabilization limits motion caused by handshake to maximize sharpness. By building stabilization into the actual camera body, every mounted lens is, essentially, stabilized. Note that cameras with internal stabilization are almost always larger in size.
Faster processors – Digital cameras are computers. Better processors mean faster computers. A travel camera with a more powerful processor can shoot more quickly and be subject to less lag caused by buffering. For sports and action photographers, having a quick processor is vital to their work.
Better sensors – These days, camera manufacturers are focusing less on megapixels and more on image quality when it comes to developing sensors. People want better color and increased dynamic range in their cameras and they don't want it to weigh a shit-ton. Progressively more compact cameras are equipped to handle harsh lighting, and this tech will only get better over time. There are even talks of a revolutionary organic sensor but that's still a ways away.
FAQ about the Best Travel Camera
Still have some questions? No problem! We've listed and answered the most commonly asked questions below. Here's what people usually want to know:
Get Your Copy of the Backpacker Bible Totally FREE!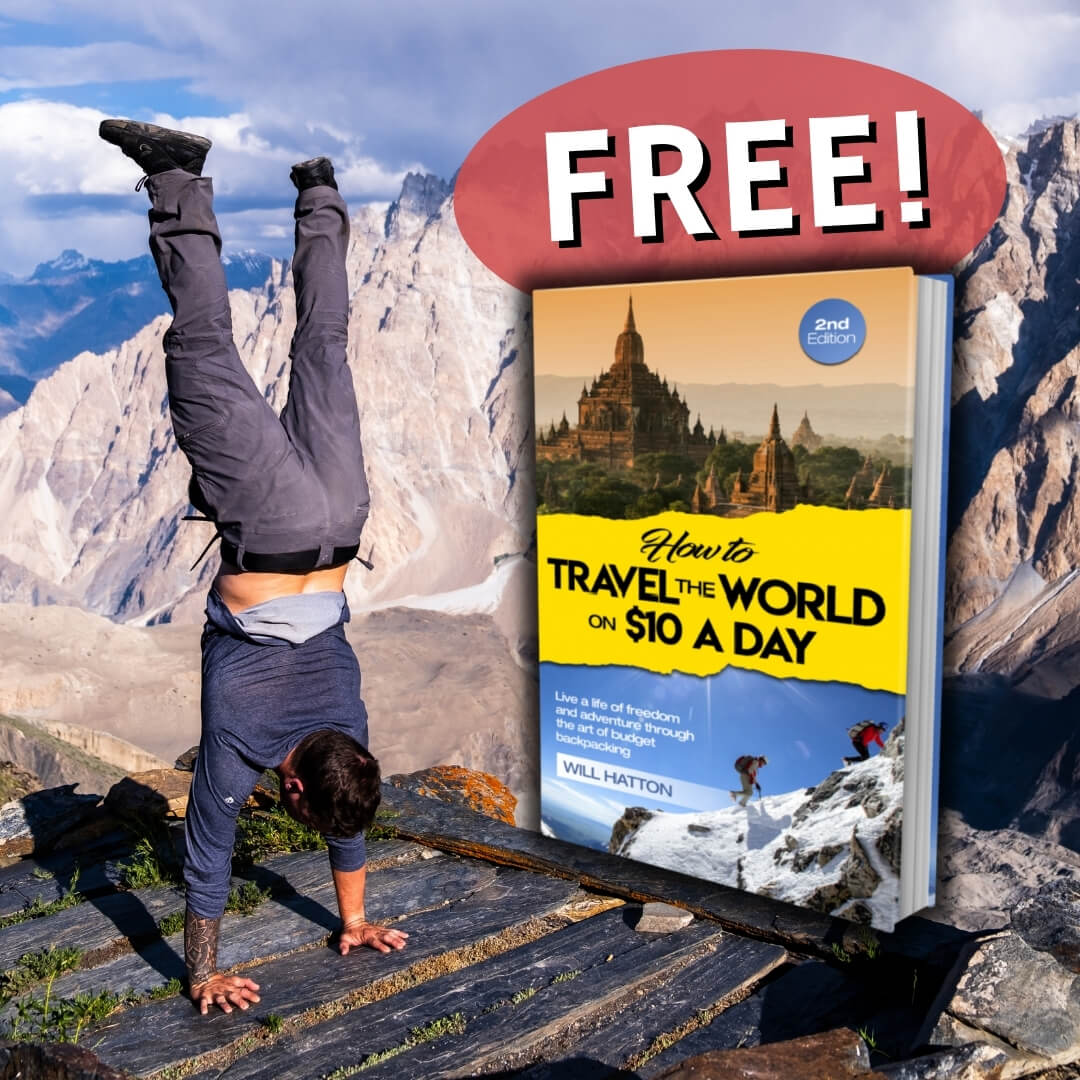 Learn how to travel the world on just $10/day with the Backpacker Bible – Will Hatton's own personal guide to the life of a budget traveller!
This book is the ULTIMATE culmination of more than 10 years of travel experience. It's full of valuable insider hacks and secrets that will help you unlock your full potential as a traveller.
AND… it's also FREE at the moment! All you need to do is click this link (or the sexy image of Will flexing his handstand skillz), provide your email, and we'll email you the ebook lickety-split!
Final Thoughts
Travel photography is not an exclusive art. Good travel photos are not made by fancy technology or cutting-edge features but by people that have vision. The most important thing you can own is an eye for the evocative and a sense for the thrilling. Anyone – and I mean, anyone – can develop the skill to be a world-class travel photographer!
The key to becoming a great photographer is finding the best travel camera possible. I don't mean the camera that has the best sensor or the best video capabilities or whatever – I mean the best camera for you. Each individual camera is better suited to each individual photographer. Some excel with a big ol' DSLR in their hands and some like a compact that they can run around with.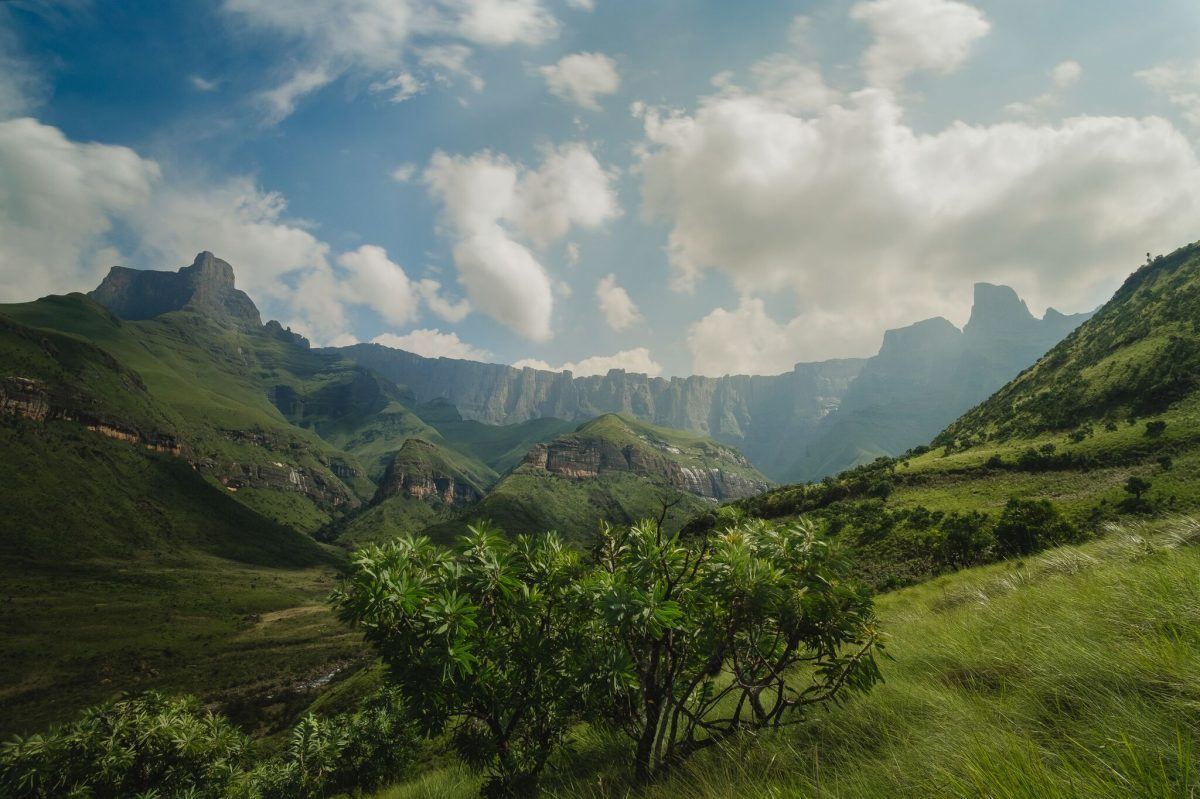 So my advice to anyone looking for the best travel camera is this: don't worry so much about the specs or what you see other people doing – just go out there, find something you like, and start shooting. You may end up juggling a few different systems but I guarantee you that you'll enjoy doing it. In the end, you'll have the right camera, no matter what.
Happy shooting, everyone!
---
Thanks for reading – that was fun! 😀
We bring you epic FREE content!
Find out how YOU can help support us.
We're a big site with a big team and this job isn't always easy. But we do it because we love it – we love providing epic and free content. We love the knowledge that our content keeps you adventuring. We don't ask for money, but if you'd like to find out how you can help the site in more organic ways, click the button below.
Thank you for your support 🙂
And for transparency's sake, please know that some of the links in our content are affiliate links. That means that if you book your accommodation, buy your gear, or sort your insurance through our link, we earn a small commission (at no extra cost to you). That said, we only link to the gear we trust and never recommend services we don't believe are up to scratch. Again, thank you!
Bye for now, but not forever!
If you want MORE top-tier Broke Backpacker content like this, then sign up for our weekly newsletter below to get the latest and greatest!