Travel
5 BEST Hostels In Edinburgh (2021 Insider Guide)
One of the more underrated cities of the UK – Edinburgh is absolutely amazing.
While a bit on the costly side, Edinburgh is truly a gem of the UK as you get to see the modern Scotland clash with the history of the UK. Castles. Food. Pints. Edinburgh has got it all!
But with dozens of registered hostels, it can be overwhelming to know where to start, which is exactly why I made a list of the 20 best hostels in Edinburgh, broken down by YOUR interests.
I've separated Edinburgh's finest hostels into different categories, so you can identify your travel needs and book your hostel with confidence. Then you can get back to what really matters – backpacking Edinburgh!
Quick answer: The Best Hostels in Edinburgh
What to Expect from the Best Hostels in Edinburgh
Before we start looking at your options for Edinburgh hostels, let's talk about why you should be choosing a hostel in the first place. Obviously, they are the cheapest form of accommodation in general. You can save quite a few bucks by staying in a dorm room.
What's even more important is the community aspect of hostels. You can meet like-minded travellers, share stories and make new friends without having to leave the building. This is what really makes hostels so great for solo travellers.
In Edinburgh, you can expect quite a few fancy and modern hostels. Pretty much all of them have the option of dorms or private rooms. Some of them even offer freebies, which is ideal for budget backpackers. There are a couple of hostel chains. While they might not be the most unique places, you are guaranteed great service and value, perfect for budget backpackers.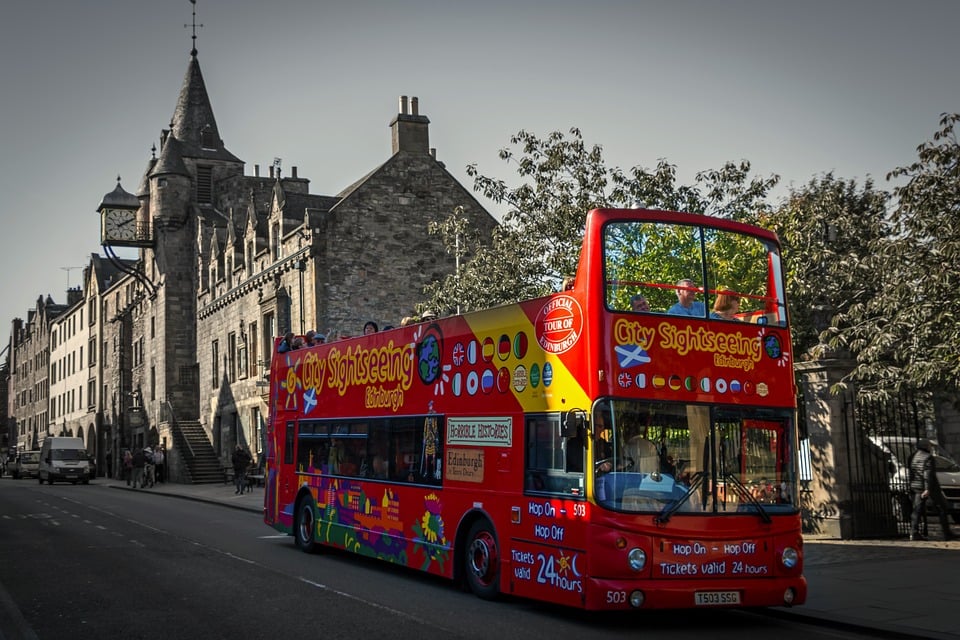 By international standards, Edinburgh is quite expensive, but by UK standards it's a bit easier to pinch a penny. The price of travel puts Edinburgh at $71 a day, but that can definitely be cut down by staying in a budget backpackers hostel. These are the average prices for hostels you can expect in Edinburgh:
Dorm (mixed or female-only): $27-31 USD/night
Private Room: $72-84 USD/night
Not all hostels are created equal. Each property will specialise in different things. Some offer the lowest prices, others offer the coolest experience. The trick is identifying what your specific needs are when visiting Edinburgh so you can book your hostel quickly and with confidence.
Luckily, choosing where to stay in Edinburgh is easy. Don't stress too much about where your hostel is located. With only 1/2 a million residents, Edinburgh is fairly small and compact. It's a joy to walk, and even if the weather is poor (like a 95% chance in the UK) the bus system is great and can easily get you from place to place. Most of the coolest hostels are within walking distance of places like Edinburgh Castle and The Royal Mile.
Things DO go missing sometimes…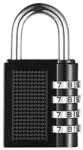 Psst
! Heading to a hostel? Don't forget to pack a padlock! It's well worth having one so you can secure your locker and protect your stuff!
The 5 Best Hostels in Edinburgh
1. Overall Best Hostel in Edinburgh – Castle Rock Hostel
Self Catering Facilities
Common Room with Juxebox, Pool Table & Piano
Castle Rock Hostel is the overall best hostel in Edinburgh in 2021 for so many reasons. No one leaves Castle Rock disappointed, be sure to book your stay over the New Year/Hogmanay in order to get your free ticket to the epic street party. Castle Rock is a top hostel in Edinburgh for its commitment to the environment; they are carbon neutral and encourage guests to recycle everything! The dorm rooms are smart, clean and bright.
Why you'll love this hostel:
Totally instagrammable design
Unisex Bathrooms
Indoor Fireplace
They've mixed classic manor house style with modern hipster touches to make Castle Rock Hostel a destination in its own right; from many of the dorm rooms, you can see Edinburgh Castle which is an added bonus. As well as being a top pick for Edinburgh, this is also one of Scotlands best hostels.
You'll absolutely love the decor and common rooms at the Castle Rock Hostel. Not only do you have plenty of comfy sofas to choose from when you want to chill, but you can also heat up the room with the indoor fireplace during the cold winter months.
The room options range from private double rooms to quadruple and dorm rooms, with each of them providing lockers to keep your bags secure. This place has to be one of the most kick-ass hostels in town, its central location means it's within walking distance of all the major sights. Just as for one of the free city maps to plan your day and make use of the free wifi to upload all your adventures to insta.
The Scottish-owned hostel is up the hill from Grassmarket and a short walk from the bus and train stops. You can get to Edinburgh Airport within 30 minutes by car. You'll also be around the corner (an 8-minute walk) from the vibrant Royal Mile in the Old Town and Edinburgh castle, but in a peaceful street so you're all set up for a quiet night's sleep.
2. Best Hostel for Solo Travellers in Edinburgh – St Christopher's Edinburgh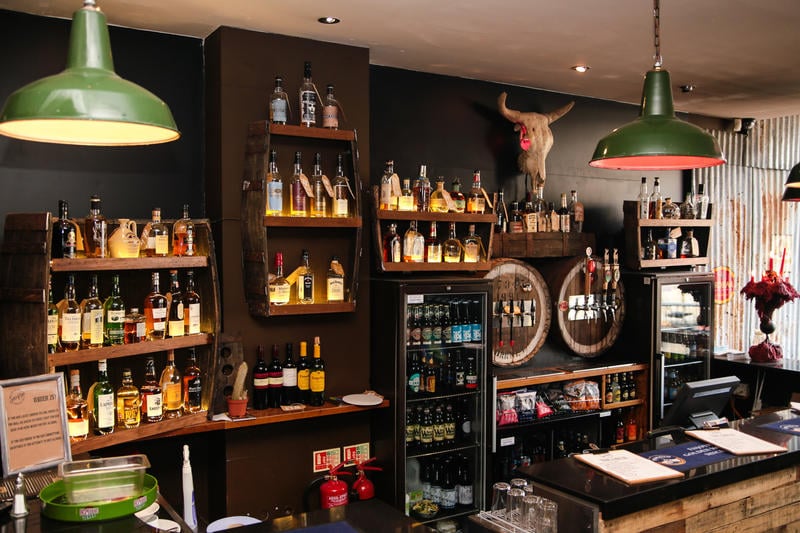 Bar & Restaurant Onsite
Laundry Facilities
St Christopher is the patron saint of travellers so it makes sense that St Christopher's Edinburgh is the best hostel for solo travellers in Edinburgh, is a saving grace for backpackers hitting Scotland solo. With the Belushi bar and restaurant onsite there are countless opportunities for solo travellers to mingle and meet fellow nomads.
St Christopher's is a great budget hostel in Edinburgh as guests get a whopping 25% off food at their onsite restaurant plus loads of drinks discounts too. If you need a little liquid confidence to get meeting new people, St Christopher's Edinburgh is a great shout with its onsite bar and pub crawls.
Why you'll love this hostel:
Regular pub crawls
Super central location
Food and drink discounts
All of the drinks aside, this hostel has loads more on offer. Let's start with the location. You'll be pretty much bang in the heart of all the action. Whether it's nightlife, cultural attractions or historical landmarks, you'll never have to walk longer than 10min to get to places like Edinburgh Castle and The Royal Mile. Grab one of the free city maps and get exploring!
After a long day of exploring, head back to the hostel and throw yourself into one of the comfy sofas in the common room or enjoy the afternoon sun on the terrace. It's the ideal place to meet new people and share some travel stories. Or chill in your dorm room and use the free wifi to share all your adventures.
To recharge at night, you get to choose between awesome room options. If your budget allows it, book into one of the comfy private rooms with a view of the city. If you're more of a social type, stay in the spacious dorms. No matter what you decide on, there'll always be a big locker to store your belongings.
There's always something going on at St Christopher's, with weekly events, daily bar crawls and epic food and drink discounts around town. Hop on a free walking tour to get to know the city on foot – a great cure for a night out.
3. Best Cheap Hostel in Edinburgh – Kick Ass Greyfriars
Self Catering Facilities
Bar, Cafe & Restaurant Onsite
If you're looking for the best cheap hostel in Edinburgh you don't have to look very hard, Kick Ass Greyfriars hits the spot perfectly. As the best budget hostel in Edinburgh, Kick Ass Greyfriars has super cheap dorm rooms but doesn't scrimp on cleanliness or services.
Kick Ass Greyfriars teams with sister hostel Kick Ass Grassmarket to offer guests free event nights in the bar, every night of the week and free city walking tours too. The 'treehouse' is a great little hangout for digital nomads or for anyone who needs a quiet half an hour to get booking the rest of their trip.
Why you'll love this hostel:
Adults-only policy
Beer Garden with castle view
Food and Drink Discounts
It's really hard to fit in all of the things that make this hostel so special. At the time of writing this post, the hostel offers 2 for 1 bookings, meaning that you can bring a friend along for free! Also, you won't just get access to one hostel but two – the sister hostel Kick Ass Grassmarket will open its facilities to you as well.
All rooms have free wifi, USB charging points at each bed and private bed lights. The bunk beds have been designed to give max headroom and mattresses are Hotel Superior quality. It's the best budget hostel if you're looking for a comfortable dorm room in a lively setting and with a great central location.
You'll be very pleased to hear that the location of this hostel couldn't be better either. You're bang in the middle of Old Town, which means that all attractions, nightlife venues and cultural sights are within walking distance. If you have a filled Edinburgh itinerary, this will be the ideal base.
4. Best Party Hostel in Edinburgh – Kick Ass Grassmarket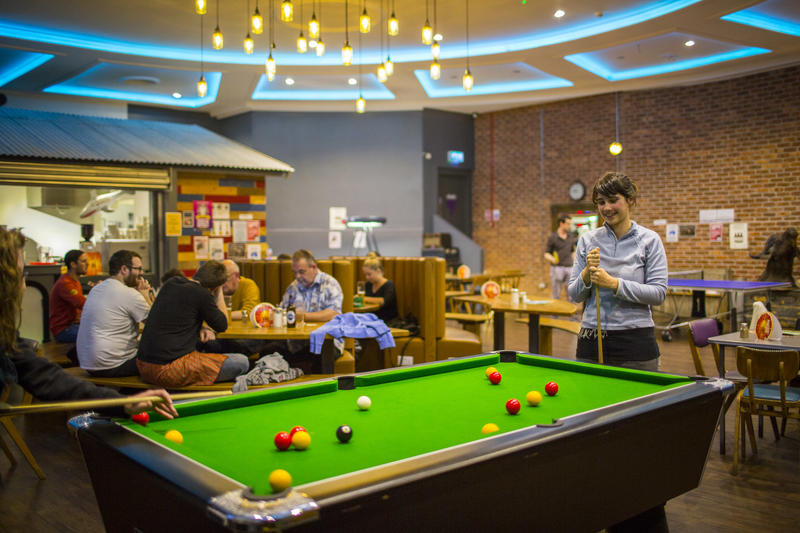 $
Bar, Cafe & Restaurant Onsite
Self Catering Facilities
Free luggage storage
Kick Ass Grassmarket is a fun and friendly place to stay; definitely the best party hostel in Edinburgh. The onsite bar is one of the most popular hangout spots for backpackers in Edinburgh and the drinks are dead cheap too; pints for as little as £2!
Kick Ass Grassmarket is a highly recommended hostel in Edinburgh for this exact reason. The bar area is super cool and the little huts are great for those who want to soak up the atmosphere but not be front and centre. The dorms are funky and clean; each bed has its own USB charging port and reading lamp.
Why you'll love this hostel?
Pod-style beds
Central Old Town location
£5 lunch options
Kick Ass Isn't just one of the best party hostels, it's also close to all of the nightlife venues in Edinburgh. In fact, it'll take only 8min on foot to reach the famous Royal Mile and Edinburgh castle. Thanks to the central location in Old Town, you'll be close to all of the action you can find in the city – but still tucked away enough to enjoy a peaceful sleep.
Once you come back from an epic night out, fall into one of the comfy beds that the hostel offers. You can choose between private rooms for up to 4 people, typical dorms with traditional bunk beds or a more unique option – pod-style dorms. These offer a little bit more privacy since you can close your bed with a curtain or a blind.
To recover from your hangover, head to the movie room and spend the day watching epic films with all of the other half-dead travellers. Once lunchtime comes around, you can buy cheap but incredibly tasty meals at the on-site bar. This budget backpackers is also ideal for solo travellers wanting more than just a dorm room but a social vibe too.
5. Best Hostel for Couples in Edinburgh – Belford Hostel
$$
Bar & Outdoor BBQ Terrace
Free luggage storage
Self Catering Facilities
Not only is Belford Hostel the best hostel for couples in Edinburgh but it's probably the most unique hostel in the Scottish capital. The Belford Hostel is set in a renovated, disused church making it the quirkiest, coolest hostel in Edinburgh. For couples looking for a private room with brilliant views of Edinburgh's cityscape, you'll fall in love with Belford Hostel.
Some rooms even have cosy bay windows, perfect for curling up with a book and unlimited cups of complimentary tea. The church's main hall is now the hostel common room and the stained glass windows are nothing shy of breathtaking.
Why you'll love this hostel:
Most unique design
Two plug sockets per bed
Free city maps
But it's not just the hostel itself that makes this place so awesome. The location is ideal as well. It's pretty central in Edinburgh's West End, close to old Dean Village and the start of the Leith Walk. You can get to the hostel easily from Edinburgh Haymarket station – it's about a 15-minute walk away. If you're coming from Edinburgh Airport, jump on express bus 100 to Haymarket Station. It's around a 30-minute journey.
Once you're all settled into the charming rooms, head to the reception and grab one of the free city maps. And while you're there, ask the friendly staff for their recommendations on what to do and see in Edinburgh. They're known to have the best insider information and hidden gems up their sleeves.
Start the day with the delicious free breakfast and some tea or coffee and end it with a friendly little tournament around the pool table. The common area is great for socialising and hanging around in case it's a rainy day.
While this is definitely a great hostel for couples, it's also ideal for solo travellers. You can book into one of the spacious dorms and meet like-minded travellers from all over the world. Each room also has big lockers so you can store all of your belongings securely.
More Awesome Hostels in Edinburgh
Not quite happy with your options yet? Don't worry, we've got loads more awesome Edinburgh hostels coming your way so you've got plenty to choose from!
More Cheap Hostels in Edinburgh – Light House Hostel
Self Catering Facilities
Towels Included
Light House Hostel was a close contender for the best hostel in Edinburgh in 2021 as they offer perfectly kept rooms, a hearty Scottish breakfast and sing-a-longs around the campfire. For travellers seeking a laid back, friendly and charming hostel you can't go wrong with Light House Hostel. In terms of commitment to the community Light House Hostel is the best hostel in Edinburgh as they give a substantial amount of their profits to a charity that works with Edinburgh's homeless community. For the ethical traveller, Light House Hostel should be the first port of call. It's also one of the most kick ass hostels for solo travellers too.
Royal Mile Backpackers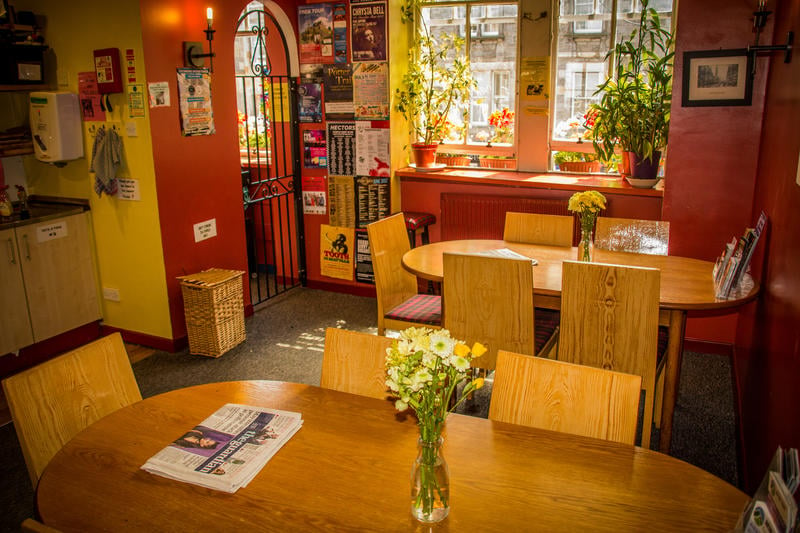 $
Self Catering Facilities
Tours & Travel Desk
Free Tea/Coffee/Hot Chocolate
Royal Mile Backpackers is at the very heart of Edinburgh's Old Town. The Royal Mile team are super clued up about Edinburgh and always do their best to help backpackers plan a fun-filled, informative and budget-friendly experience of the city. Be sure to time your trip so that you're at Royal Mile Backpackers on a Thursday to join their free bar crawl. This is just one reason why Royal Mile Backpackers is a top budget hostel in Edinburgh.
Best Hostel with a Private Room in Edinburgh – Blossom
Free Parking
En-suite Private Rooms
Blossom is one of the most popular bed and breakfasts in Edinburgh, be sure to book your place ASAP as they fill up fast. Offering guests heartfelt Scottish hospitality, Blossom really is a home-from-home for backpackers who want to escape the dorms for a couple of nights. Although not technically an Edinburgh youth hostel Blossom is an affordable step up from rowdy dorms and shared bathrooms. If you're travelling with friends you can share a triple room to help reduce costs.
Haystack Hostel
Self Catering Facilities
Laundry Facilities
Haystack Hostel is one of the best-located hostels in Edinburgh, you can find them just a 5-minute walk from The Old Town. Admittedly the dorm rooms are quite cosy but the free breakfast, free WiFi, and brand new chill-out room are what makes Haystack Hostel a highly recommended hostel in Edinburgh. Hackstack Hostel employs an awesome team of local staff who know Edinburgh like the back of their hands and are always around to help out backpackers as best they can.
Cowgate Tourist Hostel
$
Self Catering Facilities
Outdoor Terrace
Vending Machines & Tea/Coffee Making Facilities
If you're staying in Edinburgh for a long time be sure to chat up the Cowgate team to get the cheapest long-term rates. Cowgate Tourist Hostel is a great budget hostel in Edinburgh and is perfectly placed between the Scottish Parliament building and beautiful Edinburgh Castle meaning guests get to stay right at the heart of Scotland's party and cultural capital. If you're travelling as a group Cowgate is a great shout, make sure to call them before you arrive to make sure you're all in the same room.
Edinburgh Backpackers
$$
Self Catering Facilities
Private Dorms Available
Cafe Onsite
Edinburgh Backpackers is a great youth hostel in Edinburgh and is actually spread across four neighbouring buildings. Edinburgh Backpackers has a fully equipped guest kitchen which is where you'll find the majority of guests hanging out in the early evening. The cafe downstairs, Southern Cross Cafe, is perfect for digital nomads who need to get focused or for those meeting friends from other hostels. The dorm rooms offer great views over Edinburgh's skyline, make the most of the free WiFi and splash your stay across social media!
High Street Hostel

Self Catering Facilities
Tours & Travel Desk
High Street Hostel is run by a fun and adventurous team who ensure that each and every guest leaves Edinburgh with a smile and a whole heap of memories. As a top Edinburgh backpackers hostel, High Street Hostel has a buzzing common room complete with pool table; things get rather competitive around here! If you wanna cook for yourself then let loose in the huge kitchen but if you fancy some local grub you don't have to walk too far (literally 10m) before you reach your first classic Scottish eatery.
SafeStay Edinburgh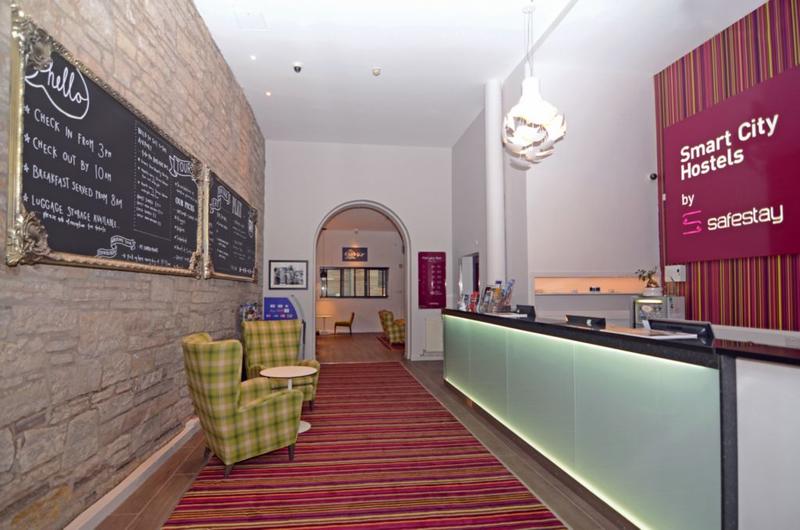 $$
Bar, Cafe & Restaurant Onsite
Self Catering Facilities
Tours & Travel Desk
StaySafe Edinburgh is a cool little hostel on Blackfriars Street, right in the heart of the city. One major plus point for SafeStay is the en-suite bathrooms that accompany each dorm room, as well as the free WiFi available throughout the building. Bar 50 is one of the best Edinburgh backpackers hostel bars and is always buzzing. Be sure to join in with the open mic night, surely you know the words to the Scottish classic 500 Miles?
Arygle Backpackers
Self Catering Facilities
Tours & Travel Desk
Argyle Backpackers is a highly recommended hostel in Edinburgh and for good reason. Within a 10-minute walk to Argyle's front door, you have supermarkets, organic veg markets, cafes and countless pubs; this is the Scottish capital after all! Argyle Backpackers have no curfew and no lock-out so if you're heading to Edinburgh for Hogmanay or to enjoy the Fringe Festival you can stay out as late and you like, just don't make too much noise if you come back after 11pm!
Want to save the world?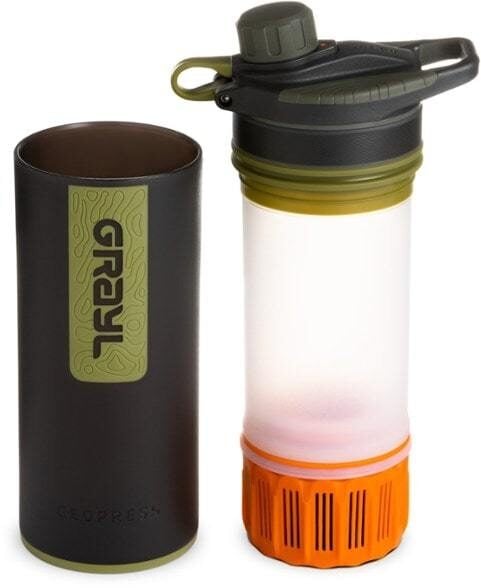 Single-use plastic bottles are a huge threat to Marine Life – Be a part of the solution and travel with a filter water bottle.
The GRAYL GEOPRESS water bottle is the ONLY all-in-one filter water bottle setup you'll need. Whether you need to purify the water from a hostel sink in Kathmandu or a stream trickle in the Andes, the Geopress has got you covered.
Read our full review of the GRAYL GEOPRESS!
Princes Street Backpacker East
$
Self Catering Facilities
Laundry Facilities
Tours & Travel Desk
Princes Street Backpackers may not be the most highly recommend hostel in Edinburgh but it certainly gives travellers great value for money. FYI, there are 77 steps up to the hostel front door so if you already struggle carrying your backpack on the flat cobbled streets of Scotland perhaps look elsewhere! Princes Street Backpackers has no lock-out and no curfew, it's super chilled and the team are a great laugh to hang out with.
The Hostel
$
Self Catering Facilities
Late Check-Out
Outdoor Terrace
Creatively named The Hostel is a popular youth hostel in Edinburgh for travellers on a shoestring budget. They have some greatly discounted tours available at their travel desk, so be sure to get chatting with the team to complete your Scottish experience. Around the pool table is where you'll find many of The Hostel's residents of an evening. In the summer months, the outdoor terrace is a great little spot from which to watch the sunset over Edinburgh.
The Westend Hostel
$
Self Catering Facilities
Bar & Restaurant Onsite
Laundry Facilities
The Westend Hostel offers dorm room beds within a building fit to be a luxury hotel. The old-fashioned features of the Westend Hostel are typical of a stately Scottish townhouse. Both the dorm rooms and the private suites are spacious meaning if you need to explode your backpack to find your final pair of clean socks you totally can! The Westend hostel is a great budget hostel in Edinburgh and offers continental breakfast for just £2 or a hearty Scottish breakfast for £6.50. If you're looking for a luxury boutique hostel, this is a great choice.
Edinburgh Central Youth Hostel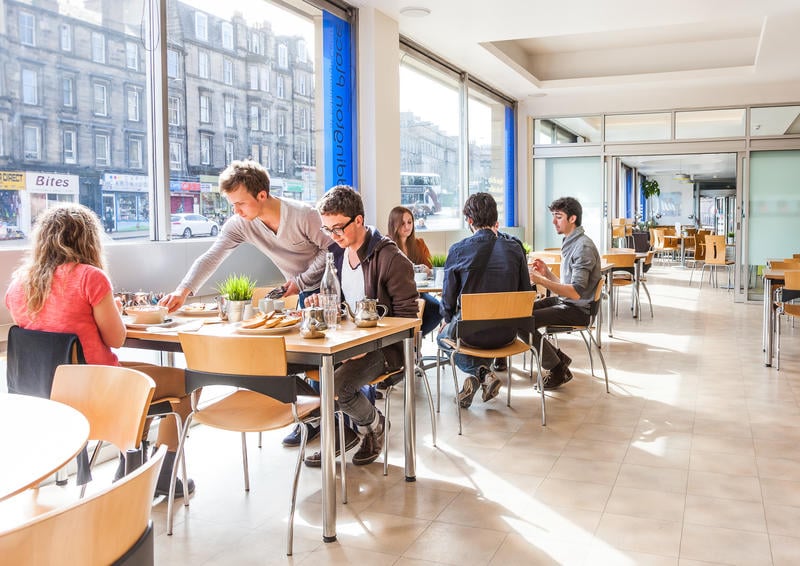 $$$
Bar, Cafe & Restaurant Onsite
Self Catering Facilities
Tours & Travel Desk
$$$
Bar, Cafe & Restaurant Onsite
Self Catering Facilities
Tours & Travel Desk
Edinburgh Central Youth Hostel is ideally placed right at the heart of Edinburgh city centre while being within easy walking distance of the city's major train stations and nationwide bus stops. This means if you plan on heading off on any day trips in Edinburgh then it's ideally placed to make the most of your time.
The Haddington Place cafe onsite is the perfect spot for digital nomads who need space to get tapping away. As a top youth hostel in Edinburgh, Central is popular with party animals, culture vultures and of course those who come to watch the rugby at Murrayfield Stadium.
Park View House Hotel
Private Dorms
All En-Suite Rooms
If you're travelling with friends and want to have a bit of privacy while you're in Edinburgh you'll be happy with your choice in Park View House Hotel. Yes, it is a hotel rather than an Edinburgh backpackers hostel but they have a number of private dorm rooms sleeping up to 5-people at a time. If you're looking to stay in a quiet, safe, authentic Scottish neighbourhood, Park View House Hotel is certainly the place for you and your travel buddies.
FAQ's on the Best Hostels in Edinburgh
Booking a hostel is never easy, especially when there are so many options. To help you out, we've listed and answered the most frequently asked questions on hostels in Edinburgh below.
Travel Safety Tips for Edinburgh
And don't forget Travel Insurance! We've put together a roundup of Travel Insurance for backpackers – check it out here, or if you're low on time, get a quote from World Nomads, our favorite travel insurance provider.
Getting an estimate from World Nomads is simple – just click the button or image below, fill out the necessary info, and you're on your way!

More Epic Hostels in Scotland and Europe
Hopefully by now you've found the perfect hostel for your upcoming trip to Edinburgh. If not, then why not consider taking an Edinburgh Airbnb.
Planning an epic trip all across Scotland or even Europe itself?
Don't worry – we've got you covered!
For more cool hostel guides around Scotland check out:
Final Thoughts on the Best Hostels in Edinburgh
Overall, Edinburgh was one of my favorite cities I've ever backpacked in. Hopefully with the help of this list, you'll have a great idea of what you need from your hostel, so you can book quickly and get exploring this awesome city!
And just a reminder, if you can't decide where to stay, we recommend …  Castle Rock Hostel!
If you think we've missed anything or have any further thoughts, hit us up in the comments!
---
Find out how YOU can support the site.
We're a big site with a big team and this job isn't always easy. But we do it because we love it – we love providing epic and free content. We love the knowledge that our content keeps you adventuring. We don't ask for money, but if you'd like to find out how you can help the site in more organic ways, click the button below.
Thank you for your support 🙂
And for transparency's sake, please know that some of the links in our content are affiliate links. That means that if you book your accommodation, buy your gear, or sort your insurance through our link, we earn a small commission (at no extra cost to you). That said, we only link to the gear we trust and never recommend services we don't believe are up to scratch. Again, thank you!