Travel
5 BEST Hostels In Budapest (2021 Insider Guide)
Budapest is without a doubt one of the coolest, most beautiful cities in Europe. Whether you want to party, sightsee, take a dip in a thermal bath or enjoy delicious goulash soup – this is a city that never disappoints (and it's super affordable!)
But if you are going to backpack Budapest, you aren't alone. With over 150 hostels in the city, booking budget accommodation in Budapest can be overwhelming.
And that's exactly why I have put together this list of the 5 best hostels in Budapest.
In this list, I have taken into account affordability, socialness, location, cleanliness and facilities, and guest experiences, so you can be sure to find the best place to stay in Budapest for your needs.
So whether you are looking for a cheap hostel in Budapest, a hostel for couples, a safe place for female solo travellers, or anything in between – my ultimate guide to the best hostels in Budapest has got you covered.
Where you stay matters. So when you're ready, let's take a look at my 5 best hostels in Budapest!
What to Expect from Hostels in Budapest? 
Hostels are generally known to be one of the cheapest forms of accommodation on the market. That doesn't just go for Budapest, but pretty much every place in the world.
However, that's not the only good reason for staying at a hostel. The unique vibe and social aspect are what make Budapest hostels TRULY special. Head down to the common room, make new friends, share travel stories and tips, head out on a pub crawl of Budapest's famous ruin bars, or just have a great time with like-minded travellers from all over the world – you won't get that opportunity in any other accommodation. 
Budapest's hostel scene is something I absolutely LOVE. There's hardly any other city in Europe that offers so many accommodation options. The quality and standard of hostels in Budapest are insanely high. You'll find plenty of places with the highest possible reviews and once you arrive, you'll definitely know why.
Super cheap prices, modern and stylish amenities, and some really cool deals even make the hostel scene in Budapest a backpacker's dream come true. If you're looking for a party atmosphere, and the city has some of the best party hostels in Europe.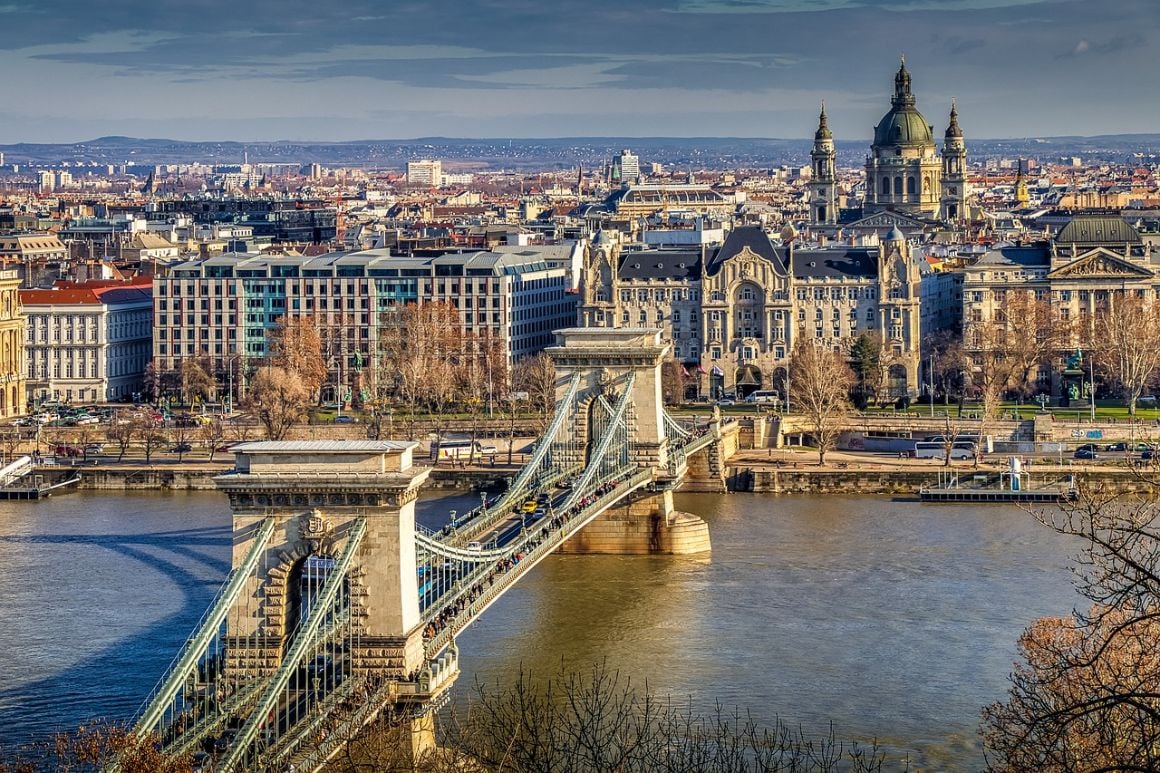 But let's talk more about money and rooms. Budapest's hostels normally have three options: dorms, pods, and private rooms (although pods are rare). Some hostels even offer large private rooms for a group of friends and even apartments. The general rule here is the more beds in a room, the cheaper the price.
Obviously, you won't have to pay as much for an 8-bed dorm as you would for a single bed private bedroom. To give you a rough overview of Budapest's prices, I've listed the average numbers below:
Dorm room (mixed or female-only): $9-12 USD/night
Private room: $37-45 USD/night
When looking for hostels, you'll find the best options on HOSTELWORLD. This platform offers you a super safe and efficient booking process. All hostels are displayed with a rating and previous guest reviews. You can also filter your personal travel needs easily and find the perfect place for you.
Since the city is split between the two sides, Buda and Pest, you'll have to decide where you want to stay in Budapest. While both sides of the river are perfectly connected and offer great hostel options, it does pay off to base yourself closer to the attractions that you want to visit. I've listed my favorite neighborhoods and districts in Budapest below, to make the decision a little bit easier for you:
Várkerület – District I Várkerület, or the Castle District, is one of the most iconic neighbourhoods in Budapest. Located on the Buda side of the River Danube, this district offers quaint cobblestone streets, grand medieval architecture and picturesque views. If you're looking for a quiet hostel and cheap accommodation near Buda Castle, you'll more likely find it here. It's also super safe, perfect for female solo travellers.
Terézváros – District VI, Terézváros, is one of the smallest yet most densely populated neighbourhoods in Budapest. Located on the Pest side of the Danube, this lively district is a hub of excitement and activity. It's located near the Parliament building, so if you're looking to stay in the city centre but want somewhere quiet at night, here is the place.
Belváros – Located on the eastern edge of the River Danube, Belváros in Pest is the downtown and heart of the city centre. This is where you'll find a variety of historic and cultural attractions, including the Parliament Building, the Chain Bridge, and the Central Market Hall. It's also where some of the best lively hostels are located.
Now that you know what to expect from hostels in Budapest, let's have a look at the best options…
The 5 Best Hostels in Budapest
Backpacking Budapest is now a very popular summer pursuit. From party hostels to quiet ones. From unique to boutique. My run-through of the best accommodation in Budapest has something for everybody, from solo travelers to groups on a stag do.
So without further ado, here are my top 5 hostels.
1. Overall Best Hostel in Budapest – Hostel One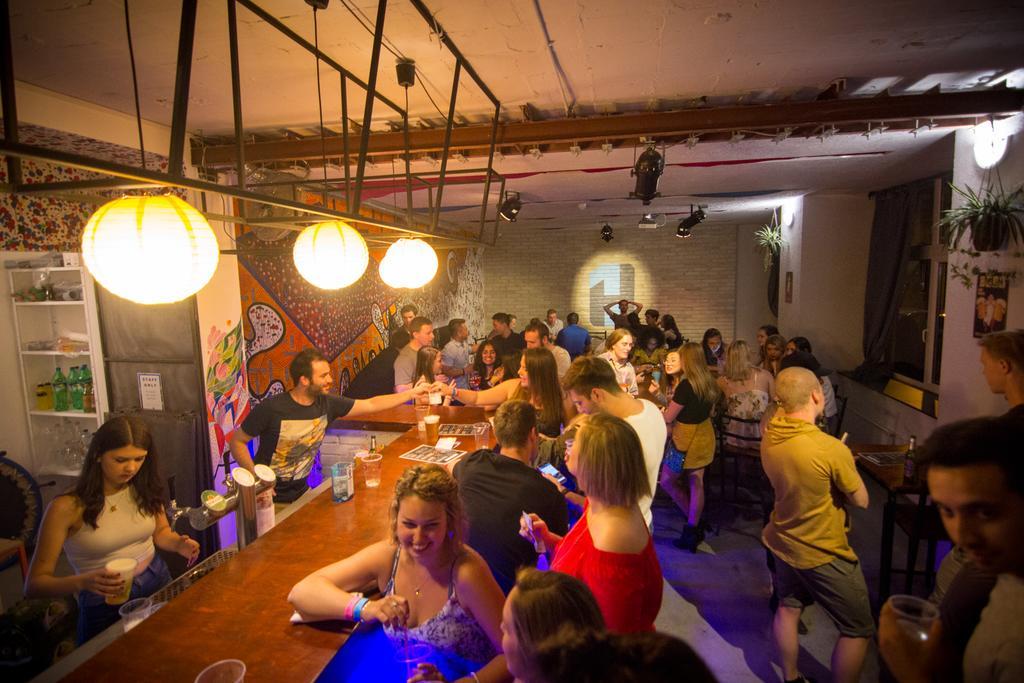 The overall top pick of Budapest hostels is Hostel One. Appropriately named for the best hostel in Budapest in 2021, it's number one through and through. Rightly claiming not to be in the business of beds the Hostel One team are all about the hostel vibes, and they're party vibes at that!
The hostel is big with spacious dorms and they also provide security lockers for each guest. All who stay here are invited to have a communal dinner each night and then let good times roll at the bar.
Drinking competitions that are not for the faint-hearted or poor livered. Hostel One is a one-stop shop for solo travelers looking for a great Budapest backpackers hostel to make some friends at.
Why you'll love this hostel:
Incredible rating
Amazing and welcoming vibes
24-hour reception
The hostel may have a party atmosphere, but they also want you to have a comfortable stay in the mixed dorms – which come complete with free linen by the way. A little privacy goes a long way, they offer specially designed POD beds to help you sleep soundly. There's also luggage storage if you're arriving early or leaving late, and there's a locker for each bunk, too.
Now, if you're not massively into partying but rather want to explore the city, you've chosen the right place! Join one of the free walking tours around Budapest, learn more about the city's history thanks to your local guide and meet some like-minded travellers on the way. A little local knowledge always goes a long way, so you'll even get to experience parts and sides of the city that the average backpacker won't see.
If you're still unsure about Hostel One, simply have a look at the reviews and ratings. With an incredible ranking and over 3000 reviews, you can be 100% sure that your stay will be more than epic!
2. Runner-up Best Hostel in Budapest – The Loft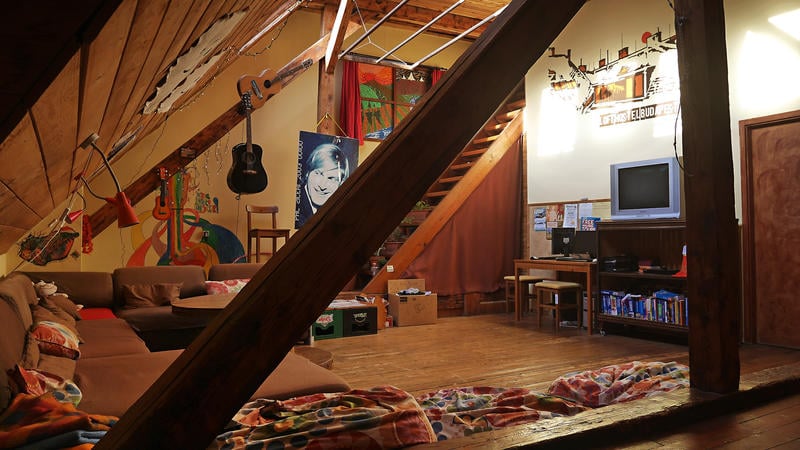 $$
Self Catering Facilities
Tours & Travel Desk
Luggage Storage
It must be said that the standard of youth hostels in Budapest is next level. There are so many incredible, highly recommended hostels in Budapest that you're legit spoiled for choice. On that note, be sure to check out The Loft.
Only slightly edged out as the best hostel, this is the place to stay in Budapest if you do plan on sleeping, even for an hour or two, during your stay in the city. With their own guest kitchen, The Loft makes it super easy for you to stick to your budget, especially when it comes to food.
The Loft is super homely and incredibly relaxed and the team is down for a good time; it's hard not to fall in love with their on-point hostel vibe, making it an easy pick for one of the best hostels in Budapest. Even with such high standards across the city, this is one of the coolest youth hostels that Budapest has to offer.
Why you'll love this hostel:
Small but homely
Very kind and helpful staff
Unique style
One thing I have to mention straight away is the PERFECT review score. Hardly any hostel manages to hold a 10/10 ranking, especially with more than 2200 reviews from previous travellers. This really shows how incredible Loft Hostel really is. If you're skeptical, check out the reviews yourself!
The Loft might not be the most modern hostel in Budapest, but it surely offers a unique style and some really homely vibes. The staff goes above and beyond to make their guests feel like they're staying at a home far away from home.
On top of that, the location couldn't be better. This is one hostel Budapest couldn't do without, being right around the corner from famous restaurants, bars, and attractions, but also perfectly connected to public transport stations. It's a great base to simply chill or explore every inch of the city. The Loft Hostel is a place for REAL travelers – not flashpackers…
3. Best Party Hostel in Budapest – Grandio Party Hostel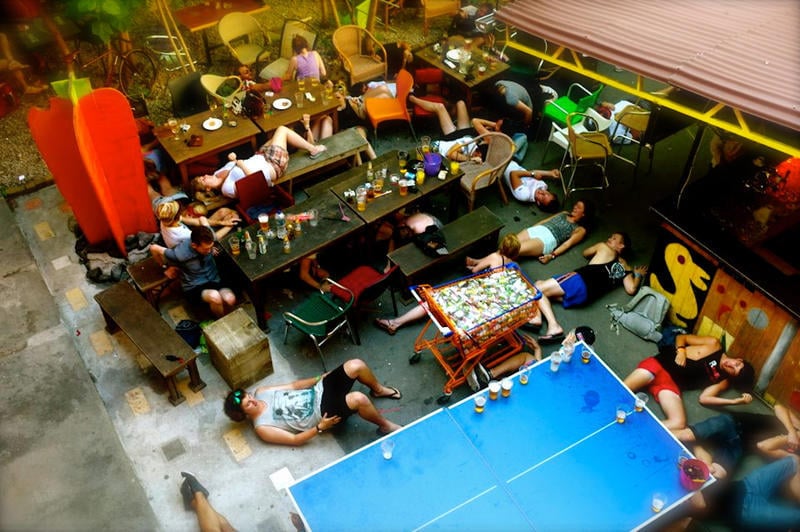 $$
Bar & Restaurant Onsite
Self Catering Facilities
Tours & Travel Desk
Budapest is one of the best party cities in Europe – so you'll find plenty of party-focused hostels. If you're looking for THE BEST hostel for a party in Budapest, you've gotta get yourself to Grandio Party Hostel Budapest. There are so many party hostels in Budapest and everyone you talk to will recommend somewhere different but Grandio will be mentioned frequently during your chats. From dusk 'til dawn and from dawn 'til dusk this place is pumping!
It's a perfectly located hostel in Budapest's city centre close to the amazing ruin bars. Grandio is a rowdy place, but safe and super friendly.
If you know you're up for a party night-after-night and won't tire, Grandio is waiting for you! This is the best hostel Budapest can offer for those who want to party without leaving the house.
Why you'll love this hostel:
Shuttle service
Free bag storage after check-out
Massive backyard
By now you're probably tired of hearing us talk about reviews and ratings, but this one is even more impressive. Grandio Party Hostel has over 4000 reviews and STILL holds a perfect score. I wouldn't mention it if it wasn't a reason to book this hostel. If so many previous travelers have loved their stay, chances are that you'll like it just as much!
Located in the seventh district of Pest, you'll reach the city's most famous bars and clubs within a ten-minute walk. Budapest is a really walkable city so you can reach most of the sights, including the castle and the spas, in under half an hour on foot (there are public transport options around as well).
Getting to the hostel from Budapest Ferenc Liszt International Airport is easy too – just drop an email at least 24 hours in advance to get a spot on the MiniBUD shuttle. It takes you to and from the airport in around 30 minutes for a third of the price of a taxi!
4. Best Hostel for Solo Travellers in Budapest – Budapest Bubble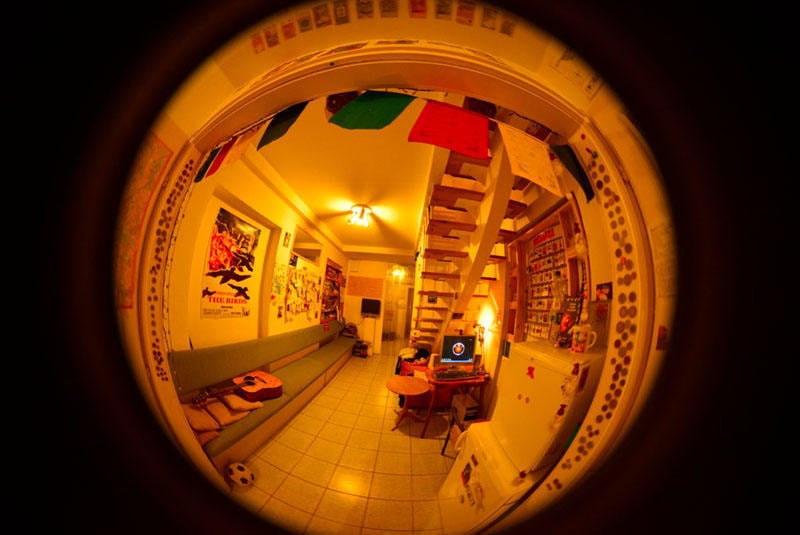 $
Self Catering Facilities
Tours & Travel Desk
Luggage Storage
The best hostel for solo travellers in Budapest is Budapest Bubble. Having won countless awards for their kick-ass hostel vibe, awesome hospitality, and great location, Bubble is perfect for solo travellers. Small enough not to be overwhelming but big enough for a sociable and buzzing atmosphere and everyone who comes to Bubble is greeted with a warm smile. It's definitely one of those places where you just extend your stay once…then twice…then maybe even a third!
Be flexible in your schedule if coming to Budapest Bubble (if you can); it's one of the best hostels in Budapest and it'll capture your heart!
Why you'll love this hostel:
Incredible location
Big book collection (give and take)
The kindest staff you'll ever meet
By now you can probably guess what's coming… that's right, review and rating time! Budapest Bubble is another hostel with incredible ratings. With a high ranking and over 2500 reviews, you're in for a great time if you decide to stay here. The epic location of the hostel definitely plays a big part in that. It is easy to reach from every train station, the bus station, and the airport. Located between the two main underground lines; M2 Astoria and M3 Kálvin Tér, getting around the city will be a breeze.
Enough about ratings, let's talk details! Budapest Bubble offers amazing amenities at a high standard for only a little bit of money. If you want to get the most bang out of your buck, this hostel is the right choice. Free tea and coffee, free internet and wifi, free linen, 24-hour hot water, clean facilities, and a kitchen are just the tips of the iceberg.
If you want to head out to explore the city, stop by at the reception and ask the staff for their recommendations. They know the city by heart and have some amazing hidden gems up their sleeve! A bit of local knowledge always goes a long way…
5. Best Cheap Hostel in Budapest – 11th Hour Cinema Hostel & Apartments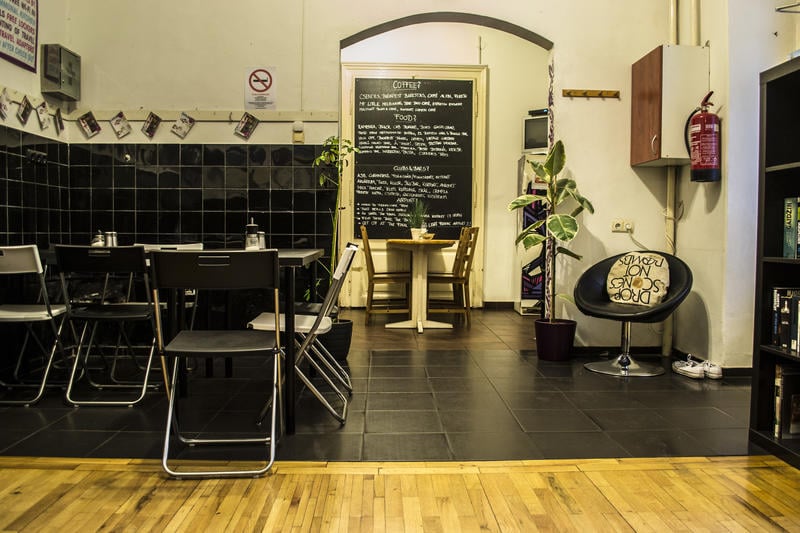 Self Catering Facilities
Outdoor Terrace
Looking for cheap hostels in Budapest? Then budget travelers should look no further. The best cheap hostel in Budapest is the 11th Hour Cinema Hostel Budapest!
If are you're heading to Budapest with your crew or find yourself gathering a crew at Sziget Festival, be sure to book an apartment at 11th Hour. The apartments are super smart and an awesome way to split the accommodation costs between you and your buddies.
Even if you're a solo traveller 11th Hour is bang on; the dorms are great and there's a real sociable feel to the place. As one of the best budget hostels in Budapest, 11th Hour has dirt cheap rooms throughout the year and offers free pub crawls. Need I say more?
Why you'll love this hostel:
Huge common area
Free coffee
Ideal location
It's literally the perfect hostel for travelers looking for fun in a place not too big, not too small, with quiet rooms on the upper floors and a friendly common area in the basement and courtyard. There's plenty of space to hang out, but also plenty of space to pull back a little bit and enjoy some peace and quiet.
Note that the age limit is between 18 and 34 years and they're pretty strict on that. Also, the rooms aren't equipped with aircon, which has hardly been a problem according to other travellers though.
Keen on exploring the best sights in Budapest? The super friendly staff offers the best insider tips and can even help you with booking guided tours.
If you'd rather head out by yourself, no issue! You're ideally located within walking distance to all the major sights and nightlife areas in Budapest. Strategically squeezed between the two major metro lines, you can get to any part of the city within minutes.
More Epic Hostels in Budapest
Haven't found the right hostel for you yet? Don't worry, there are plenty more options waiting for you. To make the search a bit easier, I've listed more epic hostels in Budapest below.
Another Hostel for Solo Travellers in Budapest – Carpe Noctem Vitae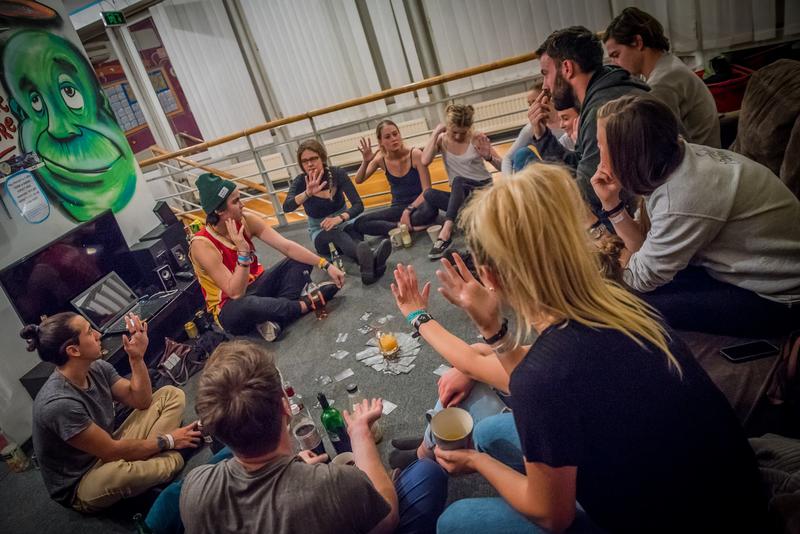 $$
Self Catering Facilities
Luggage Storage
Tours & Travel Desk
AKA Vitae Hostel, Carpe Noctem Vitae is the best hostel in Budapest for solo travellers who want a relaxed party vibe and the opportunity to chat and get to know their hostel buddies before they get totally smashed with them!
Carpe Noctem Vitae is a really friendly and welcoming hostel: whenever anyone leaves they get clapped out by the whole crew! Seriously! It's so cool! With countless decks of cards, a foosball table, and Jenga, there is so much good old-fashioned fun to be had at Carpe Noctem Vitae.
One of a family of five party hostels run by Budapest Party Hostels, Carpe Noctem Vitae is the most chilled out of them. Of all the Budapest hostels, I think this one has the most board games.
Another Cheap Hostel in Budapest – Meander Hostel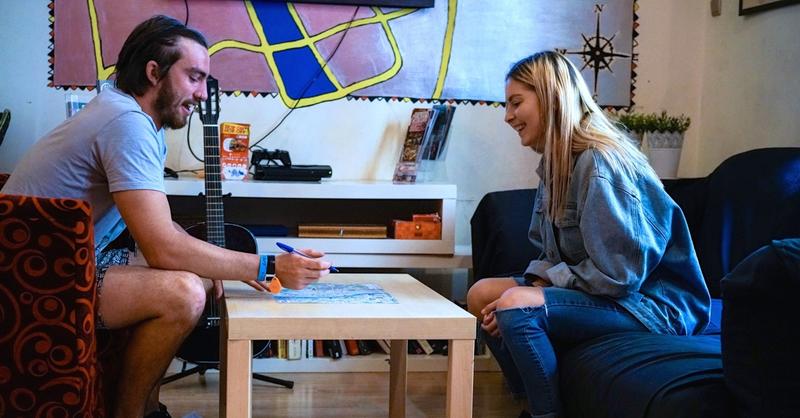 Tours & Travel Desk
Laundry Facilities
Another of Budapest's fantastic cheap hostels, Sziget City offers great value for money and a memorable stay in the city for budget travelers! The team is super welcoming and treats new arrivals like their new best friend!
Being an authentic youth hostel in Budapest, Sziget City has event nights throughout the week, everything from quiz nights to karaoke evenings. Be sure to get in on the action and embrace the hostel vibe! If you're looking for a centrally located place to stay with tons of activities, this is one of the best Budapest hostels for that.
Another Party Hostel in Budapest – The Hive Party Hostel Budapest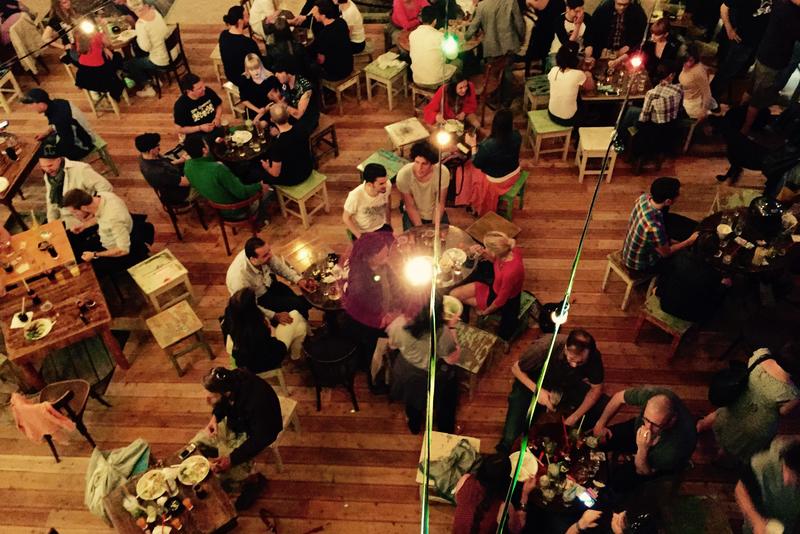 Nightclub Onsite
Self Catering Facilities
This is the 2nd choice of my best party hostels in Budapest. The Hive is another top hostel in Budapest for all you party people! Hosting up to 300-people a night, The Hive is one of the newest and biggest youth hostels in Budapest. They even have their own nightclub and bar onsite that's open all hours!
The whole hostel is ultra-modern and in terms of design is one of the coolest hostels in Budapest for sure. The staff are super helpful and always up for a good time.
They're happy to help with directions, tickets to the best events in town, and information on other great party places to discover in Budapest. This is one of the Budapest hostels best enjoyed by party people.
Best Hostel for Couples – Full Moon Design Hostel Budapest
Self Catering Facilities
Laundry Facilities
Full Moon Design Hostel Budapest is a gorgeous and highly-recommended hostel in Budapest that is just perfect for travelling couples.
Being the ideal hostel for couples in Budapest, their private rooms are stylish in design and all have their own super modern ensuite bathrooms too. All the privates have a Smart TV so if you and your lover just need a break from your Budapest itinerary, you totally can.
Staying at Full Moon gets you free VIP access to Budapest's hottest club Morrison's 2. That's a reason and a half to book right there!
Romantic Hostel for Couples in Budapest – Lavender Circus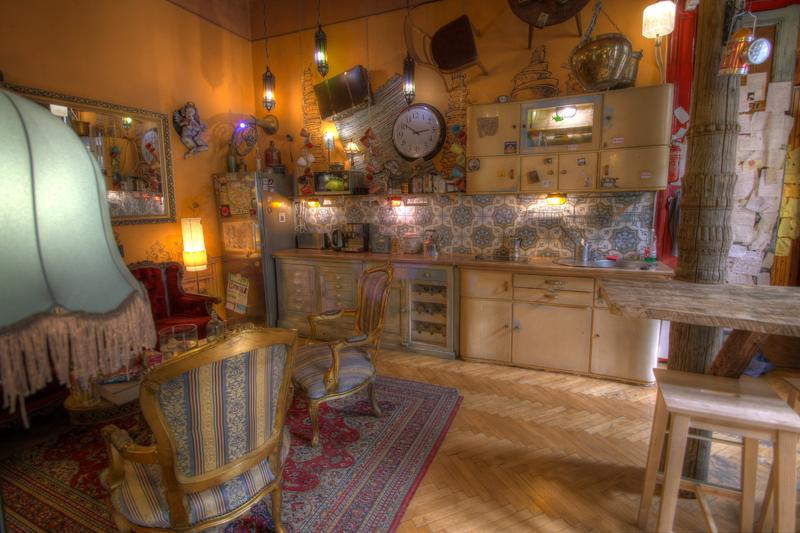 Cafe Onsite
Self Catering Facilities
Lavender Circus is a truly wonderful youth hostel in Budapest. Well, to be fair, in terms of decor, a high standard of service, and the general vibe, it's more of a boutique hotel. Regardless, Lavender Circus is the perfect hostel for couples who want their own space when in Budapest and want to stay in a more stylish, inspiring room.
Make sure you and your partner sign up for the daily, free city tour. It's a great way to get to meet other travellers and learn about Budapest's varied history. It's a number one hostel in Budapest and perfect for couples, you better book your bed ASAP!
Self Catering Facilities
Laundry Facilities
The number one hostel for digital nomads in Budapest is Shantee House. Peaceful, open, and completely hippy Shantee House is a haven for digital nomads. With a big open garden, nice guest kitchen, and their own cafe digital nomads will feel totally at home – and that little bit more productive – by being in a positive environment.
As a more quirky Budapest hostel, Shantee House offers guests beds in the main house or in the traditional Mongolian yurt; it's kinda magical. You can rent bicycles and longboards from the Shantee House team if you wanna explore Budapest on wheels too!
Another Hostel for Digital Nomads in Budapest – Adagio Hostel 2.0 Basilica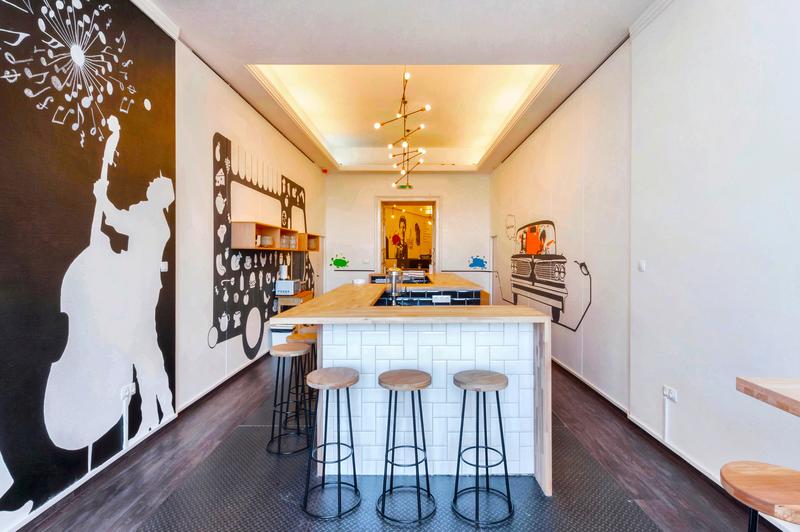 Self Catering Facilities
Laundry Facilities
Adagio 2.0 is a highly recommended hostel in Budapest that's got everything digital nomads could ask for. Three simple things; free WiFi, guest kitchen, and a space to work. That's perfect, right? The three essentials for digital nomads.
The Adagio 2.0 cafe is a great space to work in, light, modern, and of course, coffee on tap! Adagio 2.0 is located right on the main boulevard in Budapest putting you at the heart of the touristic hub and the business district too. Ideal for digital nomads like you!
Best Hostel with a Private Room in Budapest – AVAIL Hostel Budapest
$$
Self Catering Facilities
Luggage Storage
Laundry Facilities
AVAIL Hostel is a super highly-recommended hostel in Budapest perfect for groups of travellers or couples. Being more of a guesthouse and apartment rental than a backpacker's hostel, AVAIL doesn't have normal open dorms. Rather you and your crew can book into a 3-bed or 4-bed private apartment.
Located in the old Jewish district, AVAIL places you right in the heart of Budapest's cultural and historical hub. Luckily enough, the ruin bars are only a 5-minute walk away. Maybe more like 10-minutes when you're on your way back!
Things DO go missing sometimes…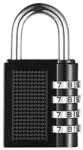 Psst
! Heading to a hostel? Don't forget to pack a padlock! It's well worth having one so you can secure your locker and protect your stuff!
Big Fish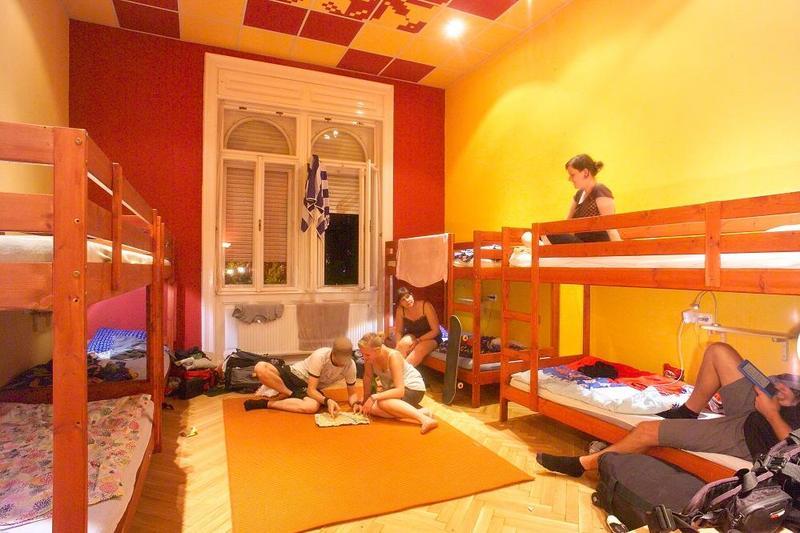 $$
Self Catering Facilities
Tours & Travel Desk
Laundry Facilities
Cosy and intimate, friendly and relaxed, Big Fish is a fantastic hostel in Budapest for travellers of all kinds. If you're a solo nomad looking to find a crew in Budapest Big Fish is a great shout. There's so much space to meet and mingle and the team is super welcoming too.
There are tonnes of hostel activities to get involved in throughout the week; everything from movie nights to drinking games to family dinners. Simple yet lovely, Big Fish is a great introduction to hostel life for rookie travellers.
Das Nest
Self Catering Facilities
Laundry Facilities
Das Nest is one of the coolest hostels in Budapest with a real simple, rustic charm. Super popular, Das Nest is found in the loft of a classic Budapest townhouse in the centre of the city.
The staff are totally on the ball and can help arrange everything from bus tickets to pub crawls to spa passes to boozy river cruises. They're well connected with fellow business owners in Budapest and so can point you in the right direction for mates rates, no worries there! The dorms are cosy yet spacious and the hostel as a whole is really relaxed.
One of the Best-Located Hostels – 7×24 Central Hostel Budapest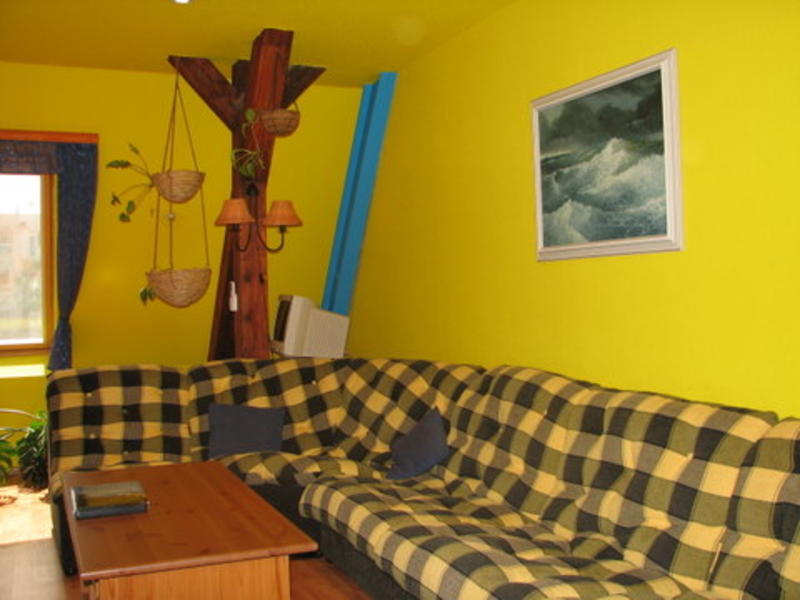 Air Conditioning
Tours & Travel Desk
7×24 Central is another Budapest backpackers hostel that caters to groups. They have a cracking selection of private dorms and apartments, sleeping up to 4-people a piece. 7×24 Central is the best budget hostel in Budapest for groups of travellers and they offer great value for money.
Being just a 10-minute walk from Budapest's epic ruin bars and must-see tourist sights, staying at 7×24 means that you'll be staying at one of the best-located hostels in Budapest. The rooms are basic but they do the job perfectly: comfy, warm, and spacious. That's why it's one of the best hostels in Budapest!
A Luxury Hostel – Pal's Mini Hostel Budapest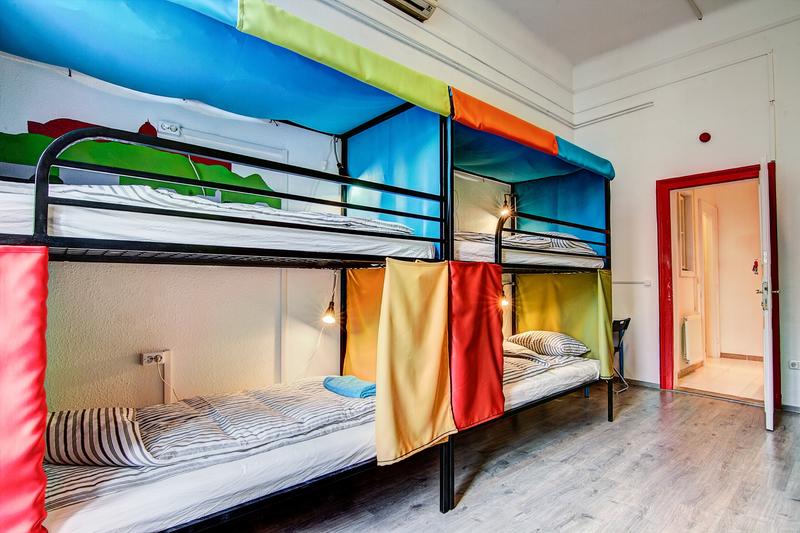 $$$
Self Catering Facilities
Luggage Storage
Airport Transfer
Pal's Mini Hostel is a luxury hostel with just 7 bright and colourful rooms suited to travellers who wanna make the most of their time in Budapest but appreciate a good night's sleep. Located in Oktogon Pal's Mini Hostel is in the pinpoint centre of Budapest, everything you wanna see is within a 5-minute radius, by walking, metro, or taxi.
If you fancy stretching your legs Buda Castle is a 40-minute walk away. This gentle stroll is a wonderful way to soak in everything Budapest has to share with travellers. The bathrooms at Pal's Mini Hostel are huge! No queuing for the shower in the morning!
The OG Party Hostel in Budapest – Carpe Noctem Original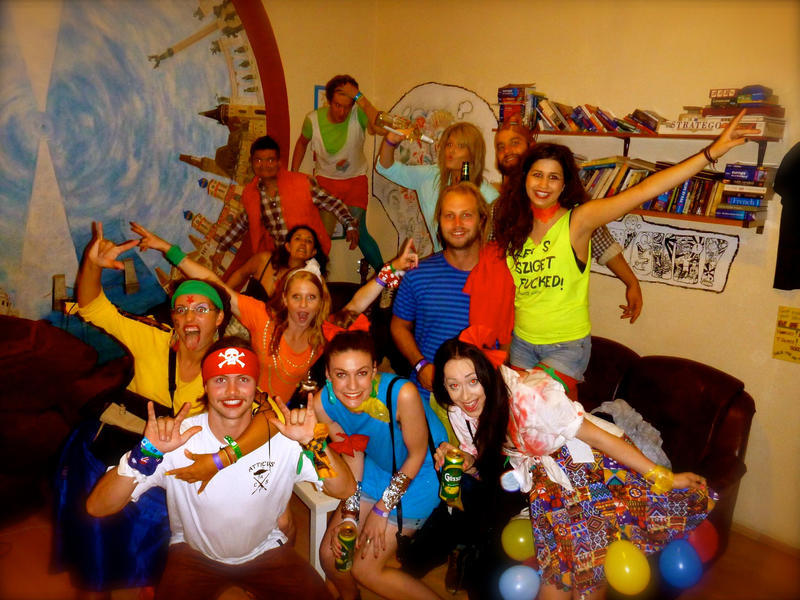 $$
Self Catering Facilities
Nightly Events
Tours & Travel Desk
Carpe Noctem Original is just that, the original party hostel in Budapest. It's the best lively hostel in Budapest for travellers who wanna experience the city and party hard too. With orthopedic mattresses, when you crash out at Carpe Noctem, you get a super soft landing!
The team is crazy good fun and runs events every night of the week: free pub crawls, drinking games, live music nights, and more!  They have a 24-hour check-in and a super relaxed check-out policy; you're free to leave whenever you're ready or book another night if they have space! That's good, however, because you'll definitely wanna extend your stay!
Best Choice Hostel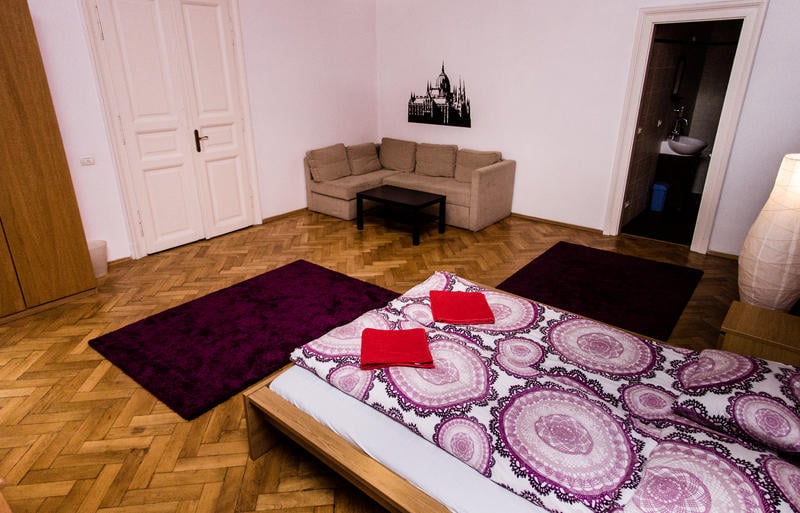 Laundry Facilities
No Curfew
Best Choice is a great hostel in Budapest and one of the closest in the city to the banks of the Danube; just a 2-minute walk away. By no means a party hostel, Best Choice is ideal for culture vultures and digital nomads who have come to Budapest for a more varied experience and like an early night. For the record, an early night in Budapest is just a normal night for most of us!
You'll find Best Choice on Váci Utca, the famous walking street on the Pest side of the city. Lined with coffee houses, restaurants, and gift shops galore! Best Choice is the ideal hostel in Budapest for travellers who want a quiet and relaxing stay.
Want to save the world?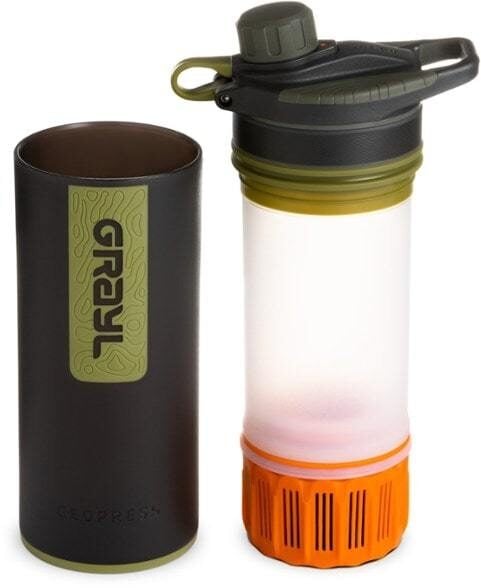 Single-use plastic bottles are a huge threat to Marine Life – Be a part of the solution and travel with a filter water bottle.
The GRAYL GEOPRESS water bottle is the ONLY all-in-one filter water bottle setup you'll need. Whether you need to purify the water from a hostel sink in Kathmandu or a stream trickle in the Andes, the Geopress has got you covered.
Read our full review of the GRAYL GEOPRESS!
A Flashpackers in Budapest – Flow Hostel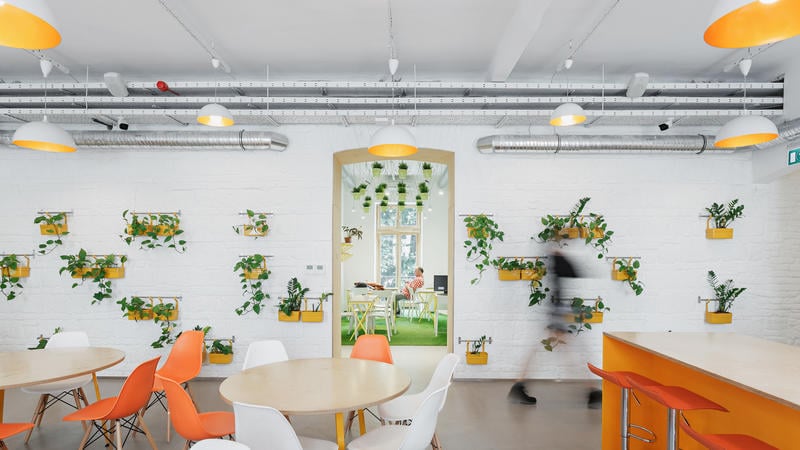 $$$
Self Catering Facilities
Outdoor Terrace
Bicycle Hire
Flow Hostel is a premium flashpackers in Budapest. Super modern, light, and spacious Flow Hostel is ideal for digital nomads who want to work in a modern and inspiring environment or for travellers who like a more high-end experience. Definitely more chilled than it is a party hostel, Budapest's Flow Hostel has pod-style dorms and plenty of common areas to hang out in.
In the common room, you'll find their Smart TV compete with Netflix. As one of the new arrivals to the Budapest backpackers hostel scene Flow Hostel is set to go only up so book your bed ASAP!
Avenue Hostel
Free City Tour
Bar & Cafe Onsite
Super modern, super welcoming, and just downright super in every other way, Avenue is a highly recommended hostel in Budapest! Ideal for digital nomads who are keen on staying in a sociable hostel where they can still focus and be productive, Avenue Hostel is a real gem. There is a real family feel to Avenue Hostel and it's a wonderful place to hang out in.
If you're more of a culture vulture than a party panda, then Avenue is for you. It's the kinda place to stay in Budapest where you can share a few beers and head out into town, but for those who wanna hit the sack, there's a 10 pm quiet curfew in place.
The Wombats Instalment in Budapest – Wombats City Hostel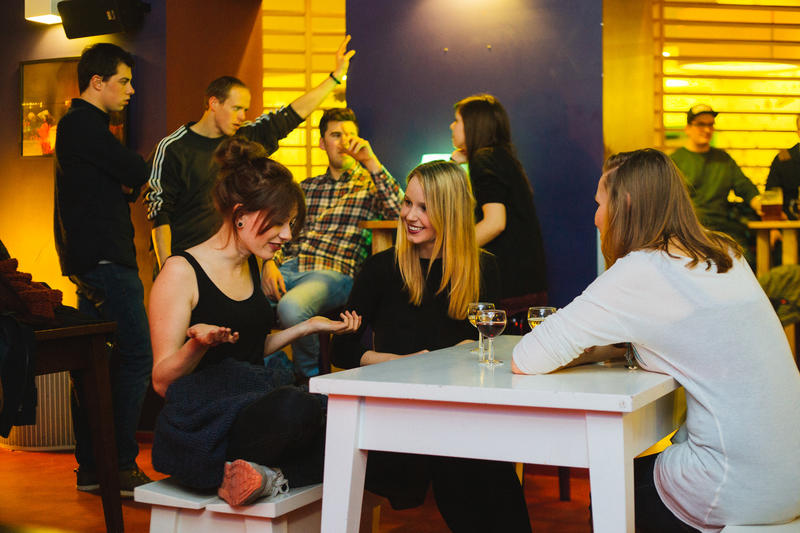 Self Catering Facilities
Laundry Facilities
The Wombats group has hostels throughout Europe and their Budapest edition lives up to their great rep. Winning big at Hostelworld's Hoscars every year since 2013, Wombats is a highly-recommended hostel in Budapest and it's loved by all who visit.
With the right amount of party vibes teamed with those chilled-out feels, Wombats Hostel is a great all-rounder and fantastic hostel Budapest has to offer. Within an easy walk of St Stephen's Basilica and the Grand Synagogue, staying at Wombats means you don't miss a beat in Budapest! Whilst not as "lively" as the many party hostels Budapest has, this one is still very sociable.
One of the Most Unique Budapest Hostels – Baroque Hostel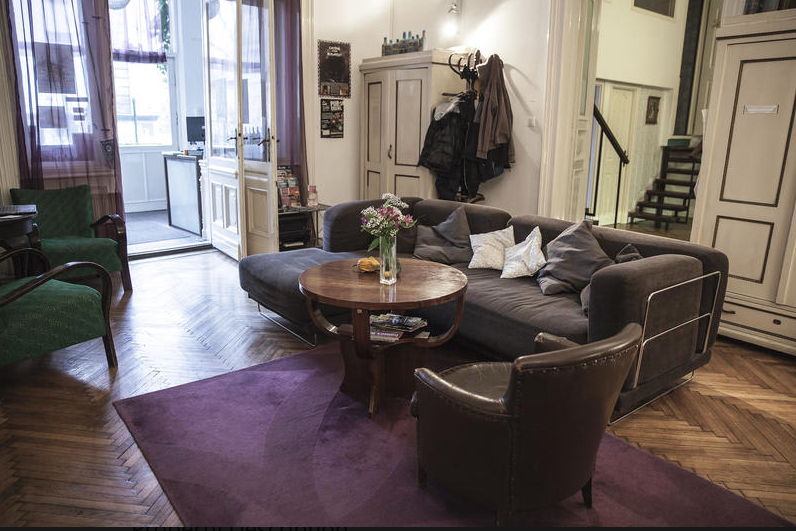 Steam Room
Washing Machine
The Baroque Hostel is another fine budget option for backpackers looking to stay near the famous Hero Square. The building was previously owned by a wealthy Baron's family and has been preserved in the original baroque-bohemian style with a fresh, modern, minimalist design.
Baroque's great location puts you in the middle of the action. The hostel is located near the city park (Vrosliget), and most of the famous sights: the Museum of Fine Arts, the Art Hall, the Szechenyi Thermal Baths, and the Skating Rink.
Private rooms start at around €32, which is more or less in line with many other budget hostels in Budapest. I appreciate that the Baroque hostel offers low-capacity dorm rooms (many 4-person dorms) so that you never feel like you're sleeping in an overcrowded flophouse. Good job Baroque Hostel!
A Hostel for the Hungary Backpackers in Budapest – Unity Hostel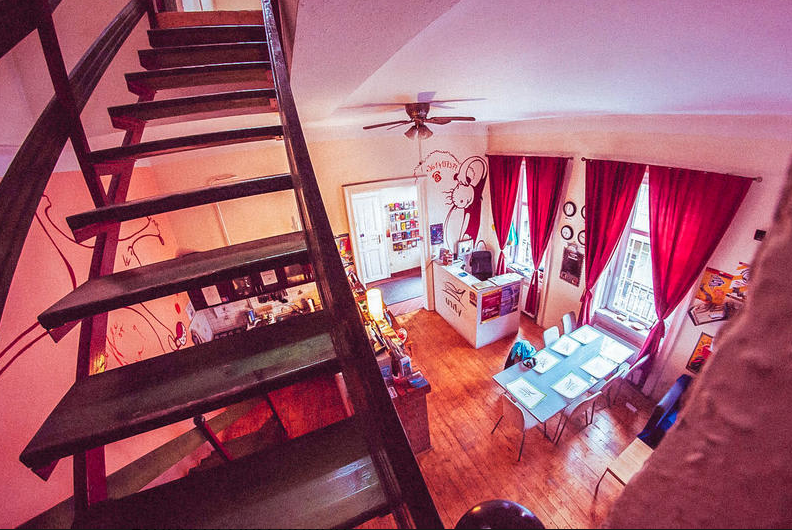 $$
Free All-You-Can-Eat Breakfast
Free City Maps
Outdoor Terrace
Few hostels in Budapest can match the epic all-you-can-eat breakfast found at Unity. They really do go all out. Epic free breakfasts are one of the best ways to maximize the value of any hostel stay, and Unity fits the bill to a T.
The location of Unity Hostel is top-notch as well. The building is located one minute away from the most central tram and subway lines and just a few steps from the ruin pub area, Andrássy Avenue, Opera House, Oktogon square etc. All the top sights of the city are within walking distance; you don't even need a public transportation ticket!
Unity is also great because they really try to enforce the "quiet hostel" vibe late at night.  Note that if you book a private room, you will be staying in another building located nearby. The private room apartment has its own kitchen, bathroom, common area, and super fast wi-fi. Sweet deal.
FAQ about Hostels in Budapest
Here are some questions backpackers ask about hostels in Budapest.
What to Pack for your Budapest Hostel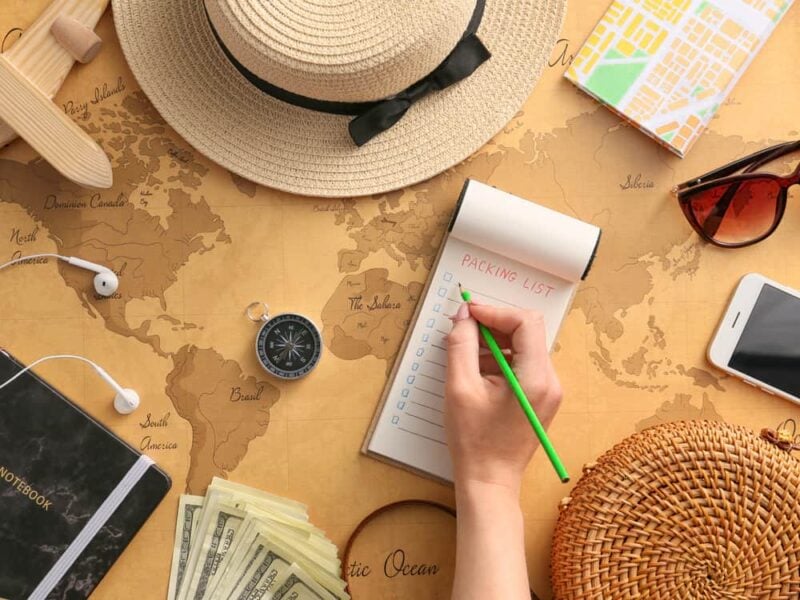 Pants, socks, underwear, soap?! Take it from us, packing for a hostel stay is not always quite as straight forward as it seems. Working out what to bring and what to leave at home is an art we have perfected over many years.
Check out our definitive Hostel Packing list for our top packing tips!
Travel Safety Tips for Budapest
And don't forget Travel Insurance! I've put together a roundup of Travel Insurance for backpackers – check it out here, or if you're low on time, get a quote from World Nomads, our favorite travel insurance provider.
Getting an estimate from World Nomads is simple – just click the button or image below, fill out the necessary info, and you're on your way!

More Epic Hostels in Hungary and Europe
Hopefully, by now you've found the perfect hostel for your upcoming trip to Budapest.
Planning an epic trip all across Hungary or even Europe itself?
Don't worry – I've got you covered!
For more cool hostel guides around Europe, check out:
Final Thoughts
By now I hope my epic guide to the best hostels in Budapest has helped you choose the perfect hostel for your adventure!
If you're still unsure, I recommend going with my top pick, theHostel One, which has a friendly and sociable atmosphere, private dorm beds, and all for a low price. If you want a good night's sleep and want to make some friends, plus be in a great location near to all the attractions, then I choose this one.
However, wherever you stay, you'll be sure to be in for an awesome time in Budapest. Make sure you check out the thermal baths and incredible ruin bars which are unique to the city.
Did you find what you were looking for today? Let me know in the comments!
---
Find out how YOU can support the site.
We're a big site with a big team and this job isn't always easy. But we do it because we love it – we love providing epic and free content. We love the knowledge that our content keeps you adventuring. We don't ask for money, but if you'd like to find out how you can help the site in more organic ways, click the button below.
Thank you for your support 🙂
And for transparency's sake, please know that some of the links in our content are affiliate links. That means that if you book your accommodation, buy your gear, or sort your insurance through our link, we earn a small commission (at no extra cost to you). That said, we only link to the gear we trust and never recommend services we don't believe are up to scratch. Again, thank you!