Travel
5 BEST Hostels in Bali (2021 Insider Guide)
Ah, Bali – "The Island of the Gods." It's not just a clever nickname as Bali is truly a magical place. Incredible culture, stunning nature and some of the most unique places you've ever seen, Bali is way more than "just" an island.
From relaxing beaches to wild parties to yoga and meditation retreats, this island has something for everyone.
But Bali is HUGE and there are tons of incredible accommodation options, making it really hard to choose where to stay. There are hundreds of hostels all over the island and deciding which one to stay at can be super overwhelming.
That's exactly why we've created this list of the best hostels in Bali!
From digital nomads, to solo travellers and broke backpackers, we've collected some of the best hostels all over the island to help you find the perfect one for your trip. Surf hostel, party-focused, chill and relaxed – you name it, we've got it!
Buckle up my friends – let's get started with some epic hostel options…
What to Expect from Hostels in Bali? 
Hostels are generally known to be one of the cheapest forms of accommodation on the market. That doesn't just go for Bali, but pretty much every place in the world. However, that's not the only good reason for staying at a hostel. The unique vibe and social aspect is what makes hostels TRULY special. Head down to the common room, make new friends, share travel stories and tips, or just have a great time with like-minded travellers from all over the world – you won't get that opportunity in any other accommodation. 
When it comes to hostels in Bali, you are in literal paradise. No matter where you go, there will be a guesthosue, a homestay or a hostel closeby. Note that a lot of guesthouses and homestays are seen and treated like hostels. The only difference is that they don't offer shared rooms. Apart from that, you can find almost every possible hostel type in Bali. Luxurious, small, massive, traditional, equipped for digital nomads – the list goes on! No matter what you're looking for during your stay, you'll find it. 
The hostels in Bali are also ridiculously cheap, yet offer an incredible value. The Balinese culture is super welcoming and friendly, and you'll find this vibe in pretty much all hostels on the island. The staff at hostels are ALWAYS local, or at least Indonesian. Since there are hard regulations on working in Bali as an international traveller, you won't find any foreigners work behind the reception and definitely no job boards. 
Let's talk more about money and rooms. Bali's hostels normally have three options: dorms, pods and private rooms (although pods are rare). Some hostels even offer large private rooms for a group of friends. The general rule here is: the more beds in a room, the cheaper the price. Obviously, you won't have to pay as much for a 8-bed dorm than you would for a single bed private bedroom. 
Bali prices in general are super low. The same goes for hostels. To give you a rough overview of the hostel prices in Bali, we've listed the average range below. Note that you can find a hostel in pretty much every price range. 
Dorm room (mixed or female-only): $3-12 USD/night
Private room: $15-24 USD/night
When looking for hostels, you'll find the best options on HOSTELWORLD. This platform offers you a super safe and efficient booking process. All hostels are displayed with a rating and previous guest reviews. You can also filter your personal travel needs easily and find the perfect place for you.
Visiting the island of gods is a treat, but only if you actually get to see the beauty of Bali. Knowing where to stay in Bali is important before you start your travels. Getting around is easy, but it's still smart to base yourself close to the attractions you want to see. To help you out, we've listed the most popular spots in Bali below: 
Canggu – what used to be a quiet, hip place has turned into the most popular place on the entire island. Canggu is constantly developing, with new digital nomad cafes popping up left and right. If it's your first time in Bali, staying in Canggu is your best choice. 
Ubud – considered the yoga and coffee centre of Bali, the atmosphere in Ubud is more chill, laid-back and alternative. It's not for everyone, but a great place to visit. Located in the Southern centre of Bali, you can see stunning rice paddies, sneaky monkeys and breathtaking nature. 
Uluwatu – the surf capital of Bali is where people go for the white sand beaches, epic waves and an overall very chill vibe. Uluwatu is located on a cliffside and in order to get around, you will have to get your hands on a scooter. 
Something to be aware of: the Balinese New Year, Nyepi, happens on March 17th and is observed as a day of silence. None of the hostels will allow check-ins or check out that day. Even the airport is closed.  It's actually a really cool cultural experience. Click here to read more about Bali's Day of Silence.
Things DO go missing sometimes…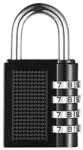 Psst
! Heading to a hostel? Don't forget to pack a padlock! It's well worth having one so you can secure your locker and protect your stuff!
5 Best Hostels in Bali
Now that we've gone over what to expect from hostels in Bali, we won't make you wait any longer! Let's have a look at the best hostels in Bali…
1. Overall Best Hostel in Bali, Canggu – The Farm Hostel
This place has a great, friendly atmosphere. The staff go above and beyond to make your stay awesome. Many reviews say it feels more like a hotel. It's very clean and the food at the restaurant is quite tasty. Although it isn't that close to Canggu's top things to do, they do have scooters for rent. It's a great place to make friends as many people go out together at night. All these things make this the overall-best hostel in Bali.
If you're not sure about what to visit in Bali, ask any of the staff and they'll share their best recommendation with you or even join you on a trip. Balinese people are incredibly proud of their home and love to show it off to travellers. You won't find a better guide than a local!
Why you'll love this hostel:
Incredible location
Almost perfect ranking
Small free breakfast
Farm hostel is the type of hostel that is known. Almost all travellers that looked into the Bali hostel scene have come across the name Farm hostel. And for good reason. It offers an incredible value which you can see from the reviews. With a 9.4/10 ranking and over 1800 reviews, you can be sure that the hostel keeps its promises. Previous travellers loved their stay, and so will you.
Let's talk more about the hostel's amenities though. Farm Hostel has evolved into a massive community space, now offering enough beds for up to 80 travellers. You can enjoy not just one, but two massive pools, a great garden area with bean bags and sun loungers and an outdoor communal kitchen and. There are no private rooms, but different-sized dorm rooms with mixed and female-only options. All beds are super comfy according to previous travellers so you'll have a great night's sleep.
2. Best Hostel for Solo Travellers in Bali, Ubud – Puri Garden Hotel & Hostel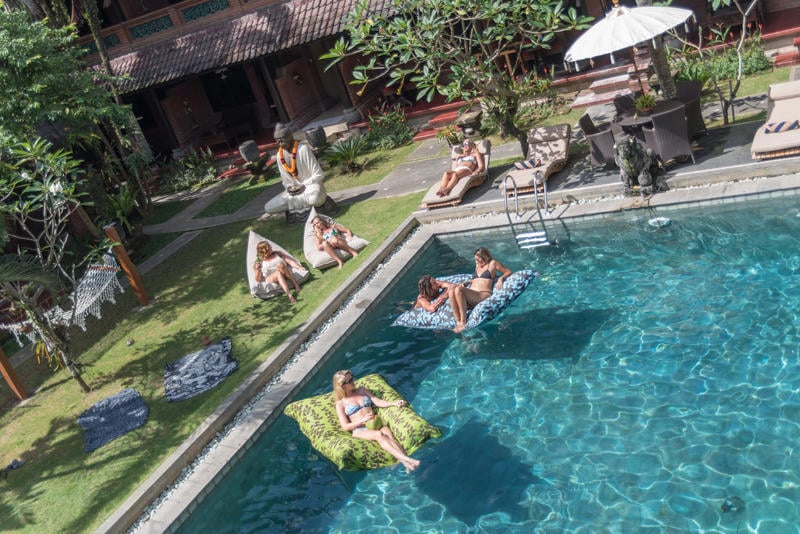 Free daily yoga class
Free events and tours
This boutique hostel almost feels like a luxury hotel. Sure it's a bit pricey but the free breakfast, free yoga classes every morning, and beautiful swimming pool make it worth the price. The staff is incredible. They make it a very welcoming place where it's easy to meet other travelers. They organize tours, have an all-you-can-eat dinner, and hold events such as BBQ's and other social activities. All of these elements make Puri Garden the best hostel in Bali for solo travellers.
Why you'll love this hostel:
Award winning hostel
Super green and spacious
Huge swimming pool
From the free breakfast every morning to the comfy hammocks in the garden, everything at Puri Garden is simply perfect. The hostel is a travellers dream come true, with lot's of different room options, plenty of space to yourself, even if you stay in a dorm, a massive pool – who doesn't like that?! – and so much more. If you want some real value for your money, this is the place to stay!
While Ubud is pretty calm and chilled, Puri Garden Hostel puts you right in the middle of the action. Just steps away from some of Ubud's main attractions, you can find the legendary Yoga Barn just a 15 minutes' walk away, and a 9-minute stroll will get you up close and personal with wildlife at the Sacred Monkey Forest Sanctuary. Drop by the 24-hour reception for top tips on things to do, or just take it easy with a day using the laundry facilities or sitting down with a fellow traveller to tackle a board game.
3. Best Party Hostel in Bali, Kuta – Puri Rama Hostel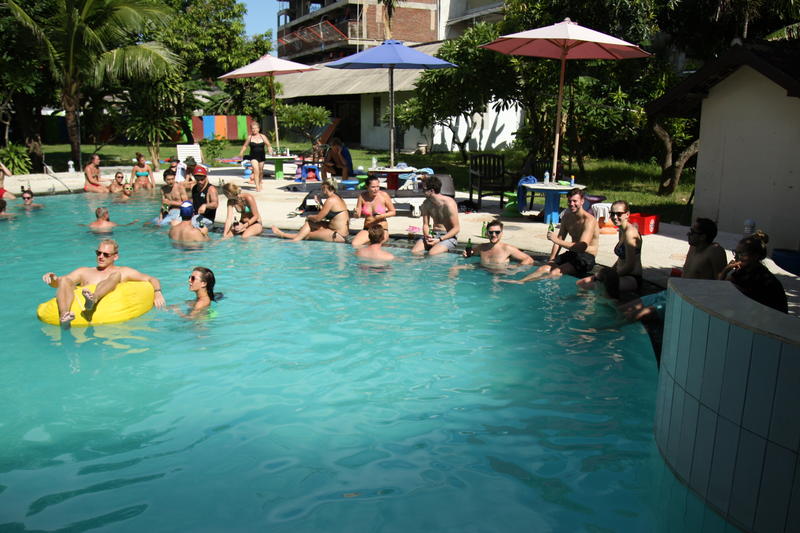 Swimming pool
Massive garden
This hostel is in a traditional Balinese style building. The swimming pool boasts the only swim-up bar at a hostel in Bali. There are 4 different room types with the deluxe rooms being the best as they come with a bar fridge. What really makes this the best party hostel in Kuta is its proximity to all the bars and nightclubs, no need to arrange transport. Reviews say that the staff is the best and they're more than happy to help book your onward travel to the Gili Islands or other parts of Indonesia. It's no wonder this is one of the coolest hostels in Bali.
Why you'll love this hostel:
Incredible location
Swim-up bar
22 jet Jacuzzi
We're not going to lie, Puri Rama Hostel does feel a little bit like a hotel – but one of the good ones! Unlike other hostels in Kuta, this one only offers single, double or 4-bed rooms. Perfect if you're coming back from a night out and want to cure your hangover. Speaking of, Kuta's nightlife district is actually just a minute from the front door.
Apart from the partying aspect, Puri Rama Hostel has a lot more to offer. The super friendly staff will help you with all your needs, give great recommendations on what to do and where to go, and make you feel like you're at home. With plenty of activities and events happening, even the shyest backpacker can easily connect with other travellers and make new friends.
Note that not all rooms come with free breakfast, so make sure you check on that first. You can however purchase a very delicious breakfast right on site – perfect to start the day!
4. Best Hostel for Couples in Bali, Ubud – Arya Wellness Retreat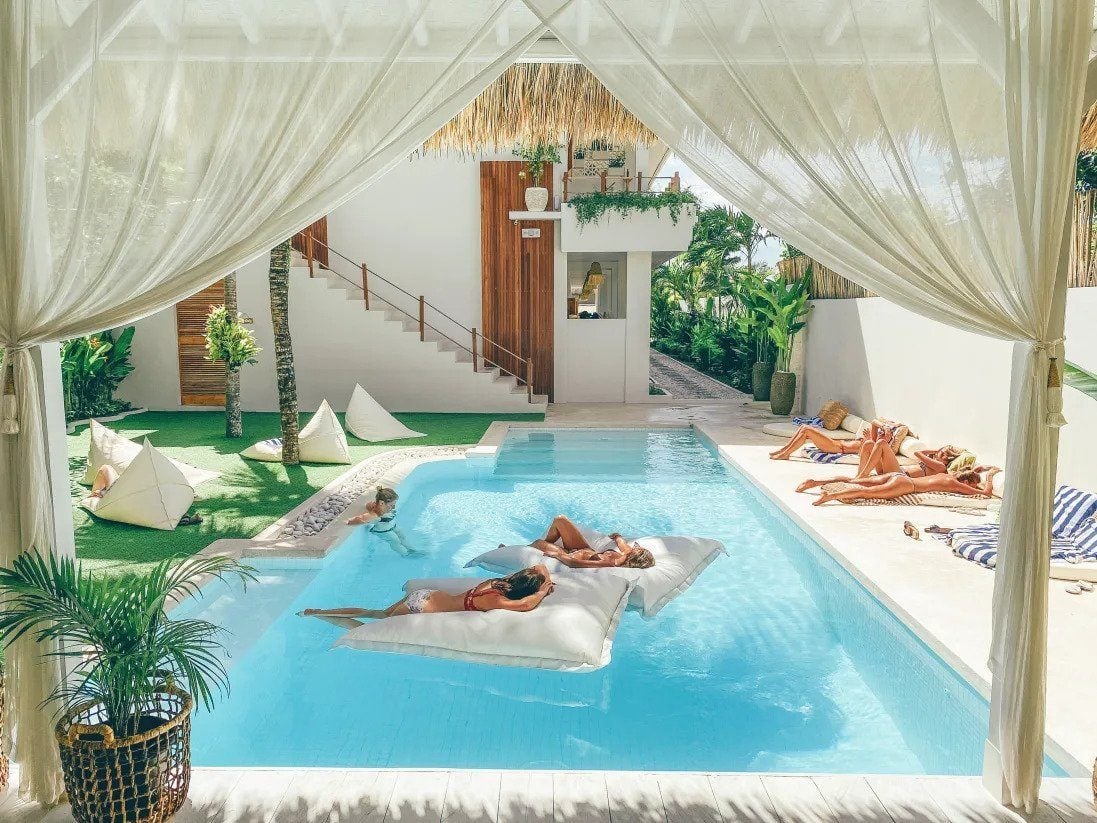 Love birds on vacation? Arya Wellness Retreat is the perfect hostel in Ubud to spend quality time with your significant other and meet like-minded travelers from all over the world. Chill on a beanbag and sip on a fresh coconut while listening to cool travel stories and make new friends.
Apart from the awesome outside area, the Ubud hostel has a lot to offer on the inside too. High-speed Wifi, super comfy beds, an epic location and staff that goes above and beyond to make your stay the absolute best. You seriously can't do anything wrong by booking this stunning hostel.
Why you'll love this hostel:
Onsite restaurant
Charming rooms
Spa treatments
Obviously, couples will be looking for private rooms. Luckily, Arya Wellness Retreats has the comfiest private rooms in Ubud. They're not only comfy, but they're also stylish and bright, with lots of space for two people. It's the ideal getaway together!
This hostel is a place to relax and unwind through a combination of free daily wellness and social activities: meditation, yoga, pilates, healing circles, fitness classes, workshops, day trips, movie nights, cooking class, family dinners and so much more.
After a long day of exploring Ubud, head back to the hostel and have a healthy but super tasty dinner at the on-site restaurant. The menu was specially designed to offer an array of vegan options to help you detox your body, while using only the freshest, locally sourced produce.
5. Best Cheap Hostel in Bali, Kuta – Bread & Jam Hostel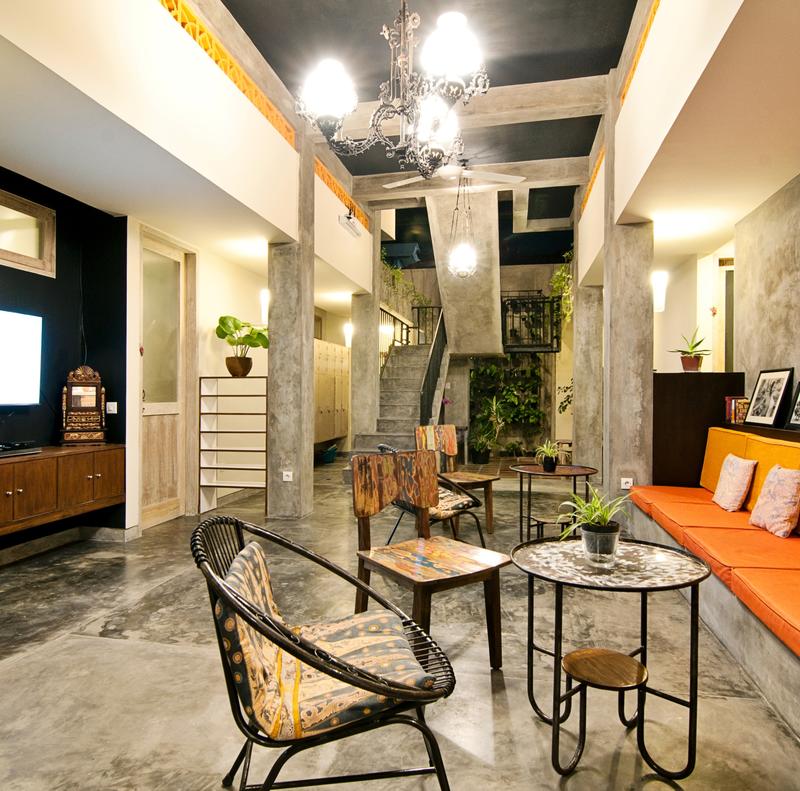 This is a great cheaper option near the airport. Don't let the price fool you, though. It's still a boutique hostel with modern facilities and a friendly staff to boot. They have a tasty free breakfast and they're walking distance to the airport. It's the perfect location for an early flight out. No wonder it's a recommended hostel in Bali.
Bread & Jam Hostel combines experience, style and comfort with affordable prices. You'll feel like stepping into a home away from home. On top of that, you can also enjoy a good sleep after a busy day exploring the island.
Why you'll love this hostel:
Stylish and cute
Free tea, coffee and kombucha
Super kind staff
Cheap and stylish sounds pretty good, right? This is exactly what Bread and Jam Hostel can offer you. If you need to stay close to the airport or just want to base yourself closer to the South of Bali, this is an epic option. You're within walking distance to central Kuta and the beach in a quiet neighborhood, steps away from local and cheap food.
There's a cozy common room you can relax in, watch cable TV and range of DVDs, play board games, or just to hang out with your friends and other guests. A shared pantry and kitchen are available for guests to cook.
6. Best Hostel for Digital Nomads in Bali, Pererenan – Tribal Bali
Looking for the perfect place to live, work, play and stay in beautiful Bali? Introducing Tribal Bali – Bali's first custom-designed, purpose-built co-working hostel and the epic brainchild of Will Hatton, the OG Broke Backpacker. This is the place where backpacker babes, aspiring entrepreneurs, adventurous explorers and vagabond hustlers alike come together to work, eat, play and fall in love… well, at least with the absolutely fantastic coffee and beautiful views!
Why you'll love this hostel:
co-working space
amazing coffee and signature cocktails
gigantic pool
Mingle, share inspiration and find your tribe whilst working in the TREMENDOUSLY FUCKING HUGE co-working space and shooting a game of pool on Tribal's electric pink billiards table. There's a gigantic pool as well so it's always time for a refreshing dip to break up the day's hustle, brainstorming, work, and games… 
With epic food, legendary coffee, awesome cocktails (Tribal Tonics are the best signature cocktails you've ever had in a hostel – I guarantee you that!) and a dedicated co-working space, this is the place where you want to be when visiting Bali. If you love the site and want to support Will, swing on by next time you're in Bali 😉
More Epic Hostels in Bali
Not quite happy with your options? Check out even more amazing hostels all over Bali. Whether you want to stay in Canggu, Ubud, Seminyak or more remote areas of the island, you'll find the perfect place for your trip!
The Tipsy Gypsy Hostel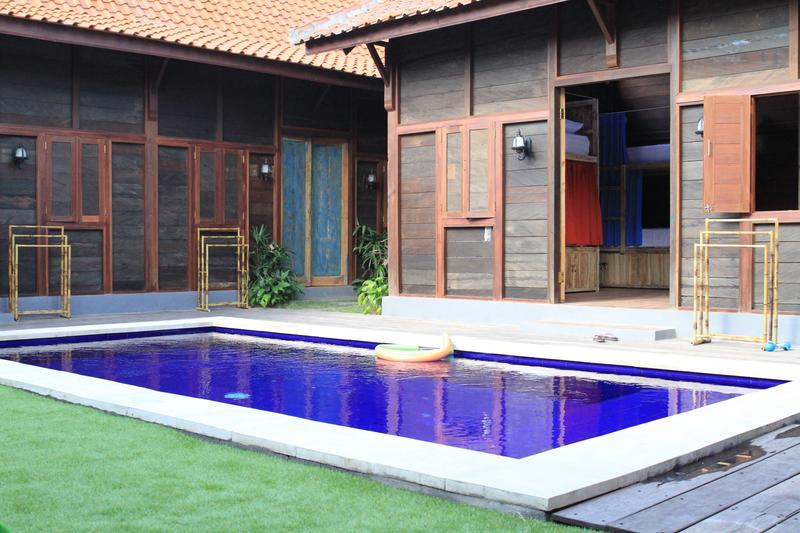 This hostel gets rave reviews from everyone who stays there. You'll quickly feel at home thanks to the friendly owner. It's relatively small with only three 6-bed dorm rooms so you'll get to know other guests pretty easily. It's a chilled out vibe that likes to hang but not party too hard. The location is close to the main area of Canggu but just far enough away where you can still get a good night's sleep. Each bed has a power plug, reading light, privacy curtain, and locker. No wonder this is a top hostel in Bali.
Clandestino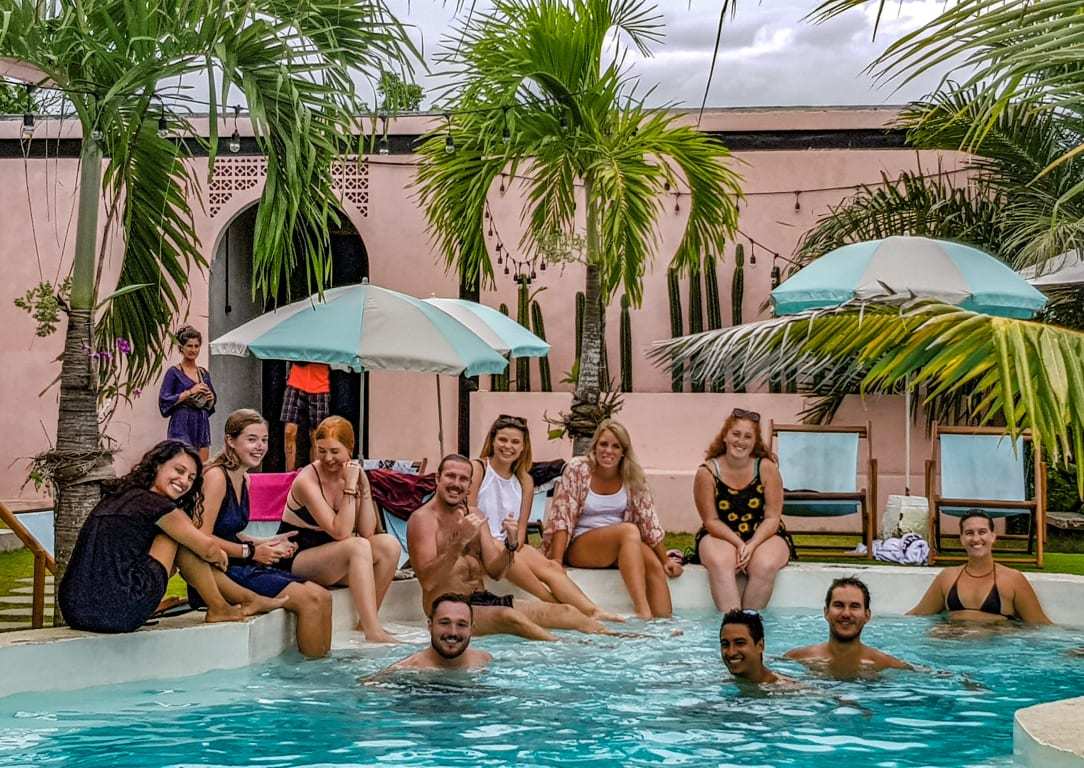 Even though you are a couple on a backpackers budget, that doesn't mean you can't find a romantic hostel to cozy up into. With both private and dorm rooms, Clandestino is so much more than just a fancy name. You and your special travel buddy can swim up to the poolside bar for a drink or flirt at the tiki bar for a little added atmosphere.
If you thought the hostel was great, what until you see the scenery. Clandestino is set in a tropical Balinese garden, with lush palm trees and views of the surrounding rice fields.
Mojosurf Camp Canggu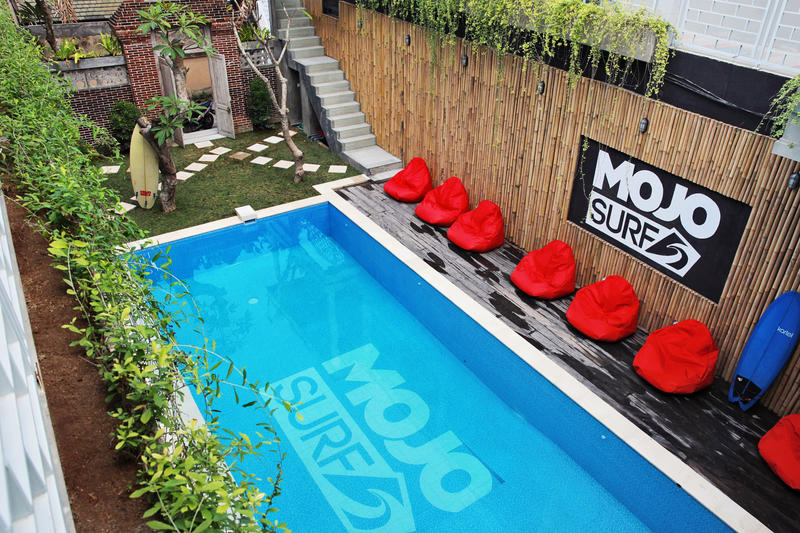 This is one of Canggu's newest hostels and it's off to a great start! The owners are longtime surfers originally from Byron Bay, Australia. If it's surf lessons you're looking for, this is the place for you. In addition to surfing lessons, they also have a free breakfast, swimming pool, and bar with cheap happy hour drinks. This is definitely the best surf hostels in Canggu.
Pudak Sari Unizou Hostel
Awesome staff, comfy beds, great location; what more could you want from a hostel? This brand new hostel has several different room options from mixed dorms to private rooms that step out to the pool. Don't want to deal with the taxi drivers? No problem! This hostel is within walking distance to the airport as well as all the other hotspots of Kuta. It's certainly one of the coolest hostels in Bali.
H-Ostel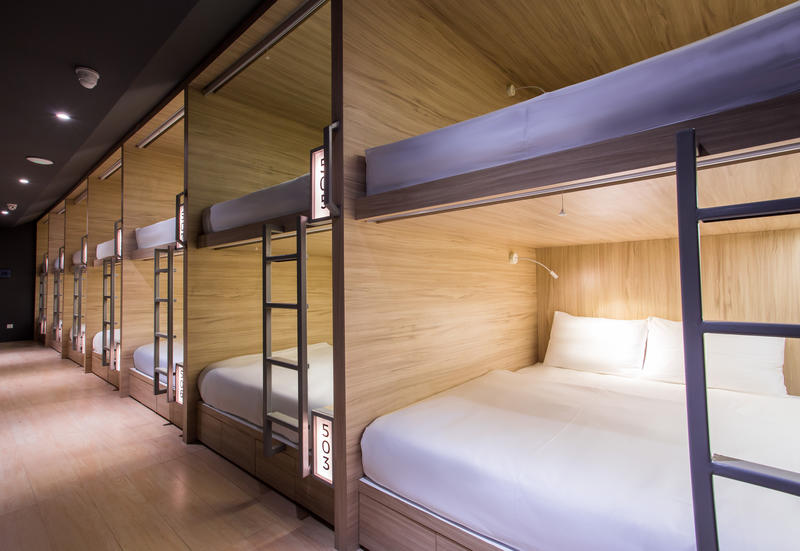 Located in the heart of Kuta, this pod-style hostel is clean, modern, and decently priced. They have both single beds and queen size dorm beds for those traveling with a partner. There are also lockers big enough to keep all your belongings safe. All these elements make it the best Kuta beach hostel.
Cara Cara Inn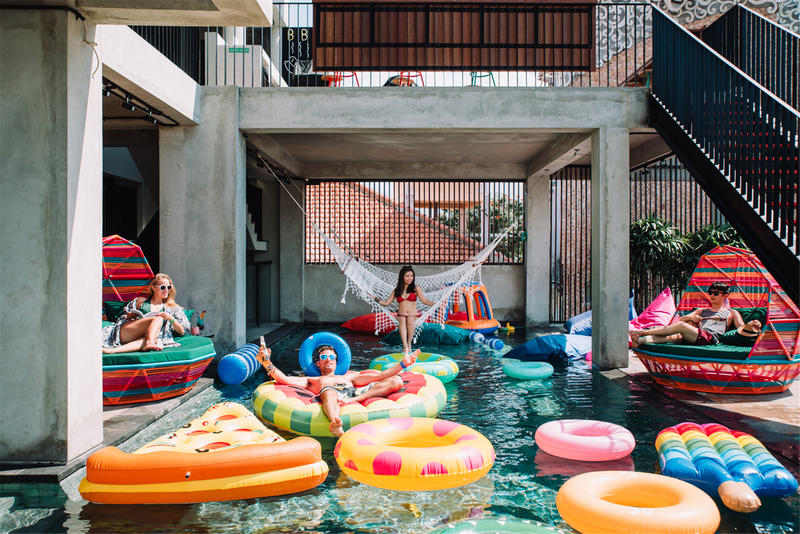 This cute, boutique hostel has all the charm. Thanks to its small size, it's easy to get to know other people while lounging by the pool or in the hammock. Although the dorms are a bit pricey for Bali, they have a free breakfast and it's located right in the heart of Kuta close to everything. The hostel is kept clean and tidy ensuring you'll enjoy your stay.
Lagas Hostel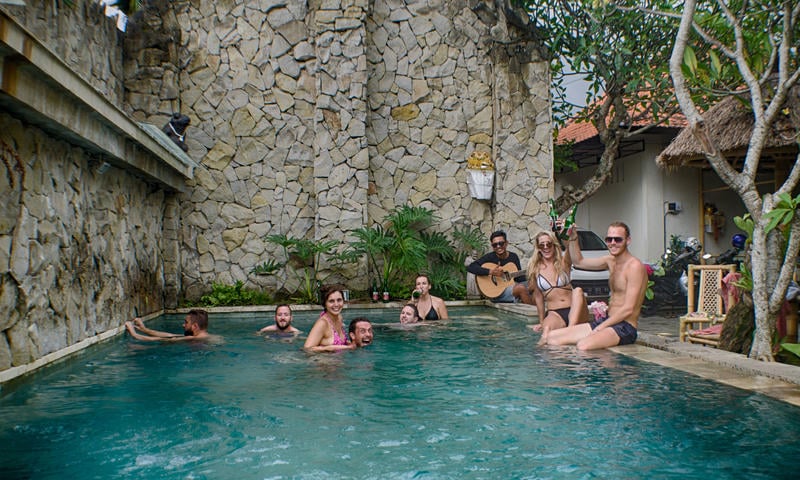 Get away from the hustle and bustle of central Ubud and truly relax at Lagas Hostel. The free breakfast is delicious and the rooms are cleaned every day. There is a swimming pool complete with a waterfall posing for the perfect Instagram photo. The owner, Wayan, and his staff are what truly make this place special. Lagas Hostel is one of the best hostels in Ubud.
In Da Lodge Ubud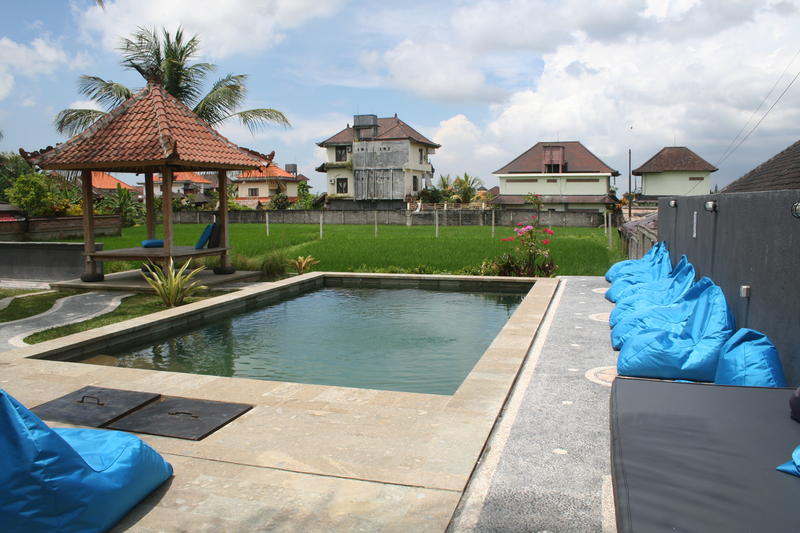 Although there aren't many freebies here, the location is great. The facilities are very good, considering how cheap it is. They have hot water showers and a swimming pool with a nice view of the rice fields. It's a great place for solo travelers as the atmosphere is very social. It's certainly one of the cheapest hostels in Bali.
Best Party Hostel in Ubud – Puji Hostel Ubud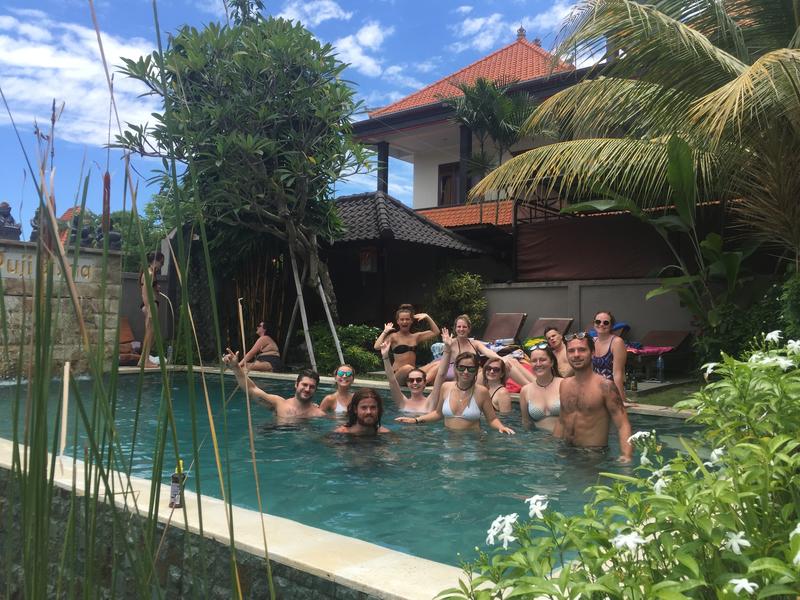 Puji Hostel is very centrally located near tons of things to do in Ubud. The swimming pool overlooks beautiful rice terraces and they have a free breakfast. It's possible to book all your trips with them including the Mt. Batur Sunrise trek. The dorm rooms have lockers for your valuables so it's very secure. A great choice in Ubud.
Kosta Hostel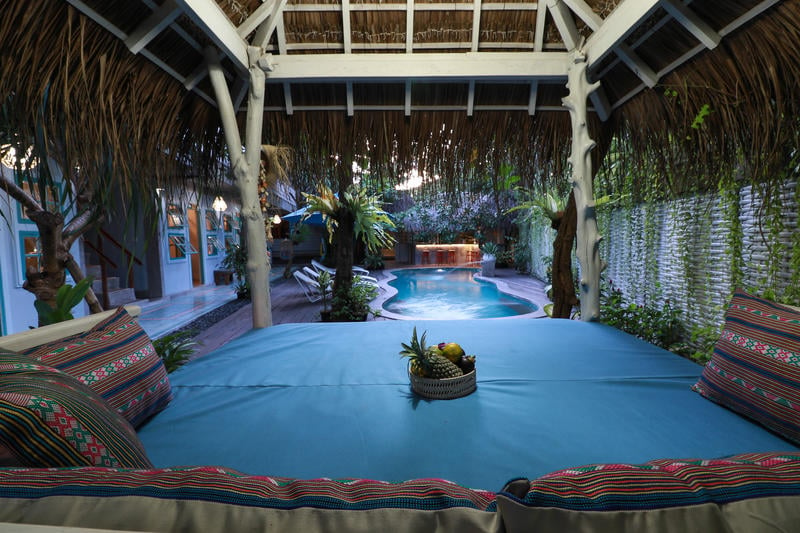 Opened in 2017, this is one of Seminyak's newest hostels. The comfortable beds and beautiful decor make it feel more like a boutique hotel than a hostel. You can relax by the pool or enjoy a tasty meal in the restaurant. Although it's a little far from the bustling areas of Seminyak, it's an easy walk or quick motorbike ride. It's no wonder this is already a top hostel in Seminyak.
Lembongan Hostel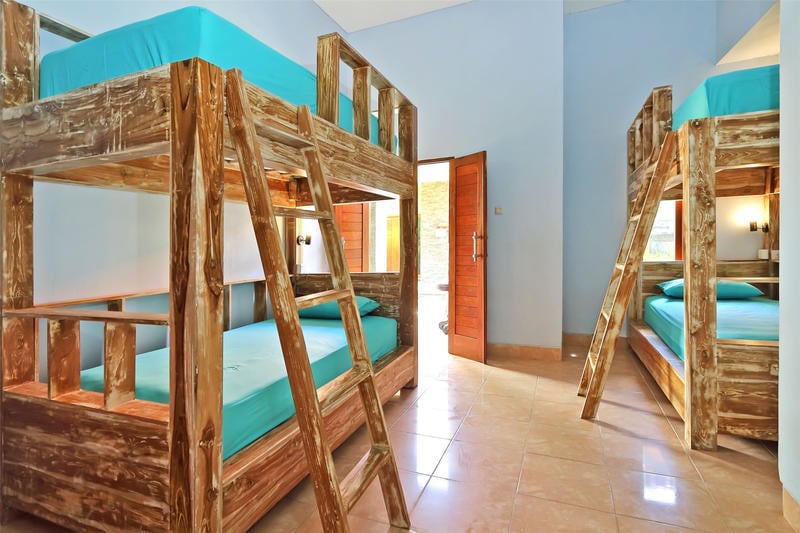 This family-run hostel in the backpacker destination Nusa Lembongan is kept very clean. Each dorm bed has a reading light and power plug and the bottom bunks have privacy curtains. The bathrooms are huge and they have shampoo and soap in all the showers. It is a bit out of the way of the central area but it's a tiny island that's easy to get around by scooter. There are some reviews of many wasps in the breakfast area so hopefully they get it under control soon. Overall it's a highly rated hostel.
Big Pineapple Backpackers Bali 
This hostel is great after a long day of sitting on the beach or seeing the sights in Bali. They have a swimming pool, pool table and a movie room with a big TV and loads of DVDs to watch. It's also a great place to stay at the beginning or end of your trip to Bali as they have an official car and offer airport transfers for a very reasonable price. One of the best hostels in Sanur.
Sindu Guest House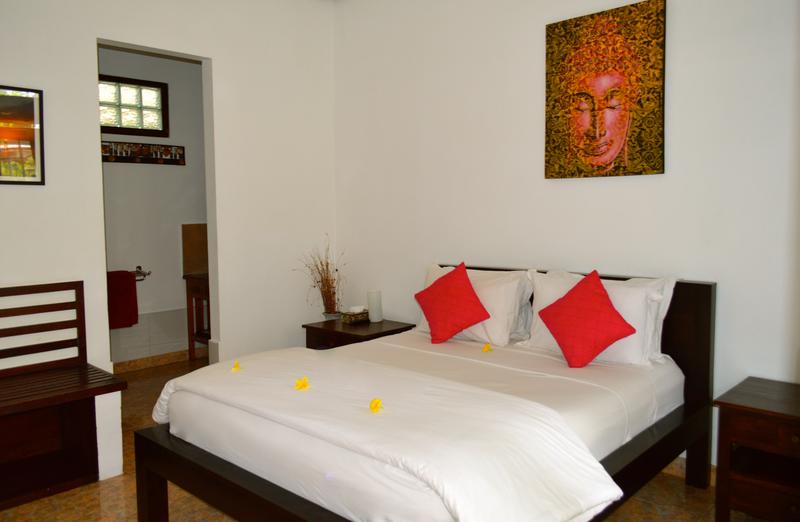 This is the nearest guesthouse to the beach in Sanur. It's only a 5-minute walk to Sindu beach and it's nearby some of the best restaurants Sanur has to offer. They offer a delicious breakfast in the price of the room. What's more is it's proximity to the harbor so it's a great place to stay before heading off to the Gili Islands or Nusa Lembongan.
FunkyPlace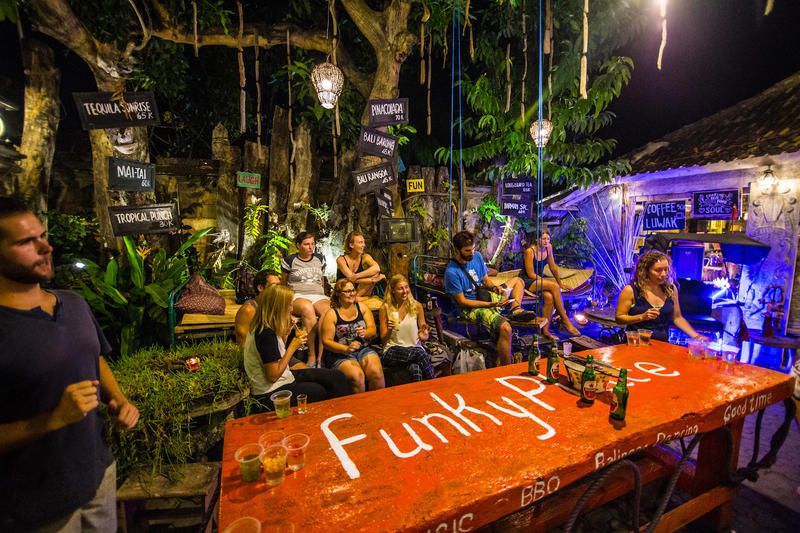 FunkyPlace is a place for funky people and this is made clear with their funky, hippy decorations. They have an attached cafe where they have live music most nights of the week. It's located right on the beach and one of the dorm rooms is in a tree house overlooking the ocean. How cool is that?! It's pretty obvious why this is a top hostel in Lovina, Bali.
Candidasa Backpacker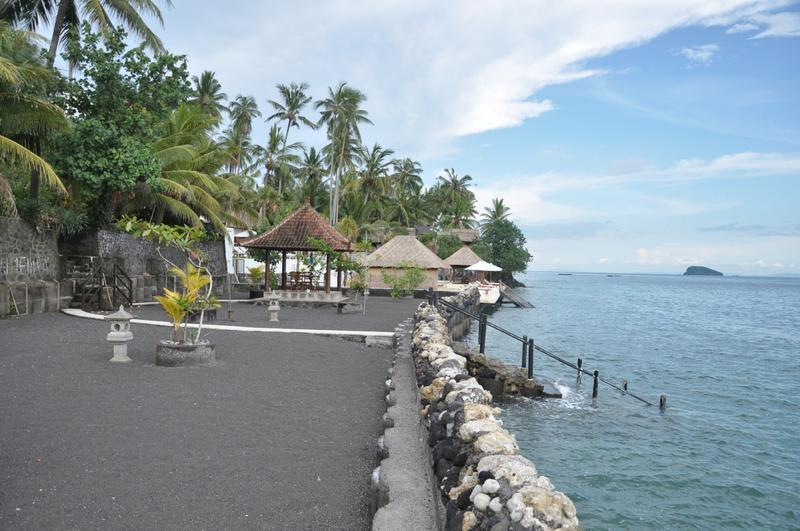 Candidasa is a more remote, chilled out area of Bali and this hostel is the best hostel in Candidasa. It's an interesting hostel as it's part of a larger resort. Even if you're staying in a dorm, you can still use all the facilities of the resort, including the swimming pool and free breakfast. The only downside is that there's one shared bathroom for the dorms and it's in a separate building. You'll just have to make sure you go before you go to bed. Overall this place gets rave reviews.
What to Pack for your Bali Hostel
Pants, socks, underwear, soap?! Take it from us, packing for a hostel stay is not always quite as straight forward as it seems. Working out what to bring and what to leave at home is an art we have perfected over many years.
Check out our definitive Hostel Packing list for our top packing tips!
FAQ about Hostels in Bali
Here are some questions backpackers ask about hostels in Bali.
Travel Safety Tips for Bali
And don't forget Travel Insurance! We've put together a roundup of Travel Insurance for backpackers – check it out here, or if you're low on time, get a quote from World Nomads, our favorite travel insurance provider.
Getting an estimate from World Nomads is simple – just click the button or image below, fill out the necessary info, and you're on your way!

Concerned about Bali's natural disasters or the occasional pickpocket? Arm yourself by reading our travel safety tips for Bali!
More Epic Hostels in Indonesia and Southeast Asia
Hopefully by now you've found the perfect hostel for your upcoming trip to Bali.
Planning an epic trip all across Indonesia or even Southeast Asia itself?
Don't worry – we've got you covered!
For more cool hostel guides around Southeast Asia, check out:
Over to you
By now I hope our epic guide to the best hostels in Bali has helped you choose the perfect hostel for your adventure!
If you think we've missed anything or have any further thoughts, hit us up in the comments!
---
Find out how YOU can support the site.
We're a big site with a big team and this job isn't always easy. But we do it because we love it – we love providing epic and free content. We love the knowledge that our content keeps you adventuring. We don't ask for money, but if you'd like to find out how you can help the site in more organic ways, click the button below.
Thank you for your support 🙂
And for transparency's sake, please know that some of the links in our content are affiliate links. That means that if you book your accommodation, buy your gear, or sort your insurance through our link, we earn a small commission (at no extra cost to you). That said, we only link to the gear we trust and never recommend services we don't believe are up to scratch. Again, thank you!