Travel
36 BEST Places to Visit in Seoul (2021 Guide)
Seoul is one of the most popular destinations in Asia. It's a bustling metropolis that combines cyber-punk sights with old-world goodness. It's a truly unique city.
There are numerous cool places to visit in Seoul and a lot of sights to see. This city has it all, from a fascinating and unusual culture to great food, amazing shopping, and great entertainment options. It's also very welcoming and used to travelers making it a safe and accessible place in Asia. There countless points of interest in Seoul, so you'll have an exciting and busy trip to the city.
The idea of traveling in Seoul can seem a little intimidating. It's a sprawling metropolis and doesn't quite have the complete ease of its East Asian neighbor Japan. However, Seoul is actually a very safe city and is popular amongst tourists, so the tourist trails are well worn and easy to explore.
With this easy guide, you'll find it easy to travel to Seoul and come back with stories and pictures that other people just can't match! There are a lot of cool places to visit in Seoul, so let's get to it!
BEST AREA IN SEOUL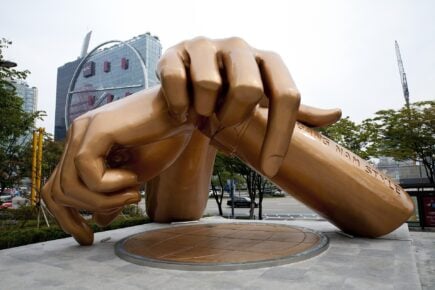 Gangnam
Gangnam translates as 'south of the river' and is a district that has blown up in recent years. It was originally an area dedicated to sleepy rice fields – but you'd never believe it when visiting today!
Places to visit:
Check out the K-pop scene and pick up a few CDs at Evan Records.
Shop for the latest fashion and boutique items (or just window shop) at Galleria department store.
Eat bibimbap at Tokkijung or a famous Korean barbeque meal at Yang Good.
These are the Best Places to Visit in Seoul!
Before you set foot in the airport, you're going to need accommodation! But, where do you even start in a city of 10 million? Don't worry, we've got you covered. Be sure to check out where to stay in Seoul and book yourself a great place in your faviourite area!
#1 – Bukchon Hanok Village – A great place to see in Seoul if you love architecture.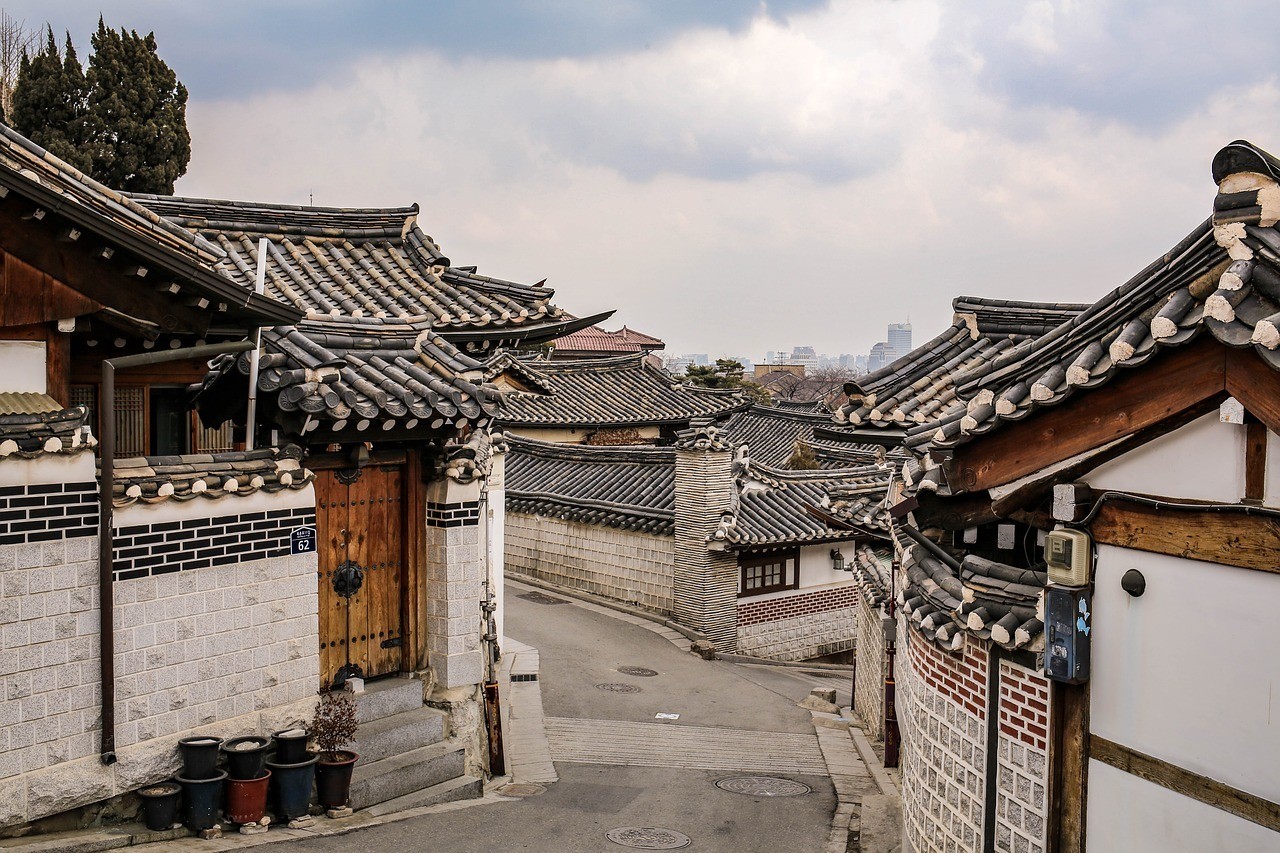 A great place to experience Seoul's traditional culture.
You'll be able to take some awesome pictures in this area!
Just be aware that people still live in these houses, so be respectful of their privacy.
Why it's so awesome: The traditional houses in Seoul are called Hanok and they date back to the Joseon Dynasty between 1392 and 1910. These houses are designed to maintain a balance between the house and the outside world of mountains, rivers, and land contours. This makes them extremely aesthetically pleasing and one of the must-sees in Seoul! You may even be able to find an Airbnb in Seoul in this architectural style if you're lucky!
What to do there: People actually still live in this residential area, which is located between
Gyeongbokgung Palace and Changdeokgung Palace, so be respectful of their spaces and time. If you can, join a guided tour early in the morning to get even more insights. Or take some extra time and explore the area and make sure you get some pictures too. There are some spots where you can see the traditional houses against more modern landmarks, and they make for the most striking photo-ops of all.
#2 – Myeongdong – A great place in Seoul if you love to shop!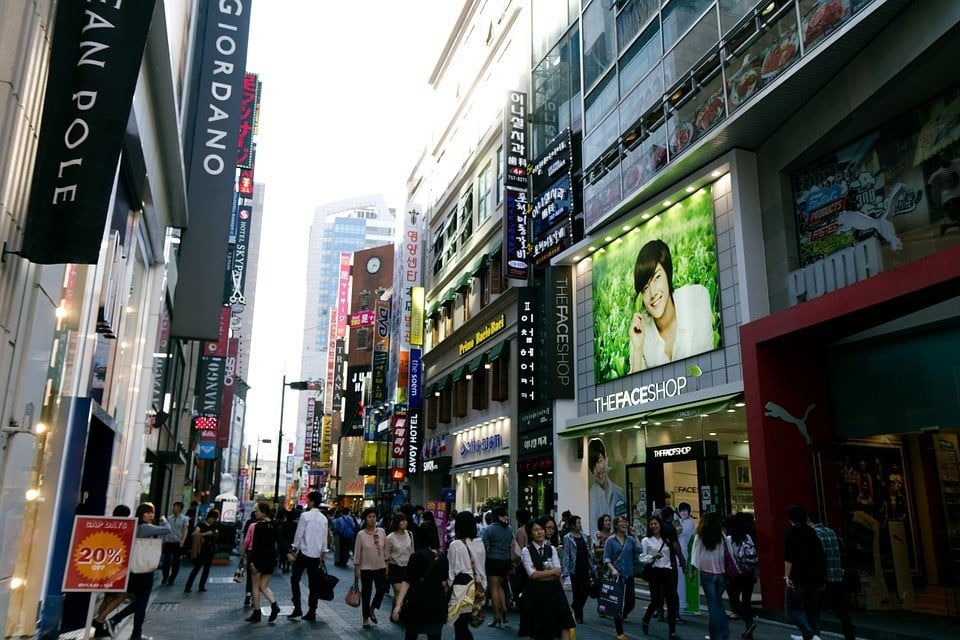 Literally shopper's paradise!
You'll find amazing deals in this area on every kind of cosmetics you can imagine.
Make sure you take advantage of the samples and the changing deals and offers.
If you want to find out more, get a guide to show you around!
Why it's so awesome: The women of Seoul look amazing. They're always beautifully dressed and have impeccable make-up, and this area is why. Myeongdong is a whole shopping area dedicated to every cosmetic store and brand you could ever want. So, no matter what type of skin you have or what make-up look you want, you'll be able to find the right products in this area.
What to do there: This is the most famous place in Seoul for shopping and there are always a lot of special deals and offers in this area so keep your eyes open and take advantage of them. A lot of shops also offer free samples, so don't be afraid to try a brand you've never heard of! This is a trip mostly for the girls, so leave the guys at home and take your best friends along for the ride.
#3 – Lotte World – A must-do in Seoul for families.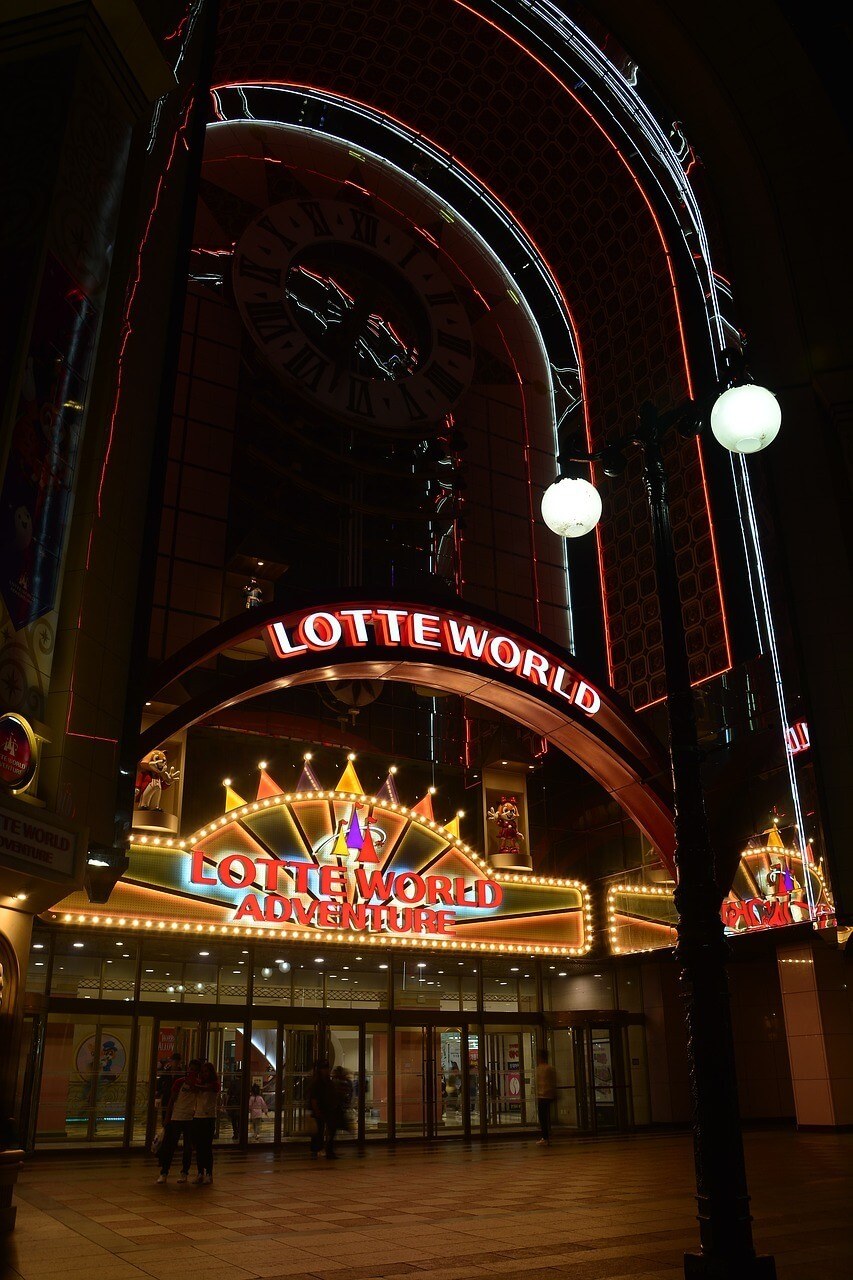 The world's largest indoor amusement park.
If you get tired of the rides, then visit the shopping complex also on-site!
This is a Seoul must-do and a great place to take the kids.
Why it's so awesome: Lotte World is huge. It includes both an indoor and outdoor amusement park and there is also a hotel, an aquarium, luxury boutiques, a water park, and a shopping center on-site! So, even if you get tired of the rides, you can always slip out and grab a meal or a bargain before returning to the Lotte fun.
What to do there: Take the kids, or friends, and just enjoy the amusement park. The rides and attractions are some of the best you'll ever see and it's well worth taking an entire day in this park to soak it all in. Make sure you try the Desperados game, the Dragons Wild Shooting game, and the Comet Express rollercoaster for maximum fun and thrills! It's easily a must-visit in Seoul if only to feel like a kid again. Buy your tickets here before you go, so you won't end up waiting in line.
#4 – Gyeongbokgung – Possibly one of the most important places to visit in Seoul.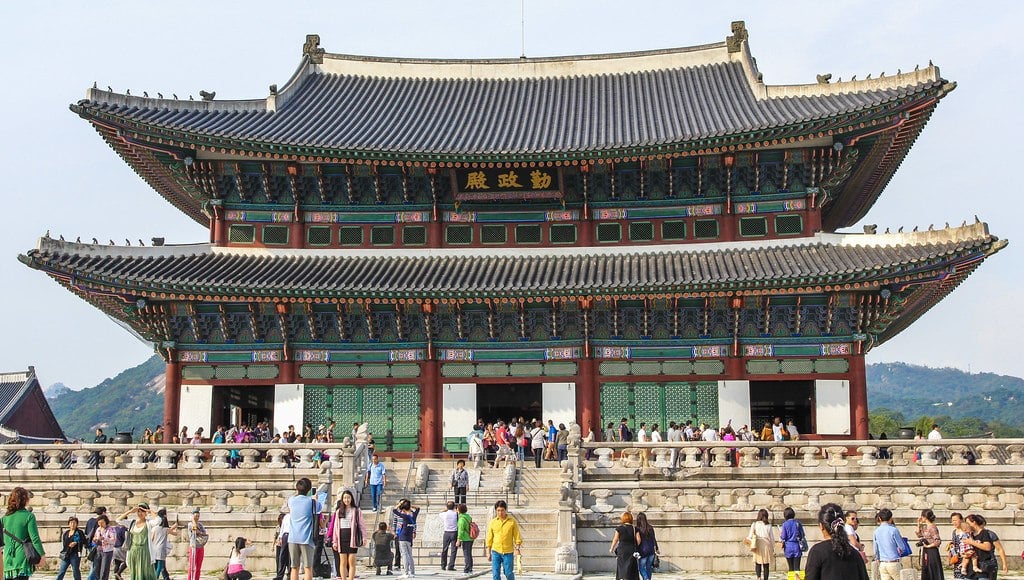 When you travel to Seoul, you absolutely must not miss this historic building!
The largest and most important palace in Seoul.
If you wear a traditional hanbok dress, they'll let you in for free.
Why it's so awesome: This palace is often compared to the Forbidden City in Beijing and is a Seoul must-see. Built in 1395, it was the main royal palace of the Joseon family, who ruled Korea for hundreds of years. The palace was mostly destroyed by Imperial Japan during the early 20th century but over the following years, it has been meticulously restored. It is now considered to be one of the most beautiful palaces in the world, which is why it's one of the best places to visit in Seoul.
What to do there: There are lots of places in the city where you can hire a hanbok – a traditional Korean dress. If you turn up at the palace wearing it, they'll let you in for free. Aside from that, just explore the site. We'd recommend jumping on a guided tour to get to know all of the details about this stunning palace. Also, make sure you show up to see the changing of the guard or the Gwanghwamun Gate Guard-on-Duty Performance. Either one happens between 10 and 4 pm every hour on every day except Tuesday and it's a really fun thing to see in Seoul.
#5 – N Seoul Tower – A place to go in Seoul to see the city from a different angle.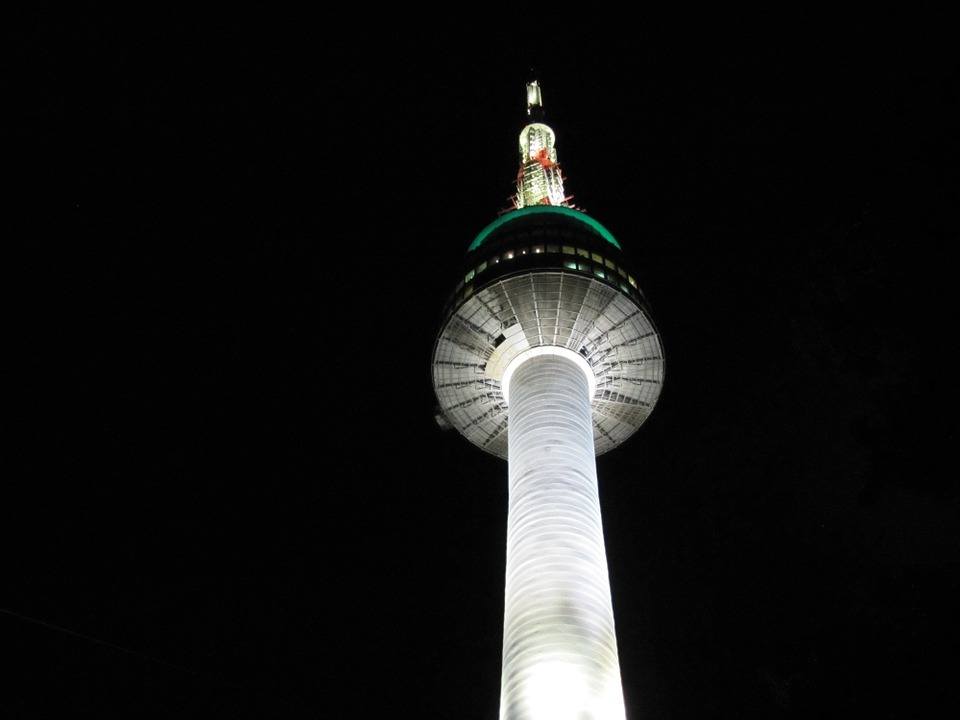 The best place for panoramic views of the city.
The building also hosts a variety of cultural and entertainment events as well as restaurants and snack bars.
Why it's so awesome: If you're looking for the top place to visit in Seoul, they don't get much more "top" than this. The N Seoul Tower is located on Mt. Namsan and has been Seoul's most iconic site since its opening in 1980. It's actually a communication and observation tower, but over the last few years, it's become one of the most important and celebrated sites in the city.
What to do there: Go to the top and enjoy the views. Sometimes, the best way to explore a city is to see it high up and at a distance so you can get an idea of the scale, and this tower offers the best place in the city to do just that. Afterwards, go down to see a movie or an exhibition in the cultural space, or just grab a table at the upscale restaurants there and enjoy a fantastic meal. If you are passing through Seoul, then you see this (but not climb) on a Seoul transit tour from the airport.
Is This the Best Travel Backpack EVER???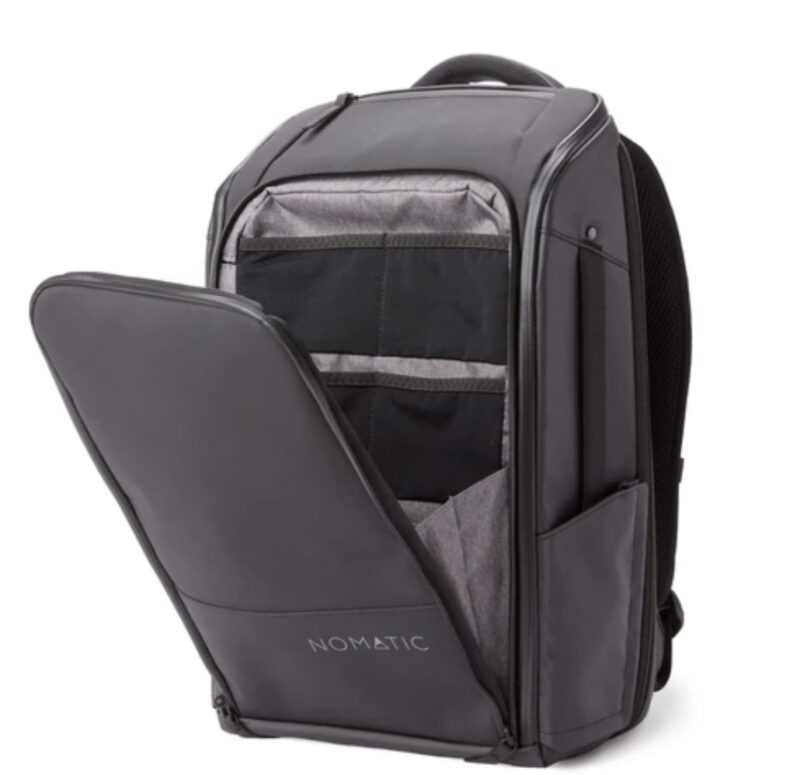 We've tested countless packs over the years, and now we've found our absolute favourite: the nomad-approved Nomatic Backpack.
Want more deetz on why we love it so damn much? Then read our comprehensive review for the inside scoop!
Learn More Now!
#6 – The Yun Dong-ju Literature Museum – A great place to visit in Seoul if you are alone.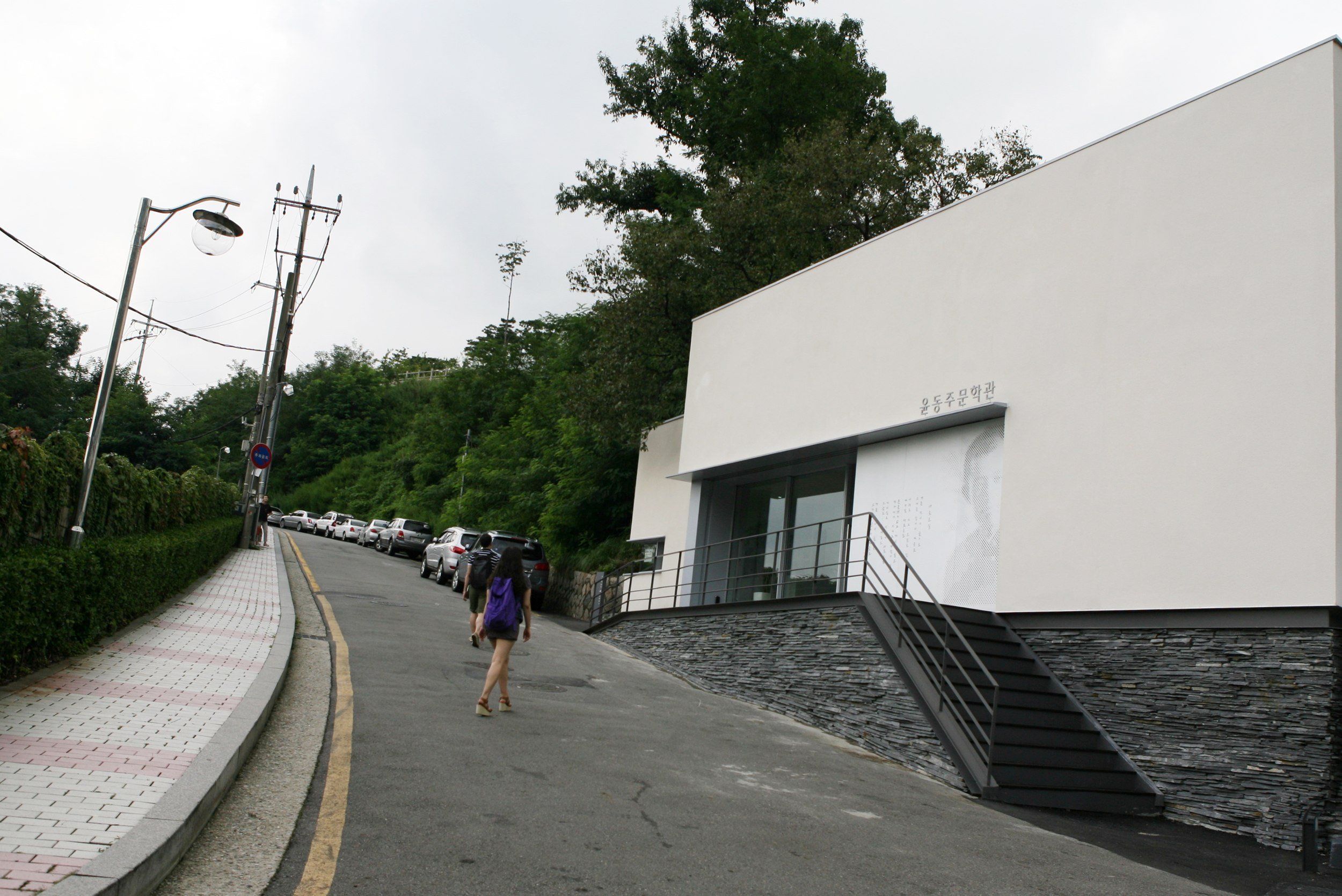 Reading the books and poetry from another culture is a great way to gain a deeper understanding, and this is a great entry point into South Korean Literature.
If you love books and history, this is a Seoul must do.
Why it's so awesome: This is a museum built in honor of the beloved South Korean poet Yun Dong-Ju. It's a three-room museum where you can explore photos from his life as well as first editions of his poems. The space itself is beautiful as well; the indoor space perfectly captures the contemplative, inspiring mood of the poetry and is a Seoul itinerary must for the contemplative travelers.
What to do there: Spend some time exploring the photos and contemplating this poet's work before going outside. You can take a wall on Poet's Hill at the back of the museum and get great views of the city and the N Seoul Tower. After your visit, you might even be inspired to get writing!
#7 – The Jeoldusan Martyr's Shrine – An important historical site in Seoul.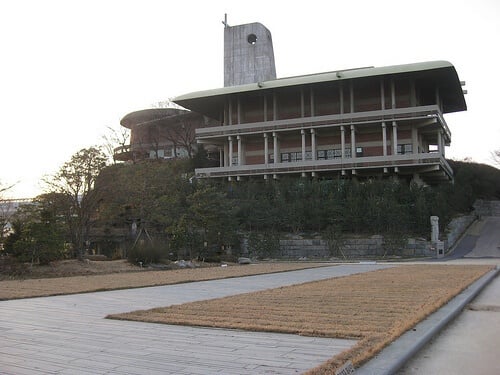 A sobering but beautiful shrine that remembers a very dark time in history.
Don't take the kids to this site as some of the displays may upset them.
If you want to explore Seoul, going back to its roots is a good way to start.
Why it's so awesome: This is a Catholic shrine on the Han River and marks the Byeonin Persecution of 1866. At this time, nine French missionaries were martyred which led to the French fleet attempting an invasion into Korea. In retaliation, the Jeoldusan government targets, punished and murdered French and Korean Catholics, leading to this site became known as the 'beheading mountain'. This obviously isn't a fun site, but it's an important part of Korean history and must be seen if you want to understand the present.
What to do there: The shrine is especially beautiful at night when votive candles give it an otherworldly glow, but it's still beautiful and sobering when you go during the day. Don't bring your kids with you as the Shrine houses a gallery and museum display torture implements that were used on the captured Catholics.
#8 – The Seoul Museum of Art – The perfect attraction in Seoul if you are on a budget!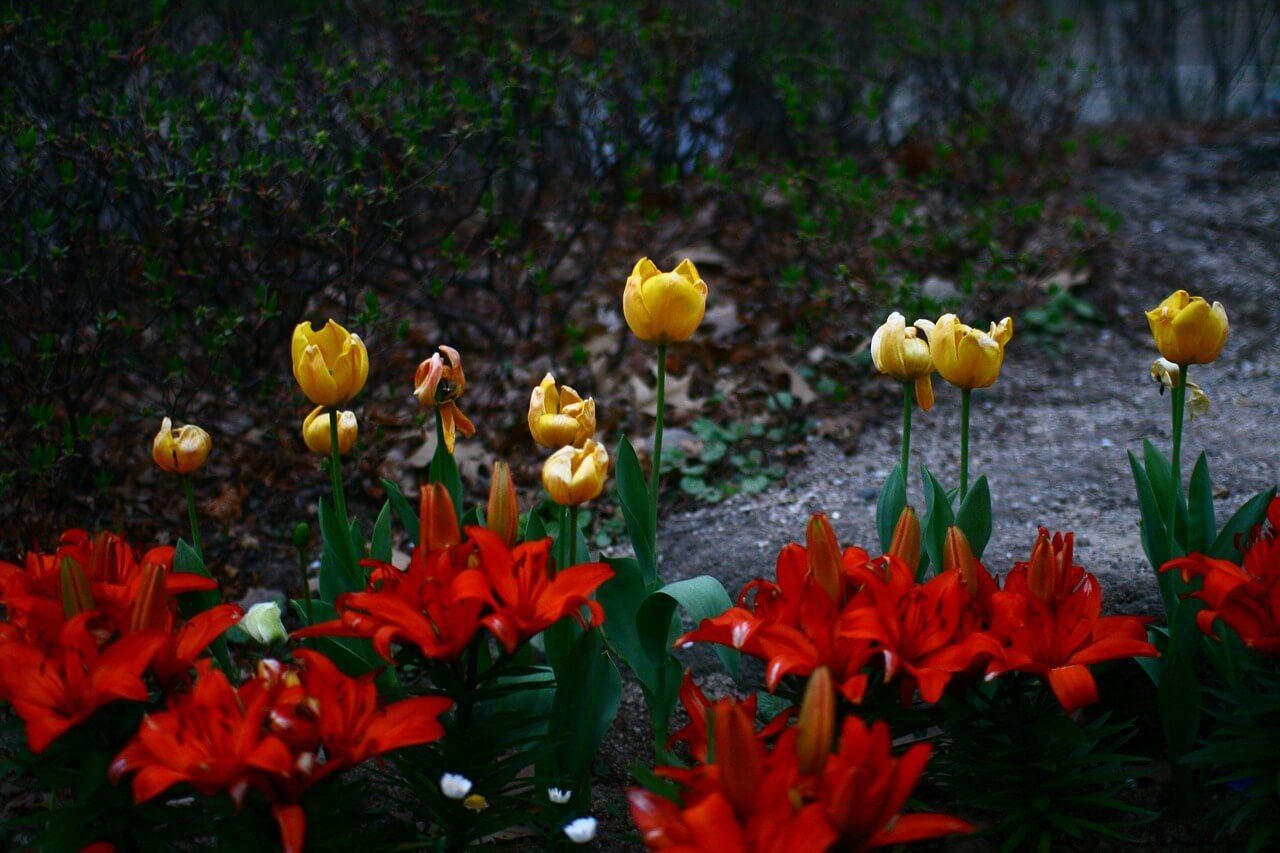 One of the best points of interest in Seoul that's also free!
The museum is housed in a beautiful and historic building which offers great photo opportunities.
Why it's so awesome: How about a free thing to do in Seoul! This museum plays host to a range of special exhibitions that can be expensive, but the permanent display is totally free. It highlights the career of the Korean artist Chun Kyung-Ja, who was influenced by African culture and art and is worth the trip to the museum alone.
What to do there: Before you go, check out what special exhibitions they have on during your stay. Korean art is very unique and well worth exploring, so spend some time getting to know their unique style. But make sure you check out the regular display as well because it's beautiful and soulful.
#9 – The Cheongun Literature Library – Another place in Seoul for the bookworms!
An amazing place to spend some time if you love books!
One of the most beautiful museums in Korea.
If you're trying to work out what to do in Seoul on a quiet afternoon, this is a site where you can sit back and relax.
Why it's so awesome: The collection of books at this library is fairly average, but it's the space that makes it amazing. The reading rooms are located on the second floor of a traditional Korean house which is spacious, sunny, and welcoming. So, if you love to read, this is a perfect place to settle in and do it!
What to do there: Make sure you spend some time exploring this traditional Korean house. This style of architecture is unique and oddly harmonious with the natural surroundings, so it's worth taking note of it. And then, get away from the busyness of the city by choosing a book and taking it upstairs to read. There's nothing like reading a good book in an atmospheric space, so take advantage of the opportunity.
#10 – Everland – A very cool place in Seoul to go for a day trip.
A great place to take the whole family while you're visiting Seoul
This park has the steepest wooden roller coaster in the world.
Why it's so awesome: Seoul breaks a lot of world records and this affects how they build things and what they enjoy. Everland is the largest outdoor theme park in South Korea and has five zones of rides and attractions. This includes the world's steepest wooden roller coaster and South Korea's only safari, so come expecting some thrills.
What to do there: Get there early because there's a lot to do and you'll need the whole day to fit it all in. If you love roller coasters, make sure you ride the world's tallest wooden coaster and be prepared to scream your lungs out along the way!
#11 – The NANTA Theater – Seoul and South Koreas artistic scene is definitely a must-see.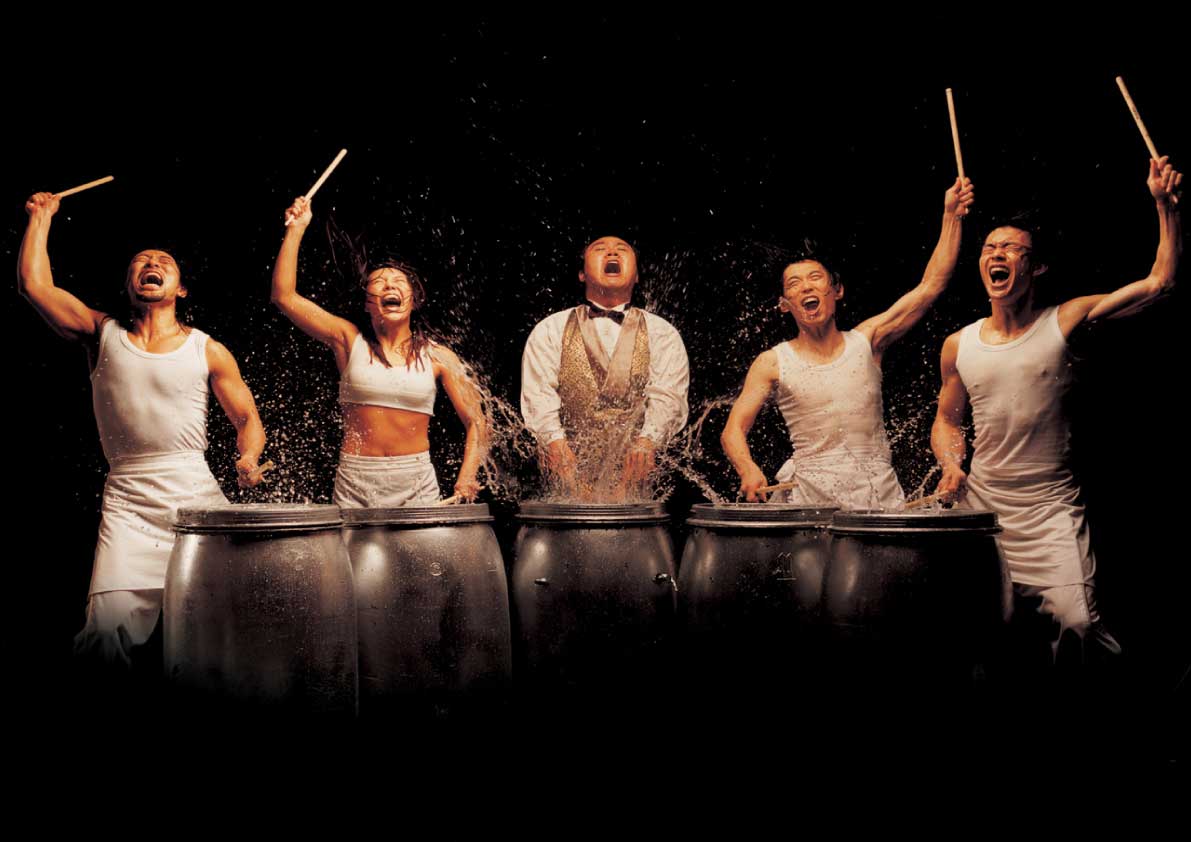 Another side of Korean culture and one you probably won't expect!
The most popular theater performance in the city.
Why it's awesome: Every culture is different and sometimes it's great to get a first-hand view of just how different another country can be. The NANTA Theater is the perfect place to get a different view on the modern culture of South Korea. It's the most popular theater in the city and has a non-verbal, musical base. Perhaps a little strange, but it's a terrific window to seeing another side of the city while backpacking in Seoul.
What to do there: This theatre has shows regularly so check out what's on before you arrive in the city. The shows sell out fast – they're incredibly popular – so book early to make sure you don't miss out. And once you're there, just enjoy the culinary-themed comedy performance with acrobatic moves and rhythmic melodies. Chances are that you've never seen anything like it and never will again!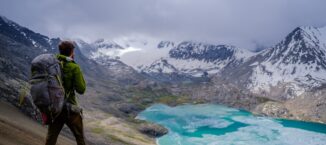 Do You Want to Travel FOREVER??
Then pop your email address in below and we'll send you a FREE copy of 'How to Travel the World on $10 a Day!'
#12 – The Seoul Alive Illusion Museum – Quite the quirky place in Seoul to visit!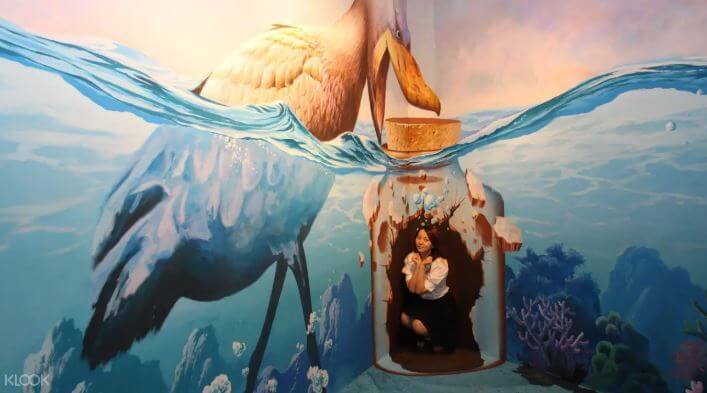 The first museum of 4D optical illusions in South Korea.
Includes more than 100, slightly quirky exhibits.
The perfect place to go with friends or with your family while you're visiting Seoul.
Why it's awesome: Even if you've been to an optical illusion museum before, you probably haven't seen one like this. A lot of the exhibits in this museum are slightly quirky and unusual, and you'll probably spend a lot of your visit to this venue laughing your head off at the displays you can become part of. It's just a little run-of-the-mill Korean madness.
What to do there: Make sure your phone or camera is fully charged before you spend a few hours at this museum because you'll need it. Even if you've seen optical illusion museums before, this one is unique. Make sure that you check out the Disney displays and become a part of popular movies like Frozen and Cinderella in your own personal works of art. Sort your booking in advance to have an even better experience!
#13 – Tosokchon – A must-do in Seoul to delight your tastebuds.
Home to one of the most famous dishes in the city.
Expect queues, but the wait is definitely worth it.
Why it's so awesome: Every city has a dish that they're famous for and one of Seoul's most famous dishes is known as Samgyetang. This is ginseng chicken soup, and the best place to buy it is at Tosokchon restaurant on Jahamun-ro 5-gil Road. Once you taste the dish, you'll understand why people queue up to eat it every day.
What to do there: Arrive early if you want to be in the front of the line and just wait patiently. The dish is worth the trouble, as all the locals in line will tell you, so just accept the wait and enjoy your food once it arrives. Make sure you try it though; it's a must-do when visiting Seoul!
#14 – The Cheonggyecheon Stream – A quiet and romantic place to see in Seoul.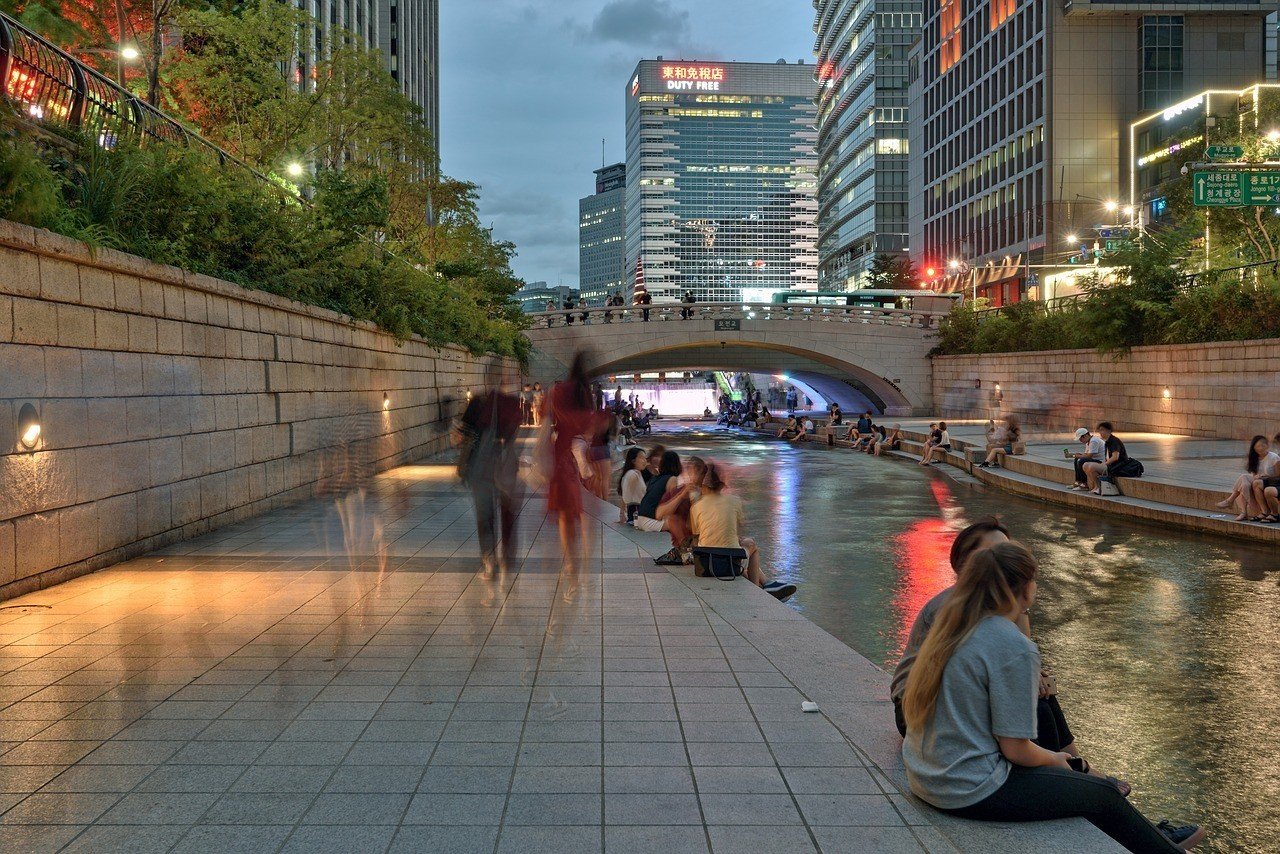 A chance to take a break from the busy city and enjoy a slice of nature.
You can also walk the length of the stream, which will take you alongside lots of Seoul's best attractions.
Why it's so awesome: Seoul is a busy modern city and sometimes it's nice to get away from the crowds and pollution and enjoy a bit of nature. And that's exactly what this stream is for. The locals often visit on hot summer days and spend time sitting in the shade and dipping their feet in the water, and you can do the same when you need a little break.
What to do there: Walk down to the stream and just spend some time relaxing. The stream is like a little oasis in the middle of the city, so take the time to slow down and rest. You can also walk the length of the stream if you're feeling energetic and stop off at local attractions along the way.
#15 – Namdaemun Market – The highlight of Seoul's many bustling markets.
A traditional market where you can find almost anything you want to buy.
The prices are extremely good, so make sure you check it out if you want something specific.
Why it's so awesome: While you're in Myeongdong looking for cosmetics, detour to nearby Namdaemun market for a bargain. This is a traditional market that sells almost everything including clothes, accessories, bags, kitchenware, textiles and food. And the prices are great, which is why the locals go there to shop.
What to do there: If you have something specific to buy, check out what's on offer and then watch the locals people buy their goods for tips. And even if you don't want anything specific, chances are that you'll find something interesting to take home while you're wandering around the market. It's a great place to go to find some more authentic-feeling shopping in Seoul.
#16 – Gwangjang Market – And now we're talkin' Seoul's street food munchies.
One of the best places to eat in Seoul.
This market is popular with tourists and locals.
Why it's so awesome: If you want good food when you visit another country, then you need to go where the locals go. And the locals all know to go to Gwangjang Market. This was the first permanent market in Korea selling local delicacies and fine linen and it also contains some of the best stalls in the city if you enjoy trying street food.
What to do there: You can do some shopping while you're at this market, but mostly you want to try the food. The market's open Monday to Saturday from 9 am to 10 pm, so bring your appetite and try as much of the street food as you can. Make sure that you try the bindaetteok or mung bean pancake and tteokbokki and noodles for a really unique eating experience.
#17 – Hongdae – A must-see for foodies!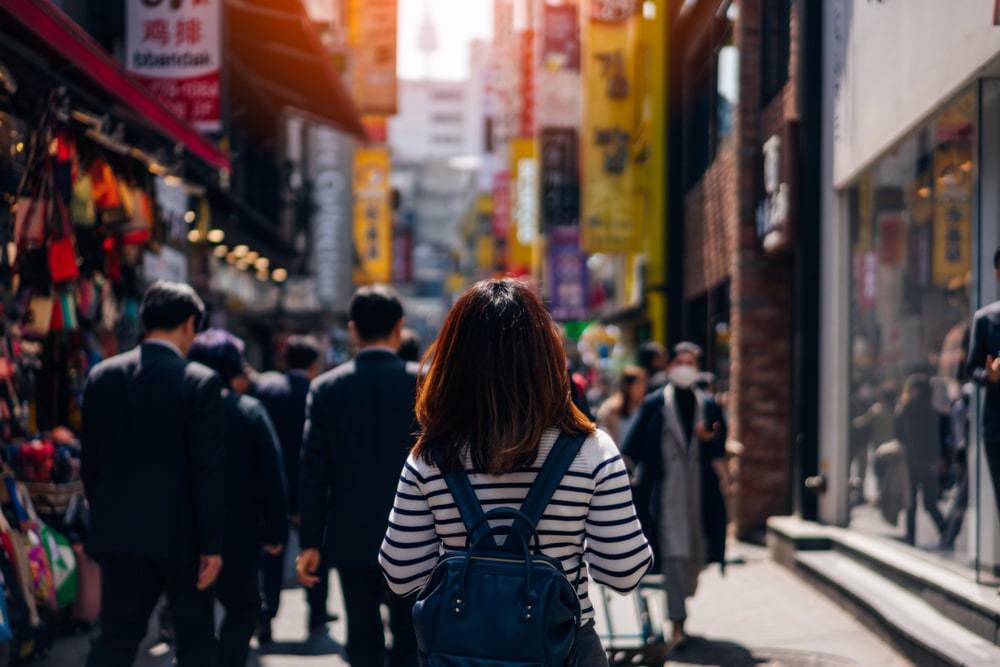 Seoul's nightlife center.
This area is near the university, which is why it's filled with young people and fashionable places to eat and party.
Why it's so awesome: The areas around universities in most cities are beacons for popular eateries and wicked nightlife and Seoul is no different. Just moments from Hongik University, one of the most prestigious in the city, this area attracts students, locals, and tourists who enjoy the best and most fashionable shopping and dining in the city. Some of Seoul's best hostels are in the area too!
What to do there: This is an area that really comes alive at night, so save it for an evening when you don't have much to do. Find somewhere to eat, because this is one of the best places to eat in Seoul, and then go shopping. There is a range of clothing stalls and shops selling vintage goods so take your time and see what's available. And if you enjoy clubbing, you'll find lots of different options in this area.
Need to travel to Seoul on the cheap?
Use Bookaway to find the best deals on bus, plane, train, and ferry tickets. 
It's easy to use and saves you time and money. Once you've arrived, why not use what you've saved to treat yourself to a cold beer and a bite to eat?
Book your transport on Bookaway now to guarantee your seat and for the right price.
#18 – Ikseon-dong Hanok Village – An unknown (but awesome) place to see in Seoul!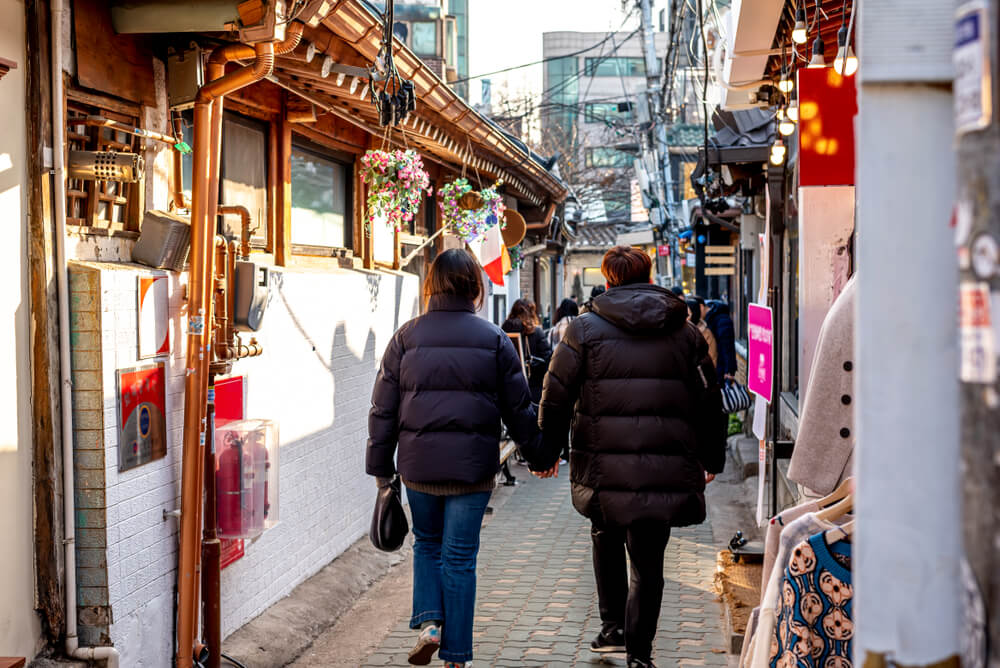 The best place in the city to experience old Korea.
There are some amazing cafes and pubs in this area too, so make sure you have a meal during your explorations.
If you're trying to decide what to do in Seoul off the tourist trail, this is the perfect place to visit.
Why it's so awesome: This area isn't usually listed as one of the best places to visit in Korea, but it's great if you want to enjoy a mix of history, food, and creative shopping options. The area was first established in 1920 and preserves that time almost perfectly. Wandering the alleys could almost make you believe that you've moved back in time, and makes for a great afternoon.
What to do there: Just wander the alleys and enjoy the time away from Seoul's tourist spots. There's always something hidden to discover and explore in this area, and it's well worth spending some time there to get a real feel for the past. But don't neglect the present either, because the shops are some of the most interesting in the city too. So, do some shopping and then stop at one of the artisan cafes or gastro pubs for a meal. It's also worth it to join a pub crawl tour with a local guide to get to know the hidden gems of this cool district.
Visiting more of South Korea? Trains are the way to get around but they can be expensive.
This country is beautiful and using the well-connected transit system is the best way to explore more of it. We recommend purchasing a Rail Pass. Available from 2 to 5-day increments, either concentric or flexible days and unlimited rides.
#19 – Insa-dong
If you want unique souvenirs, this is one of the hotspots in Seoul for them.
The center of Korean traditional culture and crafts.
A great place to explore Seoul and support local craftsmen at the same time.
Why it's so awesome: If you're interested in traditional Korean culture and crafts then this is the place where it's all gathered together so you don't miss anything. Insa-dong specializes in goods that can only be purchased or enjoyed in Korea, so it's the perfect place to grab a souvenir for your loved ones back home!
What to do there: There are about a hundred galleries in Insa-dong and they display every type of Korean craft that you can imagine or have ever heard of. Make sure you check out the hanboks, which is a piece of traditional Korean clothing, traditional teas, and folk crafts. Also, try to go on a Sunday as streets are blocked off to allow for stalls and booths as well as traditional performances and exhibits.
#20 – The DDP White Rose Garden – One of the most romantic places to visit in Seoul!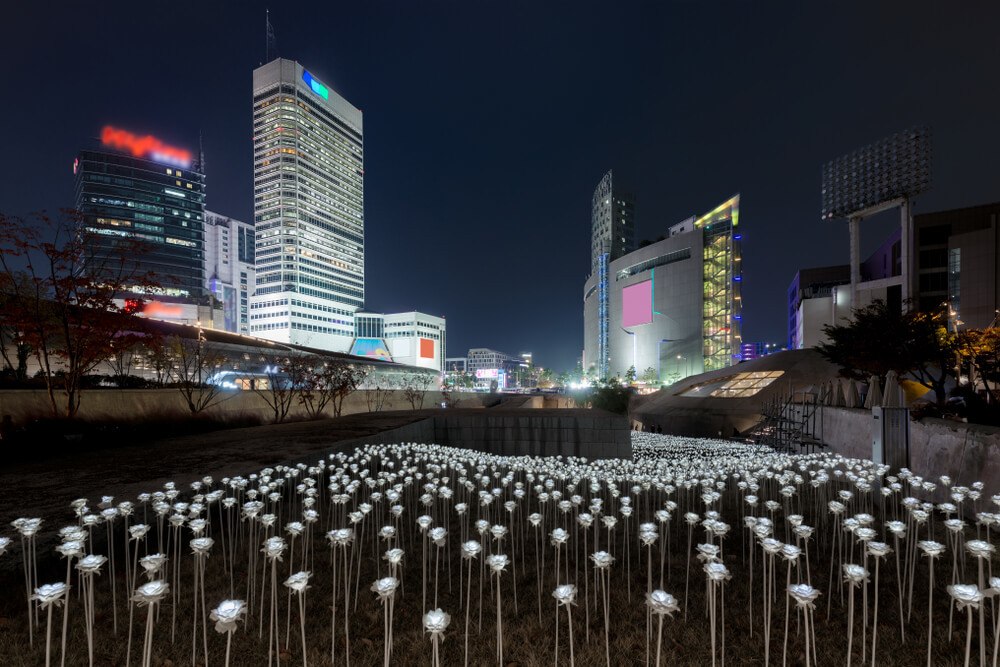 A temporary exhibition that made its way into the hearts of the locals until it became permanent.
This garden was designed as a celebration of the nation's 70th year of independence.
Why it's so awesome: This garden was set up in 2015 as a celebration of 70 years of independence. It contains 25,550 LED roses that light up at night to reveal a stream of white roses against the darkness. The number of roses on display corresponds to the number of days since the liberation of South Korea and it's a beautiful and moving sight that has become a permanent fixture in the city.
What to do there: This display is something to be enjoyed with someone you love, which is why it's one of the most famous places in Seoul. Not only is the symbolism great but it also is beautiful to see all those shining roses against the darkness, which is why it should be part of your Seoul itinerary.
#21 – Poopoo Land – Oh yes.
Only for people with a strong stomach!
The kids will love this free museum.
One of the many unusual things to do in Seoul.
Why it's so awesome: This city has numerous quirky, unusual museums and sites, but this has to be one of the most unusual attractions in Seoul. It's a museum that explores human excrement and flatulence in a fun and highly entertaining way. You'll see weird and wonderful varieties of toilet paper and get up close and personal with some very unusual toilets!
What to do there: Take the kids with you or friends who don't mind a little weirdness, and just enjoy the displays. You'll get some amazing and unusual photos in this museum, definitely Instagram-worthy, so take your camera along with you and keep an open mind.
#22 – Yongma Land Abandoned Theme Park – A haunted place to visit in Seoul… maybe…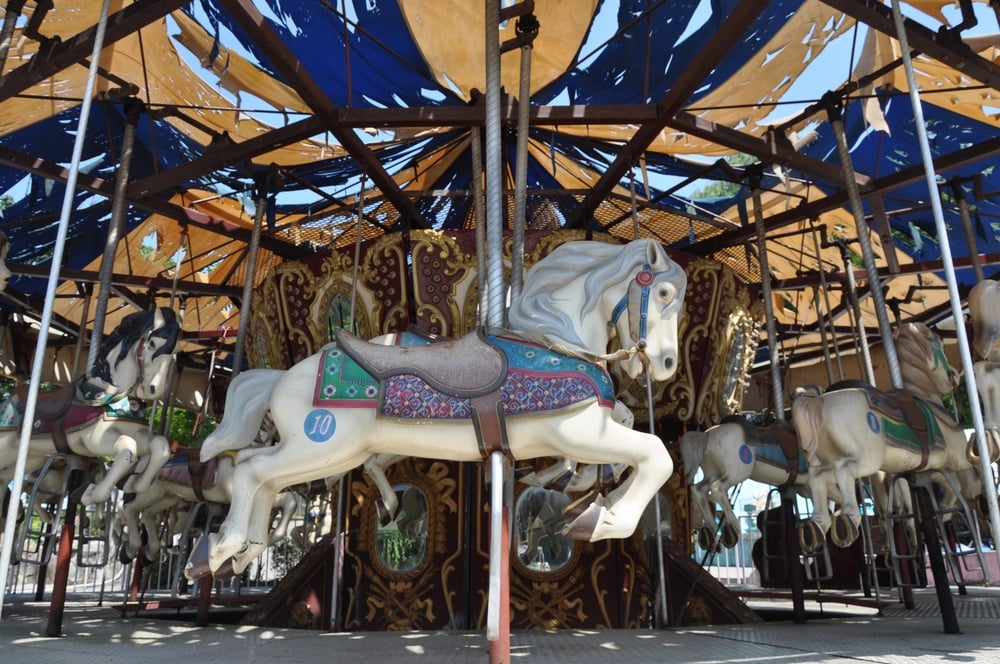 A slightly creepy look at the other side of entertainment.
There are stories going around that the park shut down because of a ghost!
If you want to find unusual things to do in Seoul, this is the perfect place to start.
Why it's so awesome: Yongma was built in 1980 and was a small, family-run amusement park. It shut down in 2011, allegedly because of ghosts, though it's far more likely that the owners had economic reasons for closing their doors. But since then, the park was bought by a savvy businessman who invites visitors to become part of the park's demise.
What to do there: If you've ever wanted to explore an abandoned amusement park, this is your chance. You can clamber over old dodgem cars, try out the carousel, and take pictures next to a sad clown roller coaster. There's a small charge involved, and if you get there at night you can pay a little extra and ask the owner to turn on the lights of the merry-go-round while you're there. Set against the declining rides, it's a ghostly sight that should be savored.
#23 – Seodaemun Prison – Possibly one of the most important historical places in Seoul.
Not a fun place to visit, but an important one if you want to understand South Korean history.
This was a prison built for Koreans who rebelled against Japanese forces.
Why it's so awesome: Built in 1908, this prison held Korean rebels who fought against Japan's invasion and occupation. Before it was created, the country had virtually no penal system, and this location came to symbolize the determination of the Korean people to win their freedom despite the costs. Many Korean patriots died in custody, were tortured or executed at this location, and it's a sobering reminder of the darker side of humanity.
What to do there: This isn't a fun place to visit in Seoul. It was designated as a historic site in 1988 and renovated in 1995 and is a stark and sometimes brutal slice of Seoul's history. As you walk through the prison-turned-museum, you'll see torture chambers with terrifyingly realistic mannequins of famous Korean patriots and get an idea what it was like for the people who lived and died within the prison's walls.
#24 – Coffee Hanyakbang – Seoul's Must-Visit for the Coffee Connoisseurs
The perfect place for coffee lovers of all ages.
A nearly hidden gem that only the locals know about.
If you live for your morning coffee, you'll find lots of new coffee tastes at this site.
Why it's so awesome: Almost everyone loves coffee and this tiny shop allows you to celebrate it in style. It's almost hidden down a narrow, unmarked alleyway but coffee connoisseurs know that it's there and turn up in droves to get the perfect coffee experience. The shop is decorated in a mix of Korean and Chinese styles and is determinedly rustic, with lots of wood and exposed pipe. And it sells delicious, hand-drip coffee at decent prices.
What to do there: Drink your morning coffee, of course! The owners roast the beans by hand at the back of the shop and grind it on site, so the whole shop has that rich, tongue-tingling smell of fresh coffee. And the making of each coffee is a science too, with everything precisely calculated to create the perfect cup, every time. So enjoy!
#25 – The War Memorial of Korea – A different take on a war memorial.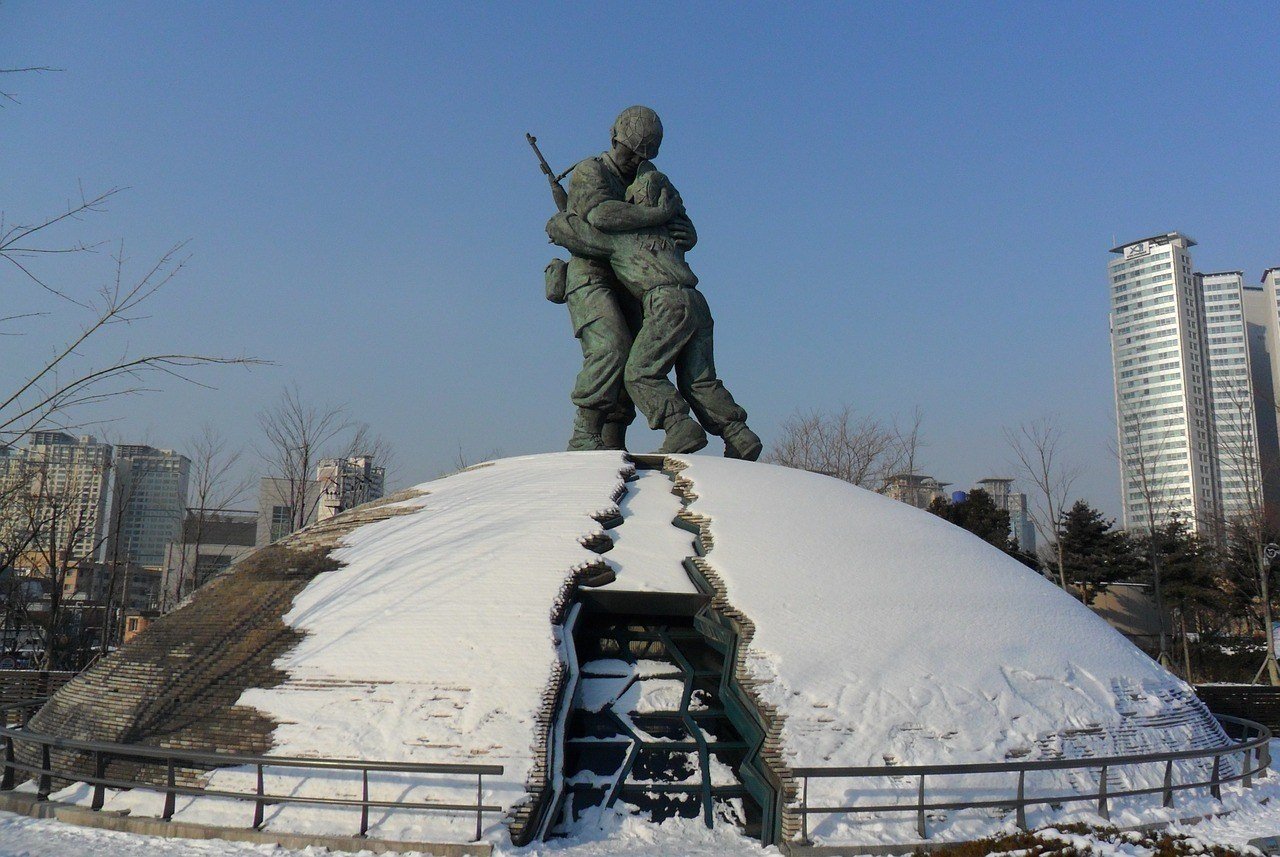 A strangely lighthearted look at Korean military history.
Fun and educational, so it's a great place to take the kids.
Why it's so awesome: There are 6 exhibition halls and an outdoor space for war machines too big to fit inside at this site and the place is packed. In fact, there are over 13,000 pieces of military equipment and memorabilia at the Korean war memorial, placed on the grounds of the former army headquarters of Korea. The focus is on the Korean and Vietnam war and this isn't the type of museum where you just stand back and look. The displays are designed to be touched and felt, to give visitors a better idea of what the wars were really like.
What to do there: There's a lot to see at this memorial so make sure you put aside a few hours. The Combat Experience Room is particularly interesting and uses audiovisual effects to surround you with the sounds, sights and smells of the battlefield. Outback, the lines of tanks and heavy artillery are laid out like a metal petting zoo, and if you're interested in this type of machinery, you'll have an amazing time exploring it all.
#26 – Jogyesa Korean Buddhist Temple – For some sacred sightseeing in Seoul.
A Buddhist temple that's an important part of the locals' lives.
The garden surrounding the temple has some ancient trees that are simply amazing.
Why it's so awesome: Sometimes there's nothing like exploring a temple that's still in use in the modern-day if you want to understand a culture better. And this temple in the middle of Seoul's high-rise district is one of the best places in the city to learn more about its people. This Zen Buddhist temple is always full of locals and tourists, which makes it an exciting, as well as an interesting place to people, watch and spend some quality time.
What to do there: Spend some time just watching the people as they come and go on their everyday business. And when you're done, explore the compound itself. You could also find yourself a guide that will show you around and explain each statue in detail.
The trees in this area are apparently over 500 years old and they're strung with banners and streamers in bright colors to make them look even more spectacular! This all combines to make this temple one of the top places to visit in Seoul if only for a quick contemplative meditation.
#27 – Suwon's Hwaseong Fortress – More of Seoul's old landmarks!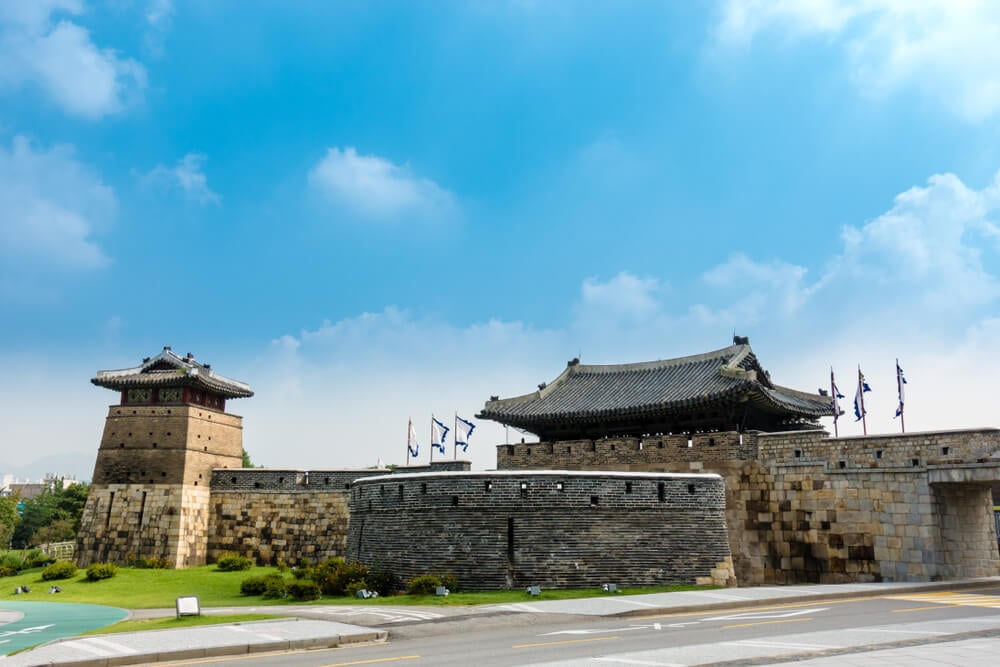 If you're looking for a quick day trip from the city, then make it to this UNESCO World Heritage Site.
Located only an hour and a half from Seoul.
One of Seoul's most important historical sites.
Why it's so awesome: Built between 1794 and 1796, this fortress was created to house the remains of the King's father, who had been murdered by his own father. It's an enormous complex that was meant to be the first step in moving the capital from Seoul to the city of Suwon, where the Fortress is located. This obviously never eventuated, but the fortress remains and was declared a UNESCO site in 1997.
What to do there: It will take you a couple of hours to see the entire castle, so if you have a spare morning or afternoon while you're in Seoul then make the trip out to see it. There's a lot of different features including the interior and exterior as well as a palace museum, so make sure you take enough time to see it all.
#28 – Seoul's Children's Park – A beautiful place to go outdoors in Seoul.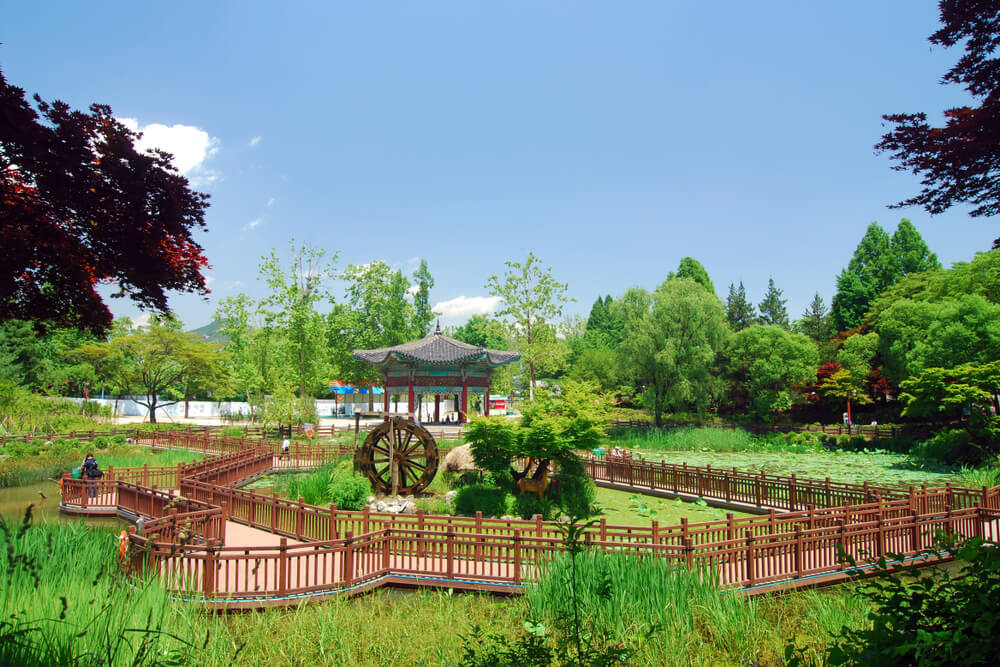 A great place to take the kids.
Even if you don't have children, you'll enjoy this massive green area in the center of the city.
Why it's so awesome: If you're tired of the skyscrapers and find yourself longing for some greenery, then you can find this park in the middle of the city. Not only does it include a lot of green, open areas, there are also some cool exhibits and attractions in the park that will interest everyone, not just the young.
What to do there: Escape from the city and spend some time in nature. This park also includes amusement rides and playgrounds as well, so if you feel like being a little more active then there are lots of things to try!
#29 – A Lotte Mart – A weird choice of things to see in Seoul but hear me out!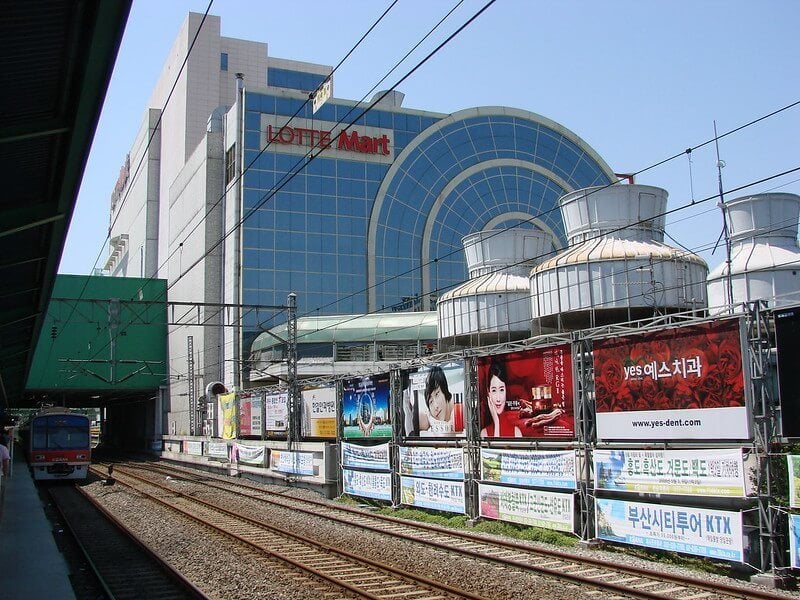 Lotte Marts in Seoul aren't like the ones back home, so make sure you stop by for a look and a snack, you'll be surprised what you'll find there.
If you love snacking but want to save some money, you can eat like the locals do with some very unusual meals and snacks from this store.
Why it's so awesome: It sounds a bit strange to suggest that you go to a supermarket, but this is one experience you really shouldn't miss because these stores are one of the most famous places in Seoul. Lotte Marts are iconic in the city and they're one of the coolest grocery stores in the world. While wandering around you'll get a much better idea of how important food is in Seoul. And you might also find some new treats to try too!
What to do there: Make sure you take part in the whole experience. Lotte Marts usually have free food samples as well as an incredibly wide range of foods that you've probably never seen anywhere else. Just watch your wallet, because it's too easy to overspend in Lotte Mart, and buy something tasty.
#30 – The Jongmyo Shrine – Another cultural highlight of Seoul.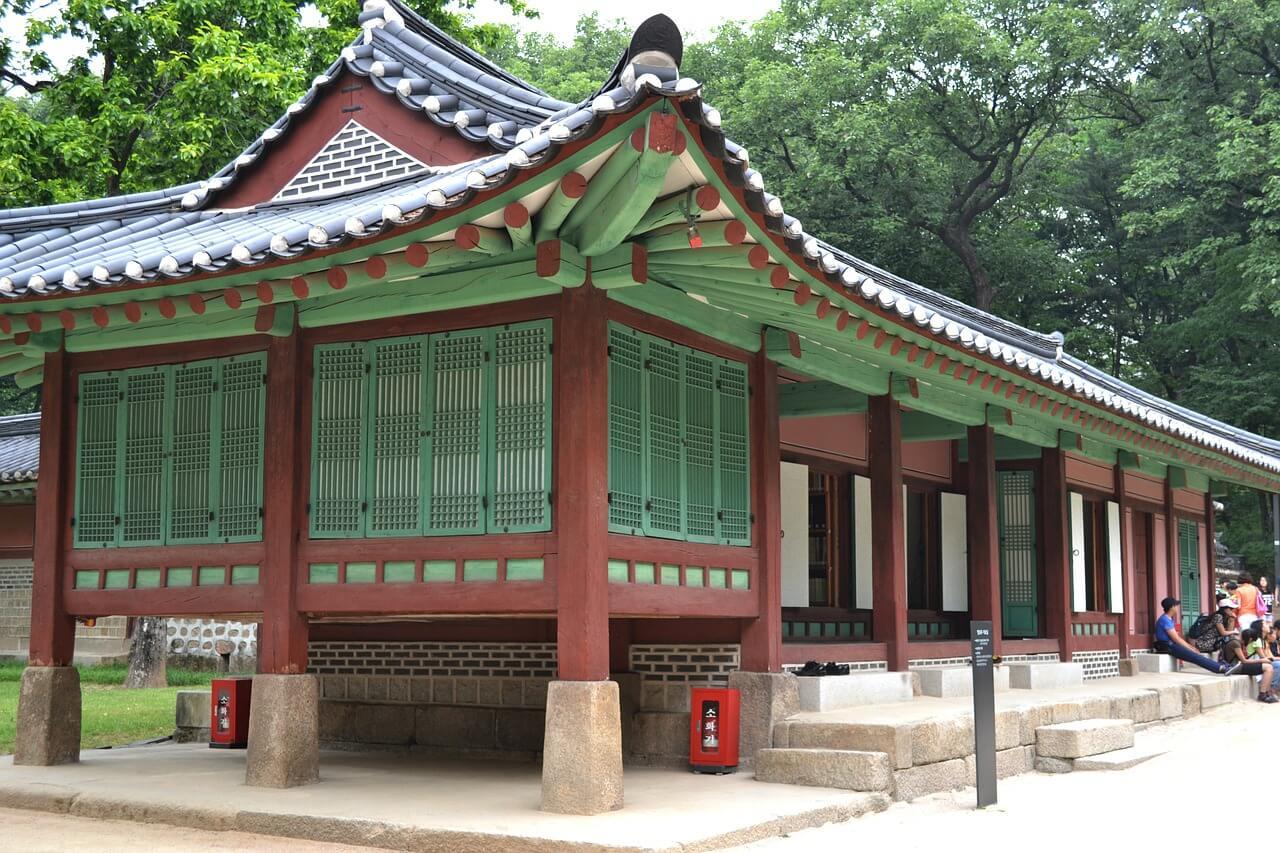 A UNESCO-listed site and close by the popular suburb or Insadong.
A Seoul must-see when you're in the city.
Why it's so awesome: This is one of the most popular landmarks in Seoul and it's also one of the best ways to learn about its ancient traditions. This shrine is the most popular attraction in Seoul and it's a UNESCO Heritage site; the perfect way for you to learn more about the history of the city.
What to do there: If you go to the shrine on Saturday then you can explore on your own. Any other day except Tuesday when the shrine is closed, you will need to join a guided tour. There are tours in English every couple of hours. While you're there, make sure that you pay attention. You'll learn about ancient customs, music, and even about memorial services during your visit, so it's worth paying attention.
#31 – National Museum of Modern and Contemporary Art – More awesome Korean art!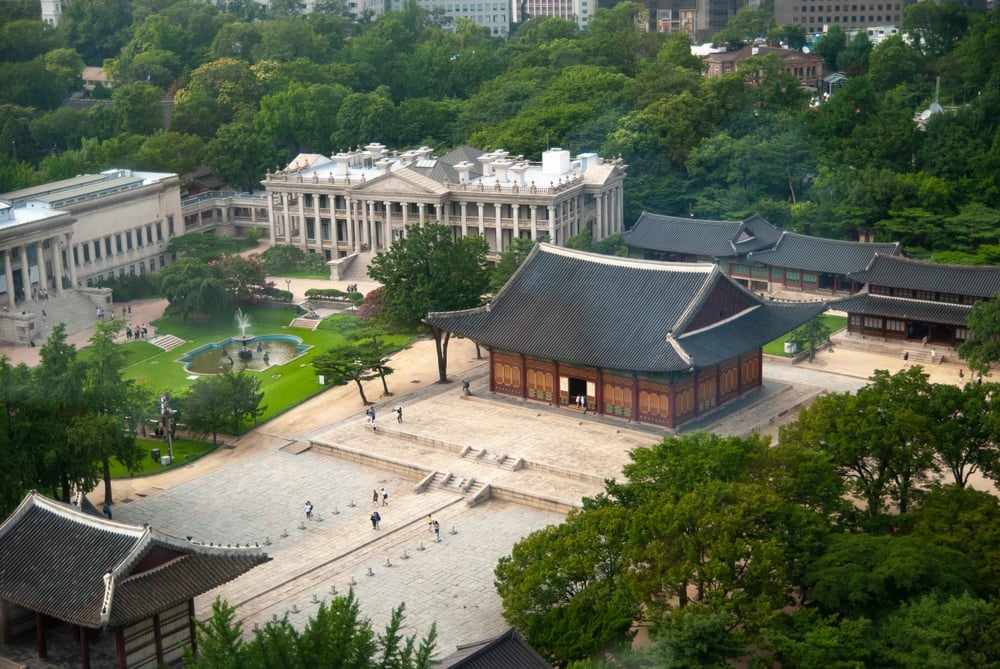 A new addition to Seoul in an amazing traditional style building.
Located on what used to be Seoul's Defense Security Command.
Why it's so awesome: This museum is a must-visit on your Seoul itinerary. It's an enormous museum that's built on the principles of madang, which encourages people to socialize together by providing a large, communal courtyard just for that purpose. And it works too, which makes it a great place for people watching.
What to do there: The exhibits at this museum change regularly, so find out what's on while you're in the city and don't miss out. Also, spend some time exploring the building while you're there. Korean architecture is unique and deserves some time and attention.
#32 – Socheon – A nice non-touristy place to visit in Seoul
If you're looking for the best food in the city then you need to go to Socheon, which is where the locals go.
You'll have some of your best meals in a slightly dingy restaurant in this part of the city.
Why it's so awesome: Socheon is one of the best places in Seoul for cheap and delicious local food and a good break from the tourist attractions. Located on the west side of Gyeongbokgung, this area caters mostly to locals, so you won't find as many fancy restaurants and neon lights there. Instead, you'll find mostly ordinary, slightly run-down restaurants that serve some of the best food you've ever tasted.
What to do there: Some restaurants serve great food in this area but they're a little hard to find. Most of them don't have a website or even a menu in English, so you'll have to order your meal from pictures or by what the locals are eating. To get a great meal, walk until you find a place that contains a lot of locals. Figure out what you want and just point – whatever you get, it'll be delicious!
#33 – Dongdaemun – An awesome neighborhood in Seoul.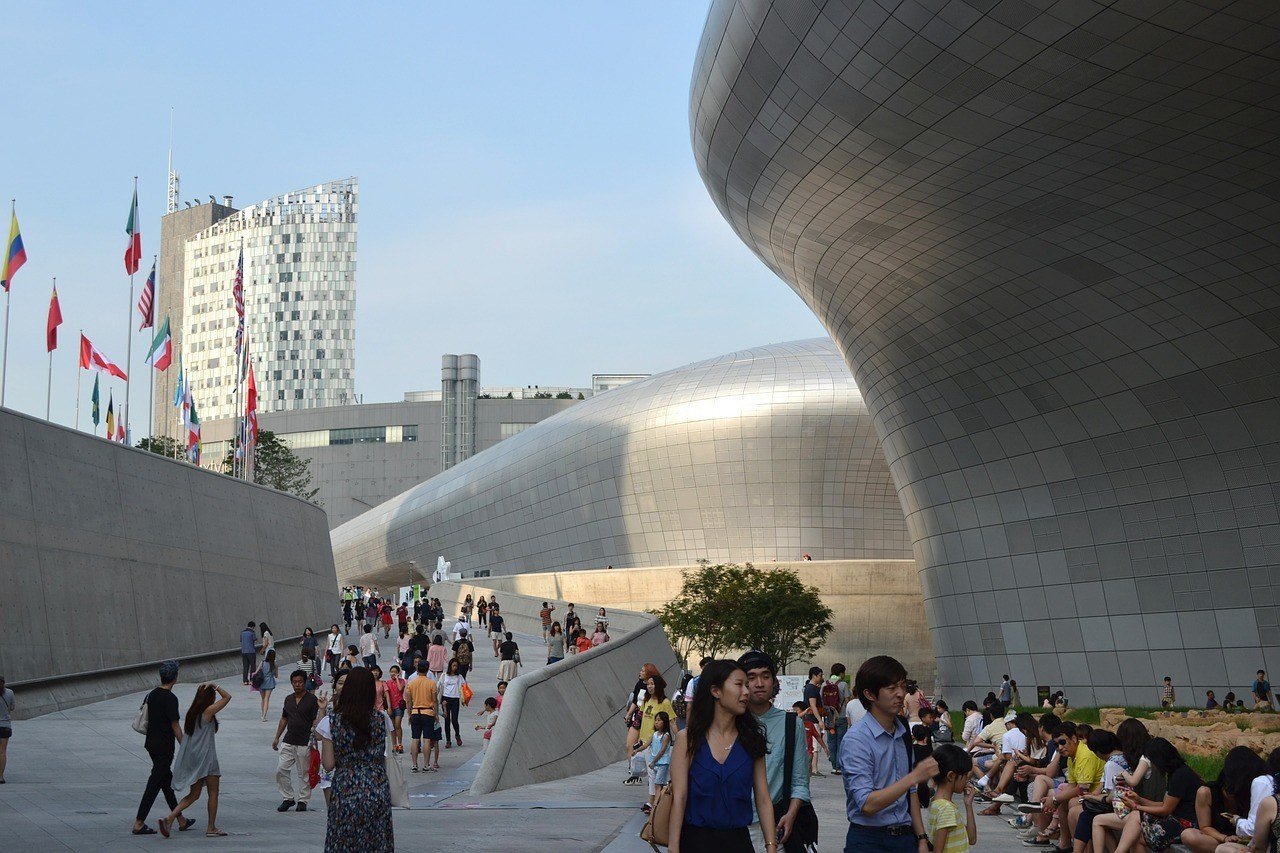 One of the best places in Seoul for bargain shopping!
Bring cash so you can haggle down the prices.
Why it's so awesome: Dongdaemun shopping area is a veritable labyrinth of wholesale and retail shops. You could quite literally get lost in this area looking for something, and the crowds of locals and tourists alike enjoying the bargains are evidence of how good the prices and the variety of goods are.
What to do there: If you're looking for something specific to buy, chances are that you'll find it in this area. Take cash with you so you can haggle and find something sweet. But if you just want to wander and people watch, this is the perfect place for it too. Many of the shops are open all night, so there's always something going on for you to observe.
#34 – Dongdaemun Design Plaza – A famous modern landmark in Seoul.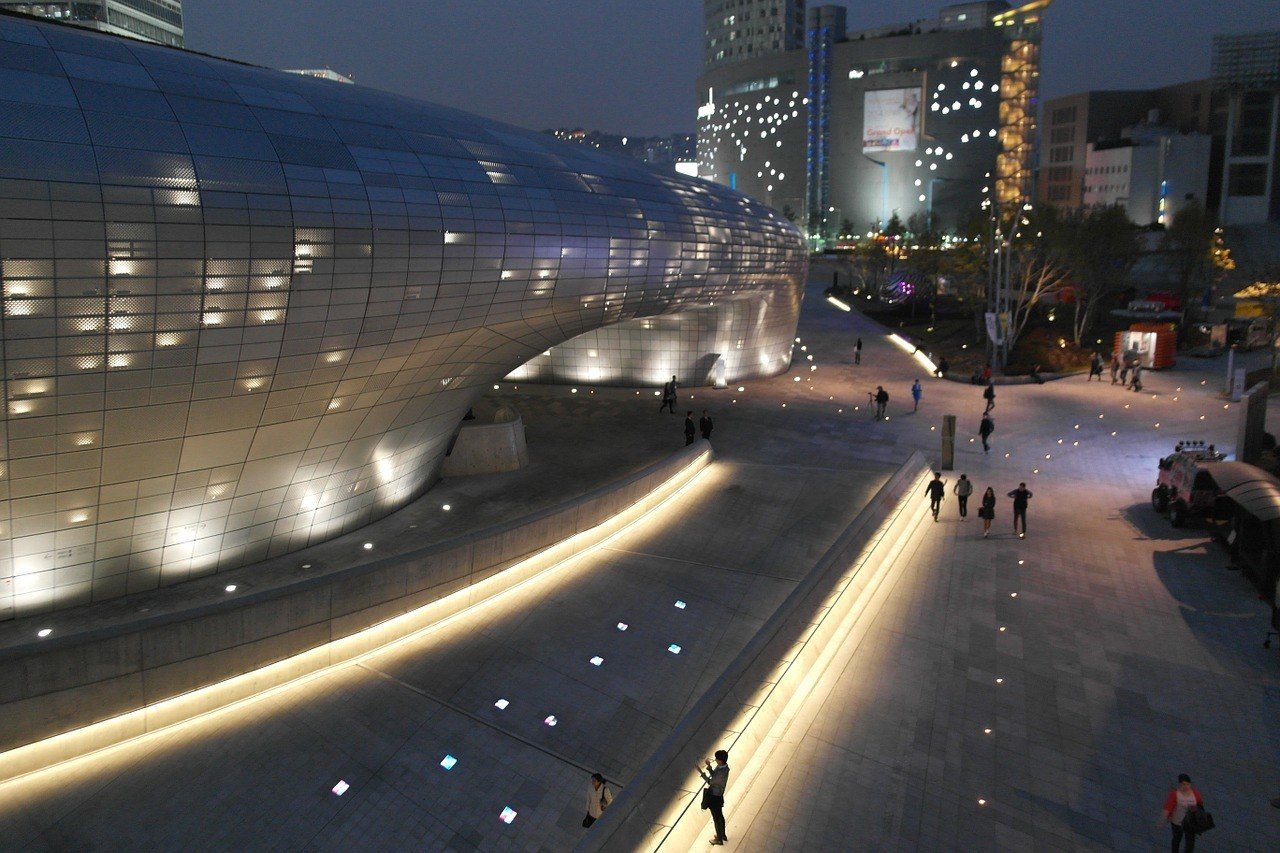 One of the hotspots in Seoul for shopping and entertainment options.
The building itself is unusual, stunning, and looks great in photos.
Why it's so awesome: This building is one of the most eccentric in the city and looks amazing in photographs for you to put on your social media feeds. The long, sinuous curves of the building seem to go on forever and as if that wasn't enough it also contains countless stores, exhibition spaces, parts of the original Seoul fortress that used to stand on the site, and a design museum.
What to do there: Make sure you take a photo of yourself with this building to show the people back home because the curving lines back for a great background. And then just explore the building. You can shop, explore the history of the site, or just wander the floors looking for anything that looks like fun. It's the perfect place to go for anyone who's looking for Seoul vacation ideas.
#35 – Mapo-Gu – A quirky area in Seoul to visit.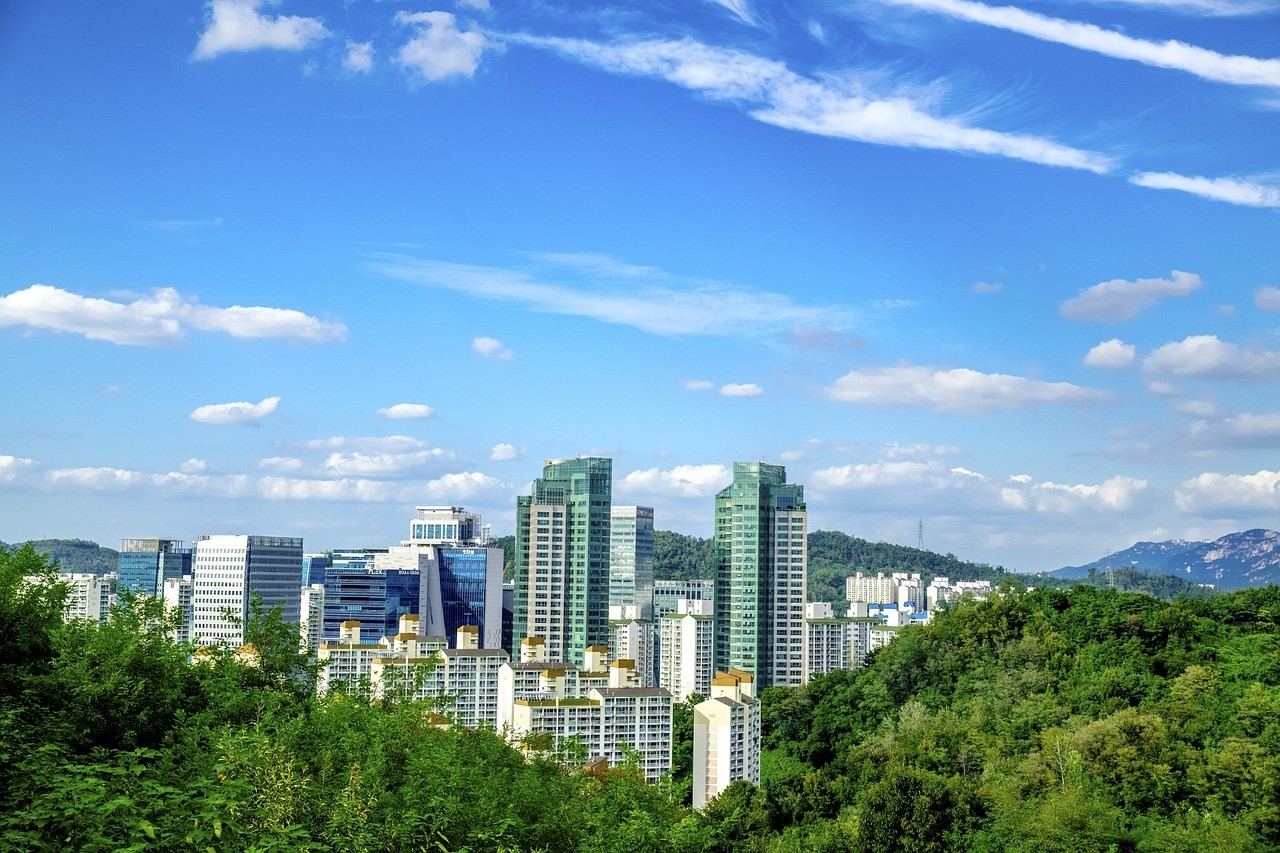 One of the quirkiest places to go in Seoul.
If you're looking for weird and wonderful experiences and cafes, this district will exceed your wildest expectations.
Why it's so awesome: Mapo district is one of Seoul's 25 districts and it's also one of the most unusual. It's home to a large number of themed cafes, so if you want your cup of coffee with a side of cats, dogs or raccoons, you'll find all that and more in this district.
What to do there: Korea is constantly innovating and looking for new ways to explore old ideas and you can experience that first hand while you're in Mapo-Gu. Try the poop café if you're looking for one of the most unusual places in Seoul, or just wander from one café to another hugging cute animals!
#36 – Nami Island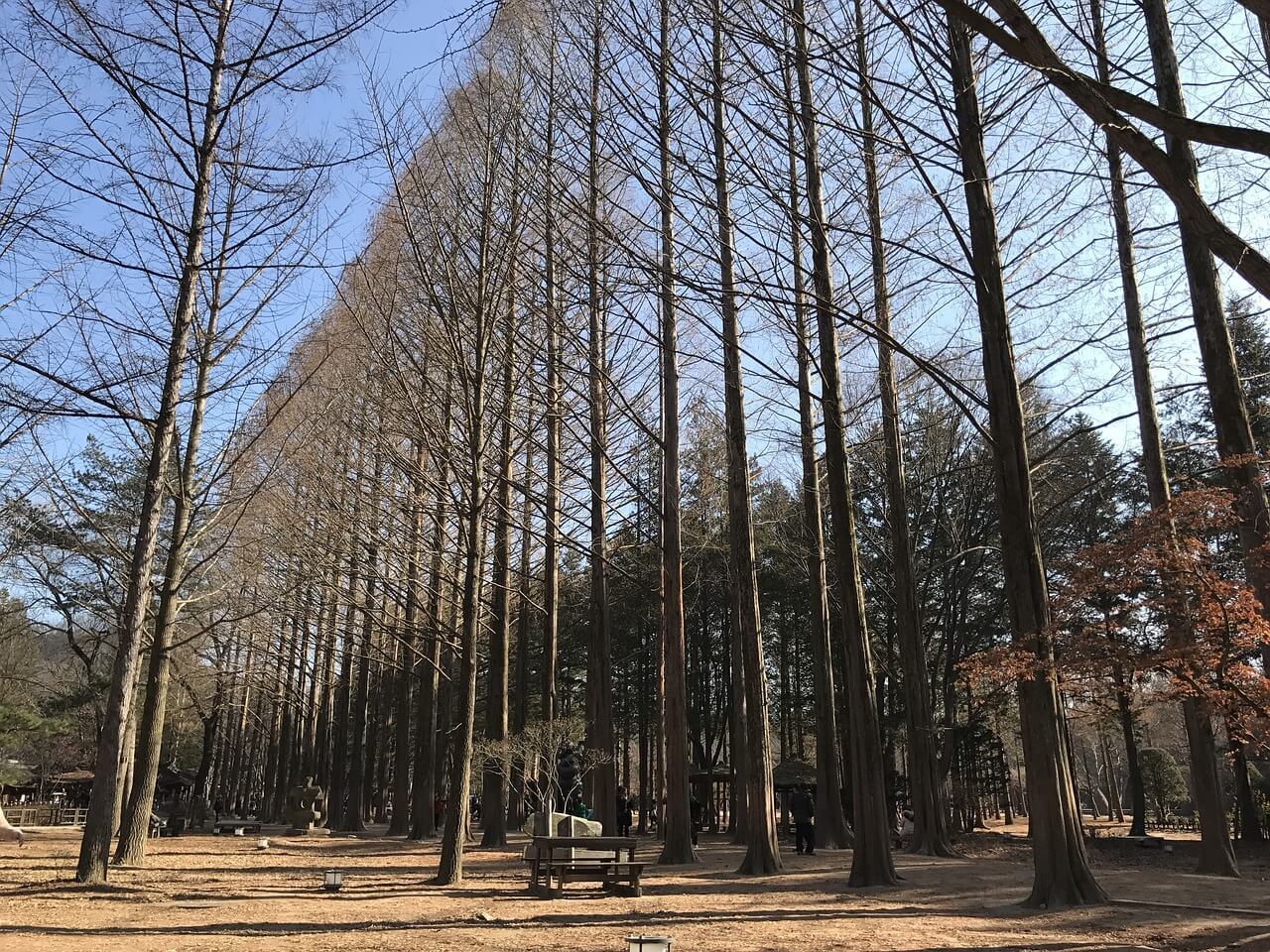 One of the most popular spots for a holiday break in Seoul.
It's usually thronged with tourists so show up early if you want to avoid the lines.
A great place to take the kids.
Why it's so awesome: Nami Island is a lovely nature area close to the city that's a fantastic place to visit in the winter and summer months. In summer it has rides, zip wires, hiking, and lots of large open spaces to explore. And in the winter, it's set up for all the winter sports and activities that you've ever dreamed of trying.
What to do there: Nami Island is an awesome place to visit in winter as the lake freezes and gives you an amazing view across the lake. It's also home to a lot of winter sports and activities, which is why tourists and locals alike travel there in throngs to enjoy the colder months. Also, if you like to read, make sure you visit Petite France, which is a village modeled after the famous book The Little Prince.
Get insured for your trip to Seoul!
Remember, when you are traveling you may need insurance! World Nomads are our go-to Travel Insurer; we have used them ourselves for years now.
Getting an estimate from World Nomads is simple – read the review or click below, fill out the form, and you're on your way!

Final Thoughts Before Visiting Seoul's Best Places
Seoul is an ultra-modern city where you can experience the latest technology alongside ancient traditions and culture. This capital of South Korea is a powerhouse in the world economy at the moment, which makes it a very attractive location for visitors from all walks of life.
South Korea perhaps gets overlooked sometimes by its other East Asian neighbors, however, it is a rich country with an ancient history and vibrant people. Backpacking in South Korea is a rewarding journey, but more than likely you'll start in Seoul.
Seoul is a city that never sleeps, with ancient palaces next to skyscrapers and night markets, and it's the perfect location for anyone looking to experience a different side of Asia. And if you use this easy guide to Seoul's coolest places to visit and most sobering historical sights, you'll walk away with memories that last a lifetime.
Support the site and learn how to travel the world on $10 a day – check out The Broke Backpacker's bible!
---
Find out how YOU can support the site.
We're a big site with a big team and this job isn't always easy. But we do it because we love it – we love providing epic and free content. We love the knowledge that our content keeps you adventuring. We don't ask for money, but if you'd like to find out how you can help the site in more organic ways, click the button below.
Thank you for your support 🙂
And for transparency's sake, please know that some of the links in our content are affiliate links. That means that if you book your accommodation, buy your gear, or sort your insurance through our link, we earn a small commission (at no extra cost to you). That said, we only link to the gear we trust and never recommend services we don't believe are up to scratch. Again, thank you!