Travel
3-DAY CANCUN Itinerary • MUST READ! (2021 Guide)
Cancun is a place renowned for its beaches, resorts, and thriving nightlife. Found on the Yucatan Peninsula, bordering the Caribbean Sea, Cancun is composed of 2 distinct areas — the beachfront strip and the traditional downtown area.
Planning a trip to Cancun? Most people visiting this idyllic beach city use it as an adventure base for discovering lagoons and caves, and exploring the temples of the Mayans. It's also a great spot to indulge in the world-renowned vacation resorts and embrace the vibrant beach strip.
Whatever your reason for visiting the Mexican City of Cancun, this dynamic region offers visitors an action-packed beach style holiday. So whether you are spending 3, 4, or even 5 days in Cancun — this guide is for you.
For this Cancun itinerary, 5 days is enough to see the best of the city. We will look at the best activities and places of interest on the peninsula to ensure a fun-filled Caribbean getaway that will leave you feeling listful of sunshine-filled days, salty beaches and sandy shoes.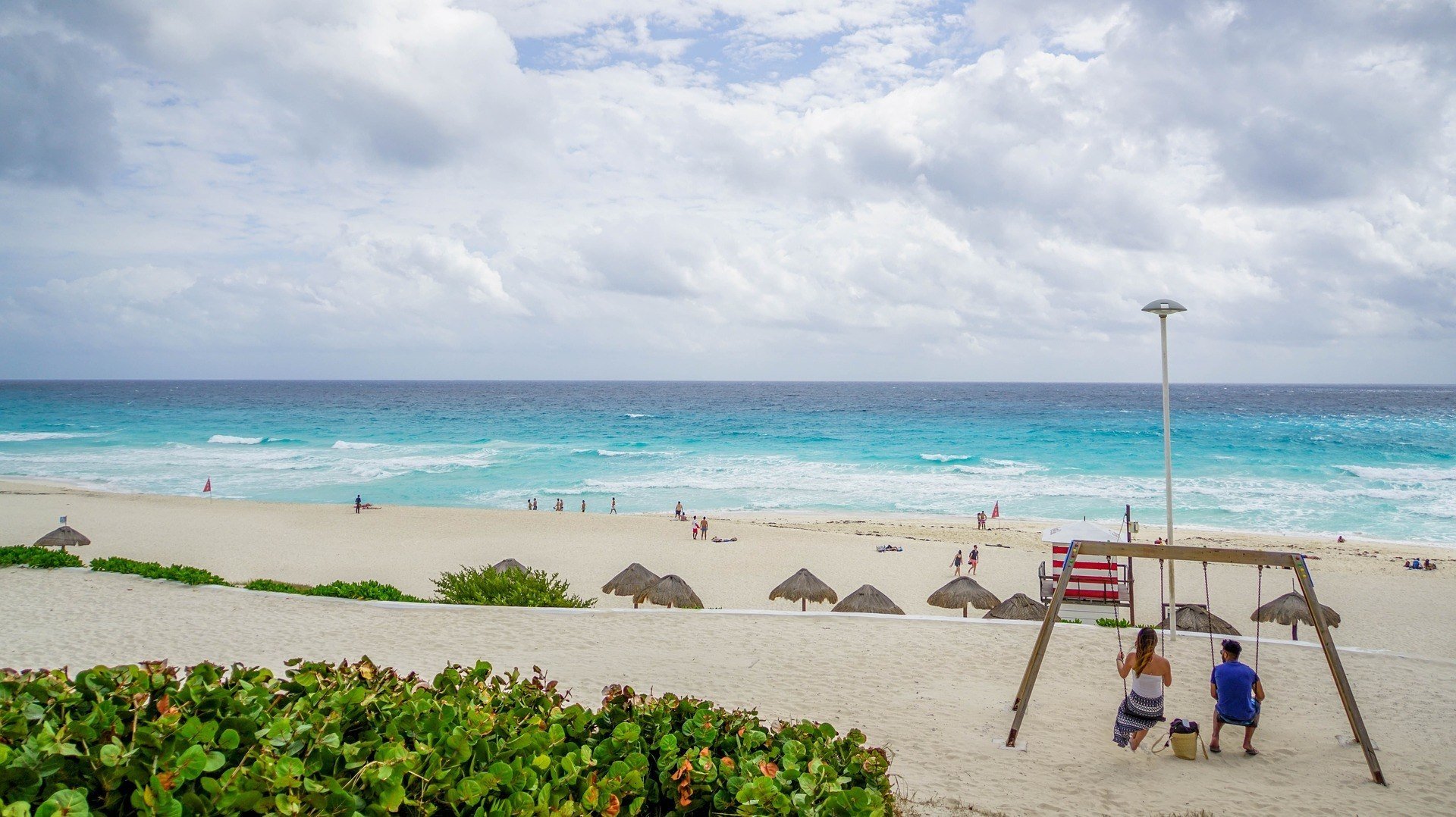 Cancun, on the Yucatan Peninsula, is Mexico's largest and most popular resort area. With paradisiacal beaches, fascinating archaeological sites nearby, and all the finest things you can think of, it makes for a great destination for couples and families, but also for solo travelers.
There are plenty of places to visit in Cancun, depending on how many days you can stay. We're assuming you're staying at least 2, but if you have 3 or even 4 days in Cancun, we've got a whole list for you to go through.
The city is fairly easy to navigate and get around. You can walk to a lot of the spots if you're located in the Hotel Zone, and you'll find loads of taxis and great public transportation available too. The most common is the bus, which runs regularly and is very affordable.
In this guide, we're gonna lay out all the different areas you can stay at, the top things you should do, when to come, and how to make sure everything runs safely and smoothly.
If you're still deciding how many days to spend in Cancun, we hope our suggestions help you get a better understanding!
3 Day Cancun Itinerary Overview
Picking where to stay in Cancun will depend on what you want to prioritize for your trip. The downtown and surrounding areas are a great bet if you want to focus on the ruins and the cultural activities.
The Hotel Zone, or Zona Hotelera, is better for beaches and parties. It's a long beachfront strip packed with all the resorts, nightclubs, and restaurants you can imagine… If you're hoping to stumble home after partying the night away or indulging in Caribbean cuisine — this is the place for you! 
If you fly to Cancun International Airport, a taxi or bus for about 30 minutes will get you to the heart of the Hotel Zone. 
If it's your first time in Cancun, the Hotel Zone will probably be the most convenient if you plan to do a lot of beach and sightseeing. If not, you'll get a more lively stay in downtown El Centro, and the budget-friendly options are also here.
Punta Cancun is a good bet if you're coming here for the nightlife. It's at the north end of the Hotel Zone and offers some spectacular waters and views. If you want culture and charm, head over to Puerto Morelos. A piece of paradise away from the madding crowds plus all the perks of an ideal beach trip.
If you're looking for somewhere near the airport and transport links to other parts of the Riviera Maya, consider staying at a vacation rental in Cancun that are in the more residential areas.
Best Hostel in Cancun – Mezcal Hotel Hostel and Bar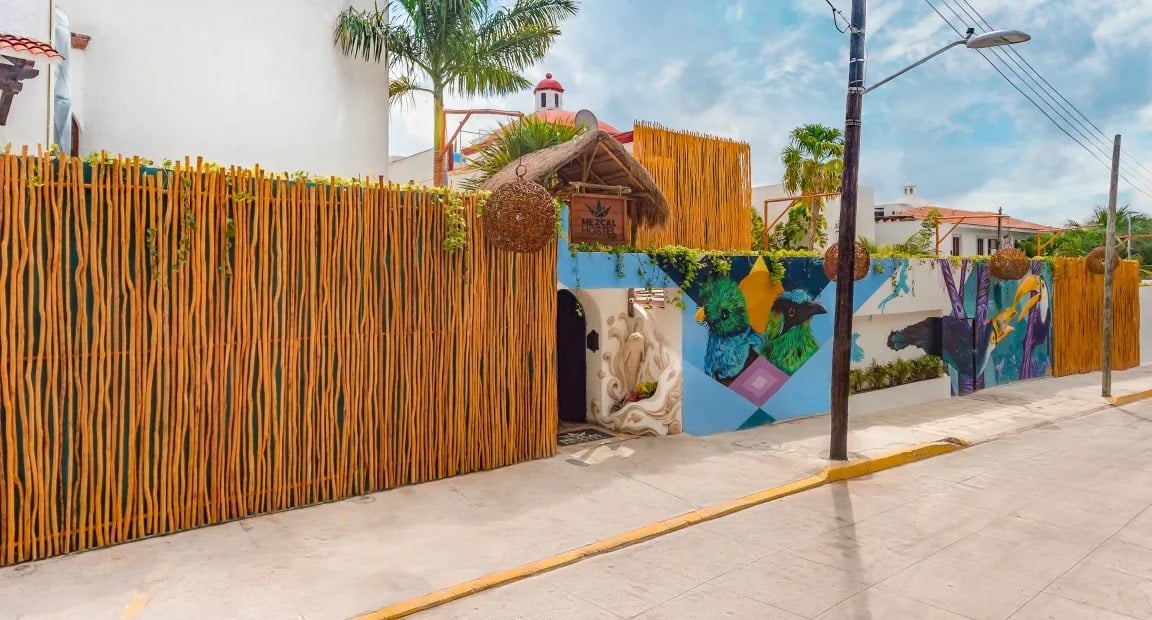 Sunbathe in the pool, relax in a hammock, or chill at the bar. This is one of the best hostels in Cancun. The hostel invites you to socialize with guests from all over the world. They even have an HD TV to watch sports while you're hungover, as well as hosting entertaining activities like Yoga, Zumba, Salsa Lessons, Karaoke and so much more!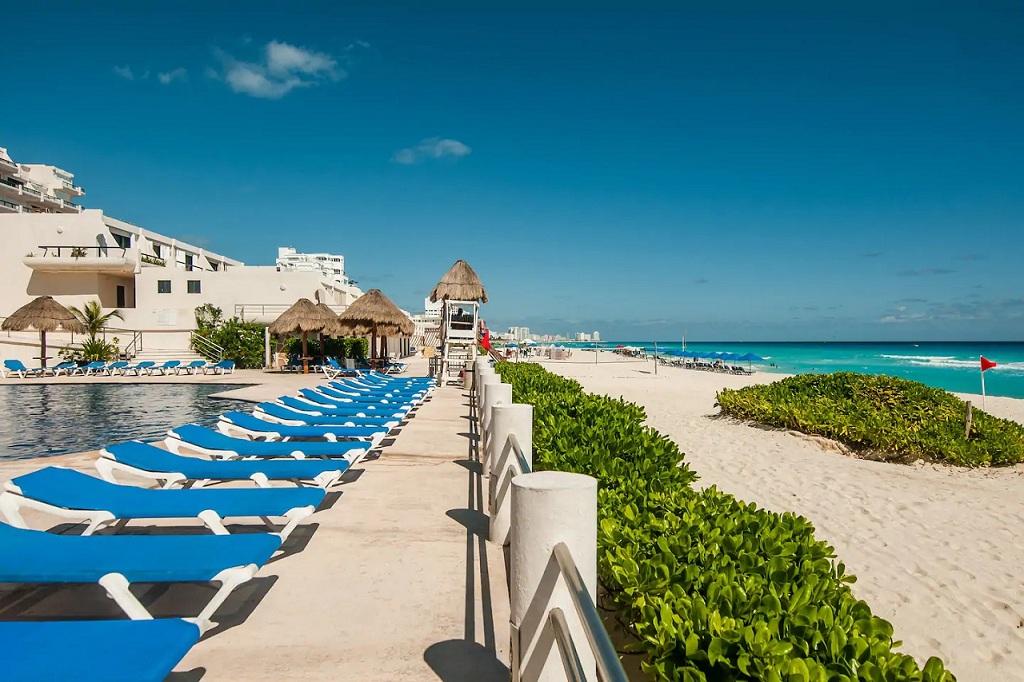 That's right. Good ol' A/C, baby! This loft is completely renovated and right off the sand of Cancun. If you are looking to explore around, you've got public transportation just outside the apartment. And for those working remotely, can we get a hallelujah for frickin' amazing internet?!
Best Budget Hotel in Cancun – Hotel Kavia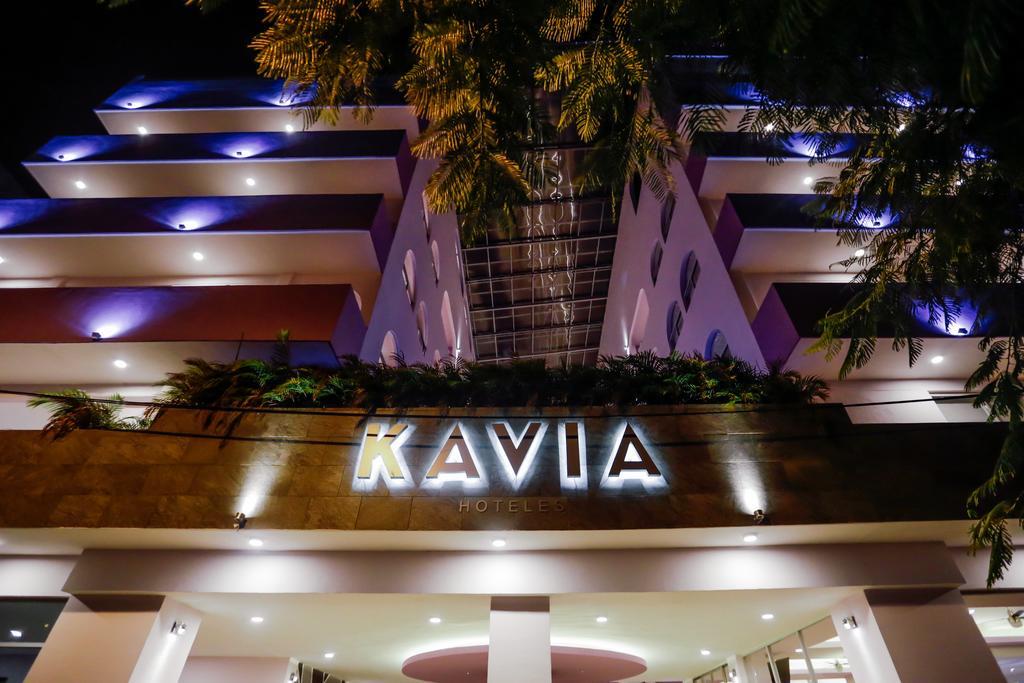 Perfectly located in the heart of Cancun, this hotel offers comfortable accommodation with a restaurant, an outdoor swimming pool and a bar. They have a variety of rooms available and many popular points of interest within walking distance! Guests are also free to use the indoor pool and business center.
Best Luxury Hotel in Cancun –  Oh! Cancun – The Urban Oasis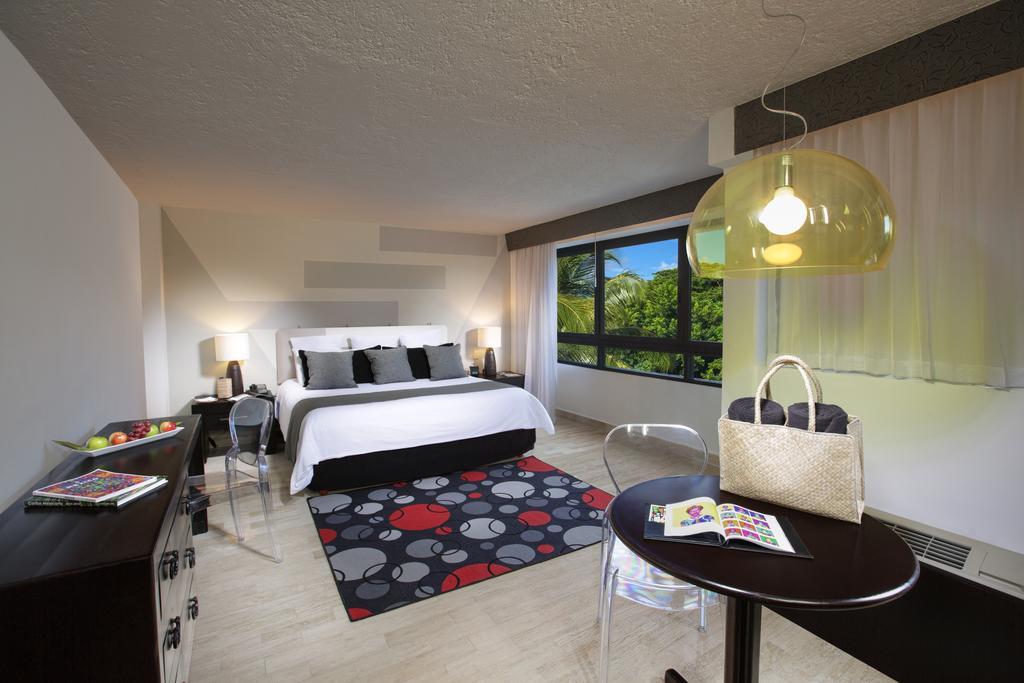 This elegant hotel has an outdoor pool and sun terrace. With WiFi throughout the property and an on-site restaurant, they have everything you need for your stay in Cancun! Rooms have a view of the pool or the city, and transport is available near the property.
Cancun Itinerary Day 1: The Introduction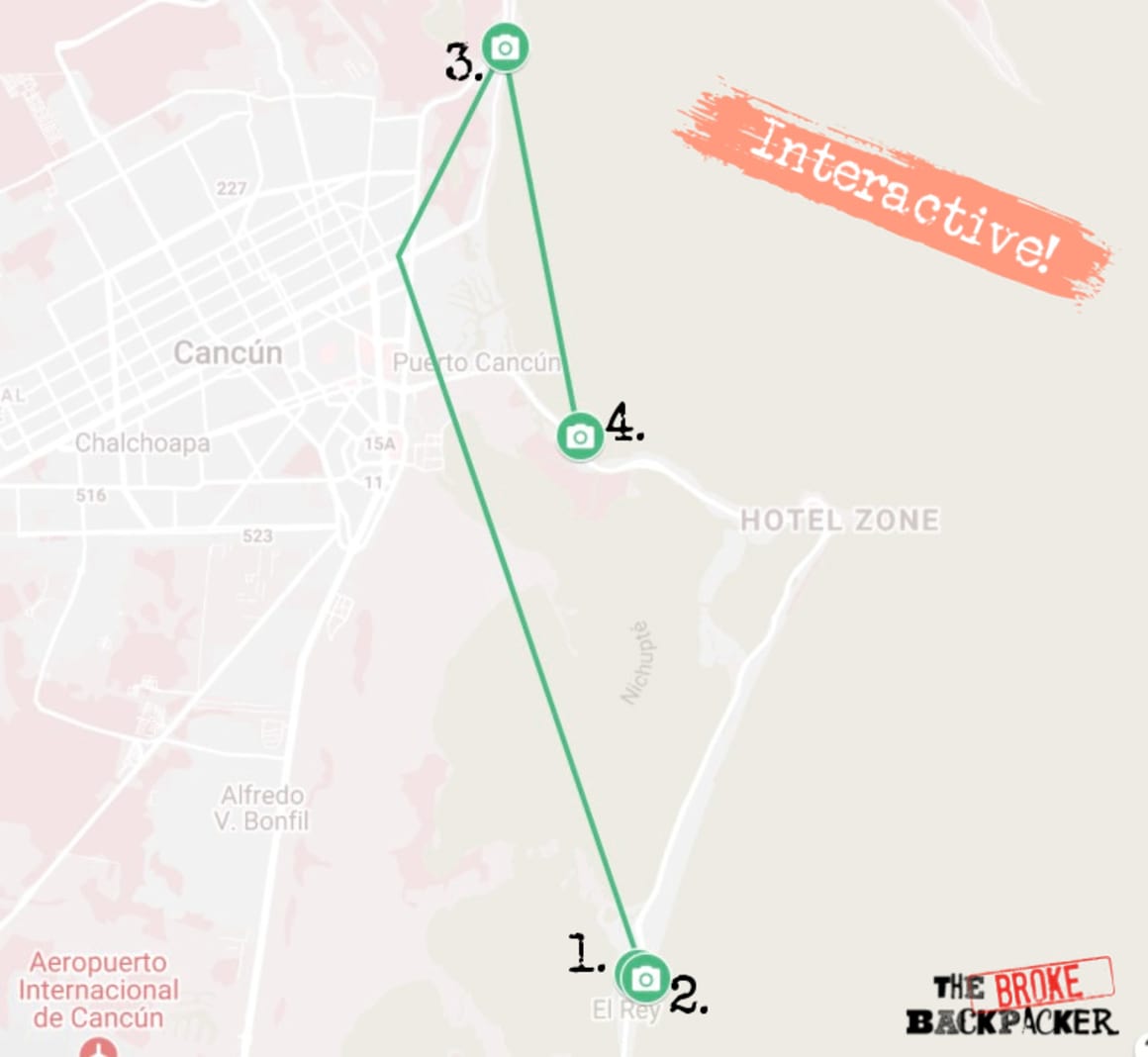 Day 1 is the introduction to your stay in Cancun. You're going to be covering a couple of its archaeological sites and checking out some beautiful beaches!
Every map that you see in this article includes a hyperlink to an interactive version on Google Drive. After clicking the map image, the interactive version will be opened in a new tab.
10:00 am – El Rey Ruins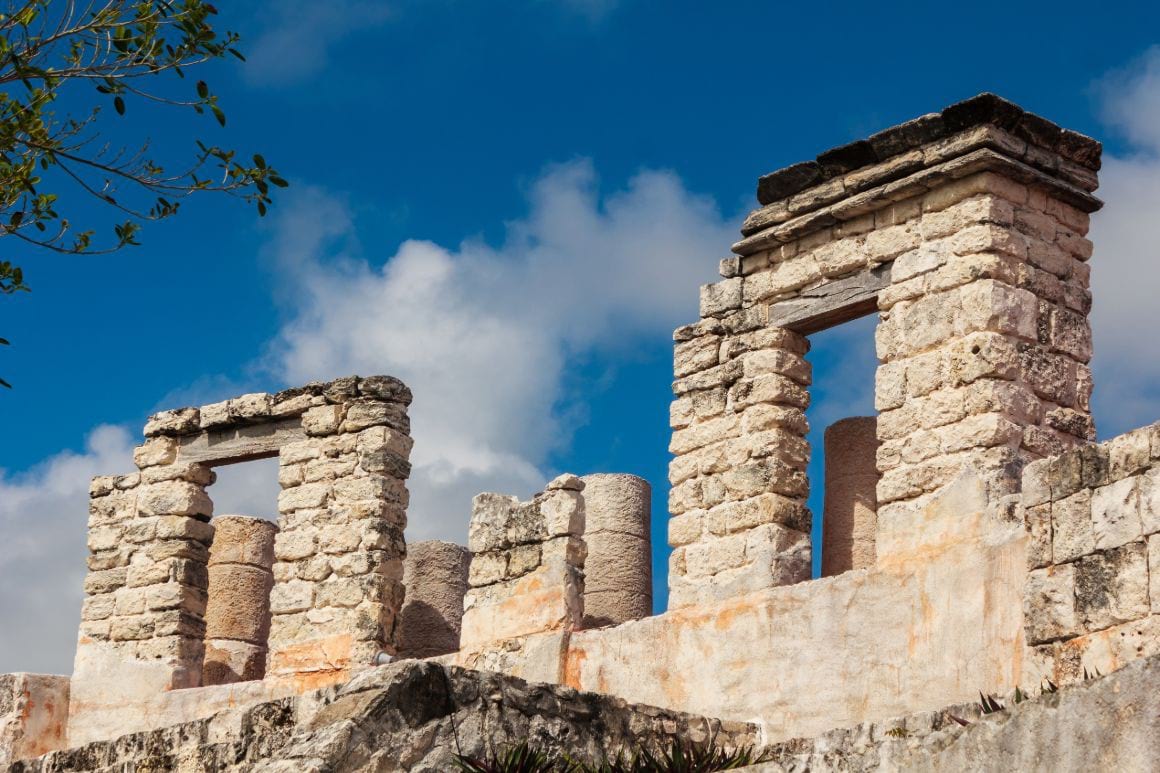 Let's start with the basics.
The El Rey Ruins are conveniently located in the heart of the Hotel Zone. They're easy to access and a great place to start if you're visiting Cancun for the first time.
And while they're not the most famous or largest Mayan ruins, they're certainly the best you can begin with. We're not gonna be spending the first day driving 2 hours to one of the more famous sites, we'll get there eventually.
The ruins are named after an important sculpture of 'The King' (El Rey) found on the site and are part of an important ancient Mayan trade route.
The major development of this ancient Mayan site occurred between 1300 and 1550 AD, and the main inhabitants were fishermen and traders of salt. It was abandoned after the Spaniards arrived in the 16th century and became a haven for pirates for a long time.
Head out adventure through the Mayan ruins to spot some of the many iguanas that live in the area. They're used to people and will come right up to you!
Want to Know More
Cost: $2.50 USD (double if you bring in professional video equipment)
How long should I stay here? Around 1 hour.
Getting there – Frequent buses from the Hotel Zone. Ask the driver for the El Rey ruins.
11:30 am – Playa Delfines
Any decent Cancun itinerary has to include a visit to the city's outstanding beaches. We'll be covering the best ones along the way, but your first stop on the map is Playa Delfines.
Playa Delfines, or Dolphin Beach, also has the nickname El Mirador (The Lookout). Thanks to an unspoiled area without the usual masses of hotels, restaurants, and resorts that seem to take over the city, you can enjoy a blissful end of the morning at the beach here.
Soak up the sun and enjoy the sprawling views, rent a beach umbrella if you're feeling fancy, and make the most of the groovy Mexican sunshine.
It is the only beach in Cancun with a public car park!
Cost: Free!
How long should I stay here? 1-2 hours, up to you.
Getting there – A short walk from the El Rey ruins.
2:00 pm – El Meco Archaeological Site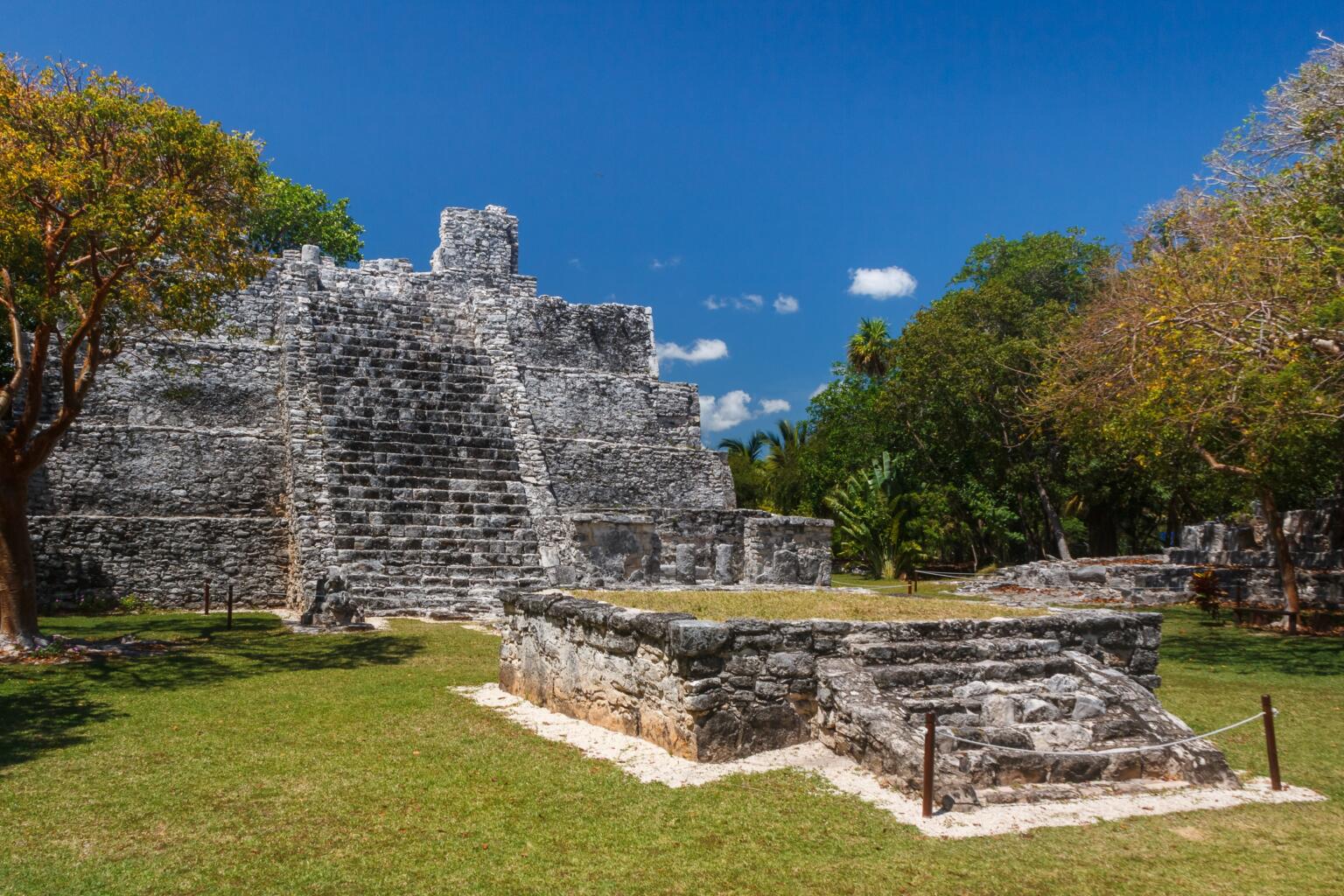 Onto the next one.
El Meco is a small Mayan archaeological site located in a remote part of Cancun that was highly influential in Maya culture. The site is well preserved and has recently been opened to the public.
It's the perfect place to discover if you are interested in the history of Mexico and the Maya peoples.
The site is clearly influenced by Itzamna and Chichen Itza. You'll also find many carvings that have remained unscathed at this small site, due to the shade covering that has been protecting them from damage.
Said to have been inhabited in the 3rd and left empty until the 11th century, it was an important port in the history of Cancun, offering a great vantage point to survey incoming ships.
You'll get to explore parts of Cancun that you've never seen before, and see the serpent heads that decorate the Castillo staircase which leads you to the pyramid.
Overall, a great place to add to your Cancun itinerary!
Want to Know More
Cost: $3
How long should I stay here? 1-2 hours.
Getting there – Easier to reach by car, taxi, or minivan.
4:30 pm – Playa Tortugas
It's time to relax now. Enjoy the end of your first day in Cancun with some clean white sand and crystal clear waters.
Playa Tortugas is known for having a relaxed atmosphere and it's the perfect place to cool down after a day getting to know the city.
Wander along the beach to the pier, pondering the wealth of knowledge that you've gained from the archaeological sites of the day
The beach is located in the northern part of Cancun's Hotel Zone and it's not too far from your last location.
Cost: Free!
How long should I stay here? It's the last stop of the day. You're a free bird now!
Getting there – If you rode to El Meco, arrange with your driver to drop you off at this beach.
Cancun Itinerary Day 2: "I'm a Mayan Warrior!"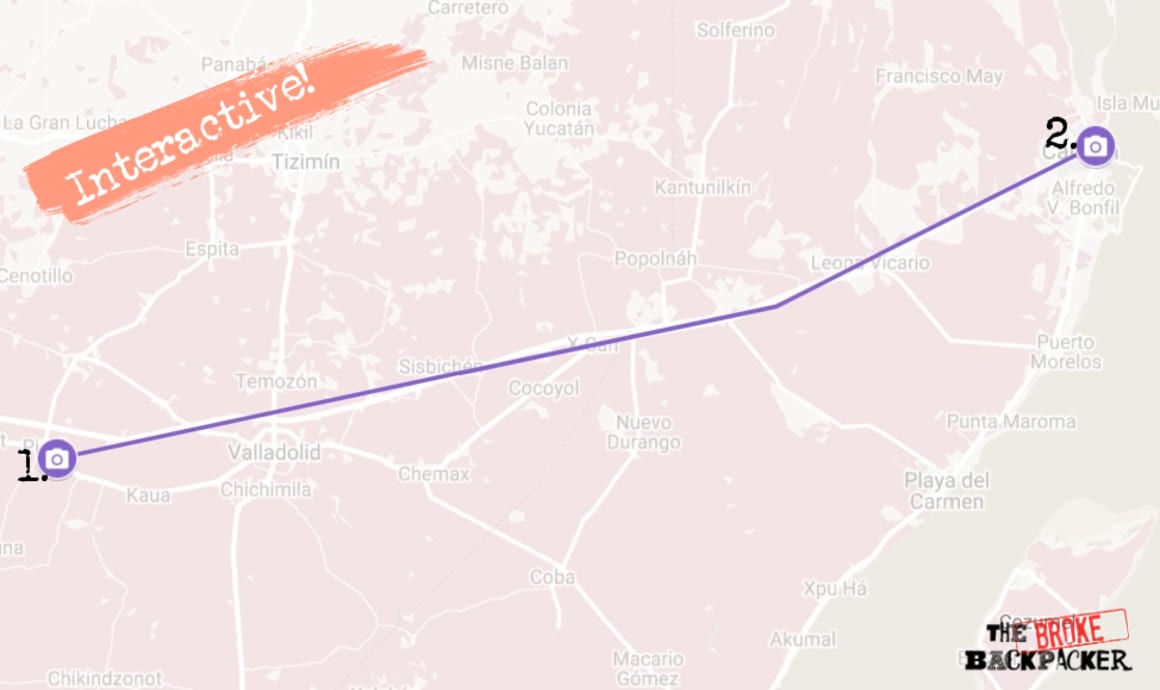 On your second day in Cancun, you'll be heading to one of the most epic locations in all of Mexico…
5:00 am – Chichen Itza
That's right. 5 am, lads! That's what you've gotta go through to enjoy this place without the crowds.
The ruins of Chichen Itza were designated as a UNESCO World Heritage site in 1988 and occupy an area of 4 square miles. They're marvelous all along.
It'll be a 2h30 ride from town. A little stretch, but nonetheless a mandatory stop if you're planning a trip to Cancun. The site was abandoned and its ruins were eventually hidden by the jungle. Now, Chichen Itza is one of the New 7 Wonders of the World.
You'll be able to explore the ancient ruins, take some amazing photos, and learn more about the place's fascinating history. Book an experienced guide, and you'll learn all about how it played an important role in Mayan civilization and remained a center of worship and pilgrimage until the arrival of the Spaniards.
Two big cenotes are on the site, formed by sinkholes in the limestone formations. They're fascinating to see, and are a pivotal point in the existence of the city. As they're the only source of water in the arid region, they're the whole reason why the Maya tribe chose to settle there.
Want to Know More
Cost: The entrance fee is around $25.
How long should I stay here? Between getting there and back, it will take you most of the day.
Getting there – Best done if you book a tour.
5:00 pm – Mercado 23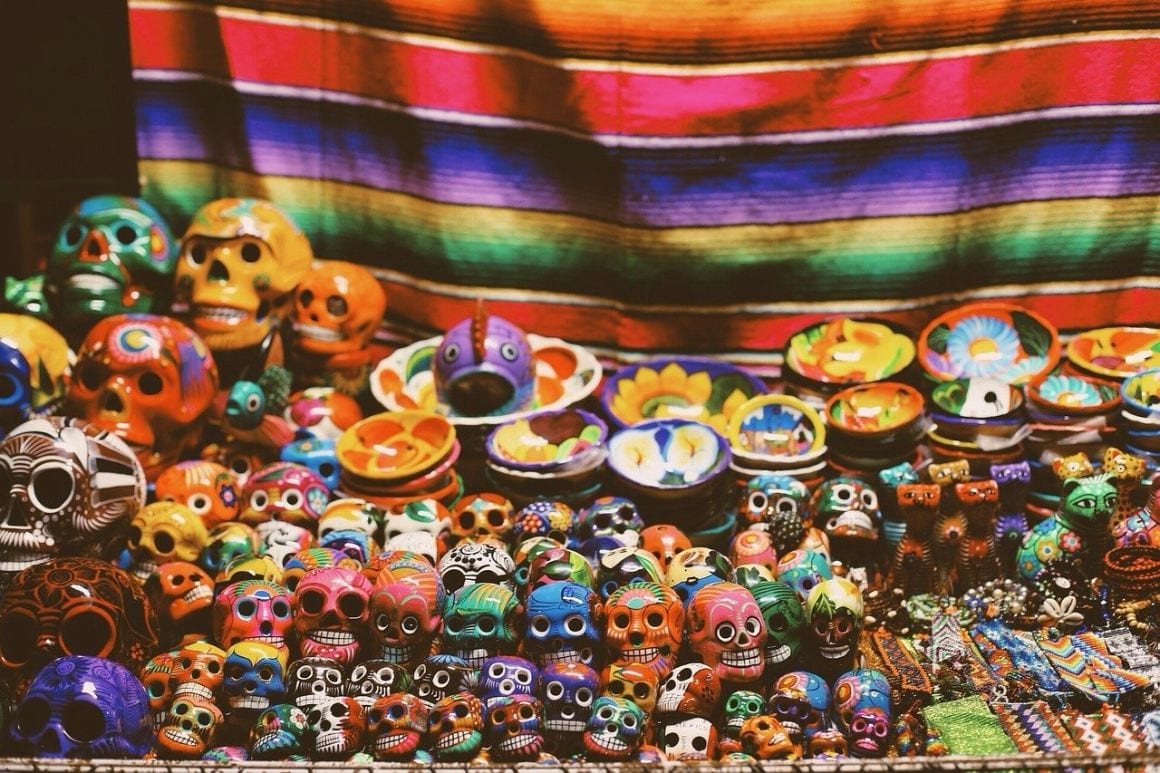 After the bewilderment from the great Chichen Itza, we're going to take it easy now. Shall we?
Mercado 23 is a great place to experience the lives of locals in Cancun. It was the first in the city and it is also one of the most popular markets around. You'll find everything from crafts to grains, tortillas, groceries, medicinal plants, and more esoteric stalls.
Products are cheap and the quality is good. With the essence of a Mexican market, it's ideal for travelers wanting to immerse in Mexican folklore. A great way to support the local economy too! Be sure to try the local Yucatan food.
Situated in a vibrant neighborhood, inhabited by the local workers and their families, this market will offer you the perfect authentic experience away from the resort life. Grab something to go home with, or simply wander while you drool at the sight of each stall.
The market closes at around 7 pm, so you have time to stroll around after a long day at Chichen Itza. Grab dinner in the area afterward!
Want to Know More
Cost: Free!
How long should I stay here? Take your time, negotiate away, then grab some dinner in the area.
Getting there – From the Hotel Zone, take the R1 bus that says "Crucero" and tell the driver "Mercado 23".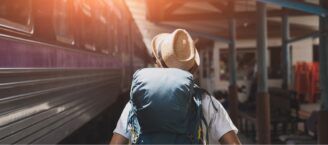 Unlock the The Broke Backpacker's GREATEST Travel Secrets
Sign up for The Broke Backpacker Newsletter to receive weekly tips on how to travel on a budget + a FREE copy of The Backpacker Bible!
Cancun Itinerary Day 3: Surf's Up
3 days in Cancun and no surfing? Neigh way, Jose.
Today we're hitting the waves before we do anything else. Then, we're checking out the final stop for your short trip. If you can stay longer, we've got more suggestions coming up after that!
10:00 am – Surf Lesson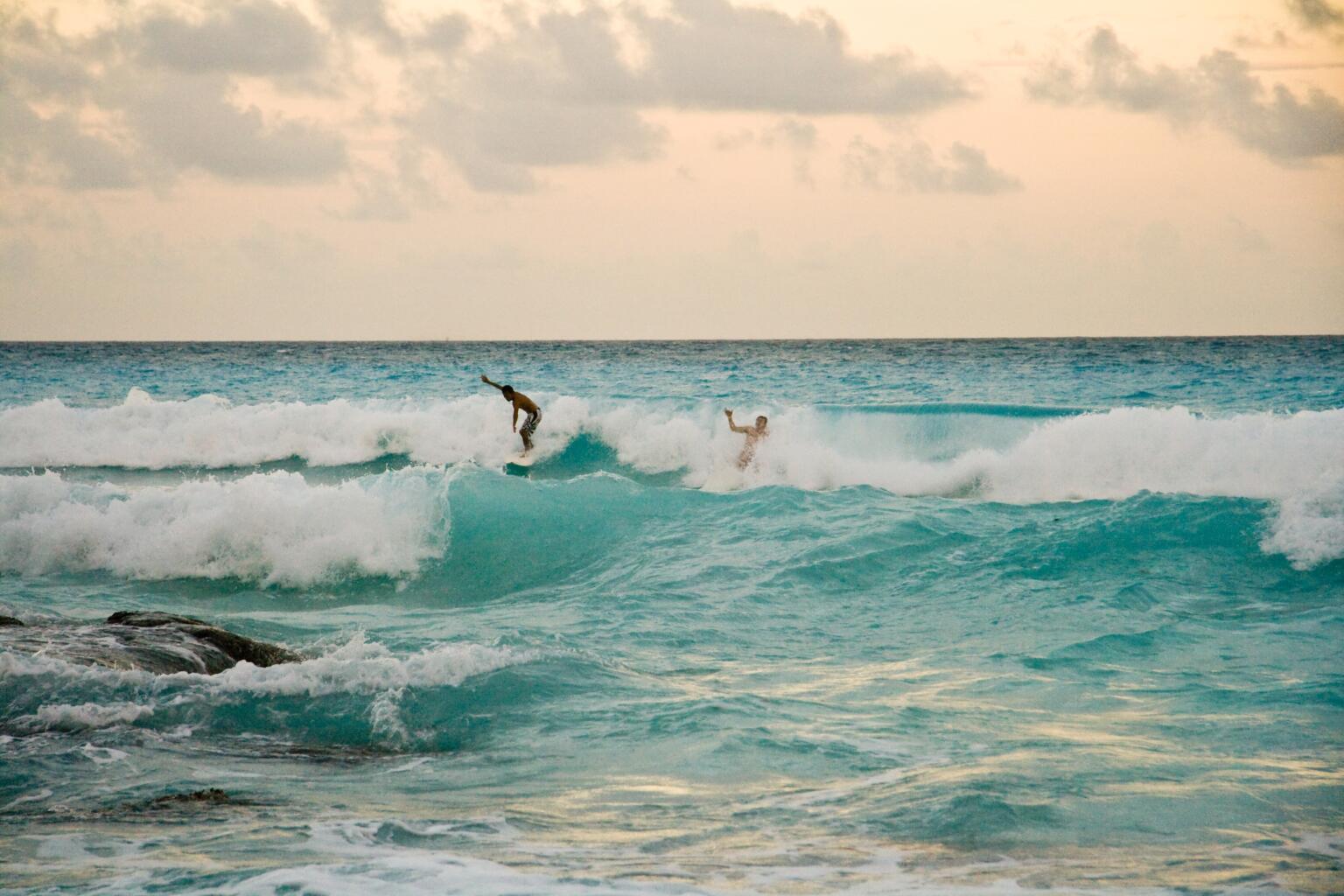 If it's the first time you plan a trip to Cancun and you've never gone surfing before, this might just be your chance.
Cancun has the perfect conditions for beginners and learning how to surf is a great way to enjoy the pristine waters and the beach life around here.
You'll find plenty of surf schools on the beaches in the Hotel Zone. Good Vibes Surf School is a good one, located in Chac Mool Beach, inside of Ocean Dream Hotel. All the equipment is provided and the lesson will start with some beach training before heading into the waves.
The instructors will be with you the whole time to help out, and you're guaranteed a good time! They're also good people to reach for some insider knowledge in the area. They'll know all the best places to eat around the area, so you can get a refueling breakfast after the lesson.
Want to Know More
Cost: Around $50 for a private lesson. You can book it through Airbnb.
How long should I stay here? 2 hours.
Getting there – The surf schools are located throughout the Hotel Zone.
2:00 pm – Playa del Carmen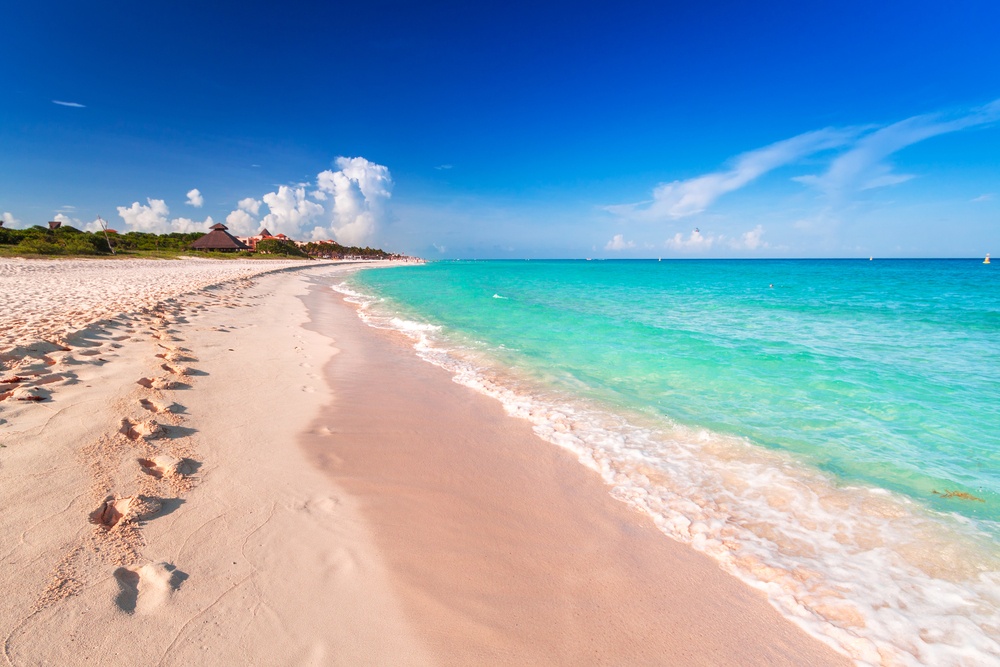 So… after crossing all of the places you must see in Cancun in 3 days, we've reached our final stop: Playa del Carmen.
This stunning coastal resort town lies 45 minutes down the coast from Cancun and it is one of the Riviera Maya's trendiest spots
Your first time in Cancun should be all about relaxing and enjoying life by the sea, so this is the perfect place to head to after hitting the waves in the morning.
With some archaeological explorations here and there, this region of Mexico offers a wide array of beautiful sights for you to enjoy. At Playa del Carmen, you can roam around, relax, find a pool party, or even explore an underground cavern.
With buses running frequently from downtown, you can spend the rest of your day here or even find some places to stay in Playa del Carmen for a few nights.
Want to Know More
Cost: 5-10 dollars depending on when you book.
How long should I stay here? 3-4 hours. Come back on the last bus or by minivan.
Getting there – Buses leave from the ADO terminal downtown.
Need a place quick? Here's the best neighborhood in Cancun
BEST AREA IN CANCUN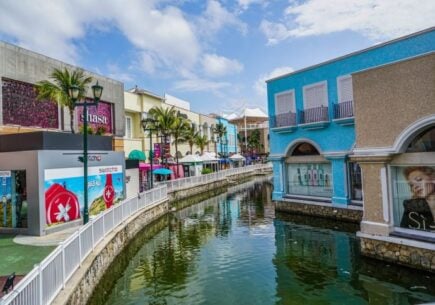 Zona Hotelera
Zona Hotelera is one of the most convenient and popular places to stay in Cancun. A short drive from El Centro, this area of the city caters to tourists.
Places to visit:
Explore the exhibitions about Mayan Culture at the Museo Maya de Cancun.
Swim in the shimmering turquoise waters of Playa Delfines.
Shop til you drop at La Isla Shopping Village.
What to Do with More than 3 Days in Cancun?
What if I have 4 days in Cancun? What can I do?
If you're staying longer in Cancun, that's perfect! There's plenty to do around the area, and it will take a long time until you get bored.
Below, we've prepared a list of more awesome things you can do while you're here. Read on, fellow traveler…
Coba Ruins
Coba Ruins are some of the most interesting Mayan ruins in the state of Yucatan. They are not as popular as other ruins in Mexico, like the Chichen Itza, as they are a bit more remote.
If you managed to squeeze in an extra day (or more), this is a fantastic trip to take from Cancun. It will take you between 2 and 3 hours to arrive.
You'll be greeted by a jungle that resembles a living green carpet from the top of the pyramid. And you can climb it!
Much of its fame comes from its large network of stone causeways that were known as sacbes (white roads) in the ancient world. There have been more than 50 of these roads discovered at the site and 16 of them are open to the public.
You'll get the opportunity to explore these roads by walking along the raised stone pathways or renting a bike to cycle around.
Want to Know More
Cost: Just under $4.
How long should I stay here? As with Chichen Itza, it will take most of your day.
Getting there – Frequent bus tours run from the Hotel Zone. You can also rent a car and drive it yourself!
Isla Mujeres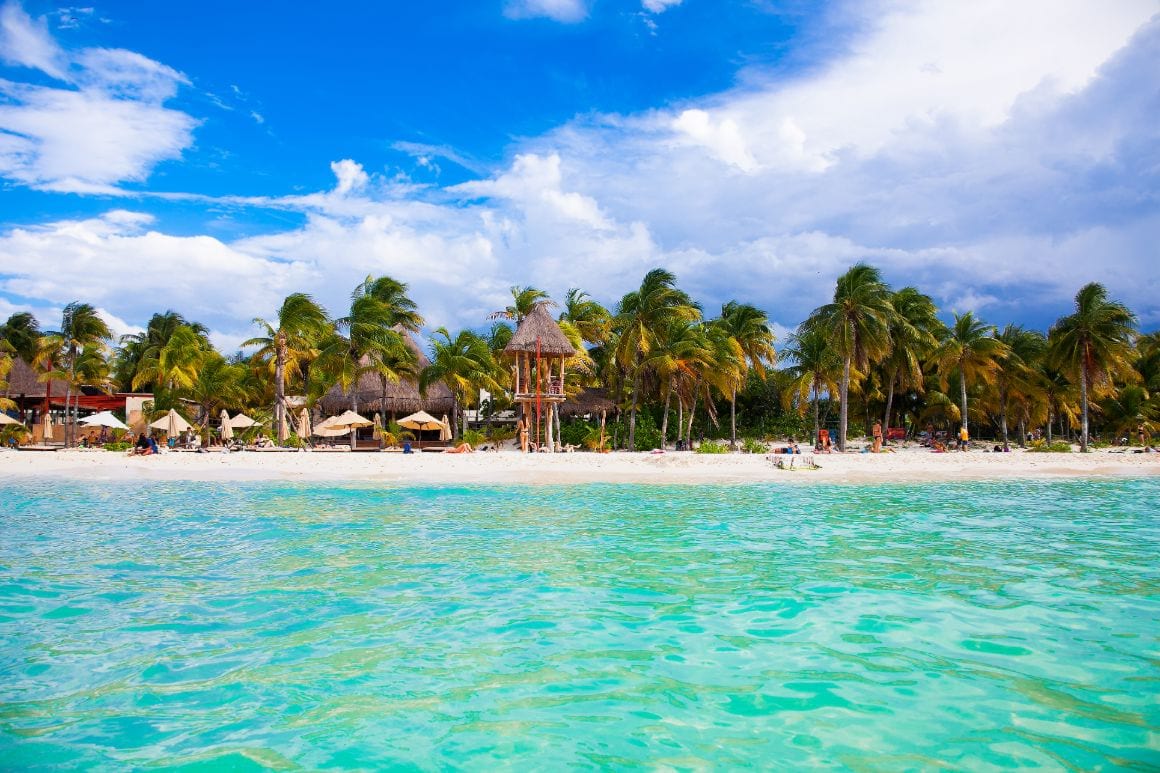 A small friendly island just off of Cancun. A day trip to Isla Mujeres will show you a peaceful paradise with absolutely gorgeous beaches.
The diversity of its population ranges from fisherman to artists, musicians to divers, chefs, and expats, making up a community unlike any other. Some say they're the friendliest locals in the Mexican Caribbean!
If you get the chance, you can snorkel in the second largest coral reef in the world, the Belize Barrier Reef. Admire the incredible marine life, or just enjoy a relaxing day on the island.
Those who are feeling the splurge can also opt for one of the all-inclusive catamarans that make regular day trips to Isla Mujeres. They usually include snorkeling, some exploring, and delicious local food. Oh, and grab some of that open bar goodness while you're at it.
Either way, you're guaranteed a day of sunshine before admiring the rich biodiversity of the underwater world.
Want to Know More
Cost: $15 for the ferry. You can also book a catamaran tour if you're feeling fancy.
How long should I stay here? A whole day if you have time.
Getting there – Frequent ferries from the dock at Puerto Juarez, a few minutes from downtown.
MUSA Underwater Museum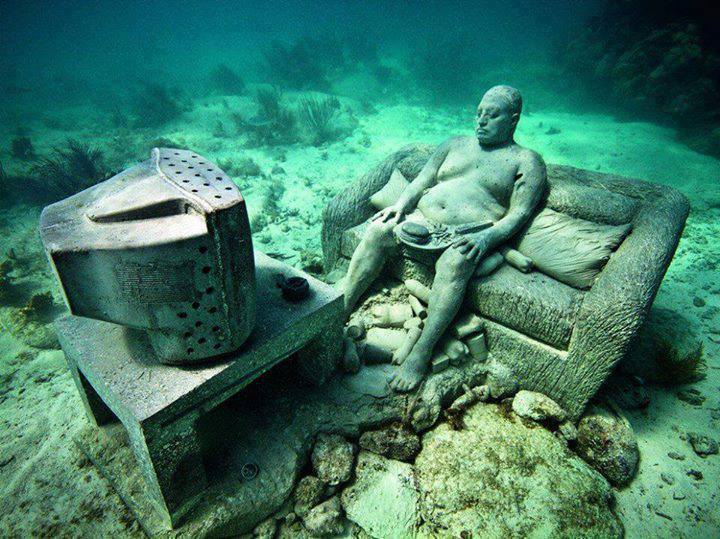 Diving in Cancun has got to be the most epic thing you can do on your trip. If you have more than 3 days here, or want to switch it up with another of the activities we suggested, go for it!
The MUSA Underwater Museum offers some of the most spectacular diving experiences in the world, and there are different pricing levels according to your experience.
Explore the remarkable exhibits the museum has on offer, make the most of the Caribbean waters AND learn how to dive if you never have. This is one of the most spectacular locations to do it at.
It is quite common to observe sea turtles in this area, as the natural coral reef formations give shelter to an unending diversity of colorful fish — MUSA attracts all types of living creatures, including you ?
A perfect activity for beginners who are looking for a unique experience in Cancun.
Want to Know More
Cost: Prices start at $90 for certified divers and $115 for those without a certificate.
How long should I stay here? Up to 5-6 hours!
Getting there – Some organized tours run from the Hotel Zone, near the Sotavento Hotel.
Travel with peace of mind. Travel WITH a security belt.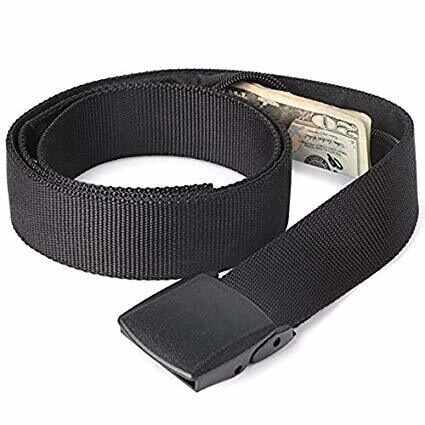 Custom-designed BY the Broke Backpacker FOR broke backpacking, the Active Roots Security Belt will keep your valuables safe no matter where you go.
It looks exactly like a normal belt except for a SECRET interior pocket perfectly designed to hide a wad of cash or a passport copy. Never get caught with your pants down again! (Unless you want to.)
Check on Amazon
Best Time to Visit Cancun
Now that you know everything you must see in Cancun in 3 days, you must be wondering when is the best time to come…
If you want a great mix of good weather, uncrowded places, and great discounts: come April, May, November & early December.
You'll find the best weather in December, though.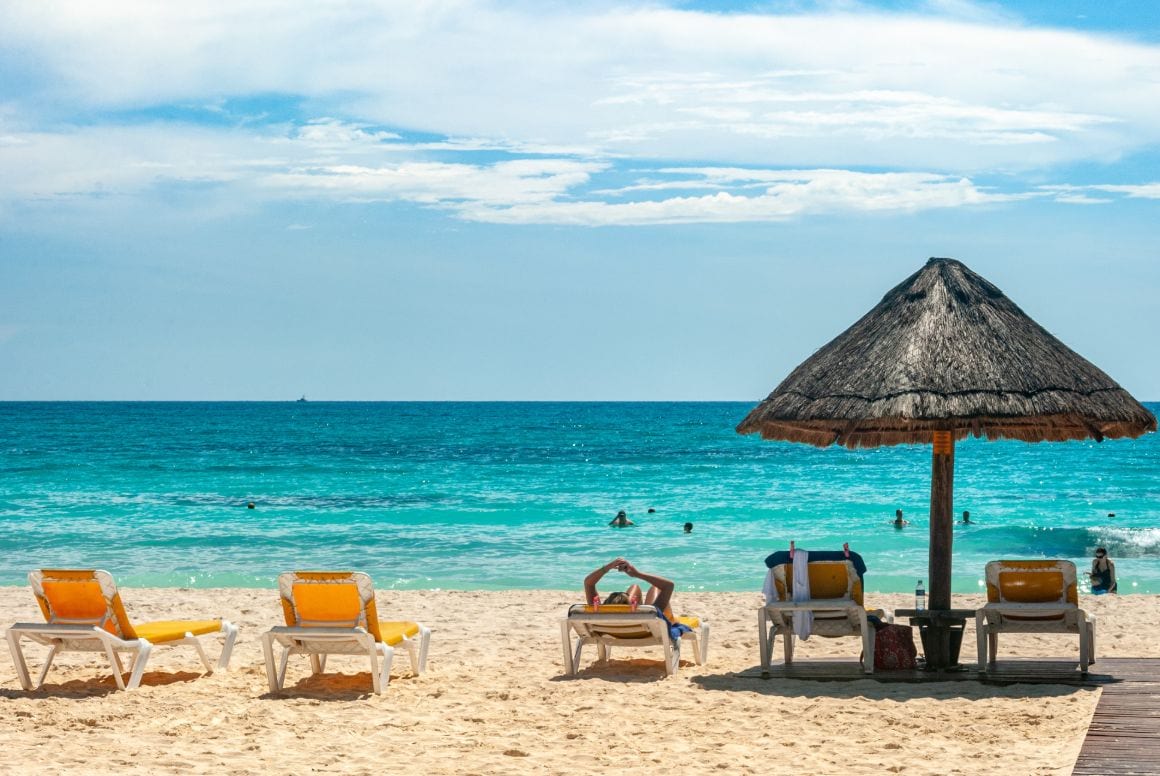 And all the way from December to the end of April, the conditions are great. January to March is the peak season, and when you can expect the least amount of rainfall, the sunniest skies, and the balmiest temperatures!
Expect gorgeous beach days, pleasant ocean waters, and perfect weather for exploring the ruins and jungles inland. So you can better plan your trip to Cancun, we've prepared a monthly overview of the weather below.
Weather in Cancun

|   | Average Temperatures | Chance of Rain | Crowds | Overall Grade |
| --- | --- | --- | --- | --- |
| January | 23°C / 73°F | Low | Busy | 😐 |
| February | 23°C / 73°F | Low | Busy | 😐 |
| March | 25°C / 77°F | Low | Busy | 🙂 |
| April | 26°C / 79°F | Low | Medium | 😀 |
| May | 27°C / 81°F | Low | Medium | 😀 |
| June | 28°C / 82°F | Average | Medium | 😐 |
| July | 28°C / 82°F | Average | Medium | 😐 |
| August | 28°C / 82°F | High | Calm | 🙁 |
| September | 28°C / 82°F | High | Calm | 🙁 |
| October | 27°C / 81°F | High | Calm | 😐 |
| November | 25°C / 77°F | Average | Medium | 😀 |
| December | 24°C / 75°F | Average | Busy | 😀 |
Show more
Plan a Trip to Cancun – What to Prepare
It may seem obvious at first, but there's more to your Cancun packing list than you might think. Yeah, flip flops and a bathing suit are at the top of the list, but some good shoes to explore the ruins are much needed too. In case you're feeling lost, we've prepared some tips on how to pack for any trip.
In terms of safety, there are very rare incidents of serious crime towards travelers. But as with any new and unknown location you travel to, it's never a bad idea to stay vigilant and to be aware of your surroundings and actions.
In general, Cancun is a relatively safe place. If you're coming for the nightlife, though, we advise you to be extra cautious. You may be more susceptible to problematic situations after chugging a few drinks, and the cartels in Mexico are no joke. NEVER leave your drinks unattended.
It's best to keep your belongings on you at all times and be aware of pickpockets if you happen to be in a crowded area or slightly intoxicated. Stay away from dark and lonely streets, and don't go anywhere that looks unsafe. Trust your gut, be self-aware, and you'll do just fine!
And have you thought about getting Travel Insurance for your trip? We've put together a roundup of Travel Insurance for backpackers – check it out here, or if you're low on time, get a quote from World Nomads, our favorite travel insurance provider.
Getting an estimate from World Nomads is simple — just click the button or image below, fill out the necessary info, and you're on your way!

Final Thoughts
Ahhhh, Cancun. The perfect beach destination for any traveler looking for an introduction to the Mexican ways.
As you can see, there are plenty of places to visit in Cancun in 3 days. If you're traveling longer, you can stretch it out and check out some of the extra suggestions too.
With world-famous archeological sites and a dazzling array of beaches, there's much to be explored here. Walk through legendary ruins, feel the sand in your naked feet, and enjoy all that Mexico is about.
Take your time, cook up your perfect Cancun itinerary, and then let us know how your trip went. Sayonara!
---
Find out how YOU can support the site.
We're a big site with a big team and this job isn't always easy. But we do it because we love it – we love providing epic and free content. We love the knowledge that our content keeps you adventuring. We don't ask for money, but if you'd like to find out how you can help the site in more organic ways, click the button below.
Thank you for your support 🙂
And for transparency's sake, please know that some of the links in our content are affiliate links. That means that if you book your accommodation, buy your gear, or sort your insurance through our link, we earn a small commission (at no extra cost to you). That said, we only link to the gear we trust and never recommend services we don't believe are up to scratch. Again, thank you!