Travel
27 UNIQUE Things to Do in San Antonio [in 2021]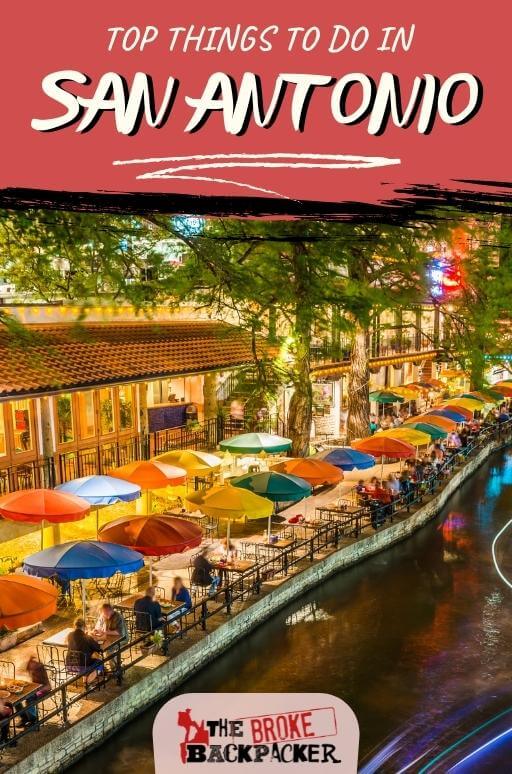 With a ton of history that charts the early days of Mexico and the United States itself, San Antonio is a big Texan city with about a million stories to tell.
Naturally, there's a LOT of things to do in San Antonio. Starting with its most famous sights (ever heard of the Alamo?), there's more historic buildings here than you could ever imagine and a ton of top landmarks that see tourists flocking to this city to soak up its epic atmosphere. It's an awesome city.
It's easy to guide yourself to top tourists sights. What's more difficult is to find the coolest, most unique and off the beaten track things to do in San Antonio. That's where we come in. We've crafted this guide to the top things to do in San Antonio so you can veer off the tourist trail and see the real side to this city. If you want local, if you want cool, we know where to find it.
Top Things to Do in San Antonio
1. Discover the History of San Antonio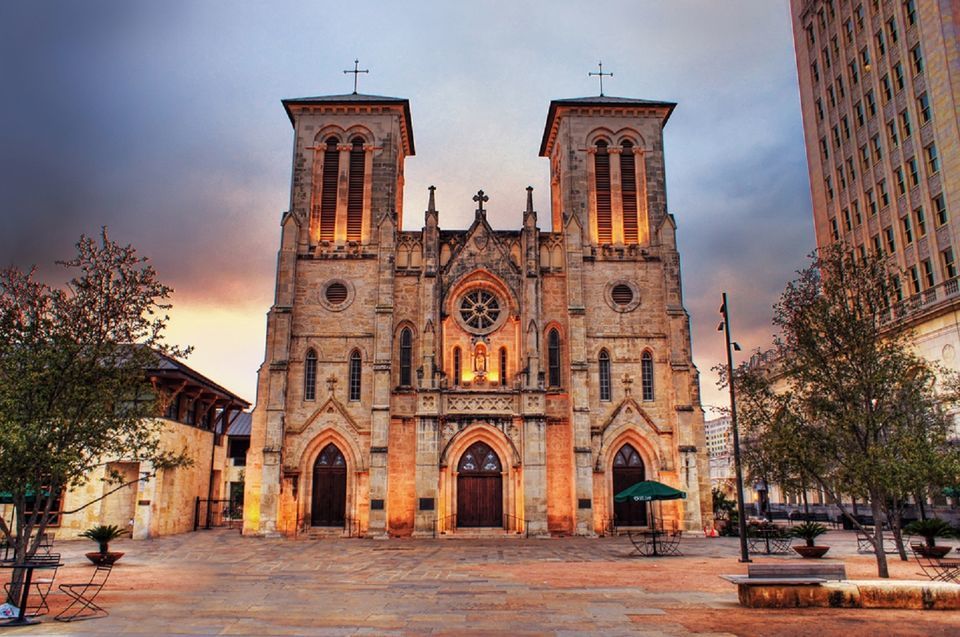 San Antonio was founded in 1718. That's a pretty long time ago – and back then it was part of the huge area of land that became Mexico. Things happened and, well, now it's part of the USA. We can't tell you all the history because it would totally ruin discovering the history of the city for yourself – one of the best things to do in San Antonio. Whether you go on a tour, get yourself a guide, or whatever, exploring the ins and outs of this historically rich city is super interesting. We promise.
2. Go on an adventure in the Natural Bridge Caverns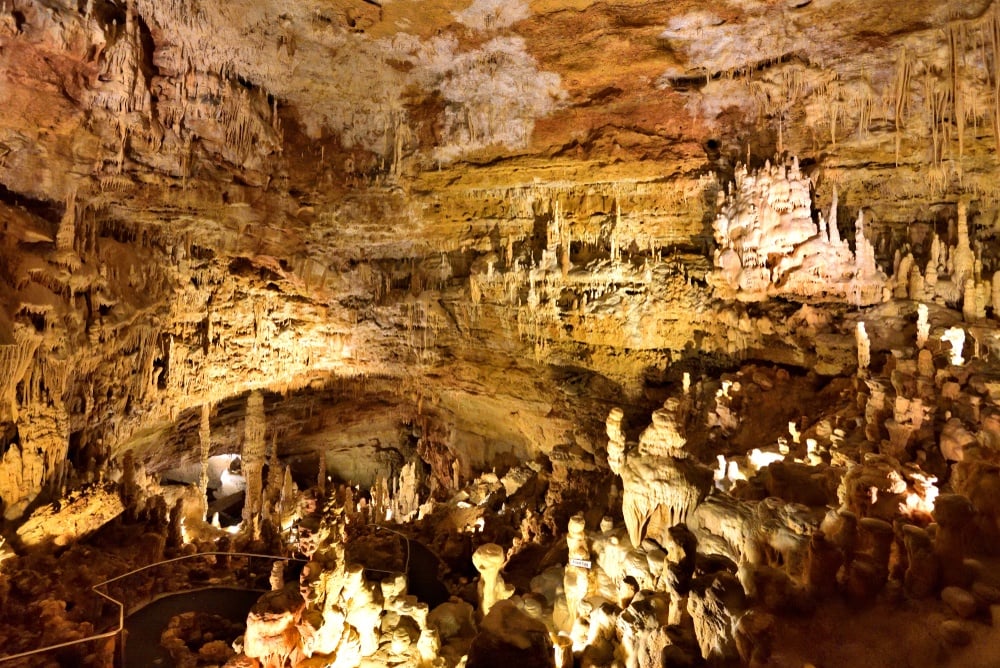 Natural Bridge Caverns is one of the more adventurous things to do in San Antonio if you're claustrophobic. But seriously: they're super cool. These set of caves 180 feet below the surface of the Earth were discovered in the 1960s by four college students (sounds like the start of a horror movie) and today can be explored via a helpful guide.
There's cathedral-like interiors, stunning stalagmites and stalactites, and even the chance to squeeze through some narrow spaces. All just 30 minutes from downtown San Antonio.
3.  Gawp at the views from the Tower of the Americas
Who doesn't love a good view? We know we're always up for one. And if that sounds like you too, we'd recommend the amazing Tower of the Americas – the tallest building in San Antonio (750 feet) and formerly the tallest in the USA! Built by architect O'Neil Ford, it was commissioned for the 1968 World Fair in San Antonio and is decidedly '60s. Instagrammers, take note of this hip thing to do in San Antonio. There's a restaurant at the top, but for us, it's all about the views and the architecture!
FIRST TIME IN SAN ANTONIO
Riverwalk
The Riverwalk is a neighbourhood nestled at the centre of downtown San Antonio. It is one of the best places to stay in the city because it's close to great bars and delicious restaurants.
Places to visit:
Admire the decoration and the architecture of the ornate Majestic Theatre.
Dine on delicious local cuisine at The Esquire Tavern.
Enjoy great works of art at the Briscoe Western Art Museum.
4. Be amazed by the San Antonio Missions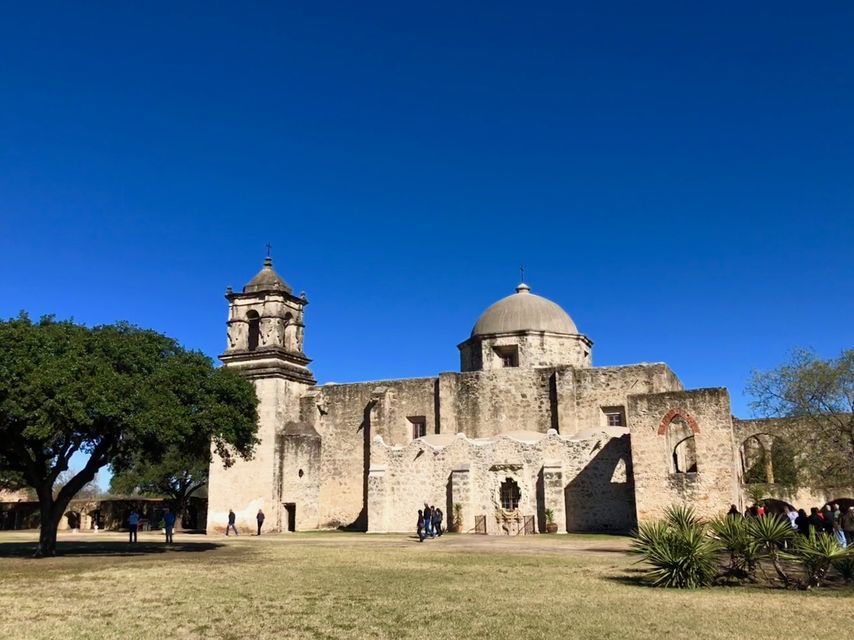 One of the biggest historical draws of San Antonio is, of course, the Alamo. This and all the other Catholic missions in San Antonio are the only UNESCO World Heritage Sites in all of Texas, which is pretty mad because Texas is huge! These are 300-year-old chapels, basically, one of which became the setting for one of the most famous battles in US history: Battle of the Alamo. You can learn all about that when you get here! There are four others: Mission Concepcion, Mission San Jose, Misson San Juan and Mission Espada, situated in the city's Historic District.
5. Have lunch along the famous River Walk
The River Walk is basically one of the most essential things to do in San Antonio. Not only is this riverside area particularly attractive, it's also a great spot to stop for a bite to eat as many of the best restaurants in San Antonio are located here.
The San Antonio River runs through here lined by beautiful old buildings housing shops, restaurants and bars. Chill with a cocktail under a colorful sunshade and nibble on some Tex-Mex fare as you watch people and boats packed with sightseers go by. It's pretty touristy, but it's also pretty nice – that's why it's such a popular thing to do in San Antonio.
6. Get zen at the Japanese Tea Garden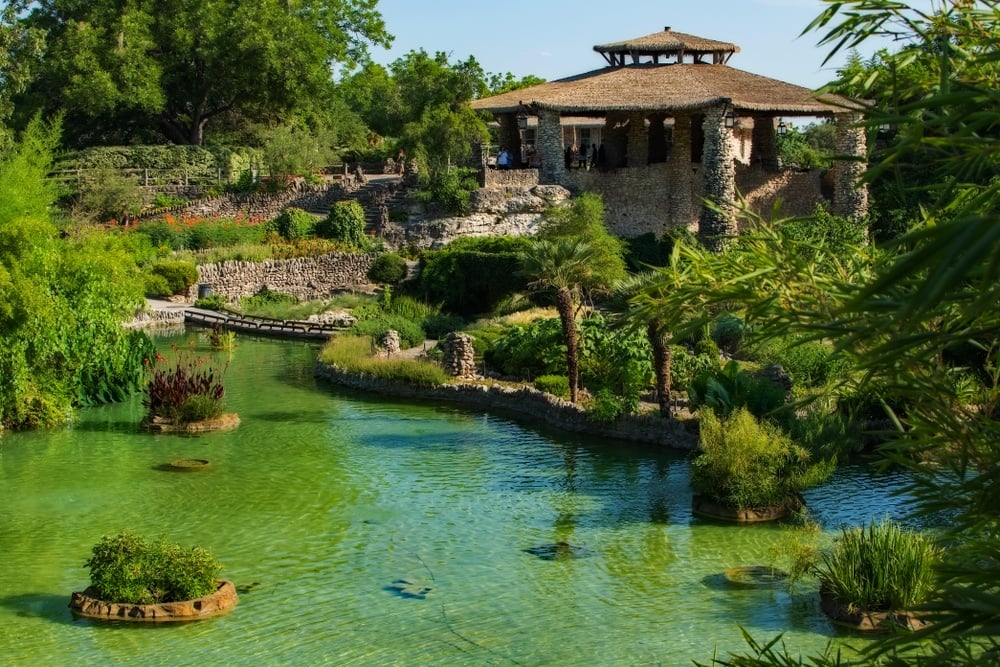 For much more of a relaxed time, make a beeline to the Japanese Tea Garden. This is a beautifully sculpted park that's basically a slice of chill in the middle of the city. Located in a former quarry, this park actually has a history of over 90 years, though it was only reopened in 2008. Easily one of the best things to do in San Antonio in spring, or summer, the flower-lined trails here, the bamboo, the 600-foot waterfall gushing into the koi pond are best viewed in the sun. B-e-a-u-t-i-f-u-l.
More Great Resources
7. Take a trip to Texas Hill County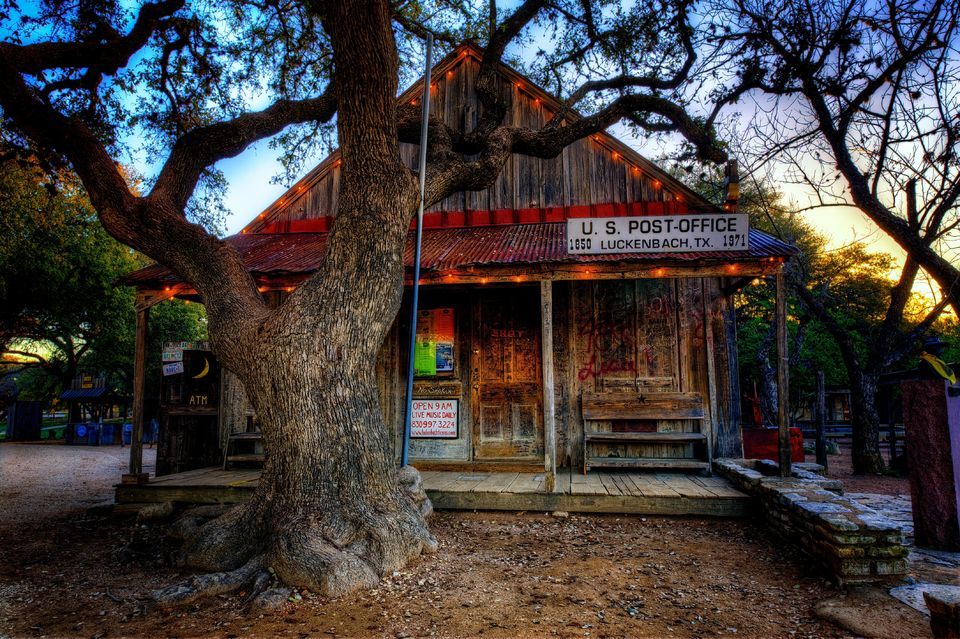 It wouldn't be a trip to Texass without seeing some of the Texas countryside. So for one of the best day trips from San Antonio, you've got to see the rolling hills of the countryside, the lavender, the wineries – and the ranches, of course. You wouldn't associate this place with wine, but there's a ton of vineyards! The award-winning winemakers (say that 10 times quickly) of Sister Creek Vineyards is a good place to whet your appetite with some taste-testing. Elsewhere, get a taste of jingly-jangly country music at Luckenbach, a charming country town established in 1849 – one of the oldest in the state!
8. Get stuck into Mexican food at the Historic Market Square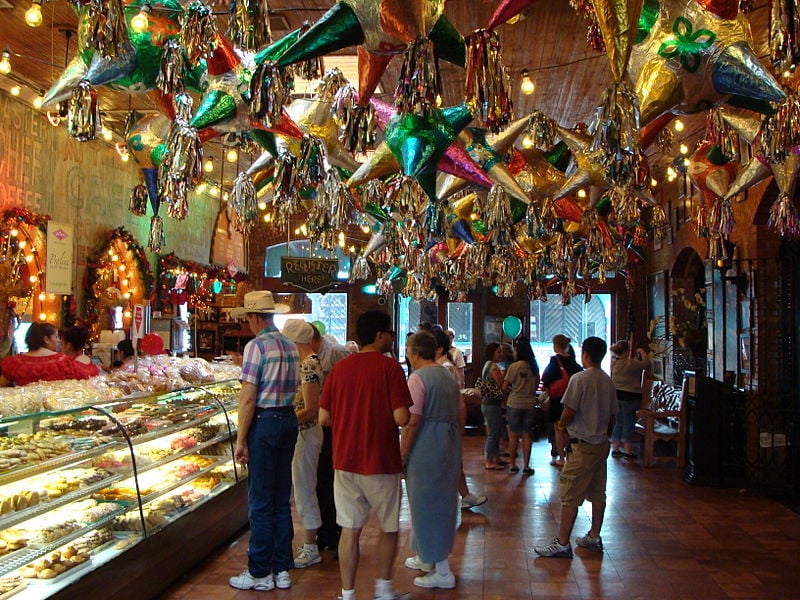 Formerly part of Mexico, and still on the border with its southern neighbour, San Antonio is a no-brainer when it comes to sampling some Mexican flavours and food. For foodies, and anyone who's hungry really, we whole-heartedly recommend that you check out El Mercado (that's Spanish for market). It's the largest Mexican market in the whole of the USA!
Here you can enjoy the tastes, sights and sounds of Mexico. It's not just street food, but there's some gourmet stuff going on here too. Definitely have a margarita or two, as well. Even if you're flying solo, this is one of the best things to do in San Antonio by yourself, just getting lost in all the colours and smells of this place. Mmm-mm!
9. See the amazing plants in the Botanical Garden
Spread across 38 acres with a pond, a conservatory for tropical plants and a very nice cafe, the San Antonio Botanical Garden is an inspiring spot and actually one of the more non-touristy things to do in San Antonio. There's a ton of little walkways to lead you around this beaut of a spot. Stay a couple of hours, or stay all day, in this otherworldly place – there's honestly loads to explore. It's a pretty unique place for a city that's overshadowed by the Alamo and the River Walk, so anybody looking for things to do in San Antonio off the beaten track (especially on a hot day), this is the place.
Photographers, botanists and succulent-loving Instagrammers will have an absolute field day here.
10.  Get a little cultural at the San Antonio Museum of Art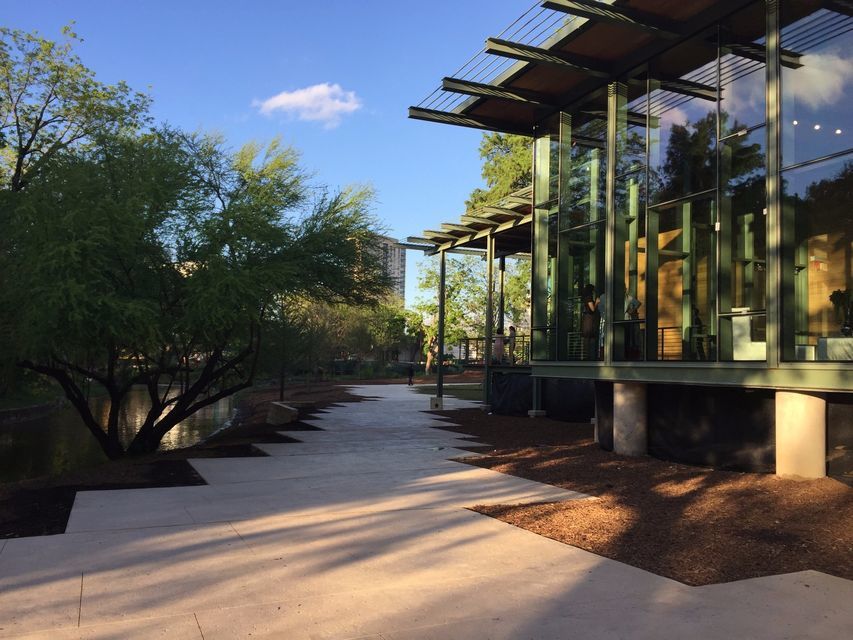 If you're at the River Walk and feel like escaping the crowds for a moment, then San Antonio Museum of Art (or SAMA) can be your cultural, creative oasis. It's a bunch of different exhibitions set in a series of historic buildings that make up the former Lone Star Brewery Complex (1884). You'll find all kinds of stuff here from contemporary ceramics to classical Chinese painting. It's very international. So if that's your vibe, we reckon you should check it out. Even better: it's perfect as something to do in San Antonio when it rains!
Unusual Things to Do in San Antonio
11. Go on a scavenger hunt around the city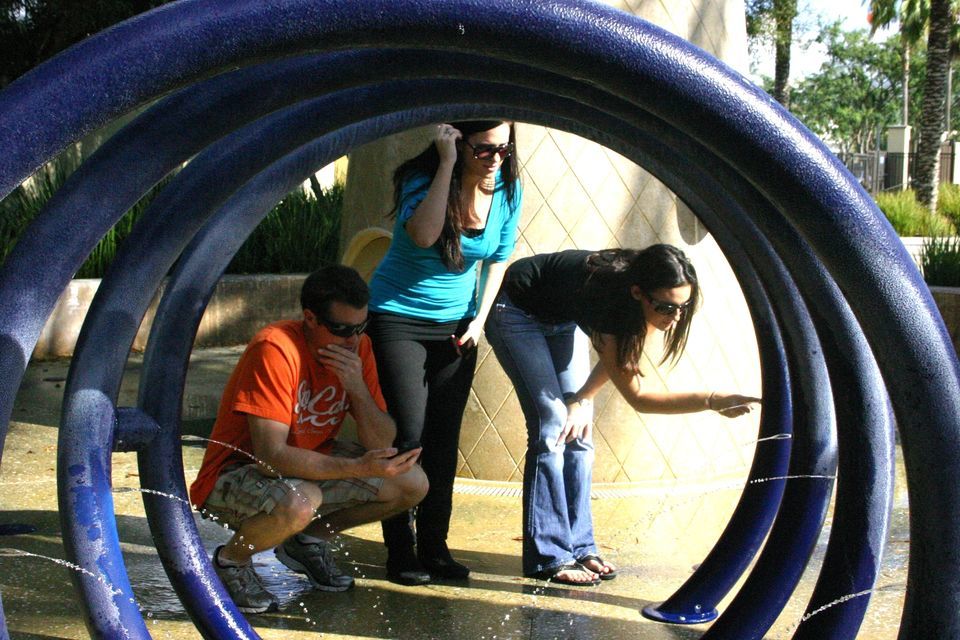 Remember scavenger hunts from school? You'd have to come back with, like, a paperclip, a feather and a rock and though it was super fun there never seemed to be much point to them. But the folks at Urban Adventure Quest have got it sorted. This is a really unusual thing to do in San Antonio and one of the funnest ways to see the city. Summon your inner child with smartphone in hand, digging up clues and finding hidden historic spots. It's interesting, it's fun, and it's a pretty unique way to discover just what the heck is going on with San Antonio's history. There's loads to see.
12. Check out some pretty impressive toilet seats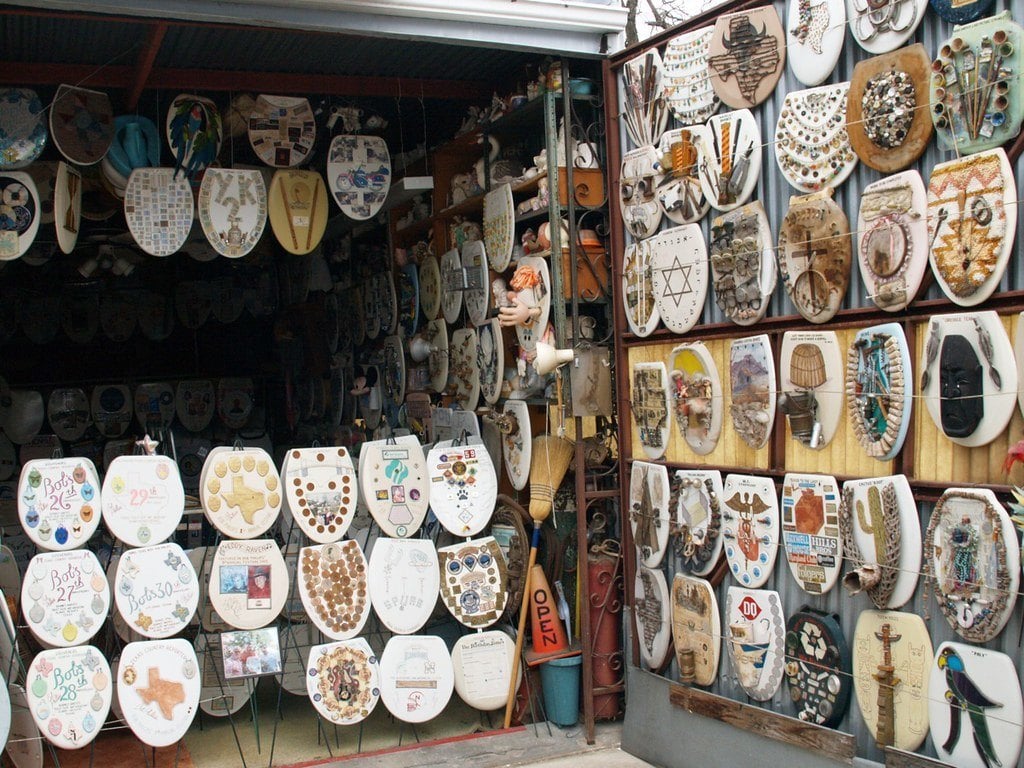 We feel like every list of things to do in whatever place needs to include something toilet based. And we've got you covered with an usual thing to do in San Antonio: a toilet seat museum (using the word museum very loosely here). Officially called Barney Smith's Toilet Seat Museum, the owner himself is a former plumber turned outsider artist who now turns his hand at painting and decorating toilet seat covers.
It's a great slice of American quirkiness and free spirit that has to be seen to be believed. It's actually a pretty amazing place: Barney is a great guy! Note that there are no actual working toilets here, it's art. And you wouldn't relieve yourself on the Mona Lisa would you?
13. Take a selfie with the worlds largest cowboy boots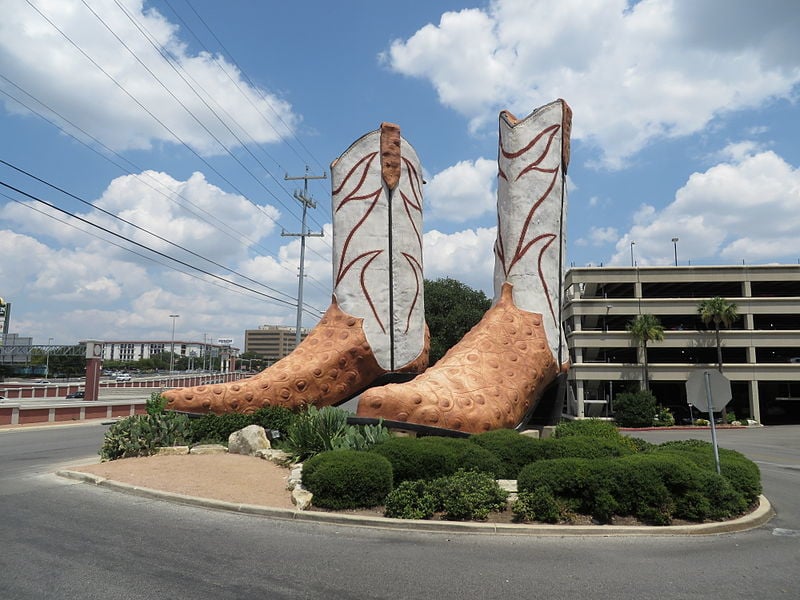 Texas is known as the American state where everything's somehow… bigger. The land area, the food portions – and the cowboy boots. Specifically, we're talking the world's largest cowboy boots. And it's no bogus claim, either: these were officially recognised by Guinness World Records in 2016 as such. So for one of the more unusual things to do in San Antonio, head to the Lone Star Mall and find the big boots themselves (can't miss 'em). They were created in 1979 by Bob Wade and stand over 35 feet tall. It would be rude not to take a selfie in front of these monsters.
Safety in San Antonio
Even with the loose gun control laws that Texas is known for, San Antonio is a surprisingly safe place. Most of the time you'll be completely fine in this city with absolutely nothing to worry about.
The busy River Walk area is perfectly ok to stroll around, even at night time, but we'd still recommend that you keep alert of suspicious characters – these might end up being pickpockets. Or, better yet, invest in a money belt!
Most areas in the city are pretty safe. Of course, being a big city, there are areas that are more sketchy than others. Common sense things still apply: like not walking into neighbourhoods that don't seem right, not carrying around all your valuables at once, and not leaving things on display in your car or having your bag hanging on the back of a chair. Simple.
Finally: watch out for the heat! Keep hydrated, apply plenty of sunscreen, cover up and don't go out in the midday sun. You do not want heatstroke! Read our tips for traveling safely before you fly and always get travel insurance. Check out our roundup of the best travel insurance.
Travel with peace of mind. Travel WITH a security belt.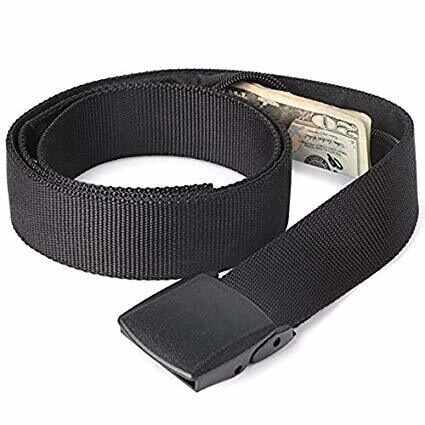 Custom-designed BY the Broke Backpacker FOR broke backpacking, the Active Roots Security Belt will keep your valuables safe no matter where you go.
It looks exactly like a normal belt except for a SECRET interior pocket perfectly designed to hide a wad of cash or a passport copy. Never get caught with your pants down again! (Unless you want to.)
Check on Amazon
Things to Do in San Antonio at Night
14. Dig into the city's amazing food scene
Texas is well known for its food, the huge portions, the Mexican and Tex-Mex cuisines that point back to its history that at one point saw this state actually an independent republic! San Antonio is the place to explore it all. There's an amazing food scene here – one that hots up after dark, which is totally the time you should be exploring its bodegas, burger joints and dive bars.
More than just something to do in San Antonio at night, touring around the best eateries in town is a spiritual quest for foodies: puffy tacos at Ray's Drive Inn, sea scallops at George's Bank, fried chicken steak at DeWese's Tip Top Cafe (since 1838!). It's a veritable pilgrimage. Eat your way into an inflated stomach with gusto!
15.  Get spooked out on a haunted bar tour
To be fair, San Antonio has a fair claim to its hauntings. We mean, this was basically a battlefield at one point, and there are tons of old buildings here. Suspiciously, a lot of the haunted places in San Antonio are bars! Cadillac Bar, for example, is built on a burial ground; the owners had to "seal" the basement because of all spirits wandering around. The Gunther Hotel (complete with cocktails at Bar 414) is haunted by a murderer. Ernie's Bar at the Crockett Hotel is plagued by ghosts from past wars.
One of the coolest things to do in San Antonio at night – if not just for the amazing interiors of the bars. You'll probably see something if you drink enough.
16. Go and watch a performance at the Tobin Center for the Performing Arts
To see more of the artsy side of San Antonio, away from the scary spooks of history, we'd recommend heading to the Tobin Center for the Performing Arts for something fun and cultural to do in San Antonio at night. Built-in 1926 this historic venue is the place to be for concerts, ballet performances and loads of other acts. Its claims to fame include a gig by Paul McCartney and even a presidential election speech by Barack Obama. Comedy nights, musicals like Mary Poppins and a ton of other things await you at this storied venue along the River Walk.
Where to Stay in San Antonio
Looking for a specific place to stay? These are our highest recommendations for places to stay in San Antonio.
Best Budget Hotel in San Antonio: Super 8 by Wyndham San Antonio Fiesta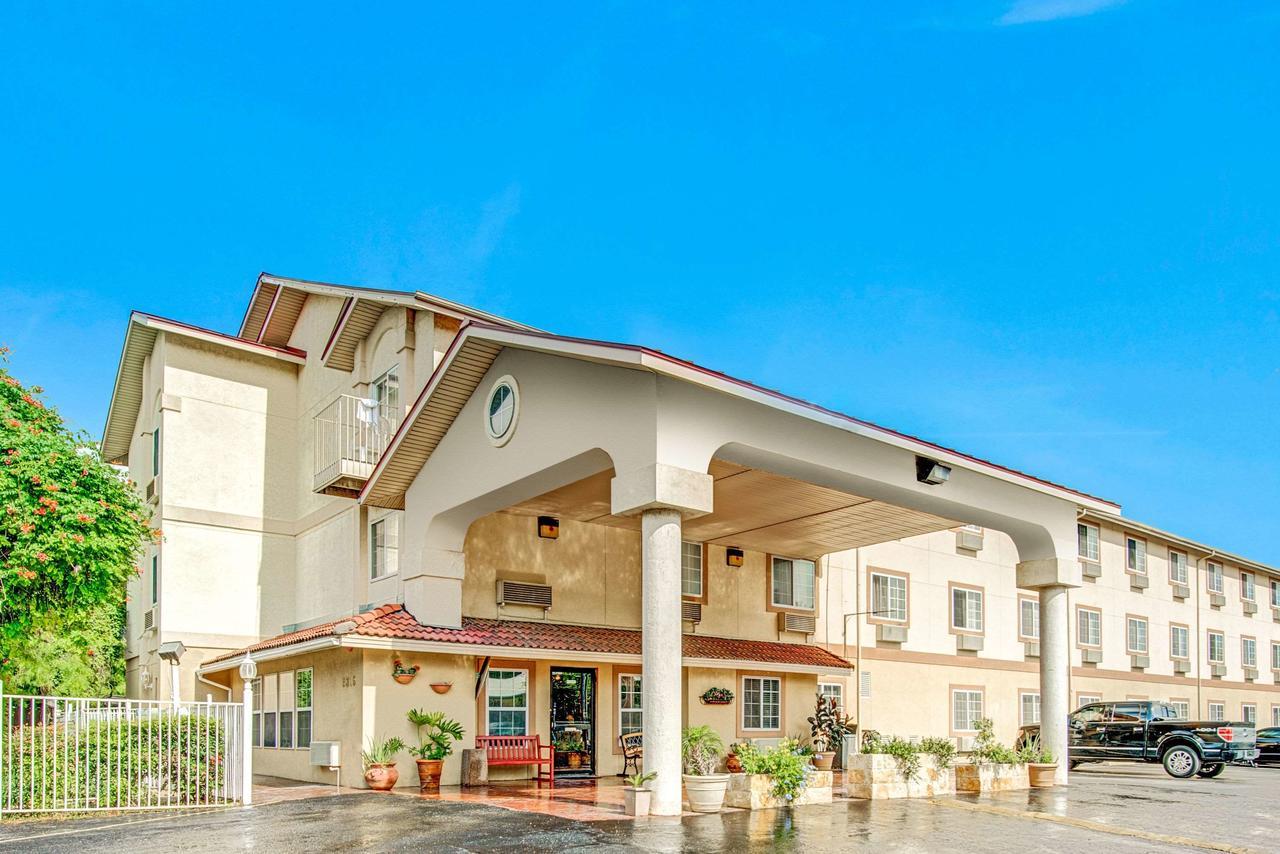 This charming two-star hotel is our pick for the best budget hotel because of its clean rooms and comfortable beds. It is ideally located in San Antonio and is a short drive from the Six Flags theme park. Guests can access laundry facilities and an outdoor swimming pool.
Best Airbnb in San Antonio: Charming Compact Room in Downtown
Located only 5 minutes walk away from Downtown, this cosy bedroom is ideal for first time visitors in San Antonio. Well appointed, it comes with a comfortable queen size bed and with all the basic ammenities and essentials you'll need to enjoy a very pleasant stay.
Best Hotel in San Antonio: La Quinta Inn & Suites San Antonio Downtown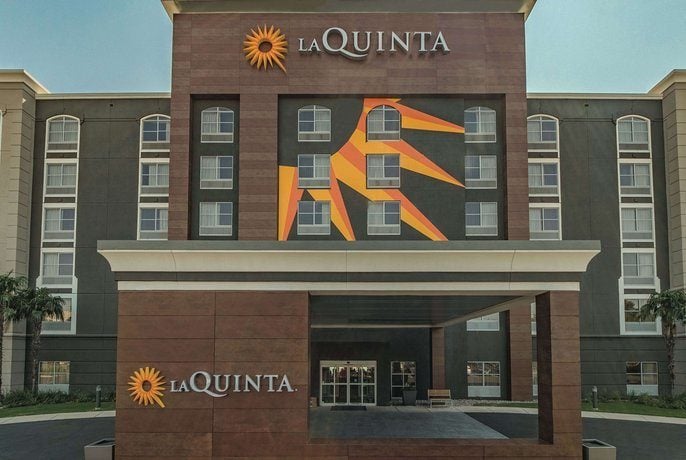 This is our pick for where the best hotel because it is ideally located for sightseeing and exploring San Antonio. The Riverwalk, the Alamo and other famous tourist attractions are all within walking distance. This three-star hotel has comfortable beds, free wifi and a beautiful outdoor swimming pool.
Romantic Things to Do in San Antonio
17. Go art hunting and finish up with dinner in the Pearl District
What better way for you and your partner to spend a day than shopping around for a new piece of art for your abode? Well, if you're into art and interior design, this works a whole lot better. Otherwise, wandering around the cool area of the Pearl District is still a pretty romantic thing to do in San Antonio. A former industrial area, exploring this place is up there as one of the cool things to do in San Antonio, with its re-purposed, regenerated buildings now housing bars, boutiques, and bijoux booksellers. Listen to live music at the market, shop around, and cap the night with a meal at hip restaurant Cured.
18. Take a trip to Fredricksburg
Had enough of the Alamo? Sauntered along the River Walk one too many times? Feel like getting out of the city and you've got your own wheels to do it? Then make the 1-hour-something drive 20 miles north to charming Fredericksburg. Settled in the mid-1800s by German pioneers there's historic houses, an old German church and more remnants of the old heritage – even bratwurst and sauerkrat galore!
One of the most romantic things to do in San Antonio is to take a day trip to Fredericksburg, browse the boutiques, fill up on food, walk arm in arm down the leafy streets. You could even make a night of it. Pro tip: avoid on weekends, when it gets packed with daytrippers.
Always Be Insured
Don't forget to sort your travel insurance! We've put together a roundup of Travel Insurance for backpackers – check it out here, or if you're low on time, get a quote from World Nomads, our favorite travel insurance provider.
Getting an estimate from World Nomads is simple – just click the button or image below, fill out the necessary info, and you're on your way!

Best Free Things to Do in San Antonio
19. Head to the city's annual Fiesta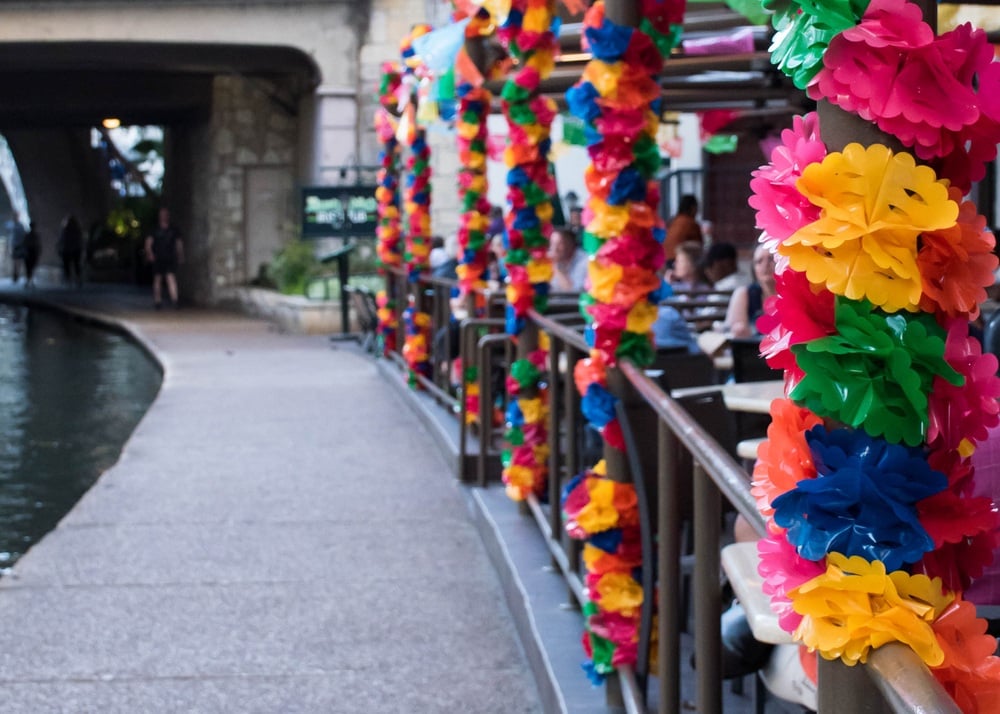 This may be a seasonal thing, but boy is it ever good. You should definitely try to make your trip to San Antonio during April, which is when the huge Fiesta goes down. This annual festival dates back to 1891 and celebrates the memorial of the Battles of the Alamo and San Jacinto. Over 3 million people cluster in the city to see this incredible festival. There are fireworks, parades, boat flotillas along the river, music, and it's the only festival in the US that's produced by women.
La San Antonio Fiesta one of the best free things to do in San Antonio because, well, it costs nothing and it's awesome. A definite, definite must-see.
20. Go on a hike in Brackenridge Park
For a more outdoors-y thing to do in San Antonio, we'd recommend Brackenridge Park. There are a few green spaces dotted around this Texan city, but none like this one: it's simple to get to, it's very pleasant, and the trails are easy enough that anyone can do them. As far as free things to do in San Antonio go, taking a stroll around the 343-acre Brackenridge Park and walking its sun-dappled pathways wonderful. Think picnics, beating a hasty retreat to the shade on a sweltering day, biking, and simply soaking up some greenery.
21. Be amazed by the largest mosaic of the Virgin Mary in the world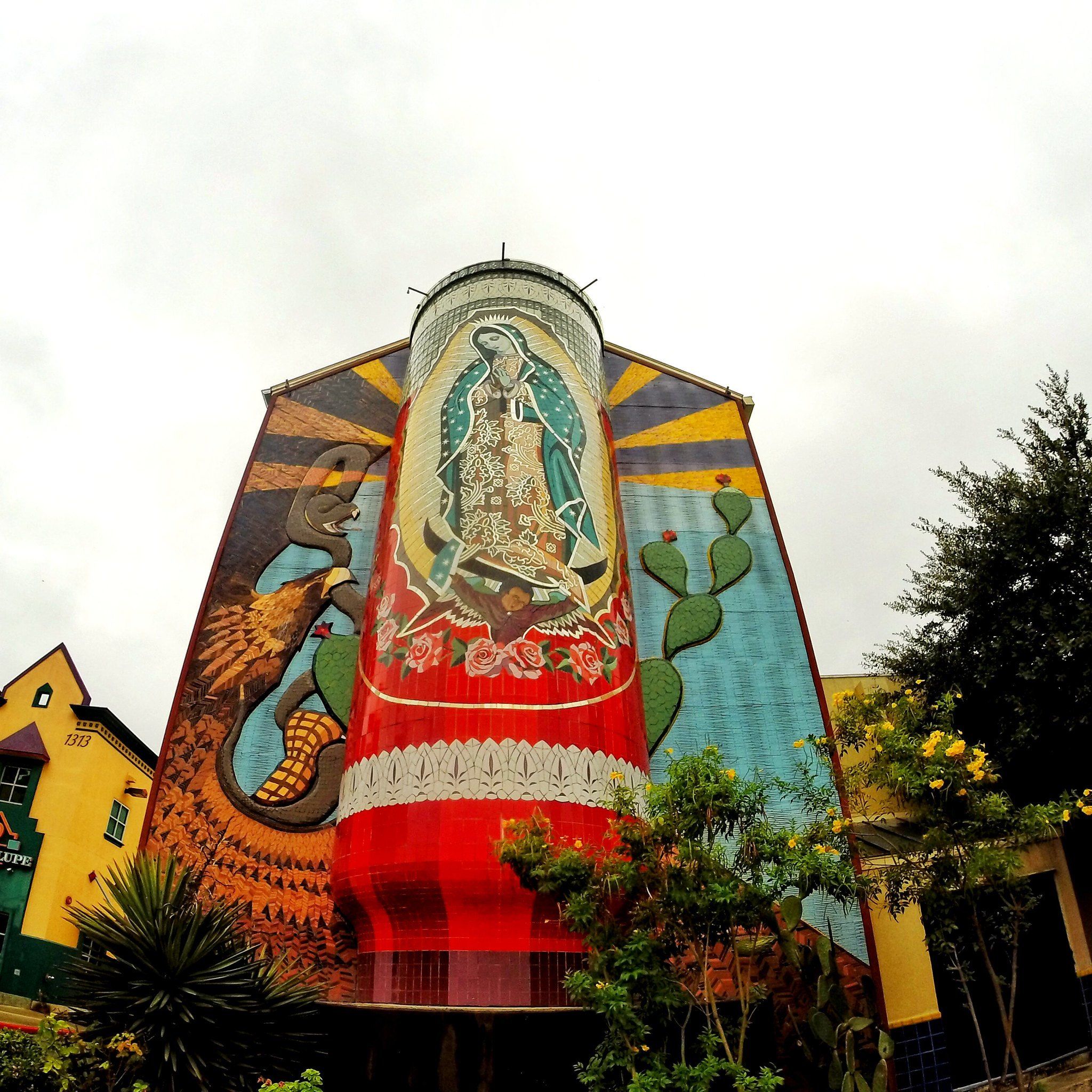 You've seen the biggest cowboy boots in the world: now it's time for you to see the world's largest mosaic of the Virgin Mary. Yep: the biggest one on this planet. Located at the Guadalupe Cultural Arts Center, this colourful work of art is a labour of love by artist Jesse Trevino that spans a whopping four storeys.
It represents a mix of Mexican and American history and is supposed to look like a giant votive candle. It's actually pretty impressive. Cameras at the ready, Insta fiends: it's one of the best free things to do in San Antonio that'll have your photos lighting up without a single filter.
Books to Read in San Antonio
Here are some of my favorite books to read in USA:
The Backpacker Bible – Get it for free! Learn how to ditch your desk and travel the world on just $10 a day whilst building a life of long-term travel with an online income. To inspire and help the next generation of Broke Backpackers, you can now grab 'How to Travel the World on $10 a Day' for free! Get your copy here.
The Great Gatsby – Fitzgerald's best book. Concerns the enigmatic and wealthy Jay Gatsby, his adventures, and his obsession with a woman.
Catcher in the Rye – One of the quintessential tales of growing up. Follows a young boy from Pennsylvania who runs away to New York in an open act of rebellion.
Gone with the Wind – An American classic and an epic about the Civil War and its consequences as told from the perspectives of two Southern lovers.
Best Things to Do in San Antonio with Kids
22. Get adventurous and see the sights on a kayak
Kayaking on the river is one of the best things to do in San Antonio with kids. Even if you've never tried kayaking before, there are tour companies here who can sort you out. This is one of the best nature-y things to do in San Antonio. There's a ton of wildlife that calls the waterside trees and banks of the San Antonio River home so pick up your paddle and come see! Don't forget sunhats and sunscreen!
23. Have some serious fun at the DoSeum
So we know kayaking is fun but dang: the DoSeum is awesome. As you might be able to tell from the name, this isn't really a museum – it's more of a hands-on experience where you get to learn, explore and create. They claim they're a "charging station to power up kids." There are different areas to explore: Little Town (complete with taco truck and veterinarian), Spy Academy and Big Outdoors.
Our favorite thing here is the musical staircase, which is pretty fun. You'll want this place to be in your own town since it does such a good job of keeping younger kids very, very entertained!
Other Unmissable Things to Do in San Antonio
24. See literally everything by bus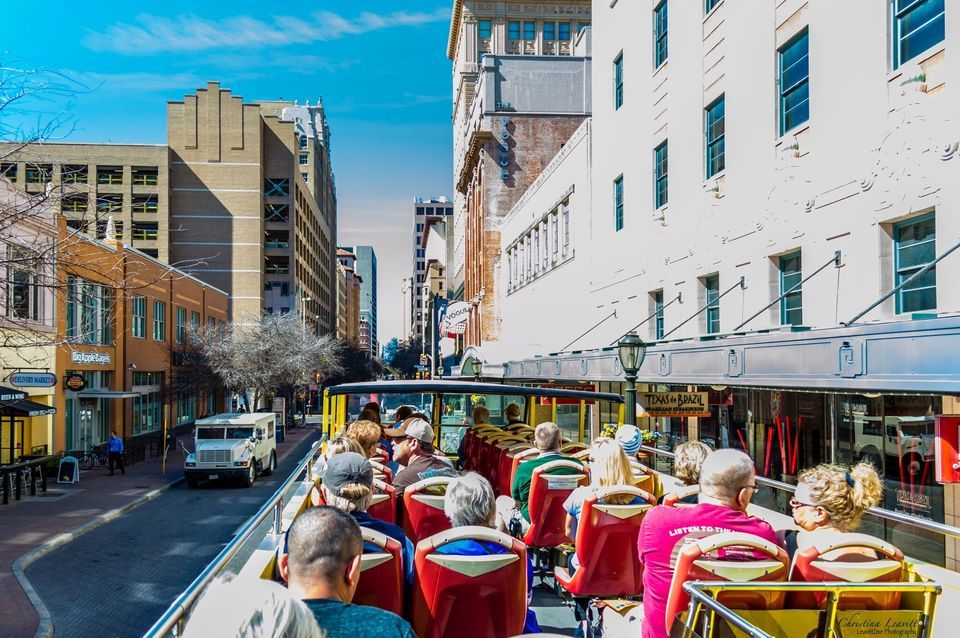 If you've only got a couple of days in San Antonio and you're one of those people who really like to try and see absolutely everything, we'd recommend the hop-on-hop-off bus. An essential thing to do in San Antonio for those strapped for time, you'll get to see every sight in town, with 19 stops in total. From the Tower of the Americas to the Tobin Center and the Alamo, you won't have to walk between them and end up missing things out. You could even pack it into one day if you had to.
The bus runs 8:40am to 5:30pm daily.
25. Sample the different beer (and whiskey) at Ranger Creek Brewing & Distillery
Cure what ails you at this award-winning "brewstillery" with a ton of tastings of the best beer and bourbon in Texas. Ranger Creek Brewing & Distillery have it pretty much sorted for the alcohol connoisseur, with its tasting rooms and even an amazing restaurant where you can get a side of food for your drinking. Founded in 2010, there's a fun Texas atmosphere in the air at this place. Everything is made on-site, from the charred oak barrels to the whiskey inside them! On days that are a bit dodgy weather-wise, this makes for a great thing to do in San Antonio if it rains. Tours are available if you also want to learn.
26. Get your adrenaline pumping on some rapids
This is no family-friendly kayaking: this is some pretty advanced-level kayaking on rapids along the Guadalupe River, a tributary of the San Antonio River. To see just how wild this river gets, we'd recommend finding yourself a guide and throwing yourself (not literally) into a kayak adventure on this storied river.
With one of the longest sections of white water rapids in Texas (that's 75 miles to be exact), and some pretty dramatic scenery, this makes for one of the most adventurous things to do in San Antonio. If you're a fan of the great outdoors, and you've got some experience with tackling rapids, this is going to be perfect for you.
27. See some art in a museum with a difference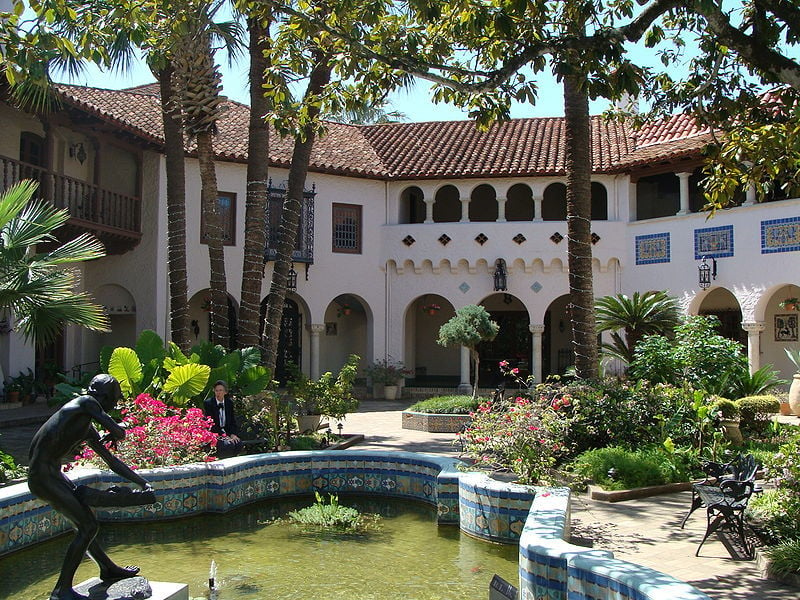 The McNay Art Museum isn't your run of the mill museum space. For starters, it's got a bold claim to fame, in that it was the first modern art museum to open up in Texas (way back in 1954). Secondly, the setting itself is amazing. That's because it's located inside a beautiful early 20th century Spanish Colonial-Revival mansion with 23 acres of land.
And then there's the collection itself. Once the private collection of Marion McNay herself, there's some big names and heavy hitters of the art world here. Starting with her first and most prized piece, Delfino Flores by Diego Rivera, it's got Manets, Picassos, Rodins, Cezannes, Renoir and loads more (over 20,000 pieces). Art hounds should make a beeline for this place: it's one of the best things to do in San Antonio if art is your jam.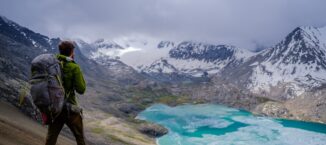 Do You Want to Travel FOREVER??
Then pop your email address in below and we'll send you a FREE copy of 'How to Travel the World on $10 a Day!'
Day Trips from San Antonio
There are plenty of things to do in San Antonio city itself. However, the gods of geography have also placed this cool city in striking distance of a whole lot more cool stuff relatively nearby. Epic nature and famous cities are right on the doorstep, so get yourself on a day trip from San Antonio and explore more of Texas. Here are two of our favourites we think you'll love.
Hit up Houston
Houston, we have no problems: it's super easy to get to this famous city on a day trip from San Antonio. And yes, it's here that you'll find the Space Center Houston. All you'll need to do to get there is catch a Greyhound bus bound for Houston. Easy, see? But you'll have to get up early: the 3 hour journey is no mean feat. But if you want to visit the iconic Space Center, it's a piece of cake. It's direct, for a start.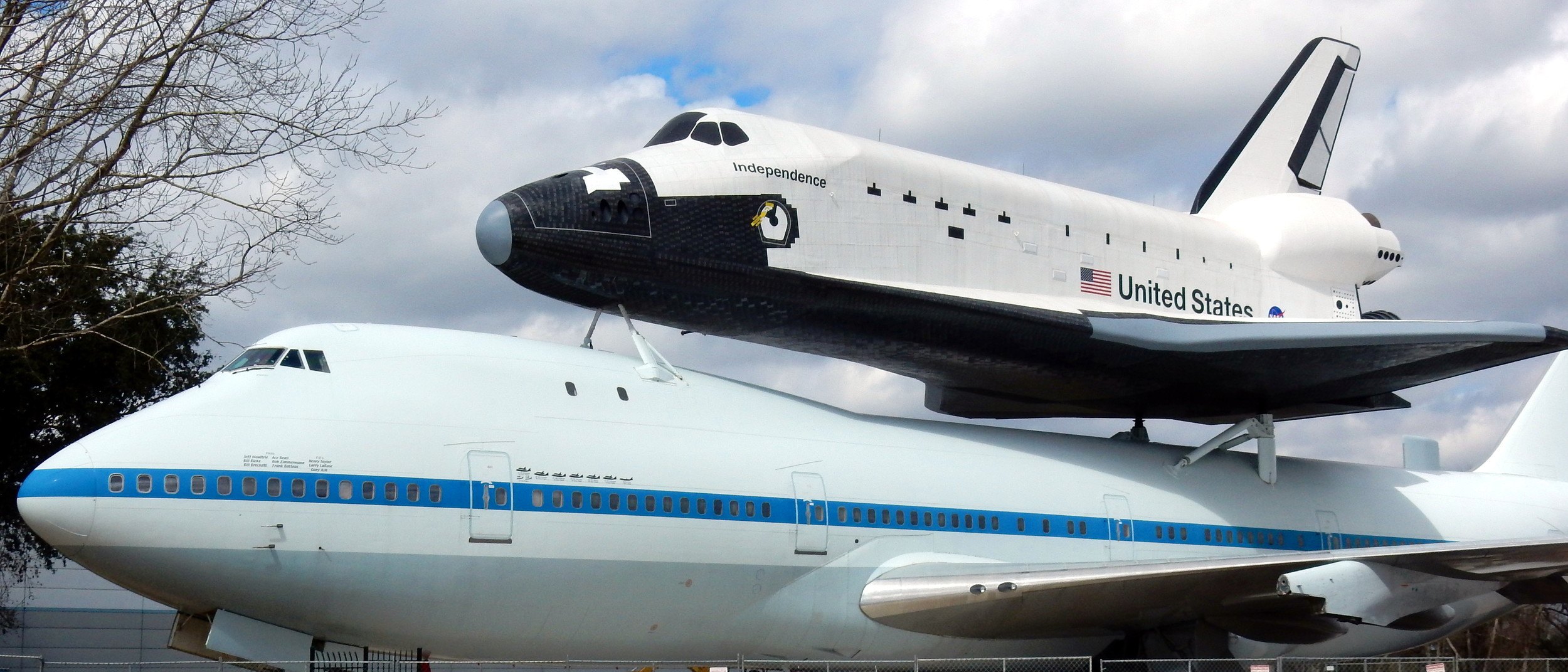 At the legendary Space Center, you'll get to learn all about the USA's Space Program. All the different eras from the '60s, to the iconic moon landings, to now. There's pretty much something for everyone here, from young kids to adults. There are even guided tours if you want to make the most of your trip to Houston.
Get weird in Austin
From San Antonio, it's an hour and 45 minutes on a Greyhound bus to Austin the Texan state capital. You'll get to see all sorts of kooky, hipster stuff in Austin and – if you're there at the right time of year – you'll be able to watch the madness unfold when music-slash-tech festival South by Southwest is held in town. (In 2020 that'll be from 14th to 22nd March).
If the whole hipster thing isn't your scene though, don't worry. Austin, much like a lot of Texas, is famous not just for being weird, but for barbecue. And Tex-Mex cuisine, too. So get your fill of famous BBQ at Terry Black's a la Anthony Bourdain, or else hit up Brown's BBQ for melt in the mouth brisket like you've never, ever tasted. Austin is a foodie's dream – especially if you're a carnivore.
Make sure to snap a photo of yourself in front of the "Greetings From Austin" Mural and spend the afternoon exploring the cafes in the neighborhood around this iconic bit of art.
3 Day San Antonio Itinerary
We may have just given you basically all of the best stuff to do in San Antonio, but the hard part is figuring out just how you're going to fit it all into your schedule. Tricky. But don't worry: we've got you covered. We've created this handy 3 day San Antonio itinerary to give you an idea of how to work it all out, day and night.
Day 1
What better place to start your time in San Antonio than to learn all about the history of this once-Mexican city? We're talking the San Antonio Missions. There are a five in total, all dotted around the San Antonio Historic District. You might not know most of them (Mission Concepcion, Mission San Jose, Misson San Juan, and Mission Espada) but you will have heard of The Alamo.
Famous for being the site of a pivotal siege during the Texas Revolution, Mission Alamo simply needs to be seen. It's one of those unmissable things to do in San Antonio. If you don't see it, you haven't been. After this, the next obvious stop is another big destination of the city: the Riverwalk. Just a 5-minute walk from the Alamo, here you can grab lunch, a drink, and relax before moving on.
Walk off lunch partly along the Riverwalk and head through the grounds of the surrounding Hemisfair Park (just 12 minutes on foot, don't worry). Your next destination is the very, very tall Tower of the Americas. Views of the city at sunset are pretty immense. Or you can dawdle and then have dinner in the tower's revolving restaurant if you're feeling fancy.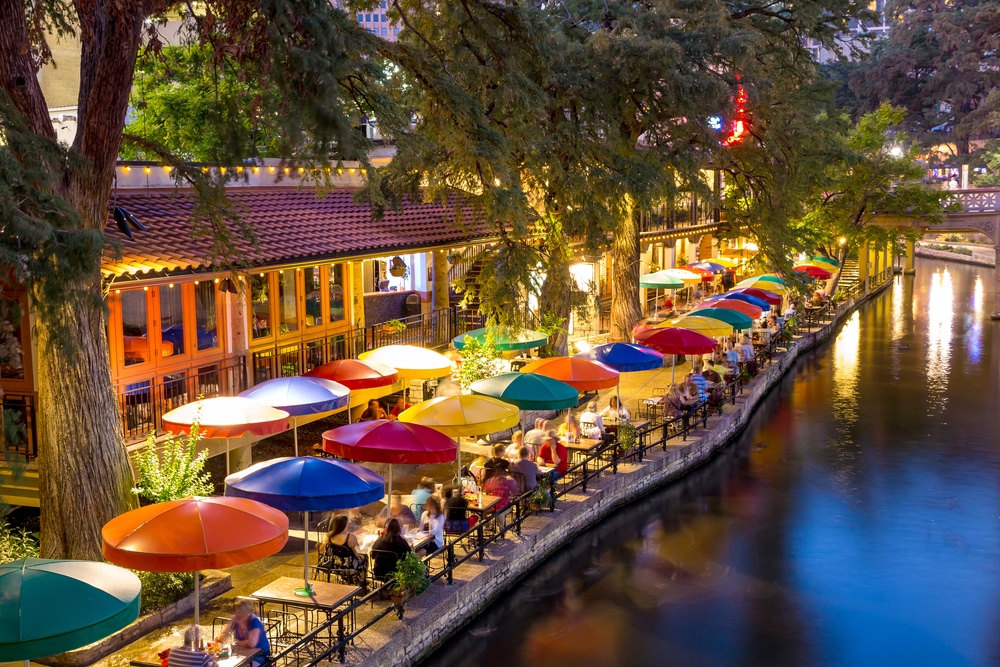 Day 2
For a cool day trip from San Antonio, we'd recommend heading to the Natural Bridge Caverns. This is a mere 35-minute drive away from the city and is a popular subterranean destination. It's pretty easy to see why: the rock formations, stalagmites, and stalactites, spread across the two main caverns themselves are weird and amazing. Get yourself on one of the two tours on offer here and be literally amazed.
Tip: wear comfy shoes. And there's also a cafe on site where you can pick up snacks if you're hungry. Heck, if you're feeling adventurous there's even a zip line you can do in the actual caves!
After your busy day at the caves (trust us, there's a lot to do there), it's time to hit up the Historic Market Square back in San Antonio. Here's the place to pick up all manner of Mexican treats, souvenirs, things to see and do. You can spend actual hours here. If you happen to find yourself here for Mexican Independence Day (16th September), it'll be a veritable party.
As night falls, it's back to the Riverwalk. But not for strolling. Just 10 minutes' walk from the Market Square you can find yourself on a boat floating along the San Antonio River, going under bridges, watching the glimmering city pass by with the trees above you. It's a pretty cool thing to do in San Antonio at night. Pick a waterside bar to watch the river you cruised up for some real romantic ambiance.
Day 3
Opening up at 10 am, your morning schedule begins with San Antonio Museum of Art. With everything from Samurai armour to Ancient Roman statues, the collection here spans an impressive reach of continents and eras. You can really spend a lot of time walking around here simply soaking up all the history. Very, very in-depth. Hot tip: it's free between 10am-12pm on Sundays.
After a coffee at the museum cafe-slash-eatery Tre Trattoria, it's time to go and contemplate everything you've learned at the Japanese Tea Garden. Take the number 8 bus (19 minutes) or, for something a little more fun, hop on one of the public electric scooter for a few dollars and be there in 18 minutes. Wander the paths, spot the koi, and go for yet more snacks (and tea) at the Jingu House Cafe.
Meander some more around the gardens, making sure to take in the waterfall and stopping for a moment of self-reflection at the pavilion. This is the kind of place you think you'd only be for half an hour, but you'll end up being here for longer. Especially for the photo ops alone. You could at this point, feeling very zen, opt to head back to your digs for a freshen up. We know we would.
Start your evening as you mean to continue at the Cadillac Bar. Set in Downtown, this place is full of character and a good spot for Mexican food – and drinks. Stay for more beverages or head onto new watering holes, like the fancy Bar 414 at The Gunther Hotel.
Conclusion
There are literally so many awesome things to do in San Antonio that you either won't have time to do them all, or you'll leave sprint around them and end up tired out, in need of a vacay than when you arrived! We suggest you pace yourself and only go for the things that really suit you. If that means the quirky museums and regenerated neighbourhoods, cool – if it's more about the historic bars and whisky tastings for you, that's cool too.
There's tons to do in San Antonio and it doesn't always mean following the herd to every well-known destination: it's about being free. The Lone Star State wouldn't want it any other way.
---
Find out how YOU can support the site.
We're a big site with a big team and this job isn't always easy. But we do it because we love it – we love providing epic and free content. We love the knowledge that our content keeps you adventuring. We don't ask for money, but if you'd like to find out how you can help the site in more organic ways, click the button below.
Thank you for your support 🙂
And for transparency's sake, please know that some of the links in our content are affiliate links. That means that if you book your accommodation, buy your gear, or sort your insurance through our link, we earn a small commission (at no extra cost to you). That said, we only link to the gear we trust and never recommend services we don't believe are up to scratch. Again, thank you!