Travel
23 UNIQUE Things to Do in Tijuana [in 2021]
The largest city in the Mexican state of Baja California, Tijuana is very famous as a border town separating Mexico from the US. US citizens have been making their way to Tijuana, Mexico for cheap health care or good times for almost 100 years.
Today it remains a thriving cultural centre, complete with red light district and nightlife-strewn Downtown area to match. There's more to it than that, however, and accordingly, there are tons of things to do in Tijuana, Mexico. Tourists visit this city frequently, thanks mostly to its proximity literally on the US-Mexico border, so naturally, there are plenty of things geared towards visitors.
If you want to get off the beaten track, however, and if you're looking for some of the city's hidden gems, then don't worry: it is certainly possible to find cool stuff to do here. Accordingly, we've found a load of unusual things to do in Tijuana that will be sure to keep independent travellers and backpackers alike entertained when they're in the city. Without further ado, let's see what's going on here…
Top Things to Do in Tijuana
If you're backpacking Mexico, stopping over at Tijuana is definitely worth it! From hanging out downtown to Tequila tasting, let's start with a look at the top things to do in the city.
1. Discover the secrets of Downtown Tijuana
Downtown Tijuana is the most happening area of this Mexican city. It's officially known as Colonia Zona Centro and is right next door to the notorious Zona Norte: Tijuana's red light district and one of the largest such areas in North America.
It's in the Downtown area that you'll find the most popular places in the city (especially for tourists), and for good reason. Avenida Revolución is filled with bars, colourful markets, good food, and a lot of people. Exploring this long strip of town is easily one of the most popular things to do in Tijuana Mexico. Fun fact: It's on this road that, apparently, the Caesar Salad was invented.
2. Eat a load of tasty local food
Of course eating your way around the city is one of the best things to do in Tijuana; in fact, this city is fanatical about its food. Here you'll find everything from chic rooftop restaurants to roadside stalls and restaurants – all serving up some delicious, delicious Mexican morsels to try out.
Head to Collectivo Nueve Food Hall in the Downtown area for an avalanche of choice and sample dishes at places like Brasa Taqueria. Alternatively (or, as well) make your way to Estadio Chevron and hit up the street food vendors that gather here from March to August; it's some of the most underrated street food in the country.
FIRST TIME IN TIJUANA MEXICO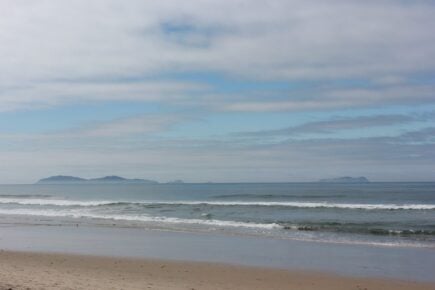 Playas de Tijuana
Whilst Downtown is where it's at in this city, it's not the best place to actually stay in Tijuana. That'll be Playas de Tijuana. Staying at the beach puts you in striking distance of all the fun of the centre of town.
Places to visit:
Stroll the boardwalk along the beach
Spot the murals and street art
Simply chill out on the beach
3. Celebrate local festivals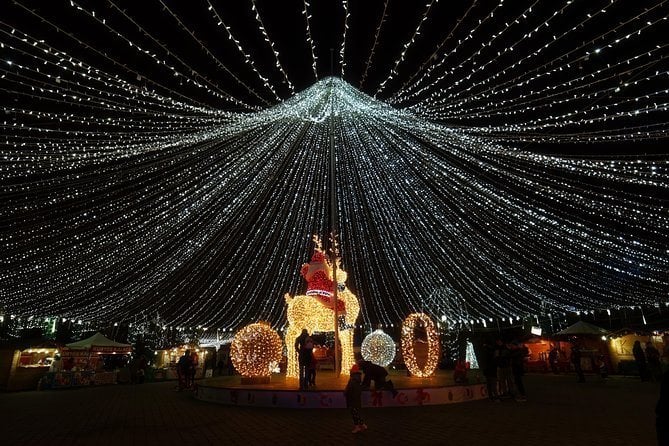 Mexico is very well known for its crazy festivals and Tijuana Mexico is no different. First things first, there's Christmas. Yes, good ol' Christmas is celebrated in Mexico like a true fiesta: lights everywhere, parades, markets, plenty of food to chow down on, and did we mention lights There's the lesser-known Entijuanarte, which features colourful decorations adorning the city in October.
And, of course, there's Dia de Muertos – or "Day of the Dead", which is probably the most famous Mexican festival; taking place in late October/early November, Tijuana's rendition of the festival is nothing short of awesome. Check the calendar before you go so that you're in town for some of the coolest things to do in Tijuana.
4. Go shopping at the vibrant Mercado Hidalgo
The Mercado Hidalgo is one of those markets that you simply have to go to if you want to experience Mexican culture in market form: it's amazing. Selling everything from electricals and cosmetics, to a whole mountain of foodstuffs, this place is truly a sensory overload and exploring it is one of the quintessential things to do in Tijuana.
Namely, you should check out the fruit. You're going to be able to find a whole range of fruit here, piles and piles of fruit, many of which you've probably never even heard of let alone seen. And when you're flagging? Don't worry, this is Mexico: you'll find food stands selling things like tamales to keep you going. You'll find Mercado Hidalgo in Zona Urbana Rio.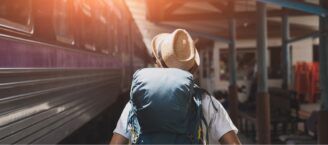 Unlock the The Broke Backpacker's GREATEST Travel Secrets
Sign up for The Broke Backpacker Newsletter to receive weekly tips on how to travel on a budget + a FREE copy of The Backpacker Bible!
5. Try a little local tequila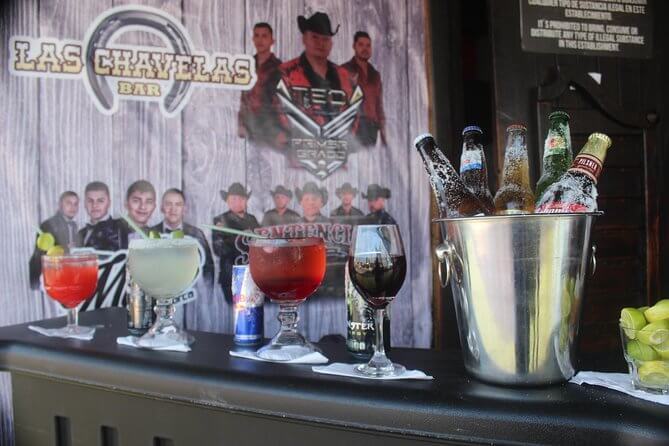 Tequila is just about as ubiquitous as a national alcohol as you can get; mezcal, its stronger cousin, is a close second. If you're at all a fan of alcoholic beverages, exploring the world of tequila and mezcal will be one of your favourite things to do in Tijuana.
But where to start? First off, you should try out the rattlesnake tequila at El Museo. Or you could head to Dandy del Sur Cantina for some speciality tastings. Alternatively, you could make a beeline to Mama Tequila, who serve up around 30 brands of tequila and only tequila (try the locally bottled Montana Azul or the Hornitos Reposado). Do some research and get out there!
6. Soak up culture at the Tijuana Cultural Center
You might have been able to guess that somewhere called the Tijuana Cultural Center is going to be the place to learn about the culture in Tijuana. Aside from markets and tequila tastings, culture is something you don't have to eat or drink: you can just go and read about it if you're getting full up. Known as the CECUT this is a complex of galleries, theatres, museums and (of course) restaurants.
Set in this futuristic dome sort of thing and located in Zona Rio, this place opened up in 1982 and is now an institution of the city. Make sure you visit for one of the best things to do in Tijuana Mexico (especially if it's raining). Stroll through the Jardin Caracol with all its sculptures, wander the esplanade, browse the bookshop, catch a movie at the theatre – it's all here.
Unusual Things to Do in Tijuana
There are a lot of visitors from the US in Tijuana. In case you need to get away from the crowds then check out these unusual things to do in Tijuana.
7. Face your fears and go swimming with sharks
Not something you'd imagine yourself doing just a stone's throw from the US border (most people just want to visit for a spot of Mexican culture), swimming with sharks has got to be one of the most unusual things to do in Tijuana. Actually, it's probably one of the most adventurous things you could be getting up to.
It's not the "scary" kind of shark, though. The Pacific Ocean off Tijuana's coast, specifically the Bahia de Los Angeles, plays host to whale shark from June to December and it's possible to swim with them, but we would say it's much better to go with a certified guide than by yourself.  It's one of the few sites in the world where whale shark, the world's largest fish, actually gather. Come have a swim and meet them yourself!
8. Marvel at Mexican Lucha Libre
If you think of all the most well known Mexican exports, along with food and tequila, Lucha Libre – or "Mexican wrestling" – is definitely one of the top things about Mexican culture that people tend to know about. For more of a chance to get into the Lucha Libre and learn about Mexico's most popular sport, head to MULLME, the Museo de La Lucha Libre Mexicana.
It's super cool. A must-visit in the Downtown area, this is a unique place where you can learn about the history of the sport. You get to see a bunch of Lucha Libre masks, and even pick up a few mementoes for yourself. It's a hidden gem and easily one of the coolest things to do in Tijuana Mexico. Even if you're not a fan, you'll be bound to love it. Bonus: the owner is super knowledgeable, so ask if you've got questions!
9. Stroll down Pasaje Rodriguez
A former run-down alleyway filled with a jumble of curio shops and other who-knows-what-they-sell stores, the Pasaje Rodriguez Arte y Disenyo was set up in 2010. Since then, after the buzz around it died down and the newly opened art galleries lost their way, it has since been again reinvigorated with life.
Today the alleyway, known locally as PRAD, has been inspired by Mexico City's own cultural movement and is now an alternative space where you can sip organic coffee in art cafes, stop by a microbrewery, spend time browsing a record store, or tuck into vegan food. It's that sort of place. Definitely one of the more hipster things to do in Tijuana – still cool though.
Safety in Tijuana
Tijuana may be famous as a centre of nightlife, and other vices – what with its red light district, and all – but surprisingly Tijuana isn't as dangerous as people make out.
Many people make their way to this border town and encounter no trouble whatsoever. However, there are still things to watch out for: Avoid anything drug-related, so-called gentlemen's clubs where you can get ripped off, and be aware of corrupt police. Of course, there may be pick-pockets, opportunist thieves and even violent robbers hanging around darkened, quiet spots and late at night. Stay alert and don't get too drunk.
Playas de Tijuana is clean and safe with plenty of places to eat and drink. Most of the centre of town is fine – just use common sense, watch your belongings, and consider a money belt if you're feeling extra cautious. It's the red light district of Zona Norte where visitors will be most at risk of crime, as well the eastern part of the city – though you won't be visiting that area, we guarantee.
Once considered a dangerous city, Tijuana Mexico may not be perfect today but you can visit without problems. You should be if you behave as you would in any other Latin American city.
Have a look at the Mexico Safety Guide before you fly and always get travel insurance. Check out our roundup of the best travel insurance.
Travel with peace of mind. Travel WITH a security belt.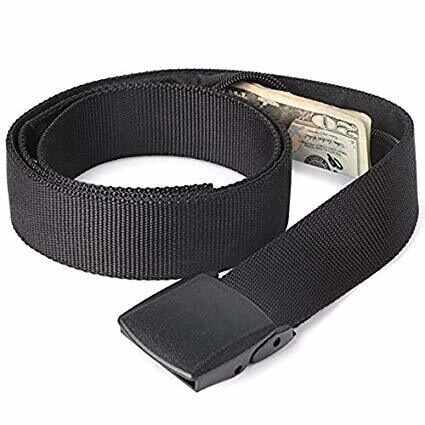 Custom-designed BY the Broke Backpacker FOR broke backpacking, the Active Roots Security Belt will keep your valuables safe no matter where you go.
It looks exactly like a normal belt except for a SECRET interior pocket perfectly designed to hide a wad of cash or a passport copy. Never get caught with your pants down again! (Unless you want to.)
Check on Amazon
Things to Do in Tijuana at Night
In many ways, Tijuana only gets going after the sun has set. Let's look at some of the best things to do in Tijuana at night.
10. See a show at the Audiorama at El Trompo
Pretty much the place to go (or at least one of them) to go see a show in Tijuana, the Audiorama at El Trompo is located in the Trompo Interactive Museum, which itself is set in Parque Morales. This outdoor venue is ideal for concerts and catching one of them is easily one of the best things to do in Tijuana at night.
Clean, safe, good acoustics: there's a lot about Audiorama at El Trompo that ticks the boxes of a good venue. But, basically, if you're someone who loves music, check the schedule online and see what live shows you might be able to catch during your trip to Tijuana.
11. Experience Tijuana's nightlife
Partying in Tijuana isn't just a modern-day phenomenon. This city has a long history of being the place to go for nightlife; ever since the Prohibition era, people have been surging from across the border in the US to get their fix of drinking and dancing. It's one of the most quintessential things to do in Tijuana.
As the stores close and tourists go home, Tijuana Mexico basically turns into the biggest bar in the world: neon lights take over and people dance till dawn in nightclubs. Calle 6 or La Sexta is where you'll find the hipster nightlife scene, featuring cool kids and plenty of bars and restaurants. Tip: where it's "at" changes almost monthly, so do some research before heading out.
12. Get stuck into Tijuana Telefonica Gastro Park
What's the best kind of park to go to, you ask? A gastro park, of course. This is a veritable foodie fiesta in Tijuana, a fun and friendly indoor-outdoor venue where you can get to grips with the culinary culture of the city.
Located in a brick warehouse in a semi-industrial zone of Tijuana, the Telefonica Gastro Park is where chefs-on-the-rise in the city come to show off their prowess. There's even vegan food. Needless to say, if you like food or consider yourself remotely a foodie, you're going to find this is one of the best things to do in Tijuana.
Need to travel to Tijuana on the cheap?
Use Bookaway to find the best deals on bus, plane, train, and ferry tickets. 
It's easy to use and saves you time and money. Once you've arrived, why not use what you've saved to treat yourself to a cold beer and a bite to eat?
Book your transport on Bookaway now to guarantee your seat and for the right price.
Where to Stay in Tijuana
Looking for a specific place to stay? These are our highest recommendations for places to stay in Tijuana.
Best Hostel in Tijuana – North Hostel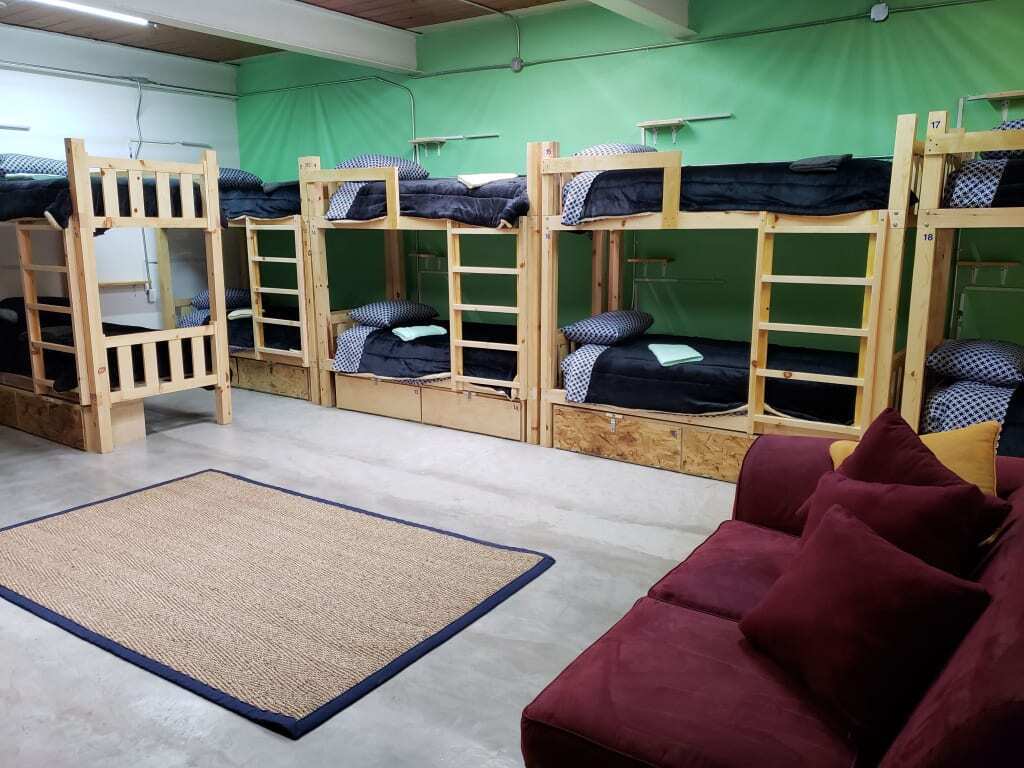 Located just a stone's throw from the beach and boardwalk itself, with all its bars and eateries, this top hostel in Tijuana is a cool place to stay with a welcoming atmosphere. It's a great place to chill out after a busy day exploring the city.
You can meet likeminded travellers from all over the world in the common areas. All rooms have recently been renovated and are known to be very clean and comfy.  If you don't feel like giving up your privacy, the hostel also offers very affordable private rooms.
Best Airbnb in Tijuana – One Bedroom Beachfront Apartment
As the name suggests, this cool Airbnb in Tijuana is right on the beach meaning you can chill out on the balcony here with a sea view. Perfect. As for what you can expect here, there's a kitchen-lounge area where you can make yourself meals as well as a separate bedroom with a king size bed. It feels safe and is a great option for couples. An easy Uber (or bus) ride from here to Downtown Tijuana.
Best Hotel in Tijuana – Del Mar Inn Playas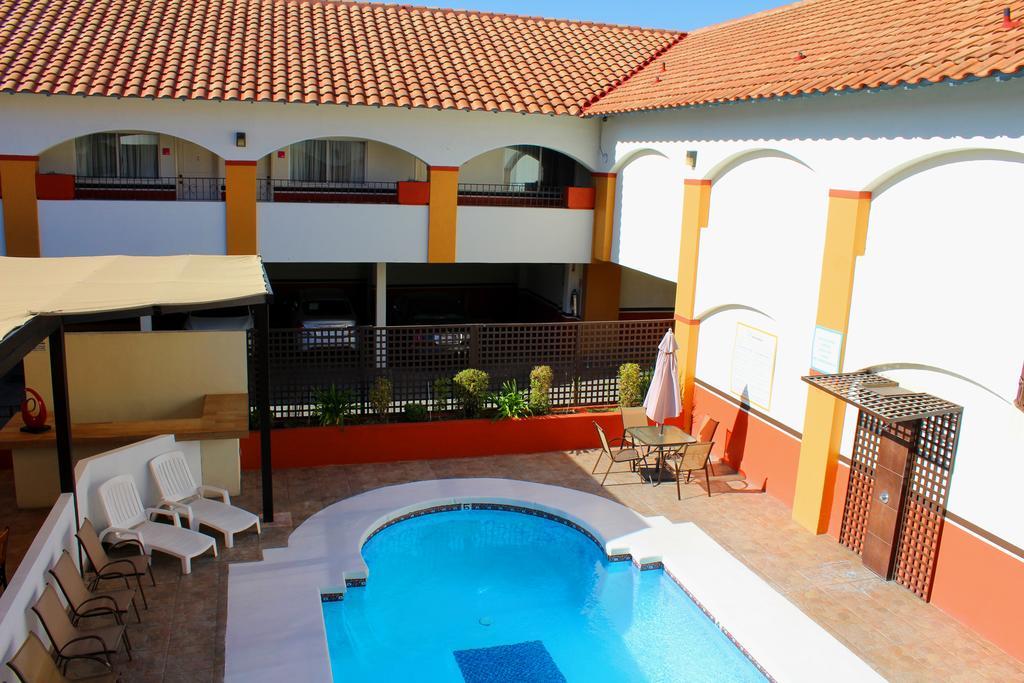 With a great location just three blocks from the beach, Del Mar Inn Playas is a great option for a budget hotel in Tijuana. It's an affordable place to stay, with basic but clean and nicely decorated rooms. There's even courtyard that boasts its very own heated pool, and even an onsite restaurant – though there are a selection of cafes and eateries right on the doorstep. And there's free parking to keep your car safe.
Romantic Things to Do in Tijuana
Tijuana is more renowned for it's decadent, debauchery than for romance. But if you are looking some some romance worry not, we have you covered.
13. Take a boat ride on the lake in Parque de la Amistad
If you're looking for romantic things to do in Tijuana, then you might want to check out Parque de la Amistad. With its sprawling green spaces, leafy paths, picnic areas and BBQ spots, this is a chilled spot for couples to spend some time as it is; but you can easily level up on the couple-centric vibes by heading out on a boat ride.
Yes, there's a boating lake here where you can pedal out and chill out on the water instead: it's the perfect way to spend an afternoon, floating around the lake, soaking up the atmosphere. Then you can grab some snacks from a food vendor afterwards and wander around this genuinely nice park.
14. Set off for a wine tasting adventure together
Nothing quite says romance like wine tasting. But is Tijuana known for its wine? It sure is. Not far from the city itself you'll find Valle de Guadalupe, home to a fair few vineyards where you can taste as many glasses of fermented grapes as you feel like.
So for one of the best things to do in Tijuana Mexico for couples, head out to the Valle de Guadalupe and start a wine-based odyssey. You can go somewhere like Baron Balche for a wine tasting tour, or sample some specialities (complete with food pairings) at Casa Pedro Domecq, and any combination of other wineries in the area. Tip: finish up with a beautiful sunset over the valley at Midnight Sun Wines.
Do You Need Travel Insurance?
Don't forget to sort your travel insurance! We've put together a roundup of Travel Insurance for backpackers – check it out here, or if you're low on time, get a quote from World Nomads, our favorite travel insurance provider.
Getting an estimate from World Nomads is simple – just click the button or image below, fill out the necessary info, and you're on your way!

Best Free Things to Do in Tijuana
Tijuana Mexico is a lot cheaper than the US but it is still very easy to blow your load here. In case you run out of cash, here are the best free things to do in Tijuana.
15. Chill out on Playas de Tijuana
Tijuana may be known as a border city with a nightlife to match, but this Mexican city has its very own (very nice) beachfront in the form of nearby Playas de Tijuana. Here you'll find more than just sun, sea and sand; there's murals to discover, a load of food vendors, and more to do here than just catch some rays.
There's a boardwalk to stroll along here that's busy with musicians and street performers. Head on over here in the morning you'll see locals going about their life, jogging and walking – since it's cooler here than in the centre of town itself. Visiting the beach is one of the best free things to do in Tijuana, for sure. Tip: get a selfie with the Tijuana sign.
16. See the spectacular cathedral
Going to check out Tijuana Cathedral – or  Catedral Metropolitana de Nuestra Señora de Guadalupe as it's officially known – is something you should be doing if you're in town. That goes especially if you're on a budget: it's one of the top free things to do in Tijuana since, well, it costs nothing to see this impressive bit of architecture.
The first Catholic church constructed in the 20th century, but not finished till the 1970s, this cathedral is a special stop for many in the city. Not just for tourists wanting a snap of it of the two towers, clock and image of Nuestra Señora above the entrance, the Sunday services here get super busy, so if you plan on visiting for one of them… get here early.
17. Snap a picture of La Mona de Tijuana
One of the more unusual things to do in Tijuana, seeking for the icon of the city that is the giant, nude La Mona de Tijuana is worth it. Amarando Garcia first approached the government with the idea of building a huge naked woman to mark the centennial of the city; unsurprisingly, they declined. So Garcia took matters into his own hands and constructed La Mona de Tijuana in his own neighbourhood.
Completed in 1991, and known locally as La Mona or La Mujer Blanca, it's 5 storeys tall with her arm outstretched pointing to the sky. What's probably the weirdest thing about this whole story is the fact that, for years, Garcia actually lived inside the nude statue with his wife. Tip: since it's on private property, you can't go right up to this statue, but you can get a good look.
Books to Read in Tijuana
The Backpacker Bible – Get it for free! Learn how to ditch your desk and travel the world on just $10 a day whilst building a life of long-term travel with an online income. To inspire and help the next generation of Broke Backpackers, you can now grab 'How to Travel the World on $10 a Day' for free!
Lonely Planet Mexico Travel Guide: Read up on the history and culture of Mexico and get tons of tips on where to stay and eat in the newest Lonely Planet guide.
Lonely Planet Cancun, Cozumel, and the Yucatan Travel Guide: If you'll be spending your trip in this corner of Mexico, you can get more specific info in this regional guide.
Mexico City: An Opinionated Guide for the Curious Traveler: Mexico City can be an overwhelming place for a first-time visitor. Thankfully longtime resident Jim Johnston has put together this excellent guide to the Mexican capital to help you make the most of your trip.
Best Things to Do in Tijuana with Kids
In Tijuana with kids? Well there are plenty of dentists in town (medical tourism is booming) so why not take them there? Kids love dentists right?! Or maybe try one of the following…
18. Go horseback riding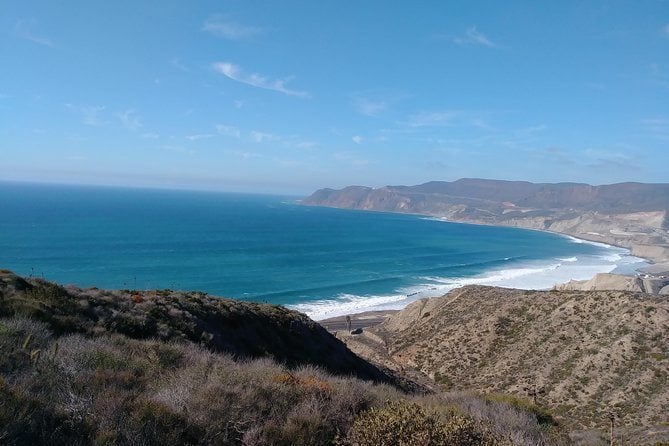 You don't get much more memorable than horseriding on a beach in Mexico, right? So for one of the best things to do in Tijuana with kids, head to Rosarito and hit up All The Pretty Horses for the chance to head out on numerous trails – including taking a ride on the beach.
Needless to say, this is going to make for a fun, family day out and is a must for animal lovers. Especially since proceeds go to caring for the horses and rescuing them from bad situations; it also doubles up as an animal sanctuary in general.
19. Get hands on at The Trompo Interactive Museum Tijuana
Set in Parque Morales, the city's largest park, El Trompo Interactive Museum Tijuana is a super fun place to take your children if they need some serious entertainment: it's seriously entertaining! Divided into six different areas, separated by different themes, there's something here for children of every age making it a great thing to do in Tijuana Mexico with kids in tow.
In the Experiment Hall, children under 6 will love making sculptures and brushing giant teeth (trippy), whilst the Innovation Hall is centred around learning about the modern world, and then there's the Technology Hall, where you can make music with your feet. All in all, it's pretty cool and makes learning actually fun.
Other Things to do in Tijuana
In case that isn't enough for you, let's take a look at some other things to do in Tijuana.
20. Cool off at a water park
Albercas El Vergel is a water park with attitude. Specifically, what's becoming a bit of a social media phenomenon at the moment is their Slip N Fly – a 40-foot high slide that's truly not for the faint-hearted. Definitely one of the more adventurous things to do in Tijuana!
But it doesn't have to be all about adrenaline rushes. Albercas El Verge is actually a great way to cool off on a hot day in the city; there's plenty of opportunities to have a more sedate, relaxed time – such as on the aptly named Slow River. There's a fun atmosphere too, with a mix of people attending, plenty of good food, and cheap beer. Sounds good to us.
21. Shop til you drop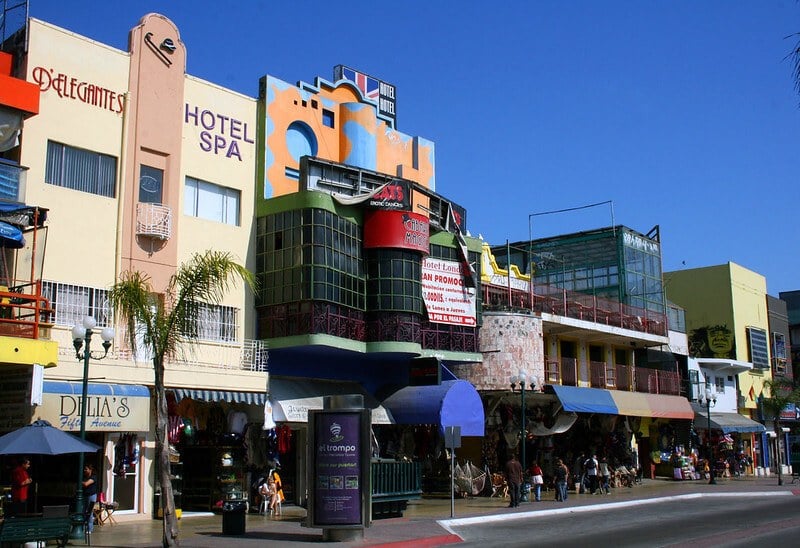 If you're in Tijuana and you've got money to burn, well, let's just say you're in the right place. Tijuana Mexico has long been a place for a last-minute stop off before heading back across the border to the US and there are plenty, plenty of places to shop til you can shop no longer.
There's the famous Avenida Revolución, of course, with a bunch of places to get your hands-on arts and crafts. But there's also Benito Juarez Avenue if you want handcrafts. Then again, for a more modern experience, head to Rio Tijuana Mall, or the very shiny Agua Caliente Mall. Basically, if you like shopping, this is one of the best things to do in Tijuana.
22. Play some games at Plaza Mundo Divertido
Plaza Mundo Divertido is an amusement park – and there's tons to do here. Not only are there rides for children, making it a good place to go with kids in Tijuana, but there's plenty of other stuff for adults too. Go karting is pretty cool, but the bowling alley at Plaza Mundo that comes particularly highly rated.
So if you're looking for something cool to do in Tijuana, and you like the sound of a ton of arcade games and a bunch of other fun stuff to do – and somewhere that's open till 9pm (10pm on weekends) – then we think you'll love this place. Definitely fun.
23. Learn some local history at Tijuana History Museum
Set in the Old Municipal Palace (built in 1921), the building restored and reopened as the Tijuana History Museum for one of the best places to go to learn about the history of the city and the Baja area in general. (If nothing else, being situated inside, it's a good thing to do in Tijuana when it's raining.)
Here you'll get to learn about Tijuana's importance being a border city and why it's much more than just a party town. It's the place to come to brush up on your history, educate yourself on this most northeastern urban area of Mexico and see what the future holds for the city. It's open from 10am to 6pm.
Day Trips from Tijuana
As you can see from all that cool stuff to do in Tijuana Mexico we've shared with you, there's plenty to do in this city. Of course there is. However, if you've got a little longer in the city than just a few days, you might want to head out into the surrounding area to see what's going on. We think that's a great idea, so to give you some inspiration for potential excursions, here are a couple of easy day trips from Tijuana.
Spend the day in San Diego
If your time in Tijuana happens to be a part of an extended Mexico trip, and you haven't even thought about travelling to the US, then you might want to reconsider that. San Diego is quite literally right across the border from Tijuana and is a very easy day trip from this border city: it takes just around 30 minutes to drive between the two. Obviously you'll need to take your passport and check ahead to ascertain the Visa situation.
Tijuana Mexico is only about 15 miles from Downtown San Diego, making it a breeze if you feel like getting out of Mexico for a day and seeing what a Californian city has in store for you. You can stroll around the Gaslamp Quarter and admire its historic buildings, go to the cultural centre that is Balboa Park, chill out on the beaches in La Jolla, and check out the USS Midway Museum. It's a cool city to explore for a day.
Take a trip along the coast to Ensenada
Not far from Tijuana lies Ensenada. This port city is the third-largest in the state of Baja California and is the place to come if you're looking for some real Mexican charm on the coast. This place it certainly on the up: It's got the atmosphere of a college town, but with a culinary landscape that's helping to grow this city as a destination for its food alone.
In Ensenada you can fill up on fish tacos alongside the market, walk through the town past interesting statues and artwork, and go to the Estatal de los Artes – a free arts centre. Aside from the cultural attractions, there's some nature to spot, too; it's possible to catch a glimpse of elephant seals. Not only that, but Ensenada is in the heart of wine country: the first vineyards were planted here in 1703!
More Great Resources
Final Thoughts on Things to do in Tijuana
Tijuana isn't an unsurprising destination: there's plenty to offer tourists here, and that goes well beyond nightlife and handicrafts. With plenty of art, culture and history to soak up and learn about, it's much more than the border town it's often pegged as. Thankfully, that also means you'll be able to find a load of cool, off the beaten track stuff to do in Tijuana, too.
We made sure to include a few of the more popular things to do here – as well as some cooler, weirder stuff to do – so that no matter who you are, you'll be bound to find something to do in Tijuana that suits you.
---
Find out how YOU can support the site.
We're a big site with a big team and this job isn't always easy. But we do it because we love it – we love providing epic and free content. We love the knowledge that our content keeps you adventuring. We don't ask for money, but if you'd like to find out how you can help the site in more organic ways, click the button below.
Thank you for your support 🙂
And for transparency's sake, please know that some of the links in our content are affiliate links. That means that if you book your accommodation, buy your gear, or sort your insurance through our link, we earn a small commission (at no extra cost to you). That said, we only link to the gear we trust and never recommend services we don't believe are up to scratch. Again, thank you!