Travel
23 UNIQUE Things to Do in Detroit [in 2021]
Detroit is not on every tourist's bucket list – but we think this city is well worth experiencing! Many people may avoid Michigan's largest city while visiting the midwest, but we totally disagree. This city has a unique energy, and it is filled to the brim with many awesome secrets.
Those wondering what to do in Detroit will be pleasantly surprised to find out all that the city actually has on offer. There are still many museums, galleries, and cultural institutions that have stood in the city for ages, these are all worth exploring for those seeking the classic Detroit attractions. However, Detroit's charm extends much further than this.
There are loads of cool cafes, art installations, trendy neighborhoods, and delicious things to eat. Detroit has a plethora of its own unique flavors – something that you have to experience for yourself.
Here is our complete guide on things to do in Detroit, Michigan to make sure that you experience the real magic of this city!
Top Things to Do in Detroit
If you are visiting Detroit then there is a lot of cool stuff to do. Looking for the unmissable things to do in Detroit? Here are some of the top attractions, sights, and activities that this city has on offer!
1. Explore the Many Downtown Landmarks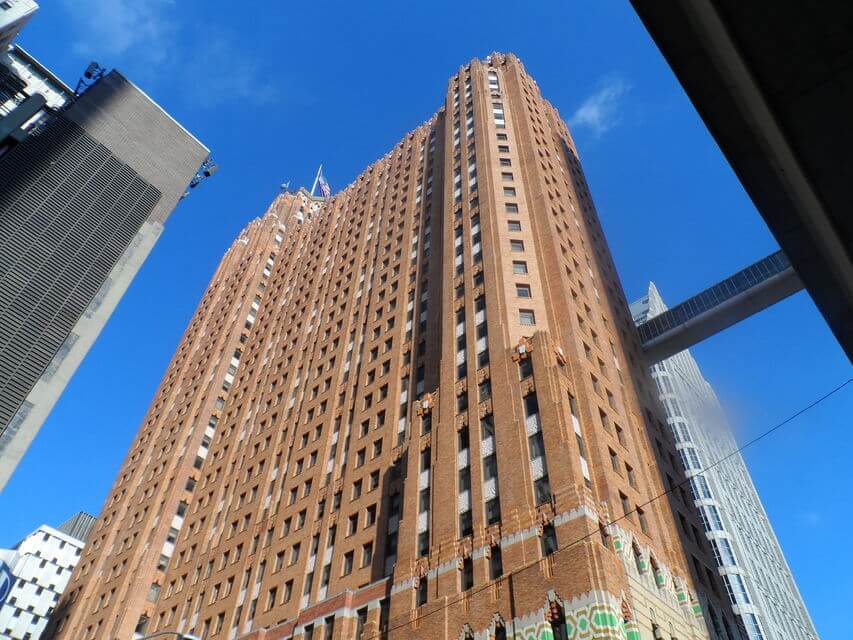 Walking around downtown Detroit you'll uncover all of the unique sights, sounds and smells that give the place it's one-of-a-kind charm. Some of the best things to see in Detroit are within easy walking distance in this area.
Admire the art-deco Guardian building, the majestic Fox Theatre, and visit Comerica Park. Taste your way through Greektown, or indulge in a Detroit-style coney dog. The downtown area is full of art installations and striking architecture. Walking around here will expose you to the infectious energy of this city. Exploring downtown on foot is one of the most essential things to do in Detroit.
2. Pay a visit to Belle Isle Island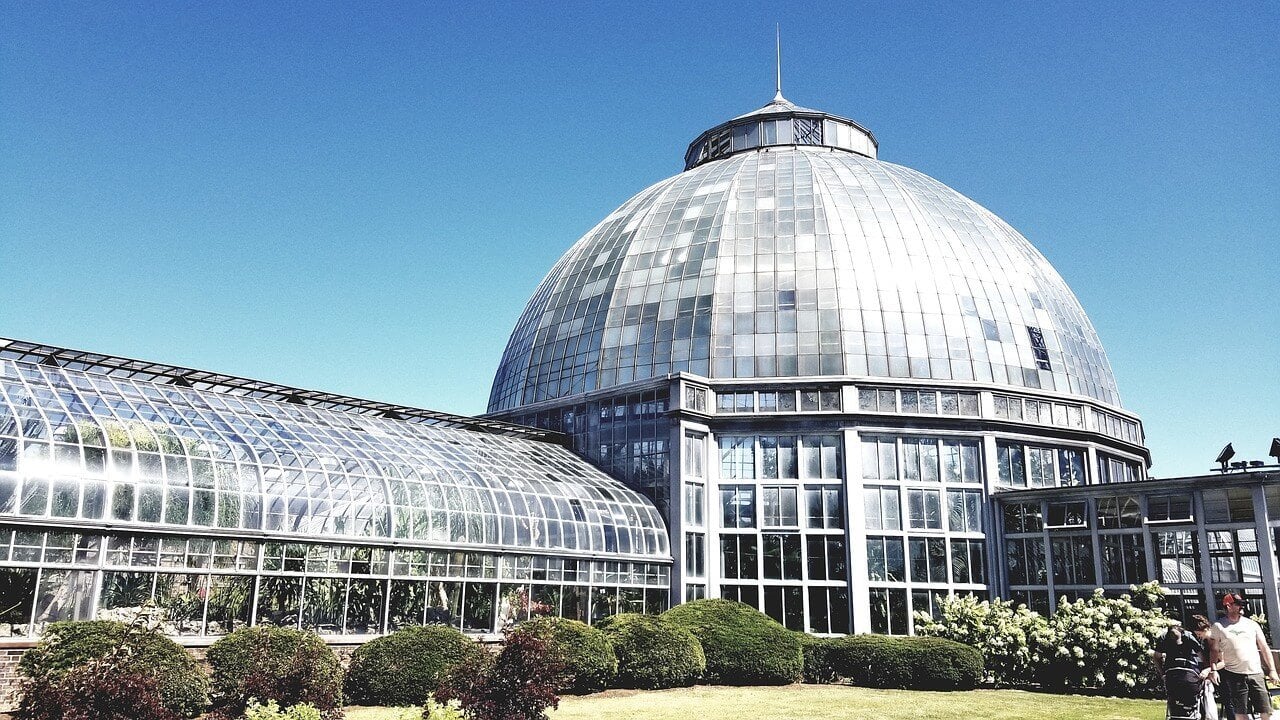 Belle Isle is an island found in the middle of Detroit River. The entire area is actually a state park, and it offers a refreshing break from the busy city life. It's best to visit Belle Isle on a sunny day, where you can walk around the long nature trail.
Some worthwhile points of interest found on the island include the James Scott Memorial Fountain, the island aquarium, the defunct casino, and a beautiful conservatory. Take a swim in the river, admire the natural landscapes around you, or just appreciate the magnitude of this convenient city island. Belle Isle is one of the best outdoor things to do in Detroit.
FIRST TIME IN DETROIT
Detroit
Detroit's different neighborhoods each offer a unique perspective on the city. While there are many great places to base your stay here, we would have to recommend the downtown area.
Places to visit:
Enjoy the river walk past many great parks and scenic spaces
See the downtown outdoor art installations, including "The Fist"
Visit some of the city's finest restaurants, including Avalon Cafe and Bakery, and Hudson Café
3. Explore Corktown – Detroit's Oldest Neighborhood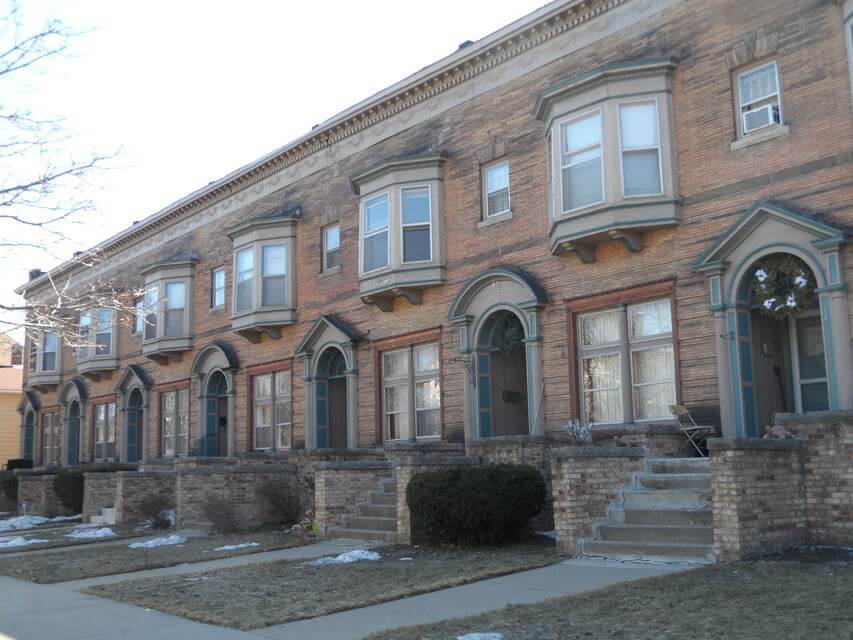 This Irish enclave is one of Detroit's charming neighborhoods. It has a rich history and a really strong personality. When visiting Detroit, it's essential to spend some time exploring the old streets of Corktown.
This neighborhood is characterized by its modern-era "ruins" of Michigan Central Station, its Irish pubs, and it's trendy new hangouts. This is where you will discover many trendy brewpubs and hipster hangouts that are making Detroit cool again.
Some highlights of this historic district include its colorful Victorian houses, the former Tiger Stadium, and the Detroit Institute of Bagels. If you want to dive into the heart of the city and uncover the real energy of Detroit, then Corktown is the place to do it.
4. Uncover Innovation at the Henry Ford Museum
The Henry Ford Museum of Innovation and Greenfield Village is the largest indoor/outdoor museum complex in the US! This is one of the most popular Detroit things to do for anyone visiting the city.
The Henry Ford Museum is loaded with fascinating artifacts focused around American innovation. Of course, there is a major focus on Henry Ford and his automotive advancements. However many events and revolving exhibitions can be enjoyed at this gem of a museum. This is one of the most popular things to do in Detroit.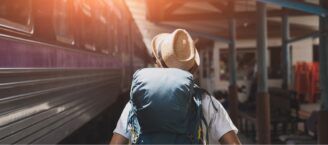 Unlock the The Broke Backpacker's GREATEST Travel Secrets
Sign up for The Broke Backpacker Newsletter to receive weekly tips on how to travel on a budget + a FREE copy of The Backpacker Bible!
5. Discover History at Fort Wayne
Dating back to 1840, the historic Fort Wayne is one of the most interesting places to visit around Detroit. This old military base offers a fascinating insight into Michigan's past.
You can take a guided tour of the area if you want to learn more about the events that have taken place here. Some highlights of visiting Fort Wayne include the old military barracks, the tunnel, dry moat, and parade ground.
6. Admire the Massive Renaissance Center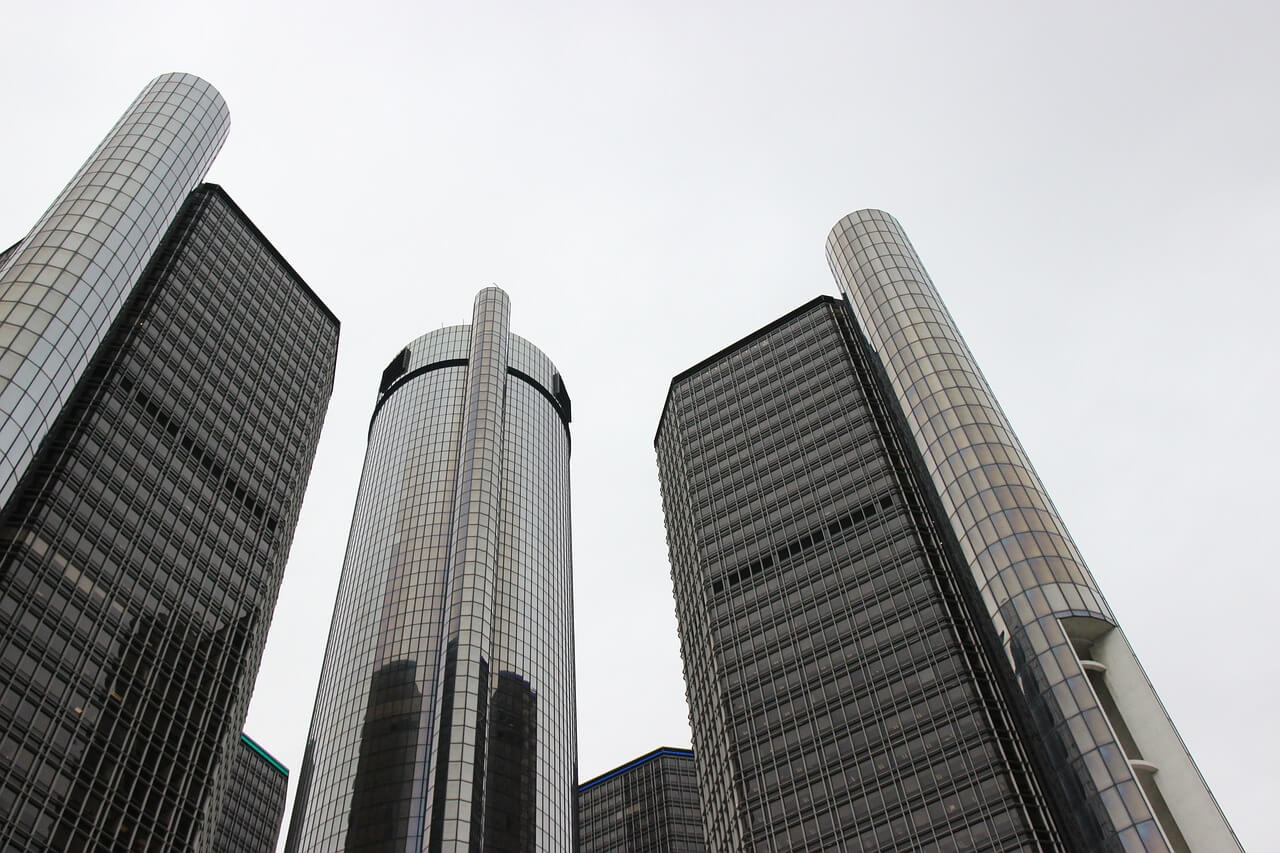 The Renaissance Center is the most impressive skyscraper landmark along the Detroit River. The center consists of 7 massive towers, theaters, restaurants, shops, and more.
The Renaissance Center is always buzzing with people. You could simply admire the size of this structure, or enjoy the different attractions available within the location. Being located along the river, this is the perfect setting for a classic Detroit photo opportunity! The Renaissance Center is one of the best things to do in downtown Detroit.
Is This the Best Travel Backpack EVER???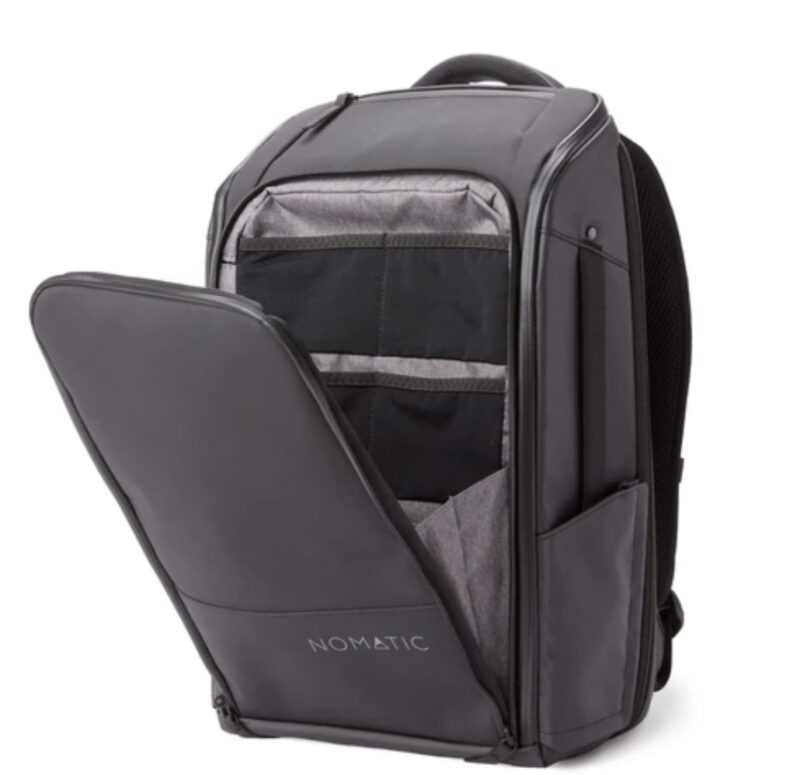 We've tested countless packs over the years, and now we've found our absolute favourite: the nomad-approved Nomatic Backpack.
Want more deetz on why we love it so damn much? Then read our comprehensive review for the inside scoop!
Learn More Now!
Unusual Things to do in Detroit
As this city is not always considered a tourism hotspot, there are plenty of unique things to do in Detroit. Here are some really fun things to do here that you probably never thought of!
7. Get Lost Amongst Thousands of Books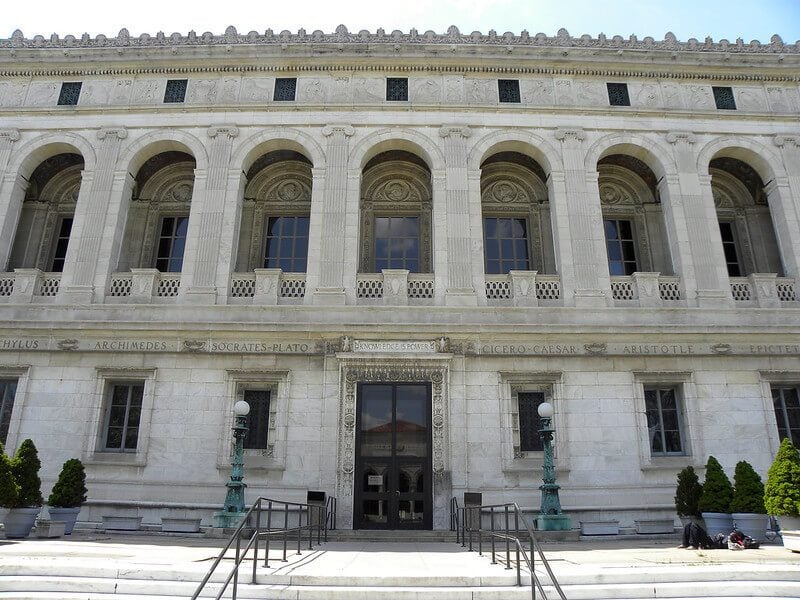 Not every city visitor thinks of the public library as a bucket list stop, but in Detroit, you really have to check this place out! The Detroit Public Library dates back to 1865, and it is one of the city's proudest landmarks.
The building is listed on the United States National Register of Historic Places – something truly fascinating that you can experience while visiting. The outer building is magnificent in design, while the interior is loaded full of books and stunning historic details. You feel as though you are inside an important art gallery while visiting this awesome library.
8. Discover the Magic of Motown
Hitsville, USA can be found along West Grand Boulevard. This Motown Museum may be pretty small, but it's loaded full of history and soul!
This was once a studio that produced many legendary Motown hits. Musical greats like Marvin Gaye & Diana Ross recorded here between 1957 and 1972.
If you love music and want to learn about the story behind Motown, then this museum is the place to go. You will get to admire all kinds of memorabilia from the era, as well as stand in the exact place where all of that Motown magic was brought to life!
9. Kayak Down the Detroit River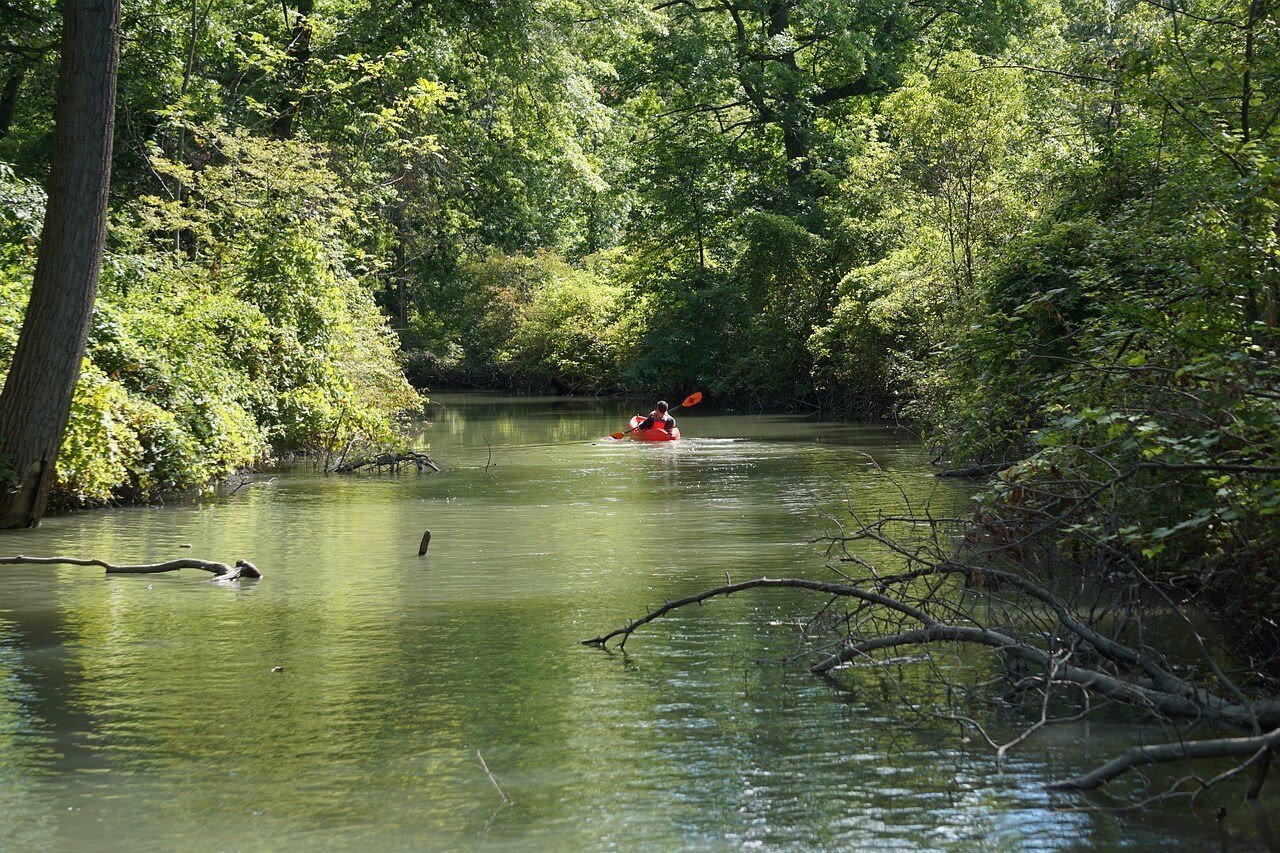 Of all the fun things to do in Detroit, paddling yourself down the river is one of the best. This is a truly special way of seeing the city, as some of the most impressive buildings can be found alongside the river banks. Of course, you can also kayak around the beautiful Belle Isle Island.
You can even kayak around canals surrounding historic mansions in the city. The Detroit River is really at the heart of this city, and paddling down it will give you one of the best sightseeing perspectives available. This is one of the best adventurous things to do in Detroit.
Safety in Detroit
While Detroit is known for having one of the higher crime rates in the US, this doesn't mean that the entire city is dangerous! As a visitor seeing the major sights and landmarks of the city, your safety should not be a major concern. Just be sure to avoid some undesirable areas, and be extra vigilant while out at night. Don't walk alone in areas that seem dangerous, and be mindful of your belongings at all times.
When visiting Detroit, exercise regular caution as you would in any other major American city. Purchasing travel insurance is always a good idea when visiting new places like this.
Read our tips for traveling safely before you fly and always get travel insurance. Check out our roundup of the best travel insurance.
Travel with peace of mind. Travel WITH a security belt.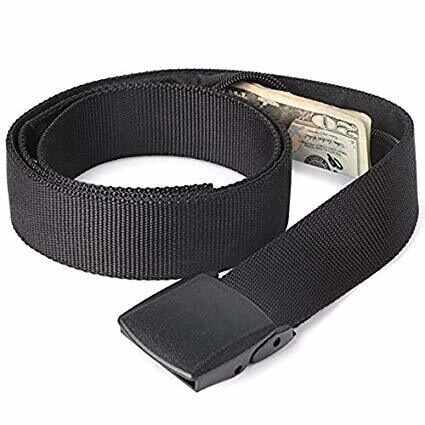 Custom-designed BY the Broke Backpacker FOR broke backpacking, the Active Roots Security Belt will keep your valuables safe no matter where you go.
It looks exactly like a normal belt except for a SECRET interior pocket perfectly designed to hide a wad of cash or a passport copy. Never get caught with your pants down again! (Unless you want to.)
Check on Amazon
Things to Do in Detroit at Night
There are a number of places to visit in Detroit after hours that will promise a brilliant experience. Here are some of the fun and friendly places that you can visit for an unforgettable night out in Detroit.
10. Taste Your Way Through the Many Local Breweries
Detroit is loaded full of craft breweries and independent distilleries. If you are after one of the best hipster things to do in Detroit, then be sure to check out some of these establishments. Guided tours are available for those that want to be shown between different breweries.
Some local highlights include Two James Spirits Distillery, the Eastern Market Brewery, and Atwater Brewery. All of these places are found close to each other in the city. This is the perfect way to start an epic night out.
11. Experience the Legendary Fox Theatre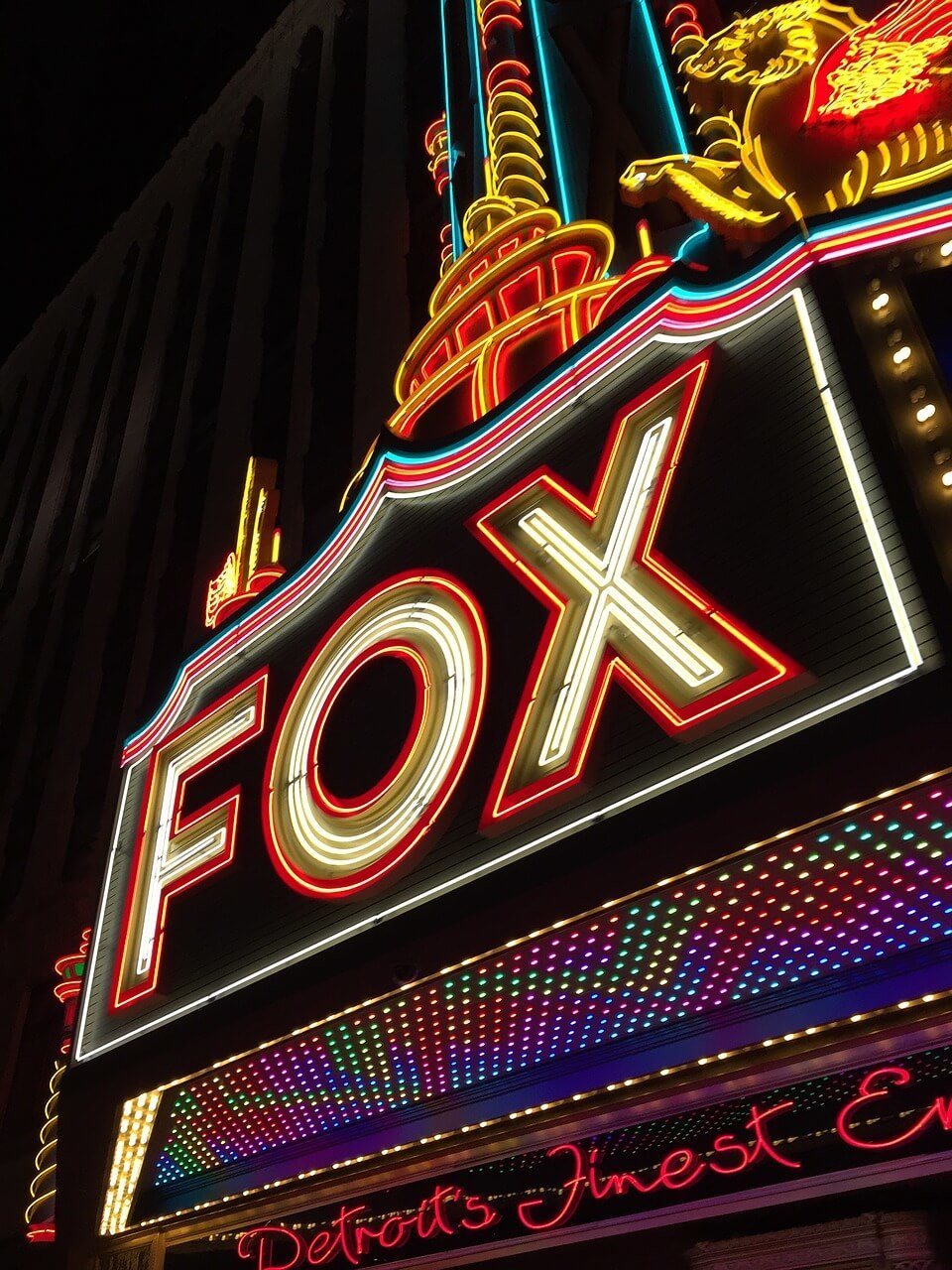 The Fox Theatre, with its massive neon signs and eye-catching building, is one of Detroit's most famous treasures. This building has been deemed a national historic landmark, due to its legendary lifespan which began in 1928.
The theater used to be a movie house, but now it hosts all kinds of plays and performances. If you are lucky enough to grab tickets to a show, it promises to be a truly unforgettable experience. This is the perfect thing to do after visiting a vibrant Detroit restaurant or watching an afternoon sports game!
12. Eat the Best Greek Food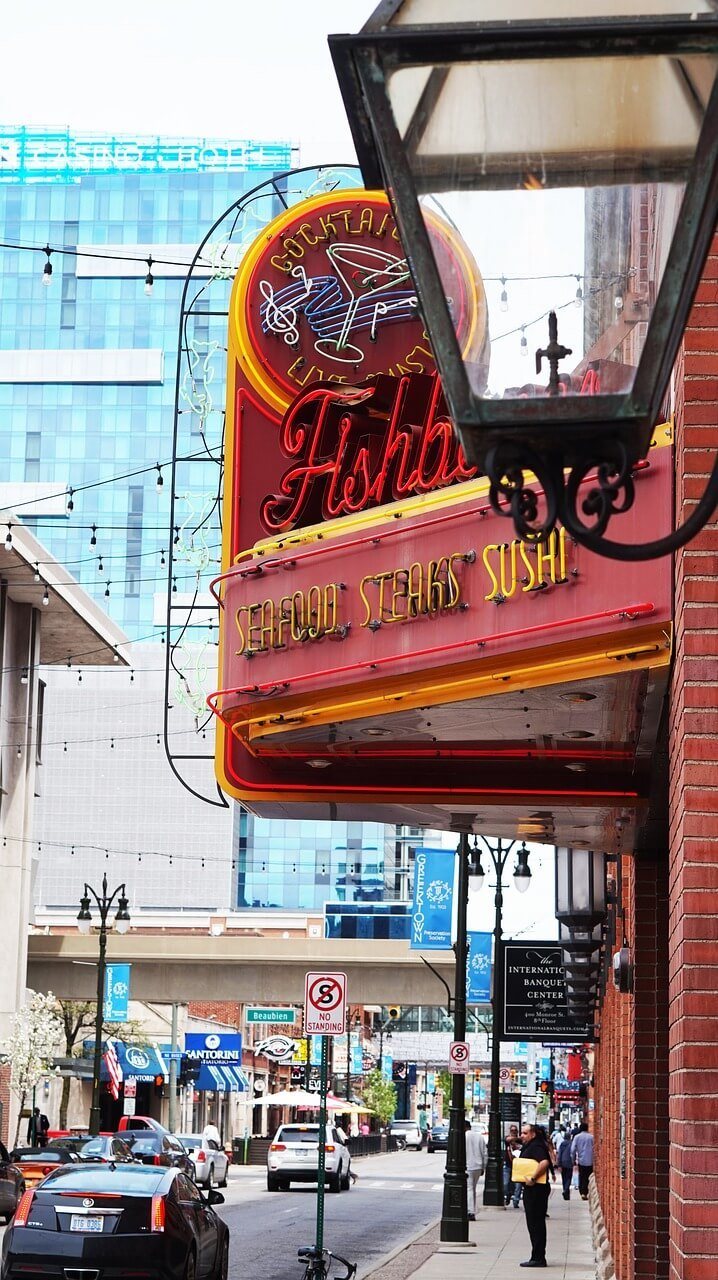 Detroit is slowly becoming known for its amazing food scene, and Greek food has always been a highlight! Greektown, the area where many Greek immigrants arrived in the 20th century, is one of the best foodie areas of Detroit.
There are loads of amazing Greek restaurants here that come with a seriously fun atmosphere. If you are after an authentic Detroit night out, full of great food and lively characters, then Greektown is the place to go! Some highlights include Cyprus Taverna and Parthenon.
Where to Stay in Detroit
Detroit's different neighborhoods each offer a unique perspective on the city. While there are many great places to base your stay here, we would have to recommend the downtown area.
This is where most of the best Detroit attractions, sights, restaurants, and accommodation options can be found. Downtown Detroit is where most of the action in the city takes place. Here are some downtown attractions:
Enjoy the river walk past many great parks and scenic spaces
See the downtown outdoor art installations, including "The Fist"
Visit some of the city's finest restaurants, including Avalon Cafe and Bakery, and Hudson Cafe
Best Hostel in Detroit – Hostel Detroit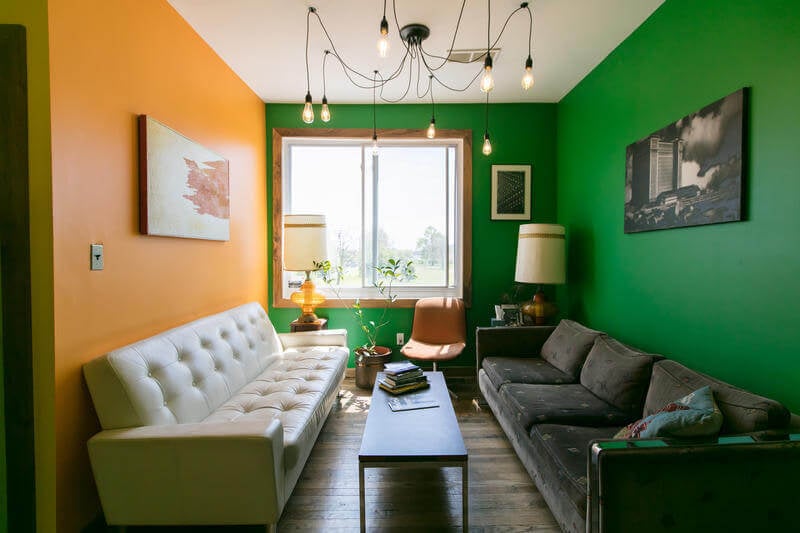 This awesome hostel is actually an educational non-profit focused on experiential travel around Detroit. If you really want to get a great understanding and feel for Detroit, then staying here comes highly recommended. The rooms are clean and comfortable, and the staff are super friendly.
Best Airbnb in Detroit – Luxury Apartment in Downtown Detroit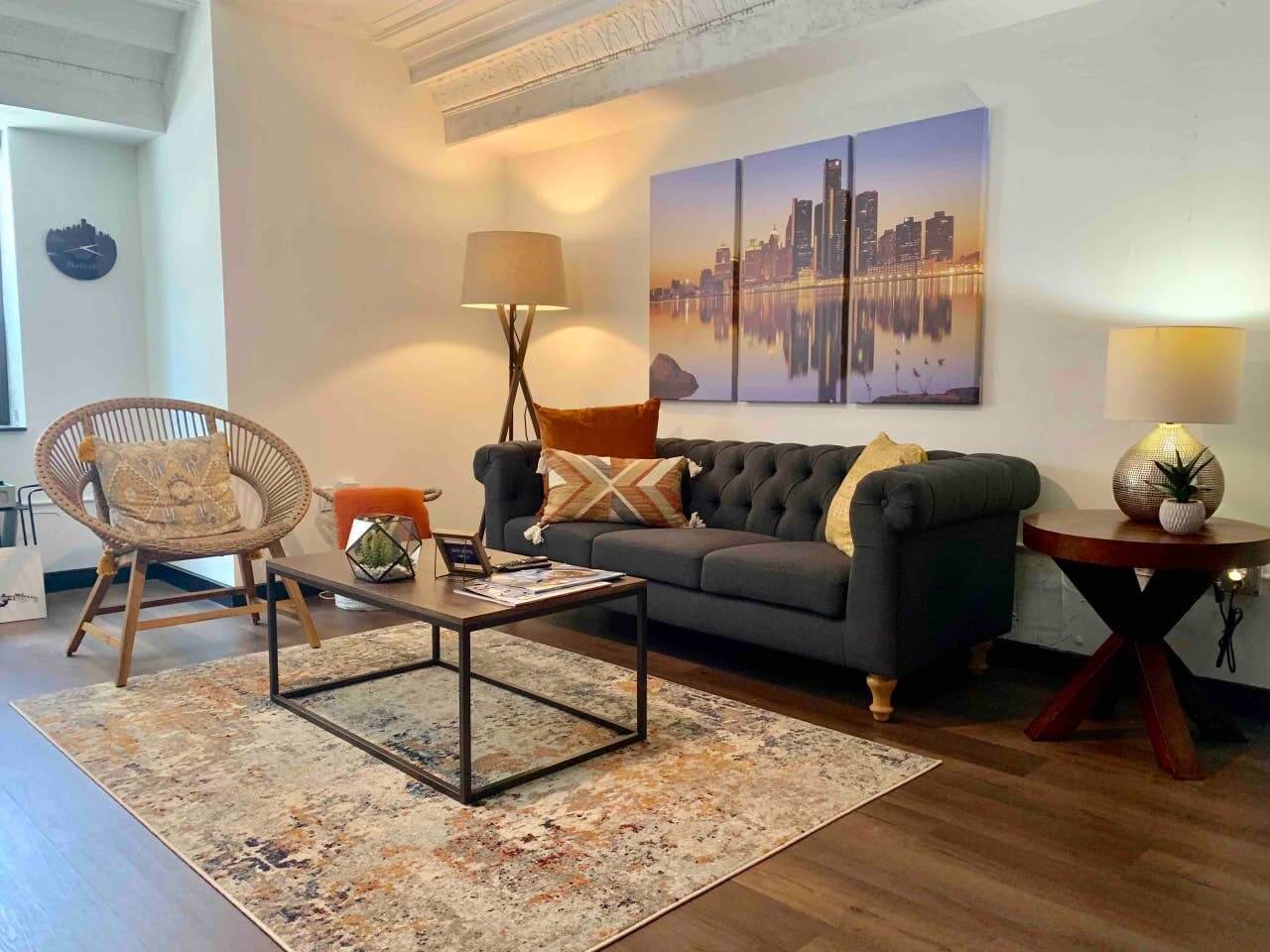 If you are after the best comfortable, homely accommodation, then this loft apartment is the place to stay! You get the entire loft (which can hold 3 guests), complete with a fully equipped kitchen. This place is modern, clean and sophisticated. The beautiful apartment is also within easy walking distance of many top attractions. If you want to stay at one of the best Airbnbs in Detroit, look no further than this one!
Best Hotel in Detroit – Detroit Marriott at the Renaissance Center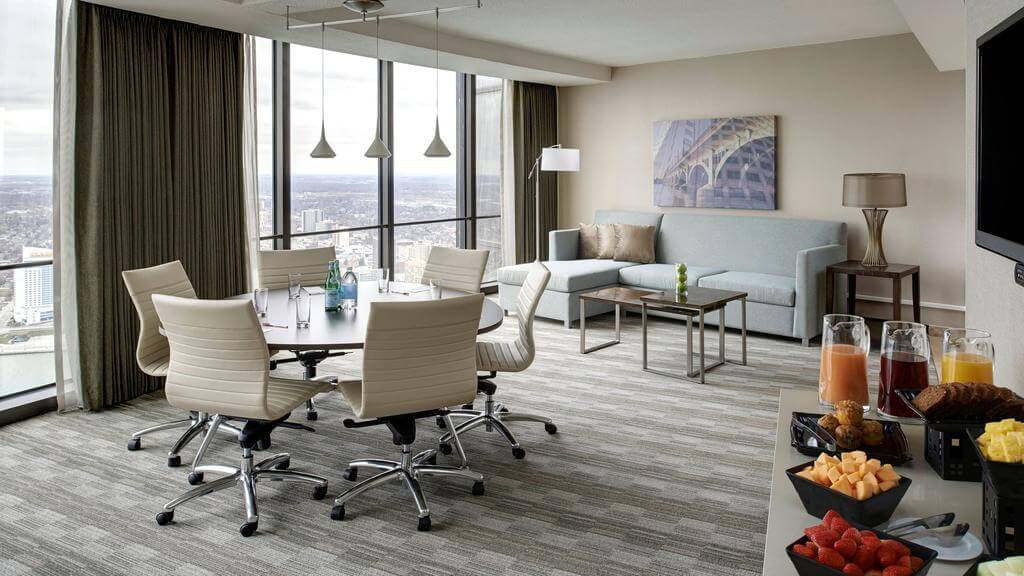 Looking for a luxurious base for the ultimate Detroit stay? The Marriott hotel at the Renaissance Center is the place to be! This hotel is set in a dramatic tower along the riverfront. You can enjoy the best possible setting in the city – made extra special with all of the modern luxuries and facilities on offer.
Romantic Things to do in Detroit
There are many things to do in Detroit for couples seeking a special experience. This city may be known for its raw downtown feel, but there are plenty of special places and activities to spark some romance. Here are some of the best.
13. Stroll Along the Detroit RiverWalk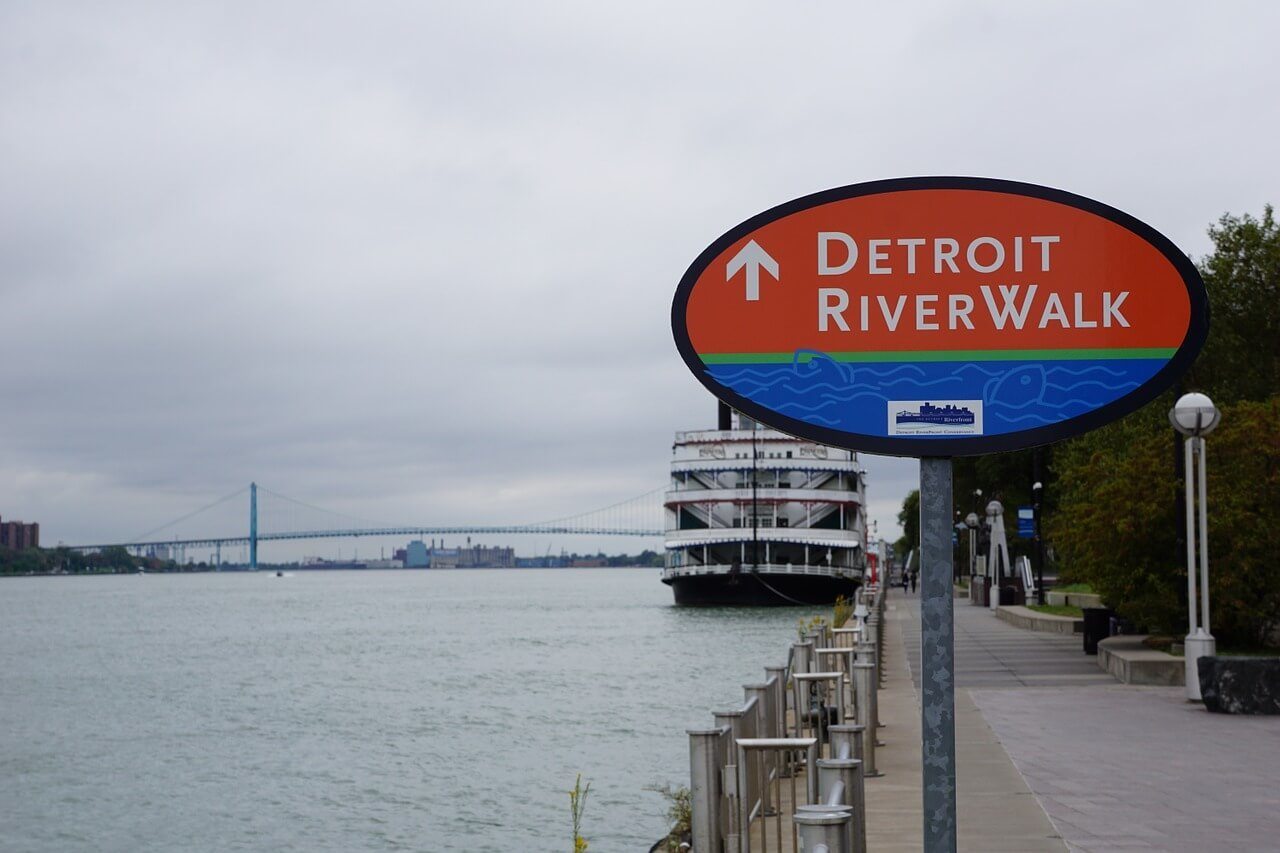 Detroit is based around its central river. The river has its own 5 ½ mile promenade called the RiverWalk. This is a beautiful path that winds along the river banks, past green parks and natural spaces.
The RiverWalk runs from Ambassador Ridge to Belle Isle. This is a fantastic activity for couples to enjoy in Detroit – as you get to experience some of the most serene areas, and views of the city.
14. Indulge in the Art of Pottery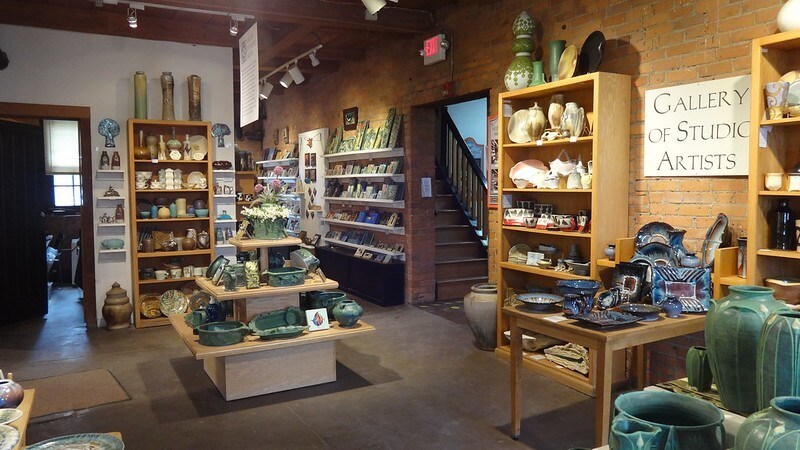 Pewabic Pottery was founded all the way back in 1903. This Detroit landmark is an interesting place to visit for anyone wanting to discover some art and creativity that is unique to the area. There is a big gallery workshop where you can admire all kinds of stunning pottery.
Beyond being able to learn all about the history of ceramics in Detroit, you can also try your hand at creating something in the pottery studio. This is a brilliant activity for a couple, and really does end up being loads of fun!
Do You Need Travel Insurance?
Don't forget to sort your travel insurance! We've put together a roundup of Travel Insurance for backpackers – check it out here, or if you're low on time, get a quote from World Nomads, our favorite travel insurance provider.
Getting an estimate from World Nomads is simple – just click the button or image below, fill out the necessary info, and you're on your way!

Best Free Things to do in Detroit
Luckily, visiting Detroit doesn't have to break the bank! Some of the best places to visit in Detroit are completely free, allowing you to do so much more during your trip. Here are some of the best free activities available.
15. Watch a Movie in the Park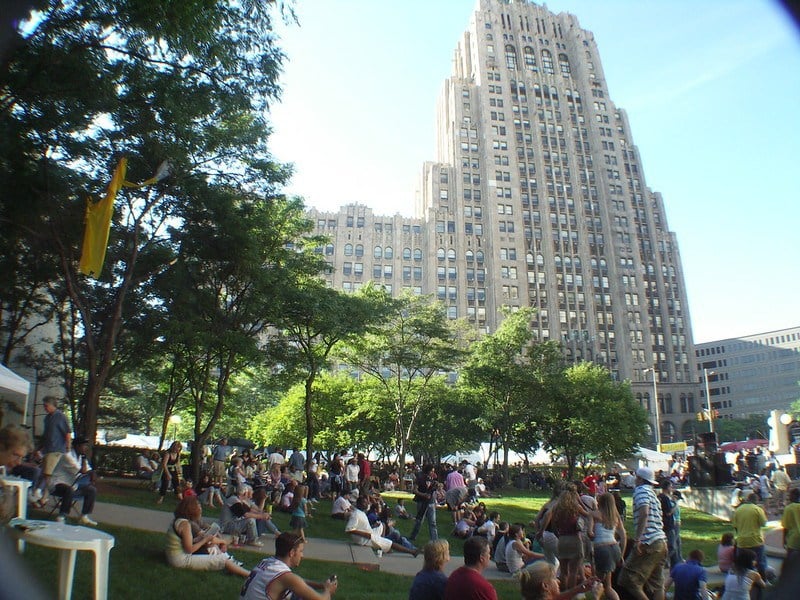 The New Center Park holds outdoor movie nights among the trees. This is one of the best outdoor things to do in Detroit on a summer evening. You will get to sit on the lawns with a picnic, enjoying the classic film on the big screen.
This is a pretty unique thing to do at night, and it is a fun Detroit experience. Food and drinks are available here to really complete the show. Free film screening and live music take place here from 8 pm on summer evenings.
16. Visit the Detroit Historical Museum
There are so many cool things to do and experience in the many Detroit museums. The Detroit Historical Museum is one of the best for anyone wanting to learn more about the city. It's also completely free!
You will get to learn all about the history of southeastern Michigan through the various displays on offer. The Streets of Old Detroit display, which recreates city scenes from the 1840s, 1870s and early 1900s is one of the best-loved exhibits on offer.
17. Browse the Impressive Eastern Market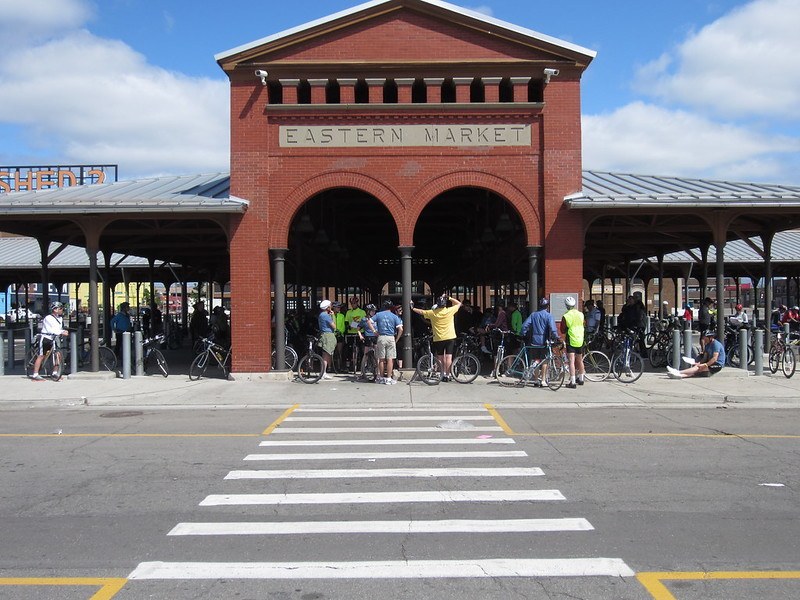 This is one of the largest outdoor farmers markets in the US and it really is a special place to witness while you're in Detroit. The Eastern Market dates back to 1891, and it consists of five different markets. Two of these are open throughout the year.
You can wander around here for free, taking in the vibrant atmosphere and many beautiful goods on offer. This is also a great place to taste some delicious local food.
Books to Read in Detroit
The Backpacker Bible – Learn how to ditch your desk and travel the world on just $10 a day whilst building an online income.
Moon Michigan – The best guide book out there about the entire state of Michigan, featuring tons of the usual info on Detroit.
Detroit: An American Autopsy – This is a fantastic book about Detroit from a native son and Pullitzer Prize-winning journalist, Charlie LeDuff. It's far and away my favourite book about my home city.
Detroit: The Dream is Now – Photographer Michel Arnaud takes a look at all the positive things going on in Detroit in this beautiful visual essay on the city.
Best Things to do in Detroit With Kids
If you are traveling as a family, there are some fantastic things to do in Detroit with kids. Not only are many of the city's attractions very child friendly, but adults will also enjoy these too!
18. Discover Nature at the Belle Isle Nature Center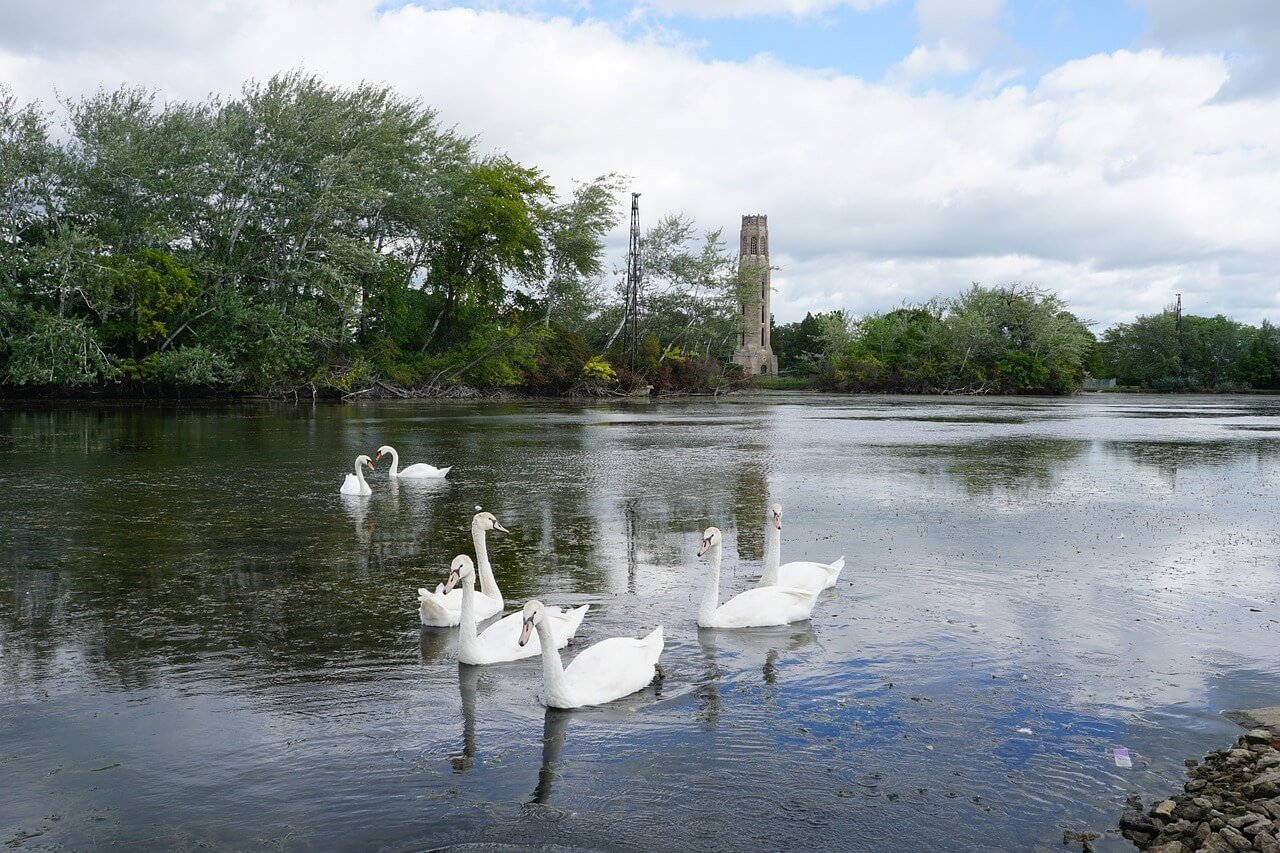 The Belle Isle Nature Center shows off all kinds of native plants and animals found around Michigan. Visiting this center is fun for the whole family, as everyone can appreciate witnessing and learning about the area's natural attractions.
Kids will particularly love feeding the deer here. While at the Nature Center, you could also pop into the neighboring aquarium which is always a highlight amongst children.
19. Step Back in Time at Greenfield Village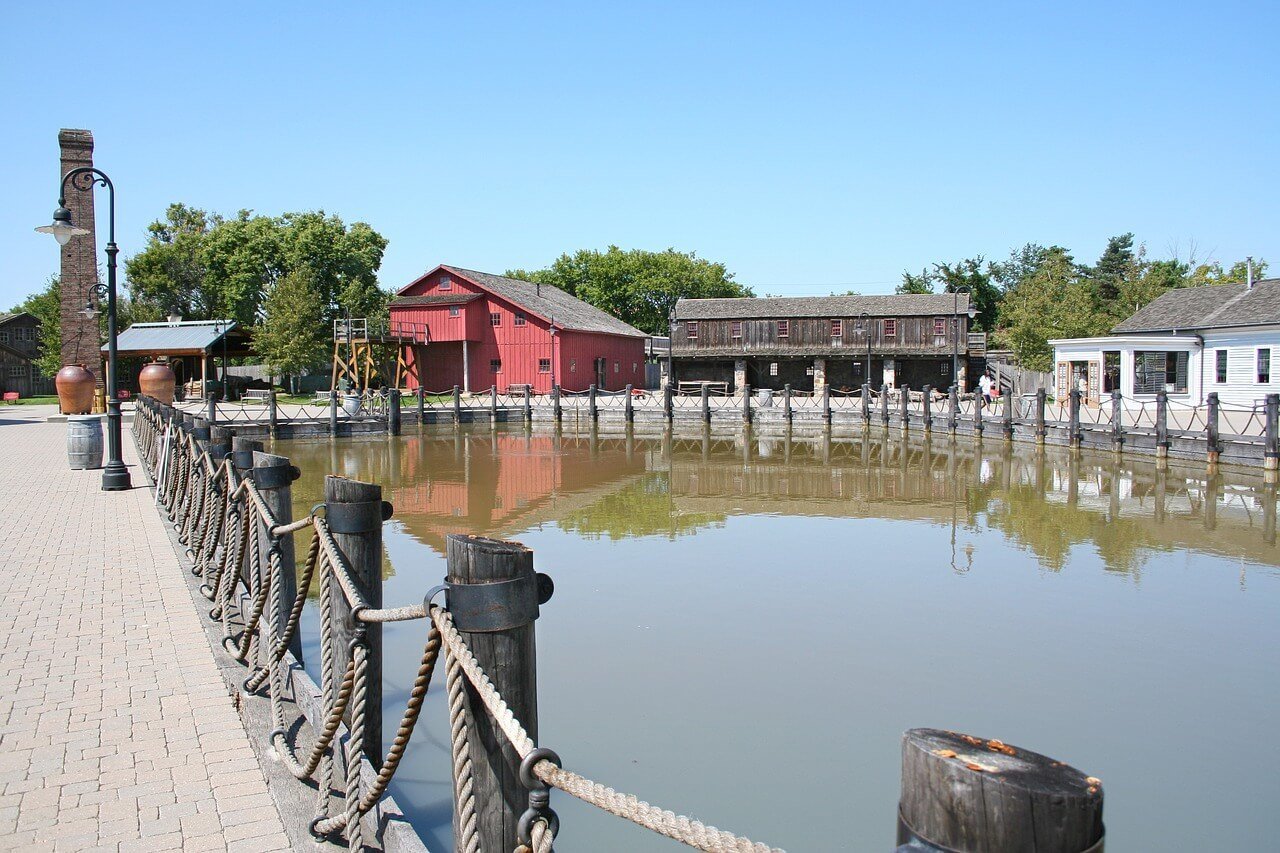 Greenfield Village is technically part of the Henry Ford Museum, although this attraction deserves its own space. This place can be enjoyed by adults just as much as kids! This must-visit attraction is a massive open-air museum that transports you back in time.
You will get to witness old buildings from around the United States, and explore replicas of bygone eras. Kids will love wandering through this old world, learning about what life was once like.
Other Unmissable Things to Do in Detroit
Looking for more top attractions in Detroit? This city has a wide range of sights and activities on offer. Here are some more things that you should definitely include into your trip itinerary.
20. Support the Detroit Tigers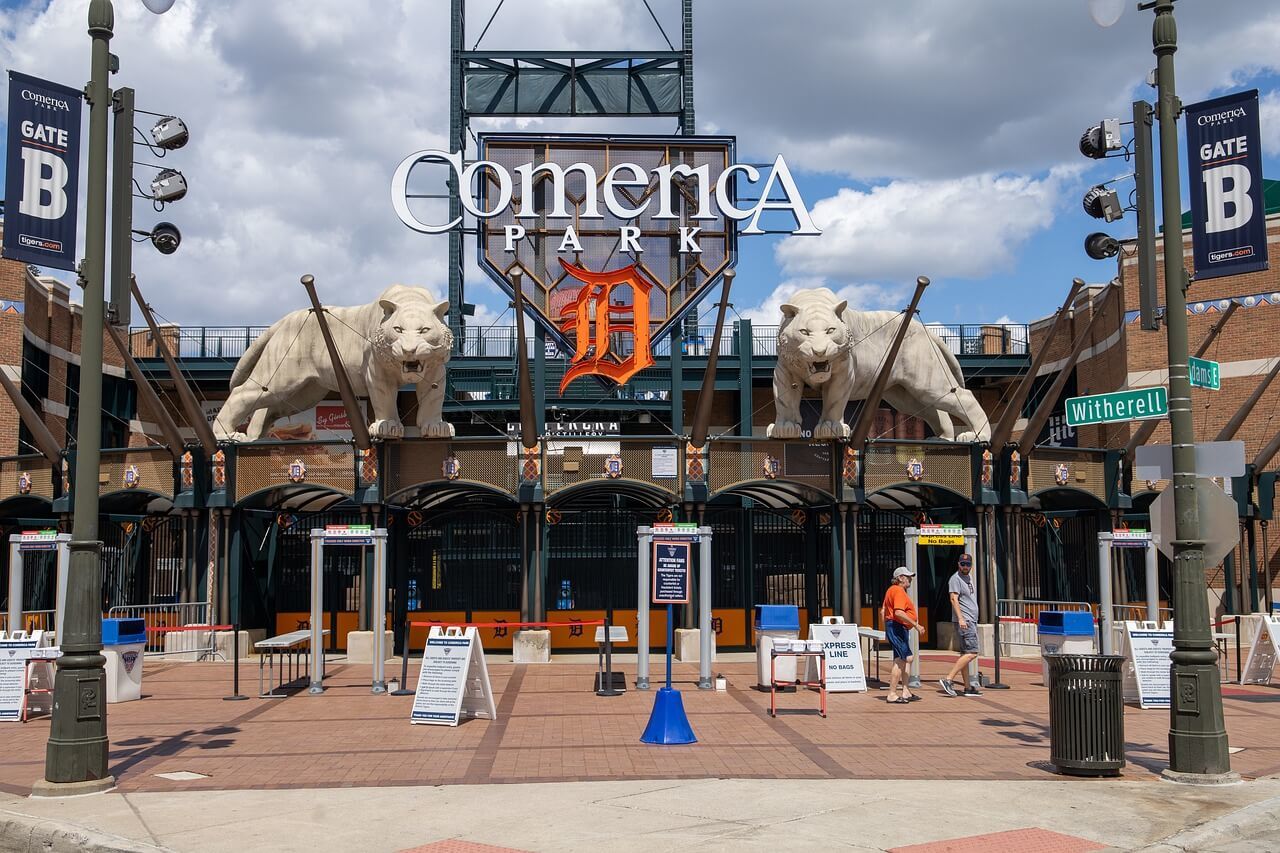 Watching a baseball game at Comerica Park will always be on top of the list of cool things to do in Detroit. Comerica Park is home to the Detroit Tigers – the city's baseball team and absolute pride!
If you are lucky enough to get tickets to a Tigers game, then don't miss the opportunity. The energy is always at a high, and it's one of the best ways to soak up the true charm of Detroit. Comerica Park also has a museum of baseball history, a carousel and a Ferris wheel for added entertainment.
21. Take a Cruise Down the River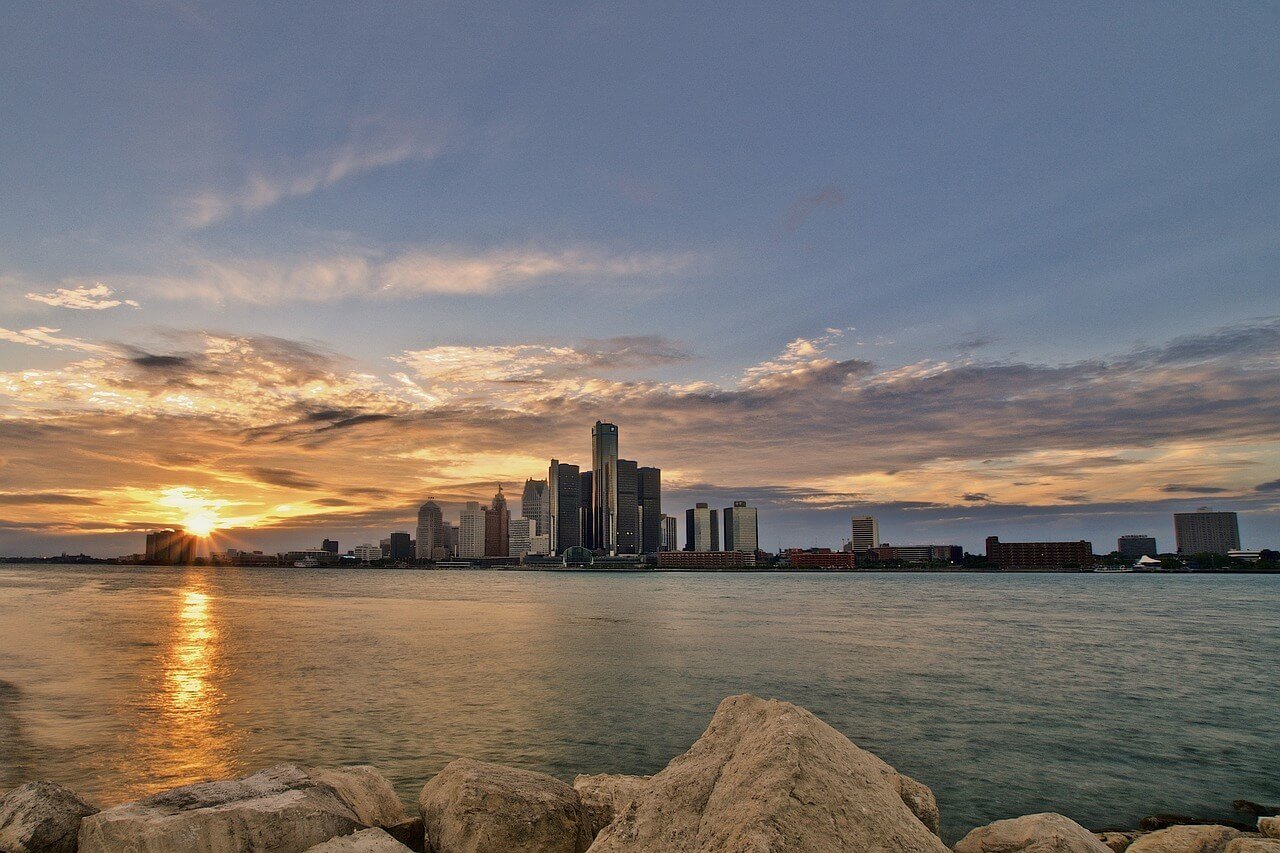 You just can't visit Detroit without admiring the city's big river. One of the best ways to gain a unique perspective of the city skyline, and take in some top sights, is through a cruise down the river.
Diamond Jack is a boat that offers fun sightseeing tours down the river. These are narrated by an informative guide – allowing you to learn all about the city.
22. Visit the Detroit Institute of Arts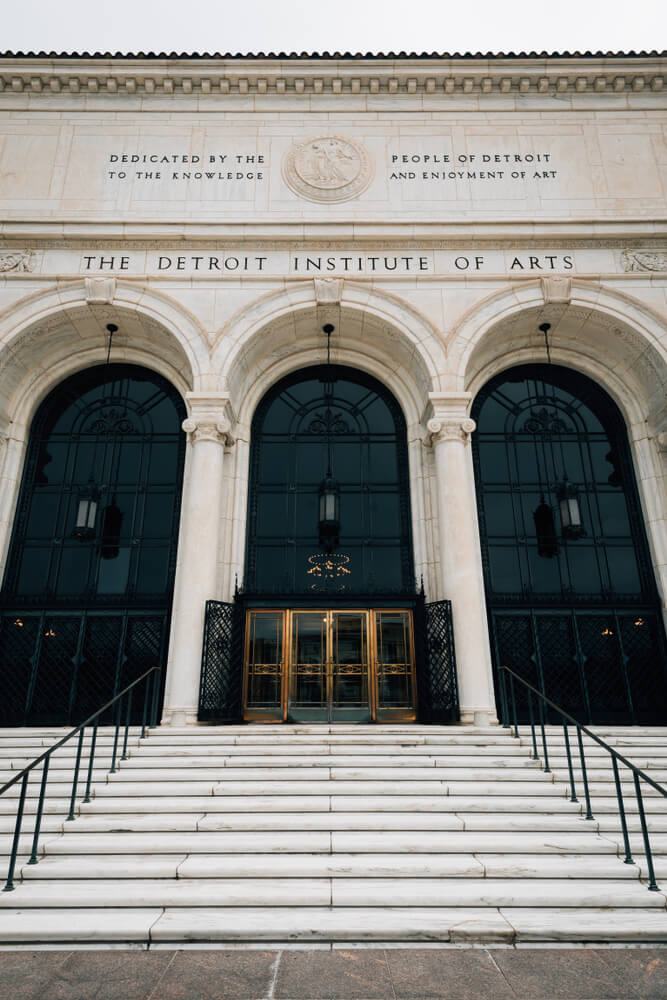 The Detroit Institute of Arts is one of the top museums in the country. This incredible building is loaded full of exciting exhibitions and interactive displays. The museum covers so much more than just art. There are displays on music, film, art-making, and even some games. This is definitely one of the best artsy things to do in Detroit.
23. Admire the Heidelberg Project
Detroit is becoming famous for its amazing art – and this is not just found in the traditional sense! The Heidelberg Project is an outdoor art environment in the McDougall-Hunt neighborhood.
The Heidelberg Project is a kind of neighborhood outdoor art gallery. It consists of many buildings in the area being wildly decorated and artistically painted. This offers a brilliant insight into one of Detroit's most unique neighborhoods. Walking around here offers an experience that you just can't get anywhere else.
Day Trips From Detroit
There are plenty of things to do in metro Detroit, but the city is also a great base for seeing more of the surrounding area. If you will be spending an extended amount of time in Detroit, then consider embarking on one of these brilliant day trips.
Niagara Falls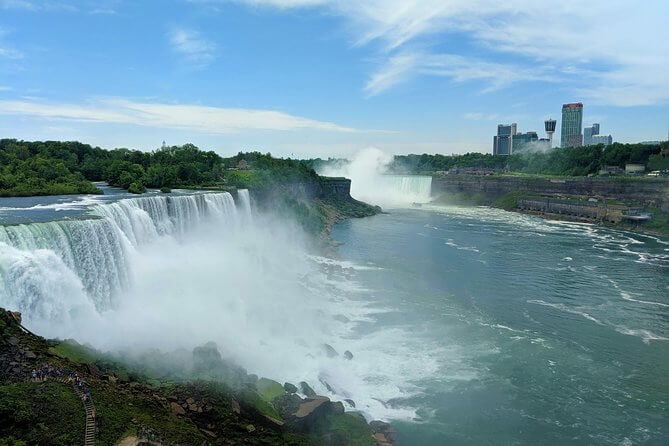 You may have to wake up early to get to Niagara Falls, but it can be reached fairly easily from Detroit. Cross over the Canadian border, and spend a day in awe of the magnificent Niagara Falls!
You can marvel at this powerful waterfall from all angles, or even witness its magnitude from a boat ride. During the day, you could visit the Skylon Tower Observatory, ride the Niagara SkyWheel, or visit the Niagara Falls Observatory.
This waterfall is world-famous for its sheer power and natural beauty. Taking a trip to this magnificent site will definitely be worth your while!
Birmingham
Birmingham is a small town only 30 minutes outside of Detroit. This charming little place is full of character, and there are plenty of fun things to do here!
Walk the pretty streets and pop in at the many boutique stores and cafes. Sports fans can visit the Michigan Sports Hall of Fame, while those wanting to learn more about the town can enjoy the Birmingham Museum. There are also some lovely art galleries here.
Birmingham offers a refreshing break from the busy city. This town has a look and feel of its own, and it's the perfect place to discover a little bit more of what Michigan has to offer.
3 Day Detroit Itinerary
Looking for the best things to do in Detroit over 3 days? Here is our guide to how you could spend your time in this city.
Day 1 – Exploring Exciting Downtown
Start off your Detroit adventure by getting a feel for the city life. You could spend the morning walking around historic Corktown – admiring the beautiful buildings, shops, and landmarks in the neighborhood.
Make your way to the impressive Renaissance Center where you can ogle at the striking architecture. From here you can walk amongst the many art installations of downtown, before heading to the Eastern Market.
Explore this market, before heading over to Greektown. This is a great place to take advantage of the delicious food on offer in Detroit! After dinner, consider a show at the Fox Theatre, or a few local beers at one of the many brewpubs in the area.
Day 2 – Enjoy the Outdoor Surroundings
Detroit has a thriving inner-city, but there are also plenty of outdoor attractions to be enjoyed. Start the second day off with a Diamond Jack sightseeing cruise down the river. After this, you can enjoy the scenic RiverWalk along the banks, before reaching Belle Isle.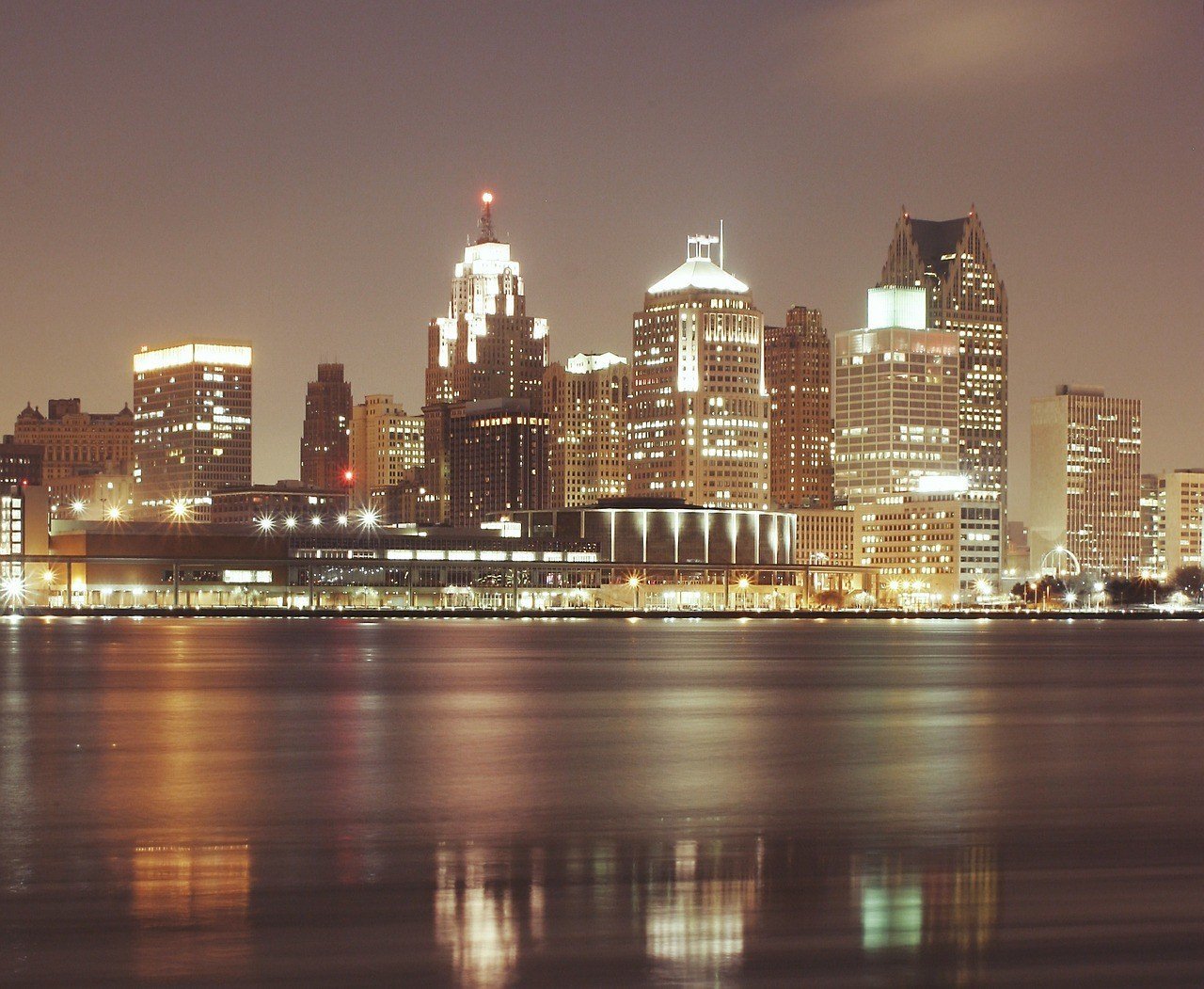 Spend the rest of the afternoon on this awesome island. You could visit the nature center, walk through the scenic trails, visit the Great Lakes Museum, or the aquarium. End off your second day by watching a movie in the park with a picnic.
Day 3 – Discover Detroit's Heritage
Your third day is all about taking advantage of the brilliant museums on offer in this city. Start the day off by learning about Motor City's history at the Detroit Historical Museum.
You can then head over to the Detroit Institute of Arts to be inspired by creativity! End the day off at the essential Henry Ford Museum and Greenfield Village.
More Great Resources
Conclusion
Detroit has had a bad name as a city, but this is something that is rapidly changing! Where there were once ruined buildings and uninhabited shop fronts, there are now trendy cafes and lively art installations. Detroit offers a breath of fresh air to anyone visiting. There really is so much to experience in this exciting city.
If you are wondering what to see in Detroit, we hope that this list will make your trip easier! Beyond the city's sights and attractions though, Detroit is a place that you just have to experience. It is the energy on the streets, the sounds, the people, and the food. This is a city with a different atmosphere – and we think it's definitely worth the visit!
---
Find out how YOU can support the site.
We're a big site with a big team and this job isn't always easy. But we do it because we love it – we love providing epic and free content. We love the knowledge that our content keeps you adventuring. We don't ask for money, but if you'd like to find out how you can help the site in more organic ways, click the button below.
Thank you for your support 🙂
And for transparency's sake, please know that some of the links in our content are affiliate links. That means that if you book your accommodation, buy your gear, or sort your insurance through our link, we earn a small commission (at no extra cost to you). That said, we only link to the gear we trust and never recommend services we don't believe are up to scratch. Again, thank you!