Travel
20 TOP Hostels in Seoul (2021 Backpacker Advice)
Seoul is one of those cities that seems to fly under the radar.
Bangkok, Tokyo, Hong Kong, Singapore – these are the Asian cities most Westerners think of visiting in Asia… but Seoul should absolutely be on your list as well.
It's one of the coolest cities when backpacking or traveling to Asia, which is exactly why I made the list of the 20 best hostels in Seoul.
But with 25 million residents and thousands of accommodation choices, it can be overwhelming for backpackers to know where to stay, which is exactly why I made this list of the 20 best hostels in Seoul.
I organize each hostel into different travel-categories, so you can identify what your specific needs are, and book your hostel with confidence, so you can focus on eating kimchi, and visiting princess restaurants and racoon cafes.
Quick Answer: The Best Hostels in Seoul
What to Look for in the Best Hostels in Seoul
The tenth most visited city in the world, Seoul is known for its love for electronics, fast wifi, and deliciously spicy food. With so many interesting things to see in Seoul, it is a backpacker's paradise, and a great base point to see many of South Korea's other underrated destinations. Seoul is interesting, fun and very, very affordable.
Here are some things to keep in mind while trying to backpack Seoul on a budget…
Price – Somewhere in between the price of Tokyo and Bangkok lies Seoul. Food can be super cheap, but shopping and late night's out is what can quickly break your bank. Seoul can be done on $30 but $40 a day will give you a bit more breathing room.
Location – Seoul is absolutely enormous. If you have any specific sights you wish to see, try and find a hostel near, but if you can't don't panic. Seoul has arguably the best public transportation system on the planet, so you'll be able to get anywhere you need quickly and cheaply.
Amenities  – My favorite hostel hack (and #70 on this list) is finding free breakfast. Thankfully a majority of the best hostels in Seoul offer free breakfast. Also, keep an eye out for any hostels that have free laundry facilities.
Things DO go missing sometimes…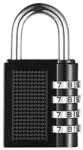 Psst
! Heading to a hostel? Don't forget to pack a padlock! It's well worth having one so you can secure your locker and protect your stuff!
The 20 Best Hostels in Seoul
You might struggle to understand Seoul's official marketing slogan—I Seoul U—but luckily, finding a terrific hostel in Seoul is easy. We've done the legwork for you, finding the best hostels in the South Korean capital and breaking them down into different types so you can be sure that you book a Seoul hostel that's just right for you. Let's meet our Seoul accommodation picks.
Overall Best Hostel in Seoul – Bunk Guest House
$$
Free Breakfast
Laundry Facilities
Bicycle Rentals
A top South Korean hostel, Seoul, Bunk Guest House is in the life and Seoul of the city: Hongdae. It may be quieter in the low season, but during the high season, it springs to life, with Korean BBQs and other fun parties on the roof terrace. Visit Seoul's most popular places on a range of tours or grab a free city map and explore independently; public transport is close to hand. Secure and safe, Bunk Guest House has a communal kitchen with everything you need to cook up a feast, a chilled-out lounge, a hot tub, and a steam room. Breakfast and Wi-Fi are included and bicycles are available to rent. There are so many reasons why it's the best hostel in Seoul in 2021.
Best Hostel for Solo Travelers in Seoul – ZZZIP Guesthouse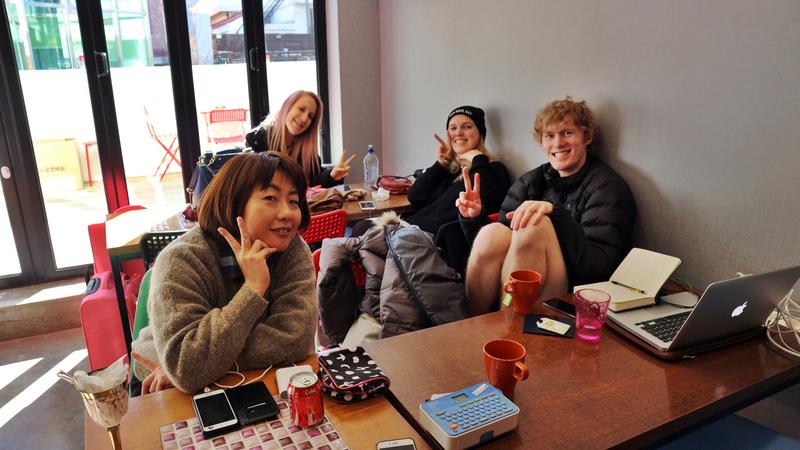 $$
Free Breakfast
Free Tea and Coffee
Discount Vouchers
A reasonably priced hostel with mixed and female-only dorms, the freebies at ZZZIP Guesthouse help to shave even more off the costs of visiting Seoul. Tuck into an included breakfast before heading out with your free city map, and come back to free tea and coffee. Keep your Instagram feed interesting thanks to the free Wi-Fi. Enjoy discounts to some of Seoul's hottest attractions, including Lotte World and Dragon Hill and soak up the energy in nearby Hongdae. Indoor and outdoor seating are available, and there's a shared kitchen and a book exchange.
Providing a perfect balance, ZZZIP is among the best hostels in Seoul for solo travellers who want to combine mingling and lone time.
Best Cheap Hostel in Seoul #1 – Backpackers Inside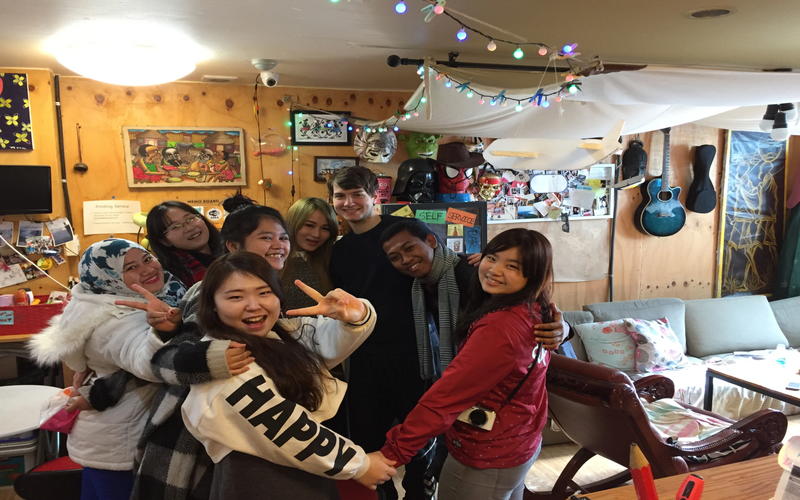 $
Single Sex Dorms
Steam Room
Games Room
The award-winning Backpackers Inside isn't only one of the coolest hostels in Seoul, but it's also among the most affordable for broke backpackers. Dorms are single gender. Situated in Daehangno, shopping, culture, and history is almost on the doorstep. Facilities include a well-equipped kitchen, a games room with a PlayStation, Wii, and good old-fashioned board games, a washing machine, steam room, book exchange, and free Wi-Fi. The atmosphere is peaceful and calm so you're sure of a good night's sleep at this best budget hostel in Seoul.
Best Cheap Hostel in Seoul #2 – Whitetail Backpacker and Hostel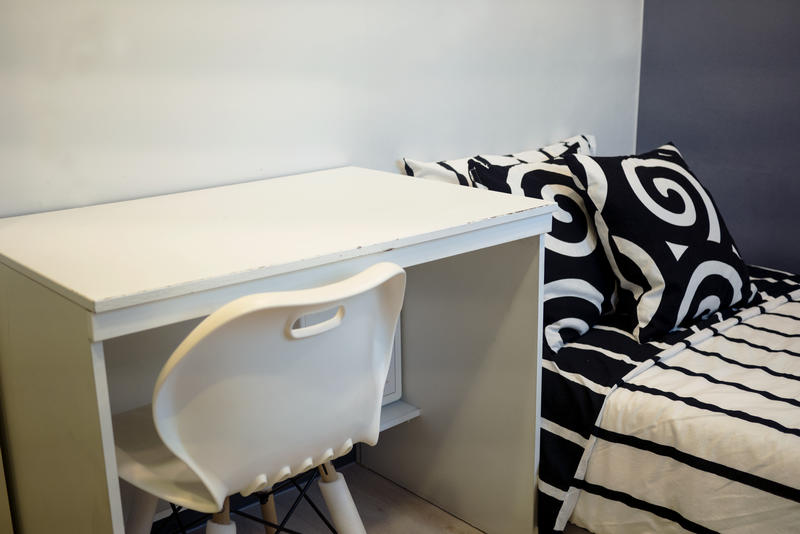 $
Free Breakfast
PlayStation
Book Exchange
A top budget youth hostel in Seoul, Whitetail Backpacker and Hostel is run by keen travellers who are switched on to the various needs of today's modern explorers. The clean and safe hostel is located in a quiet residential area, yet is only a ten-minute walk from popular Hongdae. In addition to free Wi-Fi there are also public computers that you can use and lockers to keep all your devices and other important stuff safe. The large common room is good for both finding a quiet spot to get some work done and mingling with other travellers.
Best Cheap Hostel in Seoul #3 – Sweet Comfort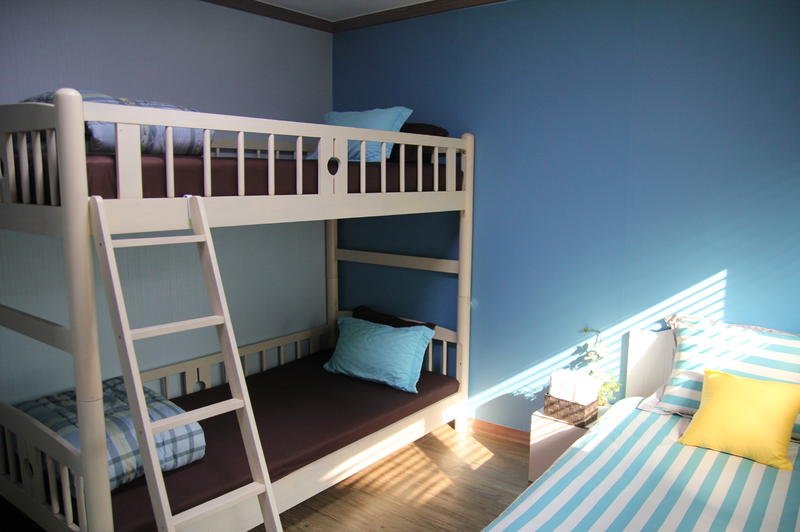 $
Inclusive Breakfast
Luggage Storage
Bike Parking
A relative newcomer to Seoul's hostel scene, Sweet Comfort is, as the name implies, a comfy and cosy base from which to explore some of Seoul's most happening neighbourhoods. Hongdae's numerous entertainment and leisure options are just a short skip away, and the rest of sprawling Seoul is easily reached by public transport. A filling and free breakfast each morning, free Wi-Fi, lockers, cable TV, self-catering amenities, and more little extras really do make your stay here comfortable.
Best Hostel for Couples in Seoul – Seoul Dalbit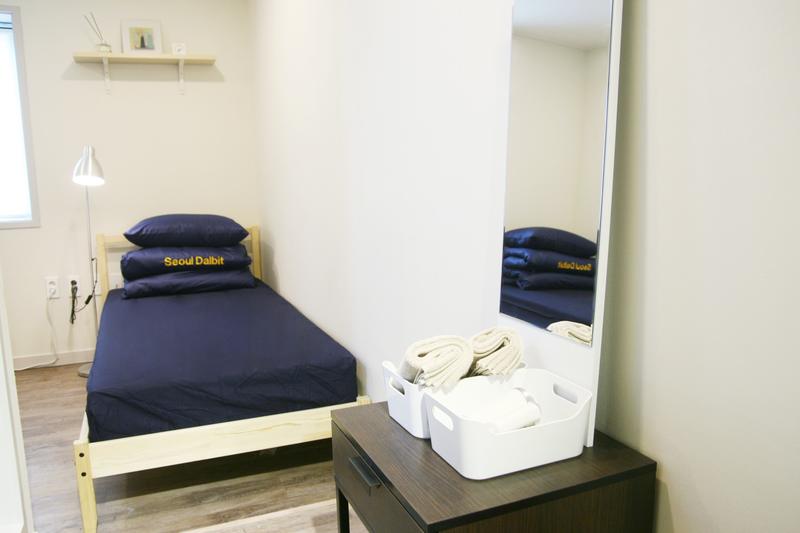 $$
Included Breakfast
Key Card Access
Tour Desk
One of the best hostels in Seoul for couples seeking a little starry-eyed romance, Seoul Dalbit has an enchanting moon and nighttime theme. Join in with tours and parties or do your own lovebird thing. Solo travellers will also feel at ease here; there are various en-suite private rooms to choose from, each with a TV and devices to access the internet, as well as female-only dorms. Fill up each morning on the free breakfast, chill with a glass of soju in the common room, and save money by cooking your own meals in the kitchen.
Best Party Hostel in Seoul – Time Travelers Party Hostel In Hongdae
$$
24-Hour Reception
Onsite Bar and Café
Pool Table
Located in lively Hongdae, this is, true to its name, one of the best hostels in Seoul for party-loving travellers. The sociable bar keeps the tunes pumping and the beer flowing, and you're just a stone's throw from some of Seoul's best clubs, bars, and restaurants. Members of staff are like buddies, going on bar crawls, hosting Korean BBQs, challenging guests to a game of pool, darts, or foosball, and doing loads more fun stuff. The washing machine is free to use and there's free Wi-Fi. The artwork is cool and there's a communal lounge and kitchen. Seoul's Time Travelers Party Hostel In Hongdae really is a place for party animals.
Best Hostel for Digital Nomads in Seoul – Time Travelers Relax
$$
Wide Selection of Books
Luggage Storage
Laundry Facilities
A top hostel in Seoul for bookworms and introspective thinkers, Time Travelers Relax is a terrific place to take time out to refresh and rejuvenate. It's not dull though; within easy reach of Hongdae there are plenty of nightlife options as well, giving you the best of both worlds. Grab your new mates and take cool pictures with the trick art, explore trendy Sinchon, and share a home-cooked meal. Fancy some alone time? Choose from the wide selection of books and get lost in the pages and stay connected with the free Wi-Fi. While not a Digital Nomad mecca, it's a good place to get some work done and is a great Digital Nomad hostel in Seoul.
Best Hostel with a Private Room in Seoul – Hostel Haru
$$
Amazing window views
Downtown location
Free breakfast!
Located in vibrant downtown, Hostel Haru is one of the highest rated hostels in all of Singapore! Centrally located, you are close to all of the action and you can also SEE it all from the hostel's amazing window views. The private rooms are lovely, but if you have a change of heart they also have dorms and a buzzing common area so that you can still get to some socializing!
More of the best hostels in Seoul
Here's some more awesome hostels in Seoul for you to try too:
Duri Guest House
$$
Free breakfast
Single-Sex Dorms
Laundry Facilities
Duri Guest House is awesome for travellers that want to meet others but don't particularly love spending the night with large mixed groups; dorms are single gender and sleep four. There's a kitchen/dining room as well as a lounge and terrace. Free snacks and tea are available, and breakfast is included in the reasonable room rate. Bike parking, free Wi-Fi, and fun summer BBQs are other benefits of staying at this Seoul backpackers' hostel.
Philstay Dongdaemun DDP
$$
Subway Access
Free Breakfast
Females Only
A top Seoul hostel for a getaway with the girls or for ladies to meet other female pals, Philstay Dongdaemun DDP only has dorms for women. Key card access and lockers add to your peace of mind. Shop till you drop at the nearby clothes market—it's the biggest in Asia! Chillax inside and out, either in the lounge or on the terrace, and share a meal in the communal kitchen. Meals are also available if you're lazy to cook or venture out. There's free Wi-Fi and computers to use, and you can leave luggage here safely if taking a side trip.
Travelholic Guesthouse
$$
Free Breakfast
Games Room
Café
Close to Seoul's centre, Travelholic Guesthouse is a peaceful sanctuary away from the hustle and bustle. Ideal for travellers who value their beauty sleep and downtime, it's a recommended hostel in Seoul for people who would prefer to chill than party. Beautifully clean and tidy, there's a female-only dorm as well as mixed dorms. Unwanted visitors are kept out by the key card access and all guests have a large locker. Freebies include a filling breakfast and Wi-Fi. Thanks to the free airport transfers you don't need to hunt high and low for a great Seoul hostel near the airport—go straight to the city's heart and soul!
Family and Friends House 2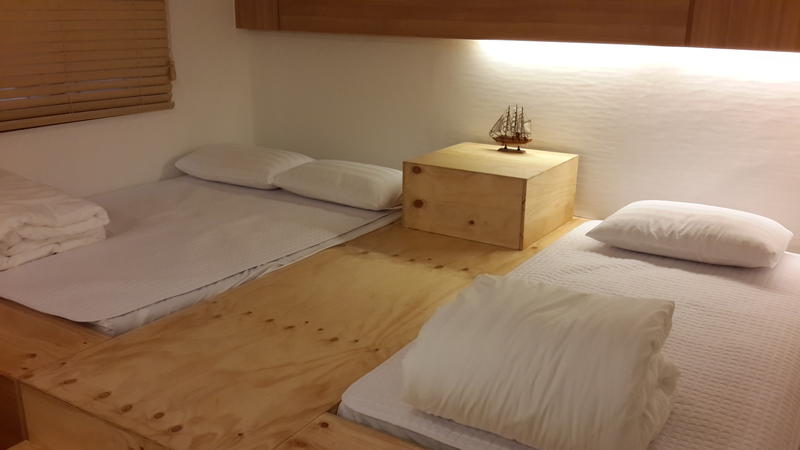 $$
Female-Only Dorms
Free Breakfast
Luggage Storage
A top hostel in Seoul for female travellers, one of the most unique things about Family and Friends House 2 is the chance to get dressed up in a traditional Korean outfit. It's not that we're saying guys wouldn't enjoy this too, but there are only female dorms here. A pick-up service is available to make life a little easier. Close to Seoul's highlights, the hostel has a common room and kitchen, tour-booking services, and security lockers. Borrow a hairdryer to make sure you get the perfect selfies. Free breakfast and Wi-Fi are extra add-ons that make Family and Friends House 2 attractive.
Lazy Fox Den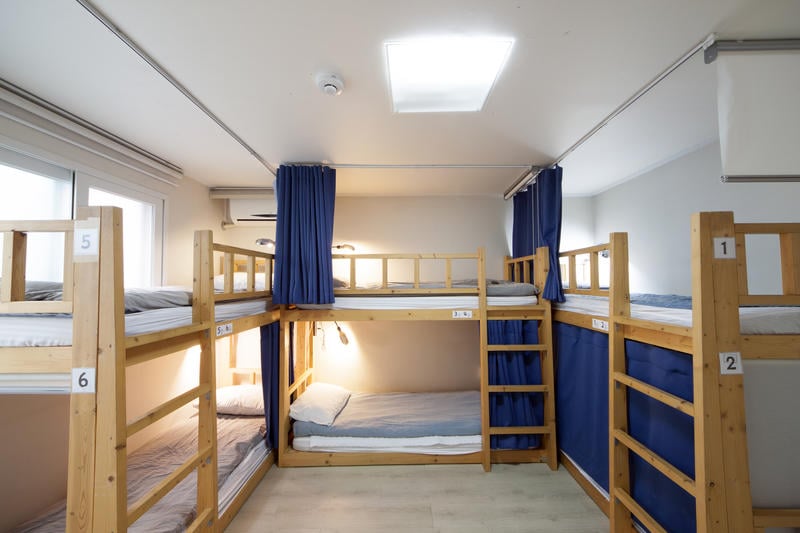 $$
Free Breakfast
Free Parking
Laundry Facilities
Chilled out, cosy, and welcoming, the Lazy Fox Den is within easy reach of Hongdae and public transport links. Mixed and single-sex dorms are available, and guests each have a locker. Mingle and swap travelling tales over a board game, unwind in the steam room, chill on the terrace, and, if you're not feeling too sloth-like, make use of the laundry facilities to stay fresh and fragrant for the rest of your adventures in South Korea. There's even an iron to keep you looking tip top. Other convenient comforts include a kitchen, free Wi-Fi, free parking, and lockers.
Xeromine Guesthouse Itaewon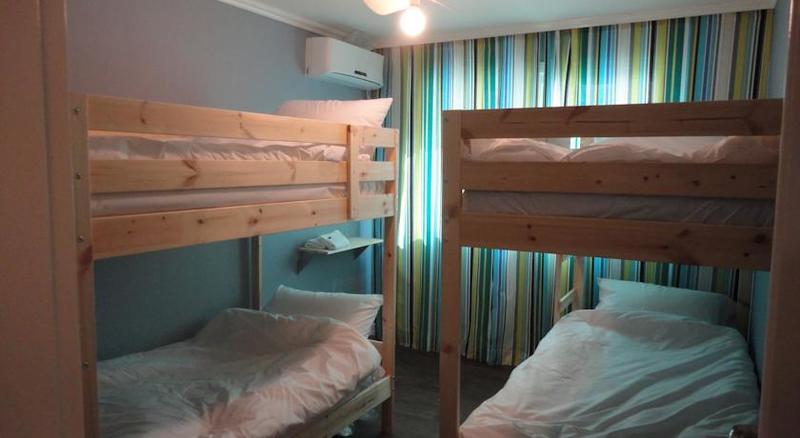 $$
Noon Checkout
Laundry Facilities
Roof Terrace
Accessing Xeromine Guesthouse Itaewon by public transport is a breeze and Seoul Tower and Insadong are close to hand. Homey, cosy, calm, and clean, Xeromine is also one of the best hostels in Seoul for keeping toasty warm in the wintertime. Hair dryers help to keep the chill away. More suited to backpackers seeing a more meditative vibe than all-night parties, the relaxed hostel has a shared kitchen, roof terrace, free Wi-Fi, cable TV, and a washing machine.
Want to save the world?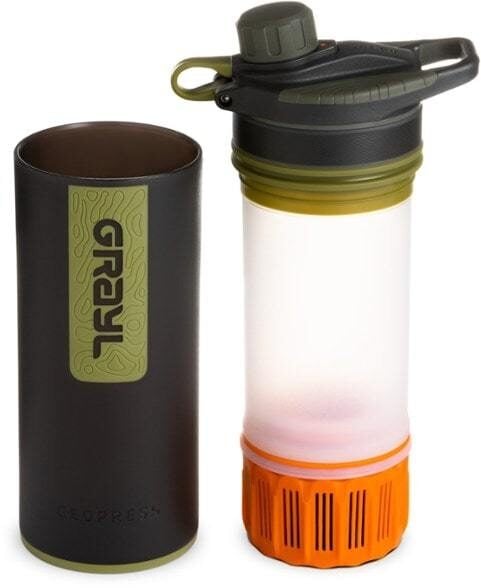 Single-use plastic bottles are a huge threat to Marine Life – Be a part of the solution and travel with a filter water bottle.
The GRAYL GEOPRESS water bottle is the ONLY all-in-one filter water bottle setup you'll need. Whether you need to purify the water from a hostel sink in Kathmandu or a stream trickle in the Andes, the Geopress has got you covered.
Read our full review of the GRAYL GEOPRESS!
NG House
$$
BBQ
Laundry Facilities
Intimate Vibe
A fairly small hostel with small dorms as well as private rooms, NG House has everything you need for a short stay in Seoul, including a common room, communal kitchen, free Wi-Fi, and laundry facilities. Arriving early or departing late? Leave your stuff safely in the luggage storage area so you don't miss a second of Seoul's excitement. The noon checkout is later than many of Seoul's hostels.
Lian Guesthouse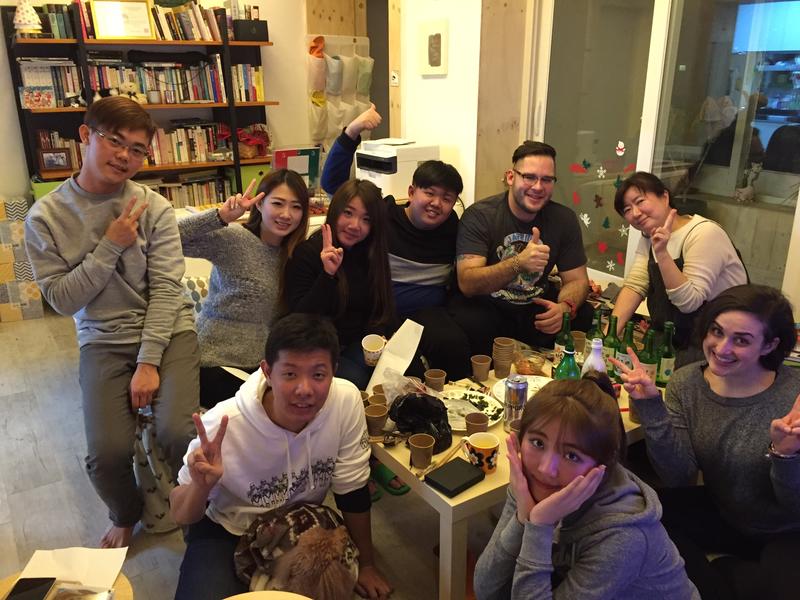 $$
Free Breakfast
Currency Exchange
Free Laundry
Lian Guesthouse has small dorms for four or six, perfect if you don't enjoy sharing with large groups and listening to multiple snores! Round-the-clock security helps you sleep more soundly too. Put a spring in your step with the delicious free breakfast and keep on top of your washing with the free laundry facilities. There's a shared lounge with a TV where you can mingle, as well as a communal kitchen and a cute garden.
Dream Comfort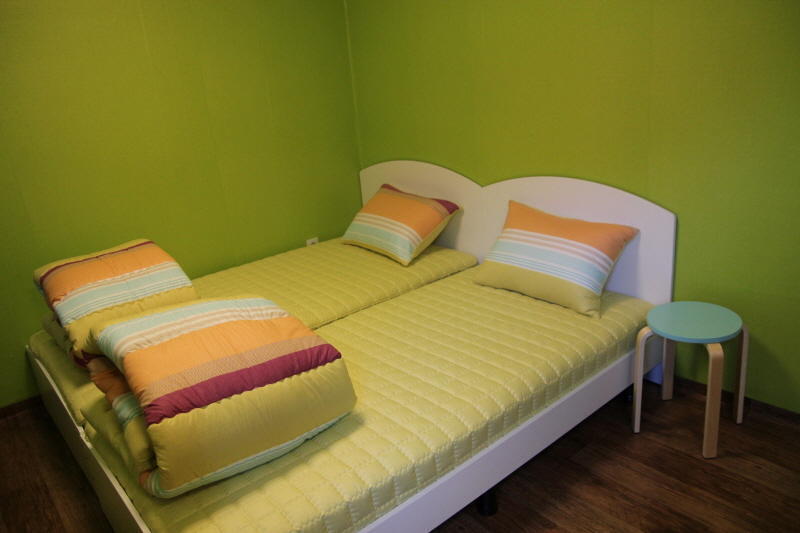 $$
Free Breakfast
Games Room
Traditional Architecture
Step back in time to the Korea of the 1970s with a stay in the olde-worlde Dream Comfort. Light and airy, the modern facilities are far from old fashioned, though. There's free Wi-Fi, a games room with foosball, cable TV, a well-equipped kitchen, and key card access. Public transport is easy to reach and the hostel is in Seoul's youthful area of Hongdae. Various private rooms are available as well as the four-bed dorms. Relax in the steam room or the terrace and satisfy any late-night cravings at the vending machine if you can't wait till morning for the free breakfast.
Kim's Family Guesthouse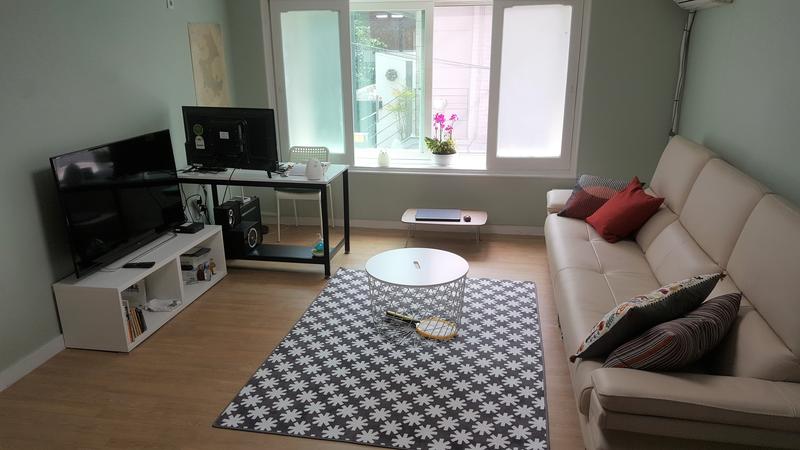 $
Steam Room
Laundry Facilities
Luggage Storage
The lower prices at Kim's Family Guesthouse make this a great option for budget backpackers who prefer to stay a little out of the action. That said, it's just a couple of blocks to Hongdae. Dorms are for four or eight and all beds have privacy curtains. The property is accessed by key card and the friendly members of staff will make you feel right at home. Whip up a simple meal in the kitchen and have fun with mini golf, ping-pong, and racquetball. What more could you want from a Seoul backpackers hostel?
Seoul I Guesthouse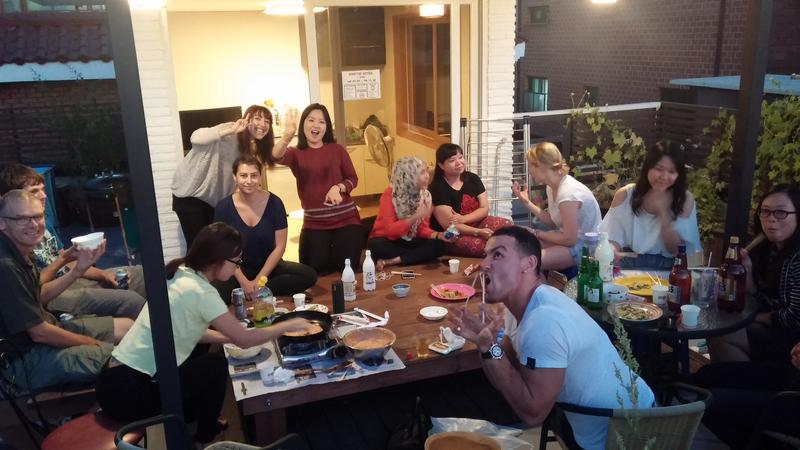 $$
Traditional Korean Décor
Free Breakfast
Two Common Areas
Just a short walk from Seoul's most vibrant area, Hongdae, you only need to step out of the door of Seoul I Guesthouse to din cafes, bars, restaurants, and a pretty park. Unwanted intruders are kept out by the pincode-style entry pad. There's a fully equipped kitchen and a basic breakfast is included each morning. Meet other travellers and admire the views from the roof terrace, or socialise in the inside lounge. How about a movie marathon? There are heaps of films to choose between. It's a recommended hostel in Seoul for travellers who like to meet others but also have plenty of downtime.
What to Pack for your Seoul Hostel
Pants, socks, underwear, soap?! Take it from us, packing for a hostel stay is not always quite as straight forward as it seems. Working out what to bring and what to leave at home is an art we have perfected over many years.
Check out our definitive Hostel Packing list for our top packing tips!
Why you should travel to Seoul
Similar to Tokyo, Seoul is a city from the future, and it's hostel scene is top notch. Hopefully this list of the 20 Best Hostels in Seoul helps you weed through the options, and made a confident decision, so you can focus on going to racoon cafes' and other awesome Seoul shit like that!
And remember, if you can't choose which hostel to book at, due to all of it's freebies, our number one recommendation is Bunk Guest House.
FAQ about Hostels in Seoul
Here are some questions backpackers ask about hostels in Seoul.
Travel Safety Tips for Seoul
And don't forget Travel Insurance! We've put together a roundup of Travel Insurance for backpackers – check it out here, or if you're low on time, get a quote from World Nomads, our favorite travel insurance provider.
Getting an estimate from World Nomads is simple – just click the button or image below, fill out the necessary info, and you're on your way!

For a little extra information on the current safety situation in South Korea, check out our dedicated security guide here!
More Epic Hostels in South Korea and Asia
Hopefully by now you've found the perfect hostel for your upcoming trip to Seoul.
Planning an epic trip all across South Korea or even Asia itself?
Don't worry – we've got you covered!
For more cool hostel guides around Asia, check out:
Over to you
By now I hope our epic guide to the best hostels in Seoul has helped you choose the perfect hostel for your adventure!
If you think we've missed anything or have any further thoughts, hit us up in the comments!
---
Find out how YOU can support the site.
We're a big site with a big team and this job isn't always easy. But we do it because we love it – we love providing epic and free content. We love the knowledge that our content keeps you adventuring. We don't ask for money, but if you'd like to find out how you can help the site in more organic ways, click the button below.
Thank you for your support 🙂
And for transparency's sake, please know that some of the links in our content are affiliate links. That means that if you book your accommodation, buy your gear, or sort your insurance through our link, we earn a small commission (at no extra cost to you). That said, we only link to the gear we trust and never recommend services we don't believe are up to scratch. Again, thank you!