Travel
17 UNIQUE Things to Do in Green bay [in 2021]
Green Bay in Wisconsin is set on the shores of Lake Michigan and is just a stones throw from the Canadian border. The little city is rich in history and was founded by the French before the British took over. There is still evidence of this history to be found at the twists and turns in the city streets.
There are a lot of things to do in Green Bay. Tourists, especially in the US, will know the city due to its NFL credentials: the Green Bay Packers are one of the most famous teams in the country and much of the city is dedicated to their legacy, from heritage walks and Packers-themed sports bars, to the famous Lambeau Field itself. But there's much more to the city than all that.
To help you discover some of the more off the beaten track, unique and unusual things to do in Green Bay, we have put together this guide to the more hidden side of the sights in this Wisconsin city. There's so much history going on here, from the world's first electrified domestic house to a sprawling open-air museum with replicas of centuries-old settlements – and a lot more besides. So let's get into it!
Top Things to Do in Green Bay
Let's start with the top things to do in Green Bay.
1. See the beauty of the surrounding landscape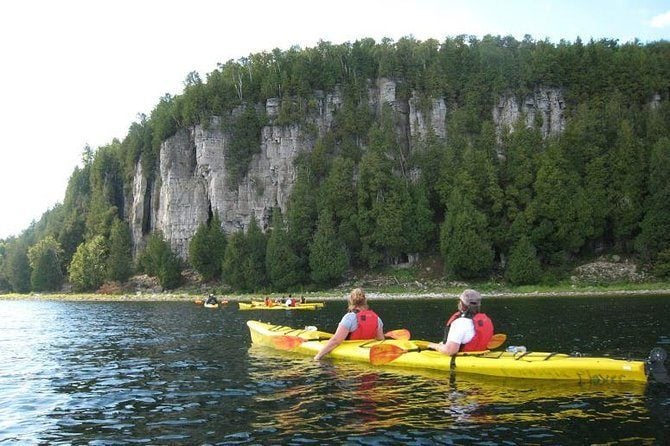 Green Bay is a great spot to base yourself if you're into nature. There are opportunities for hiking, kayaking, and exploring right on the cities doorsteps. Peninsula State Park, just on the doorstep of the town itself, is easily one of the best things to do in Green Bay.
With thousands of acres of pristine water and tree-studded landscape to discover, Peninsula State Park is particularly good for getting out on the water; in fact, some places in the state park are only accessible by boat. For one good example, you might want to check out the aptly named Horseshoe Island, but to get a glimpse of the land from on high, head to Eagle Tower atop Eagle Bluff for an eagle-eye view.
2. All aboard at the National Railroad Museum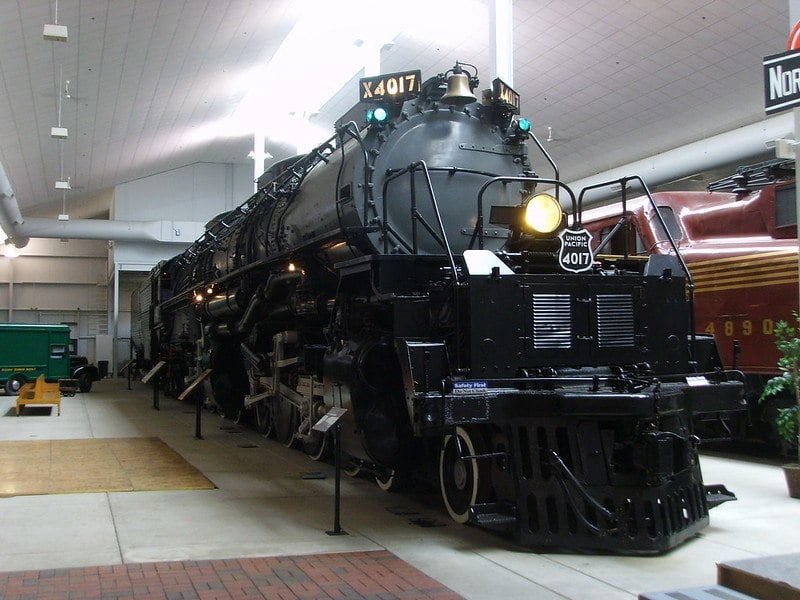 Dating all the way back to 1956, this railroad museum claims to be one of the oldest in the US and is fittingly one of the most interesting things to do in Green Bay. Located Ashwaubenon, you can even take a train ride through the grounds of the National Railroad Museum themselves – you'll be accompanied by a very knowledgeable driver who'll point out the highlights from aboard.
Here you'll find 70 vintage rolling stock (i.e. anything that ever went on the rails themselves) and you actually get to go on some of them yourself, from an old post train to a hospital carriage and opulent old dining cars. It'll be more fun than you imagine – and even more fun if trains are your jam.
FIRST TIME IN GREEN BAY
Downtown
With plenty of stuff going on just on the doorstep, the Downtown area is the best place to stay in Green Bay. Not only are there plenty of restaurants, boutiques and attractions to explore in Downtown, it's also set along the riverfront, where you can watch boats sail by.
Places to visit:
Pay a visit to Cannery Public Market
Head to the riverside CityDeck and stroll along the East River Trail
Go for a spot of wine tasting at Captain's Walk Winery
3. Head back in time at the Hearthstone Historic House Museum
For more of the history that Green Bay has to offer, how about checking out one of its beautiful old Victorian mansions? That's what you'll find at Hearthstone Historic House Museum. More than that, though, is the fact that this was the first house in the actual world that was hooked up to Edison's early electricity circuit. It still has all the original fixtures and fittings.
Built and hooked up to the grid by paper tycoon Henry J. Rogers (apparently for his wife), the house today can be explored in all its glory. Everything here has been left intact and you can even get informative guides around to add meaning to what you're seeing. Definitely one of the coolest things to do in Green Bay – think antique furniture and even secret passages, too!
4. Visit the home of the Green Bay Packers
The third-oldest team in the NFL, having been formed way back in 1919 by Curly Lambeau (great name), the Green Bay Packers also happen to be the only community-owned, non-profit major league sports team in the US. Both these things, combined with the fact their ground – Lambeau Field – is the oldest in continuous operation in the NFL (since 1957), makes them a famous team.
So for one of the most quintessential things to do in Green Bay, head over to the stadium. Catch a game or organise yourself a behind the scenes stadium tour. Alternatively, there's the Packers Heritage Trail – consisting of commemorative plaques spread throughout Downtown – which can be followed through the city on a self-guided basis.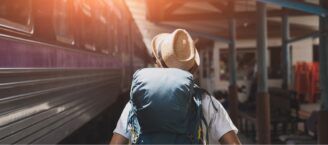 Unlock the The Broke Backpacker's GREATEST Travel Secrets
Sign up for The Broke Backpacker Newsletter to receive weekly tips on how to travel on a budget + a FREE copy of The Backpacker Bible!
5. See the Door County Wetlands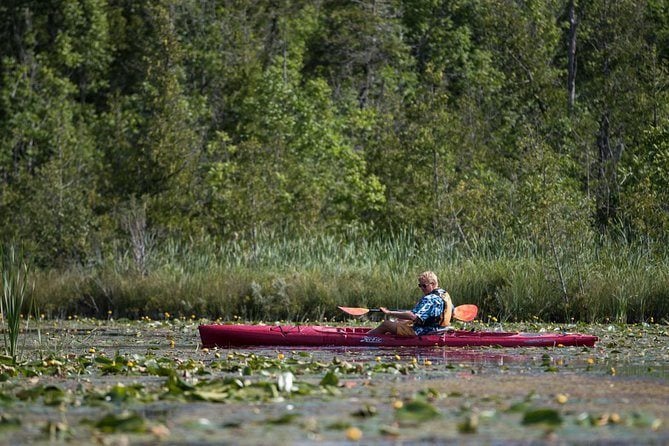 For more of the amazing nearby nature that Green Bay has to offer, head out to the Door County Wetlands. A good place to start would be Rieboldt's Creek – on a kayak, of course – and then spend time paddling around and exploring the ecosystem that this super pretty area has to offer.
You'll be in with a chance of spotting a whole lot of wildlife, from bald eagles to blue herons, swans and egrets, all in a stunning natural setting. It's easily one of the best outdoors-y things to do in Green Bay, so if you like your trips filled with chances to get out into nature, then you'll want to organise a trip to the waterways and swamps of these wetlands.
6. Hang out at the Heritage Hill State Park
Spread across almost 50 acres, Heritage Hill State Park is an open-air museum close to Green Bay. Though it dates back to 1972, what you'll be able to see here tells the story of the town, which has its origin in the 1600s when explorers claimed this area for France.
Walking around this historic wonderland, you'll get to see replicas of log cabins from the fur trading days, old shops and general stores, chapels made of bark, all sorts of stuff. It's a cool thing to do in Green Bay: learn about the city's beginnings in what is actually a super nice place to stroll around. Tip: Check online for different events going on in the state park.
Unusual Things to Do in Green Bay
If you want to do something a bit more off-beat, then check out these epic & unusual things to do in Green Bay.
7. Go on a scavenger hunt through Downtown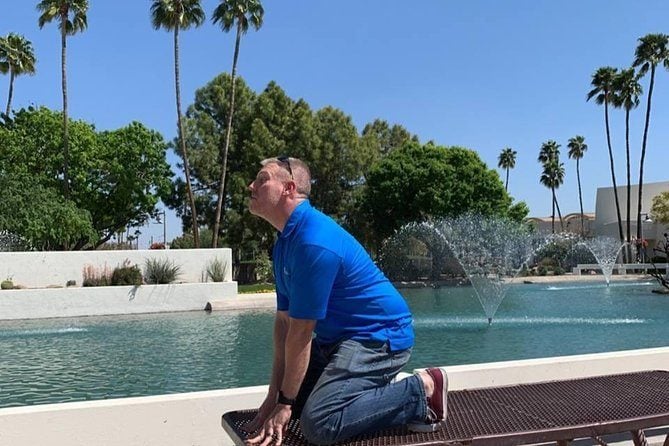 Through exploring a city on foot without any real aim might not be everyone's thing, we think this more unusual thing to do in Green Bay may be a better option. A scavenger hunt pretty much gamifies any trip to Green Bay, making it actually fun to wander around, finding clues and different objects, racking up a score as you go.
So instead of ticking off a mental checklist or following some walking tour, do a scavenger hunt!
8. Gaze at some shiny vintage cars at The Automobile Gallery
Cars might not be everyone's cup of tea, but hang on: at The Automobile Gallery in Downtown Green Bay, cars are art. Here is where history and culture come together in a culmination of well-polished Cadillacs, DeLoreans and other classic cars.
One of the more unusual things to do in Green Bay, it's not only a great way to soak up some automobile history, but also look at some cool cars – there's even a couple of antique models here, as well as some super modern motors, too. The staff at this well-loved "gallery" will be more than happy to talk you through anything or guide you around. It's an overlooked gem of a place.
9. Hang out at The Art Garage
The Art Garage may sound like another place filled with shiny cars, but actually this is a cool gallery space in the middle of Downtown. Well, in fact, it's more than simply a gallery: it's a not for profit that helps to promote creativity in the community. You can take painting classes here or even see some live music.
Its location is very cool though – The Art Garage is set in an old cannery, meaning polished cement floors and brick walls. It's one of the most hipster things to do in Green Bay, minus the actual hipsters and expensive coffee joints. It's all about community and creativity and, if you're into that, you'll love it here.
Safety in Green Bay
Green Bay is a perfectly safe place to visit. Lacking the crime statistics of other urban centres in the US, this clean city has a nice community atmosphere and should give you no reason to worry about visiting.
In fact, Wisconsin as a state has a crime rate (especially theft) that is way below the national average. It's a safe place to be and that includes Green Bay.
Of course, like any place, you shouldn't be wandering around by yourself at night time down dark, deserted alleyways. Common sense still applies, and that goes for exploring nature too; don't push yourself, tell people where you're going, and be prepared with appropriate gear and clothing. Driving in winter can also be hazardous.
There aren't really any "bad" areas in Green Bay though – you should be totally fine visiting here. Read our tips for traveling safely before you fly and always get travel insurance. Check out our roundup of the best travel insurance.
Travel with peace of mind. Travel WITH a security belt.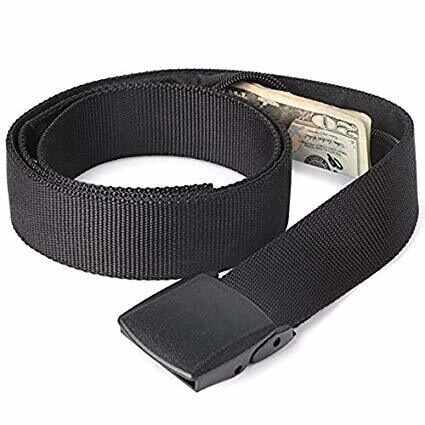 Custom-designed BY the Broke Backpacker FOR broke backpacking, the Active Roots Security Belt will keep your valuables safe no matter where you go.
It looks exactly like a normal belt except for a SECRET interior pocket perfectly designed to hide a wad of cash or a passport copy. Never get caught with your pants down again! (Unless you want to.)
Check on Amazon
Things to Do in Green Bay at Night
10. See a show at Leicht Memorial Park
Though the Leicht Memorial Park, set along the Fox River, is a great place to stroll around and hang out during the day, it's at night where it comes alive: this place is well known for its live music and is a pretty awesome spot for catching a concert by the water's edge.
Definitely one of the better things to do in Green Bay at night (which don't involve food and drink), there are also often art shows, fairs and other family-friendly happenings scheduled throughout the year. Take along a picnic and enjoy a show, but make sure to check what's going on first.
11. Do some late night shopping at Titletown Night Market
Nope, night markets aren't just for Southeast Asia: you'll find one of those in Green Bay, too. Specifically, you'll be heading to the Titletown area, just west of Lambeau Field, for one of the best things to do in Green Bay at night.
The Titletown Night Market takes place every Thursday night and, naturally, you'll find a load of food vendors, stalls and trucks selling some good eats, but also stalls selling locally sourced produce and artisanal treats. There's even live music. It's a good place to grab dinner, what the happy hour specials that go on here. A fun, family-friendly sort of vibe.
Where to Stay in Green Bay
Looking for a specific place to stay? These are our highest recommendations for places to stay in Green Bay.
Best Airbnb in Green Bay – Elegant Loft Downtown Green Bay
With a great location right in the middle of Downtown (with a bus stop right outside and free parking), this loft space is a very cool place to stay in Green Bay. It's cutely decked out with your very own balcony and seating area, as well as comfy, cosy furnishings throughout. The hosts are very helpful and are on hand with any information or help you may need when it comes to exploring the Green Bay area.
Best Hotel in Green Bay – Hampton Inn Green Bay Downtown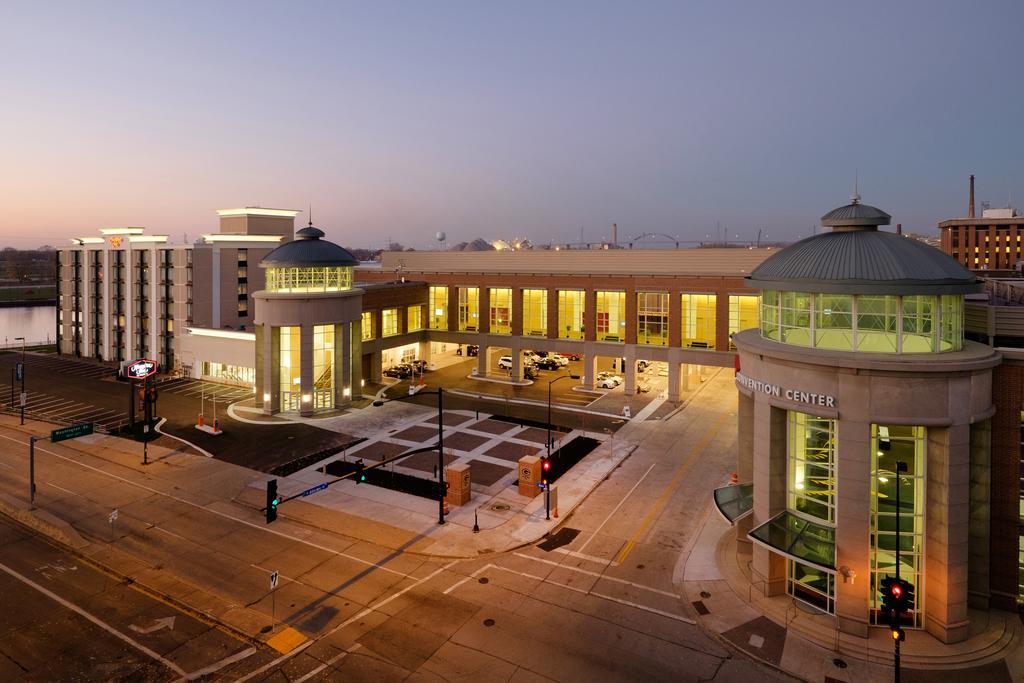 Offering up simple rooms that still have a touch elegance and style to them – also featuring big, comfy beds – this top hotel in Green Bay also has its very own indoor pool and fitness centre. Affordable and value for money, not only is there free parking on offer here, but there's also a free breakfast offered up in its dining area every morning included in the room rate. That's most definitely a bonus!
Romantic Things to Do in Green Bay
12. Catch a show at the historic Meyer Theatre
Green Bay may be historic for being hundreds of years old, however, some parts of its history aren't as old as that – take the Meyer Theatre for example. This stunner of a venue looks super cool, being constructed with Art Deco and Spanish Colonial Revival styles, and is a landmark in its own right – besides the fact it's an actual working theatre, of course.
So whilst you could just visit and take some snaps of the exterior, if you're in town with your partner, heading inside to catch a show would be one of the more romantic things to do in Green Bay (ok, the interiors are really pretty, too). There's screenings as well as live music, so be sure to check the schedule online to find something to suit you.
13. Have a romantic dinner at The Walnut Room
The Walnut Room simply has to be the most romantic venue in town when it comes to a table for two, some food, and some wine (if you want wine, of course). Located within Hotel Northland, this restaurant is all about old-school American elegance and makes for one of the best things to do in Green Bay for couples.
Opening its doors in 1924, The Walnut Room is a Green Bay institution that's still going after all those years. It's the perfect place for a cocktail at the bar before tucking into American fare amidst some pretty awesome ambience that's perfectly poised for a romantic evening.
Always Be Insured
Don't forget to sort your travel insurance! We've put together a roundup of Travel Insurance for backpackers – check it out here, or if you're low on time, get a quote from World Nomads, our favorite travel insurance provider.

Best Free Things to Do in Green Bay
Low on cash but high on energy? Yeah we know that feeling too. Well, because the Broke Backpacker knows who it feels to be broke, we have made up this section exploring the best free things to do in Green Bay.
14. Find the Wequiock Falls
Just outside of the city, located to the north and hidden just off Highway I-43, you may be able to come across the Wequiock Falls. This scenic little spot is a hidden gem of a place and a cool adventurous thing to do in Green Bay – especially if you've got your own wheels.
In spring, the waterfall itself will be gushing, but in winter it's frozen with icicles. In summer, the ravine here is overgrown with greenery, making for a pretty place for a picnic (there are tables especially for that reason). So if you're looking for outdoors-y, free things to do in Green Bay, finding Wequiock Falls may just be the thing for you.
15. Spend the morning at South Washington Street Farmer's Market
If you're in Downtown Green Bay at the weekend, then you should definitely hit up South Washington Street Farmer's Market. Here you'll find over 150 vendors selling all sorts of things, from handmade goods to fresh produce and, of course, some delicious food to try.
There are seasonal events throughout the year, such as jazz music, and trick-or-treating, so there's it's a great thing to do in Green Bay any time of year. Held on Saturdays from 7am till 12pm, stalls line South Washington Street as the city comes out to enjoy a stroll, buying some brunch, and checking out a spot of live music, too.
Books to Read in Green Bay
These are some of the greatest American novels of all time. Be sure to grab a few them of them while backpacking in America.
The Backpacker Bible – Get it for free! Learn how to ditch your desk and travel the world on just $10 a day whilst building a life of long-term travel with an online income. To inspire and help the next generation of Broke Backpackers, you can now grab 'How to Travel the World on $10 a Day' for free! Get your copy here. 
Sometimes a Great Notion – A tale of a hardheaded Oregonian logging family that goes on strike, leading the town to drama and tragedy. Written by PNW legend, Ken Kesey.
Walden – The transcendental masterpiece by Henry David Thoreau that helped modern Americans rediscover nature and her beauty.
To Have and To Have Not – A family man gets involved with the drug smuggling business in the Key West and ends up in a strange affair. Written by the great Ernest Hemingway.
Best Things to Do in Green Bay with Kids
Bringing your kids to Green Bay? That's cool, we have listed some of the best things to do in Green Bay with kids to ensure they stay entertained.
16. Have a fun day out at the Bay Beach Amusement Park
Nothing quite says 'awesome things to do with kids in Green Bay' better than an amusement park, right? So the Bay Beach Amusement Park is going to be perfect for you. Located at the mouth of the Fox River, this theme park is a great place to take younger children, with plenty of small rides and concession stands.
This place actually dates back to the 1890s, being a place to visit and have fun. But nowadays it's more well known for its family-friendly rides, bumper cars, ferris wheel (where you can get a good view as a bonus), and the big rollercoaster that has been brilliantly named the Zippin' Pippin – just $1 a pop. Amazing.
17. Have a blast at the Green Bay Botanical Garden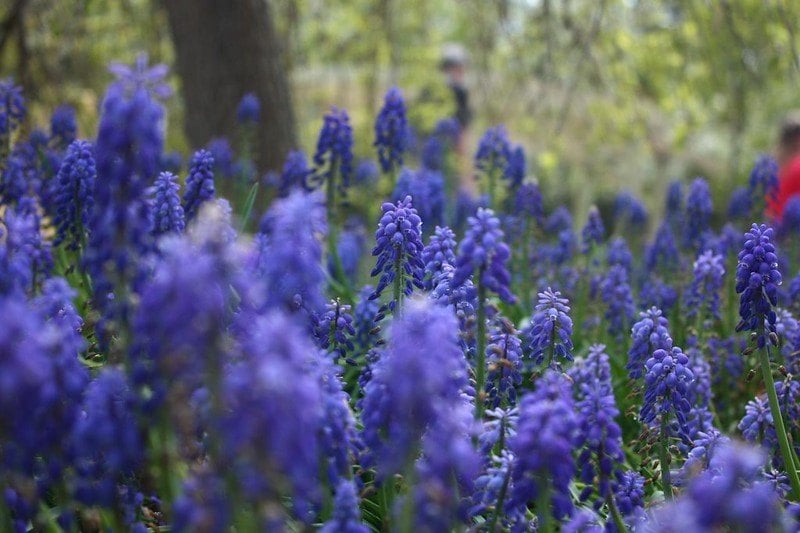 Get out and about for the day and allow your children to let off some steam in the Green Bay Botanical Garden. Open all year round, this is a community-minded, not for profit destination that has a family-friendly feel and plenty of seasonal events going on; in the winter there are light-ups to check out (over 200,000 lights in the winter-only Garden of Lights), whilst in summer there are nature trails to follow.
Easily one of the best things to do in Green Bay with kids, simply taking a breather from being stuck in a car or inside a museum, and getting to explore the 47 acres of nature here, is going to be infinitely a more relaxing and entertaining experience.
Day Trips from Green Bay
Though there are plenty of things to do in Green Bay, the surrounding vicinity of this interesting town is jam packed with cool stuff to check out and places to visit, too. So we have decided to share with you a couple of our favourite day trips from Green Bay.
Take a trip to Egg Harbor
Just over an hour away from Green Bay, Egg Harbor – set on the Door Peninsula – is a charming town that is well worth your time. This is a lakeside town where you'll be able to spend some time catching rays, enjoying the sunshine and splashing around in Lake Michigan – that's only in summer though. However, there's plenty to do in this lovely area all year round.
There are seasonal events, plenty of bicycle routes to ride around, wineries to check out for some tastings, and farmers markets. So if the sound of walking around, getting out into nature, and checking out some pretty great food (and drink) is something that appeals to you, then you're going to love this day trip from Green Bay. You may even feel like staying for longer!
Explore Elkhart Lake
Another great day trip from Green Bay that's only around an hour's drive from the metropolitan area itself, Elkhart Lake is a popular place to visit with plenty of opportunities to get out exploring the surrounding nature. A crystal clear, spring-fed lake, Elkhart Lake is the perfect spot for getting on the water – do a bit of canoeing, chill out with lakeside views. Nothing wrong with that, we say.
But you can also do things like a hike along the Ice Age Trail when the weather isn't all that warm. Being an old fashioned, traditional resort village (with a 150 year history as a place to get away from it all), Elkhart Lake is the sort of place that comes alive in the summer, with people heading here to relax in nature, get to grips with swimming in the lake, and generally escape from the urban jungle.
3 Day Green Bay Itinerary
You've now got a ton of things to do in Green Bay, as well as a couple of great day trips from here to add some variety to your vacation to this city, but when it comes to putting them in a logical order – that can be tricky. We know that, which is why we have decided to help you out with a handy 3 day Green Bay itinerary. We want to help your trip go as smoothly as possible, so here's how your schedule should look…
Day 1 – Get Out in Green Bay
First things first, on this day of getting to grips with Green Bay's nature, you should make a beeline for Peninsula State Park. Here you can spend some time getting kayaking around the waterways that make up the state park and visiting some of its cool islands (hello, Horseshoe Island). Driving back into town, make sure to stop at the lesser-visited Wequiock Falls for a picnic lunch.
If you didn't have a picnic lunch, then we would recommend hitting up El Azteca Restaurant for some traditional Mexican classics, before making your way around 5 minutes on foot to the nearby Green Bay Botanical Gardens. You'll definitely need some fuel for exploring this huge area of land. Enjoy walking the many trails and taking many, many snaps of the natural surroundings.
Drive the 15 minutes or so back into town where you can have a drink at Titletown Brewing Company and have dinner at The Cannery Public Market before catching a show (if there's one on) at Leicht Memorial Park, in easy walking distance. Chill out in the park, enjoy the
Day 2 – Go Back in Time in Green Bay
Your day of history in Green Bay should start off with a trip to the Hearthstone Historic House Museum. It's a 40 minute drive just out of town and along the river, from Downtown to Appleton, where the house is located. Learn about the world's first electrified domestic house, enjoy the ornate interiors, then continue the history at Fratellos Riverfront Restaurant, set in a former power plant.
Jump in your car and drive half an hour back towards town to Heritage Hill State Park. You can very easily spend a couple of hours exploring the old buildings of this open-air museum – from log cabins to some of the first structures of "New France" – which is great because it's open till 4:30 pm! From here it's a nine-minute drive back to Downtown for your evening entertainment.
Enjoy splashing out on some food at the historic Walnut Room before strolling around the corner to hit up equally the historic Meyer Theatre. Make sure you check the schedule to find the show that's going to suit you best and enjoy the Art Deco interiors… oh, and the show, of course. Thirsty? Head for post-show cocktails at The Nines just next-door.
Day 3 – Gourmet in Green Bay
Your third day in Green Bay begins with a browse of the South Washington Street Farmer's Market. Stroll around this Downtown market, check out the local produce, pick up some breakfast and a coffee as you go, and enjoy the local atmosphere. Then make your way over (a half an hour stroll – easy) to the Art Garage. Peruse the local artworks and even purchase one if you feel that way inclined.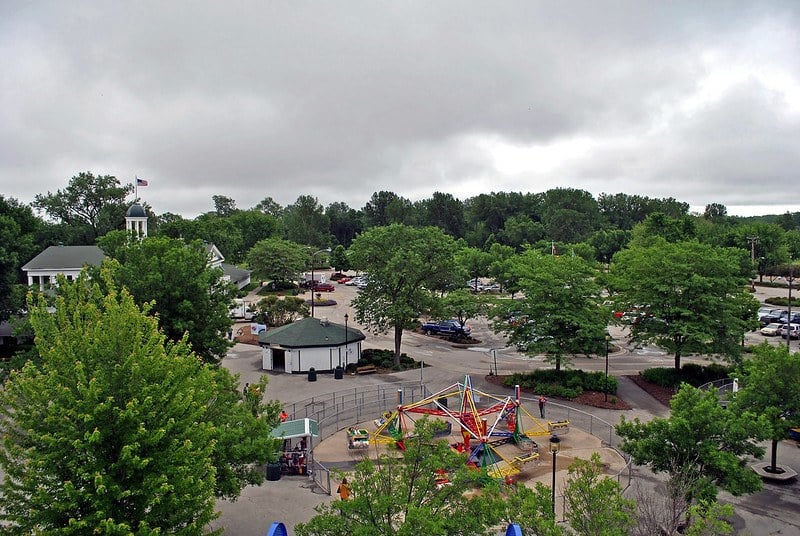 After your time at Art Garage, amble a few minutes to Cock & Bull Publick House for its huge selection of beers, chill atmosphere and bar snacks that will keep you going. Head on up on a 7-minute drive to the old-school atmosphere at Bay Beach Amusement Park. Ride the Zippin' Pippin if you feel like it, pick up a snack at one of the grills or shacks serving up food here if you're hungry.
But if you can hold off the hunger till you get back to town, Koko Sushi Bar & Lounge is a good spot for the evening. It's a laid back place where you can enjoy great sushi and even live music. If you feel like more drinks (maybe snacks, too) afterwards, there's always Hagemeister Park – a huge venue with plenty of beer and bar food, all set in a Green Bay Packers-themed space.
More Great Resources
Conclusion
Green Bay may not be the number one tourist destination in the United States, but there is still a lot going on here that make it very worthy as a place to visit. And we're not just talking about going here for a Packers game: we mean soaking up the lakeside setting, going canoeing, checking out some of the kookier (and sometimes very tasty) attractions in town.
You may be visiting this city as a couple and you're looking for some romance, you may be here with your family and need something child-friendly to do – no worries! There's something for everyone on our list of the coolest stuff to do in Green Bay.
---
Find out how YOU can support the site.
We're a big site with a big team and this job isn't always easy. But we do it because we love it – we love providing epic and free content. We love the knowledge that our content keeps you adventuring. We don't ask for money, but if you'd like to find out how you can help the site in more organic ways, click the button below.
Thank you for your support 🙂
And for transparency's sake, please know that some of the links in our content are affiliate links. That means that if you book your accommodation, buy your gear, or sort your insurance through our link, we earn a small commission (at no extra cost to you). That said, we only link to the gear we trust and never recommend services we don't believe are up to scratch. Again, thank you!