Travel
17 UNIQUE Things to Do in Concord, New Hampshire [in 2021]
As the capital of New Hampshire, Concord is bursting with fun activities and awesome historical sites. It's a welcoming, laidback city that's perfect for solo travelers, families, and couples — so long as you stick to our incredible list of unique things to do in Concord (New Hampshire)!
Concord has a beautiful mix of arty activities and natural landscapes to enjoy. In one day, you can admire public art and go kayaking on the Contoocook River! There truly is something for everyone and we've got the round-up of the best right here. Whether you want hipster things to do in Concord (New Hampshire) or a tranquil afternoon in nature, you've come to the right place!
Top Things to Do in Concord (New Hampshire)
If you're backpacking the USA and you happen to end up in Concord, you might be in for a surprise. Or even if may be in town for a very specific reason, once you're there, there are some essential things to do in Concord (New Hampshire)!
1. Stroll Down Main Street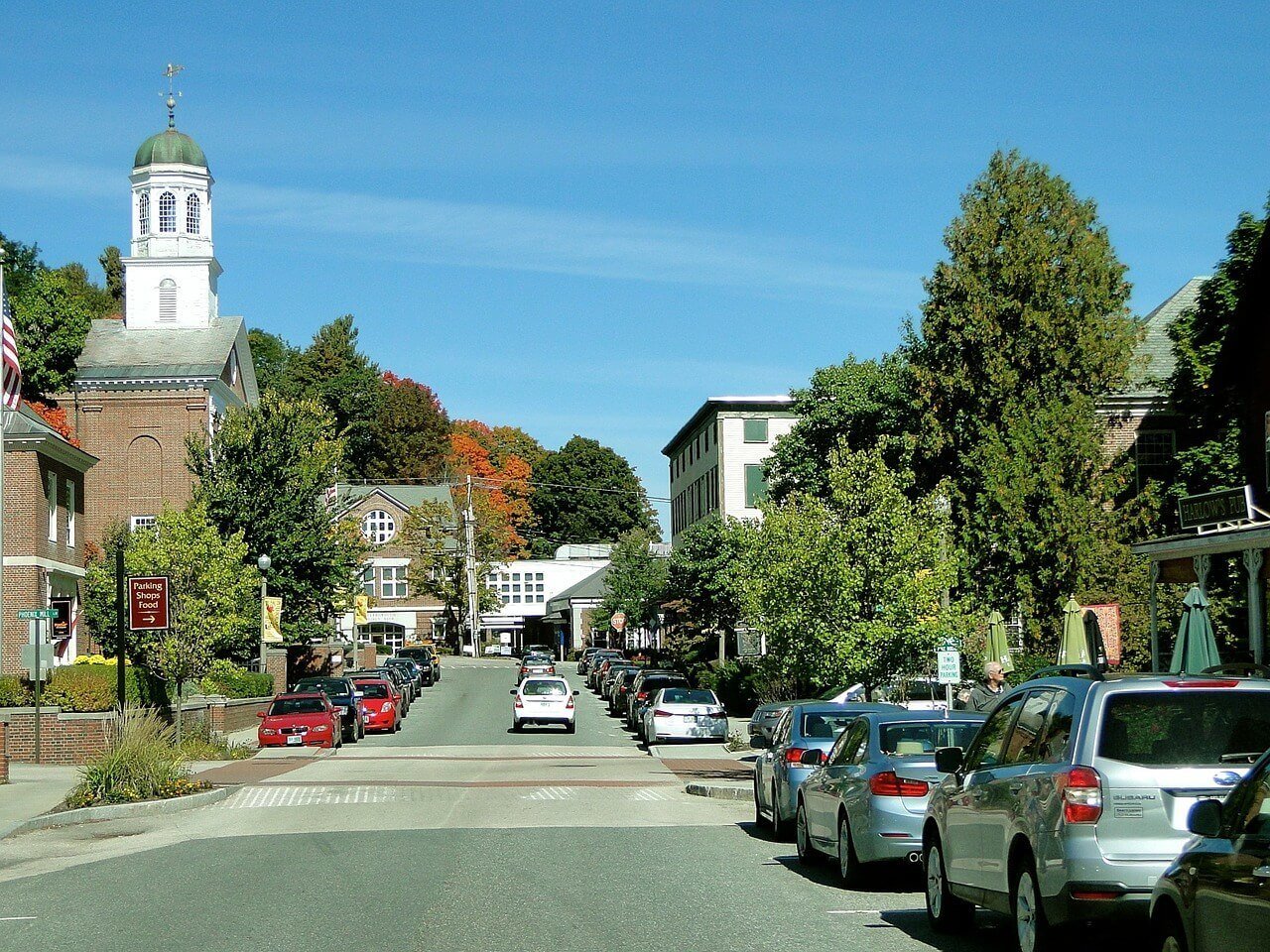 Main Street is the historic center of Concord and continues to be a vibrant area. It's the perfect starting point for your itinerary in Concord!
Main Street is lined with historic buildings. You can find a walking tour brochure on the Visit Concord website, which will help you appreciate the area.
The street is also home to trendy shops and cafes so make sure to stop for your morning coffee. Head on over to The Works Bakery Café for lots of charm and hearty meals!
2. Explore The New Hampshire Historical Society Museum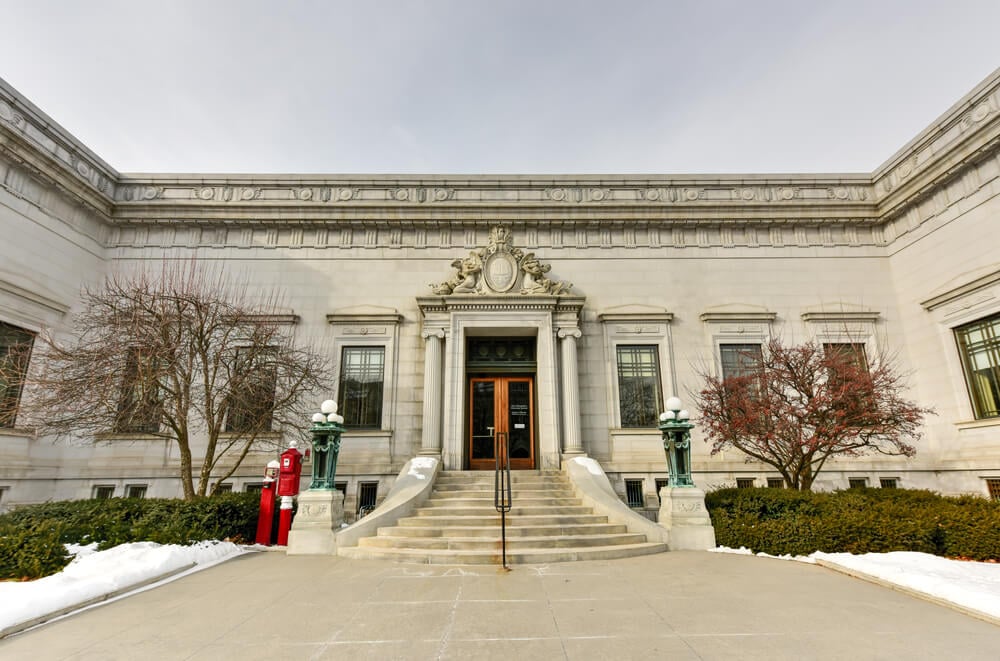 As the New Hampshire capital, Concord is home to a number of important state institutions like the Historical Society. For tourists, this means that you can explore the Historical Society Museum, one of the most interesting Concord, NH attractions!
This museum is the perfect place to learn more about New Hampshire's history which extends from the Native Americans to the present-day. This story is told through historical items including an Abenaki dugout canoe and an early Snowmobile. The museum also has a beautiful exhibition of landscape paintings that were inspired by the state's iconic White Mountains.
3. Admire Public Art
Travelers looking for artsy things to do in Concord won't be disappointed! Concord, NH, has a vibrant art scene, at the center of which is a generous public art collection.
There's the usual array of statues of public figures (such as a president and a general) but there's also a collection of funky artwork. You can find an iron Tree of Life at the entrance to Eagle Square, as well as the iconic Turtle Statue and Stone Hole. A street map indicating where the artworks are is available on the Concord Tourism website.
Concord also hosts temporary exhibitions where all the artworks are available for purchase. You'll usually find these along Main Street.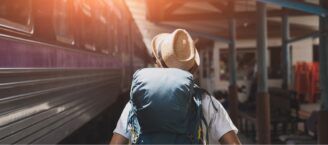 Unlock the The Broke Backpacker's GREATEST Travel Secrets
Sign up for The Broke Backpacker Newsletter to receive weekly tips on how to travel on a budget + a FREE copy of The Backpacker Bible!
4. Explore Outer Space
Thanks to the unique exhibits, exploring the McAuliffe-Shepard Discovery Center is one of the absolutely unmissable things to do in Concord (New Hampshire)!
This is a one-of-a-kind museum that's dedicated to space exploration. It's home to unusual but highly important, artifacts, such a toilet and a treadmill like those NASA uses in space! It also boasts fascinating exhibitions on the history of space travel and the exciting future ahead. Remember to stop by the planetarium to enjoy a show on its 40-foot dome!
5. Discover The Pierce Manse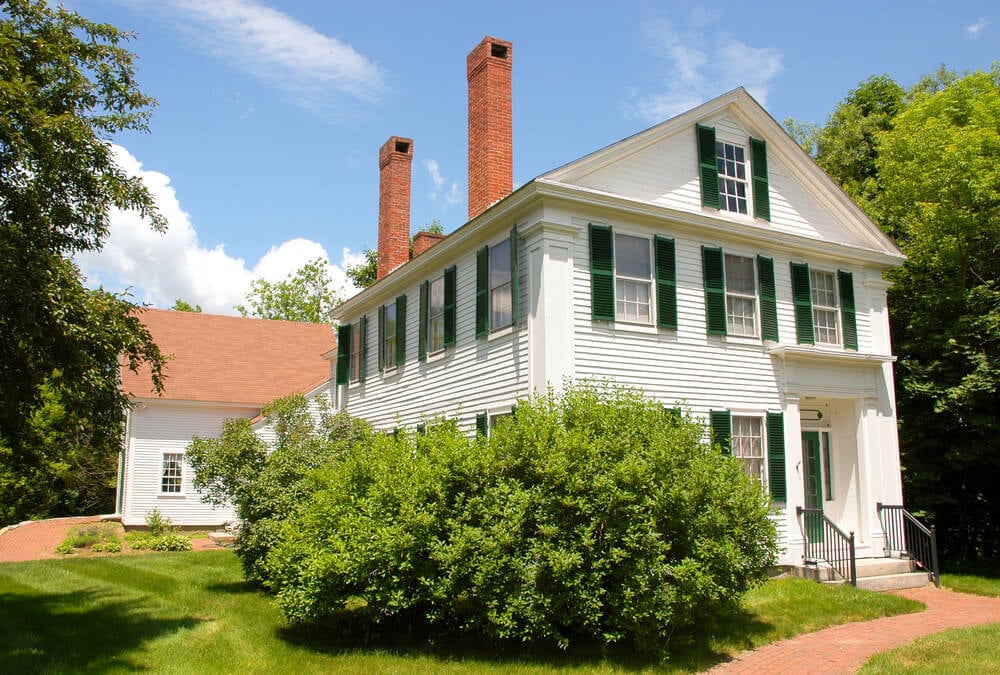 Visiting The Pierce Manse is one of the most popular things to do in Concord (New Hampshire) and for good reason!
New Hampshire can only boast one American president, Franklin Pierce, and this manor house once belonged to him. Although he's often thought of as one of America's worst presidents, you'll get to see a different side to him at this attraction.
Since it's only open from June to October, add it to your list of things to do in Concord (New Hampshire) in summer.
6. Browse Around Concord Antique Gallery
Shopping for antiques is one of the most popular indoor things to do in Concord (New Hampshire). Even if you're not buying, it's still worth visiting the Concord Antique Gallery to admire its many treasures!
With two floors and 150 dealers spanning 10 000 square feet, Concord Antique Gallery is a sprawling Aladdin's Cave! You can expect to find a variety of items, such as first-edition books, vintage jewelry, antique furniture, and vinyl records.
If you're in Concord, New Hampshire, during early December, look out for the Midnight Merriment event. The gallery stays open till midnight and everything is discounted!
Unusual Things to Do in Concord (New Hampshire)
It's always worth adding some non-touristy things to do in Concord (New Hampshire) to your itinerary. It'll make your vacation that much more special!
7. Fish from a Kayak
A kayak fishing trip is certainly one of the most adventurous things to do in Concord (New Hampshire)! It doesn't matter if you have no experience since the Contoocook River Canoe Company offers guided tours.
Kayaks are perfect for fishing since they allow you to quietly sneak up on fish, unlike with motorboats. The Contoocook River is also one of the best fishing spots in the state. Species you can catch include rock bass, chain pickerel, and white perch.
8. Watch a Motor Race
Just outside of Concord is the New Hampshire International Speedway. This is the largest sports and entertainment complex in the state and hosts NASCAR events, as well as motorcycle races.
Ideally, you should attend one of the events to enjoy the electric atmosphere and watch some of the finest drivers around! There's generally something to watch every month so take a look at the complex's website. Just remember to bring a set of noise-reducing headphones, as it gets a little noisy!
9. Discover the Shaker Lifestyle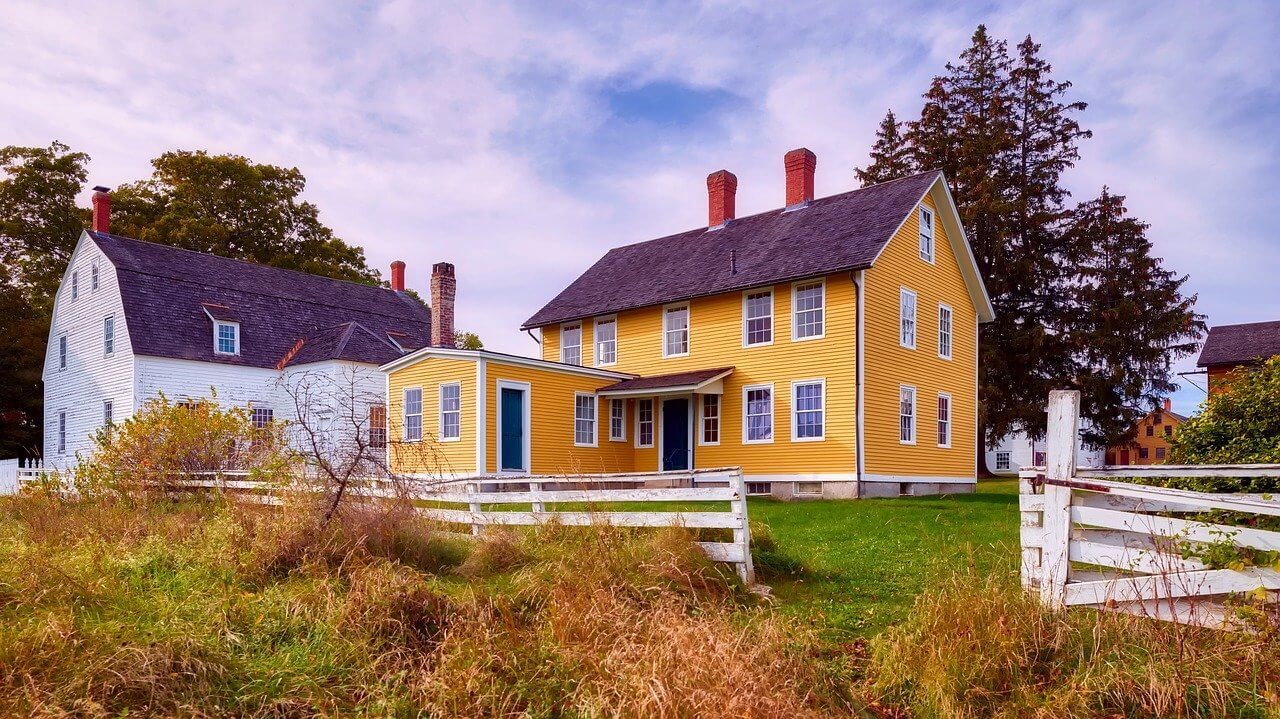 We'd be surprised if you said exploring Shaker villages was how you usually spent your holidays — in Concord, though, this is a great activity!
The Shaker religion is a unique sect of Protestantism that only has a very small following today. However, back in the 19th century, Shaker followers formed tightly-knit, vibrant communities such as at Canterbury. Canterbury Shaker Village is an expansive estate that brings the Shaker faith and community to life!
Between learning about the history of this religion and admiring the 25 original Shaker buildings, you're sure to have a brilliant time at this unusual attraction!
Safety in Concord (New Hampshire)
Concord is generally a very safe town so there's no need to let safety concerns deter you from your vacation. However, there are precautions to take, no matter where you travel.
Remember to keep your belongings close to you and to avoid isolated areas. It's also essential that you have travel insurance so that you're protected in case of an emergency.
Read our tips for traveling safely before you fly and always get travel insurance. Check out our roundup of the best travel insurance.
Travel with peace of mind. Travel WITH a security belt.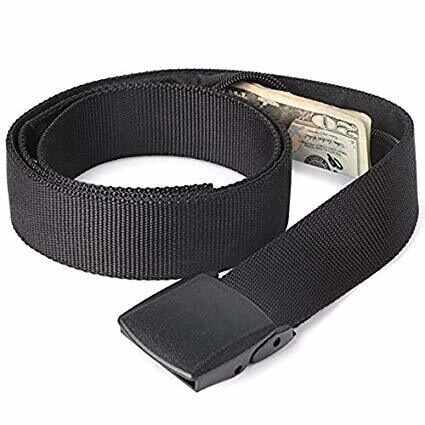 Custom-designed BY the Broke Backpacker FOR broke backpacking, the Active Roots Security Belt will keep your valuables safe no matter where you go.
It looks exactly like a normal belt except for a SECRET interior pocket perfectly designed to hide a wad of cash or a passport copy. Never get caught with your pants down again! (Unless you want to.)
Check on Amazon
Things to Do in Concord (New Hampshire) at Night
Looking for fun things to do in Concord, NH at night? We've got the best options right here!
10. Sip Local Beer
If you like your beer, you'll be glad to know that Concord has no shortage of first-class breweries. Whether you're interested in the brewing process or the end product, spending your evening in a brewery-cum-bar is one of the most fun things to do in Concord!
Concord Craft Brewing Co. was the city's first nano-brewery. There are nine beers on tap and a whole lot more in cans. The brewery only closes at 9 pm so there's enough time to taste them all, as well as have a peek inside the actual brewery!
11. Watch a Show at Capitol Center for Arts
If you're looking for a glitzy night out, then the Capitol Center for Arts, one of the most iconic Concord NH attractions, is your go-to destination!
This gorgeous theater first opened in 1927 and has been lovingly restored. As the largest performance venue in New Hampshire, it hosts a number of shows. You can choose a touring Broadway production, a live broadcast of the New York Opera, a stand-up comedy show or a music concert.
Where to Stay in Concord (New Hampshire)
Concord is a fairly small town and most of the historical attractions are in the downtown area, around Main Street.
Shops on Main Street
Capitol Center for the Arts
New Hampshire State House
Best Airbnb – The Dragonfly Studio
The Dragonfly Studio is a remodeled carriage house dating from the late 19th century but offers great modern facilities. It's perfect for couples and those traveling with dogs. It's within walking distance of key attractions, such as Main Street.
Best Hotel – Holiday Inn Concord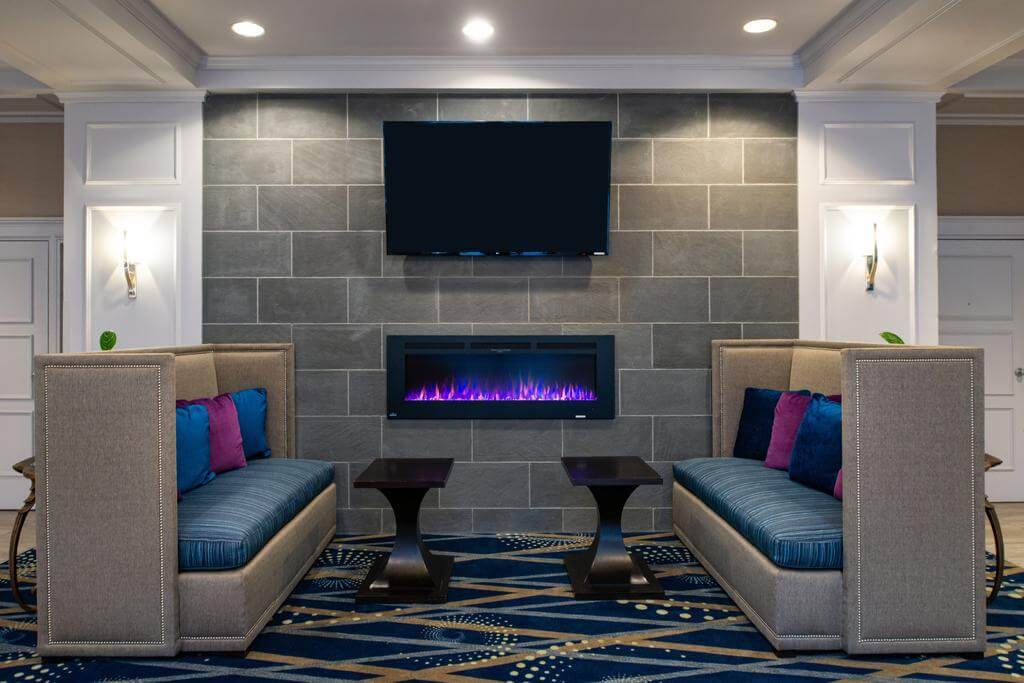 With its prime location on Main Street, all of Concord's attractions are within easy reach of this stellar hotel. The rooms are bland but the hotel oozes value for money, with an indoor pool, in-house restaurant and free Wifi.
Check out the amazing Airbnbs in New Hampshire for more Concord accommodation inspo.
Romantic Things to Do in Concord (New Hampshire)
Traveling as a loving couple? There are some truly fabulous, romantic things to do in Concord, NH this weekend!
12. Wander Around Winant Park
Exploring Winant Park is one of the best outdoor things to do in Concord and the environment is also perfect for a laidback date!
Winant Park is a sprawling 85-acre public park that gives you the impression of being completely isolated in a dense forest. This tranquility and the stunning views make it an ideal setting for a quiet date. There are various trails to follow. Some are easy strolls, while others are strenuous hikes.
Thanks to the splendid red and orange colors, strolling around Winant Park is also one of the most fabulous things to do in Concord in fall!
13. Catch a Local Film
The classic movie date gets a hipster makeover in Concord, NH when you visit the unique Red River Theater. A night out at this cozy community-funded arthouse cinema is one of the most romantic things to do in Concord, NH!
Red River Theater showcases a number of local films, alongside a program of special events. You can also grab a bite to eat at the non-profit Indie Cafe where you can enjoy New Hampshire wines and beers, as well as locally-produced chocolates. The emphasis on the community makes this an intimate and bespoke date venue!
Always Be Insured
Don't forget to sort your travel insurance! We've put together a roundup of Travel Insurance for backpackers – check it out here, or if you're low on time, get a quote from World Nomads, our favorite travel insurance provider.

Best Free Things to Do in Concord (New Hampshire)
Are you on a budget and wondering what to do in Concord NH that's free? You've come to the right place — we have some awesome things to do in Concord (New Hampshire) on a budget!
14. Explore the New Hampshire State House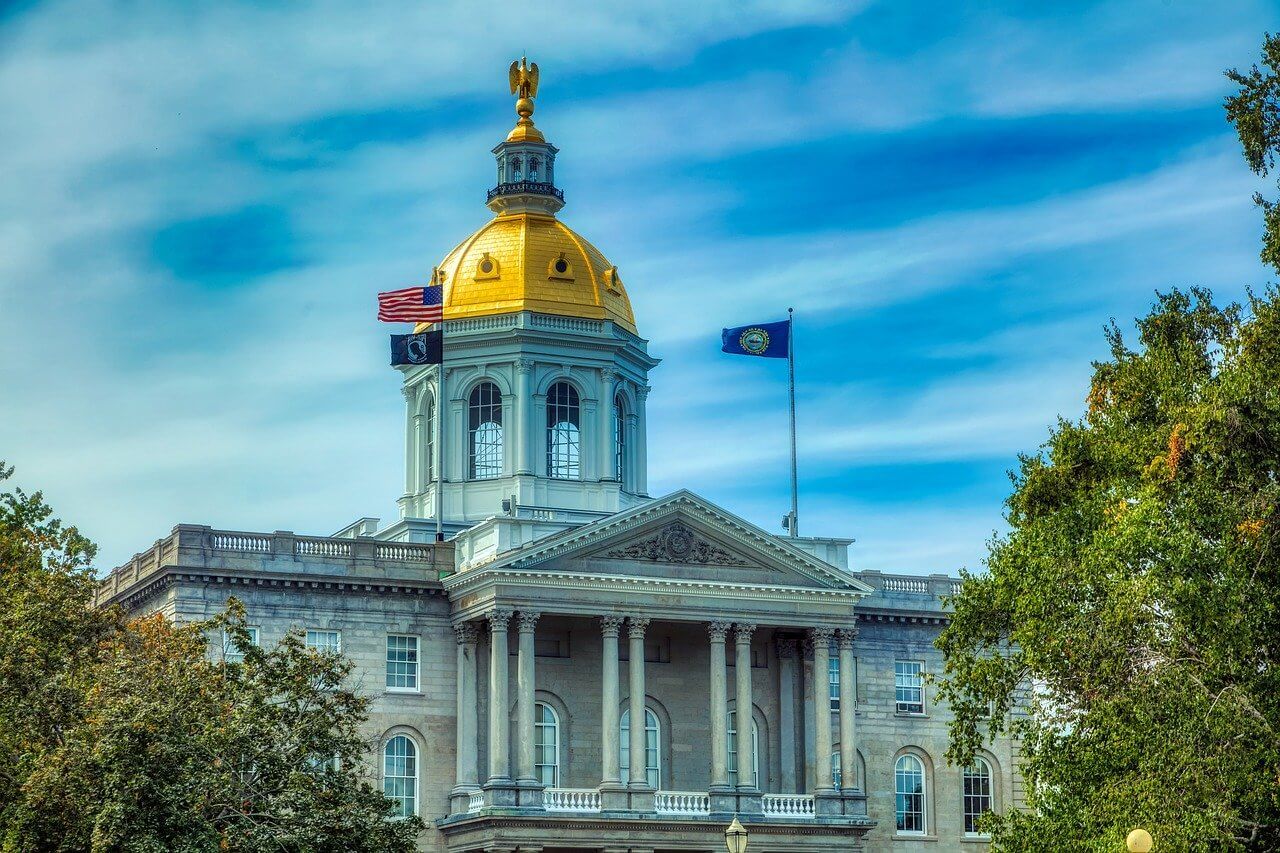 The New Hampshire State House is the oldest state capitol building in which both legislative houses still meet in the original rooms. This is the kind of history and tradition that you get in abundance at the State House — and for free!
New Hampshire's often called "the Granite State" so it's no surprise that its State House is built of granite, too. You can learn more about the architecture and history on one of the free guided tours that regularly take place.
15. Picnic in Nature
If you're looking for nature things to do in Concord (New Hampshire), then visit the Susan N. McLane Audubon Center and Silk Farm Wildlife Sanctuary.
This sanctuary is dedicated to protecting New Hampshire's natural environment for both animals and people. To this end, the sanctuary provides a lush environment for birds and small mammals to thrive.
Visitors can go on short trails or stop by a bird-watching spot. There are also some fabulous picnic spots. Best of all, the center is completely free of charge (although you might find the gift shop tempting)!
Books to Read in Concord (New Hampshire)
The Backpacker Bible – Learn how to ditch your desk and travel the world on just $10 a day whilst building an online income.
Sometimes a Great Notion – A tale of a hardheaded Oregonian logging family that goes on strike, leading the town to drama and tragedy. Written by PNW legend, Ken Kesey.
Walden – The transcendental masterpiece by Henry David Thoreau that helped modern Americans rediscover nature and her beauty.
To Have and To Have Not – A family man gets involved with the drug smuggling business in the Key West and ends up in a strange affair. Written by the great Ernest Hemingway.
Things to Do with Kids in Concord (New Hampshire)
Parents, we're sure your kids will love Concord, NH. Between the great outdoors and the arts and crafts on offer, there's plenty to keep the little ones happy!
16. Pick Your Own Fruit
Top of our list of things to do in Concord, NH with kids is a visit to the Carter Hill Orchard where the whole family can pick their own fruit!
The orchard produces apples, raspberries, peaches, and blueberries during fall and early summer. Looking for the best crops is a fun activity for the whole family!
This lovely orchard is a particular favorite among young children since there is lots to catch their interest, as well as ample space to run around. Parents, meanwhile, can sit back and enjoy a glass of apple cider, pressed on-site!
17. Paint Pictures at School of Art
If you're traveling with kids, School of Art is one of the best places to visit in Concord, NH. It's located on the historic Kendall Jenkins Estate in Downtown Concord, perfect for taking the kids for an afternoon treat!
The school caters to all ages and offers classes in a wide variety of mediums, such as clay, oil paint, and fiber. If you're on a longer stay in town, you may want to consider enrolling your kids in the summer camp offerings. Each camp focuses on a theme, such as comics or Harry Potter!
Day Trips From Concord (New Hampshire)
Concord is surrounded by some fantastic towns and natural landscapes that you should definitely visit. Here are the best day trips from Concord (New Hampshire)!
Cycle Around Portsmouth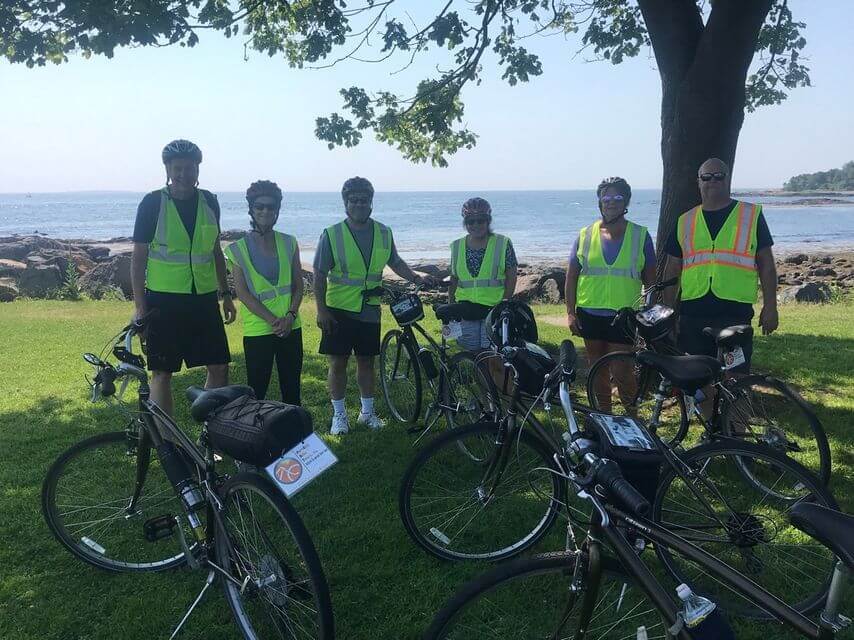 Portsmouth is just an hour's drive from Concord and it boasts a laidback seafront. It also has many fabulous attractions. This makes cycling around Portsmouth one of the loveliest things to do near Concord, NH!
The main attraction of a bicycle ride around Portsmouth is the environment. It's a relaxed but vibrant town that has stunning natural landmarks, like the river and the seafront.
Portsmouth's iconic monument is the Portsmouth Naval Dockyard. There, you can learn all about the island's history and relationship with the sea! Another fun thing to do is visit Fort Stark where you can discover the island's first settlement and the origin of the famous quote "Live Free or Die"!
Hike through a Stunning National Park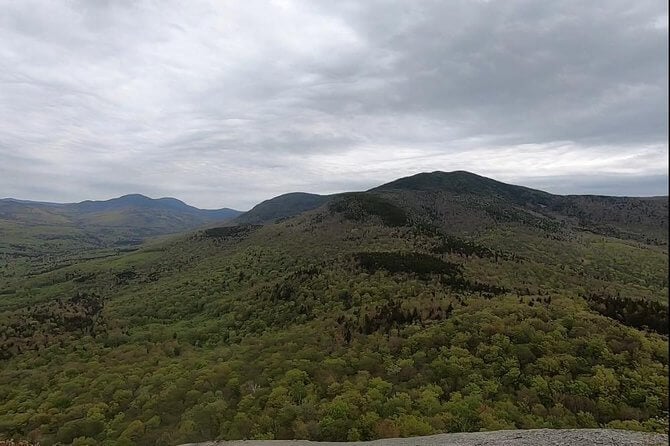 White Mountains National Park is a rugged assortment of rocky inclines, serene waters, and colorful plants. It's one of your best options if you're looking for things to do in Concord (New Hampshire) off the beaten path!
The different White Mountain trails, like the to North and Middle Sugarloaf trail, can be a bit steep at times but it remains a family-friendly activity. The forest is full of dappled sunlight and the peaks boast unbelievable views of the unspoiled landscape!
This is a unique experience in New Hampshire that takes you into the state's gorgeous landscape and will leave a lasting impression on you!
3 Day Itinerary in Concord (New Hampshire)
For the most convenient way of getting between the most popular things to do in Concord (New Hampshire), follow our handy 3-day itinerary!
Day 1 – Explore Downtown Concord
For your first day in Concord, wander around Downtown Concord and discover some of the city's best attractions. Most are within close proximity to Main Street.
First up is Main Street. This is the heart of Concord and is lined with shops, cafes, and monuments. Get a coffee at The Works Bakery Café which is perfect for people-watching and soaking up Concord's atmosphere!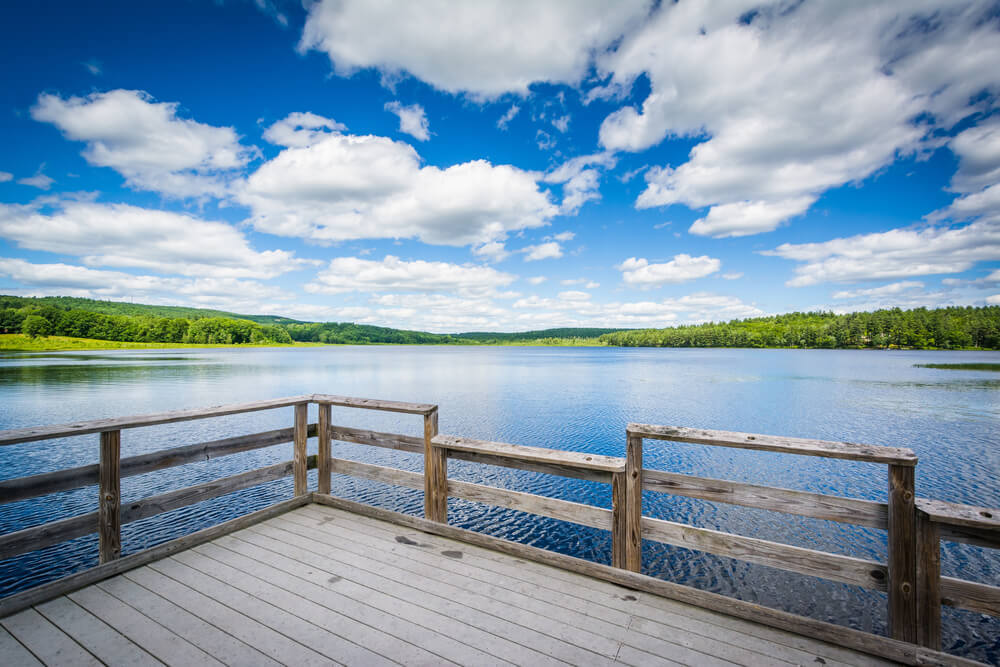 From there, admire Concord's public art. The temporary exhibitions are on Main Street, while the permanent artworks are just off Main Street. Eagle Square, where you can admire the Tree of Life, is just a two-minute walk from The Works Bakery Cafe.
Next up, walk for three minutes to the New Hampshire State House. Join one of the free guided tours to learn more about this stately building's history and architecture!
From there, take yourself to the New Hampshire Historical Society Museum. It's on Park Street, just a one-minute walk from the State House!
Day 2 – Visit Unique Concord Sites
Concord has some great attractions that are very unique. Day 2 is perfect for visiting the McAuliffe-Shepard Discovery Center and The Pierce Manse.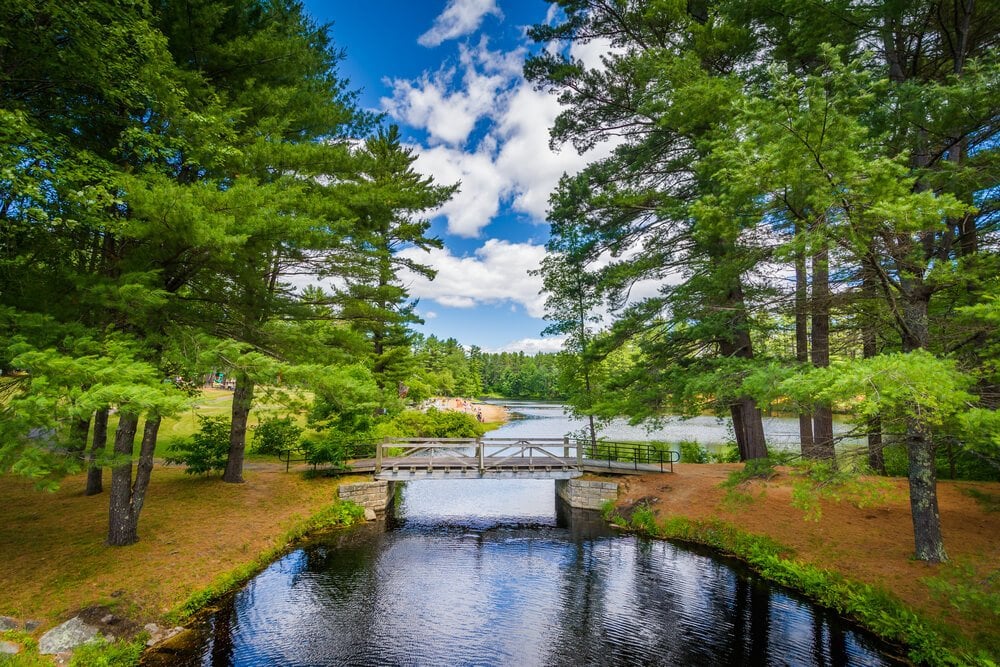 You can't visit Concord and ignore the McAuliffe-Shepard Discovery Center! It's a thirty-minute walk from Main Street but if you take public transport, it's just 14 minutes away. The center is a mind-blowing way to learn all about space!
In the afternoon, head over to the Pierce Manse. It was once the home of New Hampshire's only American president. Apart from the history, it also boasts stunning gardens! It's a pleasant 17-minute walk along the river from the McAuliffe-Shepard Discovery Center but you can reach it in ten minutes with the Crosstown Bus.
Day 3 – Soak up Concord's Culture
Today is all about the quirky side of Concord! It's time to discover the city's antique market, its community movie-house and local brewery.
Start with the Concord Antique Gallery, which is renowned throughout the state! It's just off Main Street and a seven-minute walk from the New Hampshire State House. It's the perfect place to pick up some unique souvenirs.
Afterward, stroll two minutes up the street to the Concord Craft Brewing Co. The city's first nano-brewery is a great place to grab a refreshing drink, as well as explore the actual brewery.
Finish off your day by catching a local film at the Red River Theater. This indie movie house is just off Main Street, a five minutes' walk from the Concord Craft Brewing Co. It's a wonderful place to relax, support local artists and enjoy some New Hampshire wine. Cheers!
Final Thoughts on Things to do in Concord, New Hampshire
From antique shopping to picnicking in nature, there's a great variety of things to do in Concord (New Hampshire). This goes for travelers of all ages and different interests, thanks to Concord's family-friendly activities and niche attractions.
If you're looking for a fuss-free vacation in Concord, New Hampshire, stick close to our incredible ideas for things to do, as well as our accommodation and itinerary suggestions. This will leave you free to soak up the relaxed atmosphere in Concord and appreciate its unique offerings. Here's to an unforgettable time in Concord, New Hampshire!
---
Find out how YOU can support the site.
We're a big site with a big team and this job isn't always easy. But we do it because we love it – we love providing epic and free content. We love the knowledge that our content keeps you adventuring. We don't ask for money, but if you'd like to find out how you can help the site in more organic ways, click the button below.
Thank you for your support 🙂
And for transparency's sake, please know that some of the links in our content are affiliate links. That means that if you book your accommodation, buy your gear, or sort your insurance through our link, we earn a small commission (at no extra cost to you). That said, we only link to the gear we trust and never recommend services we don't believe are up to scratch. Again, thank you!