Travel
15 STUNNING Airbnbs in Maui [2021 Edition]
Aloha! Fancy some time topping up your tan, awesome outdoor adventures, and seeing totally awesome natural beauty? Of course you do. And that's exactly what Maui can offer! This incredibly Hawaiian island can have you strolling under the palm trees on a white sand beach in the morning, before kayaking out to humpback whales in the afternoon. Just make sure you're back on land for sunset!
If all this is sounding like your dream vacation and more, you'll need to find somewhere to stay. And there are some awesome rentals in Maui, so check out Airbnb! Some of the best accommodation options are hidden away on the island. We don't want you to spend loads of time searching for that perfect place and worrying you've missed out on something cool. So, we've done it for you! Leaving you to dream about Pina Coladas on those endless beaches…
Yep, in this post, we're going to take a look at the 15 best Airbnbs in Maui. We've scoured the main tourism areas of the island, Kaanapali and Lahaina to come up with the best places to suit your style and budget. So, let's dive into this article like it's a colourful coral reef!
Quick Answer: These are the Top 5 Airbnbs in Maui
OVERALL BEST VALUE AIRBNB IN MAUI
OVERALL BEST VALUE AIRBNB IN MAUI
Ocean Hideaway with Awesome views
> $$
> 2 guests
> King bed
> Stunning spot for sunsets!
BEST HOMESTAY IN MAUI
BEST HOMESTAY IN MAUI
Charming homestay opposite beach
> $$
> 2 guests
> Access to summer kitchen and BBQ
> Choice of four guest bedrooms
BEST AIRBNB FOR COUPLES IN MAUI
BEST AIRBNB FOR COUPLES IN MAUI
Car Camp Maui
> $$
> 2 guests
> Blow up queen bed
> Park up anywhere and spend the night
BEST AIRBNB FOR FAMILIES IN MAUI
BEST AIRBNB FOR FAMILIES IN MAUI
Cottage near Whalers Village
> $$$
> 4 guests
> 2 heated pools
> Right by the beach
BEST LUXURY AIRBNB IN MAUI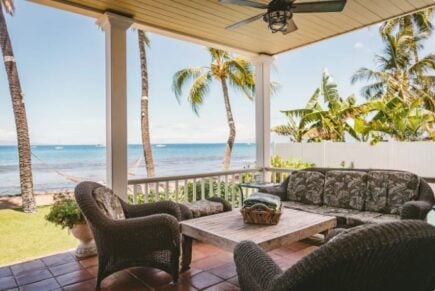 BEST LUXURY AIRBNB IN MAUI
Lahaina Oceanfront Estate
> $$$$$$$$
> 15 Guests
> Space for the whole family!
> Ocean, Mountain, and sunset views
Why Stay in an Airbnb?
Local Experience: Having a local as a host means you can find out all the best places to visit and things to do that are off the beaten tourist track. That doesn't just go for Maui, but for all travel destinations in the Hawaii.
Unique Properties: As well as standard apartments and private rooms, this list alone includes boats, an Italian style palazzo, and even a windmill!
Privacy: Cabins, chalets, and treehouses mean you and your companion(s) can get the break you need without anyone else interfering.
Affordability: Airbnbs are considerably cheaper than an equivalent hotel – and you won't have any hidden charges from the minibar either! Airbnbs are possibly the best option for backpackers in Hawaii that need to keep the costs low.
Airbnb Experiences: Airbnb isn't just about great places to stay; it also offers incredible local experiences. We'll show you some of our favourites in a bit.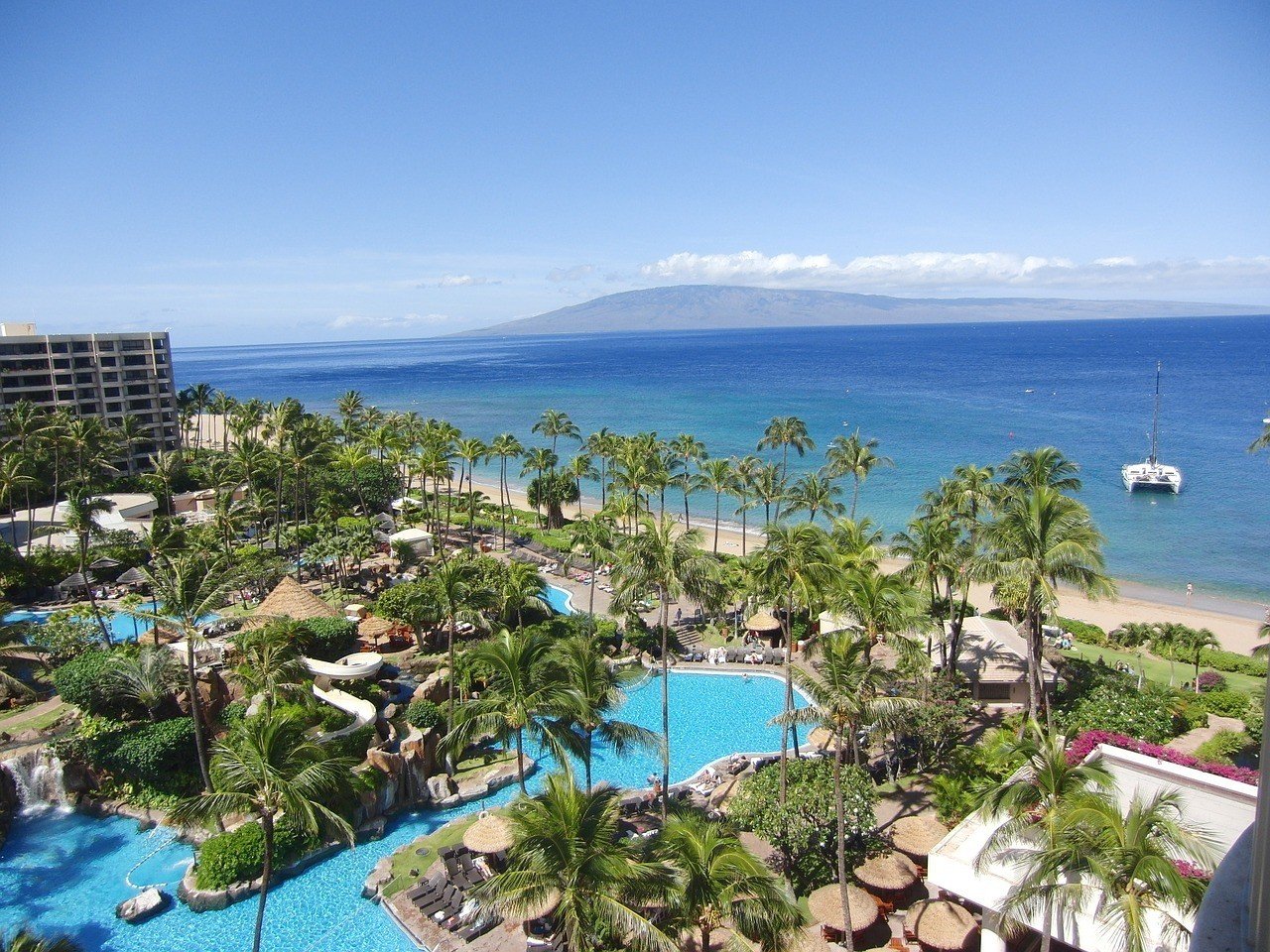 Travel with peace of mind. Travel WITH a security belt.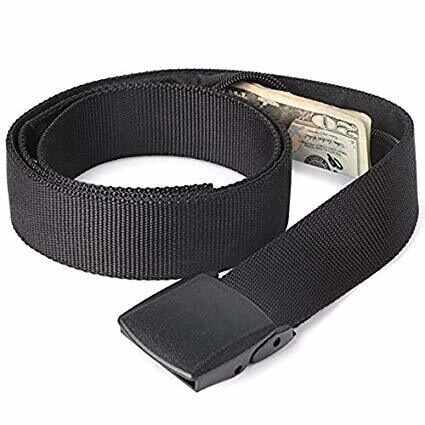 Custom-designed BY the Broke Backpacker FOR broke backpacking, the Active Roots Security Belt will keep your valuables safe no matter where you go.
It looks exactly like a normal belt except for a SECRET interior pocket perfectly designed to hide a wad of cash or a passport copy. Never get caught with your pants down again! (Unless you want to.)
Check on Amazon
The Top 15 Airbnbs in Maui
Overall best value Airbnb in Maui | Ocean Hideaway with Awesome views
$$
Stunning spot for sunsets!
Looking for the perfect combination of value, style, and amazing ocean views? Then check out this place. It's unquestionably one of the best Airbnbs in Maui! One of the best aspects of this awesome private room is the views of the ocean, which are especially picturesque at sunset. You're planning to explore the island by car when you arrive? You'll be pleased to know that this awesome apartment also comes with a parking spot. It's also fab for couples as it comes with a king bed. A really romantic hideaway!
Best Budget Airbnb in Maui | Hakuna Matata Double Room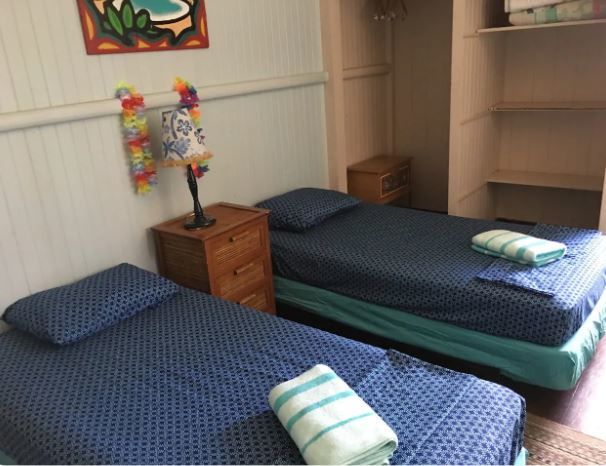 2 Guests
Continuous Wifi Access
If there's one thing that can be a bit problematic about Maui, it's cost. It's really tricky to find budget accommodation on the island. However, if you really search you can! The best Airbnb in Maui for travellers on a budget is actually in a local hostel – but don't let that put you off. You still have your own private space as there are two single beds here – perfect if you're travelling solo or with a buddy!
The clincher with this place isn't that or the social environment though – it's that you can use loads of equipment for water sports and exploring the island for free. That'll save you a whole wad of cash!
Perfect short term rental for digital nomads | Private room at animal refuge
$$
Be surrounded by nature!
Maui's internet access can be a little patchy, which isn't ideal if you're a digital nomad. However, this great private room has unlimited internet access for 24 hours a day. So, if you have a brainwave at 4am, you don't have to wait until your accommodation switches on the internet to check it's okay with a boss or a client! The best part of staying here though is that it's a tortoise and bird refuge. In fact, there are over 70 animals on sites ranging from dogs to cats, to tortoises, to chickens!
Don't worry though – none of them will find their way into your room!
Perfect Airbnb for solo travellers | Private room near the beach
$$
Walking Distance to Baby Beach
Travelling solo to Maui? Perhaps it's not the best idea to get a place all to yourself. After all, a private room in a house means that the owners can help you with their recommendations of all the great stuff to do on the island! It's also a good idea to get one in a busy area with lots of tourist attractions so that you can easily make friends. Luckily for you, this cosy ohana is right by Baby Beach and some of Lahaina's best restaurants and nightlife. This is easily one of the best Maui homestays!
Best Airbnb in Maui for Nightlife | Seashell Cabana
3 Guests
Pool and tennis court access
Just a short walk from the centre of Maui's nightlife mecca, Lahaina, you can collapse into this awesome cabana. At the end of your night out, you can choose to sleep off those pina coladas either in the king bed or in a hammock. Then, the following day, jump into one of three swimming pools – so soothing when you're hungover!
There's also a tennis court and loads of rental equipment if you want to try boogie boarding or snorkelling. So, rather than just a great Maui Airbnb for nightlife, it really is an all-rounder!
Best short term rental for couples | Car Camp Maui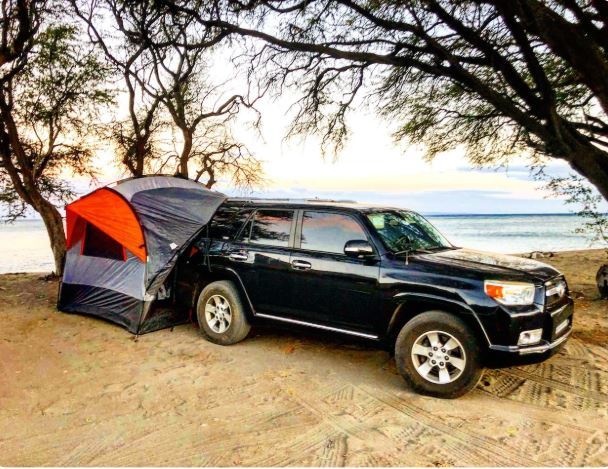 $$
Park up anywhere and spend the night
2 Guests
Blow up queen bed
Maui has some of the coolest outdoor activities in the United States. It's also tricky to find places to stay in the island's mountains and national parks. Not so with this awesome portable Maui Airbnb though! And what could be more romantic than finding somewhere with your other half and sleeping under the stars? Do let us know because we can't think of anything!
Whether you want to watch the sunrise over Haleakala Sunrise, take the stunning road to Hana, or go snorkelling at the crack of dawn, all of it is possible with this incredible and unusual Airbnb!
Best homestay in Maui | Charming homestay opposite beach
$$
Choice of four guest bedrooms
2 Guests
Access to summer kitchen and BBQ
Want to get a true slice of island life? Then look no further than this Maui homestay right opposite the beach in Lahaina. Your host and her cute chihuahua will be on hand to answer any questions and give you plenty of recommendations for making the most of your time in paradise. Don't worry about privacy, you still have your own room and own private bathroom. You'll even have luxurious robes so that you can be comfortable around the pool.
What's that? You'd prefer the beach? Well, it's a good job that there's one just over the road then!
Runner up homestay in Maui | Shared condo one block from ocean
Another of the best homestays in Maui is this awesome Beach House, just a hop, skip, and a jump from Lahaina's famous Front Street. Yes, you have a private room with space for two, but you're going to want to spend some time in the gardenesque yard. There are several plants, trees, and flowers, and it's a really relaxing place to be! The dining and kitchen area is cool too – but to be honest, you won't want to spend too long indoors when you've got that gorgeous beach just steps away!
Amazing Luxury Airbnb in Maui | Home near Lahaina's restaurants
$$$$
Light, airy, and homely
There are some seriously luxurious properties on the island, so it was really hard for us to pick one! However, after much deliberation, we went for this awesome place. It's not cheap, but luxury never is! You do get your money's worth though – the location is second to none and the light and airy interior might just make you think twice about spending all your time outdoors! The super hosts who own the property live right nearby and can help you with any concerns you might have during your stay.
Don't miss the gorgeous sunsets from here!
Over the top luxury Airbnb in Maui | Lahaina Oceanfront Estate
$$$$$$$$
Ocean, Mountain, and sunset views
15 Guests
Space for the whole family!
Like we said, there are luxury options here. However, this is the daddy of them all! It's one of the best Airbnbs in Maui, period. However, you'll have to have some serious cash to bag this place. Well, maybe you won't – just get 14 of your mates to foot the bill! Then decide what you're going to take advantage of first. The hot tub? Or how about the pool? Or will you just chill in the exquisitely decorated living and dining areas?
Best Airbnb in Maui for Families | Cottage near Whalers Village
Got the whole family in tow? Check out this Maui Airbnb located near Whalers Village. There, you'll find golf, shopping, entertainment, and plenty of places to eat. However, you can have a lovely night in this private cottage too! There's space for up to 4 guests, and 2 heated pools on-site. And if you want to keep costs down, or just bond over a family meal, then why not take advantage of the fully equipped kitchen?!
Best Airbnb in Maui for a Group of Friends | Puamana Townhome with free parking
This place will comfortably accommodate 6 guests on a mixture of king beds, single beds, and sofa beds, so it's the perfect Maui Airbnb for a big group of friends. It's located in a 30 acre gated community, with access to snorkeling, swimming, and a whole load of other activities on the beach that's just steps from your front door. If you don't want to venture out of the gated community that this is part of, you can always enjoy the clubhouse, the pool, and the tennis courts. Or just chill in the awesome living spaces!
Best Airbnb in Kaanapali | Cute Cottage with Pool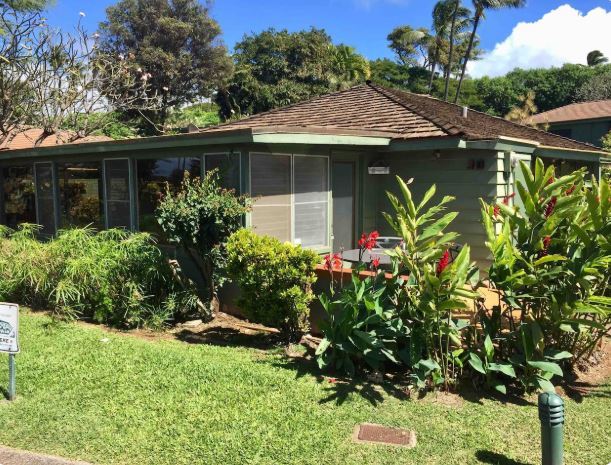 $$$
Cooking basics available
Kaanapali is one of the island's hotspots, so there's no way you'll want to miss out on this awesome rental in Maui. This would be great for a couples' holiday as there's not just one king bed, but two! Curl up with your significant other and your best friends and watch a movie on the 55 inch TV with a delicious meal you've prepared in the kitchen and served on the awesome dinnerware! Oh, we almost forgot to mention it's just 5 minutes from the world-famous Kaanapali Beach! If you're were struggling to find a place to stay in Kaanapali, you're not now!
Another great apartment in Kaanapali | Ocean front resort
$$$$
Awesome ocean and mountain views
4 Guests
Lots of activities on site
There are so many awesome apartments in Kaanapali, that we couldn't stop at just one. Here's another of our favourite rentals in one of Maui's most popular spots! The spacious balcony is a great spot for breakfast or lunch, or a romantic dinner if you want to watch a stunning Hawaiian sunset! There's wifi and a gym too, so you could download your favourite playlist from Spotify before pumping some iron!
Top value Airbnb in Lahaina | Dream Vacation Condo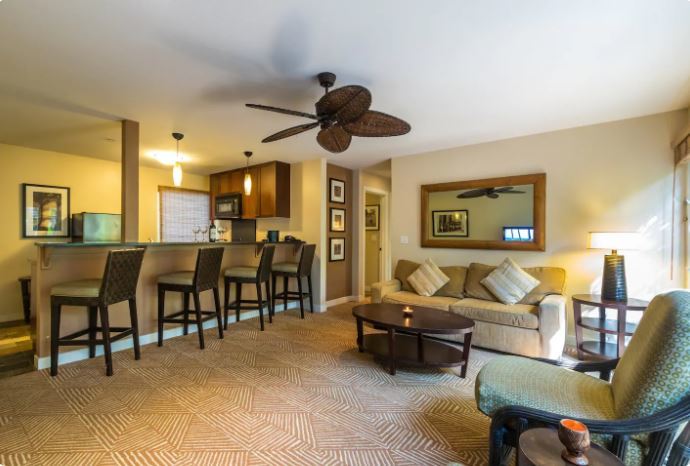 $$$
Outdoor dining area with TV
4 Guests
Large living room
Okay, we KNOW you've seen a lot of apartments in Lahaina, but we've got just one more for you to peruse before we disappear. There's space for up to 6 people here and the apartment boasts a huge living room with a massive flat screen TV – just like the one in the master bedroom! In fact, there's even an outside TV and you can enjoy a meal in front of it!
What to Pack for your Maui Airbnb
Pants, socks, underwear, soap?! Take it from us, packing for a hostel stay is not always quite as straightforward as it seems. Working out what to bring and what to leave at home is an art we have perfected over many years.
Check out our definitive Airbnb Packing list for our top packing tips!
FAQ about Airbnbs in Maui
Here's what people usually ask us when they look for vacation homes in Maui.
Final Thoughts on Maui Airbnbs
So, that concludes our list of the best Airbnbs in Maui. We hope you've found it useful and you've got a better idea of how to make the most of your dream Hawaiian vacation. Whatever your travel style, budget, or even the size of your group, you should have spotted something on our extensive list!
As you can see, there's so much to choose from. From renting a car/tent and camping out under the stars, to a multi room luxury villa, nothing is beyond the reaches of your imagination when searching for a Maui Airbnb.
We've given you a lot of choices, so if you're still scratching your head, keep it simple. Go for our best value Airbnb in Maui – Ocean Hideaway with awesome views.
All that's left for us now is to wish you an awesome holiday in Maui!
And don't forget to take out Travel Insurance for your trip! I have been using World Nomads for some time now and made a few claims over the years. They're easy to use, professional and relatively affordable. They may also let you buy or extend a policy once you've started your trip and are already abroad which is super handy.
If there's one insurance company I trust, it's World Nomads. To find out why I use World Nomads, check out my World Nomads Insurance review.
Getting an estimate from World Nomads is simple – just click the button or image below, fill out the necessary info, and you're on your way!

---
Find out how YOU can support the site.
We're a big site with a big team and this job isn't always easy. But we do it because we love it – we love providing epic and free content. We love the knowledge that our content keeps you adventuring. We don't ask for money, but if you'd like to find out how you can help the site in more organic ways, click the button below.
Thank you for your support 🙂
And for transparency's sake, please know that some of the links in our content are affiliate links. That means that if you book your accommodation, buy your gear, or sort your insurance through our link, we earn a small commission (at no extra cost to you). That said, we only link to the gear we trust and never recommend services we don't believe are up to scratch. Again, thank you!