Travel
15 STUNNING Airbnbs in Los Angeles [2021 Edition]
It goes without saying that Los Angeles is one of the most iconic cities in the world. Anybody who has visited LA will tell you that it actually feels like loads of smaller cities, vs. a huge metropolis. The neighbourhoods themselves are pretty distinct – you've got the skyscrapers of Downtown, just a ride away from the waves lapping against the shores of Santa Monica and Venice Beach. That's before we get to the star-studded Hollywood and Beverly Hills.
You need to choose where to stay in Los Angeles very carefully. There are Los Angeles Airbnbs all across the city. Want to stay in a collective art space? No problem. Fancy bedding down in a hobbit house? That can be arranged. Hell, there's even a luxury villa for more than 16 guests!
Whatever your preferred style for rentals in Los Angeles, you'll find something here. And don't worry about trawling through the website – we're here to help you. We've put together this awesome list of the 15 best Airbnbs in Los Angeles!
Quick Answer: These are the Top 5 Airbnbs in Los Angeles
OVERALL BEST VALUE AIRBNB IN LOS ANGELES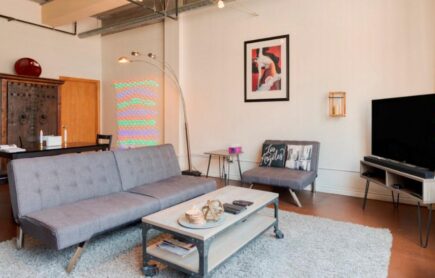 OVERALL BEST VALUE AIRBNB IN LOS ANGELES
Beautiful downtown loft with pool
> $$
> 4 Guests
> Rooftop pool
> Awesome views
BEST HOMESTAY IN LOS ANGELES
BEST HOMESTAY IN LOS ANGELES
Comfortable loft in Downtown LA
> $$
> 1-2 Guests
> Large backyard
> Prime location
BEST AIRBNB FOR COUPLES IN LOS ANGELES
BEST AIRBNB FOR COUPLES IN LOS ANGELES
Stylish Guesthouse Near The Beach
> $$
> 2 Guests
> Pool Access
BEST AIRBNB FOR FAMILIES IN LOS ANGELES
BEST AIRBNB FOR FAMILIES IN LOS ANGELES
Bright Venice Beach Bungalow
> $$$
> 6 Guests
> Garden patio
> Backyard with BBQ
BEST LUXURY AIRBNB IN LOS ANGELES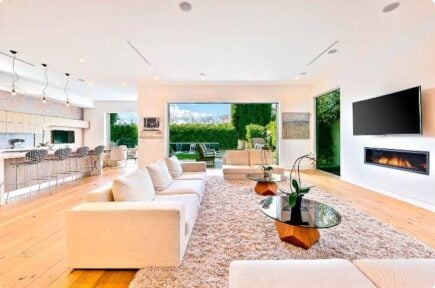 BEST LUXURY AIRBNB IN LOS ANGELES
The Bellagio Villa
> $$$$$$$$
> 16 Guests
> Heated Pool and Spa
> Italian design kitchen
What to Expect from Airbnbs in Los Angeles
For every distinct neighbourhood in Los Angeles, there's an Airbnb to match – you're truly spoiled for choice here.
Private Rooms – for when you're travelling on a budget
There's no two ways about it – LA is expensive. Real estate here is some of the most costly in the US. So, it stands to reason that lots of renters and homeowners are renting out rooms in their places – and passing those savings on to you in the process!
If you're a bit hesitant to jump into renting a room in someone's house, LA is a great place to start. The rooms here are generally well-kept, with awesome attention to detail and luxury touches. If you're backpacking Los Angeles on a budget, this should be your go-to.
Airbnb Luxe – for when you're not travelling on a budget
Like Airbnb Plus, Airbnb Luxe is a new category of Airbnb for extra-fancy properties with, according to Airbnb, "5 star everything." That means that not only are the properties seriously swaggy (the Airbnb team checks over 300 points of inspection before adding them to the program), but they come with luxury amenities like end-to-end trip planning (as in, including your flights and activities) and crazy add-on packages like restaurant concierge services, childcare, chefs – you can even add a butler. Who even knew butlers were a thing anymore?
If you're travelling with a group and want to splash out, our you just want to scroll through some inspiring villas in the Hollywood Hills before you book one of those (very comfy!) private rooms we mentioned, be sure to check out this special category.
Unusual Stays – for when you want to do something totally new
Instagram is everywhere in Hollywood, and whatever you think of that phenomenon, one definite upside is that Airbnb hosts on California are getting creative and offering new and unique ways to stay in LA. Want to stay in an Airstream in someone's backyard? What about a tiny house village? A yurt, perhaps? LA offers those in spades, and all (okay, most) of them are beautifully appointed and tastefully decorated.
Why Stay in an Airbnb?
Local Experience: No matter how big your guidebook is, it won't have the superb local know-how can get from your hosts. Be sure to get their recommendations on what to put on your LA itinerary!
Unique Properties: In a place chock full of unique vacation rentals, why on earth would you want to stay in a drab and dull hotel?!
Privacy: Cabins, chalets, and treehouses mean you and your companion(s) can get the break you need without anyone else interfering.
Affordability: You can spend less than $100 a night on an Airbnb and get all the facilities you'd expect in a five-star hotel and more. Airbnb makes it easier to spend your holiday money wisely!
Airbnb Experiences: It's not all about where to stay – check out what there is to do in the area with Airbnb Experiences!
The Top 15+ Airbnbs in Los Angeles
Overall Best Value Airbnb in Los Angeles | Beautiful downtown loft with pool
Let's kick off with one of the coolest Airbnbs in Los Angeles. This loft is in the centre of Downtown, one of the coolest areas in town! It's got space for 4 guests, so it's good for a couple who want some extra space, or a small group or friends/family. Not only is the location good for nightlife, eating out, and shopping, but also for the views. They really are stunning!
Connect your phone to the Alexa or Nest – this is one of the smartest apartments in DTLA! There's streaming, music, and games too – so it's perfectly set up for a night in.
Best Budget Airbnb in Los Angeles | Private room near Venice Beach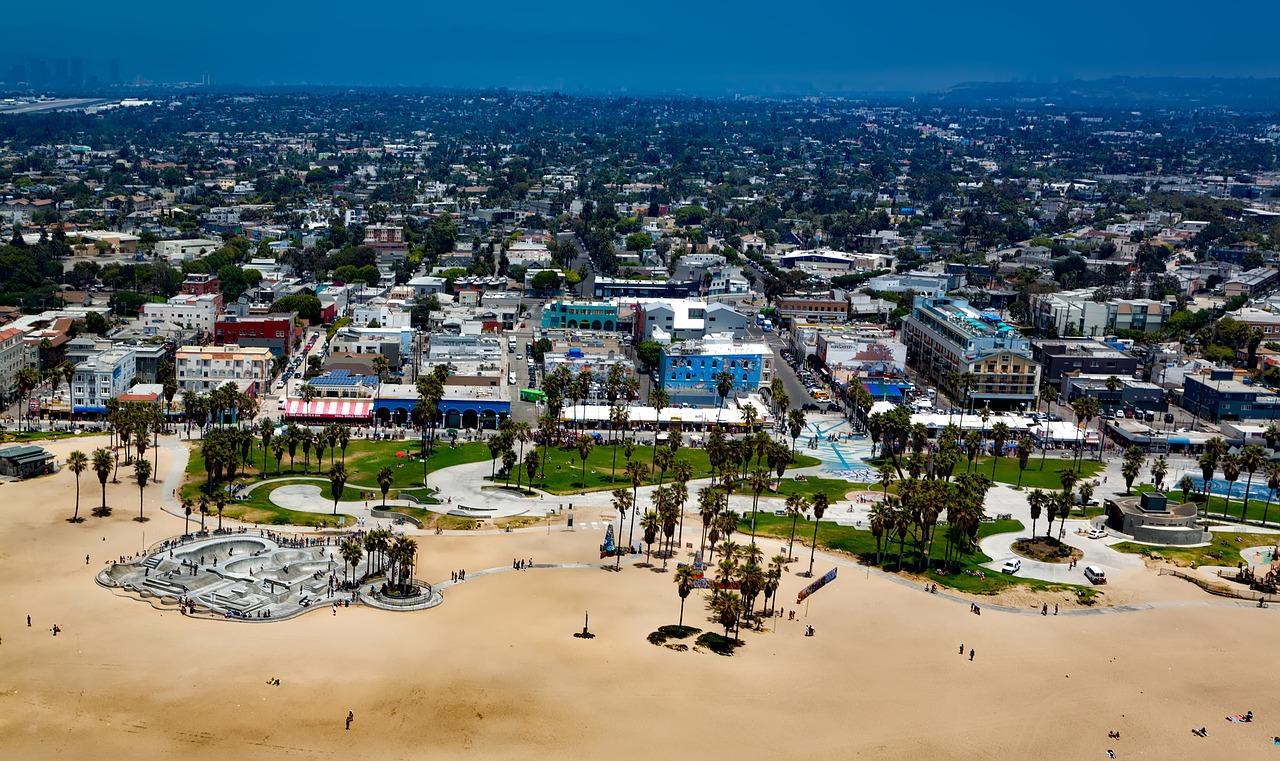 2 Guests
Two blocks from the beach
One of the very few downsides of LA is that it can be a frightfully expensive place to stay. However, it's not impossible to find a great budget Airbnb in Los Angeles if you look hard enough. And that's exactly what we've done! It's a great spot if you're hoping for sun, sea, and sand as it's just two blocks from the world-famous Venice Beach!
Breakfast isn't on the listing, but you'll see in the description that you're welcome to use bagels, bread, cereal, and milk. For any digital nomads looking for a cheap place to stay, this private room offers complimentary coffee and a laptop-friendly workspace!
Perfect Short Term Rental for Digital Nomads | Comuna Factory Cedar Pagoda Room
Looking for inspiration from others while you work? Then why not stay in this extremely cool warehouse on the outskirts of the Artists' District? There's space to set up your laptop, Wi-Fi, and use of the kitchen. So, you can make as many coffees as you need! This place really is a labour of love – and you'll see that in touches like the bookcase in your room and the fairy lanterns above your bed. The space is just moments away from grocery stores, restaurants, and bars, so you'll certainly not be bored. Or hungry!
Perfect Airbnb for Solo Travellers | Hollywood Wilton Manor
$$
Great location in Studio City
If you're looking for a serious step up from a hostel without isolating yourself in a whole apartment rental, a room in this chic manor is a great option. There are 5 rooms for rent total, so you're likely to have company, but you also have tons of space – an open, airy living area, full kitchen, patio and backyard, and lots of laptop-friendly workspaces. Hostel vibes without the hostel vibes, you know what we mean?
Best Airbnb in Los Angeles for Nightlife | Stunning Oasis with pool
3 Guests
Massive pool and terrace
Some of the best nightlife in LA can be found in West Hollywood, so it makes sense to book your accommodation in that area. And you certainly won't be disappointed with this awesome Los Angeles Airbnb! Fancy a sophisticated glass of wine before heading out? Have it with food on your massive terrace while admiring the view… or for messier pre-drinks, enjoy it around the coffee table on the comfy sofa. If you overdo it the night before, take a dip in the pool and cool off the next day!
Best Airbnb For Couples | Stylish Guesthouse Near The Beach
Staying in the City of Angels with your other half? Surprise them with this chic and cheerful private guesthouse, which also happens to be an Airbnb Plus property – so you know it's good. It's also just outside of Venice Beach, so you're a quick jaunt to the water. What better way to spend an LA day than strolling hand-in-hand down the boardwalk?
This beautiful property includes a rain shower, California King bed, pool, patio, herb garden (for your AM tea!), full kitchen, and all the streaming services in case of a rare rainy day in LA. You better book this one before we do!
Best Homestay in Los Angeles | Comfortable loft in Downtown LA
A great way to have an authentic experience and save yourself some dosh is by staying with a local. So, check out this cool homestay in Los Angeles! It's right in the Downtown district so you don't have to compromise on locations. Close to all the top restaurants, bars, nightlife, and shopping, but if you ask nicely your host might have some recommendations of their own. The guesthouse is a co-living space with 8 other rooms, so you can be sure that you'll always have someone to talk about.
Runner Up Homestay in Los Angeles | Hobbit House in Artistic Oasis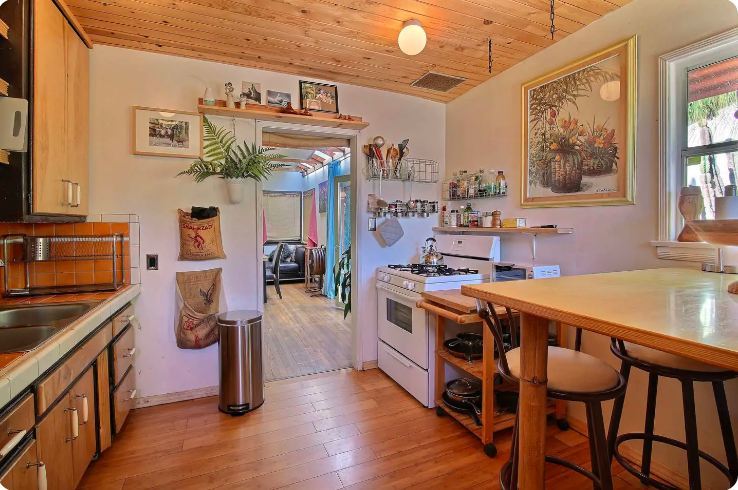 3 Guests
Garden and sundeck
There are so many great homestays in Los Angeles that we couldn't just give you one to pick from. Especially when there's such an unusual and interesting one near Venice Beach and LAX! This home is in the backyard of an artistic oasis, so make sure you spend some time topping up your tan on the back deck. If you like the Hobbit House, the hosts have a couple of other properties which are part of the same artistic oasis!
Amazing Luxury Airbnb in Los Angeles | Zen Ocean Breeze Poolside Oasis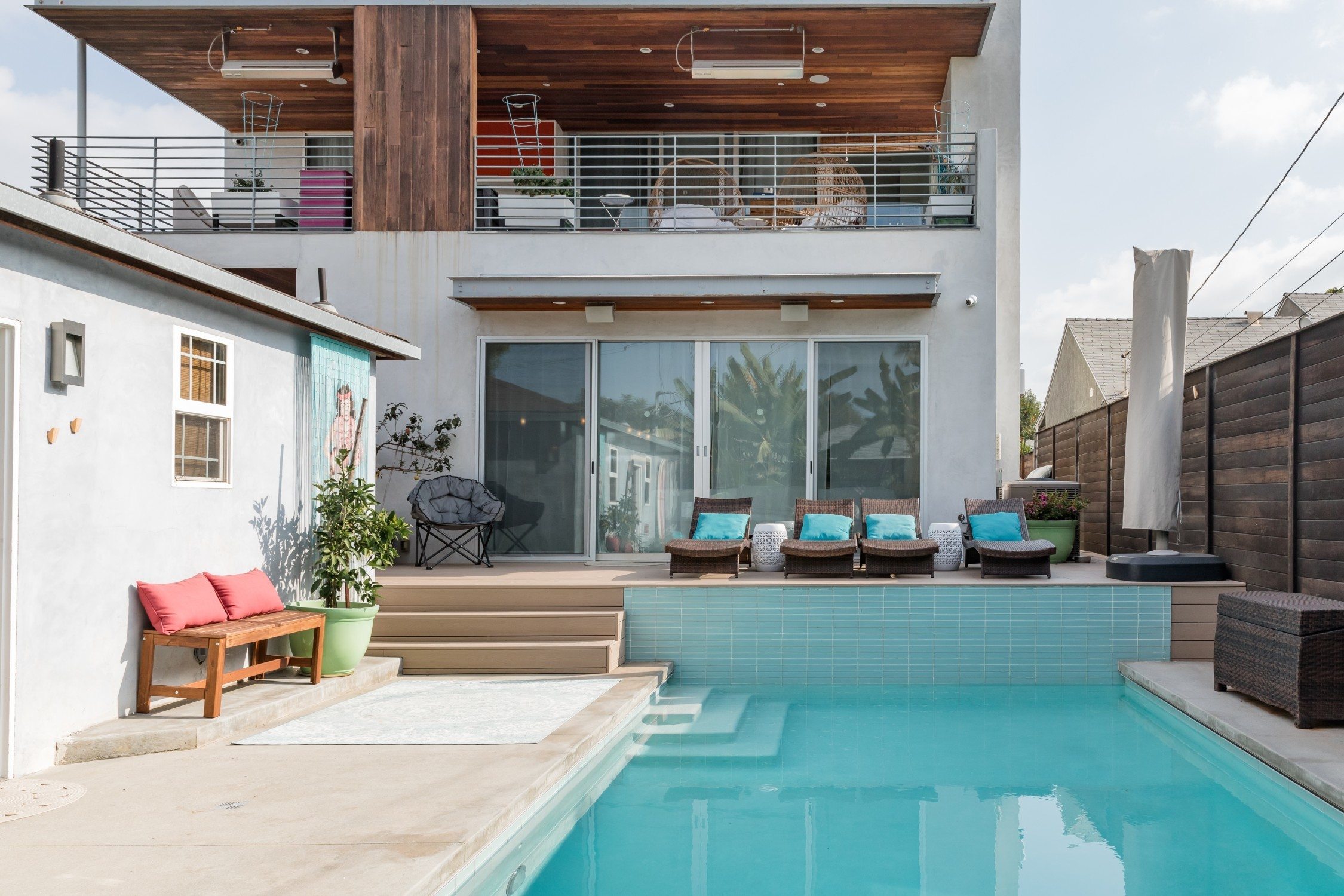 4 Guests
Beach Gear Rental
For our favourite luxury Airbnb in Los Angeles, we're heading to Venice Beach. In this beach house, you can make use of a heated saltwater pool, huge flat-screen TVs, and a fully equipped kitchen. To unwind, you can also make use of the ping pong table! But your excellent hosts understand that no matter how great their house is, you want to get some beach time. So, they've kindly provided boogie boards for you to take to the beach too!
Breakfast is provided, and there's also coffee, wine, and beer for when you get thirsty. Just don't have too much of the last two before you hit the waves!
Over the Top Luxury Airbnb in Los Angeles | The Bellagio Villa
$$$$$$$$
Italian design kitchen
16 Guests
Heated Pool and Spa
If your trip is a once-in-a-lifetime thing, then you need a once-in-a-lifetime apartment in Los Angeles. And we think this might just be the one! Have you ever wanted a swimming pool with a waterfall? Well, it does, and it's here at the Bellagio mansion! That price may seem eye-watering at first but think about it. There's space for up to 15 of your nearest and dearest, and that's a lot of ways to split the bill.
And surely you'd rather something memorable like this than a standard hotel?!
Best Airbnb in Los Angeles for Families | Bright Venice Beach Bungalow
6 Guests
Backyard with BBQ
Travelling to California with the kids? Downtown is great but it can be a little overwhelming, so let's head back to Venice Beach. This awesome Los Angeles Airbnb is equipped for families of all ages. The bungalow is near Franklin Village, one of the most popular areas in Venice Beach
Even though it's in the heart of the action when it comes to restaurants and bars, it's actually a quiet home away from home! After a busy day surfing and lying on the golden sand, curl up in front of a movie on the huge HDTV!
Best Airbnb in Los Angeles for a Group of Friends | Huge loft with lots of facilities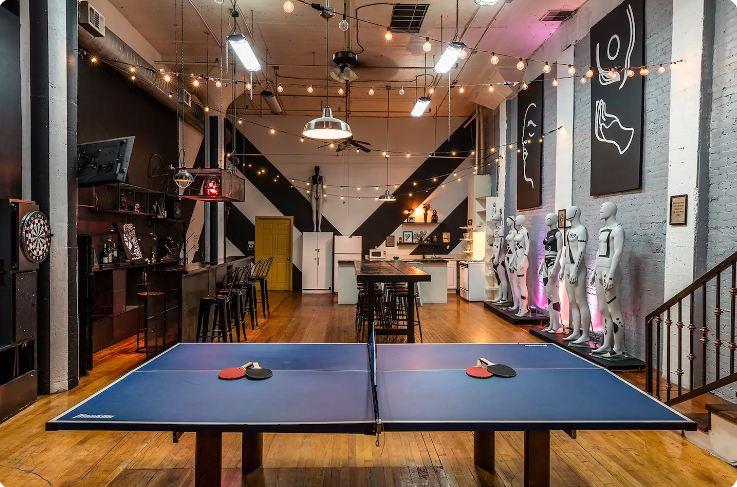 Do you like going to bars with your mates? Of course you do. Wouldn't it be great if you didn't have to leave your apartment Los Angeles apartment to head to a bar and have a few games of ping pong? What's that, you don't?! No! Not if you stay here! This awesome loft is a super fun place to stay for a big group of friends. The fully equipped kitchen means you can rustle up a meal for everyone too!
Best Airbnb in Downtown (DTLA) | Hip Loft with Rooftop Hot Tub
We know you've seen a few LA apartments in the downtown area, so we promise this one is the last. We just couldn't miss it out though! It boasts a bar, a roof terrace with a hot tub, and to cap it all off, it's in a superb location! Feeling a night in? Well, we've already mentioned the hot tub – but if you're more indoorsy, set up the Nintendo 64 and have a tournament on Mario Kart. There really is something for everyone!
A Great Apartment in Santa Monica | Boho Chic Cottage
$$
Steps To Venice and Santa Monica
2 Guests
Airbnb Plus Property
Ok, This property is technically on the border of Santa Monica and Venice Beach – but if you ask us, that's actually a plus, as you'll definitely want to check out both areas. This cottage is what California dreams are made of – the boho outside is classic Venice Beach (check out that potted plant garden!), but the inside is light and airy with vintage furnishings and colorful touches.
This place is a perfect respite from the traffic and noise of LA proper, and a comfy crash pad after a day in the sun and sand on the beach.
Top Value Airbnb in Venice | Incredible Historic Venice Apartment
$$$
1min walk to the beach
3 Guests
Secluded but right in the heart of action
This stunning flat is one of the best value Airbnbs you can find in LA. Don't believe us? Just check out the reviews – with almost 300 previous guest opinions, the flat has kept all of its 5 stars, and that doesn't happen often. The charming interior design will make you feel just like at home. It's bright, it's spacious, and it offers one of the best locations in Venice Beach. The flat also comes with free bicycles, perfect for exploring the neighborhood. If you feel like refreshing yourself a little bit, just walk down the street for a minute and you'll be at the beach straight away! We told you it's an awesome location…
Best Airbnb Luxe in LA | Modern Masterpiece By The Beach
$$$$$$$
Feel like a celebrity, basically
8 Guests
Steps to Venice Beach
This absolutely incredible property wraps up a lot of distinctive LA architecture trends into one serious fancy package – light wood tones, floor-to-ceiling windows, top-of-the-line appliances (and a personal chef to use them), laid-back outdoor spaces, and of course, a great view of the beach. If you've ever wanted to live like a celebrity for a day (or five), this incredible villa is absolutely the place to do it.
Yes, this Airbnb is absolutely insane – but go ahead and click through it anyway. You know you want to.
Coolest Unusual Stay on Airbnb | Hilltop Airstream Retreat
There is seriously no shortage of Airstreams to rent in LA, but this Plus property is definitely extra-special. We love the airy atmosphere inside, with white surfaces and pops of color that make it feel much bigger than it is. Plus, there's something iconic about a restored silver Airstream vs. any old RV, no?
Despite the smaller size of an Airstream, you'll still have access to a full kitchen, queen bed, couch, and roomy bathroom, as well as an outdoor garden to enjoy those hazy LA nights. Plus, the Echo Park location can't be beat – if you love vintage LA vibes as well as hipster mainstays like great coffee and vintage shopping, you'll fit right in.
Best Stay in the Hollywood Hills | Rustic Space Perched In The Hills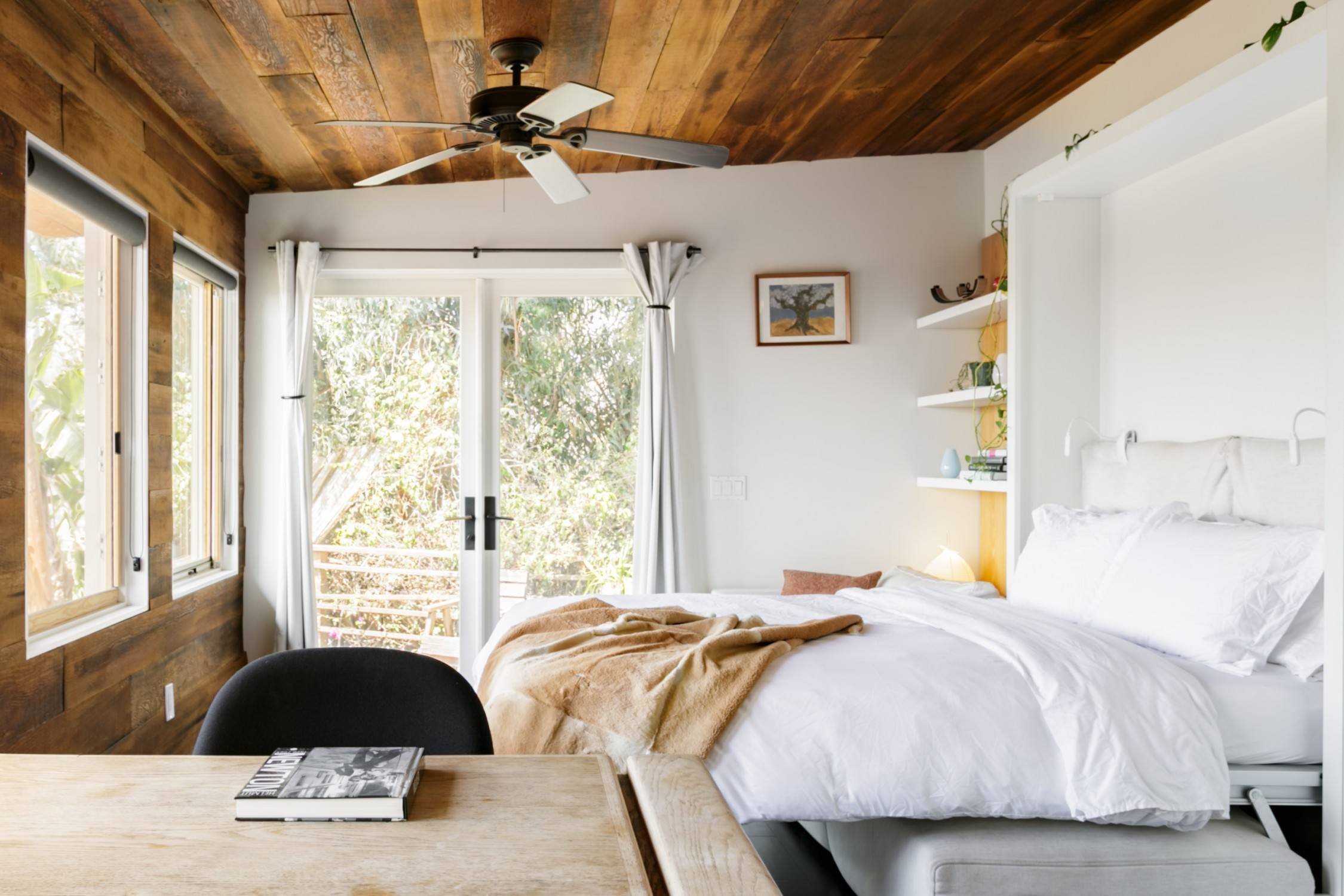 Staying in the Hollywood Hills is obviously iconic – it doesn't get much more Old Hollywood than this. The views over the LA skyline are incredible, and the other homes (and celeb sightings!) in your neighbourhood alone will make it worth your trip. You'll also be close to must-visits like Silver Lake, Loz Feliz and Hollywood proper.
This Plus property has all of that, with cozy cabin vibes – it'll feel like a treehouse among those classic swaying palms. Plus, you'll have a kitchenette, an indoor bath and outdoor shower, and a queen sized bed. What else could you want?
Best Airbnb With A Pool | Views on Mulholland Drive
$$
Incredible Skyline View
Mulholland Drive is likely one of the most famous streets in LA, after Rodeo Drive and Hollywood Boulevard. One of the best things about it is the incredible view out of the hills and into LA, which you can enjoy from this stunning rooftop pool. This property is often booked for photo ops and marriage proposals, which should speak to how amazing the view is – especially in photo-obsessed LA.
Yes, the private room attached here is definitely no-frills – but why would you be in there for longer than it takes to put on your bathing suit?
Top 5 Airbnb Experiences in Los Angeles
Have you booked an Airbnb experience yet? Lots of travellers still aren't taking advantage of all the high-quality, easy-to-book and fun local tours, classes and activities available on the very same platform where they book accommodations.
Even better, lots of Airbnb experiences aren't run by huge tour companies, but by locals – that means smaller and more intimate groups, passionate guides, and out-of-the-box experiences that are rooted in local knowledge.
Plus, you can manage everything right from the Airbnb app – no annoying text chains, emails, and saving tickets to your camera roll. Sweet!
Sound too good to be true? Not even! Keep scrolling for 5 can't-miss Airbnb Experiences in Los Angeles.
LA Highlights In One Day
$122/person
Up to 12 people
7 hours
Short on time? Want to knock out the main sights quickly and get a feel for the city? This tour (rated 4.97/5!) is your best bet.
It covers so much of iconic LA – the Griffith Observatory, Hollywood Sign, Hollywood Walk of Fame, Chinese Theatre, Rodeo Drive, Venice Bach and more. You'll really get a crash course in all the main tourist attractions, perfect if you're in a hurry or looking to get a feel for what's worth a return visit.
Wild Night Out in West Hollywood
$50/person
Up to 12 people
3+ hours
There is a lot of nightlife to get through in LA, but nothing quite as diverse and exciting as West Hollywood, LA's mecca for LGBTQ+ communities and their allies. Wherever you fall on that spectrum, you're guaranteed to have a good time on this bar crawl hosted by professional dancer Kari – he'll take you to all the spots, from crazy fogged-up clubs to down and dirty hip hop to drag bars to…you'll see where the night takes you!
Hollywood Sign Hike
$22/person
Up to 12 people
3 hours
Chances are if you're in LA, you're planning to do this hike – why not do it on an under $25 guided tour with over 4000 5-star reviews? You have no shortage of options, either – you can opt for a morning or sunset walk, and if 3 hours seems too long, hop on the 1.5 hour express tour from the same company.
Malibu Beach Tour in a 1972 VW Bus
$213/person
Up to 6 people
5 hours
Yes, this tour might feel made for Instagram – but it's got a little more going on under the surface. This tour is run by a Malibu local whose family is in the restaurant industry in the area. That means she knows all the good spots, from where you'll grab breakfast and lunch, to a secluded private beach, to the mainstays like the Malibu pier and Pacific Coast Highway. Oh, and there'll be margaritas.
Korean, Thai and Armenian Food Tour
$110/person
Up to 10 people
3 hours
LA is a world renowned spot for foodies, not only because of the crazy-expensive fine dining scene but because the city's diverse population means that street food from all over the world is really on your doorstep.
Of LA's foodie hotspots, Koreatown is the most famous. You may have seen Anthony Bourdain talk about it on Parts Unknown with artist David Choe back in the show's early seasons. However, the Thai and Armenian communities are in full force in LA – don't forget, LA's most famous citizens the Kardashians, are Armenian too! This tour is a great place to start to get to know how these unique cuisines have been shaped by the US to very tasty results – but really, it's just one of many totally tasty LA food experiences worth checking out.
FAQ's on Airbnbs in Los Angeles
Choosing the right Airbnb for your visit in Los Angeles is everything, but easy. To help you out, we've listed and answered the most frequently asked questions on Airbnbs in Los Angeles.
Final Thoughts on Los Angeles Airbnbs
So, that concludes our list of the 15 best Airbnbs in Los Angeles. We hope you've found something that matches your budget, travel style, and that it's big enough for your group. As you can see, there are so many choices!
Whether you want a private place to hang out after a night out in West Hollywood, a charming Los Angeles homestay with a local, or somewhere with a terrace to look out over the many LA skylines, we're sure that it's on our list above!
You might think that we've given you a little bit too much choice – and you might be right! If that's the case, sit down and take a deep breath. Better? Okay, now pick our favourite Airbnb in Los Angeles – this beautiful downtown loft with pool. It's the best combination of value, style, and location.
Now that we've hopefully helped you to plan your trip out a little better, all that's left is for us to wish you a great vacation in LA!
And don't forget to take out Travel Insurance for your trip! I have been using World Nomads for some time now and made a few claims over the years. They're easy to use, professional and relatively affordable. They may also let you buy or extend a policy once you've started your trip and are already abroad which is super handy.
If there's one insurance company I trust, it's World Nomads. To find out why I use World Nomads, check out my World Nomads Insurance review.
Getting an estimate from World Nomads is simple – just click the button or image below, fill out the necessary info, and you're on your way!

---
Find out how YOU can support the site.
We're a big site with a big team and this job isn't always easy. But we do it because we love it – we love providing epic and free content. We love the knowledge that our content keeps you adventuring. We don't ask for money, but if you'd like to find out how you can help the site in more organic ways, click the button below.
Thank you for your support 🙂
And for transparency's sake, please know that some of the links in our content are affiliate links. That means that if you book your accommodation, buy your gear, or sort your insurance through our link, we earn a small commission (at no extra cost to you). That said, we only link to the gear we trust and never recommend services we don't believe are up to scratch. Again, thank you!