Travel
15 STUNNING Airbnbs in Indianapolis [2021 Edition]
The capital and largest city of Indiana is home to several sporting events, including the US's largest half-marathon and the epic Indy 500 race. But there's more to the city than sports.
Take a walk along the city's canals – or pedal/kayak on a sunny day – visit the Indiana State Capitol, or check out the antique and artisan stores of Fountain Square.
The city is brimming with character and charm, and Airbnbs in Indianapolis reflect that. Whether you want a charming and historic carriage house, an industrial-chic warehouse, or a private room where you can crash after a day of exploring the city, rentals in Indianapolis have got you covered.
And so have we! In this post, we'll take a look at the 15 best Airbnbs in Indianapolis. Not only that, but we'll also show you the top Airbnb Experiences in town. All you need to plan is how you're getting there!
Quick Answer: These are the Top 5 Airbnbs in Indianapolis
Overall Best Value Airbnb in Indianapolis
Overall Best Value Airbnb in Indianapolis
Fountain Square House
> $$
> Four guests
> Awesome location
> Outdoor patio
Best Budget Airbnb in Indianapolis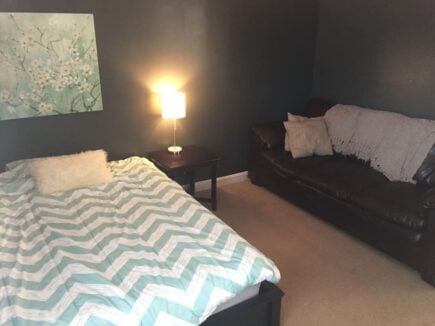 Best Budget Airbnb in Indianapolis
Peaceful Room near Downtown
> $
> Two guests
> Self-check-in
> Indoor fireplace
Best Airbnb for Couples in Indianapolis
Best Airbnb for Couples in Indianapolis
Clean and Comfy Vintage Carriage House
> $$
> Two guests
> Queen bed
> Great location
Best Airbnb for Families in Indianapolis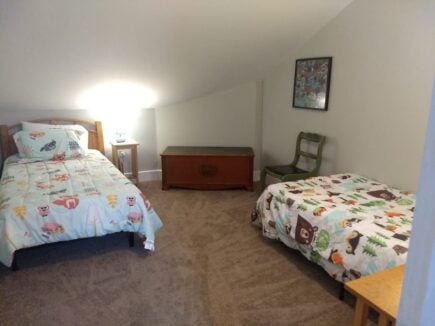 Best Airbnb for Families in Indianapolis
Spacious 3 Bed for Family
> $$
> Six guests
> Breakfast included
> Lots of common space
Over-the-Top Luxury Airbnb in Indianapolis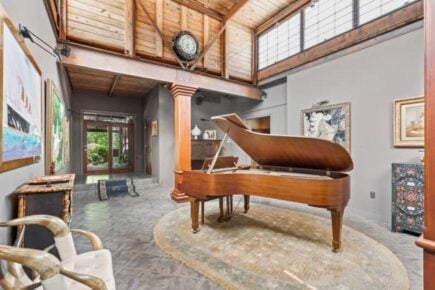 Over-the-Top Luxury Airbnb in Indianapolis
Industrial Indy Elegance
> $$$$$
> Six guests
> Private courtyard
> Piano and pool table
What to Expect from Airbnbs in Indianapolis
Indianapolis has some truly beautiful Airbnbs. You'll forget to explore the city as you'll be spending so much time soaking up the atmosphere and letting everyone on Instagram know about the gorgeous place you're staying at. Obviously, those properties come at a higher price, though. If you'd prefer to stay at the lower end of the scale, you can look at private rooms, which are still lovely! 
When searching for an Airbnb in Indianapolis, chances you are you'll be dealing with a private host; however, in some cases, it may be a company – especially for the larger and more expensive properties. Whichever it is, they can still help you find things to do and see on your trip. 
Carriage House
A carriage house is one of the more unique types of Airbnb in Indianapolis. Also known as coach houses, these are annexes or outbuildings that were originally used for storing horse-drawn carriages. Nowadays, many have been renovated to incredible standards, so they seem more like boutique hotels. 
Carriage houses may be smaller than regular houses, but you can still expect loads of mod-cons, such as fully-equipped kitchens and lounges. Carriage houses don't have their own listing on Airbnb, but you may find them under guest suite, guest house or entire place.
Townhouse
With more than 80 townhouse properties on Airbnb in Indianapolis, this type of stay has an air of exclusivity and a touch of uniqueness, while still being accessible. You're most likely to find entire townhouses for rental; this is great news if you're travelling for an event with family or friends. Townhouses usually start with space for about four people, but the really big ones might have room for as many as 16 or 20!
If you want the townhouse experience without blowing your budget, there are private rooms available in townhouses, though these are a little less common. Here's a link to all the townhouses in Indiana – which one is your favourite?! 
Entire House
Carriage house and townhouses can fall into this category, too. The great thing about an entire house in Indianapolis is the sheer variety you can get. With anything from a quaint cottage out in the sticks to a townhouse near Fountain Square, the possibilities really are endless. 
Entire houses are a great shout if you want to get out of the city centre and surrounding areas. If you want to be near the White River and greenery that surrounds it, or Eagle Creek Park, you have some great choices.
Why Stay in an Airbnb
Still thinking about staying in a hotel or a hostel? If we haven't convinced you yet, here are five more reasons to stay in an Airbnb:
Local Experience : In most Airbnbs in Indianapolis, you'll be hosted by someone who lives in the city. If you're backpacking through the US, the best way to get to know the people and culture is by living with them. They want to share the best of their hometowns with you, so they'll show you places you won't find in the guide books! 
Unique Properties : This is truer than ever in Indianapolis. There are some incredible properties here that have character and charm you'd never see in an equivalent hotel!
Privacy : Having an entire place to yourself means you can have total privacy. Some options even have a self-check-in option if you really want to avoid other people!
Affordability : If you compare an Airbnb and a hotel of the same price, you're going to get a lot more for your money in the Airbnb. 
Airbnb Experiences : It's not just about where to stay; Airbnb Experiences offer curated tours by locals, which can be anything from guided hikes to cooking classes!
Travel with peace of mind. Travel WITH a security belt.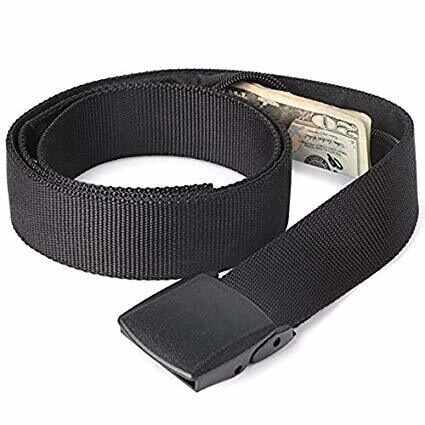 Custom-designed BY the Broke Backpacker FOR broke backpacking, the Active Roots Security Belt will keep your valuables safe no matter where you go.
It looks exactly like a normal belt except for a SECRET interior pocket perfectly designed to hide a wad of cash or a passport copy. Never get caught with your pants down again! (Unless you want to.)
Check on Amazon
The 15 Top Airbnbs in Indianapolis
Now that we've told you all about what you can get and why you should stay in an Airbnb, let's get to the exciting part. Here are the 15 best Airbnbs in Indianapolis. Which one is your favourite?! 
Overall best value Airbnb in Indianapolis | Fountain Square House
Fountain Square is one of the most popular areas of Indianapolis, so it makes sense to start our search there. Despite the area's popularity, it's not hard to find a great value Airbnb, as this place proves. The house boasts two bedrooms, each equipped with a queen bed. Couples on holiday will love this place! If you don't fancy hitting the nearby bars or catching a game at the Lucas Oil Stadium, chill out on your very own patio. 
If you want to base yourself close to the main attractions and things to do in Indianapolis, look no further than this Airbnb!
Best Budget Airbnb in Indianapolis | Peaceful Room near Downtown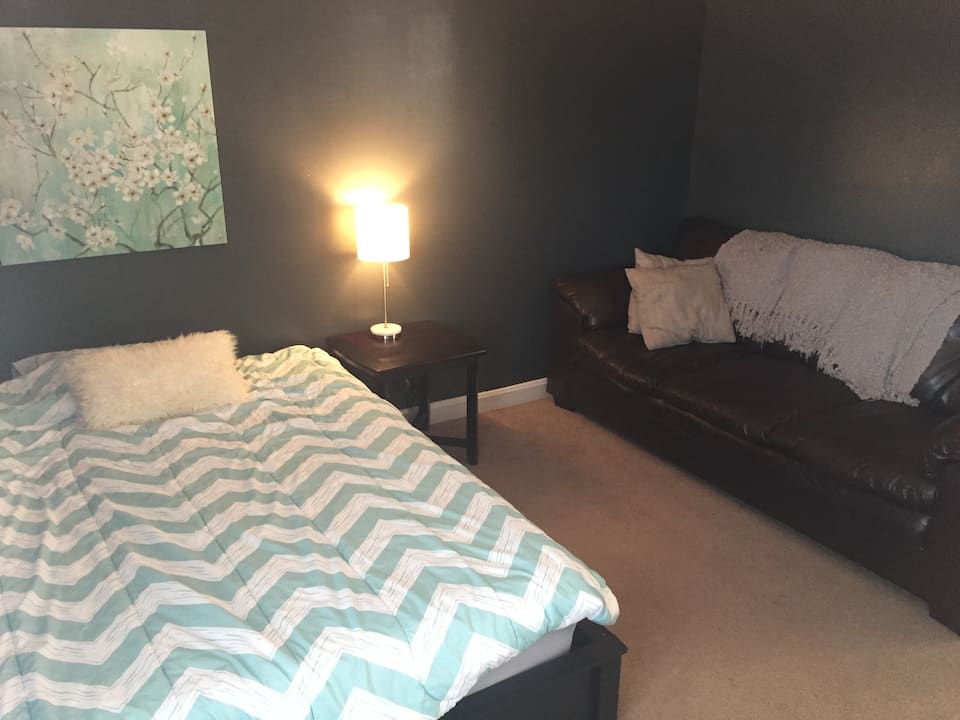 Two guests
Indoor fireplace
For those trying to keep their costs as low as possible on their trip to Indianapolis, it's better to look at a private room than an entire place. This room near downtown not only offers a comfy double bed, but also a sofa where you can chill out and read or plan your route around the city. This simple but stylish space is home to your host and his cat. Chill out with them in the living room, dining room, or with a coffee on the porch!
Perfect Airbnb for solo travellers | Super Travelers King Size Room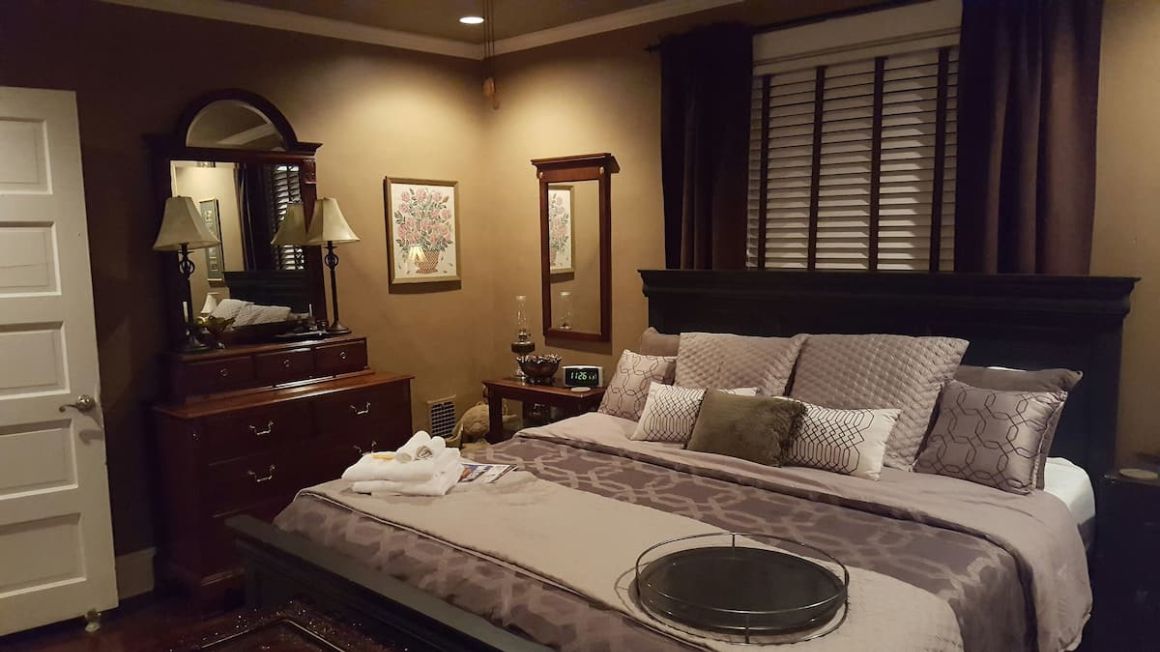 Two guests
Laptop-friendly workspace
It's nice to treat yourself if you're travelling solo, and this 1895 historic home is an excellent opportunity to do so. The king bed is adorned with cushions, so you're sure to be comfortable after a day of getting to know the Indiana capital. Since it's a private room in a house, get travel tips from your host. Animal lovers will be pleased to know there's a friendly black cat at the property. 
Best Short Term Rental for Couples | Clean and Comfy Vintage Carriage House
The first of our carriage houses on the list, and what a great option it is for couples. It has a perfect rating from nearly 100 reviews! It's right in the middle of downtown and has been rated as one of the eight coolest Airbnbs in Indy by tripstodiscover. The bedroom boasts a queen bed with memory foam, and there's a 50-inch TV where you can curl up and watch a movie together. 
Best Airbnb in Indianapolis for Families | Spacious 3 Bed for Family
Six guests
Lots of common space
With lots of cute and thoughtful touches, this is the perfect homely place for a family to stay in Indianapolis. There are three bedrooms, a full kitchen, and lots of common space, so it's just like a home away from home. Just over the road, there's a playground that the kids can make use of. Older teens or parents may want to go for a run on the Greenway. It's suitable for families of all ages!  
Over the top luxury Airbnb in Indianapolis | Industrial Indy Elegance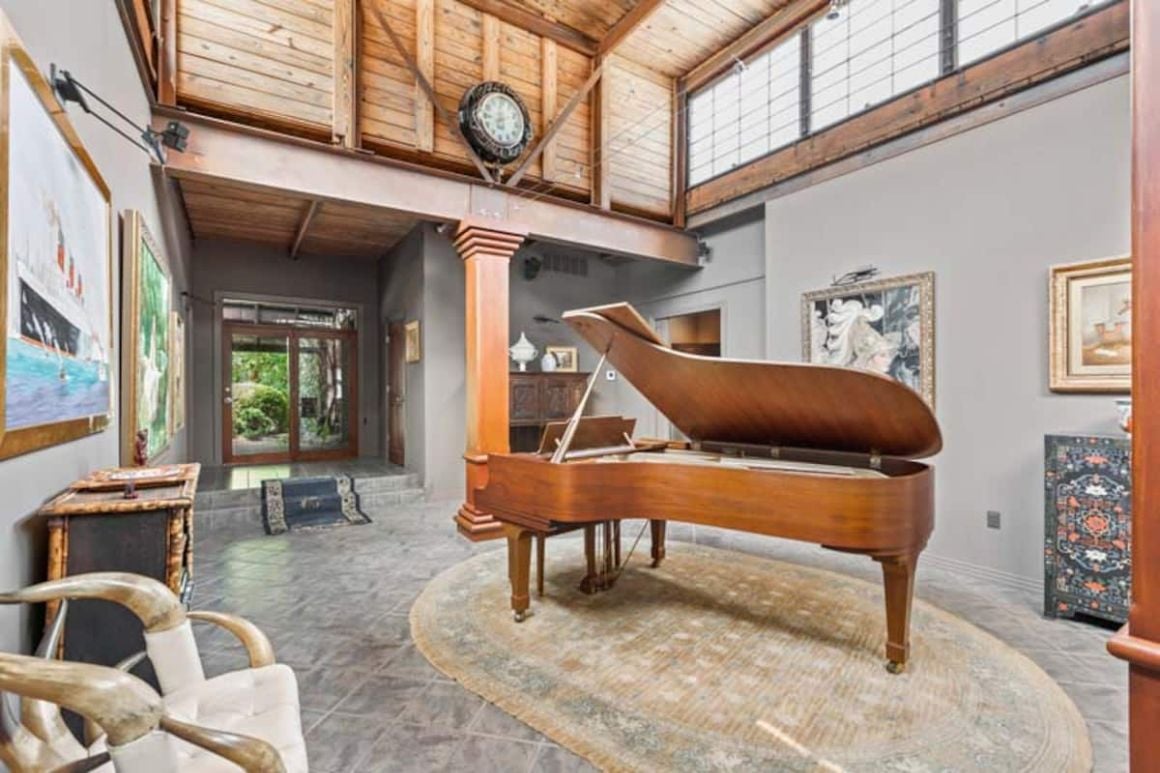 Six guests
Piano and pool table
One of the most stunning Airbnbs in the United States, not just Indianapolis, this vast property is right in the middle of the Mass Ave Cultural District. However, there's so much in the house you might not get out and see it! The wide-open spaces in this crazy open-plan property pack a punch – just don't let the taxidermy stags intimidate you when you're playing the piano! 
Best Carriage House in Indianapolis | Private and Charming Carriage House
Four guests
Cathedral ceilings
While we're on beautiful and stunning houses, let's have a look at another carriage house. This one is right in the heart of downtown Indy and is a cosy home to settle into after catching a sports game or hitting the artisan shops. Chill out and watch a movie on the smart TV (there's Netflix, Hulu, and Vudu) or update your social media through the highspeed Wi-Fi. All of that as light pours in through the roof windows!
Best Townhouse in Indianapolis | Dashing Townhome
Eight guests
Backyard bonfire
Great for a family gathering, this home can host eight guests, and you can all fit around the backyard bonfire! There are two bedrooms which hold queen beds and a sofa bed, while the common area has another sofa bed. There's free parking available in the garage, so your rental car can stay safe and sound. Eat out at the restaurants on Mass Ave or prepare something in the fully-equipped kitchen to enjoy at the eight-person dining table!
Best Entire House in Indianapolis | Two Bed House in Bates Hendricks
Six guests
Fully-equipped kitchen
This modern house is hidden away in the Bates Hendricks district, and it's a rare find. Downtown is just a short drive away, so be sure to bring your car and make the most of free parking. Everything in the house is brand new, including kitchen appliances and a Keurig coffee machine. It really is a home away from home! 
Perfect Airbnb for Digital Nomads | 1920's Inviting Bungalow
$
Laptop-friendly workspace
A laptop-friendly workspace and rapid Wi-Fi connection are usually enough to keep a digital nomad happy. However, this place also has a comfy living room with a piano that you're welcome to use when you're not sending emails or engrossed in a Zoom call! If you fancy a change of scenery from the house, there are several cafes and restaurants in the quaint village nearby! 
Best Airbnb for Throwing a Party | Designer Chic Indy with Pool Table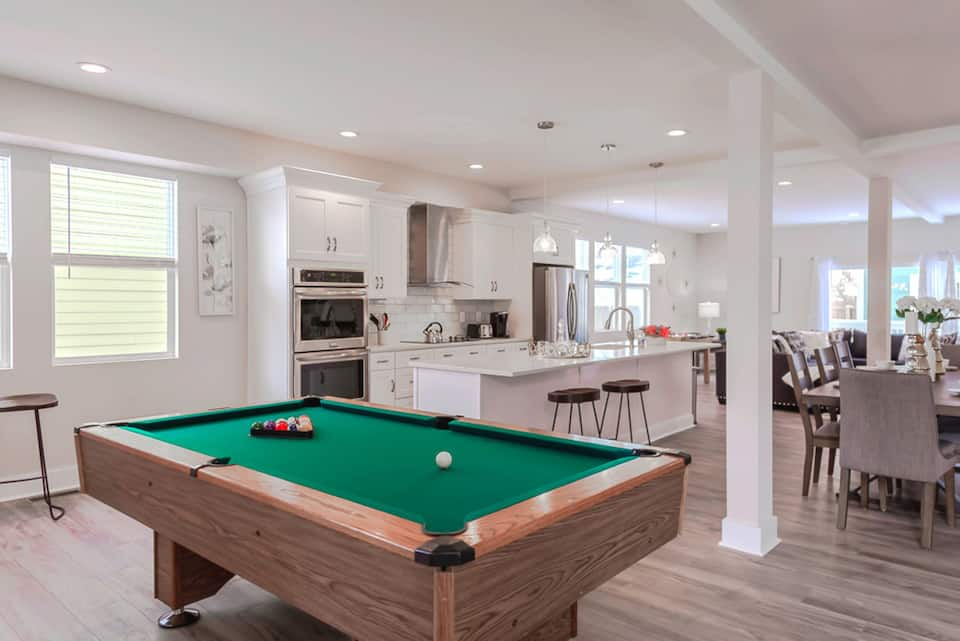 $$$$$
Immersive Social Spaces
What do you need for a party? A bar is ideal, but if you don't have that, at least a space for making and mixing drinks, lots of areas to chill out, and a pool table aren't too bad! That's exactly what you'll get at this substantial four-bedroom house. Other cool things that will set your party apart are a BBQ for the yard and a foosball table. When it comes to beer, order in from one fo the nearby independent breweries! 
Best Airbnb in Indianapolis for a Group of Friends | The Farmhouse at Hotel Tango Farms
Eight guests
Charming but modern
There have already been some spots on this list that are perfect for a group of friends. However, if you're the type of group that enjoys the great outdoors, how about a farm stay? There's enough space for you and seven of your nearest and dearest here, and it's packed with rustic charm. Though the farmhouse dates back to the 1850s, the interior is filled with modern appliances to make your stay more comfortable! 
Most Beautiful Airbnb in Indianapolis | Two Bed Apartment Downtown
$$$
Fully-equipped kitchen
Six guests
Industrial chic design
A lot of the properties on this list could be considered beautiful, but this two bed downtown apartment really does stand out. It'll certainly end up on your Instagram feed! Just look at those huge windows that light up the industrial and tasteful designs inside. This place isn't just about the aesthetic – it's convenient too. Long term stays get 25% off! 
Most Unique Airbnb in Indianapolis | The Onyx Tiny House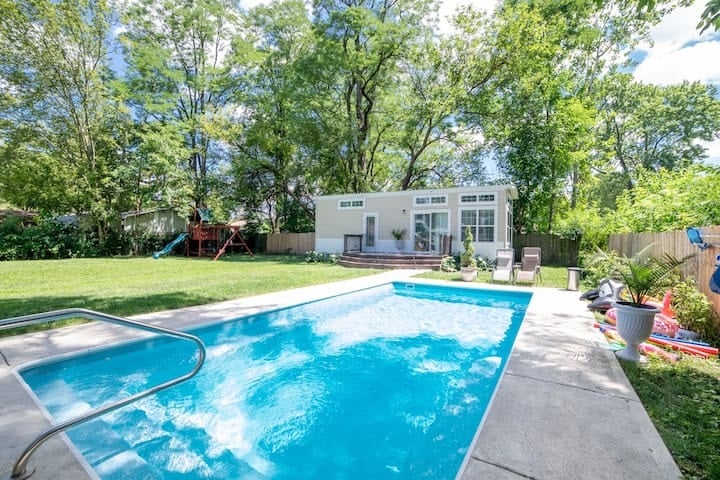 Five guests
Beautiful garden
One of the more unusual Airbnbs in Indianapolis, this tiny house benefits from being at the bottom of a huge garden with a swimming pool. It's the perfect place if you want to enjoy the buzz of the city during the day and escape the hustle and bustle in the evening. There's room for five guests, and it's great if you're travelling with kids – the loft can act as another bedroom or a play area! 
Stunning Airbnb for honeymooners in Indianapolis | Downtown Indy Luxe Loft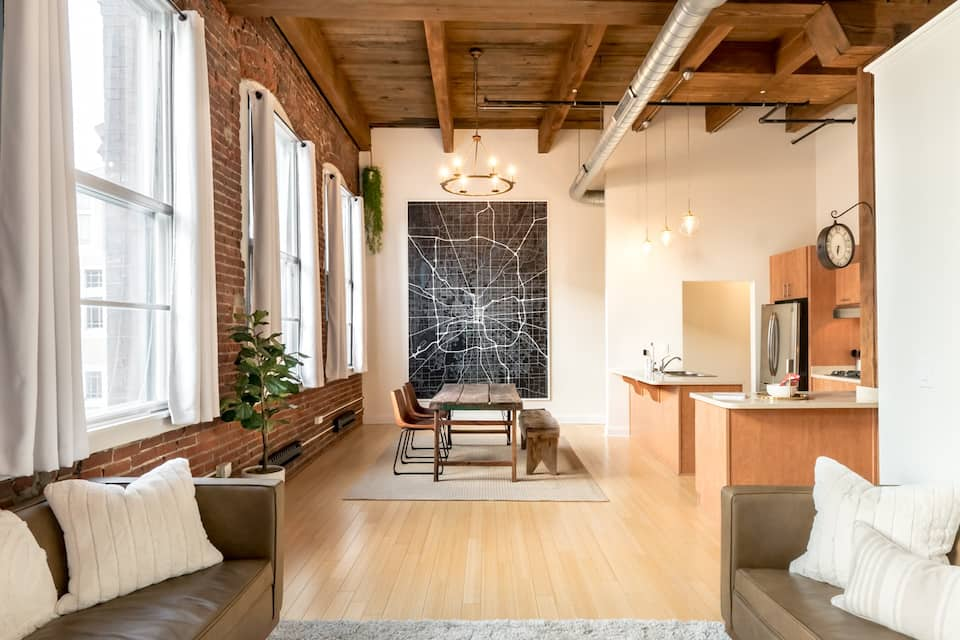 Four guests
Wooden beam ceilings
Nailing the concept of comfortable and cosy while being light and airy is no easy feat.; however, this beautiful loft apartment does it with ease. There's no better space for honeymooners. The apartment is stunning, and it has a queen bed. It's also right in the centre of the action, just four blocks from the Lucas Oil Stadium! Enjoy privacy right from the start of your stay – this place has self-check-in. 
Top 2 Airbnb Experiences in Indianapolis
Tired of low-quality tours and guides who can't get a group dynamic to work? How frustrating! Thankfully, Airbnb Experiences offers small group tours that often show the hidden gems of a new city. Indianapolis is yet to fully embrace Airbnb Experiences – there are only two in town! However, keep checking back to see if anything new has come up. For now, there is a cooking class and an art party – both great activities to fit into a long weekend!
Creole Fusion with Spontaneity
$100/person
Two hours
Up to ten guests
Looking for a foodie experience in Indianapolis? Look no further than this Creole cooking experience! After you sit down and enjoy the welcome music and delicious aroma of herbs and spices, you'll have an aperitif and get involved with the day's menu. As well as cooking, you'll find out all about the health benefits of the food. It's a cool way to spend a morning or afternoon in Indy! 
VIP Art Party
$40/person
Two and a half hours
Up to ten guests
If you're interested in art and wine, what better than mixing the two? This is one of the best ways to get a unique souvenir to take home with you; you'll be making artwork using not only canvas, but wine bottles, glass, and paint. Obviously, as there's free wine on-site, you will need to be at least 21 to take part. Perhaps this isn't one for the whole family!
Final Thoughts on Indianapolis Airbnbs
Now that you've seen the best Airbnbs and experiences in Indianapolis, you should feel more confident when it comes to booking your trip. But what are you going to choose? A cute tiny house? A charming carriage house? Maybe you'll go the whole hog and get the industrial style apartment with the piano!
If you're still finding it hard to make your mind up, we'd suggest going for our overall best value Airbnb in Indianapolis. That's the Fountain Square House. As well as being in a great location, you get unbeatable value for money and a friendly host.
Now that you know where to stay and what to do for your trip, the last step before you pack is taking out travel insurance with World Nomads!  
And don't forget to take out Travel Insurance for your trip! I have been using World Nomads for some time now and made a few claims over the years. They're easy to use, professional and relatively affordable. They may also let you buy or extend a policy once you've started your trip and are already abroad which is super handy.
If there's one insurance company I trust, it's World Nomads. To find out why I use World Nomads, check out my World Nomads Insurance review.
Getting an estimate from World Nomads is simple – just click the button or image below, fill out the necessary info, and you're on your way!

---
Find out how YOU can support the site.
We're a big site with a big team and this job isn't always easy. But we do it because we love it – we love providing epic and free content. We love the knowledge that our content keeps you adventuring. We don't ask for money, but if you'd like to find out how you can help the site in more organic ways, click the button below.
Thank you for your support 🙂
And for transparency's sake, please know that some of the links in our content are affiliate links. That means that if you book your accommodation, buy your gear, or sort your insurance through our link, we earn a small commission (at no extra cost to you). That said, we only link to the gear we trust and never recommend services we don't believe are up to scratch. Again, thank you!