Travel
15 STUNNING Airbnbs in Houston [2021 Edition]
Houston isn't the capital of Texas, but it is the largest city. Its downtown area has a wealth of things to do – from visiting world-class museums to enjoying some of the best bars and restaurants in the Southern United States. Outside the city limits, you can visit the NASA Space Center, too.
With everything going on in Houston, you'll need to find somewhere to stay. If hotels and hostels are wearing a bit thin for you, why not check out vacation rentals in Houston instead? They're sure to offer a little more character and excitement, and they won't cost you the earth.
In this post, we'll not only take a look at the best Airbnbs in Houston, but the top Airbnb Experiences, too. Whatever you want from your vacation in the Lone Star State, we'll make sure that you won't have a problem in Houston. Let's check it out!
Quick Answer: These are the Top 5 Airbnbs in Houston
Overall Best Value Airbnb in Houston
Overall Best Value Airbnb in Houston
Private Garage Studio Apartment
> $$
> Two guests
> Queen bed
> Drinks and snacks included
Best Budget Airbnb in Houston
Best Budget Airbnb in Houston
Comfy and Convenient Room
> $
> Two guests
> Access to common areas
> Top location
Best Airbnb for Couples in Houston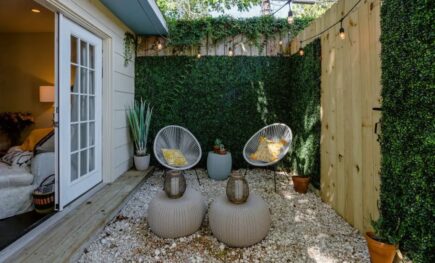 Best Airbnb for Couples in Houston
Airy Bohemian Vibe
> $$$$$
> Two guests
> Outdoor swing lounge
> Queen bed
Best Airbnb for Families in Houston
Best Airbnb for Families in Houston
Modern Home Close to Downtown
> $$$$$
> Six guests
> Smart appliances
> Large communal spaces
Over-The-Top Luxury Airbnb in Houston
Over-The-Top Luxury Airbnb in Houston
The Disco Suite
> $$$$$$$$
> Ten guests
> Lots of games
> Perfect for parites
What to Expect from Airbnbs in Houston
Whether you're on a road trip through Texas, or you just want to visit the city by itself, you'll have to find a place to rest your head at night. Luckily, there is a whole host of amazing Airbnbs in Houston. While entire flats and private rooms are the most popular types of Airbnb accommodation available, there are some more exclusive properties too – such as those listed below, and many more. 
Downtown, you'll find that most places to stay are lofts or flats, and you'll have a kitchen and living space right on the doorstep of all the attractions. The further you get out of town, the more space you're likely to have. Properties in the suburbs will offer you all the standard Airbnb amenities and more, such as gardens and pools. 
The closer you get to Downtown, the more likely it is that you'll be dealing with a business that manages a portfolio of properties. This is true of larger Airbnbs in Houston, too. It all depends on what you want from your stay!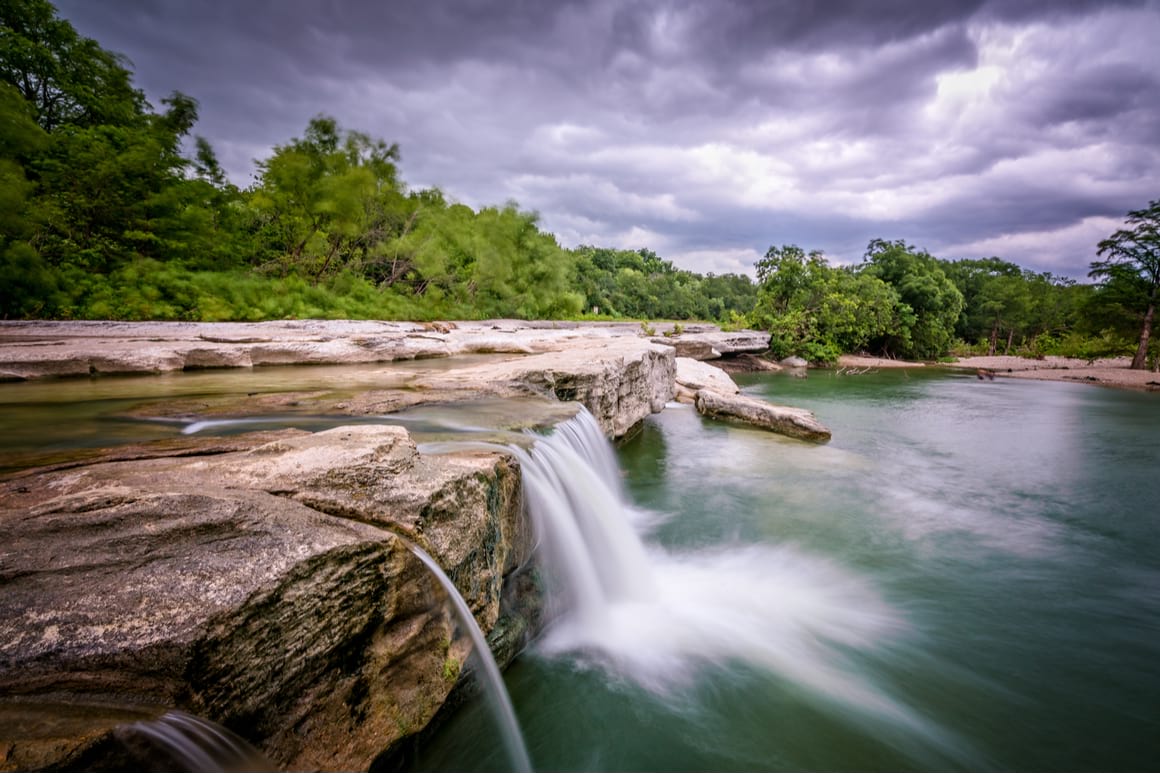 Cottage
One of the most exclusive types of Airbnb in Houston, there are more than 20 dotted in and around the city limits. Cottages can be anything from a romantic little love nest for you and your other half to a multi-roomed place where you can hold a get-together for a group of family or friends.
Unlike a studio, a cottage will be divided into rooms, meaning you've got a clear distinction between the kitchen, living room, and bedroom. Most cottages will come with a yard or garden, some even with a pool. Most cottages are found outside of Downtown but inside Loop 610. If you want to get out into nature, there are a few on the shores of Clear Lake and Trinity Bay, too.
Townhouse
With more than 300 townhouses listed on Airbnb in Houston, this is the ideal type of accommodation if you don't want to give up any of your creature comforts. A true home away from home, townhouses are usually multi-level dwellings with several bedrooms and bathrooms, in addition to a dedicated kitchen and living space. 
These can be found all over the city – tending to be on the smaller side the closer you are to Downtown. 
If you have your heart set on staying in a townhouse but don't have the budget to cover an entire place, don't worry; several local hosts offer up private rooms in their townhouses on Airbnb. By booking these, you can enjoy this type of property while keeping your costs down and getting inside tips on the area. It's a win-win situation! 
Tiny House
A tiny house is exactly the type of property you turn to Airbnb for. Compact and using their space cleverly, they have all the comforts you'd expect of a modern home, but in a much smaller space. 
Tiny houses in Houston include greenhouses, airstream caravans, and shipping containers – just to name a few. Though some can fit four or even six guests, they're usually best for a solo traveller or a couple looking for a quirky and unusual stay. 
Tiny houses in Houston won't be found in Downtown, but cast your net a bit wider, and you'll have no trouble finding them. 
Why Stay in an Airbnb
What's that? You still like the look of a hotel or hostel? You'll change your tune after we give you five of the top reasons to stay in an Airbnb!
Local Experience: With the guidance of a local host, you don't need to use a guidebook to find all the best things to see and do in town! 
Unique Properties: If hotels and hostels all blend into one for you, it's probably time to try something else. You'll find the weird, wonderful, and wacky on Airbnb – as you're about to see.
Affordability: Airbnbs don't just offer more personality and character – but better value for money than hotels. That doesn't just go for Houston, but for all travel destinations in the USA.
Safety: With a review system that vets both host and guest, both of you can trust each other to be on your best behaviour during your stay. 
Airbnb Experiences: Airbnb offers more than just a cool place to stay; its Experiences platform is a great way to see more of your destination with the help of a local guide. More on that later! 
Want to keep your money safe?
You should always have emergency cash hidden on you – pick up this awesome security belt with its hidden pocket before you travel, it's perfect for hiding money, a passport photocopy.
Get your money belt here.
The Top 15 Airbnbs in Houston
Well, now you know why you should stay in an Airbnb, and what's on offer if you do. So, without further ado, let's take a look at the 15 best Airbnbs in Houston. Curated to suit a wide range of budget and travel styles, you're bound to find the right place!
Overall best value Airbnb in Houston | Private Garage Studio Apartment
Two guests
Drinks and snacks included
Located above your host's garage, you get the benefit of privacy that you wouldn't be afforded in a private room – while having your host close by for recommendations on what to see and do in town. Drinks and snacks are included, as well as a microwave and mini-fridge for making simple meals. Choose between relaxing on the sofa or queen bed after a day exploring Houston. If you rented an RV, you can take advantage of free parking – the garage can hold a pick-up or medium SUV. 
Best Budget Airbnb in Houston | Comfy and Convenient Room
Finding a budget place to stay usually would have you looking up a dorm room in a hostel. However, we get that's not for everyone – so why not treat yourself to a private room in a homestay? This comfortable room is just a hop, skip, and a jump from Houston's Chinatown District. As well as you're own room, you've got access to communal areas such as the kitchen, living room, and a bathroom. 
Perfect Airbnb for solo travellers | Panoramic Rooftop in Townhouse
Two guests
Shared living spaces
Homestays are a great way not only to keep your costs down, but also to meet local people and get their take on what to do and see in their city. There really is no downside! In this private room, you'll be welcome to use the shared rooftop space, which provides awesome views across Houston – it's especially beautiful at sunset. On your doorstep, you have the city's bars, restaurants, and hiking trails. 
Most romantic Airbnb for couples | Airy Bohemian Vibe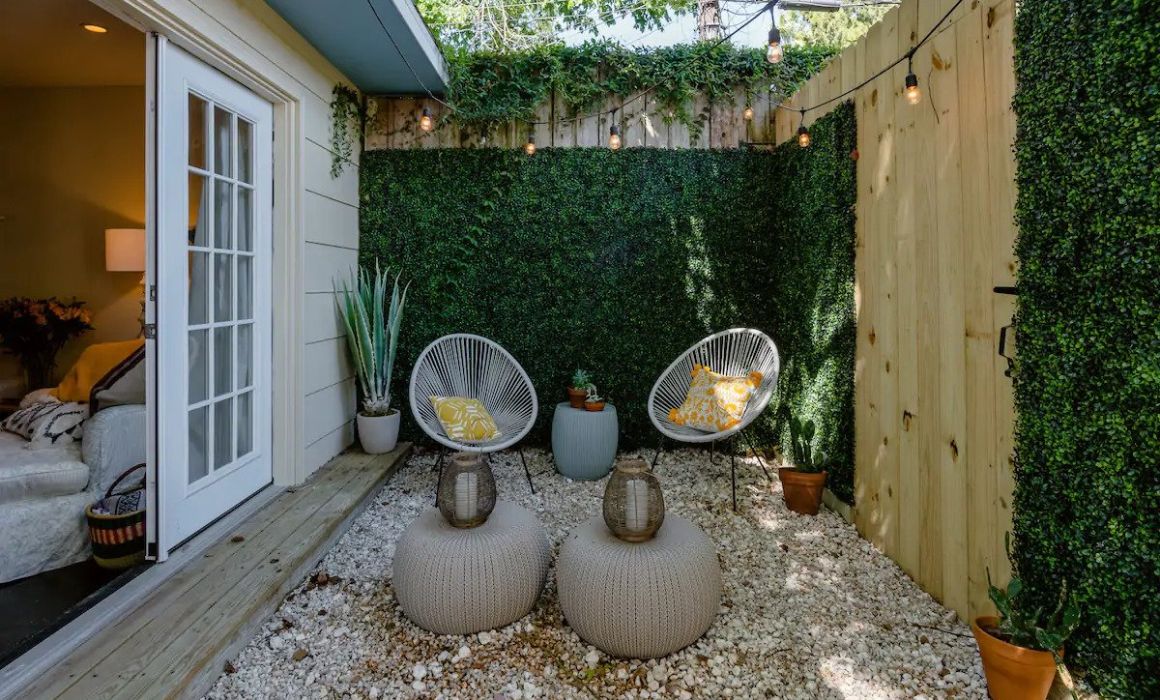 $$$$$
Outdoor swing lounge
Travelling with your partner? Why not treat them to a stay in an Airbnb Plus property. These have consistently high review scores and attentive hosts, so you're assured of a lovely stay. This one has a queen bed and an outdoor seating area where you can enjoy your morning coffee together as you plan your day in Houston. There's a large bath with robes for two should you fancy a soak together after a day of exploring! 
The BEST Travel Backpack?!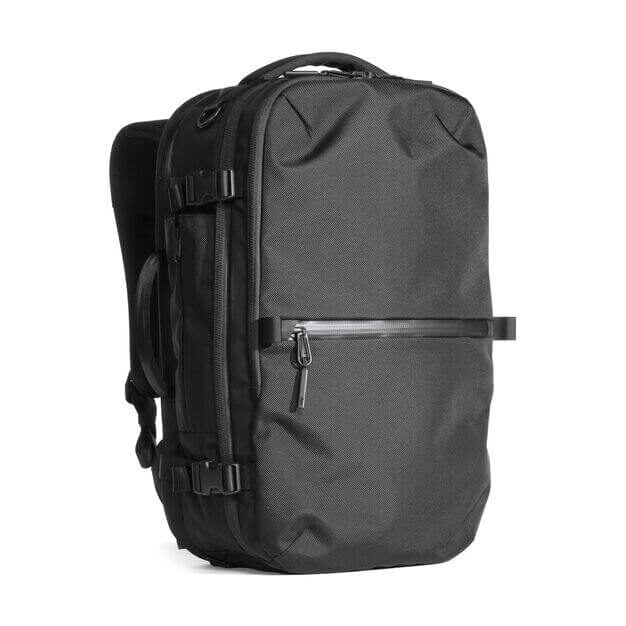 Pssssst! Not picked the perfect travel backpack yet? The Broke Backpacker team has tried out over thirty backpacks this year! Our favourite travel backpack is the Aer Travel Pack 2.
View on AER
Best Airbnb in Houston for Families | Modern Home Close to Downtown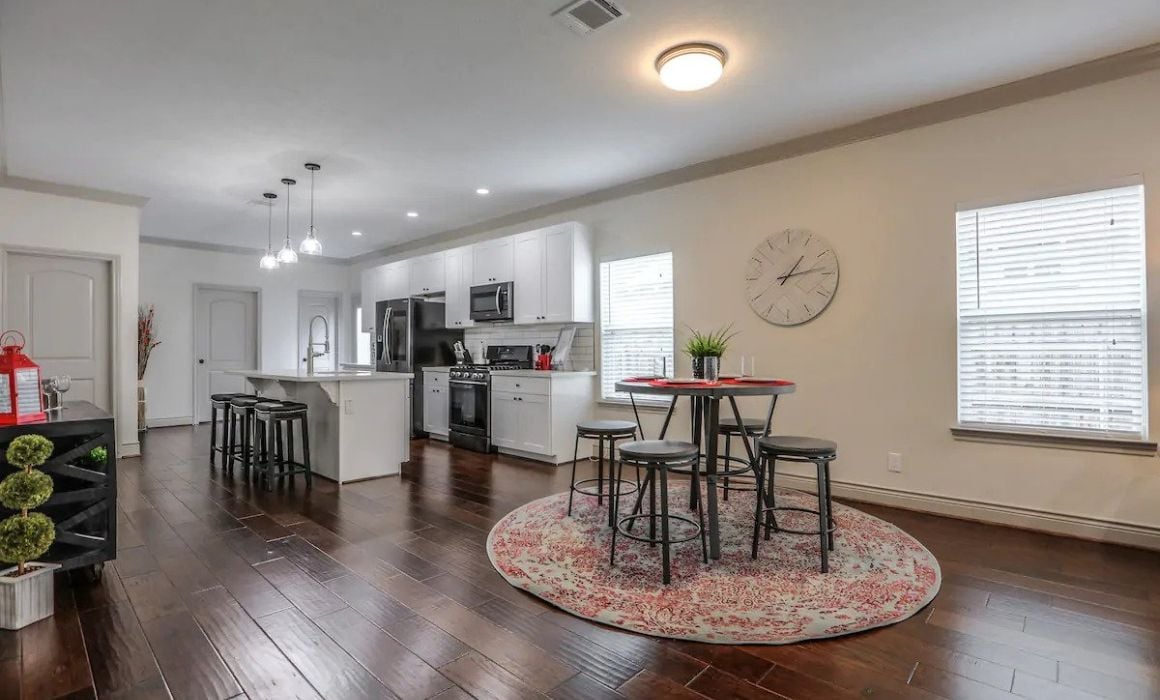 Six guests
Large communal spaces
It's hard to enjoy quality family time together if you're holed up in separate (and small) hotel rooms. That's why renting an entire home is such a great idea. This Downtown three-bedroom property has huge communal areas where you can enjoy a board game, a movie, or eat dinner together. There are three TVs, too, for when you've had enough of each other! 
Over the top luxury Airbnb in Houston | The Disco Suite
Ten guests
Perfect for parties
How about this place?! The warehouse-style disco suit is a loft apartment that will take you back to the days of Studio 54. So throw on a vinyl, get the disco ball rotating, and have a dance with your nearest and dearest… or a game of pool. This lavishly decorated apartment is perfect for a chill night too, with huge squishy sofas and large TVs in the common areas. If you want to host a party here, you can fit about 25 people in – though it's only got space for 10 to sleep. 
Best Cottage in Houston | Heights Garden Cottage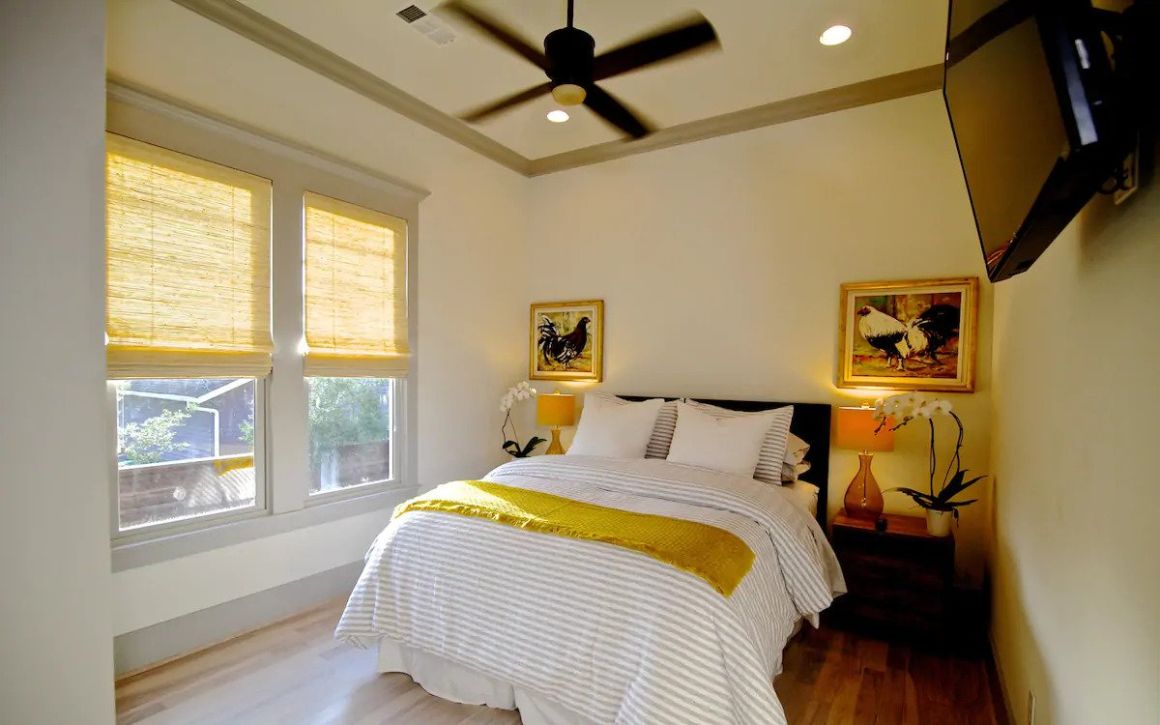 Two guests
Long-term stays welcome
Looking for an outdoorsy stay in Houston? This cottage is just one block from the city's best hiking and biking trails, making for an ideal base. It would suit an active couple or solo traveller who wants to come back to a comfortable and cosy home. The cottage's host welcomes long term stays, so it may also work for a digital nomad looking to stay a while in Houston. There's everything you could need, including a fully equipped kitchen and light, airy rooms. 
Best Townhouse in Houston | Chic Midtown Home
Six guests
Rustic modern style
Being in Midtown means you're close to Houston's sports stadiums, concert halls, and universities. It's one of the city's most accessible destinations! This top floor duplex townhouse combines modern and contemporary touches with original 1930 hardwood floors and other design touches. Space for up to six guests means it's good for a group of friends or family – and long term stays are available!
Best Tiny House in Houston | The Tiny Green House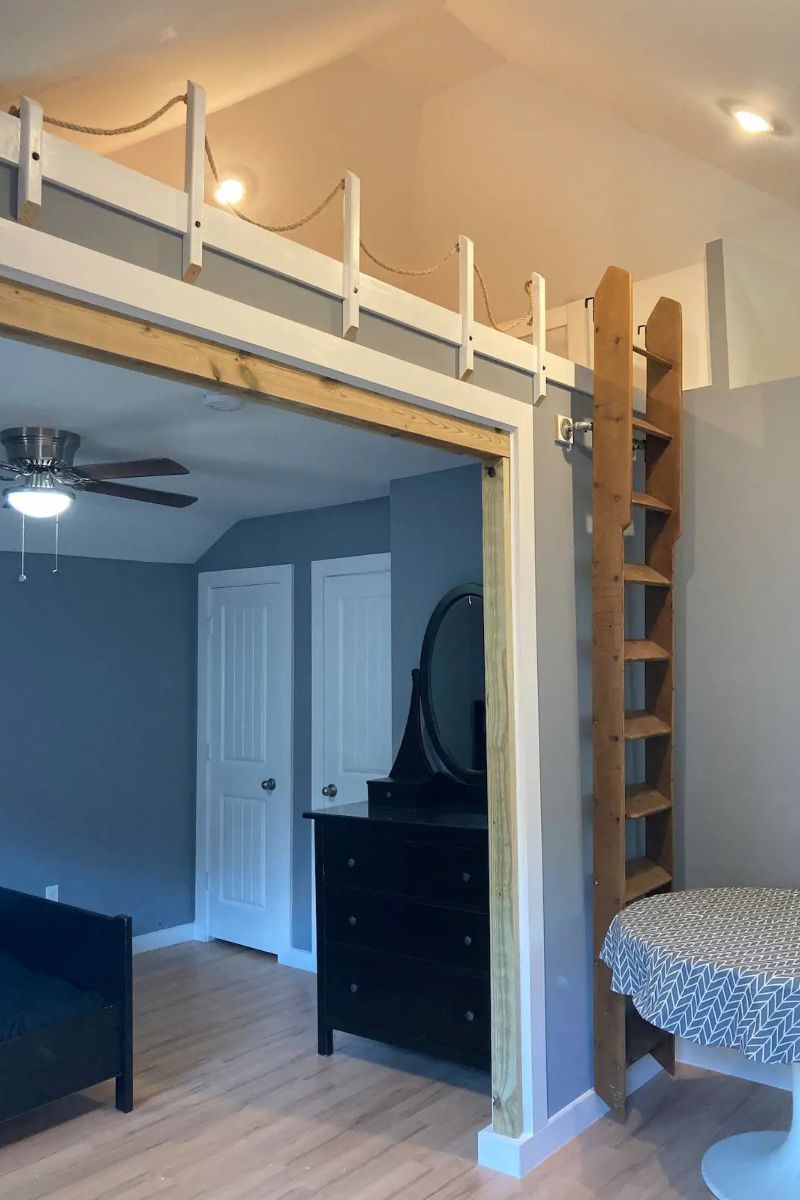 Four guests
Minimal carbon footprint
This cute tiny house is a colonial-style homestead made mostly from recycled materials. It's bursting with character and provides a quirky stay in Houston. Though it can accommodate four guests, we'd suggest it's better for a couple or two friends. There are two bikes available that you can use to explore the city. Guests are welcome to bring small dogs, and larger dogs are negotiable with your host. 
Perfect Airbnb for Digital Nomads | Modern Midtown Bedroom with Office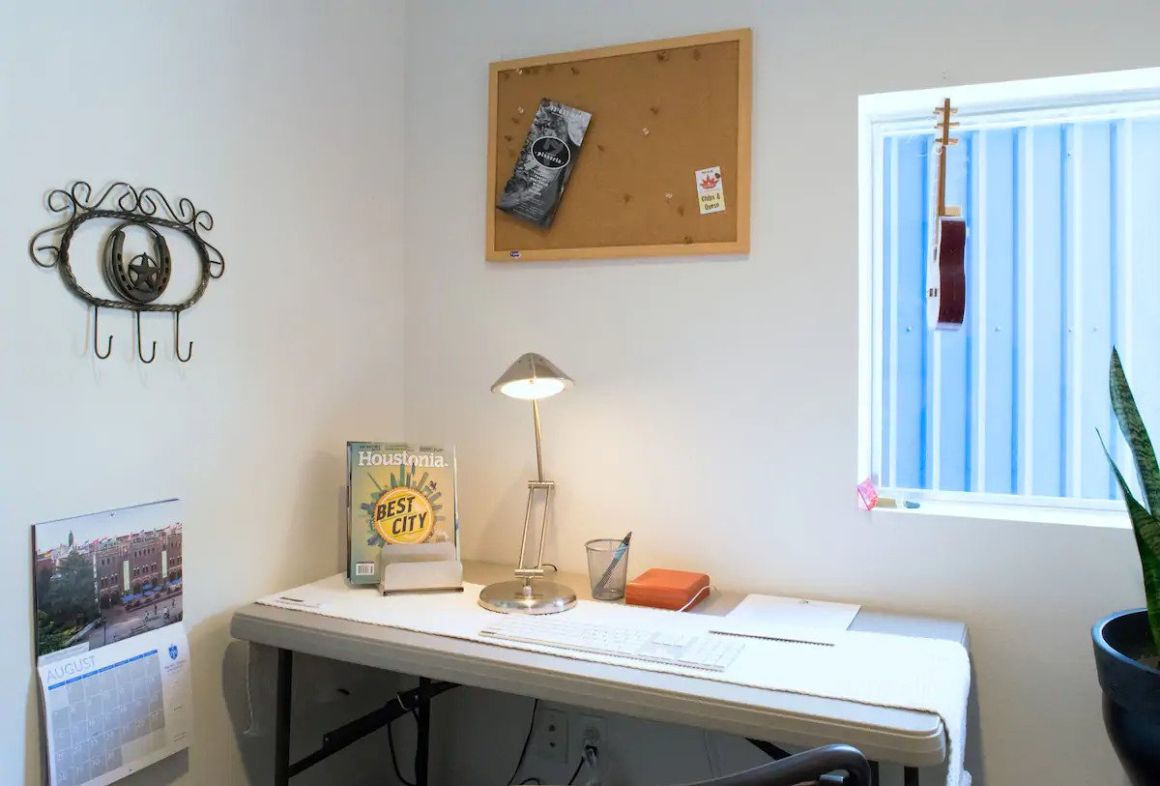 $$
Laptop-friendly workspace
Two guests
High-speed Wi-Fi
Usually, a laptop-friendly workspace is good enough for a digital nomad. But at this modern Midtown apartment, you'll get to use a whole office if you desire! In your room, there's a coffee machine, so you can stay caffeinated as you work. When it's time to take a break, head out onto the outdoor patio straight from your bedroom or chill out in the communal spaces. There's a foosball table! As well as digital nomads, this place would be good for students as it's close to Houston's universities.  
Best Airbnb with Pool in Houston | Heaven in Houston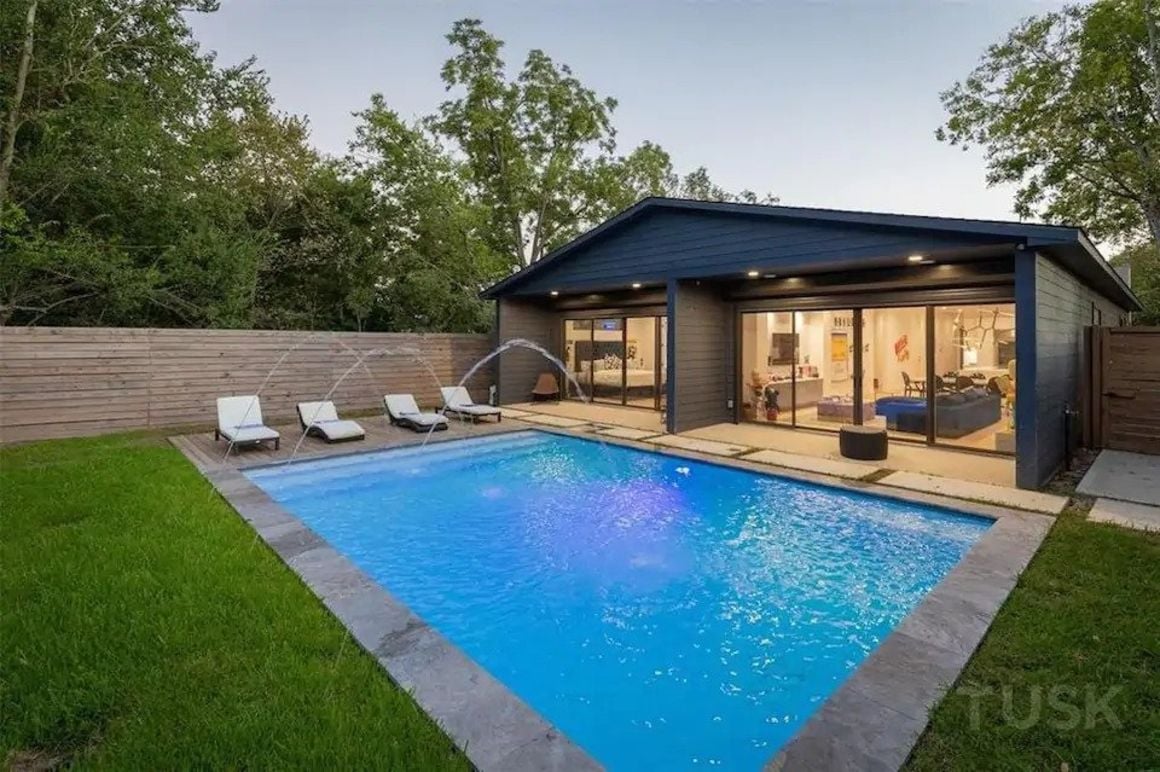 $$$$$$$$$
Heated swimming pool
Eight guests
Spacious kitchen
Houston can get seriously hot, so it's a good idea to come home to somewhere you can cool off. While you'll pay more for an Airbnb with a pool, it'll be worth every dollar. Especially this one! Jump in, paddle, or do a few lengths, then dry off on one of the sun loungers. The home can host up to eight guests, so while that price may seem eye-watering at first, you can split it with your travel buddies if you have your heart set on it! 
Best Airbnb with a Rooftop | EaDo Container
Four guests
Panoramic Downtown views
The roof terrace at this East Downtown shipping container pretty much covers the top of the buildings, so there's plenty of space to admire the views of the skyline. The terrace alone comes with an eight-seat dining table, island grill, a lounge seating set that can be converted to a day bed, a fire pit, and a Bluetooth speaker. There's so much up here that you'll probably never spend any time in the apartment itself! 
Best Airbnb in Downtown Houston | Cozy Downtown Studio
If you've just got a quick trip planned to Houston, you'll want to stay in Downtown. It offers easy access to pretty much everything the city has to offer while being close to the city's main transport hubs. This cosy studio has the Toyota Centre, Minute Maid Park, and Wells Fargo Plaza all within ten minutes. As well as that, there's a gym and swimming pool on-site, which you're welcome to use if you have time! 
Best Airbnb Plus in Houston | Urban Cowboy Inspired Apartment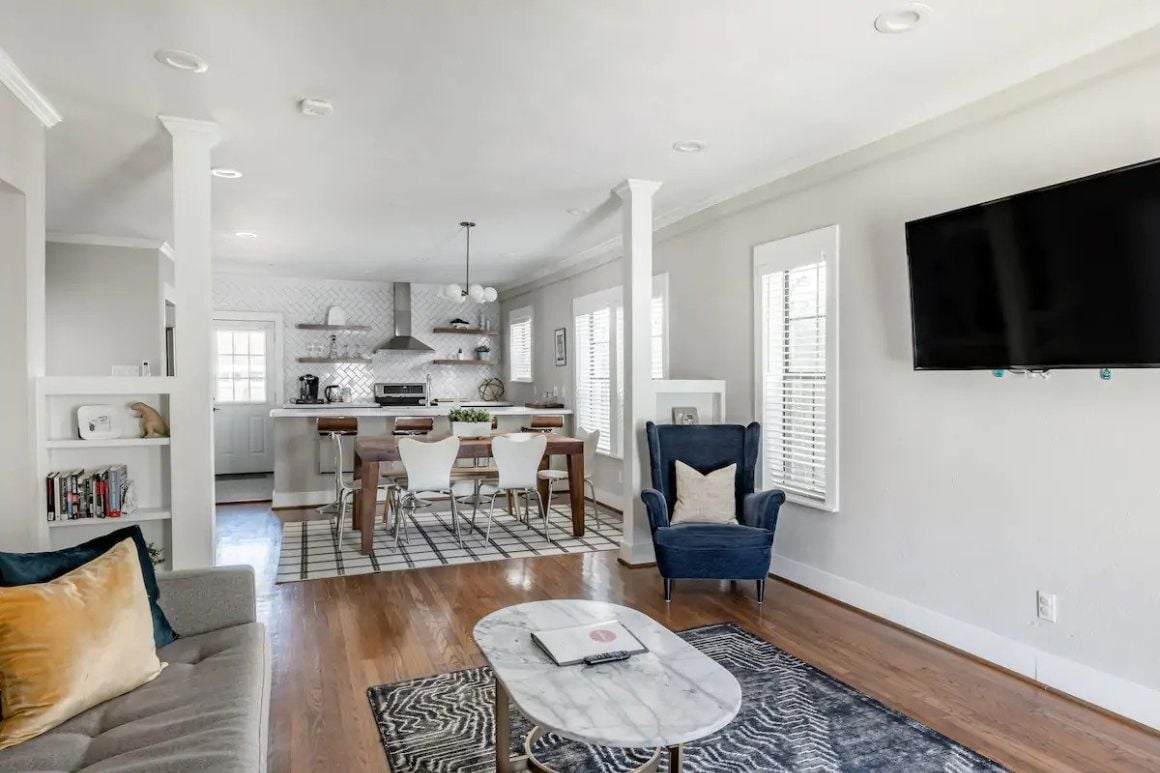 We've already seen one Airbnb Plus on this list (remember, those are the ones with great review scores and excellent attention to detail). This one has space for up to seven guests, meaning it's ideal for a group of friends or family. The shared backyard is a great spot for a BBQ, and you can chill out with your travel companions in the open-plan living areas in the rare event that Houston suffers from bad weather. 
Best Airbnb in Houston for a Group of Friends | Entire Upstairs Area in Montrose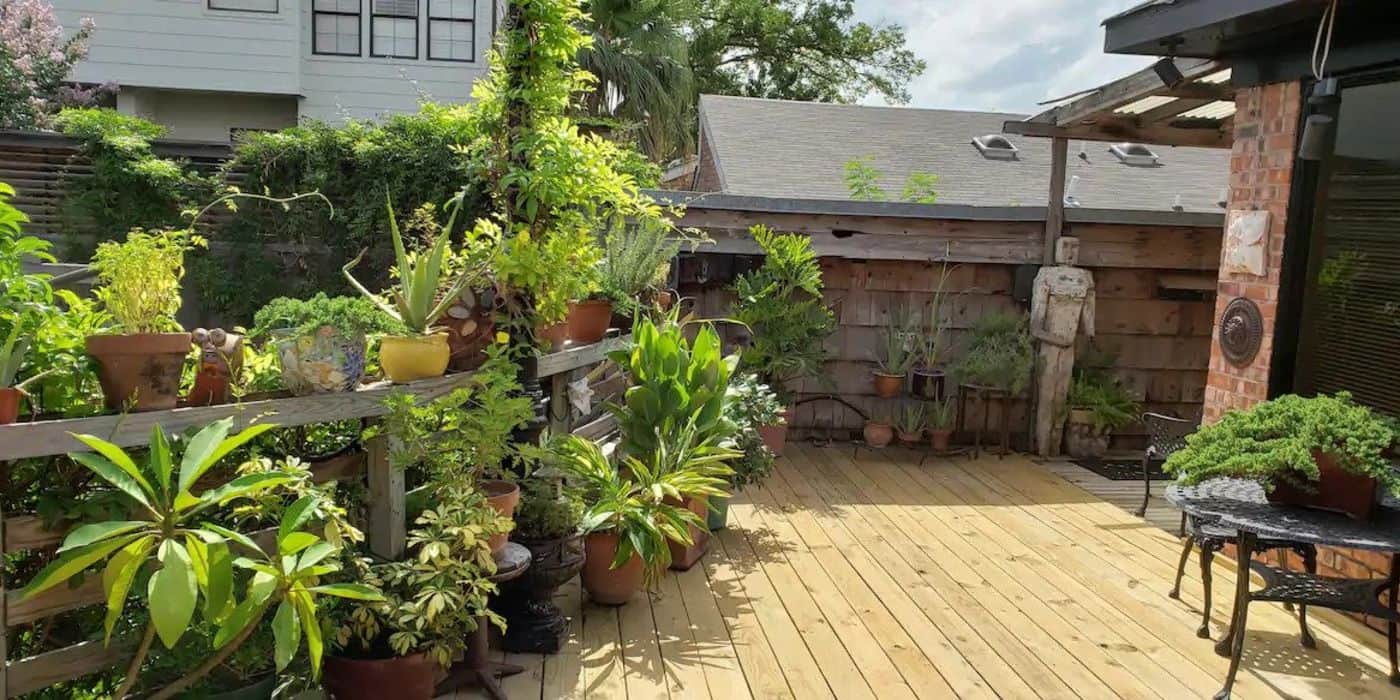 If you're travelling with friends, having awesome communal areas, both indoor and outdoor is a big bonus – that's exactly what you'll get at this Montrose property. There are two queen beds and a sofa bed, so no-one should have to top and tail. If you want to save money on eating out, you can prepare a meal together in the fully equipped kitchen and enjoy it out on the back deck. Once you've left enough time for your food to digest, take a dip in the pool! 
Top 5 Airbnb Experiences in Houston
Now that you've seen the best Airbnbs in Houston, it's time to find what to do when you get there. 
Airbnb Experiences offer tours and day trips curated by local experts, who are desperate to show you the best their city has to offer. It can be anything from discovering the city in a new and interactive way to an animal experience out in the sticks. 
This next short section will lead you through our five favourite Airbnb Experiences in Houston. Let's go!
The Houston Hustle Scavenger Hunt
$25/person
2 hours
Up to 10 guests
Walking tours are a great way to get to know a new city, but they can get a bit dry and dull after a while – especially in the Houston heat! However, this interactive treasure hunt experience is a fun way to get acquainted with Space City. You'll tick off sites after visiting checkpoints in your car, and the activity is dog-friendly, too. If you'd prefer a carless version, that can be arranged!
Texas Wolfdog Experience
$30/person
1 hour
Up to 10 guests
Animal Experiences are a popular choice on Airbnb. This visit to the Texas Wolfdog Project and Shelter is an opportunity to get up close and personal with these magnificent beasts. Remember that these dogs are literally crossed with wolves, so treat them with the respect they deserve. 
Downtown Skyline Sunset Ride
$25/person
1.5 hours
Up to 8 guests
Not only does this bike tour give you a chance to see the best Houston has to offer, but you'll burn a few calories, too – particularly handy in a city with such an exciting food scene! You'll go at sunset along bayous and through parks, finding a few top spots for taking photos of the skyline. Lots of fun for a low price! 
Specialty Coffee Tasting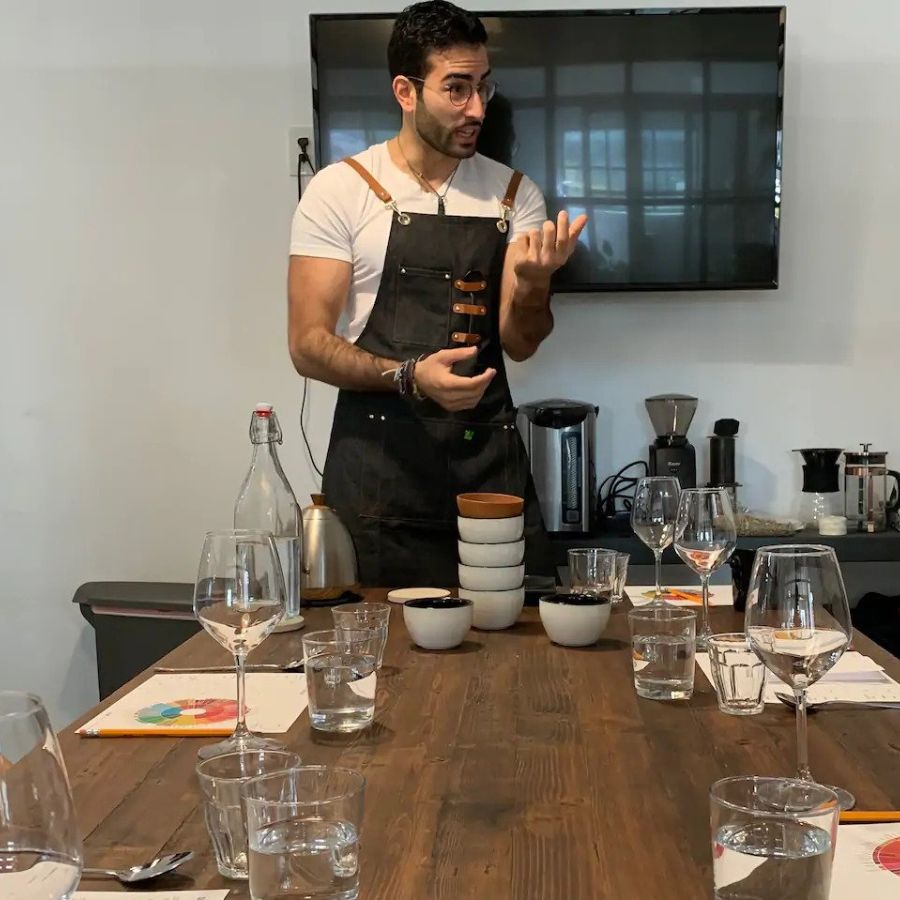 $30/person
2 hours
Up to 4 guests
Do you love your coffee? Instead of hoping for the best and going to your nearest cafe, book this specialty coffee tasting session instead. Your host really knows their stuff and will teach you all about the history of the world's wake up drink. You'll learn to make drinks like a pro barista, too – so this experience might even land you a job in the future! 
Learn to make Pie Crust from Scratch
$22/person
1.5 hours
Up to 10 guests (30 in private groups)
There are no shortcuts in sight here – and certainly no shop-bought pastry! This is the experience for you if you're going on Come Dine with Me. Your host owns a pie shop and has even written a book on the subject, so you're in safe hands. Once you've made your crust, that's the hard bit done. All you need to do next is choose what to put in the pie!
Final Thoughts on Houston Airbnbs
Well, there you have it. You've just seen the 15 best Airbnbs in Houston, followed by the 5 top Airbnb Experiences. Whether you want a cosy studio, a quirky tiny house, or a stylish townhouse, there's sure to be something that will match your style and budget. 
If you're still finding it hard to decide where to stay in Houston, just go for our overall favourite Airbnb – that's the Private Garage Studio Apartment. As well as offering a superb location, you get great value for money.
Whichever of these fantastic Airbnbs you choose, we hope you have a great vacation. To be sure you stay safe on your travels, don't forget to take an insurance policy out with World Nomads.  
And don't forget to take out Travel Insurance for your trip! I have been using World Nomads for some time now and made a few claims over the years. They're easy to use, professional and relatively affordable. They may also let you buy or extend a policy once you've started your trip and are already abroad which is super handy.
If there's one insurance company I trust, it's World Nomads. To find out why I use World Nomads, check out my World Nomads Insurance review.
Getting an estimate from World Nomads is simple—just click the button or image below, fill out the necessary info, and you're on your way!

---
Find out how YOU can support the site.
We're a big site with a big team and this job isn't always easy. But we do it because we love it – we love providing epic and free content. We love the knowledge that our content keeps you adventuring. We don't ask for money, but if you'd like to find out how you can help the site in more organic ways, click the button below.
Thank you for your support 🙂
And for transparency's sake, please know that some of the links in our content are affiliate links. That means that if you book your accommodation, buy your gear, or sort your insurance through our link, we earn a small commission (at no extra cost to you). That said, we only link to the gear we trust and never recommend services we don't believe are up to scratch. Again, thank you!