Travel
15 STUNNING Airbnbs in Cancun [2021 Edition]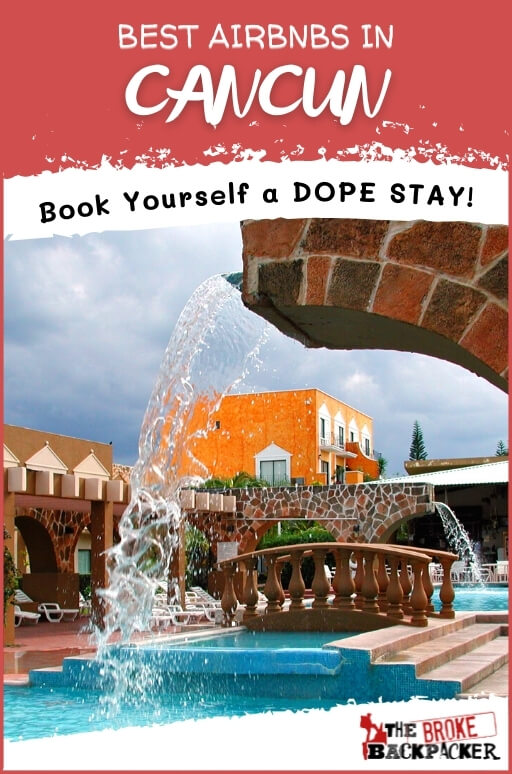 Cancun is renowned for its countless beach lounges and spring break madness. However, theres so much more to this exciting Mexican city than that. There's Mayan culture aplenty in town and the surrounding areas – perfect for history buffs. Just step outside the 'Zona Hotelera' and you'll soon get aquainted with the local flavours and customs of authentic Mexico! Once you tire of the hustle and bustle, take a ferry out to Isla de las Mujeres to properly disconnect.
Although Cancun has a Zona Hotelera, you might want to explore alternatives to hotels to get something more intimate and authentic. Tt there are some awesome Cancun Airbnbs! Whether you want a traditional homestay, a loft apartment where you can doze off in a hammock, or even your own personal beach club, there's all of that and more when it comes to rentals in Cancun!
In this post, we'll take a look at the 15 best Airbnbs in Cancun. We've taken into account a range of different travel styles, budgets, and tastes. So, we're sure that there'll be something for you! We'll also take a look at some Airbnbs in nearby Playa del Carmen and Tulum.
Quick Answer: These are the Top 5 Airbnbs in Cancun
OVERALL BEST VALUE AIRBNB IN CANCUN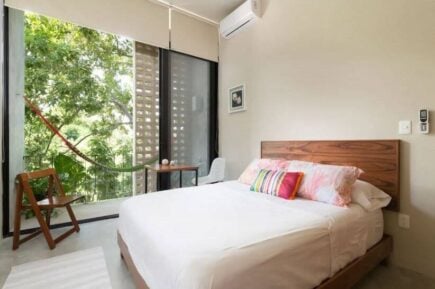 OVERALL BEST VALUE AIRBNB IN CANCUN
Studio in the Heart of Cancun
> $$
> 2 Guests
> Roof Garden
> Free Parking
BEST HOMESTAY IN CANCUN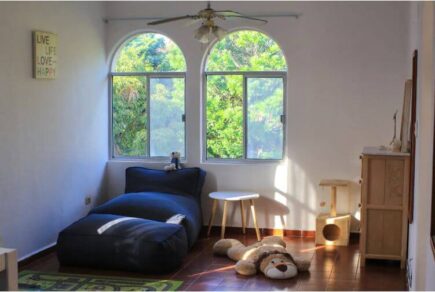 BEST HOMESTAY IN CANCUN
Tropical Garden Room
> $
> 3 Guests
> Gym
> Sleep in a hammock!
BEST AIRBNB FOR COUPLES IN CANCUN
BEST AIRBNB FOR COUPLES IN CANCUN
Design Loft Apartment with Hammock
> $
> 3 Guests
> Great location
> Secure parking garage
BEST AIRBNB FOR FAMILIES IN CANCUN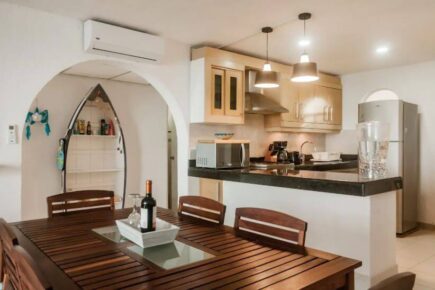 BEST AIRBNB FOR FAMILIES IN CANCUN
Beachfront House with Private Beach
> $$$
> 6 Guests
> Private Beach
> Swimming Pool
BEST LUXURY AIRBNB IN CANCUN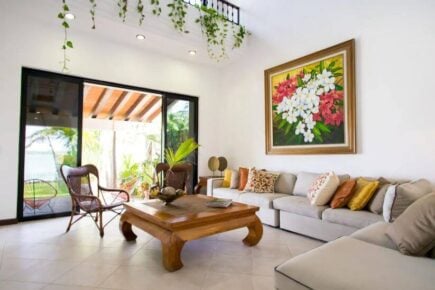 BEST LUXURY AIRBNB IN CANCUN
Luxury Waterfront Mexican Mansion
> $$$$$$$
> 18+ Guests
> Your own personal beach club
> On-site concierge and housekeeper
Why Stay in an Airbnb?
Local Experience: While many Cancun Airbnbs are managed by companies, they're still locally based. Get the best recommendations for your Cancun itinerary that you won't find in the guidebooks to make your trip truly special!
Unique Properties: In a place chock full of unique vacation rentals, why on earth would you want to stay in a drab and dull hotel?!
Privacy: Cabins, chalets, and treehouses mean you and your companion(s) can get the break you need without anyone else interfering.
Affordability: When it comes to value for money, Airbnbs offer so much more than hotels at the same price.
Airbnb Experiences: Airbnb isn't just about great places to stay; it also offers incredible local experiences. We'll show you some of our favourites in a bit.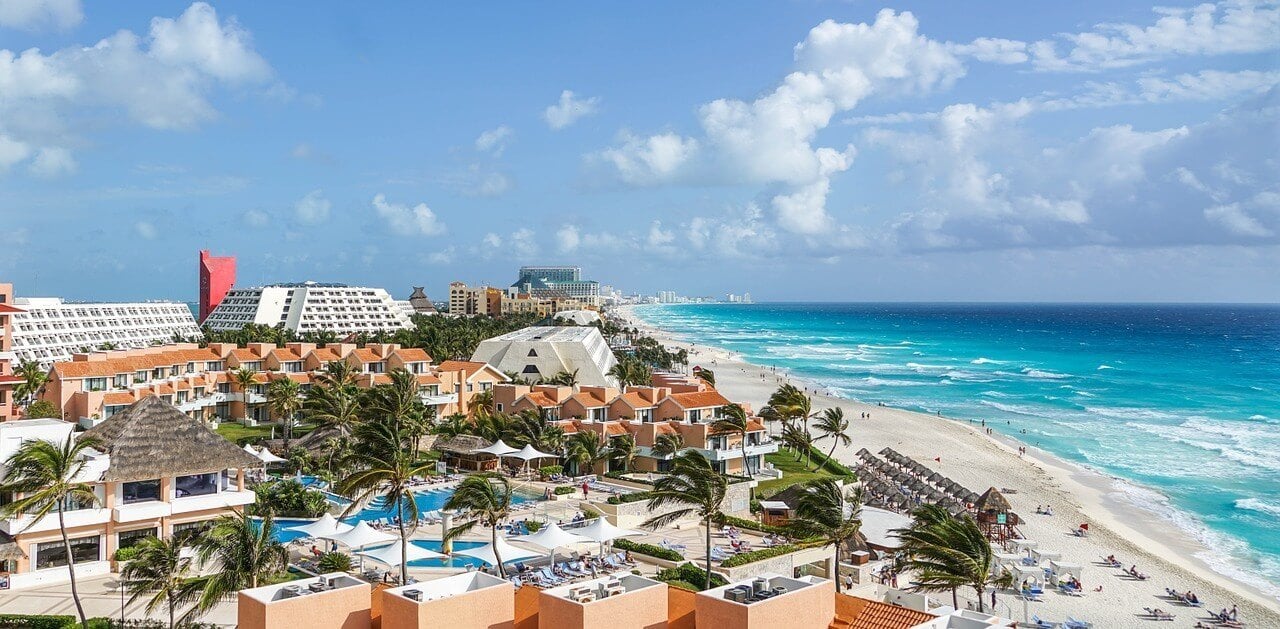 Travel with peace of mind. Travel WITH a security belt.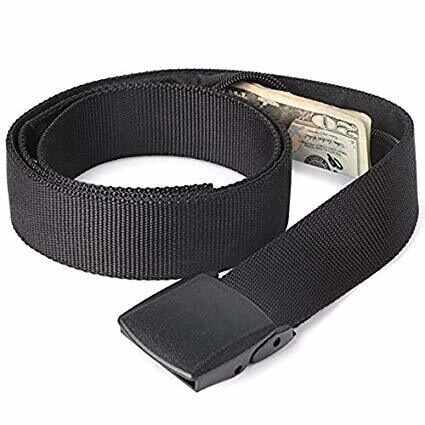 Custom-designed BY the Broke Backpacker FOR broke backpacking, the Active Roots Security Belt will keep your valuables safe no matter where you go.
It looks exactly like a normal belt except for a SECRET interior pocket perfectly designed to hide a wad of cash or a passport copy. Never get caught with your pants down again! (Unless you want to.)
Check on Amazon
The Top 15 Airbnbs in Cancun
Now that we've cleared the air on why you should stay at an Airbnb, let's have a look at the best Airbnbs in Cancun. Before you book your accommodation, make sure you know what you want to explore in the city and choose your place to stay accordingly.
You don't want to end up miles away from your preferred Cancun hotspots – trust us, your feet will thank you!
Overall Best Value Airbnb in Cancun | Studio in the Heart of Cancun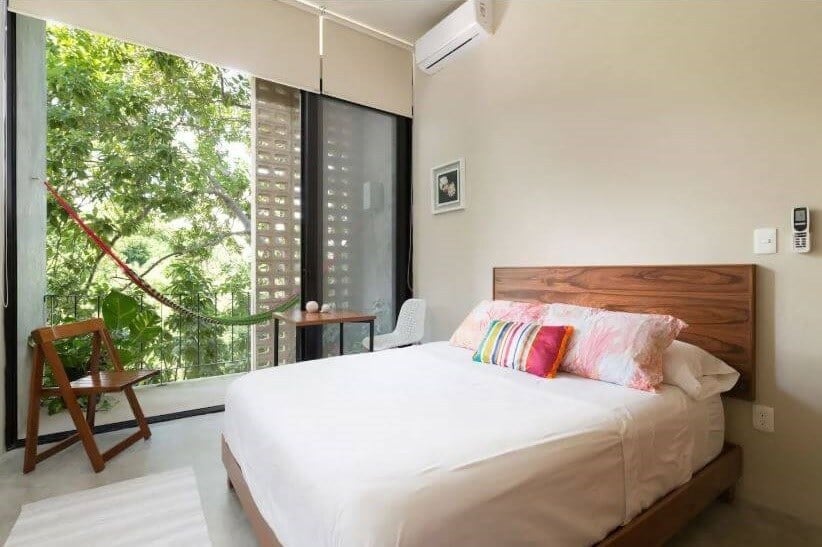 Let's kick off with a Cancun Airbnb in an unbeatable location. It's right in the centre of town! This studio is the perfect place for a couple, business traveller, or solo explorer to shack up for the duration of their stay. It's just a block away from the Hotel Zone, so you don't have far to go for great beaches and nightlife. However, it's still quiet enough for you to get a good night's sleep. Or just have a relaxing time in the rooftop garden!
If you've rented a car or are on a road trip through Mexico, there's more good news. This place offers free parking!
Best Budget Airbnb in Cancun | Central Room Ideal for Couples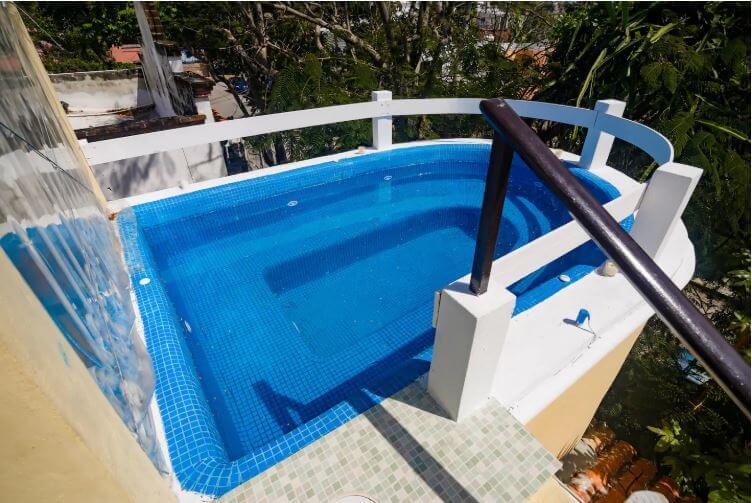 2 Guests
Use of kitchen and living room
Travelling on a budget? If that's the case, you're spoiled for choice when it comes to Airbnbs in Cancun. But how do you separate a stinker from an absolute gem? Well, listen to us for a start! Here's the best short-term rental in Cancun for travellers on a shoestring, where you don't have to compromise on quality! As well as a comfortable private room, you've got access to the kitchen and living room.
Next door is a hostel, and you can head over and soak in their jacuzzi if you ask nicely!
Perfect Short Term Rental for Digital Nomads | Casa Hulia Palapa Room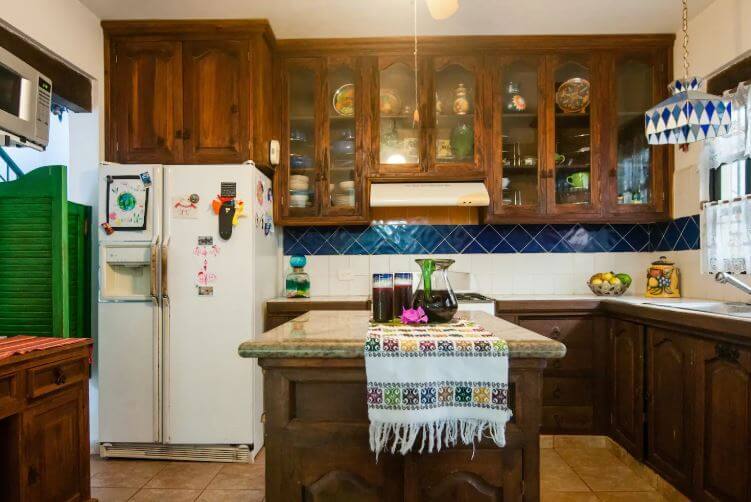 2 Guests
Work from garden or room
Have you ever been sitting at a drab desk working on your laptop thinking I wish I could swap this for a swinging hammock or a tropical garden? Both of those are on offer here. The high-speed internet is available throughout the property – the only tricky bit is deciding where you want to set up! Stay hydrated with free drinking water, an absolute must in somewhere as hot as Cancun! If you're planning to stay here long term, check-in advance and you should be able to use the kitchen too!
Perfect Airbnb for Solo Travellers | Private Room with Mexican Breakfast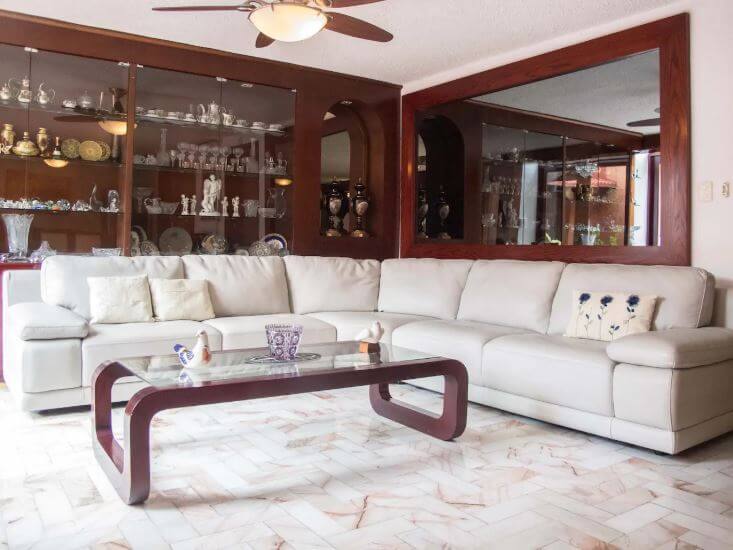 1 Guest
Vegetarian or Vegan breakfast included
Most people think that solo travellers can only make friends in hostels. However, we understand that's not the case, and who wants to share a noisy and smelly dorm anyway?! Much better to stay somewhere like this cute private room, which comes with a vegetarian or vegan Mexican breakfast. Your friendly hosts open up so much of their apartment to you – not only can you chill in your private room, but you can use the pool, relax in the living room, or prepare a tasty snack in the kitchen!
Best Airbnb in Cancun for Nightlife | Apartment with Caribbean Sea View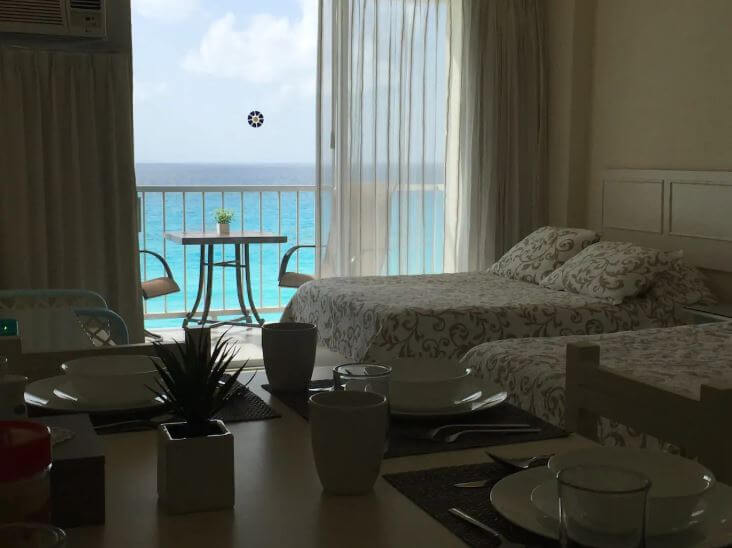 No trip to Cancun is complete without a night a Coco Bongo. It's one of the wackiest and craziest nightlife experiences not only in Cancun, but the whole of North America! So, you'll want a place nearby where you can stumble home in the small hours of the morning. That walk certainly won't be the memorable part of staying in this Cancun Airbnb. No, that'll be the morning after when you wake up to the incredible sea view and walk out onto the beach.
There's a private balcony too, so you can hide your hangover from the rest of the world!
Best Short Term Rental for Couples | Design Loft Apartment with Hammock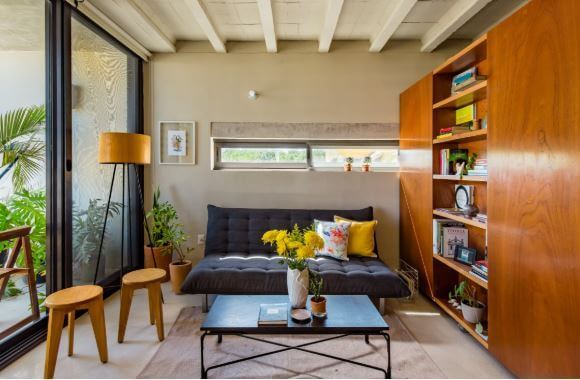 This awesome Cancun Airbnb plus listing offers you and your other half the opportunity to escape from everyday life and spend quality time with each other. And this loft is packed with places you can do this – the sofa, the king bed, the dining table, there's even a hammock where you can relax! If you have your own transport, that will be able to sleep easily and safely too, as there's a garage that you can use for no extra charge! It's close to lots of restaurants and cafes too – ideal for a romantic meal out.
Best Homestay in Cancun | Tropical Garden Room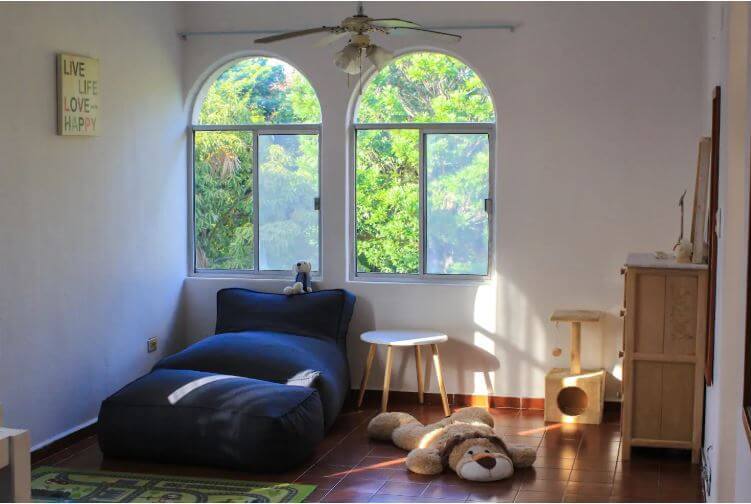 A homestay in Cancun is a great way to get to meet and experience local culture while keeping your costs down at the same time. And this one is our favourite! The tropical garden has not only a bed in your private room but a hammock too – very relaxing! If you can drag yourself out of either of those, you're of course welcome to use the communal pool. The family you're staying with do have a cat. It won't be going in your room, but if you're allergic then could be a potential deal-breaker!
Runner Up Homestay in Cancun | Home Seet Family Home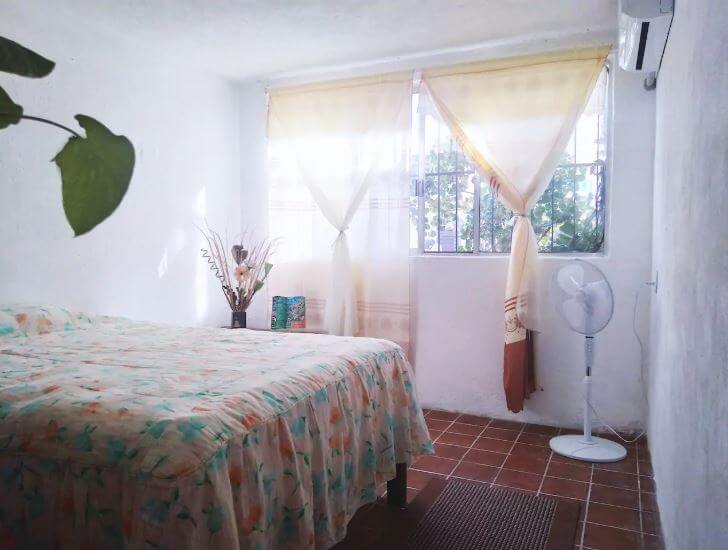 $
Friendly and hospitable family
There are so many awesome homestays in Cancun that we wanted to give you more than just one option. So, here's another lovely option. Ask your friendly host family for recommendations on the best places to visit in the city centre. We're sure there's somewhere more traditional and authentic than the Starbucks that they've mentioned in their listing! Considering Cancun can get super hot, it's reassuring to know that you've got aircon in your room. It'll mean you're not lying awake sweating during the night!
Still not quite sure if Airbnb is the right thing for you? Don't worry, there are numerous epic hostels in Cancun that are just waiting for you. Meet fellow travellers and relax in affordable dorms!
Amazing Luxury Airbnb in Cancun | Awesome Luxury Puerto Cancun Condo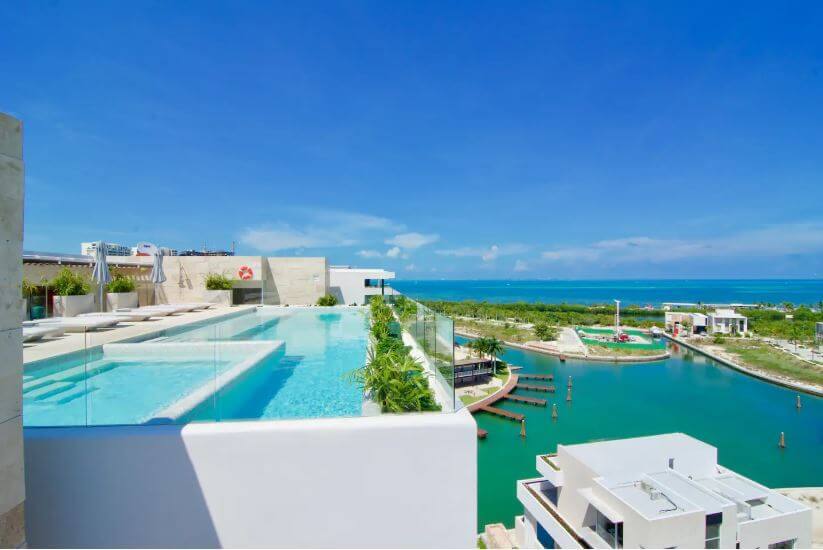 Puerto Cancun is one of the most exclusive locations in town, so it's no surprise that some of the most luxurious Cancun Airbnbs are found here too. This one offers a rooftop infinity pool that has incredible views of the Caribbean Sea! If you're splashing the cash AND travelling with kids, then book this one immediately. There's an indoor play area and outdoor kids' park, complete with trampolines and swings. They're sure to have a great time while you're relaxing in the jacuzzi or horizontal on a sun lounger!
Over the Top Luxury Airbnb in Cancun | Luxury Waterfront Mexican Mansion
$$$$$$$
On-site concierge and housekeeper
18+ Guests
Your own personal beach club
Have you ever wanted to have your own private beach club devoted only to you and your best friends and/or family? What about your own concierge and housekeeping team to make your stay as smooth and luxurious as possible? Then take a closer look at this waterfront Mexican Mansion – one of the most decadent and over the top Cancun Airbnbs there is! It's not cheap, but remember that you can fit up to 18 guests in here. So, if you split that price, it starts to look a lot more affordable!
Best Airbnb in Cancun for Families | Beachfront House with Private Beach
This is perfectly equipped for families of all ages. However, if you've got young kids, do you ever feel like you can't properly relax on the beach? Anything could happen, right? Well, sure, but not on your own private beach! That's what you can expect when staying in this incredible beachfront house. There's also 24-hour security in the building, so the whole family will have nothing to worry about!
If all of this hasn't been enough to convince you, there's also a swimming pool which you're all welcome to use!
Best Airbnb in Cancun for a Group of Friends | Cosy Private Villa – Pool & Garden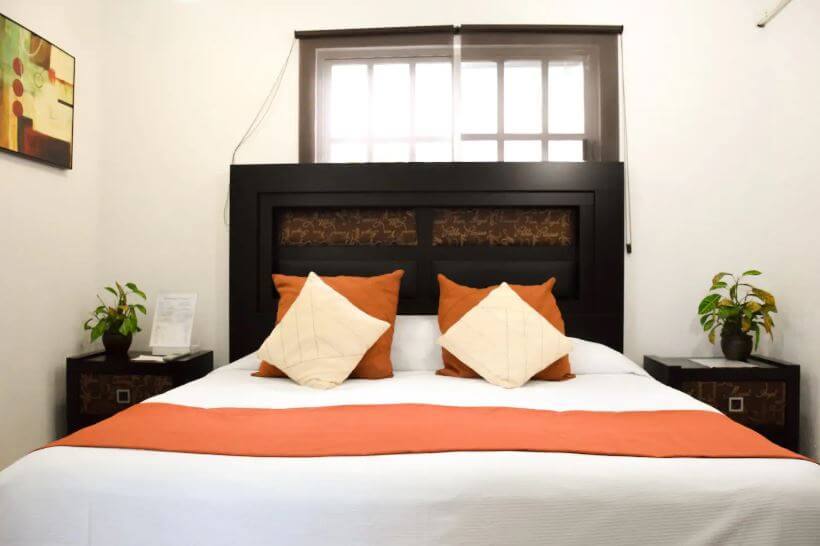 On a break with your friends? What more could you want from a beach holiday than a pool, BBQ area, and a garden where you can lounge around? It only gets better when you find out this is in one of the safest neighbourhoods in Cancun! It's LGBT-friendly too, so the whole group can feel included in this awesome short-term rental in Cancun. Should you get too hot at night, there's aircon to cool you down too. Last but not least, this place is extremely cheap before you even take into account that you can split the price 8 ways!
Best Airbnb in Playa del Carmen | Apartment with Romantic Jacuzzi
$$$
Mayan jungle like atmosphere
Let's head a little out of Cancun now. Playa del Carmen is one of the most popular spots on the Yucatan coast, so it's only fair we give you a couple of options there too. You've got your own balcony, from which you'll be able to see the swimming pool down below. As well as that, you can immerse yourself in the Mayan jungle-style atmosphere. This is the perfect spot for a romantic break, as there's a private rooftop jacuzzi included in your rental!
Another Great Apartment in Playa del Carmen | Right in the Thick of PDC Action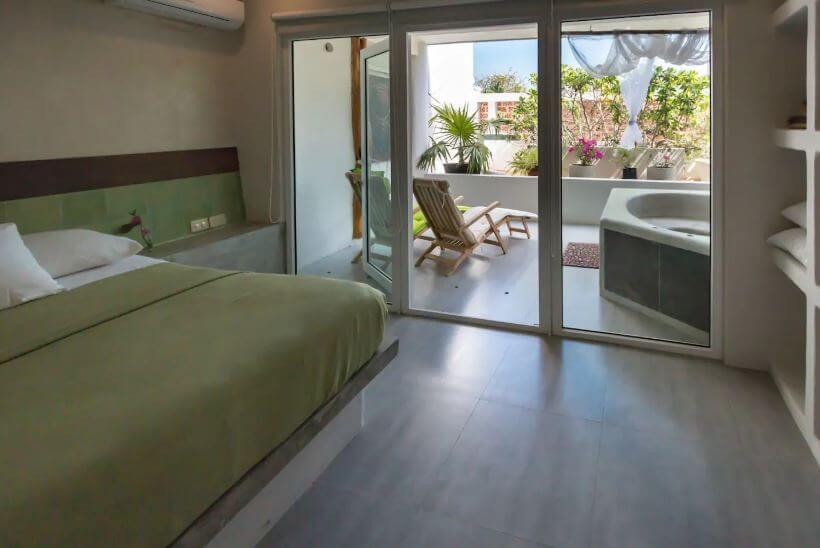 4 Guests
Private terrace with dipping tub
There are some really great apartments in Playa del Carmen so it didn't seem right just leaving it at one. This is right in the heart of all the nightlife action, so you can hit the bars and clubs when you fancy a wild night. If you'd prefer something more chilled, head out to your private terrace, complete with a dipping tub! However you spend your night, that tub will shock you out of your hangover the following day!
Top Value Airbnb in Tulum | Casa Blanca with Two Bicycles
2 Guests
Bicycles to explore the local area
Last but not least, let's check out the best Airbnb in Tulum. The Casa Blanca comes with two bicycles so that you can explore the surrounding area and even head down to the beach. This traditional and quaint whitewashed house has a beautiful little garden where you can chill in the hammock and lose yourself in a good book.
Presumably, while your other half is preparing dinner in the kitchen – this place is a perfect love nest for couples!
What to Pack for your Cancun Airbnb
Pants, socks, underwear, soap?! Take it from us, packing for a hostel stay is not always quite as straightforward as it seems. Working out what to bring and what to leave at home is an art we have perfected over many years.
Check out our definitive Airbnb Packing list for our top packing tips!
FAQ about Airbnbs in Cancun
Here's what people usually ask us when they look for vacation homes in Cancun.
Final Thoughts on Cancun Airbnbs
So, that concludes our list of the best Airbnbs in Cancun. We hope that you'll agree our extensive list has plenty of choices suitable for a range of budgets and personalities. If you'd prefer to stay in Playa del Carmen or Tulum, we've given you some great options there too!
There are some great places to suit different travel styles in this Yucatan paradise. Chilled apartments with private beaches, centrally located studios, and tropical garden rooms have all made it onto our list of the best Airbnbs in Cancun.
You might even think we've given you too much choice and you're still struggling to decide where to stay. If that's the case, take a chill pill and go for our overall best value Airbnb in Cancun – Studio in the Heart of Cancun. It combines a great location with excellent value!
All that's left now is for us to wish you an excellent trip to Cancun. Have a cocktail on the beach on us!
And don't forget to take out Travel Insurance for your trip! I have been using World Nomads for some time now and made a few claims over the years. They're easy to use, professional and relatively affordable. They may also let you buy or extend a policy once you've started your trip and are already abroad which is super handy.
If there's one insurance company I trust, it's World Nomads. To find out why I use World Nomads, check out my World Nomads Insurance review.
Getting an estimate from World Nomads is simple – just click the button or image below, fill out the necessary info, and you're on your way!

---
Find out how YOU can support the site.
We're a big site with a big team and this job isn't always easy. But we do it because we love it – we love providing epic and free content. We love the knowledge that our content keeps you adventuring. We don't ask for money, but if you'd like to find out how you can help the site in more organic ways, click the button below.
Thank you for your support 🙂
And for transparency's sake, please know that some of the links in our content are affiliate links. That means that if you book your accommodation, buy your gear, or sort your insurance through our link, we earn a small commission (at no extra cost to you). That said, we only link to the gear we trust and never recommend services we don't believe are up to scratch. Again, thank you!