Travel
10 Best Travel Business Backpacks (2022 MASSIVE Review)
This list of the best business travel backpacks is written for anyone who travels for work, commutes, or flies around the globe in search of better Wi-Fi connection.
(Take it from someone who is writing this from her laptop on a plane right now.)
But why use a backpack for travel? To be honest, briefcases are as archaic as the fax machine. Sure, they're useful, but they are not as efficient.
If you are traveling with a laptop, important documents, more chargers than a bus full of LA football players, and enough snacks to survive an airport apocalypse, then you're going to want a backpack.
Backpacks are revolutionizing the way we travel just like the internet has revolutionized the way we work. I mean, there was once a time when a backpack was a backpack, and now there are backpacks specifically for business, hiking, traveling ultra-lightweight; you name it.
However, with so many great choices, choosing the best backpack for work and travel can seem daunting.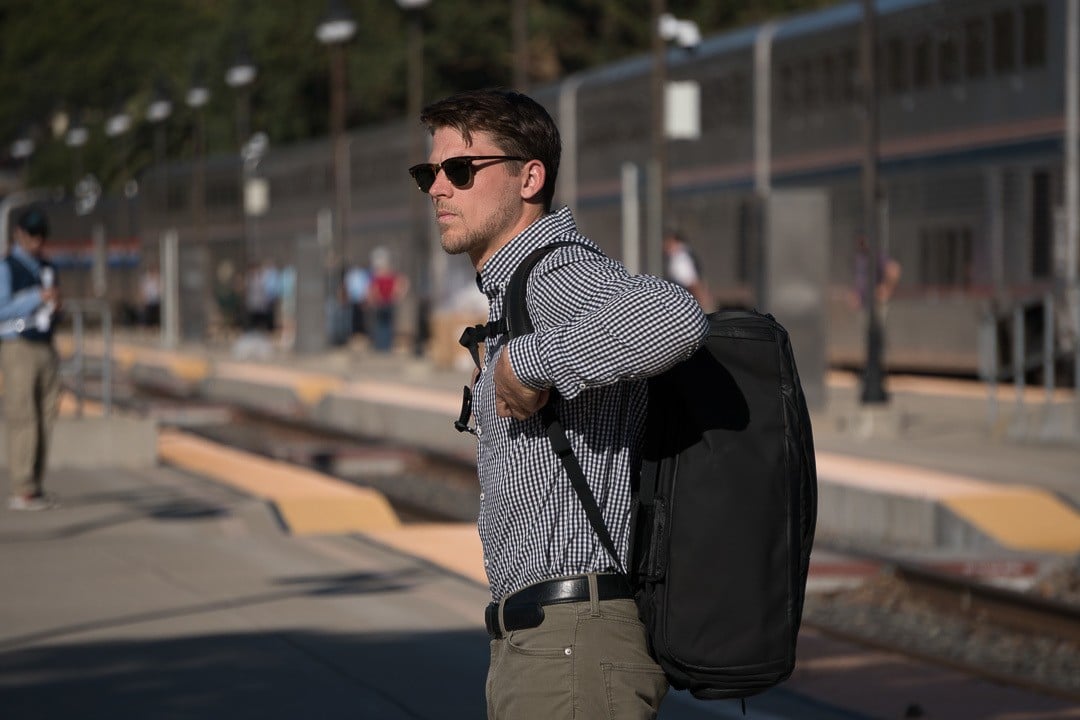 Like a good pair of shoes, you want just the right fit, and lucky for you, I've used, tested, researched, and compiled a list of the best business travel backpacks of 2022.
You can rest assured that every business travel backpack on this list is a high-quality, durable, and TSA compliant bag specifically designed for traveling and business.
Quick Answer: These are the Best Business Travel Backpacks of 2022
Best Overall Business Travel Backpack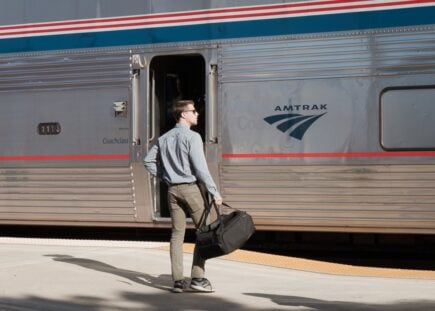 Best Overall Business Travel Backpack
Nomatic Travel Bag 40L
Price > $$
> Organizational Features
> Durable
Best Laptop Backpack for Longer Trips
Best Laptop Backpack for Longer Trips
Tortuga Setout
Price > $$
> Clothing compartment
> Laptop and tablet sleeves
Best Laptop Backpack for Business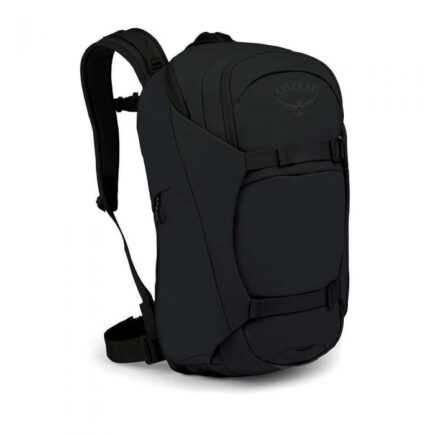 Best Laptop Backpack for Business
Osprey Metron
Price > $$
> Laptop dedicated compartment
> Comes with rain cover
Best Business Travel Backpack for Overnight Trips
Best Business Travel Backpack for Overnight Trips
Tortuga Laptop Backpack
Price > $$
> Organization panel
> Clothing compartment
Best Business Commuter Bag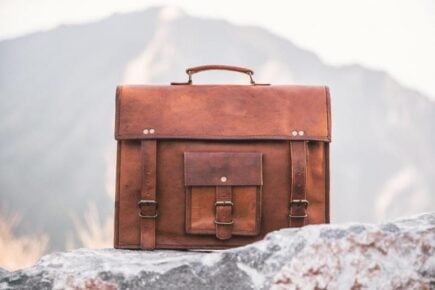 Best Business Commuter Bag
Kodiak Leather Satchel
Price > $$
> Large main compartment
> Stylish and cool
Best Camera Bag for Work and Travel
Best Camera Bag for Work and Travel
Boundary Supply Prima System
Price > $$
> Quick Side Camera Access
> Magnetic Auto-locking Buckles
Best Lightweight Business Travel Backpack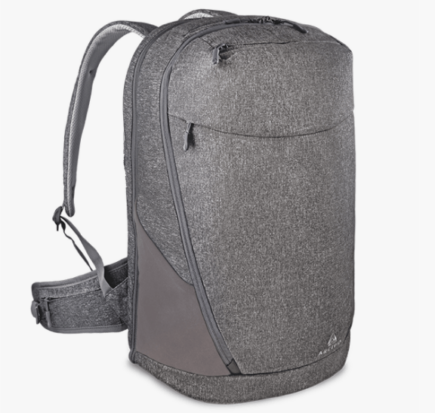 Best Lightweight Business Travel Backpack
Arcido Akra
Price > $$
> Lightweight & Durable
> Water Resistant
Business Backpack with Built in Wardrobe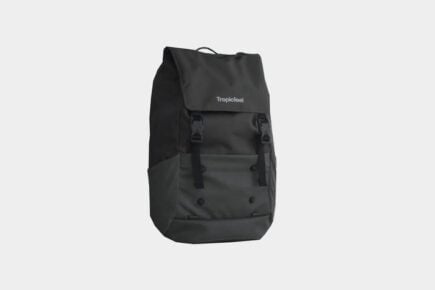 Business Backpack with Built in Wardrobe
Tropicfeel Shell
Price > $$$
> Completely Waterproof
> Adjustable from 20L to 40L
Why should you travel with a business travel backpack?
So why would you travel with a business backpack versus a messenger bag, briefcase, or even a purse?
Sometime the latter options may work better for you, but if you are traveling with electronic equipment – laptop, tablet – important documents, a book, etc., the weight can add up quickly.
These days, the best business travel backpacks are designed to be as efficient, secure, and comfortable as possible. Personally, I would much rather carry everything in a secure backpack that fits me comfortably than lugged over one shoulder.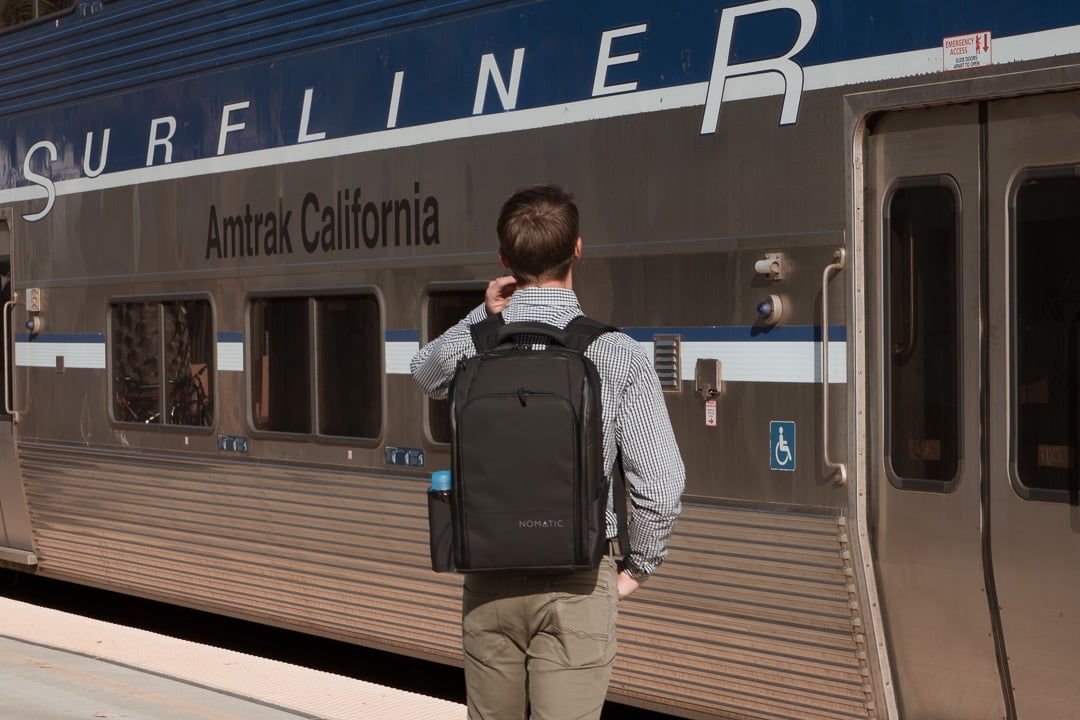 If you are traveling with electronic gear, documents, and more, then having a backpack makes sense.
The business backpacks on this list were designed specifically for travelers too, meaning you can get through TSA lines and easily store your bag in an overhead bin.
Still not convinced? Every business travel backpack on this list is covered by a warranty or built to last for years.
Buyer Guide – Key Features to Look for the Best Business Travel Backpack
For this article, we are focusing on the best business travel backpacks, meaning they have a different set of criteria compared to say backpacks just for travel, lightweight backpacks, or hiking backpacks.
1. Laptop compartment
The best business travel backpack will include a separate padded laptop compartment.
A laptop compartment is essential to keep your electronics secure and protected as well as move through the TSA line quickly. The padding is crucial as you'd hate to break or crack your laptop.
Frankly, pretty much every well-designed backpack on the market (except for hiking bags) have a laptop compartment.
2. Prioritize Accessibility and Organization
Organization compartments are especially important for a business travel backpack.
If you are using a backpack for work and travel, you will probably be traveling with a laptop, a few chargers, important documents, clothes, a jacket, etc. This, of course, means you want pockets and plenty of them.
My favorite backpacks have what's called a u-zip. This means that you can open them completely on at least two sides for easy access. I'm not a big fan of top access only backpacks, even when I'm hiking.
3. Carry-on size Compliant
Carry-on travel backpacks save you from having to deal with lost bags and luggage fees. All of the backpacks on this list are carry-on sized and abide by TSA guidelines, so you can zip through the airport and to your next meeting.
Most of the backpacks on my list also have separate compartments that allow you to lie the laptop flat without actually taking it out of your backpack. This is another level of convenience and an excellent feature if you have to fly a lot.
4. Sleek and Stylish
The best travel business backpacks are modern and chic, so you can slip into the office and your important meetings without looking like a backpacking bum.
You also want the backpack you choose to reflect your style, whether that is preppy, edgy, creative, etc. Sift through my list and see which travel business backpack fits your style most.
5. Fit and Comfort
Fit and comfort are important to any backpack purchase. If a backpack's too big or too small for your frame, it will be clunky and heavy, uncomfortable, and maybe even painful.
This means making sure the straps are comfortable and fit your body properly. You want to look for adjustable straps and consider waist straps too, which will help balance the weight of a larger bag.
Adujstable straps are more common in hiking backpacks and less common in commuter bags. Regardlesss, the amount of customizability that a larger bag gives might not be necessary for a business backpack. You should at least look for a padded back.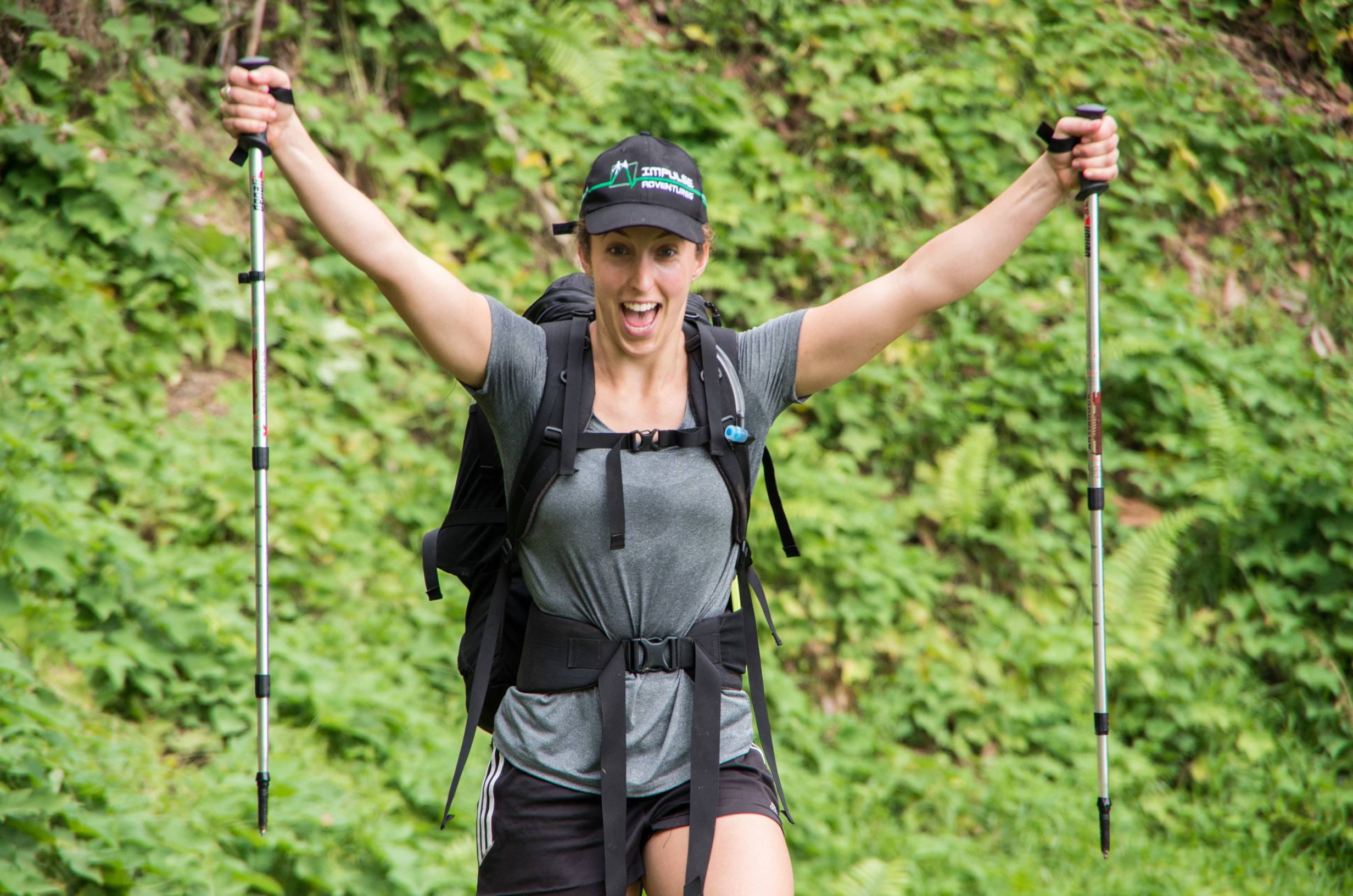 6. Security
Security is another essential when you are carrying valuable things. Many of the best business travel backpacks have partially hidden compartments, sturdy zippers, and durable material that is hard to slash.
7. Weatherproof
This might not be a must-have for business travel backpacks, but if you're spending time outdoors, or going to a city where it rains a lot, you may want to make sure your backpack is waterproof, or at least water resistant.
Best Business Travel Backpacks of 2022
Nomatic Travel Bag 40L – The Best Overall Business Travel Backpack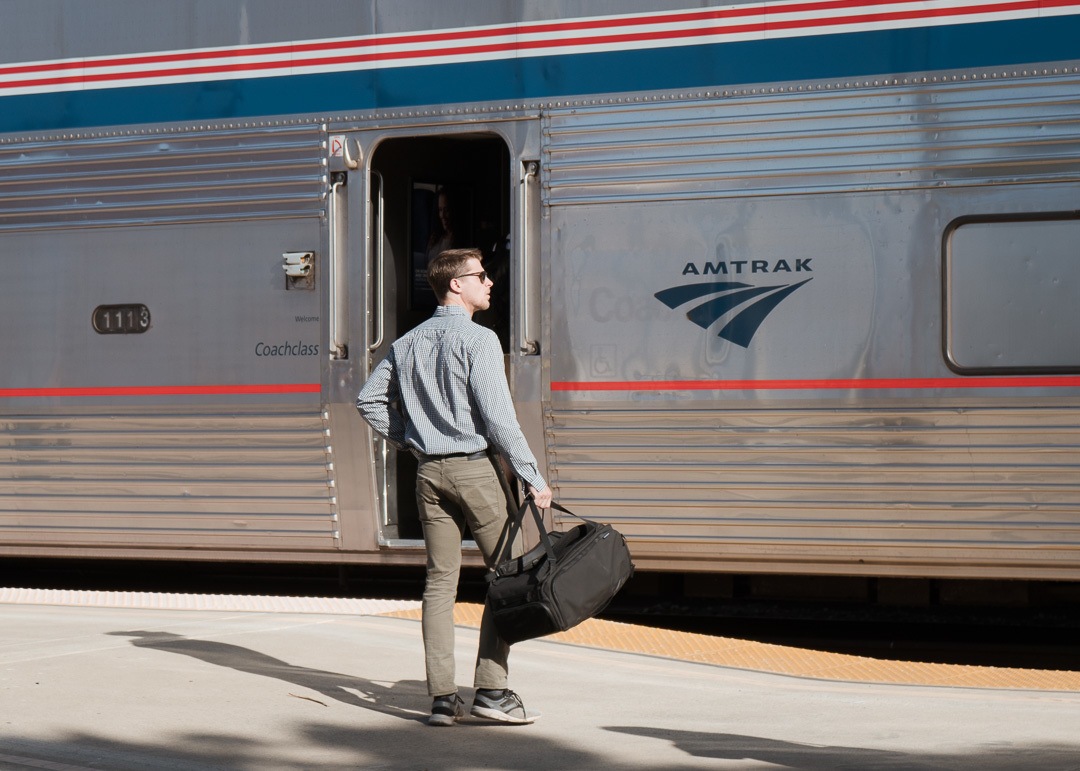 40 liters is the perfect carry-on size for those multi-day (3-7 day) trips. If you are planning to use a business travel backpack for overnight excursions, then I definitely suggest this choosing this bag.
This bag ticks all of the boxes for what makes the best travel business backpack: plenty of organizational features and pockets, easy accessibility to all of the compartments, durable tarpaulin/ballistic weave material, a 15″ laptop compartment, TSA compliant size, and adjustable waist straps.
Furthermore, it's sleek and modern, so you'll look good on the go, and the exterior of the Nomatic Travel Bag is 100% waterproof!
In our experience, we found it to be very durable. We wouldn't recommend submerging the bag in a pool, but if you are caught in a semi-heavy rainstorm, you can rest easy knowing that your stuff is going to stay dry.
The Nomatic travel bag comes with 20 unique features including a shoe compartment, secure pocket for valuables, water bottle container, a notebook pocket, the ability to switch from a duffel bag to backpack, and plenty more. There is also a Nomatic carry-on with wheels.
Our favorite features include its detachable waist straps with water-resistant pockets, unique shoe compartment, and roller bag sleeve. The roller bag sleeve allows you to carry it with additional luggage with ease.
Want the full low-down on this backpack? Check out the full review of the Nomatic Travel Bag!
UPDATE for 2021: Nomatic no longer sells or does business in the European Union, which is an unfortunate development. Those living in the EU should consider the next bag instead…
Aer Travel Pack 2 – Best Business Backpack for EU Travelers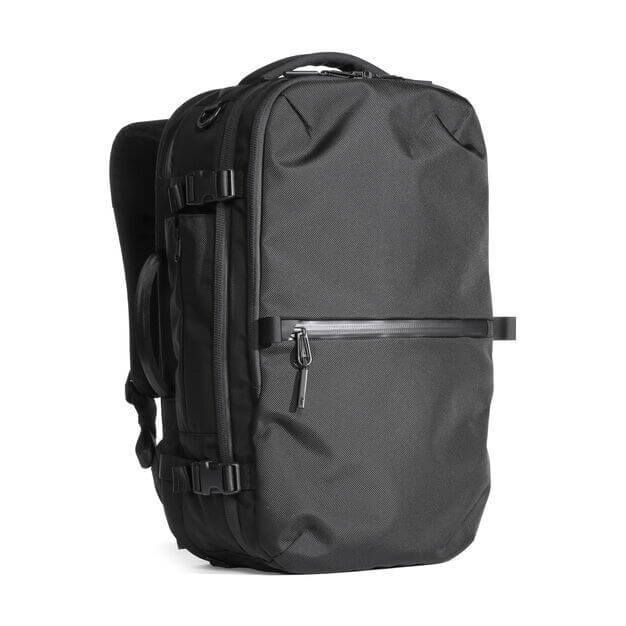 Arguably the best backpack for traveling, the AER Travel Pack 2 is the perfect bag for digital nomads and anyone on a long business trip.
This backpack was made by travelers for travelers. It is literally filled with features, and the Aer Travel Pack 2 has a compartment for almost everything.
Do you need somewhere to keep an extra pair of shoes? There's a poclet for that. Want to put your laptop in it's own sleeve? Done. There's a space just for your laptop.
The bag opens like a clamshell so you can easily access your clothes, cords, or anything else you might have with you. The Aer Travel Pack 2 is small enough to be a daypack and large enough for one bag carry one trips.
Minimalist design on the outside of the pack deters thieves and makes stashing your backpack in the overhead bin of a plane even easier.
Simply put, this is the best business travel backpack: it's well-designed and extremely versatile, durable, and innovative. You'll find yourself using it all the time – business or pleasure.
For a very detailed description of this backpack, check out the Aer Travel Pack 2 review.
Even though we recommend the AER to European travelers, Americans can also get it; the backpack is available worldwide! It's just a great overall backpack and is great for those who miss out on the Nomatic.
Tortuga Setout – Best Business Laptop Backpack for Longer Trips
The Tortuga Setout is easily one of the best carry-on travel backpacks on the market. It is quite similar to the Minaal 2.0, also reviewed, but $50 cheaper, which gives it an edge, in our opinion.
The materials on this bag include 900d weathered polyester with a weather-resistant finish and lockable YKK zippers.
Awesome features include front-loading and the main compartment that opens like a suitcase, a padded and removable hip belt, padded and hideaway shoulder straps with molded foam, and weather resistant material.
I also like that this bag is 45 liters, given you the extra space if you need it.
In terms of functionality, the Tortuga Setout has a quick access pocket at the front with a full front tech pocket with a carabiner attachment and dividers.
I like how this pocket zips all the way down to the bottom of the pack, so you have easy access to a jacket or bulky item that you want to quickly access or throw into your bag.
I also prefer this front pocket to the Minaal 2.0's front compartment.
There is a separate laptop compartment at the back of the backpack with plenty of cushions. Your laptop will sit a few inches from the bottom for extra protection in case you drop your bag. The laptop sleeve can fit a 15-inch laptop as well as a 9.7-inch tablet.
The Tortuga Setout features a TSA-friendly laptop sleeve that allows you to leave the device in your backpack while going through security.
This is an amazing backpack built for efficient, on-the-go travelers. It's similar to the Minaal 2.0, but at 44L, the Tortuga can carry more gear, and if you do not end up using all of the space, this travel backpack has compression straps.
Check out our full review of the Tortuga Setout if you're interested!
Osprey Metron – Best Business Laptop Bag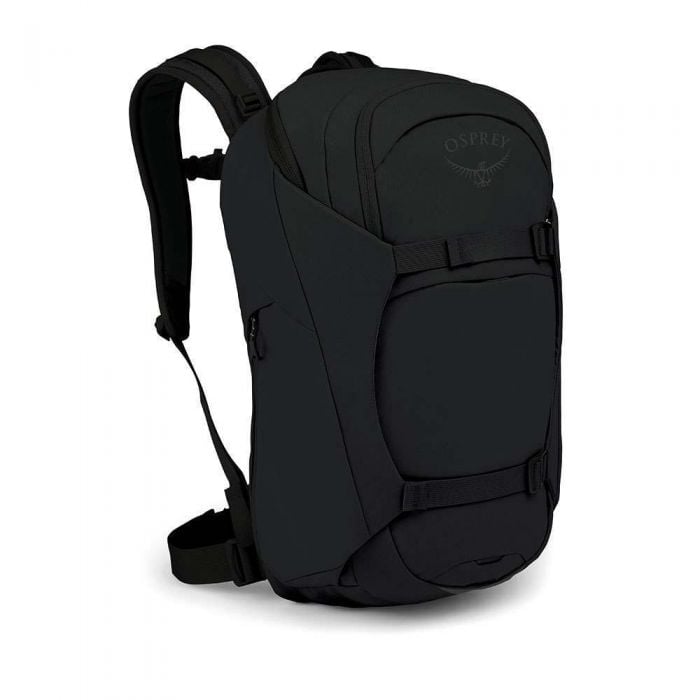 The Tortuga and the Minaal Carry On 2.0 are quite similar. Both are urban-style, sleek bags known for their innovation and organizational features.
If you are after something smaller, lighter and commuter friendly, then why not consider the Osprey Metron. At 26l it's a well sized daypack which will accommodate your laptop, and lunch quite nicely. There is of course a padded laptop pouch along with enough pockets and pouches for keys, cards and pens.
The compression straps are also a nice touch allowing you to fasten the backpack down so you won't stick out like a tortoise and barge into people (as much) when you crowd onto the morning train. It also comes with a brightly coloured rain cover making this backpack ideal for cycle commutes.
While we do favor the AER travel bag for business professionals, this is still an excellent travel bag choice that you will not be disappointed with.
Nomatic Travel Pack – Best Travel Business Backpack for Quick Trips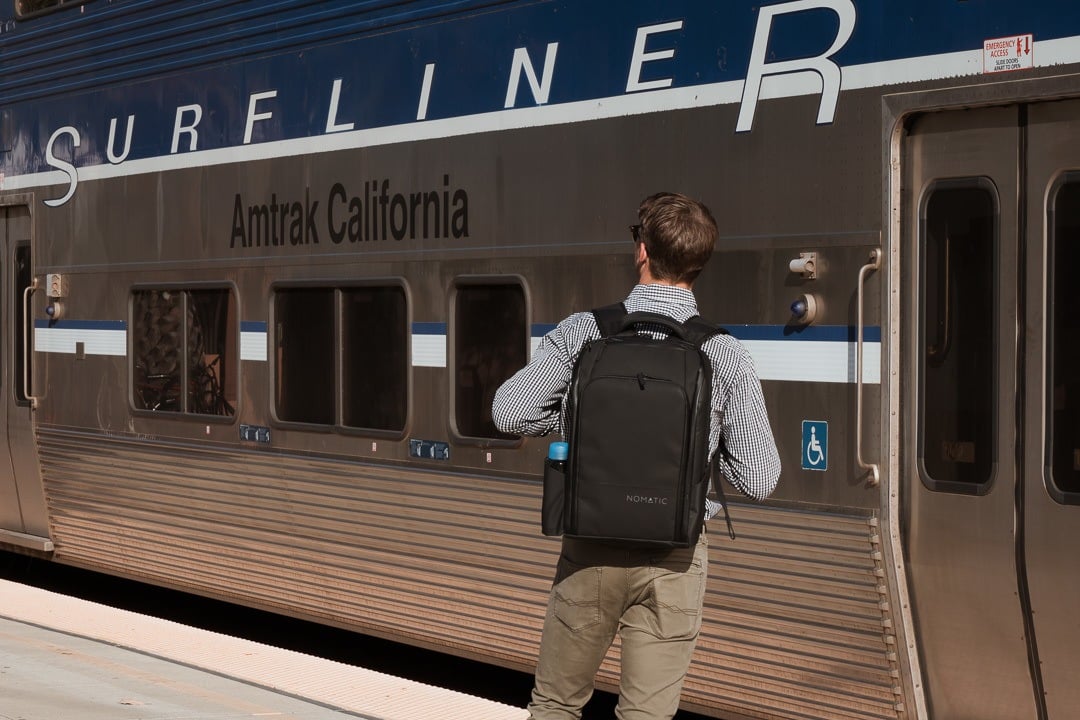 This is the goldilocks of Nomatic bags: smaller than the Nomatic 40 liter travel bag, but expandable to 30 liters.
Actually, when it comes down to it, this bag is almost identical to the 20-liter Nomatic backpack but bigger, so I don't have too much to add in this review.
This backpack includes all of the awesome features of the 20-liter backpack as well as an extra 10 liters of space, meaning this could be the bag you take to an afternoon meeting as well as an overnight trip.
Moreover, it's TSA ready so you don't have to take your laptop out of the compartment in line.  There is a tablet pocket for your iPad or Kindle, and a mesh dividing wall to organize clothes.
It doesn't have the electronic panel like the 20 liter backpack, rather an extra compartment for clothes.
UPDATE for 2021: Nomatic is not available for purchase for those living in the EU.
Tortuga Laptop Backpack – Best Business Travel Backpack for Overnight Trips
Tortuga markets this bag as an "organized daypack for air travel," which screams take me on your business trip, if you ask me. This bag is perfect for air travel.
This is a low-profile backpack will keep all your things organized in a spacey main compartment, 15-inch laptop sleeve + tablet sleeve, mesh zippered pocket for chargers, journal compartment, pen pockets, front pocket for valuables, and a side-pocket for your water bottle.
Yeah, that's a lot of pockets!
I also love how the Tortuga laptop backpack opens flat like a suitcase, so you can easily use this for overnight trips.
Plus, it's easy to lock zippers, luggage handle pass, and hideaway shoulder straps make it perfect for traveling through airports.
Ultimately, we love this pack. It's a bit on the heavier side at 2.8 pounds, but that's the trade-off for durability. As with anything Tortuga, you are getting a high-quality backpack that will last you for years to come.
Check out our full Tortuga Setout laptop backpack review.
Tropicfeel Shell – Backpack With a Built In Wardrobe
There are a few things that make the Tropicfeel by Shell a great business backpack. Firstly, it's perfectly sized for carry-on cabin requirements so is ideal for taking on business trips (whether by plane or even train). Secondly, it's the only backpack we have come across that comes with a pull-out, hang-up wardrobe, making it insanely easy to neatly pack and unpack.
The Shell is also adjustable in its size. It can be rolled up from a 22L day pack to a 30L weekend back and then the addition of the detachable pouch brings it up to a short/medium trip sized 40L backpack.
It's a genuinely innovative, well-made backpack from a very cool up and coming brand. Oh, and it's also made from sustainable materials giving it serious eco-cred.
Arcido Akra 35L – Best Lightweight Business Travel Backpack
This is the perfect carry on travel backpack for minimalist travelers. Its laptop harness, organizational pockets, and integrative packing cubes (in the Arcido Akra and Vaga Daypack Bundle) make this the perfect business travel backpack for digital nomads too.
At only 2.4 lbs, this is one of the most lightweight travel backpacks available. It can become even lighter when the sternum straps and waist belt are removed too.
Essentially, the Arcido is simple but tough, and minimal yet well-designed. While it doesn't have as many organizational features as some of of the other business travel backpacks listed, it does come equipped with enough features to please any modern traveler.
We love that this is an affordable backpack without cutting on quality.
Check out our full Arcido Akra review.
Nomatic Backpack – Best Business Backpack for Organized Travelers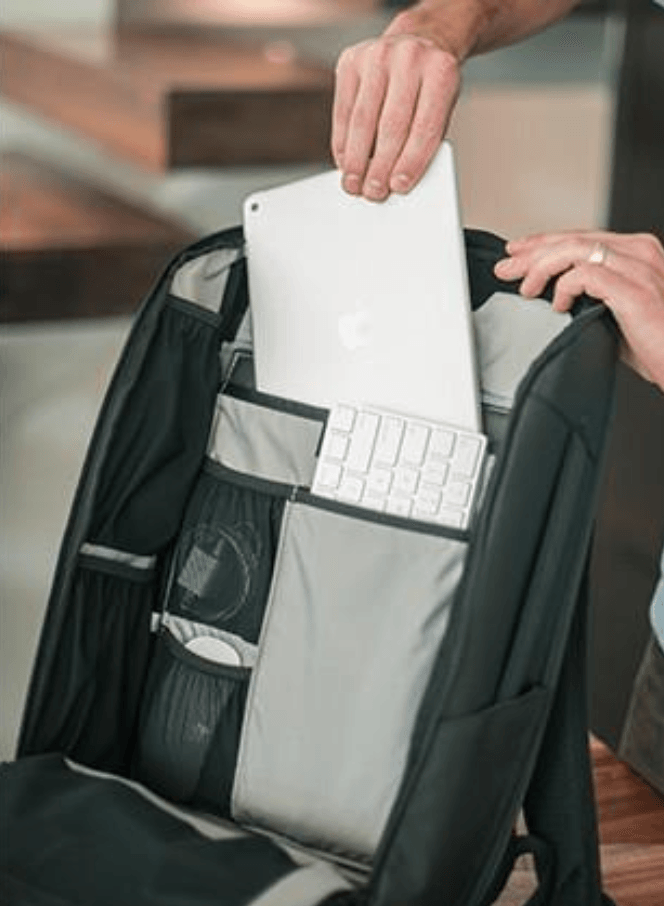 At only 20 L (but expandable to 24L), the Nomatic Backpack is the smallest backpack from Nomatic, and the perfect option if you are looking for a small business backpack for quick trips.
The Nomatic Backpack is made of durable, waterproof materials and zippers. Like its big brothers, it can also convert into a duffel bag and has tons of pockets and compartments for organizing your things, including a hidden money pocket and RFID safe pockets (to keep electronics safe from hackers).
What makes this backpack unique is its removable panel that is designed to hold electronic gear (keyboards, wires, chargers, etc). It's great for work-related or study trips where you are packing all your electronics.
But let's say you are going for a quick overnight trip, or you don't need all of your electronic gear – simply remove the panel and shed a few ounces of weight too.
Some other noteworthy features of the Nomatic Backpack include…
Retractable key leash – A great way to keep your keys safe and easily accessible
Roller bag sleeve – If you travel with a roller suitcase, this backpack will slip over the top of the retracted handle
Cord pass through – This backpack has strategically designed holes throughout the bag that enable you to pass cords through for a quick charge
Notebook pocket – If you are a notebook user then your special book will have a special place in this bag
This is the perfect backpack for that quick run to the café, going in and out of meetings, or using on flights. If you need something bigger, then check out the bag below!
UPDATE for 2021: Nomatic is not available for purchase for those living in the EU.
Kodiak Leather Satchel
– Best Business Commuter Bag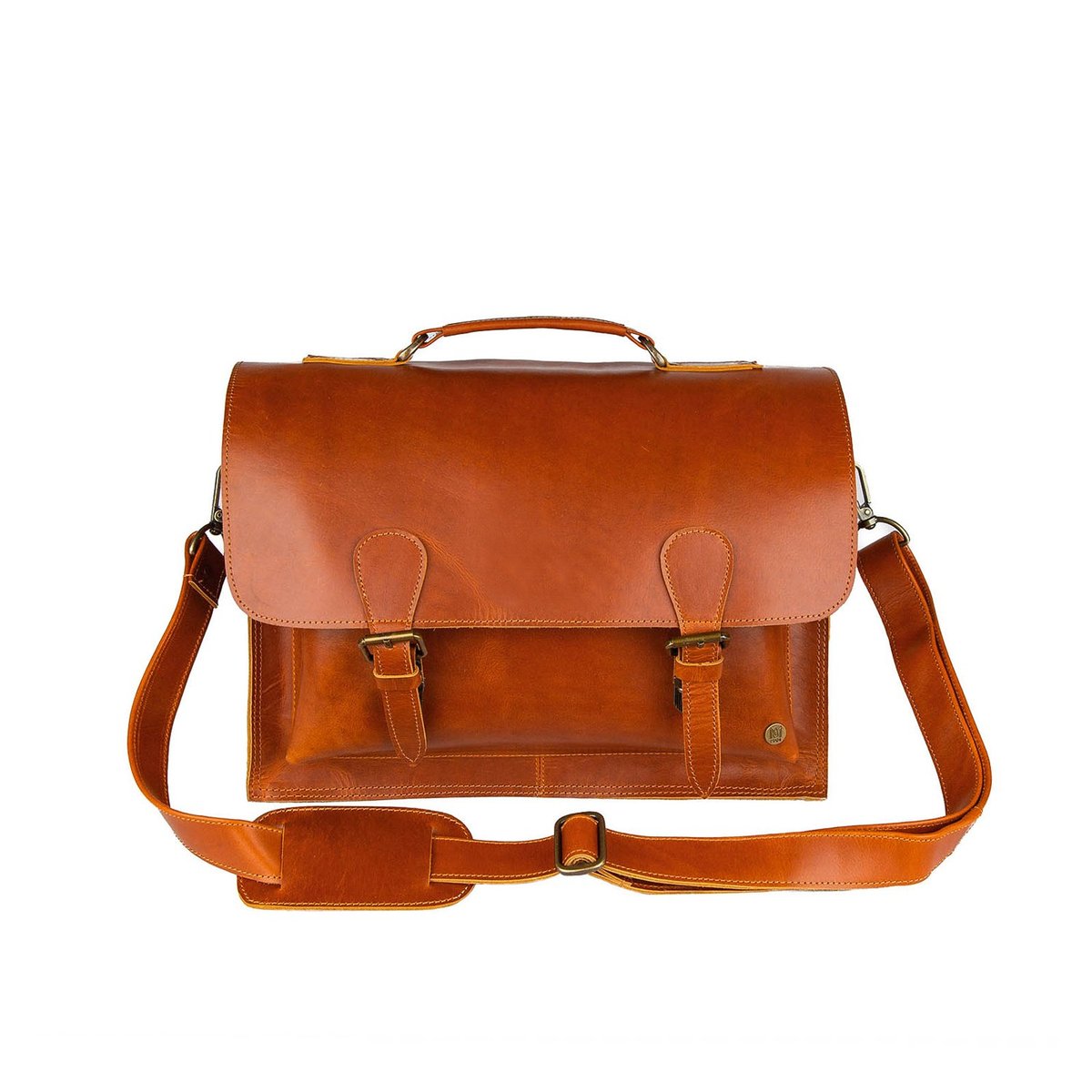 Whilst backpacks are cool, sometimes you just want something with a little bit extra, je ne se quoit. If you are business traveller looking for a stylish, elegant business bag that just screams manliness and class, then the Mahi Messenger bag may be the one for you.
It's a high quality, rugged leather shoulder satchel that is perfect for taking on your morning commute and into business meetings.
The Messenger by Mahi offers excellent organisational options – the Large main compartment with separate padded laptop pocket. comes with a dedicated laptop compartment and then there are plenty of pockets and pouches for pens, cards, keys and chargers.
In terms of size and dimensions, the bag measures W37cm x H28cm x D8cm (19L Carrying Capacity) and the bag weighs in at  4 lbs 15 oz. The adjustable shoulder strap will fit pretty much any adult body frame nicely.
PS – check out more of our top laptop backpacks. 
Boundary Supply Prima System – Best Business Travel Backpack for Photographers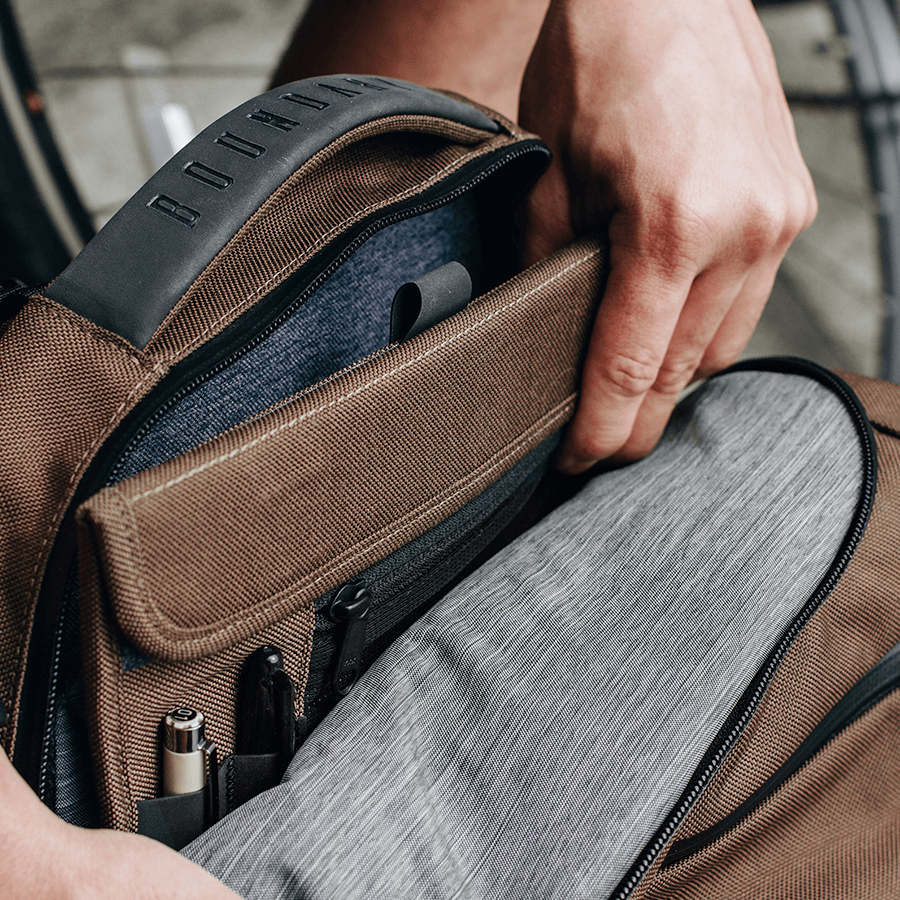 Wait… a camera bag as a business travel backpack? Hear me out, here! The Boundary Supply Prima-System backpack uses unique modules for organizing your things.
You have side access to the main module/compartment as well as top access, a small front pocket and hidden pocket for valuables, a comfortable strap system, and separate laptop compartment that is easy to access even when the bag is full.
This is a great backpack set apart by its modular design. When you buy this backpack, you are also investing their included modules, the Verge and Fieldspace, for ultimate organization and storage.
While the Verge is primarily used to protect camera gear in the main compartment, it can easily be used for other items, or removed entirely.
Moreover, the Fieldspace – as pictured – is perfect for business use. It tucks into a separate section next to your laptop compartment to keep any valuables and documents secure.
Moreover, its unique design and magnetic straps make it perfect for commuting and traveling securely.
The main drawback is that it only has one water bottle pocket that doubles as a tripod holder. This is fine if you are just using this bag to carry a water bottle, but a bummer if you are trying to carry both.
Nevertheless, it's the bag's low-profile and minimalism that makes it great for commuting, riding public transportation, and biking. If you want a slightly lighter and smaller version, the Boundary Supply Errant backpack might be a better choice for you.
If you are looking for a camera backpack for everyday use or an efficient business backpack for overnight trips, then the Prima System by Boundary Supply is an awesome choice.
Learn more about this awesome backpack in our review of the Boundary Supply Prima-System.
Best Business Pack For Cyclists: The Roll Top by Stubble & Co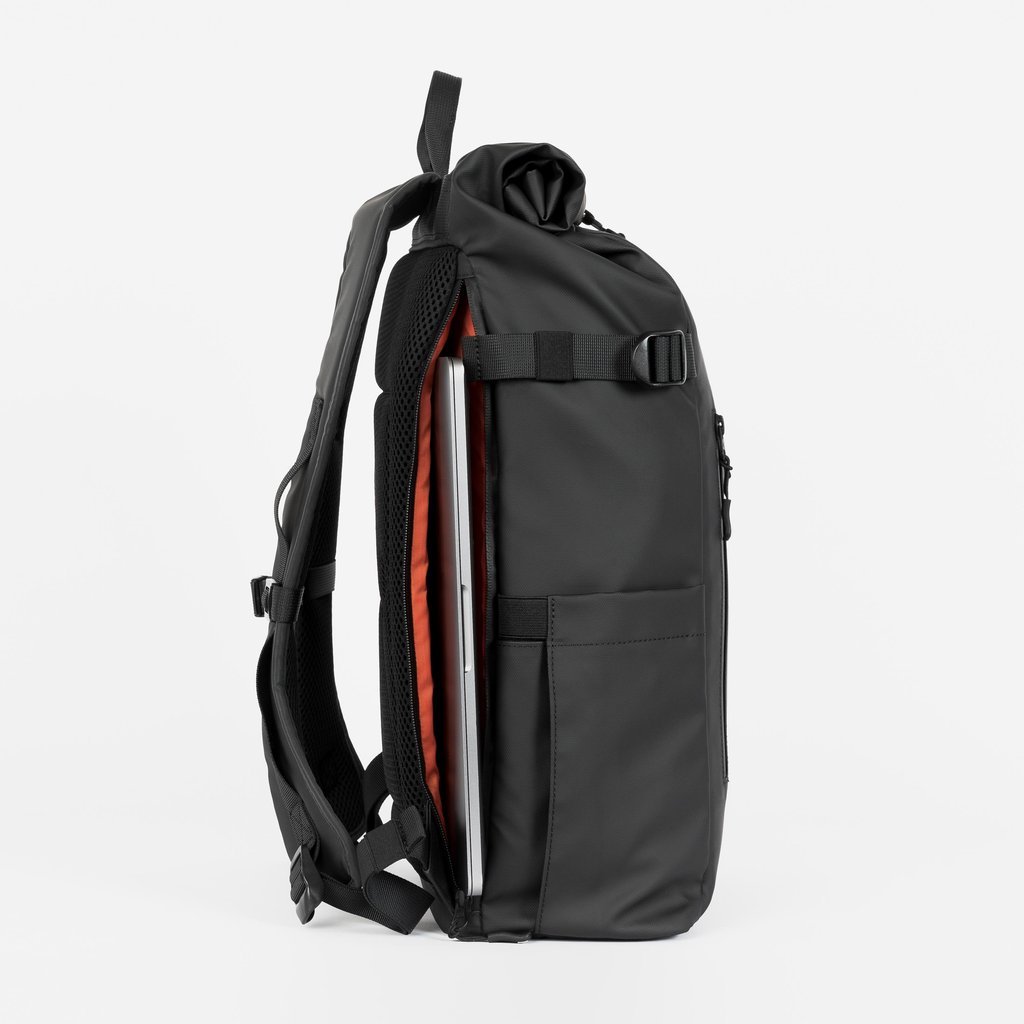 It's pretty common these days for health and planet minded professionals to cycle to work – I certainly do. But finding a bike ready backpack that loves and feels right for the office can be a serious challenge. Anyway, this new pack by Stubble & Co has recently come to our attention but has impressed us very much. It basically backpack superbly combines functionality with performance all in a part recycled, eco friendly package (yes its made in part from recycled materials).
It's lightweight, durable and very comfortable and intended for all weather conditions making perfect to wear on your bike. Custom built with cycling and the outdoors in mind, the Roll Top features sealed seams, water-resistant zips, reflective logos and considered compartments. It's also very well priced.
FAQ about the Best Travel Business Backpack
Still have some questions? No problem! We've listed and answered the most commonly asked questions below. Here's what people usually want to know:
Final Thoughts on the Best Business Travel Backpacks
Whether you are traveling for a week or just need a high-quality backpack to travel to and from work, this list of the best business travel backpacks includes something for you.
If you are traveling on a multi-day business trip, I highly recommend the Nomatic Travel Pack 40L. Check out the smaller versions for shorter trips or days at the office too.
While some of the companies on this list are well-known in the travel space, notable start-ups, like Arcido and Boundary Supply are proving to be high-quality and durable bags well worth looking into.
If you think we missed a business travel backpack on this list, let us know in the comments!
Want to learn how to travel the world on $10 a day? Check out the Broke Backpacker's Bible…
---
Find out how YOU can support the site.
We're a big site with a big team and this job isn't always easy. But we do it because we love it – we love providing epic and free content. We love the knowledge that our content keeps you adventuring. We don't ask for money, but if you'd like to find out how you can help the site in more organic ways, click the button below.
Thank you for your support 🙂
And for transparency's sake, please know that some of the links in our content are affiliate links. That means that if you book your accommodation, buy your gear, or sort your insurance through our link, we earn a small commission (at no extra cost to you). That said, we only link to the gear we trust and never recommend services we don't believe are up to scratch. Again, thank you!