Travel
10 Best Travel Backpacks (2021 Buyers Guide & Reviews)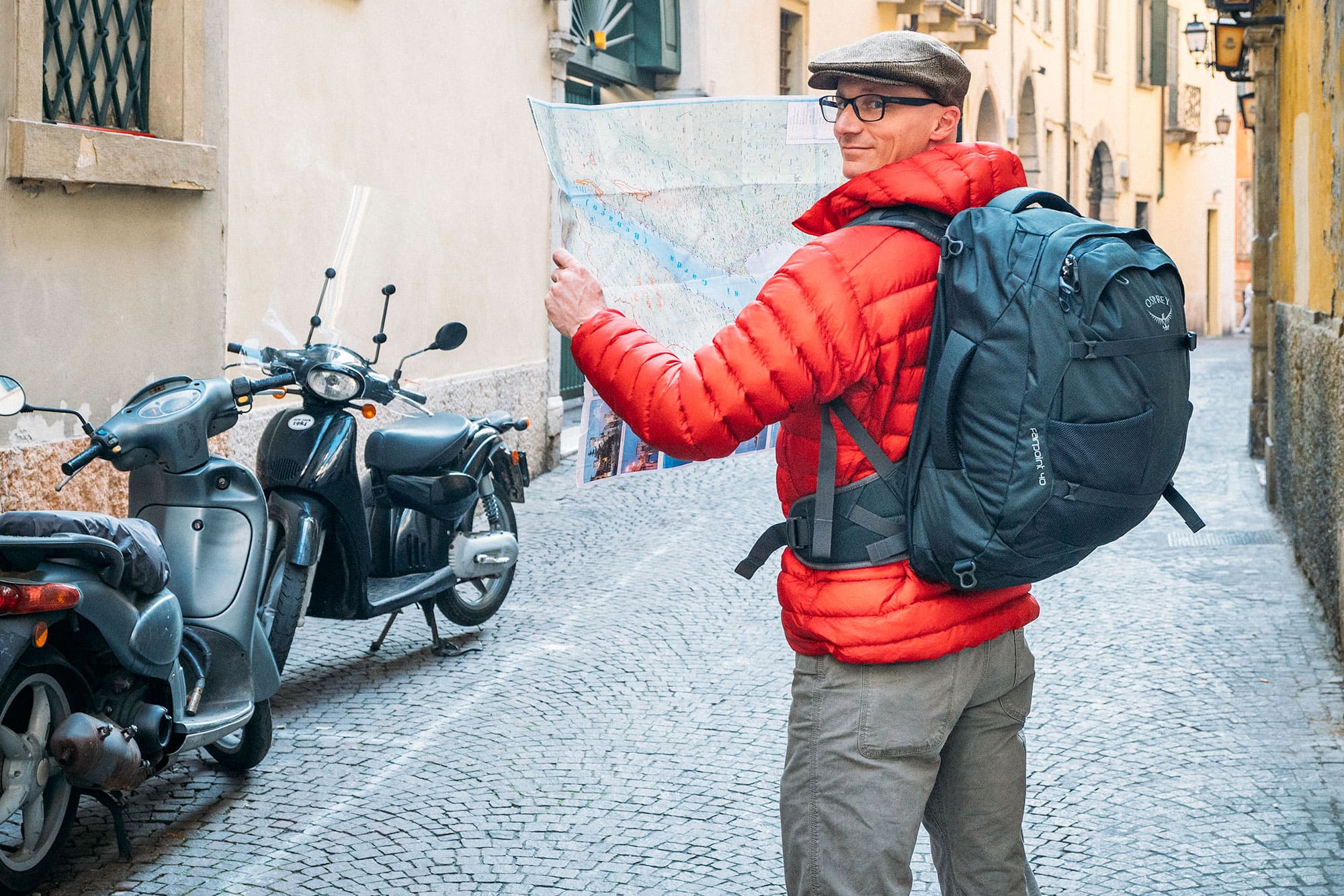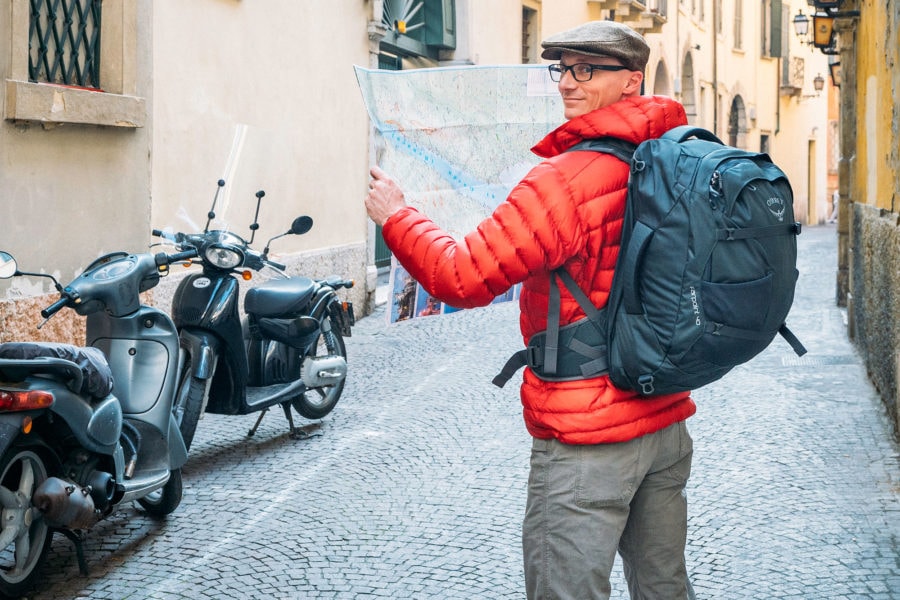 BACKPACKING GEAR
As a professional backpacker, I get many questions about what's the best travel backpack. There are so many to choose from! Here's what I would pick, and why.
There's something magical about traveling to new countries while living out of a backpack. I've been doing it for 10-years now, going through my share of travel backpacks in the process.
Getting lost in foreign cities, meeting new people, breaking out of your comfort zone, discovering different cultures, and having life-changing travel experiences is just part of backpacking.
Maybe you're planning your own backpacking adventure soon — to South East Asia, Europe, or South America — and you need a good travel backpack to hold your clothing & gear.
But what's the best travel backpack to take on your next adventure?
My goal with this backpack buyer's guide is to help you narrow down the overwhelming choices that are out there — and pick the top travel backpack for traveling anywhere. Whether you're traveling for 2-weeks or 2-months.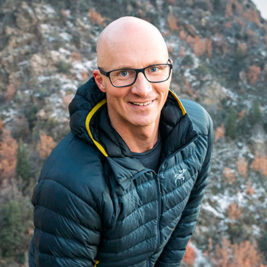 Why listen to me? Experience! I've been backpacking around the world for ten years as a digital nomad, visiting over 50 countries living out of my bag.
Here's everything we're going to cover (feel free to click to a specific section if you want to skip around).
Travel Backpack Buyer's Guide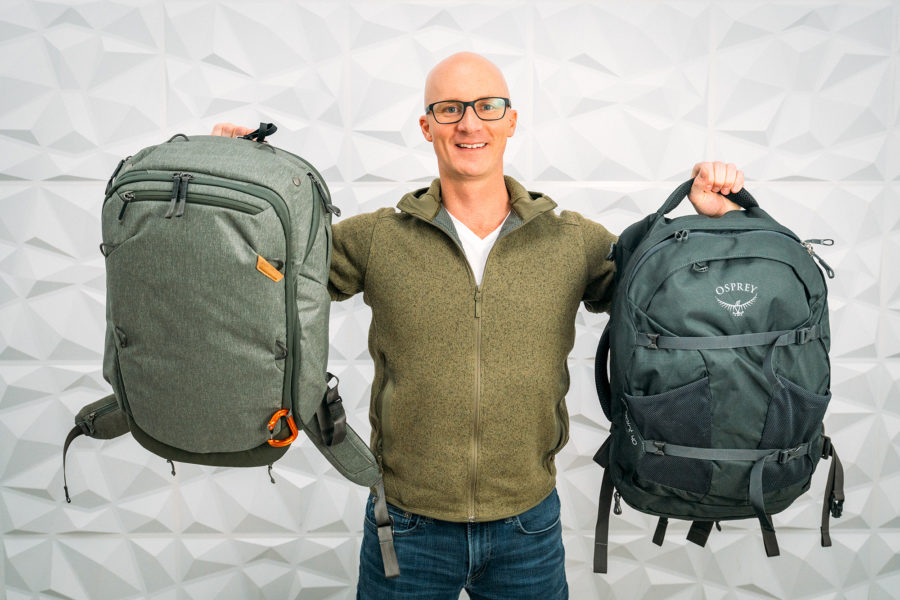 Quick Answer: Best Travel Backpacks Of 2021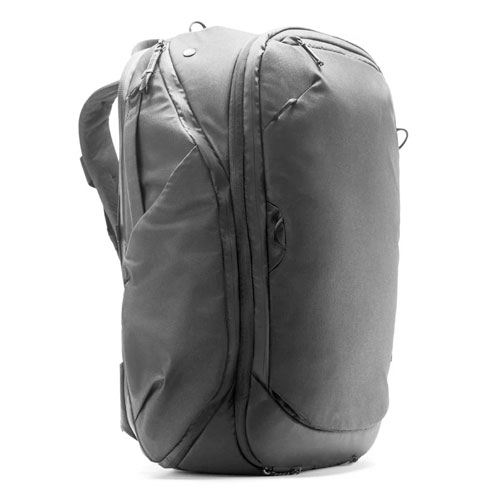 Best Carry On Travel Backpack
Peak Design Travel Backpack
FEATURES: Front AND Rear loading, comfortable, durable, lockable zippers.
WEIGHT: 4.5 lbs
CAPACITY: 30-45L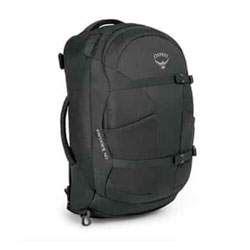 2nd Best Carry On Backpack
Osprey Farpoint
FEATURES: Front loading, comfortable, lightweight, lockable zippers.
WEIGHT: 3.17 lbs
CAPACITY: 40L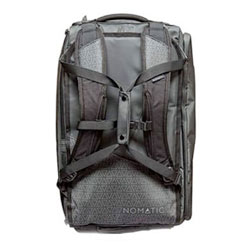 Best Digital Nomad Backpack
Nomatic Travel Bag
FEATURES: Front loading, carry-on friendly, water resistant, laptop pocket, duffel mode.
WEIGHT: 4 lbs
CAPACITY: 40L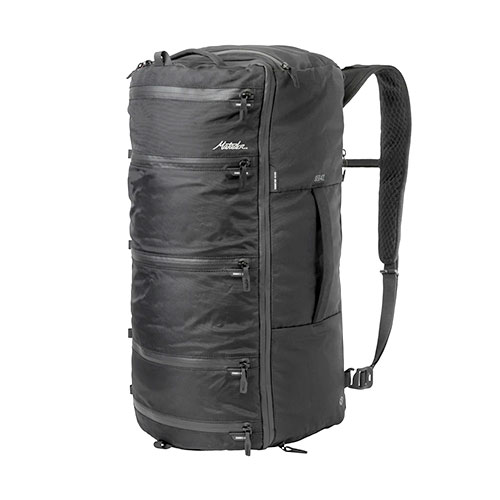 Lightest Travel Backpack
Matador Travel Pack
FEATURES: 5 segments for organization, lightweight, waterproof zippers.
WEIGHT: 2.4 lbs
CAPACITY: 42L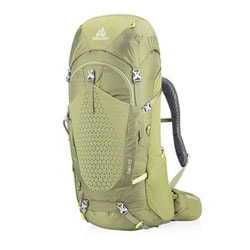 Best Adventure Travel Backpack
Gregor Mountain Zulu
FEATURES: Front loading design, comfortable hip-belt, mesh back panel, stretch pocket.
WEIGHT: 3.5 lbs
CAPACITY: 55L
Important Travel Backpack Features
WEIGHT – Obviously you want the lightest travel backpack you can find that's also comfortable, because this will save your body from fatigue. The materials a backpack is made of can also affect its weight, and super light-weight fabrics can increase the price.
SIZE & CAPACITY – Backpack sizes are usually quoted in liters of volume they can hold. Generally, 15-30 liters is considered a daypack, 30-40 liters is big enough for a weekend trip or carry-on only travel, and 50-65 liters is for those who need extra clothing or gear.
FRONT LOADING – Hiking backpacks are usually top-loading, meaning you need to dig through them from the top to find your stuff. Travel-friendly backpacks are front-loading, so they zip open more like a suitcase and it's easy to locate gear quickly.
STRAP TYPES – A padded waist strap distributes the weight of your backpack on your core, instead of just your shoulders. This helps avoid sore shoulders and back pain, especially when wearing it for long periods of time. Some travel backpacks also have padded grab-handles or a duffel-bag strap which is nice.
GEAR POCKETS – This is subjective, and everyone is different, but I prefer a minimal amount of pockets on my travel backpack. Some important ones include a quick-access pocket for things like keys, passport, sunglasses, etc. I also love when there's a laptop pocket, and one for my filtered water bottle.
ZIPPERS – I prefer large, easy to use zippers on a backpack. Bonus points if they're lockable zippers, specifically designed to be secured with a small luggage lock.
PROPER FIT – You could have the best travel backpack available, but if it doesn't fit right, you'll be miserable. Your torso length is more important than your height. Here's a great backpack fitting guide.
LOOKS – Some travel backpacks are built wider than they are tall, making them look kind of "boxy" compared to hiking backpacks. It isn't always flattering. But it's ultimately up to you how important looks are.
WEATHER RESISTANCE – The material a backpack is made of can determine how weather-resistant it is. Some backpacks need a special rain-cover, others have rain-resistance built right in. You don't want your gear getting wet!
CARRY-ON FRIENDLY – Airlines are getting stricter about the size and weight of your carry-on bag. As a general rule, I wouldn't try to bring anything larger than a 45L travel backpack for carry-on luggage to be safe.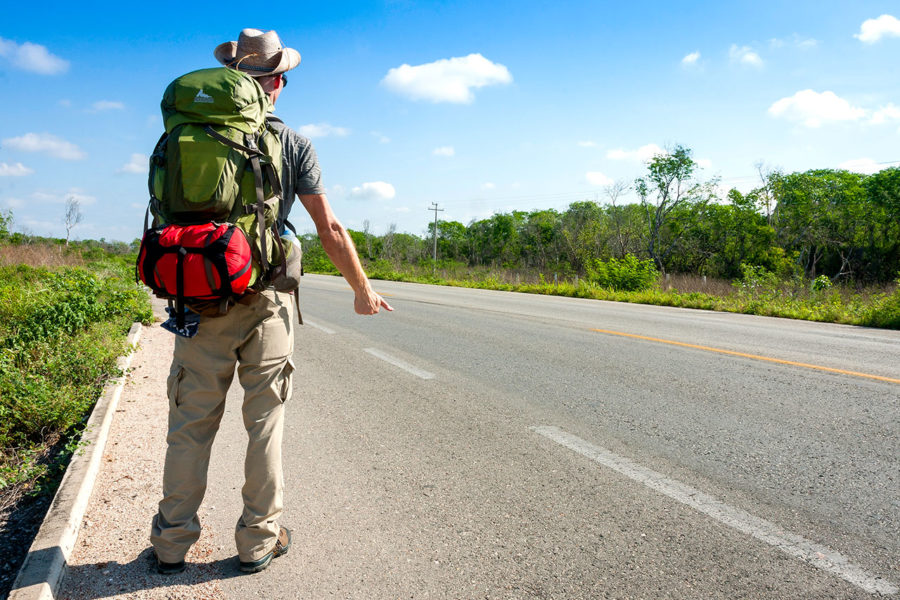 What Kind Of Traveler Are You?
When choosing a travel backpack, it's important to have a general idea about how you plan to use it. Generally, I split backpackers up into three different categories.
If you're a light packer, you can actually fit quite a bit of stuff into a 40L carry-on backpack. However, if you lug around a lot of camera gear, camping equipment, or clothing — you'll want a larger backpack to check under the plane.
Carry-On Backpackers
Carry-on backpackers prefer to travel carry-on only and hate checking bags at airports. They primarily visit cities on the "backpacker trail" with decent travel infrastructure like hostels, hotels, transportation etc. They might embark on the occasional day hike, but don't need their own camping gear.
GAP Year Travelers
Gap year backpackers are students taking a year off to travel before university, or maybe recent college graduates traveling through Southeast Asia or Europe before starting their professional careers. Many are first-time travelers — inexperienced with packing light. They often need to check a bag because they tend to over-pack.
Adventure Travelers
Adventure travelers spend a lot of time in the mountains, deserts, and jungles. Maybe they like to hitchhike, and prefer visiting more remote destinations where they may not have a roof to sleep under. They pack their own multi-day backpacking and camping equipment to survive outside in the backcountry.
The travel backpack you choose from the guide below will depend on what kind of traveler you are (or think you're going to be).
Best Carry-On Travel Backpacks
1. Peak Design Travel Backpack – Matt's Top Pick
Weight: 4.5 LBS (2 KG)
Capacity: 30-45 Liters
Load Range: 20-40 LBS
Colors: Black, Sage
Best For: Carry-On Travel
Price: Click Here For Latest Price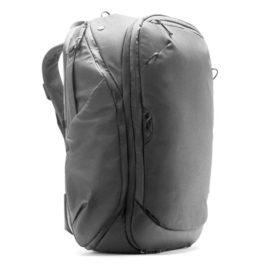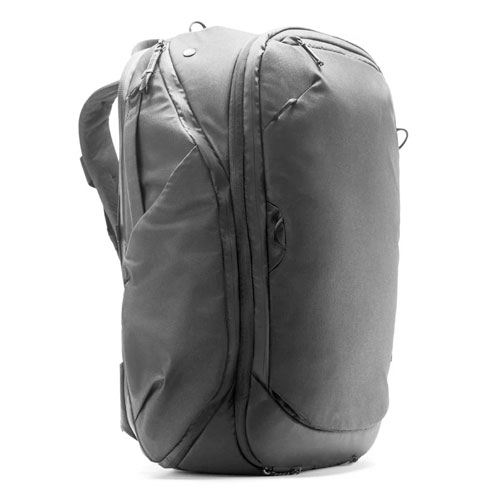 The best designed backpack I've tested so far, the Peak Design Travel Backpack has loads of space, makes it easy to access your gear, and the quality is fantastic. It's designed with packing cubes in mind, and minimizes the number of extra pockets located around the bag.
You can adjust the size of the bag from 30L to 45L depending on your travel needs. Backpack straps can all be hidden super fast, which is awesome. Another key feature is the ability to add a camera-specific packing cube that can keep your equipment safe, which turns it into an excellent camera backpack.
Pros
Front-Loading
Zippered Divider
Lifetime Guarantee!
Side Access
Fast Stow-Away Straps
Cons
Sternum Strap Easy To Lose
EDITOR'S NOTE: I own this, as well as Peak Design's Everyday Camera Backpack. I'm a big fan of their products because they're designed really well, the bags are durable, and guaranteed for life!
OFFICIAL SUPPLIERS:
---
2. Osprey Farpoint 40 – Popular Travel Backpack
Weight: 3.17 LBS (1.4 KG)
Capacity: 40 Liters
Load Range: 20-40 LBS
Colors: Grey, Red, Blue
Best For: Carry-On Travel
Price: Click Here For Latest Price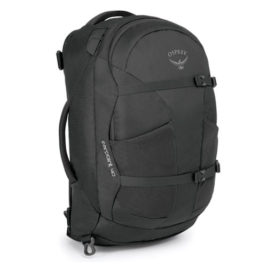 Probably the most popular carry-on travel backpack right now for GAP year travelers and hostel enthusiasts. The Osprey Farpoint's front-loading design is super easy to use and holds a lot of gear. But the big draw is how comfortable it is due to a really good suspension system and straps.
The straps can be stowed-away with a zipper, turning this backpack into a streamlined travel bag with a padded carry-handle. The comfortable hip-belt makes it work well for day-hikes, and it's not as "boxy" looking as other digital nomad backpacks. You can take it on a hike and not look out of place.
There's also a model specifically for women here.
Pros
Front-Loading
Lockable Zippers
Stow Away Straps
Hiking Friendly
Cons
Oddly Placed Laptop Compartment
Bright Green Interior
EDITOR'S NOTE: The Osprey Farpoint is a great weekend bag that holds all the essentials, or everything most experienced carry-on only type travelers would want on a longer-term trip.
OFFICIAL SUPPLIERS:
---
3. Nomatic Travel Bag – Digital Nomad Friendly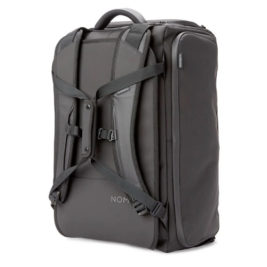 The Nomatic Travel Bag was created after a very successful Kickstarter aimed at minimalist digital nomad types who work while they travel. It's full of design features that cater to this special demographic.
From a dedicated underwear pocket to power cord management, this carry-on backpack has thought of everything a millennial business traveler could ever want. It converts into a duffel bag and has a dedicated laptop pocket. It also easily attaches to a rolling suitcase.
Pros
Water-Resistant Material
Detachable Hip Belt
Front Loading
Cons
Some Gimmicky Features
Boxy Looking Design
OFFICIAL SUPPLIERS:
---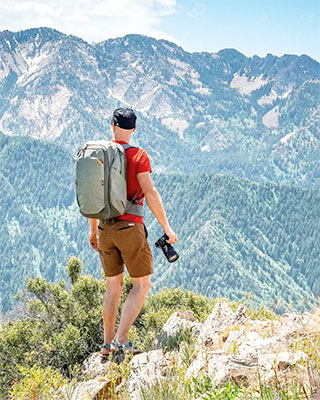 The Best Camera Backpacks
Are you a photographer looking for the perfect camera bag to pack all your gear? Here are my favorite camera backpacks.
4. Matador SEG42 – Lightest Travel Backpack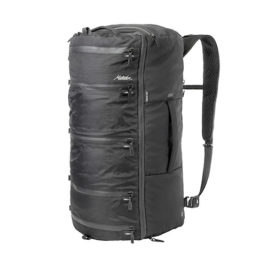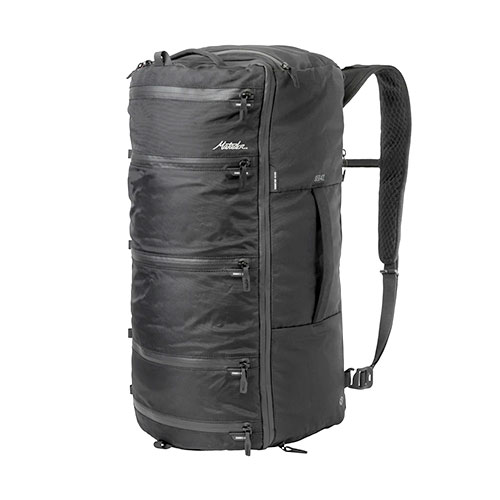 The Matador SEG42 Travel Pack is the lightest backpack here, and built out for segmentation of your gear into different areas. It offers quick access to your stuff while you're traveling.
This is the perfect one-bag travel backpack for those of us with OCD! Organize your gear by type or activity. A large clam-shell opening for storing dirty/wet clothes or shoes, multiple zippered compartments, plus a padded laptop pocket. The whole pack is water-resistant too.
Pros
Water-Resistant Material
Multiple Compartments
Front Loading
Lightweight
Cons
No hip-belt
Thin shoulder straps
OFFICIAL SUPPLIERS:
---
5. Kelty Redwing 36 – Adventure Travel Daypack
Weight: 2.9 LBS (1.3 KG)
Capacity: 36 Liters
Load Range: 20-30 LBS
Colors: Black, Blue, Tan
Best For: Carry-On Travel
Price: Click Here For Latest Price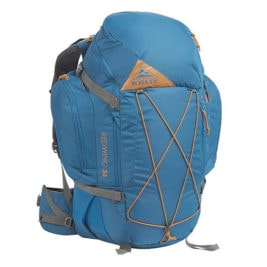 If you want a carry-on travel backpack with a more sporty style, look no further than the Kelty Redwing. This is also the lightest backpack of the bunch because it was designed as a hiking day-pack and overnight travel bag.
However you can cram a lot of travel gear inside, the perfect size for people who only travel with one bag. There are plenty of compartments for organizing your stuff. The hybrid U-zipper design is both top-loading and front-loading, allowing easy access inside.
Pros
Hybrid Front & Top Loading
Very Lightweight
Great For Day Hikes
Comfortable Hip-Belt
Cons
Casual Appearance
No Laptop Compartment
Hip-Belt Can't Be Removed or Stashed
OFFICIAL SUPPLIERS:
---
Best Adventure Travel Backpacks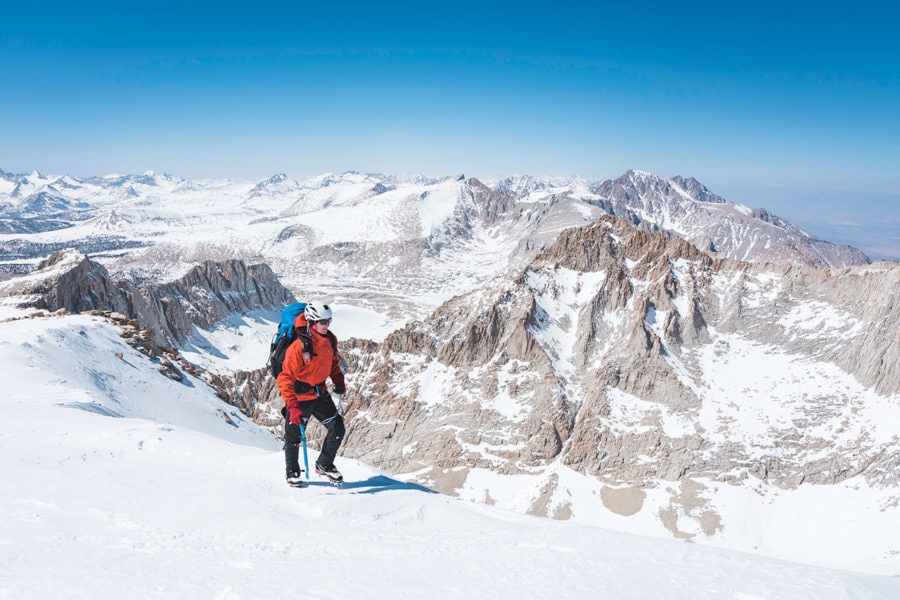 Traveling carry-on only (aka One Bag) isn't for everyone. Maybe you are not an expert traveler yet, and need more space for your clothing. Or you prefer more adventure travel, hiking, and camping than the average backpacker.
Then you may want to check out the best backpack options that work for both travel AND hiking.
The backpacks listed below have enough space to accommodate a sleeping bag, tent, and cooking equipment needed for typical trekking and overnight camping adventures, as well as your travel gear.
6. Gregory Mountain Zulu 55 – Adventure Travel Backpack
Weight: 3.5 LBS (1.6 KG)
Capacity: 55 Liters
Load Range: 40 LBS
Colors: Green, Blue
Best For: Hiking & Travel
Price: Click Here For Latest Price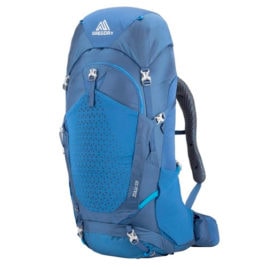 The Gregory Mountain Zulu is a cross between a travel backpack and a hiking pack. Its cross-flow suspension system is wonderful at distributing your gear weight, with plenty of airflow to keep your back cool.
Along with a traditional top-loading pull cord, the backpack also boasts a U-shaped front access zipper which is handy for travel.
The hip belt is well-padded with two easy access pockets. This is a backpack that can handle all kinds of different travel situations, including overnight hikes.
Pros
Front Loading Access
Sleeping Bag Compartment
Raincover Included
Comfortable Hip-Belt
Cons
No Laptop Pocket
Not Carry-On Friendly
EDITOR'S NOTE: I own and occasionally travel with this pack. I use it for short overnight camping adventures that only last a few days. The front u-zip access helps reach your gear quickly, and when empty it lays flat inside my suitcase.
OFFICIAL SUPPLIERS:
---
7. Osprey Atmos 50 – Overnight Backpacking
Weight: 4.2 LBS (1.9 KG)
Capacity: 50 Liters
Load Range: 40 LBS
Colors: Grey, Red, Blue
Best For: Hiking & Travel
Price: Click Here For Latest Price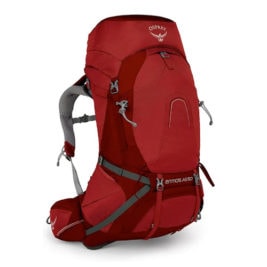 The Osprey Atmos 50 is the perfect travel backpack for people who prefer more traditional overnight trekking or camping trips. Its best feature is the super comfortable AntiGravity suspension system that helps distribute the load on your body.
Additional handy features include a large front stretch mesh pocket, integrated rain cover, and a very lightweight design compared to other hiking backpacks. If you're going to be embarking on a lot of adventure travel with equipment like a sleeping bag, hammock, or tent, this is a great bag.
Pros
Great Suspension System
Raincover Included
Comfortable Hip-Belt
Sleeping Bag Compartment
Cons
Top-Loading Only
Not Carry-On Friendly
OFFICIAL SUPPLIERS:
---
8. Arc'teryx Bora 50 – Technical Hiking Backpack
Weight: 4.7 LBS (2.1 KG)
Capacity: 50 Liters
Load Range: 50-60 LBS
Colors: Blue
Best For: Trekking & Backpacking
Price: Click Here For Latest Price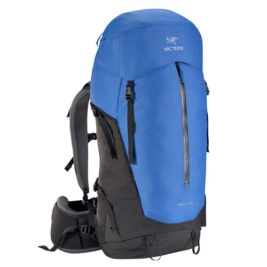 I'm a big fan of Arc'teryx outdoor gear. While it's expensive, their attention to detail is unrivaled. The Arc'teryx Bora 50 is no exception. It's a true adventure backpack for traveling in the backcountry. The coolest features are a composite frame and crazy comfortable hipbelt suspension system.
This backpack remains comfortable even with a lot of heavy gear. The pack itself isn't very light, but the innovative floating hipbelt makes up for this in that it carries weight on your hips far better than others. Also, the fabric is already so waterproof that I don't pack a rain cover.
Pros
Tough Rain Resistant Exterior
Crazy Comfortable Hip-Belt
Minimalist Design
Cons
Top-Loading Only
Not Many Pockets
Expensive
EDITOR'S NOTE: I own the Bora, preferring it for longer backcountry adventures, or for winter overnights, like when I climbed Mount Whitney solo. It's extremely rugged and very comfortable. A technical hiking pack more than a travel one.
OFFICIAL SUPPLIERS:
---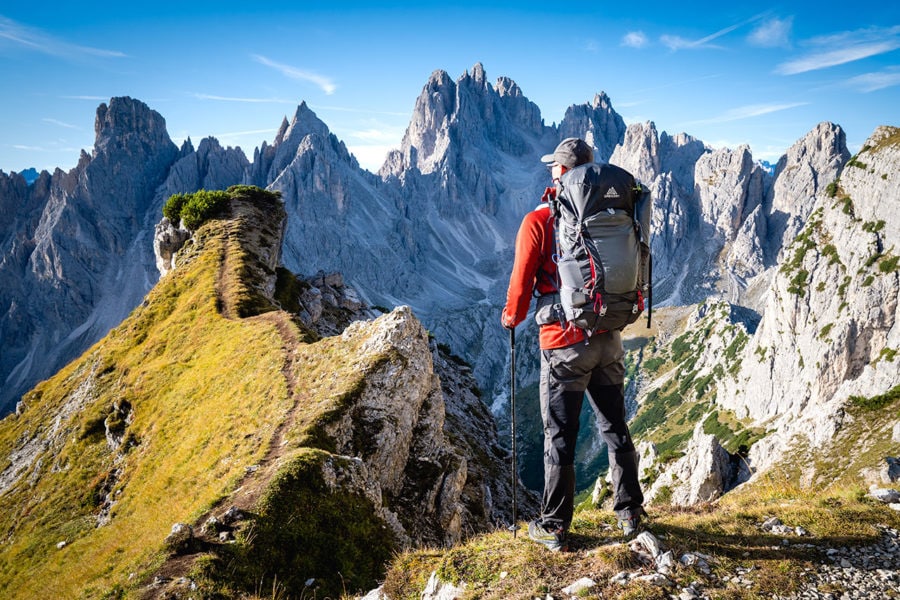 Backpack, Suitcase, or Rolling Duffel
Traveling with a backpack allows you to get around hands-free using Google maps or buying train tickets, not to mention climbing stairs or tackling dirt roads is so much easier than with your typical rolling suitcase.
But it really depends on your travel style.
While I initially began my nomadic career with a backpack, as I've grown older, I now prefer a rolling duffel bag for most trips. It's especially handy for traveling in cities and less tiring when walking on concrete.
I own a few travel backpacks but only use them for specific situations, like weekend-trips, or overnight trekking.
Now that I have a home base, I store these other bags away. But if you're a vagabond living out of your backpack full time, you don't have that luxury.
My Current Favorite Travel Bags
Victorinox Suitcase – Yes, a suitcase! Now that I often travel with my family, plus camera gear, I can no longer live out of just a backpack. This travel suitcase is super lightweight with a locking zipper and a durable shell. Love it!
Gregory Zulu 55 Backpack – While not the best hiking backpack out there, it's lightweight and includes front-zipper access to gear. And more importantly, can lie flat in my suitcase if I don't need to check both. Works great for travel too.
Peak Design Travel Backpack – My amazing airplane carry-on camera & laptop backpack. I can also use this for day hikes with camera gear, but it has room for things like snacks, water, jacket, a full-size tripod, and more.
Matador Packable Tote – This is what I use as my airline approved "personal item". Basically an over-designed, packable, water-resistant tote bag that zips shut. Perfect to carry the stuff you'll use on the plane most!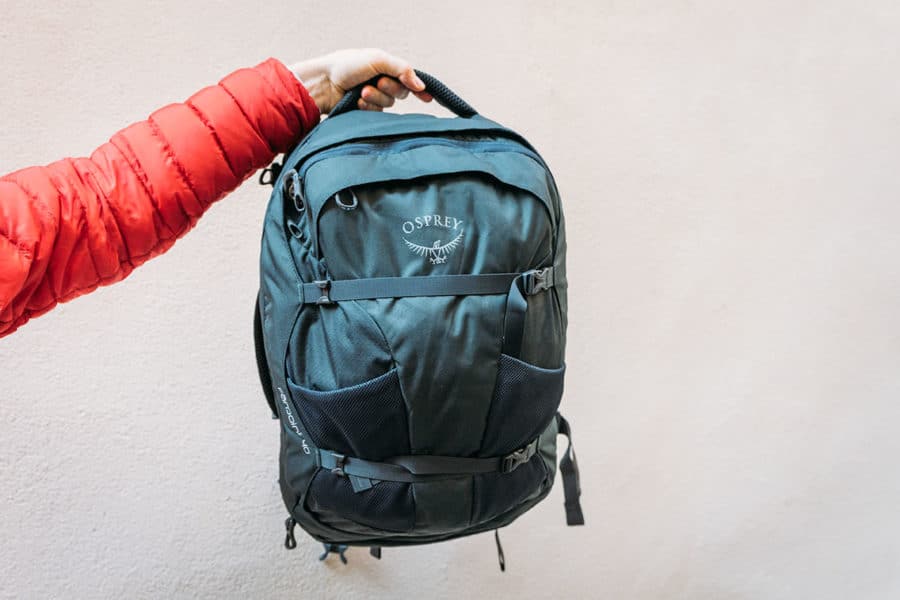 FAQ: Top Travel Backpack Questions
Happy travels, and let me know which backpack you decide to go with! ★
---
Enjoy This Article? Pin It!
---
READ MORE BACKPACKING TRAVEL TIPS
I hope you enjoyed my guide on the best travel backpacks! Hopefully you found it useful. Here are a few more wanderlust-inducing articles that I recommend you read next:
---
Have any questions about travel backpacks? What about other suggestions? Drop me a message in the comments below!